It's the million dollar question when camping or in a campervan – what are the best campsites in New Zealand?! We stayed at 17 campsites during our stay in New Zealand and we found them all to be off a high standard.  Some we loved, some were great and a few were just necessary to let us camp close to where we wanted to go! I had never stayed in a campsite before so I was a bit apprehensive but most of the campsites far surpassed my expectations.
Choosing a Campsite
First off, I'm not a leaflet kind of girl!  However, in New Zealand, the tourist information is invaluable when you're on the road so prepare to be converted!  The Jucy office in Auckland had a stand with free leaflets and books which we grabbed to help us plan our trip.  They were also available in Auckland airport and the Information I sites which were in most towns.  There were a few accommodation guides available, my favourites were the Jasons New Zealand guide and the Department of Conservation (DOC) campsite guide.
The DOC campsites were sometimes hidden gems in stunning areas and can be a more cost effective option than the big brand campsites.  The DOC also has information on freedom camping (free camping outside campsites and holiday parks) in New Zealand.  There are rules that have to be followed so its best to read the DOC guide.

Pre Book or Turn Up?
A great thing about camping is the flexibility.  On the most part we just rocked up to a campsite and decided if we liked it.  If we did we stayed, if we didn't we drove onto the next one! Sometimes we weren't sure based on our first impressions and the owners let us walk up to the sites to check them out.  Some campsites charged extra for the nicer sites, for example if they had a water view, and we checked these sites out before paying the extra.
On the views, if you are planning on staying somewhere for a few days and want a nice view, its best to arrive early.  But as mentioned, be aware that some holiday parks charge for the privilege.
For campsites close to a few of the very popular tourist spots we were advised to pre book, especially if its peak season.   For example, on the Milford Road on the way to Milford Sound all the campsites are DOC with the exception of Milford Lodge and not all the DOC campsites allow pre booking.  If you are set on staying somewhere on the tourist route where there are not many options for lodging it can be advisable to pre book.  If you're stuck and tempted to freedom camp in a picnic stop or lay by, be aware the fines start at NZD 200 and you might have to move on anyway!
Money Saving in Campsites
We managed to save some cash with the following tips:
At some sites it is cheaper to rent a non powered site.  We made sure to have our electronics charged before we moved from a powered site and then rent a cheaper non powered site if it was available.  At some campsites, the non powered sites are in front of the water so the bonus was a nice view.
Bring whatever you need to the campsite, it's expensive to purchase on site compared to at the supermarket.
Buy a washing line and do your laundry early in the day if its sunny.  This saved us using the dryers which were quite expensive.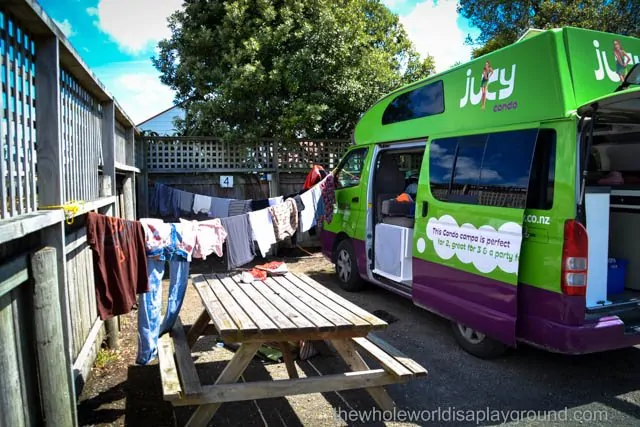 If you're planning on staying mostly in one brand of holiday park check if they have a members club.  For example, the Top 10 Holiday Parks has membership for NZD 49 which entitles holders to discounts .  We stayed at a mix of the holiday park brands so didn't join any member clubs at the parks.
If you're renting a Jucy camper, some of the Family parks gave us a discount.  We didn't see this advertised anywhere on the Jucy or Family Parks website but when the owner spotted our Jucy camper we got a reduced rate for the second person.  It was a small discount but it was most welcome!
WiFi was available at nearly all the parks we stayed in but in some campsites it was ridiculously expensive.  We usually paid $5 for 24 hours and avoided any with low usage limits as applications like Skype use up the allowance quickly.  Many of the parks we stayed at were IAC hotspots so we would buy 24 hour access late in the evening and then use it at the next campsite if it was available and we were within our 24 hour time limit.
Some campsites charged extra for showers and can be on a timer so you might want to plan accordingly.  For the ladies, skip washing your hair if you're only there for one night and save it for the next stop! There were some very high pressure situations trying to get conditioner out of my hair while the timer approached zero!
After a few days of staying at the camp sites we figured out our key criteria and it got easier to pick out the sites we would enjoy.  We became quite addicted to sites with nice views, there was nothing better than parking up and opening the back door of the camper van to spectacular scenery!