Bay of Islands is located four hours north of Auckland in the northern end of the North Island. It is comprised of approximately 150 islands and is home to Percy Island, more commonly known as Hole in the Rock.  The English explorer Captain Cook named both Bay of Islands and Percy Islands when he laid down anchor in 1769. It was even found to have the second bluest skies in the world.
A number of boat trips taking in Hole in the Rock leave from Paihia and all were similarly priced around the NZD 100 mark.
The Mack Attack Bay of Islands Hole in the Rock Boat Trip is a 90 minute excursion through the Bay of Islands. The boat holds up to 30 passengers and reaches speeds of up to 100 kms. It passes the islands of Cape Brett before cruising through the Hole in the Rock and entering Cathedral Cave. We didn't want to commit to a half or full day boat trip and so chose Mack Attack.  Mack Attack's catamaran hull was designed to break the New Zealand land speed record and reaches speeds of up to 100 kms per hour.
The boat departs Paihia at 9:00 a.m, 10:30 a.m, 12:30 p.m, 2:30 p.m and 4:30 p.m in Summer and at 10:30 a.m and 2:30 p.m in Winter.
The boat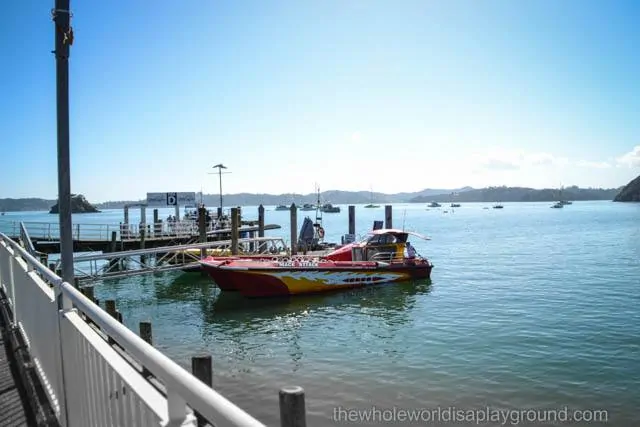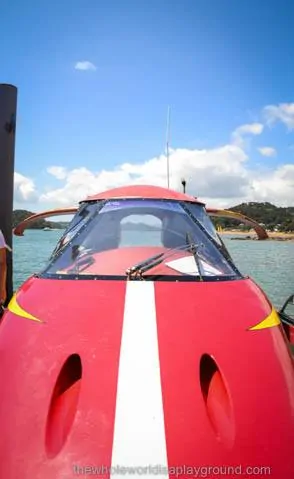 We assembled at the Mack Attack store on Paihia wharf for a safety video and were provided with protective jackets and buoyancy vests. I was a bit uncertain as to the necessity of a lined jacket when the sun was shining and temperatures were high but, after 5 minutes at sea, I was ever so appreciative that I was forced to don said jacket! It gets chilly out there! Just don't wear the jacket until its time to get on the boat, we quickly began to melt while waiting to board the boat.
Each trip takes up to 30 passengers which makes for a more casual and intimate trip and means the boat is small enough to navigate into Cathedral Cave and slips easily through the Hole in the Rock. The boat moves fast and is a bit of a bumpy ride but all passengers are strapped in with seat belts so there's no danger of going man overboard! Its fun but definitely not scary or the adrenaline rush I was hoping for. I was hoping for some hand brake turns and big bumps but alas it was relatively tame! Apparently its more bouncy when the sea is choppy but we had perfect calm and sunny conditions on our trip.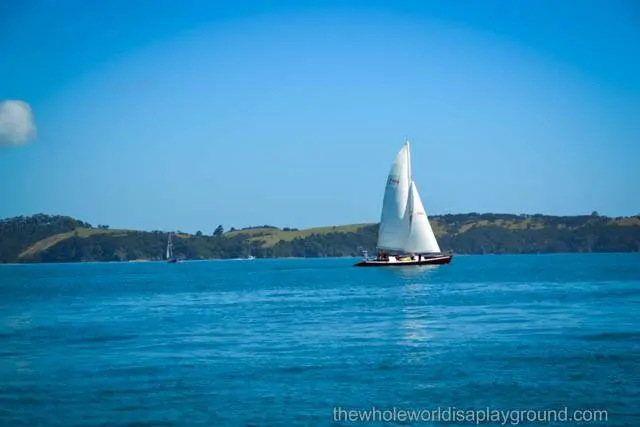 Cathedral Cave:
The guide provided a good running commentary and was fun, informative and interesting with a strong focus on safety. The captain makes plenty of stops for photographs saving the stress of trying to capture the scenery while flying along! Sometimes the boat comes across dolphins but we didn't see any on out trip. They also offer to do a drop off at Russell, a quaint touristy town in the Bay of Islands, which saves a trip on the passenger ferry.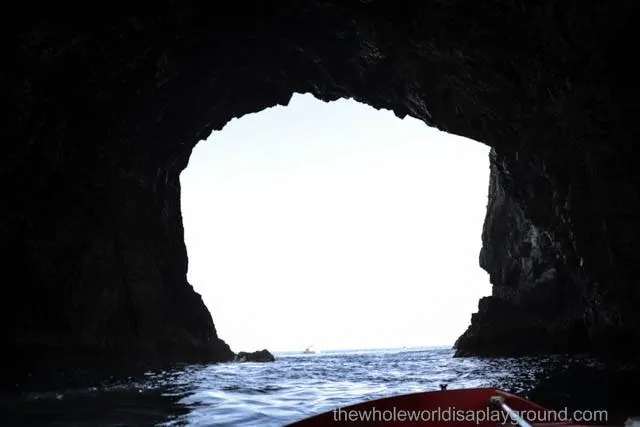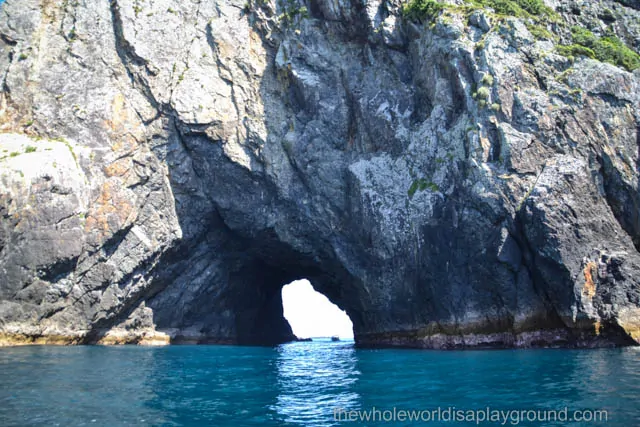 We had good fun on the Mack Attack and really enjoyed the trip but it was expensive. Bay of Islands was the first place we hit on our New Zealand tour and when we checked out our options for Hole of the Rock we were shocked at the prices.  All the companies charge a similar rate and we couldn't find any cheaper options.
An alternative is to hike out to Cape Brett, an 8 hour trek on rugged terrain.
Paihia
Paihia is the main tourist town in the Bay of Islands and is a good base to explore the Bay of Islands. It's a bustling seaside town with golden beaches which are safe for swimming. After our boat trip we had some amazing ice cream at Cellini's Gelateria and Espresso bar.
While exploring the Bay of Islands we stayed at the wonderful Beachside Holiday Park, Paihia. For more details on our North Island accommodation check out the earlier post New Zealand in a camper van: where we stayed on the North Island.
Read more on our New Zealand adventures