We'd finally made it to Milford Sound one month into our New Zealand trip and to say we were excited for our cruise was an understatement! Milford Sound was up there on both our New Zealand must see lists, not surprising given it's frequent billing as one of the world's most beautiful places. And the best thing? It completely surpassed our expectations!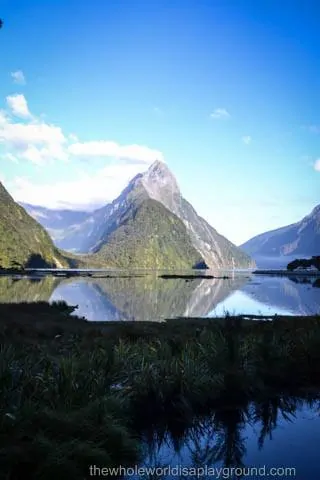 Having arrived in Milford Sound earlier than anticipated the previous day we decided that a last minute kayak trip was in order (review to come later, it was intense!).  A kayak trip was never going to satisfy the photographic needs of a photography obsessed husband so it was decided we would be doing a cruise through Milford Sound as well. Sure why not?!
Jucy Milford Sound Cruise 
After spending the night in our campervan we drove over to the Wharf Terminal Building in Milford Sound. We had purchased our tickets in Jucy Queenstown (an excellent excuse to pick up a Fergburger I might add, trust me!) on the way to Te Anau and checked in at the Jucy counter for our 9.15 a.m. cruise.
The boat was smaller compared to others we saw and our morning cruise had plenty of room for everyone to mill around. There were two outside viewing decks (wrap up, even in the peak of summer I was freezing!), complementary tea and coffee, a bar selling drinks and snacks and toilet facilities.
The cruise was informative and fun and we got up close and personal with the waterfalls (close enough for splashback!) and the wildlife, and the commentary was interesting and knowledgeable. It lasted around 90 minutes and we felt this was plenty of time to appreciate the fantastic scenery and get lots of photographs.
The sights:
So many amazing sights!:
Overall
The Jucy Milford Sound cruise was the perfect choice for us. Fun, cost effective and interesting, it was everything we were looking for in our Milford Sound experience. The boat wasn't too crowded and we had plenty of space to get as many photographs as we wanted. And as much tea and coffee as we needed to keep ourselves warm!

We had an amazing morning and our love for Jucy was only reinforced!
Milford Sound
Milford Sound is one of the 15 fjords that make up the Fjordlands National Park, the largest National Park in New Zealand. Rudyard Kipling proclaimed it as the Eight Wonder of the World and who could blame him, it really is spectacular. 
Read more about our New Zealand adventures!