The instant we spotted a pic of the Popa Mountain Resort and its infinity pool with a view we knew we had to make it a part of our Myanmar itinerary. With plans to visit Mount Popa from our base in Bagan, we instead booked a night at the Popa Mount Resort in between our Inle Lake and Bagan adventures. Upon entering the tropical resort we were surrounded by lush jungle and surreal Mount Popa views and we were smitten. Read on for a lowdown of our stay! Click here for prices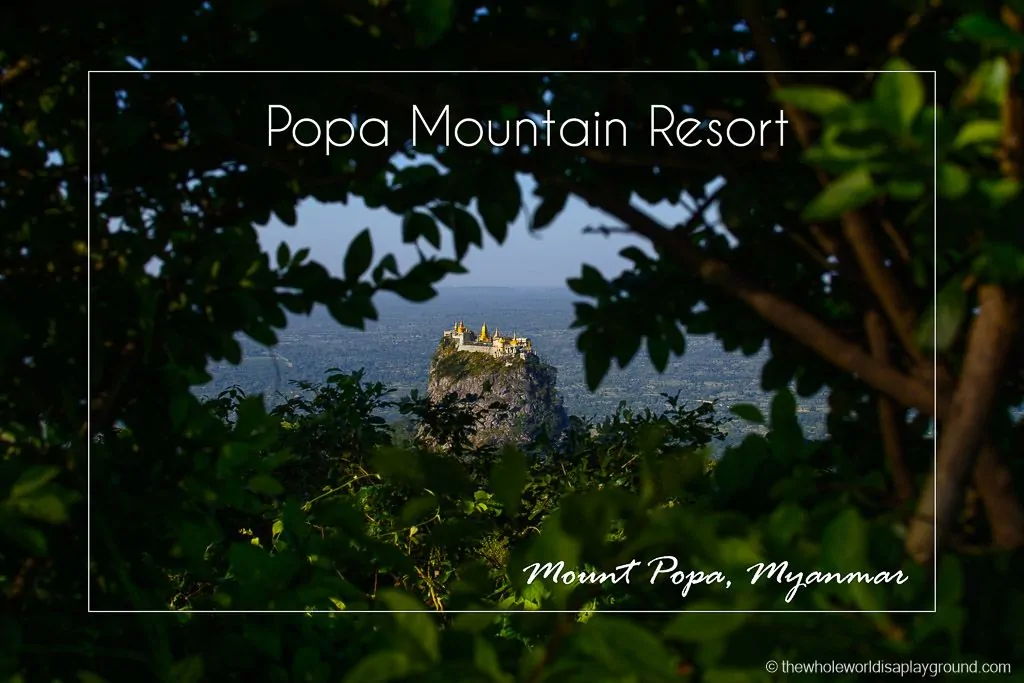 The infinity pool with a view that stole our hearts: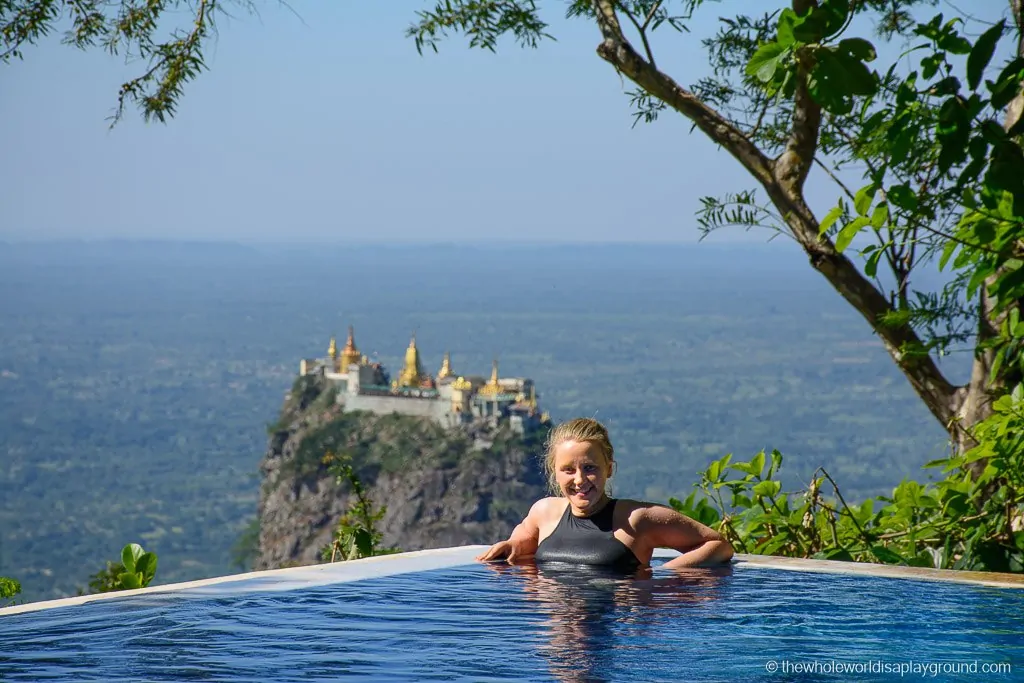 Mount Popa Resort
The Popa Mountain Resort is perched on a lush jungle hillside overlooking the magnificent Mount Popa. In case you're wondering, Mount Popa is a sacred mountain with glistening gold temples built precariously atop of a dormant volcano. 777 steps lead the way to the top and, not only are they climbed in 40 degree temperatures, they are also lined with many monkeys who are in search of food! Click here for prices now
A resort chalet peeking out of the hillside: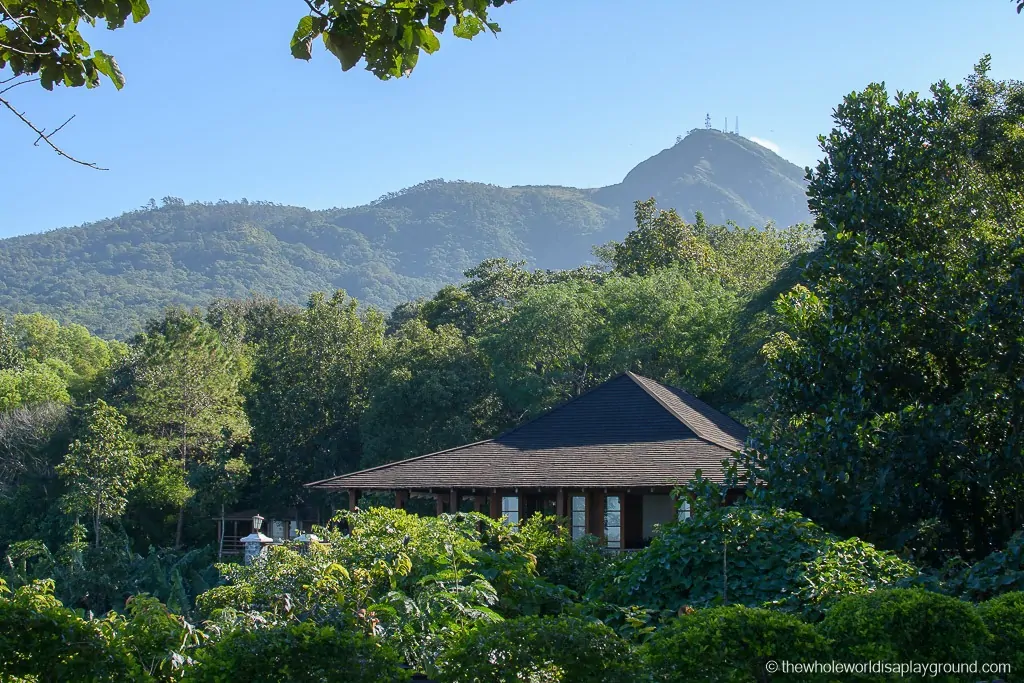 The view of the resort from Popa!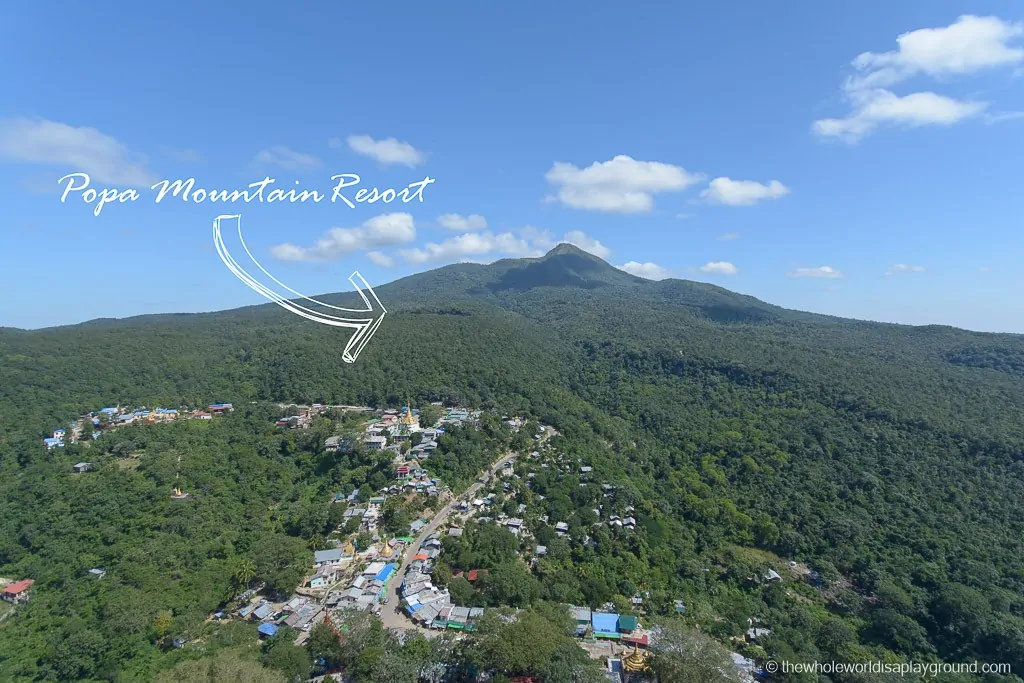 The Rooms
The resort is comprised of 55 chalets which are furnished with super comfortable four poster beds and traditional teak and stone furnishings. We originally booked a Deluxe Garden View room for USD $145 as it was the only room available but when we arrived we paid an extra USD $25 to upgrade to a Mountain View room. We'd been coveting the mountain view rooms and were ridiculously excited that we were able to upgrade as it meant we could watch the sunrise from our private balcony! The resort is a real step into nature and our villa was secluded and beautiful. Our private balcony with its stunning Mount Popa view was the absolute highlight and the four poster bed came a close second!
The room: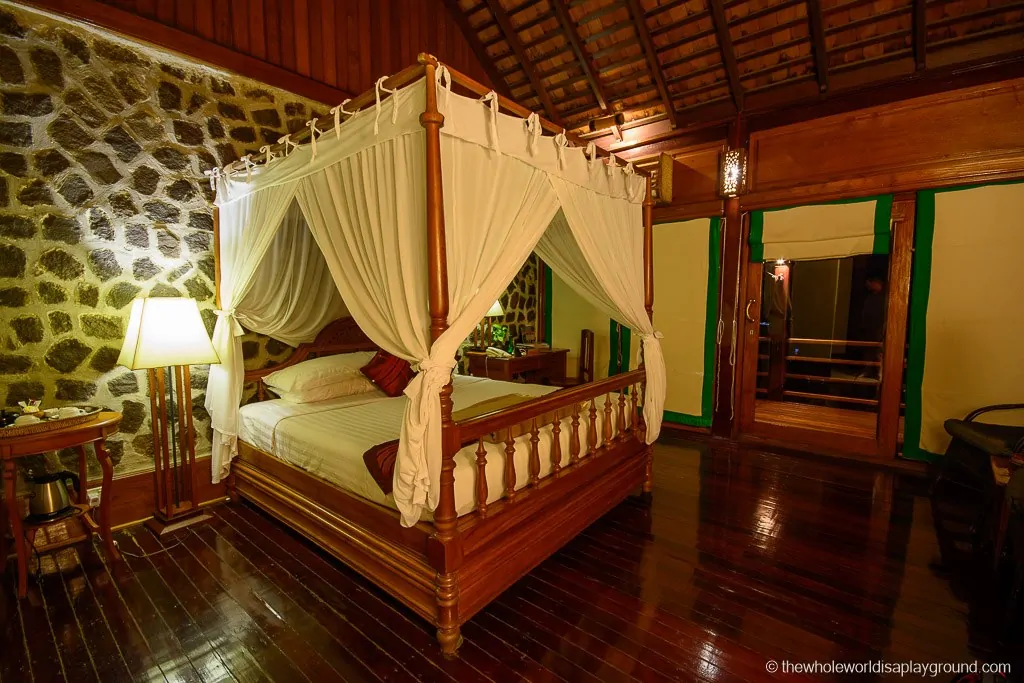 Our balcony!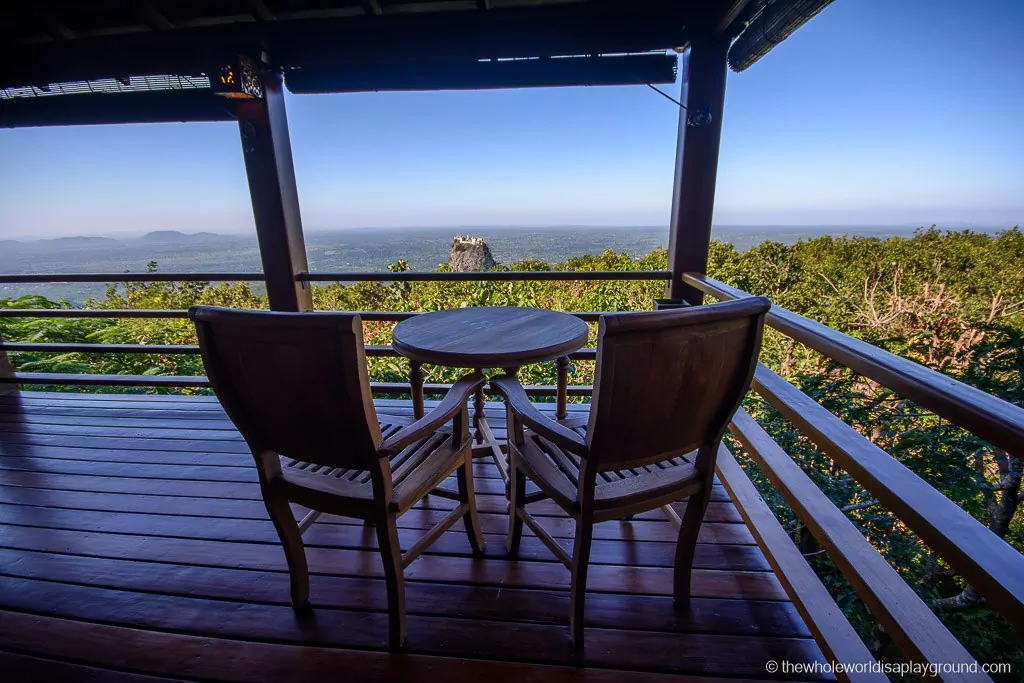 The bathroom: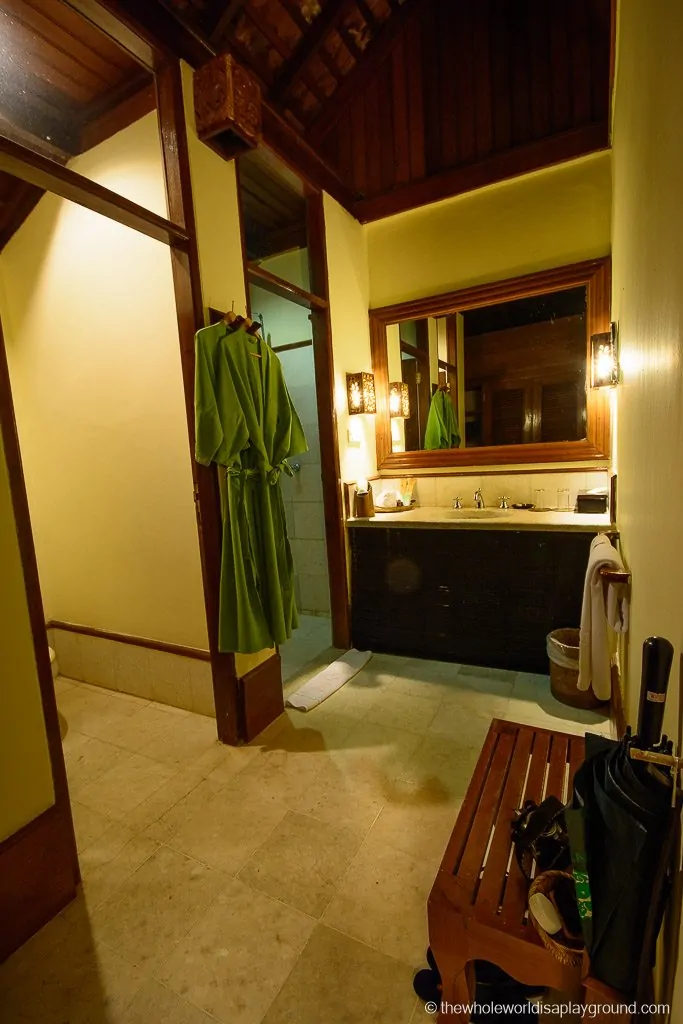 Sunrise from our balcony: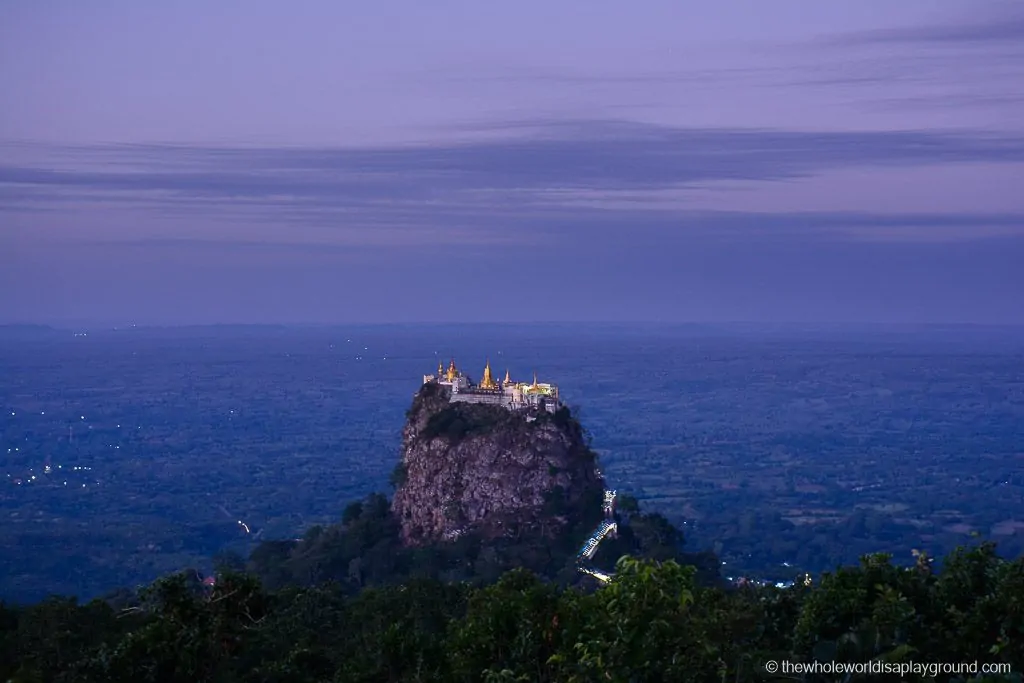 Food and Drinks
The resort is secluded and so we had breakfast and dinner at the hotel. The dinner selection was wide and the Burmese food we sampled was very nice and spicy as we requested! Breakfast was included in our rate and was buffet style with good options. The highlight was the terrace with its gorgeous views towards Mount Popa.
The view from our table!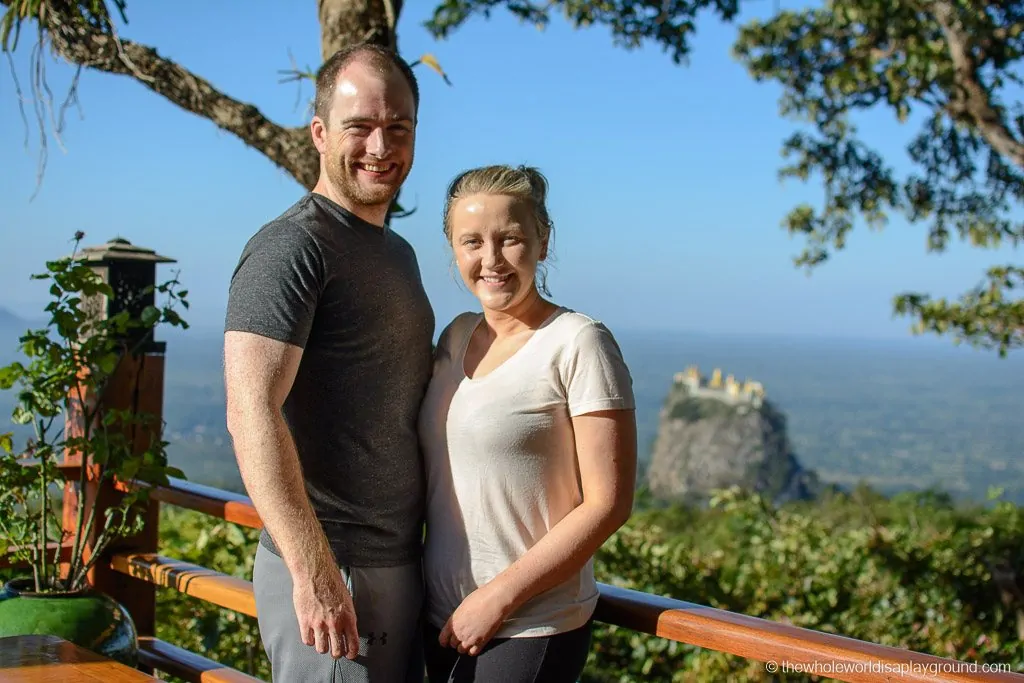 The Facilities
It's all about the pool at the Popa Mountain Resort. It was the very reason we chose to spend a night at the hotel and we couldn't get enough of the amazing Mount Popa views! When we (and by we I mean I) worked up the bravery to jump into the chilly pool we were mesmerized by our incredible surroundings. Definitely a Myanmar highlight!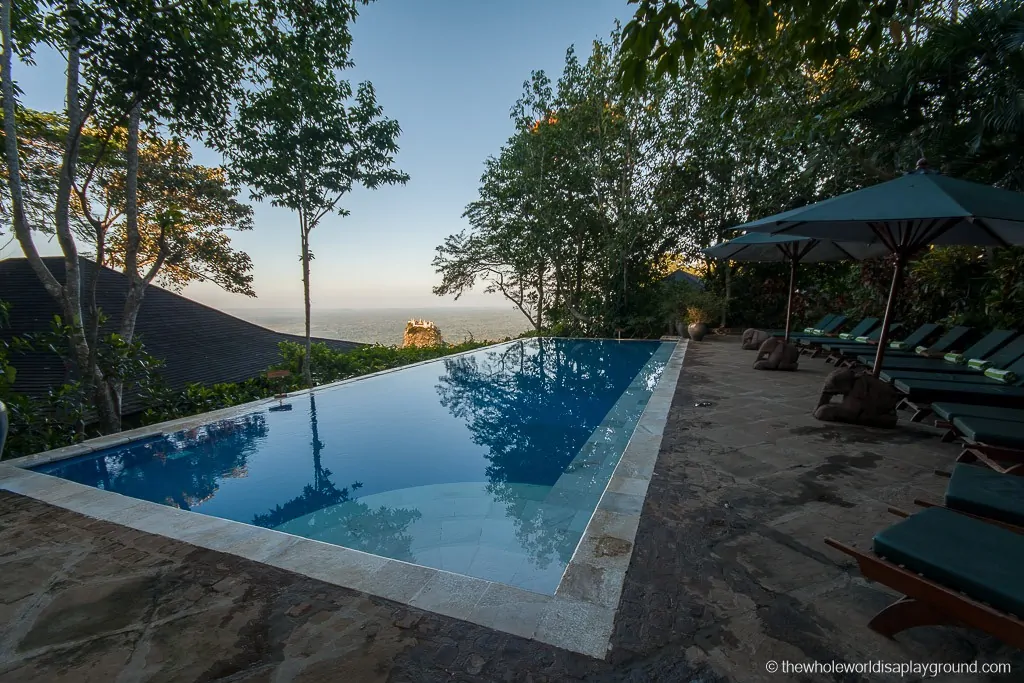 The pool at night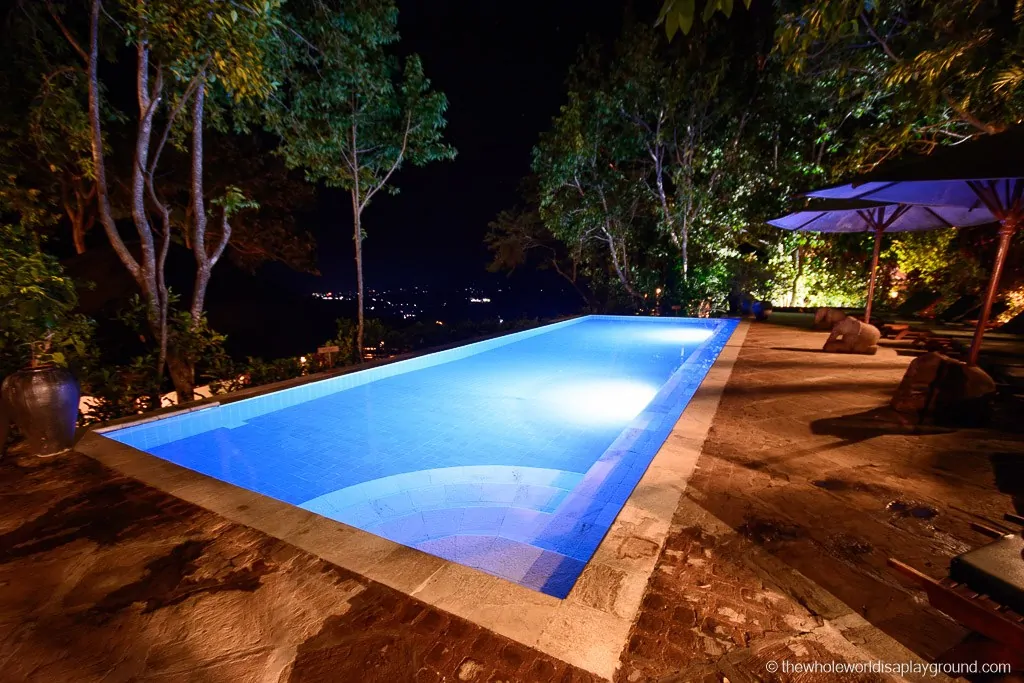 Overall
The Popa Mountain Resort is one of our highlights of Myanmar and we couldn't get enough of the spectacular reviews and lush jungle setting. It's an amazing stopover between Inle Lake and Bagan and the infinity pool is incredible! Click here for prices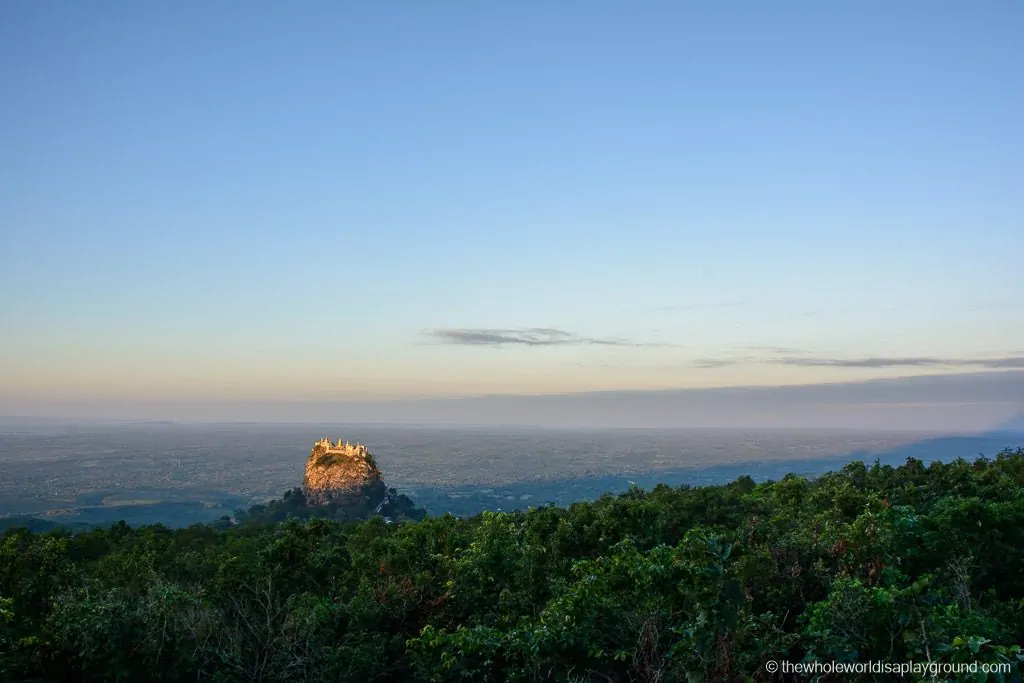 Booking
We booked our stay at the Popa Mountain Resort with agoda.com. We find Agoda by far the best booking website for Asia trips. It's reliable, has a huge inventory and the prices are as good as we can find.
How to get to Popa Mountain Resort
We took the VIP JJ Express from Inle to Bagan and hopped off at Kyaukpadaung which was the closest town to Mount Popa. It's a day bus and takes around 8 hours from Inle Lake. Kyaukpadaung isn't a common stop but JJ sorted us out with a 'taxi' (when we say taxi it was really two teenagers with a car!) and we were happy not to have to go to Bagan and double back on our journey with an expensive taxi to Popa.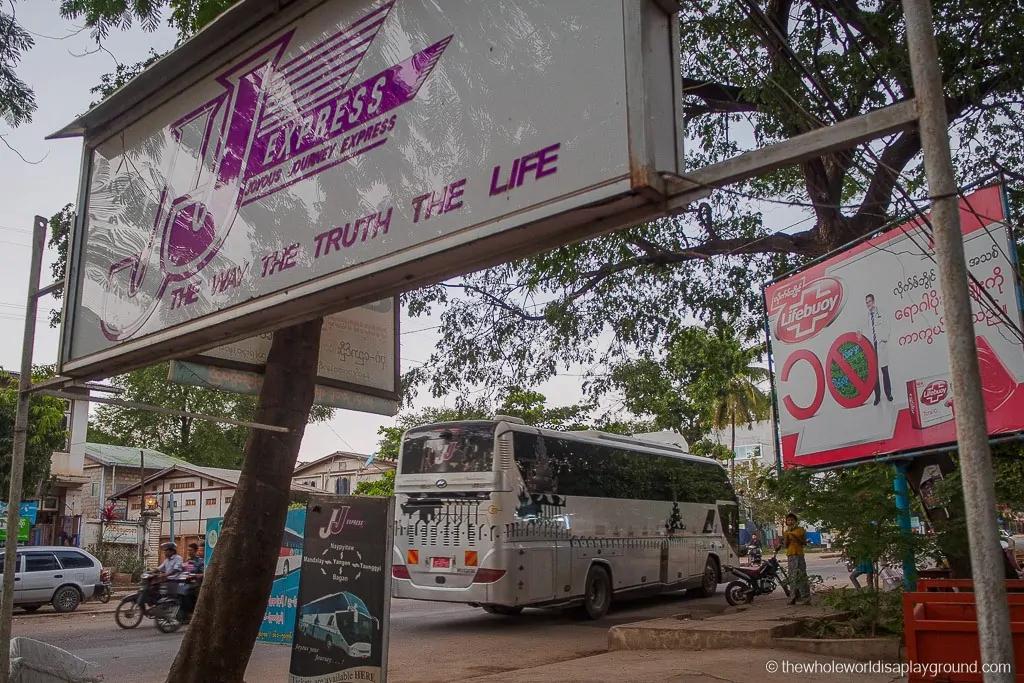 Pin for later!