Orlando is one of the most popular vacation destinations in the USA and for good reason. With year-round sunshine, an abundance of theme parks and lots of unique places to visit there is something for everyone in Orlando. One of the first things any visitor should consider is renting a car in Orlando. A rental car offers the best way to make the most of your time in Orlando.
We've visited Florida many times and have rented cars in Orlando and Miami. We've put together this list of our tips and tricks for anyone planning on renting a car in Orlando, including tips on how to save money on your rental and make the most of your rental car.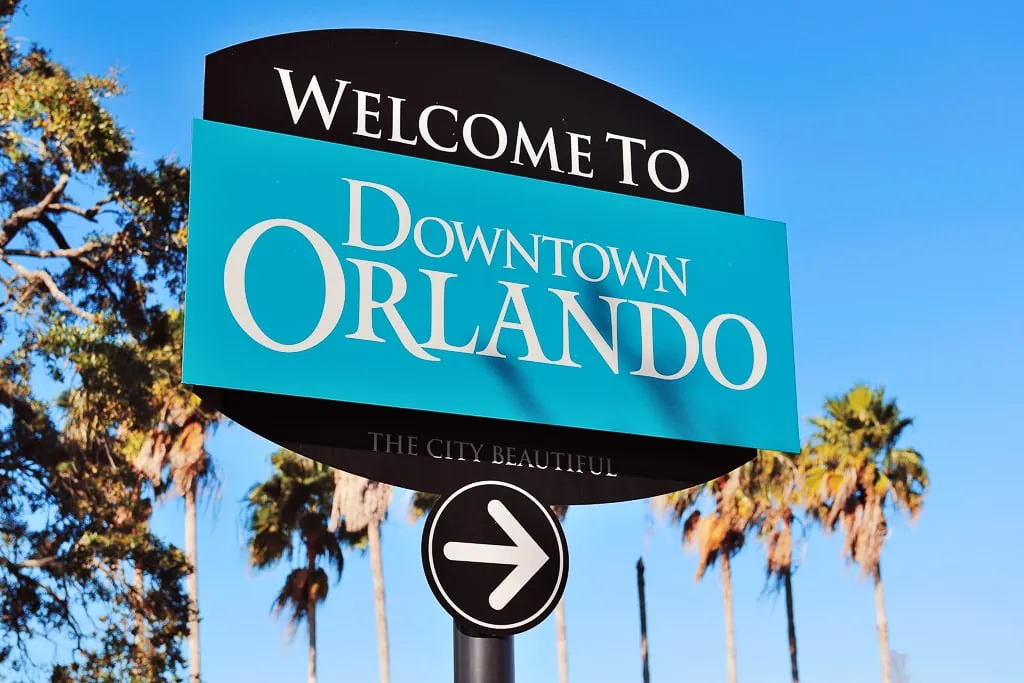 Tips for Renting a Car in Orlando
We've included all our best tips for anyone looking to rent a car in Orlando, including tips for international visitors visiting the USA for the first time.
Why Rent a Car in Orlando?
We've enjoyed many amazing trips to Florida: we've visited the theme parks in Orlando, taken a road trip through the sunshine state, visited Miami and had an awesome time driving from Miami to Key West and have spent lots of time in the fabulous Key West. All of these trips were only possible with a rental car. Florida is a state packed with amazing things to see and do and a rental car opens up so many possibilities for your trip.
1 | Booking your rental car
Orlando is one of the most popular destinations in the USA and demand for rental cars is high at most times of the year. As Orlando is popular throughout the year, it's worth booking your rental car well in advance, regardless of when you plan to travel. This should give you a good selection of cars to choose from.
Renting a Car in Orlando tip: Demand for family and group cars is always high in Orlando so we recommend checking availability well in advance of your trip.
We book our Florida car rentals through RentalCars.com. We're huge fans of road trips and have driven rental cars in almost 50 countries. We've always found a great selection and competitive prices with RentalCars.com – check prices now!
Book your Orlando rental car now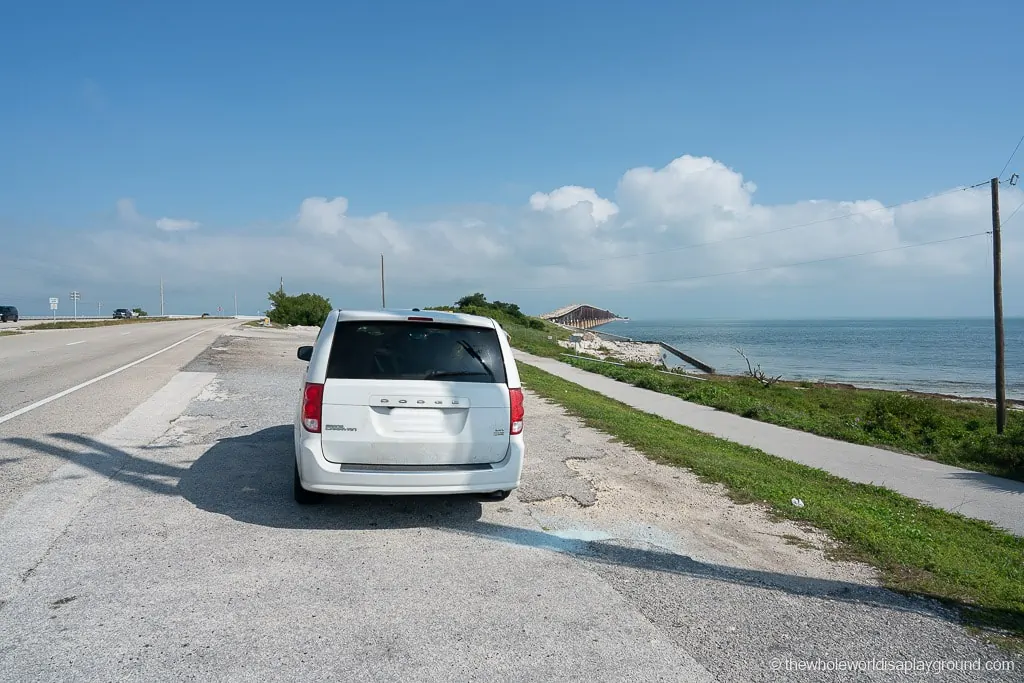 2 | Choosing your rental car
International visitors to the United States will be happy to know that most cars are bigger in the US compared with the rest of the world. So you should have lots of space in most cars for both luggage and passengers.
It is worth considering getting a slightly bigger car than you need if you're planning a lot of driving in Florida. We've rented various vehicles in Florida, from budget compacts to 12-seater vans and the larger vehicles have been a lot more comfortable. The extra space, great air con and not having to worry about luggage fitting makes the bigger cars worth it. In addition, a larger car won't cost a lot extra if you book well in advance.
RentalCars.com has a huge selection of cars to choose from so you should have no problem finding a vehicle to suit your needs – check prices now!
3 | Picking up your car
Most visitors to Orlando will arrive via Orlando International Airport Orlando (MCO). MCO is the busiest airport in Florida and one of the busiest in the USA.
If you are arriving via Orlando International airport it's worth noting that there are two rental car pick-up locations, one at each terminal. It is very important that you know what terminal you are arriving at when booking your rental car as you'll want to reserve car pickup at the correct terminal.
Once you pick up your bags make your way to the rental area where you can pick up your car.
4 | Insurance and your Rental Car
It's worth considering your insurance options before renting a car in Orlando. As with all destinations, we recommend having full insurance for your rental car. Having full insurance gives you complete peace of mind during your trip so you don't have to worry about any extra damage costs when you return your car. There are a number of options for obtaining insurance for your rental car which you need to be aware of before you book your rental car.
Purchase full insurance in advance: We usually buy full insurance when we reserve our rental car. We do this for two reasons, it makes pickup and return of the rental car much easier (as damage etc is generally not checked) and we usually save money by not buying at the rental car counter. You can add full insurance on Rentalcars.com at the time of booking so you won't have any cost surprises at pickup – check prices now!
Insurance cover with your credit card provider: Depending on your credit card provider and your home country you may already have rental car excess cover as part of your credit card benefits. This is a very common benefit for credit cards issued in the USA, however, it can be less common in other countries. It's always worth checking if any of your credit cards offer this benefit (you can call them or check the terms and conditions)
Renting a Car in Florida tip: If you opt to use your credit card coverage on your rental car and you will likely have to pay for any damages and then make a claim with your credit card provider. It's worth checking what this process is before you use this option so you know what to do.
Purchase insurance when you pick up the car: purchase insurance when you pick up the car. We generally don't recommend this option as you won't know the final price before you arrive to pick up the car and it can be easy to accidentally take coverage you don't want/need as you may misread the rental contract.
Pay the excess in event of a claim: We don't recommend this option as rental car excesses can be thousands of dollars and you are liable up to that large excess for any damage. It can be very easy to pick up some minor bumps and scratches during your trip and the rental car agencies will charge you heavily for these if you don't have insurance cover.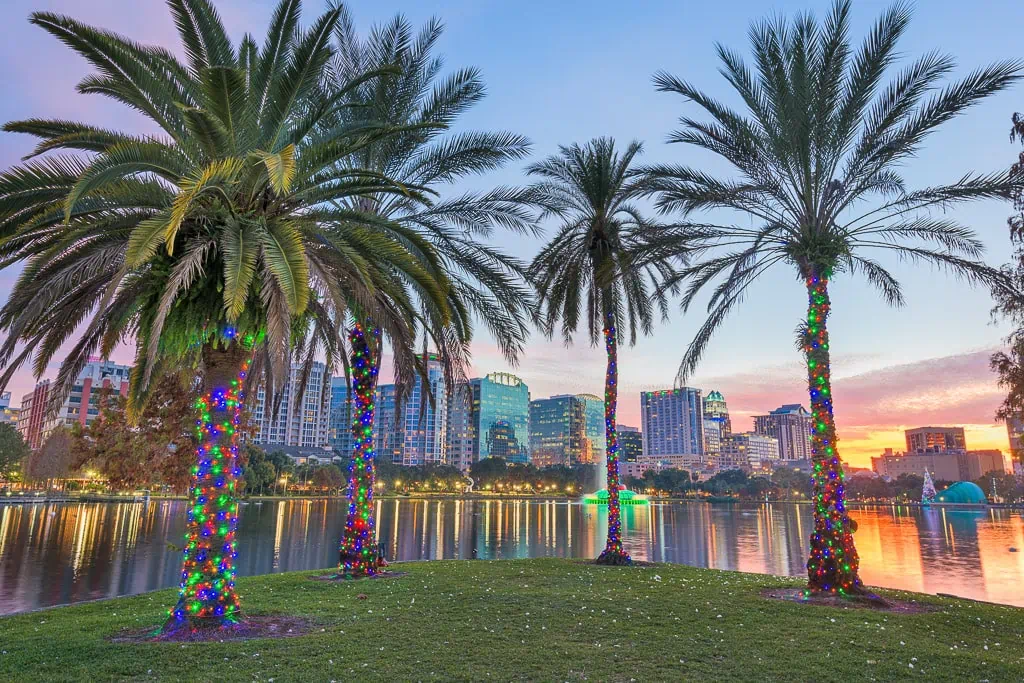 5 | Required Documents
As with all car rentals around the world, you'll need some basic documentation in order to pick up your rental car. At a minimum, you will need your passport, driver's licence and credit card to pick up your rental car.
Based on our experience, UK visitors to the USA do not need an International Drivers Permit to hire a car in Florida. However, do check this in advance with your rental car provider before you book your car wherever your licence is from.
6 | Air Conditioning
Florida is known as the Sunshine State and for good reason – it gets year-round sunshine! This is great for visiting however during the summer months it can get very short and humid.
We recommend checking that your rental car has good working a/c when you pick up your rental car. It's unlikely you'll have any issues but it's worth checking when you pick up as your rental car experience won't be great if you have bad a/c in your car.
Renting a Car in Florida tip: The hottest months in Florida are June through September, when the average temperatures are in the high 20's (and 70's in Fahrenheit) and humidity regularly gets up to 70%.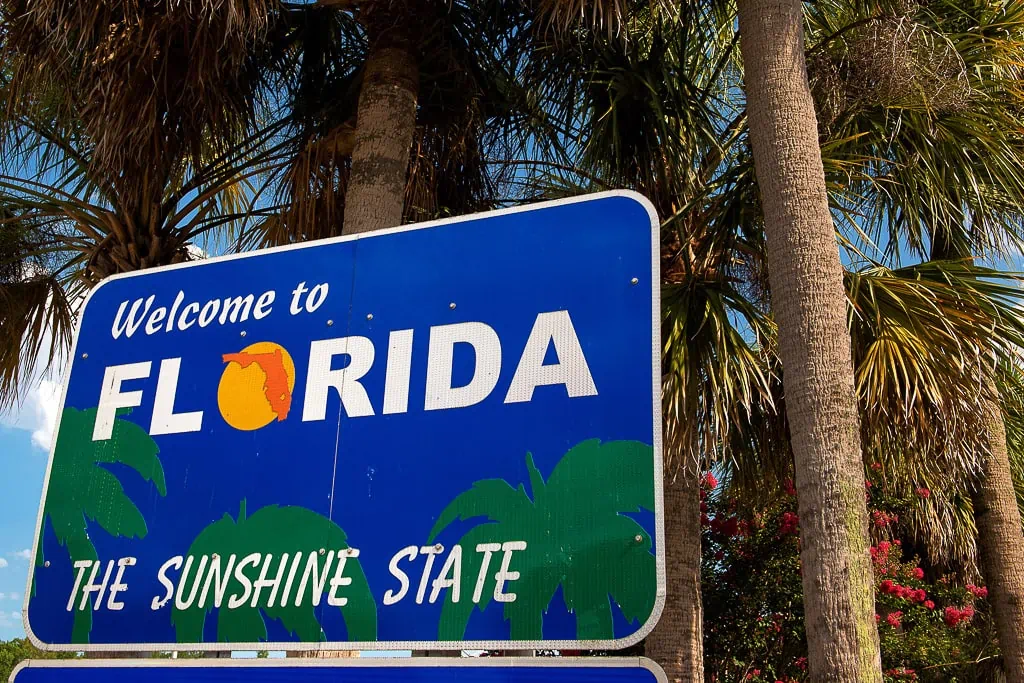 7 | Automatic Cars
This tip is aimed at overseas visitors on their first time renting a car in the USA. The vast majority of cars in the USA are automatic cars, meaning there is no clutch or gearstick to use in your rental car. Automatic cars are very easy to drive. It only takes a few minutes to get used to driving an automatic car, so much so that you might not want to go back to manual again!
A good tip for first-time drivers of automatic cars is that you don't need to use your left foot (your clutch pedal) at all, just leave it on the floor!
Renting a Car in Orlando tip: Automatic cars only have two pedals, brake and accelerators. All you need to drive is disengage the parking brake, put the car into drive and accelerate.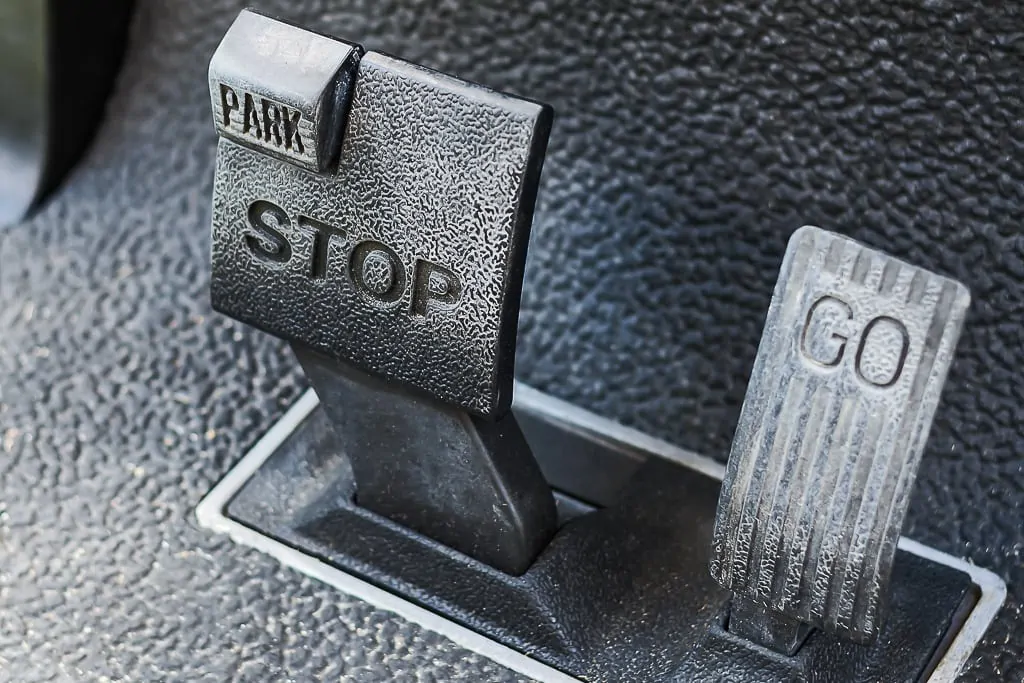 8 | Drive on the right
Like the rest of the USA, cars drive on the right-hand side of the road.
9 | Is driving in Florida safe?
We found driving in Orlando and around Florida very safe. We've spent over a month in total exploring Florida by rental car and never had any issues. Once you are aware of the driving etiquette and the speed limits driving in the USA is very straightforward.
In our experience, other drivers in Orlando were courteous and kept to the road laws and speed limits.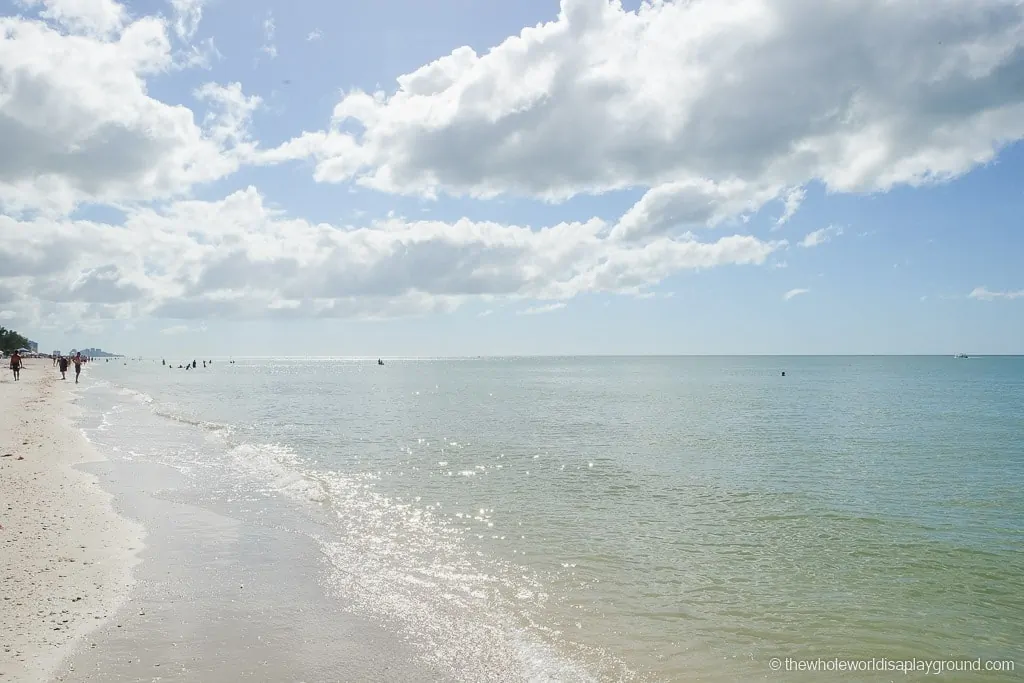 10 | Speed Limits
In our experience speed limits were very well signposted throughout Florida. Speed limits in the USA are quoted in miles per hour. It is very important to pay attention to the signposted limits as reduced speeds can apply at any time and there are many speed checks by police throughout the state. This is especially the case in residential areas where speed limits can change frequently.
Renting a car in Orlando tip: We found that Google Maps and Waze apps had very accurate speed limit data and it was very easy to see the current speed limits on the apps.
The general speed limits in Florida are as follows:
Residental and urban areas: 30 mph
All other roads and highways: 55 mph
Highways and interstates: 70 mph
The standard speed limit on all roads and highways in Florida (unless otherwise signposted) is 55mph.
Renting a Car in Florida tip: Traffic speed limits are strictly enforced in Florida and we encountered many speed checks on our trips throughout the state. It is important to pay attention for any speed limit changes, which we found are well signposted.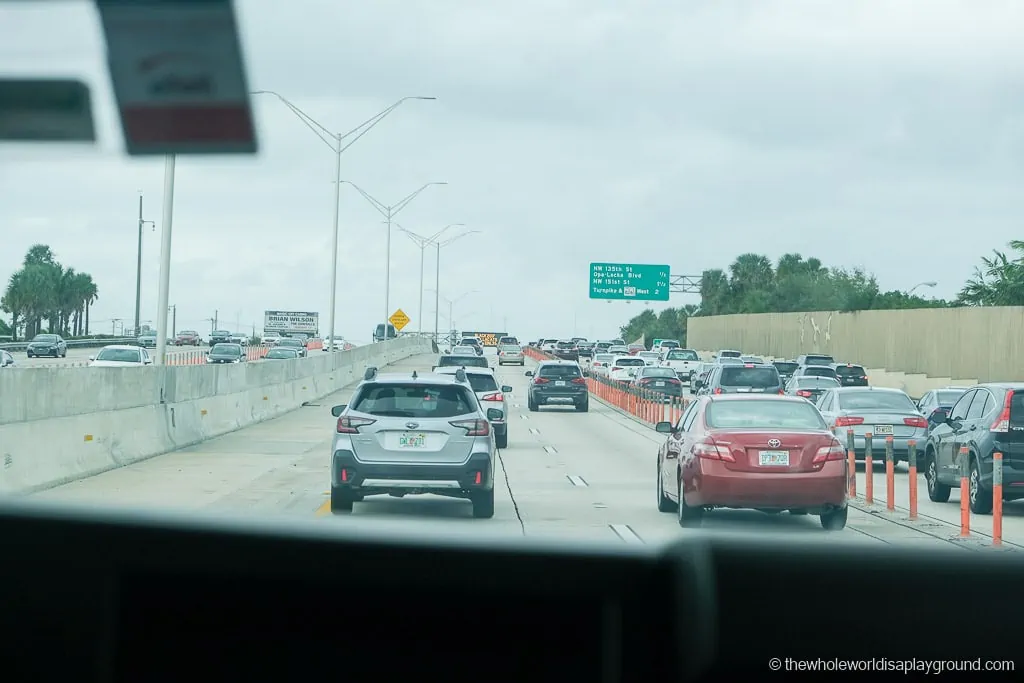 11 | Drive Times and Traffic
Having driven around most of the state of Florida we recommend factoring in traffic to your drive times. We used a combination of Google Maps and Waze during our time in Florida. We found Google maps drive times are generally accurate but Waze was much better at traffic delays and notifying of accidents/delays.
Traffic can get excessive in Orlando at peak times, especially around park opening and closing times. Accidents can also lead to significant delays on the turnpikes and main roads around Florida.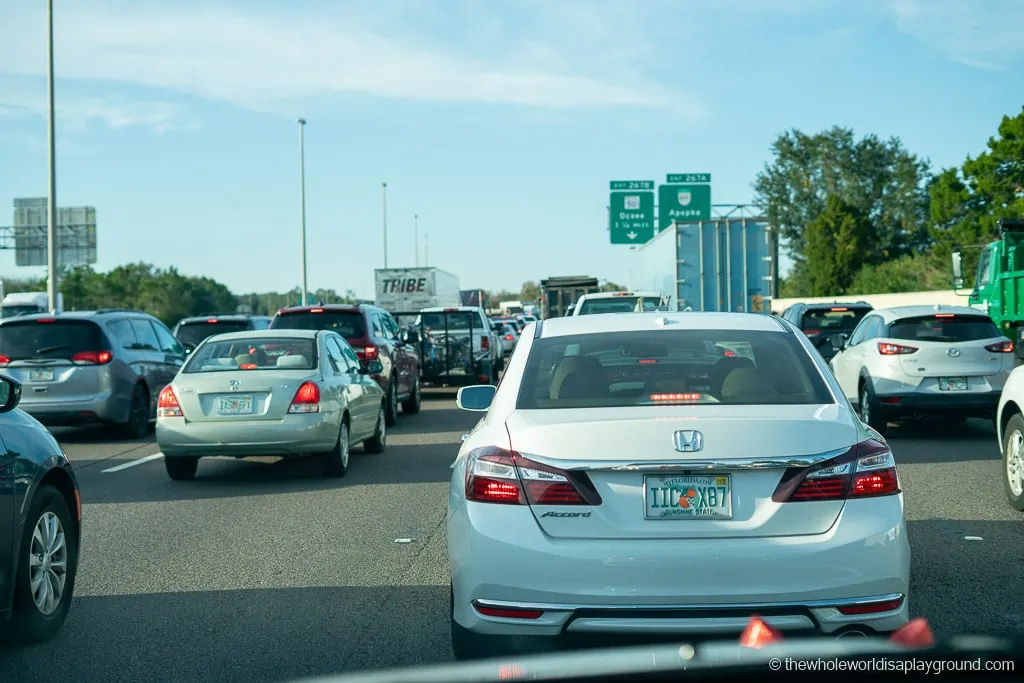 12 | Fuel
Most cars in Florida are petrol-based (referred to as gas in the USA). Gas stations are everywhere in Orlando and around the state of Florida so you'll never have an issue finding a place to top up.
Most rental car agencies operate on a rent full, return full basis and there are are few gas stations located close to Orlando International Airport.
Fuel stations are mostly self-service and are pay at pump via credit card. There are usually two types of gas available, regular and premium, with some stations having a third, more premium option. We usually just got the regular gas as it's cheaper.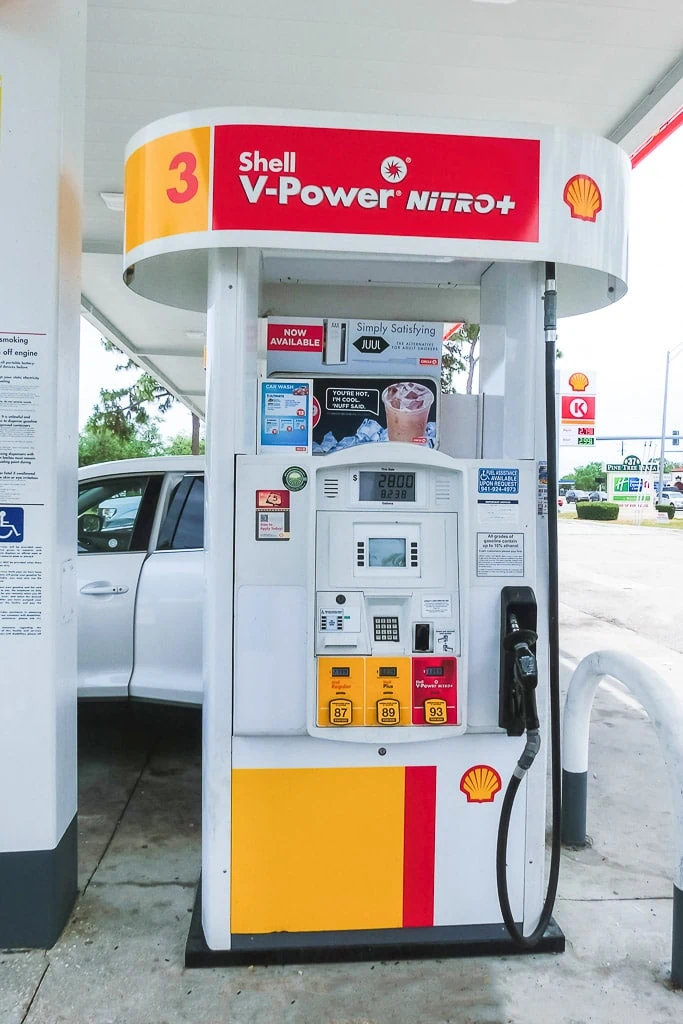 13 | Tolls
Most of the major roads in Florida operate toll systems and charge based on how far you have traveled on the road.
There are a number of major toll roads in Florida that visitors should be aware of before driving around the state. The major toll road is the Florida Turnpike (also known as the Ronald Reagan Turnpike). This is the major route through the state and runs from Orlando to Miami.
The Visitor Toll Pass
In 2021 Florida introduced the Visitor Toll pass, a free tag that all visitors can pick up on arrival in Florida and use in their rental cars. Visitors can pick up their free pass The pass can be picked up in the car rental hall and is returned on departure. Visitors register their car and payment details on the app (iOS / Android) and hang their pass in your rental car mirror and it's automatically activated when you leave the rental car garage.
Prior to 2021 rental cars required a SunPass transponder which allowed customers to charge their tolls electronically and pay the tolls in a single final bill when they returned the rental car. This worked great, however many of the rental car companies charged a daily admin fee for using the Sunpass transponder (around $3-5) which can really add up.
The visitor pass can save you a lot of money on your car rental as it avoids the Sunpass transponder rental costs and many of the toll charges are cheaper with the Visitor Toll Pass.
Paying for Tolls and Saving Money!
Tolls can be by drivers in cash at the toll plaza or via SunPass/Visitor Toll Pass. We highly recommend using a toll pass as it saves a lot of time and effort compared to paying in cash.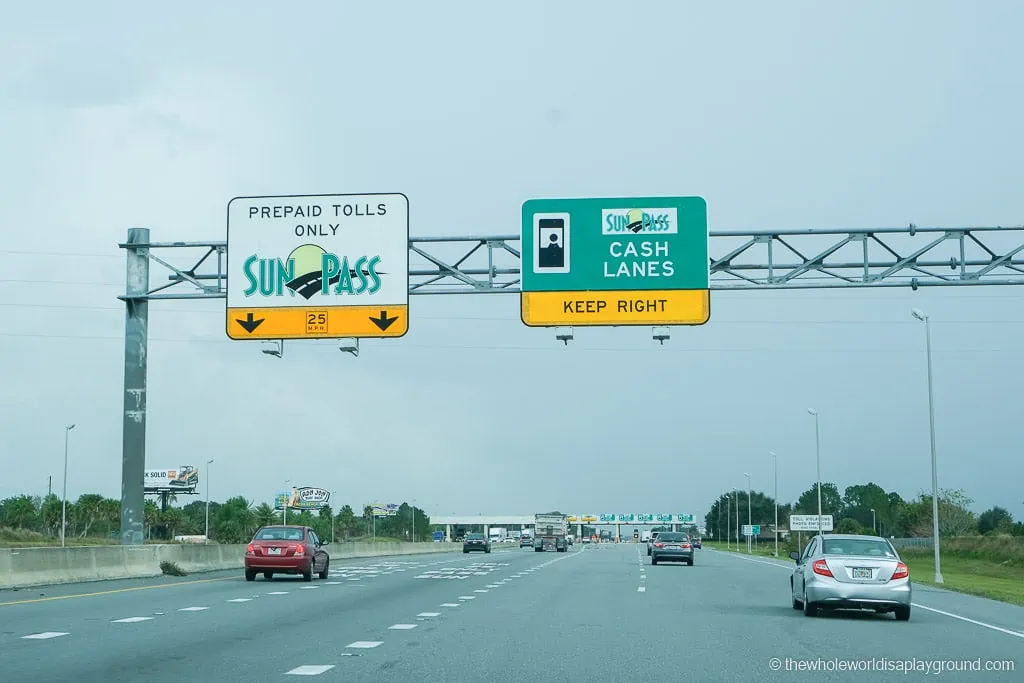 Renting a Car in Florida tip: If you plan on using the visitor Toll Pass you need to decline the rental car company toll program (Sunpass). It is important to ensure it isn't included in your rental or you risk being charged twice for your tolls.
Sunpass Tags
If you've rented a car from out of state then your car will likely not have a SunPass tag included in the rental or have access to the Visitor Toll pass prior to entering Florida. You can easily purchase a Suntag from a 7/11 and register it for use.
14 | Parking
Similar to other countries, there are parking charges in various places in Orlando. It's worth being aware of these and factoring the costs into your trip budget.
Hotel Parking Costs
A lot of hotels in Orlando now charge guests additional fees for parking. This is either billed directly via an overnight parking fee or factored into a resort fee. Resort fees are very common at hotels in Orlando and there is no way to avoid them.
While these fees and charges are now simply an extra cost to visiting Orlando, it's worth checking your hotel parking fees before you book so you have a clear idea of the total cost of your stay.
Parking at Theme Parks
Most of the large theme parks in Florida now charge a separate daily rate for parking at the parks, with some charging up to $25 a day.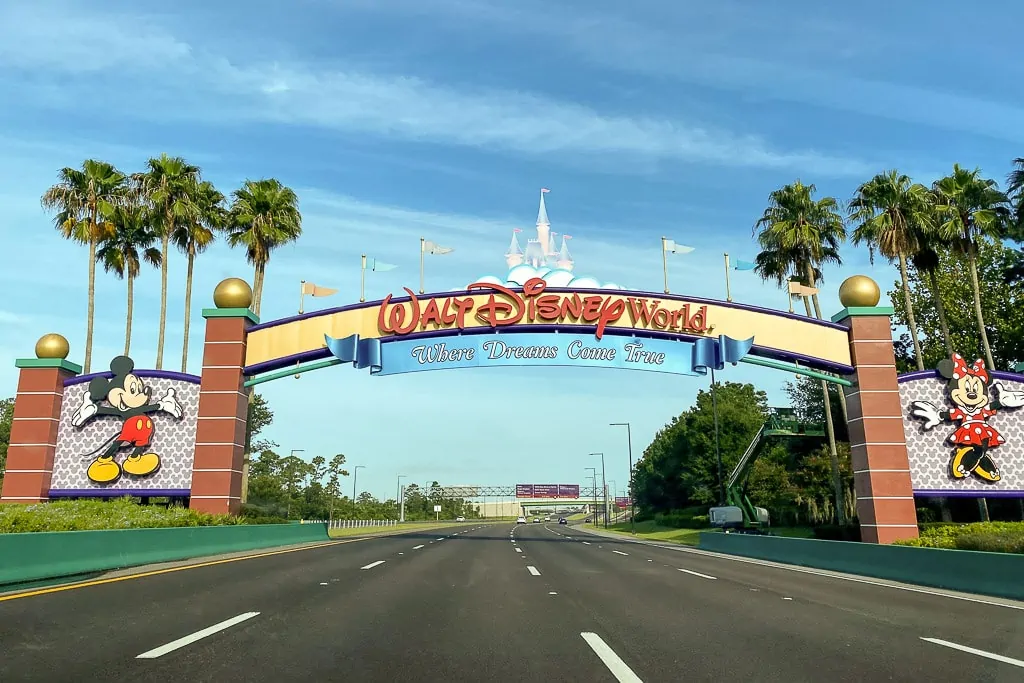 General Parking
Parking in designated parking lots for groceries, stores or restaurants is generally free in Orlando. For example, Walmart parking is free. Street parking is usually not free, however street parking is very limited in Orlando as most places have designated parking lots.
Driving Etiquette and Laws in Orlando
There are some unique aspects of driving in Orlando and throughout the USA that international visitors will encounter and should be aware of.
15 | Overtaking and Undertaking
One aspect of driving in the USA that visitors from other countries will find different is undertaking. While driving in the US it is usual for drivers to routinely undertake you on the inside lane, especially on interstates or freeways.
This will surprise foreign visitors as this practice is generally not allowed in other countries.
Renting a car in Orlando tip: Always make sure to check your mirrors when you are moving into an inside lane (i.e. a lane to the right) as traffic may be moving faster on the inside lane with undertaking traffic.
16 | Turning Right on a Red Light
If you are in the right-most lane and waiting at a junction at a red light you may turn right onto the road ahead if there is no traffic coming from the left.
Visitors from other countries will find this practice very strange and it does take a little getting used to. It can save a lot of time waiting at red lights, especially if there is very little traffic on the roads.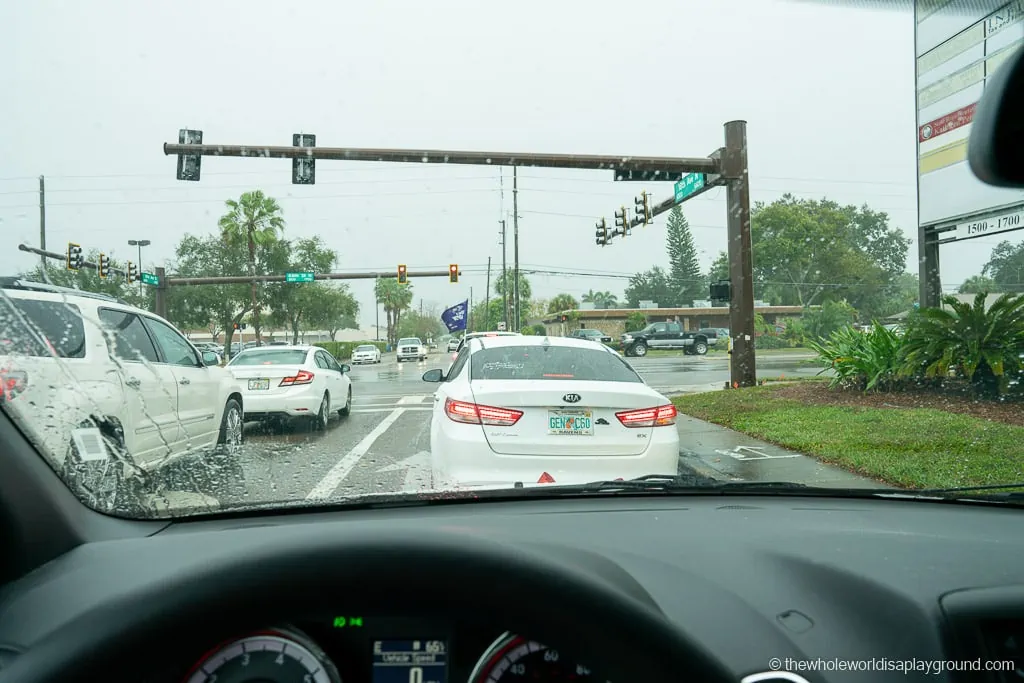 17 | The School Bus Rule
Visitors to the USA may not be aware of this rule but it is very important if you're planning to drive around Florida in a rental car. There are important state laws that govern school buses that aim to keep school children safe when getting on or off the school buses.
In Florida (and most of the USA), if you are travelling behind a school bus and it stops, then you must also stop behind it and not pass it. This also applies if you are in a different lane behind the bus.
If the road is a two-lane road (or a multi-lane road with no central reservation), traffic in both directions must also stop when a school bus stop.
Renting a Car in Orlando tip: a stopped school bus will have flashing lights and/or a pop out stop sign indicating not to pass it while school kids get on/off.
18 | Alcohol in your car
There are particular laws governing alcohol and its storage in your vehicle while in Florida.
Similar to other states in the USA, it is against the law to have an open container of alcohol anywhere inside your car in Florida, this applies even when the car is stationary and parked. A container of alcohol must be full, sealed and unopened if it is inside your car. an open beer or uncorked bottle of wine. This means that passengers in the car are not allowed to have open alcoholic drinks in a car at any time.
Renting a Car in Orlando tip: The only true safe place to store an alcohol container (open or closed) is in the trunk of your rental car.
19 | Roadtrip around Florida
A rental car gives you amazing flexibility to explore a destination on your travels. Although there are lots of things to see and do in Orlando, it's worth considering trips to other parts of Florida during your time in Orlando. Popular destinations we have road tripped to in our rental car are St Petersburg, Miami, the Florida Keys and the Everglades.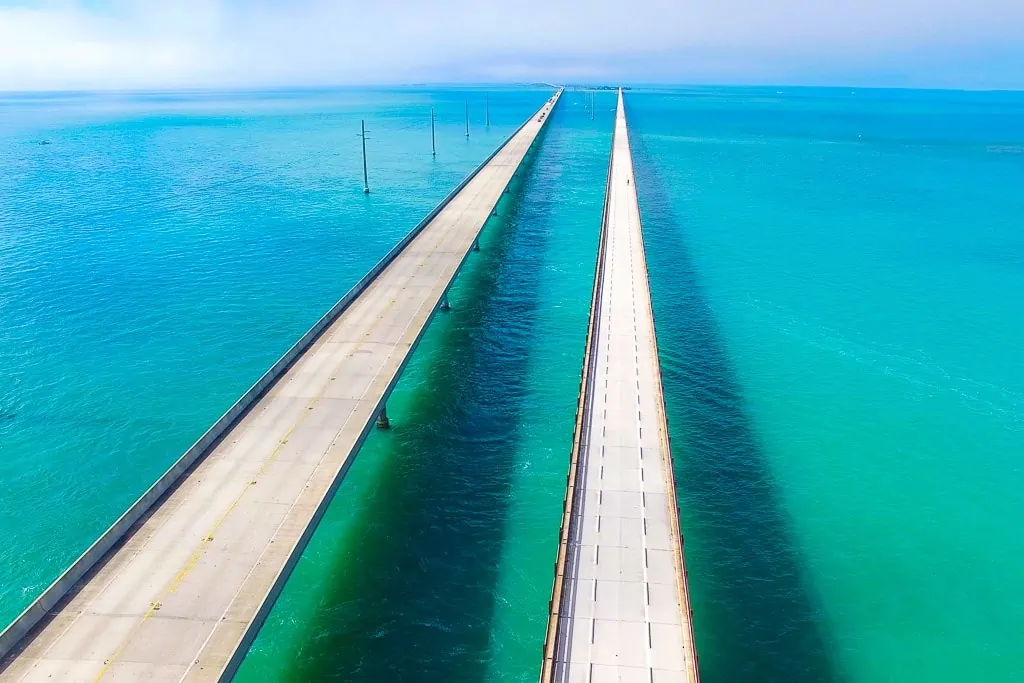 20 | Florida Weather and Driving Conditions
Florida is prone to sudden and powerful rain/thunderstorms during some parts of the year. These showers can happen very suddenly and can significantly reduce visibility and stopping distances on the road. It's important to slow down and turn on your lights during these rain storms.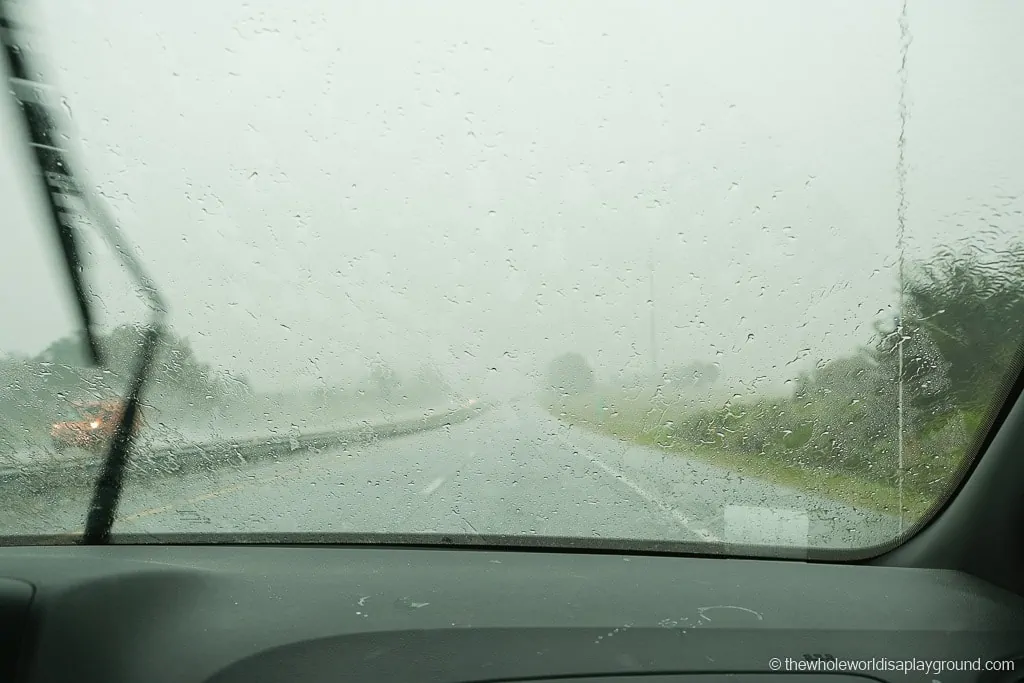 21 | Car seats for Children and Babies
The rules for car seats and children in Florida are significantly less stringent compared to other US states or international standards. We've included the current Florida rules, however, parents may wish to follow their own state or country rules as they will likely be more thorough.
We bring car seats for our kids from Europe and this avoids any issues with renting or buying car seats in the USA. We would recommend this option to most families as we found it easier, less expensive and more reliable. Most airlines allow passengers to carry a car seat in addition to a stroller for free.
Renting a car in Orlando tip: If you plan to take child car seats on the plane we highly recommend packing them in a car seat cover/bag for the filght. We use this one and it works great. They protect your seats from water and dirt and are easy to identify at baggage claim.
Florida Car Seat Laws
Florida laws require any child under the age of 5 to be seated in a federally approved, crash-tested car seat at all times in a vehicle. Kids aged between 4 and 5 must be seated in an approved car seat or a booster seat. From age 6 children can use an adult seatbelt. This is very young by other state and international standards.
There are no rules specifying forward or rear-facing seat requirements. Although other US states and countries specify more detailed child weight and size requirements for car seats, the Florida laws do not. These rules may change over time so it's worth checking prior to travelling.
Renting Child Car Seats
You have the option of renting car seats from your rental car company. We don't do this unless we really have to as it is generally expensive ( a daily rental rate) and the car seats may be in poor condition.
Buying Car Seats in Orlando
Another option is to purchase the car seats on arrival in Orlando at the Walmart located close to the airport. One parent can take a taxi to pick up the seats while the family wait at the airport.
Renting a Car in Orlando tip: While it is possible to buy car seats when you arrive in Orlando, we recommend taking your own with you. Most airlines allow you to take them free of charge and it's the easier option