30 photos that made us fall in love with safari! Kruger and Sabi Sands, South Africa
As we planned our South Africa road trip the prospect of a safari adventure shot to the top of our bucket list. Kruger and Sabi Sands emerged as the winners for our first safari and the experience was even more magnificent than we ever imagined. Over two days we were treated to some magical safari moments: the famed Big 5 of the African lion, the African elephant, the Cape buffalo, the African leopard and rhinoceros graced us with appearances together with the majestic cheetah and many, many more. The animals captured our imaginations and our hearts: here's 30 of our best sightings from our four game drives in Sabi Sands that will make you fall in love with safari!
1 | A mother's watchful eye: leopard and cub chilling in the trees

2 | A herd of Elephants approaching at dawn

3 | Even a lion needs a hug sometimes!

4 | The anticipation of an early morning game drive

5 | Incredible sunrises lighting up the morning sky!

6 | The unwavering focus of a leopard cub

7 | The dung beetle hard at work

8 | Vultures surveying the landscape ready to swoop in

9 | Always watching: a leopard at a watering hole

10 | One of Africa's most deadly: the water buffalo

11 | The lofty giraffe

12 | Can you spot the hippos?

13 | The fastest land animal, the majestic cheetah

14 | Staring straight into the eyes of an elephant

15 | A cheetah relaxing after a kill

16 | Always the opportunist: a hyena is never too far away

17 | Animal spotting from the truck

18 | Warthogs loitering in the mud

19 | The beautiful zebra

20 | A leopard minding its kill high above the waiting hyenas

21 | A rhino slumber party

22 | A water monitor emerging from the stream

23 |  Leopards: the most beautiful animals on the planet

24 | Slowly but surely the tortoise travels along

25 | Mongoose or meerkat? It was a mongoose!

26 | A leopard preening itself in the trees

27 | Elephants emerge in the morning mist

28 | Even the king of the jungle needs its beauty asleep

29 | The cheetah taking some chill out time

30 | Sun downers and unforgettable sunsets

Where we stayed: our safari lodgings!
We stayed in the Inyati Game Lodge in the Sabi Sands Game Reserve adjacent to Kruger. It was the perfect luxury safari retreat for us with  luxury accommodation, good food, drinks and company and an amazing chance of sighting the big 5. Check out our Inyati adventures here!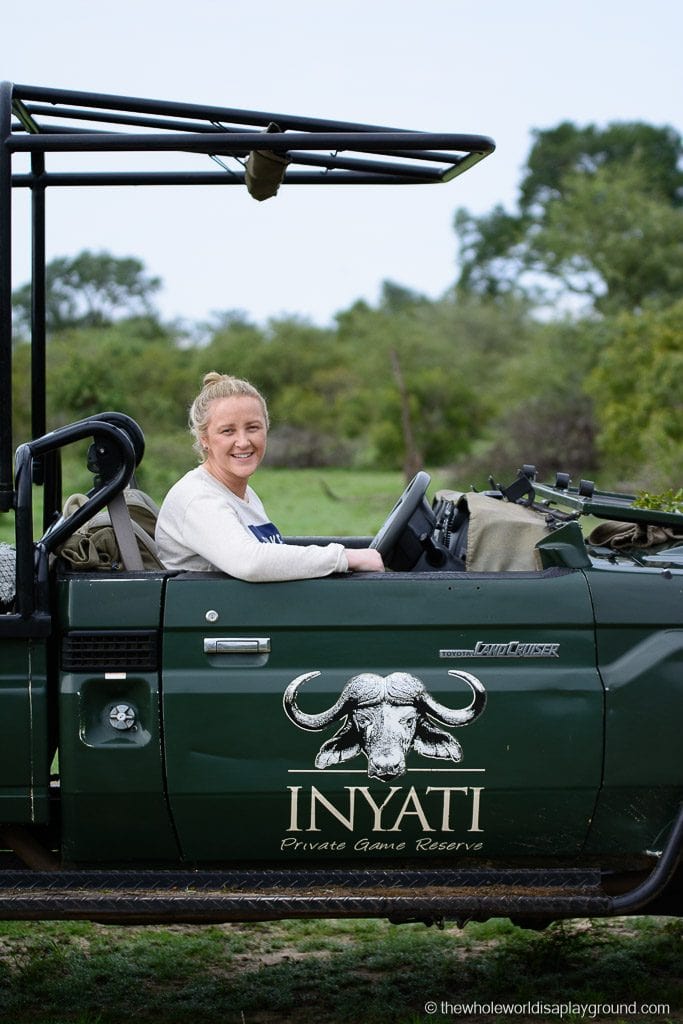 Some of the links in this article may be affiliate links. We are a participant in the Amazon Services LLC Associates Program, an affiliate advertising program designed to provide a means for us to earn fees by linking to Amazon.com and affiliated sites.