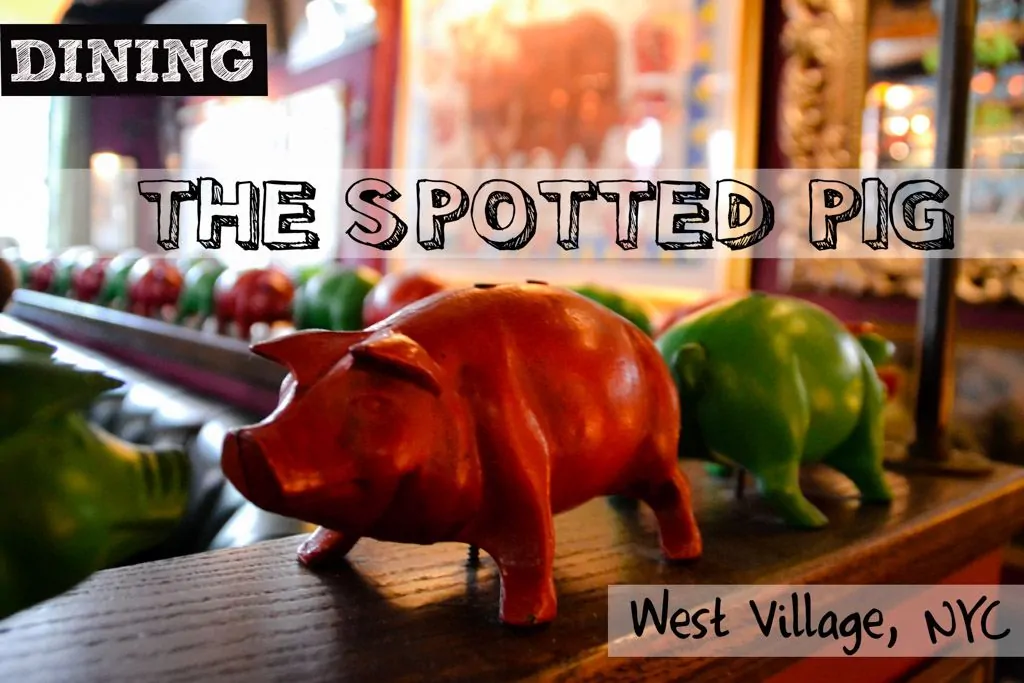 There are days when you just need some really good comfort food to get you through. And if you are in New York, these occasions often necessitate a trip to the Spotted Pig in the West Village of Manhattan. New York's first gastropub, The Spotted Pig serves up a special kind of comfort food, Michelin star comfort food to be precise! What a combination!
Despite opening way back at the beginning of 2004, dinner at the Spotted Pig can still command waits of over 2 hours and its burger is often touted as one of the must try burgers in New York City. We piled into the Spotted Pig during many great New York evenings and were excited to be back in the neighbourhood to check out our old favourite haunt!
The Menu
The menu includes bar snacks, main courses, sides and desserts.
Narrowing our dishes down to 2 bar snacks and 2 plates required some intense negotiation, there was so much we wanted to order! In the end we opted for the devilled egg and chicken liver toast to warm up our taste buds followed by the grilled cheese sandwich and burger with shoe string fries.
To add to the choice problem, there's a selection of daily specials displayed on the mirrors on the walls! They're equally as tempting as the menu options, I wish I could try everything!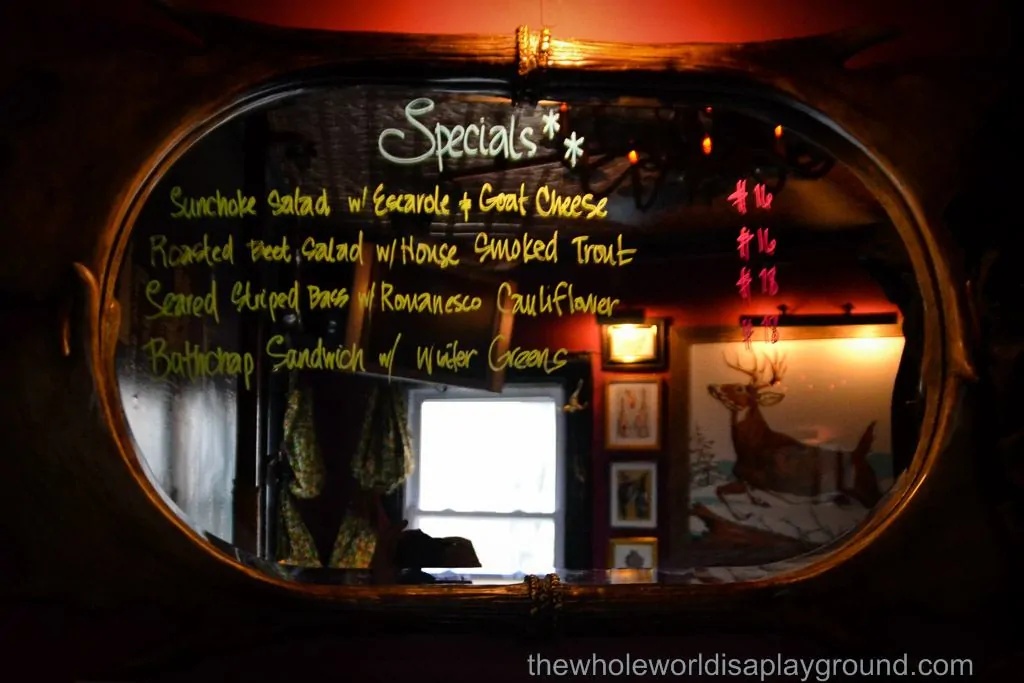 We were celebrating the husband's 4 hour New York marathon success and needed to toast his athletic prowess. This required the purchase of a bottle of something sparkling (a French sparkling wine from Domaine de Martinolles) and a Bronx Brewery Pale Ale for himself.
There is also an excellent cocktail menu but it was a bit early in the day for us!
Bar Snacks
The Spotted Pig really excels with its bar snack offerings which are perfect to accompany a drink or before a main.
The devilled eggs are topped with chives, chilli flakes and olive oil and are both creamy and light. I'm a huge fan. The portion is a single egg so if you like devilled eggs it's best to order multiples!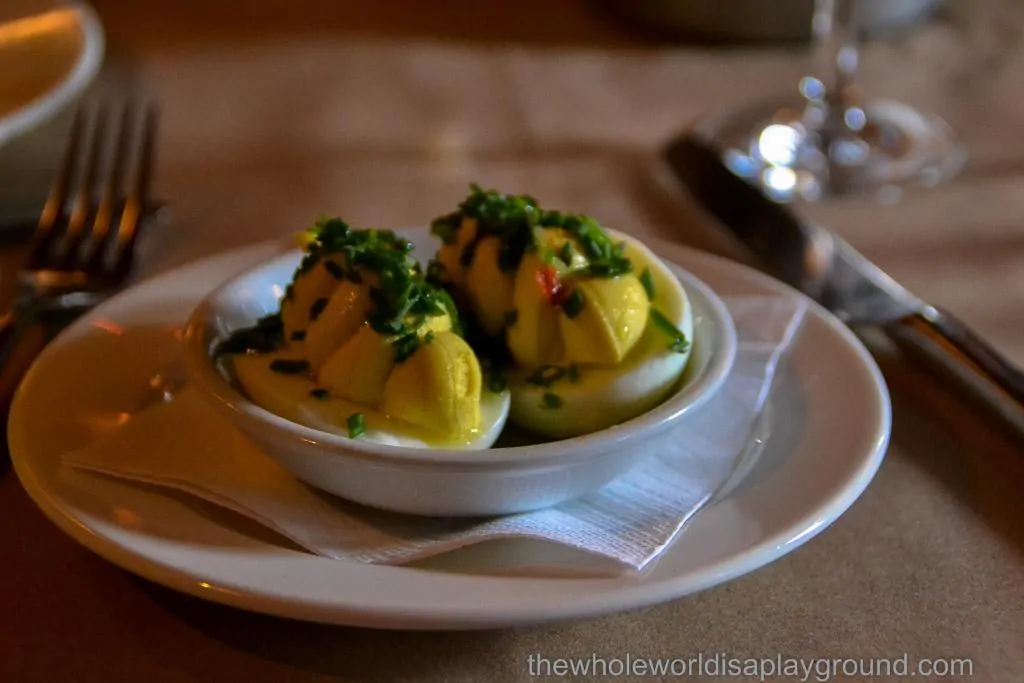 The chicken liver toast is one of my favourites in the Spotted Pig. The bread was slightly overcooked on this occasion but a second portion was prepared perfectly. It's delicious and creamy and the bread is crispy and fresh.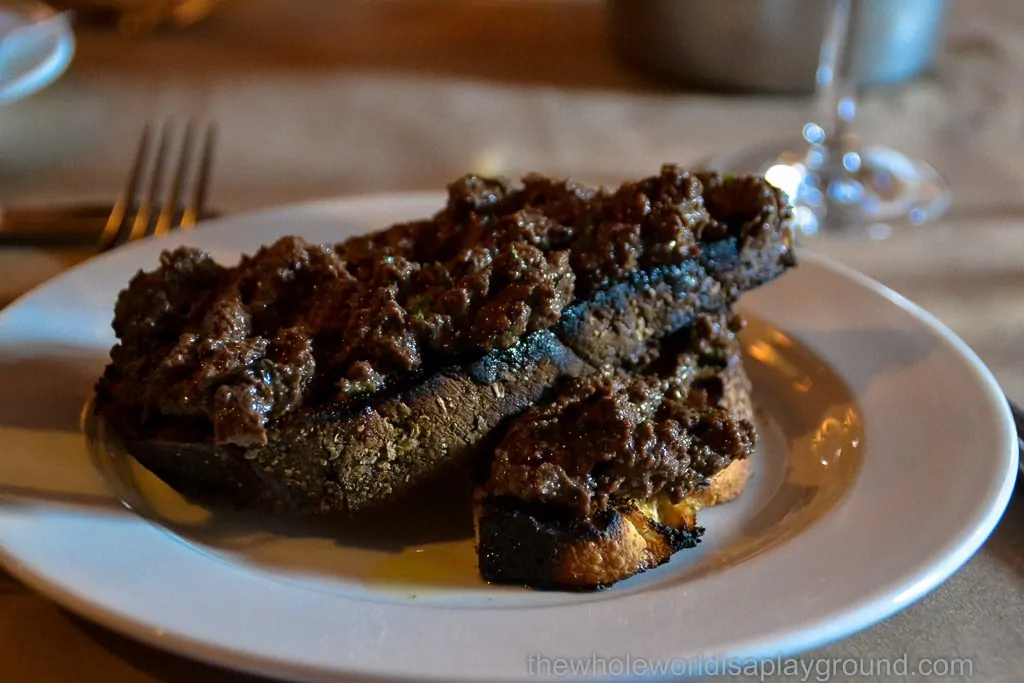 Entrées
How can you not love a grilled cheese sandwich? And love it I did! It's probably the most expensive grilled cheese I've ever eaten ($17) but it is also the most spectacular. The Spotted Pig's grilled cheese is a combination of fontina, taleggio and goats cheese in parmesan encrusted bread served with mustard and onion marmalade. There are no words to describe how amazing this grilled cheese was!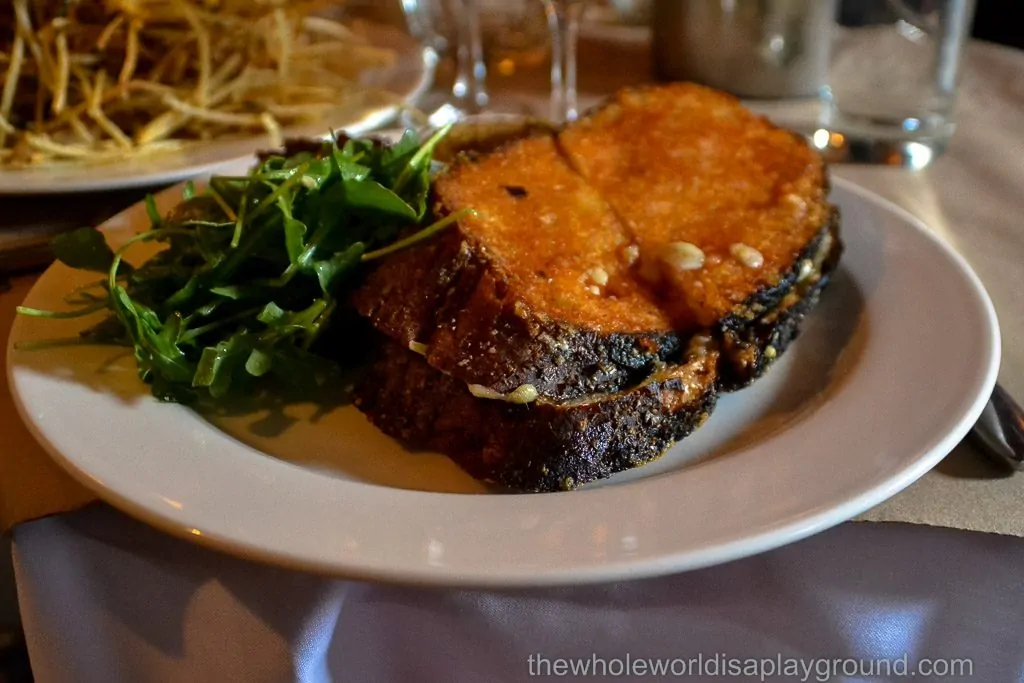 The big one! The Spotted Pig's chargrilled burger with Roquefort cheese and shoestring fries is infamous in New York and plate after plate are delivered from the kitchen. It's tortuous watching them pass by when all you have is a glass of prosecco to keep you warm inside!
The burger is accompanied by a mountain of rosemary and garlic shoestring fries which make you wonder how on earth you anyone could ever finish them. And yet everyone does! It's served on a generous seared brioche bun and is topped with Roquefort cheese. There's nothing else on the burger and the chef does not allow requests for extras such as the usual burger suspects of lettuce and tomato. Rumour has it that only neighbourhood regular Lou Reed is granted an exception and is allowed onions on his burger!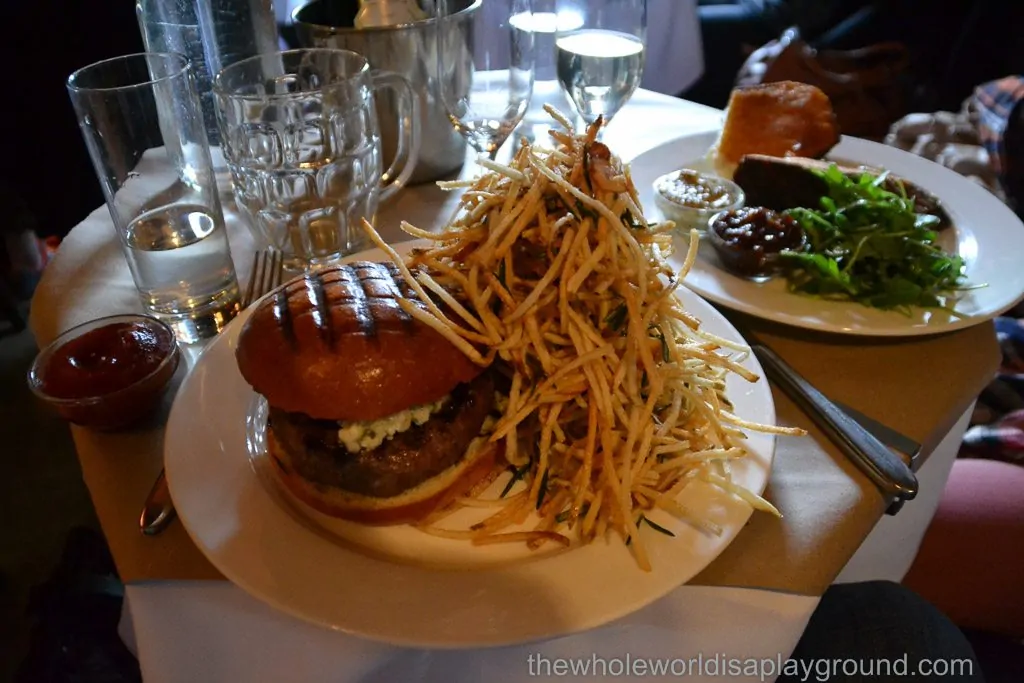 The medium rare burger was cooked perfectly and was juicy and melt-in-the mouth delicious. The blue cheese is intense and tangy and complements the meat so well giving the burger that special something. I'm a big cheese lover but some do find the Roquefort overpowering so, if in doubt, order on the side.
The fries…the fries, they are amazing! So skinny they are impossible to eat with a fork, it's best just to grab them and place a handful delicately in your mouth!
Drinks
The Bronx Brewery Pale Ale is one of the Spotted Pig's draught beers and is served at room temperature. It is a good accompaniment to the delicious bar snacks and it's always nice to sample a local flavour.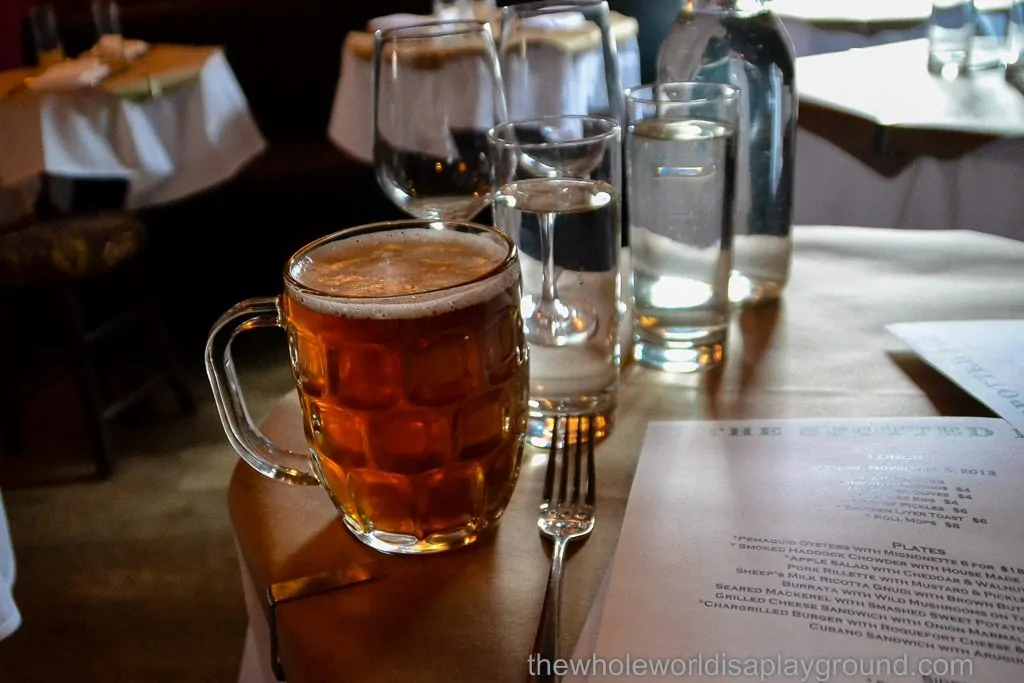 The sparkling wine was nicely chilled and, let's face it, sparkling wine goes with everything so it was excellent with our mains!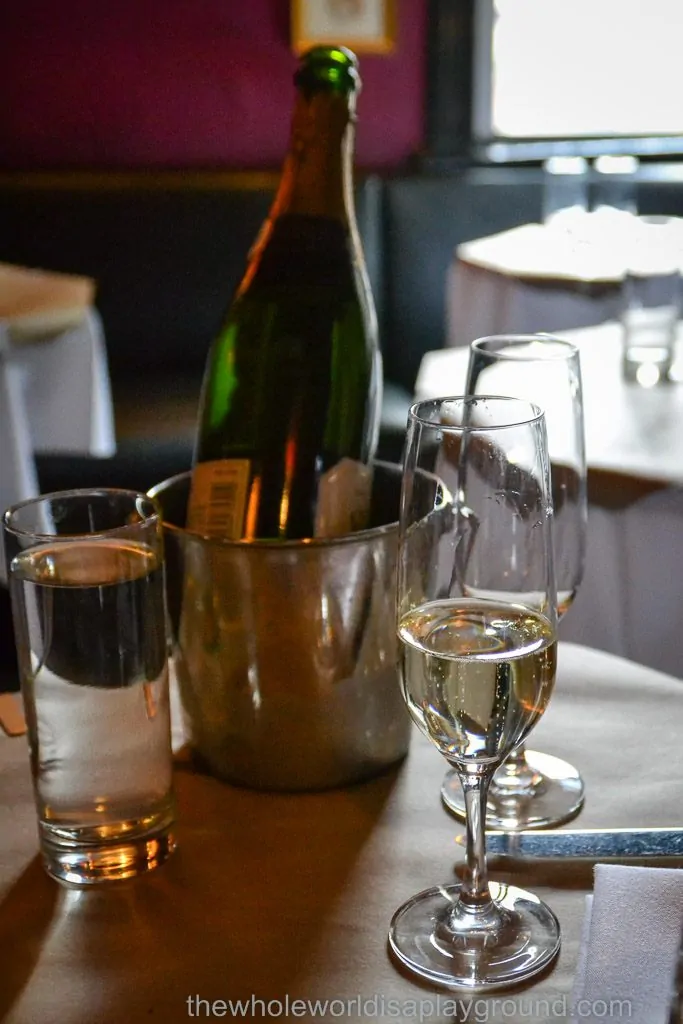 The Restaurant
The Spotted Pig seats about 100 between the upstairs and downstairs restaurant areas. There's two bars, one on each floor which are perfect for grabbing a pre dinner drink and the small bar areas are usually packed in the evenings. It's chaotic and cramped and it's inevitable you are going to overhear your neighbours conversations!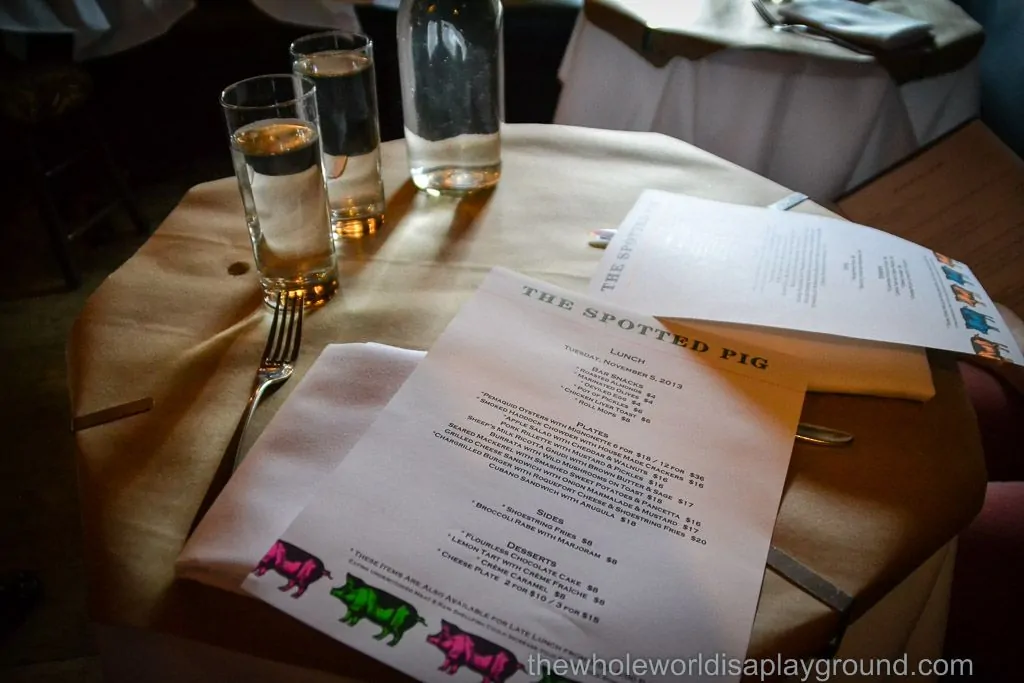 Speaking of neighbours, have a glance around and you might be rewarded with a famous face. The West Village is packed with New York's finest and with the likes of Jay-Z and Bono as investors it's no wonder the Spotted Pig is a celebrity hotspot.  We've seen a few very familiar faces at the Spotted Pig in our time!
Downstairs at the Spotted Pig: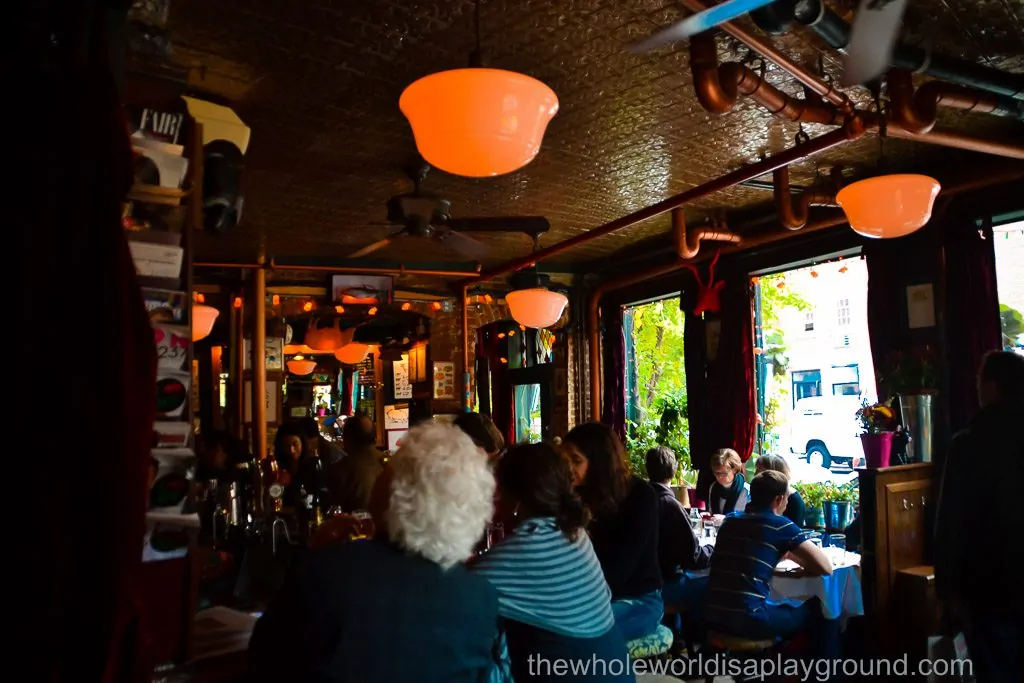 The Spotted Pig is full of nooks and crannies and there are pigs on every conceivable surface!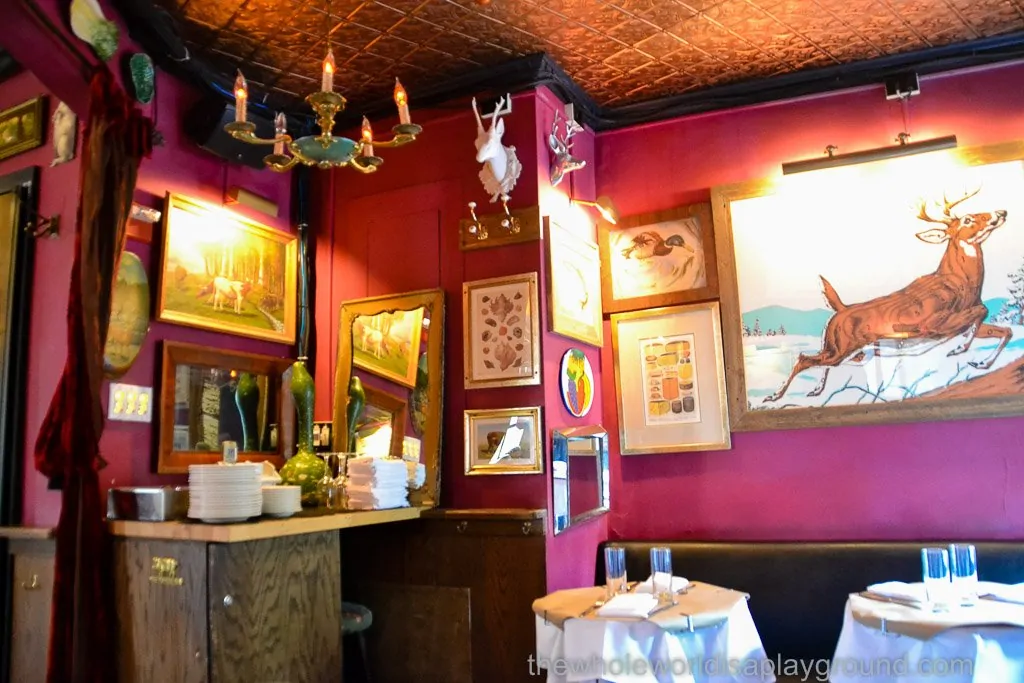 Pigs everywhere!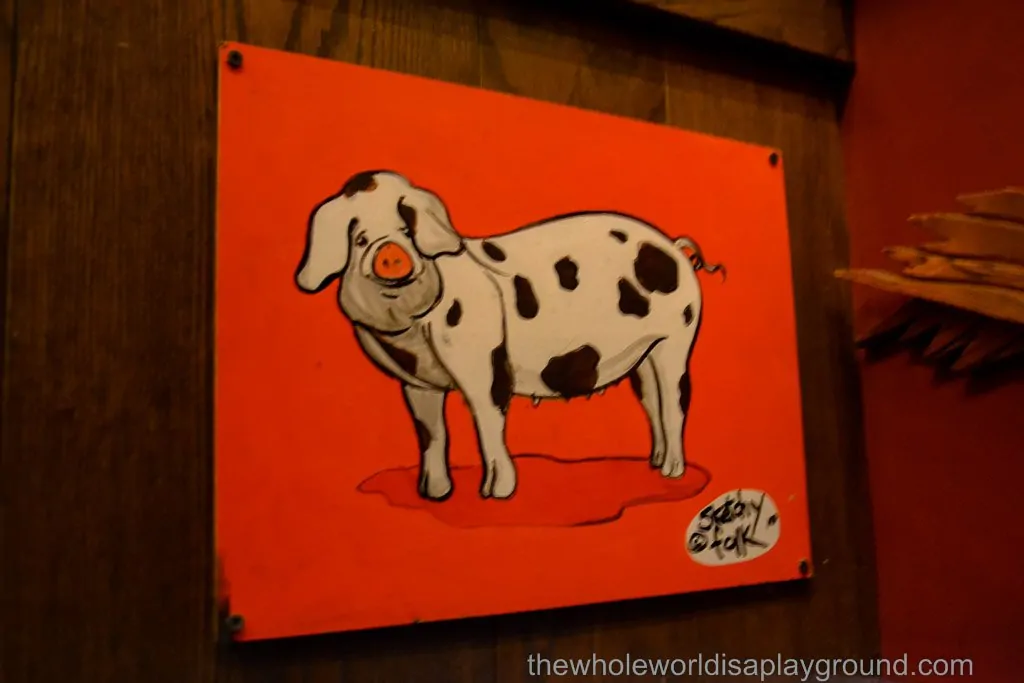 And a lot of greenery inside and out!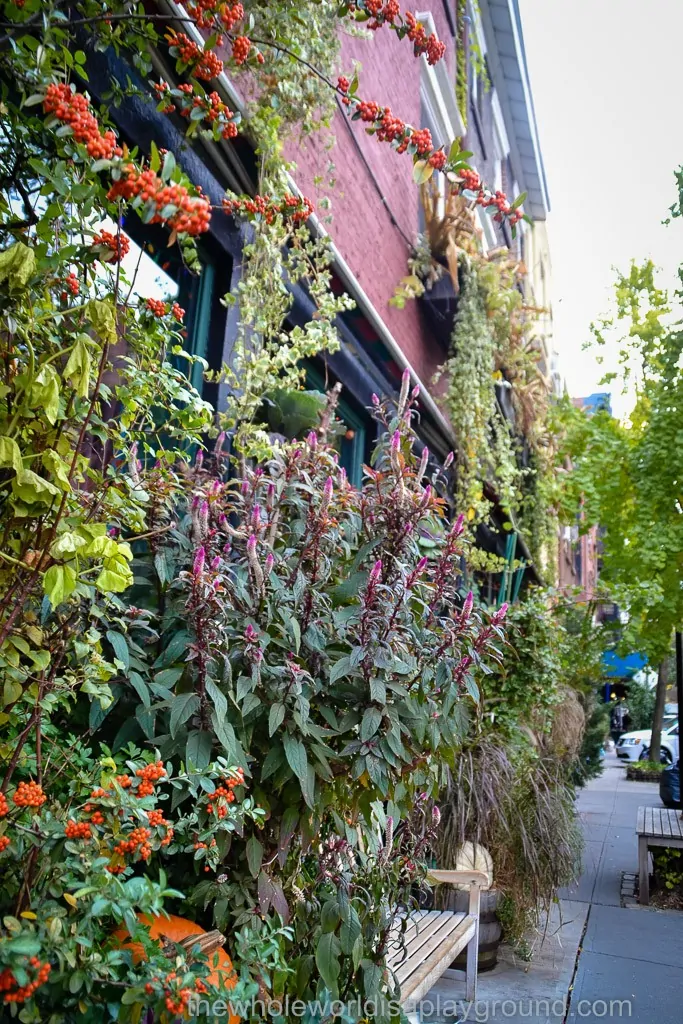 A special mention must go to the Spotted Pig unisex bathrooms. They are the smallest bathrooms I've ever had the pleasure of visiting, I mean they're smaller than airplane bathrooms! It does make for some fun and interesting conversations as you try to sidestep around your bathroom buddy! For me, they're quite a novelty!
Where to stay in New York, the hotels we love:
We've stayed all over the city during our trips to NYC. Here's some of our faves:
Getting a table
I'm not a good hungry person, I try to blame low blood sugar but really I just get a bit grumpy if I have to wait for my food! The Spotted Pig is walk-in only so, to avoid having to wait around, we decided on a lunch time visit on a weekday. We arrived shortly after opening and were seated immediately.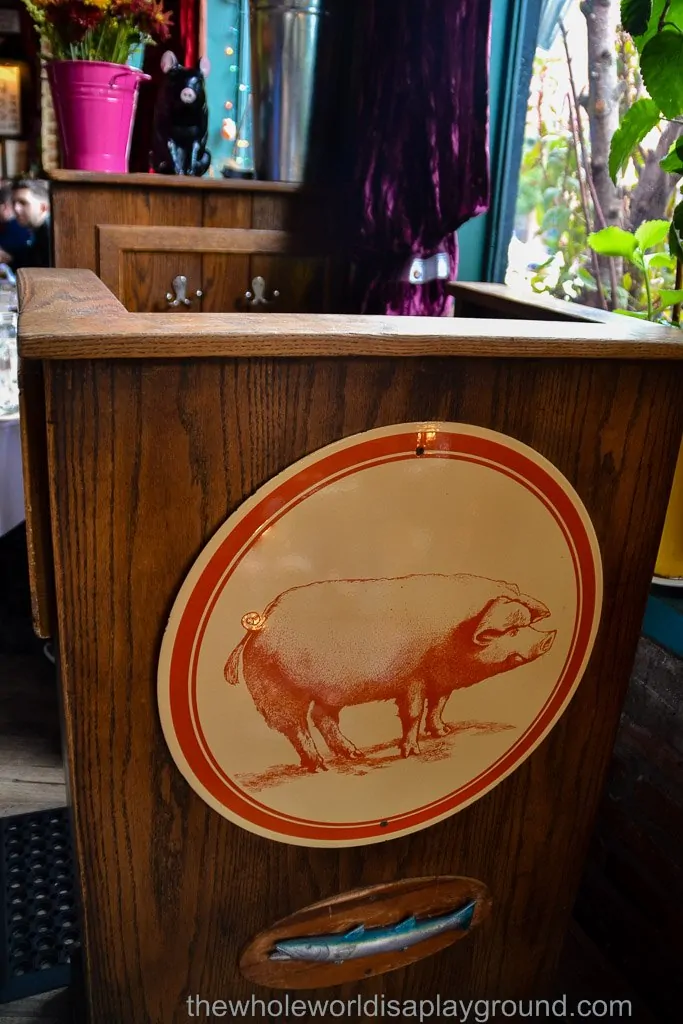 However, the evening is an entirely different ballgame! We've waited over two hours for a table for 4 so be prepared! Arrive early, put your name down and go for a wander around the neighbourhood. The Magnolia bakery, made famous by Sex and the City, and Marc by Marc Jacobs are just around the corner and are good ways to pass some time. If you're there late in the evening and want somewhere to enjoy a glass of vino, Turks and Frogs wine bar is just down the street. I've been known to indulge in a pre Spotted Pig cheese plate to stave off the hunger pangs!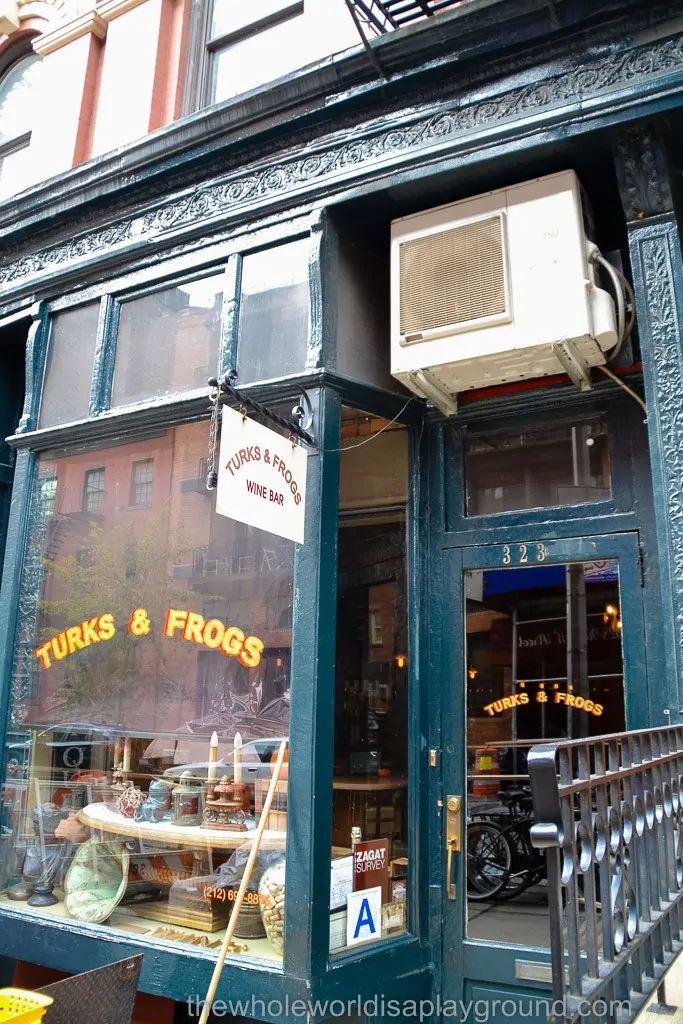 Or better still, get a friend in the West Village to pop in and put your name down. It pays to have connections!
Lunch or Dinner?
The lunch and dinner menus are quite similar at the Spotted Pig but each sitting has its own secret weapons! The lunch menu includes the outrageously good grilled cheese sandwich. My favourite! The dinner menu has the wonderfully named devils on horseback (bacon wrapped prunes) and the delightfully greasy crispy pigs ear salad.
Chef April Bloomfield is originally from England and has a 'nose to tail' approach to cooking using every part of the animal. Which probably explains the pigs ears on the dinner menu!

Finding the Spotted Pig
Even after living in New York I still inadvertently get lost when I venture outside the grid. My sense of direction isn't great so that probably explains some of it! Look out for a town house on the corner with a pig hovering over the door. The Spotted pig could pass as a florist or a vegetable store but the hanging pig is a big give away!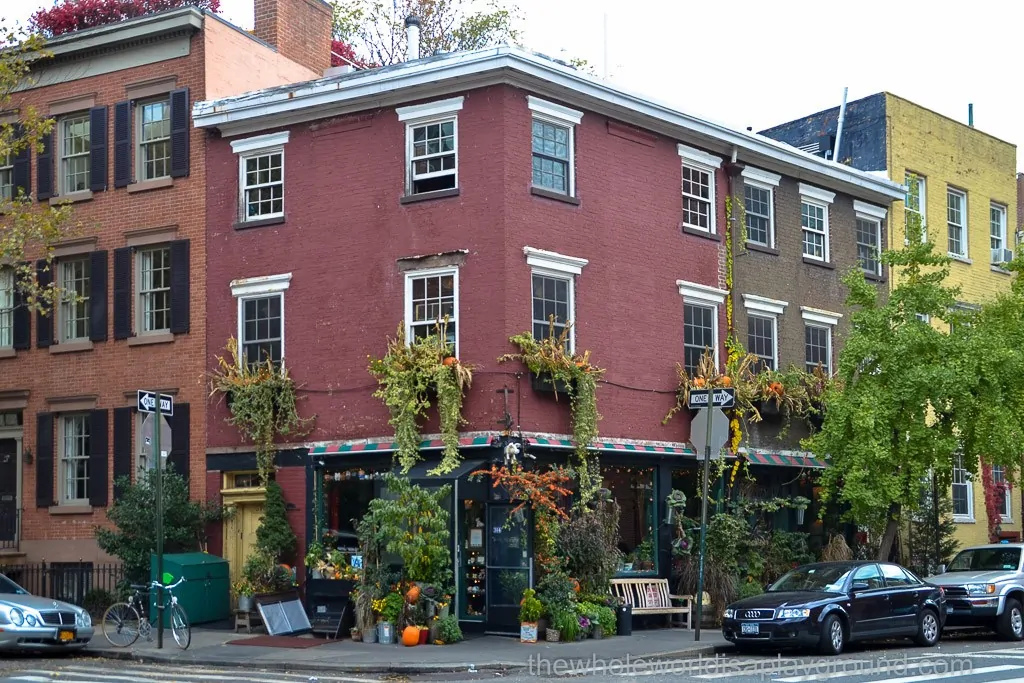 Overall
I'm a massive fan of the Spotted Pig and it never fails to hit the spot if I'm in the mood for its high end gastropub food. The dishes are creative and original and offer some excellent takes on old classics. It's easy to see why Chef April Bloomfield was awarded a Michelin star. I still love it and its amazing food and high energy atmosphere!
If you love adventures remember to follow on Facebook and Twitter. If you found the post useful please do share!
The Spotted Pig
The Spotted Pig is billed as New York's first official gastropub and uses seasonal local Italian and English ingredients wherever possible.
Address:  314 West 11th Street at Greenwich Street,  New York, NY 10014
Opening Hours: daily from 7:00am to 7:00pm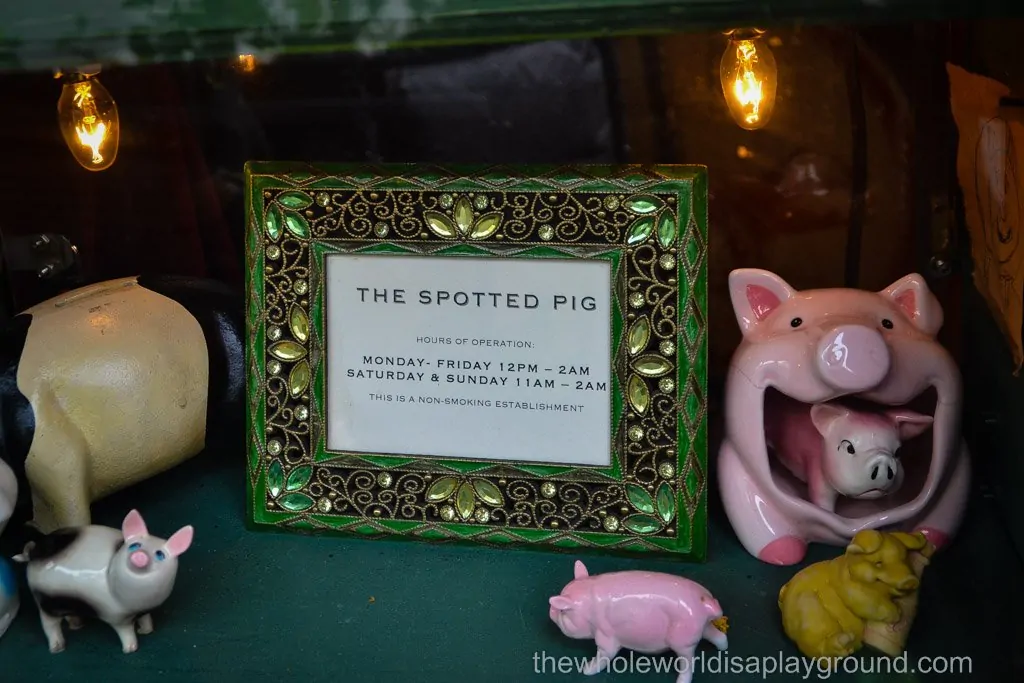 Reservations: Walk-ins only.