We love pretty much everything about travelling in Myanmar but there are two key exceptions: buses and squat toilets. We'll spare you the details of our squat toilet exploits and, instead, give you the lowdown on something much more useful: how to make the most of Myanmar's day and night buses and, even better, how to survive the long hours spent on a bus. Here's our guide and tips for Myanmar bus travels. Happy travels!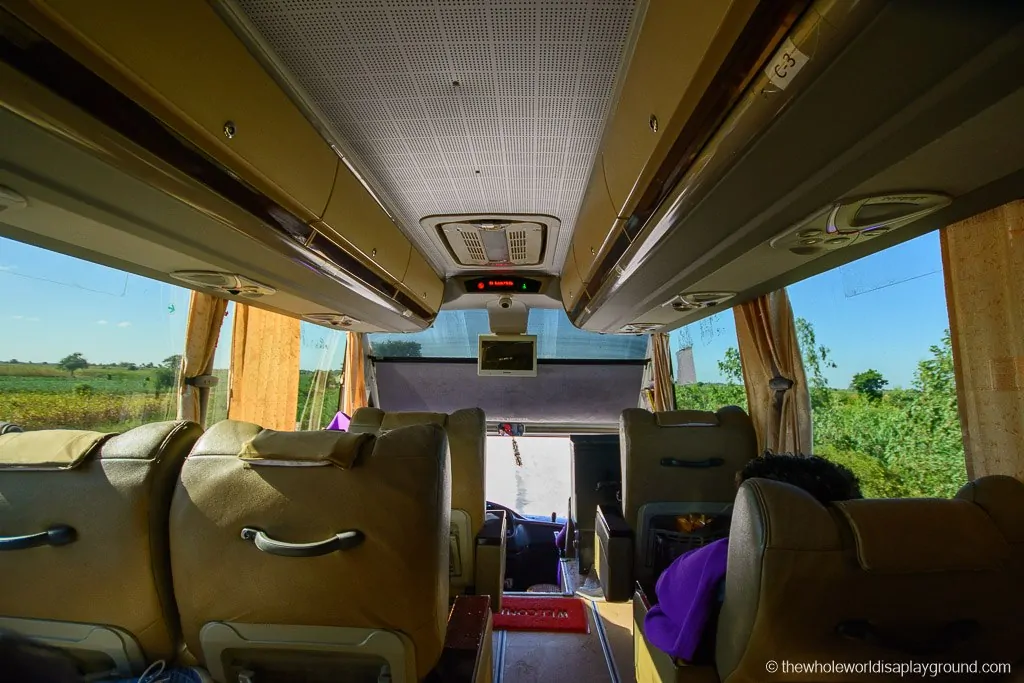 Bus travel in Myanmar
Buses are a very popular option in Myanmar. It's not surprising in a country where domestic flights can be extremely expensive and train journeys are the stuff of legends with derailments and long delays a common occurrence. The days of having to sit on a stool in the aisle of an overcrowded bus are long gone as VIP buses are increasingly available for travellers on the popular tourist routes.
VIP Myanmar buses
VIP buses are a traveller staple in Myanmar and are an amazing option for long distance overland travel through the country. We used JJ Express and our experiences were excellent. VIP bus travel comes with a number of perks:
large, reclining seats similar to the premium economy cabin on an airplane
air conditioning
a blanket to keep warm
a bottle of water and a small snack
personal seatback tv and headphones
frequent toilet stops (sometimes with Western toilet facilities!)
reasonable price: we paid 20 USD each for a 12 hour overnight bus from Yangon to Inle and 15 USD for a 8 hour day time bus from Inle to Bagan.
Staff tend to have good english
VIP or not, 12 hours is an incredibly long time to spend on a bus and at times it seems the journey will never end!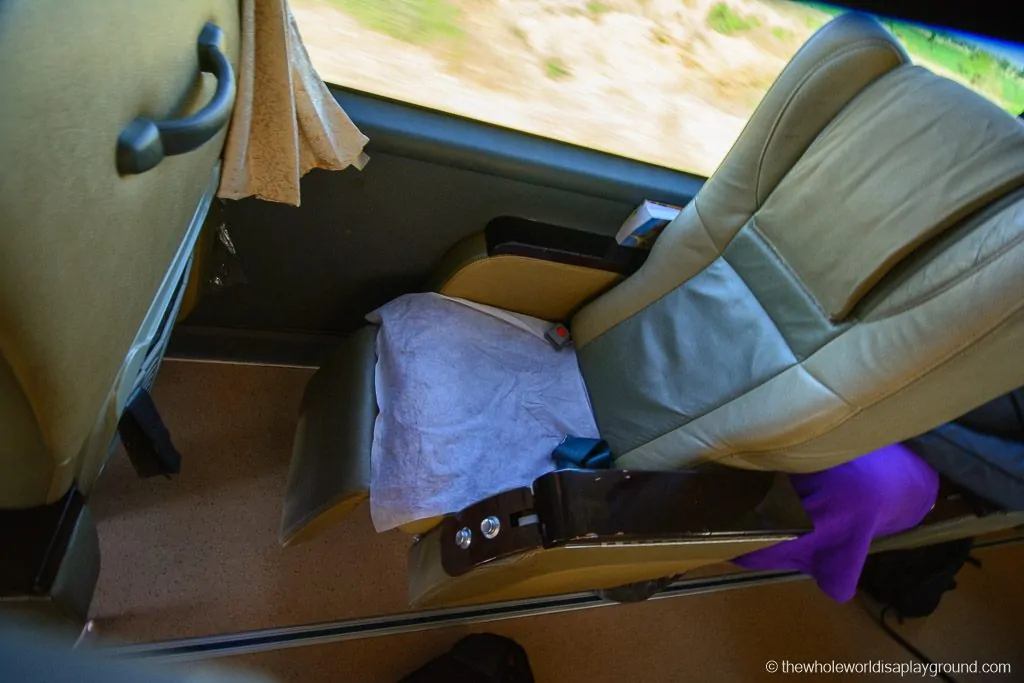 The Myanmar Roads
Let's get this our of the way early: the Myanmar roads vary wildly in standard. While the main roads are relatively OK, any route which ventures off the main road tends to be at least a little bumpy. We encountered this on the latter half of the Yangon to Inle journey and all of the Inle Lake to Mount Popa trip!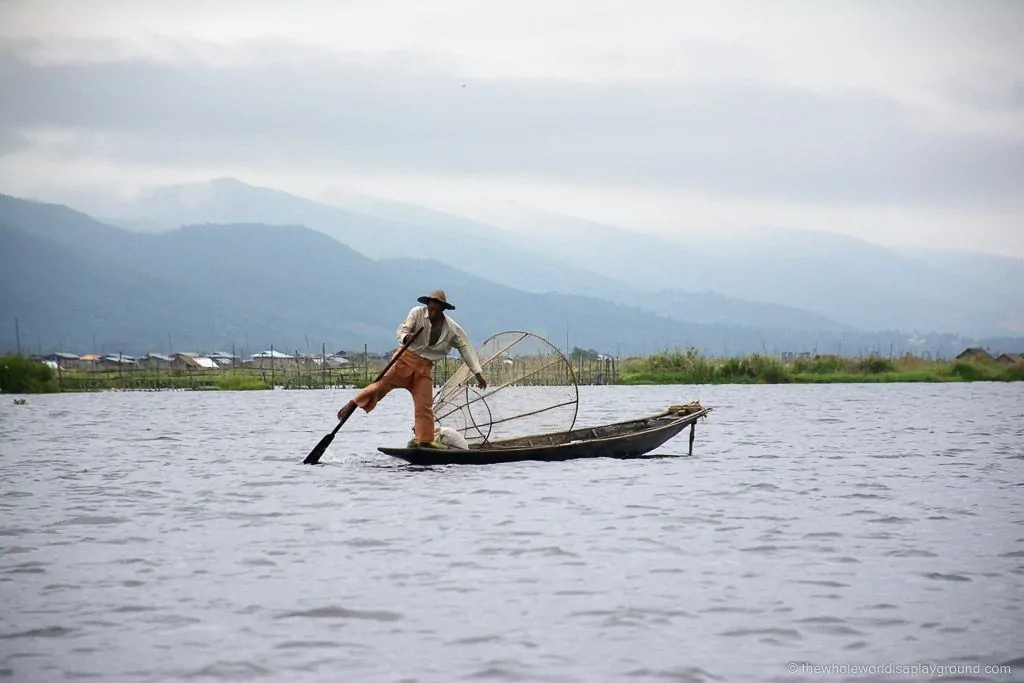 This wasn't a problem for most of the bus, but if you're a light sleeper (like Dave) it's safe to assume you're not going to sleep on the bus. If you do fall into this category of bus traveller be prepared to entertain yourself for the long journey.
What to Bring on Myanmar night buses
1 | Snacks
A small snack, usually a piece of fruit and a croissant, is typically provided on the VIP buses. If you expect to be hungry then bring your own food. Even on an overnight bus some snacks are advisable to keep you going especially if you don't sleep much.
There's nothing worse than being trapped on a bus with no source of food. HANGRY anyone?!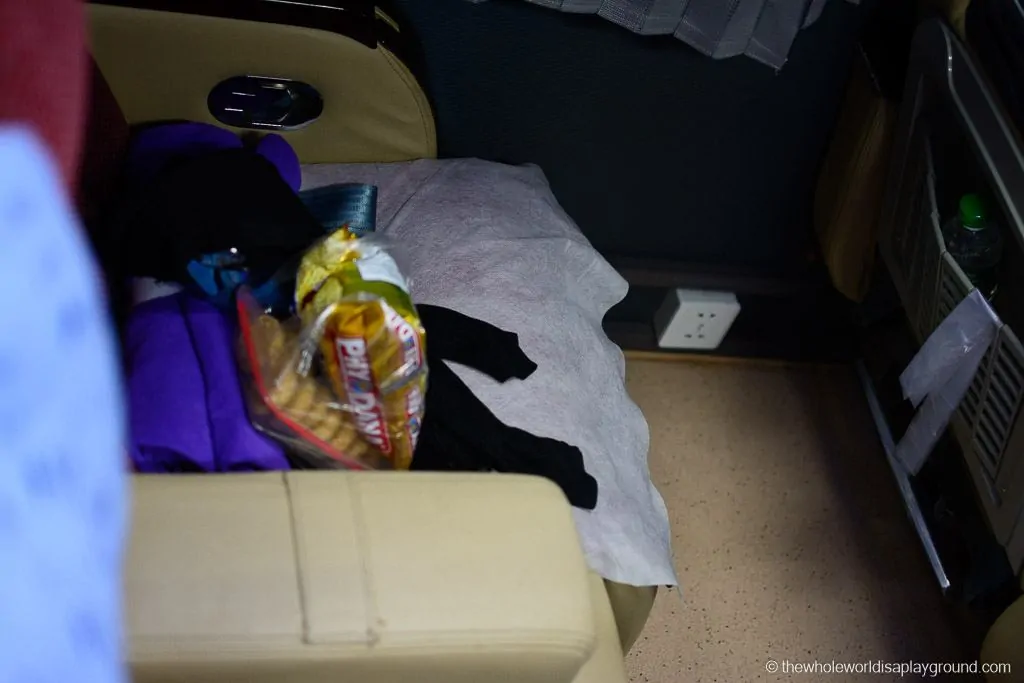 2 | Hoody and socks
There's something about Burmese buses and the maximum power air conditioning setting. It's a total love affair at times which means you will freeze your bottom off and this is not ideal when trying to sleep. Bring a hoody and some socks to keep you warm. These, combined with the blanket provided, ensure you'll be cosy throughout the journey.
3 | Books, music and movies
Phones are amazing these days with their reading apps, music storage and capacity for feature length movies. Fill them up pre Myanmar and use them to amuse yourself during the long hours between destination and arrival. It requires no extra packing space. Excellent! Bring a battery pack for some extra charge when the going gets tough! Some VIP buses have in seat tvs with movies and music.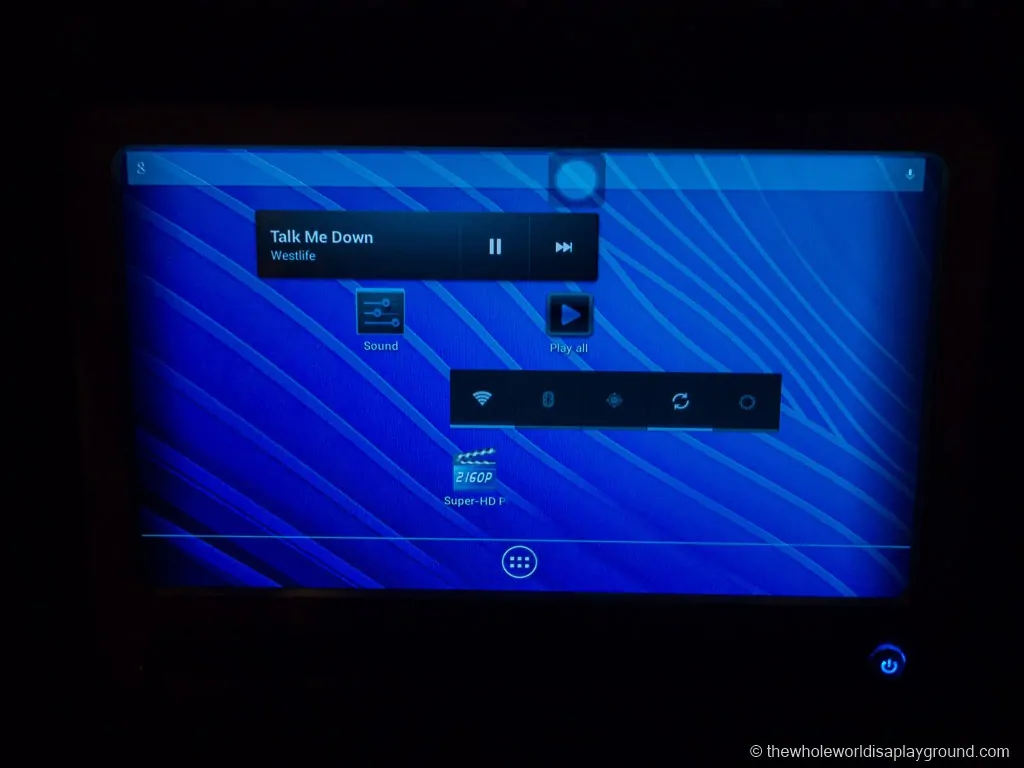 4 | Eye mask and ear plugs
Guaranteed to be your best friend when you need to sleep.
5 | Headphones
Our bus was decked out with back of seat entertainment but we had to bring our own headphones. Movies and music are so much better when you can hear them!
How to handle the rest stops
6 | Get out at every rest stop, even if you don't need to
The rest stops are usually spaced 2 to 3 hours apart (you can always ask the driver for times) and are the source of great anticipation on an overland trip. The countdown to freedom should never be underestimated! Go to the toilet at every opportunity because, seriously, there is nothing worse than needing a bathroom break between stops.
Secondly, it's important to stretch those legs!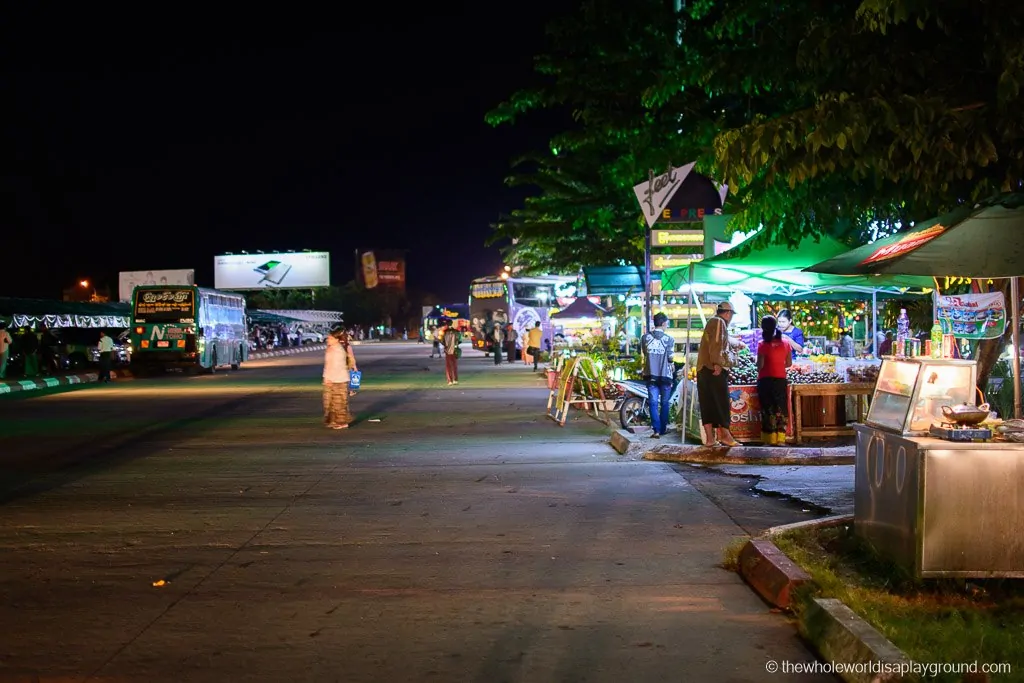 7 | Be prepared to squat
OK I promised I wouldn't fill you in on our squat exploits but, like the boy scouts, you need to be prepared. To squat. No one promised Western style toilets at the rest stops! Squat toilets typically have markings for feet at either side of the basin. Use them!
8 | Toilet paper is essential
Bring your own toilet paper as most of the toilets don't provide any.
9 | Anti bacterial gel
Rest stops at random places, squat toilets and long journeys can mean only one thing: use lashings of anti bacterial gel. It's a travellers dream and probably saved us from copious dodgy stomachs.
10 | Torch
Did you know your phone can double as a torch? No neither did I but I was glad I'd downloaded the app for our Myanmar jaunt. Middle of the night toilet stops can be a dark affair so use it to find your way and check the cubicle. As I shone my torch on the dark toilet seat at a rest stop and saw a cockroach waiting for me with open arms, I was certainly glad I did. One can only imagine the consequences of accidentally sitting on a cockroach!!
Food and drinks
11 | Don't be too adventurous with food at the bus stops, but don't avoid the local food either
Local food is served at rest stops but, remember, there are no toilets on the bus. I repeat, there are no toilets on the bus! We found it best to play it safe and eat where all the locals ate at the stops!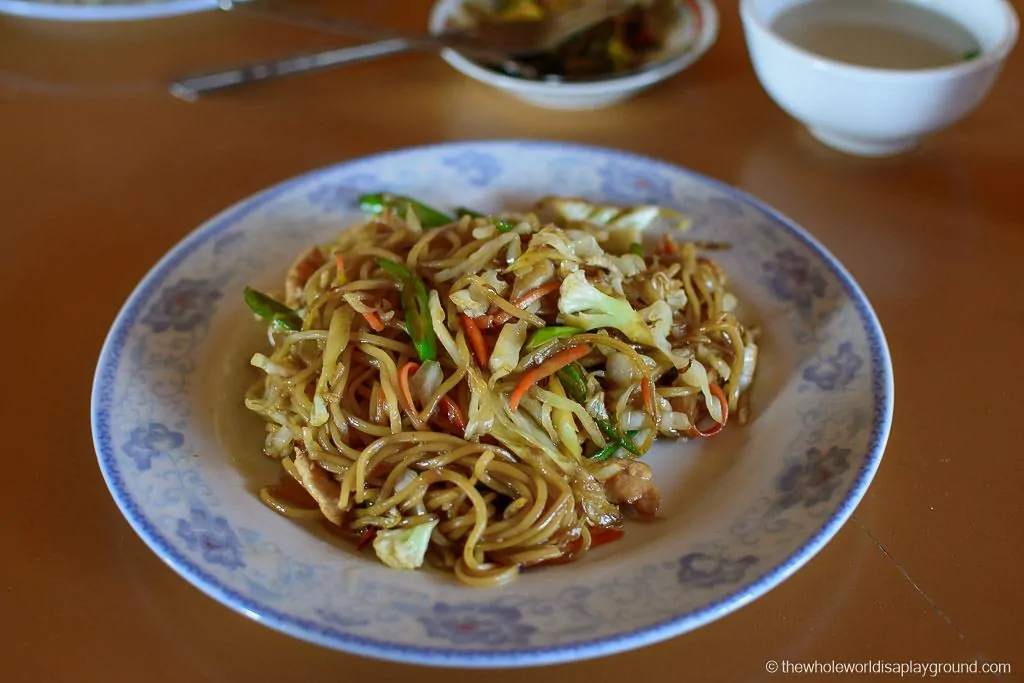 12 | Don't drink too much liquids, especially beer, in the lead up to your bus journey
See number 11. Yep. And yes, no beer on the bus..it's just a bad idea, trust us.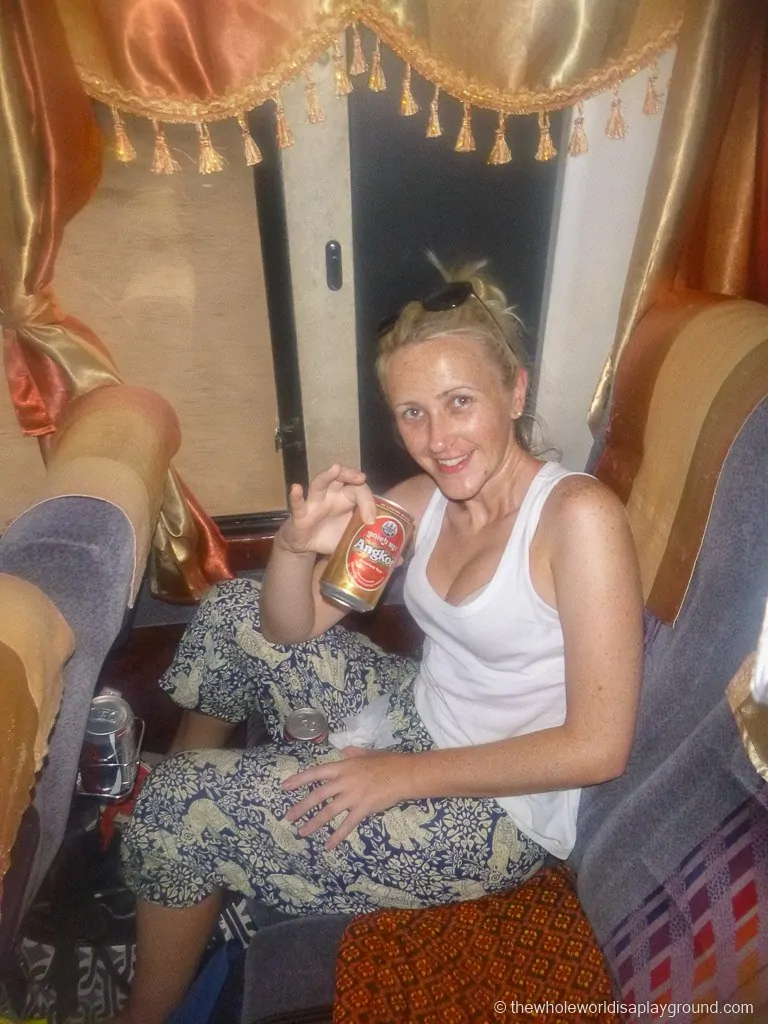 Planning for onward travel
13 | Leave plenty of time for onward connecting travel
Delays are inevitable. Especially so, if you are catching another bus or plane. Our 8 hour trip between Inle and Mount Popa was closer to 10 hours. The bus stations are often not located in the most convenient of locations. Take Yangon for instance where it was easily a 60 minute car journey from city centre to the main bus station.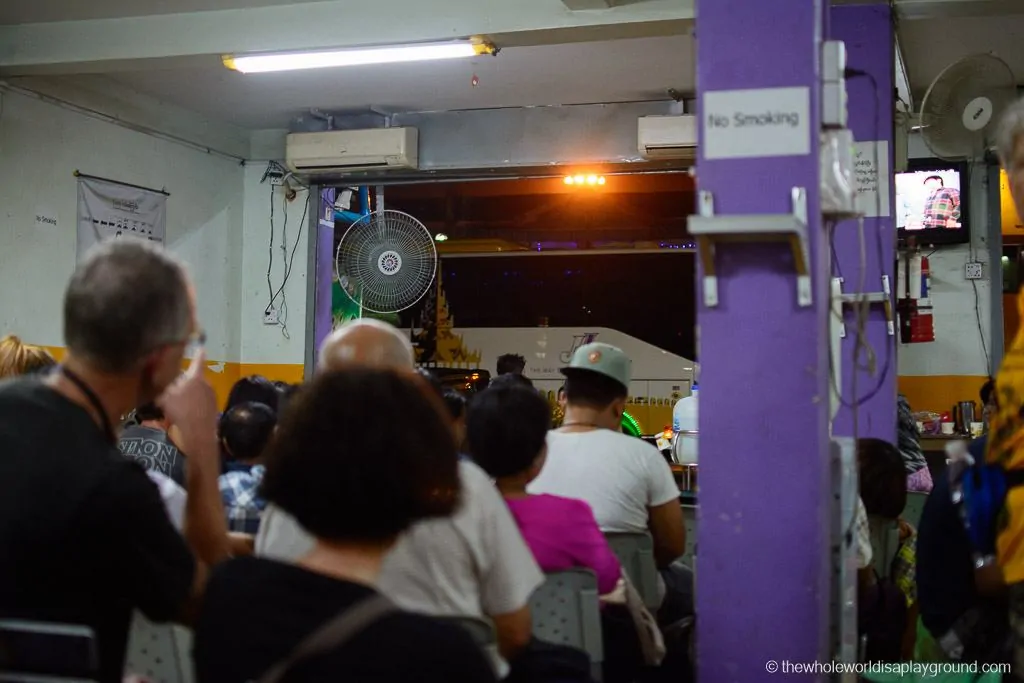 So there you have it, our 13 top tips for surviving Myanmar bus travel. And our best advice of all for when when you've made it through a marathon bus journey? Sit back and enjoy your destination. Myanmar is absolutely amazing!