Mount Popa is an iconic Myanmar postcard sight: a sacred monastery, with stupas glistening gold, perched atop an extinct volcano. It was high on our Myanmar must see list and we made a plan to visit when we stopped off in Bagan for our sunrise and sunset chasing adventures! The 777 steps of Mount Popa are a pilgrimage site first and foremost but it is equally famous for its monkey population which cheekily adorn the passageways. On a hot and sunny Myanmar day we set off bright and early ready to check out the sacred mount and those monkey's for ourselves!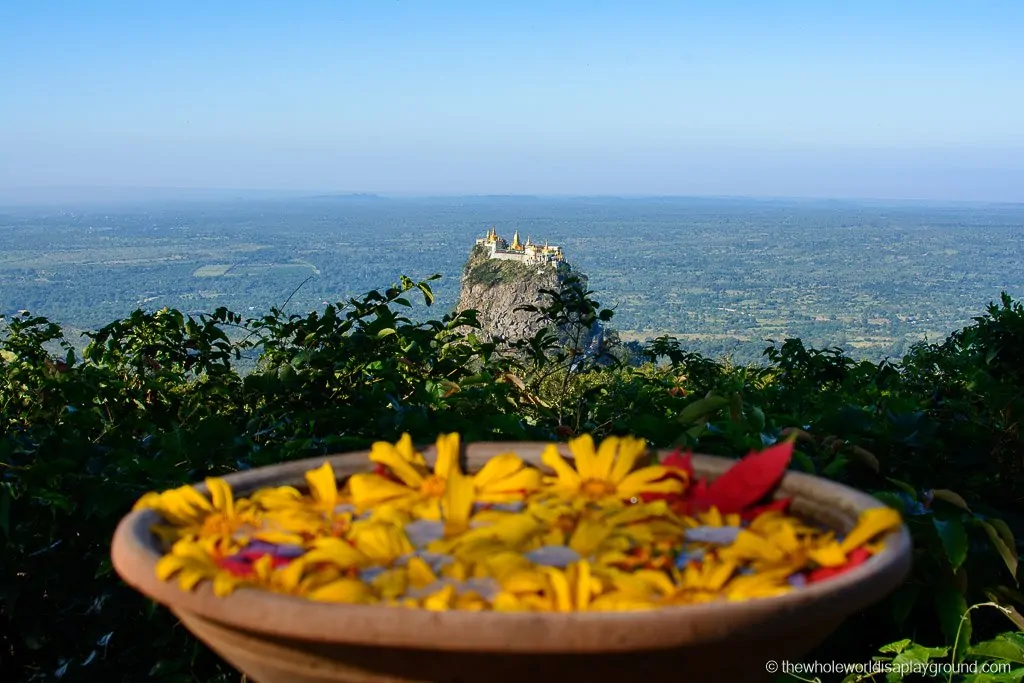 Mount Popa
Mount Popa is the headquarters of Myanmar's most powerful Nats and four of these Buddhist spirits worshiped by the Burmese are considered to have their home here. Statues of 37 of the spirits stand at the base of the mountain and, in years gone by, Burmese Kings commencing reign had to consult with the spirits such is their importance in Myanmar heritage.
We had planned to travel to Mount Popa from Bagan but the instant we spotted a pic of the Popa Mountain Resort and its infinity pool we knew we had to make it a part of our Myanmar itinerary. Instead, we booked a night at the Popa Mount Resort in between our Inle Lake and Bagan adventures and took a private car from the resort, to Mount Popa and onto Bagan. It was the perfect detour – Check prices for this stunning hotel here!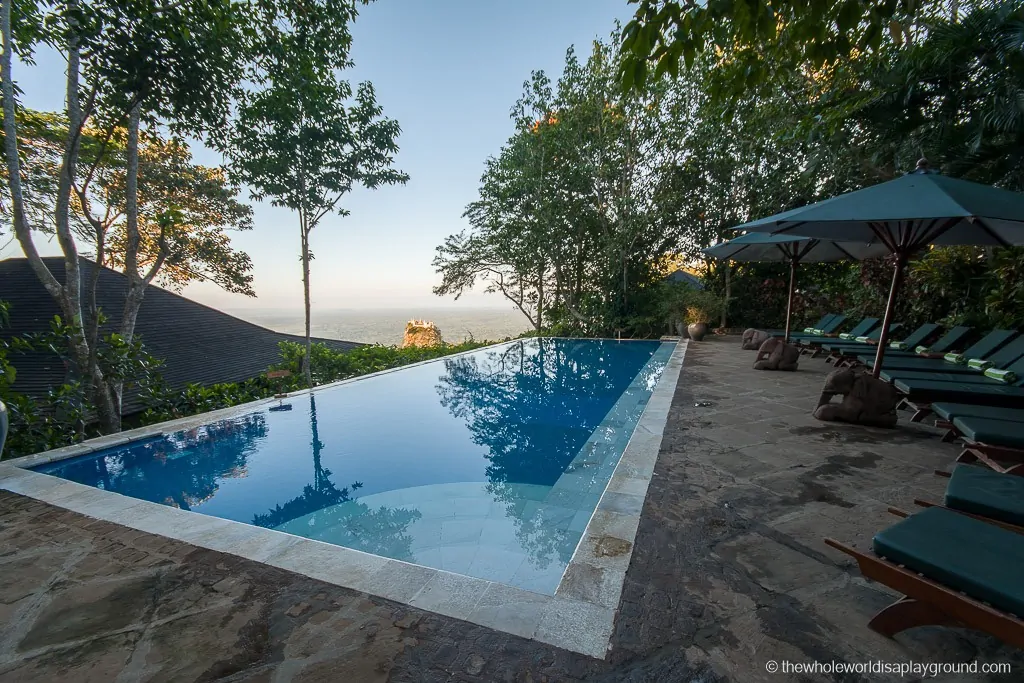 Climbing Mount Popa
777 steps lead the way to Mount Popa and, with Elaine's monkey aversion (long story), we were determined to climb them as quickly as possible! After passing a plethora of market stalls we reached the start of the Popa climb and were met with the respectable clothing request signs so familiar from many religious monuments and sights in Myanmar – no vests, no shorts, no shoes. An additional requirement at Popa was to remove hats and bags. Initially we thought it was especially strict but we learned it was to protect us from unwanted attention from the resident monkey population!
Mount Popa sightseeing tip: bring some wipes for cleaning your feet after the climb. There are copious amounts of monkey poo and it's impossible to avoid it completely!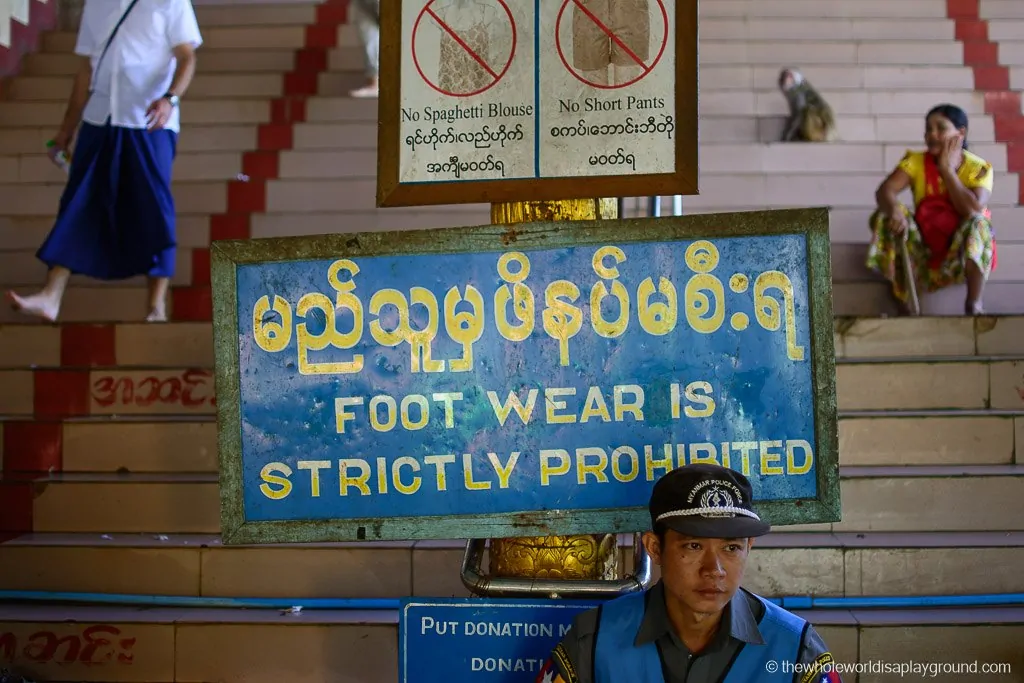 We started our climb to the peak of Popa and, thankfully, were protected form the blistering heat by the tin roofs covering the steep stairwell. 777 steps didn't sound like a lot but we felt every single one of them in the blistering Myanmar heat!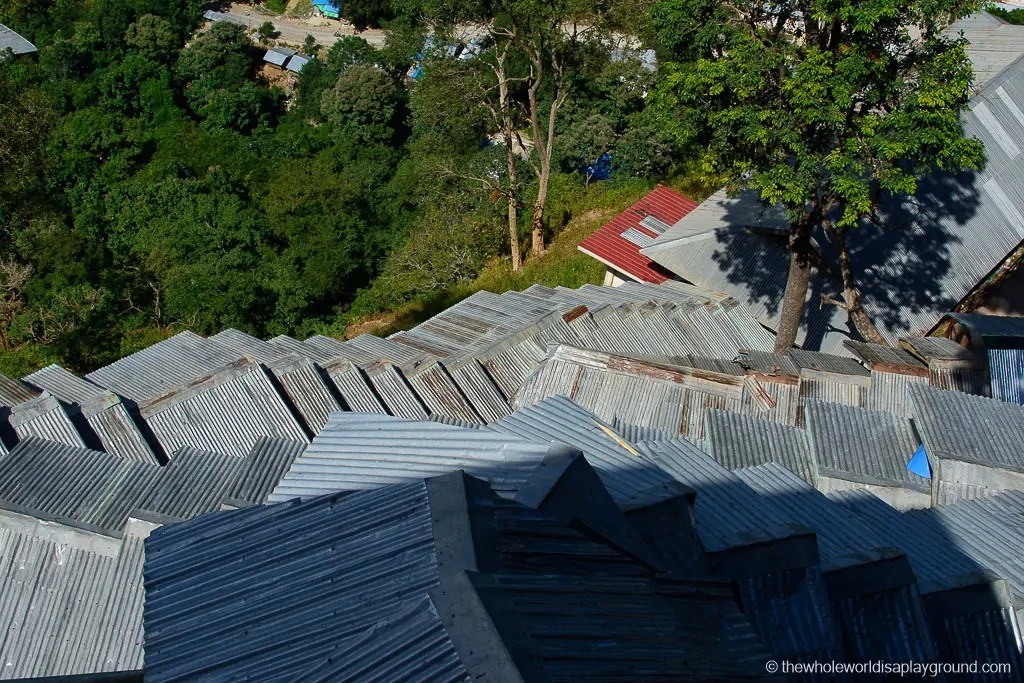 Monkey's lined the stairwell as we ascended, particularly around the areas with stalls serving food. The monkeys mostly kept to themselves and the food opportunities were enough to keep them occupied!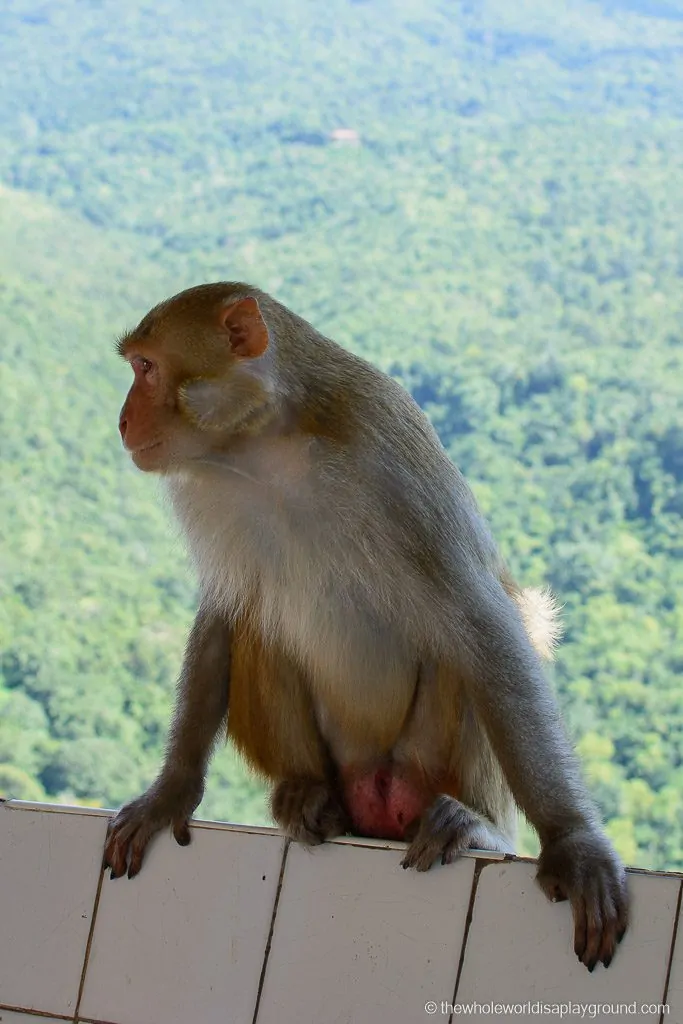 At the top of Popa
The top of Popa is a gold filled affair where stupas, bells and gold statues are the order of the day.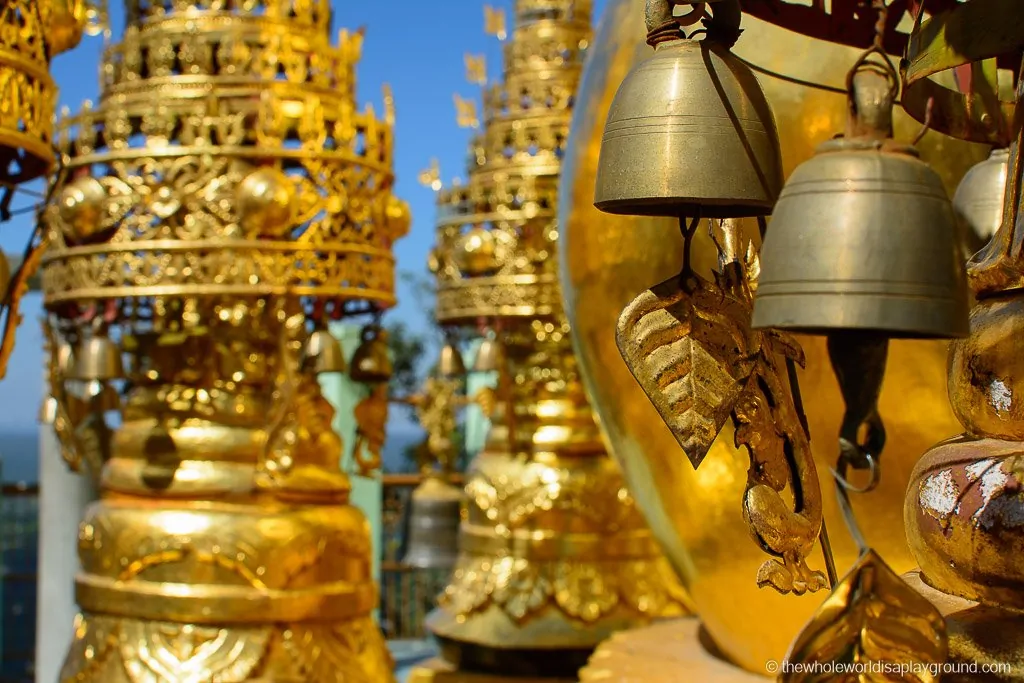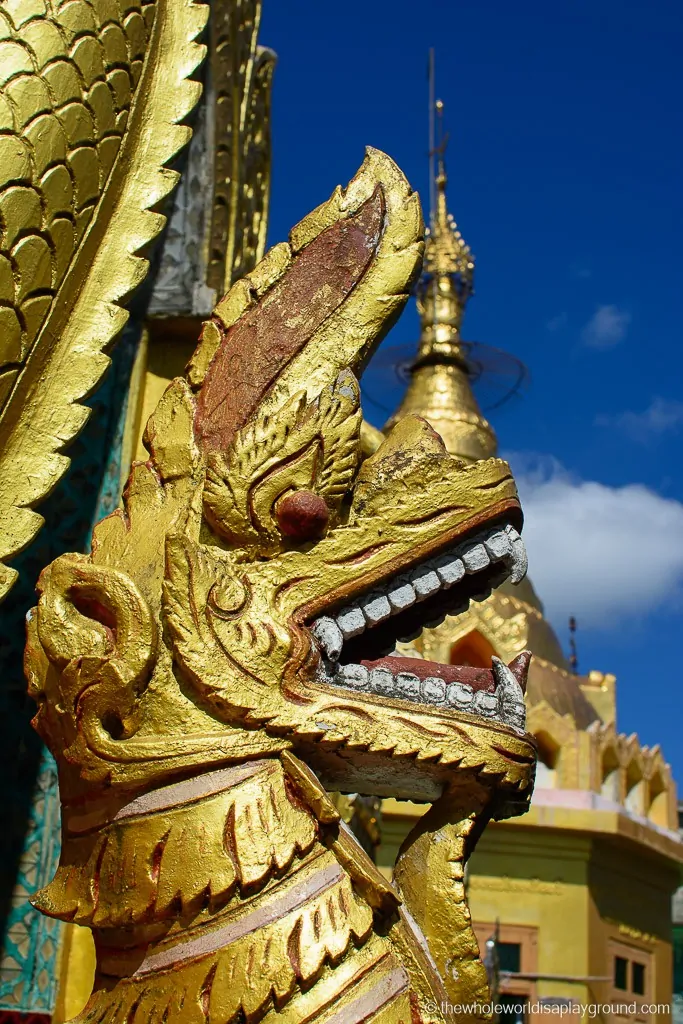 The views from the top!
The views from the top of Mount Popa are magnificent and we could see for miles and miles across the land. The views of Mount Popa from afar are also our spectacular and we loved seeing it glittering in the distance.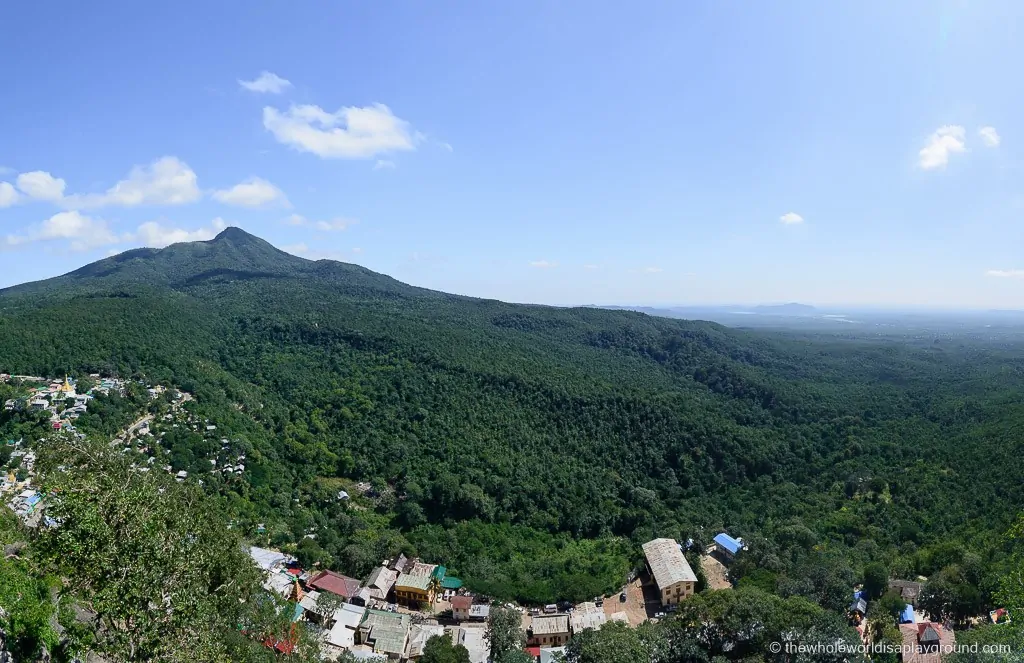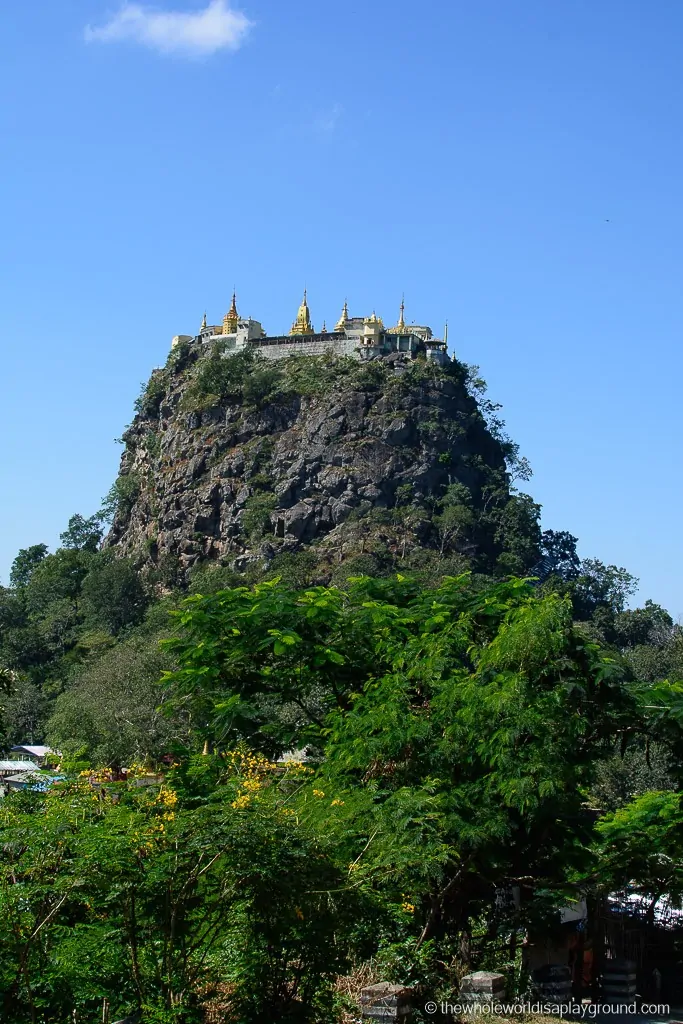 Mount Popa sightseeing tip: if you are making a day trip ask your driver to stop for pics with a scenic view of the Mount. In some towns the locals request a small donation for taking a pic and will try to sell you trinkets.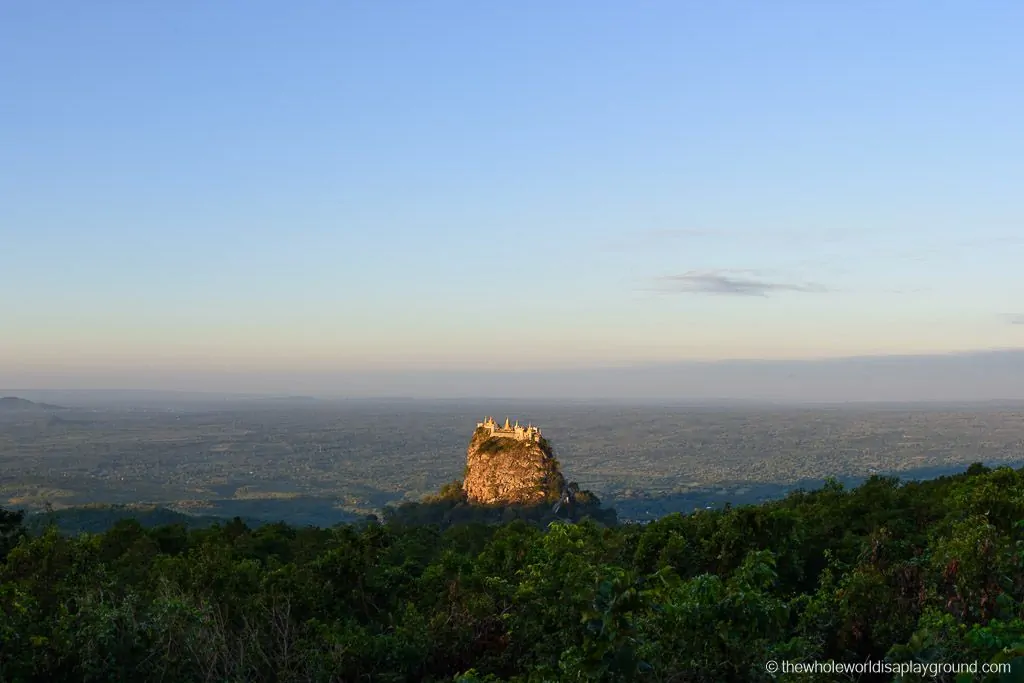 The Monkey's at Mount Popa
Elaine seems to have developed a fear of monkeys on our travels and she's now terrified of them! In this respect Mount Popa was a huge challenge for her as there were monkey's EVERYWHERE. To earn money, the locals line the steps and collect donations to clean the monkey droppings. They have a trick whereby they throw lots of sugar sachets for the monkeys to eat which is a ploy to make them go to the toilet on the steps. It's all well and good but the monkeys are possessed when the sachets are thrown: a whirlwind of monkeys of all sizes tornado from every direction to get their share! The locals keep the locals in line with an empty slingshot and we saw lots of monks using this technique at the top!
Despite her initial worries, Elaine loved the climb and the monkeys weren't a problem! Most are small and cute and, if you are not carrying food, the larger ones don't have any reason to bother you!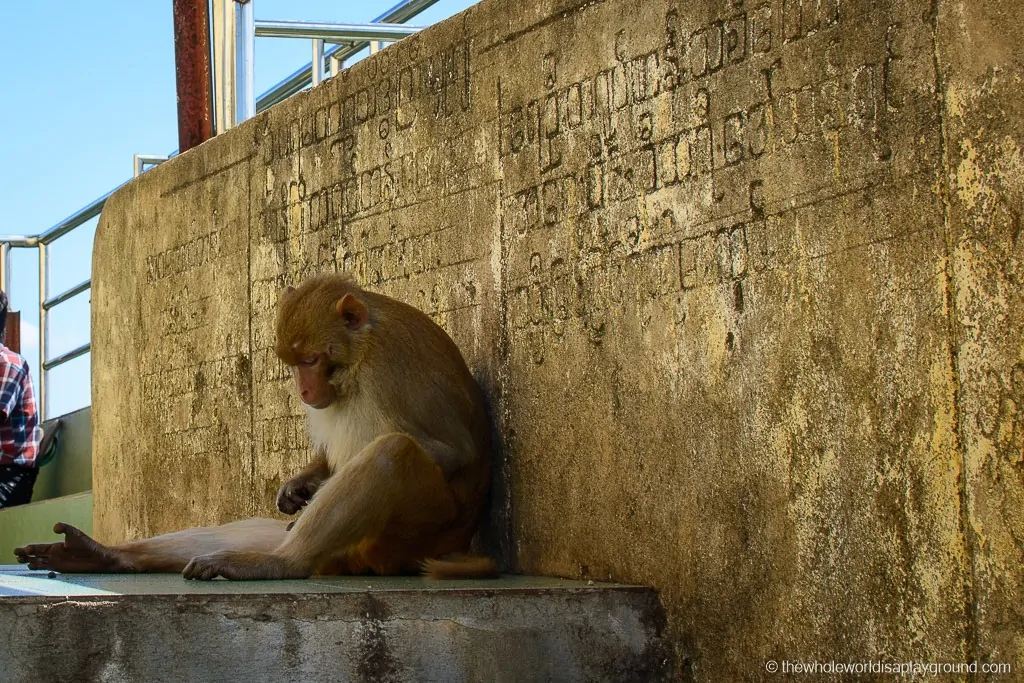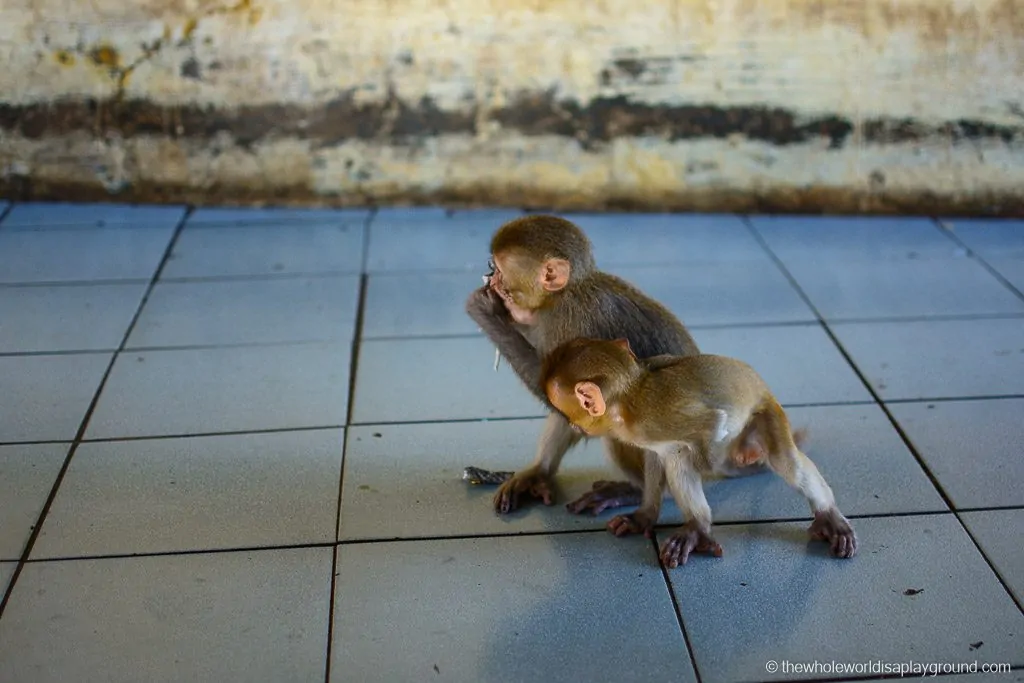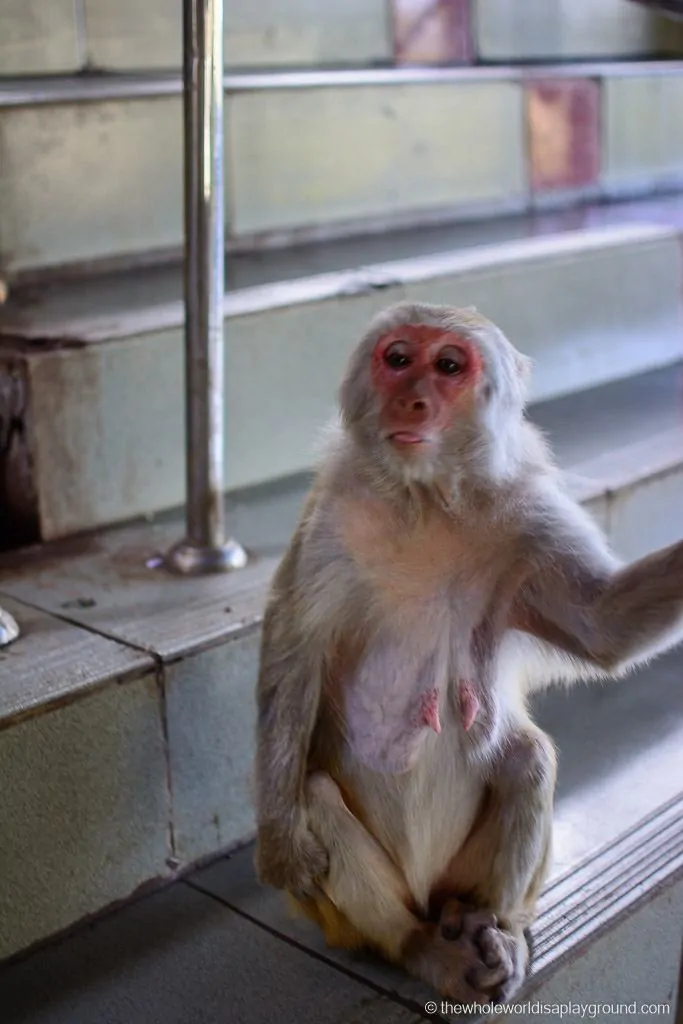 Mount Popa sightseeing tip: To avoid unwanted attention from the monkeys don't bring any food or drink or, if you do, be discreet. Mimicking a slingshot action will usually result in them scurrying them away!
Overall
We loved our overnight stopover at Mout Popa and the highlight was our night at the Popa Mountain Resort with its incredible views of the Mount. Watching the sunset from our balcony and watching the sunrise from the infinity pool were two of our most unforgettable Myanmar moments. Popa itself is chaotic, noisy and a little dirty, between rubbish and monkey droppings, if we're honest but we still loved our visit to the sacred sight. It was fascinating to see an important Burmese pilgrimage site and get close to the monkeys! If you have a free half day in your Bagan itinerary we would definitely recommend popping over to Mount Popa for a morning or an afternoon!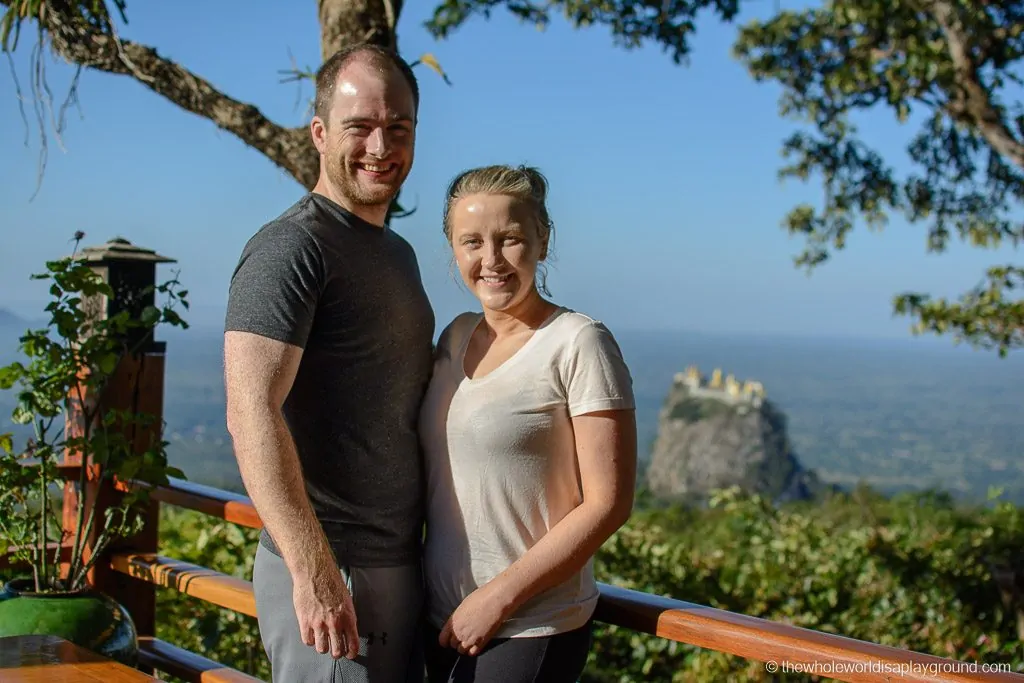 Bagan hotels tend to book up fast so book your hotel as far in advance of your travels as you can. Hotels in Bagan are located across three areas: Old and New Bagan and Nyaung-U. Nyaung-U, a mix of boutique hotels and local residents about 3km from the temples, is our favourite. Old Bagan, in the heart of the temples, houses many of Bagan's luxury hotels while New Bagan is home to larger hotels and new builds.
ZFreeti Hotel (Nguang-U): a small hotel where we stayed with lots of great restaurant options in the surrounding streets and an inviting swimming pool! We rented electric bikes from the store across the street to get around – Check prices here
Other good options include the Sky View Hotel and Motel Zein.
Aureum Palace Hotel and Resort (Old Bagan): located within the actual Bagan Archaeological Preservation Zone amongst the ancient temples themselves, this hotel give you the very best views of the Bagan plains. It's definitely one of the most unique hotels we've ever seen – Check prices now
Other good luxury options in Old Bagan include The Hotel @ Tharabar Gate and the Bagan Thande Hotel
Getting to Mount Popa
We took a private car from the Popa Mountain Resort, stopping at Mount Popa, and then taking us onto Bagan and the cost was USD 40. We spent around 1 hour at Mount Popa and, from there, it was around a 90 minute drive to the Zfreeti Hotel in Bagan. We made some stops along the way: at a view point and for a peek at the Bagan train station! You should expect to pay similar if you are doing a round trip from Bagan.
Myanmar sightseeing tips: private drivers are often keen to take customers to factories or souvenir shops. We made it clear where and when we were happy to stop and our driver was more than happy to oblige so don't feel that you have to stop anywhere!