Virgin Atlantic Clubhouse London Heathrow Review: Virgin Business Class Lounge LHR
The Virgin Atlantic Clubhouse at London Heathrow has been at the top of our lounge bucket list FOREVER and we were incredibly excited when we finally had to chance to visit before our Upper Class flight to New York. From a decadent Upper Class check in wing to a cocktail bar, spa, hot tub and outdoor terrace, the Virgin Clubhouse at Heathrow is widely regarded as one of the best business class lounges in the world and we couldn't wait to explore! After a seamless check in at the dedicated Upper Class Wing in Terminal 3 we made our way to the lounge and settled in for some pre flight fun. Read on for our review of the Virgin Clubhouse at Heathrow!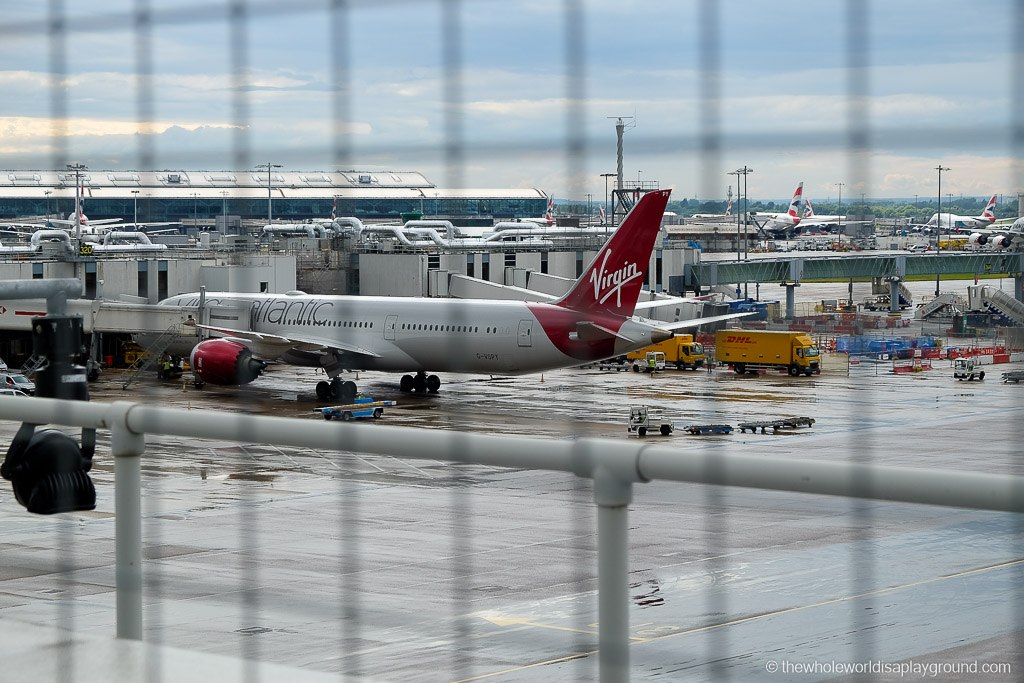 Upper Class Check in
It's not everyday you get to enter Heathrow through your own private entrance and we felt like superstars pulling up to the Upper Class Wing! As we were leaving Central London we'd called Virgin to advise them of our drivers car registration and, as we pulled into the terminal, a member of the Virgin team was awaiting our arrival and whisked our luggage and us into the Upper Class Wing. With a private security channel we were only minutes getting through the terminal and the Upper Class Lounge was in our sights. Total VIP treatment!
The Virgin Clubhouse
The terminal was bustling at the height of summer and we were happy to enter the relative calm of the Virgin Clubhouse. The lounge is bright and funky and we were given a quick tour by the lounge host on our arrival. The lounge is laid out in a series of zones focusing on work, cinema, chilling, eating and drinking.
The Food and Drinks
The Cocktail Bar
All paths lead to the funky bar which is the centre piece of the Virgin Lounge and a great place to hang out! Food and drinks are available throughout the lounge but a lot of passengers gravitated towards the bar area to chill out.  The cocktail list is imaginative and tasty and the staff are fun and friendly. Despite being a blonde my favourite cocktail was the Virgin Redhead, perfect!
The Brasserie and Deli
We opted to dine in The Brasserie which is the restaurant style dining area in the Clubhouse. Food can be ordered either off menu or from the deli counter and we mixed it up by having a combination of both!
The a la carte menu had a selection of starters, mains and desserts with options including soup, sweet and sour chicken, a burger and fish. Our favourites were the potted salmon for starter, the Clubhouse burger for main and a gin and tonic sorbet for dessert.
The deli counter was mouth wateringly delicious: garnished salmon, a selection of meats and cheeses, rustic breads and flavourful salads.
 Afternoon tea
To quote Henry James 'There are few hours in life more agreeable than the hour dedicated to the ceremony known as afternoon tea' and we were delighted to spot afternoon tea on the Clubhouse menu. Despite being stuffed from our earlier dining we decided to indulge before our flight! The traditional afternoon tea, with finger sandwiches, fruit scones and lemon cake, was such an amazing airport treat and we accompanied it with a glass of champagne and a mojito. It doesn't get much better than this pre flight!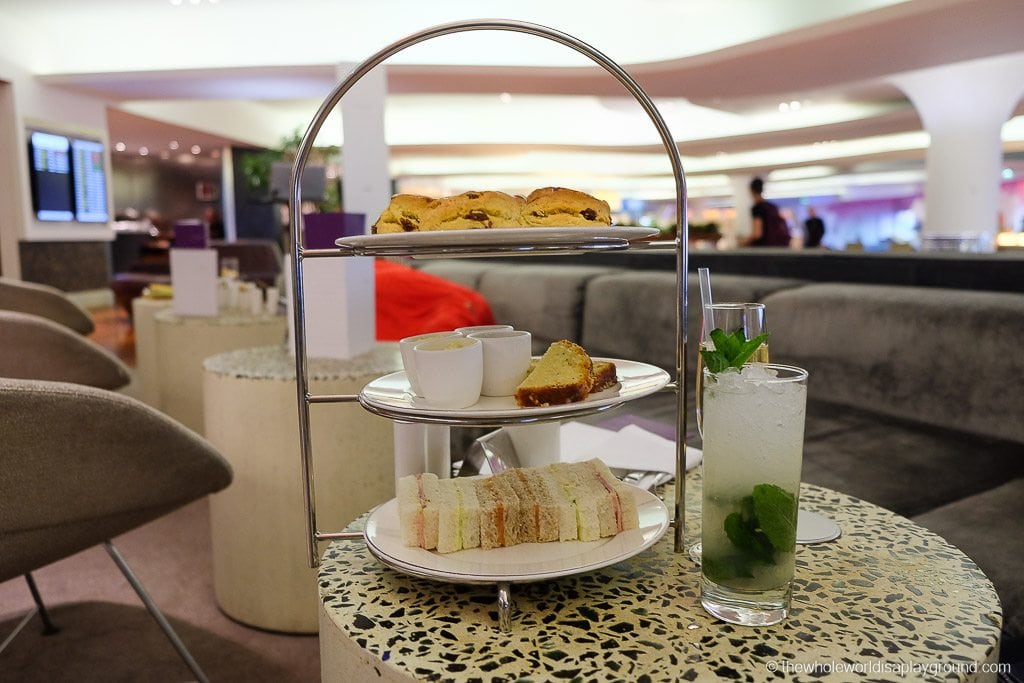 The Clubhouse Facilities
The Spa and Hair Salon
Our business class tickets allowed us one complementary spa treatment each and I opted for a relaxing facial in the spa. Other options included a reconditioning hair treatment or a creative style, an express hair or foot treatment or a head massage. The spa was a total escape from reality and my skin and I felt totally revived after a gorgeous facial. Other treatments were available for an additional charge.
A hot tub!
Yep, there is actually a hot tub/Jacuzzi in the Virgin Clubhouse! I managed to grab a quick pic when it was quiet! Bring your swim gear if you fancy a dip!
Other Facilities
The Clubhouse is well equipped with a range of amenities including luggage storage, shoe shine facilities, a library with a business center and gorgeous shower rooms.
Overall
The Clubhouse quickly took its spot as one of our favourite business class lounges from our travels. It's fun, funky and stylish and is the absolute highlight of any Virgin Upper Class experience. The spa, the bar and the design are all first class and treats like afternoon tea and cocktails make for a fun time in the lounge! In reality, the Clubhouse compensates for a fairly standard on board business class product but really differentiates Virgin as one of the best in terms of the pre flight offering. After having the lounge on our bucket list for so long we were worried we'd over hyped the lounge but our fears were definitely not realised!
I'll leave you with my personal favourite from our trip to the lounge. The elevator to the lounge is equipped with a Virgin seat but the journey only takes about 5 seconds maximum!
 Upcoming visit to the Clubhouse? Use the map below to plan your visit!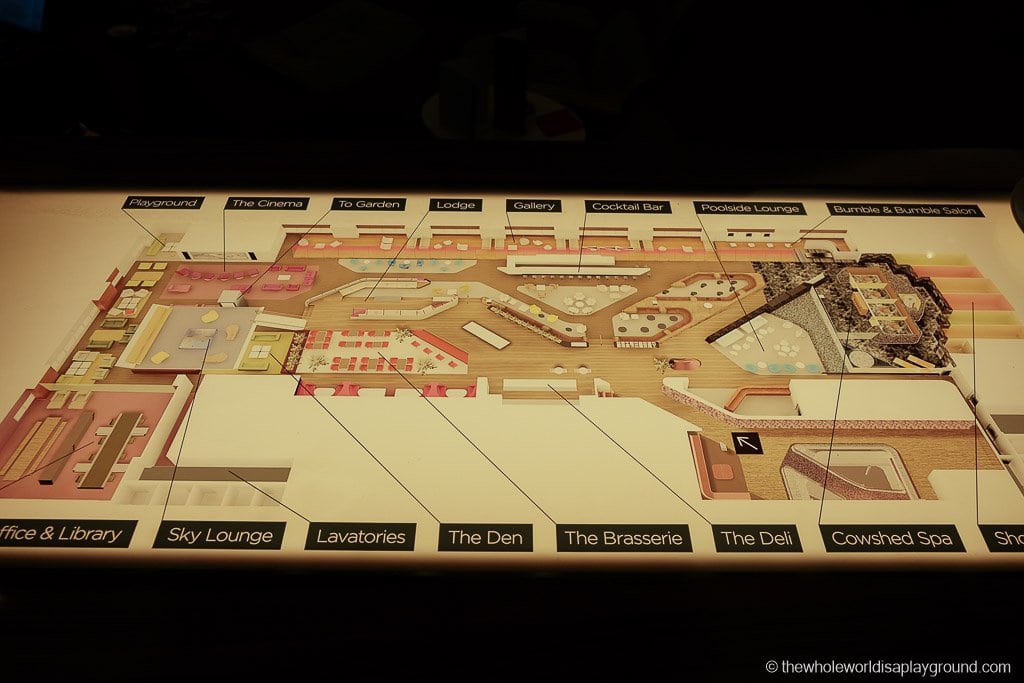 Some of the links in this article may be affiliate links. This means that if you click through our link and book/purchase anything via these links we receive a small commission. We are a participant in the Amazon Services LLC Associates Program, an affiliate advertising program designed to provide a means for us to earn fees by linking to Amazon.com and affiliated sites.