With its white-sand beaches, turquoise waters, and laid-back island vibes, Isla Holbox is one of our favorite places to visit when we fly into the Yucatan. We've stayed in some beautiful Holbox Hotels, both as a couple and with two young toddlers, and wanted to share our recommendations on where to stay in Isla Holbo for those of you planning your own visit.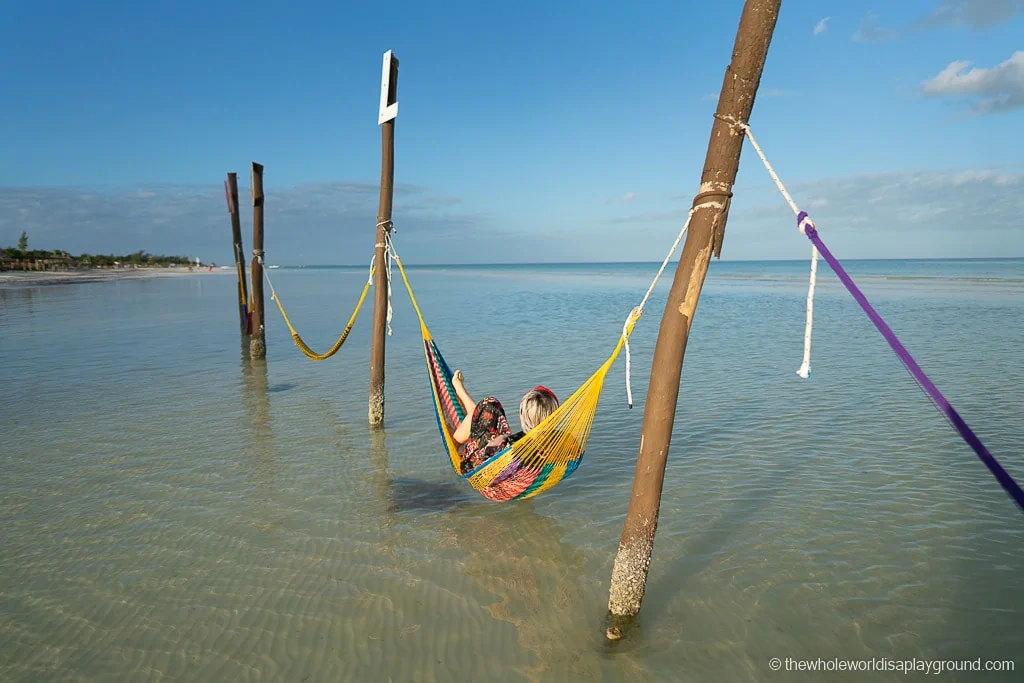 Where to Stay in Isla Holbox: The Best Hotels
Most of the hotels in Isla Holbox are boutique-style and cater to a range of tastes and budgets.
If you want to cut straight to our recommendations then I've listed our favorite hotels in Holbox below or continue reading for a detailed overview of the hotel options:
Overall
Location
Adults Only
Family
Luxury
Budget
Why Stay in Isla Holbox?
When you arrive in Isla Holbox we can almost guarantee you won't want to leave any time soon! Holbox is an idyllic island paradise and a world away from the busy resort towns of the Yucatan. We spent an amazing few days on the island, relaxing on the beaches and enjoying island life. It also takes a little effort to get to Holbox from the Yucatan so it doesn't lend itself to a day trip.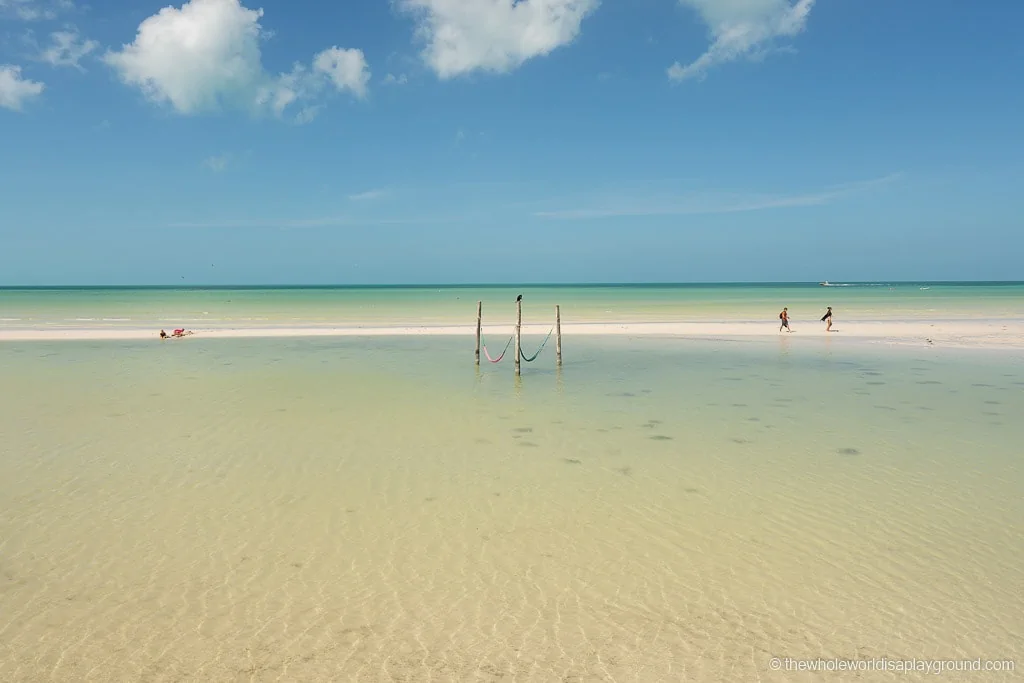 How long to spend on Island Holbox
We recommend staying a minimum of 3 nights on Holbox although 5 nights is our ideal time on Holbox.
How to get to Isla Holbox
Most visitors take the ferry from Chiquila, a small fishing town on the northern coast of the Yucatan Peninsula. It takes 2 and 2.5 hours to drive from the popular resort towns on the Yucatan. depending on where you leave from. Regular coach-style buses also depart from Cancun, Tulum, Playa Del Carmen, Valladolid, and Merida and there are a small number of flights.
Read our detailed guide on how to get to Isla Holbox for more information on transport to Holbox and check out our favorite things to do in Holbox.
Where to Stay on Isla Holbox
From beachfront to budget and adults-only to family-friendly Holbox hotels, we've got you covered with our guide to the best hotels in Holbox.
1 | Best Holbox Hotel
With a central location, beautiful rooms, and lush grounds, Casa Las Tortugas is our top pick for hotels in Holbox.
Casa Las Tortugas
Our favorite Holbox Hotel is Casa las Tortugas, a family-run boutique hotel with stunning decor, palapa-roof hut bedrooms, and a central beachfront location. With only 24 rooms, the setting is intimate and we love the bohemian vibes and its ability to stay true to its Holbox roots. The food and drinks are excellent as are the wellness offerings.
There are suites and beachfront rooms that can accommodate 2 adults. There are some beachfront rooms that can accommodate up to 4 guests. – check prices now!
Holbox hotels tip: Casa Las Tortugas welcomes children aged 12 and over.
Book your stay at Casa Las Tortugas
2 | Best Beachfront Hotel in Holbox
Nothing beats waking up in front of the ocean in Holbox and these beachfront hotels are perfect:
Villa Flamingos
We stayed here during our most recent trip to Isla Holbox. Villa Flamingos is a beautiful beachfront hotel located at the far end of Holbox Beach. The hotel has direct access to its own private beach area and, if you prefer a pool to the ocean, there is an outdoor swimming pool. Our kids loved the direct access to the private beach and we loved being away from the crowds of Holbox center. The ocean view rooms are also a real treat. – check prices now!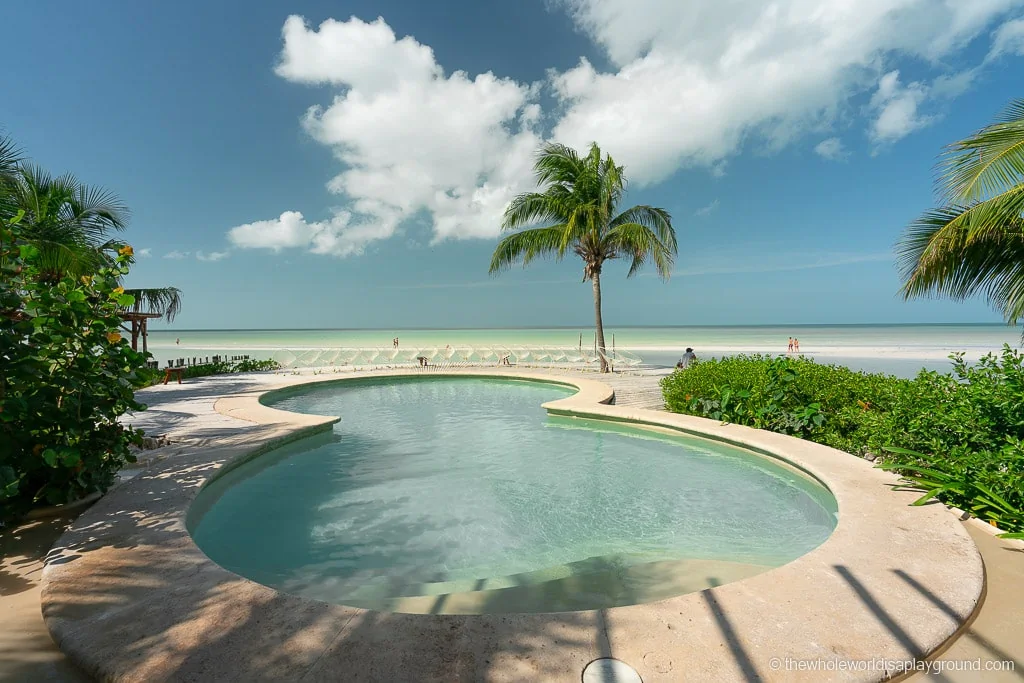 Where to Stay in Holbox tip: It takes around 20 minutes to walk along the beach to the center of Holbox from Villas Flamingos. We rented a golf cart during our stay and it made for eady traveling around the island. You can also rent bikes or call for a golf cart taxi as you need.
Book your stay at Villa Flamingos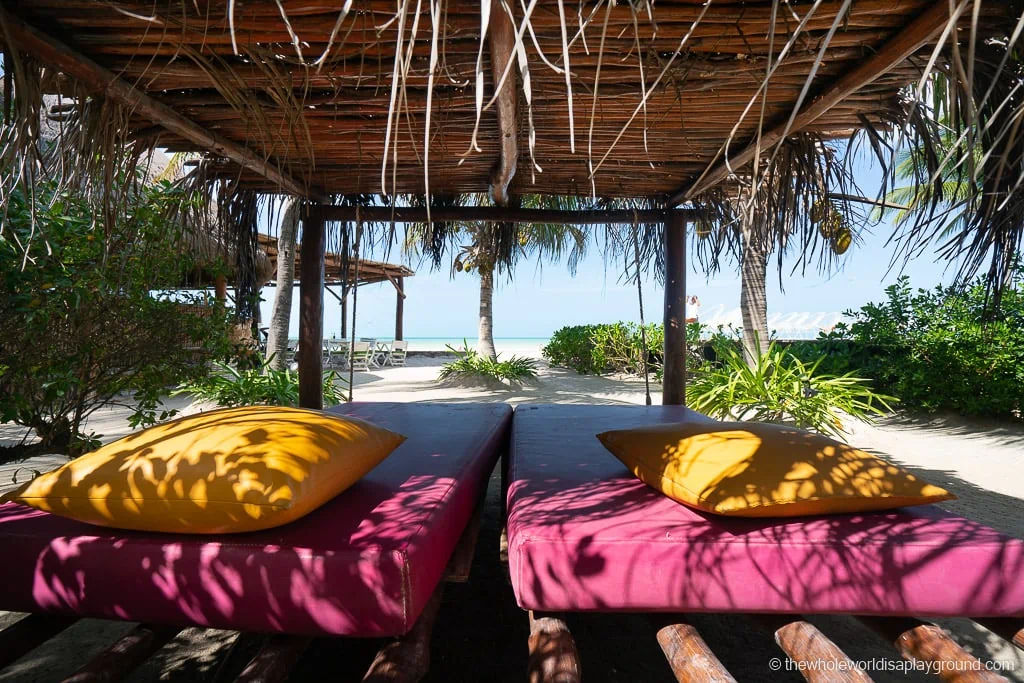 Zomay Beachfront Holbox
Zomay Beachfront is a small beachfront hotel located close to the center of Holbox. The hotel has just 9 rooms (a mix of bungalows and apartments) and has lush grounds with hammocks. Zomay residents have access to a small private beach and there is a restaurant and beach bar on site. Standard rooms can accommodate 2 guests while superior rooms and suites have 2 double beds for up to 4 guests. Children of all ages are welcome. – check prices now!
Book your stay at Zomay Beachfront
3 | Best Luxury Hotels in Holbox
There are some amazing luxury hotels in Holbox and, as well as Casa Las Tortugas, the Mystique Holbox by Royalton is a firm favorite:
Mystique Holbox by Royalton
A luxury beachfront resorted located on a quiet part of the beach 15 minute south of the center of Holbox, the Mystique Holbox by Royalton is an island gem. Rooms are spacious and modern and there is a beautiful swimming pool and beachfront bar. The hotel leads directly to the ocean and there are private tipis available on the beach – check prices now!
Book your stay at Mystique Holbox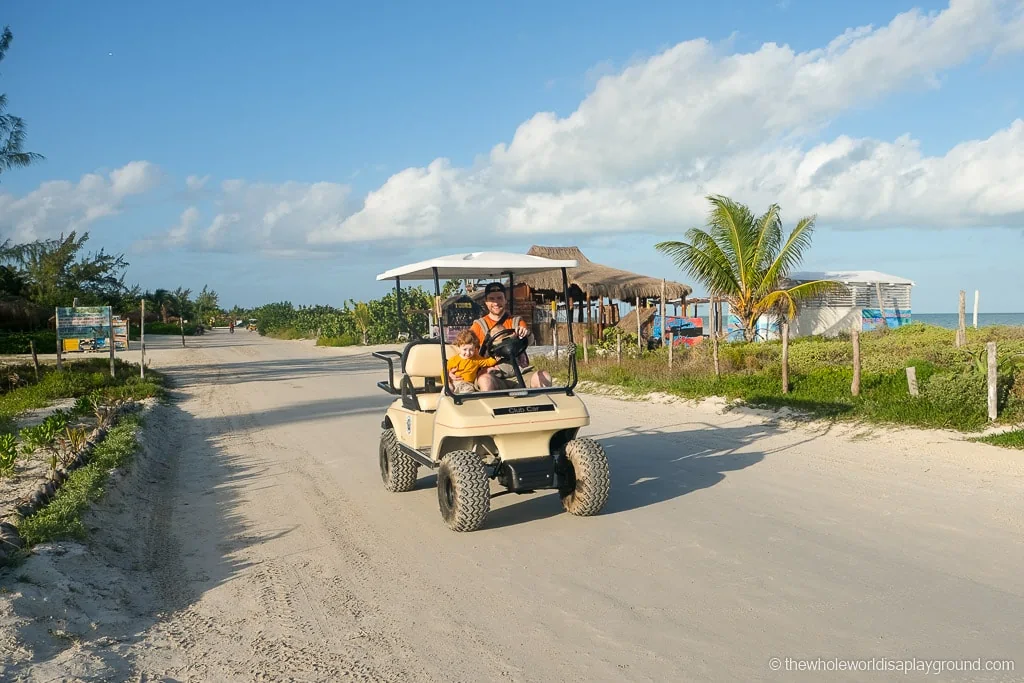 4 | Best Budget Hotel in Holbox
Given the remote island setting and high demand, it's not surprising that Holbox hotels can be expensive. It's still possible to find good accommodation on a budget:
Blatha Tropical Rooms Holbox
An excellent budget option, Blatha Tropical Rooms is an eco-friendly aparthotel located close to the beach and a short walk from Holbox Center. It's not far from Punta Cocos where the bioluminescence is visible at night. Rooms are clean and basic and the property is adjacent to the Carolinda Beach Club where you can rent beach chairs – check prices now!
Book your stay at Blatha Tropical Rooms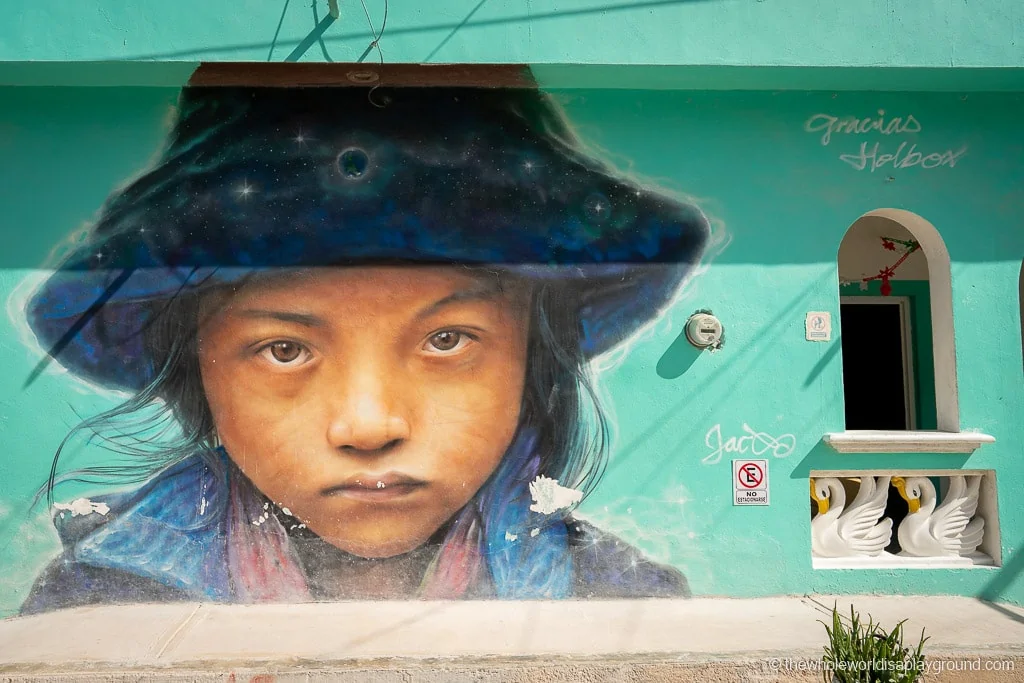 5 | Best Hotels in Holbox Center
The center of Holbox is a hub for bars, cafes, and restaurants and is conveniently sandwiched between the ferry and the beach. It's a great place to stay and the Hotel Siesta Holbox is one of the best options:
Hotel Siesta Holbox
A small boutique hotel with 10 rooms, just five minutes walk to the beach. The hotel is in the middle of the central Holbox hustle and bustle and is surrounded by many of the best places to eat and drink on the island. Rooms are clean, comfortable and modern and the staff are wonderful hosts – check prices now!
Book your stay at Hotel Siesta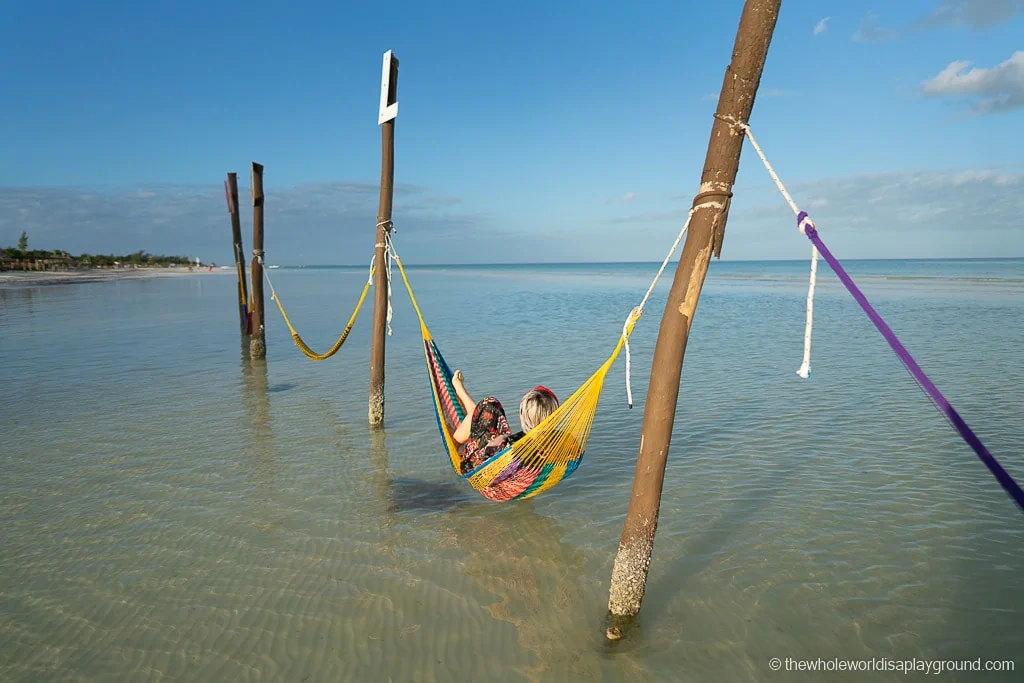 6 | Best Adults Only Hotel Holbox
Holbox has some excellent adults-only hotels:
Tierra del Mar Hotel
A 10-minute walk from the Holbox ferry and two minutes from the beach, Tierra del Mar is a great adult-only option in Holbox. With just 6 bedrooms, the tranquil hotel is centered around a small swimming pool with double pool beds and peaceful gardens. It is a beautiful retreat from the busy streets of Holbox center – check prices now!
Book your stay at Tierra del Mar
Hotel Para Ti
The adults-only Para Ti is a great mid-range budget option for Holbox with a choice of two swimming pools. Located two blocks from the beach and close to the center of Holbox, rooms are clean and spacious – check prices now!
Book your stay at Hotel Para Ti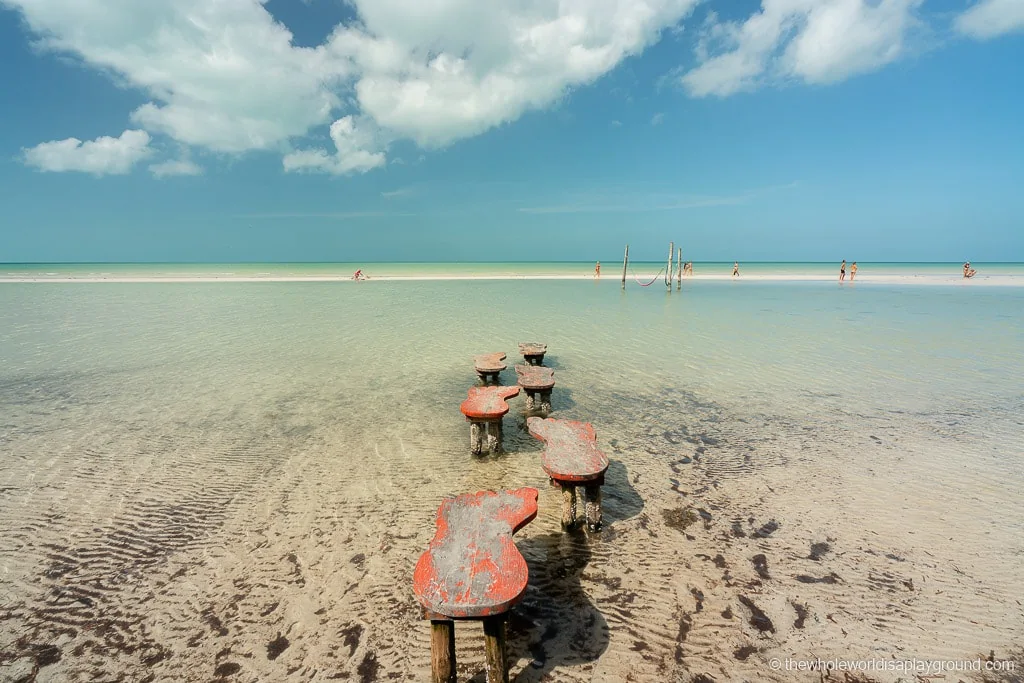 7 | Best Family Hotel in Holbox
Having traveled with two toddlers on our most recent visit to Isla Holbox, we know the importance of a good family-friendly Holbox Hotel. The Mystique Holbox by Royalton (see above for our best luxury hotel) is an amazing family-friendly luxury option and the Casa Astral Luxury Hotel has spacious family rooms:
Casa Astral Luxury Hotel
A new addition to Holbox, the Casa Astral Luxury Hotel is a great option for families. The hotel offers Junior Suite with 2 king beds and 2 bedroom apartments with 3 king beds – one of the king beds is suspended from the ceiling in a bunk bed style in each room. The rooftop infinity pool is not suitable for kids due to a steep drop but, given the hotel is only steps from the beach, the ocean is a much better alternative – our kids will opt for a paddle in the ocean any day – check prices now!