I do love a good airport lounge to kick start the holidays so I was excited to try out the Air France Lounge in Terminal 2E of Charles de Gaulle on our way to Dubai.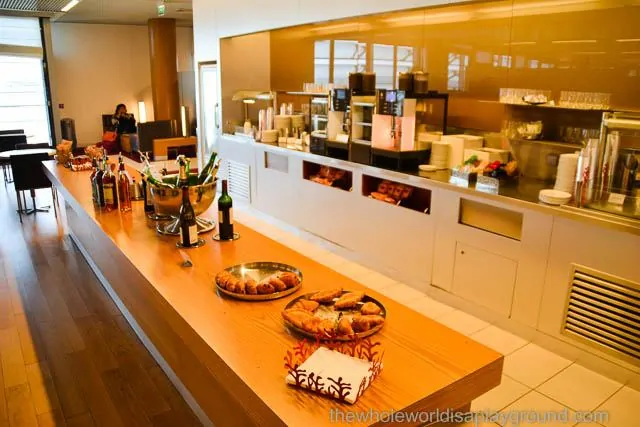 Check out our Air France  business class flight from Paris to Dubai here!
The Lounge
After navigating the maze that is Charles de Gaulle on a connecting flight we eventually found ourselves in the relative calm of the Air France lounge. The lounge was split into various areas including canteen and bar stool style seating, leather arm chairs, a spa, workstations and showers.
We arrived at the lounge at around 10am on a weekday and, while it was bustling, there were plenty of seats to choose from. The lounge got progressively busier as it moved into the afternoon period but it's nicely sectioned out and never felt too crowded.
The Spa
One of the first things I discovered when I had access to airline lounges was: if there is a spa put your name down as soon as possible when you enter the lounge! Complementary spa treatments are always immensely popular given that it's such a lovely way of relaxing prior to a flight.
I opted for a facial and managed to squeeze in an appointment for 20 minutes before our boarding time. Lucky! Spa treatments are offered by Clarins in the Air France lounges and I enjoyed a skin relaxing facial prior to our flight. The therapist was excellent and my skin was refreshed and calm after the treatment. As an added bonus, I was given a lovely selection of samples to use on the flight.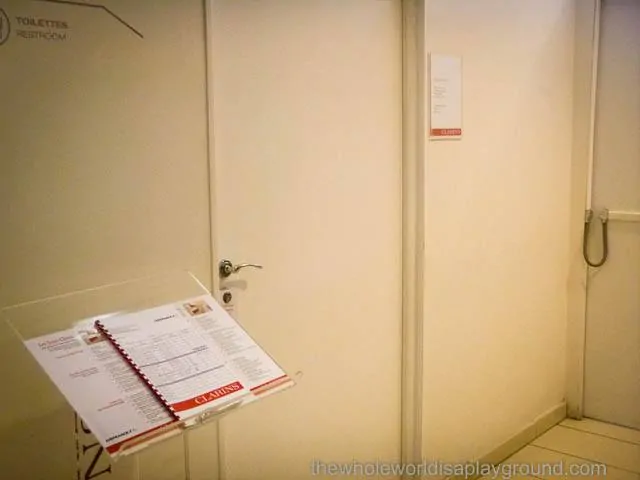 Food
In the morning there was a selection of breakfast pastries including croissants and pain au chocolate. During the afternoon the lunchtime menu included soup, a selection of cheese and meats, sandwiches and petite fours.
The dishes were replenished frequently.
Drinks
There was a variety of French wines including some reds, whites and sparkling wines as well as some liqueurs. The fridges were well stocked with a wide range of water, juices and soft drinks.
I was totally smitten with the Marc Jacobs diet coke. Marc Jacobs handbags? Check. Designer diet coke? Check!! Awesome!
Amenities
Wi-fi was available throughout the lounge and there was a business area with workstations and desktop computers. A selection of newspapers and magazines were available throughout the lounge but most were written in French.
Overall
We enjoyed our time in the Air France Lounge and it offered a welcome escape from the hustle and bustle of the terminal. The food and drink selection was good and the lounge was well maintained. The spa treatment was enjoyable and relaxing and we enjoyed chilling out in the armchair seating while we waited for our flight.  A good start to our trip!
Check out our Air France  business class flight from Paris to Dubai here!
If you love flying and travel subscribe below to keep up to date with thewholeworldisaplayground and follow us on Twitter and like us on Facebook! If you found this post useful please do share! 
Air France Lounge Terminal 2E
Reservations: Book now with Air France
Lounge: Air France Lounges
Access: Air France lounges can be accessed by:
Air France first and business class passengers (there is a separate lounge available for first class passengers)
first and business class passengers on international SkyTeam flights
Flying Blue gold and platinum members and SkyTeam Elite Plus members