We were off on a last-minute trip to Dubai for some fun in the sun and to check out the sights in the desert. Luckily for us Air France had some reasonably priced business class tickets from Dublin to Dubai on sale when we booked our flights and we decided to check them out!
For details of the Air France lounge in Paris click here!
On Board
The Business Class cabin had 67 seats in a 2-3-2 configuration and the décor was blue and cream. As there were 3 of us travelling we opted for the middle 3 seats to allow us to sit together and have a chat. There were pillows, blankets and jacket hangers on our seats when we boarded.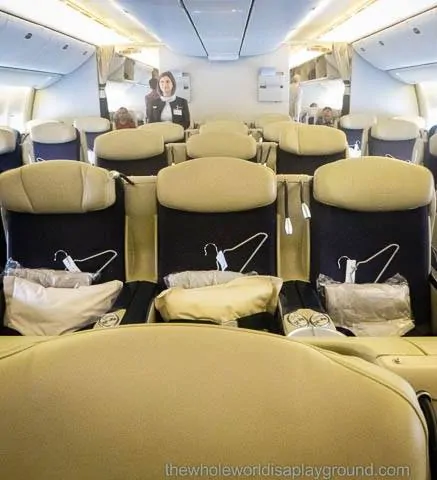 We were welcomed on board with a glass of Deutz Brut Classic champagne and a hot towel while one of the crew took our jackets to store for the duration of the flight.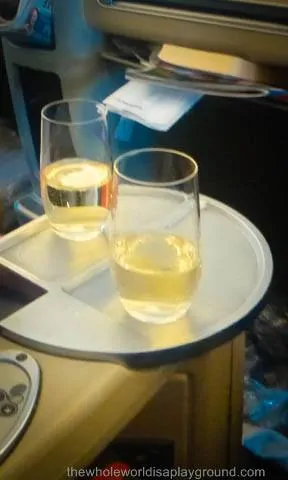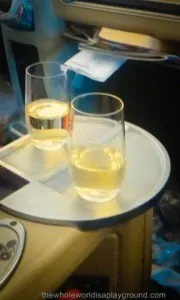 Air France amenity kits were distributed throughout the cabin. The contents included: an eye mask, a shoe bag, socks, a toothbrush and toothpaste, ear plugs and Clarins moisturiser.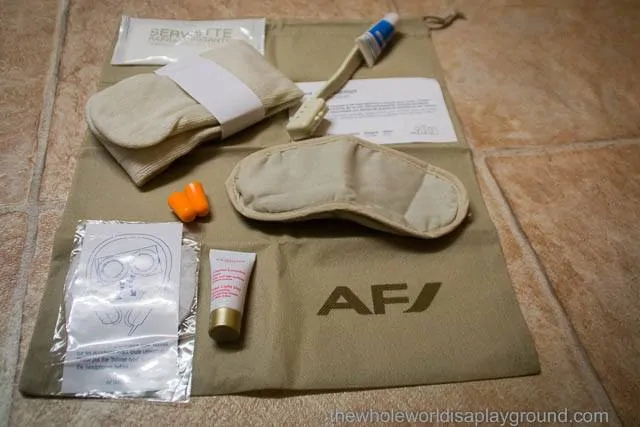 The Business Class Seat
The seats in the business class cabin were the older style angled seats and were spacious in both width and leg room.
Sleep time!
There are some angled business class seats that make me feel like I'm slowly slipping to the floor and they give me the fear! Although the Air France business class seat does not recline fully to 180 degrees, it is sufficiently flat to avoid the sliding feeling and we had a comfortable sleep.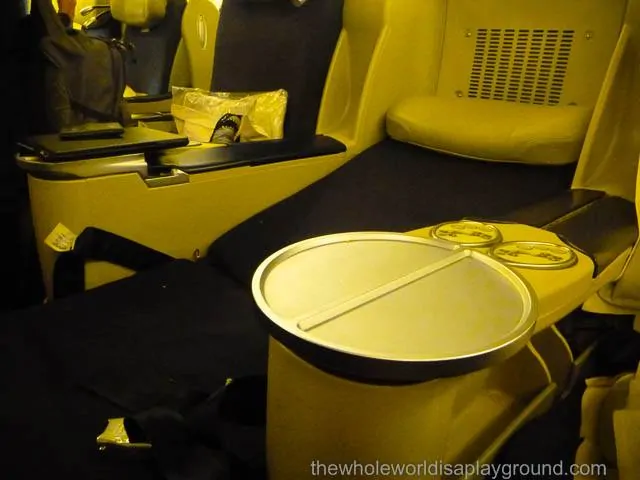 Food and Drinks
On the Paris to Dubai leg we had a 3 course meal of salmon and pâté for starter, beef or lasagne for dinner and chocolate cake for dessert. With the obligatory cheese selection of course, it's my favourite part!
On the overnight flight back to Paris the menu consisted of a light meal which included a salmon and shrimp salad, a selection of cheese and a fresh fruit salad. We were offered a light breakfast of a mixed grill, an omelette or crepes with fruit and pastry as we approached Paris.
The drinks menu included a Deutz Brut Classic champagne which retails at around £35 in the UK. There was a choice of 2 reds, a Rhone Valley (Chapoutier Crozes-Hermitage Les Meysonniers 2010) and a Bordeaux (Haut Medoc Chateau Cantemerle 2008) and one white wine (Macon Villages 2011 Maison Louis Jadot).
There was a selection of aperitifs, digestifs and soft drinks. Heineken was the only beer available.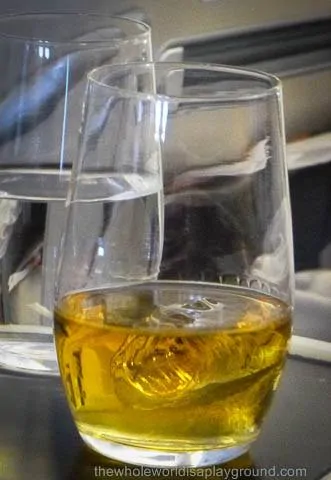 Overall

On both our flights during July 2013 the Air France business class cabin was fitted with the older, slightly angled seat which, while comfortable, lags behind other carriers on the Middle East routes. The food was very good although it was much better on the way to Dubai when there was a full dinner service (in comparison to the restricted offerings on the overnight return flight to Paris).
We enjoyed the flight but, coming from Dublin where the other business class offerings include Emirates direct to Dubai and Etihad to Abu Dhabi (with a drop off and collection service to anywhere in the Emirates), Air France is only really preferable with a significant cost saving. For a comparison with the business class offering on the Etihad Abu Dhabi to Dublin route check out my review here. Air France are currently rolling out a new business class product on long haul routes and it will be an interesting development if they implement this on the Paris to Dubai route.
A peek at first class!
Air France also offers a La Première cabin on the Paris to Dubai route. We got a quick glance at the cabin while we were exiting the plane and it looked pretty snazzy!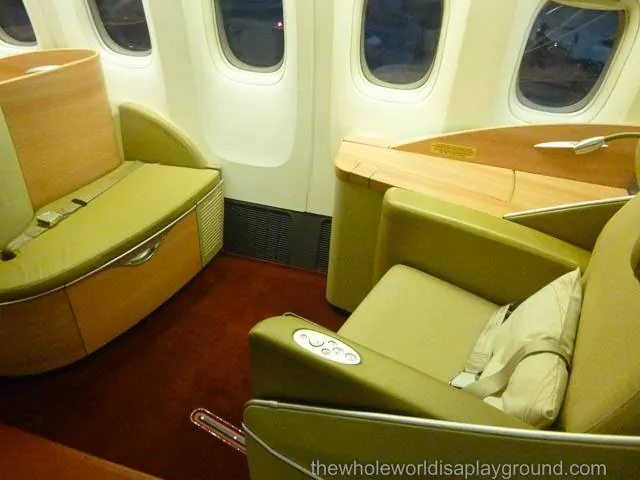 For details of the Air France lounge in Paris click here! Read more about our Dubai adventures here!
Air France
Paris to Dubai:  Air France offer one flight daily from Paris to Dubai