It's important to invest in a good bag, backpack or case in order to ensure your Mavic Pro is protected. Although the Mavic Pro is one of the best drones out there due to it's 4k resolution, compactness and portability it is still a delicate piece of technology and needs protection while you travel with it. Choosing the best bag or case for your DJI Mavic Pro drone can be difficult as there are so many options available to choose from – we've tried a variety of bags and cases for our Mavic Pro and want to share our experience with you and offer some advice on how to choose the best bag for your DJI Mavic Pro drone.
Drone Bag Tip: Remember there is no single perfect bag or case for the Mavic Pro, it's a matter of selecting the best bag or case to suit your needs the best. We've included the products we use but also given alternatives depending on your needs.
Choosing the best bag for your Mavic Pro
There are three types of bags and cases which offer a storage/transport solution for your Mavic Pro – a bag or backpack, a hard shell case or a soft shell case.
1 | Best Bag and Backpack for Mavic Pro
A dedicated drone bag is perfect for photographers or anyone looking to carry camera and other electronic gear along with your Mavic Pro drone. Dedicated bags offer many customisation options aimed at photographers and videographers such as quick access side pockets, protective and padded inner shells to protect your gear and adequate waterproofing to protect your electronics against the elements.
A bag or backpack is the most suitable option for your DJI Mavic Pro if:
You carry other photography gear (cameras, lenses & tripods) or a laptop
You're going to be hiking/walking a lot
You need quick access to accessories at all times (e.g. batteries, propellers, charging equipment)
You need a comfortable mobile travel solution which can quickly move around with.
The best bags/backbacks for the Mavic Pro are:
Lowepro Protactic 450AW
This is the bag I personally use as a travel photographer and it suits my needs perfectly. It allows me to carry all my camera gear (two DSLR bodies, 4 lenses, 15tinch laptop, a tripod, a GoPro and its accessories) in addition to my Mavic Pro and its accessories.
The side entry pockets and top loading access make grabbing gear extremely quick and easy. Another feature I love is that the main compartment is accessed from the back only so it's very secure to pick pockets etc. The fact that the bag appears so compact means I never have problems flying with it as cabin luggage. I've used this bag for over a year now bag for all my gear and even managed to use it for a two week trip to Japan travelling with cabin luggage only. It literally holds everything!The Lowerpro Protactic 450AW is one of my favourite camera bags to date – check prices now!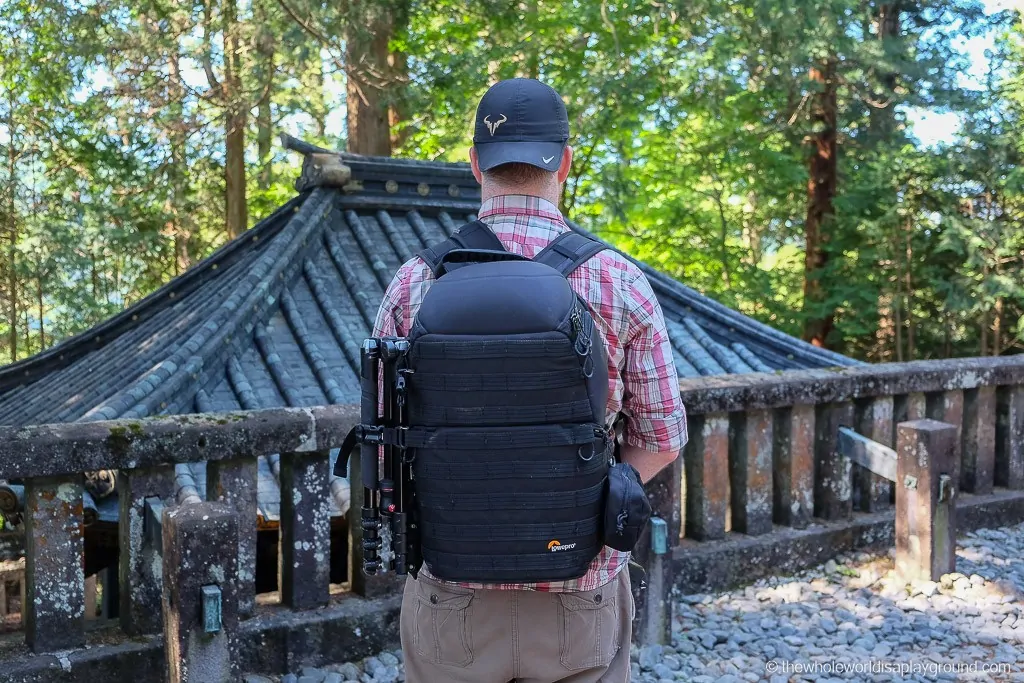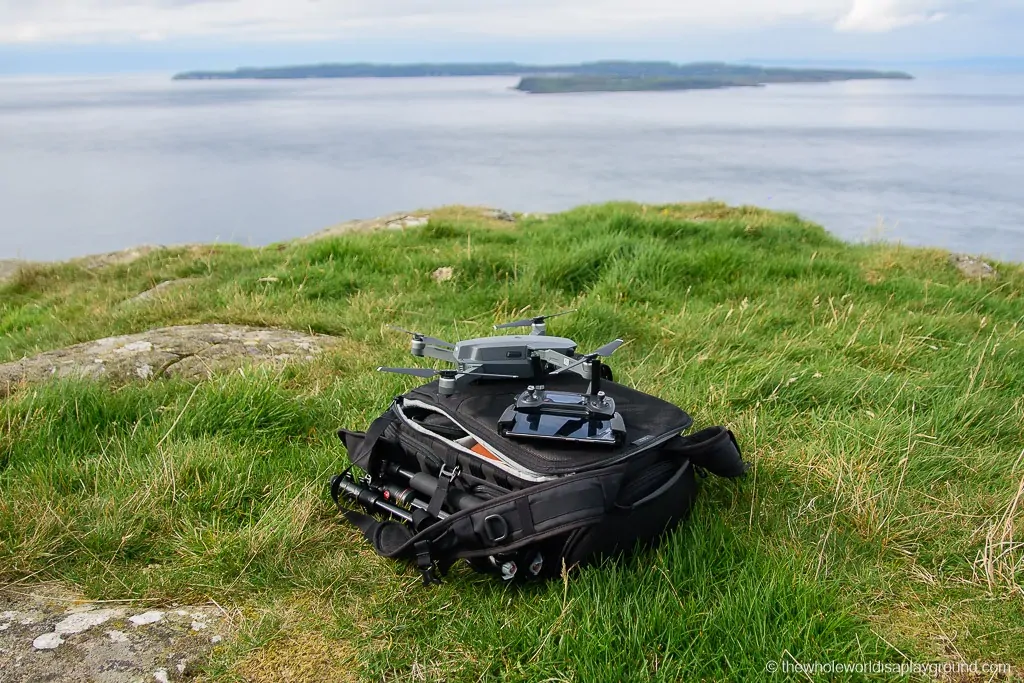 PolarPro Dronetrekker
The Dronetrekker bag from PolarPro is another great option for a carry all solution. While this bag is designed to fit a DJI Phantom series drone it also works great for the Mavic Pro if you're hoping to carry the Mavic Pro with other video and photo gear. It has a tablet and laptop sleeve and plenty of room within other gear in the customisable inner sections. It also has a dedicated holder for a full sized tripod on back of the bag
We really like the integrated TSA approved lock in the zip to secure you bag during travel and the straps are super comfy. It also includes a rain cover for some protection against the elements and comes with PolarPros lifetime warranty – check prices now!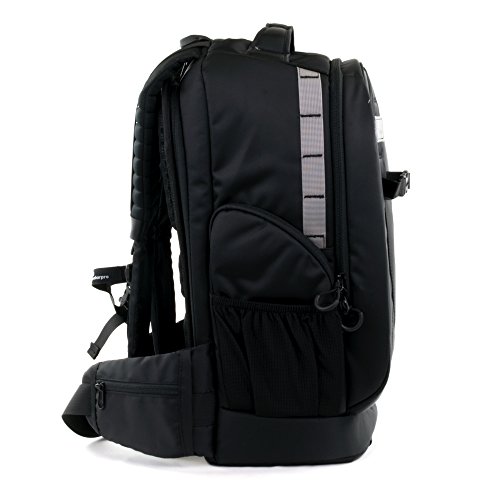 Buy now on Amazon!
Lowepro ViewPoint BP 250
The Viewpoint BP250 may look like many other camera bags however this one has a dedicated section at the bottom with a removal case for the Mavic Pro. This means you don't need to open the entire bag to get at your Mavic Pro. The bag is targeted at those who want to comfortably carry their drone with some additional gear, e.g. a mirrorless camera system, GoPro, small tripod and accessories. So while you won't fit as much gear in the Viewpoint as with the compared to the Lower Protactic 450aw you can still bring a lot of gear and the separate case for the Mavic Pro is super convenient for quick flight missions on the go. There is also space for your laptop and a pocket for a small tripod on the side.
The included removable padded case is perfect for your Mavic Pro and accessories as you're always ready for a flight without digging through your bag – check prices now!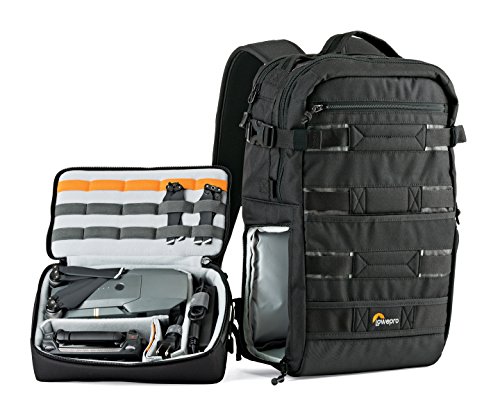 Buy now on Amazon!
2 | Best Hard-shell cases for Mavic Pro
Hard Shell Cases are the best choice for those who need the best all round protection for your Mavic Pro as hard shell cases offer waterproofing and shock proofing.
The main downside of the hard shell case is that they can be more bulky/heavy to carry and therefore can be difficult to carry long distances. Purchase a hard shell case if the added protection outweighs these drawbacks.
The best hard cases for the Mavic Pro are:
Pelican Case
For years Pelican has been the gold standard in hard cases for professional photography equipment and their dedicated case for the Mavic Pro is no exception – the Pelican Mavic Pro case offers best in class protection for your drone.
The case can hold a Mavic Pro drone, a controller, a tablet /phone, charger, some spare propellers & accessories and up to 4 spare batteries. The foam insert is customisable so you can choose exactly how you want it configured.
In addition this case 100% waterproof and dust proof and comes with a lifetime guarantee. It also features padlock fittings to secure the case while in transit. All in all this is the best protection for you Mavic Pro and worth the premium cost in our opinion – check prices now!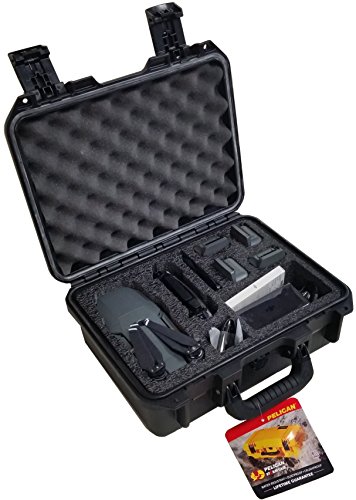 Nanuk DJI Drone Case
The Nanuk case is a solid competitor to the Pelican and a great option if you want to spend less. The foam insert comes pre cut for your Mavic Pro and its accessories and the case features an altitude release valve which ensures you can open and close the case while at altitude (altitude can sometimes seal a case shut due to pressure differences) – check prices now!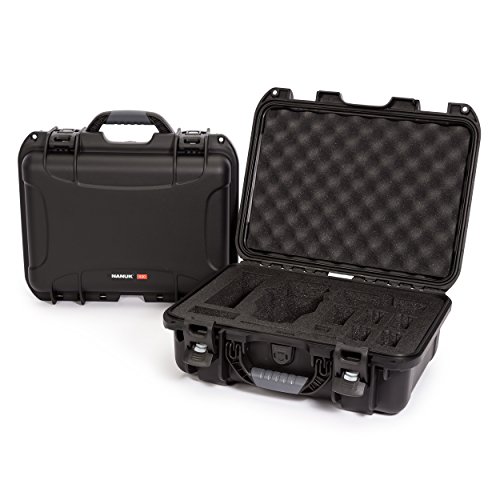 Buy now on Amazon!
Amazon Basics Case
Amazon recently introduced a very solid budget option for a waterproof hard case that is perfect for a Mavic Pro. It's watertight to 1.5 metres and the foam insert provide protection. While the build quality may not match that of the Nanuk or Pelican it's still a very good option for the price – check prices now!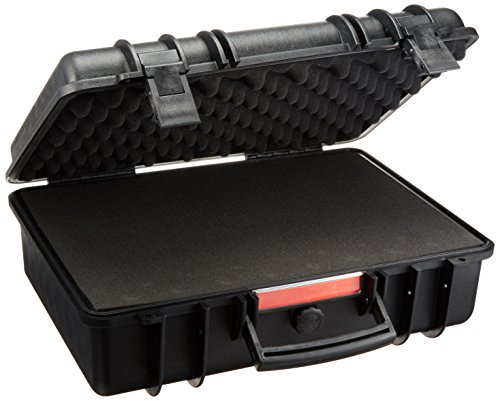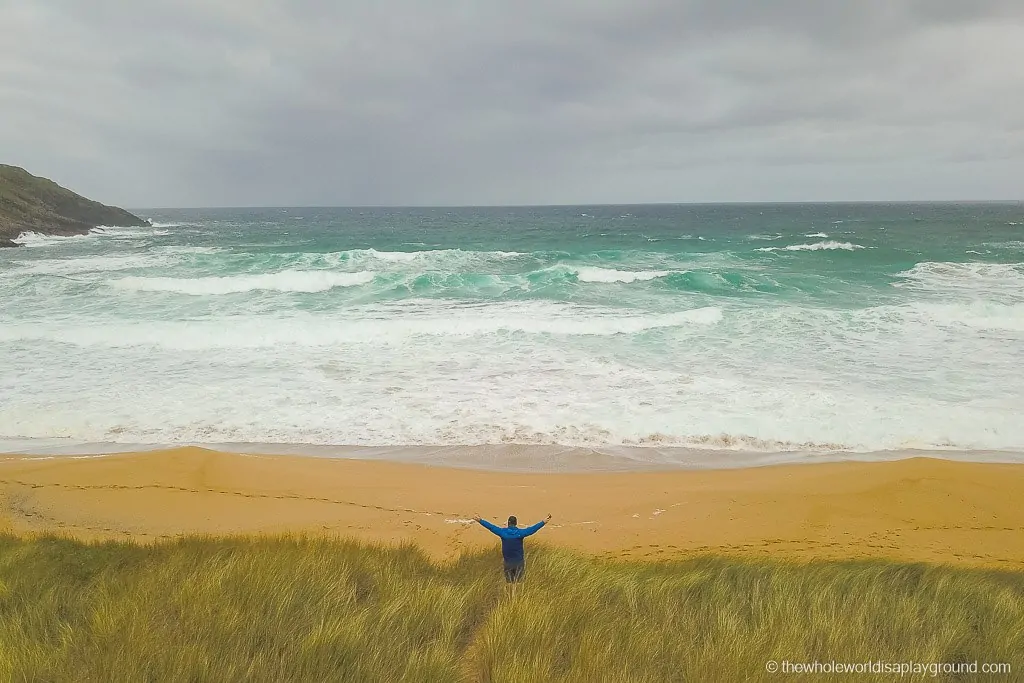 3 | Best Soft-Shell Cases for Mavic Pro
Soft shell cases are a great options for those who want some added protection for transporting or storing a Mavic Pro but don't need a dedicated bag or hard case. They simply want a case to provide some protection for the Mavic Pro while they carry it in their bag.
Soft-shell cases come in two varieties:
Single piece: holds the Mavic Pro, controller and accessories
Two piece: holds the Mavic Pro and controller separately.
Single Soft Shell Case – Smatree Case
Single piece cases are aimed at holding the Mavic Pro, a controller, batteries and some other accessories and can be packed within another bag in one single unit. This would suit anyone travelling with a larger rucksack that needs the Mavic contained within one unit – check prices now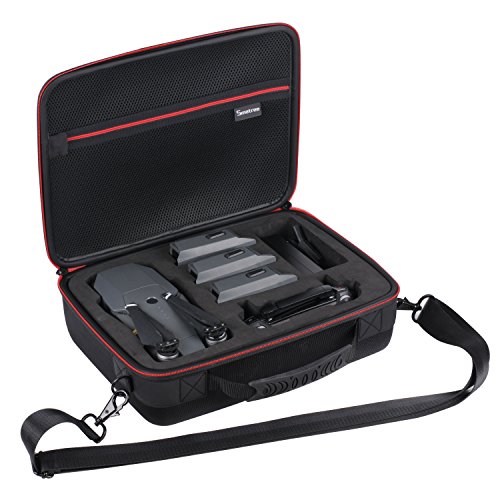 Buy now on Amazon!
Two piece Soft Shell Case – FS.Labs
We personally use the two piece case when not using the LowePro Protactic bag e.g. while we're hiking with a backpack or when I don't want to bring all my camera gear. A two piece soft shell case is perfect for anyone who want to use their existing bag/backpack to carry their Mavic Pro. The two piece is very compact and holds the controller and drone separately for easier packing. While it won't hold accessories, I can throw the Mavic in a bag and I know it has some decent protection. The two pieces also make it easier for packing in tighter pockets where a single piece case would be a tough fit – check prices now!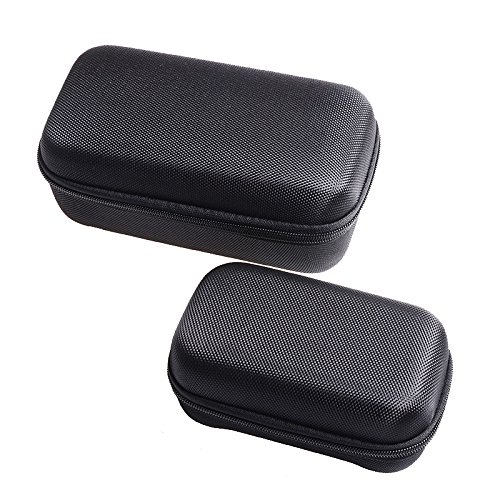 Buy now on Amazon!
Check out our other Mavic Pro articles: