Quirky and fun, Portland is an Instagram dream and there are some incredible Instagram shots just waiting to be captured in the city. We've put together this list of our favourite Instagram spots in Portland to help you find some of the most photogenic and Instagrammable locations the city has to offer.
From the colorful street art to its beautiful gardens, we hope you have as much fun as we did visiting some of these best Instagram spots in Portland.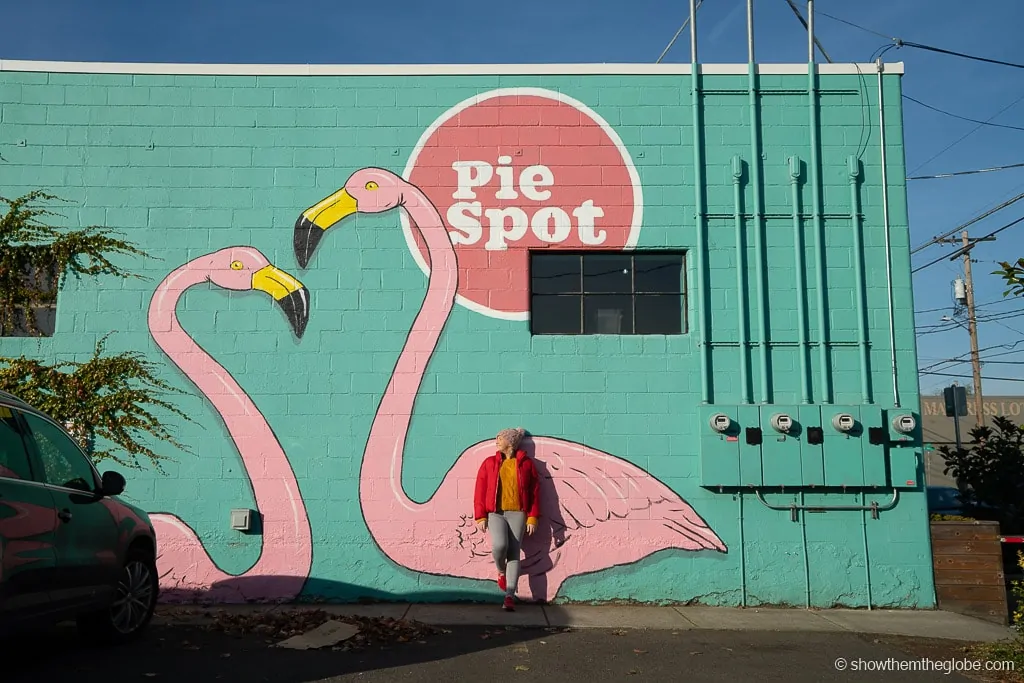 17 best Instagram spots in Portland
We've shared everything from the vibrant and colourful street art murals which caught our eye to our favorite trails and waterfalls. Have fun Instagramming! We've included some of these spots in our best day trips from Portland.
Where to Stay in Portland
Exploring Portland is a lot of fun and worth having a nice hotel to relax in after a long day of adventures. We recommend the following hotels for your stay in Portland:
Inn at Northrup Station – where we chose to stay during our time in Portland and we cannot recommend it enough. It is colourful, quirky and perfectly located for exploring Portland. The suite style rooms are huge, come with fully equipped kitchens and are perfect for a stay in Portland – check prices now!
Mark Spencer Hotel – this is a perfectly located hotel in the Pearl District has been recently renovated and one of the most popular hotels in town. Definitely check it out – check prices now!
1 | Powell City of Books
Location: 1005 W Burnside St, Portland, OR 97209
With aisle upon aisle of captivating books, the iconic Powell's City of Books is one of our favorite Instagram spots in Portland and a visit is one of the best things to do in Portland.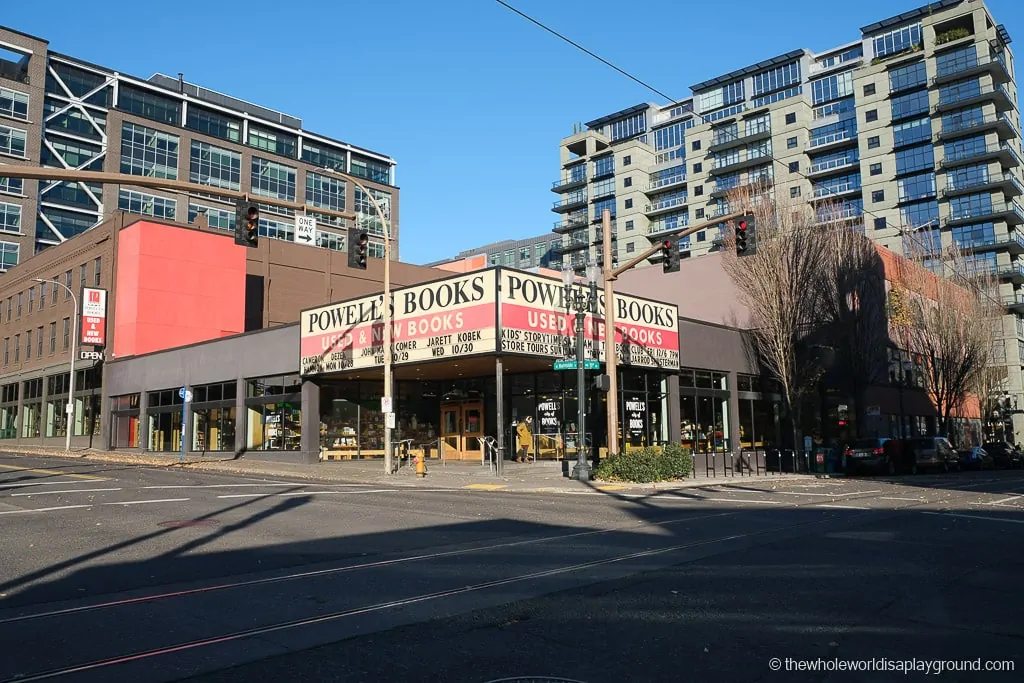 Regarded as the world's largest independent bookstore, Powell's covers an entire block of the city. We spent hours browsing the incredible selection and left with a bag full of books and souvenirs together with some great Instagram shots!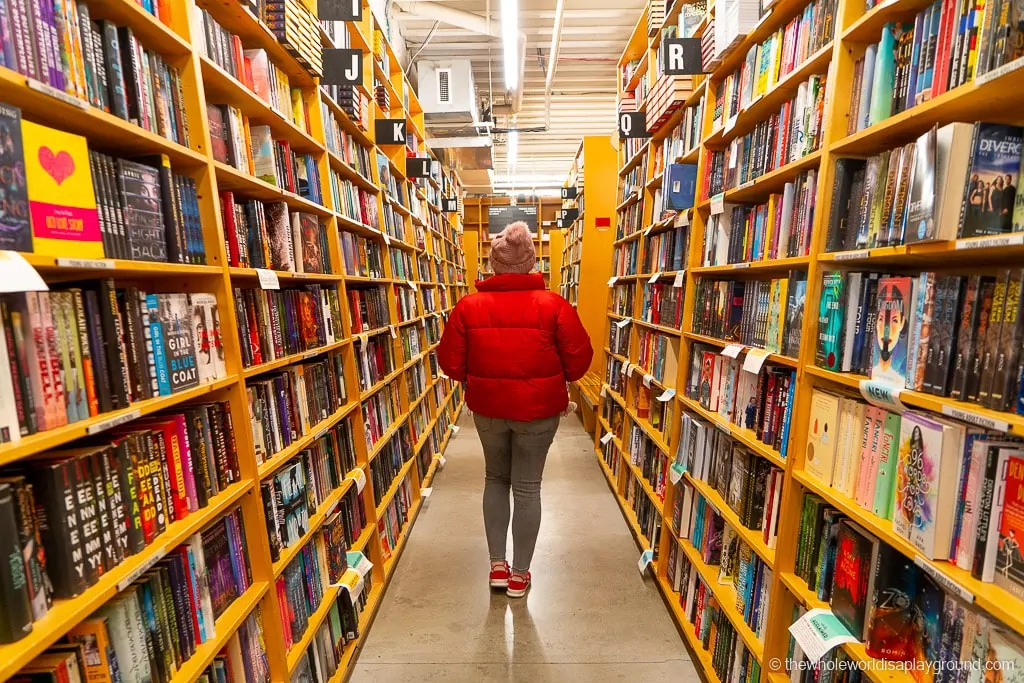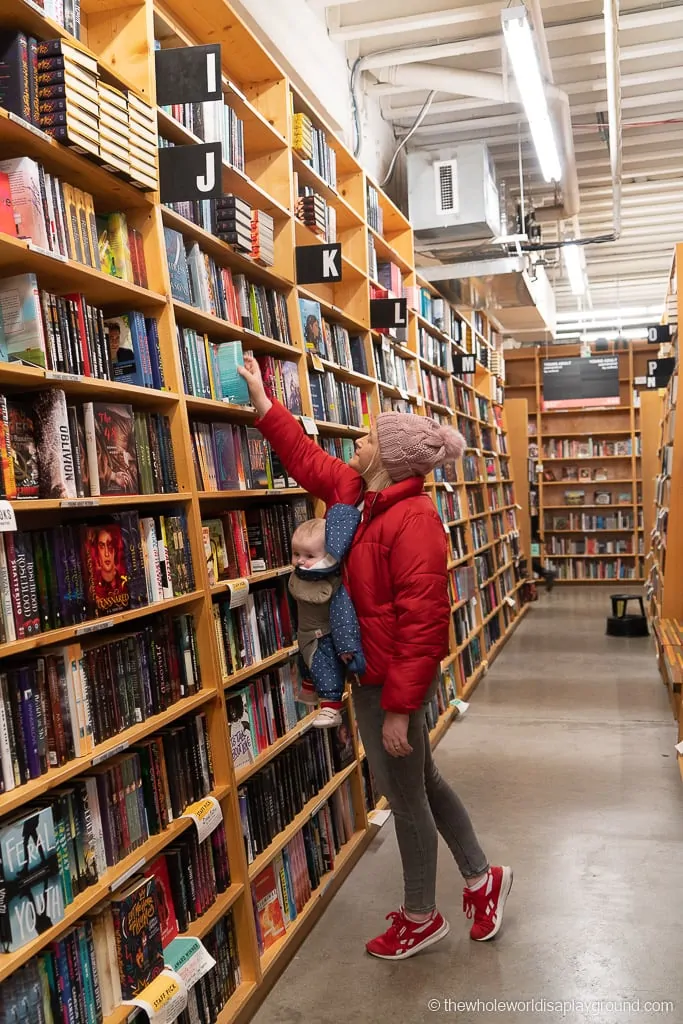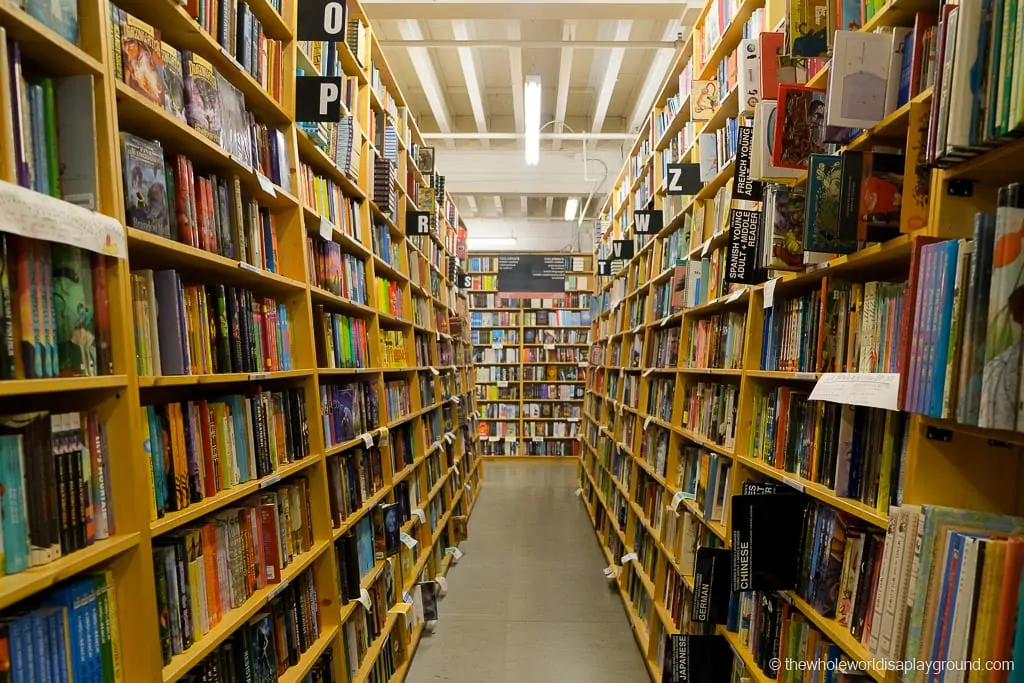 2 | The pink flamingos at Pie Spot
Location: 521 NE 24th Avenue | Portland, Oregon 97232
I love pink and I love flamingos so the pink flamingos at Pie Spot are an instant winner for me!
As well as offering a delicious range of sweet and savory pies, the pink flamingo wall at Pie Spot is one of the best Instagram spots in Portland. The pink flamingos are the perfect mix of pink and pastel and the Pie Spot location means you can indulge in a mouth-watering pie while capturing an awesome shot!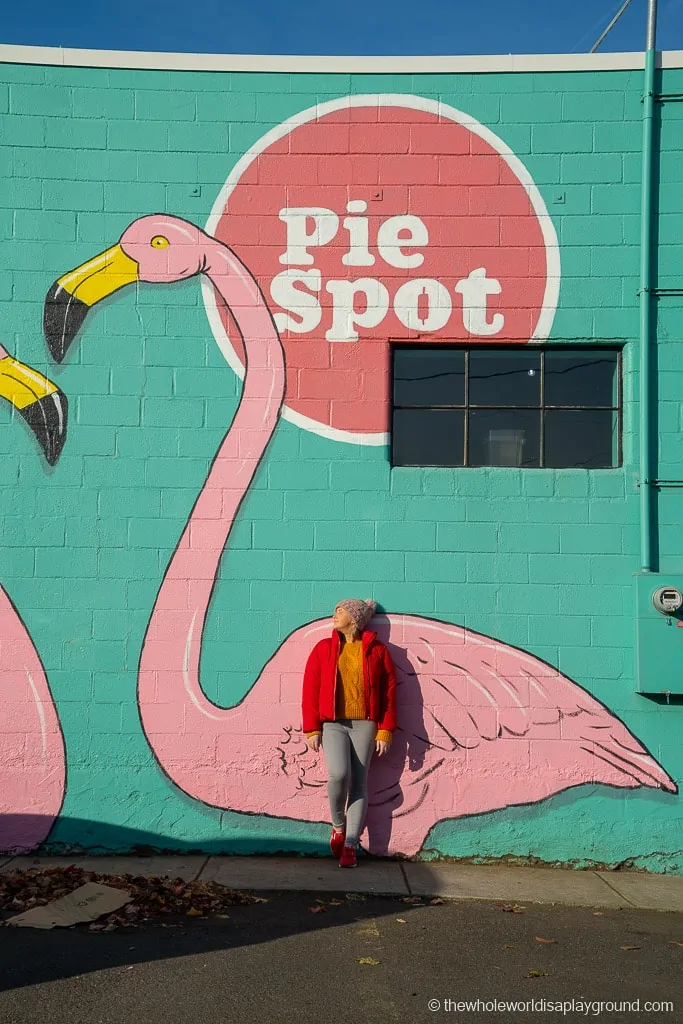 3 | Sauvie Island
Location: 16511 NW Gillihan Rd, Portland, OR 97231
Located just 10 miles northwest of Portland, Sauvie Island is a fun escape to the countryside. Depending on the season, there's fruit picking, corn mazes and pumpkin patches which all offer great Instagram opportunities.
Best Instagram spots Portland tip: we visited the Sauvie Island Pumpkin Patch on Halloween. There were pumpkins as far as the eye could see!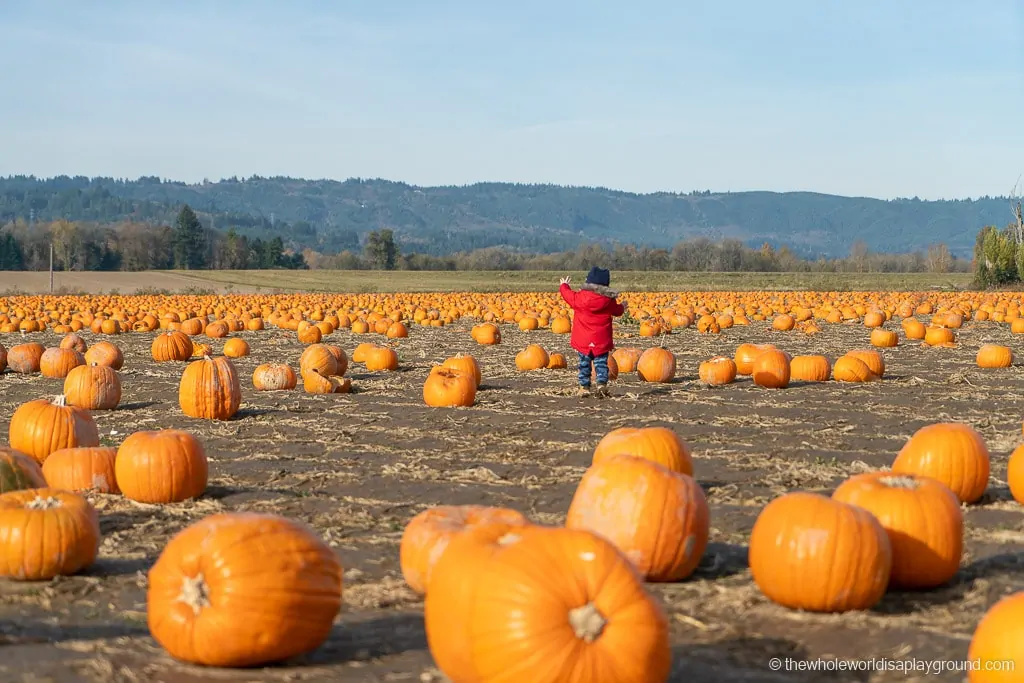 4 | Everything is Everything
Location:  2121 Southeast 6th Avenue, Portland, OR 97214
The perfect combination of inspirational and Instagrammable! A feel good piece of street art by Zach Yarrington, the eye catching 'Everything is Everything' is a reminder that it is not worth sweating the small stuff.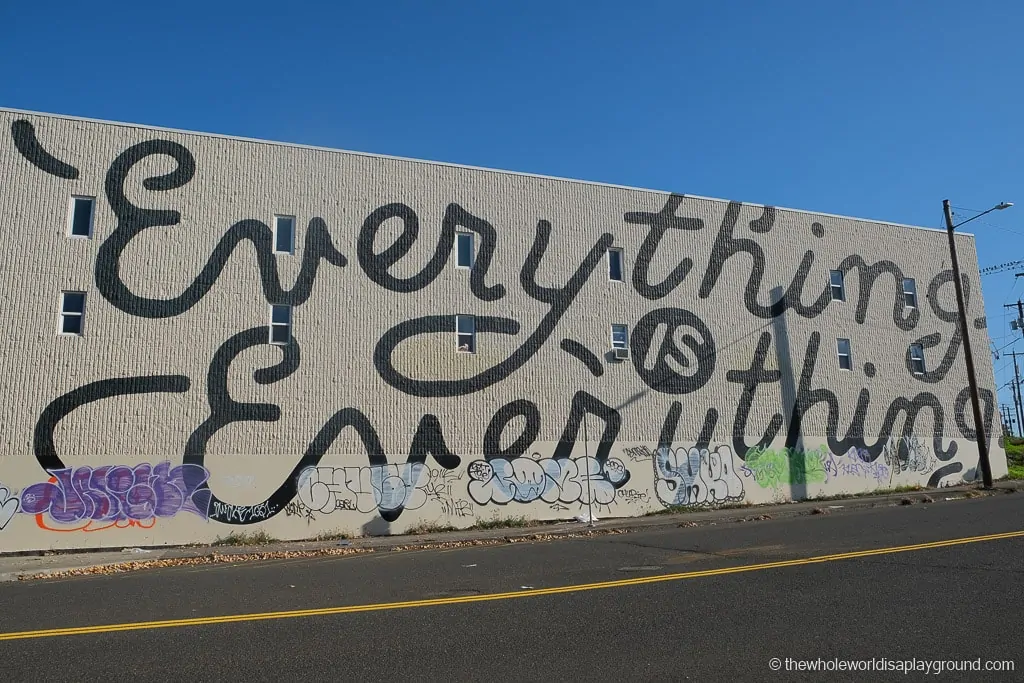 5 | Vodoo Donuts
Location: 1501 NE Davis St, Portland, OR 97232
The pink themed Vodoo Donuts is the ultimate sugar treat and a popping Instagram spot in Portland. With a spinning donut case packed full of colorful donut creations and its pink Vodoo walls, there's plenty of opportunity for Instagram worthy shots.
Best Instagram spots in Portland tip: we included Vodoo Donuts in our street art section as our favorite Instagram spot is of the awesome pink mural outside the Vodoo store!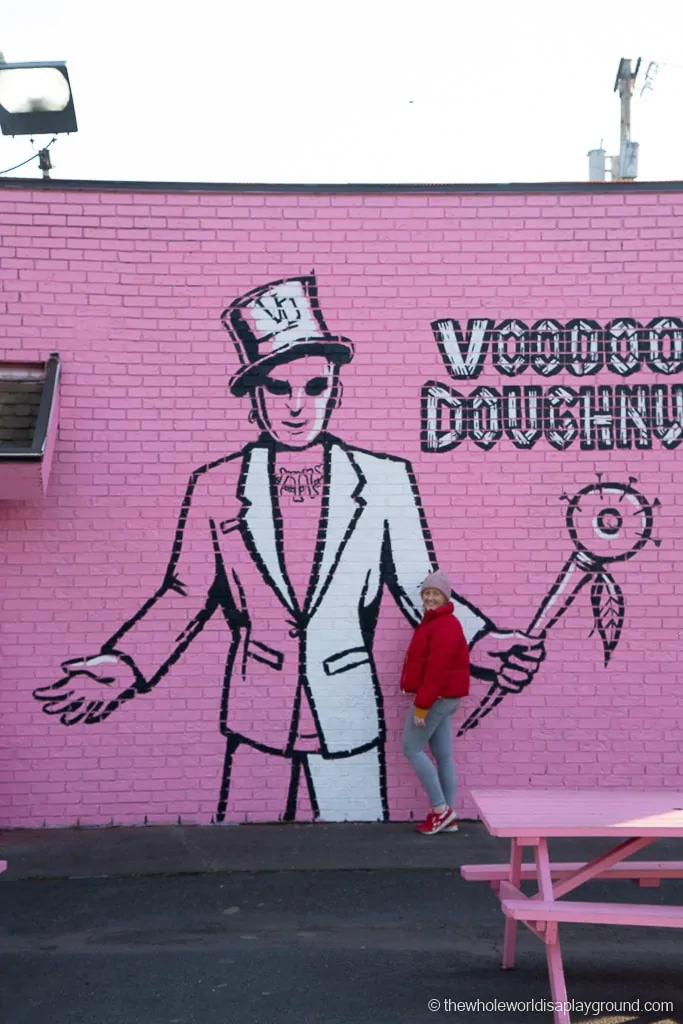 6 | The White Stag sign
Location:  70 NW Couch St, Portland, OR 97209
The iconic White Stag Sign, also known as the 'Portland Oregon Old Town' sign, welcomes visitors to downtown Portland. The neon lights are owned by the City of Portland and the best views are from the Burnside Bridge.
Best Instagram spots in Portland tip: the Burnside bridge is heavy with traffic so make sure to remain on the sidewalk for photos.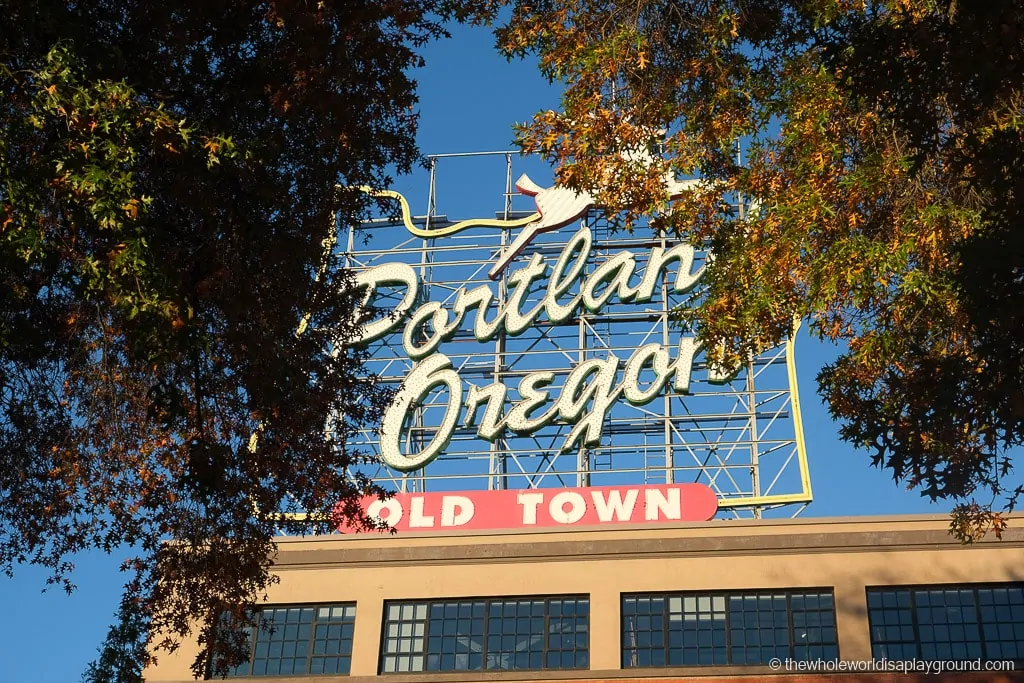 7 | Pizza Pie at Sizzle Pizza
Location: 926 W Burnside St, Portland, OR 97205
We're not sure about eating it every single day, but pizza is definitely one of our favorites! Located across the street from Powell City of Books, we popped in for a slice of pizza left with a bonus Instagram pic! Their Eat Pizza Everyday mural is a great opportunity for an fun Instagram shot.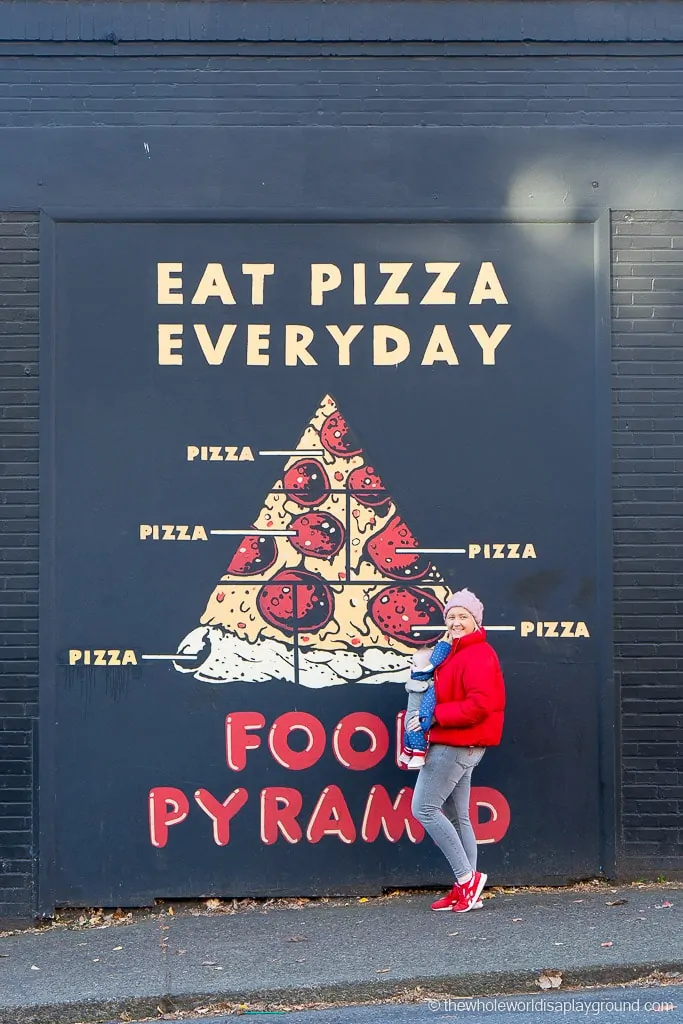 8 | Multnomah Falls
Location:  Columbia River Gorge, Multnomah County, Oregon
July 2021 update: if you wish to visit between July 20 and September 19 2021 then you will need to book a timed reservation ticket in advance. The tickets are available at 7am 14 days in advance of the visit date. A limited number of additional tickets may become available at 7am 48 hours in advance. Tickets cost $1 and can be reserved here
The magnificent Multnomah Falls is located just 30 minutes outside of Portland and is a world away from the city. Framed perfectly by the Benson Bridge, its icy waters tumble over 600 feet to the ground. The Falls are part of the Historic Columbia River Highway and its beautiful waterfalls and viewpoints make for plenty of Instagram opportunities.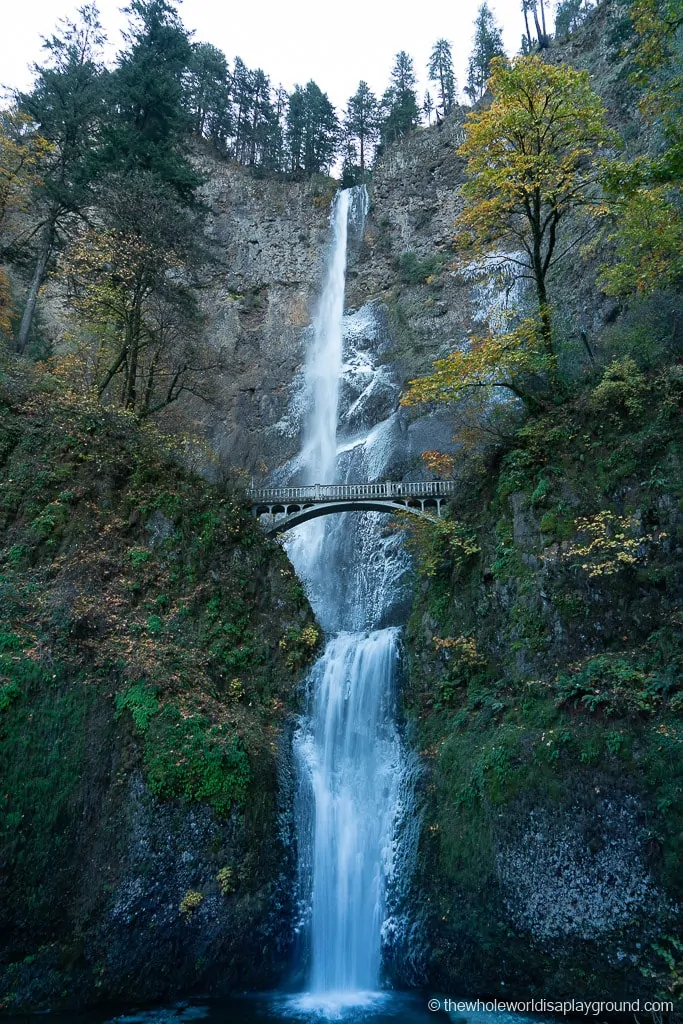 Best Instagram spots Portland tip: make the short hike up to the Benson Bridge and, when it's empty, capture a shot with you in the center from street level.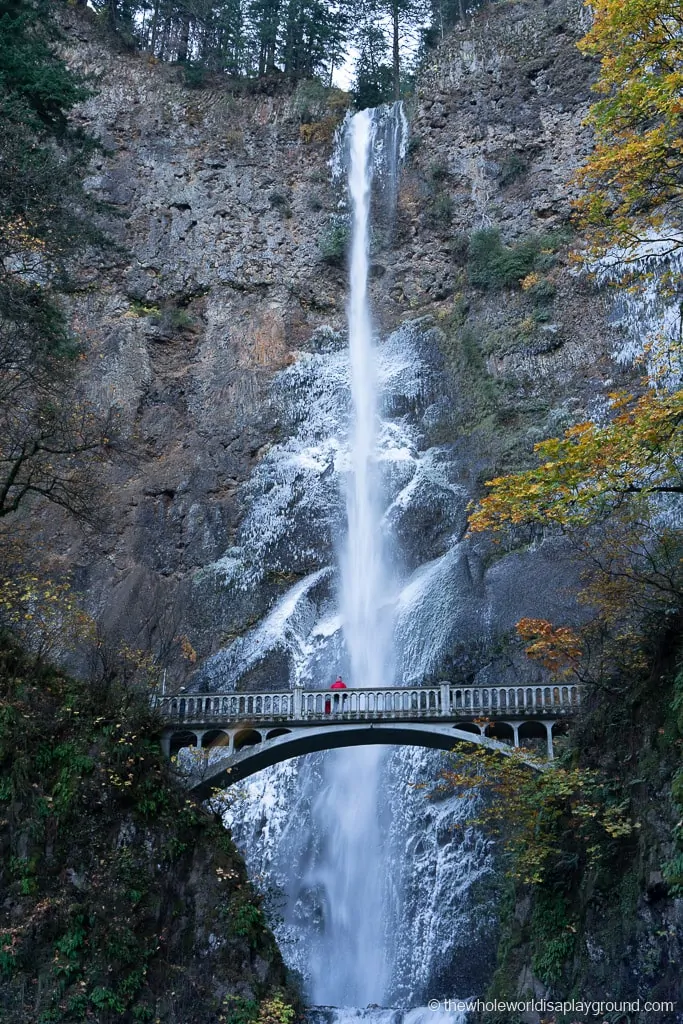 9 | Rowena Crest Viewpoint
Location: Mosier, OR 97040
The Rowena Crest Viewpoint is further along the Historic Columbia River Highway. Dangle your feet over the amazing bend in the road for a fantastic Instagram shot. The amazing views mean it is more than worth the extra drive!
Best Instagram spots Portland tip: other picturesque stops on the Columbia River Highway include Latourell Falls, Horsetail Falls and Bridal Veil as well as Vista Point.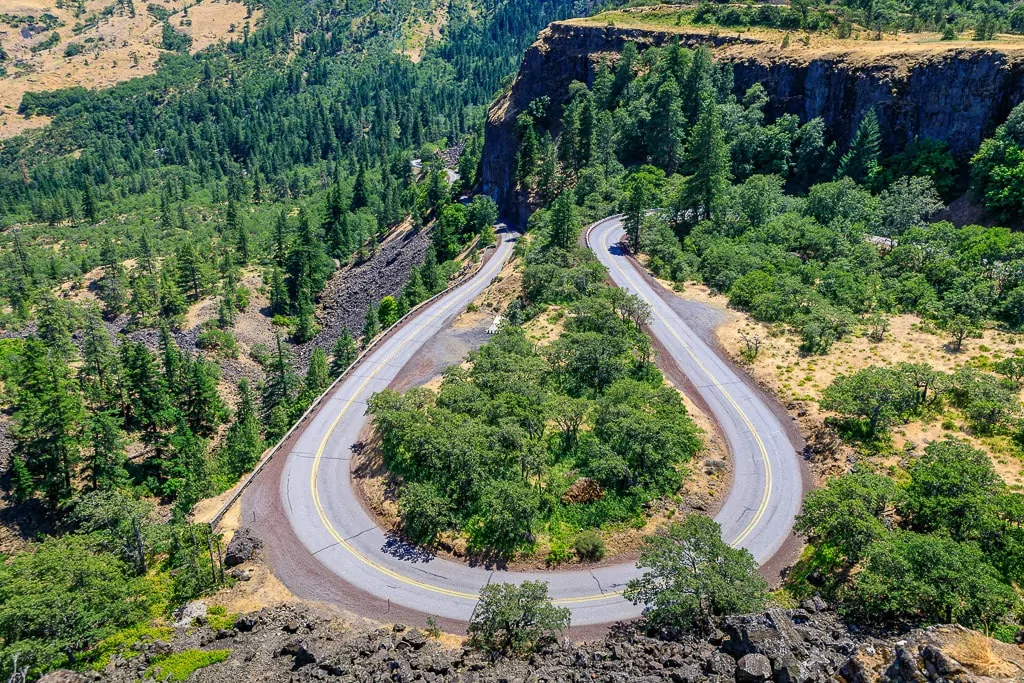 10 | The Arlene Schnitzer Concert Hall 
Location: 1037 SW Broadway, Portland, OR 97205
The exterior of the historic Arlene Schnitzer Concert Hall boasts a 65 foot neon 'Portland' sign. If your Instagram shots are people based, you will need to visit at a quiet time as the street in front of the theatre is extremely busy.
Best Instagram spots in Portland tip: if you have the opportunity to attend an event the inside of the Concert Hall is also stunning.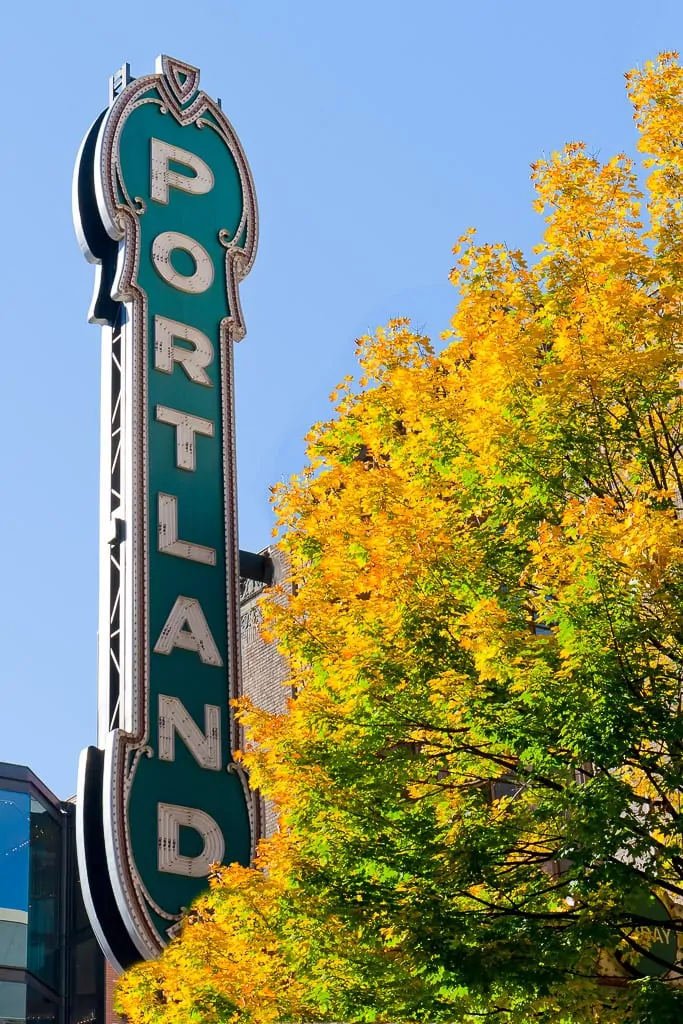 11 | Mill Ends Park
Location: 56 SW Taylor St, Portland, OR 97204
Portland is home to the Guinness World Record's 'World's Smallest Park' and it makes for a fun Instagram pic!
The tiny patch of grass was founded by Dick Fagan, a writer whose column was known as Mill Ends and who claimed to have regular discussions with Mill Ends resident leprechaun colony.
Best Instagram spots in Portland tip: if you are lucky you might chance upon the tiny park when it is quirkily decorated – previous installations include a swimming pool for butterflies complete with a diving board, a leprechaun, a miniature ferris wheel and a tree.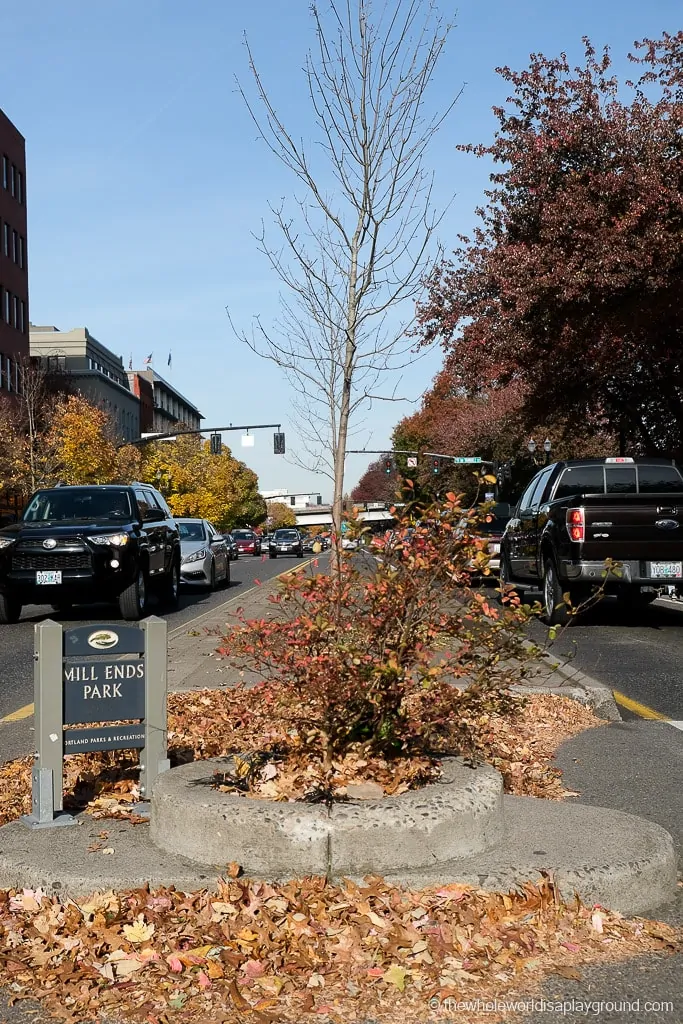 12 | St John's Bridge
Location: Cathedral Park, Portland
By far one of the most beautiful bridges in Oregon, the St John's Bridge spans the city's Willamette River. Some of the best views, and photo opportunities, are from Cathedral Park which sits beneath the bridge.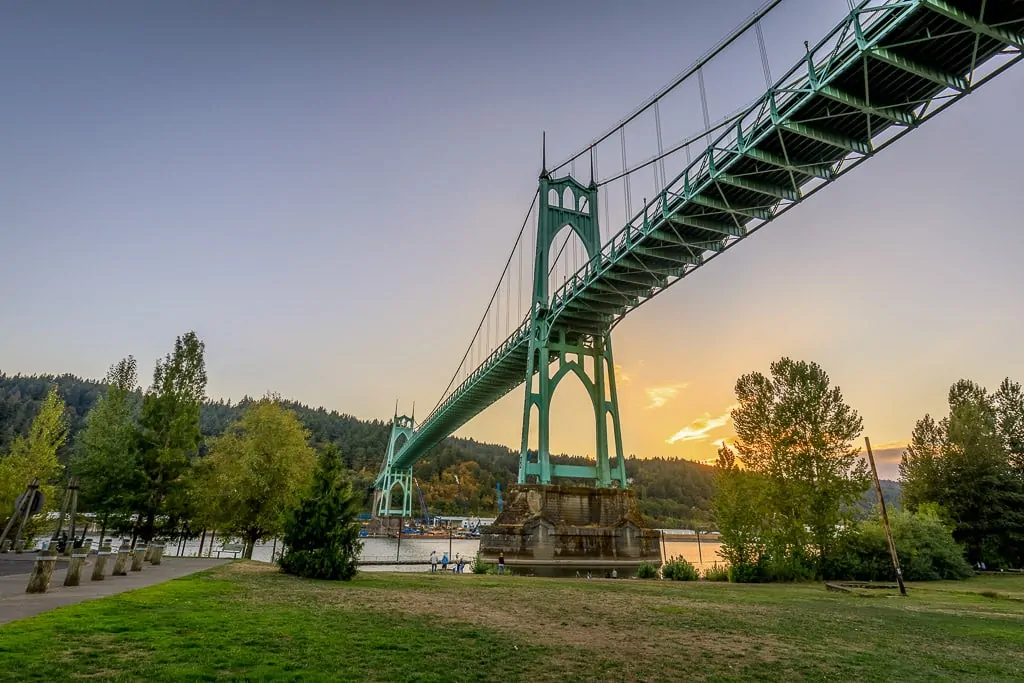 13 | Portland Japanese Garden
Location: 611 SW Kingston Ave, Portland, OR 97205
The Portland Japanese Garden is one of the most peaceful and beautiful places in the city. Although the entire gardens are picturesque, the Moon Bridge in the Strolling Pong Garden is our favorite spot to capture an Instagram pic.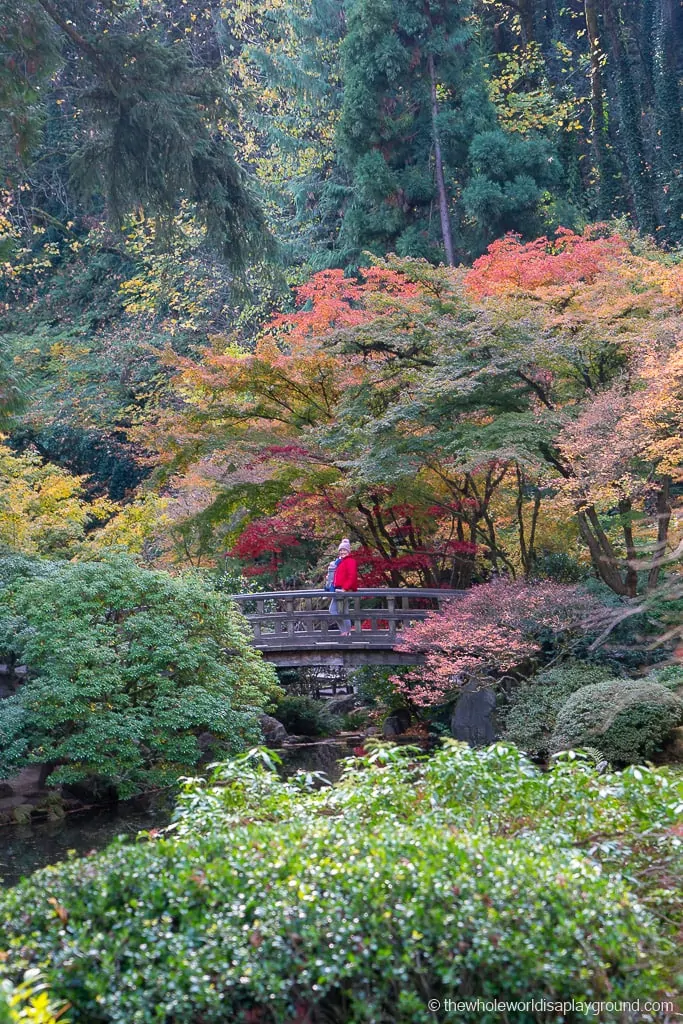 The garden is magical in Fall when the colors explode in oranges and yellows. Spring is also spectacular when the cherry blossoms are in bloom.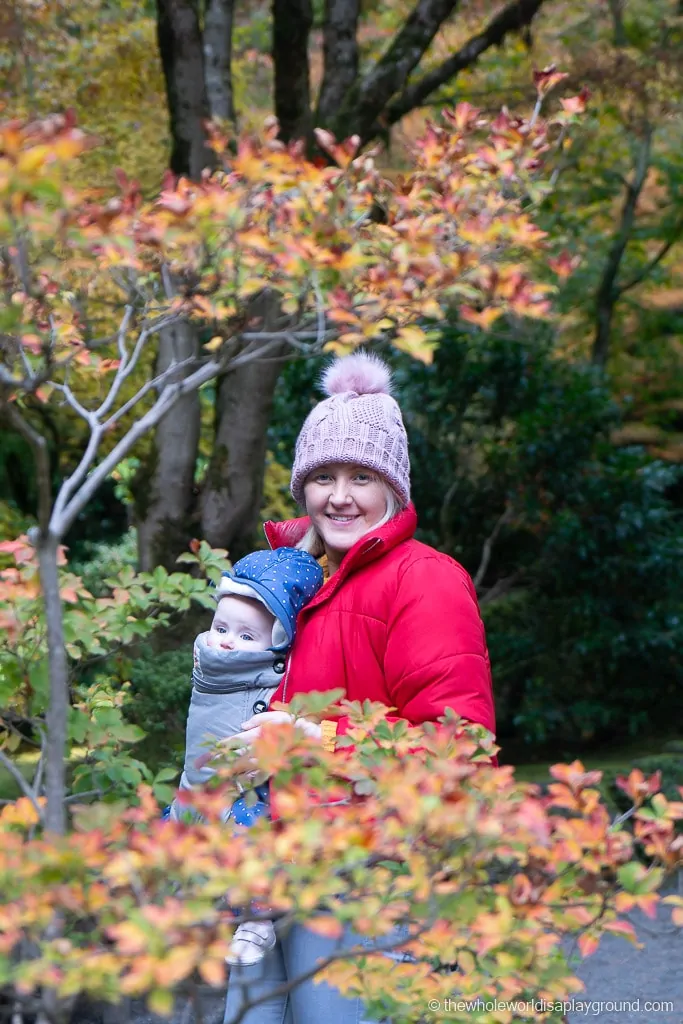 Best Instagram spots in Portland tip: we loved the Japanese Garden but there are other options for nature based shots in Portland – the Lan Su Chinese Garden, the Crystal Springs Rhododendron Garden, the International Rose Test Garden, Hoyt Arboretum, Washington Park and Forest Park are stunning spots with endless opportunities for amazing photos.
14 | The Arrows by Blane Fontana
Location: 916 SE Hawthorne Blvd Portland, OR 97214
The Arrows, a street art piece by Portland resident Blaine Fontana, is bright and eye catching. Get ready to pose and snap a great image!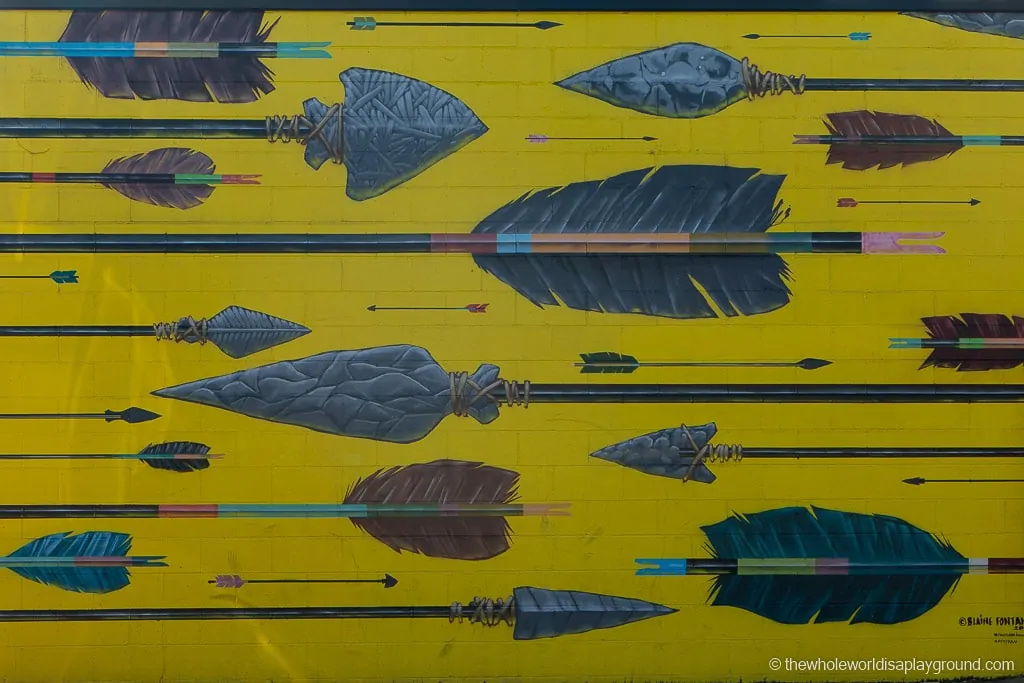 15 | The Rhino Collector
Location: 13th and Morrison, Portland
We've spent a lot of time in Africa and fell head over heels for the Rhino Collector on 13th and Morrison. It's a beautiful and thought provoking piece of street art.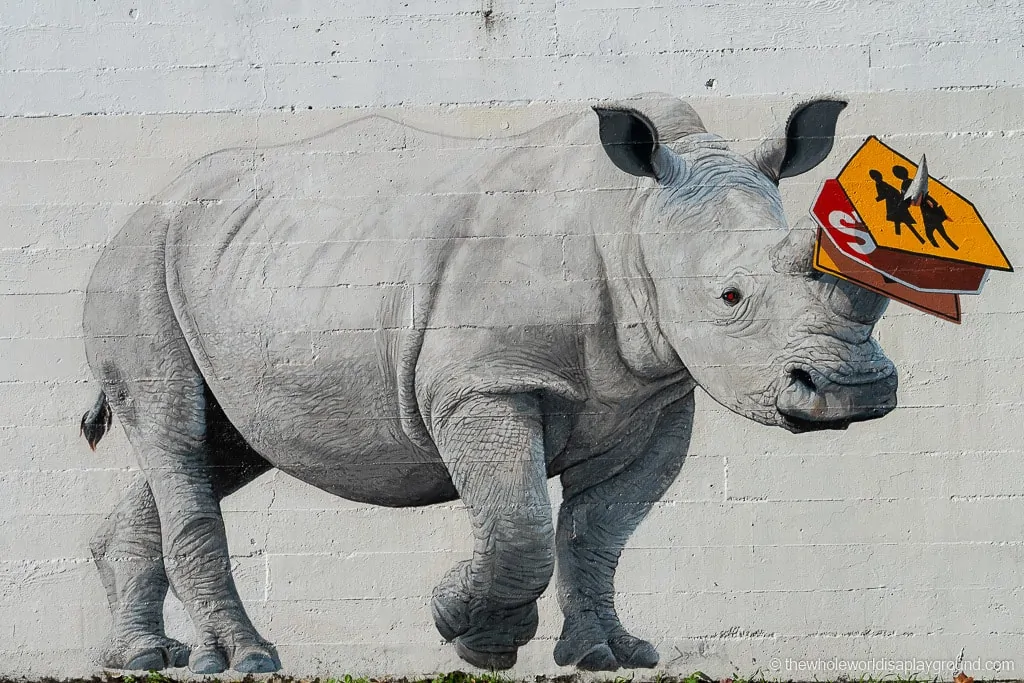 16 | Pittock Mansion
Location: 3229 NW Pittock Dr, Portland, OR 97210
The historic Pittock Mansion, located in the West Hills of Portland, is one of the most popular sights in the city.
While the house itself is fascinating to visits, it is the Pittock Mansion view point that offers an amazing Instagram capture. With a 1,000 foot vantage point, the Pittock Mansion viewpoint boasts an amazing view which includes Portland skyline, Mount Hood and Mount St Helen's. It's framed perfectly for a gazing into the distance shot on a clear day.
Best Instagram spots in Portland tip: the grounds of Pittock Mansion are a public park and the view point is free to visit
17 | Witch's Castle
Location: Lower Macleay Trail, Portland, OR 97210
The stone ruins of the Witch's Castle are accessed via a short hike through Forest Park. The ruins have a dark past: according to local legend, the owner of the land murdered one of his workers who had fallen in love and eloped with his daughter.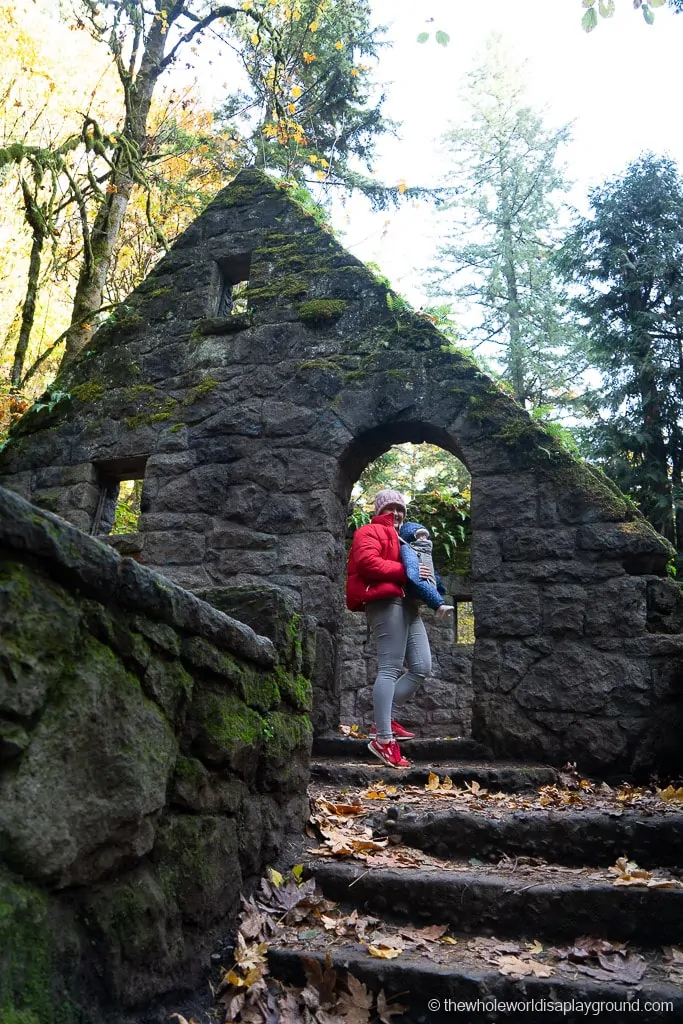 Both the trail and the castle are beautiful to photograph.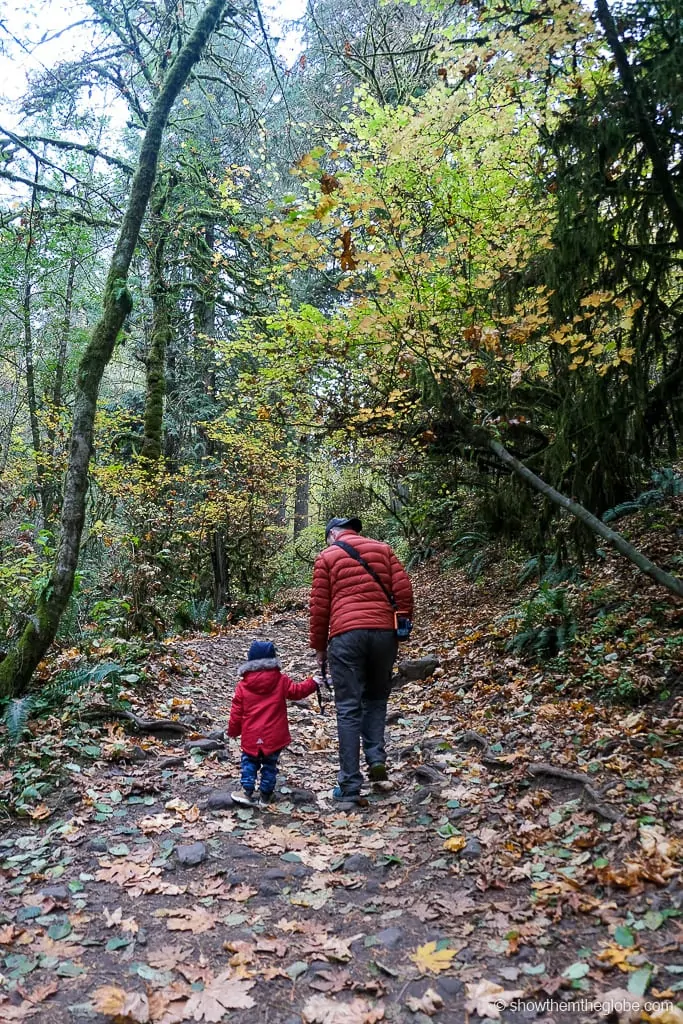 Bonus: Drone Instagram Spot in Portland!
Location: this is a private the residence. Visit AirplaneHome.com for the address and details on both visiting and drone flights.
A retired Boeing 727 sits deep in the woods outside Portland. It's the home of Bruce Campbell who purchased the plane in 1999 and moved it to his land outside Portland. He welcomes visitors to tour his airplane and also permits drone flights to capture the plane from above.