On a recent British Airways Club World flight from London to New York we popped into the Galleries South Business Class Lounge in Heathrow's Terminal 5 for some pre flight rest and relaxation. It goes without saying that I'm a big fan of champagne and spa treatments and couldn't wait to try out the London lounge in the home of British Airways.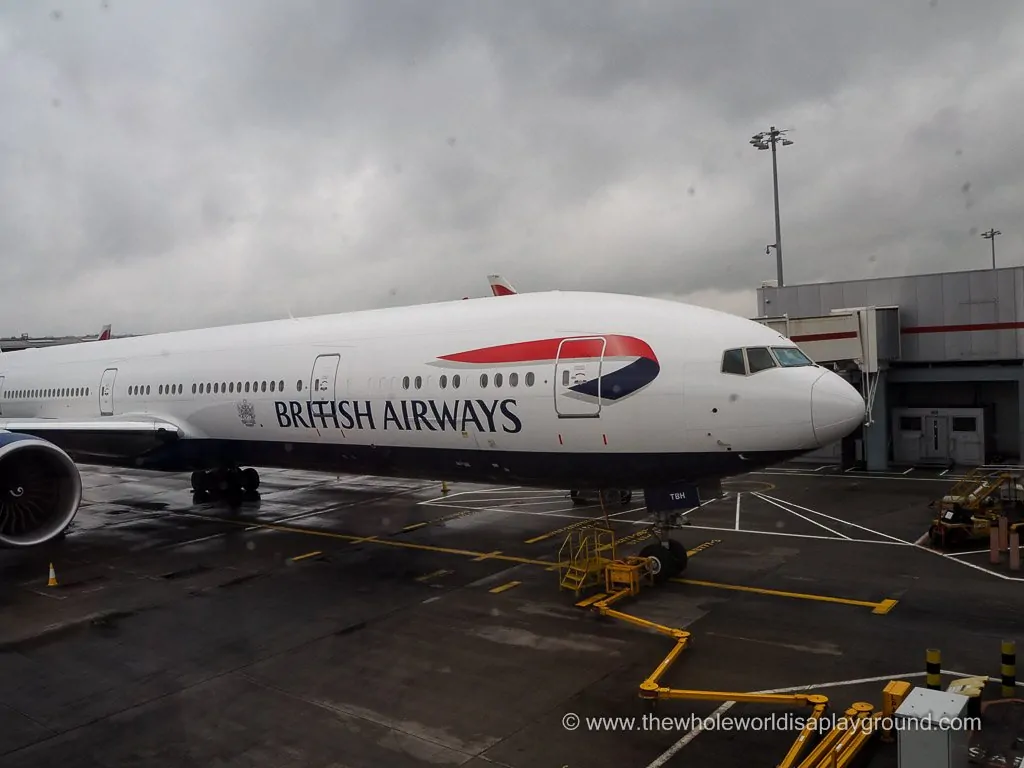 British Airways South Galleries
The South Galleries is the main hub of the British Airways Terminal 5 lounges and the Galleries Club Lounge is part of a complex which includes the Concorde Room for BA First passengers and Concorde Room card holders and the Galleries First Lounge. Our Club World ticket allowed us to access the Galleries Club Lounge on the top floor of the complex.
Who are we flying with again? The entrance!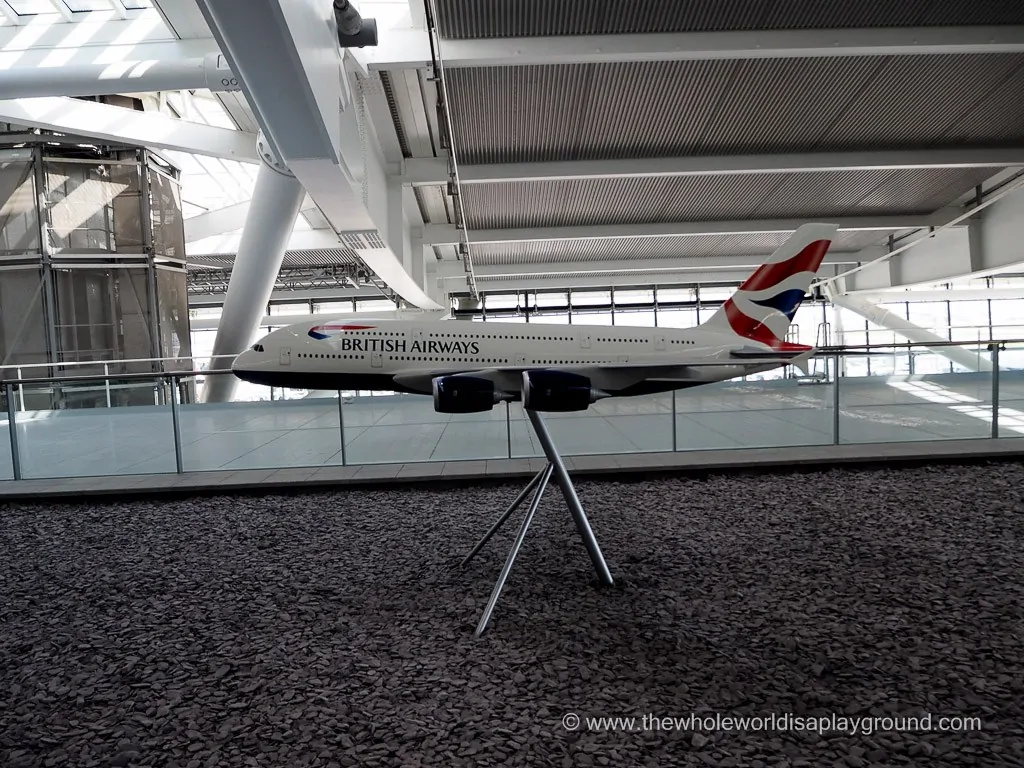 Priority Pass Lounges
A Priority Pass membership allows you to access Priority Pass lounges whoever you fly with no matter your class of travel. Anyone who flies regularly should seriously consider joining Priority Pass as their lounges significantly improve the travel experience. We love the app which allows you to check in at each lounge and overall the quality and availability of lounges around the world are very good. We've personally used Priority Pass for the past few years and highly recommend it.
There are three options available, standard, standard Plus and Prestige. We recommend the Prestige pass for frequent travellers (it's the one we use!) which offers unlimited visits throughout the year.
Click here to get your Priority Pass now!
Galleries Club South Lounge
The Galleries Club lounge is a huge space sectioned off into areas for working, eating, drinking and relaxing and, when we arrived mid-morning, the lounge was buzzing with passengers. We opted for window seats with a very cool view of the apron and the runway. I'm certain these travels will make a plane spotter out of me any day now!
The views:

Lounge Seating
The lounge has a variety of seating options including couches, armchairs, dining chairs and a cinema room depending on where your mood takes you!
Lounge seating: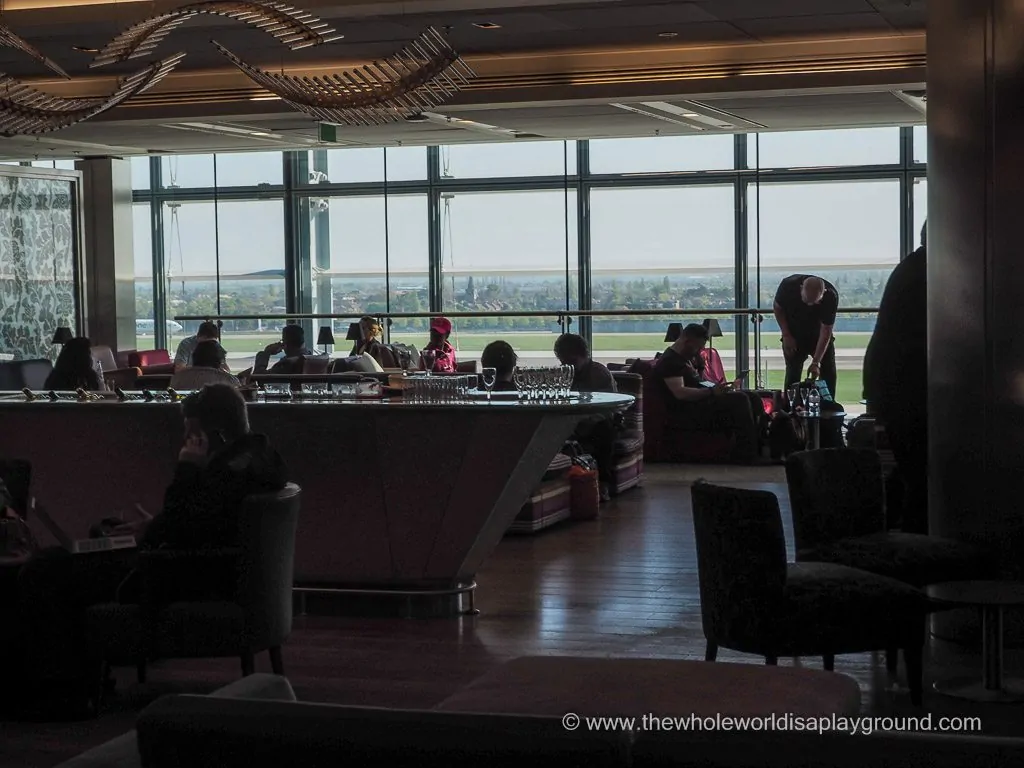 Quiet areas: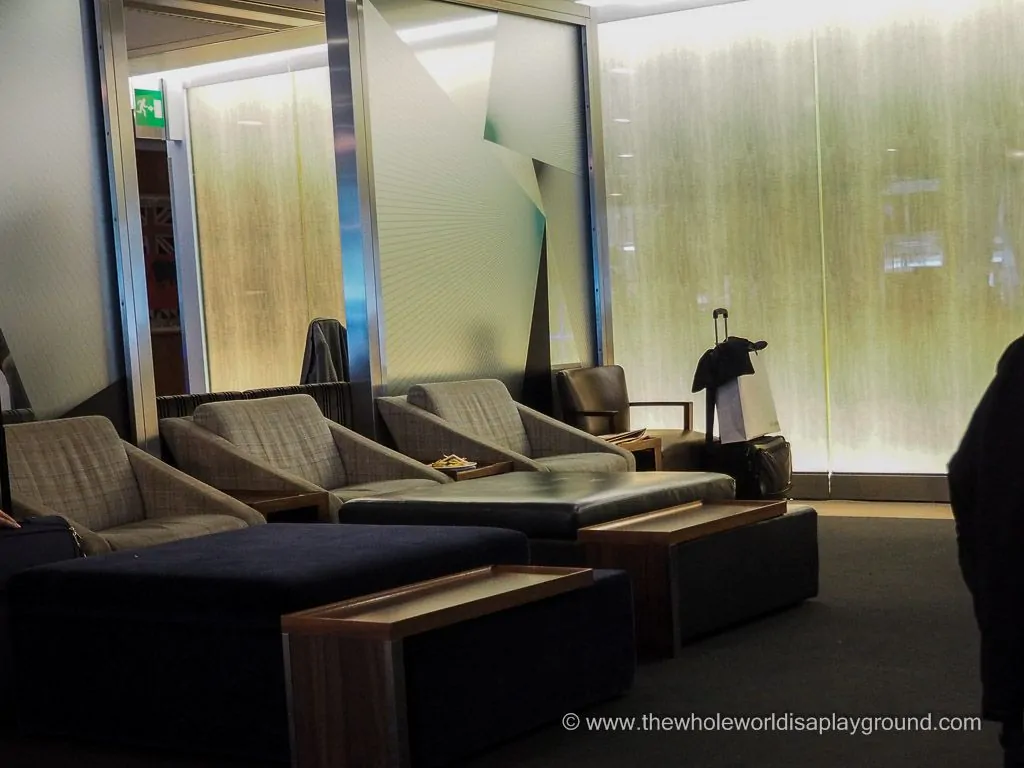 Cinema room: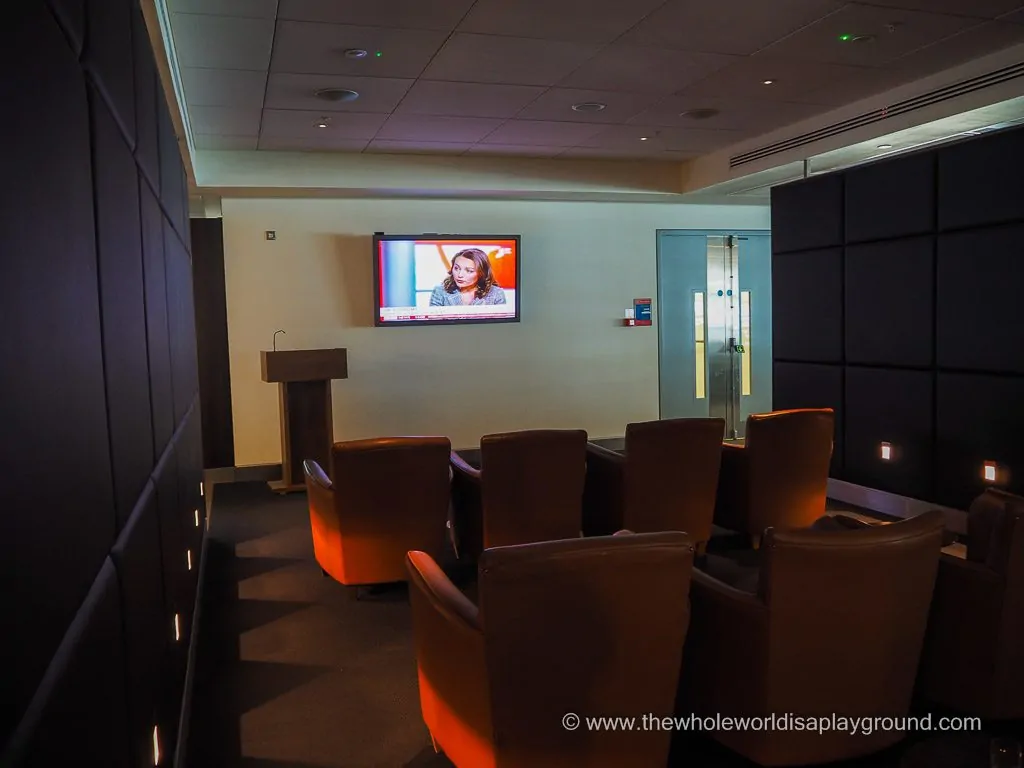 Food and Drinks
The lounge offering includes hot and cold buffet dining in the Chef's Theater and a wide selection of self service drinks at the various drinks stations throughout the lounge. Snacks including crisps and cookies were available at the drinks stations.
Food
The hot food buffet consisted of a selection of curries, pastas and some jacket potatoes.  This was accompanied by a salad station with a range of greens, coleslaw, rice and tomatoes. I was delighted with my cheese and coleslaw jacket potato which was such a simple but tasty option for some pre flight dining. I should mention I'm slightly biased at the presence of potatoes on the menu, my love of potatoes knows no bounds!
The hot buffet: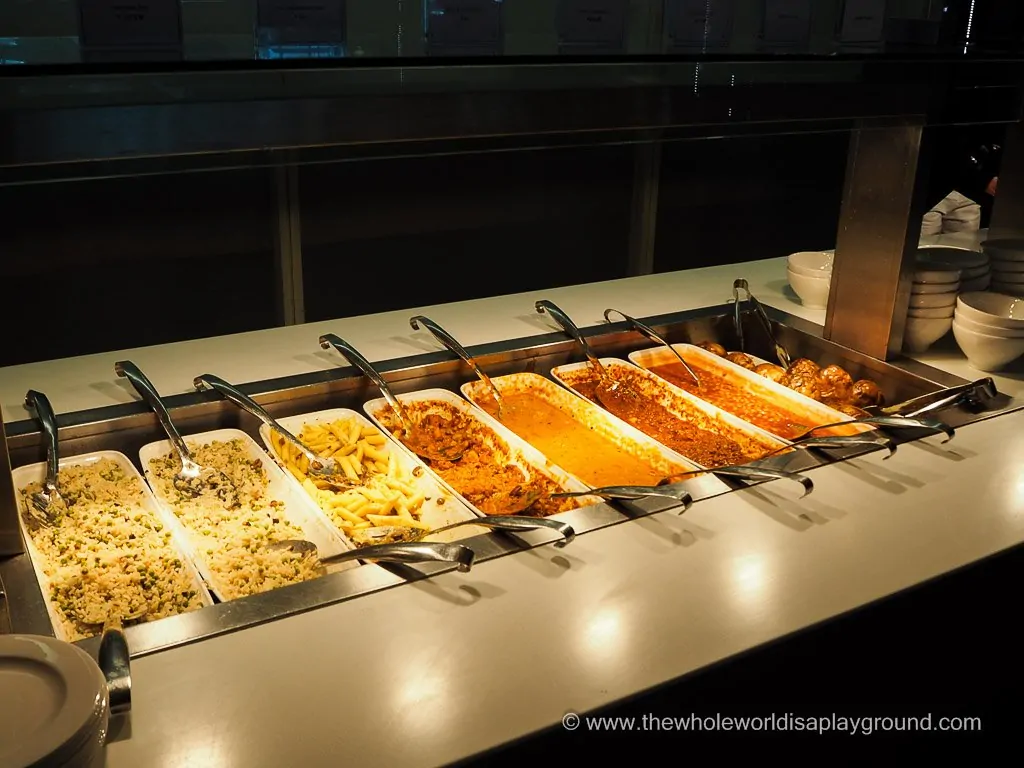 The salad bar: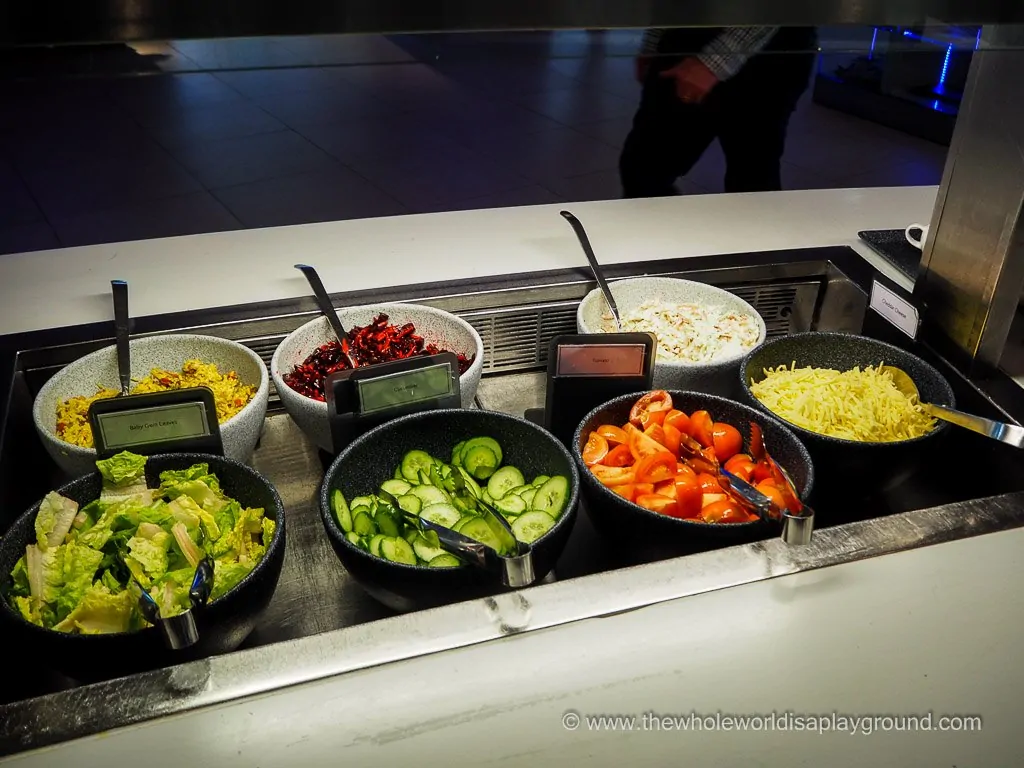 Drinks:
There's no shortage of drinks options in the British Airways lounge with numerous coffee, wine, soft drink, spirit and beer stations dotted throughout. I like to enjoy a sip of bubbly on my travels and ordered a glass of champagne which is available on request.
Champagne on request: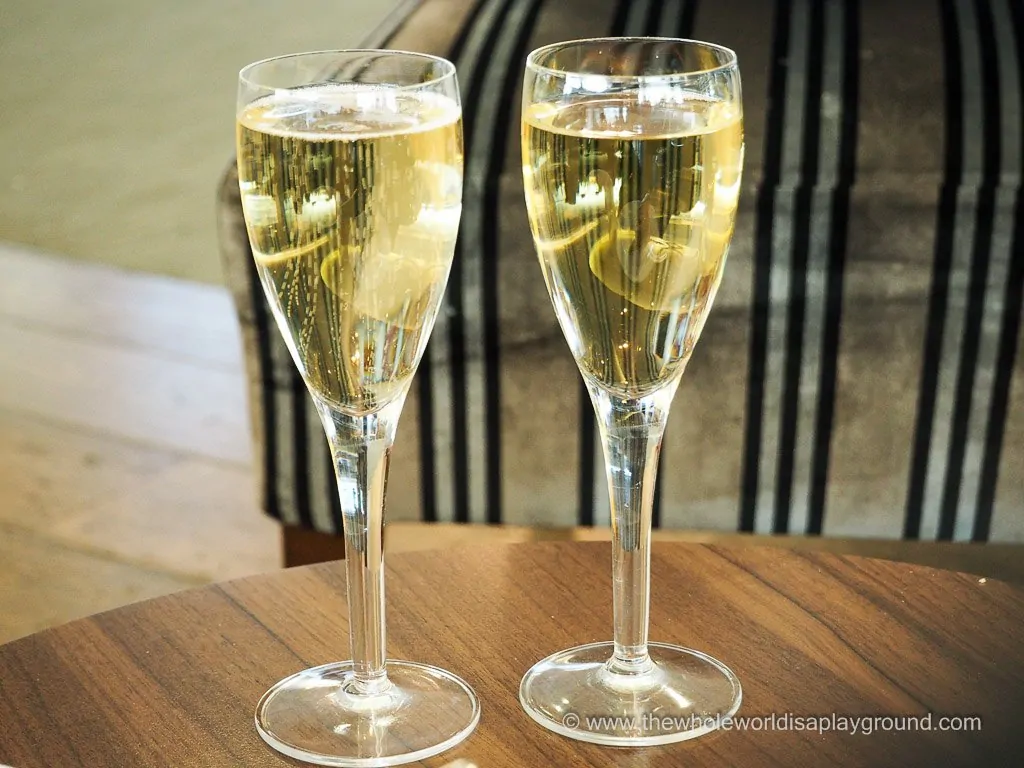 Drinks station:

Wine collection:

Beer and soft drinks: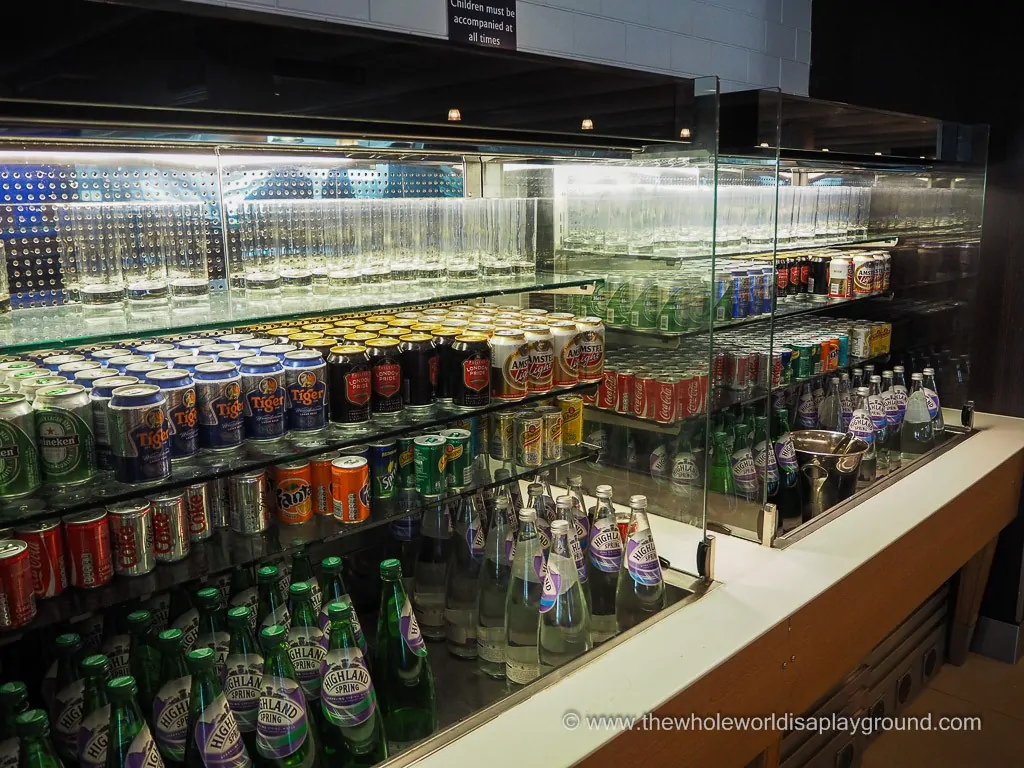 Coffee station: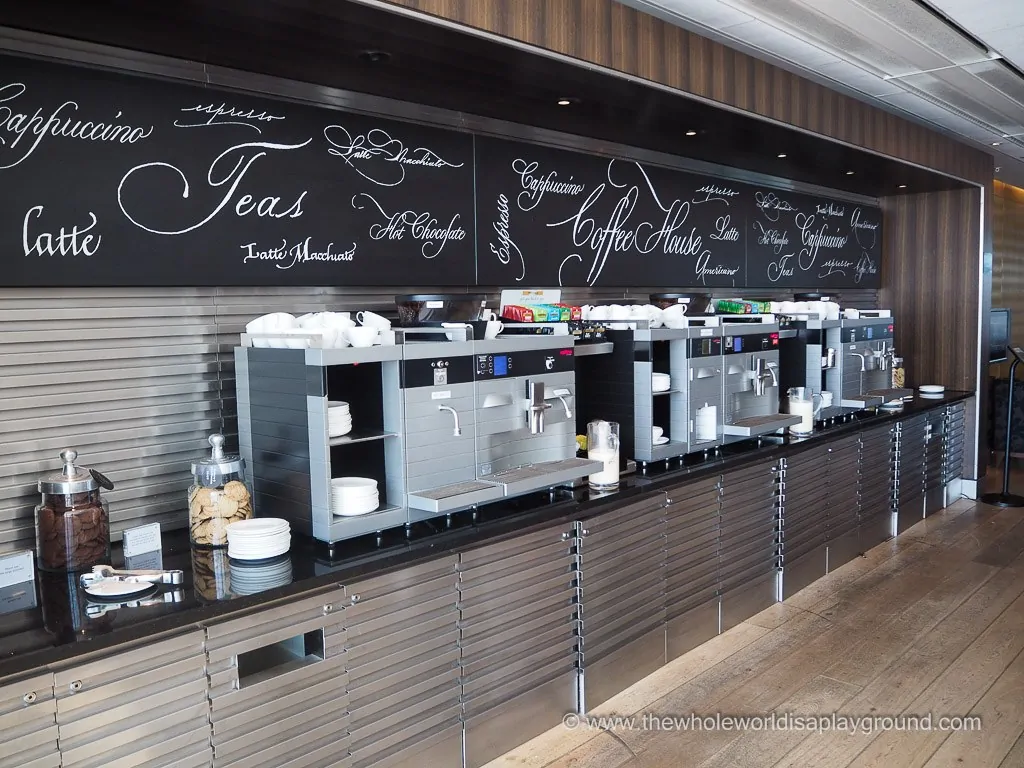 The Spa
British Airways host British spa and skincare brand Elemis in the London Heathrow lounge and a complementary 15 minute spa treatment is available for First and Club World passengers and Gold card holders flying long haul. I did what any good lounge goer should do and headed straight for the spa desk the moment I entered the lounge and was able to secure an appointment for later in the afternoon!

I opted for a Firm Up and Fly facial to get my skin flight ready and it was a lovely, relaxing experience. The spa and its therapists were fab, I only wish every flight started like this! 
Shower appointments can also be booked at the Elemis spa desk.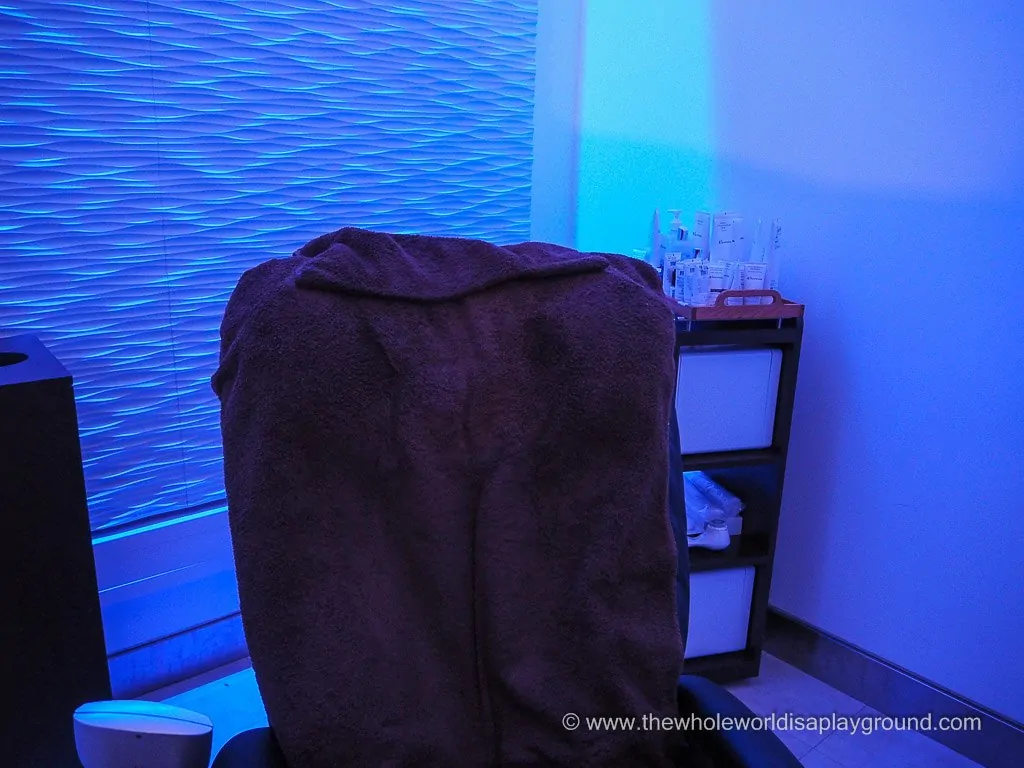 Business Facilities
The South Galleries Club lounge has two separate computer areas with computer stations, work desks and printing and copying facilities. The lounge has wi-fi throughout although it was quite slow on occasion and  I did lose my connection a few times.
Location
I like my lounges as close as possible to the gate! The South Galleries lounge is located airside in Terminal 5A which is the main terminal building and a train journey is required to flights departing from the satellite terminals 5b and 5c. The trip from the lounge to the satellite gate can easily take 20 minutes so it's necessary to leave the lounge at least 40 minutes before departure.
The North lounge is located directly above the domestic departure gates and is more convenient for domestic flight departures.
Overall
Champagne and spa treatments always win out for me and I loved both offerings in the Galleries Club South lounge. I'm a big fan of the Elemis spa, there are plenty of seating options and the drink stations are impressive throughout the lounge. The food offerings are plentiful and it's fantastic to see a healthy option with the inclusion of the salad bar.
It's always nice to have a lounge to retreat to for a pre flight glass of bubbly and the British Airways lounge is no exception!
Opening Hours: 05:30am until last departure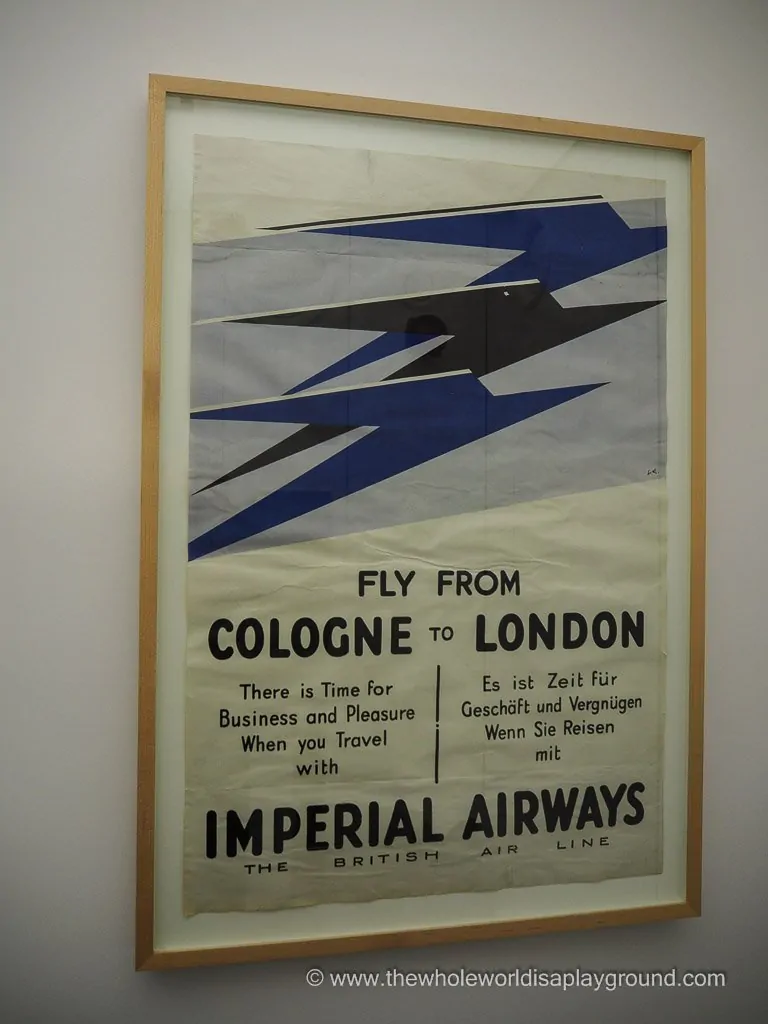 Access:
Flying with British Airways in First, Club World or Club Europe
Silver or Gold member of the British Airways Executive Club
Emerald or Sapphire Member of any Oneworld  frequent flyer program
Under 18's must be accompanied by a responsible adult