We were on our way to Chicago for some Easter fun and British Airways was our airline of choice for the flight. This was our first time flying with British Airways and we were excited to check out a new airline! Check out our British Airways London Heathrow Galleries Club Lounge report here and the Chicago O'Hare lounge here!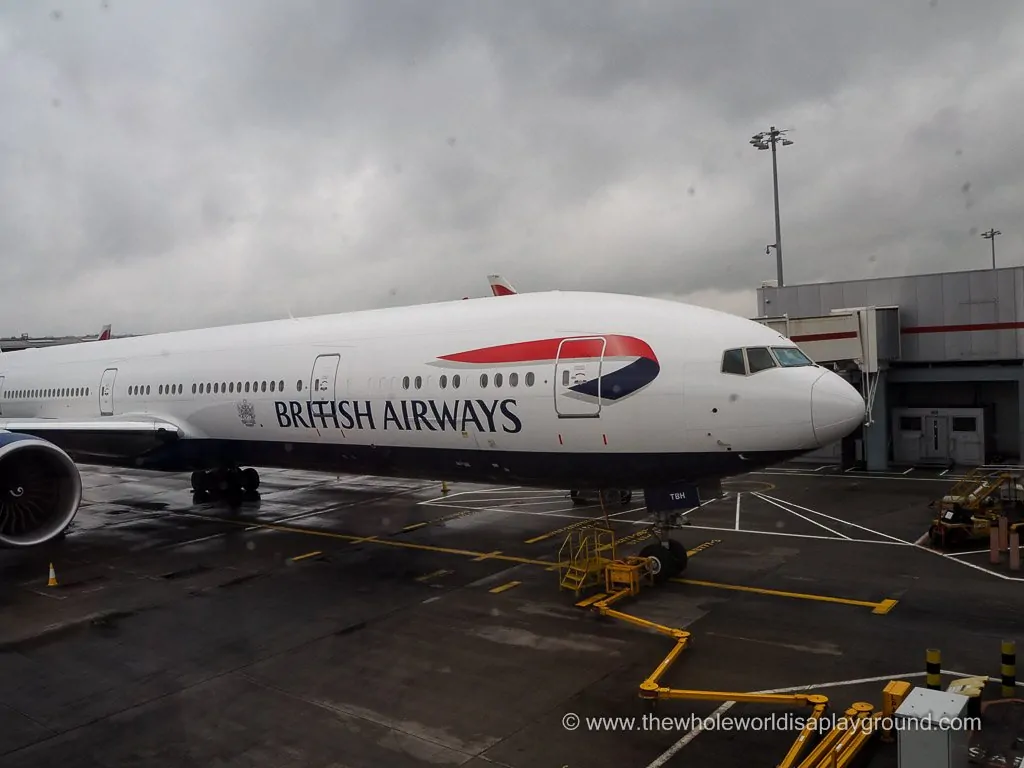 The holiday fun started in the air with our Club World business class seats and it was time to fly!
Welcome on Board!
We were welcomed on board with a chilled glass of Taittinger champagne and our seats were furnished with noise cancelling headphones and a blanket for the journey.
Don't mind if I do! Arrival drinks: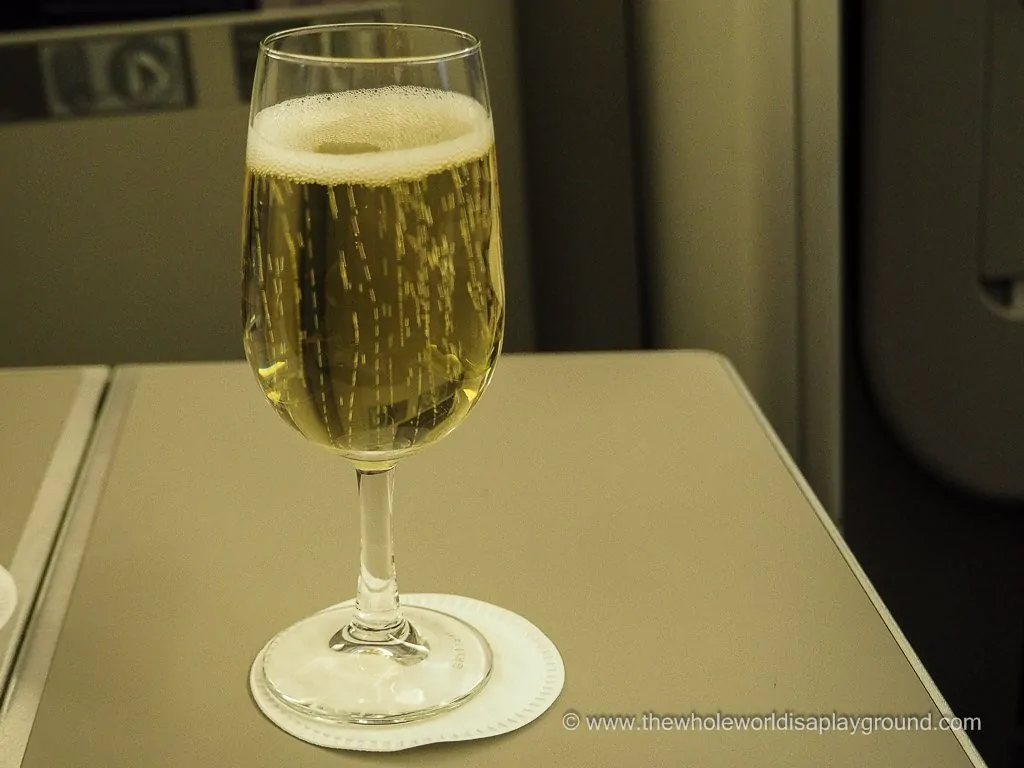 Amenity Kits
The crew came around and delivered our Elemis amenity kits and my skin did a little happy dance given the gorgeous Elemis facial I'd just received in the lounge! Eye masks and ear plugs are available on request.
There are two editions of the BA amenity kits, one for the ladies and one for the gentlemen, which is a nice touch! The drawstring amenity bag doubles up as a convenient shoe or electronics bag after the flight.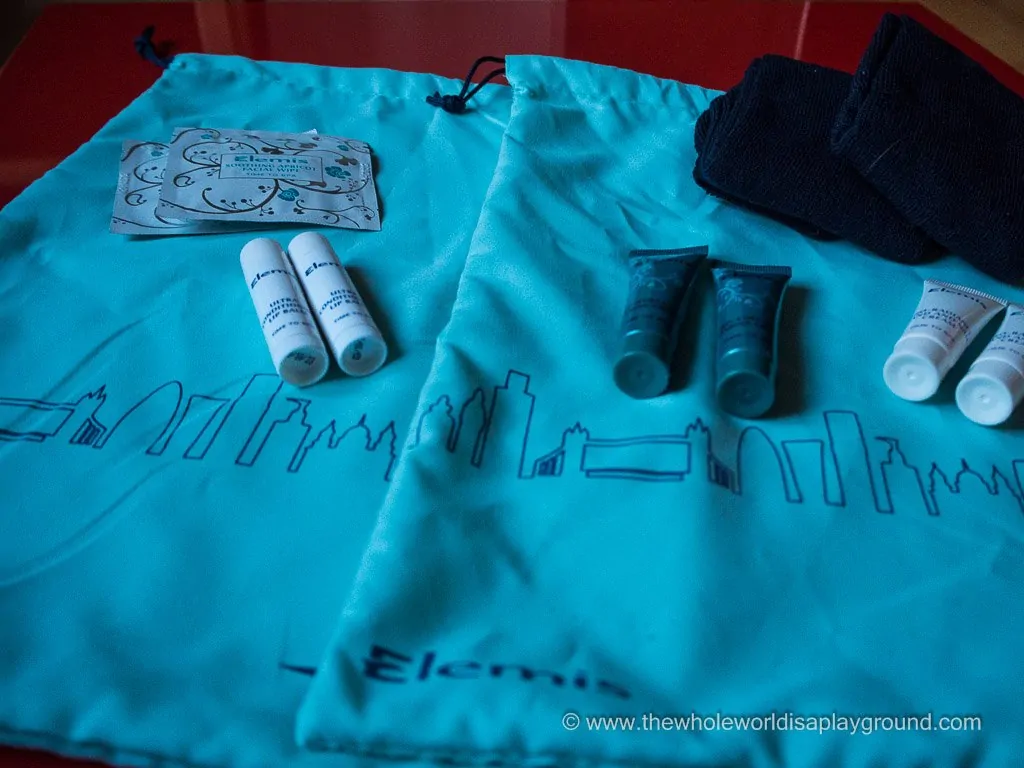 The Cabin
The British Airways business class cabin had 7 rows in a 2-4-2 configuration and there were 42 seats in the cabin. The layout is very different to other business class cabins I've flown in with alternate forward and back facing seats so neighbours are in a yin yang formation.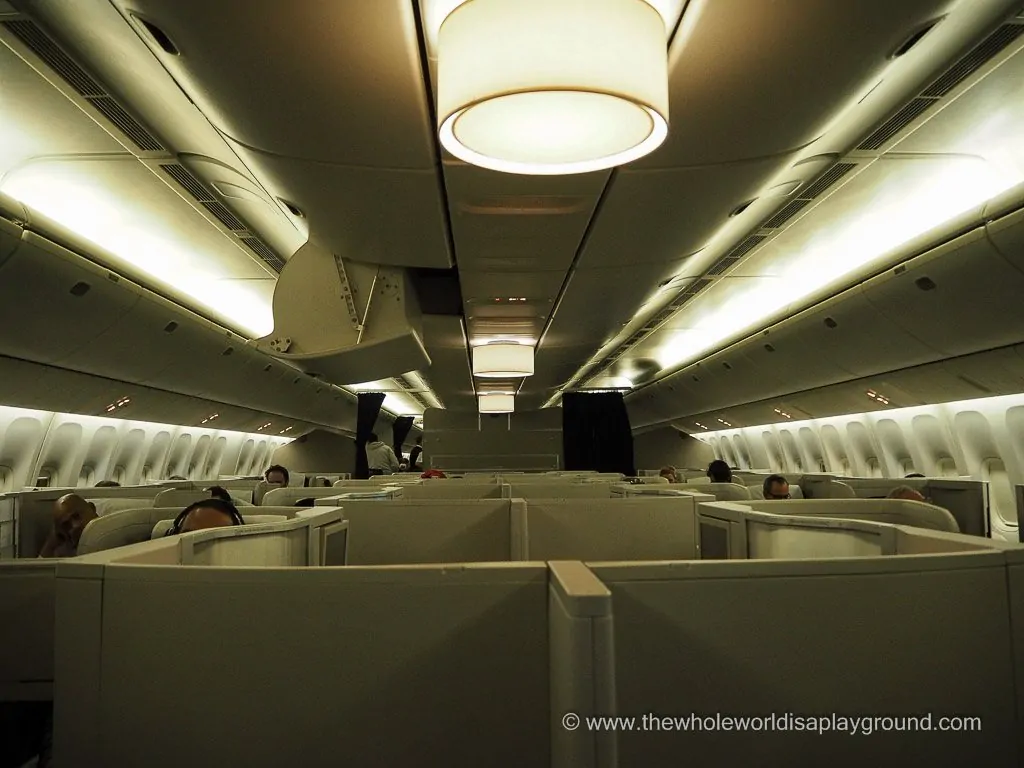 The window and aisle two seaters are top to toe with a backward facing window seat and a forward facing aisle seat with a divider in between.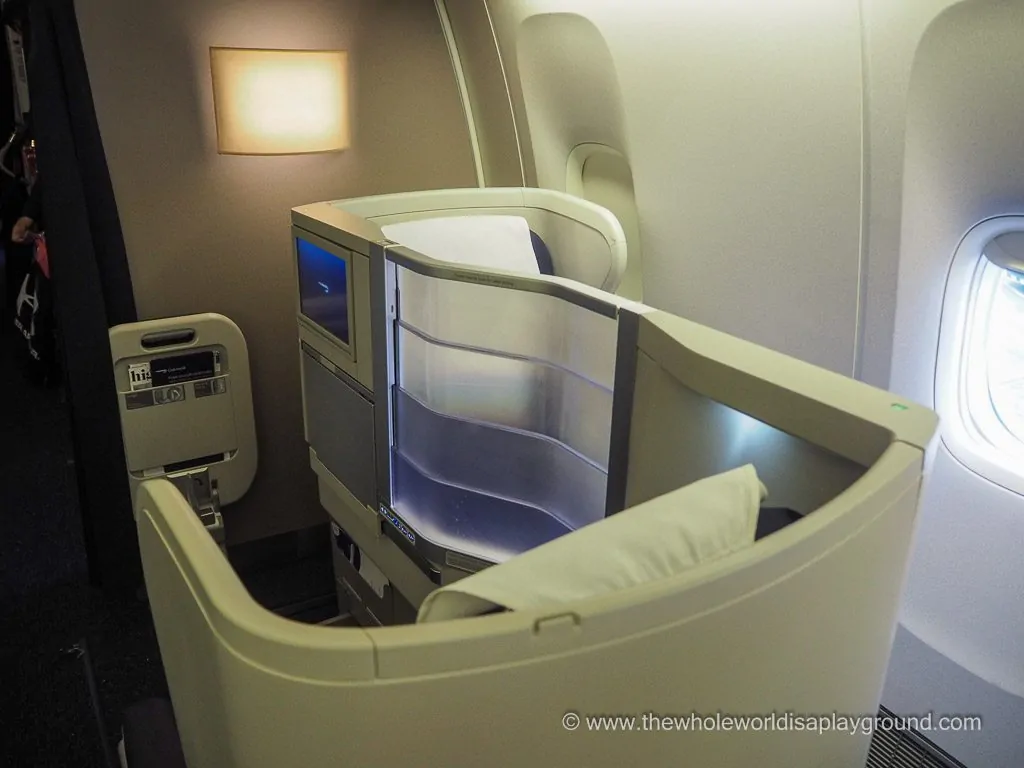 The four seat middle section is made up of two forward facing aisle seats with two undivided seats in the middle. The seats are tiered so those sitting in the aisle seats are not directly aligned with their neighbour!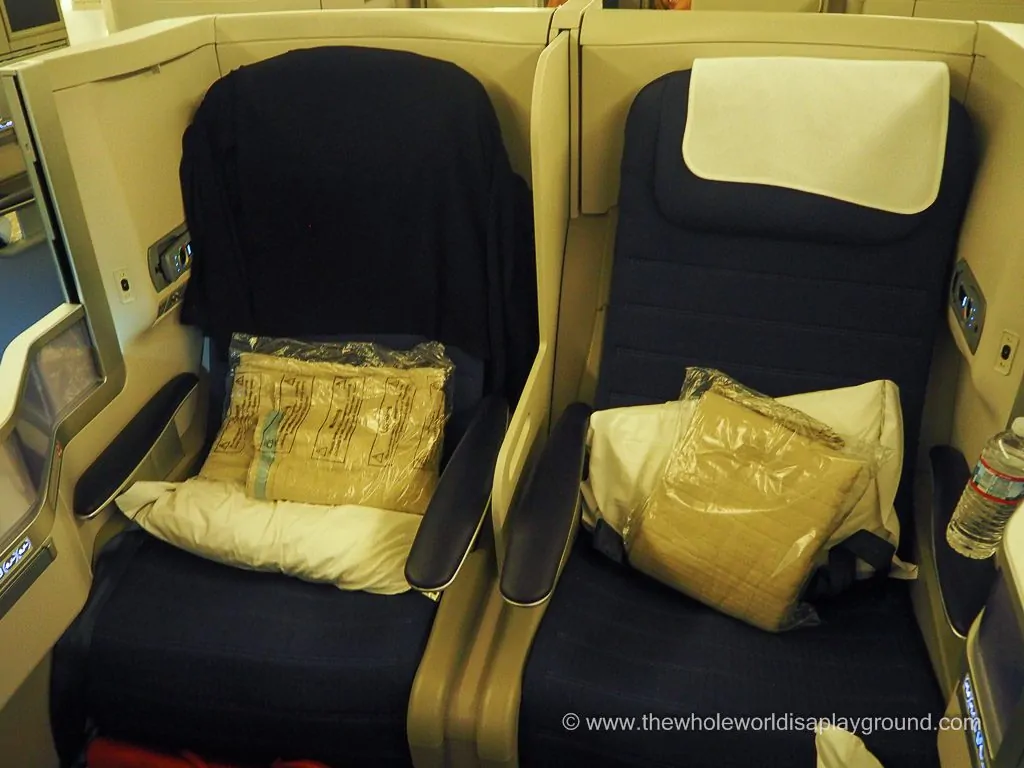 Hello neighbour! Aisle and middle seats: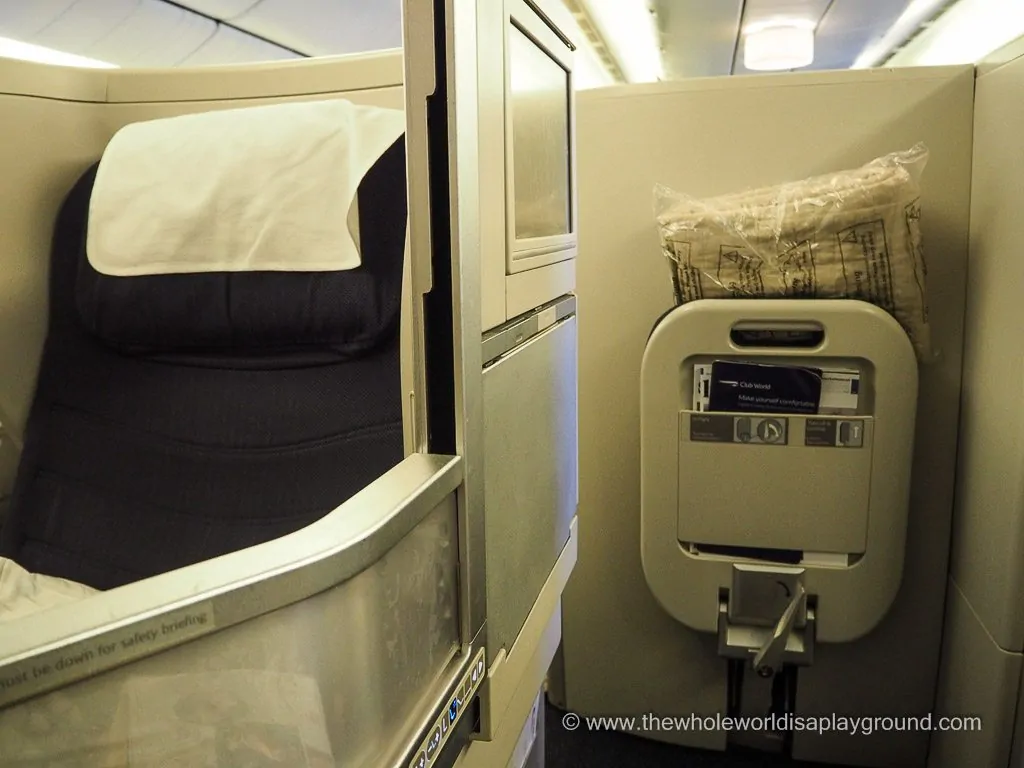 The Seat
We chose two middle seats so we could have a chat and face in the same direction. I expected flying backwards to be quite the novelty but, after sitting down and taking off, I didn't notice at all!
The seat: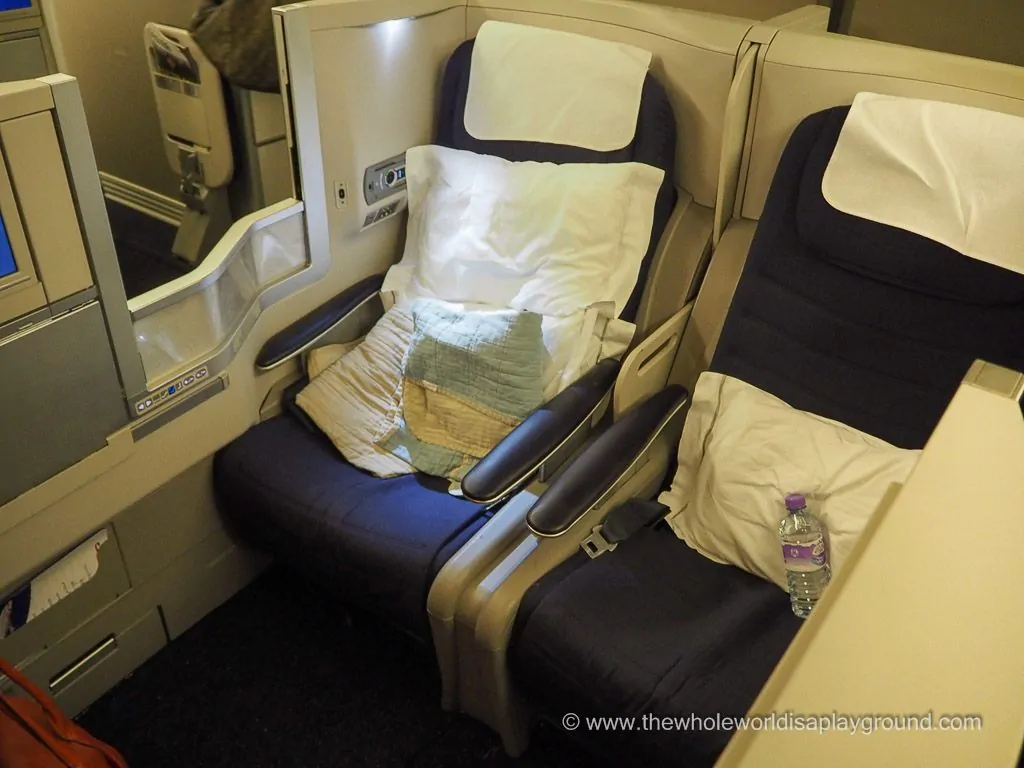 Legroom:
 In flight entertainment: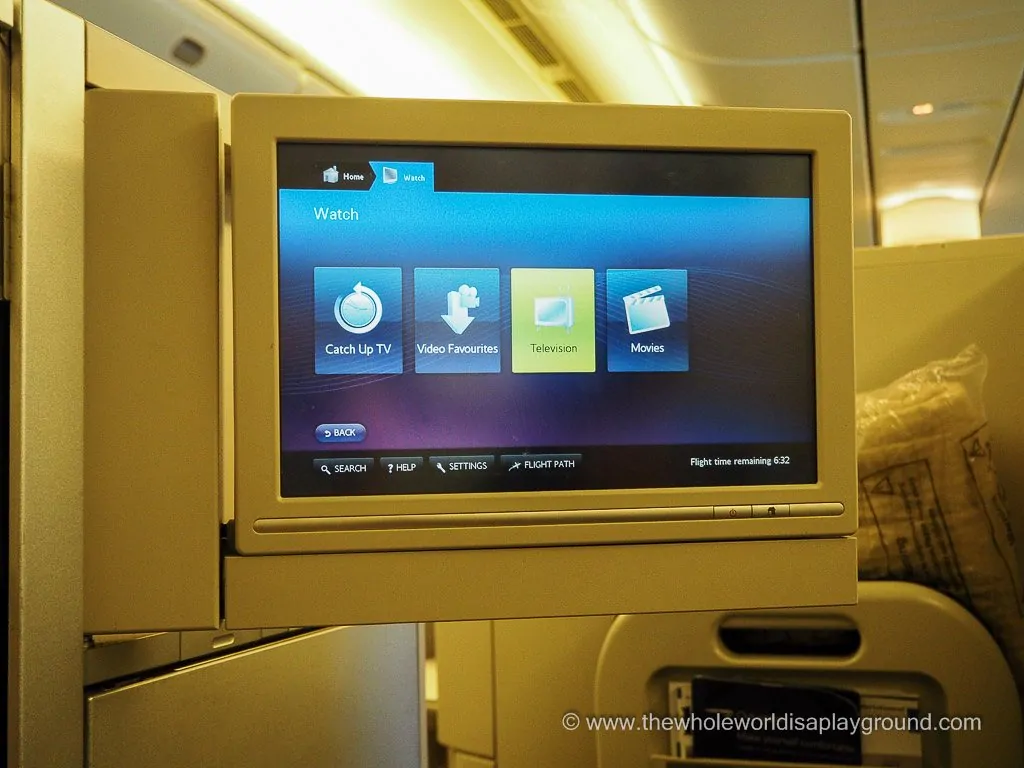 Storage: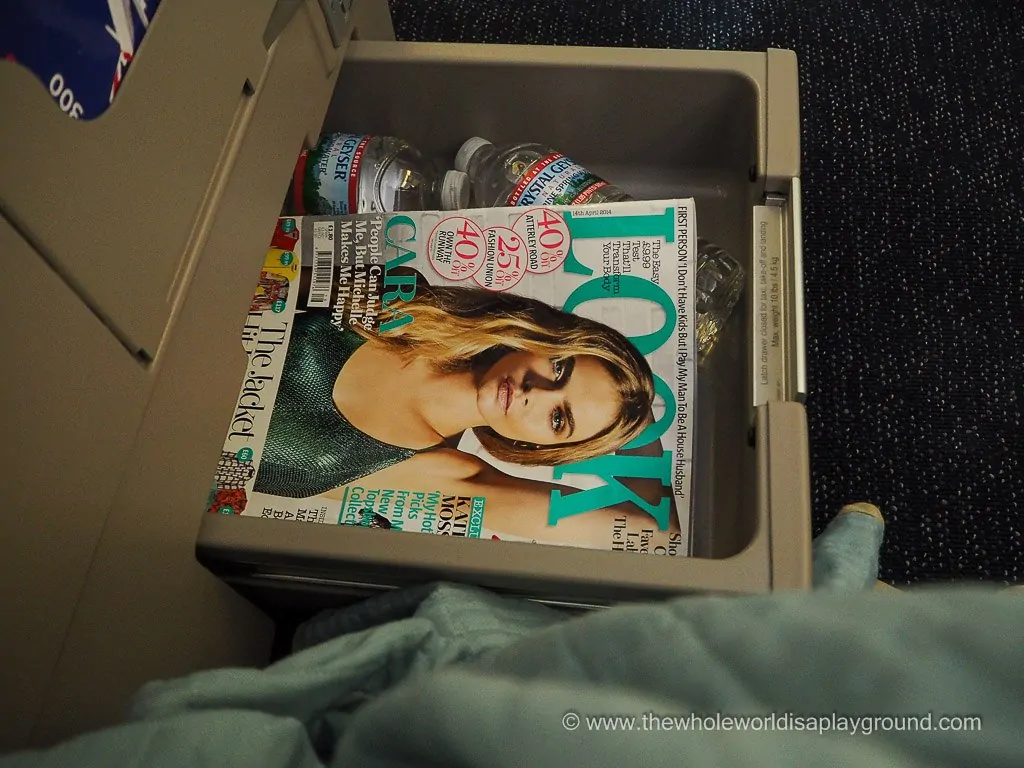 Food and Drinks
On our early evening flight London Heathrow to JFK we were served a full three course meal while on our late night return from Chicago we were offered the Sleeper Service with a snack and a nightcap before the lights went down.
On both flights we had access to the Club Kitchen in the gallery area which had a selection of snacks available throughout the flight. There were chocolates, fruits, biscuits and sandwiches on offer on both legs. I didn't have any chocolate, I swear!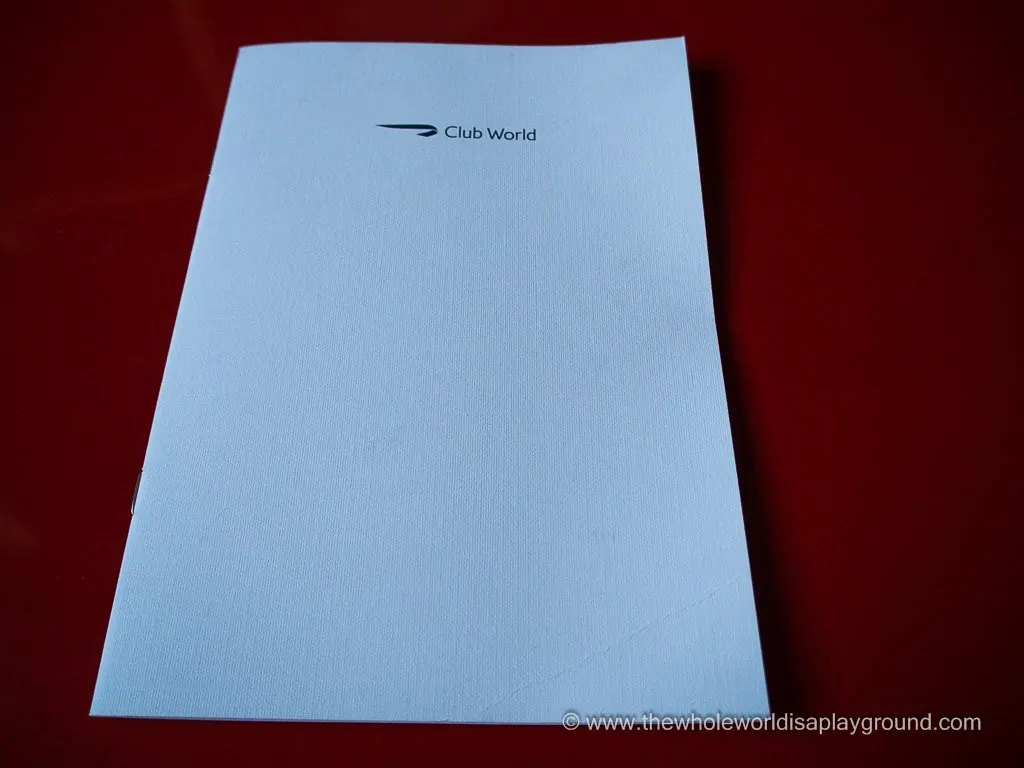 London to New York
Mixed greens and Caprese Salad: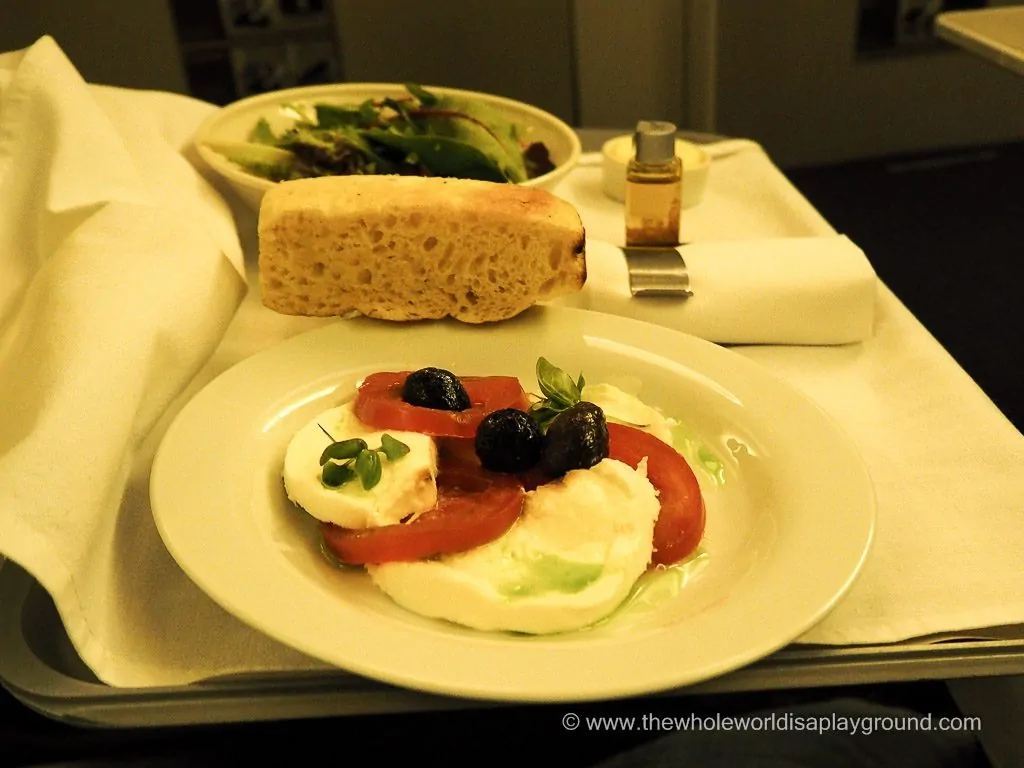 Mixed greens and smoked salmon: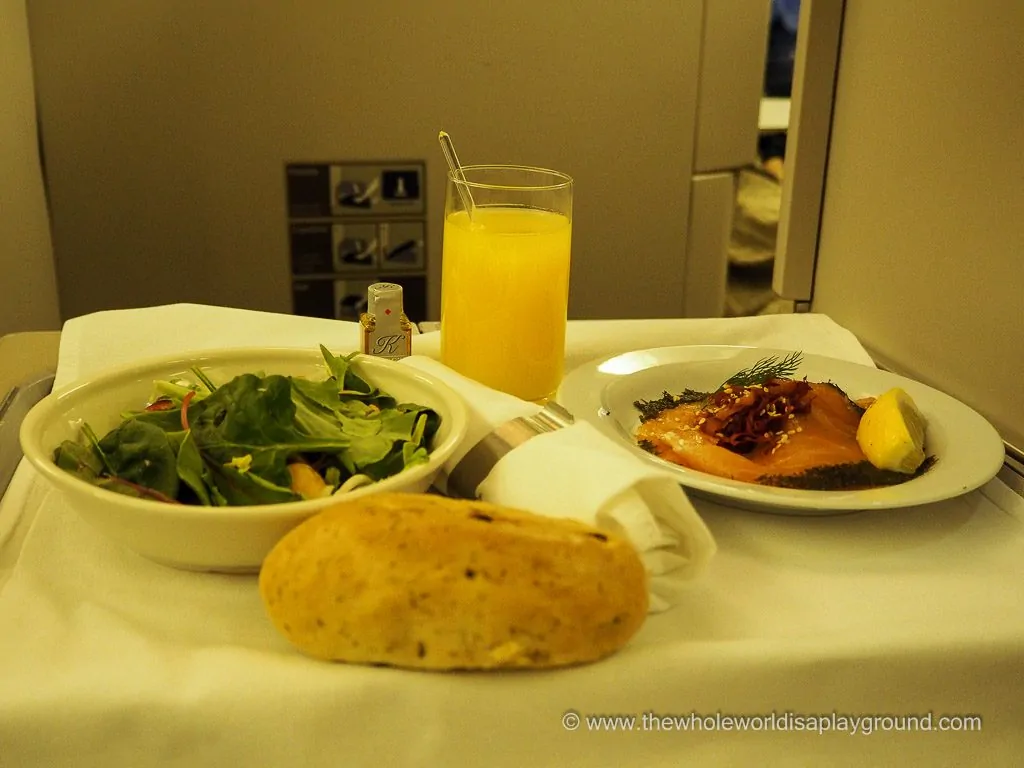 Vegetarian risotto: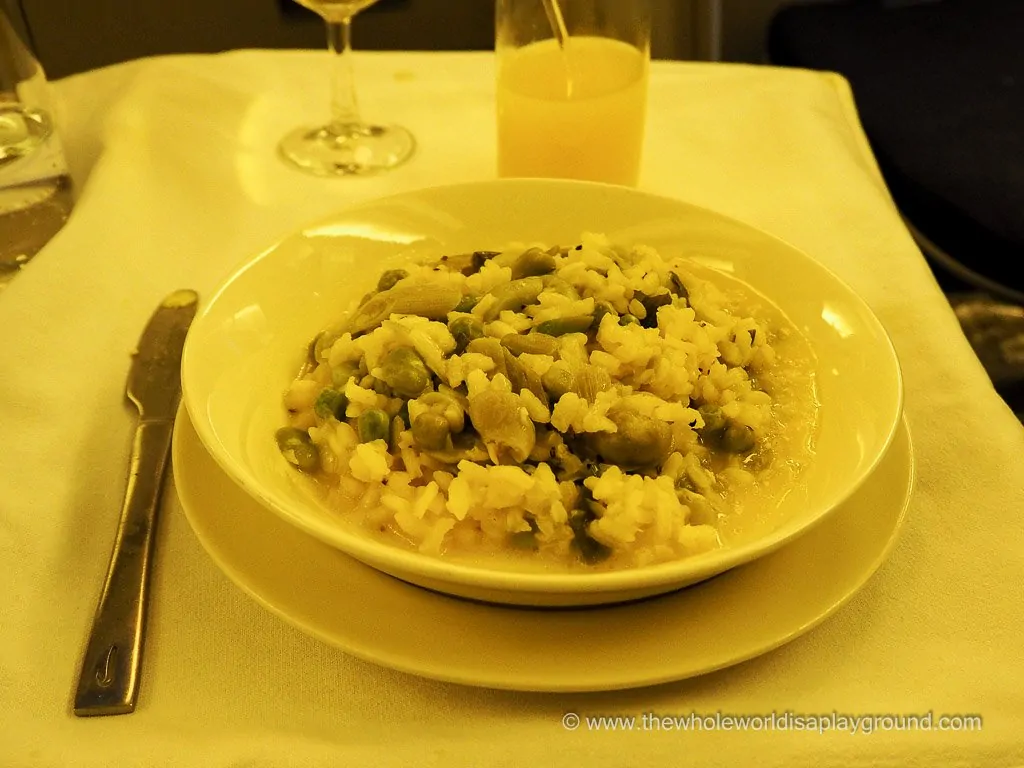 Sea bass and mashed potato: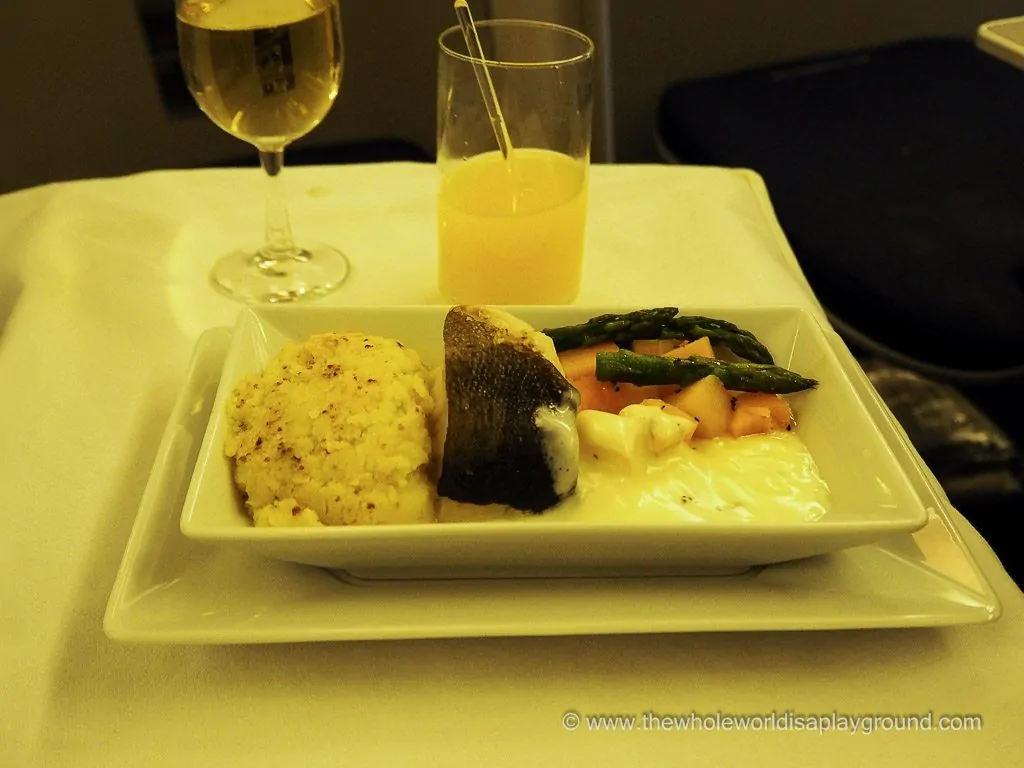 Cheese plate:
Ice cream: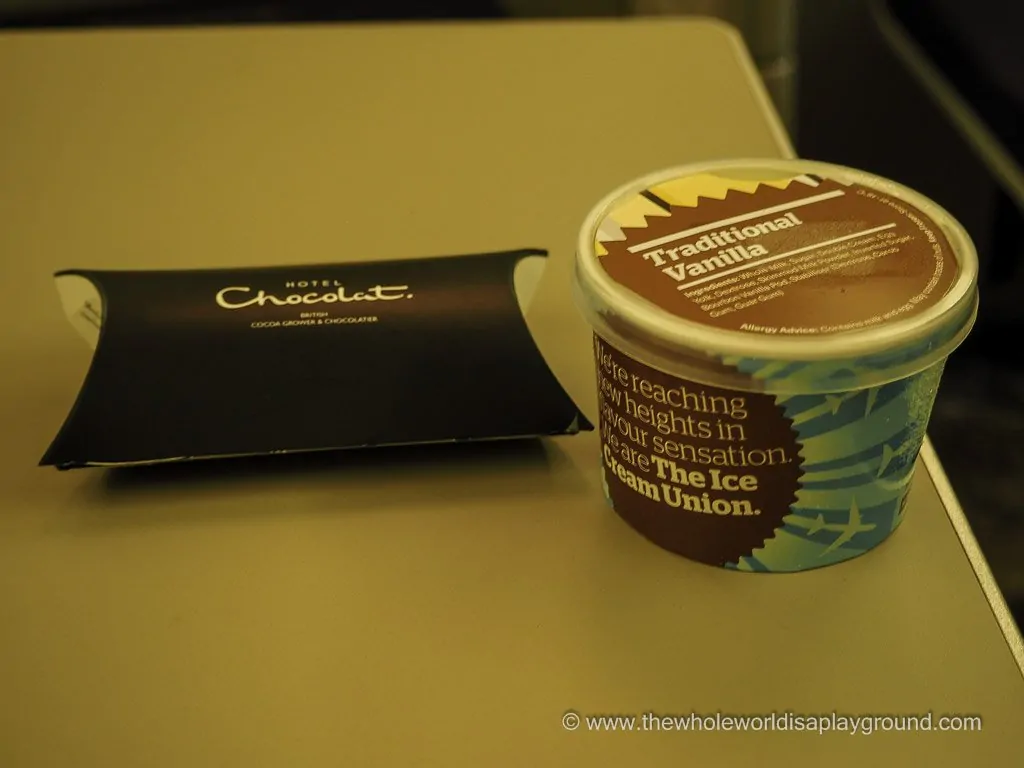 Chicago to London
Our 8:20pm flight from Chicago was operated as a Sleeper Service which meant we were served a pre flight meal in the lounge. I was surprised when we were given a menu with a choice of mains (salmon and vegetarian pasta) and a choice of deserts. We opted for some sweet treats before the lights went down.
Cheesecake: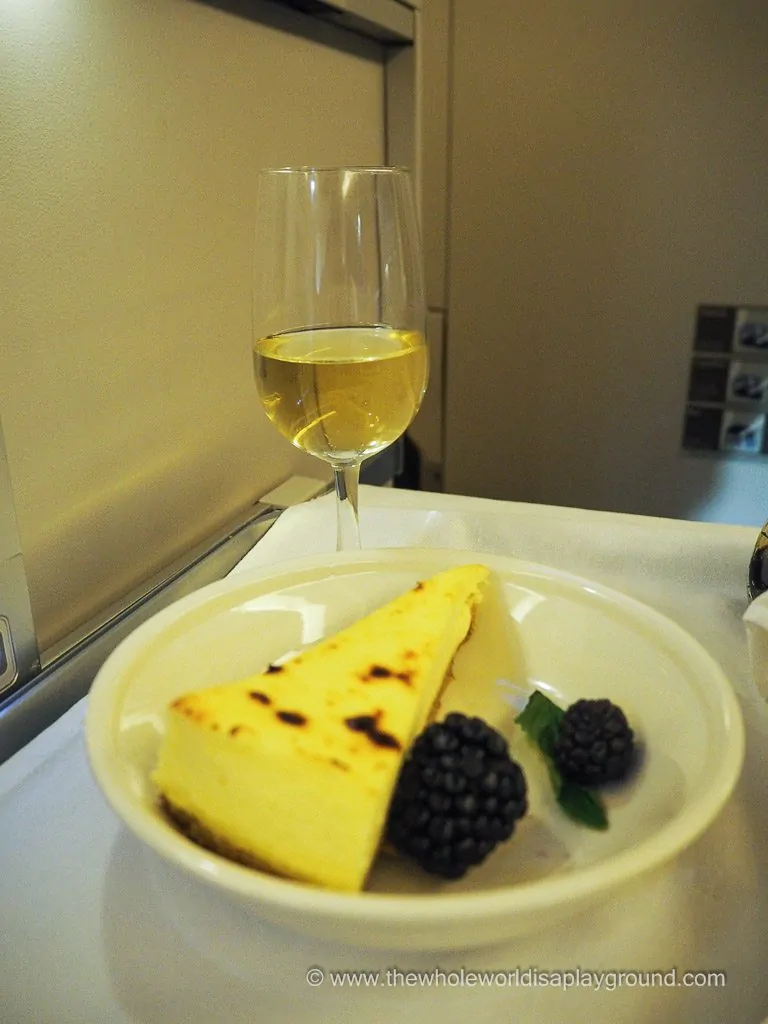 Cookies: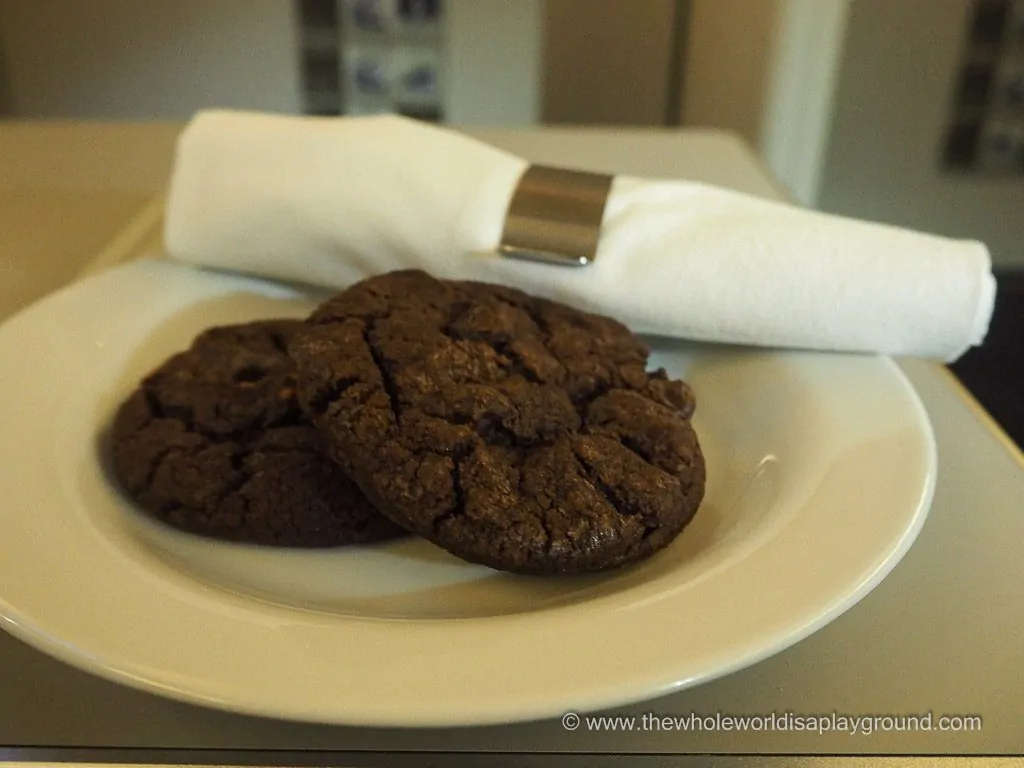 Breakfast time bacon sandwiches: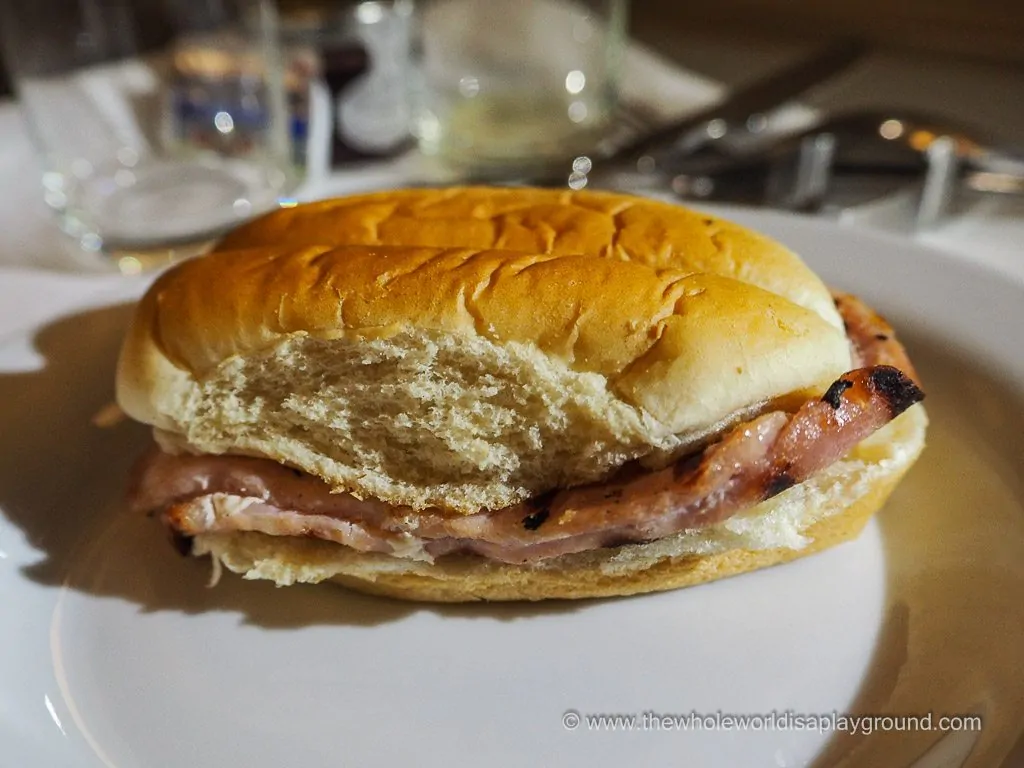 Drinks:
The alcoholic drinks menu was extensive with a selection of aperitifs and cocktails, whiskies, cognacs and beer. Champagne was available throughout the flight and there were two red and two white wines on offer.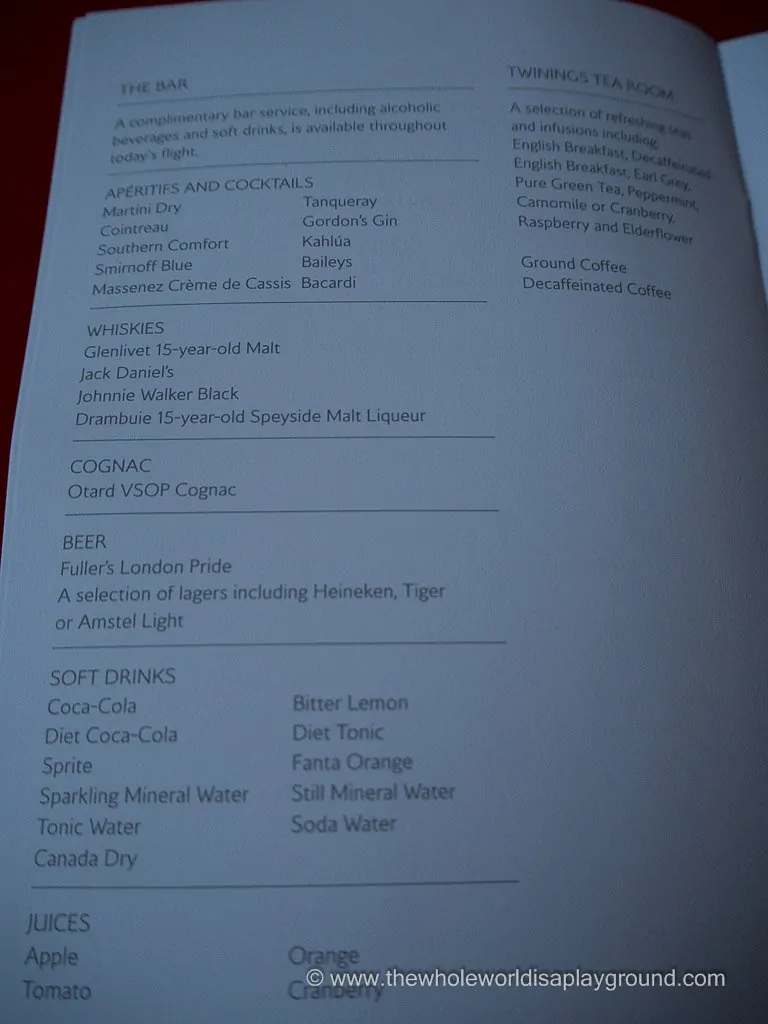 Sleep time!
We all need our beauty sleep! The British Airways Club World seats convert into a 6 foot fully flat bed when the foot rest is down. A blanket and pillows were provided to make up the bed but I wouldn't have minded a mattress topper and a more comfortable duvet. However, the bed was spacious and I had plenty of room to stretch out and catch forty winks! 

The cabin winding down: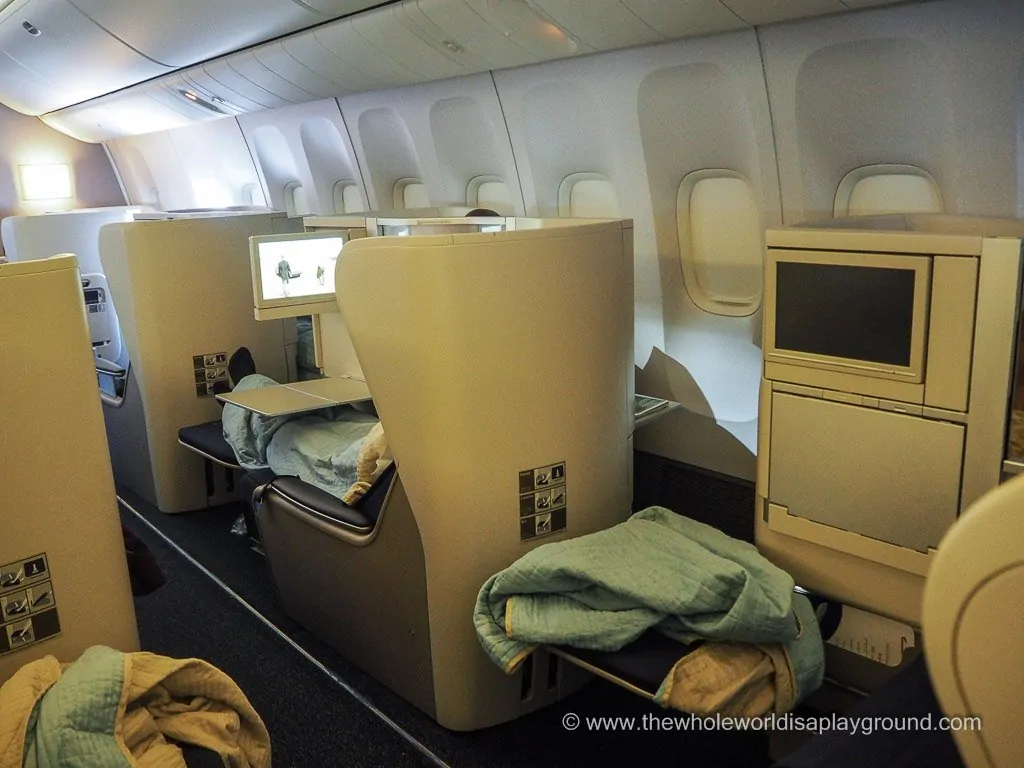 Goodnight!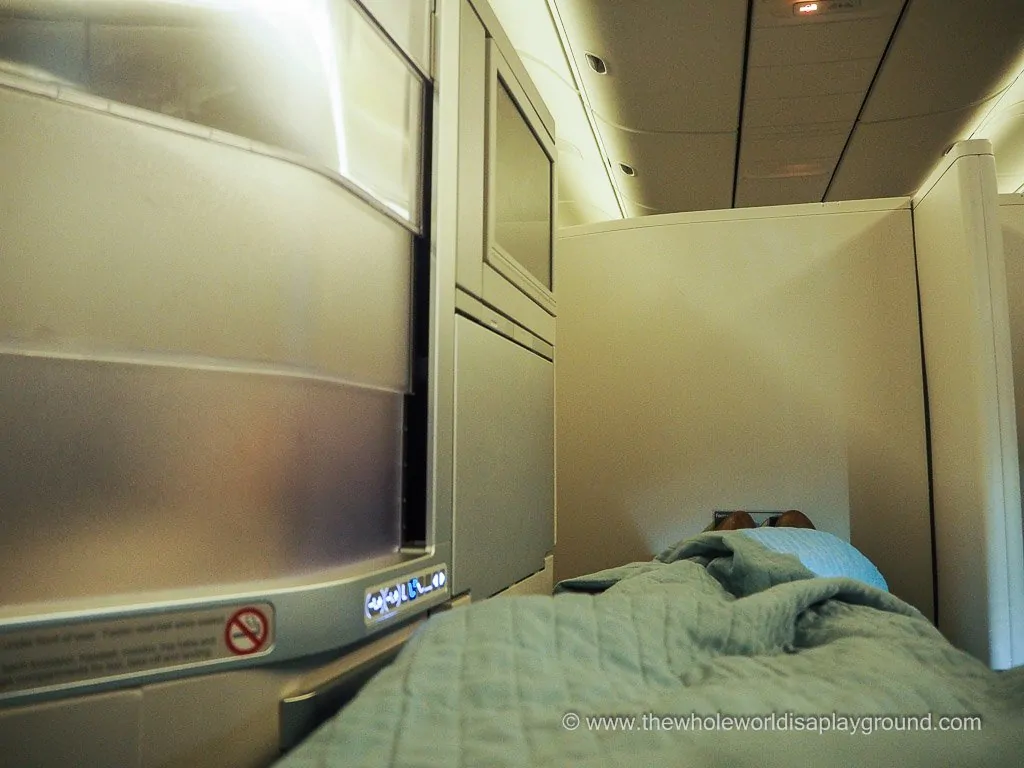 Overall
It's always a treat to fly in Business Class and British Airways Club World is no exception! The seats are comfortable and the Club World cabin has a good vibe. We had a lovely flight with a friendly crew and arrived in our destination relaxed and well rested. What more can a traveller ask for!
Where to sit in British Airways Club World
The Club World configuration is a funny one on British Airways and it's vital to choose your seat wisely!
Aisle/window seat
Solo travellers:
If you're flying solo the window seat offers the most privacy. The aisle seats are also a good choice but there will be aisle traffic to contend with.
Travelling in a pair:
The aisle and window seats are a nice combination for those travelling in pairs as the divider can be left down and it's easy to chat.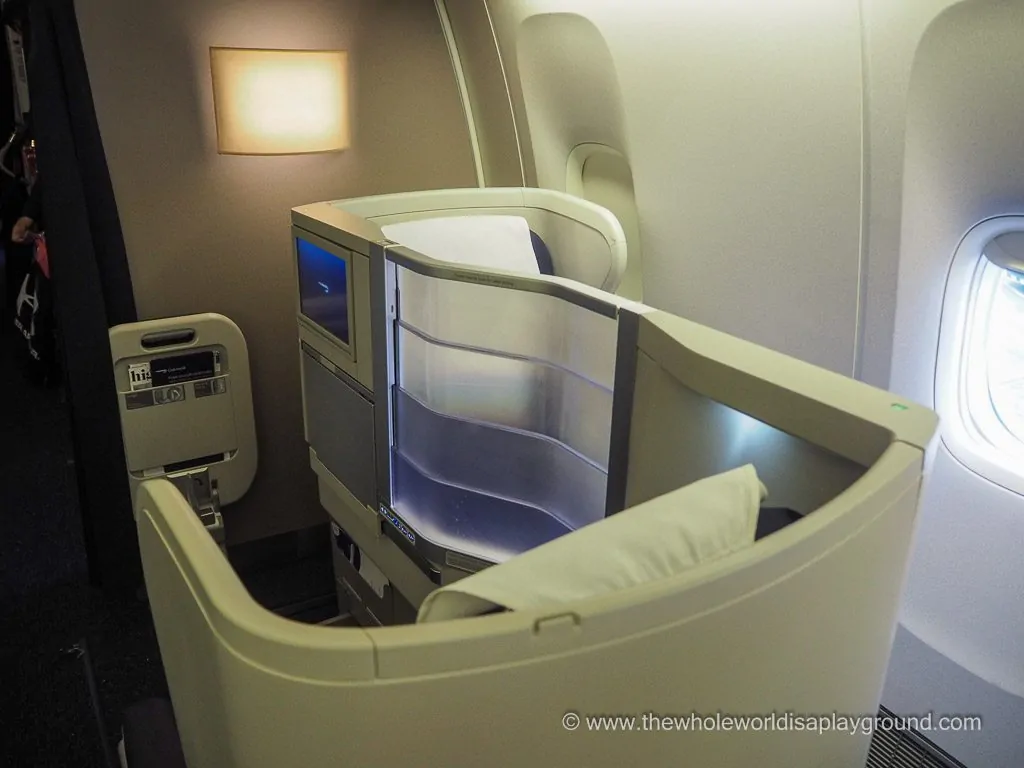 Middle Seats

Solo Travellers:
I would avoid the middle seats when flying solo if at all possible. The enclosed space is a little too intimate for a long haul flight beside someone you've just met!
 Travelling in a pair:
The middle seats offer more privacy and the lack of aisle traffic is great when it's time to bed down. It does take a little effort to pass by a neighbour's feet to access the aisle but it's only a minor inconvenience. The biggest issue is being slightly too close to your aisle seat neighbour when the divider is down during takeoff, landing and meal service. It can be a little awkward but a smile goes a long way!
Hello neighbour! Middle and aisle seat with divider down: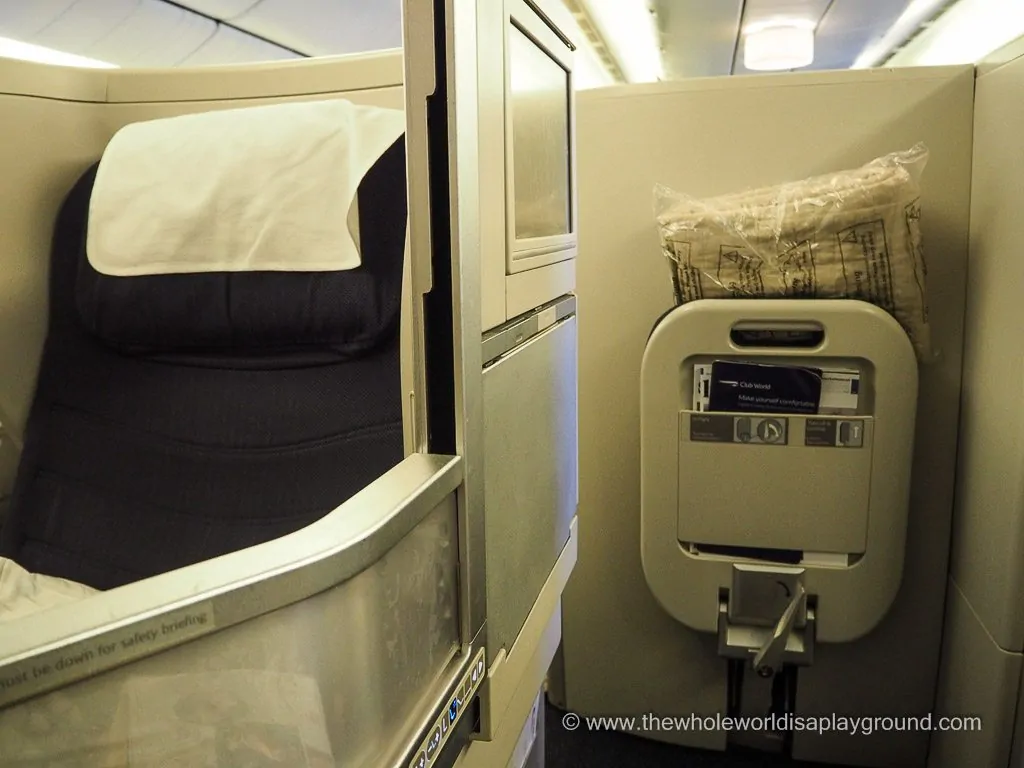 Middle seats with privacy divider up: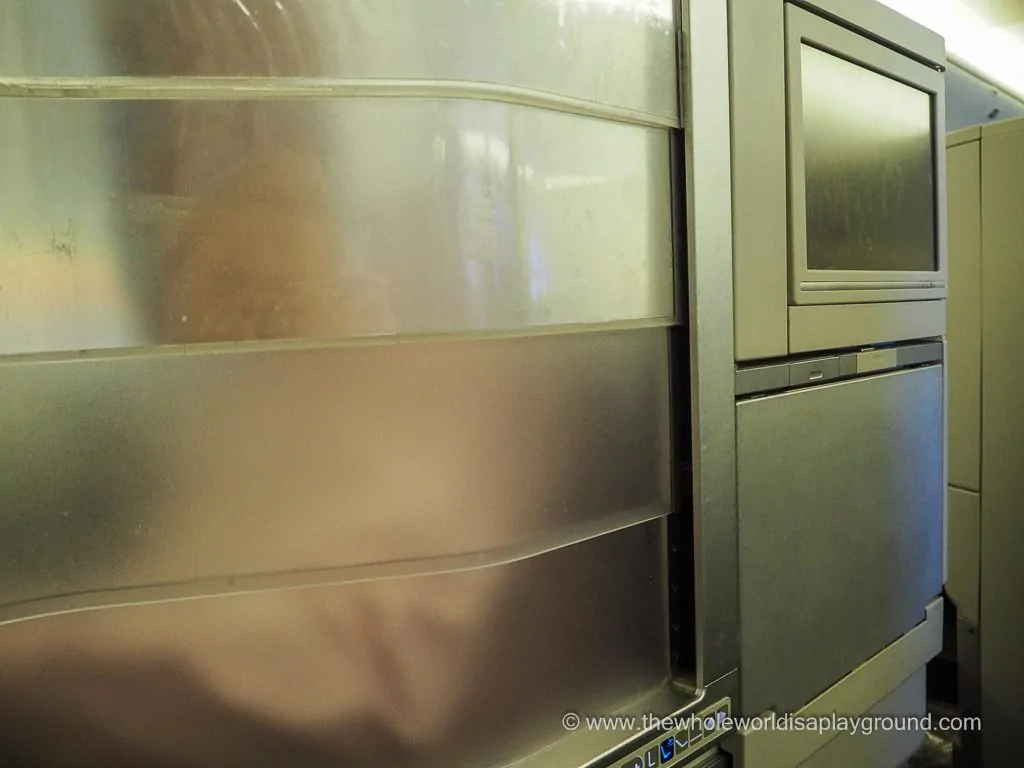 Mind your step! Aisle access involves stepping over a neighbour: