Cenote Ik Kil is one of the most most popular cenotes in the Mexican Yucatan Peninsula and, with its crystal clear waters and cascading vines, it is easy to understand why! Cenote Ik Kil is both beautiful to look at and a lot of fun to swim in. Located just a few minutes apart, Cenote Ik Kil is easily combined with a visit to Chichen Itza.  A postcard perfect image of the Yucatan Peninsula, Cenote Ik Kil should be on everyone's bucket list!
We visited many cenotes during our road trip through the Yucatan and Cenote Ik Kil was one of our favorites. Below is our guide to visiting Cenote Ik Kil: we've shared everything you need to know about Cenote Ik Kil including tips on how to avoid the crowds and the best time to visit.
Cenote Ik Kil, Chichen Itza 
Cenote Ik Kil is an open-top type cenote. This means that the swimming area is open to the sky rather than being enclosed in a cave like some cenotes. Swimming in the clear waters with the hanging vines cascading into the water is is truly breathtaking.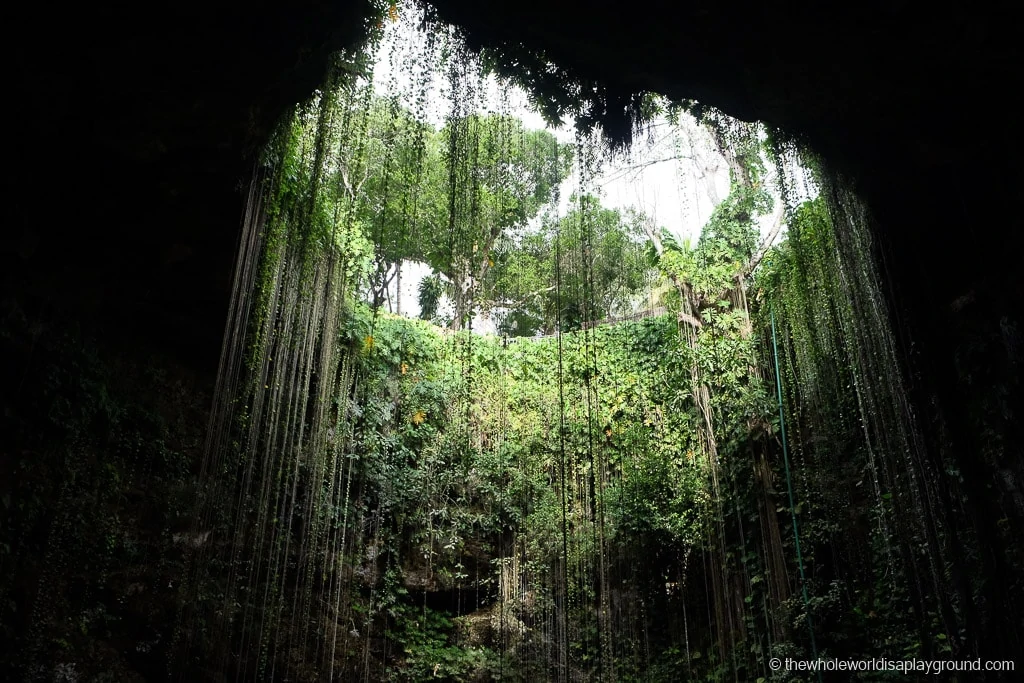 Cenote Ik Kil tip:  Cenote Ik Kil is one of the most popular cenotes in the Yucatan Peninsula and, as a result, huge crowds descend on the cenote daily. Our biggest tip for visiting Cenote Ik Kil is to get there early – it is best to arrive at 9am for the cenote opening. One of the easiest ways to do this is to stay nearby. We stayed at the Mayaland Hotel and Bungalows in order to visit Chichen Itza at sunrise followed by a visit to Cenote Ik Kil which is a 5-minute drive from the hotel – book your stay now!
Check Chichen Itza hotel prices now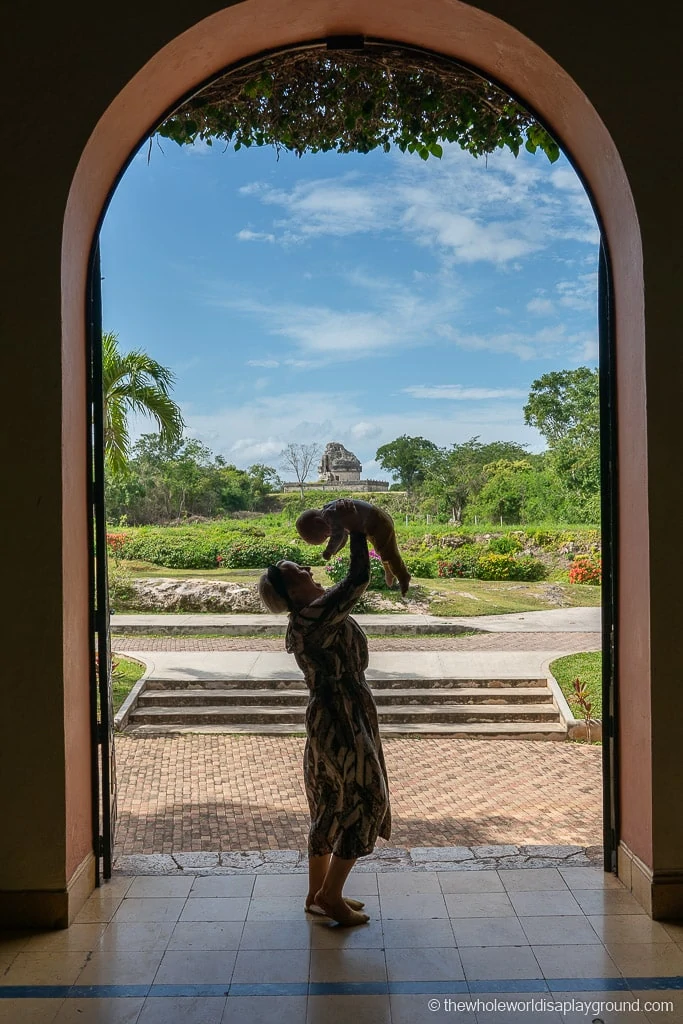 What are Cenotes?
A cenote, pronounced seh-NO-tay, are water-filled sinkholes that naturally occur in limestone rock when an underground cave collapses in on itself and exposes the groundwater underneath. There are thousands of cenotes dotted around the Yucatan Peninsula and some of the more scenic ones are extremely popular with locals and tourists alike.
The water in the cenotes tends to be cool as the water comes from underground so they are great for a quick swim to cool off from the hot Mexican sunshine.
In Mayan times a number of the cenotes were used for sacrificial purposes and objects such as gold, pottery and even human and animal remains have been found at the bottom of some cenotes.
The cenotes in the Yucatan Peninsula are a mix of open, semi-open or underground:
Open cenotes: These are caves which have completely collapsed in on themselves and are exposed to the sky. These are our favourite as you can swim in the open air, the water is a pleasant temperature and there are usually lots of areas to relax by the water. Some of our favourite open cenotes near Tulum are Cenote Azul, Cenote Zacil-Ha and Car Wash Cenote.
Semi-open cenotes: these cenotes are mostly underground but have small openings in the ceiling where light and fresh air come in.  These cenotes can be particularly beautiful as the light beams illuminate the crystal clear water below. Our favour semi-open cenotes were Cenote Suytun, Cenote Hubiku and Cenote Samula.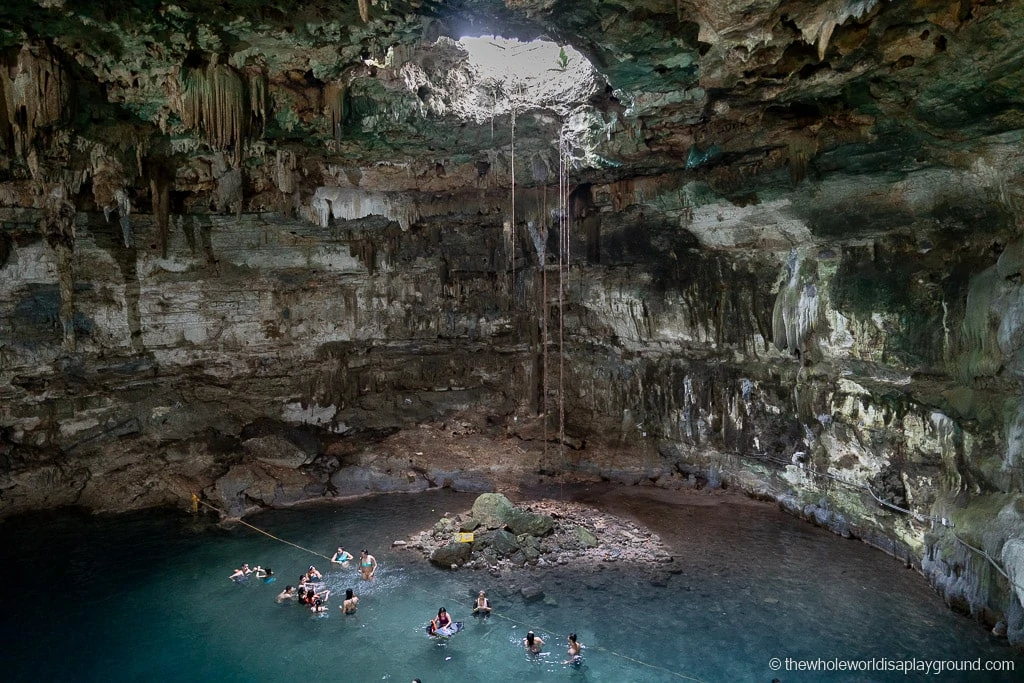 Underground cenotes: these cenotes are completely underground in a cave system and have no natural light to illuminate the cenote water. These cenotes tend to be more difficult to visit as they are deep in the limestone rock. The three cenotes near the Coba ruins (Cenote Multum-Ha, Tamchach-Ha andCenote Choo Ha) and Cenote Xkeken near Valladolid are amazing underground cenotes you can easily visit.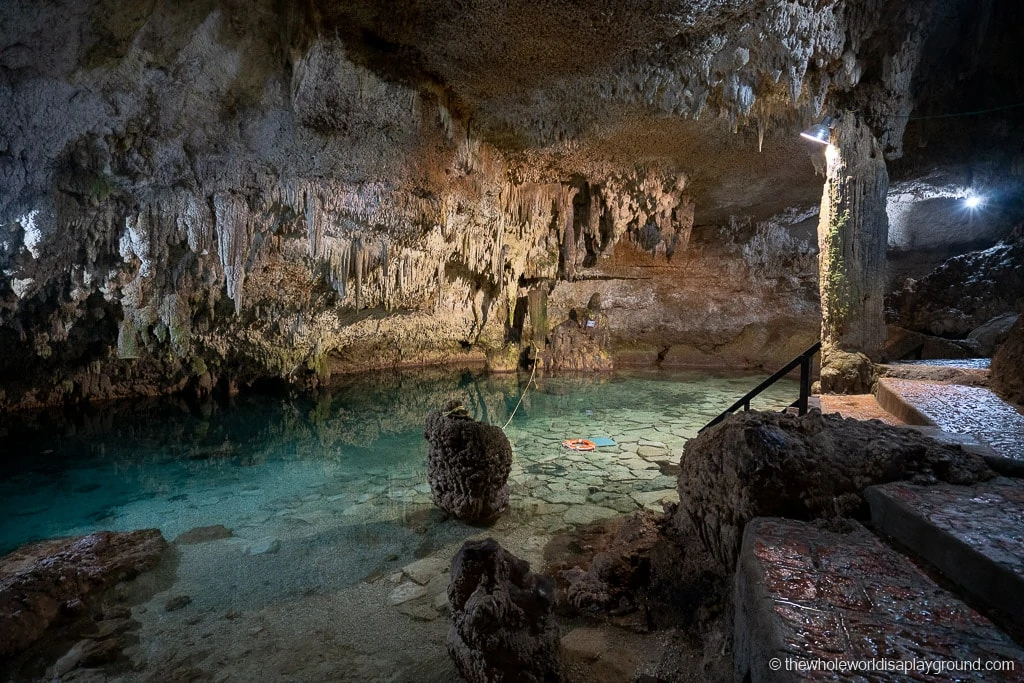 Visiting Cenote Ik Kil
Once you arrive at the car park for Cenote Ik Kil (which is massive!) an attendant will direct you where to park and you can make your way to the ticket office.
Cenote Ik Kil is best for: open-air swimming and cliff diving from the platforms beside the cenote pool. Due to its depth and entry/exit points, it is not the most suitable cenote for kids, especially young children. We did see some families there with young children, however, we would only recommend this is they are very comfortable around water and you visit at a quiet time when Cenote Ik Kil is not crowded.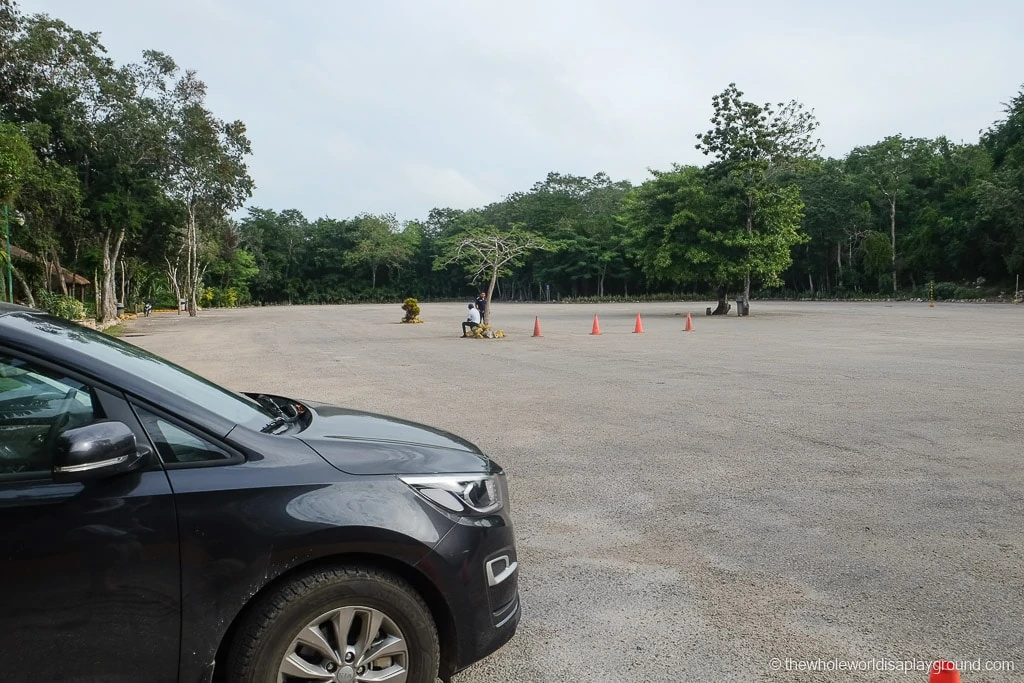 The ticket office is located on the left as you leave the car park and enter the cenote Ik Kil complex. After purchasing your ticket walk to the Cenote entrance where you will have your ticket checked by the attendant.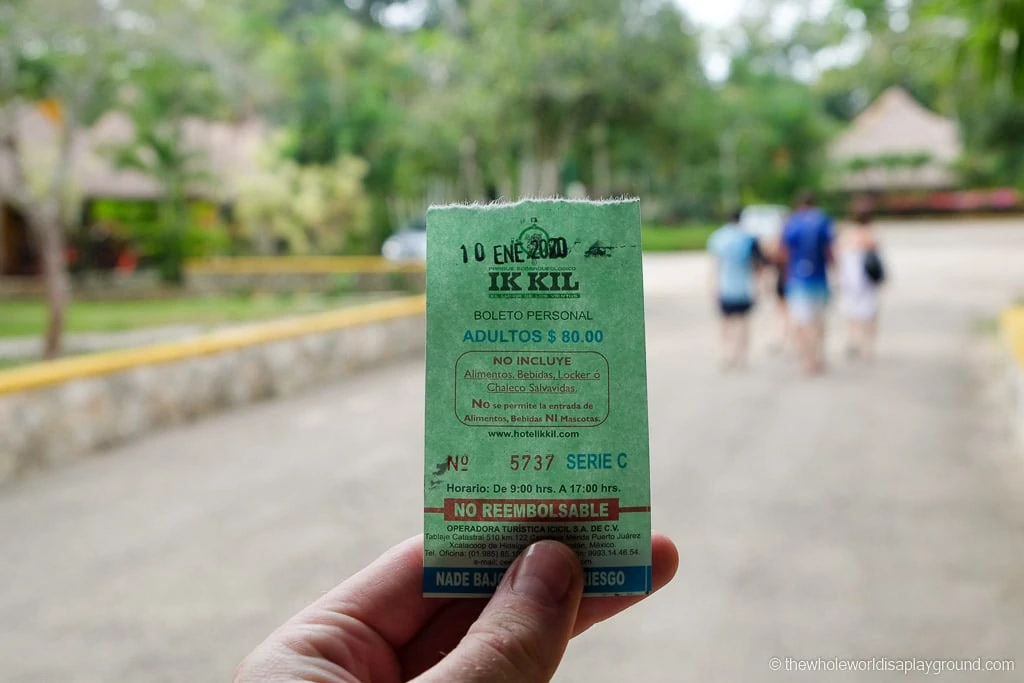 From here the lockers and showers are directly ahead across the small open square. There are two restaurants on-site where you can get some food and drinks after your swim.
There are lockers for hire if you need them. We just had our towels and camera so we didn't bother with a locker. If the cenote is busy or you plan to spend some time swimming it would definitely be worth renting a locker.
There are some communal showers in front of the lockers and you need to use before you walk down into the cenote.
Cenote Ik Kil tip: Everyone who plans to swim in the cenote is required to take a shower. Be warned, they are very cold!!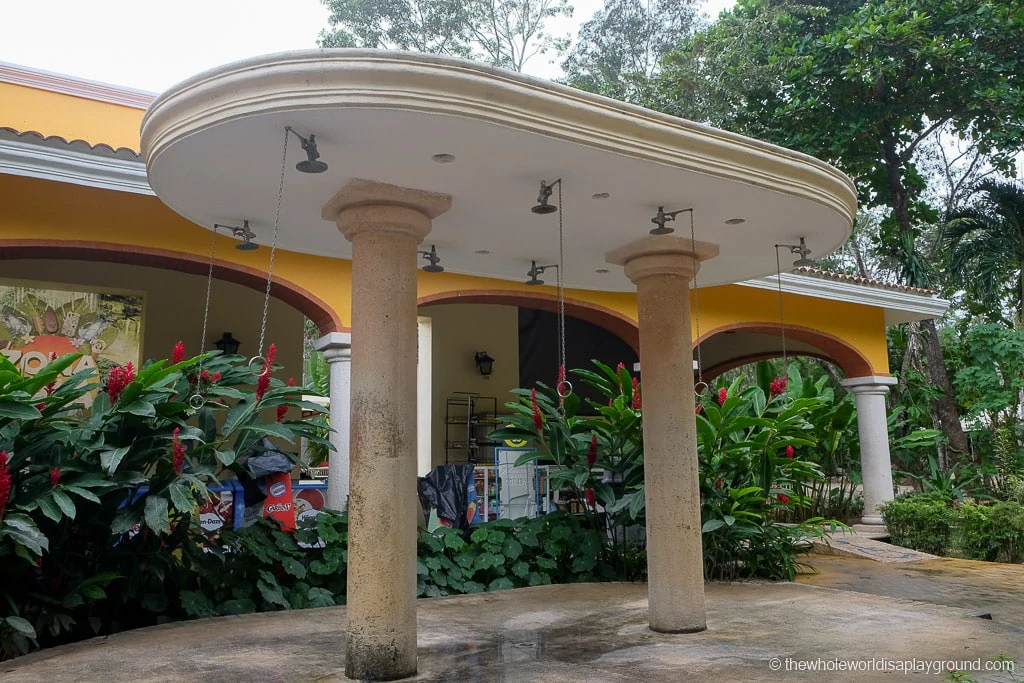 A little further around the corner is the entrance to the cenote and a small viewing deck where you can gaze down into Cenote Ik Kil. The surface of the water of Ik Kil Cenote is 18 metres (59 feet) below ground level so it's necessary to walk down a stepped tunnel to access the swimming area. No food or drinks are allowed past the top of the stairs or down into the cenote.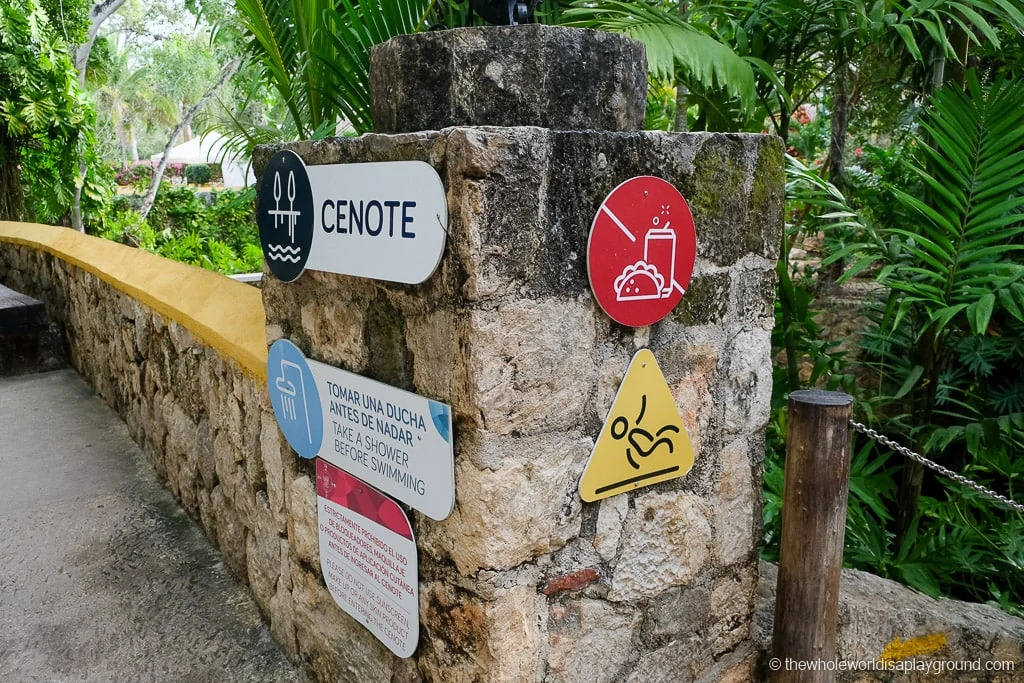 Visit Cenote Ik Kil tip: As everyone is required to shower before going down into the cenote, the top steps of the stairway can be very slippy. Make sure to take your time on this section of the stairway. We had swim shoes and were happy we did when passing through here!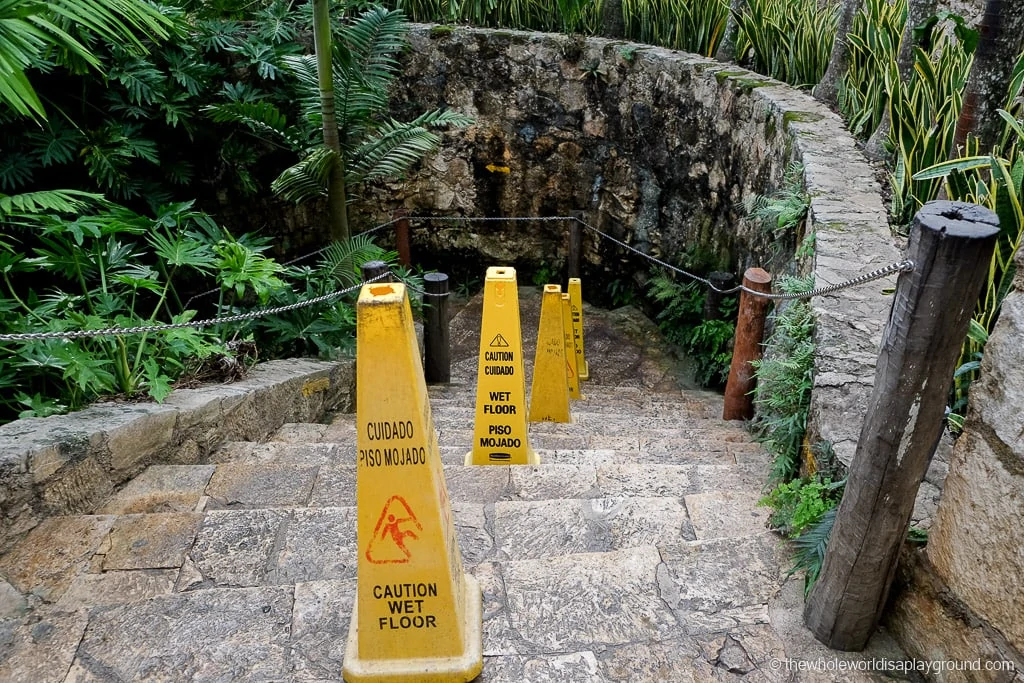 Once you get to the base of the first stairs there is a fantastic viewing area of the cenote. This was actually our favourite view of Cenote Ek Kil with the vines hanging down the walls of the cenote and into the water.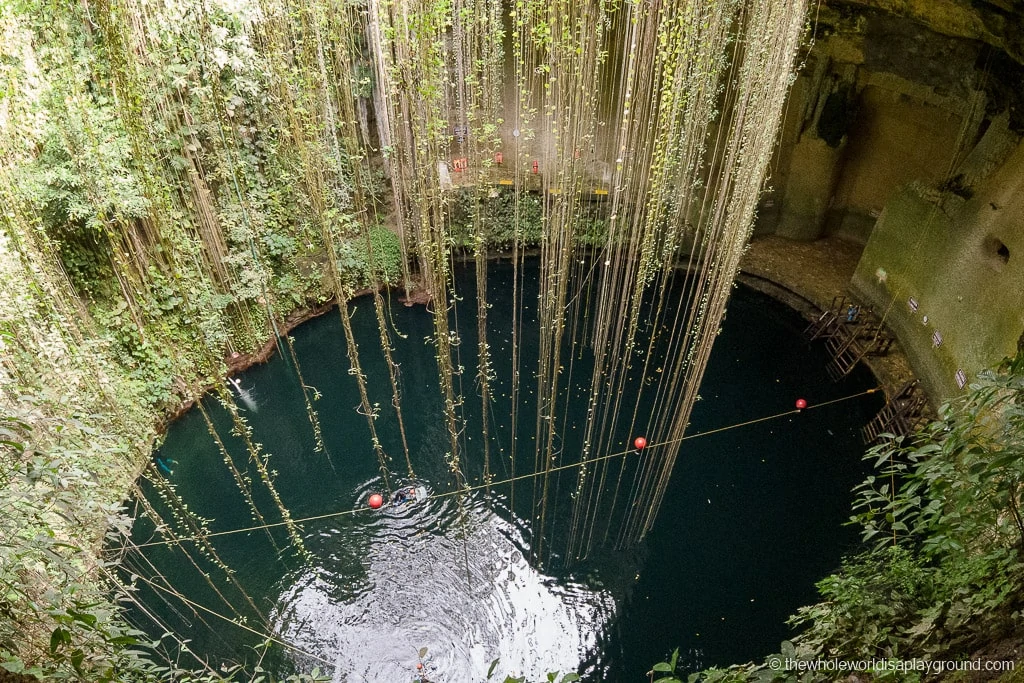 After this viewing deck, there is another stepped tunnel that leads down to the swimming area at the bottom of the cenote. Again these steps were quite wet and slick so care is needed when walking down. There is another smaller viewing area about halfway down the tunnel on the left where you can get a different perspective of the cenote pool.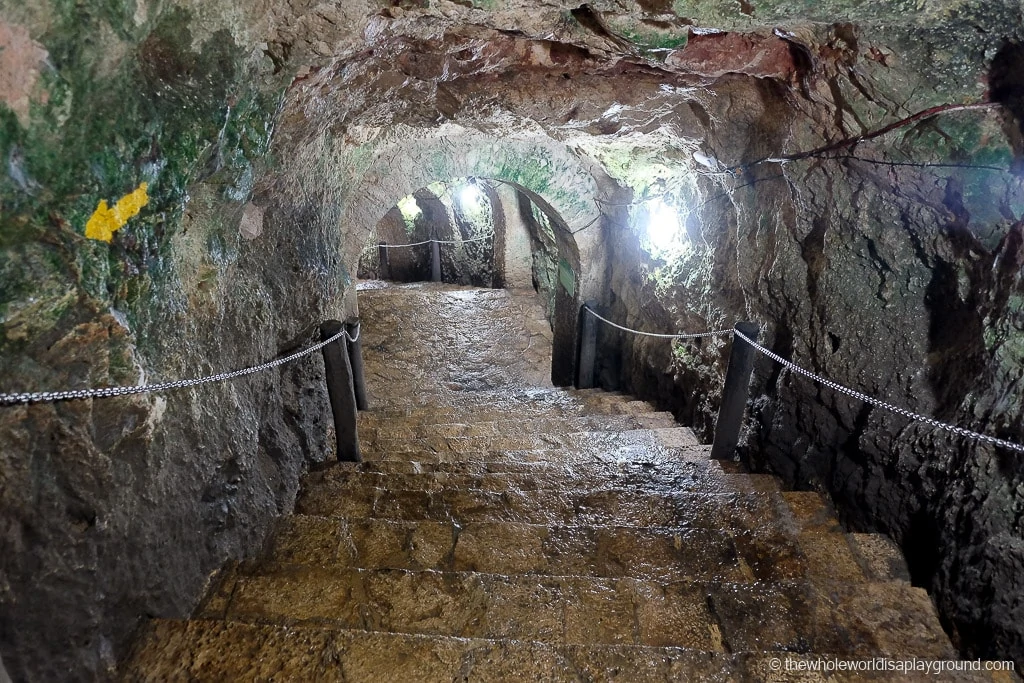 At the bottom, there is a large flat area in front of the cenote water. On the left are a number of wooden steps which lead into the water and on the right, there are elevated platforms from which you can jump into the water.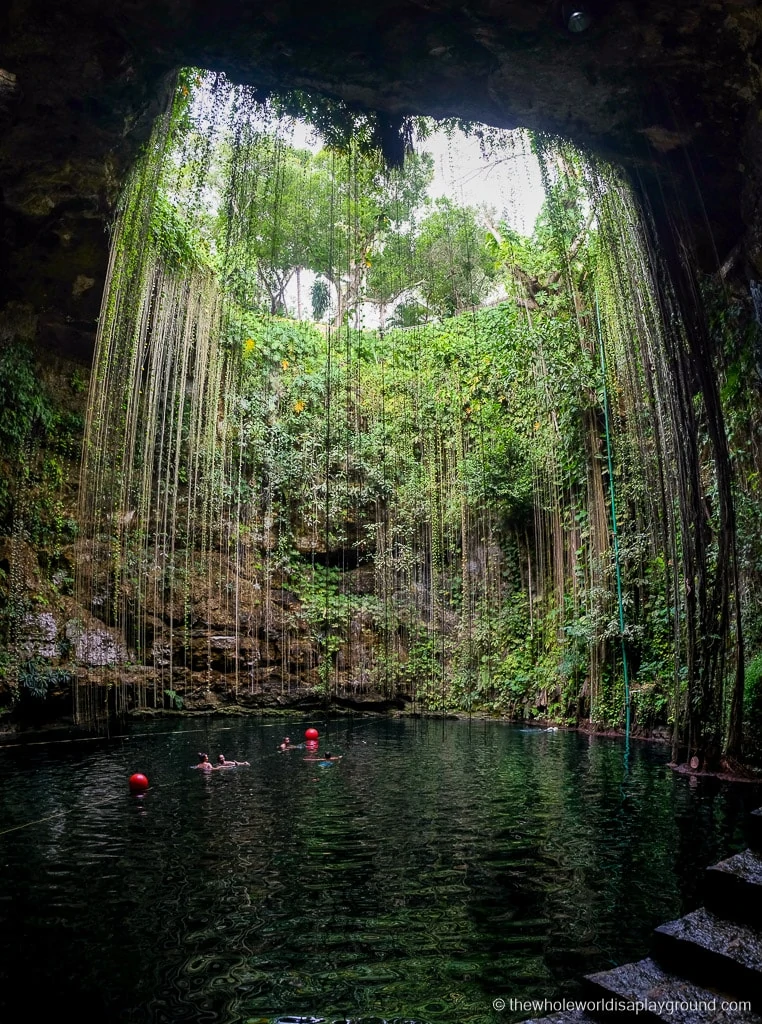 Visit Cenote Ik Kil tip: The biggest benefit of being at the cenote early is that you will have very few other swimmers in the water with you. This makes visiting Cenote Ik Kil at a lot more enjoyable. When we visited at 9 am there was another small group of people and one family at the cenote so it was a real pleasure to visit!

Swimming in Cenote Ik Kil
Swimming in Ik Kil is a surreal experience. Jumping from the lower platform is not allowed so swimmers must enter the water via the wooden steps that hang over the lower edge into the water. The steps operate on a separate step-down and climb-up set of steps to avoid any issues with swimmers jumping in on top of others.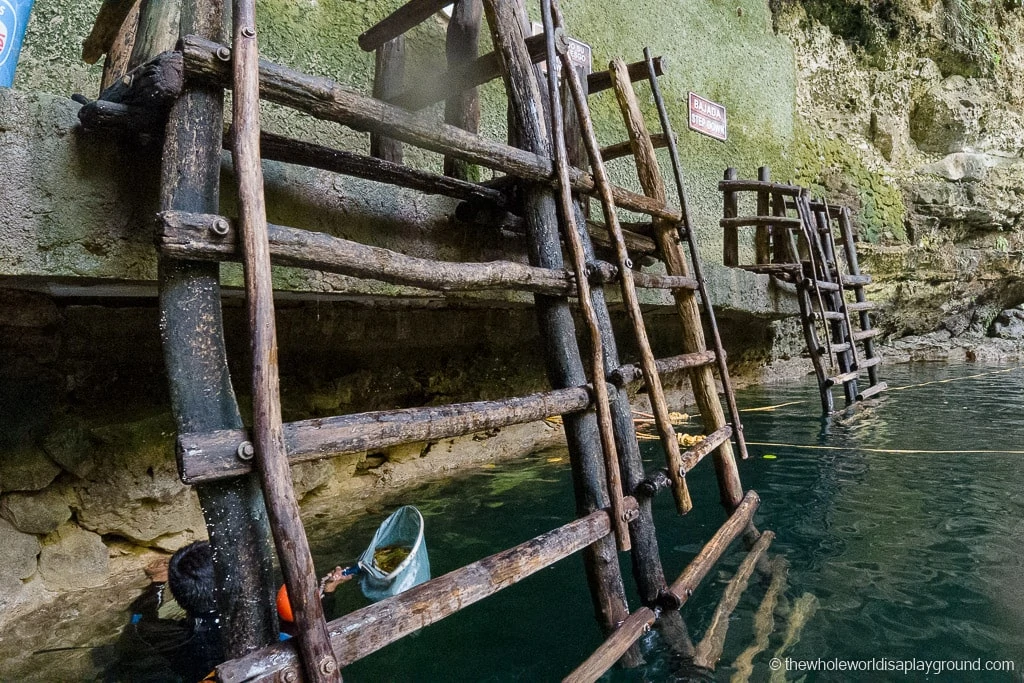 Visiting Cenote Ik Kil tip: You swim in all the cenotes at your own risk. If you are not comfortable swimming out of your depth we highly recommend renting a life-jacket. In Cenote Ik Kil you will be swimming in extremely deep water so you need to be comfortable swimming our of your depth in freshwater. If you have not done this before or are not comfortable please rent a life vest! If the cenote is busier however it's probably worth renting one as you might have to wait in the water longer than you'd like due to crowding at the exit ladders.
The water is cool but is very refreshing given the typical temperatures. It's a surreal experience swimming in Ik Kil as its one of the few open-top cenotes that have the vines and tree roots hanging over the edge of the roof and down into the water below.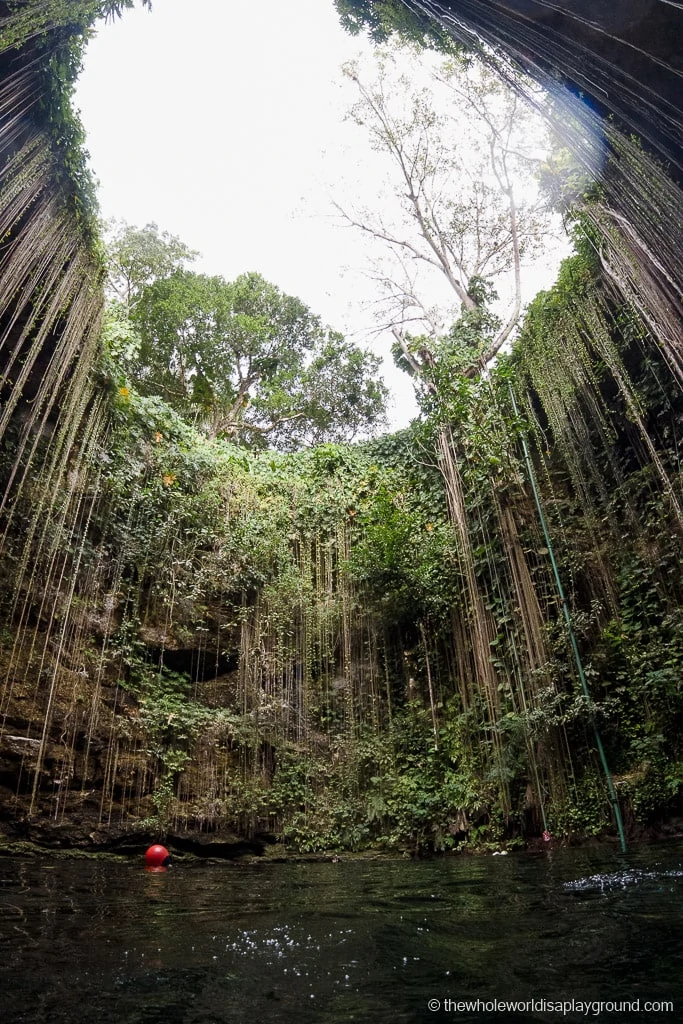 It's a short swim from the entrance of the water to the open roof section of the cenote and there is a spectacular view from here.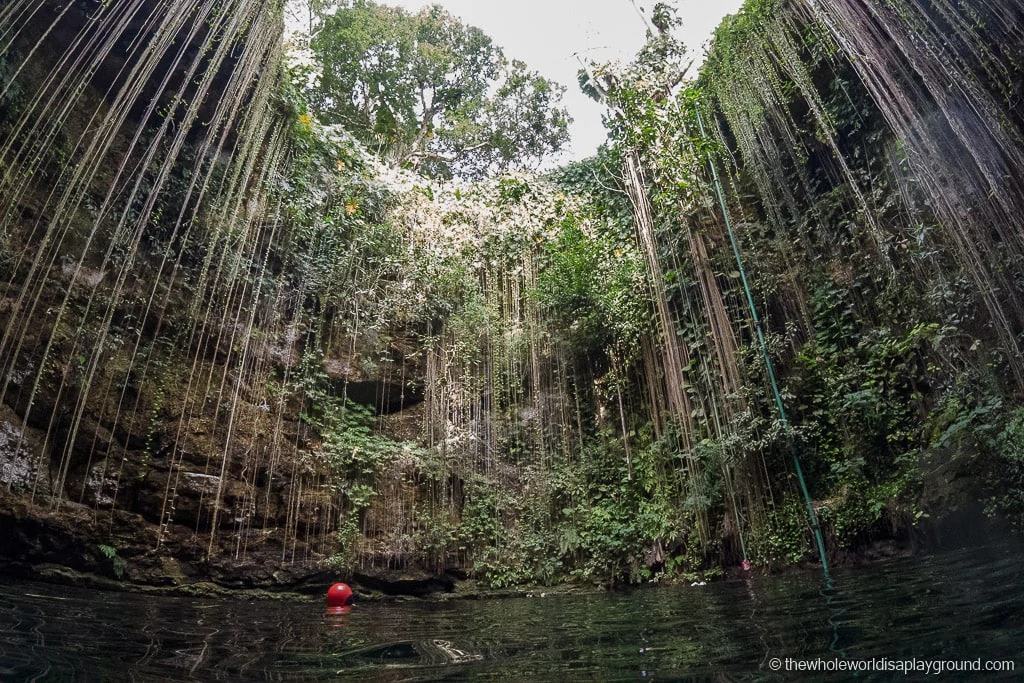 Visiting Cenote Ik Kil tip: you are not allowed to touch any of the roots that hang from the walls or roof of the cenote. It's also strongly discouraged from touching the cenote walls (above and below the water) as it's damaging to the cenote ecosystem.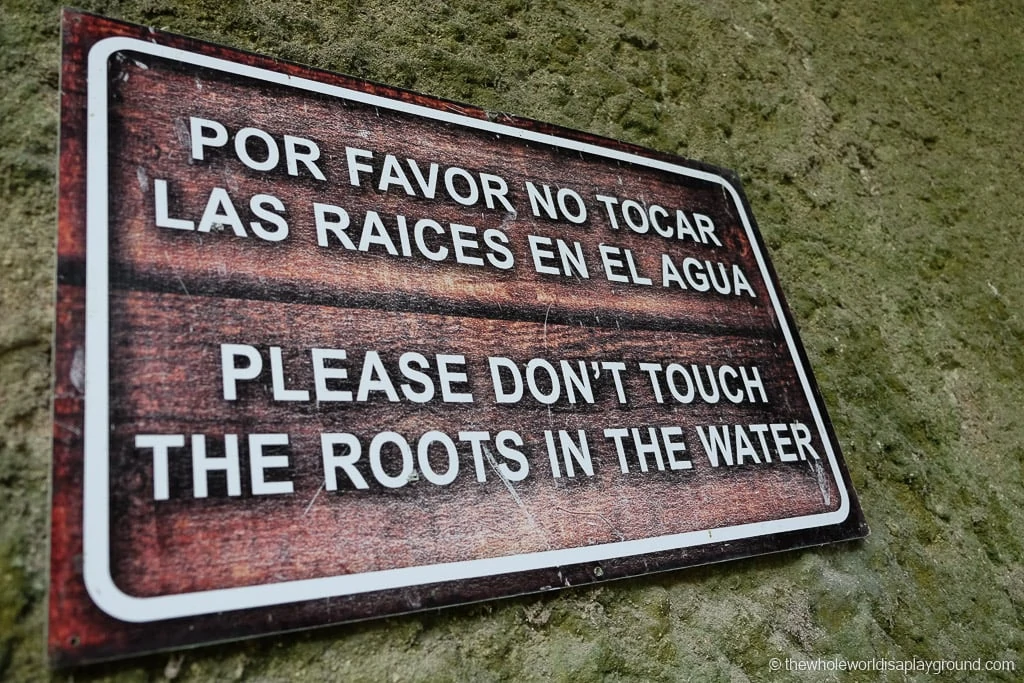 Like most cenotes, there are lots of small (and some not-so-small) fish that can nibble on your legs and feet while you swim. If you've never experienced this before, don't worry it's completely painless but a bit unnerving. The fish are predominantly small catfish and are completely harmless.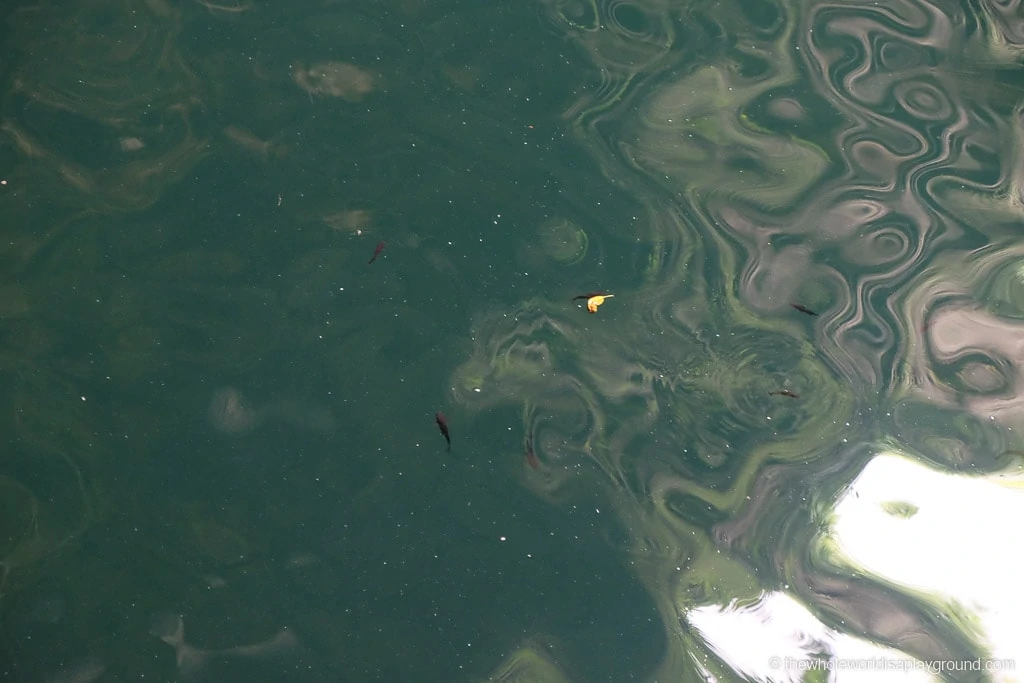 Diving platforms
Cenote Ik Kil was one of the best cenotes we visited for diving and there are three designated diving platforms located beside the pool. The platforms range from around 3 metres to 5 meters in height above the water and it's a lot of fun jumping in!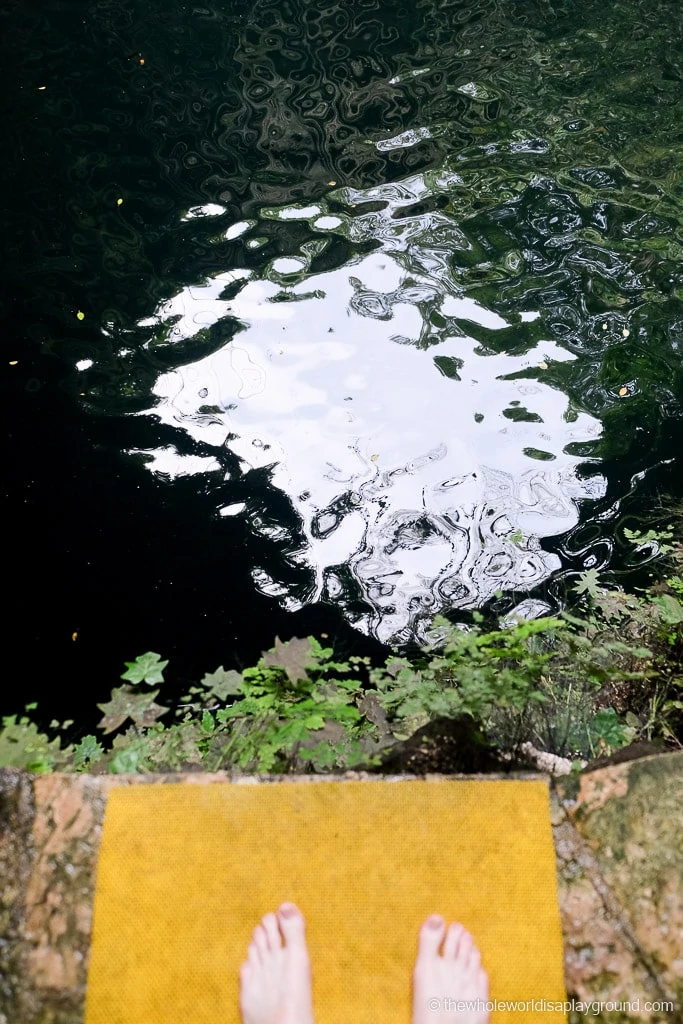 Cenote Ik Kil was a location chosen for the Redbull Cliff diving competitions in 2010, 2011 and 2014. The divers  actually jumped from an elevated platform above the entrance to the cenote so it's pretty crazy when you're there to envision it!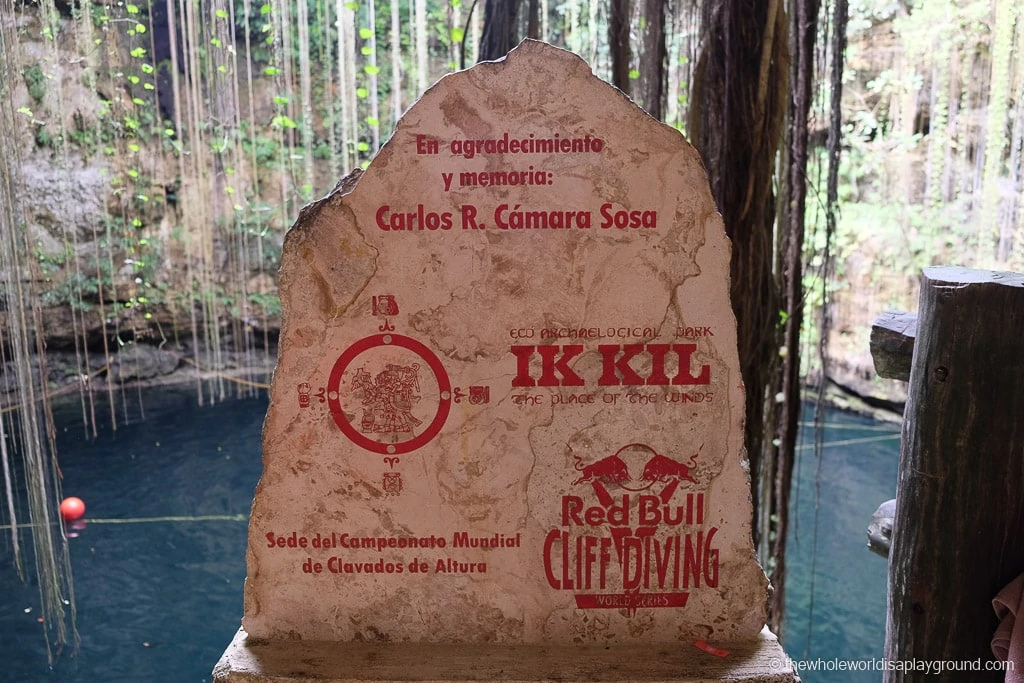 Safety at Cenote Ik Kil
Some notes on safety at Cenote Ik Kil:
Ik Kil Cenote is extremely deep: the drop from the top of the cenote to the water surface is 10 metres.  At 50 metres deep (150ft deep) Ik Kil is also the deepest freshwater we've ever swum in. It's so deep we couldn't see the bottom! Again if you are not a confident swimmer, definitely rent a life jacket!
Cenote Ik Kil is an extremely popular cenote due to both its beauty and location near Chichen Itza. As a result it can get extremely uncomfortable at times. There may be wait times to exit the cenote and there isn't really to hang onto it. It's also possible that other swimmers might kick you accidentally as they swim past or are waiting to exit. We recommend visiting at quieter times, wearing a life jacket and making sure you are always comfortable with your surroundings.
What to bring with you when visiting Cenote Ik Kil
Visiting a cenote is a little different to visiting a traditional swimming pool. Cenotes are one of the most fun things you can do in the Yucatan Peninsula and there some things which we highly recommend taking with you when visiting a Cenote Ik Kil.
Cash
If you need to rent a life jacket or buy any snacks/drinks you're likely going to need cash. Generally speaking, in Mexico cash is king and for the best value try to have Mexico pesos with you. Most venues also accept US dollars however you will be a terrible exchange rate when paying in USD. Some of the larger cenotes may take credit card for entry, however once inside the cenote area cash is king! Cenote Ik Kil only accepted cash for entry tickets
Towels
Some of the larger cenotes offer towel rental however it's much easier and cheaper to pack your own. A hotel towel might be an option but we found it easier using our large microfibre towels. Microfibre towels are fantastic as they pack small and dry super quick, making them great for the cenotes where you will be hopping back in a car after your swim. We take ours one every trip and we always end up using them – check prices on Amazon!
Buy now on Amazon!
Snorkle/goggles
We missed bringing ours when we visited the Yucatan! You can snorkel in most of the cenotes in the Yucatan peninsula and, while you can rent them in some cenotes, having your own is invaluable. The crystal clear waters of the cenotes make for incredible snorkelling – check prices now!
Buy now on Amazon!
Swim shoes
Swim shoes are great as they give you more grip on the wooden walk-ways around the cenotes. They also help a lot for the shallower entrances at some cenotes (like in Cenote Azul) where you have to walk on submerged rocks. Make sure to throw them in your bag before you visit the Yucatan! – check prices now!
Sunscreen
While you cannot wear sunscreen or mosquito spray in the cenotes while swimming, you'll likely spend some time chilling in the sun after your swim.
Waterproof Camera
An action camera such as a GoPro or an Osmo Action are great for snapping photos and video. We loved having our Osmo Action Waterproof camera with us when visiting the cenotes. It allowed us to take some really fun video and photos while swimming in the cenotes. The wide-angle lens was great for capturing the entire view of Cenote Ik Kil – check prices now!
Tips for Visiting Cenote Ik Kil (Chichen Itza)
1 | How to get to Cenote Ik Kil
Rental Car
This is the easiest way to get to all of the cenotes in Mexico. There is a massive car park at Cenote Ik Kil capable of accommodating a lot of cars and tour buses so you shouldn't have an issue parking. We rented a car for our time in the Yucatan and highly recommend it to our readers. Driving a rental car in the Yucatan Peninsula, Mexico was very straightforward and driving was easy. The roads are of good quality, the drivers are nice and the traffic is relatively light – check prices now!
Check prices now on RentalCars.com
Colectivo (local taxi-buses)
You can catch one of the colectivo's from Valladolid that drop off at Cenote Ik Kil. There are lots of buses each day and it's the cheapest option to get from Valladolid to Cenote Ik Kil
Taxi
It's also possible to get a taxi to Cenote Ik Kil. You can negotiate your price before you go and it's most practical to get a taxi from either Chichen Itza or Valladolid.  A taxi from Tulum or Merida would be very expensive. There were a few taxis at the entrance to the cenote as we left so you should be able to get one for your return journey too.
Tour
Probably the easiest way (aside from a rental car) to visit Cenote Ik Kil is part of a tour to Chichen Itza. There are a number of tours from Cancun, Playa del Carmen and Tulum that include Cenote Ik Kil as part of a day trip itinerary – check prices now!
2 | Cenote Ik Kil Cost
Cenote Ik Kil entry is $80 pesos per person. This ticket price doesn't include any extra costs such as food, drinks, lifejackets or locker rental. We recommend having cash (preferably Mexican pesos) with you when visiting all the cenotes in Mexico and Ik Kil is no exception. You can pay in the US or Canadian dollars however the exchange rates are terrible so its best to have Pesos. Credit cards were not accepted at the ticket booth at Ik Kil.
3 | Cenote Ik Kil Opening Hours
Cenote Ik Kil is open from 9 am to 5 pm every day.
3 | How long to spend at Cenote Ik Kil
Cenote Ik Kil is extremely popular and one of the most visited cenotes in the Yucatan Peninsula. It's a great cenote to visit as it's so beautiful and fun to swim in so you can easily spend an up to two hours at the swimming area alone and another hour or two above ground at the viewing deck and the on-site restaurant.  We expect most people would spend 1-3 hours at Cenote Ik Kil. At peak times the cenote can get really busy and this will likely reduce the amount of time you spend there.
4 | Best time to visit Cenote Ik Kil
Like most cenotes in the Yucatan peninsula, it's best to visit Cenote Ik Kil in the morning on a weekday. Going at these times means you'll miss the larger tour groups and the This way you avoid the weekend crowds when locals and tourists descend on the cenote. We visited Cenote Ik Kil at 9 am on a weekday and almost had the place to ourselves. Fewer crowds at the cenotes will massively improve your experience at the cenotes.
5 | What's not allowed in Cenote Ik Kil!
As we mentioned above, visiting the cenotes is a little different from a traditional swimming pool so there are some different rules to follow when visiting. Cenote Ik Kil rules were as follows:
Showers – You are required to take a shower before you swim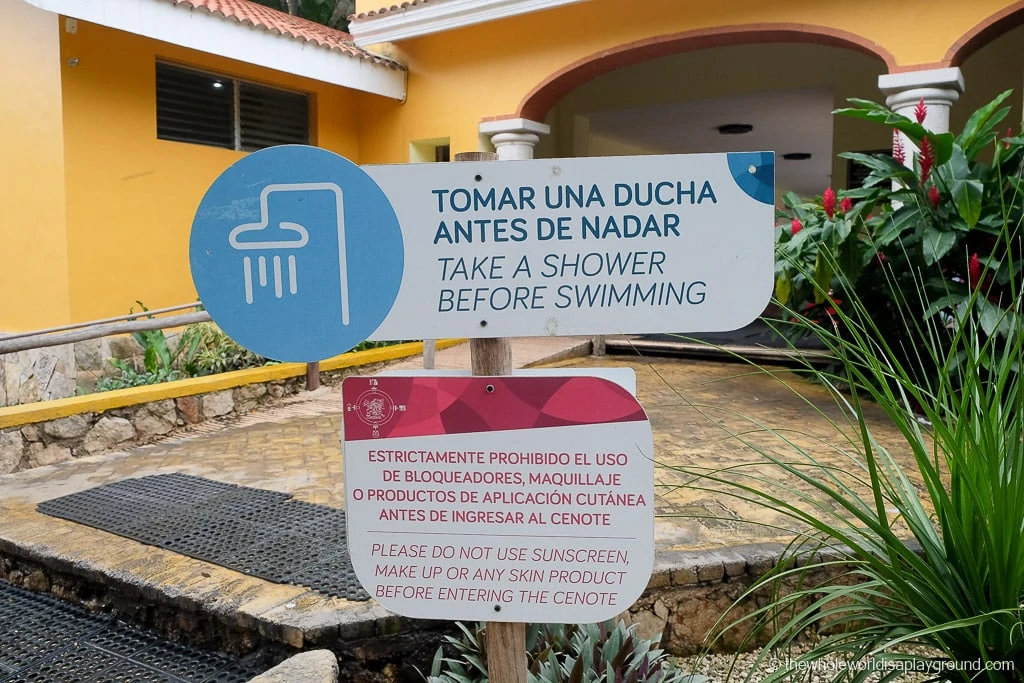 Alcohol – it's forbidden to swim if you've been drinking alcohol.
Roots and Vines – you're not allowed to touch the roots that hang down from the roof or walls of the cenote
Cliff jumping – only jump into the water from the assigned jumping platforms. Jumping from anywhere else will result in you being taken to the police
Sunscreen / Mosquito repellent: You are not allowed to wear sunscreen or mosquito repellent before you enter the water at the cenote. This is to preserve the quality of the water for everyone. There are showers available which you have to use before you enter the water.
No drones – drones are not allowed at almost every site and cenote in Mexico so don't' try to fly it! We decided not to take our drone to Mexico as drone use is so restricted in the country!
Don't feed or harass the fish/animals – this goes without saying but don't feed or harass the fish! Many of the cenotes have resident iguanas, and while they are great posers for photos – try to leave them alone!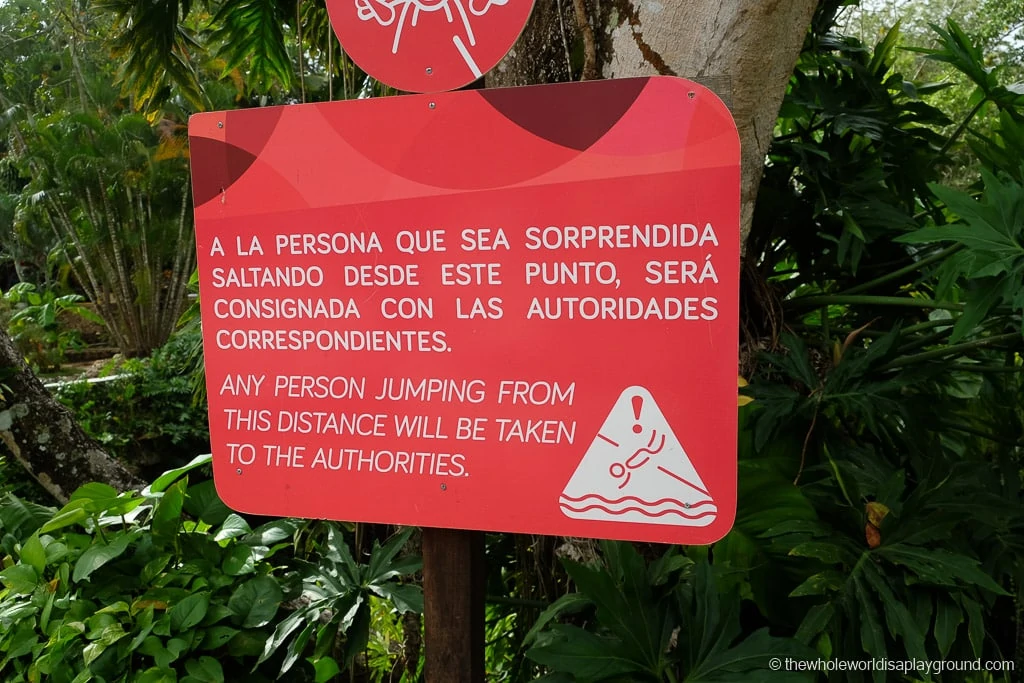 Facilities at Cenote Ik Kil
Cenote Ik Kil is one of the larger cenotes in the Yucatan peninsula and has everything you need for a relaxing few hours. There is an on-site restaurant and you can even stay in the cottages at Ik Kil if you want to stay overnight.
6 | Changing rooms and lockers
There are changing rooms available at the beside the showers and lockers to stash your stuff while you're down at the swimming area.
7 | Lifejackets
Lifejackets are available before you go down the steps of Cenote Ik Kil. You'll need to leave a form of id as a deposit, otherwise, there is a deposit per jacket. If you're not a strong or confident swimmer we highly recommend renting a lifejacket for swimming in Cenote Ik Kil
8 | Parking
There is a large car park located at the entrance to Cenote Ik Kil so parking should not be a problem, even at busy times. There is no charge for paring at Cenote Ik Kil
9 | Food drinks
There are two restaurants on-site where you can get some food and drinks after your swim in the cenote. The food is good and you can grab a beer here after your swim. Prices are a little expensive but it's to be expected at a Cenote Ik Kil