After a magical journey through Southern Vietnam with my lovely mum we were Dublin bound with Emirates and ready to explore the Terminal 3 Emirates Business Class Lounge in Dubai. We were in definite need of some rest and relaxation after a 7 hour flight from Ho Chi Minh and, after transferring over to the A Concourse from the C concourse where we landed, we quickly made our way to the business class lounge excited to check out what Emirates had to offer in its flagship lounge in Dubai!
Emirates Lounge Dubai
After our 7 hour jaunt from Ho Chi Minh we were happy to stretch our legs on our way to the Emirates Business Class Lounge. Despite our early morning arrival (or late night depending on how you look at it!) the airport was busy and the Emirates lounge was a welcome retreat from hustle and bustle of the terminal.
The Emirates lounge in Dubai sits on top of the Departures Level of Concourse A and spans all 24 Emirates departure gates in the concourse with direct access to the gates through the lounge. The space is huge and is split in the middle at the check in area with the lounge stretching as far as we could see in both directions. Each side of the lounge has similar facilities and food options so we made our way towards our gate A18 at the far end of the lounge and set up camp for the morning!
It's all lounge!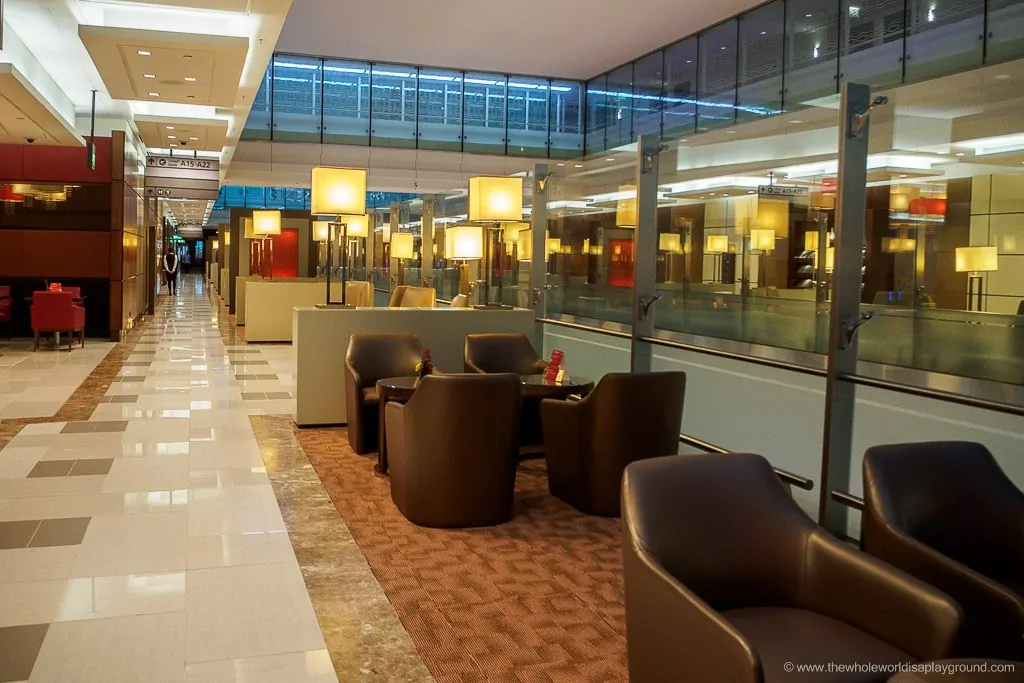 Emirates bling!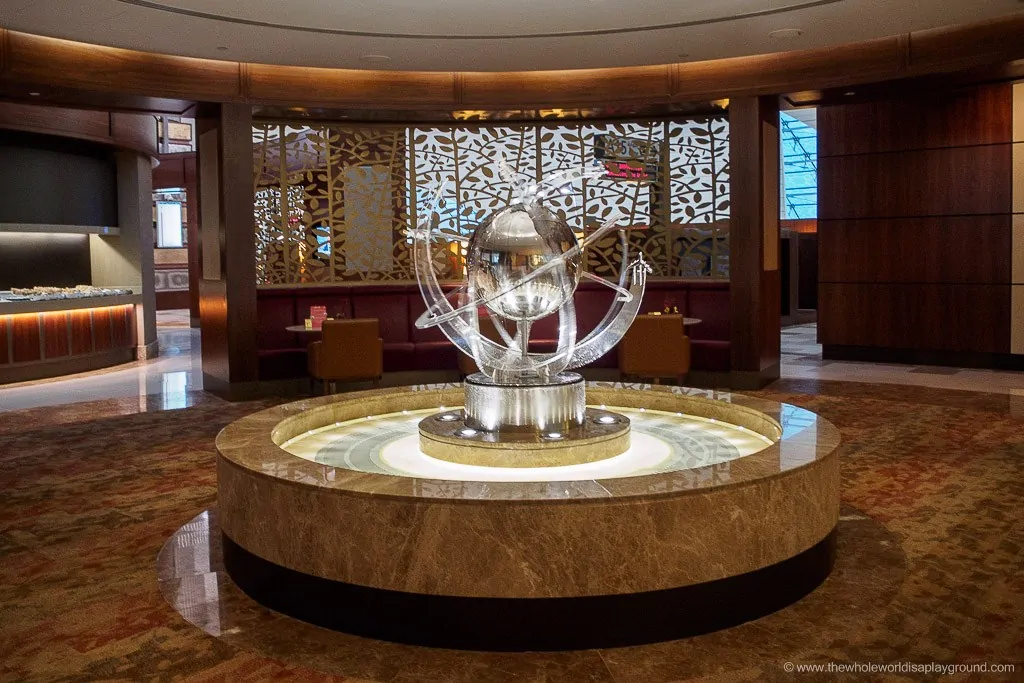 Priority Pass Lounges
A Priority Pass membership allows you to access Priority Pass lounges whoever you fly with no matter your class of travel. Anyone who flies regularly should seriously consider joining Priority Pass as their lounges significantly improve the travel experience. We love the app which allows you to check in at each lounge and overall the quality and availability of lounges around the world are very good. We've personally used Priority Pass for the past few years and highly recommend it.
There are three options available, standard, standard Plus and Prestige. We recommend the Prestige pass for frequent travellers (it's the one we use!) which offers unlimited visits throughout the year.
Click here to get your Priority Pass now!
Lounge Seating
The Emirates lounge has a host of seating options with the lounge sectioned into areas for dining, working, relaxing and getting some quiet time. The red, brown and neutral colours used throughout the lounge leave no doubt as to which airline it belongs to! We settled into the full length lounge chairs which were nicely equipped with a blanket and pillow and caught up on a little sleep before we set off to explore!
Sleep time! The quiet and mostly private mini rooms which were perfect for some down time: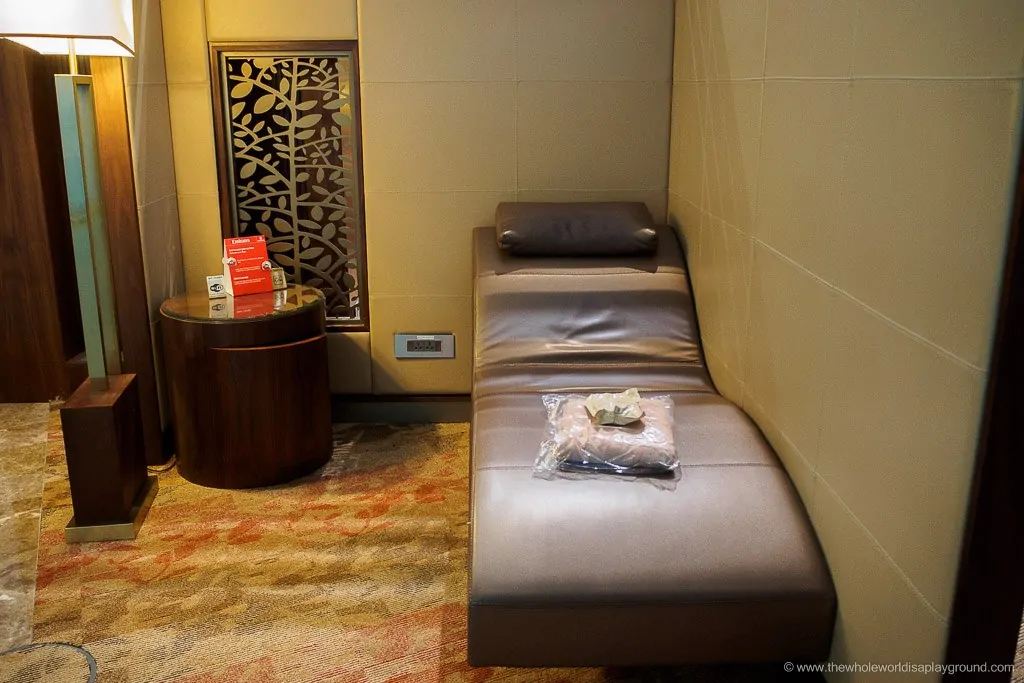 The library style armchairs:
A designated quiet area on the mezzanine below: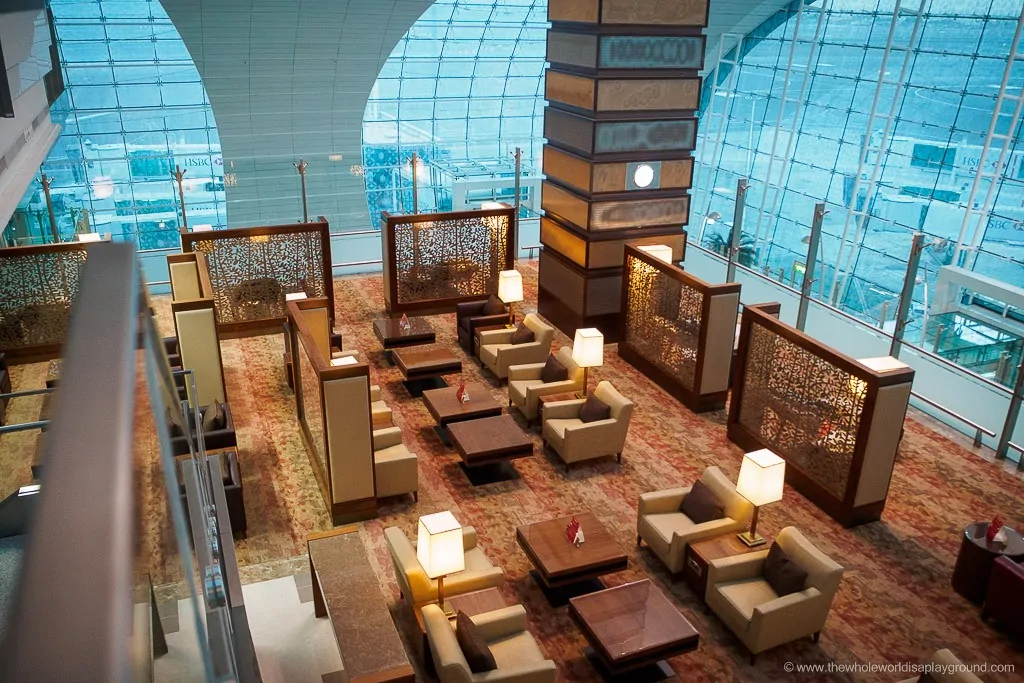 Restaurant style dining area: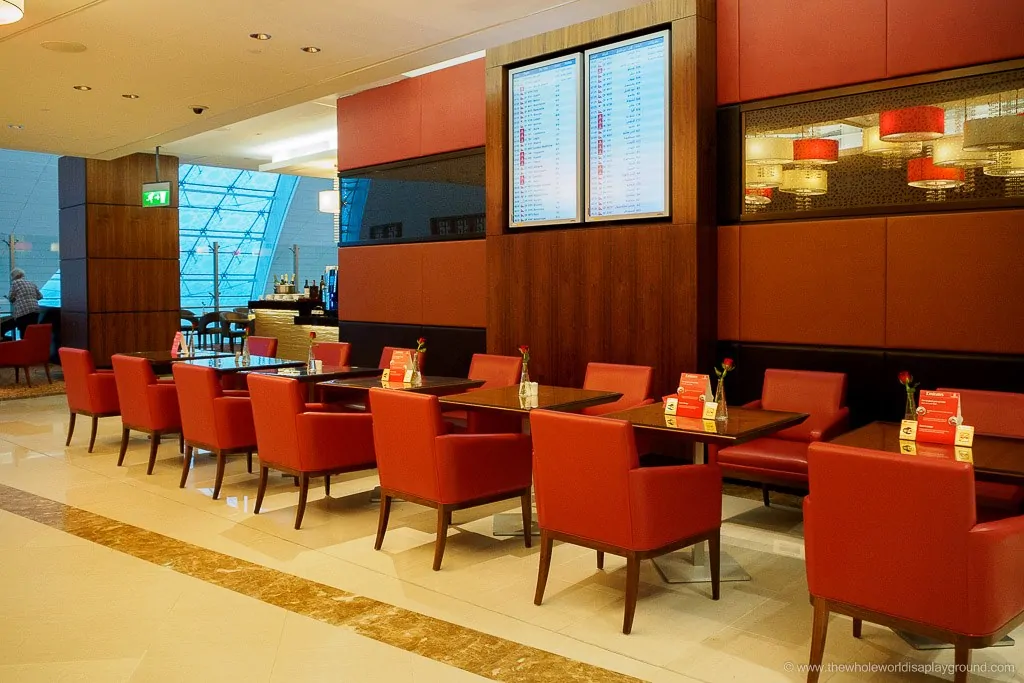 More chill out options: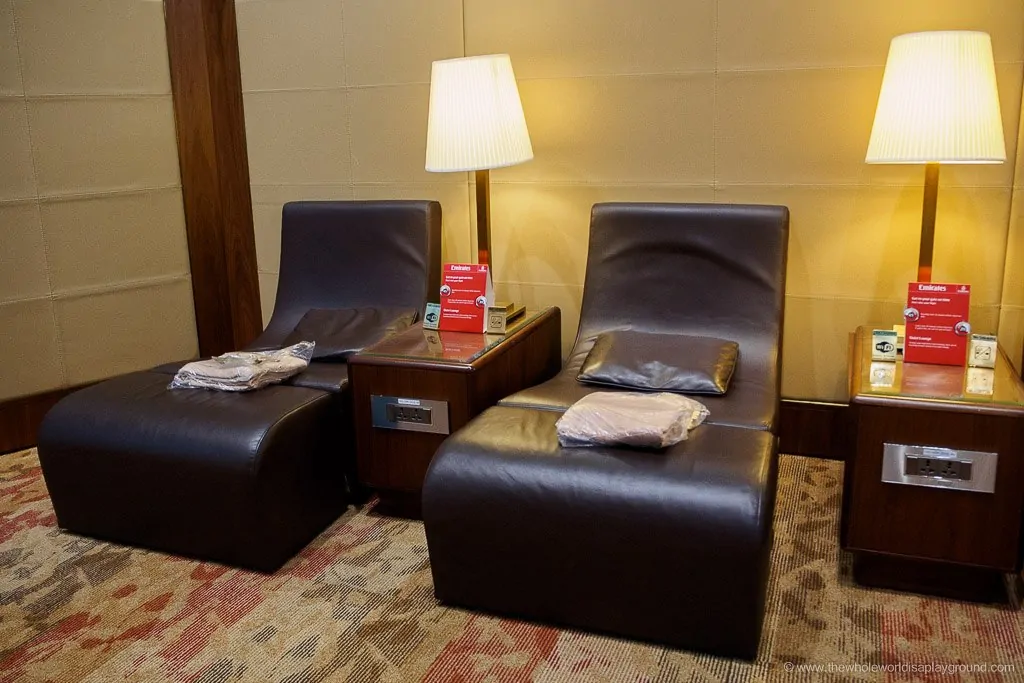 The TV room: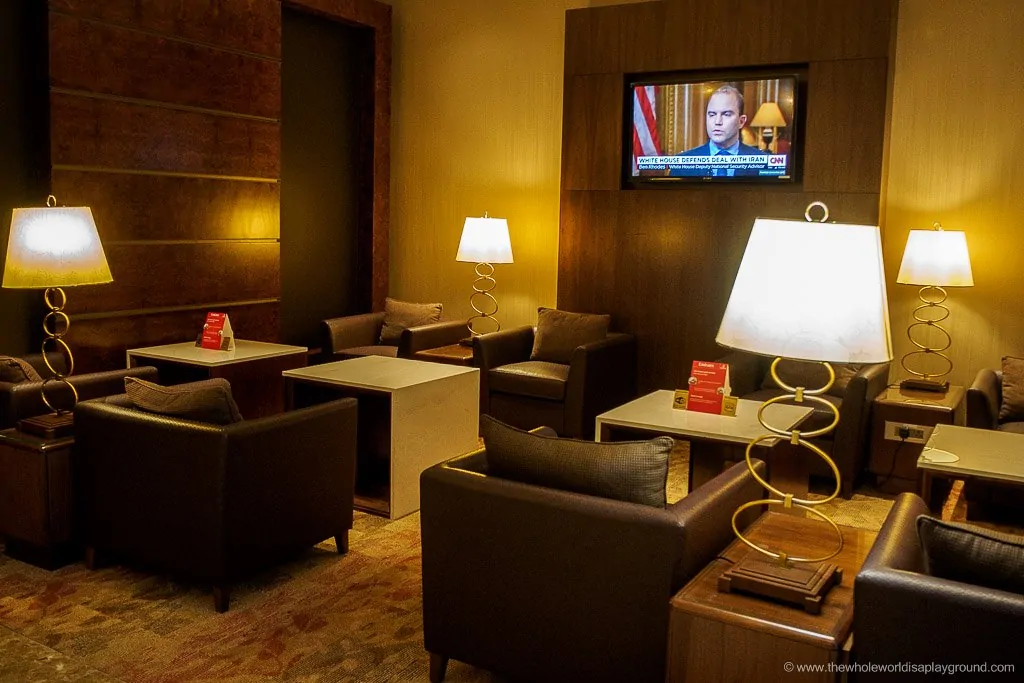 Food and Drinks
There were plenty of food and drinks options despite our 4am arrival time and a wander around the lounge revealed a number of full breakfast buffets scattered throughout the lounge dining areas. A wide range of drinks including champagne, spirits, wine and beer were available at the various bar locations. My popcorn, hot dog and champagne selection made me happy and quickly took its place as my favourite lounge meal EVER!
Staffed breakfast buffets filled to the brim with pastries and hot dishes: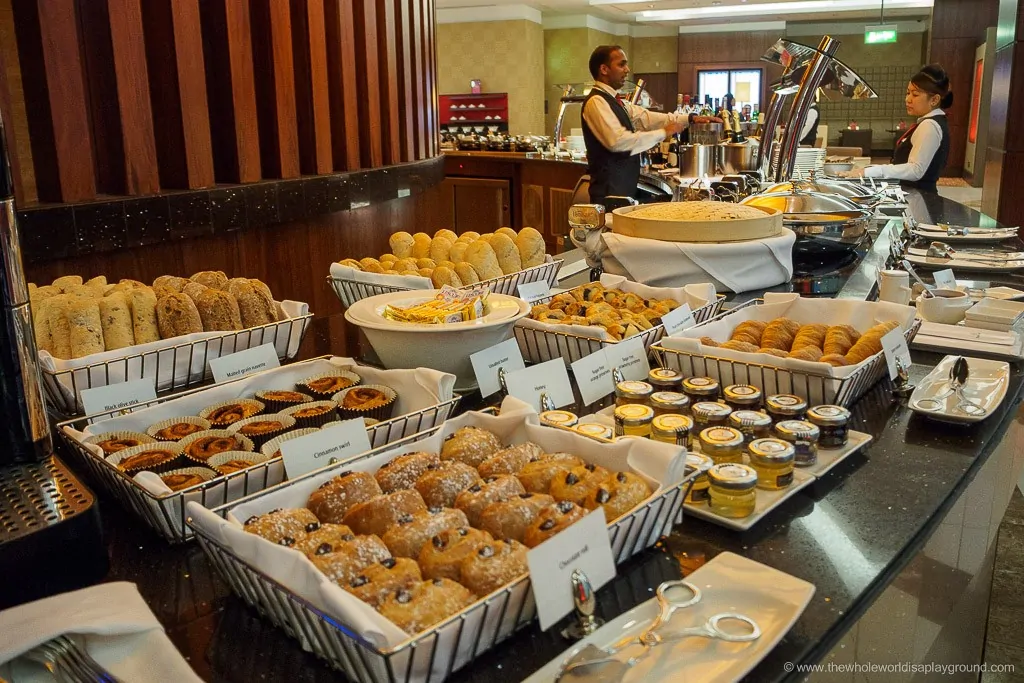 Fruits and yoghurt: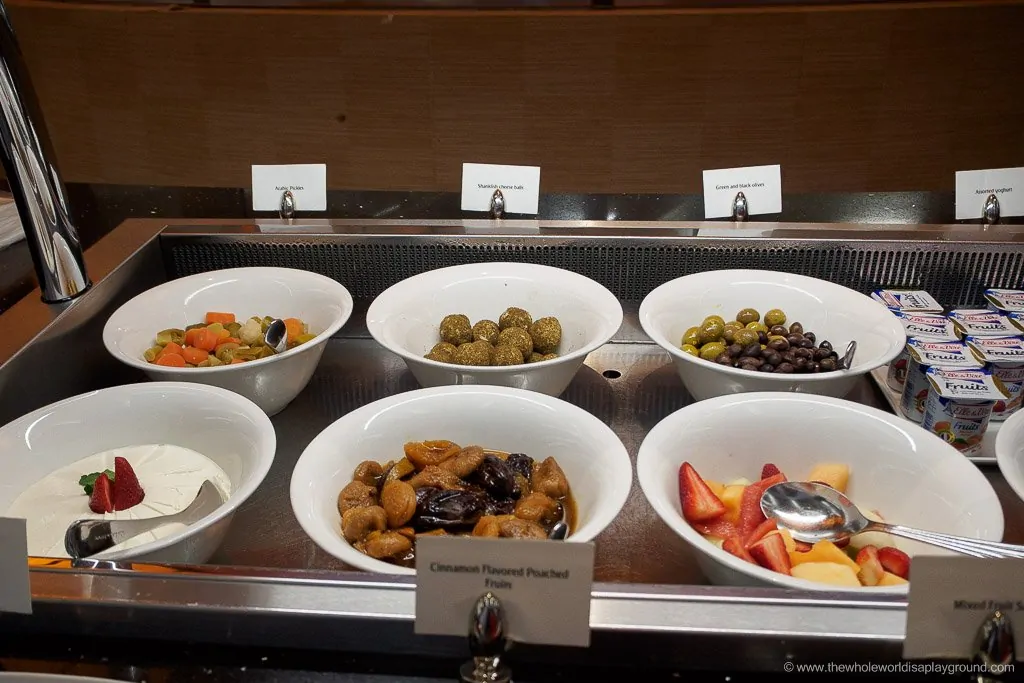 Fresh fruit and sandwiches: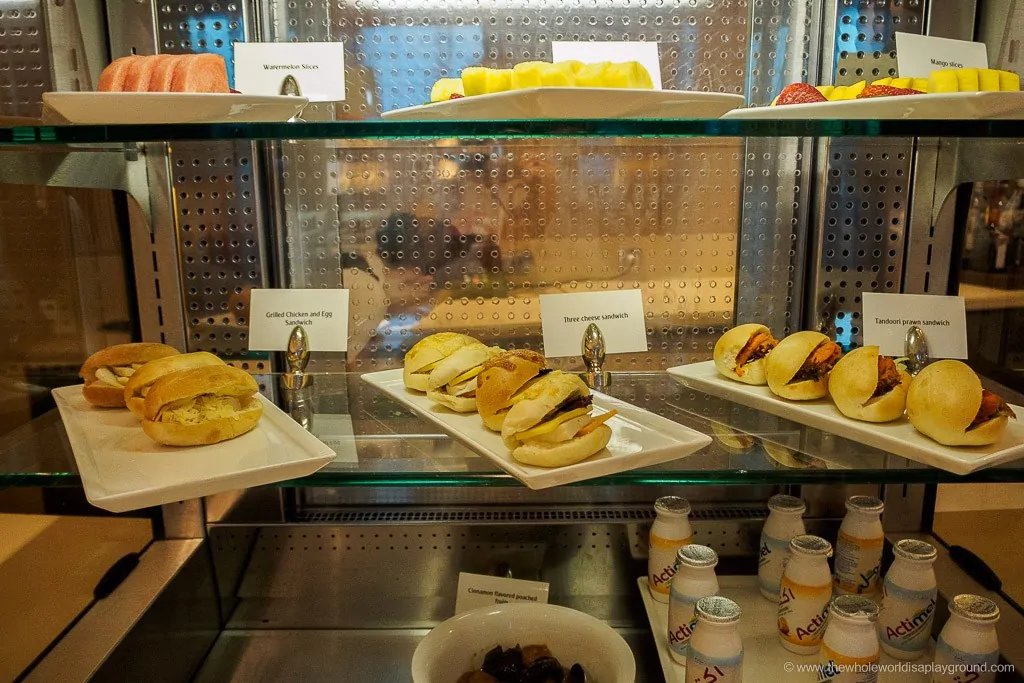 A popcorn machine!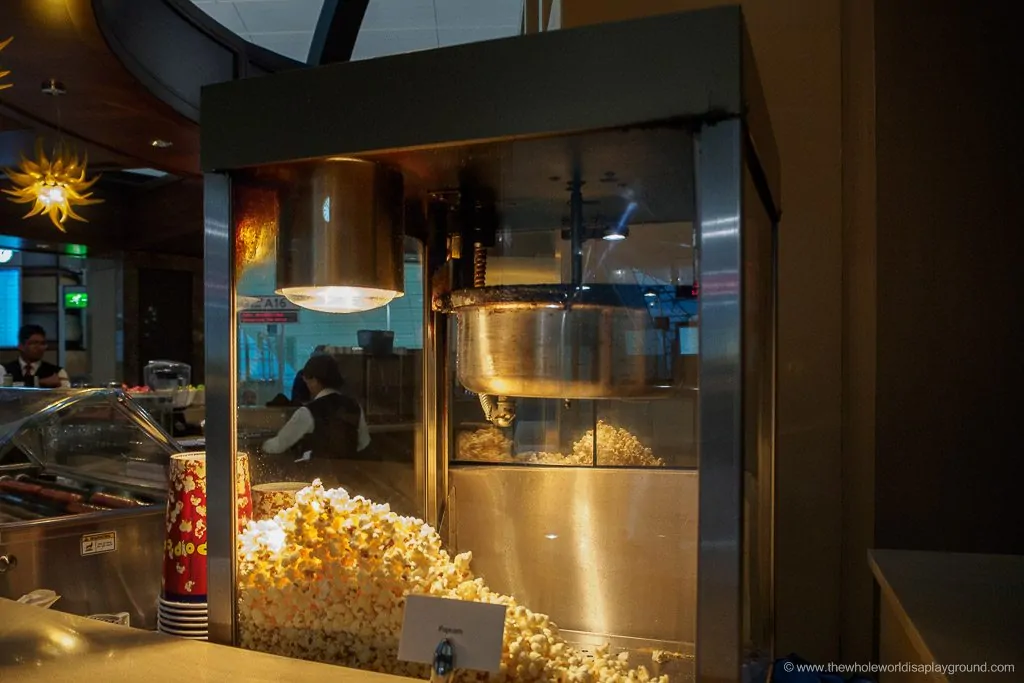 Moet for breakfast! Only on holidays we should add!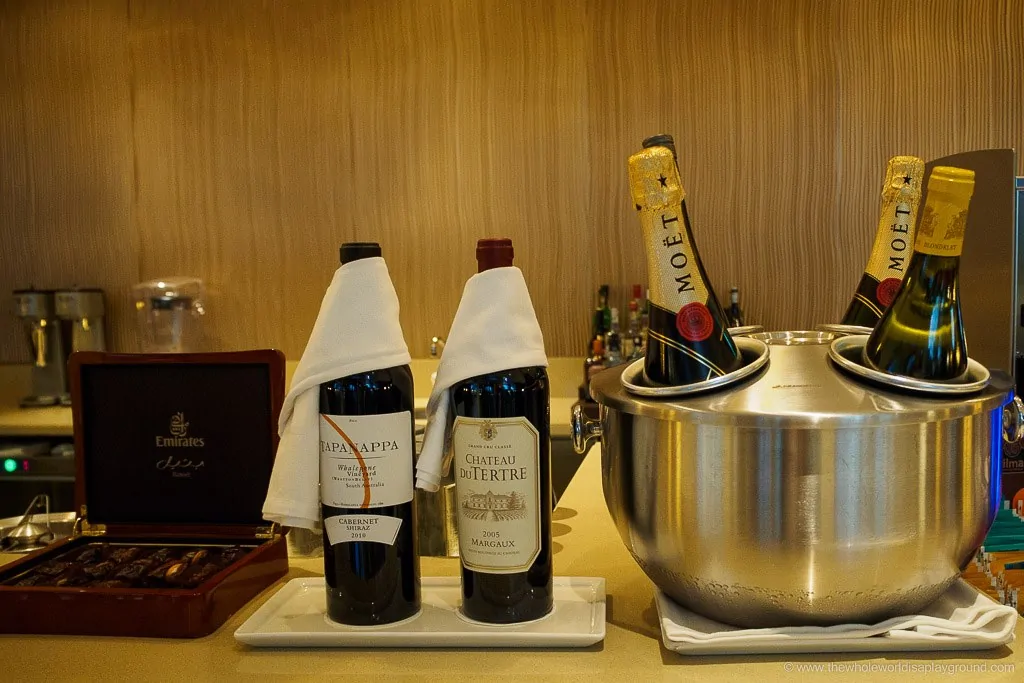 The best lounge dish ever!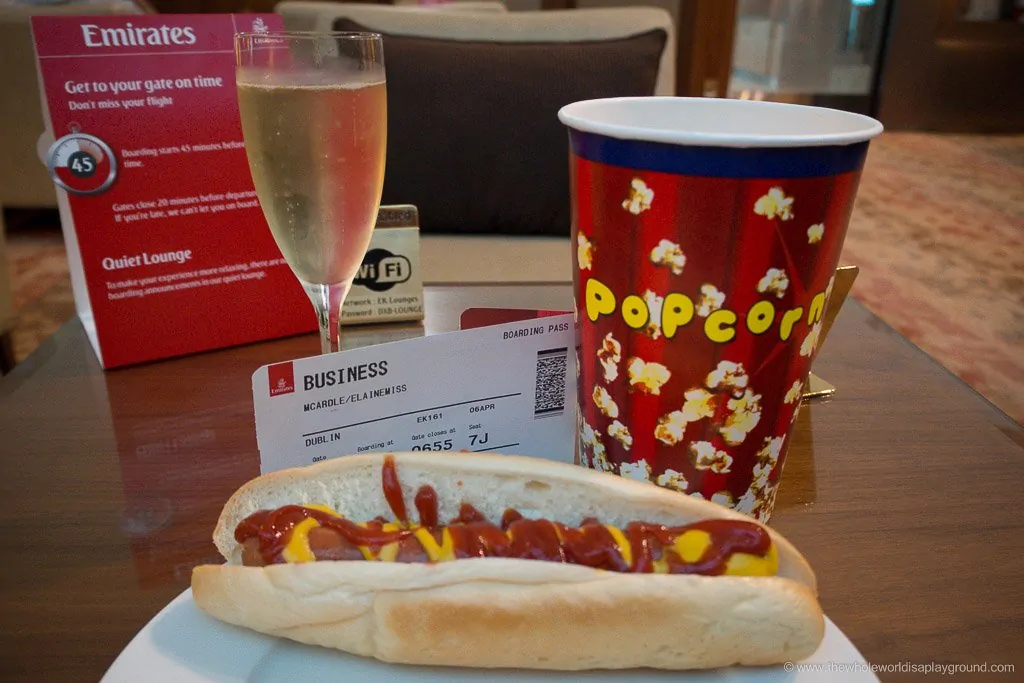 Facilities
The Emirates business class lounge has so many facilities it's hard to know where to start. The Timeless Spa is always a massive treat but unfortunately, we didn't have time to indulge. There is also well-equipped business centres, a children's playroom, prayer rooms and showers to freshen up. Fast wi-fi is available throughout the lounge.
One of the business centres: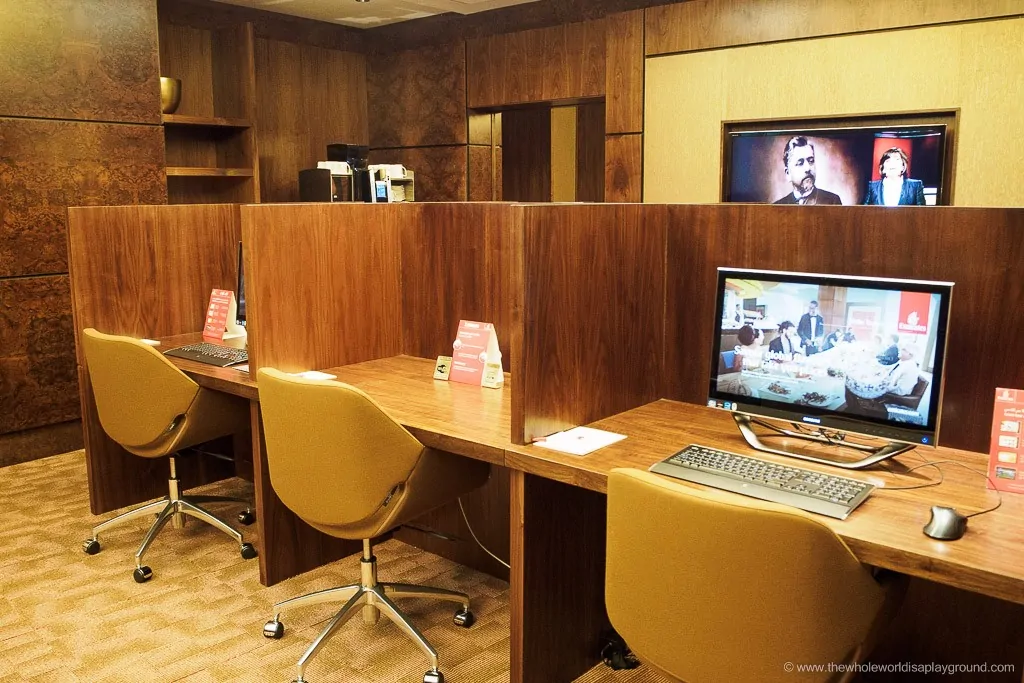 Location
The location of the lounge directly above the departure gates is perfect for maximising lounge time and minimizing gate time! Our Dublin flight required a bus journey to the plane and we did end up hanging around for a while waiting for the business class bus to arrive (we were happy to jump on any bus but they asked passengers to wait for the specified bus) but we got there in the end!
Gate access among the seating areas: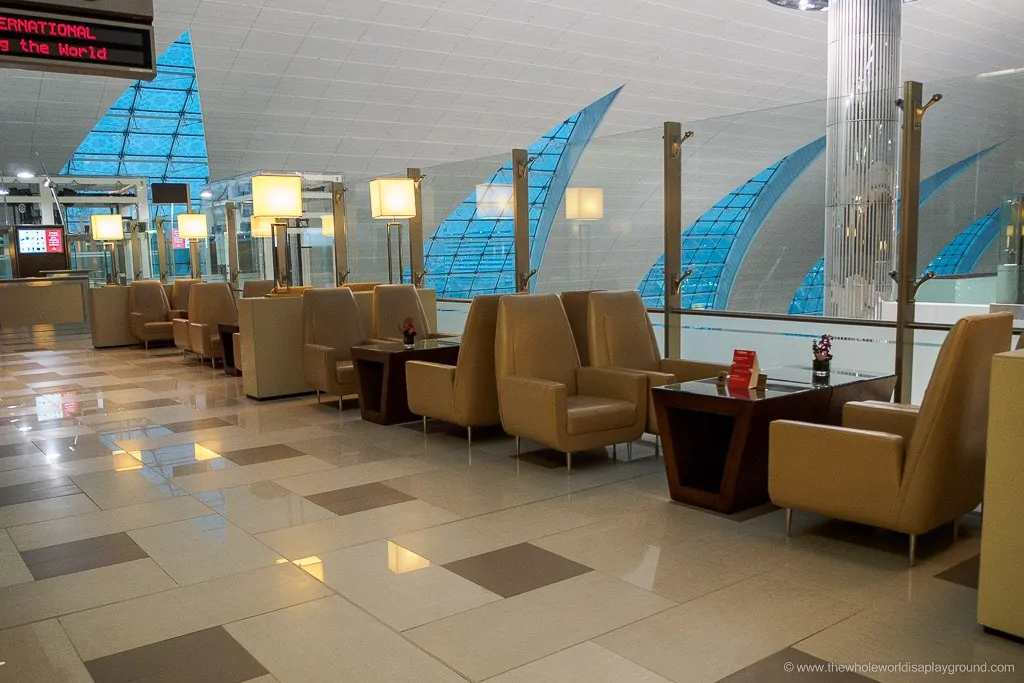 Access to the Emirates Business Class Lounge
We were granted access to the lounge with our business class tickets from Ho Chi Minh to Dublin. Business and First Class passengers can avail of the lounge as well as those who are eligible under the Skywards Frequent Flyer program.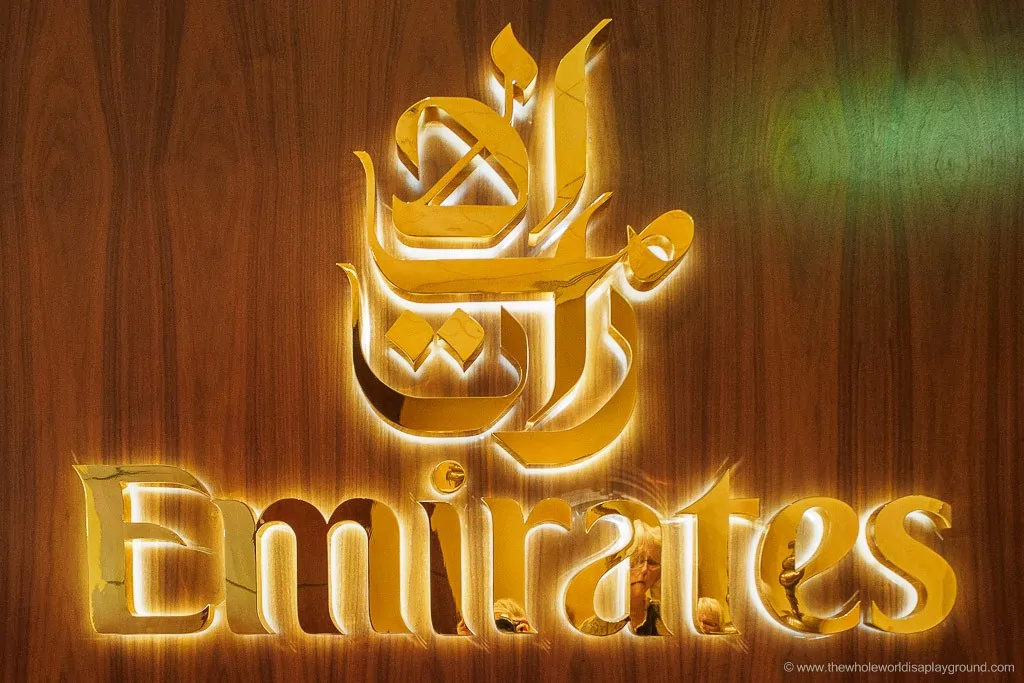 Overall
The Emirates Business Class lounge was a real treat and was beautifully decorated with excellent facilities, dining and service. The relaxation areas were a fantastic option for resting our tired heads after our middle of the night arrival in Dubai. The combination of popcorn, champagne and hot dogs pleased us no end (yes, it was 6am but we don't care!) and we only wish we had more time to explore and make use of the facilities on offer. Now we just need to find a reason to return. Dubai anyone?!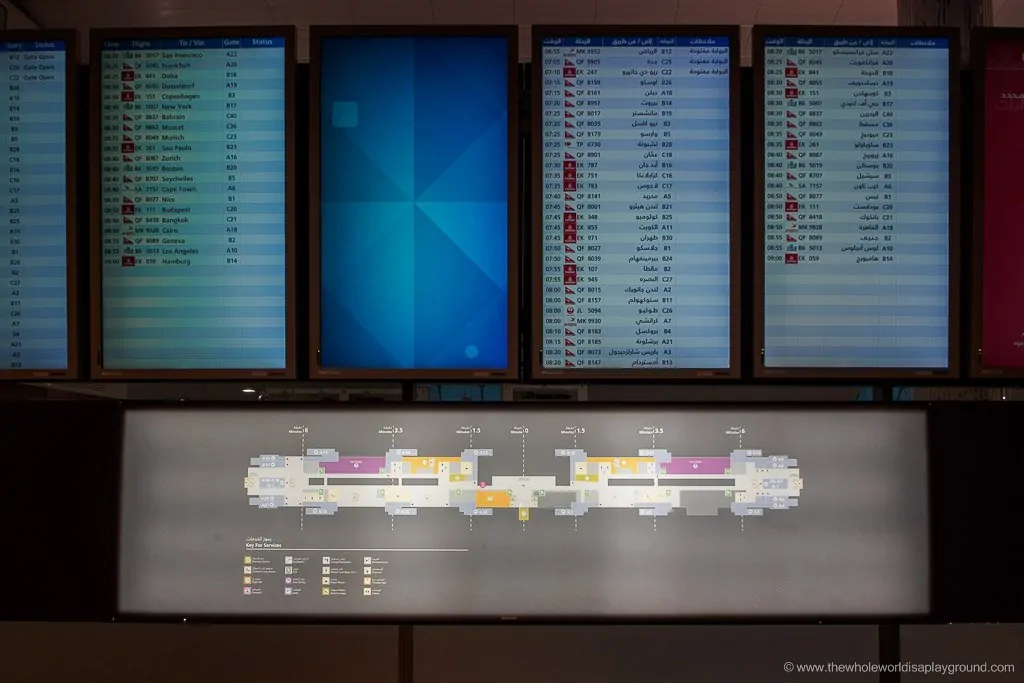 Read more about our week in Vietnam here!