I wish all my Thursday's were as good as the one spent in the Business Class cabin of an Etihad flight from London to Abu Dhabi. 'I have to go to Abu Dhabi on Tuesday, are you in?'. Not being one to miss a travel opportunity I responded with a 'hell yeah!'. After our amazing experience in the Emirates private suite from Hong Kong to Bangkok I couldn't wait to try Etihad, the national airline of the UAE.
On Board
The Business Class cabin had 32 seats on the London to Abu Dhabi flight and 22 on the way back to Dublin. The seats are in a 1-2-1 configuration and the cabin was private and quiet. The decor was quite modern and funky (for a plane!) with a beige and black theme running throughout.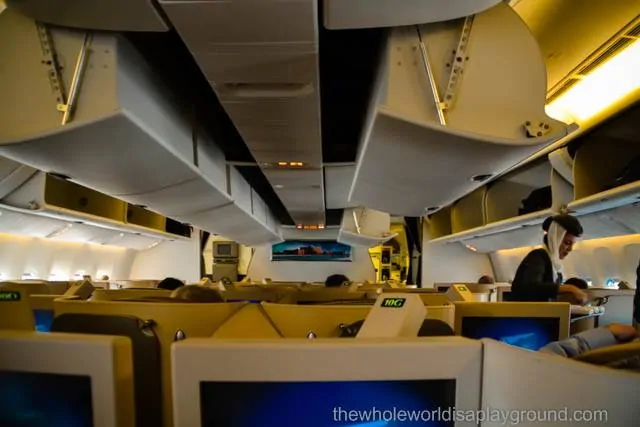 We were welcomed on board with a glass of champagne and a hot towel. Always a good way to start a flight!
The Business Class Seat
The seats are designed as private shells and convert into a flat bed when it's time to sleep. The seat is comfortable in both the upright and flat bed position and the soft comforter and pillow are cosy. I'm a sucker for a starry ceiling when the cabin lights dim and Etihad didn't disappoint!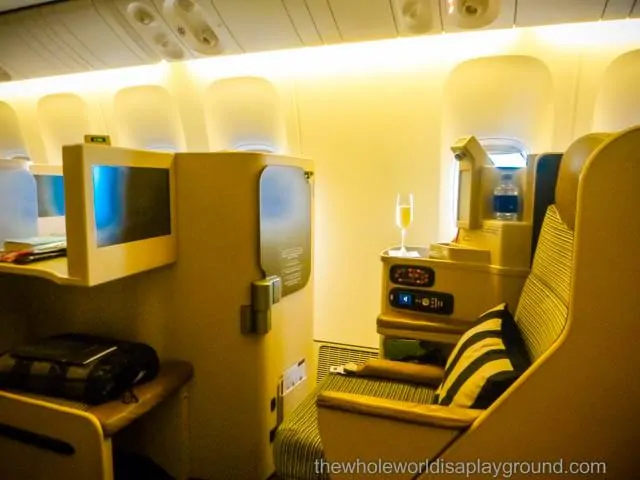 Sleep time!
The seat converted to a 6″1 flat bed so there was plenty of room for a shortie like myself. The husband measures in at bang on 6'1 and still found the seat comfortable and spacious.
The 15 inch LCD screens were perfect for viewing even when the seat was in a lie flat position. The E-Box entertainment was excellent and had 675 hours of on demand entertainment with a good mix of old and new and we were provided with a nifty pair of noise cancelling earphones. In flight wi-fi was available on the London to Abu Dhabi flight at an additional cost but we didn't use it.
There were in seat power sockets as well as USB, Ethernet and audio jack sockets.
Food and Drinks
On both flights we had a choice of breads, 3 starters, 4 mains and 4 desserts. There was also a Kitchen Anytime menu which was available throughout the flight. The drinks menu included a selection of soft drinks, waters, coffees and teas (a variety of green, herbal, black and traditional). This was accompanied by a separate beverage list on which the offerings were champagne, a choice of 3 white wines and 3 red wines, a dessert wine, a selection of spirits and liqueurs and 4 types of beer.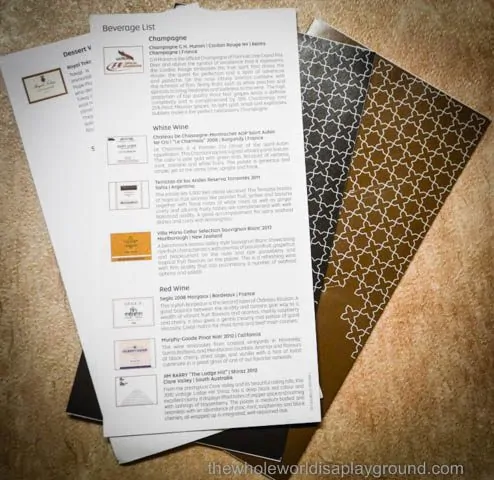 Starters:
The starter options on the London to Abu Dhabi flight were a traditional Arabic mezze, salmon terrine with avocado and a white bean soup. On the Abu Dhabi to Dublin leg there was the mezze, chili crab tian and a creamy parsnip and apple soup.
We had the salmon, the crab and the creamy parsnip soup and the three dishes were excellent and restaurant quality.
Main Courses
On the way out we had the choice of braised beef cheeks, baked chicken breast with sumac, grilled sea bass and ravioli filled with mozzarella.  The options on the way home were Arabic spiced lamb ouzi, pan fried sturgeon fillet with lemon cream sauce, grilled beef tenderloin with redcurrant jus and a duo of vegetable cannelloni.
We tried the baked chicken, the ravioli, the grilled beef and the cannelloni. The mains were fine but not anywhere close to as exciting as the starters. The pasta was on the good side for a pasta dish but certainly not outstanding. Not surprising given that I've only ever tasted one outstanding pasta dish in a restaurant (Rome, enough said) despite many years of vegetarian restaurant eating.
Desserts and snacks
On the way to Abu Dhabi the desserts were a warm date custard slice, a banana and toffee gateau, fresh fruit with mango coulis and a selection of ice creams. The Dublin leg choices were wild berry cheesecake, a chocolate cardamom and orange pudding, fresh fruit with kiwi coulis and a selection of ice creams. And of course the obligatory cheese board.
Since Abu Dhabi was 30 degrees and involved a bikini I resisted the desserts on the way there. Self restraint at its finest! Between us we tried the custard slice, the cheeseboard and the wild berry cheesecake. Everything was excellent. Please sir, may we have some more?!
The snack menu was extensive with a hot sandwich, a savoury pie, potato chips, cookies, crisp breads and Arabic baklava. The desserts were also available any time on this menu. The pies and hot sandwich were delicious and the portions were generous. The crisps and cookies were also good. Don't judge me, we were on the way home to Ireland and the bikini was replaced with a winter coat!
Drinks
There was only ever going to be one beverage to accompany the food. Our champagne habit lives on strong! We enjoyed a Lanson Black Label Brut NV on the way to Abu Dhabi and a GH Mumm Cordon Rogue NV on the way home, both of which retail at around £30 in the UK. We enjoyed both champagnes but, bear in mind, we rarely dislike a drink with bubbles!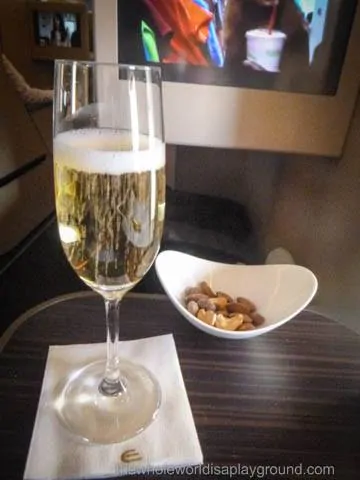 The food was excellent and some of the dishes were easily the best I've eaten in the air. The starters and desserts were exquisite but the average main courses let the overall standard down slightly. The Kitchen Anytime menu was a highlight and everything we sampled was presented beautifully and tasted delicious.
The stand out dish was the salmon terrine with avocado and a lime scented cream. I would pay lots of dollars to eat this in a restaurant. Or maybe I'll just treat myself to another Etihad flight!
The star of the show:
The Perks
As if the spacious seat, a lie flat bed, lashings of champagne and delicious food wasn't enough to spoil us there was also the chauffeur service, goody bags and a security fast pass.
The Amenity Kits
The eco friendly amenity kit contained cosmetics from Korres (lip balm and hand and body lotion), an eye mask, cotton buds, pads and an emery board and a toothbrush and toothpaste.
Chauffeur Service
Etihad provides a chauffeur service for first and business class passengers. In London, the chauffeur service extended to 100 miles from Heathrow and in Abu Dhabi it included anywhere within the Emirates.
Fast track immigration and baggage
We arrived in Abu-Dhabi late in the evening and there were no queues for immigration. Our baggage came out somewhere in the middle of a mix of the tagged priority and non priority baggage.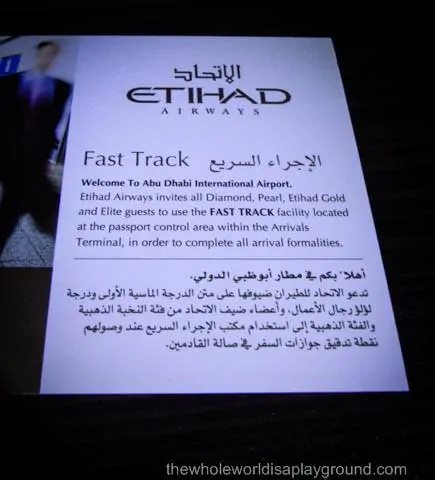 Overall
Etihad rocks! I have to admit, I wasn't immediately impressed when I entered the business class cabin (it reminded me of the older business class products) but I was very wrong. The seat was comfortable, the food and drinks were excellent and plentiful and the service was excellent on both flights. The layout of the cabin works extremely well and my seat felt spacious and secluded all at once.
I wouldn't hesitate to fly with Etihad again and would love to try the Etihad A380 Business Class cabin next!
Where to sit?
The Etihad Business Class cabin has a 1-2-1 configuration so every passenger has direct aisle access.
For travel buddies:
Rows with seats E and F are a cosy and secluded space with the seats together and are ideal for people travelling together. Across aisle seats C and D or G and H are also good for travel companions as it's easy to see and chat to the person you are with.
For solo travellers:
Seats A, C, D, G, H and K are ideal for travelling solo with rows A and K especially secluded. For me, rows E and F are way too close for comfort and I would avoid selecting these seats when travelling alone.
Etihad Dublin/London to Abu Dhabi: Etihad fly from London and Dublin to Abu Dhabi multiple times daily