Sicily is the largest island in the Mediterranean and home to beautiful beaches, fantastic foods and many incredible sights. Renting a car in Sicily is one of the best ways to experience everything the island has to offer. We spent an incredible two weeks road tripping around Sicily, taking in the towns and cities of Palermo, Cefalu, Taormina, Syracuse and Agrigento. We stopped by beautiful beaches, visited Sicily's 7 UNESCO World Heritage sites, enjoyed epic sunsets and sampled delicious food, all of which were easily accessible with our rental car.
We found driving safe and easy and we highly recommend renting a car in Sicily. Here are our tips for renting a car in Sicily to help you on your journey!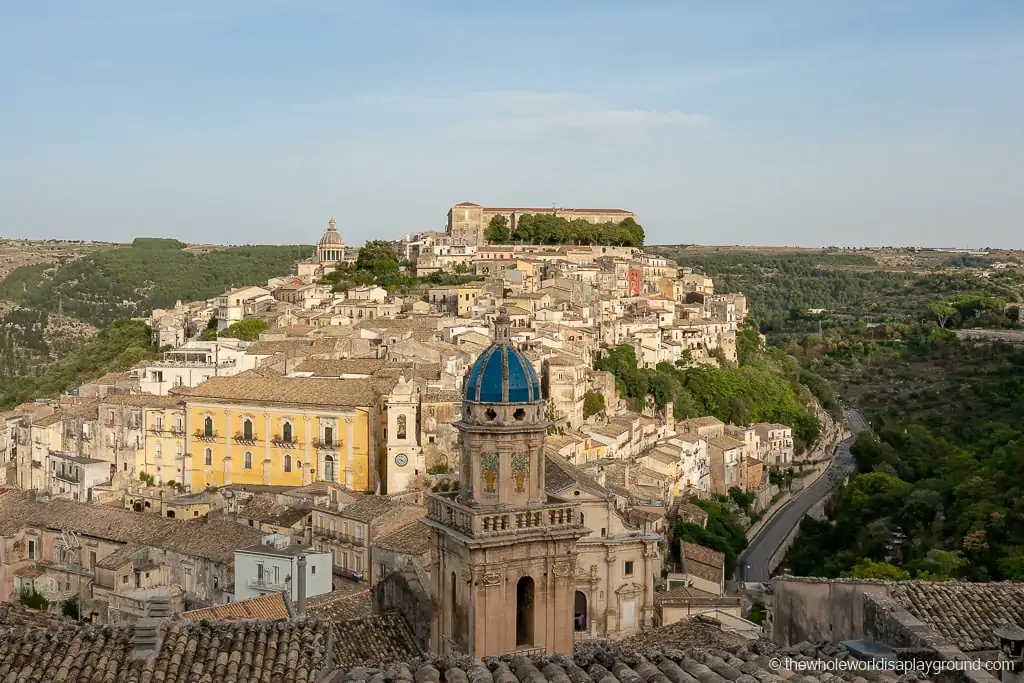 Why Rent a Car in Sicily?
For anyone planning a trip to Sicily we highly recommend renting a car for your time on the island. Renting a car in Sicily is probably the best way to see the island and allows you the flexibility to explore this incredible island at your own pace.
Our rental car allowed us to explore the towns and cities and also visit all the bucket list places in Sicily at our own pace, including the ancient Greek sites of Segesta, Selinunte and the Valley of the Temples in Agrigento, the stunning Villa Romana del Casale, the UNESCO towns of Ragusa, Modica and Noto and to visit Mount Etna. Without a rental car it would be difficult and a lot more expensive to visit these places.
While it's possible to explore many of Sicily's towns and cities via train, a rental car gives you the freedom and flexibility to explore everything Sicily has to offer.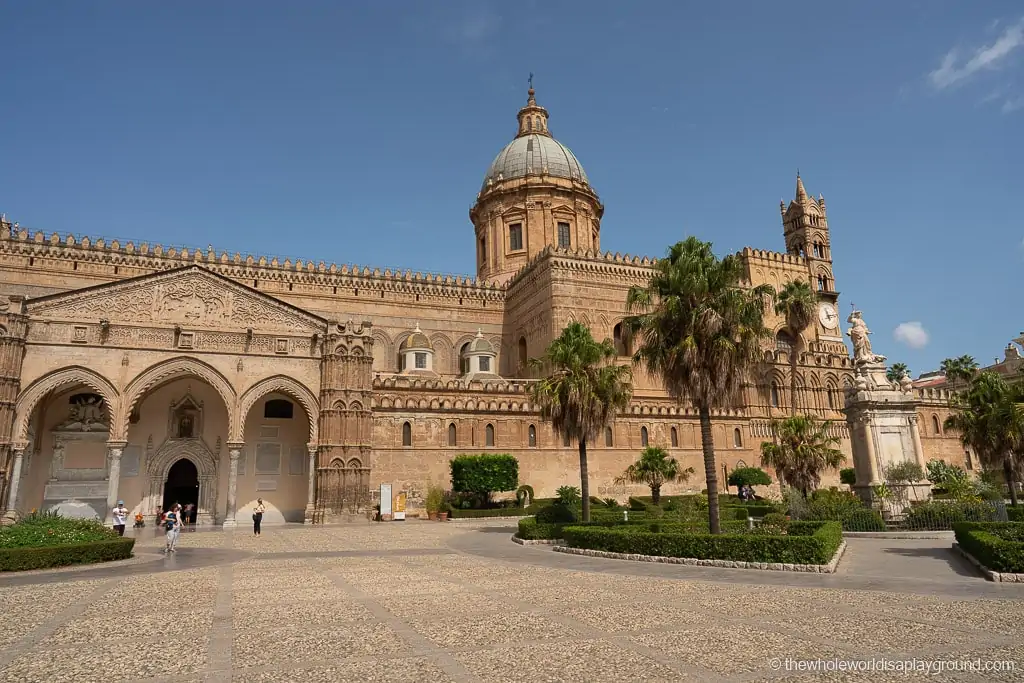 Tips for Renting a Car in Sicily
1 | Booking your rental car
We found renting a car in Sicily a little more expensive compared to renting a car on mainland Italy. Make sure to shop around and book your rental car well in advance (especially in peak season) for the best price. We booked our rental through Avis via RentalCars.com and had a great experience
We're huge fans of road trips and have driven rental cars in almost 50 countries so we have a lot of experience renting cars in foreign countries. We recommend using RentalCars.com to reserve your car. We've always found they have a great selection of cars and providers at competitive prices – check prices now!
Book your Sicily rental car now
2 | Choosing a rental car – do you need a small car for Sicily?
We'd read prior to our trip that renting a small car is recommended in Sicily. It's definitely true that a small car can be an advantage when navigating the winding streets and squeezing into hotel car parks. On the flip side, having driven into most of the major towns and cities with the estate saloon that we rented, having a larger car is not really a huge deal so go with whatever vehicle type you feel most comfortable with. Street parking is hard to find anyway and the paid parking lots all had plenty of room for estates and SUVs.
We rented a Fiat Tipo estate (we had 4 passengers and plenty of luggage!) and had no issues parking or driving it wherever we wanted. If you need the extra space for passengers, luggage or even just extra comfort then go for it! The road journeys between the main stops are also relatively long and we'd recommend the comfort of a larger car over a smaller one.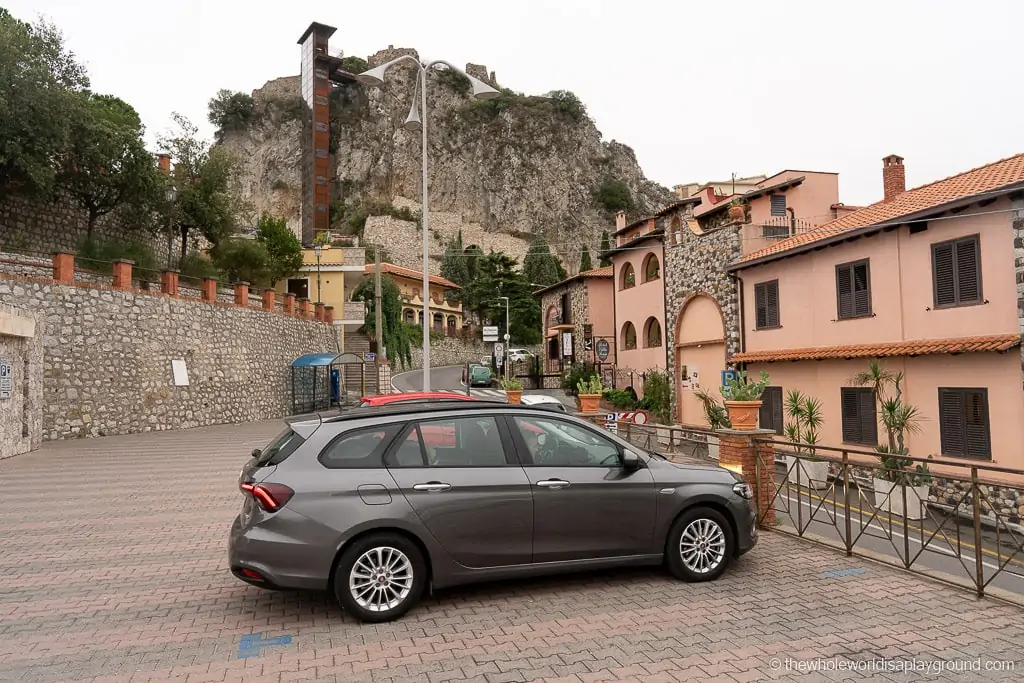 3 | Rental Age Eligibility
Most rental companies require drivers to be at least 19, however, drivers between ages 19-25 will likely have to pay a young driver surcharge which varies by rental car provider. Certain higher vehicle classes are only available to renters over age 25.
4 | Air Conditioning
Sicily gets hot. Extremely hot! When we visited in September temperatures were around 25-30 degrees Celcius (85 Fahrenheit) and during the summer months, it's even hotter. It is really important to make sure your car has good (and working) AC when you pick it up as you'll likely be using it a lot during your trip!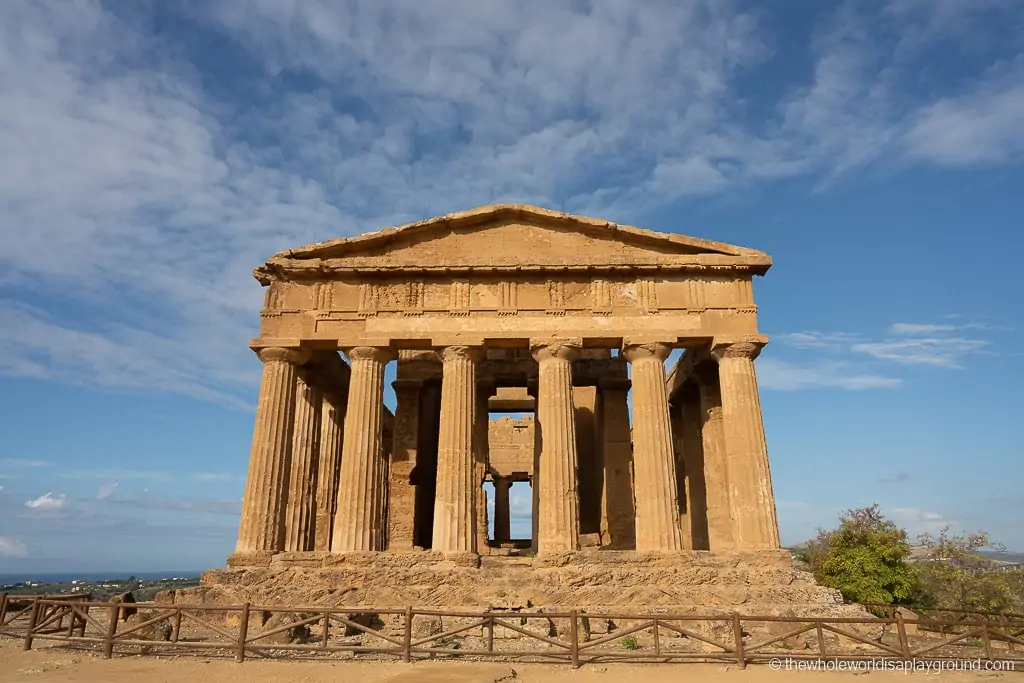 5 | Buy all the insurance!
Make sure you are fully insured! Italian law requires that you must hold Collision Damage Waiver (CDW) and Theft Protection insurance and these are included as standard through most of the rental companies. They generally have an excess (meaning you have to pay the first say EUR 2,000 in the case of damage) so, for peace of mind, we recommend taking out the additional insurance to cover all damage to your car – this means you don't have any excess remaining on your rental agreement and so won't have to make an additional payment if your rental car incurs damage.
Best case, your car is likely to get a few small knocks and dents during your time in Sicily so make sure you have full insurance coverage on your rental car. It's just part and parcel of driving and parking in the towns and cities in Sicily. The narrow parking garages, passing mopeds, winding narrow streets and overall hectic driving means you'll likely get a few minor dings and dents on your rental car.
The additional insurance will add to the cost of your rental (it can be around EUR 20 to EUR 35 per day depending on the size of the vehicle) but we believe its worth it as it removes the stress of minor damage to the car!
Most rental car companies on RentalCars.com allow you to add this insurance in at the time of booking so you won't get any price shocks when you pick up your car – check prices now!
Book your car and insurance on RentalCars.com
Renting a car in Sicily tip: Many credit card companies (especially US ones) offer car rental insurance with CDW (Collision Damage Waiver) cover – make sure to check with your car provider to ensure it covers Sicily/Italy before you travel.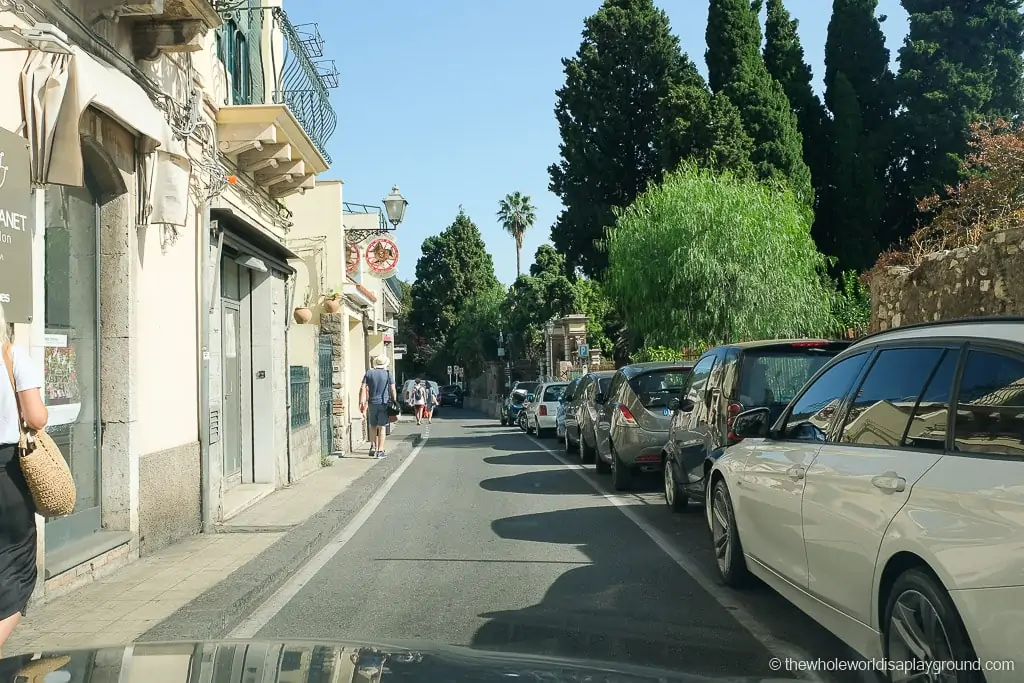 6 | International Drivers Permit (IDP)
An International Drivers Permit (IDP) is an official document separate from your driving licence that is a translation of your actual driver's licence to a number of different languages. This allows authorities in the country you are visiting to understand your actual driving licence.
If you hold a drivers licence from outside the European Union then you will need an IDP in order to rent a car in Sicily as it's required by law. We didn't require an International driving licence as we have a European driving licence but we both have an IDP which we renew every year to cover our travels.
An IDP is easily and cheaply obtained in your home country before you travel. You cannot get one after you leave your home country.
Renting a car in Sicily tip: Most rental car companies will ask for an IDP if you don't hold an EU based drivers licence but the responsibility is on you to have one. It might be an issue if you are stopped by the police or if you are in a traffic accident. Make sure to check the rules of the rental and if you require an international licence prior to travelling.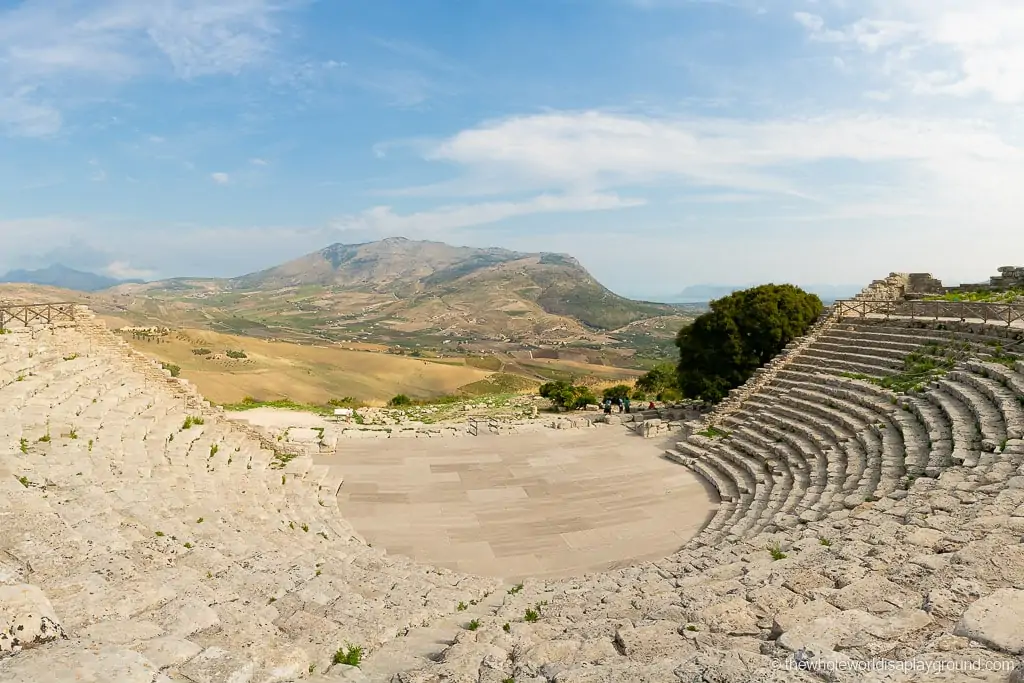 Driving Tips for Sicily
7 | Drive on the right-hand side of the road
Driving in Sicily (just like mainland Italy) is on the right-hand side of the road similar to most of Europe and the USA.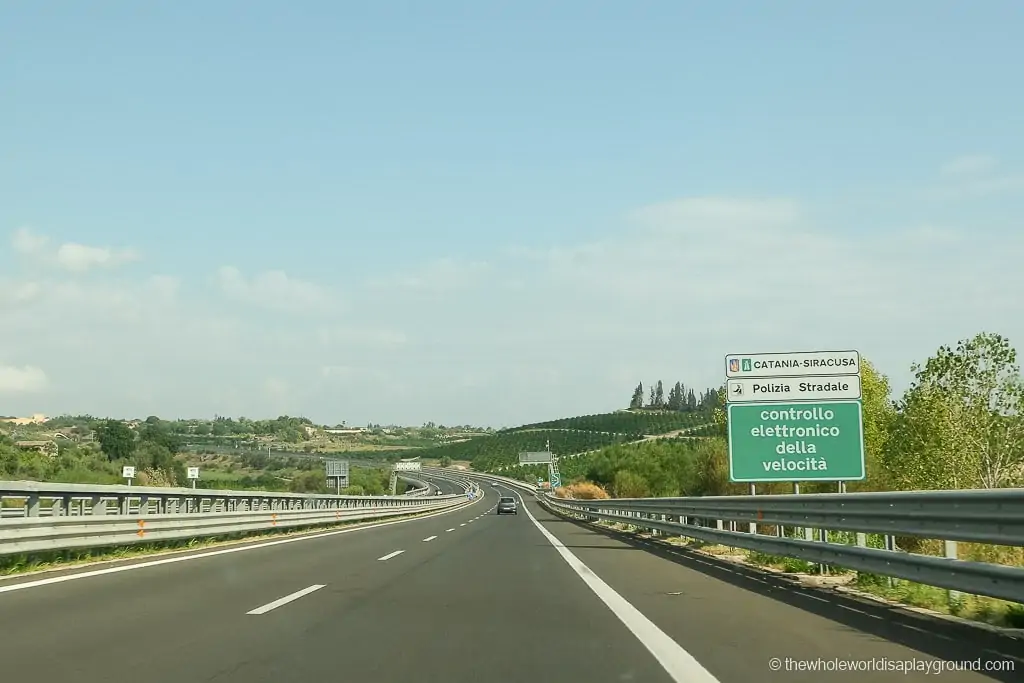 8 | Driving Style
The driving style in Sicily is quite unique! It's a mix of one-of-a-kind, part relaxed island driving combined with a dash of chaotic mainland city driving. It's pretty easy to get used to once you stay in your lane and check every mirror (twice) before you make a move! Our advice is to take it slow, don't change lanes without checking all your mirrors and just go with the flow until you adjust to it.
9 | Roundabouts (Traffic Circles)
Let's talk about roundabouts in Sicily! One of the biggest differences driving in Sicily (compared with the rest of Europe) is how Sicilians approach roundabouts (or traffic circles for our US readers).
In our experience in most countries, the usual rules of a roundabout go like this: cars entering the roundabout give way to cars already on the roundabout and enter when there is a space. This allows for free flowing traffic through the junction. However, in Sicily, it used to be the case that traffic on a roundabout had to give way to vehicles entering the roundabout and some drivers still maintain this driving style today. To complicate things a little further, some roundabouts still have road markings which mean traffic on the roundabout must yield to that entering.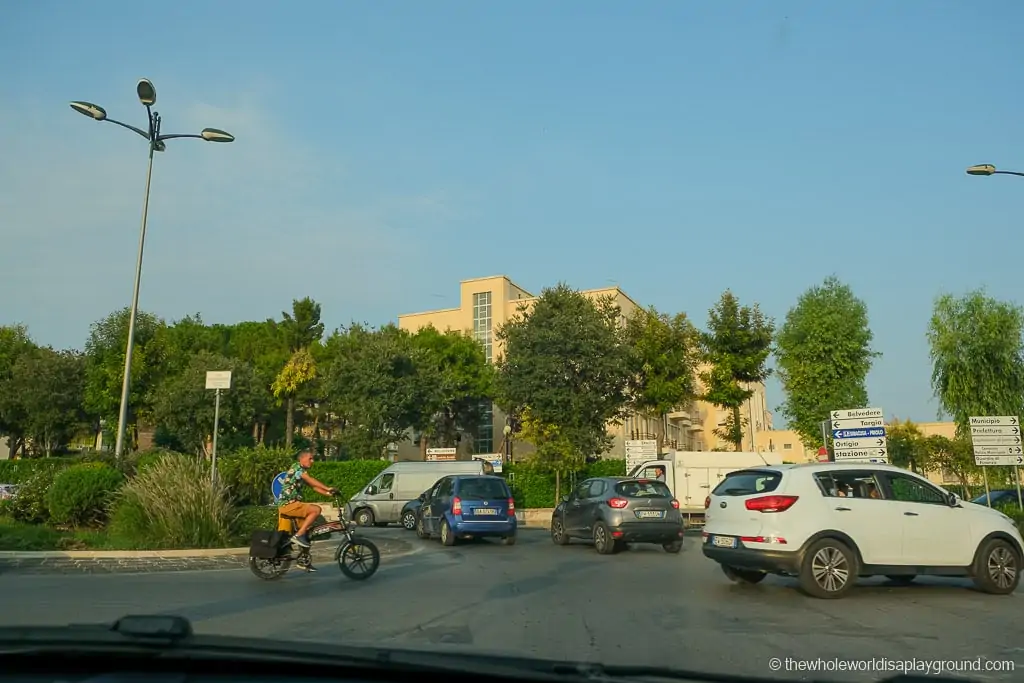 So be prepared for cars simply jumping onto the roundabout and be ready to let them on. Add some mopeds and electric scooters to the mix and this Sicilian method takes a bit of getting used to!
The roundabouts are one of the highest risk places for an accident when driving in Sicily so it's worth taking your time and allowing for the possibility that cars will enter the roundabout when you don't expect them to!
10 | Mopeds, E-scooters and E-Bikes
Having driven around Sicily, navigating the high volumes of moped and electronic bikes and scooters was probably our biggest challenge after navigating the roundabouts!
The drivers don't always beep to let you know they're there so make sure to always check your mirrors really well before changing lanes or moving your road position. It is super easy to miss spotting a moped, especially in city traffic. It's easier to spot them at night but during the day in the towns and cities, it can be hard to see a moped undertaking or overtaking.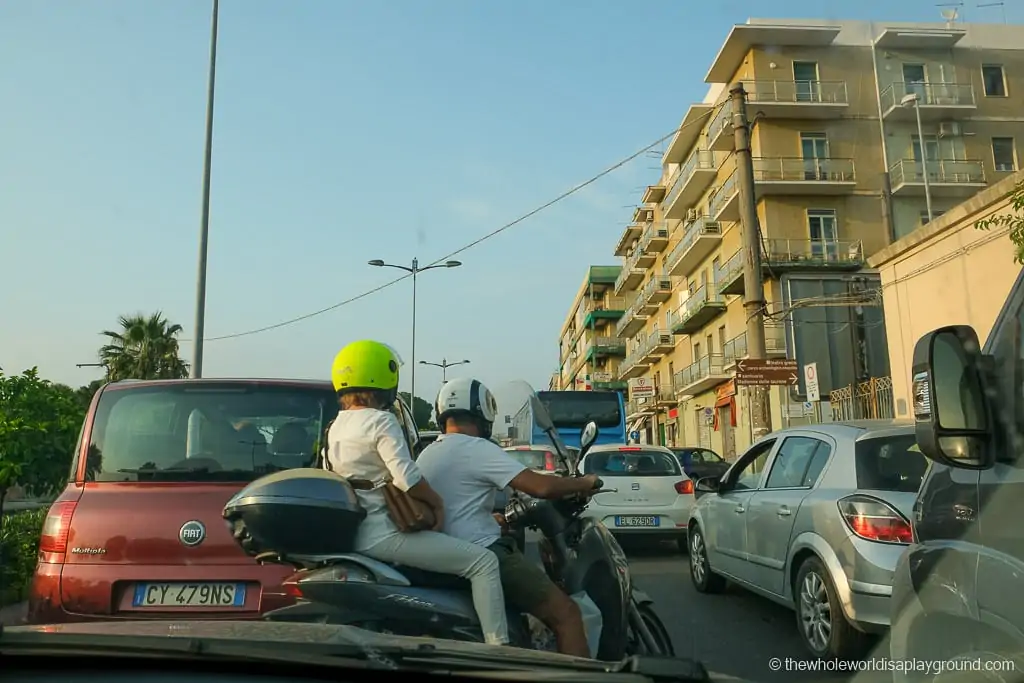 11 | Speed limits
At the time of our visit, the speed limit on motorways was 130kmph unless otherwise marked, while local roads vary from 50 to 100kmph. Make sure to check this is still the case when you travel and watch the road signs closely.
12 | Drive Times
Sicily is a surprisingly large island and has drive times to match. It has a good road system by European standards but due to the nature of the roads and the long distances, it is can be very easy to underestimate the drive times.
Autotrada/Motorways (A/E roads)
The motorway system in Sicily is reasonably good and links the cities of Trapani, Palermo Catania, Messina and Syracuse well. Travel times between the cities is reasonable as you'll be on a motorway the entire time.
Renting a car in Sicily tip: We encountered a lot of roadworks on the various motorways in Sicily as they are improved/upgraded. Due to this allow some extra time on your journey.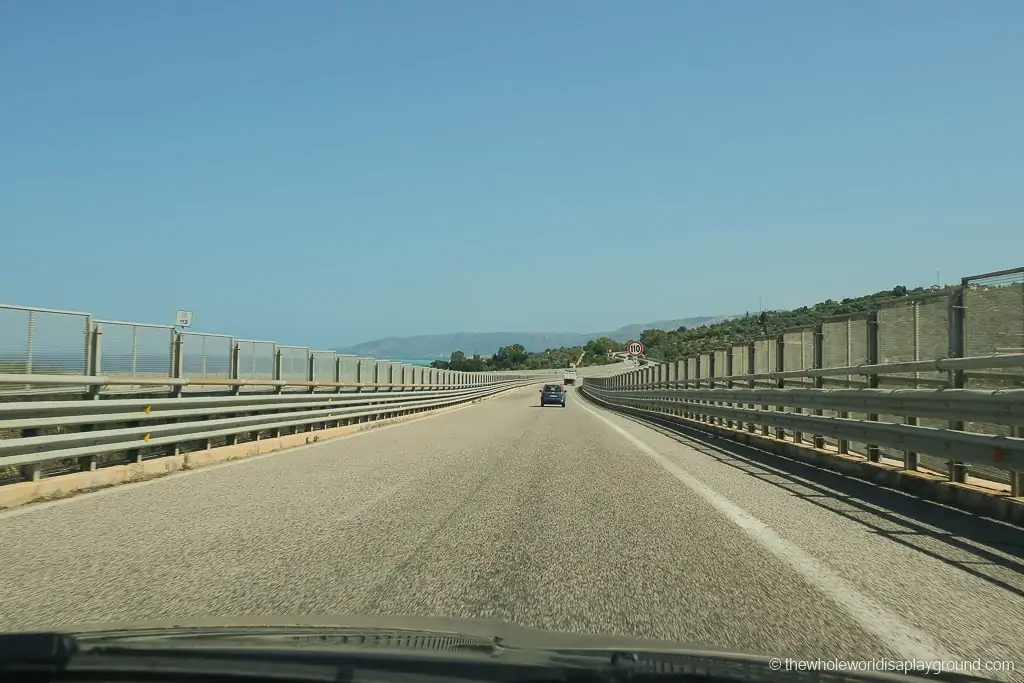 Regional Roads (SS / SP routes)
The regional roads are where most visitors will experience extended drive times. If you plan to explore the southern parts of Sicily (e.g. Agrigento, Gela, Ragusa etc) as we did then you will have to use these secondary regional roads. While there were good quality roads (the SS routes in particular), drive times are a lot slower as the roads tend to be windy and go through more towns. Allow are least 30% extra drive time on these routes.
One of our most time-consuming drives was our trip to the stunning UNESCO site of Villa Romane del Casale. This is a very popular destination for visitors to Sicily and for good reason, it is a beautiful Roman villa packed with incredible frescos.
Renting a car in Sicily tip: Villa Romana del Casale is definitely worth visiting but be aware is that it's around a 90minute – 2 hour driving detour on secondary roads. Definitely allow extra drive time on this journey.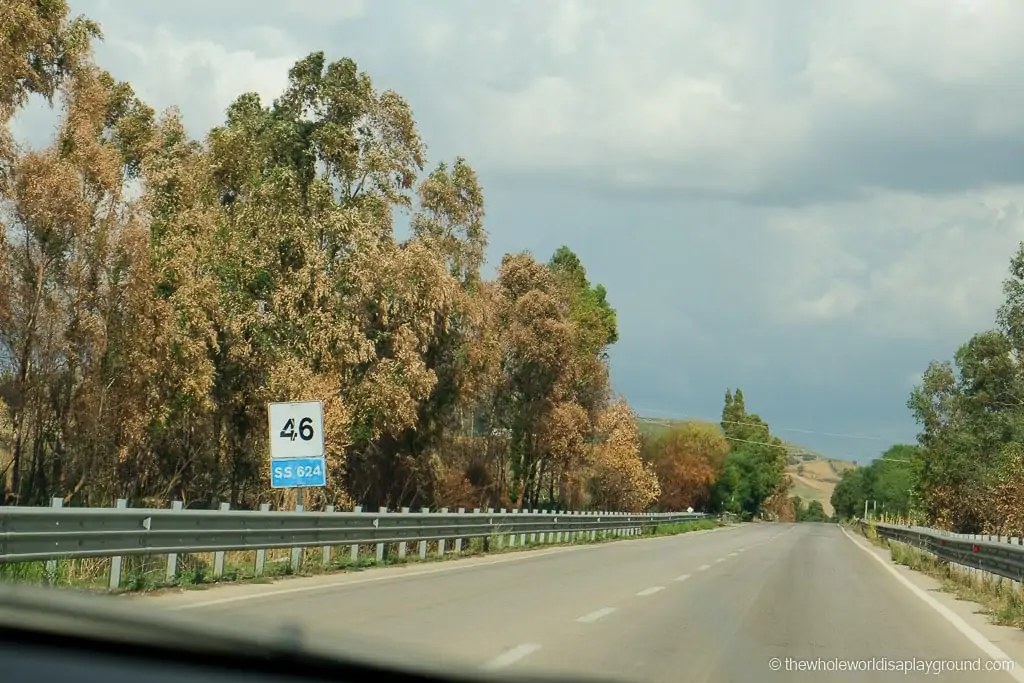 13 | Navigation
We used Google maps for all our navigation in Sicily and it worked great. We very rarely lost signal on our cellphones and generally, it worked very well. One word of caution, however, is not to trust Google Maps if it directs you off the main road onto a smaller secondary road. It's worth checking (after you pull in of course) if Google Maps is taking you off a good road only to rejoin it in a few miles due to a perceived time-saving. This usually isn't the case as drive times on the secondary roads are a lot slower.
So if you find yourself on a small road doubting your sat nav, definitely stop and check the map as you might have to get back onto the better road again!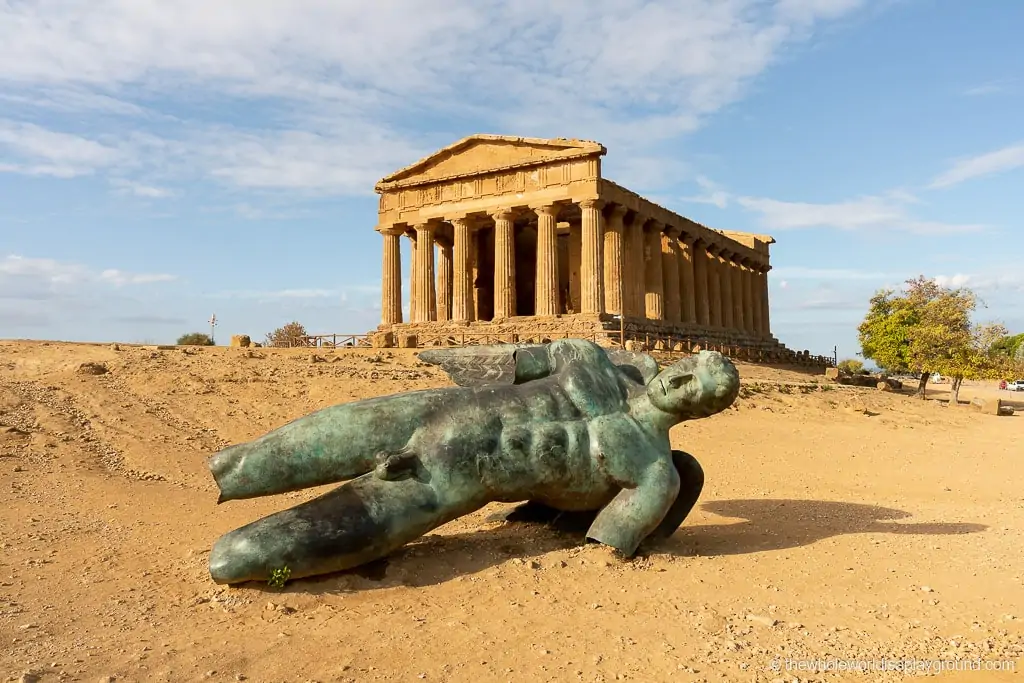 14 | ZTLs
What is a ZTL?
ZTL's are designated zones in Italian city and town centres where car access is restricted to local or authorised access only. The zones were introduced to protect the fragile historic city and town centres and aim to reduce the number of cars entering the historic centres.
Almost every historic town centre has a ZTL, regardless of size. In general, identifying the ZTL's us one of the biggest headaches when driving a rental car in Sicily!
How to identify a ZTL
All entrances to ZTL's are clearly marked with standard signage: a white sign with a red circle and the words Zone Traffico Limitado. They are instantly recognisable due to the registration plate cameras that are on or close to the ZTL signs. Many of the signs are armed with cameras to photograph your car if you pass into it. If you see these signs do not enter the ZTL: once you pass the sign you have entered the zone and you will be fined if you don't have clearance.
Some ZTL's (such as Ortigia in Syracuse) have displays to show if the ZTL is active or not. We were advised to ignore these signs and assume that the ZTL is always active – apparently, some tourists have been fined even when the ZTL is inactive and it is difficult to get a fine overturned once it has been issued.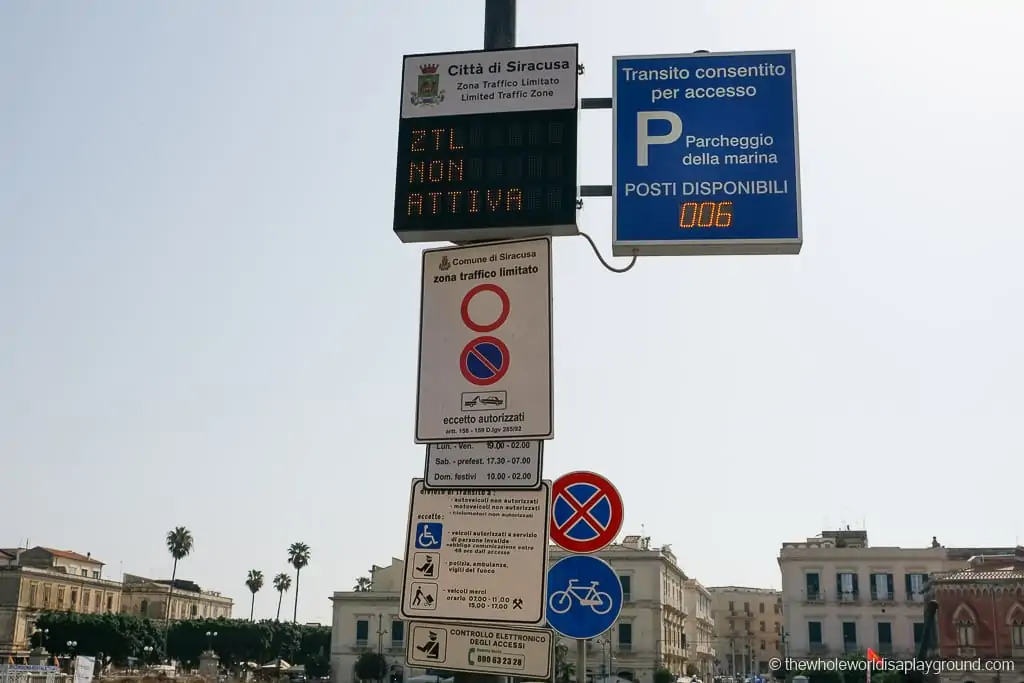 Renting a Car in Sicily tip: Although there is a ZTL in the old town of Taormina the actual ZTL is not enforced. We asked at our hotel about this after driving into the ZTL and were told that the town do not actually enforce ZTL restrictions, however, there is only street parking for residents so there's no point entering unless you have a permit or are staying at a hotel within the zone. There are lots of multistory car parks available outside the ZTL zones anyway.
If you are staying in a hotel within a ZTL they usually take your car registration on check-in and register it with the ZTL system to avoid fines.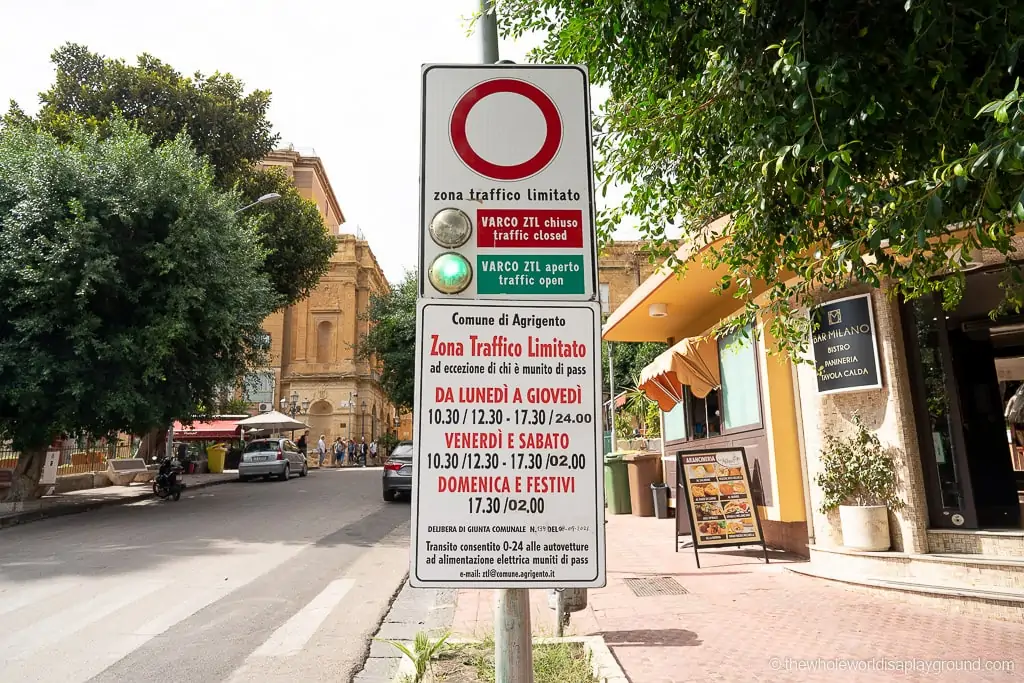 15 | Tolls
There are 2 toll roads in Sicily, the A18 (Messina to Catania) and the A20 (Palermo to Messina. You are issued a ticket at the booth upon passing the toll station (make sure to avoid any lines which say Telepass only), and pay on exiting the road.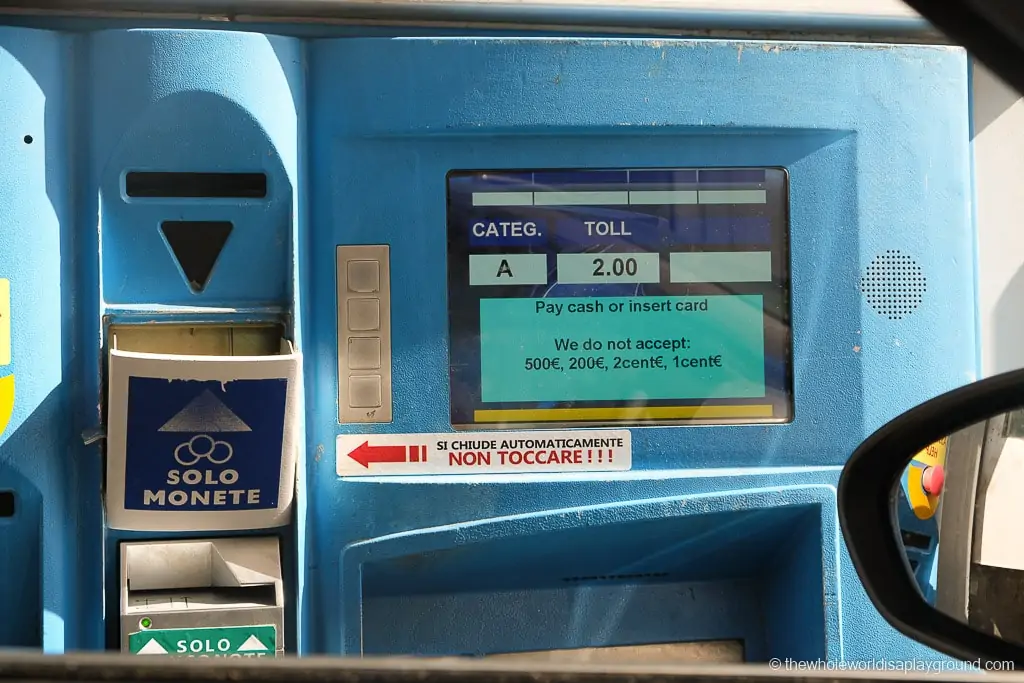 16 | Fuel
We recommend requesting a diesel car when picking up from your rental car company as diesel is less expensive than petrol in Sicily. When we visited Sicily the average price we paid for diesel was around EUR 1.55-1.60 a liter, compared to EUR 1.75-1.85 for petrol. Considering the distances you will drive in Sicily (we drove over 2,500 km in two weeks) there is potential to save a lot of money with a diesel car.
Service stations are everywhere in Sicily so you won't have any issue filling up your car. Most stations have attendants who fill up your car and there are a few unmanned stations where you prepay at the pump with your credit card.
17 | Parking
We found parking in Sicily to be relatively easy and straightforward and there were lots of options close to the town centers. This was especially true in the towns of Ragusa, Noto, Modica and Ortigia where there was ample private parking located right beside the historic town centres.
Parking in Towns/Cities
On-street parking in Sicilian towns and city street parking operates on a colour coded road lined system. A blue line means you pay for parking at the street machines, a white line (or no line) is free parking and yellow is for residents only. For obvious reasons, in busy towns, free parking (white lined) spaces are virtually impossible to find.
There are paid parking lots available in every city and town and are very well signposted with a large blue P. You'll see these when approaching the towns. We generally drove until we found a town/city ZTL area (which are generally very clearly signposted) and then found the nearest paid parking. This is usually well signposted and parking close to the ZTL means less walking!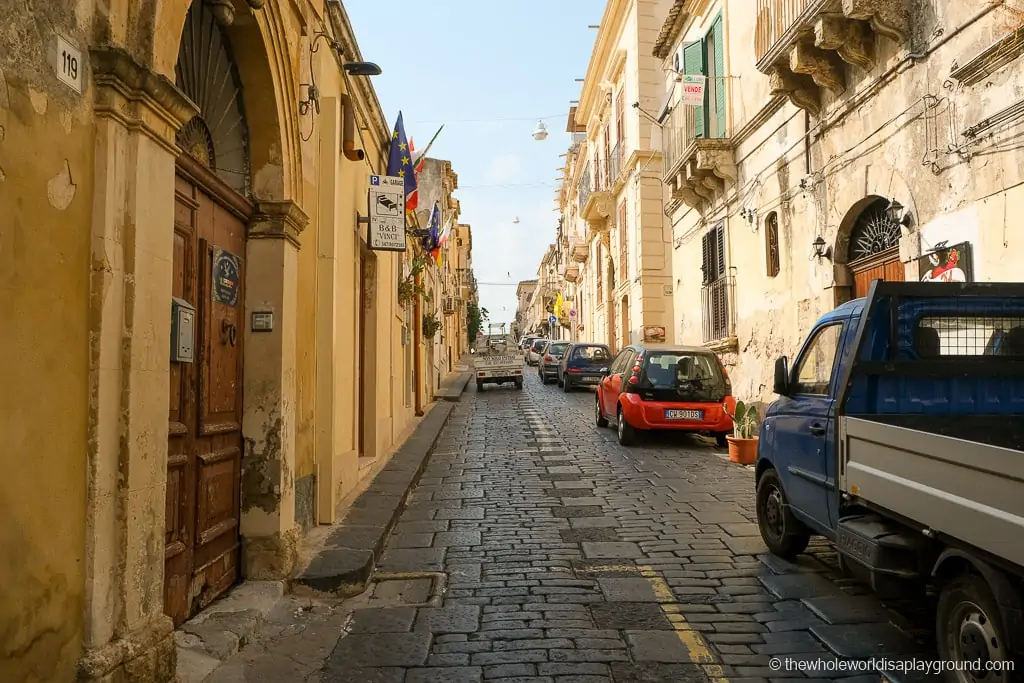 One of the most unique things about driving in Sicily is the Sicilian parking style. No matter where a space is located or how small it seems someone will manage to get part of their car into the space and consider it parked! We saw cars parked on roundabouts, double parking in the middle of the street and cars parked at crazy angles allowing only inches to spare as you squeeze past!
18 | Car Seats for babies and children
Car seats are mandatory in Italy for children weighing up to 18kg. Babies weighing up to 4kg must be rear-facing and seated in the rear of the car. Children up to 18kg must use a car seat and those over 18kg can use a booster.
We tend to follow the same rules as we do at home (assuming they meet local requirements) and typically travel with our own car seats.
Renting a Car in Sicily tip: If you are travelling with young children we highly recommend packing window blinds to protect them from the harsh sunlight. We were very happy we packed ours as the bright Sicilian sun will annoy children in the back seat!

We recommend getting the ones that stretch over the entire window as they are easier to use.
Sale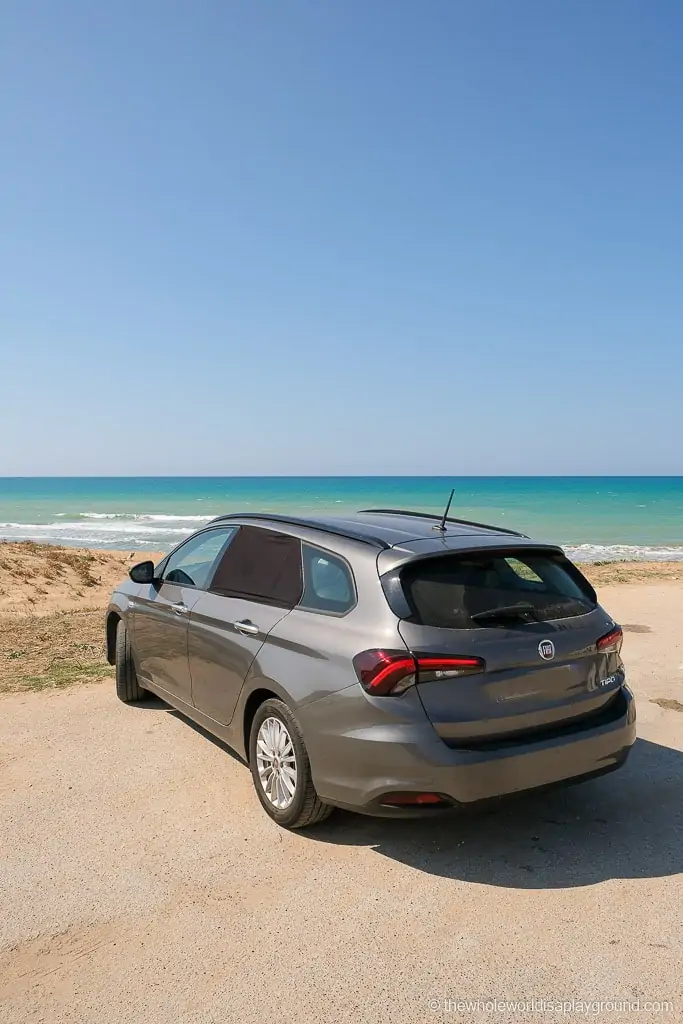 19 | Winter driving: Snowchains and floods
This will only apply to the winter months where snowfall can occur. Snowfall on the Sicilian coastlines is very rare however there can be regular (and sometimes heavy) falls of snow inland, especially at altitudes above 1,000 metres. The roads where snow chains are required are clearly marked so you will not have any issue identifying them. Make sure not to drive on them without chains as the police can (and will) fine you if you are caught.
You will need to use snow chains on roads where it is required and we'd recommend buying a set in a supermarket as it's cheaper than renting from the rental car companies).
Many of the non-motorway roads are also prone to flooding and ice during the winter season. These roads are marked well in advance on road signs.