Renting a car in Italy is one of the best ways to explore the country. From Verona and Venice to Tuscany and Rome, renting a car in Italy allows access to amazing places across the country. We've driven through most of Italy, have visited most of the major tourist attractions and cities and seen over 30 of its UNESCO World Heritage Sites.
Provided you take some time to understand Italian driving rules, we highly recommend renting a car in Italy to have the freedom to explore the country to the fullest.
Tips for Renting a Car in Italy
After many trips to Italy and thousands of kilometres on Italian roads, we feel we finally have enough Italian driving experience to offer the best advice on driving a rental car in Italy! We've explored all of Italy by rental car, from Venice and Tuscany in the north to the Amalfi Coast and Sicily in the south and have learned a lot about driving a rental car in Italy.
These tips and tricks will help make your driving experience a little easier and to get the most from your rental car in Italy.
Renting a Car in Italy tip: the presence of ZTLs, which are restricted traffic zones, mean driving in italy can be challenging at times. However, once you understand how they operate it's easy to avoid breaking the rules and the fines that follow!
Why Rent a Car in Italy?
Quite simply, renting a car is one of the best way to explore Italy. Having a car gives you the flexibility to get off the beaten track and see the lesser-visited Italy. From the rolling green Tuscany hills to the tiny mountain top town of San Marino to the ancient city of Pompeii, having a rental car allows you to forge your own route across the country. We've also rented a car in Sicily to explore the island.
With the flexibility of a rental car, you have the freedom to spend time in incredible towns such as Pienza, Siena and San Gimignano or explore the towns surrounding the crystal clear waters of Lake Garda. A rental car also allows you to see a lot of the cities and country in a short space of time, like some of the secret sights in Rome that we visited with our rental car.
Renting a Car in Italy tip: once you plan your trip by car in Italy it's relatively easy to visit all parts of the country. A little advance planning is needed for arriving in bustling cities like Turin, Milan, Verona, Venice, Rome and Florence
1 | Booking Your Rental Car
Italy is a very popular destination during the summer months so it's worth reserving your car well in advance for the best availability. We recommend using RentalCars.com to reserve your car as we've found them to have an excellent selection and very competitive prices – click here to book now!
We're huge fans of road trips and have driven rental cars in almost 50 countries so we have a lot of experience renting cars in foreign countries. We use RentalCars.com, where we always find a great selection and competitive prices – check prices now!
Book your rental car now with RentalCars.com
2 | Choosing a Rental Car
Italy has good roads and, therefore, a standard size rental car is fine.
If you're planning on spending a lot of time in cities then a smaller car is easier to navigate and park.
In the warm, summer months we often treat ourselves to a convertible so we can really live the Italian countryside dream!
3 | Rental Age Requirements
The minimum legal driving age in Italy is 18, however, the minimum age for renting a car is 21, with most rental companies requiring an additional young driver premium.
4 | Insurance, Excesses and CDW
Make sure you are fully insured! We recommend taking out the additional insurance to cover all damage to your car, i.e. don't have any excess remaining on your rental agreement.
If you plan to drive in Italian cities then you can expect to get some damage to your rental car. Parking is usually very cramped and on-street so your car has greatly increased chance of getting damaged. Almost every car we're rented in Italy has had minor damage while parked in the towns or cities, so it was really helpful to not have to worry about any surprise charges when we returned the cars.
With RentalCars.com you also have the option of purchasing the full insurance cover in advance when you reserve your car. This way you won't have any surprises on the cost of your rental as you'll know everything in advance – check prices now!
Renting a Car in Italy tip: Your credit card may cover the CDW (Collision Damage Waiver) so its worth checking with your card provider before you travel. You will need to declare this at the time of pickup up the car so make sure you have cover on your credit card if you refuse to purchase additional cover when you pickup.
5 | International Driving Permit (IDP)
If you hold an EU driving licence then an IDP is not required. Renters who do not hold an EU licence are required to show both an IDP and their original licence.
If you hold a drivers licence from outside the European Union then you will need an IDP in order to rent a car in Italy as it's required by law. We didn't require an International driving licence as we have a European driving licence but we both have an IDP which we renew every year to cover our travels.
An IDP is easily and cheaply obtained in your home country before you travel. You cannot get one after you leave your home country.
Renting a Car in Italy tip: Rental companies don't always ask for an International Driving Permit. However, it will be required if you are stopped by the Italian police.
6 | Sim Card
We found having mobile data invaluable in Italy and it was extremely useful in the rental car. Being able to research a place to visit and having real-time navigation was invaluable and we highly recommend purchasing a sim when you arrive in Italy. We used our 3 UK Sim Cards but it's easy to pick up an Italian sim on arrival.
7 | Drive on the right
Similar to most European countries and the USA, Italians drive on the right-hand side of the road.
8 | Automatic or Manual Rental Car
Most Italian rental cars are manual drive. If you are not comfortable driving a manual car then try to order an automatic car from your rental car company. However, it is likely you will pay more for the rental compared to a manual car.
9 | Italy Driving Etiquette
Driving in Italy is an overall enjoyable experience. It's quite similar to driving in any other western European country such as France, Germany or Spain.
The motorways, or Autostrada, and main driving routes are comprised of good quality roads. Driving in the beautiful Italian countryside is very easy and relaxed.
City driving is a little trickier due to tiny streets, traffic restrictions and pedestrians.
Italians are passionate about almost everything and this includes driving. So don't be surprised if you get an overreaction from locals when navigating traffic or narrow city streets. It's all part of the fun! The best advice we can give is to be patient, stay calm and ignore the reactions of local drivers!
Some standard Italian driving etiquette:
When driving on two-lane motorways/Autostrada you must only use dipped headlights.
When driving through towns or villages horns can only be used in an emergency.
When driving on two-lane motorways, the left lane is not a fast lane, but rather a passing lane. So stay in the right lane unless you are overtaking another vehicle.
Unlike the US, you cannot turn right on a red light. You must wait until you get a green arrow before you can progress through the junction.
Flashing lights from behind generally mean someone wants to overtake.
10 | When to Visit Italy
In general, try to avoid driving in Italy during peak season if you're planning to rent a car. Car parks at major sights or towns such as Cinque Terre, Venice and Tuscany get incredibly busy and crowded and the traffic can be insane.
We find it easiest to drive in Italy during the off-peak season. It is a much nicer experience and the crowds are much smaller.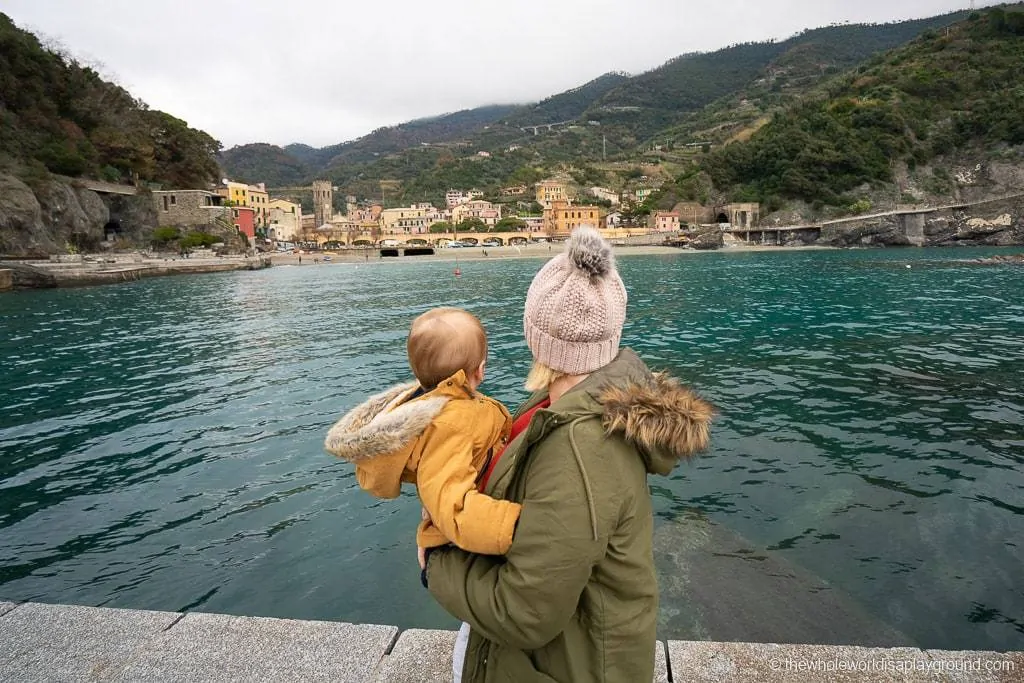 11 | Fuel
Diesel is much cheaper than petrol in Italy so try and rent a diesel car. It will save you money, especially if you are planning to drive long distances. If you ask nicely, the car rental company will usually have a diesel car in stock.
Fuel stations are plentiful and are dotted along the motorways. We found the motorway stations easier for refuelling as they had dedicated exits off the motorways. There are also plenty of stations in cities and towns. Generally, the motorway stations were cheaper for fuel.
Renting a Car in Italy tip: Although fuel was cheaper at motorway stations throughout Italy, these stations are extremely expensive for snacks and drinks. If you are on a budget or simply want to save some money on your trip, you might want to try to avoid purchasing food on these fuel stops. Instead, try the local hypermarkets such as Carrefour and Coop to stock up on road trip snacks.
Italy Traffic Fines
Renting a car in Italy is generally a fun experience. However, there are many ways to fall foul of the Italian road rules and laws and to accidentally get a fine. We've fallen foul of some parking rules during our visits and it was due to the fact that we didn't know the rules well enough
We'll detail the most common fines below and it's worth knowing how each operates so you don't have to worry about them in Italy. This shouldn't scare anyone away from renting a car in Italy but it's worth knowing the common pitfalls when driving. The fines are easily avoidable once you are aware of the common mistakes visitors make.
Renting a Car in Italy tip: Italian traffic fines are notoriously slow at processing. We've even received fines 12 months after we entered the wrong ZTL area. Italian police have 360 days to notify foreign drivers after they receive the driver details from the rental company.
12 | Fine Type 1: ZTL Driving Zones in Italy
Anyone who has rented a car and driven in Italy will have encountered the world of ZTL's or Zona Traffico Limitato. ZTL fines are the most common fine that tourists renting cars in Italy get caught for and it's one of the most easily avoided.
Entering a ZTL with your car without permission will lead to a steep fine. The fine will be issued to your rental car company and you will likely incur an administration fee from them in addition to the actual fine.
What is a ZTL?
ZTL's are designated zones in Italian city and town centres where car access is restricted to local or authorised access only. The zones were introduced to protect the fragile historic city and town centres. ZTL's aim to reduce the number of cars entering the historic centres.
Almost every historic town centre has a ZTL, regardless of size. The larger cities have the ZTL split into a number of different zones, while the smaller towns like Siena and Pienza have single ZTL zones. In general, we find identifying the ZTL's the biggest headache when driving a rental car in Italy!
Identifying ZTLs
In our experience, the most difficult thing about ZTL's is actually identifying them before you enter the restricted area. Once you see them, it's easy to avoid them. Most are really obvious, like the one below in Cinque Terre. However others are a little trickier and you can accidentally cross into them, triggering a fine.
All entrances to ZTL's are clearly marked with standard signage: a white sign with a red circle and the words Zone Traffico Limitado. They are instantly recognisable due to the registration plate cameras that are on or close to the ZTL signs. If you see these signs do not enter the ZTL: once you pass the sign you have entered the zone and you will be fined if you don't have clearance.
Before you visit an Italian city by car, search online for any ZTL areas. Knowing where to expect the zones will help you avoid the zones.
Driving into a ZTL
Renting a Car in Italy tip: In general, if you don't have advance permission, do not enter a ZTL. The ZTL traffic cameras will automatically issue you a fine.
The only real way to be allowed to enter a ZTL as a tourist with a rental car is to stay at a hotel within the ZTL itself. This will allow you to get advance permission from the hotel to enter with your rental car. You can call your hotel in advance, quoting your car registration, and they will arrange for your car to be granted access via the city database of registered vehicles. We have personally done this in many Italian cities, including Rome, Florence, Verona, Turin and Pisa and it works just fine.
Renting a Car in Italy tip: Before you drive into a ZTL check with your hotel for the best route into the city. Some cities such as Florence and Rome have multiple ZTL zones and your hotel will only have access to the relevant ones.
13 | Fine Type 2: Parking
Parking or Parcheggio in Italy is relatively straightforward. Blue parking signs show where paid parking applies. We prefer to park in designated car parks as they were easier to park in and safer than street parking.
Parking in the major Italian cities tends to fall into two categories: city centre parking which is expensive and usually needs to be arranged via your hotel and parking outside the city and using local transport/taxis to get to and from your car.
Either method will cost time and effort. If you're only staying a few days in each city it's easier to go with the hotel parking. It's a little more expensive but we find it is so much more convenient.
Renting a Car in Italy tip: If you're exploring Italy by car it's often easier to stay at hotels located just outside the town's or city's as the parking is usually free.
14 | Fine Type 3: Speeding
The speed limits on all roads are generally clearly marked and are rigidly enforced so don't break them. If you're caught speeding, either by a mobile police checkpoint or fixed camera, you will get a fine via your rental car company and they can be significant. The fines can take many months to reach you, in some cases up to a year after the offence. If you do get a fine, do not ignore it as they tend to increase exponentially over time.
15| Speed Limits
The speed limit on motorways is 130kmph unless otherwise marked, while local road varies from 50 to 100kmph.
16 | Parking in Italy
The major benefit of exploring Italy by car is that you can visit many of the incredible historic villages and towns quickly and easily. The only downside is that you won't be able to drive into the town centres (unless you're staying there) with your rental car due to the restricted driving zones in nearly all Italian towns (see the next point on ZTL's)
However, most of these towns (e.g. San Gimignano, Verona, Siena, Cinque Terre etc) usually have designated paid car parks on the edge of town. From here you can walk or get a short bus journey/taxi to the historic town centre. This makes visiting the towns much easier by car.
Renting a Car in Italy tip: If you plan to visit some of the popular smaller historic towns (eg San Gimignano or Siena) by car, try to visit on a weekday when crowds are much smaller. This will enable you to park your car easily and explore the town without a crazy weekend or holiday crowds.
17 | Toll Roads / Autostrada
The main motorways in Italy are known as Autostrada and most are tolled. The tell is based on the distance travelled. In most cases, we paid around 10-20 euros depending on how far we drove on the road. You must use dipped headlights at all times (night and day) when driving on the Autostrada.
18 | Winter Driving: snow chains
If you are hiring a car in Italy during the winter (generally from November to April) in Northern Italy it is compulsory to have snow chains available in your car should you need them. You likely will not need them, however it is a legal requirement and if the police check your car there are fines. Make sure when reserving your rental car that the snow chains are included in your rental price before you get to Italy. This will avoid any nasty add-on costs when you pick up your car.
19 | Drink Driving
The legal limit for blood alcohol in Italy is 50mg per 100ml of blood which means one drink can put you over the limit. So don't take any chances and don't have any alcohol if you plan to drive.
20 | Seat belts and Car Seats
All passengers in cars in Italy must wear seatbelts. Children under 12 years of age must use a car seat.