With its rich history, beautiful architecture, and amazing food and wine, it's no surprise that Sicily is one of the most popular destinations in the Meditteranean. With so much to see and do on the island, it can be challenging to plan a Sicily itinerary and that's where we're here to help!
Having explored the island and experienced much of what it has to offer we've put together our recommended one week Sicily itinerary. We've included everything you'll need to plan your own Sicily itinerary for 7 days: it includes route suggestions, how long to spend in each area, the best places to stay, and all the best things to see and do in Sicily in one week.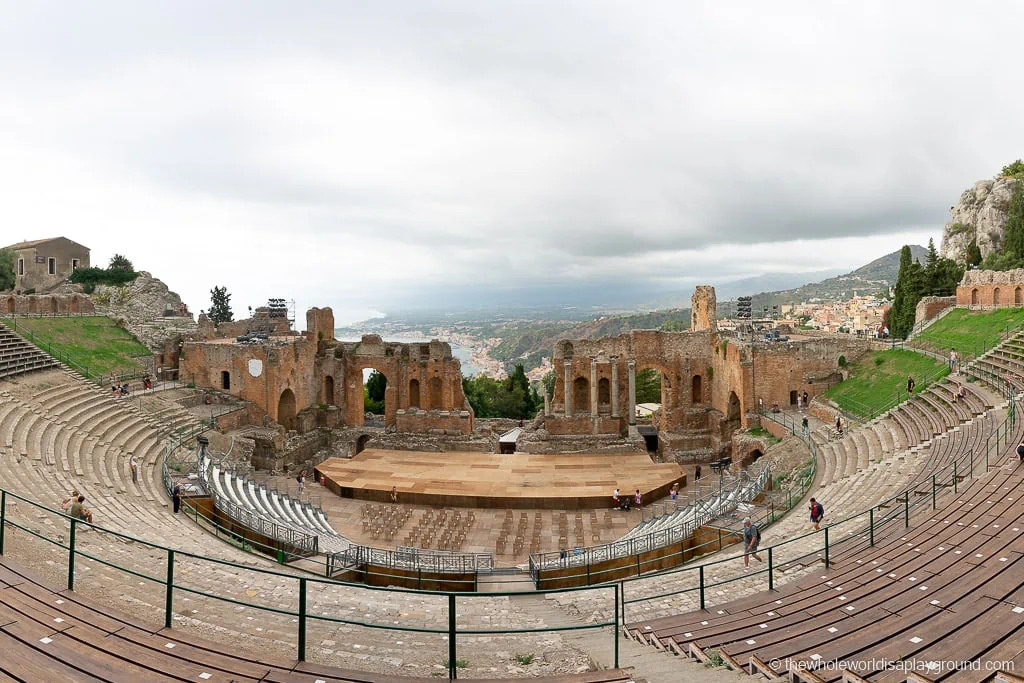 Sicily Itinerary: the Essentials
First things first, there are a number of Sicily itinerary essentials that are worth considering when planning your trip.
How Long to Spend in Sicily?
Sicily is the largest island in the Meditteranean and there is so much to see and do. You could easily spend two or three weeks exploring the island. If you have one week then we recommend focusing on eastern Sicily.
One week in Sicily: if you have one week then we recommend focusing on the eastern Sicily highlights. A week affords time to visit Taormina, Mount Etna, Syracuse/Ortigia, and the historical towns of Noto, Modica, and Ragusa.
Best time to visit Sicily
With its Mediterranean climate, Sicily is a great year-round destination. Our favourite months to visit are those shouldering the high season, so May, June, September, and October – but it depends on what you plan to do on the island.
Summer: If you want endless sunshine and dips in the sea then the summer months are favourable.
Shoulder seasons: if you want a mix of sun and sightseeing then the shoulder months are preferable and hotel rates are often lower.
Year-round: if sightseeing is your main priority and you don't mind the cooler months then take advantage of the lower crowds and hotel rates during the rest of the year.
Sicily itinerary tip: we most recently visited Sicily in September and it was a perfect balance of lovely weather (high 20s C), lower crowds and some great rates on hotels.
Shoulder-Season (May-June / September-October): the weather tends to be very good with the south and east coast temperatures typically in the 20°Cs even in May and October. Crowds tend to be lower, hotel availability and prices are better and sightseeing is more pleasant in the lower temperatures. The towns and cities are less crowded but are still lively enough for a great atmosphere.
Peak-Season (July and August): these are the peak months for visitors to Sicily, so demand for hotels and crowds are increased. Temperatures range from lows at night of 20 °C to daytime highs of over 30°C.
Low-Season (November to April) The off-peak months are the best for those looking to visit the archaeological and historical sites on the island. Visitor numbers to Sicily are much lower during these months and daytime temperatures rarely drop below 10°C.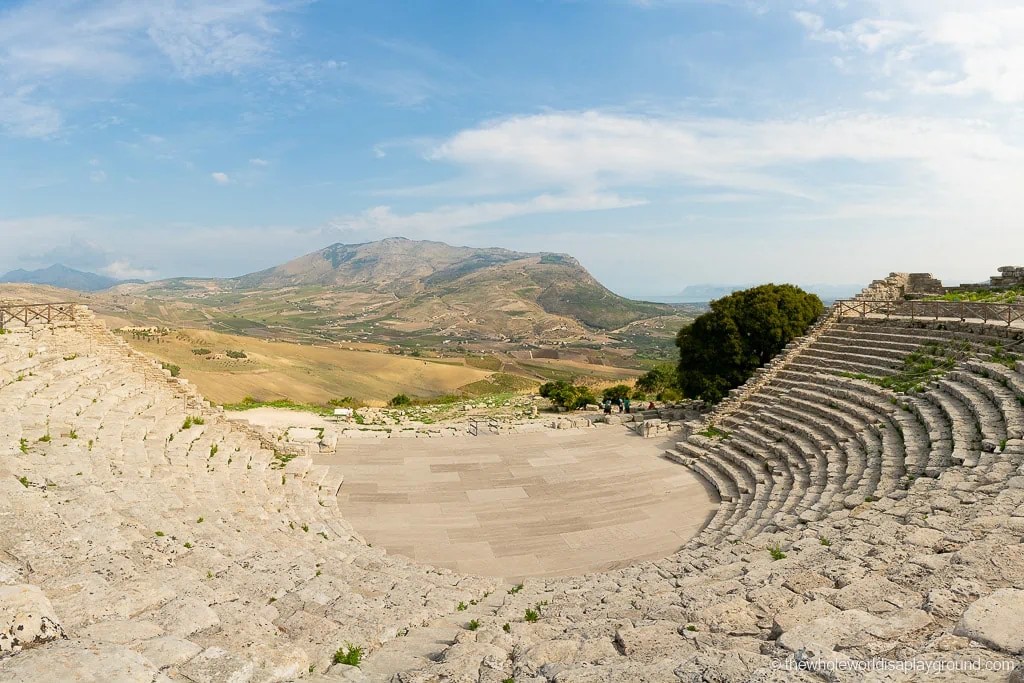 How to get around Sicily
Most visitors to Sicily either rent a car or travel by train. It's also possible to see lots of the island by taking day trips from the two biggest cities, Palermo and Catania.
Renting a car
Renting a car in Sicily is the easiest way to explore the island. Having your own car gives you the flexibility to travel at your own pace and make stops at all the wonderful sights on the island. We love having a rental car in Sicily as it gives so much freedom to explore the island.
Rental car prices can be slightly more expensive than the Italian mainland (as is expected with most island rentals), however, if you book in advance you can secure good prices and car availability. We recommend using RentalCars.com to reserve your car. They have a great selection and really competitive prices – check prices here!
Book your car now with RentalCars.com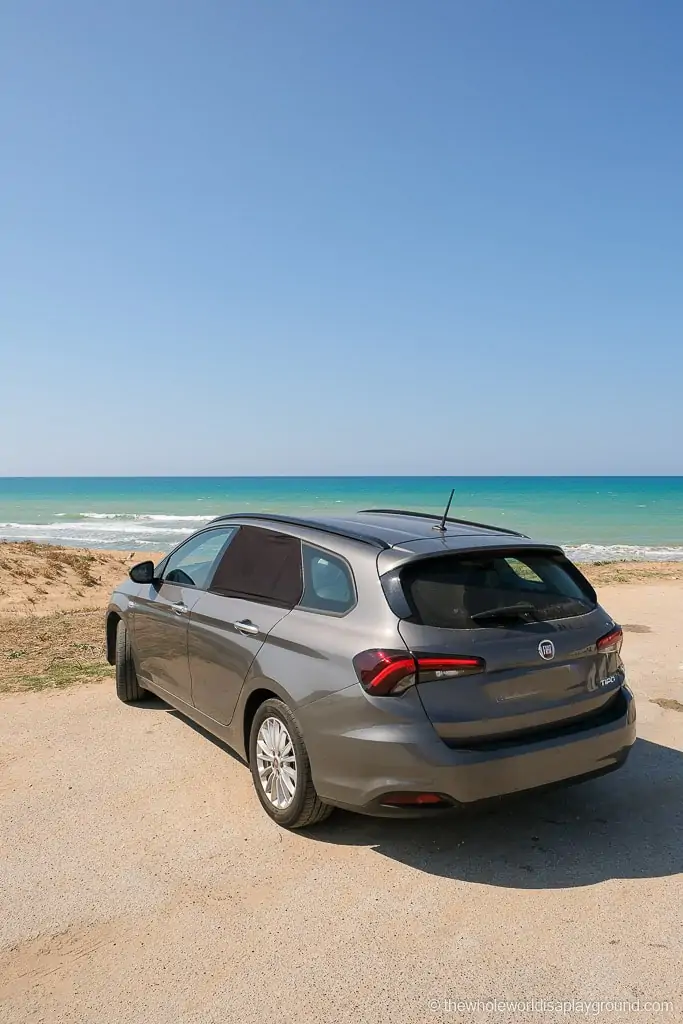 Sicily by train
Sicily has a good train network and it is possible to reach many of the popular destinations by train. Well serviced tourist routes include:
Palermo – Catania – Taromina
Palermo – Cefalu
Catania – Syracuse
Syracuse – Noto
Palermo – Agrigento
Day Trips and Tours
Many of the main sights can be reached by taking day trips from the popular tourist towns. We'll list some of the most popular tours as we move through the itinerary.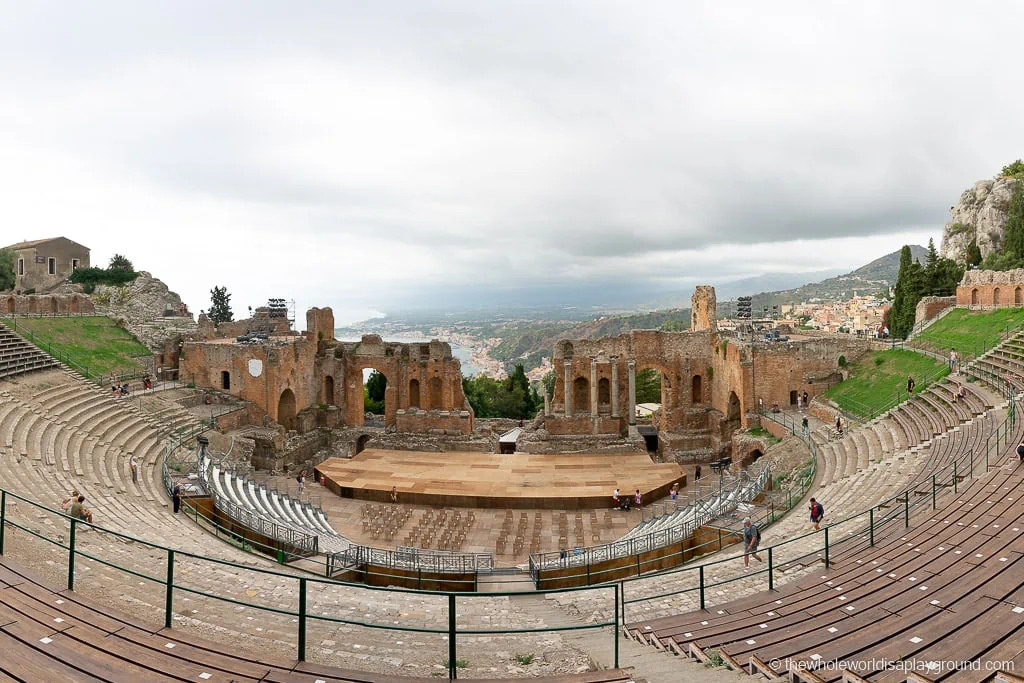 Sicily Itinerary: Suggested 7 Days
From the stunning seaside town of Taormina to the buzzing capital of Palermo and the historical Baroque Island of Ortigia, this is the ultimate 7 day Sicily Itinerary for anyone planning a trip to this beautiful Mediterranean island.
Sicily Itinerary: Suggested One Week Route
Most visitors to Sicily arrive through either Catania or Palermo. We've included itineraries for both of these arrival points so you can follow our recommended Sicily itinerary from either.
Our one-week Sicily itinerary includes lots of day trip ideas so you will have lots of opportunities to explore more of the island.
If you fly into Catania: Catania – Taromina – Syracuse/Ortigia – Catania
If you fly into Palermo: Palermo – Taormina – Syracuse/Ortigia – Palermo
Our route includes all the main cities, sights, and UNESCO World Heritage Sites on the east of the island. We've also included some of the lesser-visited spots that are definitely worth a stop.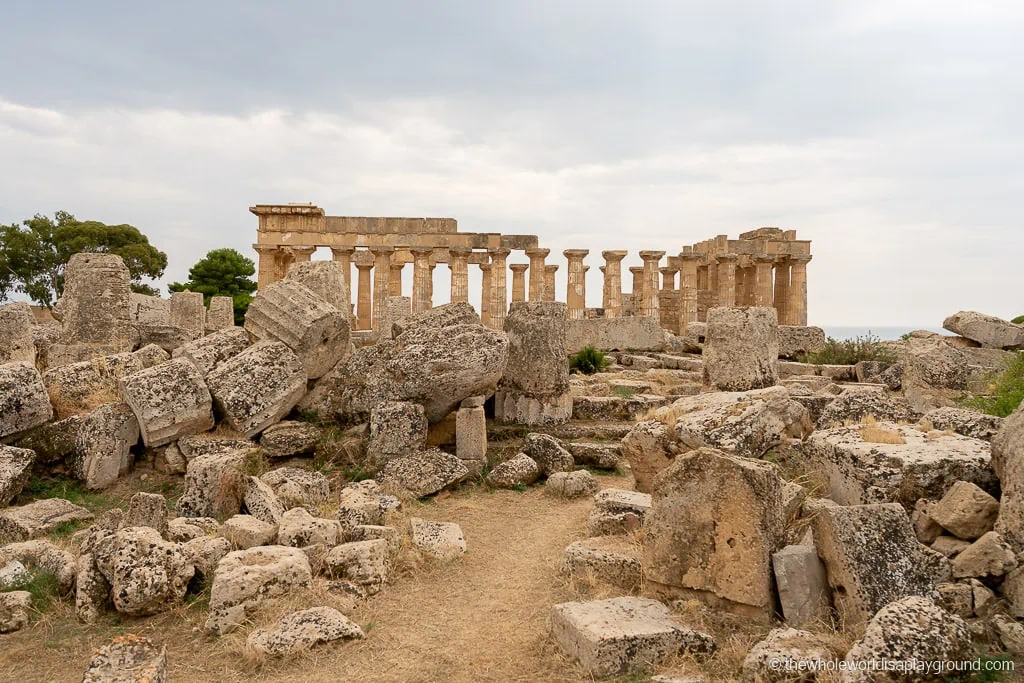 Sicily Itinerary: Route Map
We've put together a one week Sicily Itinerary route map which includes all the main sites on the island and our recommended route.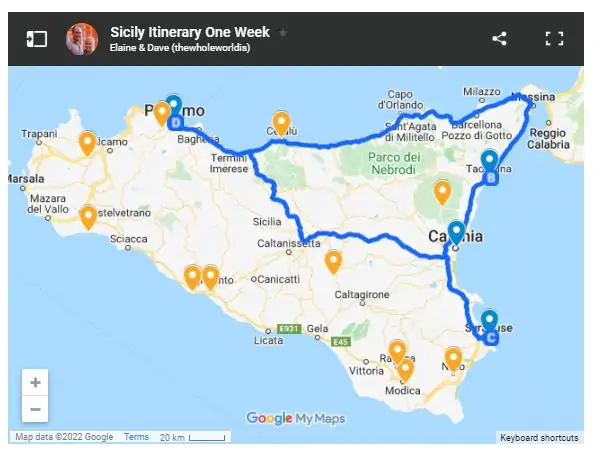 How to Use This Google Map: Click on the grey star at the top of the map and this map will be added to your Google Maps account. You can then view it on your phone or computer in Google Maps by clicking on the menu button, going to "Your Places" and selecting this map. We use these maps all the time as you can set out your itinerary ahead of time and quickly reference the saved maps.
Sicily Daily Itinerary
The first two days will be spent in Catania or Palermo depending on which airport you arrive at in Sicily. After day 2, both itineraries follow the same route on the east coast of the island before departing Sicily.
Days 1/2: Palermo / Catania
If you arrive in Palermo: Palermo (2 nights)
Visitors to Sicily might be tempted to skip the capital city of Palermo in favour of the seaside towns on the east and south of the island but it's definitely worth spending at least one day checking out Palermo.
Sicily itinerary tip: We recommend speding two nights in Palermo: one day to explore the city and a second to try some of the day trips from Palermo.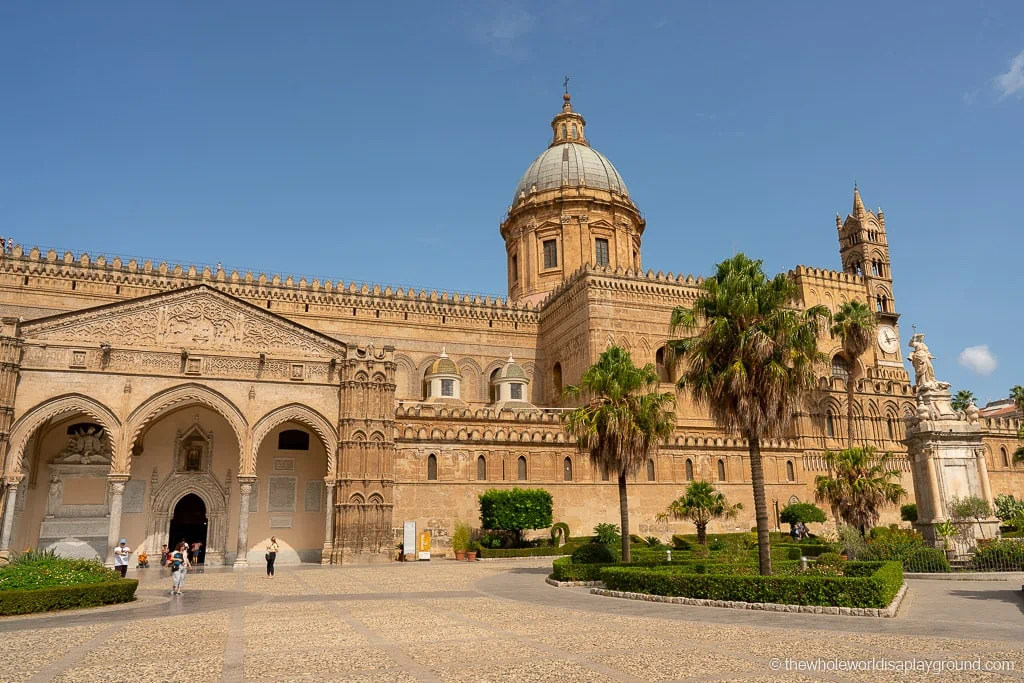 Where to Stay in Palermo
Hotel Politeama: we loved our stay in Hotel Politeama. Overlooking the Politeama Theatre, this modern hotel is perfectly located for exploring the city. The hotel has reasonably priced valet parking if you are driving – check prices now!
Alma Hotel: small boutique hotel located in the center of Palermo. It's a perfect option for those looking for a budget-friendly hotel located close to everything in Palermo – check prices now!
Massimo Plaza Hotel: for those wanting one of the best locations in Palermo then check out the Massimo Plaza Hotel. It's located directly in front of the Massimo Theatre opera house and is a short stroll from all the major sights – check prices now!
Things to do in Palermo
Palermo was a surprise hit for us on our first visit to Sicily and we loved the vibrant and fun city. There are lots of amazing things to do in Palermo, from enjoying the delicious food to browsing the markets throughout the city and marveling at the stunning architecture of this historic city.
Palermo is a foodie paradise so make sure to visit one of the city's amazing food markets: Mercato del Ballaro (the largest of the markets), Mercato della Vuccuria and Mercato del Capo (a small local market) are all worth a visit and each market has its own charm.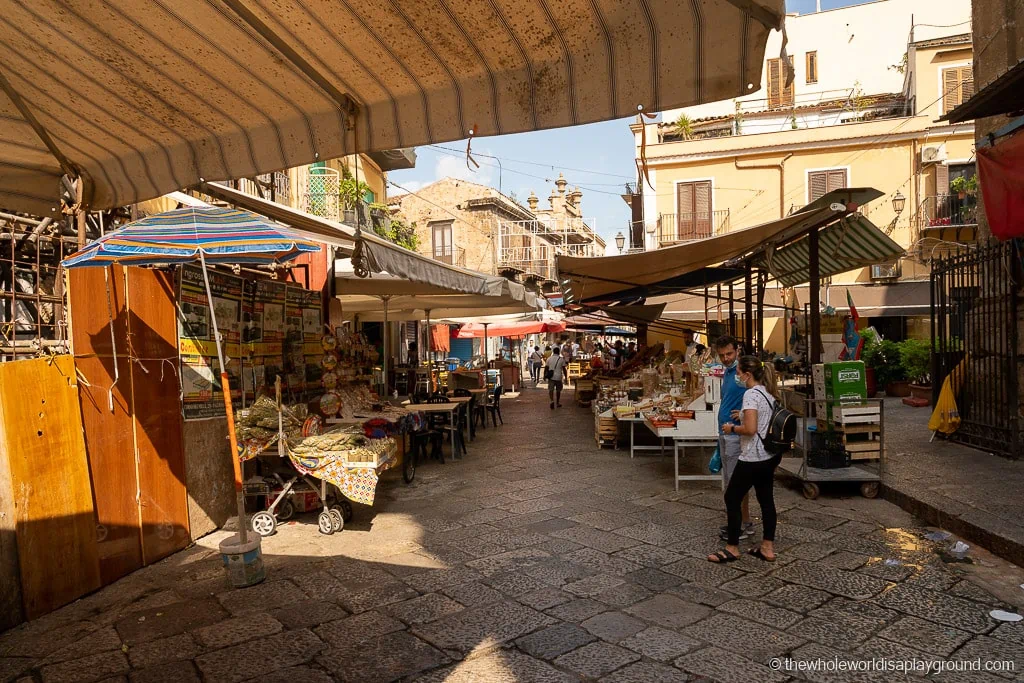 The best way to sample Palermo food is by taking a food tour. This tour includes del Capo market, so it's a great way to start your first day in Palermo, plus it will give you a great feel for the city – check prices now!
Palermo is also packed with historical and archaeological sites. The Palermo Cathedral and the Norman Palace with its Palatine Chapel were our favorites. Make sure to stop by the Massimo Theatre, the Capuchin Catacombs, and Santa Caterina Church, all of which should not be missed.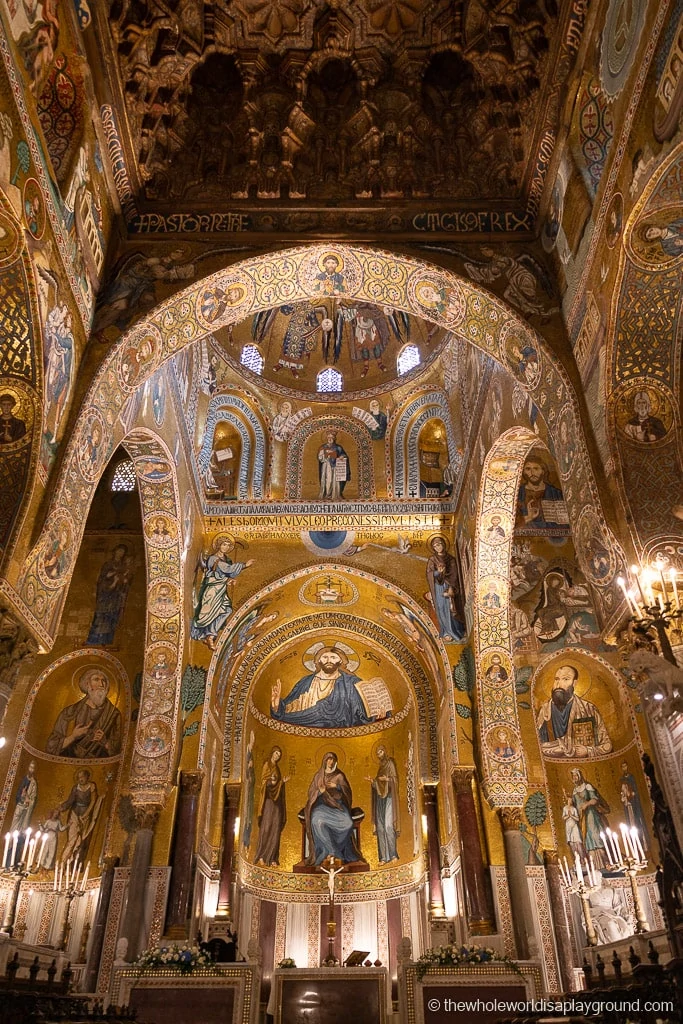 Day trips from Palermo
Due to its location, Palermo is a great place to visit some of Sicily's most beautiful places by day trip. The most popular day trips are to Monreale, home to Monreale Cathedral, and the archaeological sites of Segesta and Agrigento. Our favourite day trips include:
Monreale and Cefalu: located on the slopes of Monte Caputo, Monreale's biggest draw is the Duomo di Monreale, its magnificent Cathedral adorned with gold mosaics. Considered the most important masterpiece of Sicily's Norman period, the cathedral is one of 9 civil and religious structures which make up the UNESCO listing for the Arab-Norman Palermo and the Cathedral Churches of Cefalú and Monreale. The coastal town of Cefalu is a typical Italian seaside town and is home to Duomo di Cefalu, another cathedral on the list – check tour prices here!
Segesta, Erice and the Salt Pans of Trapani: a whistlestop tour of three remarkable sights on the west of Sicily. The tour includes the beautiful archaeological site of Segesta and the medieval hilltop town of Erice as well as a stop at the Salt Pans of Trapani – check tour prices here!
Agrigento and Valley of Temples: one of the highlights of Sicily, the sprawling archaeological site is located on a rocky hilltop overlooking the ocean and is home to some incredible Greek artefacts – check tour prices here!
Check out our full list of day trips from Palermo for more day-trip ideas.
If you arrive in Catania: Catania (2 nights)
An ancient port city, Catania is Sicily's second-largest city and the arrival point for many visitors. Catania is different to Palermo, but not in a bad way. While Palermo may have more markets, Catania is better for shopping and has an abundance of trattoria for food. Catania's architecture is also more Boroque buildings and it's worth spending a few nights in the historic city, a compelling mix of gritty and charming.
Sicily Itinerary tip: Catania was almost entirely destroyed in the 1693 earthquake (not Mount Etna as sometimes assumed) and the city was rebuilt in the Boroque style, leading to a different experience compared with Palermo.
We recommend allowing two days for Catania: one day to explore the city and a second to make some of the day trips from the city.
Where to stay in Catania
Hotel Centrum Catania: great location close to Catania's historic attractions. Rooms are refurbished and modern and breakfast and parking are provided for guests – check prices here!
Hotel Villa Romeo: once a 19th Century palace, the hotel is located opposite the train station making it a convenient choice for those travelling in Sicily by train – check prices now!
Things to do in Catania
One day is enough time to see most of the main sights in Catania.
Start your morning at the Catania Fish Market (Piscaria Mercato del Pesce). Located close to the Port and a short walk from Ursino Castle (Castello Ursino). The fish market is one of the best markets in Sicily and is packed with every kind of seafood imaginable.
Sicily Itinerary: LIke most markets in Europe we recommend visiting the fish market early in the morning to experience it at its best. It can get very busy by mid morning.
Make sure not to miss the Catania Archaeological Park in the centre of the old town. Catania was once a Greek settlement and the ruins of the Greek Theatre remain hidden away under the city. The park contains a Roman Amphiteare and baths along with the Greek-Roman Theatre on Via Vittorio Emanuele II.
One of the best parts of the park is that visitors are free to walk around all of the ruins so it's a very intimate experience compared to other archaeological sites in Italy.
There are many great sites to explore in Catania. We recommend a visit to the stunning Bellini Gardens and the impressive Catania Cathedral. The medieval Ursino Castle is definitely worth an hour to explore and has an impressive museum inside.
If you fancy some window shopping take a stroll up Via Etnae, a partially pedestrianised street that leads off Piazza Duomo. There is also a great view of Mount Etna in the distance looking north from Via Etnae.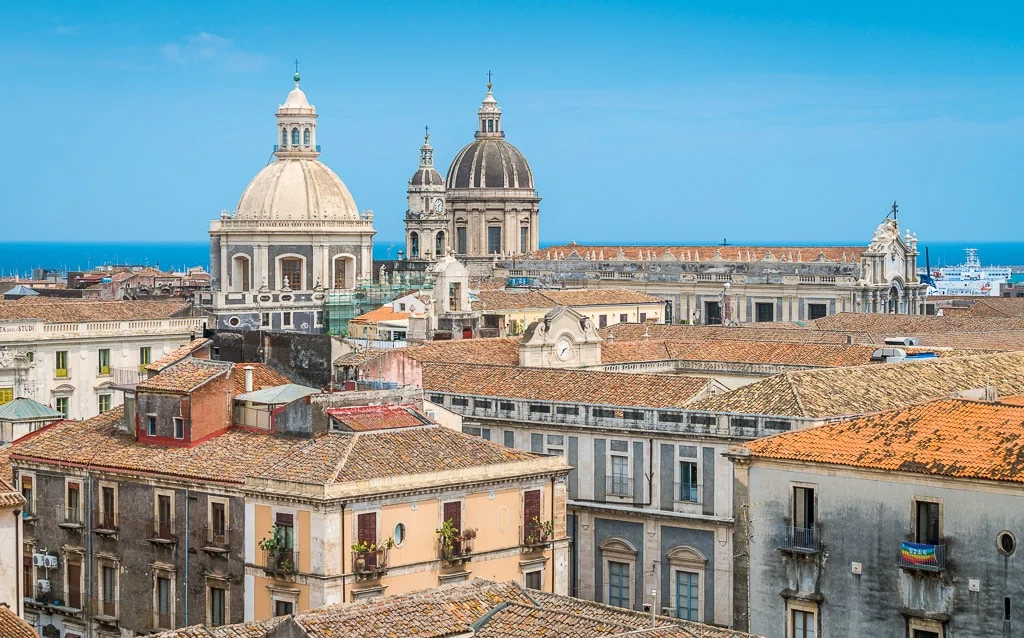 Day trips from Catania
Catania is a great base for day trips to various places along the east coast of Sicily. A visit to Mount Etna is by far the most popular day trip from Catania. It's is also possible to visit the UNESCO World Heritage Site such as Valley of the Temples in Agrigento and Villa Romana del Casale as a day trip.
Mount Etna: most visitors to Catania make the journey to Mount Etna, one of Sicily's UNESCO World Heritage sites. There are some fantastic tours which include guided hikes around the ancient craters and recent lava flows. This tour is one of the most popular day trips from Catania and the best for Mount Etna – check prices here!
Another great option for Mount Etna is this tour that includes Mount Etna cable car and a hike to the summit – check prices here!
Godfather filming locations: a must-do for fans of the Godfather trilogy, this tour visits the Sicily filming locations around Catania- check prices here!
Agrigento and Villa Romana del Casale: one of the highlights of Sicily, the sprawling archaeological site is located on a rocky hilltop overlooking the ocean and is home to some incredible Greek artefacts – check prices here!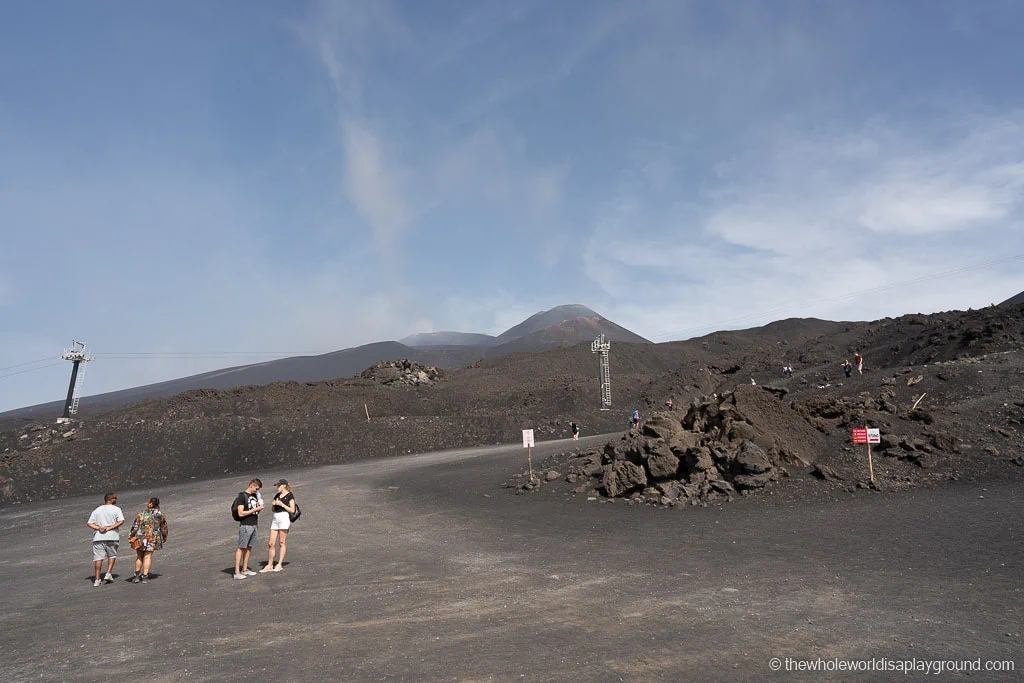 Both itineraries follow the same route from Day 3:
Days 3/4: Taormina (2 nights)
Taormina is located on the northeastern corner of Sicily in the shadow of Mount Etna and is one of our favorite places in Sicily. The beautiful hillside town is perched almost 500 meters above the sea and is a Meditteranean paradise with quaint old streets, incredible food, and beautiful views.
We recommend at least two full days for Taormina (although we could have spent a week here!).
Sicily Itinerary tip: Taormina is a key stop for many cruise ship tours so it can get very busy during the day.
Getting from Palermo/Catania to Taormina
It's a three-hour drive from Palermo to Taormina along the beautiful north coast of Sicily. The coastal town of Cefalù is a lovely stop en route. The highlight is the Cefalù Cathedral nestled beneath La Rocca di Cefalù, the great hill towering over the town.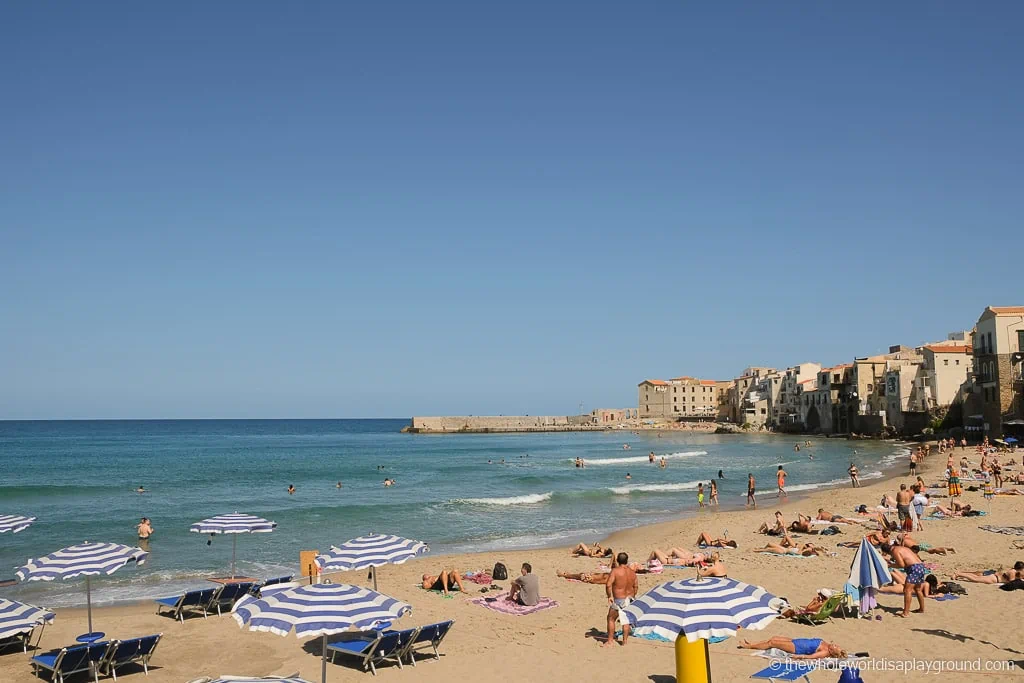 You can also take the train between Palermo or Catania and Taormina: it takes about 4.5 hours from Palermo Centrale to Taormina Giardini, connecting in Catania Centrale.
Where to Stay in Taormina
Taormina is a really popular tourist destination in Sicily and, despite its small size, attracts many visitors each year. As a result demand for hotels during peak months is very high so we recommend booking your stay well in advance, so it's important to decide on where to stay in Taormina well in advance of your trip.
Sicily Itinerary tip: We recommend staying in a hotel in the old town so the restaurants and sights are only a short walk away. If you stay by the sea then it's a long walk or a taxi drive up to the old town.
Hotel Villa Belvedere: our favorite hotel to stay in Taormina, we love staying at Hotel Villa Belvedere. The hotel overlooks the ocean and has views of Mount Etna. There is a beautiful pool and the Old Town location means it's a perfect choice. Hotel Villa Belvedere is one of the most popular in Taormina and does sell out during peak times, so make sure to book well in advance – check prices now!
Hotel Villa Ducale: a small boutique hotel with incredible views of the sea and Mount Etna. Hotel Vilal Ducale is located on the hill above Taormina, a short walk from Madonna della Rocca Church and offers a shuttle down to the town and beach. – check prices now!
Hotel Casa Adele: a great budget option in Taormina. Casa Adele is perfectly located in the middle of Taormina beside Porta Catania, one of the main entrances to the old town. Everything is a short walk and it's one of the best-ranked hotels in Taormina – check prices now!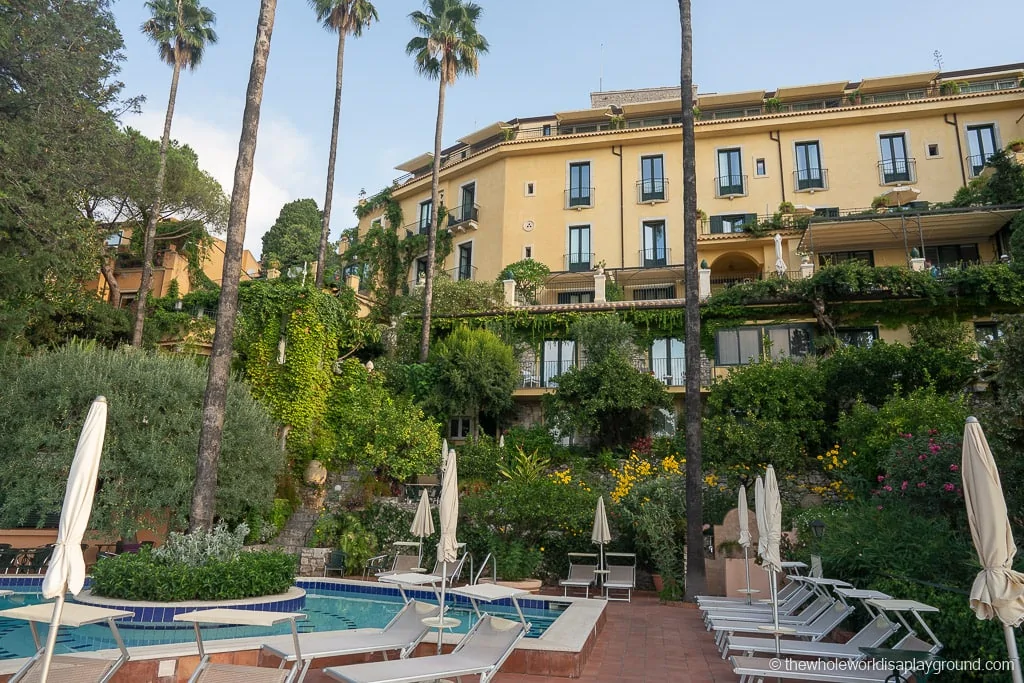 Things to do in Taormina
Despite it's relatively small size, there are a lot of things to do in Taormina. Stroll along the Corso Umberto (the ancient main street) and take in the views from Piazza IX Aprile. Get lost down the winding back streets and check out the public gardens, a quiet oasis away from the crowds. The food in Taormina is also amazing and a stop at Bam Bar, famous for its granitas, is essential!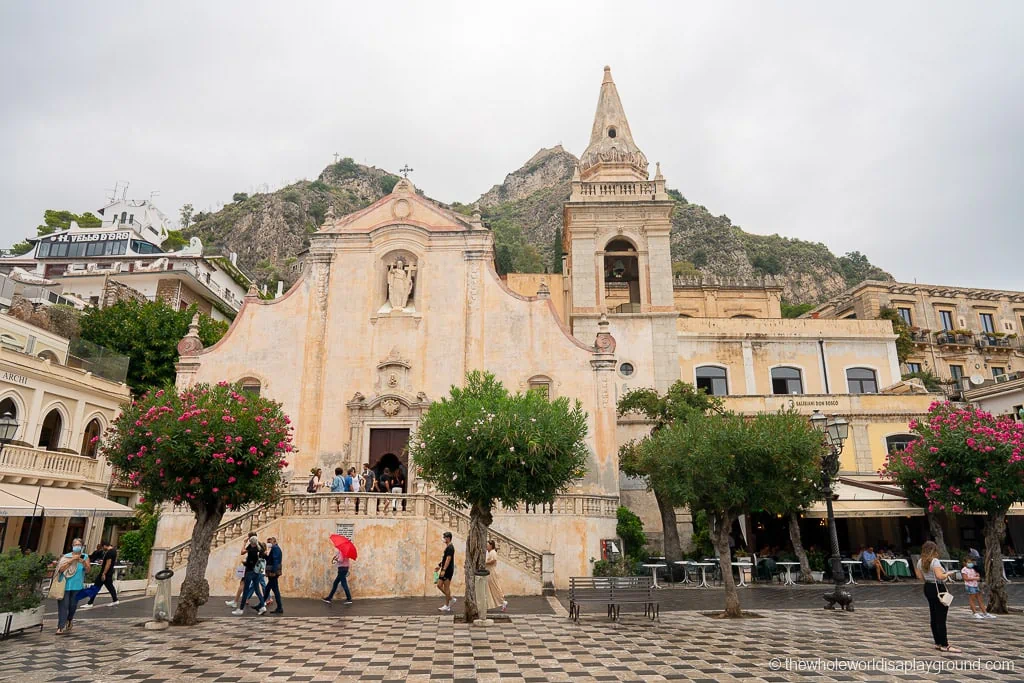 The highlight of Taormina is the ancient Greek theatre that sits in the old town. This 4th-century theatre has one of the most impressive backdrops we've ever seen with Mount Etna towering in the distance. To avoid the crowds we recommend visiting the theatre early in the morning – check prices now!
Book your Taormina theatre tickets here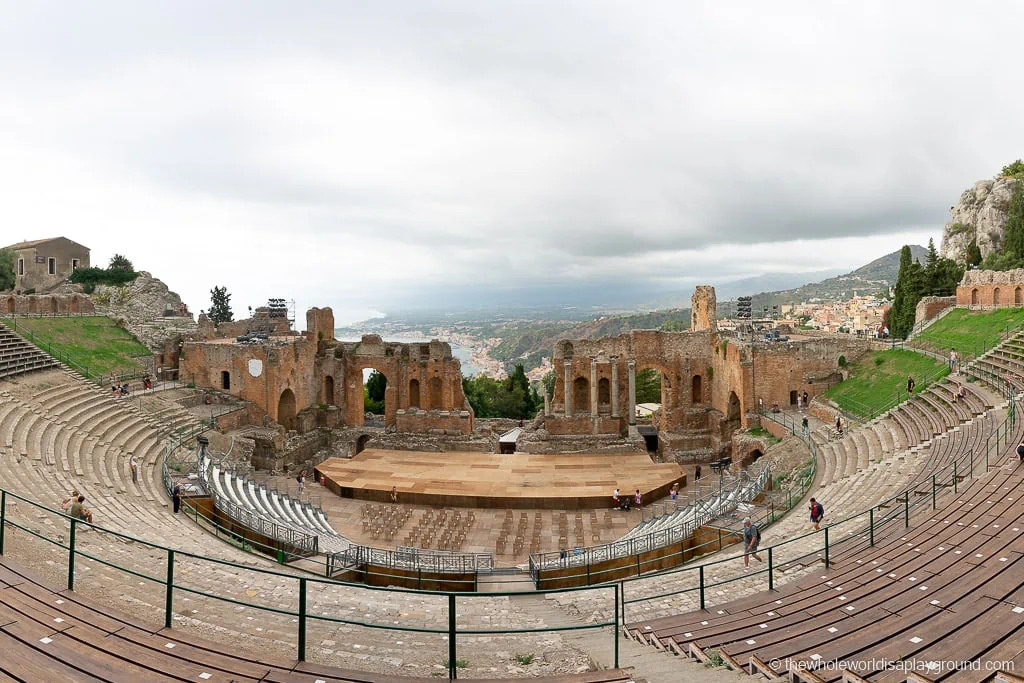 If you fancy a day on the beach, make your way down the hill to Isola Bella, a small island located below Taormina. Known as the Pearl of the Ionian Sea, visitors can walk the stony beach out to the island and it's a great place for a swim.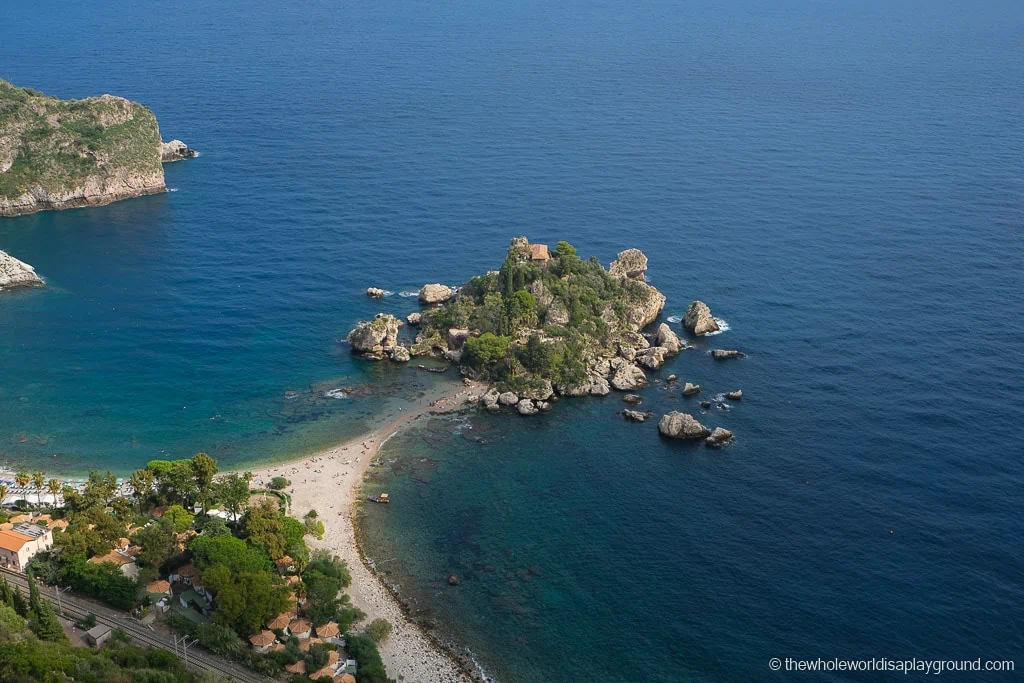 Sicily Itinerary tip: Isola Bella beach is a stony beach so we recommend taking swim shoes with you, especially for young kids.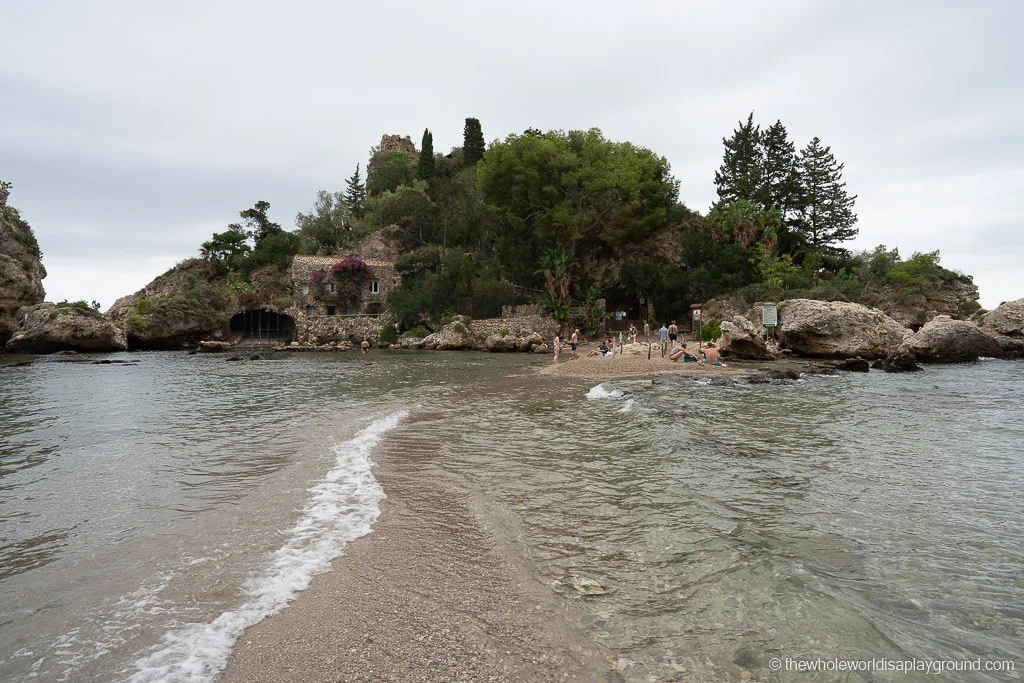 If you're feeling active there is a beautiful hike from the old town up to the Della Madonna Church above Taormina. The views from up here are incredible and it is a great place to view Mount Etna from.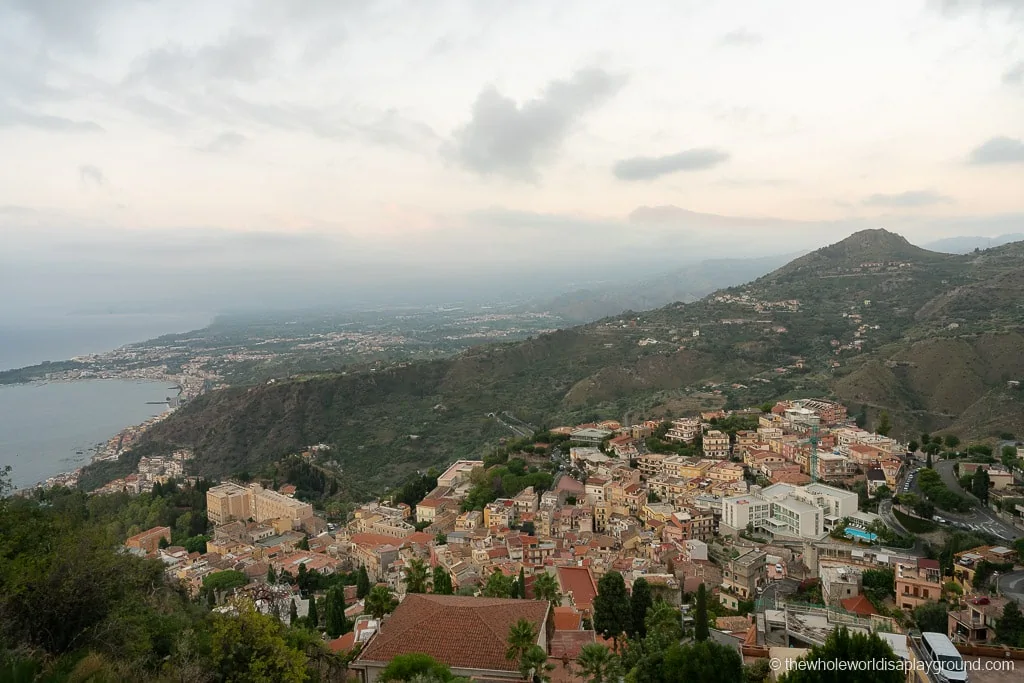 Taormina is a great base for exploring the area and a day trip to Mount Etna is a must. We drove from Taormina to the Rifugio Sapienza, a tourist area on the slopes on Mount Etna from where the cable cars depart.
Mount Etna: Mount Etna is a popular day trip from Taormina. One of the best tours includes pickup in an offroad jeep from Taormina from Catania or Taormina and a guided hike around the ancient craters and recent lava flows – check prices here! or this full-day tour which includes lunch and includes wine tasting at a local winery – check prices here!
Aeolian Islands: a UNESCO World Heritage site, the seven island archipelago is a little piece of paradise located close to Sicily's north coast. This full-day tour, which stops at two islands, is a fantastic opportunity to experience the Aeolian Islands – check prices here!
Days 5/6: Syracuse and Ortigia (2 nights)
The city of Syracuse and the island of Ortigia are packed with charm and history. Ortigia Island (also known as Città Vecchia, the Old City) is the historic centre of the city and is connected to Syracuse by three bridges.
We recommend spending at least three days in Syracuse, which will allow a day for exploring Ortigia, Syracuse and a day trip to the stunning old towns of Noto, Ragusa and Modica.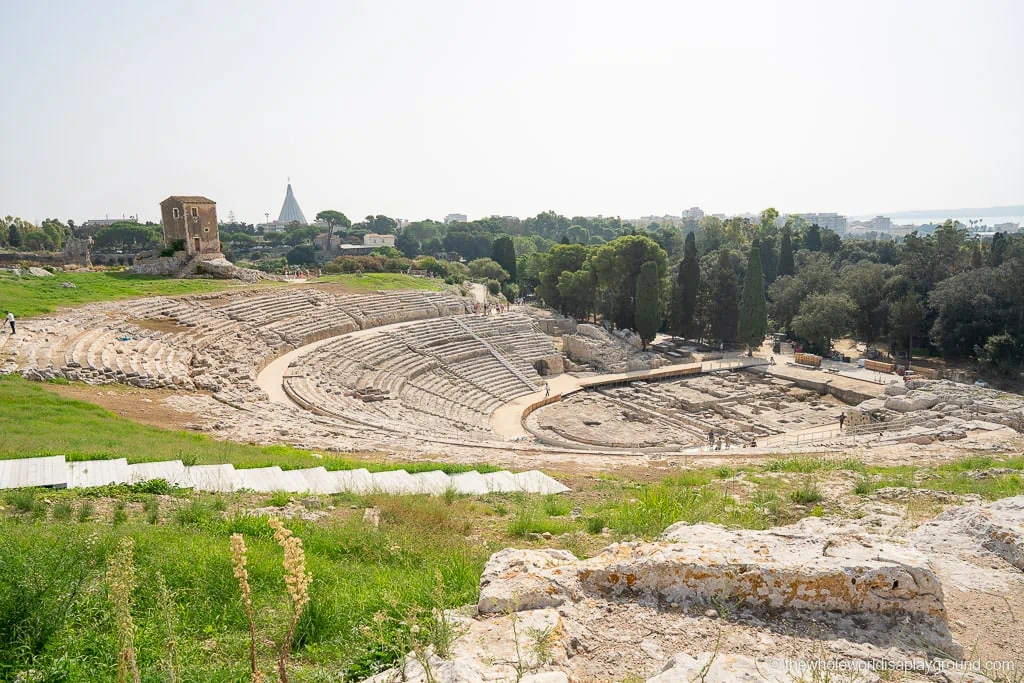 Where to Stay in Syracuse and Ortigia
The main decision facing visitors to Syracuse is whether to stay in Syracuse itself or on the historic island of Ortigia.
Siciliy itinerary tip: we decided to stay on the mainland as we had a rental car (Ortigia is a restricted traffic zone and parking is limited) and we planned to do lots of day trips. We spent a few mornings/afternoons in Ortigia and loved it.
Ortigia: Stay here if you want old-world charm, cobbled streets and boutique hotels. Ortigia is packed with character and offers stunning sea views and lots of restaurant options. Plus you will get to experience the island in the evening when most of the day visitors leave.
Algila Ortigia Charme Hotel – one of the best hotel options in Ortigia and our top pick for the island check prices now!
Syracuse: We found the hotel options more affordable and more varied on the mainland and it was easier to find a hotel with free parking. It's still very easy to visit Ortigia.
Hotel Mercure Siracusa: we stayed here recently and had a lovely time. A modern hotel located a short walk from the Neapolis Archaeological Park and Archaeological Museum. It's a perfect base for staying in Syracuse and it has free parking! – check prices now!
Caportigia Boutique Hotel – another great option if you're looking to stay on the mainland – check prices now!
Book your stay in Syracuse now
Things to do in Ortigia
We recommend taking a day to explore the beautiful island of Ortigia in the centre of Syracuse. It's a small island and easily explored on foot.
Siciliy itinerary tip: If you are driving a rental car in Sicily there is ample parking close to the entrance to Ortigia. We don't recommend taking a car onto Origitia island as the entire island is a a ZTL area. Entering the ZTL outside the allocated times can lead to a hefty fine.
There are lots of things to see in Ortigia, including the Arethusa Springs, the stunning Cathedral of Syracuse and the Temple of Apollo. We really enjoyed strolling around the narrow streets of Ortigia and just wandering around the town.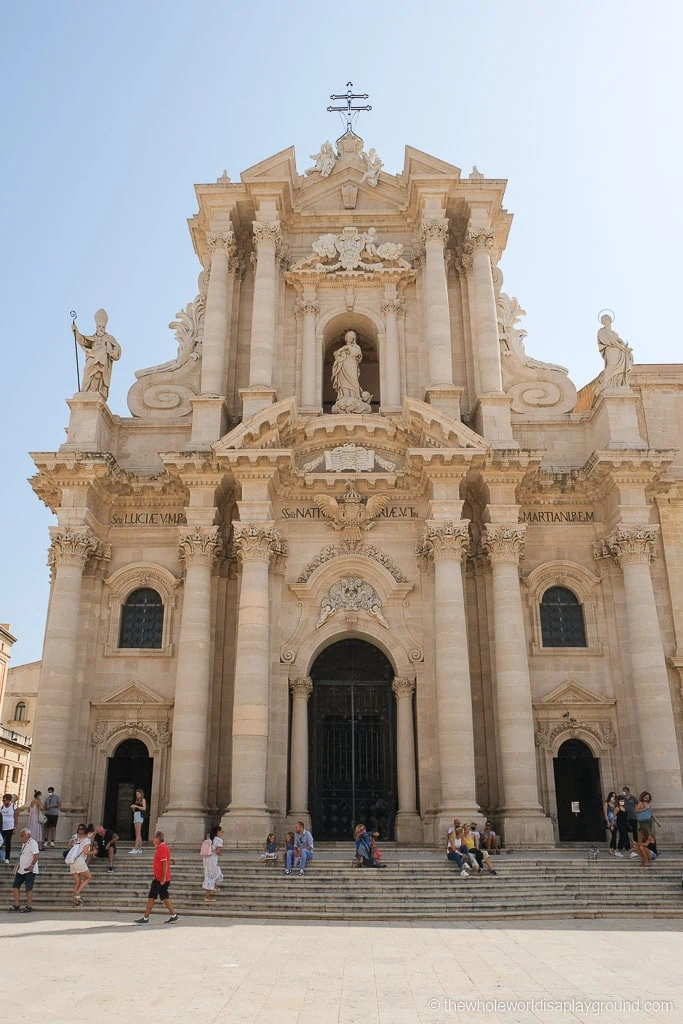 For a really unique experience in Ortigia check out the Church of St. Filippo the Apostle. The church is a hidden gem in Ortigia. Here visitors can take a tour of the underground levels of the church (built by the Greeks) that are beneath the city. Tours run hourly throughout the day.
Things to do in Syracuse
Most of the main historical sights in Syracuse are located just north of the city. Our favourite place in Syracuse was the Neapolis Archaeological Park which is home to the most important archaeological sites in Syracuse including the large Roman and Greek Amphitheatres. The park is open each day from 9 am and takes around 2-3 hours to visit – check prices now!
Make sure to visit the cave known as the Ear of Dionysius located in the park. This ancient water cistern is shaped like an ear which gives it excellent acoustics.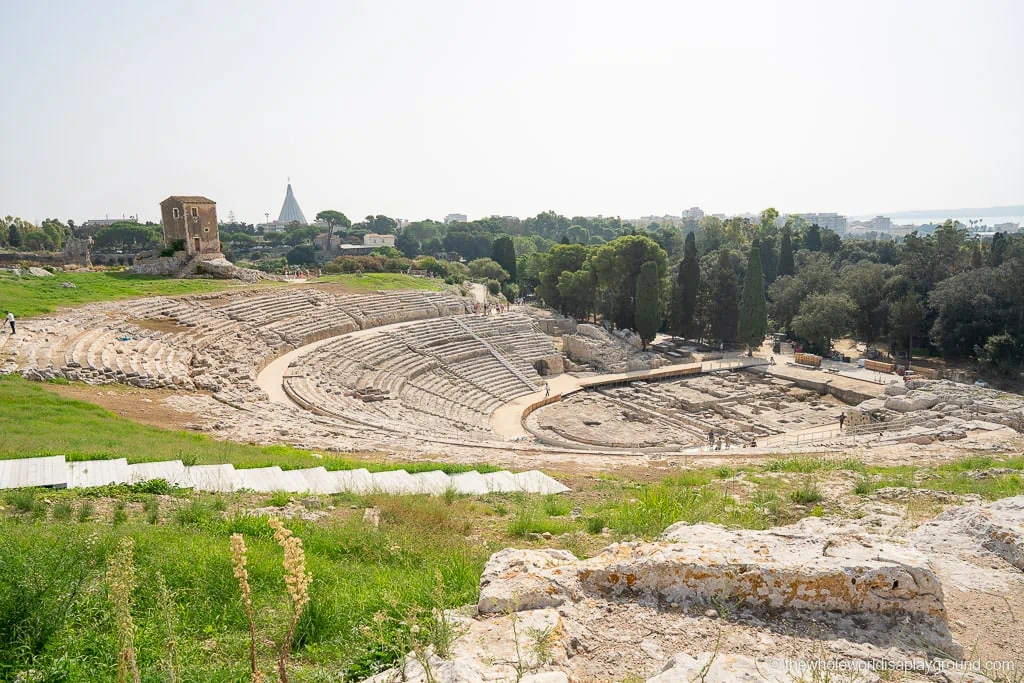 A short walk from the Neapolis Archaeological Park is the Museo Archeologico Regionale Paolo Orsi. The museum holds a vast array of artefacts from locations throughout Sicily and is one of the most prominent archaeological museums in Europe.
Sicily Itinerary tip: The museum also holds an impressive coin collection, which is only open to the public in the mornings.
The impressive Basilica Santuario Madonna delle Lacrime (Our Lady of the Tears) church is just across the road from the archaeological museum and is worth a visit.
One final place that's worth a visit is the Catacombs of San Giovanni (the catacombs of St. John). Visitors can take a tour of the subterranean tombs that lie beneath the church.
Day Trips from Syracuse
Syracuse is a great base for exploring the southeast of Sicily. We stayed in Syracuse for 5 nights and did day trips to a number of places along the coast.
Ragusa, Noto and Modica: the UNESCO towns of Ragusa, Noto and Modica are popular day trips from Syracuse. These beautiful towns are well worth the trip and we especially enjoyed Ragusa and Noto.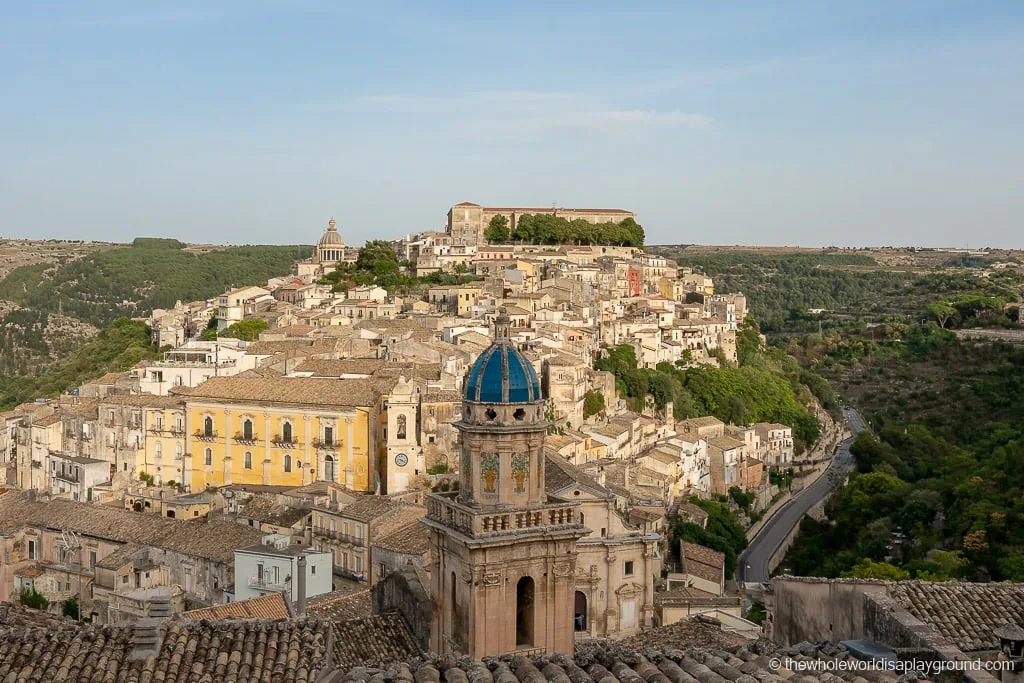 Enjoy the Beaches: the coast around Syracuse has some of the best beaches in Sicily and great places to relax for a day. Some of the most popular beaches close to Syracusa include Arenella Beach (a popular local beach) and the beautiful Fontane Bianche.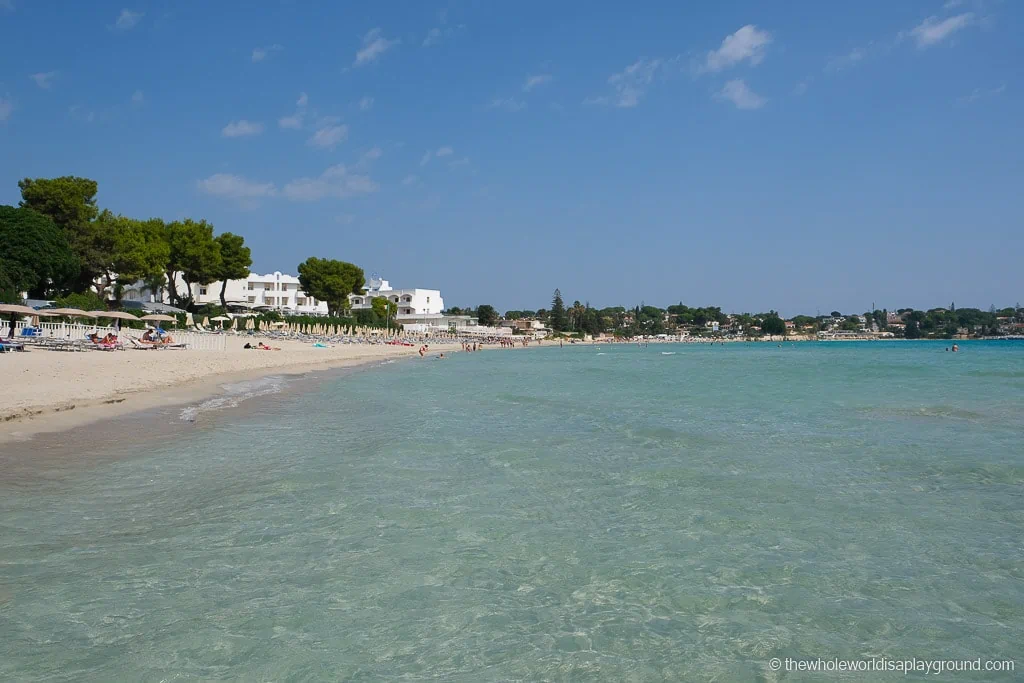 Necropolis of Pantalica: this is a perfect day trip for anyone interested in archaeology or hiking. The Necropolis of Pantalia is a cemetery of almost 5,000 rock-hewn tombs located in a limestone valley around an hour west of Syracuse. The necropolis dates back to the 7th-13th centuries. Pantalica was listed as a UNESCO World Heritage Site, together with the city of Syracuse, in 2005. We visited the necropolis from Syracuse and it was well worth it. The views of the gorge and the many tombs are a really unique experience.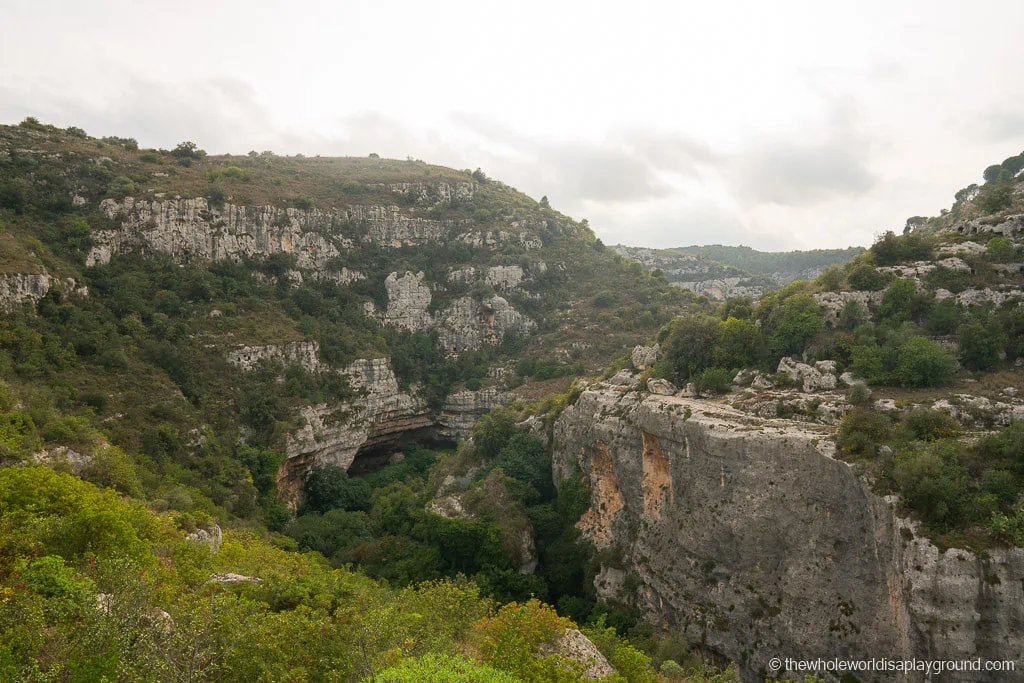 Day 7: Return to Palermo / Catania
Depending on your departure city there is another day at the end of your trip to relax and take in anything you missed before departing Sicily.