Road trips are one of the best ways to travel and driving is by far our favorite way to explore a new country. Road trips are even easier when you have some road trip essentials to help you on your journey and can make a great road trip even better!
We've compiled this list of our ultimate road trip essentials based on our experiences of road tripping through Europe and the USA and across countries including Oman, Mexico, South Korea and South Africa. We've included all the best road trip accessories that we've found invaluable from charging and entertainment essentials to some unexpected products we take on all our trips!
The Best Road Trip Essentials
We've explored almost 50 countries around the world in rental cars and have a lot of experience with road trips. We've put together this list of all the best accessories that we have curated after years of exploring the world by car.
So what do we know about road trips?
We're huge fans of road trips and have driven through 50 countries across the globe over the past 10 years. From exploring the deserts of Oman to a cross-country USA trip, going off-road in Nambia, and exploring South Korea, we have first-hand experience from thousands and thousands of miles on road trips. We know what you need to pack for the road and what you can leave at home! Over the years we've tried and tested countless road trip essentials to try and find the best road trip accessories that everyone should have on their road trips.
Whether it's exploring National Parks in the USA, cruising around Italy by car, or a long weekend out of your city, we have everything you'll need to make your next trip more comfortable and enjoyable while you're on the road. We personally use these items on our trips and consider them our road trip essentials.
We've split the list into a few sections to make it easier to follow:
Driver Essentials
Charging Essentials
Electronics Essentials
Capturing the Roadtrip
Our secret essentials
Luggage
Paperwork and Documents
Driver Essentials
1 | Phone Holder
A phone holder is one of the most important road trip essentials as most drivers, us included, use their cell phones for navigation!
We have tried almost every type of car phone holder: windshield suction cups, dash mounts, magnetic models with the special phone cases and air vent mounts. After lots of trial and error and frustration, we finally found the perfect phone holder – this model with an accordion-style holder that fits to the air vent – check prices now!
This design is the best phone holder for a number of reasons.
it's single hand operated – just lower your cell into the cradle and it locks into position and to remove it simply lift up
the clamps for the air vent are really good quality – they won't slip
it's a simple design that holds your cell securely
We use this holder on all our road trips now – it works great, is really durable and the phone and cradle don't fall!
2 | Dashcam
Dashcams are one of the best additions to your car and are worth having on a road trip. You will hopefully never need to use the footage from them, however, a dashcam can save a lot of headaches in the case of a traffic collision. This is a very popular model that's easy to install, has amazing video quality and is super easy to use – check prices now!
3 | Bluetooth Earbuds
A set of Bluetooth headphones is an essential road trip accessory. They're great for passengers who want to relax and listen to a podcast or a movie. I've been using a pair of the Anker Soundcore Liberty Air 2 and they are fantastic, plus really good value!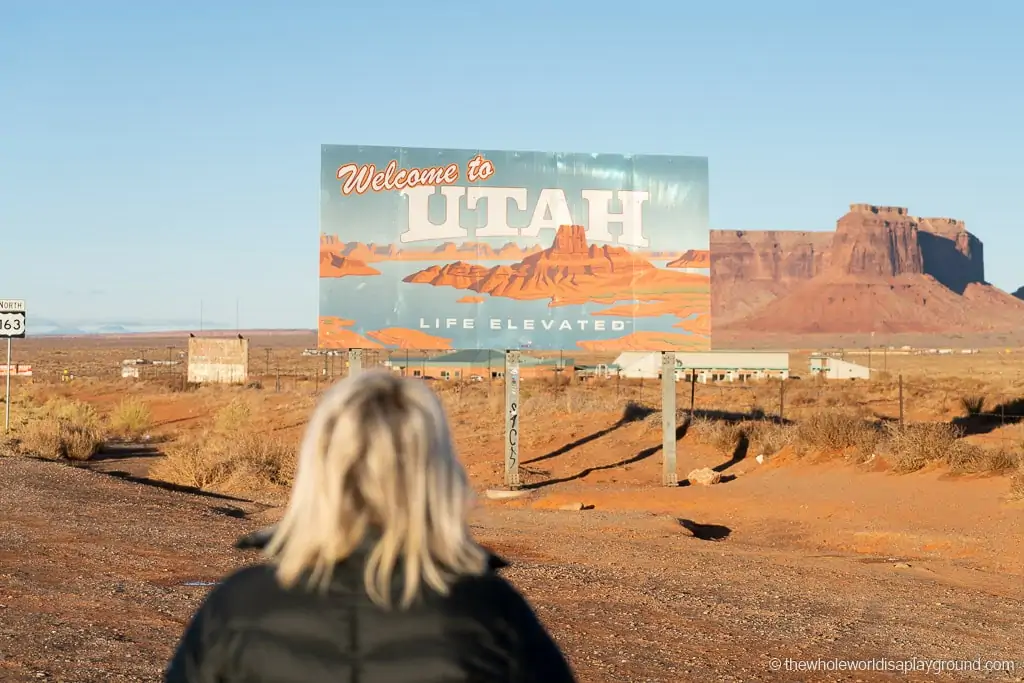 Charging Essentials
One of the biggest challenges on road trips is making sure all your devices are charged. We use a few essential accessories to help us keep everything topped up while on the road.
4 | Inverter
This is one of the most useful items on our list. A car inverter plugs into the cigarette lighter in your car and allows you to charge both an electrical plug and USB from it. This means you can charge almost all of your electronics in your car with an inverter – we charge our phones, laptops, camera, and drone batteries while on the road.
We have tried a few different versions and recommend these two made by Besktek:
The first is very compact and sits in your car cup holder. It's so small you could mistake it for an actual mug and has one outlet and two USB ports for charging – check prices now!
The second model is a larger, more powerful 300W inverter from Bestek. This is better for higher-power devices such as drone batteries or laptops, or where you want to charge two electrical plugs at a time. This model is a permanent fixture in our road trip packing list – check prices now!
5 | USB Power Bank
We use USB power banks so often on road trips that we now have three of them! They are really useful for charging cellphones and tablets while on the road, especially for passengers in the back seat who may not have access to a charger.
We have tried many brands of power banks and have found that the Anker power banks are the most durable and reliable. The Anker portable charges also feature smart charge functionality so charging will be faster with them.
We have two of these 10,000 mAh Anker Powercore slim portable chargers, which have enough power to charge a cellphone 2-3 times or a tablet once. They charge quickly via USB-C and are really slim so fit into all car storage – check prices now!
We also have a larger Anker Powercore (26,800 mAh) version which has three USB outputs –check prices now!
Electronics Essentials
6 | Headtorch
A headtorch is one of the most useful accessories we carry on our road trips. It's great for finding things in the trunk at night and is a welcome addition if you end up needing to change a tire. We have this generic head torch and it works great. It's rechargeable over USB, lasts a few hours, and is quick to recharge – check prices now!
7 | Tablets
We have a Amazon Fire HD 10 Kids tablet for each of our toddlers for road trips and can't imagine traveling without them. Young children and long drives can be challenging so the tablets are a great way to keep them entertained. The Kids Edition Fire HD comes with a 2-year worry-free warranty that covers accidental damage (we've had to call this in for one of ours!) and alloews access to a vast catalog of kid-friendly content –
No products found.
8 | Car Vacuum Cleaner
This one is especially useful for those with kids on a road trip! A small handheld vacuum cleaner can really help to keep your car clean and tidy on a road trip – check prices now!
9 | Portable Fridge
This is one road trip essential that we wish we'd purchased sooner. A portable fridge saves money on road trips as you don't have to keep buying cold drinks or snacks – we stock up in the supermarket and fill up the fridge. Having chilled fruit and water also makes it much easier to eat more healthy on road trips and having the option of running a proper fridge in your hotel room is great.
We have an Alpicool K18 portable fridge for our road trips and it works great. It is powered off the cigarette lighter while the car is running and there is a power cable to keep it running in your hotel room – check prices now!
10 | Seatback Organiser
A seatback organizer is invaluable for storing electronics in the car. It fits most car seats and holds lots of stuff for easy access – check prices now!
Capturing the Roadtrip
Have you ever been on a road trip if you don't have the photos to prove it? We carry two cameras in addition to our cellphones on our road trips (although we never leave them, or anything valuable, unattended in the car.
11 | Instant Camera
Everyone has cellphones and cameras on road trips but we love having our instant camera. Instant photos are a brilliant way to capture memories on the road. We have two instant cameras, the Instax mini and wide, and love both.
The Fuji Instax mini is great for selfies and indoor photos, plus it's smaller so easier to carry –
No products found.
The Fuji Instax wide produces much large instant photos and we love it for outdoor photos when we're visiting new places – check prices now!
12 | Action Cam
We've used our Osmo action for family videos and photos on our road trips for the last few years and love it. It's small, waterproof without an extra case, and is really durable – check prices now!
Essentials We Take on Every Trip
We have a few random (but extremely useful) items that we recommend packing on every road trip:
13 | Reusable Mug
If you don't already own one, a good quality reusable insulated mug is a must for road trips. They keep your drinks hot or cold for hours, plus they're good for the environment as you can avoid single-use disposable cups. We use this Contigo mug and it keeps our coffee warm most of the day – check prices now!
14 | Duct tape
Things break on the road – it's just a fact of life! Plus is always happens just when we don't want it to. We always pack a roll of Duct tape and it has helped us out in so many ways! Duct tape can fix (at least temporarily anyway) most things that break on the road so having a roll of it in the trunk can be a lifesaver. If you are going on a shorter road trip then roll a length of tape around a sharpie pen to avoid having to take the large roll with you – check prices now!
Road Trip Essentials Tip: if you are travelling with young kids then this tip might be useful! We use duct tape to make sharp edges safer in our accomadation – we tape some packaging or whatever we have to end to sharp corners!
15 | Ziplock bags (large)
From holding food and snacks to protecting electronics from water or organizing out things, ziplock bags are simply brilliant. Try to get the 5L/1 gallon heavy-duty versions as we find they work best and you use time and time again – check prices now!
16 | Wet wipes
Wet wipes are one of the most indispensable items you can take on a road trip. We use them for everything like cleaning up spills and wiping down dirt off the upholstery – check prices now!
17 | Window blinds
Anyone traveling with kids or back seat passengers will know how annoying bright sunlight can be. These blinds wrap over the entire door and offer full coverage from the sun in the back seat. We love them! – check prices now!
18 | Picnic blanket
We take a small packable picnic blanket on all our road trips and it's super useful. We highly recommend the Monkey Mat range of picnic blankets which we've used for the last few years. We love that it has weighted corners so it's easy to spread out. It's also waterproof and sand simply falls off it when you pick it up – check prices now!
19 | Microfibre Towels
Microfibre towels are amazing and we take a couple on all our road trips. They are super lightweight, pack down incredibly compact, and most importantly dry very fast.
Road Trip Essentials tip: We recommend picking up some microfibre towels in dark colors as they don't show stains as easily as the lighter colours do.
check prices now!
20 | Audiobooks
Audiobooks are fantastic for road trips – especially long drives. We use Audible.com for all our audiobooks and they have a great selection for kids too – try Audible now
Luggage
Let's face it, one of the most stressful things about road trips is trying to get everything in the car! We have a few packing essentials to help us on our way:
21 | Packing cubes
Packing cubes are probably the greatest luggage invention ever! We've used them for years traveling around the world and they are invaluable on road trips. They help you pack more into your bags and keep things super organized.
The best thing is they're cheap (you really don't need the expensive ones). We've used the Amazon Basics models for years and despite their low price they are really hard-wearing – we've never had one fail on us.
22 | Dry Bags
Dry bags are extremely useful if you are traveling in wet weather or need to store damp items – check prices now!
Emergency Equipment
23 | First Aid Kit
It's always worth being prepared so make sure to pack a first aid kit in your car and know exactly what's in it. You will hopefully never have to use it but if you do it's there! – check prices now!
24 | Car Tire Inflator
We always make sure to pack an inflator in the trunk when on road trips. They are extremely useful, especially if you have a slow puncture or need to top up your tires. Having correctly inflated tires will also reduce your fuel consumption on longer trips so it's worth keeping them topped up to the correct pressure. This model plugs into the 12v socket in your dash – check prices now!
25 | Jump Starter
Having a battery jump starter is extremely useful to have on hand just in case your battery dies. Simply charge up the jump starter, connect to your dead car battery and start your car. It's really easy to use and will save a lot of headaches should you need it- check prices now!
Paperwork and Documents
When traveling it's always important to have your documentation in order and with you, especially if you're traveling abroad to another country:
Passport
Car rental companies in some countries will need a copy of your passport before you can rent a car.
Drivers license / International Drivers Licence
You'll also need your driver's license and the credit card you used to make the booking to allow you to rent the car. Some countries require an international driver's license – an international driver's license is effectively a translation of your driver's license. You typically need to pick up an International Drivers Licence in your home country prior to travel.
Happy road tripping!