A South Africa road trip is one of the most amazing road trips on the planet. South Africa is a huge country with lots to see and do and this can make planning a road trip to capture the best of the country a daunting task. After a month-long epic 6,000km road trip from Johannesburg to Cape Town, taking in Eswatini (formerly Swaziland) and Lesotho, we wanted to share our ultimate South Africa road trip itinerary and route. For any of you planning a South Africa road trip here is our guide for making the perfect South Africa Itinerary.
South Africa Itinerary Route
We chose a point to point route, flying into Johannesburg and departing from Cape Town, opting for a one-way car rental. This allowed us to explore lots of South Africa and take in many of its must-see sights: the beautiful Panorama Route, an unforgettable safari in Kruger National Park, an off-road adventure across the Sani Pass into Lesotho, the stunning Garden Route, Eswatini, the wildlife in Addo Elephant Park and the love at first sight Cape Town as well as everything in between!
South Africa itinerary tip: This is an action packed route which we covered in four to five weeks. It involves significant amounts of driving so we'd definitely recommend two drivers or stretching the trip out over a longer period.
South Africa Route Map
Our suggested route across South Africa is below:
Johannesburg – Panorama Route – Kruger/Sabi Sands – Swaziland – iSimingaliso Wetland Park – Sani Pass – Lesotho – Valley of Desolation – Garden Route – Cape Town
Click here for the detailed Google map
How to Use This Google Map: Click on the grey star at the top of the map and this map will be added to your Google Maps account. You can then view it on your phone or computer in Google Maps by clicking on the menu button, going to "Your Places" and selecting this map. We use these maps all the time as you can set out your itinerary ahead of time and quickly reference the saved maps.
Renting a Car
Renting a car in South Africa is the best way to explore the country plus driving is relatively easy in the country (check out our tips for renting a car in South Africa tips for renting a car in South Africa). Having your own car gives you the flexibility to travel at your own pace a see places that are simply not possible on group tours or public transport.
We're huge fans of road trips and have driven rental cars in almost 50 countries so we have a lot of experience renting cars in foreign countries. Book your car now with RentalCars.com, where you will find the best rental car prices
Click here for the best rental car prices
South Africa Guidebooks
Check out some of our favourite South Africa Guidebooks for more trip inspiration.
Daily Itinerary
Day 1: Arrive in Johannesburg
We arrived in Johannesburg after a full day of travel from Dublin, Ireland and opted to catch up on some much-needed sleep before starting our journey through South Africa.
Where to Stay in Johannesburg:
Protea Hotel by Marriott Johannesburg Parktonian All-Suite: After a long day of travel we wanted somewhere close to the airport to rest our heads and opted to spend the night in Johannesburg. It was clean and comfortable and we woke up refreshed and ready to begin our journey – click here for best prices!
Click here for the best Johannesburg Hotel Prices
Day 2: Johannesburg and Cradle of Humankind
We started our morning with a whistle-stop tour of Soweto, the most well-known township in South Africa, where we stopped at Vilakazi Street which was once home to two Nobel Peace Prize winners, Nelson Mandela and Desmond Tutu. A visit to the Apartheid Museum is an essential part of any Johannesburg itinerary.
After Johannesburg, we drove to the Cradle of Humankind, one of South Africa's 8 UNESCO World Heritage Sites which documents the evolution of humans over time.
South Africa itinerary tip: We're obsessed with UNESCO World Heritage sites so, if you don't fancy the 3 hour detour to the Cradle of Humankind, staying in Johannesburg for a second night may be a better option.
Where to Stay :
Click here for the best Johannesburg Hotel Prices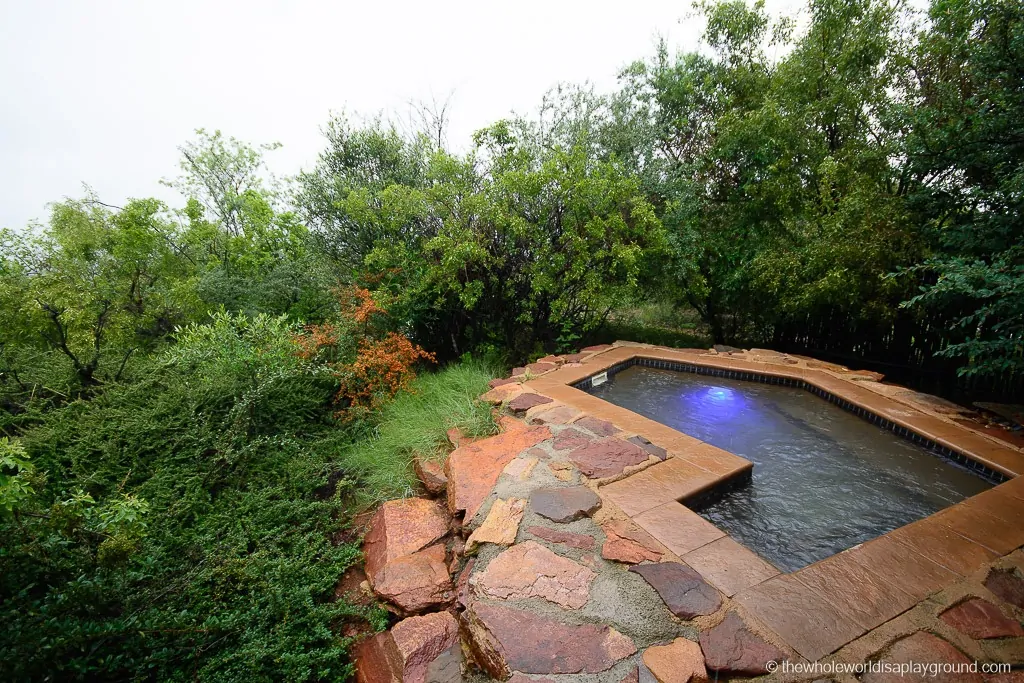 That's my pool! African Pride Mount Grace
Click here to book this hotel now!
Day 3 and 4: Hazyview and the Panorama Route
We left Johannesburg with our sights set firmly on the safari plains of Kruger National Park and Sabi Sands Game Reserve and spent two nights in Hazyview, a town on the cusp of both the park and the Panorama Route. The iconic Three Rondavels, beautiful viewpoints and stunning waterfalls make up the Panorama Route and it's worth spending the day exploring (check out our favourite stops on the Panorama Route).
Where to stay in Hazyview:
Protea Hazyview: Where we stayed and well located for us to explore the Panorama Route and continue to our safari in Kruger National Park and Sabi Sands – click here to book now!
Click here for the best Hazyview hotels
Days 5 to 7: Sabi Sands Private Game Reserve, Kruger National Park
Kruger, South Africa's largest game reserve and home to the Big 5, was our park of choice for our first foray into safari and we opted to spend two nights in Sabi Sands, a bordering private game reserve. Given it was our first safari we decided on a 2-night trial to see if we enjoyed safari life. We absolutely loved it and have since returned to Namibia and Botswana for more Africa wildlife adventures! Both Kruger and Sabi Sands are amazing safari options in South Africa so you may want to set aside some additional time for this part of the trip. Check out our safari photos here.
South Africa Itinerary Tip: Sabi Sands is a private game reserve which shares unfenced borders with the publicly accessible Kruger National Park. Unfenced means the animals move freely between the two parks and this makes for an equal chance of game sighting in both. We choose a private game reserve as we wanted to be taken on game drives rather than do a self drive and loved that we would have the opportunity to go off road for sightings.
Where to Stay in Sabi Sands:
Inyati Game Lodge: We opted for the Inyati Game Lodge in Sabi Sands and never regretted it – we were totally spoiled from start to finish. Incredible rooms, beautiful food, excellent staff and a stunning riverside location all made for an idyllic stay. Our amazing guide introduced us to the Big 5 within our first 24 hours and were were hooked! Read our review Inyati Game Lodge in Sabi Sands here – and – Click here to book this hotel now!
Click here for the best lodges in Sabi Sands
Days 8 and 9: Safari in Eswatini
Swaziland is the smallest country in the southern hemisphere and, if you want to include another African country in your adventure, post-Kruger is the perfect time to make the drive into Swaziland. Safari is a highlight of a Swaziland adventure and both the Hlane Royal National Park and Mkhaya Game Reserve offer the opportunity to spot the Big 5. After a relatively quick border crossing at the Mananga border crossing, we opted for Hlane which is home to 4 of the Big 5 with elephant, lion, leopard and white rhino roaming it's grounds.
South Africa Itinerary tip: Hlane has some fenced off sections which, although less natural than the unfenced Kruger, mean wildlife spotting is almost guaranteed.
Where to Say in Eswatini:
Hlane Royal National Park: The lodge is rustic with no electric in the huts but it is right in the midst of the action just 400 metres away from the lion enclosure – click here for prices!
Day 10: Sibebe Rock and Mantenga Village
Day 10 saw us heading west towards the capital city Mbabane which is home to the colourful souvenir filled Swazi market. Other stops close by include the Mantenga Village in Ezulwini which is home to a traditional village and, if nature peaks your interest, Sibebe Rock is the second largest freestanding rock in the world after Ayers Rock in Australia.
South Africa road trip itinerary tip: A visit during its annual Umhlanga Reed dance ceremony, when tens of thousands of Swazis girls participate in an 8 day song and dance festival, is an important date in the Swaziland calendar and a feast for the ears and eyes.
Where to Stay:
The Royal Swazi Spa Hotel: is located just outside Mbabane and it was a welcome return to modern day amentites with a swimming pool, spa and golf course – click here for prices!
Click here for the best Swaziland hotel prices
Day 11 and 12: Hluhluwe and iSimingaliso Wetland Park
After leaving Swaziland via the Golela border crossing we drove to Hluhluwe where we based ourselves for two nights to visit the iSimingaliso Wetland Park. Spend the night at the Protea Hluhluwe and schedule an early start to arrive at iSimingaliso National Park for opening. iSimingaliso is a UNESCO World Heritage Site with the highlights being Cape Vidal, Mission Rocks Beach, the wetlands and St Lucia with its hippo, crocodile and flamingos.
South Africa Itinerary Tip: Hluhluwe Rhino Reserve has a large population of black and white rhino. We had some incredible rhino encounters in Sabi Sands so we opted to skip this, however we had high recommendations from fellow travellers we met on the trip.
Where to Stay in Hluhluwe:
Protea Hluhluwe: We stayed at the Protea Hluhluwe which was hotel was reasonably priced with great food, secure parking and nice rooms. Perfect for exploring the iSimingaliso Wetland Park – Click here for the best prices!
Click here for the best hotels at iSimingaliso Wetland Park
Day 13: Underberg
If you want to visit Hluhluwe Rhino Reserve this morning is a good opportunity before setting of on the five hour drive to Underberg, the town closest to the beginning of the Sani Pass and the gateway to Lesotho. We spent our evening in Underberg eating an excellent meal at Malachite Manor and chilling out before our early morning start for Lesotho.
Where to Stay in Underberg:
Malachite Manor: We stayed at the gorgeous boutique style Malachite Manor, which is a short drive from the start of the Sani Pass. The rooms were beautiful, the Thai restaurant on site was delicious and the lady who runs it is a treasure! – click here for best prices!
Click here for the best hotels in Underberg
Day 14: Sani Pass and Lesotho
The Sani Pass is a mountain pass that cuts through the UNESCO designated Drakensberg mountain range linking South Africa with the mountain kingdom of Lesotho. As the only road link between southern Lesotho and South Africa, it was an important trade route to enable the landlocked Kingdom of Lesotho to trade with South Africa. More recently it has become a magnet for tourists and 4×4 adventurers, eager to experience the challenging off-road drive and magnificent views of the Drakensberg mountain range. It's also one of Africa's highest mountain passes and home to the highest pub in Africa at the top! Check out our Sani Pass adventures here!
South Africa Itinerary Tip: rent a 4×4 vehicle if you want to cross the Sani Pass as it is essential. Some companies offer day trips over the Pass if you prefer to leave the driving to someone else.
Where to Stay in Lesotho
Accommodation options are limited outside Lesotho's capital city of Maseru so we opted to spend the night at the Sani Mountain Lodge which is located beside the highest pub in Africa and looks out on the Sani Pass. Accommodation is basic but it was our only option to break the drive between Underberg and Maseru.
Day 15: Lesotho
After leaving the Lesotho border we headed for the capital city of Maseru. Lesotho has some fantastic sights: the Katse Dam, the Maletsunyane Falls (the highest Falls in Southern Africa), the Ha Baroana rock art east of Maseru and the beautiful Sehlabathebe National Park. Driving through the villages of Lesotho and witnessing daily life is also a fantastic experience.
Where to Stay in Lesotho
Click here for the best hotels in Maseru
South Africa Itinerary tip: the children of Lesotho love to approach the tourist cars asking for some sweets so pick up some in South Africa if you want to make their day.
Day 16: Bloemfontein
Leaving Maseru, cross back into South Africa at the Maseru Bridge border crossing. We opted to spend the night in Bloemfontein which is a few hours from South Africa – Lesotho border. Bloemfontein is the birthplace of Lord of the Rings author JRR Tolkien before he moved to England and we made a little detour to the Hobbit Boutique Hotel where a plaque stands in his memory.
Where to Stay in Bloemfontein:
Protea Hotel Willow Lake: We spent the night here at this perfect overnight hotel which overlooks the zoo next door. So you can waken to the animals in the morning out your widow! – Click here for best prices!
Lord of the Rings fans may prefer to stay at the Hobbit Boutique Hotel where rooms are named after Lord of the Rings characters.
Click here for the best hotels in Bloemfontein
Day 17: Graaff-Reinet
Graaff-Reinet is half way between Bloemfontein and Port Elizabeth and is home to the incredible geological phenomenon known as the Valley of Desolation. The vertical cliffs and the freestanding hundred metre high columns are breathtaking and the sunsets spectacular. This was one of our favourite stops on our South Africa road trip and we would absolutely include it on your itinerary!
Where to stay in Graaff-Reinet:
Drostdy Hotel: one of our favourite hotels of our South Africa road trip, we stayed in the Drostdy Graaff-Reinet. The rooms are stunning and our breakfast and evening meal in the restaurant were both beautiful. The grounds, secluded swimming pools and fantastic staff made our stay here unforgettable. Nothing was too much trouble and a really good bottle of wine was around US $10! – Click here for best prices!
Click here for the best Graaf-Reinet hotel prices
Day 18 and 19: Port Elizabeth and Addo Elephant Park
Addo Elephant Park is home to one of the densest elephant populations on earth as well as rhino, lion, buffalo and leopard. We spent two full days self-driving in Addo before starting the Garden Route and we were totally addicted to the abundance of wildlife. With 450 elephants our elephant encounters were truly magical and we will never forget the moment a family of elephants walked alongside us in the setting sun.
South Africa road trip itinerary tip: If you've travelled the Garden Route previously or opt to return east then Route 62 is the scenic inland alternative with lots of kitchy small towns to explore. It's the longest wine route in the world and highlights include the Karoo Desert National Botanical Garden and Ronnies Sex Shop.
Where to stay in Port Elizabeth:
Protea Marine Port Elizabeth: We stayed in this hotel which was the perfect retreat after a day at Addo Elephant Park before we hit the Garden Route – Click here for best prices!
Click here for the best hotels in Port Elizabeth
Day 20 and 21: Plettenberg Bay | the Garden Route
The Garden Route is one of the most beautiful stretches of coastline in the world and is an absolute must see on any South African road trip. The spectacular coastal drive stretches from Storms River Mouth in the Eastern Cape to Mossel Bay in the Western Cape and, for us, it was love at first sight as we set off to explore the best sights. We based ourselves in Plettenberg Bay for the first two nights and visited Storms River Mouth, jumped off Bloukran's Bridge and took long walks on the beach at Plettenberg Bay. Read more about our Garden Route adventures here.
Where to Stay in Plettenberg:
Singing Kettle: we spent an incredible few nights at the Singing Kettle in Plettenberg Bay. This was one of the best self catering accommodations we've ever stayed at, the restaurant below was fantastic and the views over the Indian Ocean were spectacular – Click here for best prices now!
Click here for the best hotels in Plettenberg Bay
South Africa Itinerary Tip: The architecturally stunning Bloukrans Bridge is, at over 200 metres, the highest in Africa and arches dramatically over the gorge below. As well as being visually stunning, it is also home to one of the highest bungy jumps in the world. Dave immediately signed up, leaped off that bridge like a pro and had the time of his life so if you're feeling brave … bungy jump!!
Day 22 : Knysna | the Garden Route
Knysna, a waterfront town along the Garden Route, is a gorgeous base for one night to check out the Knysna Heads. The Knysna Heads are two imposing sea cliffs that protect the entrance to the Knysna lagoon from the unrelenting Indian Ocean. Despite our sea drenching from a bumpy boat ride to the Heads it was spectacular to watch the sea thrash through the narrow gap and drink in the stunning scenery.
Where to Stay in Knysna:
Click here for the best hotels in Knysna
Day 23: George | the Garden Route
As the Garden Route draws to a close The Map of Africa and Kaaimans River Bridge are beautiful stops near Wilderness and The Post Office Tree is the highlight of Mossel Bay, the final stop on the Garden Route.
The Map of Africa viewpoint has a spectacular view overlooking the Kaaimans River Basin, where the flow of the river has formed a piece of land shaped exactly like a map of the African continent. As for the Post Office tree, the story goes that in 1501 a Portugese sailor sought refuge in Mossel Bay during a storm and he left a written account, with an address, in an old boot. The report was found by the person it was addressed to and the tree then served as a post office.
South Africa Itinerary tip: It's still possible to post letters at the old Post Office Tree and we took the opportunity to send ourselves a postcard from the boot shaped post box!
Where to Stay in George
Protea Outeniqua: After a fun day of sightseeing we opted to spend the next night in George where we opted for the Protea Outeniqua, a great road trip hotel which was excellent value for money and had excellent rooms – Click here for best prices!
Click here for the best hotels in George
Day 24: Gansbaai
As we left the Garden Route for Cape Town we couldn't resist a detour to check out Cape Agulhas, the most southern point in the African continent and the dividing point of the Indian and Atlantic Ocean. The rugged wilderness, the crashing waves where two oceans meet and the stunning African sunset took our breaths away. Gansbaai is a stunning stopover en route to Cape Town and its natural beauty is mesmerising. The rugged coastline is as spectacular as the sea life in its waters: whales, seals, penguins and sharks are abundant in the area and it's known as the Great White Shark capital of the World. Gansbaai is also one of the most popular spots for cage shark diving if you so desire!
Where to Stay in Gansbaai:
Bellavista Country Place: The beautiful Bellavista Country Place was our final hotel before Cape Town and we indulged in some well deserved luxury and glorious views – Click here for best prices!
Click here for the best hotels in Gansbaai
Book the Bellavista Country Place now
Days 25 to 30: Cape Town
We spent 5 nights in Cape Town and it was the perfect amount of time in what we consider as one of the world's most beautiful cities. From the iconic Table Mountain and the historic Robben Island to the surrounding world class vineyards and the stunning coastal drives, Cape Town was incredible. When in Cape Town check out:
take a day trip to Stellenbosch, Franschhoek and Paarl, some of South Africa's most famous wine regions.
Where to Stay in Cape Town
Protea Waterfront Breakwater Lodge: we stayed at the Protea Waterfront Breakwater Lodge. This waterfront hotel is an excellent choice if you want a V&A location at a lower price. The rooms in the main hotel building were our favourites and we loved being two minutes walk from the waterfront – Check prices now!
POD Camps Bay: Camps Bay is a stunning Cape Town suburb within easy reach of the city and an awesome alternative to staying in Cape Town itself. The rooms are compact but gorgeous and the views are incredible with miles of ocean, a mountain backdrop and magical sunsets. – Check prices now!
Long Street Boutique Hotel: if you want to be in the middle of the action Long Street, surrounded by restaurants, shows, cafes and bars is a great option. This quirky hotel is a fab boutique choice for leisure travellers and is good value by Cape Town standards – Check prices now
Click here for the best Cape Town Hotel Prices
South Africa Itinerary tip: budget a few days for Cape Town as there is lots to do and the weather can be unpredictable. Our initial booking to Robben Island got cancelled just as we were about to board the ferry due to high winds and it was three days before Table Mountain finally peeked through the clouds.
Driving in South Africa
We were given two pieces of advice upon renting the car and they're crucial for driving in South Africa:
Always ask locally at your hotel for advice on the best route (Google Maps may send you on a terrible road because the distance is slightly shorter) and check the distances and times on Google Maps and ensure that the drive is manageable before setting off. We split the driving between two drivers and are both comfortable and practiced in driving long distances.
Avoid driving after dark in South Africa especially in rural areas: roads are often unmarked and unlit, animals are a frequent sighting on the road and it's hard to spot them after dark and we often encountered people walking along the roads with no reflective gear.
Rent your car now for South Africa
For more driving tips check out our guide to driving a rental car in South Africa.
South Africa itinerary tip: make sure to inform your car rental company if you are planning on taking the car outside of the country of rental. At the time of rental we were given letter of authority to show at border crossings which allowed us to take the car into Swaziland and Lesotho
Extending the itinerary
Our detailed itinerary is ideal for a three week or month-long trip but there are other South Africa highlights which you might wish to include if you have additional time:
Safari: South Africa is a safari dream and, if you love safari, allocate extra time to the game parks.
Lesotho and Eswatini: spend more time exploring these African gems! We would have dedicated more days if we had the time!
North West Province: big 5 game reserves, hikes, mountains and quaint towns make up one of South Africa's least visited provinces. If you have a few extra days continue north to Namibia and Fish River Canyon.
Route 62: route 62 is the scenic inland alternative to the Garden Route with lots of kitchy small towns to explore. It's the longest wine route in the world and highlights include the Karoo Desert National Botanical Garden and Ronnies Sex Shop.
South Africa Itinerary tips
Currency: get some South African rand before you leave home or at the airport on arrival.
Fuel: on long drives in the Eastern part of the country pick up fuel regularly in the major towns as there can be long distances between stations. Credit cards are accepted in the larger stations but some smaller stops were cash only.
Supplies: snack and drinks are available at most of the fuel stops and the bigger towns had a well stocked Spar. We picked up a cool box on arrival to keep our liquids cool.
Maps/GPS: we downloaded maps onto our phone which were accessible offline and they worked really well. We kept a paper map in the glove box just in case!
SIM cards: it's easy to pick up a pay as you go SIM in the airports as well as local mobile network stores. Vodafone was awesome for us.
Internet: widely available and our Vodafone SIMs had a generous data allowance.