I have a little crush on the Turkish Airlines Istanbul lounge. It all began with a trip to Istanbul earlier this year and the deal was sealed with a second trip at the end of September.
It's lounges like these that actually make airports a fun place to hang out and encourage me to get out of bed a little more quickly on flight days. No mean feat given how much I like an extra 5 minutes snooze time. But with the gorgeous Turkish food, entertainment in the form of a movie theater, library, pool table and a self playing grand piano, there is no danger of me grabbing extra sleep on Istanbul flight days!
The Lounge
The lounge is divided into a series of arches and as a result is light and airy. It's a busy lounge and is capable of accommodating 2000 passengers per day but the layout effectively separates the lounge into sections so it was possible to find a quiet spot to sit. I love that they have some proper greenery inside with the 100 year old olive tree taking centre stage.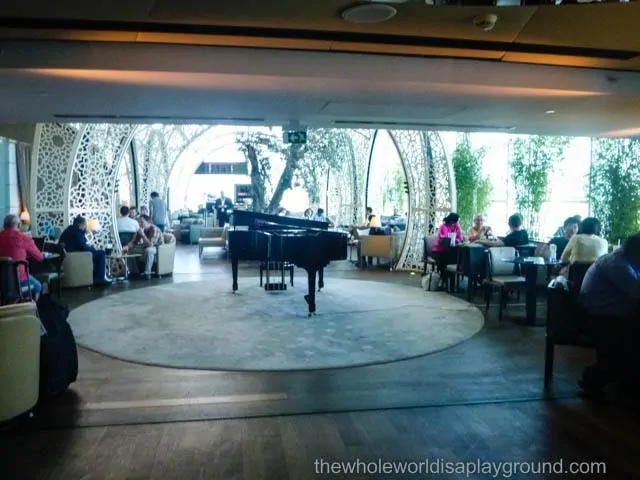 The movie theater:
With comfy leather armchairs and a popcorn station the small cinema is one of my favourite places in the lounge.
Library and Pool Table: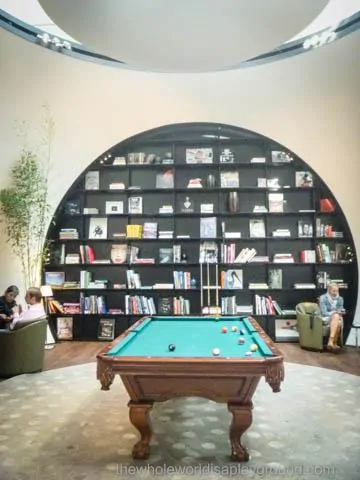 The Grand Piano
I like to refer to this as the 'Piano Bar'! This is my favourite area in the lounge and it's at this end I try to grab a seat. It's close to the coffee bar and drinks offerings and the gorgeous soup and salad station. The computers and bathrooms are also close by.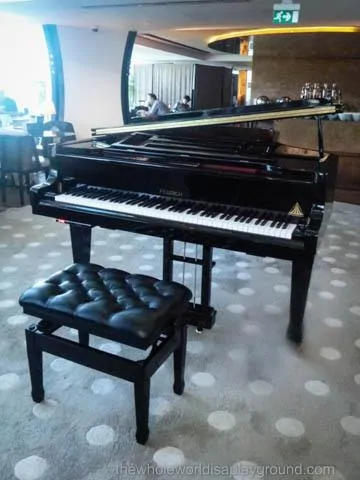 Food
I love Turkish food. My love affair began in a Turkish restaurant in New York City and peaked during my first trip to Istanbul. I had always hoped I'd be one of those skinny round the world travellers but, alas, I love my food too much. You win some, you lose them I suppose!
There are lots of food options scattered throughout the lounge and it's worth taking a walk around to explore what's available. There are salad and soup stations, a hot food station, a fruit and olive station, a pide station and a dessert station.
The Salad Bar: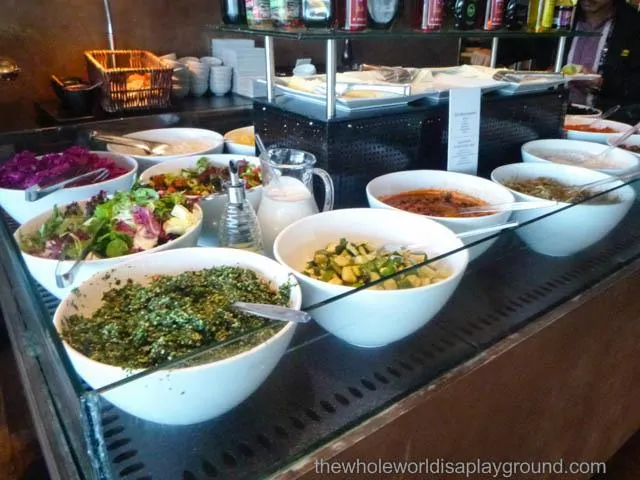 I noticed a large queue for this station as I was wandering through the lounge and I had a feeling it must be something good. Especially when the batch of pide was snapped up within seconds! I spotted the chef preparing some more and managed to grab a spot near the front of the queue. I sampled some minced beef, turkey, mixed vegetable and a white cheese pide and they were amazing, totally worth the wait.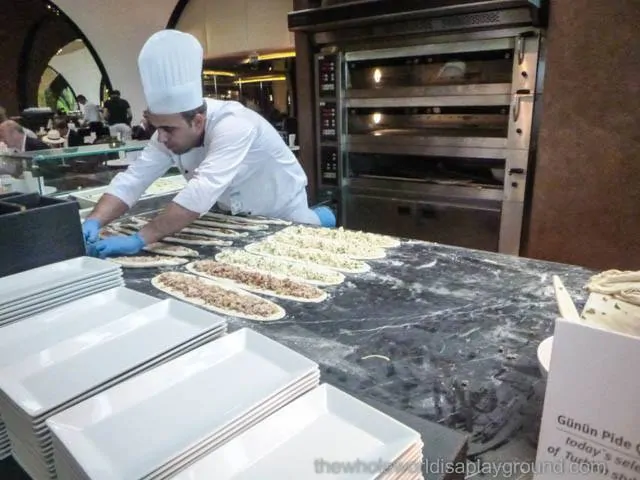 The Dessert Station:
The homemade cakes are stunning and taste as good as they look. I feel I can make a fair assessment having sampled a wide selection!
Drinks:
There was an excellent coffee bar and a full selection of soft drinks, spirits and wines. I was disappointed that they weren't offering sparkling wine on my second visit as I'm partial to a glass of something bubbly but there was a nice rosé which helped make up for it.
Other Amenities
Luggage Storage: the self service luggage storage is genius. It works by setting a personal combination and the see through lockers mean it is easy to find your luggage.  I love not having to wheel my hand luggage while navigating all the food stops, I have more important things to focus on. And I can carry more. And go shopping. To reiterate, genius!
Computer Stations:  the bank of Apple computers is great. The passengers who think everyone wants to hear both sides of their Skype conversation? Not so great. Some of the computers run on Windows and the rest on the Mac operating system.
Children's Lounge: Curio City is a glassed off kids play room. Win win for everyone!
Wi-Fi: The wi-fi signal was strong and the internet didn't drop off at any point for me. The wi-fi password is available at the desk closest to the computers.
Sleeping suites: There are private sleeping suites available for passengers travelling on long haul flights exceeding 8 hours and with a connection time of between 5 and 7 hours. Passengers must be flying business class or be Star Alliance gold members. The suites are like small hotel rooms with a bed, a wardrobe and a desk. Linens, bathrobes and slippers are provided. Passengers with longer stopovers may be eligible for a free hotel room or a tour of Istanbul, eligibility rules are on the Turkish airlines website.
The Bathrooms:
I do love my bathrooms and the Turkish Airlines Lounge didn't disappoint with its glossy marble number!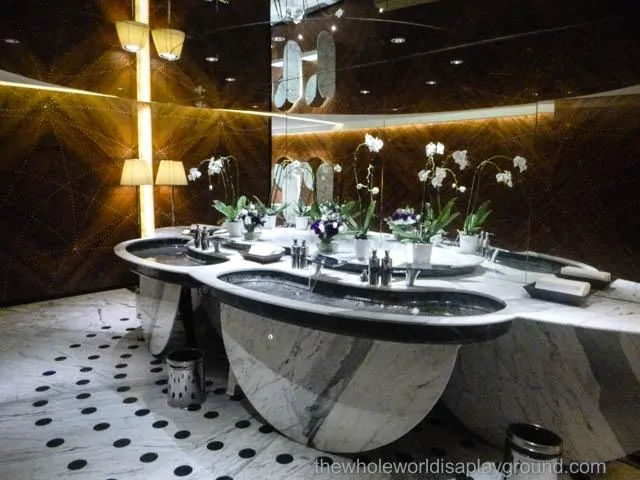 There are showers rooms available and it is necessary to book a time slot. Waiting times were around 30 – 45 minutes both times I visited. Luckily I was clean on arrival to the lounge! It is set up so tablets, smartphones and iPods can be synced wirelessly to the speakers so you can have a bit of a sing in the shower!
For all the details on our Turkish Airlines Business Class flight from Dublin to Istanbul click here.
Turkish Airlines Istanbul Lounge
Accessing the Lounge: the lounge is available to Turkish airlines business class passengers, Star Alliance gold card holders and Turkish Airlines Elite and Elite Plus members.
A massive advantage of travelling on a Turkish Airlines business class ticket is the special entrance to the lounge which is accessible directly after check in with its own security and passport control checks. This is one of my favourite things about the lounge, especially when I saw the massive lines in the general queue. For passengers not travelling on a business class ticket there is a turnstile system scanning boarding passes or boarding passes can be presented at the desk. This entrance is located after passport control.
Opening Hours: The lounge opening hours are 5 a.m. to 1 a.m. My understanding is that the lounge is still accessible outside these hours but there is no food service.
Overall
Personally I really enjoy the Turkish Airlines lounge in Istanbul. The food, drinks and amenities are excellent and the design is fresh and bright. There are some reports of the lounge being excessively busy and noisy with no seats available but the twice I visited at peak times I had no trouble finding a quiet place to sit. The lounge was clean and fully stocked. It's all positive from me!
Read more about our  premium flights and airline lounge experiences.