Hiking to Kjeragbolten was one of the absolute highlights of our Norway trip. In fact, it was a photo of a daredevil hiker standing on the boulder that sealed the deal on our decision to do a road trip through the country!
Kjerag is a challenging climb and we had lots of questions around the practicalities of the hike and what it was like to stand on the infamous Kjeragbolten boulder. Now that we've done it, we wanted to share the benefits of our experience with you. Here's our ultimate guide with everything you need to know about climbing Kjerag and standing on Kjeragbolten!
Click here to read about our Kjerag adventures!
1 | How difficult is the Kjerag hike?
Let's get this straight: climbing Kjerag is difficult! It's a 9km route with 3 steep ascents all mixed in with lots of climbing on rocks which can be really slippery if it rains. In total, there are around 600 metres of uphill hiking and, at times, it's steep enough to need to use the guide chains which line the most challenging parts of the route.
Fitness:
I found the third and final climb a bit of a struggle as it seemed to keep giving and giving but overall the hike always felt manageable and I would consider myself to be of average fitness. My marathon running, fitness loving husband found the whole day a breeze!
The steepest parts of the climb are lined with guide chains: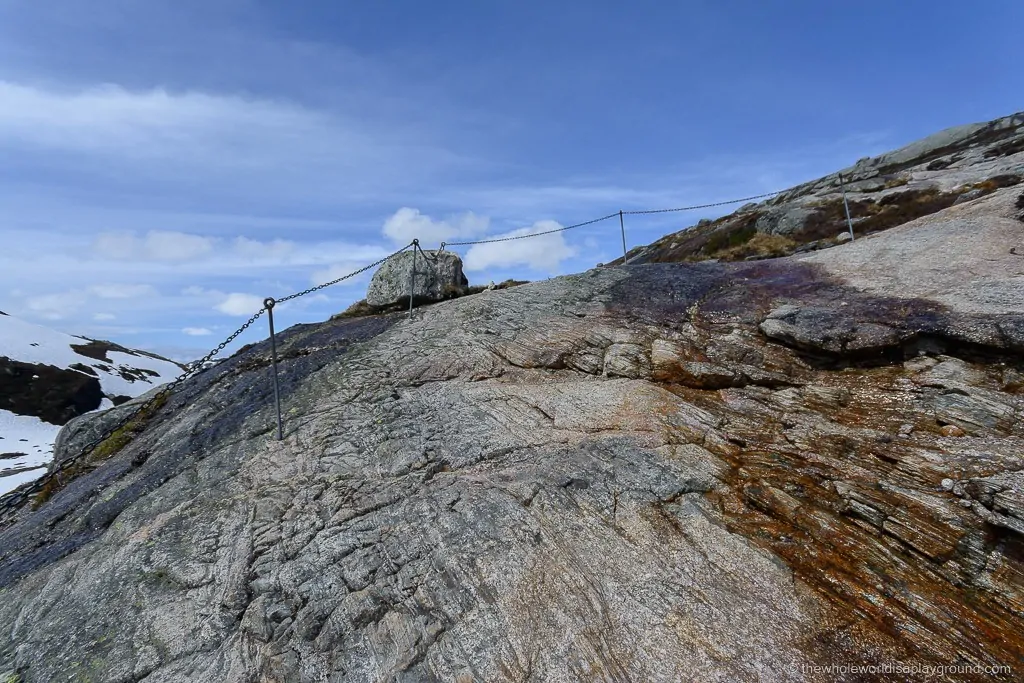 Check out our stats from the day for more detailed information on the hike, timings and elevation:
2 | How do I find my way to Kjeragbolten? 
Most of the route is clearly marked with stone piles which have prominent red T's painted onto them. The markings are positioned closely enough so that the next marking is visible making it easy enough to find the way. There are also some very pretty signposts that provide reassurance of being on the right path!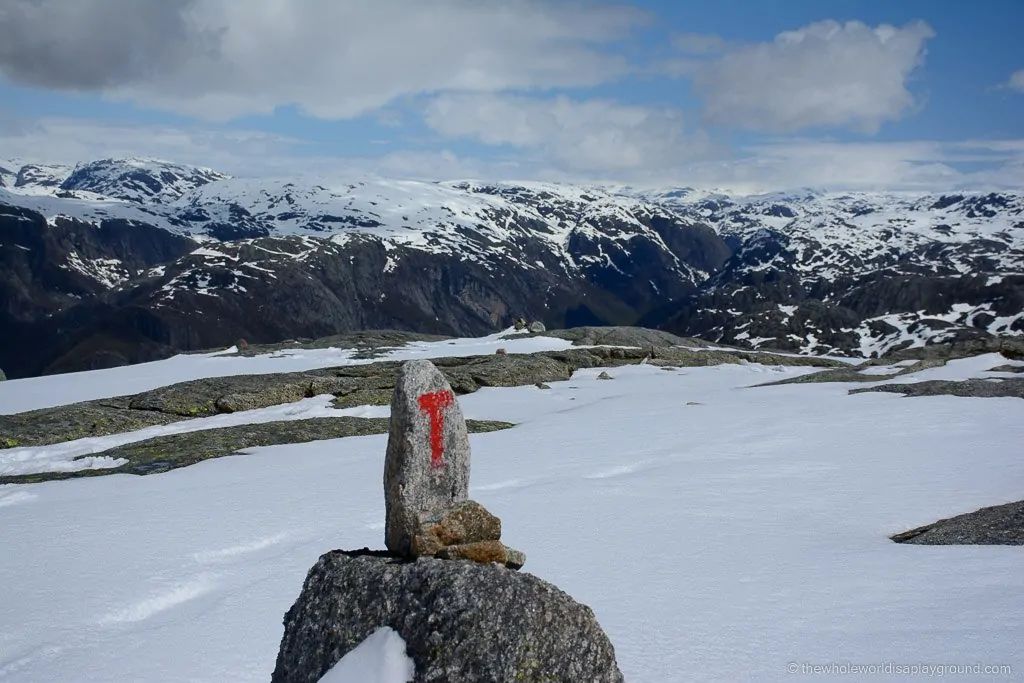 Which way? This way!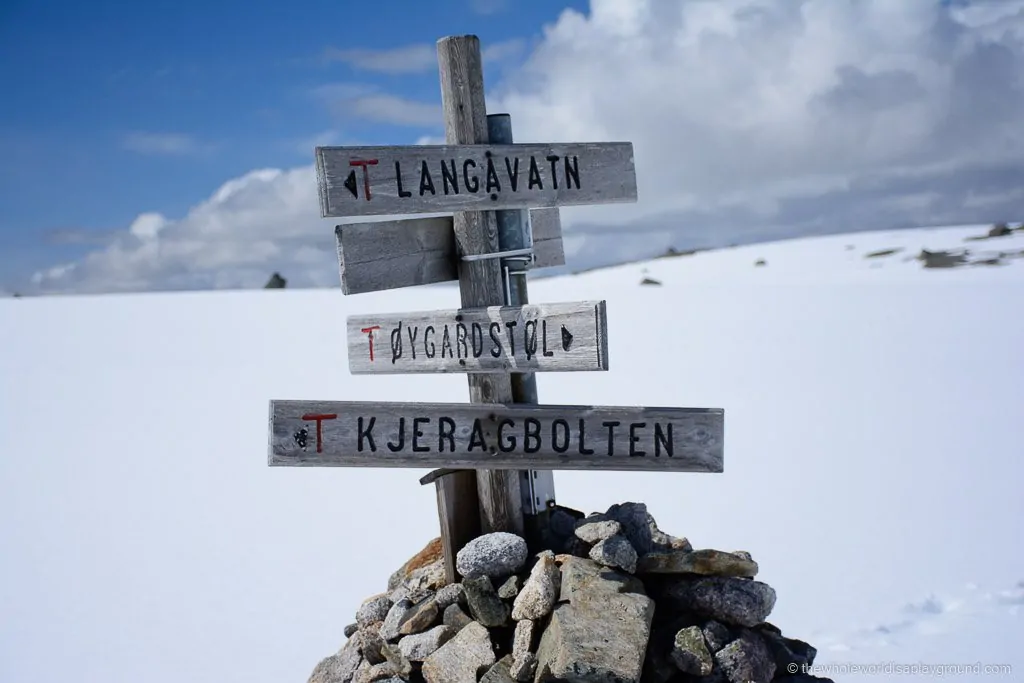 3 | Where we stayed before hiking Kjerag
We arrived in Oslo the morning before our Kjerag climb and made the 7 hour drive to Lysebotn on the same day. Our aim was to stay as close as possible to Kjerag as we wanted to start the hike bright and early the next morning. We opted to pitch our tent at Lysebotn Camping which is a 5 minute drive to the Kjerag car park. It was a little more expensive than other campsites we stayed at during our Norway road trip but the location was perfect and the views of Lysefjord were breathtaking.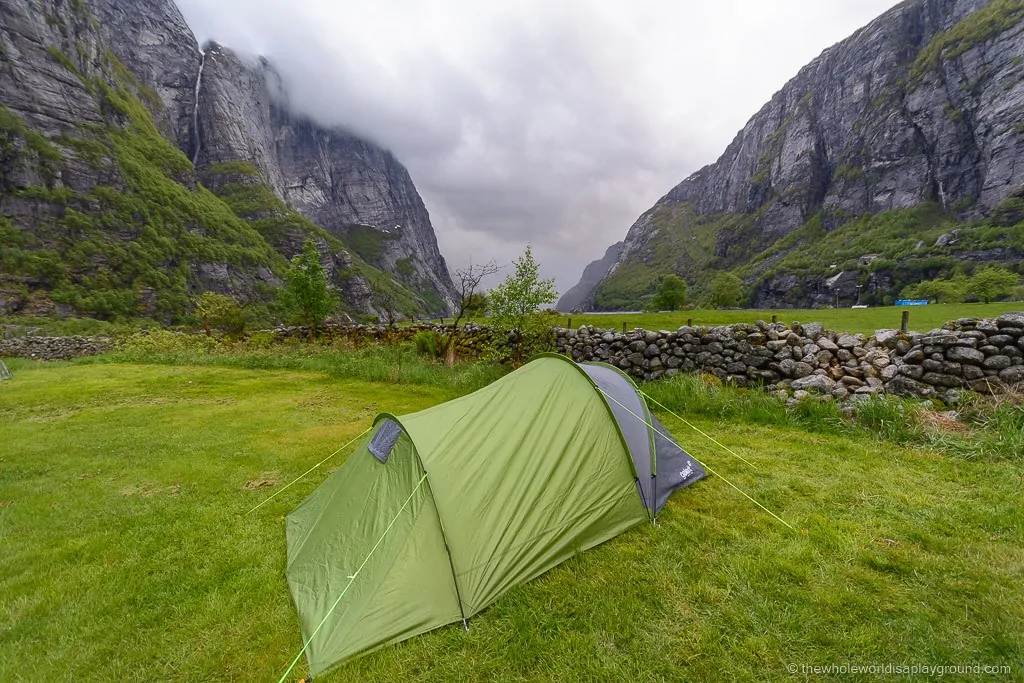 We had planned to stay in Flørli 4444 Hostel, a beautiful hostel located right on the shores of Lysefjord with incredible views across the one of Norways most beautiful fjords. The hostel is only accessible by ferry and unfortunately the ferry had not started for the season when we visited so we never made it. This stunning hostel comes highly recommended and is not to be missed on a trip to Lysefjord – Check prices now!
Click here for the best places to stay at Kjerag
4 | Kjerag and Pulpit Rock (Preikestolen)
After we finished our Kjerag hike we drove to Stavanger and took the ferry to Tau* where we spent the night in Wathne Campsite. Tired, frozen and wet, we treated ourselves to a cabin to thaw out and dry off! The next morning it was a 30 minute drive to Preikestolen where we took on the stunning Pulpit Rock!
*1 day later and the Lysebotn to Songesand ferry was in operation. It runs during the peak tourist season and saves some driving.
A well deserved cabin after Kjerag!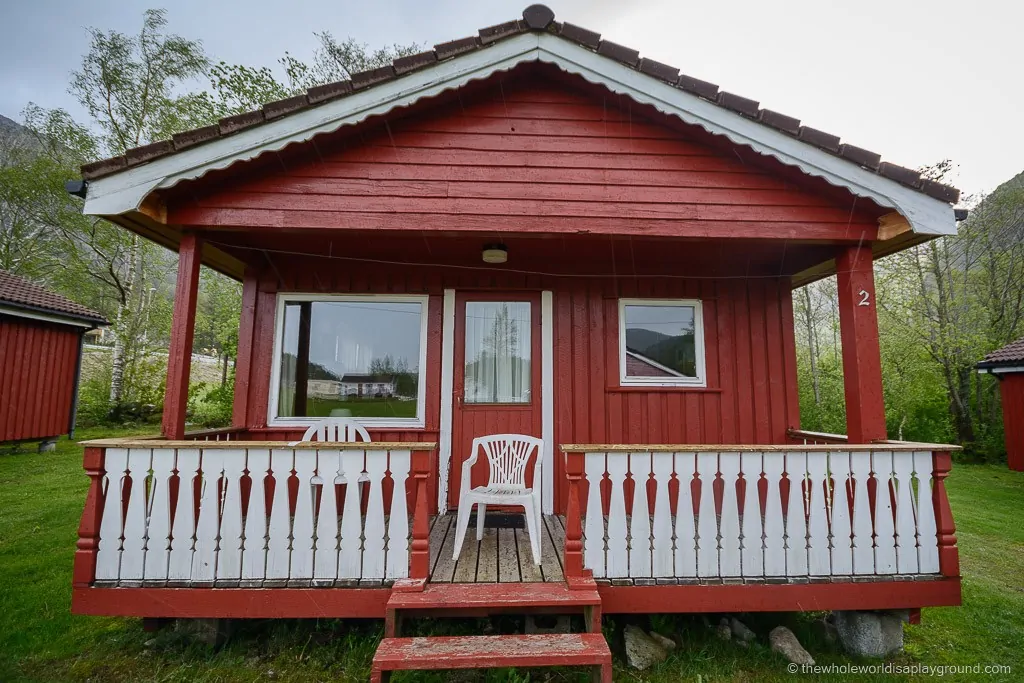 Where to Stay When Visiting Pulpit Rock
Hiking Pulpit Rock is one of the must do Norway experiences, however the hike is very popular and can get very busy during peak periods. We recommend booking your accommodation well in advance and staying as close to the hike as possible to allow for an early morning or late evening hike to the summit.
Click here for the best places to stay at Pulpit Rock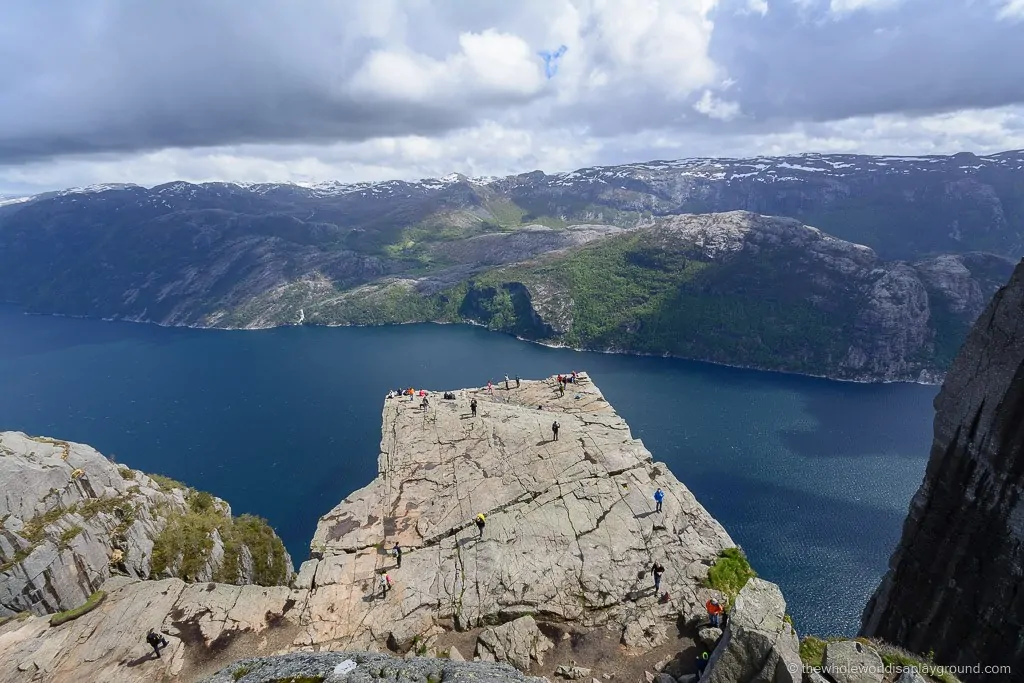 5 | Can I hike Kjerag if I'm scared of heights?
I'm not the biggest fan of heights and I found Kjerag manageable. The return journey is more difficult as there are lots of steep downhill sections and I was glad to have my awesome hiking buddy to help me along. As soon as I saw the Kjeragbolten boulder I knew stepping out onto it wasn't an option as I'd potentially get dizzy and take a tumble. Not recommended when 1,000 metre drops are involved!
Downhill views: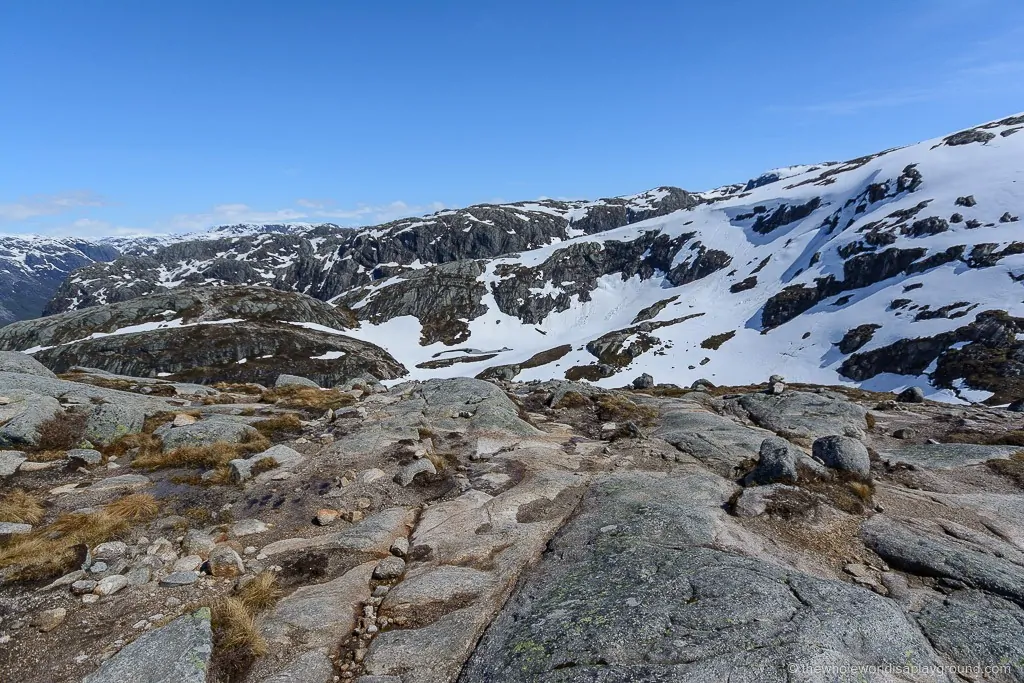 The inclines are intense!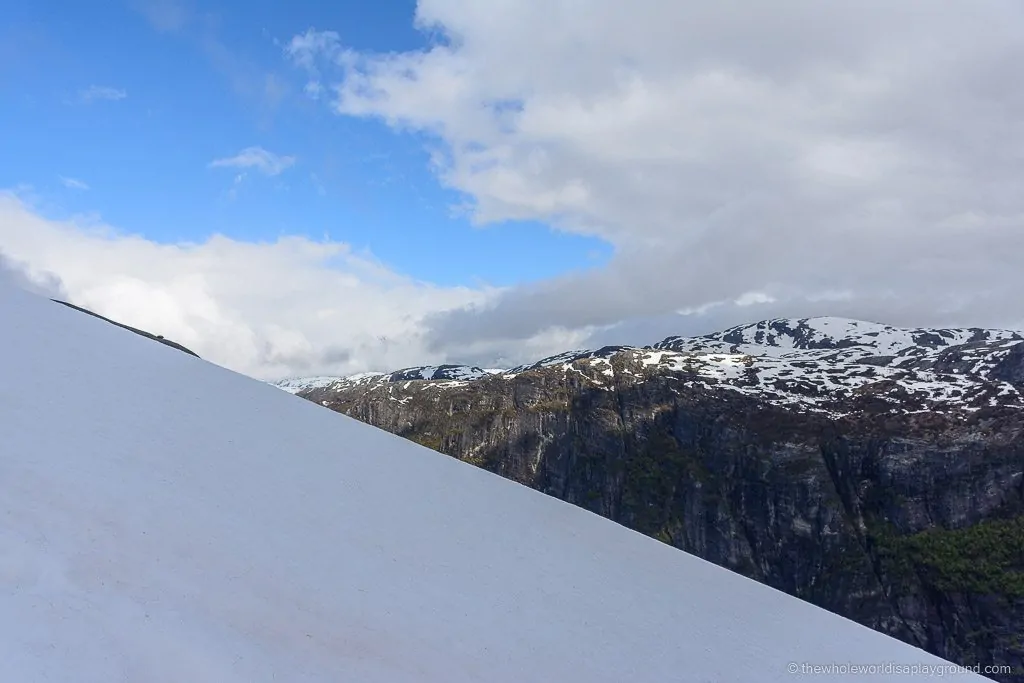 What goes up must come down! The steepest climbs: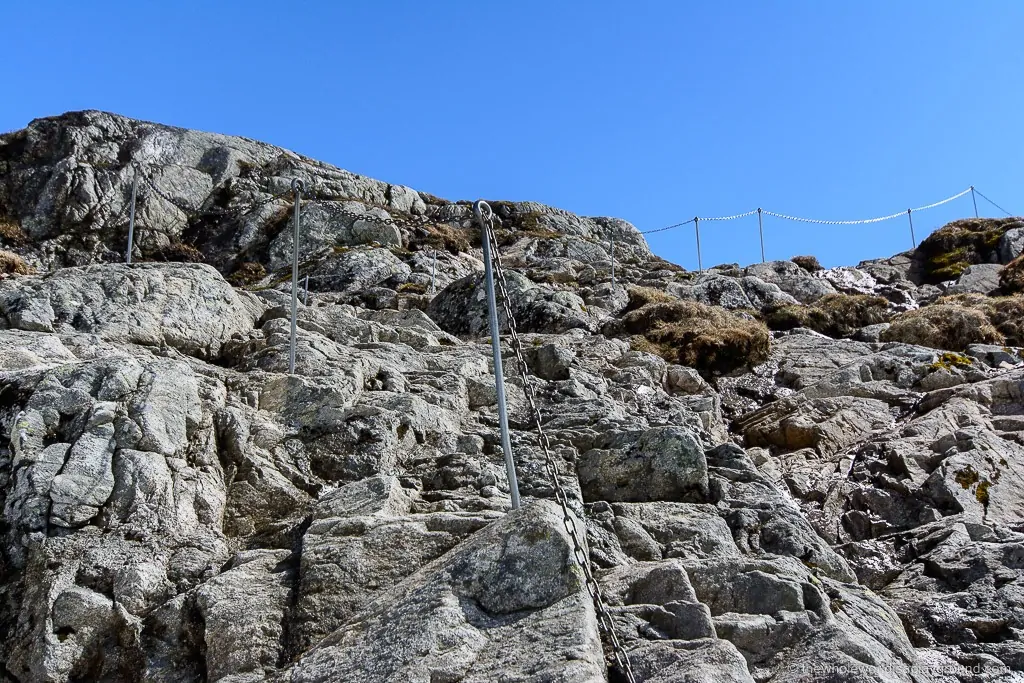 6 | What's it like to climb onto the Kjeragbolten boulder?
DON'T LOOK DOWN are probably the best words of advice we can offer! The boulder is accessed by edging around a small ledge and stepping out onto the rock. The step out onto the boulder does involve a small leap of faith but, if it wasn't for the 1000 metre drop on one side, there would be plenty of room to maneuver!
7 | Is it safe to climb onto the Kjeragbolten rock?
The most difficult part of Kjeragbolten is stepping around the ledge onto the boulder. The rock itself is quite large and flat so there is a little wiggle room.  We've googled this and apparently there have been no falls from the boulder which added to our peace of mind.
Front view of the boulder: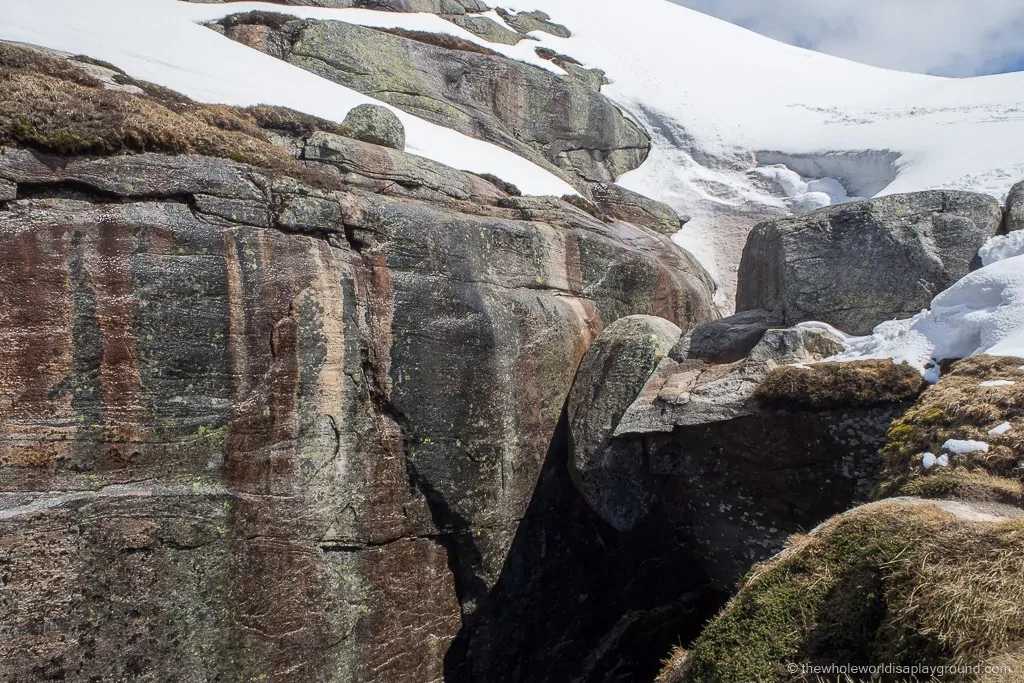 The boulder from above:
8 | What to wear to hike Kjerag
Layers! The altitude makes for very changeable weather and temperatures and we experienced rain, snow, wind and blistering sunshine during our hike! Our gear included:
Hiking boots (we recommend boots rather than runners for the challenging terrain)

Leggings

Waterproof pants

Long sleeve cold weather top

T-shirt

Lined waterproof jacket

Hat

Sunglasses

Waterproof dry bags for our camera equipment. These are extremely useful for protecting your electronics in wet environments
When it rains, it pours! All wrapped up: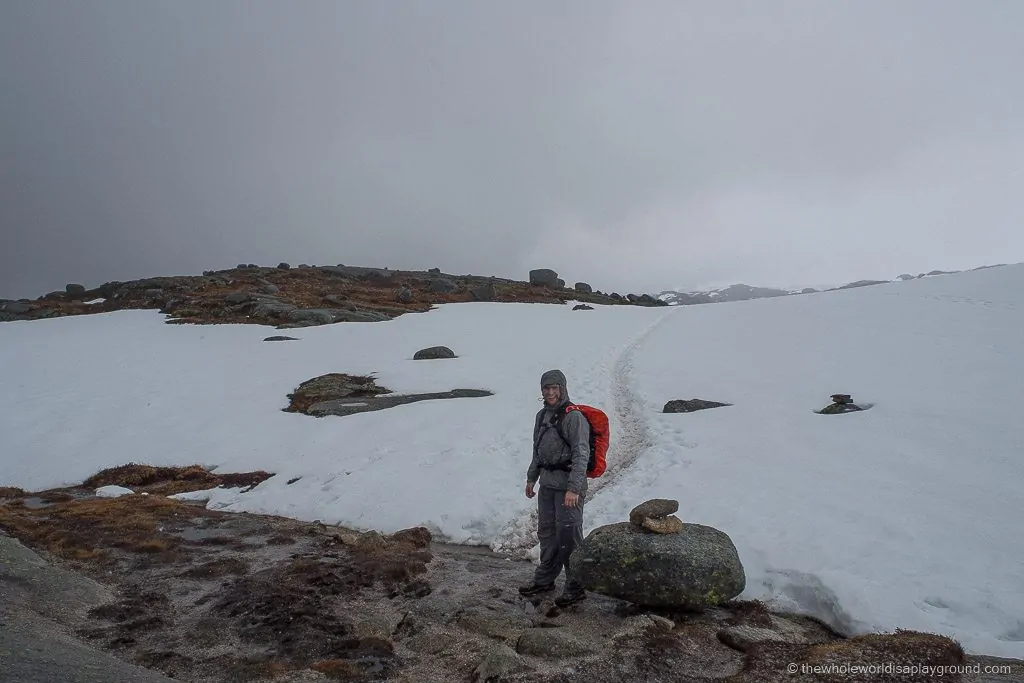 Loving my pink layers!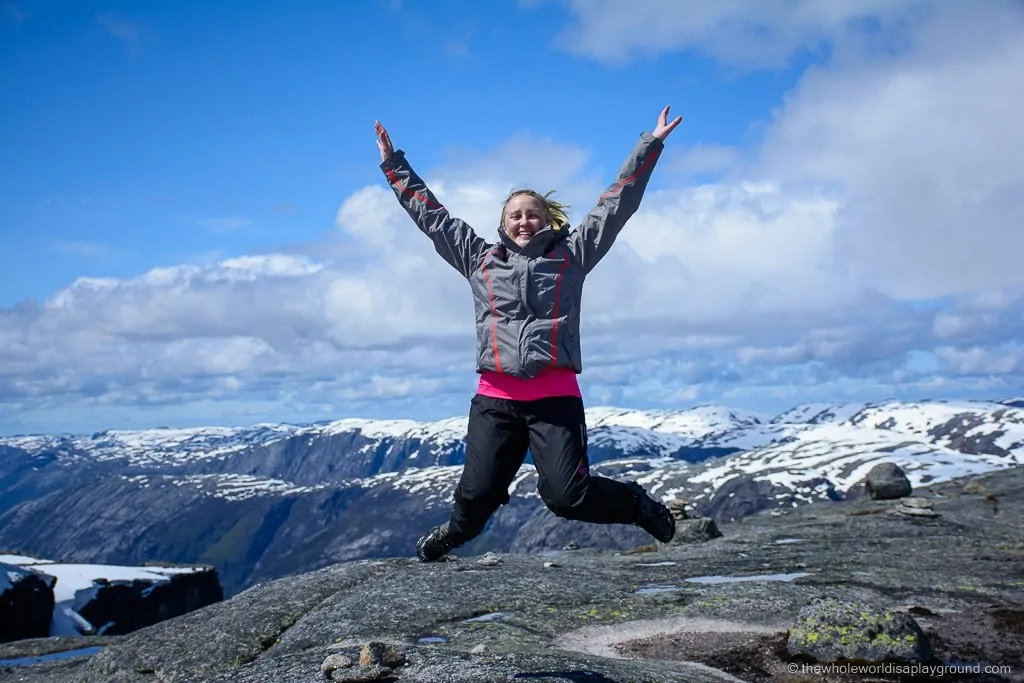 9 | Food and Drinks for Kjerag
There are no shops on the climb so bring enough food and drink supplies for the hike! We brought 1.5 litres of water and some sandwiches, crisps and energy bars. For hikes, I am the designated water carrier while Dave takes care of the camera equipment. I used a Camelbak rucksack which holds 1.5 litres of water and has a bite valve at the front to make for easy sharing between the two of us. I don't even notice I'm carrying it most of the time which can only be a good thing!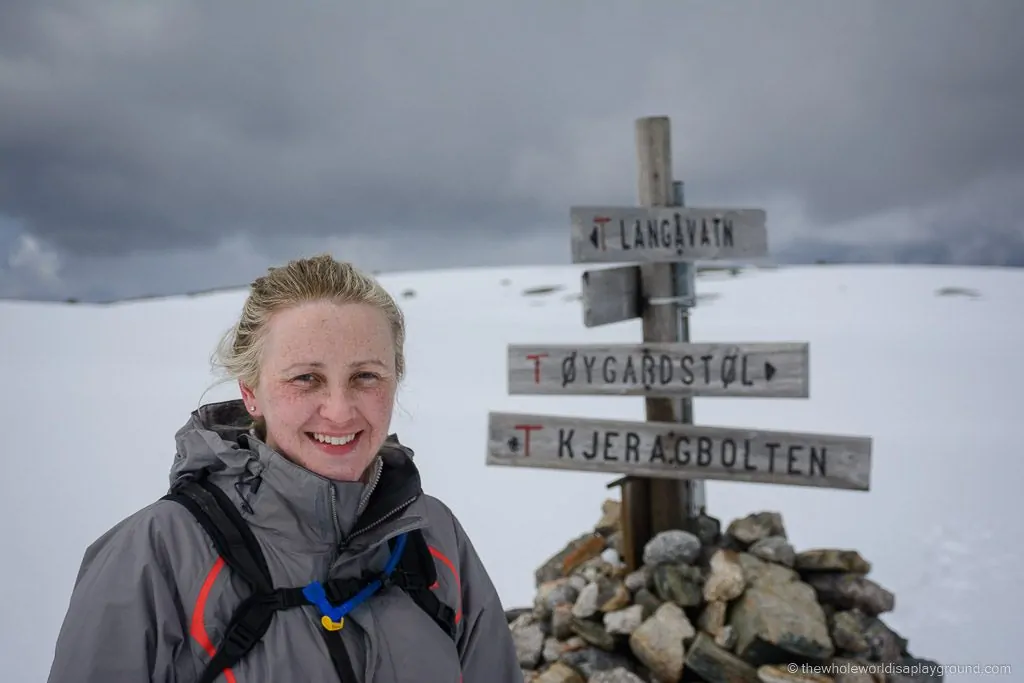 10 | What else to bring?
We also brought our cameras and a GoPro to record the action – not forgetting lots of spare batteries and an extra memory card! We didn't see very many hiking poles on the day we climbed but it did seem like they would be difficult to handle on the steepest parts of the route.
Check out the camera gear we use here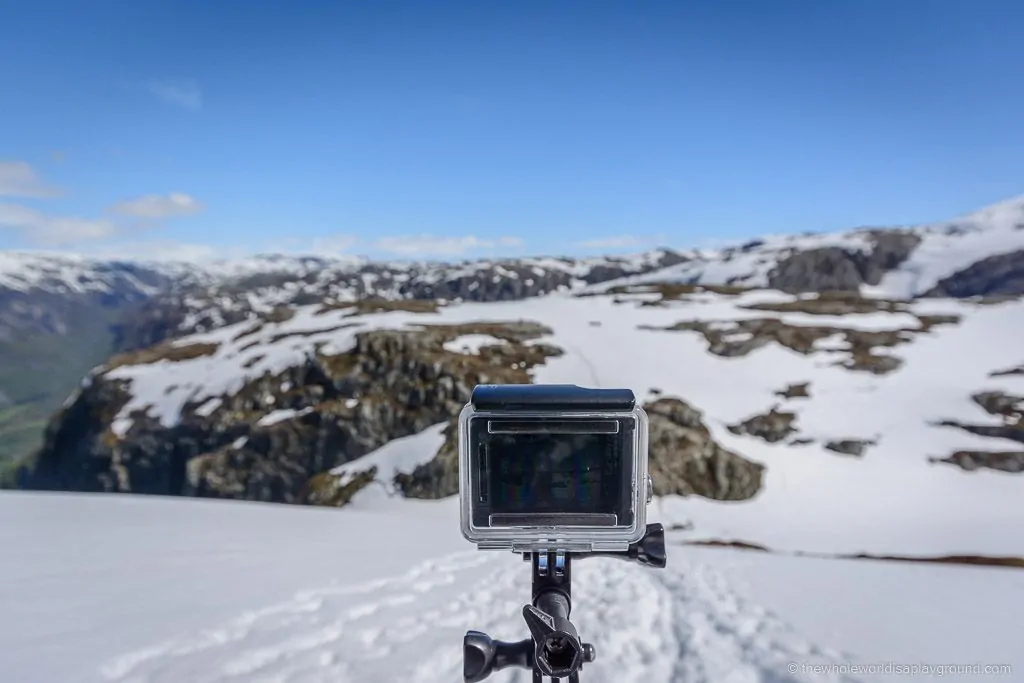 11 | Base Camp! Kjerag Information Centre
The hike starts from Øygardstøl which is a few minutes drive above Lysebotn. There's ample parking, a hiking map, toilets, a small information centre and a cafe. We popped into the information centre to check on the hiking conditions and pay for our parking for the day (100 NOK). At the end of the hike we rewarded ourselves with an expensive diet coke in the cafe and soaked in the incredible views of Lysebotn.
Kjerag parking: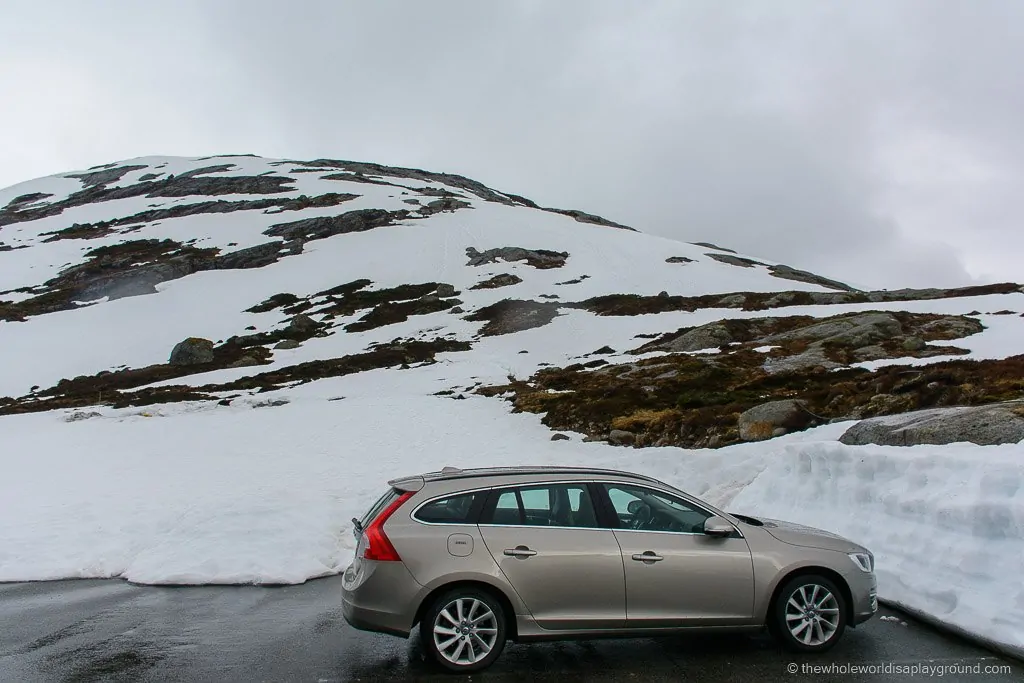 The Information Centre: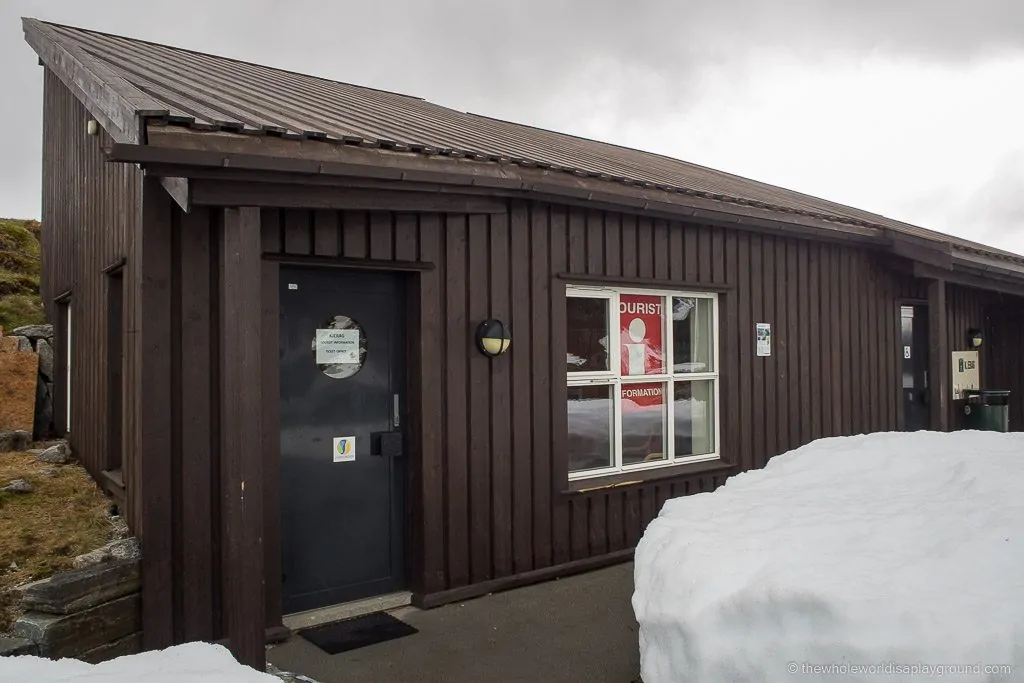 Route maps: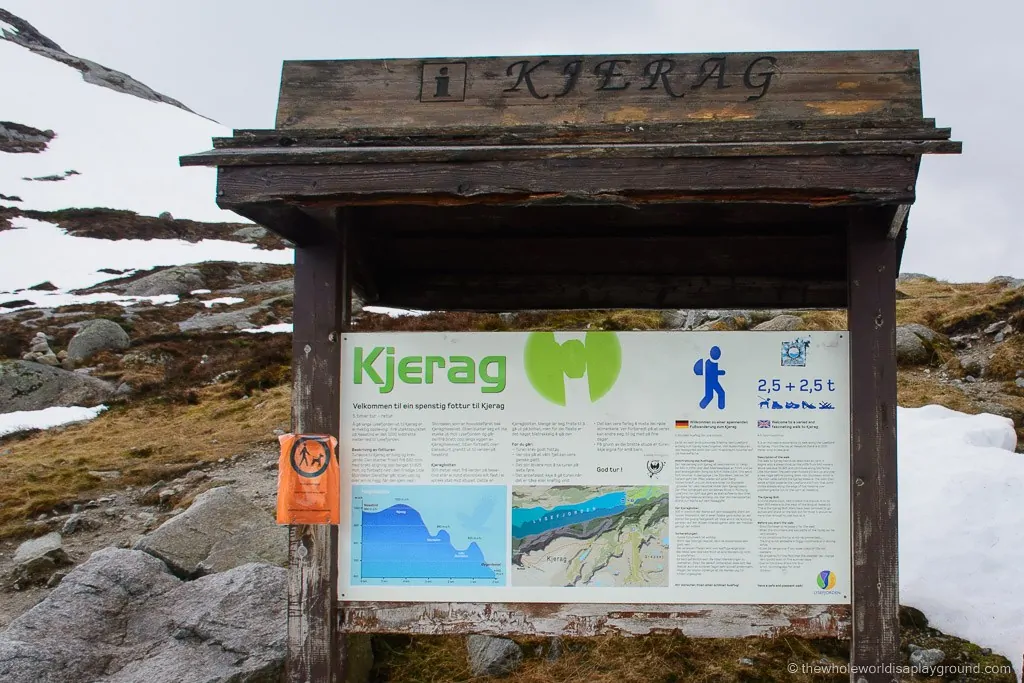 Check out the views from the cafe:
So there you have it, all our best tips on hiking Kjerag! Most of all have fun and enjoy the incredible scenery along the way!