With low crowds, quiet trails and invigorating weather, there's something special about Arches National Park in Winter.  In the winter months, the Arches trails are often a place of solitude and beauty with the trade-off of cooler temperatures and the prospect of weather-related road closures.
So is a trip to Arches National Park in Winter worth it? Having recently visited Arches National Park in Winter we wanted to share our experience and our tips for visiting Arches in Winter.
Visiting Arches National Park in Winter
The winter months are a great time to visit Arches National Park. With lower visitor numbers, no timed entry requirements and, and generally good weather, winter is a beautiful time to explore the park. We really enjoyed our time in Arches National park and one you plan it right, you can too!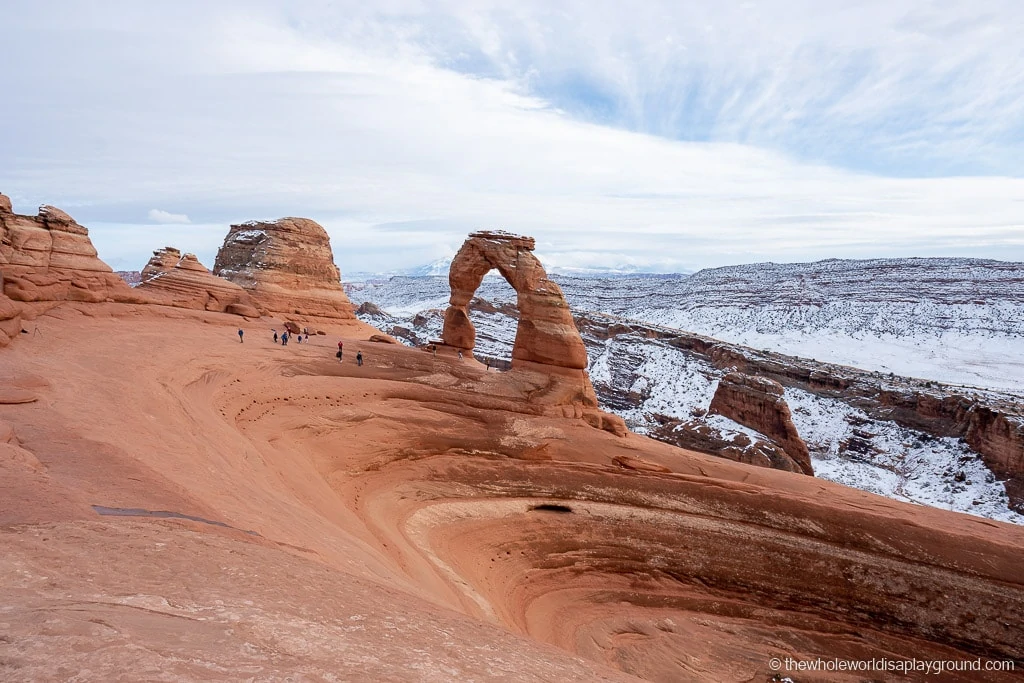 Tips for Visiting Arches National Park in Winter
We have a number of tips and things to consider for visiting Arches National Park in Winter. We recommend keeping these in mind when planning your Arches National Park itinerary.
1 | The park is a lot less crowded in winter
With the exception of Thanksgiving and Christmas week, the crowds are significantly lower in Arches National Park during the winter months. From December through February there are typically less than 40,000 visitors each month compared to over 200,000 a month in Spring and Summer.
As a result, the trails are much quieter during the winter and it is much easier to secure parking at each of the trail parking lots.
2 | Winter Clothing and Gear
In order to really enjoy Arches National Park and stay warm in the winter months you are going to need to pack some additional gear. Lots of layered clothing for hikes and a warm jacket for hikes are a must. Most of the trails are quite open and therefore exposed to the cold winds.
We also highly recommend throwing a pair of YakTrax in your day bag. YakTrax are hiking spikes that you clip onto your hiking trainers or boots and give you extra grip on wet or icy ground. We used ours on all our winter hikes in Utah.
2 | Shorter days and Less Sunlight!
The shorter daylight hours of the winter months mean you won't be able to cover as many miles compared with the long summer days. This may mean you'll need to budget extra days in Moab if you wish to take in all the sights and hikes. We usually combine a trip to Arches with the nearby Canyonlands National Park and the Dead Horse Point State Park.
With the shorter days it's also worth having a head torch in your bag in case you get caught out after dark. We use a USB rechargeable one and it comes everywhere with us
3 | Photography
Winter is a lovely time of the year for photography in Arches National Park. If you're lucky enough to visit when Arches gets snow the images of the white snow dusting the red rock makes for amazing images.
How to book a Timed Entry Ticket for Arches National Park
The timed entry ticket system will run from April 3 to October 31 2023. Visitors planning to visit the park should check the official site here where you can reserve your tickets in advance. The tickets open up one month at a time so check the schedule on the official site.
Weather in Arches National Park in Weather
Winters tend to be cold and dry in Arches National Park!
Temperatures: On average, daytime temperatures tend to reach between 44 oF and 52oF from December through February. Freezing temperatures are common at night, with an average low temperature in the 20's °F during the same period.
Rain: rainfall is similar throughout the year in Arches. It averages less than 0.6 inches per month during the winter months.
Snow: heavy snowfall is rare in Arches with December, its snowiest month, averaging around 2.5 inches.
Arches National Park Winter tip: after a snowfall the park road can be closed to allow for the road to be cleared.
Ice: the freezing night temperatures mean ice is common on the trails. There are sections of the ever popular Delicate Arch trail where ice is common along the trail. We encountered a lot of ice on the Delicate Arch trail when we visited in November.
Arches National Park Winter tip: having spent most of our winters between Ireland and New York, we found the weather in Arches to be chilly but pleasant during our recent winter visit!
Visiting Arches National Park in Winter tip: a timed entry system is currently in place for visits to Arches between April 3 and October 31 2023. Winter visits are currently unaffected by the new advance reservation policy.
Where to stay in Arches National Park/Moab
Most visitors to Arches stay in the nearby town of Moab. With its small town feel and easy accessibility to Arches National Park, Canyonlands National Park and Dead Horse Point State Park, we loved our stay in Moab. Here are choices for where to stay in Moab:
Springhill Suites Moab: both the Springhill Suites and the Fairfield Inn Moab are perfectly located for visiting all the Moab parks. Both offer modern rooms and a decent breakfast and the two properties share an outdoor pool which is awesome for some post hike relaxation! – check prices now!
Red Cliffs Lodge: set against the spectacular backdrop of towering red cliffs and the mighty Colorado River, Red Cliffs Lodge has a homely feel. Rooms are large and comfortable – check prices now!
Devils Garden Campground: Arches only in park accommodation, the Devils Garden Campground has 51 sites. Sites can be reserved up to 6 months in advance from March through October. 25 sites are available on a first come first serve basis during the rest of the year.
Arches National Park Trails in Winter
One of our favorite things about visiting in winter is that all the best hikes in Arches typically remain open year round. However, the trails can be icy and care needs to be taken on the more challenging hikes.
Delicate Arch and Devils Garden (after reaching Landscape Arch) are the most impacted by the winter weather. It is essential to wear shoes with a strong grip or pick up some Yaktrax for your sneakers.
1 | Delicate Arch
The Delicate Arch trail can be icy in the winter and there are warning signs indicating the increased difficulty of the trail at these times.
When conditions are icy, the most challenging part of the Delicate Arch trail is towards the end where a narrow path meanders around the rocks. At one point towards the end of the trail there is a sheer drop off to one side.
Care also needs to be taken if crossing over the top of the sloping amphitheater of rock to stand under Delicate Arch. We love the view from across the amphitheater so don't feel like you have to continue over along the rim anyway.
3 | Devils Garden
Devils Garden is made up of 7 amazing arches and a towering sandstone tower.
The trail to Landscape Arch and its side trail to Pine Tree and Tunnel Arch are relatively easy even in winter.
However, after reaching Landscape Arch the Devils Garden trail instantly becomes more challenging. There are steep climbs over slip rock and across exposed sandstone fins which are made even more challenging when the trail is icy.
Tips for Visiting Arches National Park in Winter
1 | Dress appropriately
layer up and stay warm on the trails. If you don't own a pair, consider purchasing some Yaktrax which make it so much easier to navigate the icy trails.
2 | Bring a flask of hot water 
we found warming up with a hot drink to be a post hike lifesaver when the trails were cold!
3 | Bring storage for muddy boots
some of the trails are muddy in Winter and having something to put your boots in post hike is essential to protect the inside of your car.
4 | Camping
in winter 25 sites are available at the Devils Garden Campground on a first come first served basis. This is the only campground in Arches National Park.
5 |Start and finish early
make the most of the shorter days and grab the best parking spots by getting out on the trails as early as possible.
6 | Park activities
there are no ranger led hikes or campfire talks in winter.