The soaring arches, unique rock formations and awesome variety of hikes make Arches an amazing National Park to visit.
For those of you planning a trip to Arches we've put together our recommend Arches National Park itineraries for one and two day visits.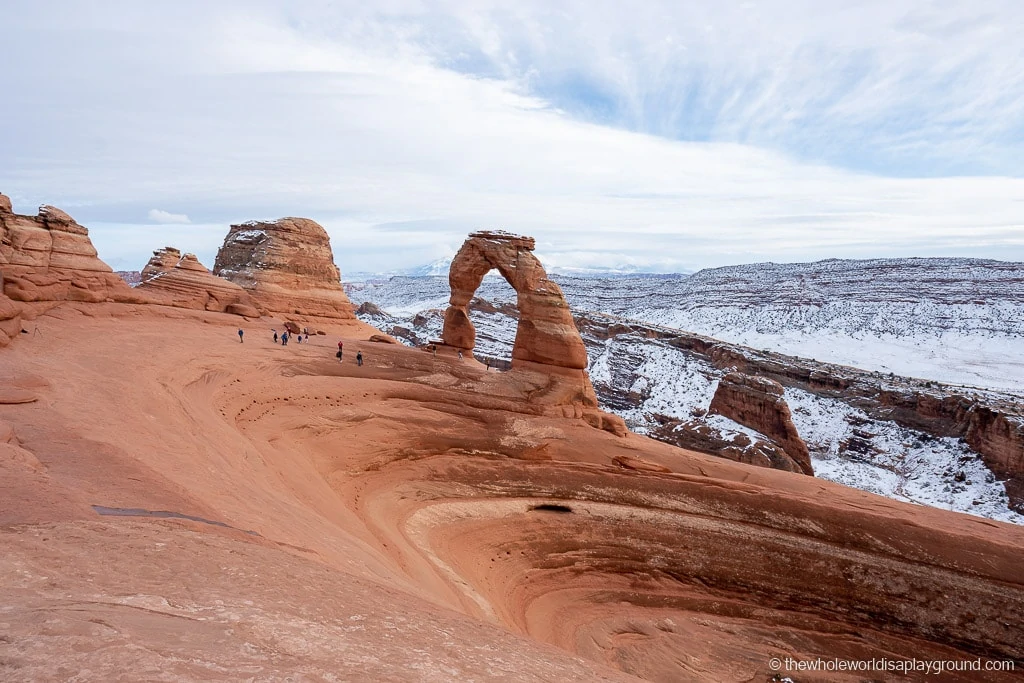 Arches National Park
Arches National Park is located close to the small town of Moab in Utah. The park has the highest concentration of natural stone arches in the world and is full of amazing trails, arches and rock formations and is a must to include on any Utah National Park road trip.
Arches is close to both Canyonlands National Park and Dead Horse Point State Park and a stay in Moab is an incredible opportunity to visit all three.
Where to stay in Arches National Park/Moab
Most visitors to Arches stay in the nearby town of Moab. With its small town feel and easy accessibility to Arches National Park, Canyonlands National Park and Dead Horse Point State Park, we loved our stay in Moab. Here are choices for where to stay in Moab:
Springhill Suites Moab:both the Springhill Suites and the Fairfield Inn Moab are perfectly located for visiting all the Moab parks. Both offer modern rooms and a decent breakfast and the two properties share an outdoor pool which is awesome for some post hike relaxation! – check prices now!
Red Cliffs Lodge: set against the spectacular backdrop of towering red cliffs and the mighty Colorado River, Red Cliffs Lodge has a homely feel. Rooms are large and comfortable – check prices now!
Devils Garden Campground: Arches only in park accommodation, the Devils Garden Campground has 51 sites. Sites can be reserved up to 6 months in advance from March through October. 25 sites are available on a first come first serve basis during the rest of the year.
Click here for the best Moab hotel prices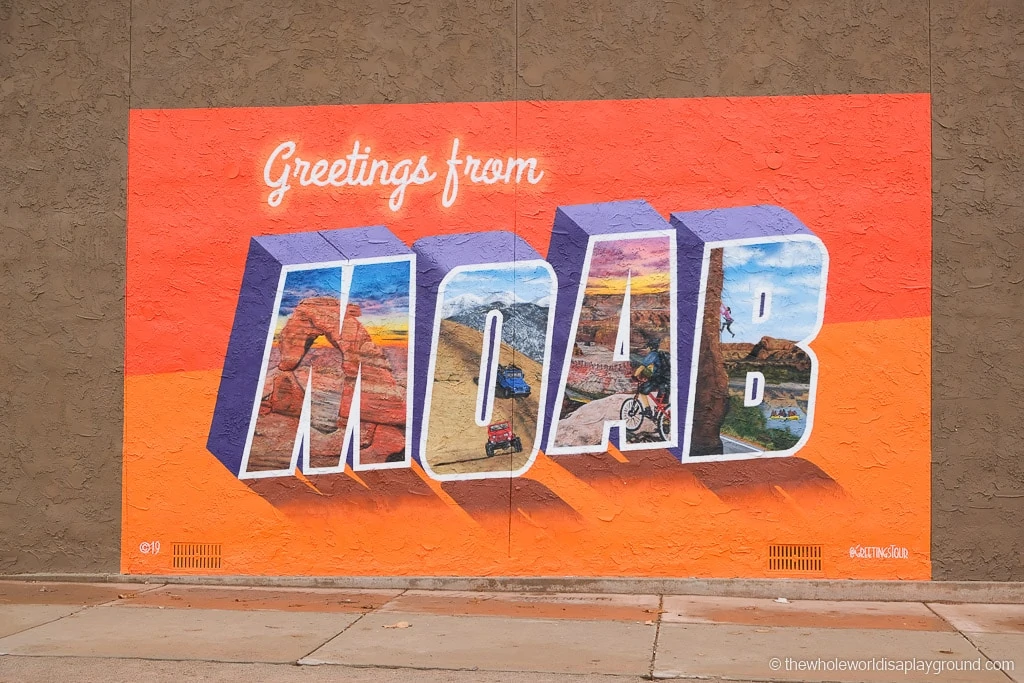 Best time to visit Arches
Arches National Park is an excellent year-round destination with most of the trails remaining accessible throughout the winter months:
Spring and Fall: Moderate temperatures make Spring and Fall a fantastic time to visit Arches. May to September are the busiest months so expect high crowds.
Summer: summer is hot in Arches! Daytime temperatures often exceed 100°F and hiking can be challenging in the middle of the day.
Winter: low crowds and low but manageable temperatures make December one of our favorite times in Arches. Average winter highs range between 30°F and 50°F. The biggest downside of a Winter visit is the shorter hours of daylight – click here to read about Arches in Winter.
We visited Arches National Park in mid-November and had an incredible time. The lower crowds meant we didn't have any issues with over crowded parking lots and with the right clothing, the colder weather wasn't an issue.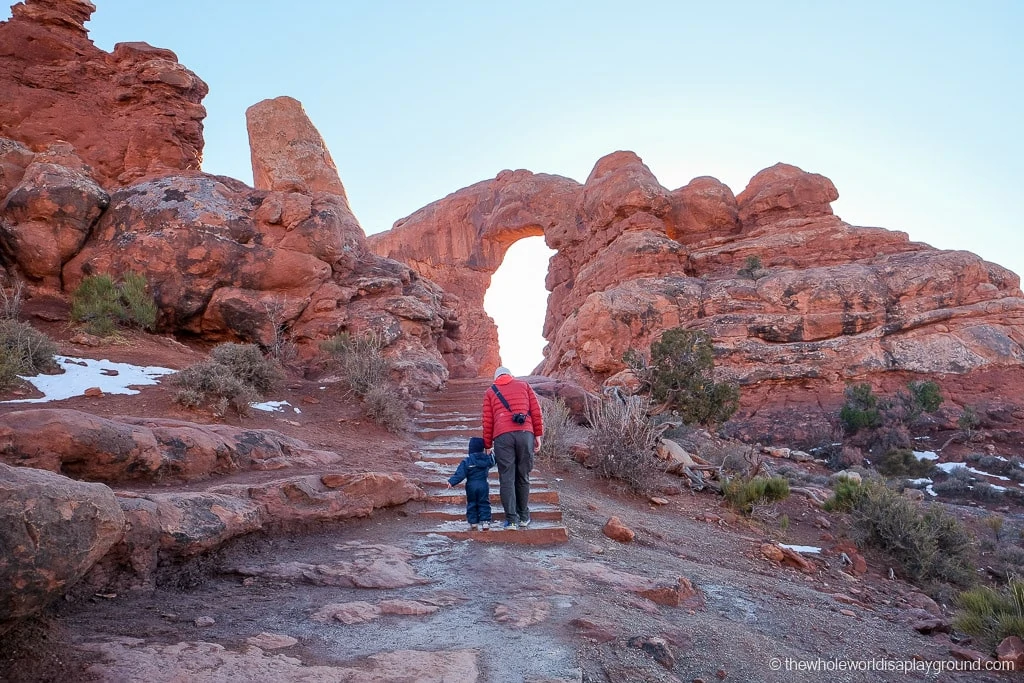 How long to spend in Arches National Park
One full day in Arches will allow visitors time to experience a nice variety of the Arches trails while two days will allow time to explore all the big trails. We spent 1.5 dyes in Arches and then spent the afternoon taking in the magnificent views at Dead Horse Point State Park.
Arches National Park itinerary tip: remember to allow some time in Moab, the small town neighboring Arches, to explore the nearby Canyonlands National Park.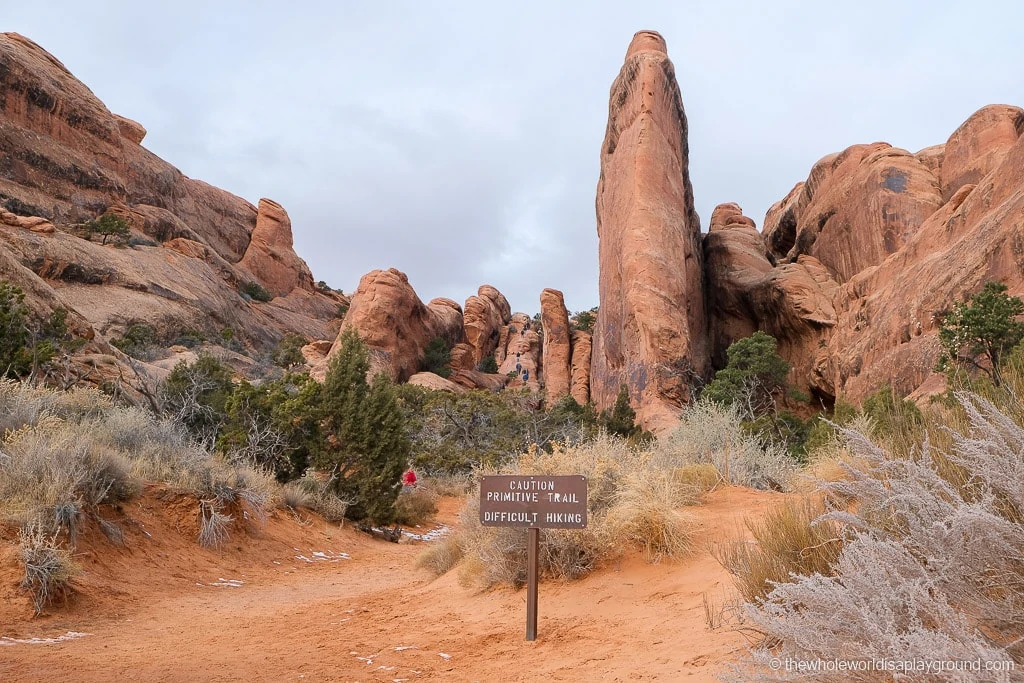 What to pack for Arches National Park
Hiking shoes/boots and socks: make sure your hiking shoes or boots are worn in before hitting the Zion trails!
Water Bottle/hydration pack: Elaine uses a Nalgene Tritan water bottle and Dave a Takeya stainless steel bottle. We also have a Teton hydration pack for longer hikes.
LED headlight: if you're planning early morning or late evening walks then bring a headlamp. We used this Vont LED headlightwhen we set off for Delicate Arch before sunset and when we ventured out late in the evening to check out the Arches night skies.
Yaktrax: if you are visiting Arches National Park in Winter Yaxtrax are amazing for navigating the icy trails. We used ours across all the Utah National Parks during our Winter 2019 trip – our favorites are these Yaktrax Walk Traction Cleats.
Sunscreen, sunhat, sunglasses, light rain jacket: for summer visits
Hiking jacket, hat and layers: for winter visits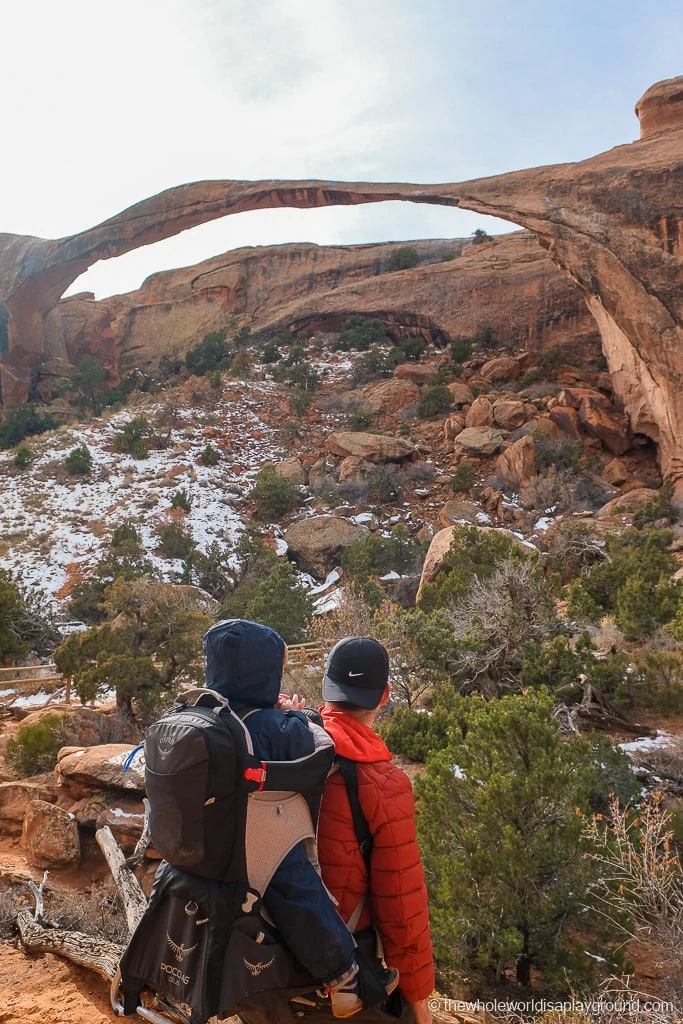 Arches National Park itinerary
We've included our one and two day Arches National Park itineraries. These itineraries assume full days in Arches – make sure to allow for travel days to and from Moab when you are planning your own Arches itinerary.
One day Arches National Park itinerary
Our one day Arches itinerary showcases some of the best hikes in Arches National Park and is a great introduction to its trails and viewpoints:
1 | Delicate Arch (2 to 3 hours)
start the day with a hike to the iconic Delicate Arch which is instantly recognizable from its appearance on Utah licence plates. Delicate Arch sits atop a natural rock amphitheater from which there are sweeping views across the park. The Delicate Arch trail is 3 miles in total out and back with over 500 foot elevation gain along the way. It's an enjoyable and very manageable hike – read more about the Delicate Arch hike!
Arches National Park itinerary tip: there is very little shade on the Delicate Arch trail so best to hike it early or late in the day in the summer months. It's also a very popular trail so it's easier to get a space in the parking lot when the park is less crowded.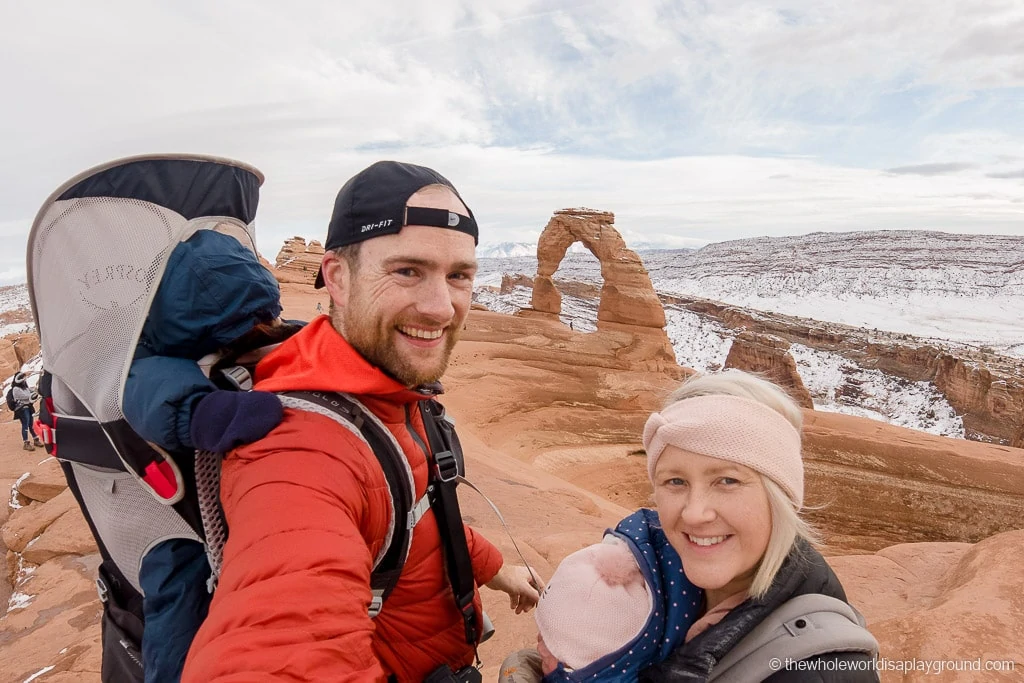 2 | Landscape Arch (1 to 1.5 hours)
a 1.6 mile easy trail leads to Landscape Arch, the largest natural arch in the USA. Landscape Arch is part of the more challenging 6.2 mile Devil's Garden which comprises 6 more arches and an impressive sandstone tower. The trail to Landscape Arch is flat and on a well-defined path making it an easy hike. There is a short side trail to Tunnel and Pine Arch which add about half an hour to the hike time – click here to read about the Landscape Arch hike!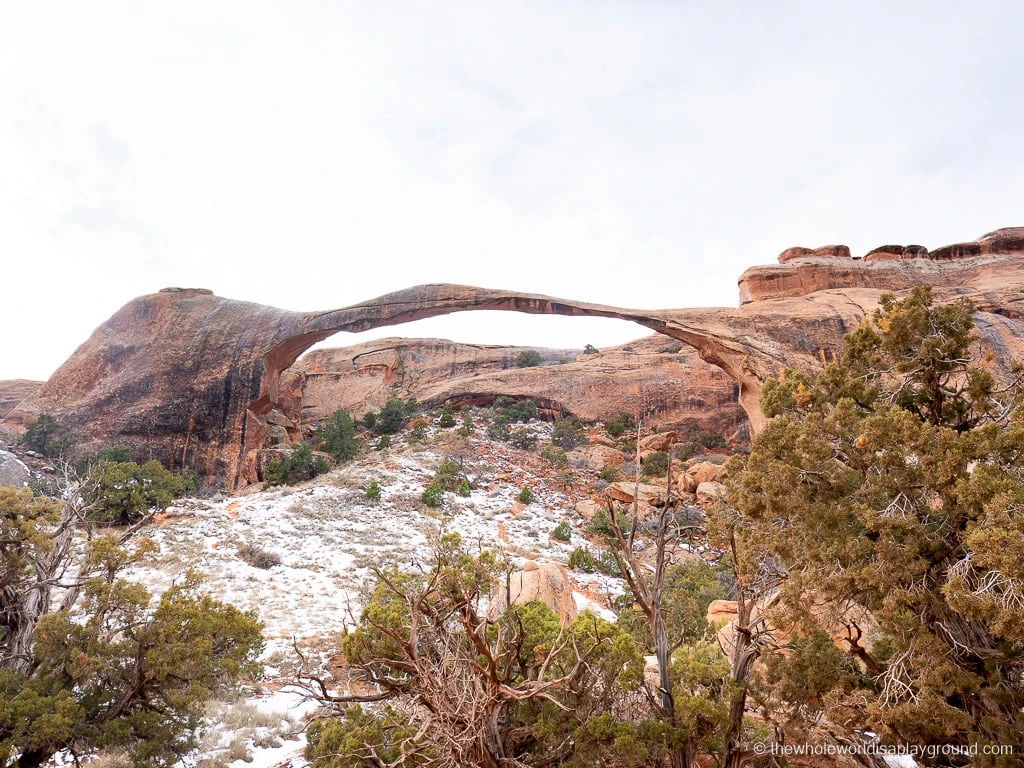 3 | Lunch Break
a rest break is well deserved after a morning of hiking. The Devil's Garden trail head, which you will return to after Delicate Arch, has a nice picnic area. There are no food options in Arches so make sure to bring some lunch and lots of water from Moab.
Arches itinerary tip: Landscape Arch is located in Devil's Garden at the very north end of the park. After lunch, we will drive back towards the park entrance making lots of stops along the way.
4 | Skyline Arch
the first stop after lunch is Skyline Arch which resembles a window in the rock. The trail is flat and only 0.4 miles.
Arches itinerary tip: Skyline Arch can be seen for most of the trail so you can admire it from the trail head or hike over and have some fun climbing the rocks.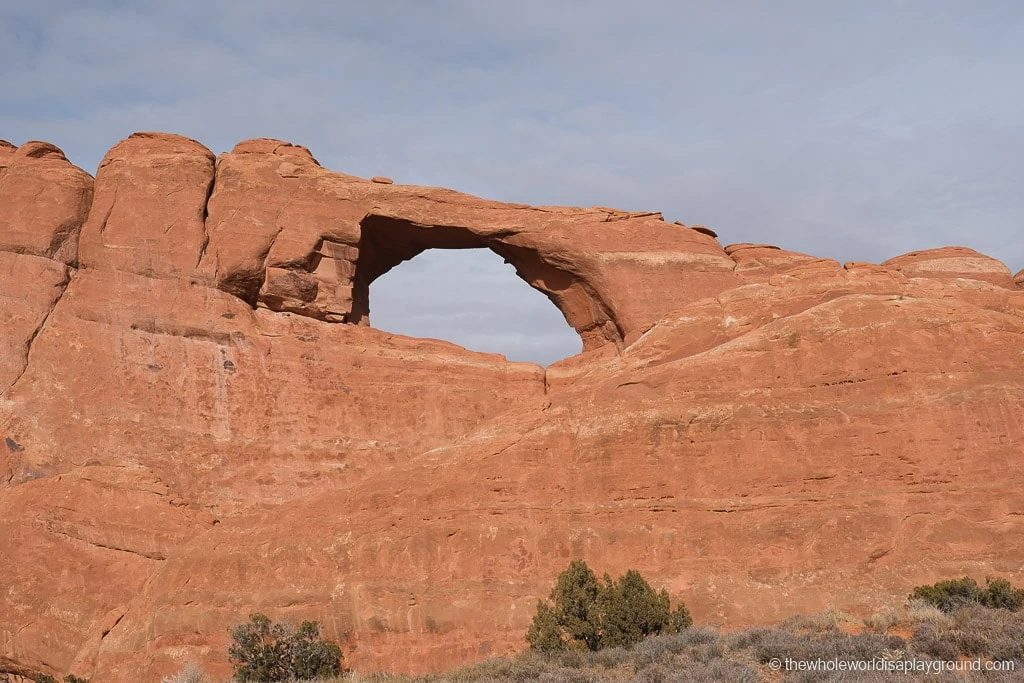 5 | Sand Dune Arch
the next stop is Sand Dune Arch, a 0.3 mile easy trail with deep sands and a small slot canyon. Sand Dune Arch is one of our favorite hikes in Arches National Park with kids.
Arches itinerary tip: Sand Dune Arch is shaded making it perfect for a summer afternoon. It shares a parking lot with Broken Arch which is 2 miles across the meadow.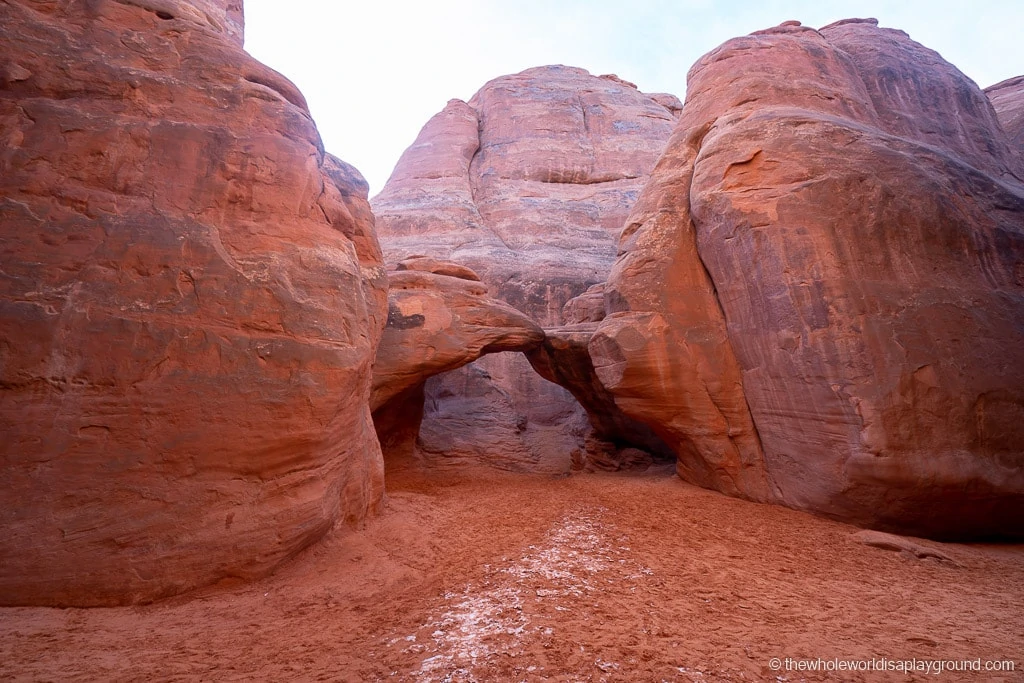 6 | Fiery Furnace
the Fiery Furnace viewpoint is a quick stop and overlooks the maze of canyon walls which cut through the Fiery Furnace.
Arches itinerary tip: Fiery Furnace is a permit only trail and ranger led hikes are available.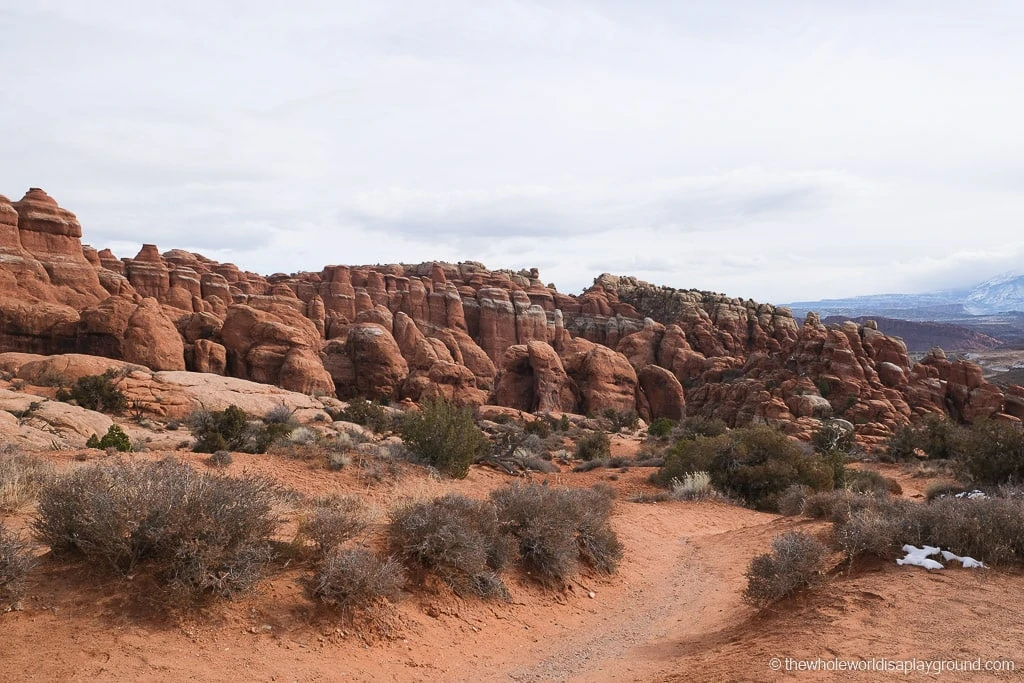 7 | Balanced Rock
Balanced Rock is a sandstone boulder perched precariously on a larger mud stone rock. It's an easy 0.3 mile loop to walk around the rock formation but it's just as easily viewed from the parking lot.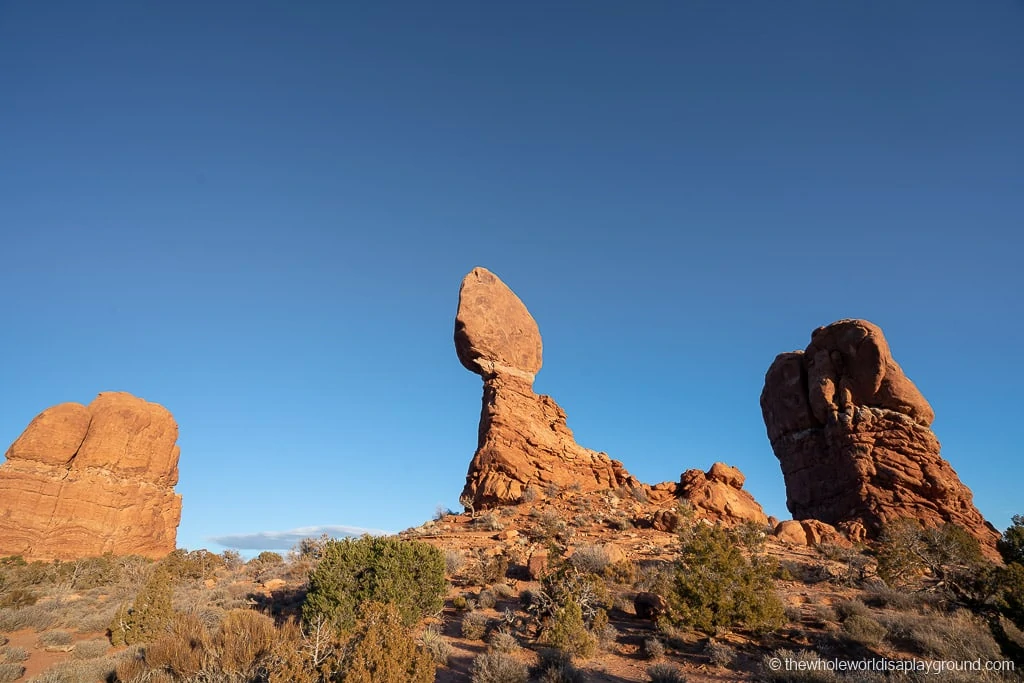 8 | The Windows and Double Arch
Another easy 1 mile trail, the Windows is made up of three arches: the North Window, the South Window and the Turret Arch.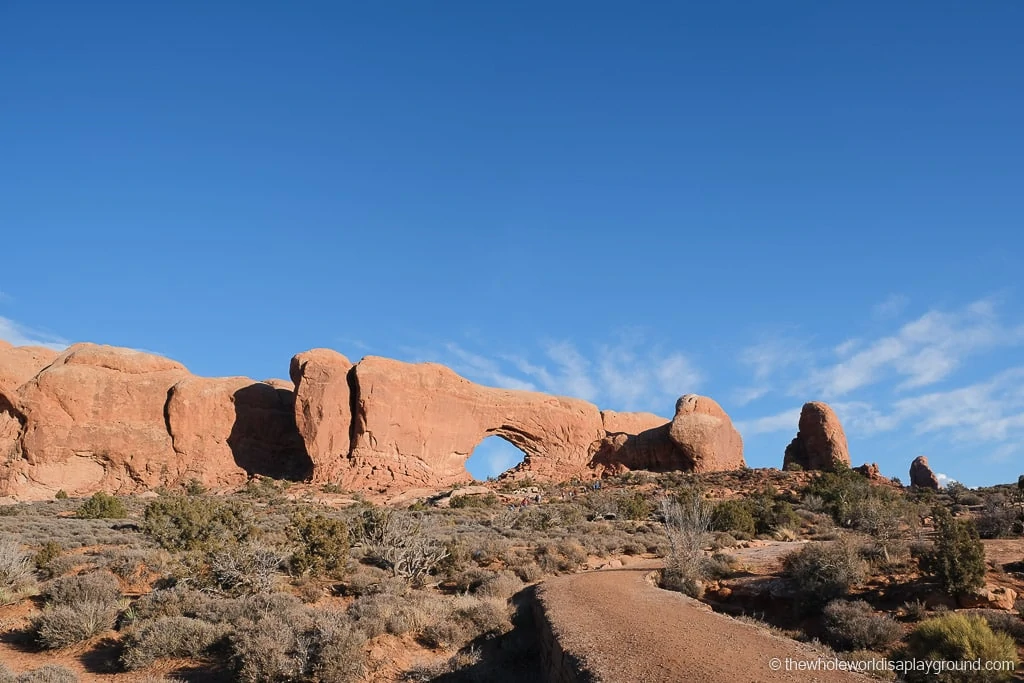 Double Arch is 0.5 miles in the opposite direction and comprises two giant arches springing from a single piece of rock.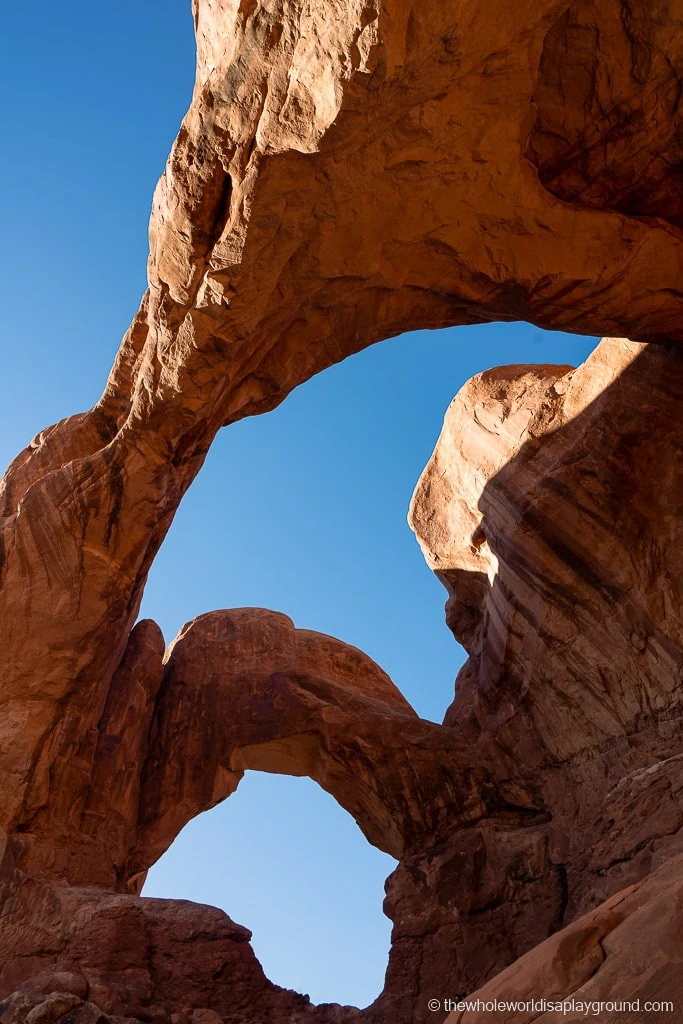 Arches National Park itinerary tip: the Windows and Double Arch make up one of our favorite areas of the park. There are some beautiful arches and it is so much fun to explore.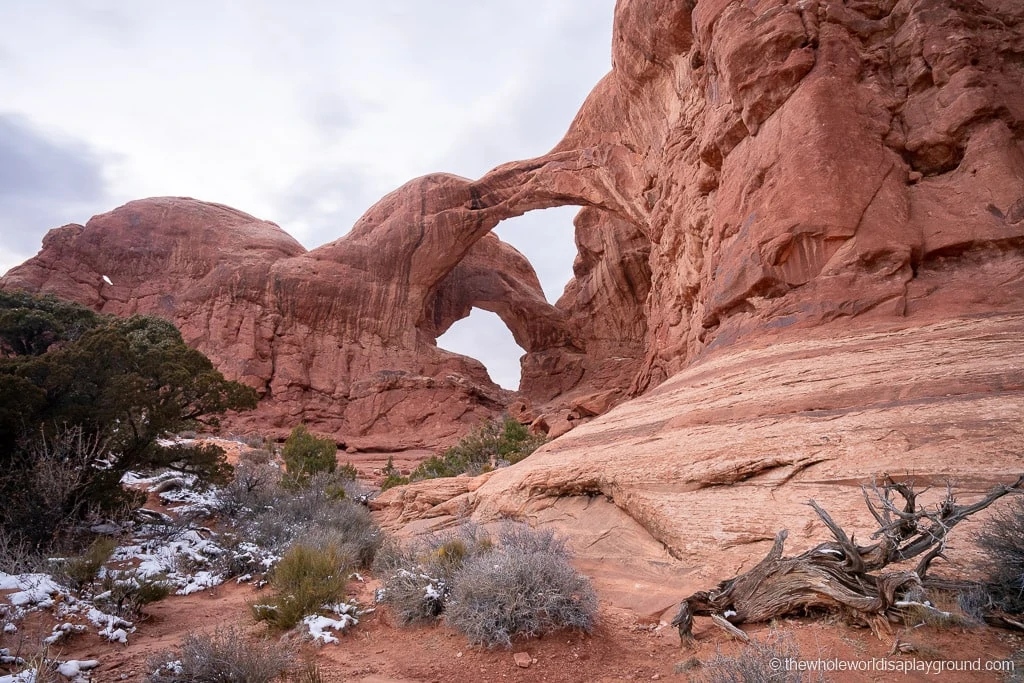 9 | Courthouse Towers viewpoint
the courthouse towers viewpoint overlooks stone columns that soar over 4,000 feet from the desert floor.
10 | La Sal viewpoint
the final stop of the day is a 0.1 mile trail to the La Sal viewpoint which has panoramic views out to the La Sal Mountains.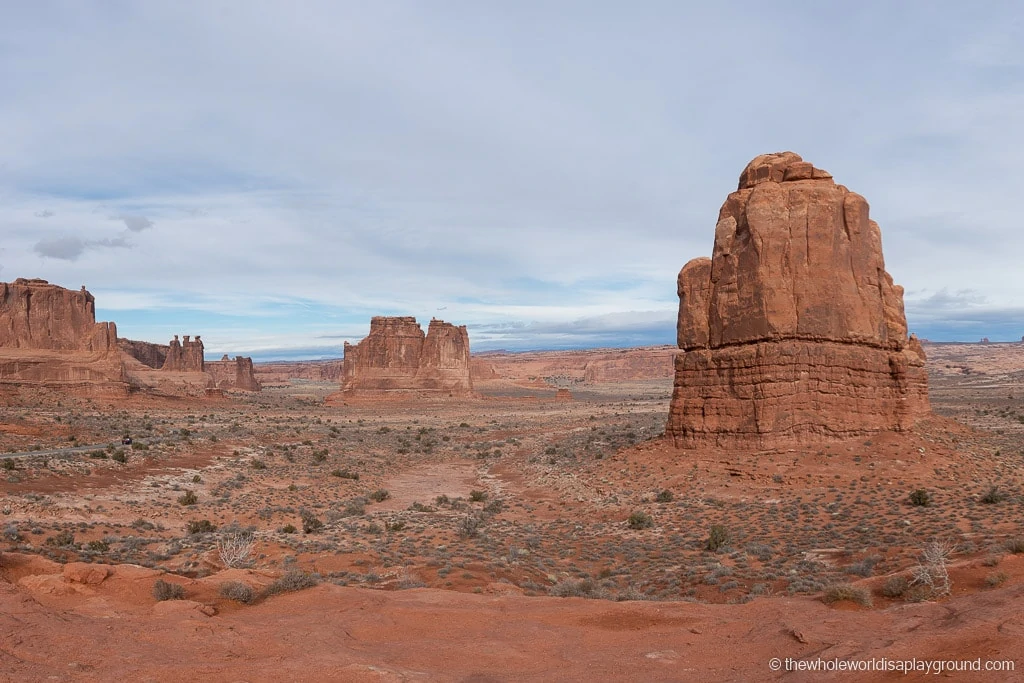 Two Day Arches itinerary
Two days will allow extra time to the above to include the Devil's Garden trail and a side trip to Canyonlands National Park.
11 | Devil's Garden
an amazing 7.2 mile trail which takes in 7 amazing arches (Landscape, Double O, Private, Pine Tree, Tunnel, Navajo and Partition Arches) and the towering Dark Angel sandstone pillar. This is one of the most challenging trails in the park especially if you return via the Primitive Trail.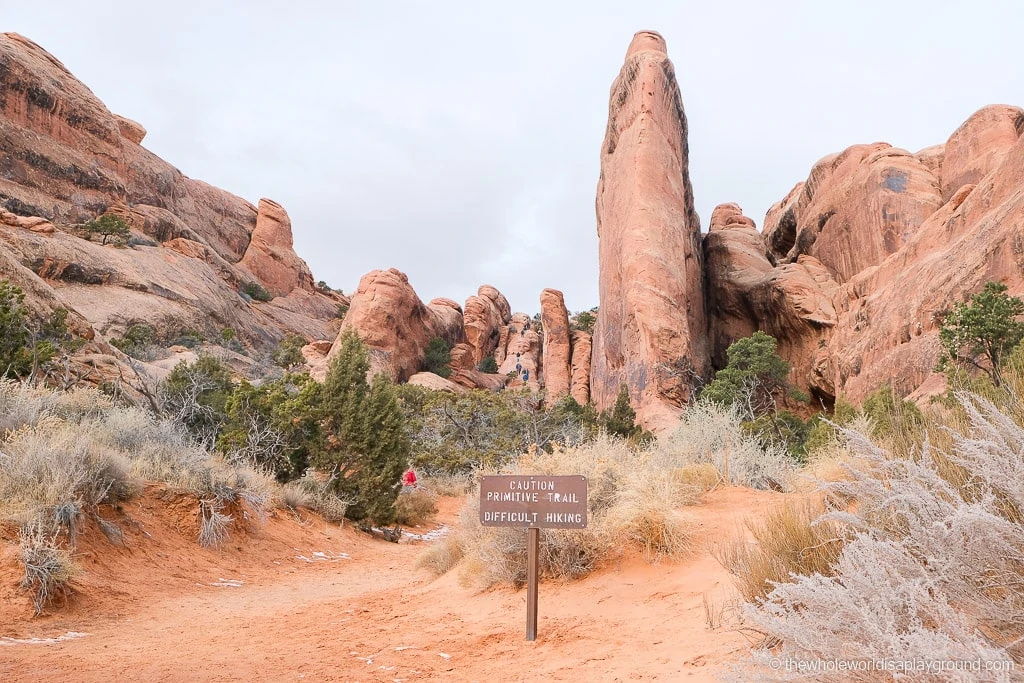 12 | Park Avenue to Courthouse Towers
this 0.9 mile one way trail doesn't have any arches but, instead, showcases some of the best rock formations in the park. From the skyscraper rockfaces lining Park Avenue to Queen Nefertiti, Sheep Rock and Three Gossips, this is a fantastic trail to include on a second day in Arches.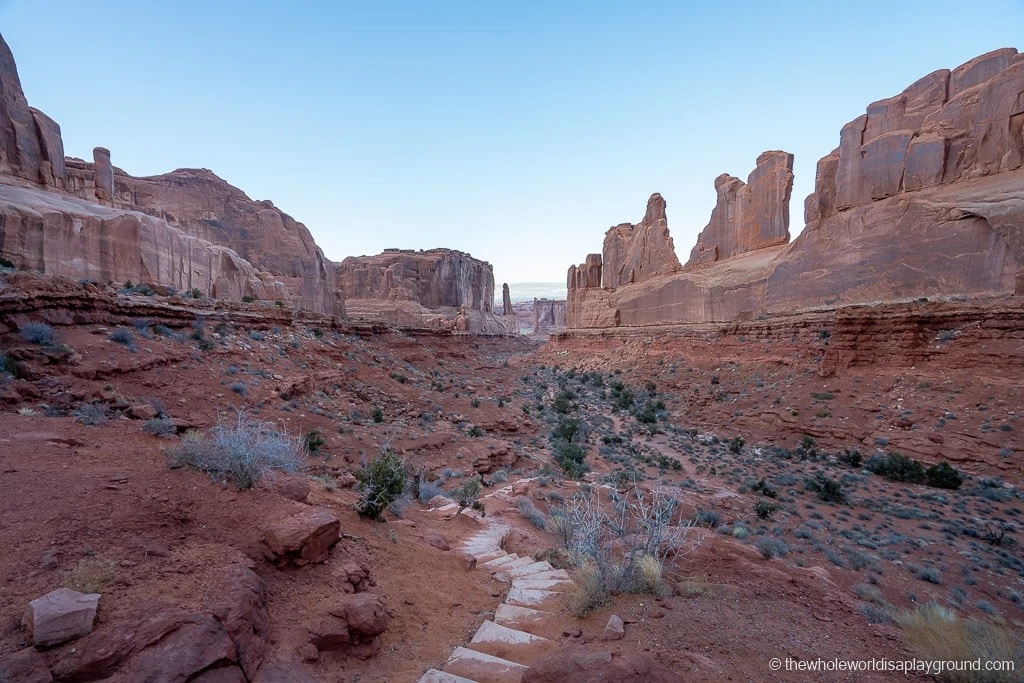 Afternoon Options
Fiery Furnace
this permit only hike is a great addition to a two day Arches itinerary. If you haven't hiked the maze like canyons of Fiery Furnace before then you will need to do a ranger led hike.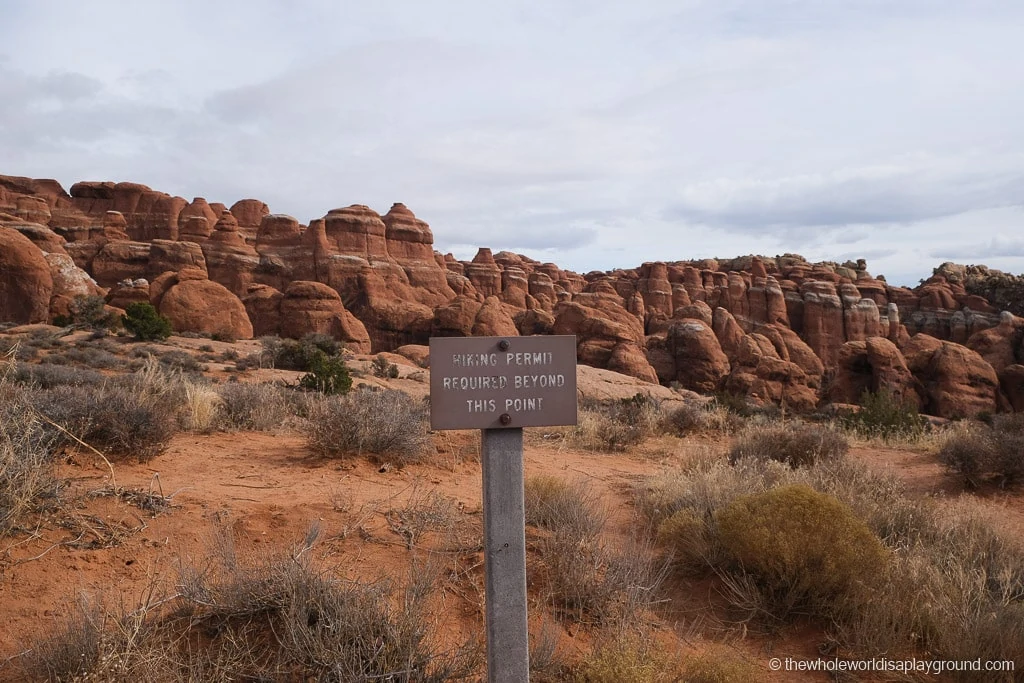 Canyonlands National Park
it's a 30 minute drive to Canyonlands National Park from Moab. If you only have an afternoon to spend, then the iconic Mesa Arch and Grand Viewpoint are our recommended stops.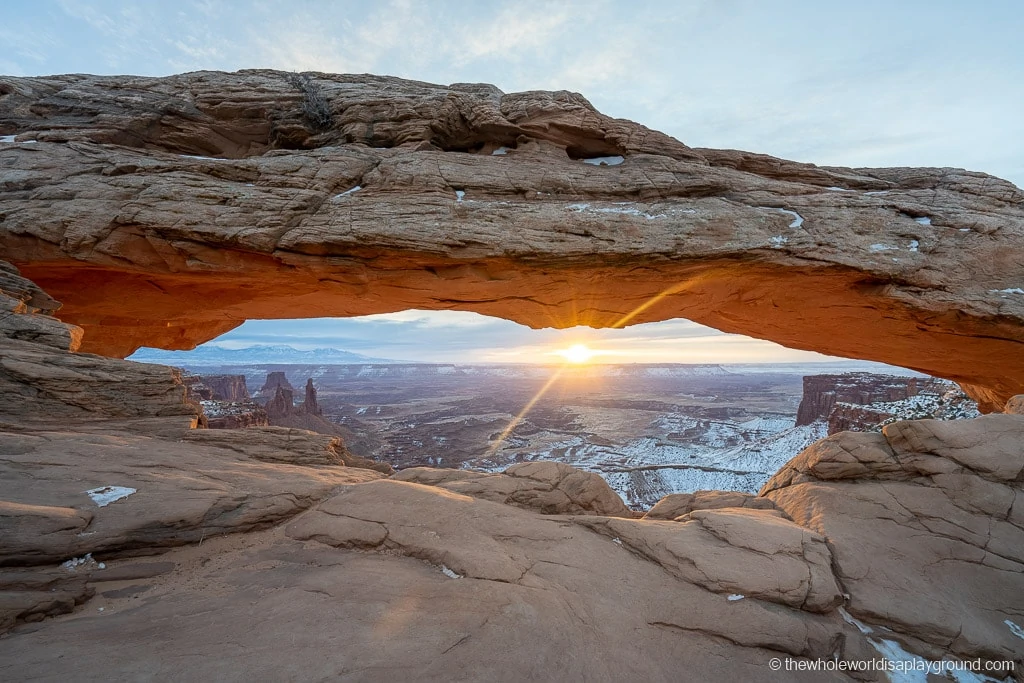 Dead Horse Point State Park
it's a 45 minute drive from Moab but the view from Dead Horse Point is truly breath taking. Although Dead Horse Point is not a National Park make sure to make time for this incredible state park.