A road trip through the Baltic countries of Lithuania, Latvia and Estonia was high on our travel wish list and, as soon as we had the chance, we jumped at the possibility to explore three very different countries. After weeks of planning our Baltic road trip itinerary we finally settled on a route which took us from Riga to Kaunas to Vilnius to Tallinn and finally back to Riga with some bonus stops in between! From old towns to haunting war memorials and from stunning beaches to enchanting forests we were blown away by the variety of sights and scenery on our drive through the Baltic states. For any of you planning a Baltic road trip we've shared our ultimate itinerary below. Enjoy!

Our Baltic Road Trip Itinerary: the route
Any Baltic road trip itinerary should include the main cities of Riga, Kaunas, Vilnius and Tallinn but we've included some optional stops that we loved and would recommend if you have some extra days.
Our Route: Riga – Kaunas – Vilnius – Sigulda – Tallinn – Jurmala – Riga
Tips for Baltic road trip: The Curonian Split, approximately 3 hours west of Kaunas in Lithuania, and the Cultural Reserve of Kernavė, about 45 minutes from Vilnius are two optional extras for the Baltic road trip itinerary.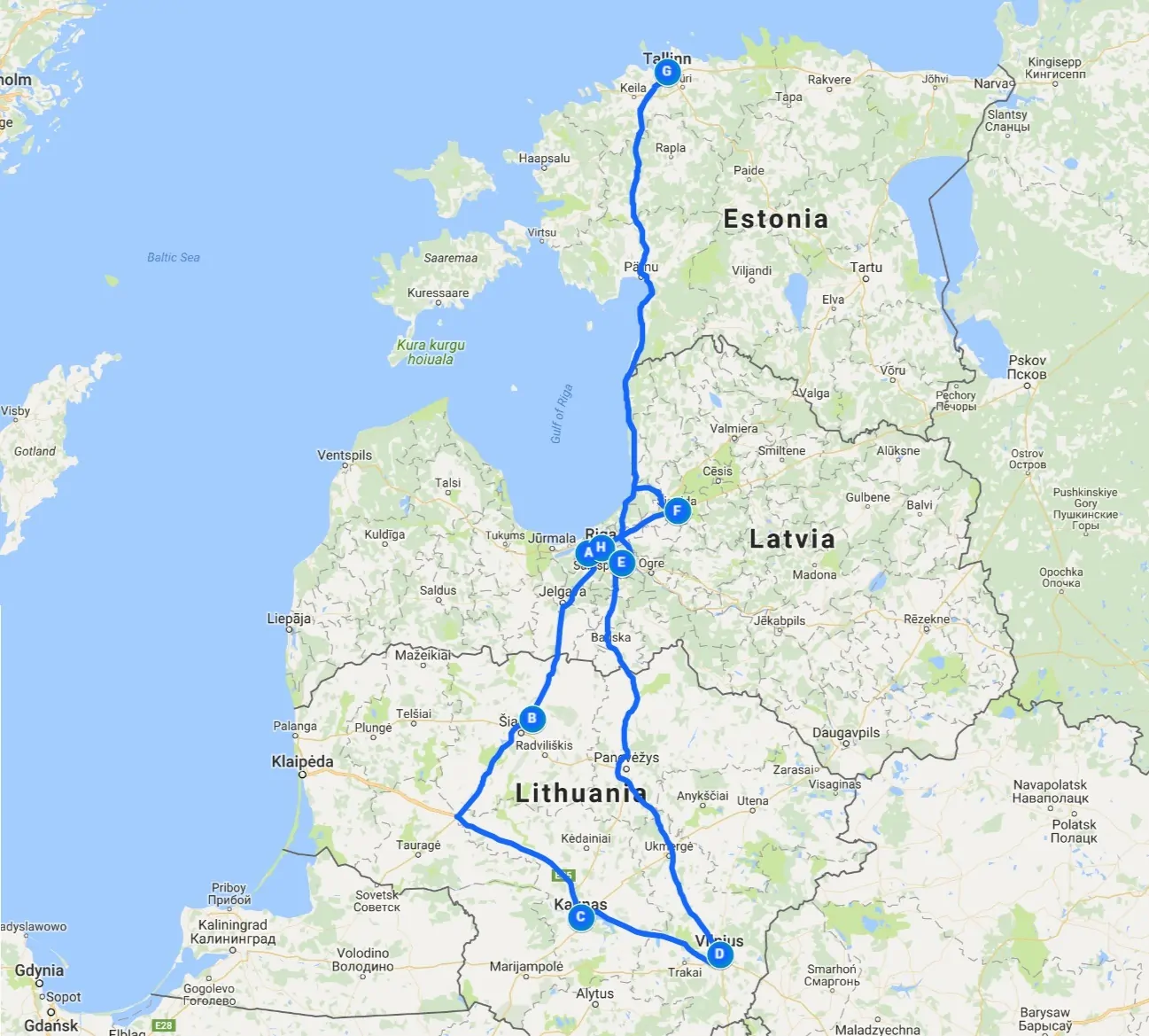 Renting a Car
We highly recommend renting a car for exploring the Baltics. We're huge fans of road trips and have driven in over 40 countries around the world so we have a lot of experience renting cars in foreign countries. For the cheapest rental car prices check out the many options available on RentalCars.com. We rented our car from Riga airport, however this itinerary can be done in any order!
Travel Insurance
Hopefully, you'll never need to make a claim, but if you do, it's essential to have a travel insurance policy with a reliable and straightforward claims process. We personally use World Nomads insurance on our travels as it's one of the best on the market
You can buy and claim online, even after you've left home.
Day 1: Arrive in Riga
We flew into and out of Riga airport: we opted for Riga as Latvia is the central country in the Baltic states and this reduced the drive time and meant we didn't have to pay for one way car rental charges to go from point to point.
Where to stay:
Riga Islande Hotel: The Islande Hotel on the outskirts of Riga and was perfect for our initial overnight stopover. It's really reasonably priced, has free parking and breakfast – Check prices now!
Gallery Park Hotel & Spa: Where we chose to stay when we returned to Riga and a truely stunning hotel. The rooms are luxurious and the building itself a UNESCO world Heritage building. Definitely check this out – Check prices now!
For some good mid-range options take a look at the Relais le Chevalier or the Monika Centrum Hotel
Click here for the best Riga hotels!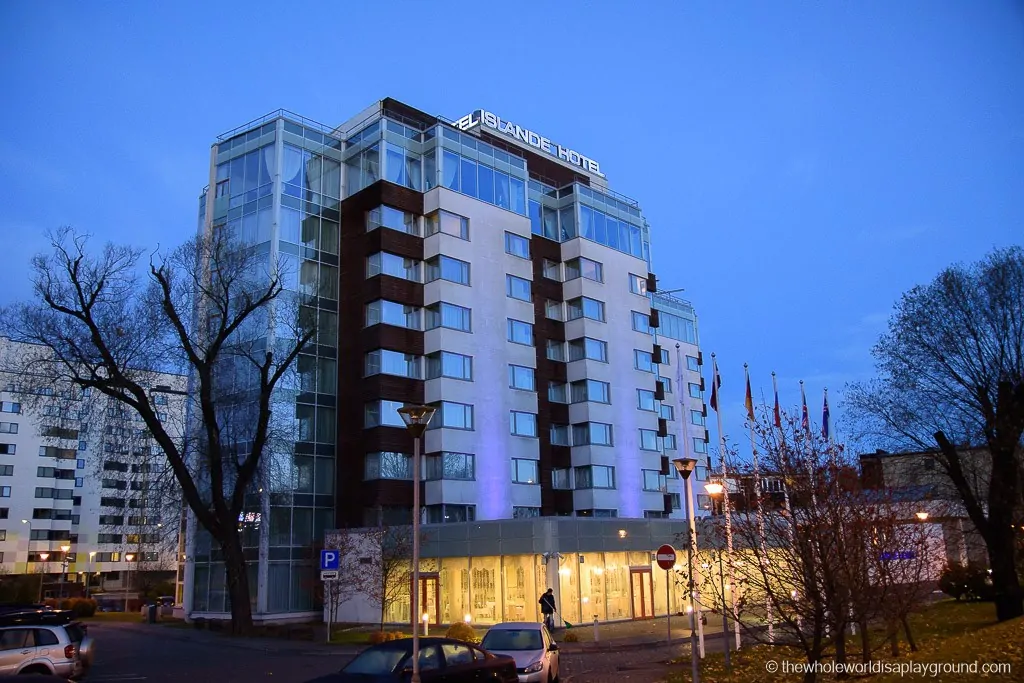 Day 2: Drive from Riga to Kaunas (270km, 3.5 hours + stops)
Our first day of driving took us from Latvia into Lithuania where our first stop was the stunning Hill of Crosses before we made our way to Ninth Forth and Kaunas for an overnight stay.
Stop 1: The Hill of Crosses
The Hill of Crosses is a Christian pilgrimage site with a collection of over 200,000 wooden crosses erected on a small hill in Lithuania, around a 2 hour drive from Riga. The crosses first started appearing after the 1831 uprising against Russian ruling and relatives, with no bodies to bury, erected crosses on the hill. The hill was bulldozed twice during a later Russian occupation as religion was forbidden but Lithuanians continued to sneak to the hill and plant the crosses. People from all walks of life are remembered here, motorbikers with crucifixes made from motorcycle parts, airforce pilots, religious ministers. It's a must-see on any Baltics road trip and we were in awe as we wandered among the thousands of crosses of every shape and size.
Check out our post of our time at the Hill of Crosses here
Tips for Baltic road trip: Visitors can buy crosses at the entrance to the site where local people actually make them from wood turning. Parking costs 75 cents and is payable in the visitors centre before exiting.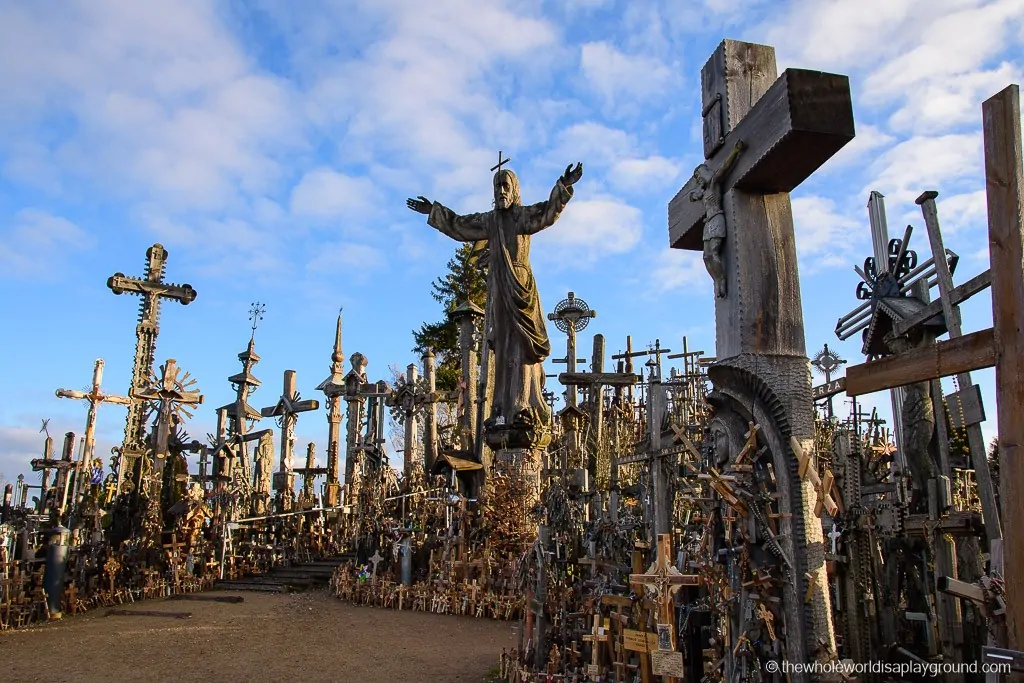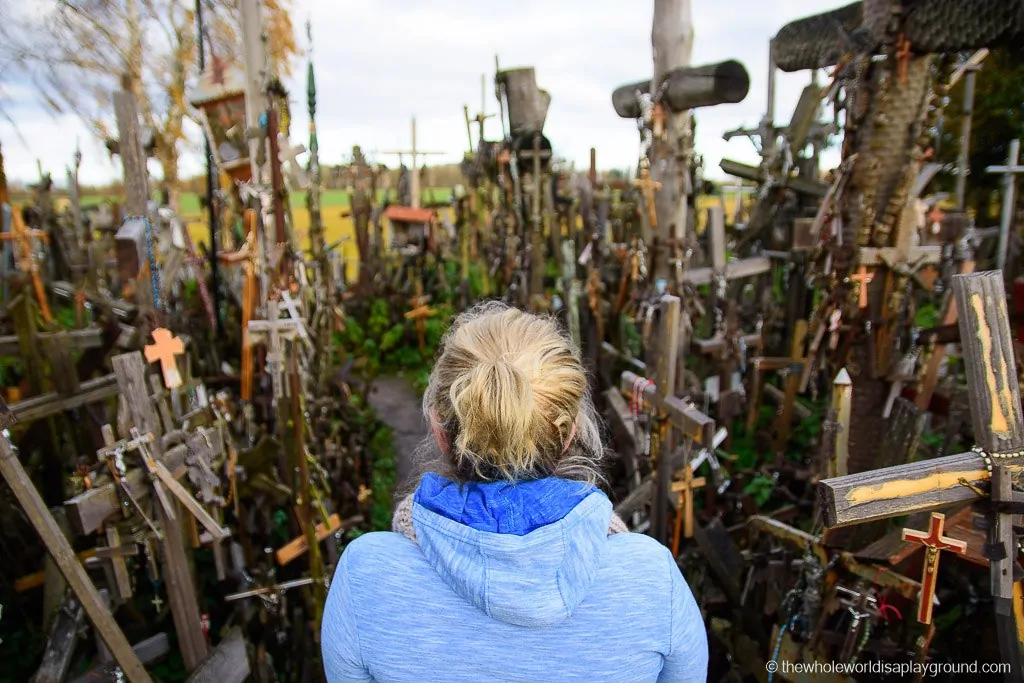 After the Hill of Crosses the next stop is a 2 hour drive to the city of Kaunas for a night.
Stop 2: Ninth Fort Memorial
The infamous Ninth Forth stands in the grounds of the heartbreaking Kaunas Fortress: it was once used as a prison and a stopover for prisoners being transported to labour camps and, later, as a place of execution during the Nazi occupation of Lithuania. Ninth Fort has now been transformed into a poignant memorial to a very dark history of Lithuania and a 100 foot tall monument dominates the grounds.
Tips for Baltic road trip: Prepare yourself for a stop at Ninth Fort as we shed tears during our visit. There are many heartbreaking sights: the museum houses a beautiful stained glass memorial which tells the sad fate of those who were brought to the site, a bullet ridden wall stands alongside a plaque stating 'there near this wall Nazis shot and burned people in 1943-1944' and an exhibit details the last moments of Romas Kalanta, a student who perished after setting himself on fire protesting against the Soviet regime in Lithuania.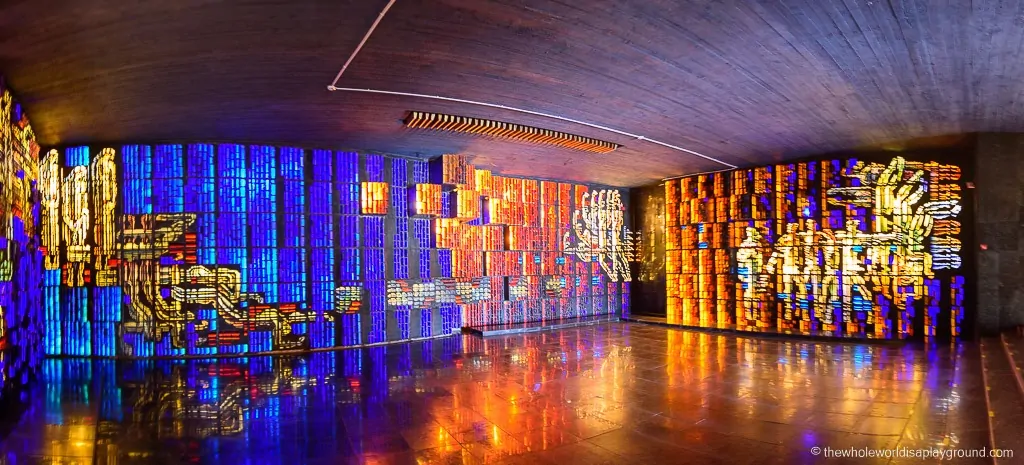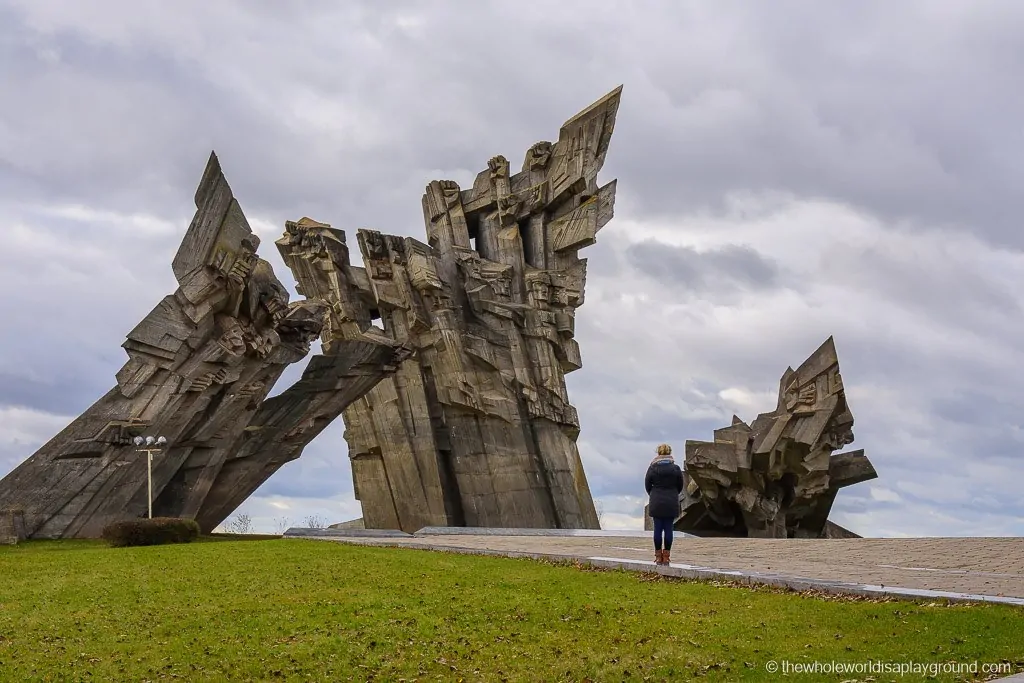 Where to stay in Kaunas
Where to stay:
Park Inn by Radisson Kaunas: A beautiful 4 star hotel with rooms around €95 per night, located right in the middle of Kaunas town and perfect for an overnight stay – Check prices now!
Algrio Hotel: A cheaper option at around €50 per night and a great alternative to the Park Inn for an overnight stop in Kaunas – Check prices now!
Click here for the best Kaunas hotels!
Day 3: Kaunas to Vilnius (105km, 90 minutes + stops)
After a morning exploring the maze of streets and admiring the buildings in Kaunas Old Town we set off for Vilnius, Lithuania's capital city. We fell in love with its old town charm, the cobblestone alleys, the beautiful churches and the sea of orange rooftops visible from every vantage point. Vilnius was our favourite city on our Baltic road trip and we'd recommend spending two nights there if you're arriving late so you have a full day to explore!
Where to stay in Vilnius
Novotel Vilnius: Situated in the centre of Vilnius right beside the Old Town and where we chose to stay. This modern stylise hotel is perfect for exploring the city and the views from the gym on the top floor are stunning – check prices now!
Radisson Blu Royal Astorija Hotel: located right on the Old Town Square this beautifully restored hotel is another perfect base for exploring the Old Town from – check prices now!
Imperial Hotel & Restaurant: located right in the Old Town and for those looking for something truly unique. This stunning hotel is perfectly located, with super luxurious rooms and incredible service its no wonder it s one of the highest rated hotels in Vilnius – check prices now!
Click here for the best Vilnius hotel prices!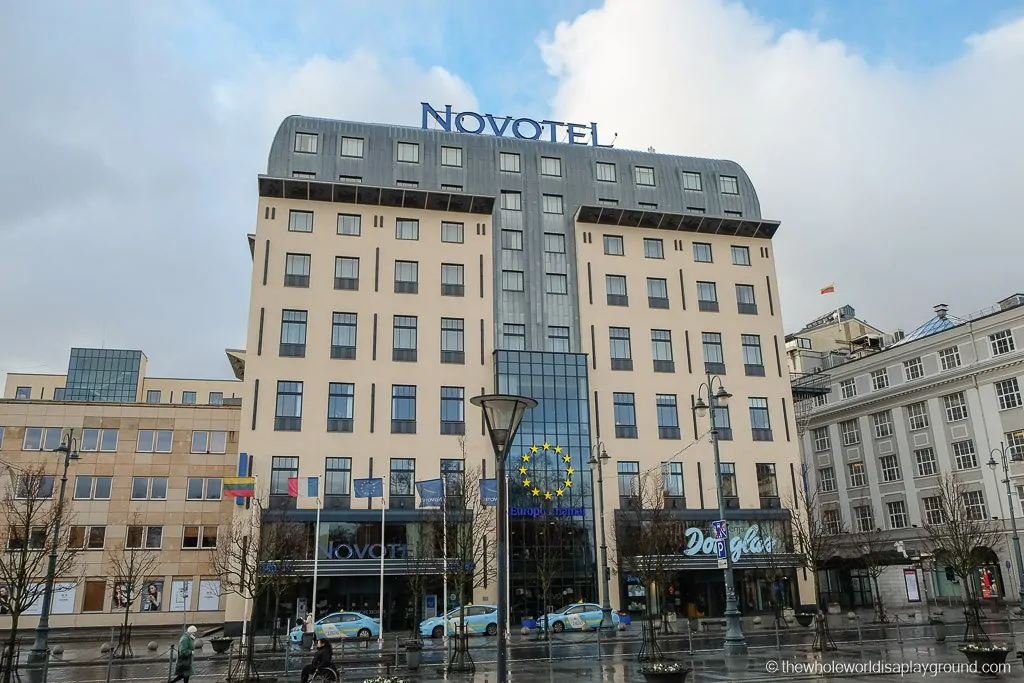 Where to eat and drink: We had an awesome meal at Bistro 18 in the Old Town and the starters and mains were exceptional and reasonably priced. For post dinner drinks we headed to the amazing Bambalynė, a mix of off licence and chilled out Lithiuain beer bar located in a cosy cellar which quickly became one of our favourite bars of our travels!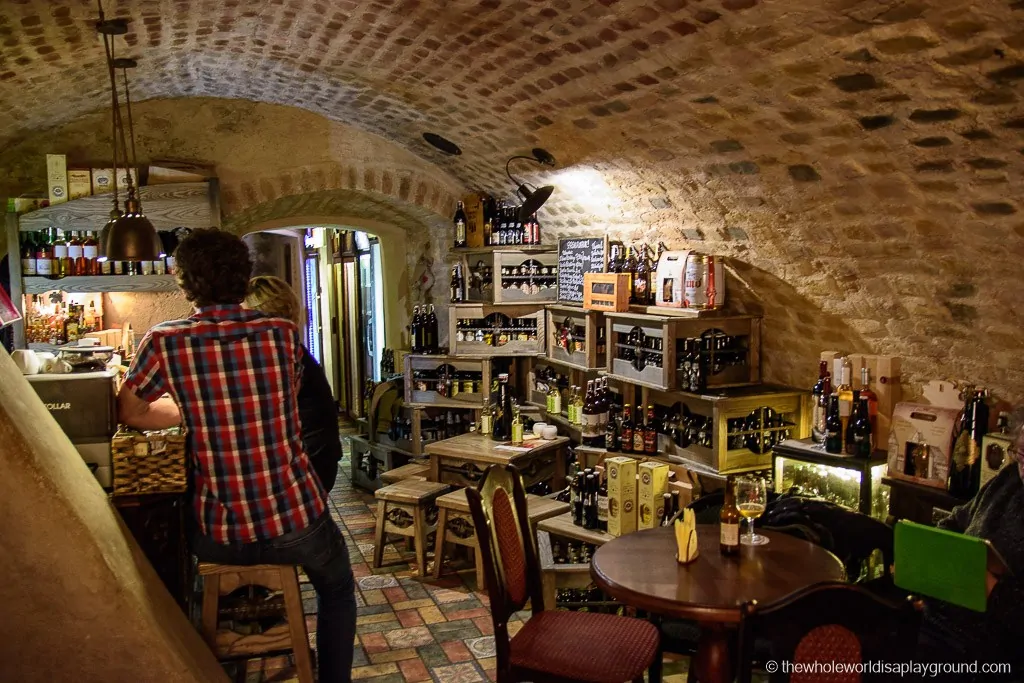 Day 4: Exploring Vilnius
Vilnius is a real treat and we had a lot of fun exploring the cute and quirky Old Town where the highlights were The Gate of Dawn, the entrance to the Old Town, and Pilies Street, the oldest street in the Old Town. St Anne's Church is a little further afield but worth the trek.
Check out our post on the best things to see and do in Vilnius
Baltic road trip tip: If you have a particular Old Town restaurant you want to eat in in any of the three city's be sure to book in advance as most are tiny and can be fully reserved at peak times.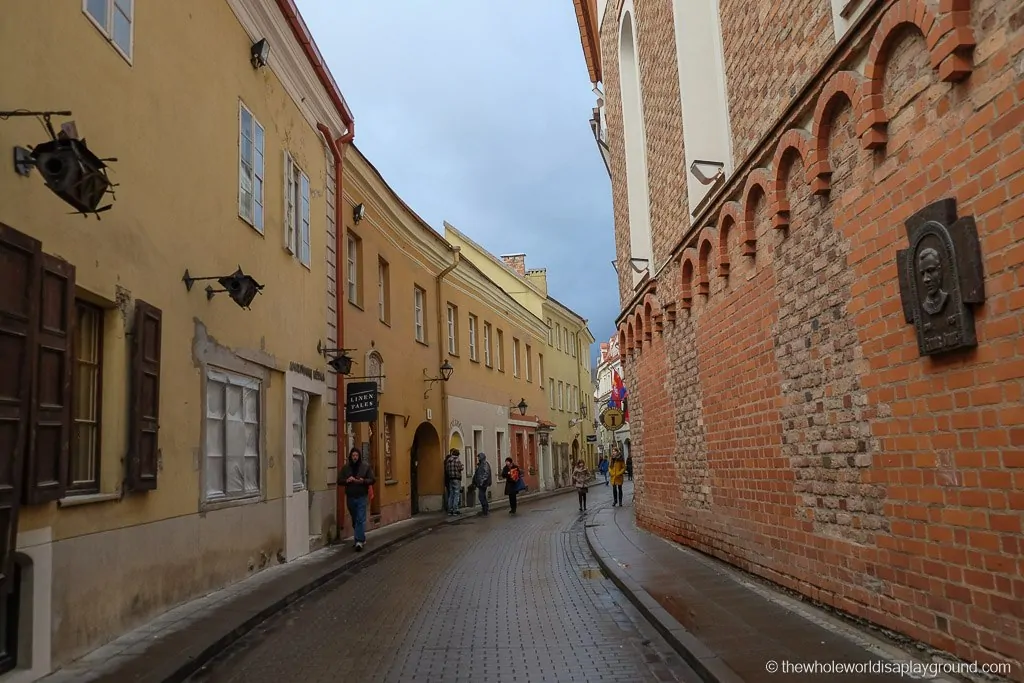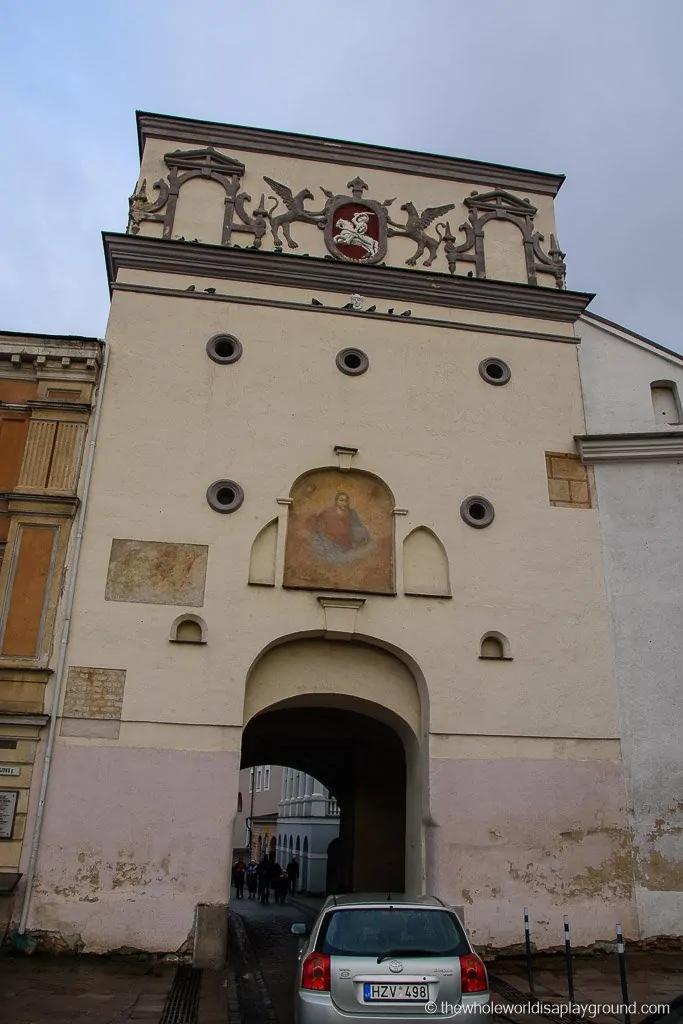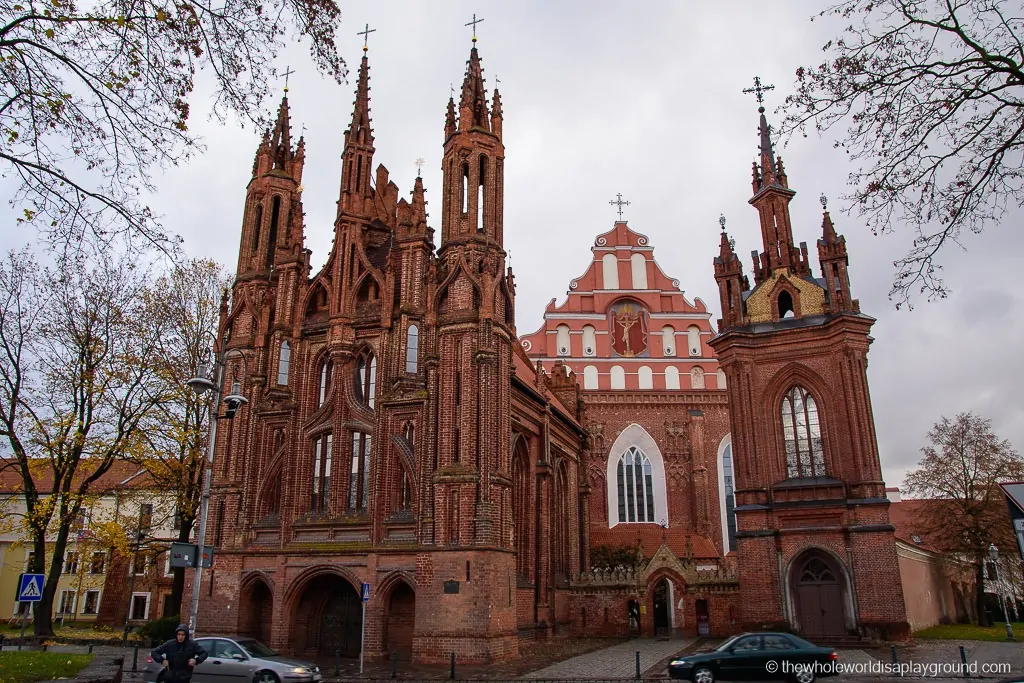 Day 5: Lithuania to Sigulda, Latvia (350km, 4 hours + stops)
We set off early on Day 5 to reach Sigulda, a town often described as the Switzerland of Latvia and a lovely escape from city life. We stopped en route at the UNESCO listed Struve Geodetic Arc and the Salaspils Concentration Camp which is about 20km south of Riga and another heartbreaking sight on our Baltic road trip.
Stop 1: We took a detour to the UNESCO listed Struve Geodetic Arc, one of a chain of 34 which make up the UNESCO Site. We've been chasing them around Europe for a year and never managed to tick one off our UNESCO obsessed list. This is very much an optional stop but the extra 45 minute extra drive was totally worth it for us!
Stop 2: Salaspils is a concentration camp established at the end of 1941 and through which 12,000 victims passed. Today, a poignant memorial complex stands on its grounds: above the entrance are the words 'Beyond this Gate the Ground is Crying' and huge memorials representing hope and despair tower above the surrounding forest.
Stop 3: Autumn was in full swing and Sigulda was at its finest: we managed a whistlestop tour of its best sights and our favourites were the medieval Turaida Castle and Gutmanis cave, one of the oldest tourist attractions in Latvia: legend has it that the waters of the spring flowing out of the cave are the tears of the wife of a Liv chief.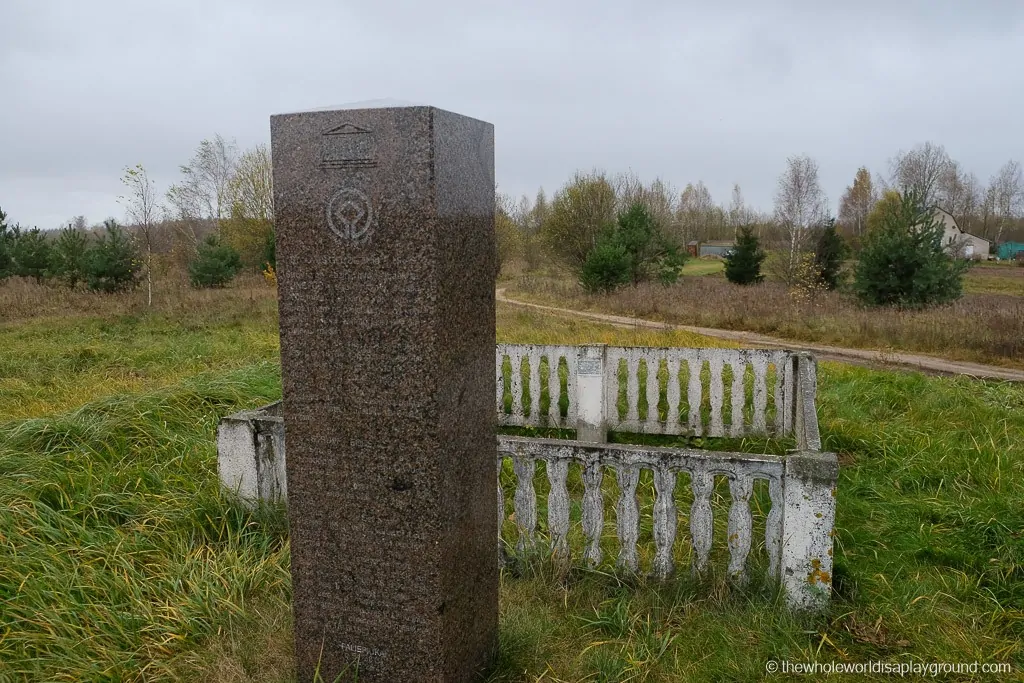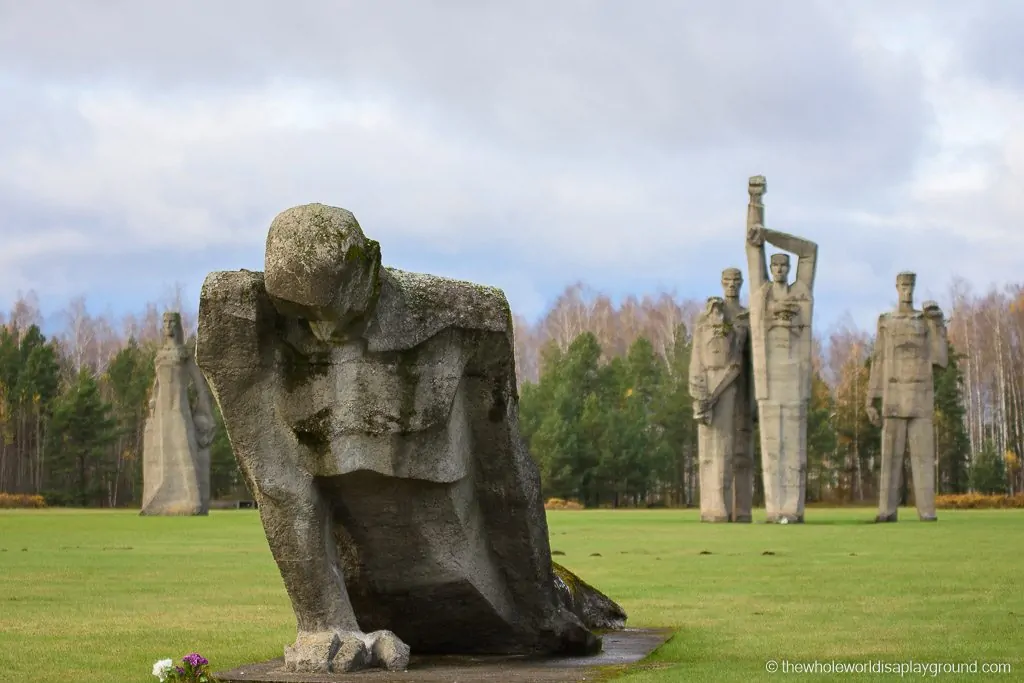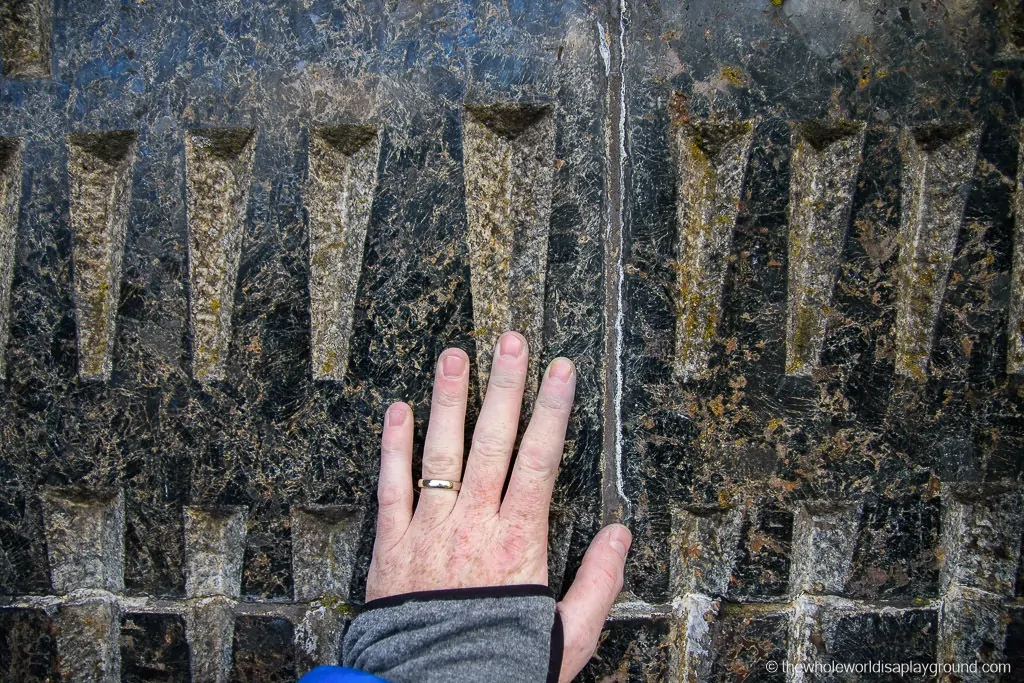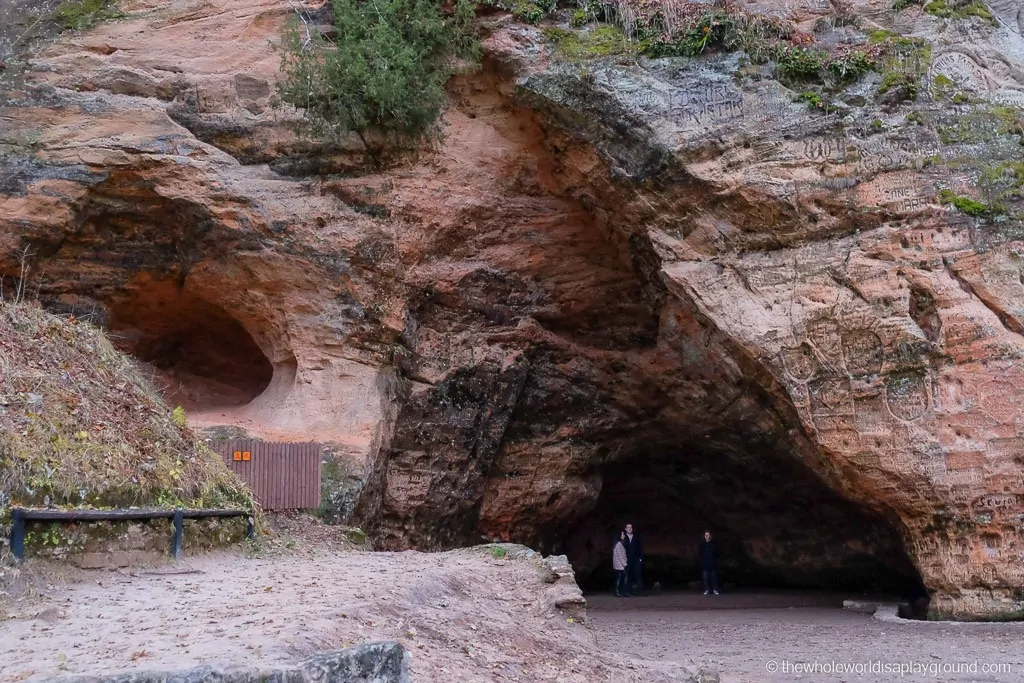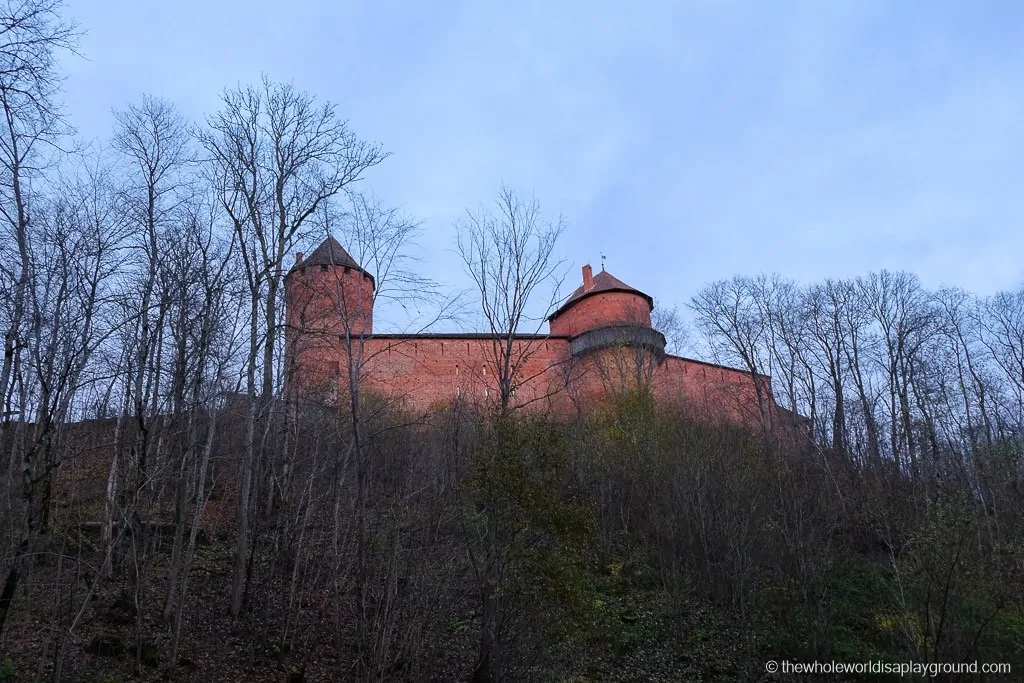 Where to stay: Accommodation options are limited in Sigulda and we opted for the aptly named Hotel Sigulda which is a good choice and well priced at under 50 euros.
Click here for the best Sigulda hotels
Day 6: Sigulda to Tallinn, Estonia (300km, 4 hours + stops)
After a morning drive up north to Tallinn we spent the afternoon exploring the old town of Tallinn, a UNESCO World Heritage Site and Estonia's capital city.
Where to stay in Tallinn
Swissotel Tallinn: athe perfect luxury option in Tallin and where we had a fantastic stay. It's a 5 minute walk to the Old Town, the rooms are beautiful and the views across the city from the rooftop bar are incredible – Click here for best prices!
Click here for the best Tallinn hotels!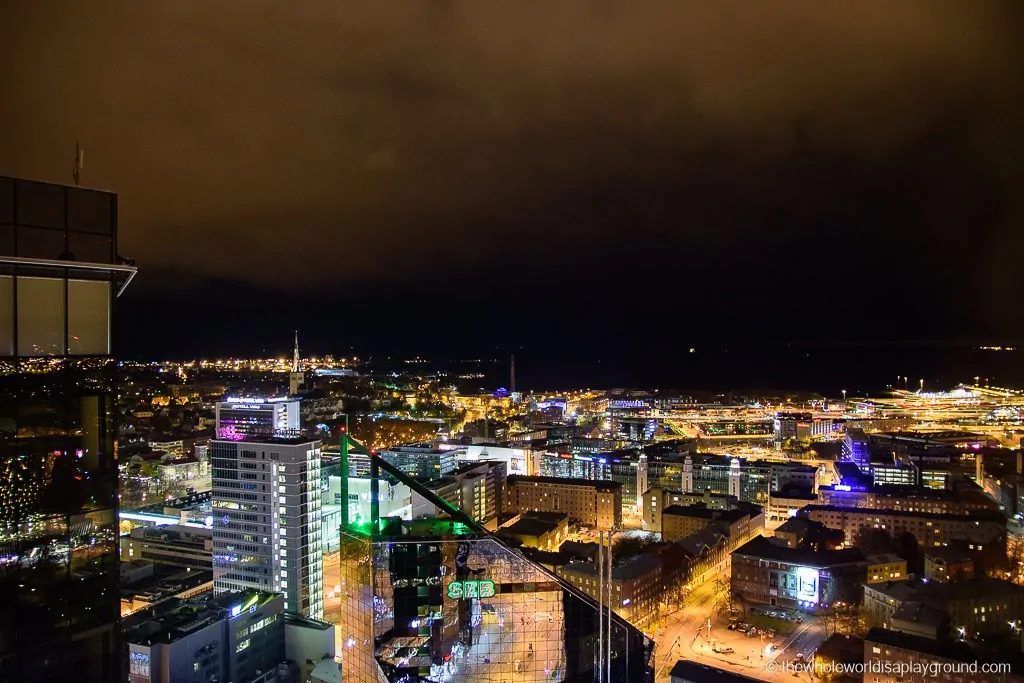 Where to eat: After working up an appetite we had dinner at Rataskaevu 16, a really chilled restaurant with a great food and drinks selection and we would definitely recommend. Kompressor, a popular local pancake house, was another of our favourites and we jndulged in some of the best pancakes of our travels. Be warned, they're huge!!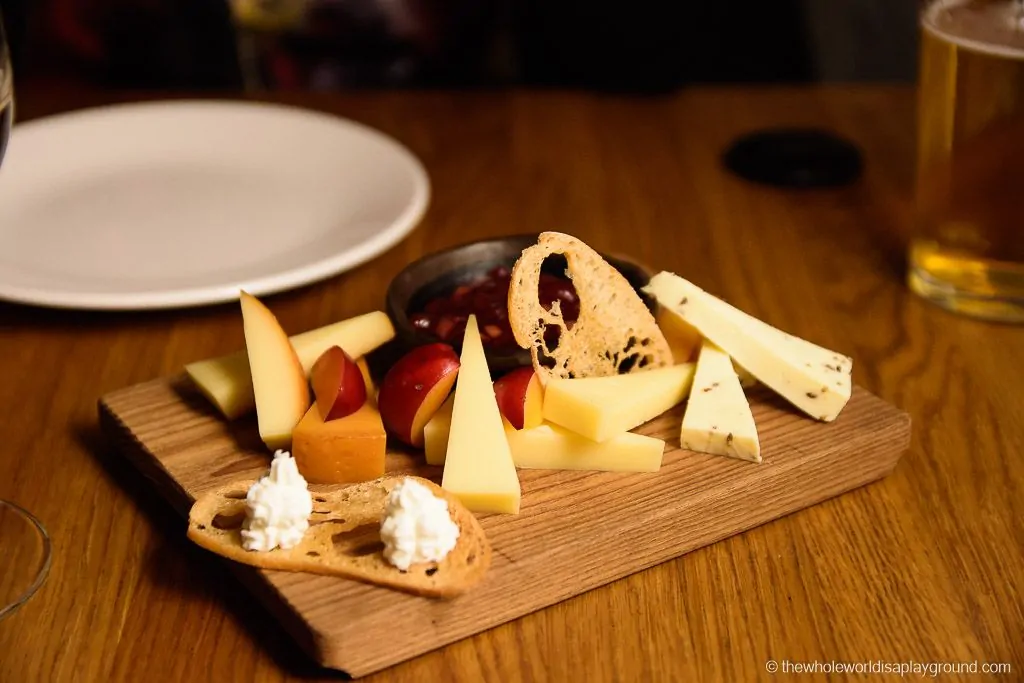 Exploring Tallin: Tallinn Old Town is the beating heart of the city and it's a maze of cobbled streets, beautiful churches and kitschy restaurants. Our highlights were the beautiful sea of red roof tops, the stunning Alexander Nevsky Cathedral, the thought provoking street art and the haunting monk statues in the Danish King's Gardens.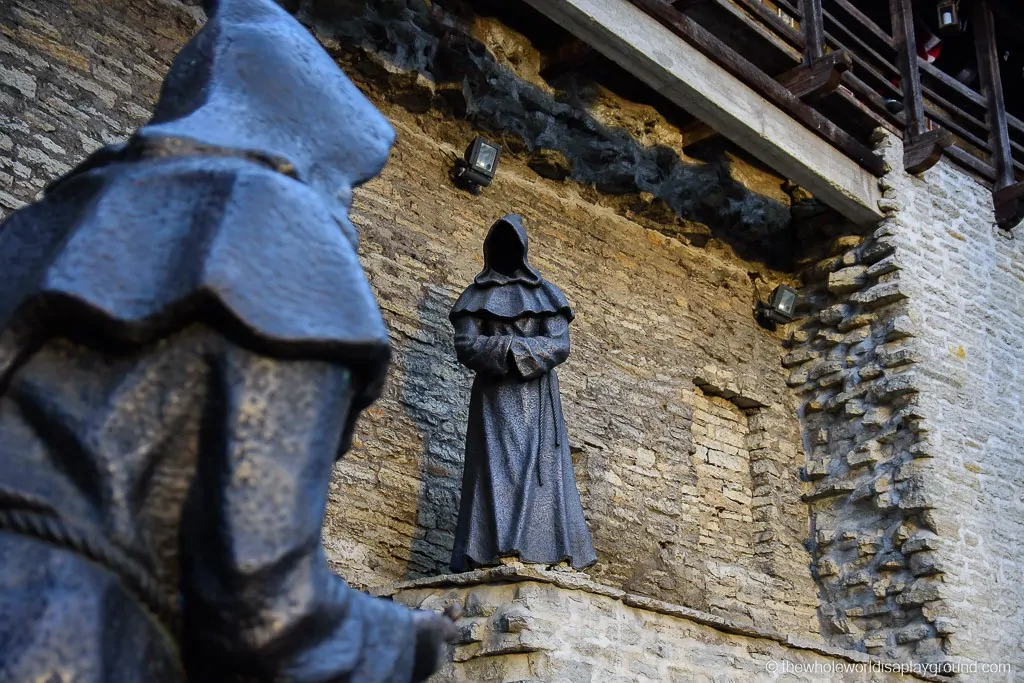 Day 7: Tallinn, Estonia
Day 7 is a more chilled day where we explored Tallinn and its old city some more. A day trip to Helsinki in Finland is another fantastic option and there are frequent ferries between Tallinn to Helsinki.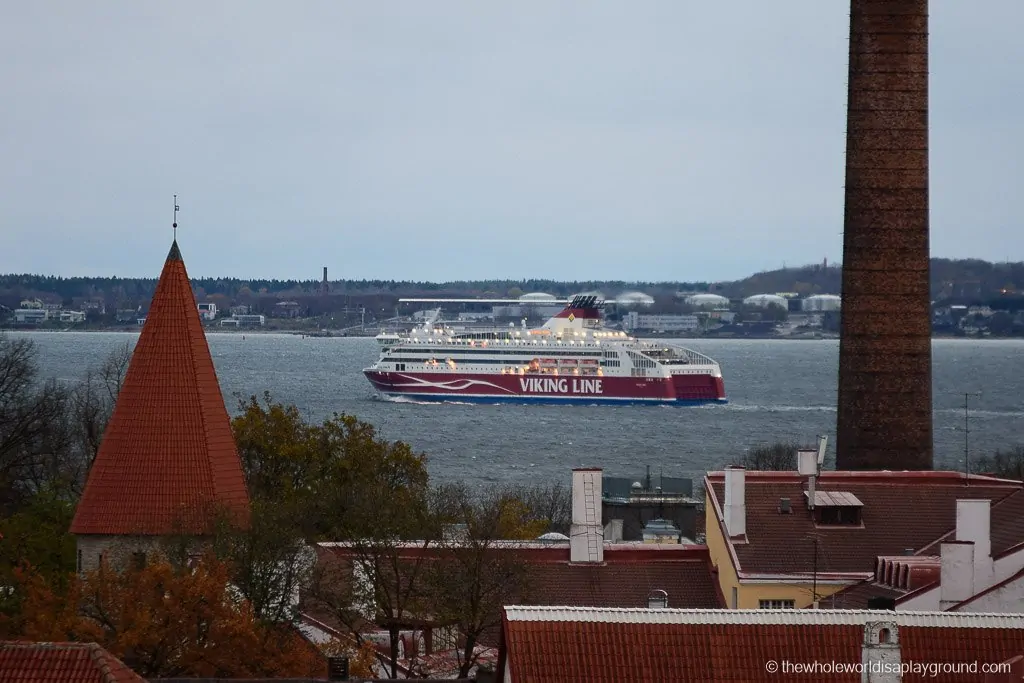 Day 8: Tallinn, Estonia to Riga, Latvia (309km, 4 hours + stops)
After another morning drive we arrived in Riga and spent the afternoon exploring the old town of Riga, another UNESCO World Heritage Site.
Where to Stay in Riga:
The Gallery Park Hotel & Spa: a stunning period hotel and is actually a listed UNESCO World Heritage building so we simply had to stay! Spoil yourself and remember to check out the stunning pool in the basement – it's pretty incredible! – Check prices now!
Dome Hotel & Spa: is another luxury Riga gem and part of the same hotel group as Gallery Park. – Check prices now!
Radi Un Draugi: for a less expensive luxury option in Riga located in the centre of the old town near St. Peter's Church – Check prices now!
Click here for the best Riga hotels!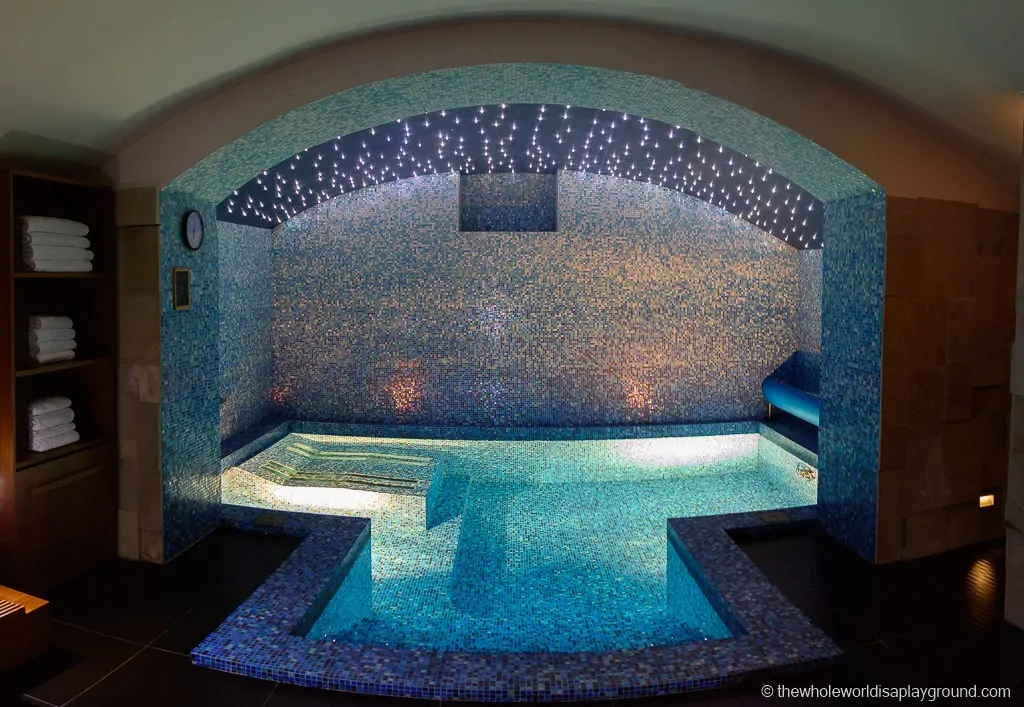 Where to eat: We ate in Amber Way Taverna, a traditional restaurant which is run by the Latvian Tourist board and aims to show visitors the traditional food an drink of Latvia. The food is simple, wholesome and comforting: just what we needed to warm our bones on a cold day in Latvia!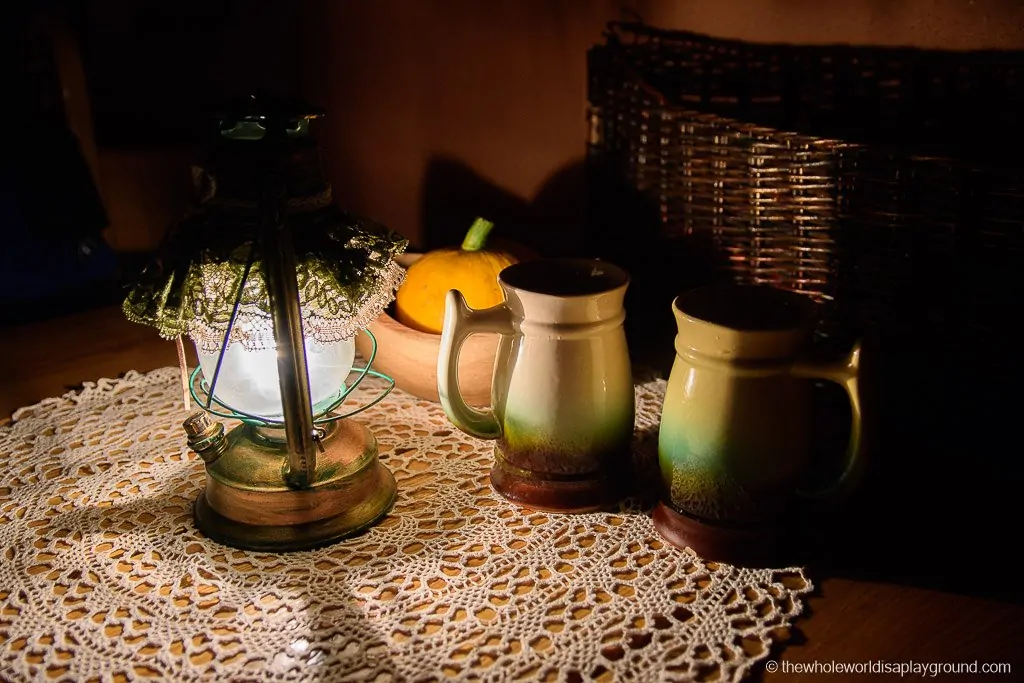 Day 9: Riga
Riga is a gorgeous city with lots of sightseeing and we spent a relaxed day exploring the Old Town and its surroundings. We started the day at Riga's Central Market where we indulged in some delicious sweet and savoury treats and picked up some souvenirs of the Baltic city. Our Old Town favourites included Town Hall Square and the incredible House of Blackheads building, the Bremen Town musicians statue (think Grimm brothers fairytale!) and St. Peter's Church with the panoramic tower views.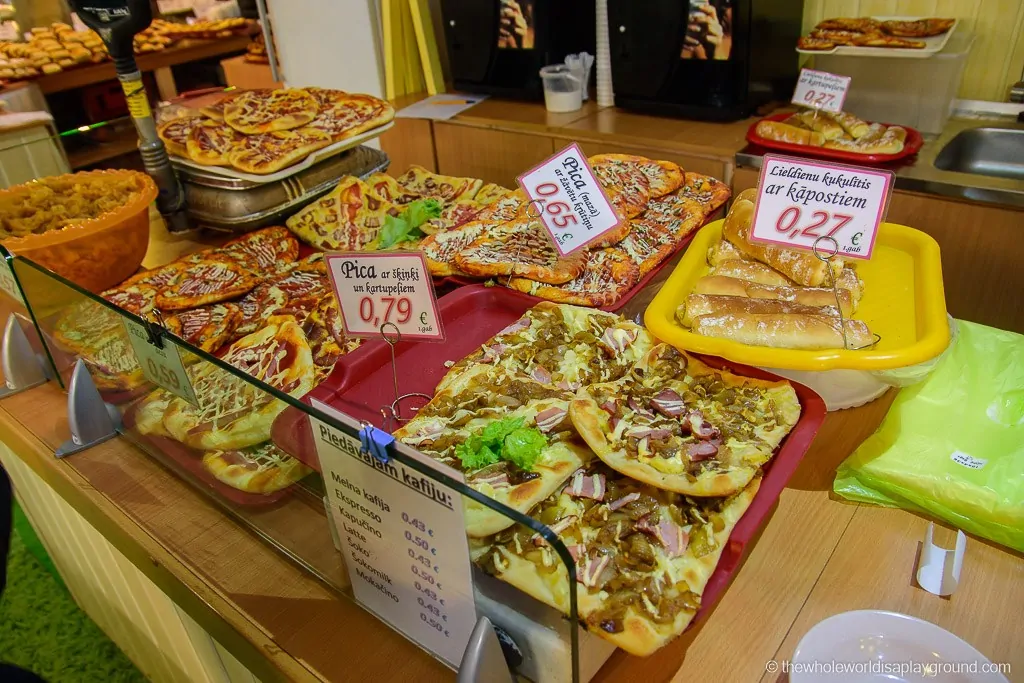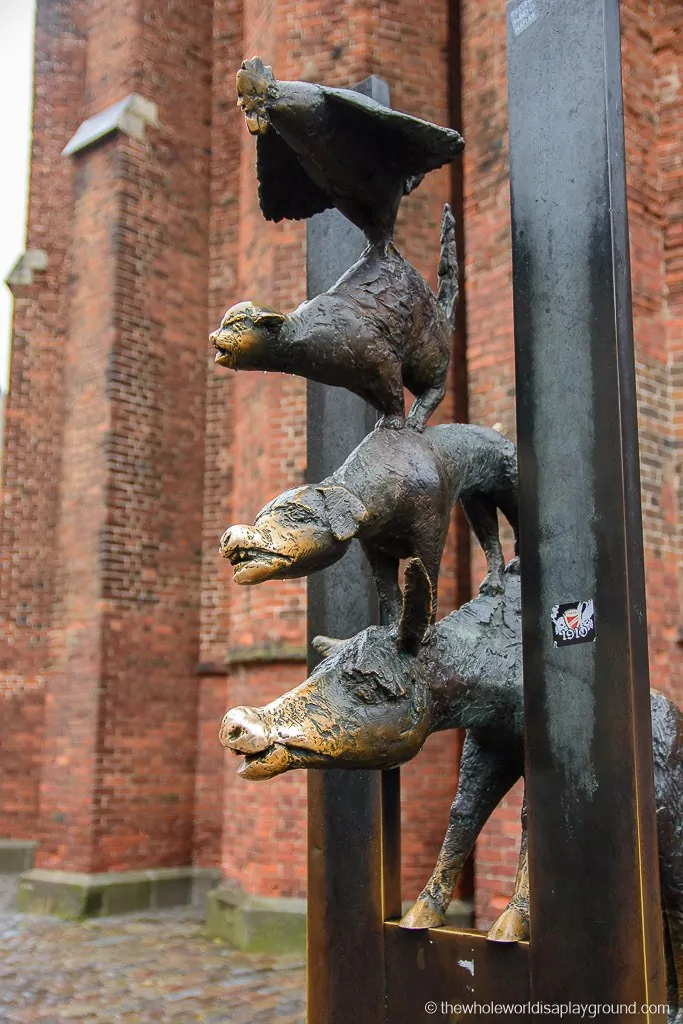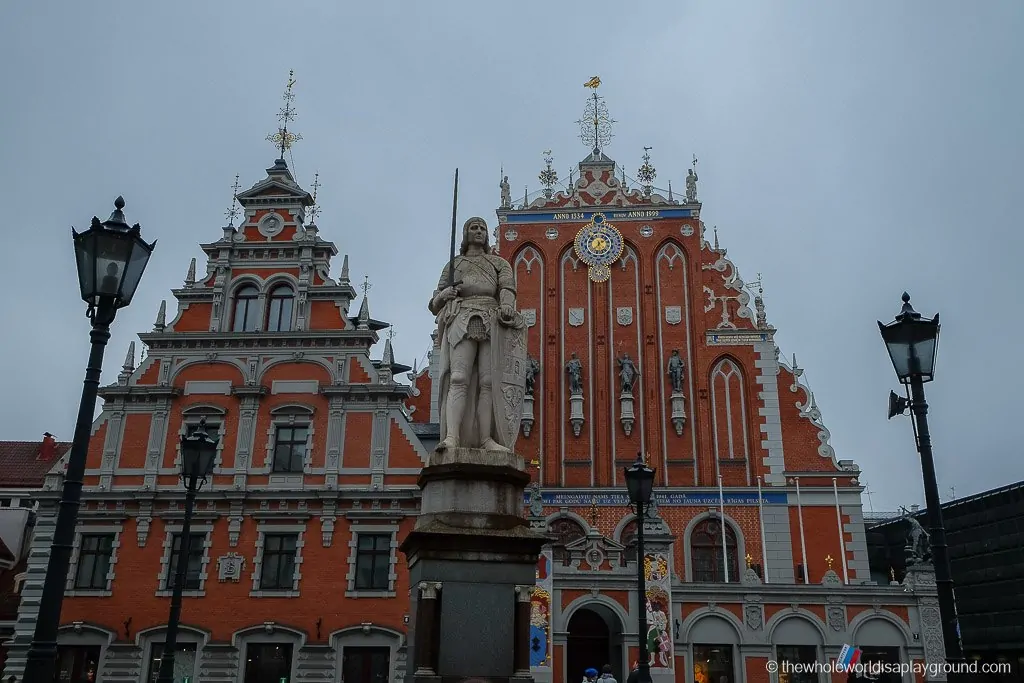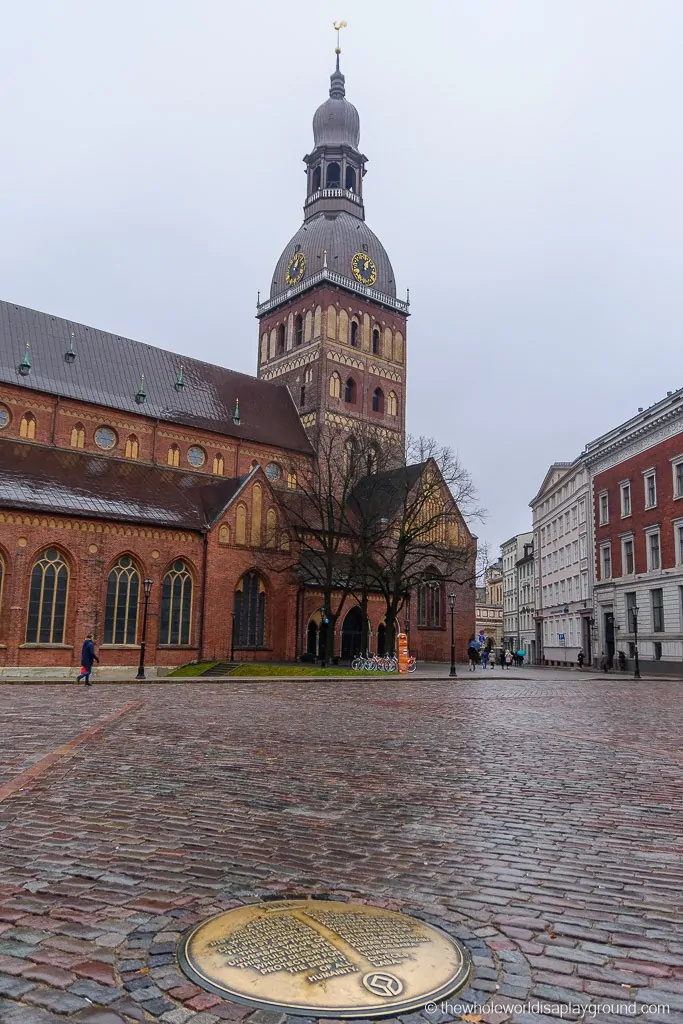 Day 10: Jurmala (40km, 40 minutes)
The seaside town of Jurmala is a gorgeous escape from city life and definitely worth a night if you can squeeze it in to your Baltic itinerary. It's all about relaxing and having fun in Jurmala with its beautiful beach, a cute pedestrianized street and an abundance of natural mineral spa resorts. The food is good and Ragakapa Nature Park is the perfect spot for a walk.
Where to Stay in Jurmala
Two of the best spa hotels in Jurmala are:

The Hotel Jurmala Spa: Located 5 minutes from the beach this hotel has a great spa, including a bar in the spa itself! – Check prices now!
Baltic Beach Hotel and Spa: an incredible hotel located right on the beach and has an indoor salt water pool. They offer a huge variety of spa treatment, perfect for spoiling yourself! – Check prices now!
Click here for the best Jurmala Spa hotels!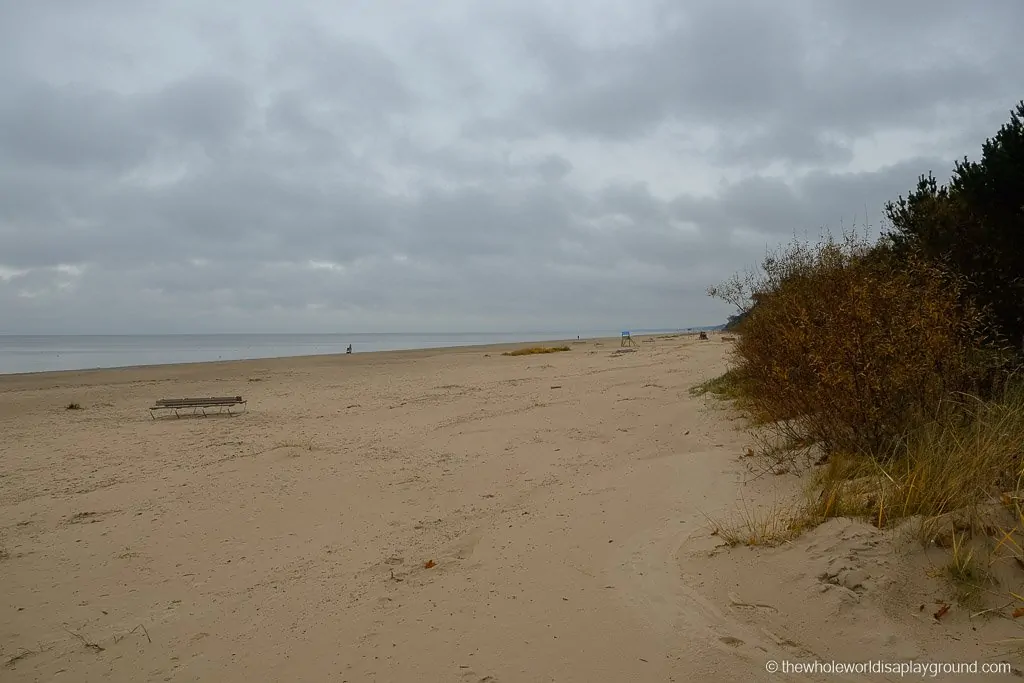 The Logistics: Tips for a Baltic Road Trip
We've had some questions around the logistics of crossing borders, renting cars and purchasing fuel so here's our take on a Baltic road trip logistics:
Estonia, Latvia and Lithuania are all members of the Schengen agreement and the European Union so the border crossings involve simply driving past road signs stating that you are entering and leaving each country.
We used a rental car and there was no issue with driving it across the three countries but do check with your rental company to be sure.
The Euro currency is used in the three countries.
Speed cameras are everywhere so be careful to adhere to the speed limits in each country.
Fuel stations were frequent and we were able to top up with drinks, snacks and fuel regularly.