Cenote Carwash is a large open air cenote with a fascinating underwater world of rock formations, wildlife and vegetation and is even home to a resident crocodile! The crystal clear waters of Cenote Carwash mean it is popular for swimming and snorkeling and its deep cave attracts divers keen to explore life below the surface of the cenote.
Having visited Cenote Carwash, these are our tips and guide to visiting Cenote Carwash to help your plan your own visit.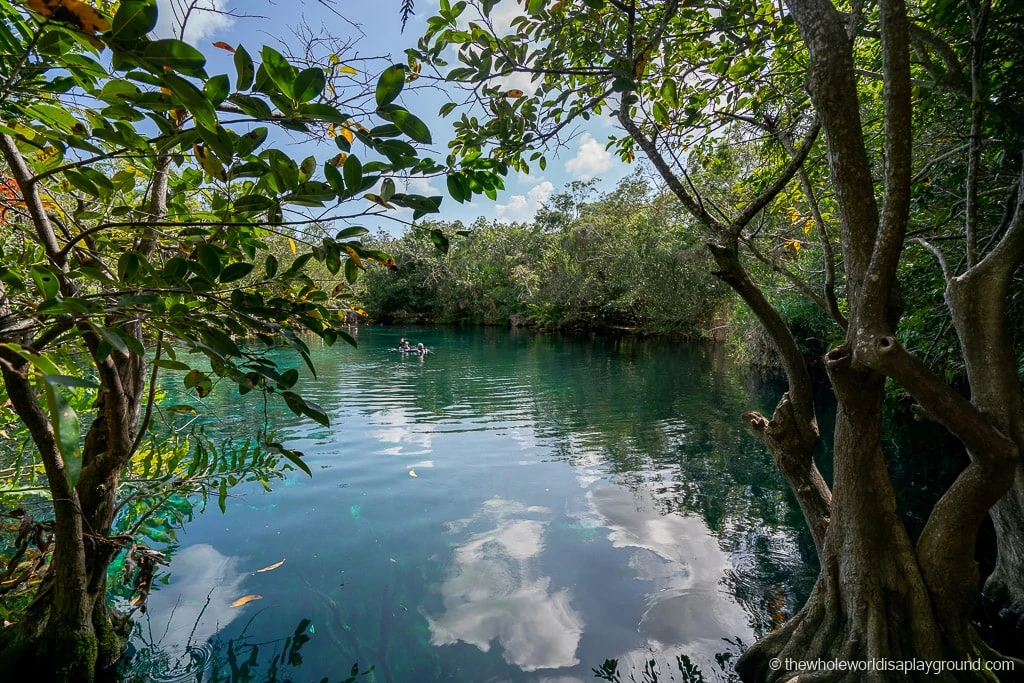 Cenote Carwash
Cenote Carwash is a large, almost pond like, open air cenote, located on the road between Tulum and Coba.
Officially named Cenote Aktun Ha, the nickname Cenote Carwash arose from its unusual past! The cenote has a large open air pool which is just feet from main Tulum to Coba road – the cenote was reportedly used by passing drivers as a convenient car wash station and became known as Cenote Carwash.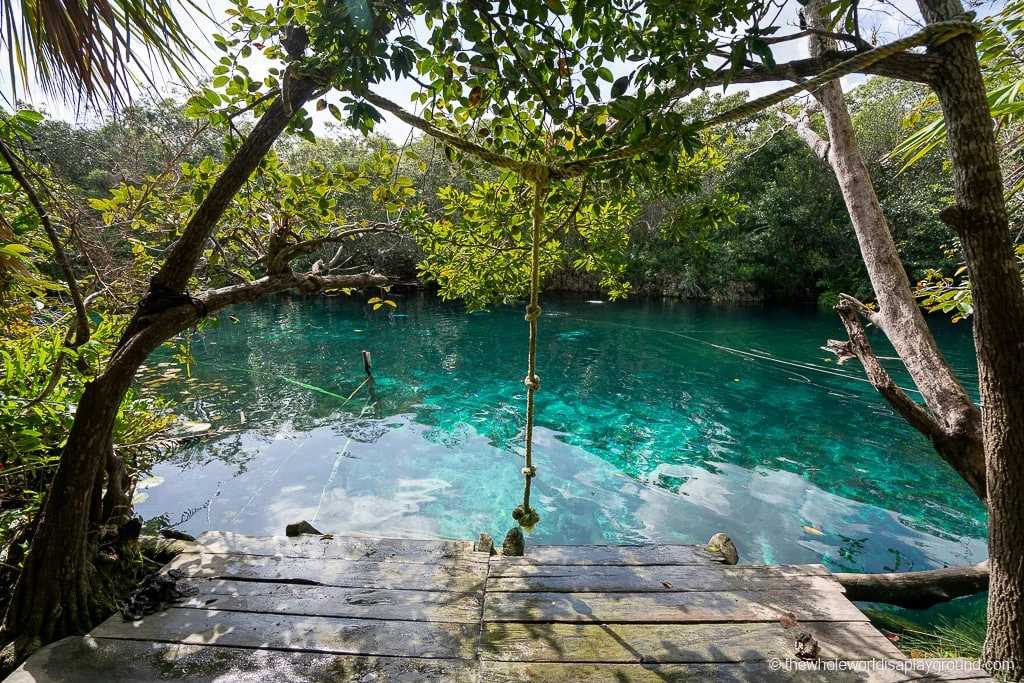 The easily accessible Cenote Carwash is surrounded by lush green vegetation and a variety of wildlife lives within its waters. Fish and turtles meander through the underwater gardens and rock formations and a small crocodile sometimes makes an appearance sunbathing on the banks of the cenote.
Cenote Carwash is relatively untouched although the addition of a rope swing and jumping platform allow for a fun and dramatic entrance into the cenote! Swimming and snorkeling are popular at the cenote and its deep waters and large cave also attract divers.
Cenote Carwash is best for: swimming, diving, those looking for an easily accessible and chilled cenote experience
What are Cenotes?
A cenote, pronounced seh-NO-tay, are water-filled sinkholes that naturally occur in limestone rock when an underground cave collapses in on itself and exposes the groundwater underneath. There are thousands of cenotes dotted around the Yucatan Peninsula and many of the cenotes are extremely popular with locals and tourists alike.
The water in the cenotes tends to be cool as the water comes from underground so they are great for a refreshing swim to cool off from the hot Mexican sunshine.
In Mayan times a number of the cenotes were used for sacrificial purposes and objects such as gold, pottery and even human and animal remains have been found at the bottom of some cenotes.
The cenotes near on the Yucatan Peninsula are a mix of open, semi-open or underground:
Open cenotes: these are caves which have completely collapsed in on themselves and are exposed to the sky. These are our favourite as you can swim under the blue skies, the water is a pleasant temperature and there are usually lots of areas to relax by the water. Cenote Carwash is open air. Our other favorite open cenotes are Cenote Azul in Playa Del Carmen, Cenote Zacil-Ha in nearby Tulum and Cenote Oxman near Valladolid.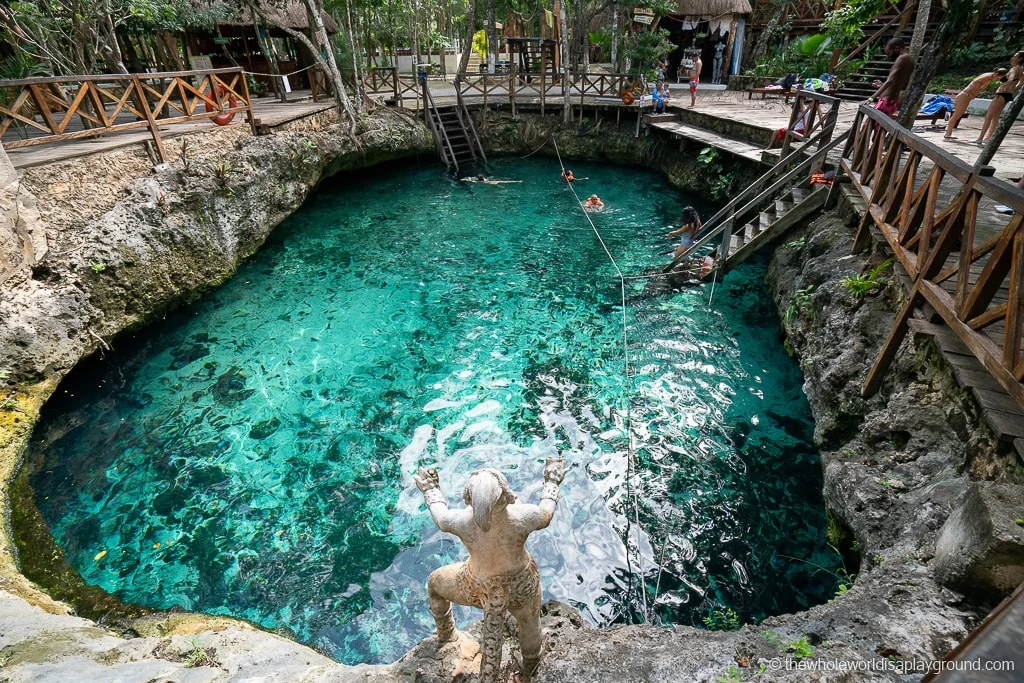 Semi-open cenotes: these cenotes are mostly underground but have small openings in the ceiling where light and fresh air come in.  These cenotes can be particularly beautiful as the light beams illuminate the crystal clear water below. Our favorite semi-open cenote are Cenote Ik Kil which can be visited as part of a day trip to Chichen Itza and Cenote Samula, a cenote near Valladolid.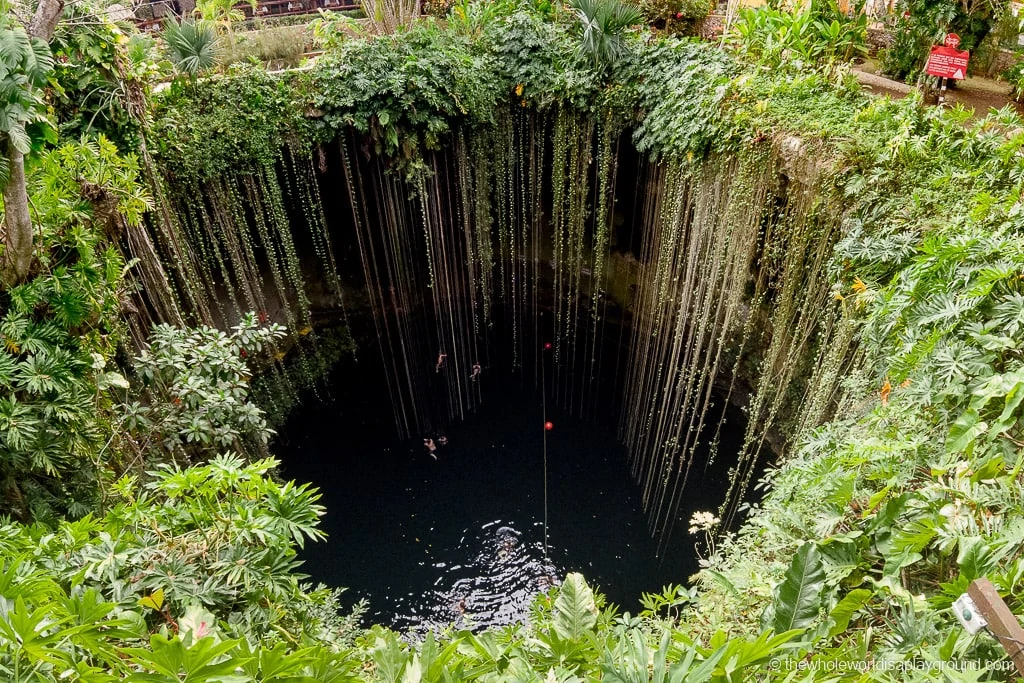 Underground cenotes: these cenotes are completely underground in a cave system and have no natural light to illuminate the cenote water. The three cenotes near the Coba ruins (Multum-Ha, Tamchach-Ha and Choo-Ha) are amazing underground cenotes you can easily visit from Playa Del Carmen on a longer stay.
Visiting Cenote Carwash
Cenote Car Wash is located on the road between Tulum and Coba. The car park, and the cenote itself, are just a few feet of the main road making both parking and swimming easily accessible to visitors. If you are traveling with young kids this easy access is really great!
Cenote Carwash tip: Cenote Car Wash is located next to Cenote Zacil-Ha and just a few minutes from Gran Cenote so it's easy to combine it with a visit to a second cenote. We loved experiencing the different cenote types across the Yucatan Peninsula. These cenotes are also a popular stop on the route between Tulum and the incredible Coba ruins.
Both tickets and life jackets are available at the entrance to Cenote Carwash. The cenote waters are just a few steps behind the entrance booth.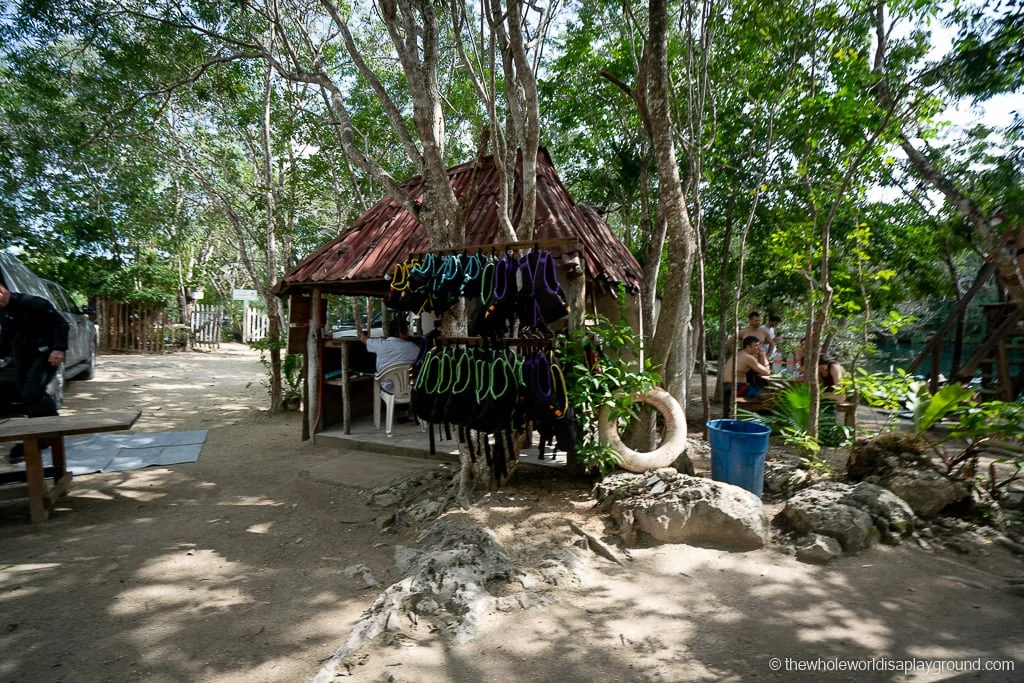 As with all cenotes, a shower is required prior to entry to protect the ecosystem. Small changing rooms are located further into the cenote grounds and are a short walk from the entrance. Lockers are also available on site and picnic tables surround the cenote waters.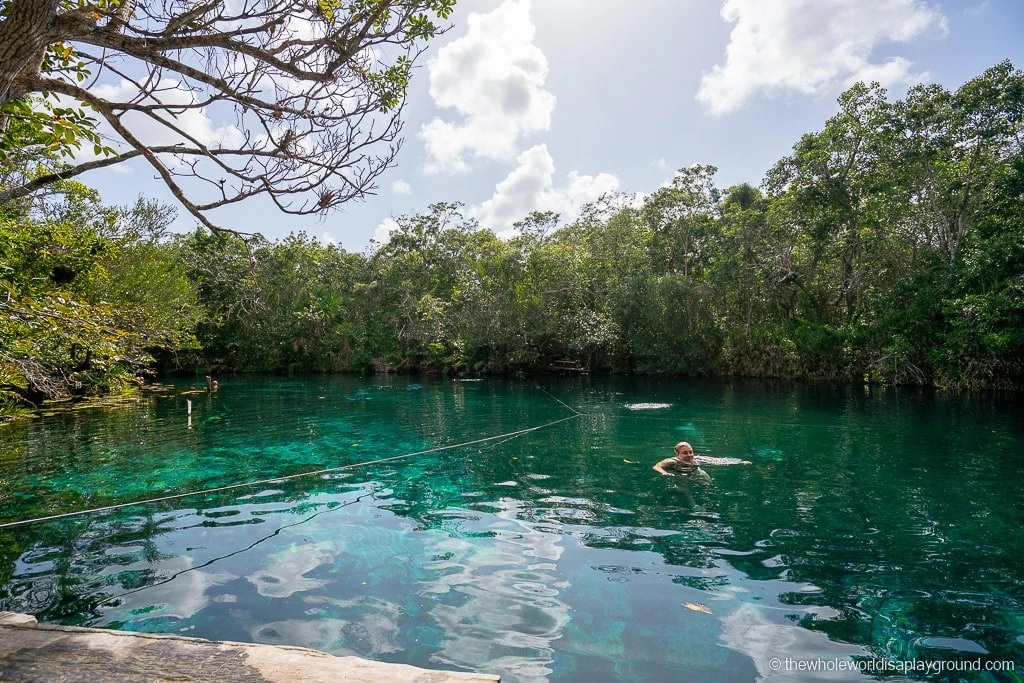 Swimming in Cenote Carwash
Cenote Carwash is a large, pond like, open air cenote with deep, clear waters which are the perfect temperature for swimming. The cenote is surrounded by lush green vegetation so, despite being so close to the road, it has a slight jungle feel.
Cenote Carwash tip: Cenote Carwash is often less crowded that some of the bigger cenote complexes. At times we were the only swimmers in the cenote which is a lovely experience.
A small wooden boardwalk surrounds the cenote allowing for easy access to the water. There is a small jumping platform, about 5 metres high, which is fun for jumping off.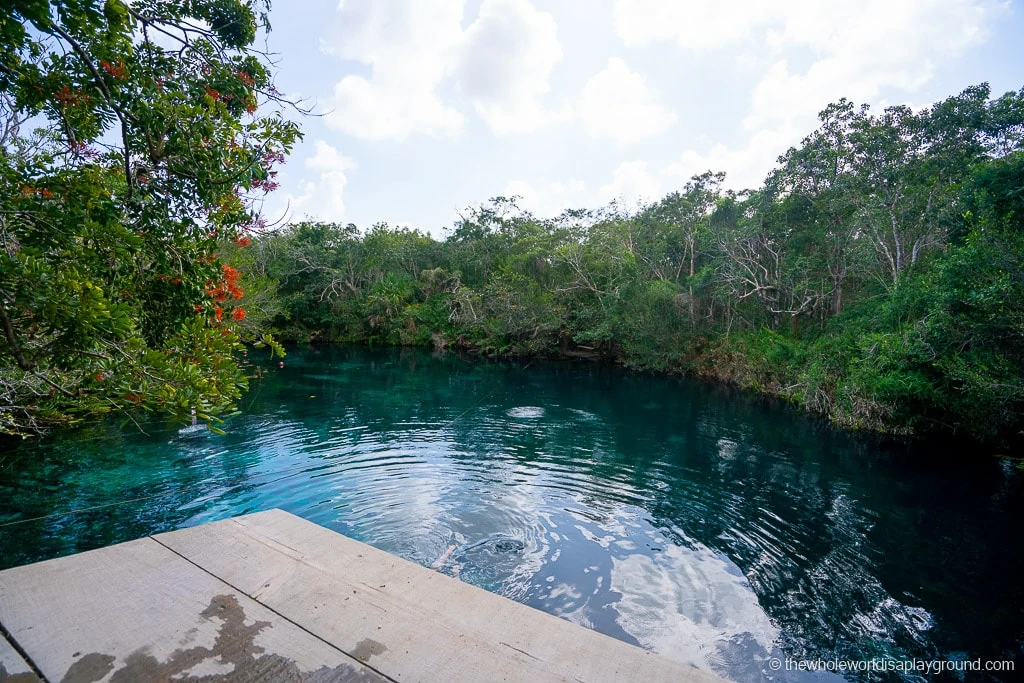 Cenote Carwash tip: the water is up to 50 meters deep in Cenote Carwash.
It's common to see turtles and fish swimming below the surface so make sure to bring a snorkel. The cenote is also home to some freshwater crocodiles – we didn't see any but apparently they are small and friendly! During the summer months, an algae bloom is common, giving the cenote waters a garden like appearance and, when the sun hits the algae, the color contrasts are beautiful.
Cenote Carwash is also popular with divers and is often combined with another dive in a cenote nearby.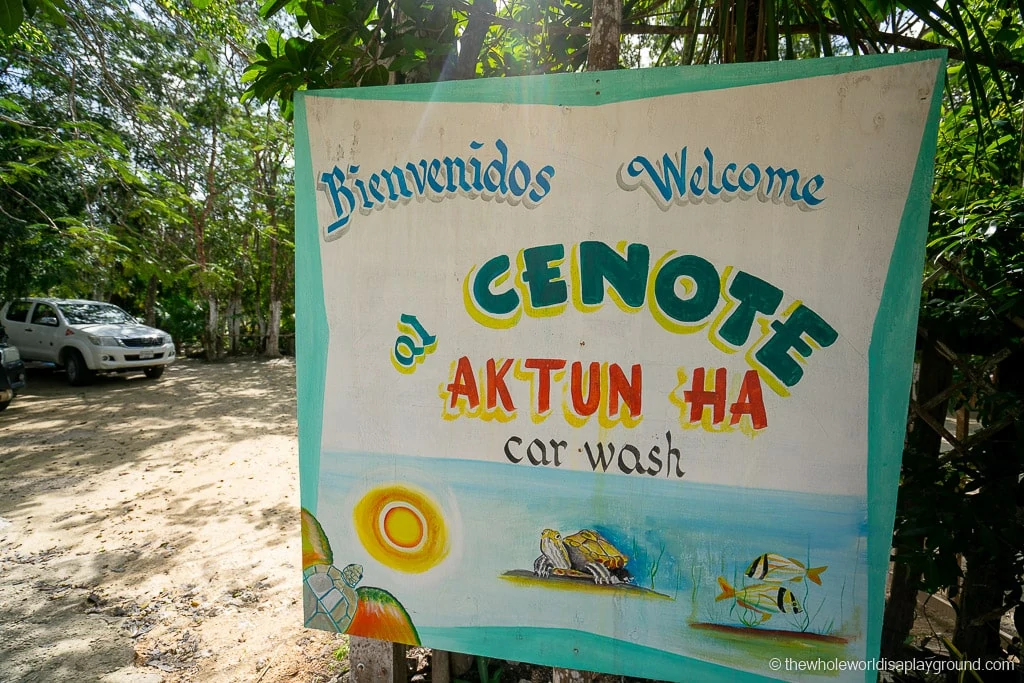 What to bring when visiting Cenote Carwash
Visiting a cenote is a little different to visiting a regular swimming pool and these are some things which we highly recommend taking with you when visiting Cenote Carwash.
Cash
Many cenotes, especially the smaller cenotes like Car Wash, don't accept credit cards. If you need to rent a life jacket or buy any snacks or drinks you're likely going to need cash. Generally speaking, we found it easier to have pesos with us.
Some of the larger cenotes may take credit card for entry, however once inside the cenote area cash is usually the only option.
Towels
Some of the larger cenotes offer towel rental however it's much easier and cheaper to pack your own. A hotel towel might be an option but we found it easier using our large microfiber towels. Microfiber towels are fantastic as they pack small and dry super quick, making them great for the cenotes where you will be hopping back in a car after your swim. We take ours one every trip and we always end up using them – check prices on Amazon!
Buy now on Amazon!
Snorkle/goggles
You can snorkel in most of the cenotes in the Yucatan peninsula and, while you can rent them in some cenotes, having your own is invaluable. It's also a much cheaper option if you visiting a few cenotes. The crystal clear waters of the cenotes make for incredible snorkelling – check prices now!
Buy now on Amazon!
Swim shoes
Swim shoes are great as they give you more grip on the wooden walk-ways around the cenotes. They also help a lot for the shallower entrances at some cenotes (like in Carwash Cenote) where you have to walk on submerged rocks. Make sure to throw them in your bag before you visit the Yucatan! – check prices now!
Sunscreen
While you cannot wear sunscreen or mosquito spray in the cenotes while swimming, you'll likely spend some time chilling in the sun after your swim
Waterproof Camera
An action camera such as a GoPro or an Osmo Action are great for snapping photos and video. We loved having our Osmo Action Waterproof camera with us when visiting the cenotes. It allowed us to take some really fun video and photos while swimming in the cenotes – check prices now!
Tips for Visiting Cenote Carwash
Below are our tips to help you make the most of your time at Cenote Carwash:
1 | How to get to Cenote Carwash
Cenote Carwash is located west of Tulum on the road between the town and the Coba ruins.
Rental Car
A rental car is the easiest way to get to all of the cenotes in Mexico. Cenote Carwash is relatively quiet and it is generally easy to find parking. We rented a car for our time in the Yucatan and highly recommend it to our readers. Renting a car in Cancun, Mexico was very straightforward and driving was easy. The roads are of good quality, the drivers are nice and the traffic is relatively light – check prices now!
Check prices now on RentalCars.com
Colectivo (local taxi-buses)
You can catch one of the colectivo's from Tulum that are going towards Coba. There are lots of minibuses each day and it's the cheapest option to get from Tulum to Cenote Carwash. Just tell the driver you're looking for Cenote Carwash and they'll stop right at the gate for you.
Taxi
It's also possible to get a taxi to Cenote Carwash from Tulum. It's a quick trip so shouldn't cost a lot. You can call a return taxi from the ticket office when you're finished.
Scooter/ Bike
It's a 30 minute bike ride from Tulum to Carwash Cenote.
2 | Cenote Carwash Cost
Tickets to Cenote Carwash cost $300 pesos per person.
We recommend having cash (preferably Mexican pesos) with you when visiting all the cenotes in Mexico and Carwash is no exception. Credit cards were not accepted at the ticket booth at Cenote Carwash.
3 | Cenote Carwash Opening Hours
Opening hours: Cenote Carwash is open from 8 am to 6 pm.
4 | How long to spend at Cenote Carwash
We spent around 90 minutes at Cenote Carwash. We swam at the Cenote but divers would likely spend longer.
5 | Best time to visit Cenote Carwash
Cenote Carwash is relatively quiet meaning it is good to visit at any time of the day.
6 | What's not allowed in Cenote Carwash
As we mentioned above, visiting the cenotes is a little different from a traditional swimming pool so there are some different rules to follow when visiting. Cenote Carwash rules were as follows:
Showers – You are required to take a shower, with soap, before you swim
Alcohol – it's forbidden to swim if you've been drinking alcohol and you may not bring alcohol to Carwash Cenote.
Sunscreen / Mosquito repellent: You are not allowed to wear sunscreen or mosquito repellent before you enter the water at the cenote. This is to preserve the quality of the water for everyone.
8 | Diving platforms
There is a jumping platform which is about 5 meters high. There's also a swing rope for extra fun!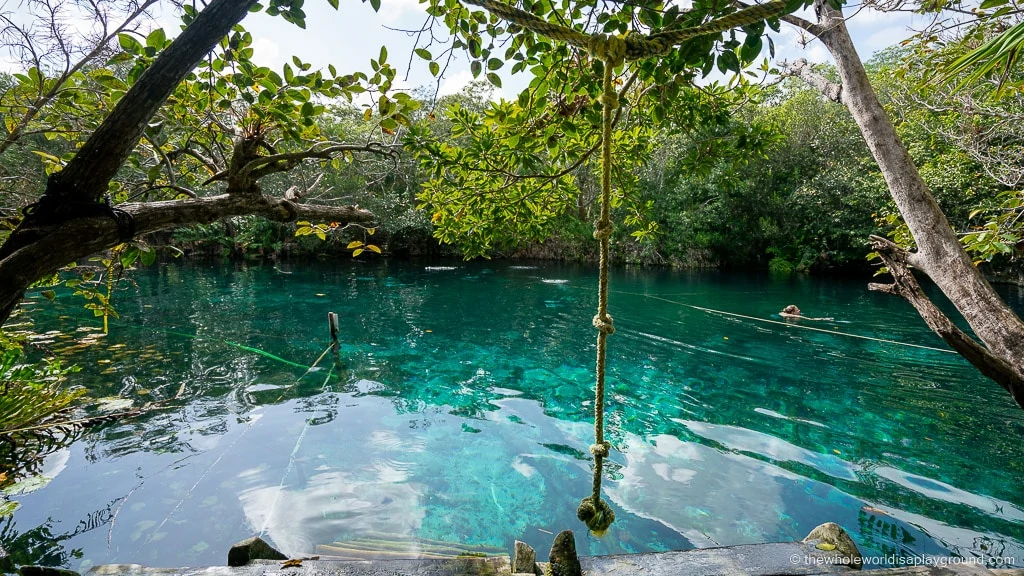 Facilities at Cenote Carwash
Cenote Carwash has basic facilities:
8 | Changing rooms and lockers
There are lockers and changing rooms available.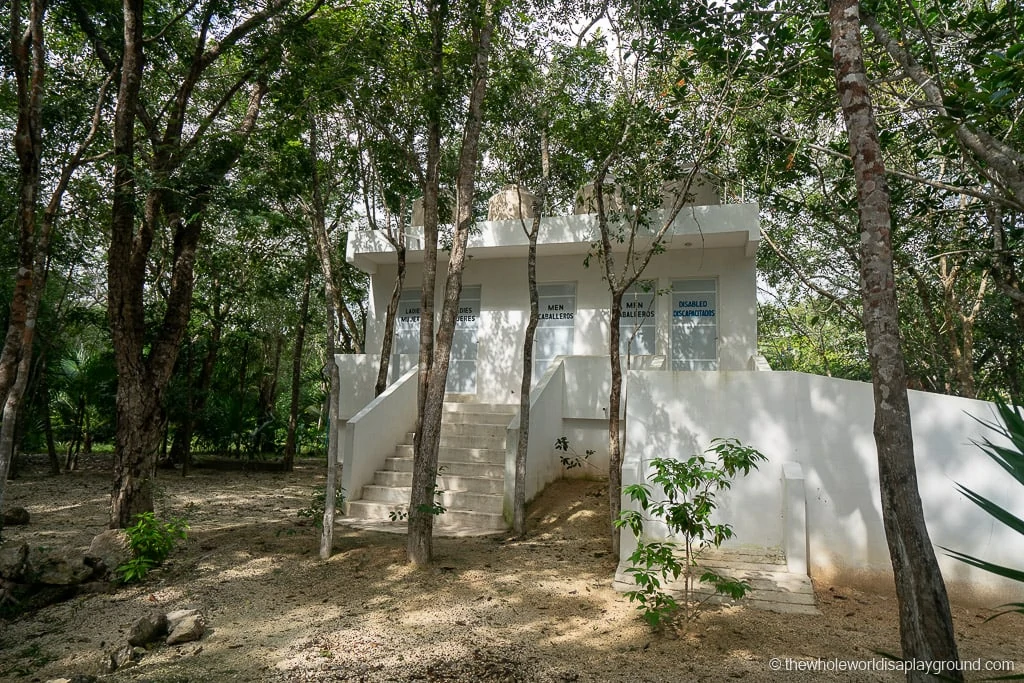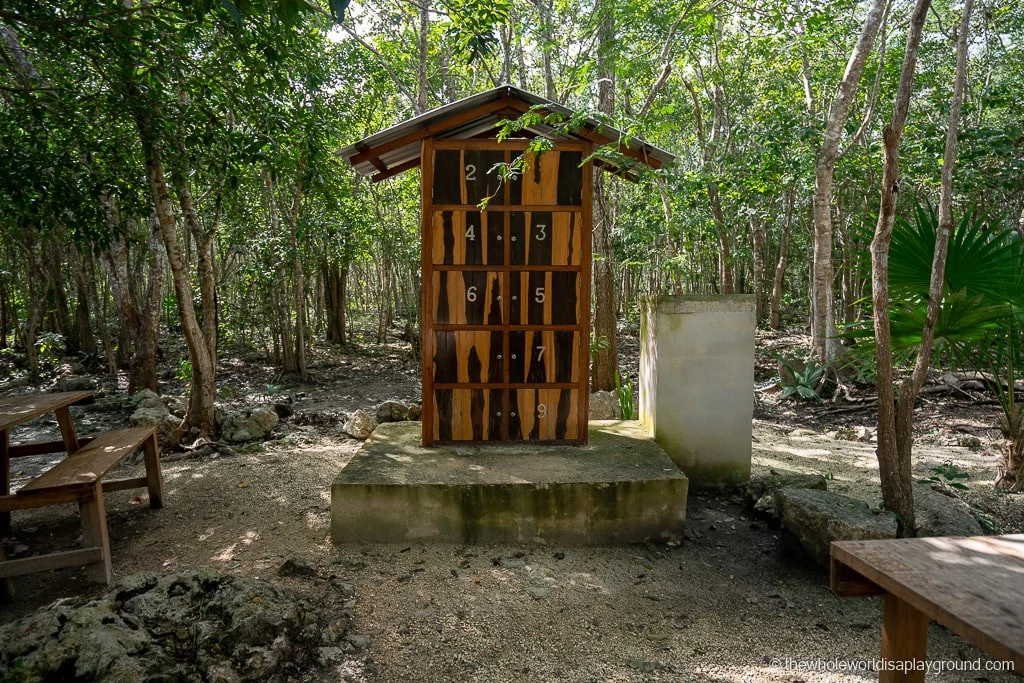 We noticed that lots of visitors also left their belongings at the picnic tables around the cenote.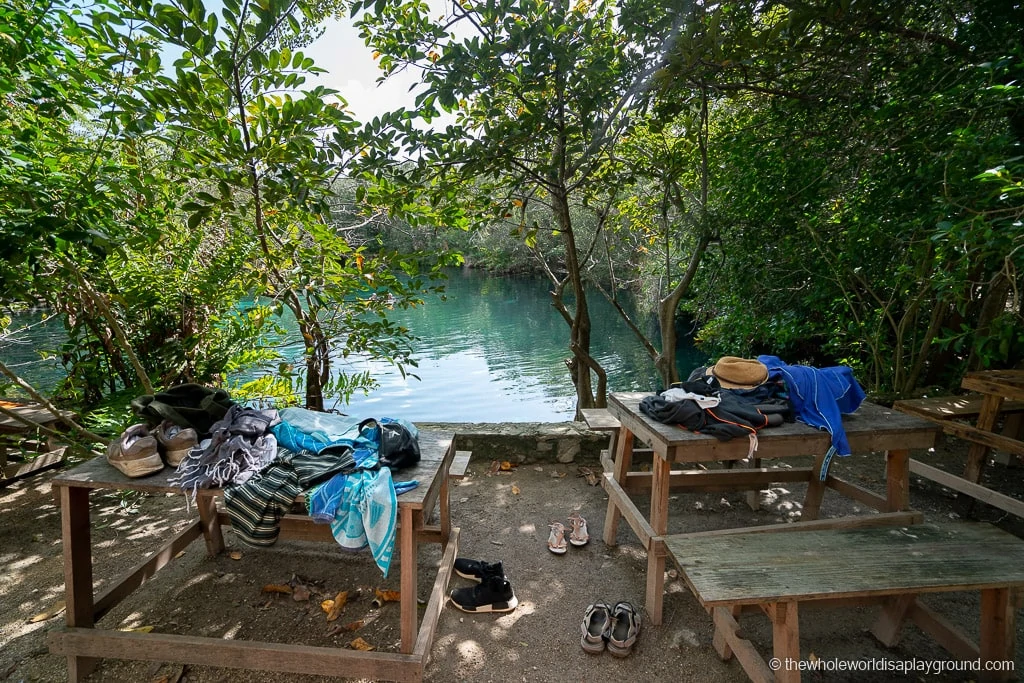 9 | Life Jackets
Lifejackets are available to rent at the entrance.
10 | Parking
There is ample car parking at the entrance to Cenote Carwash.
11 | Food drinks
There were no food or drink options the day we visited although it did seem that there was a food stall which opened during peak times.