The beautiful and serene Cenote Oxman is a Yucatan Peninsula gem. Despite being one of the best cenotes in Valladolid, the low key Cenote Oxman has managed to remain somewhat undiscovered.  Set in the traditional Hacienda San Lorenzo Oxman, the underground Cenote Oxman is set in a collapsed cave where both natural light and tree roots cascade towards its waters. There's even a rope swing for those wanting to make a splash.
Having visited Cenote Oxman and loved it, these are our tips and guide to visiting Cenote Oxman to help your plan your own visit.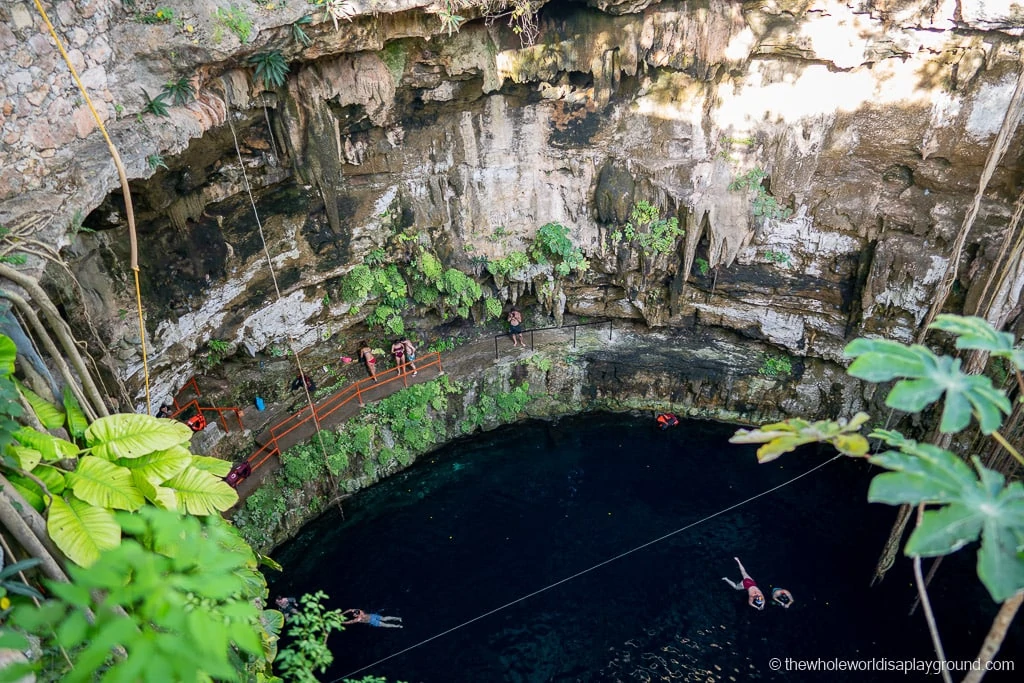 Cenote Oxman
Cenote Oxman is an underground cave style cenote set in a collapsed cave with an open roof which allows natural light to illuminate the clear waters below. Hanging tree roots cascade down into Cenote Oxman creating a magical effect. The pièce de résistance is Cenote Oxman's rope swing, perfect for making a fun and dramatic entrance into the cenote!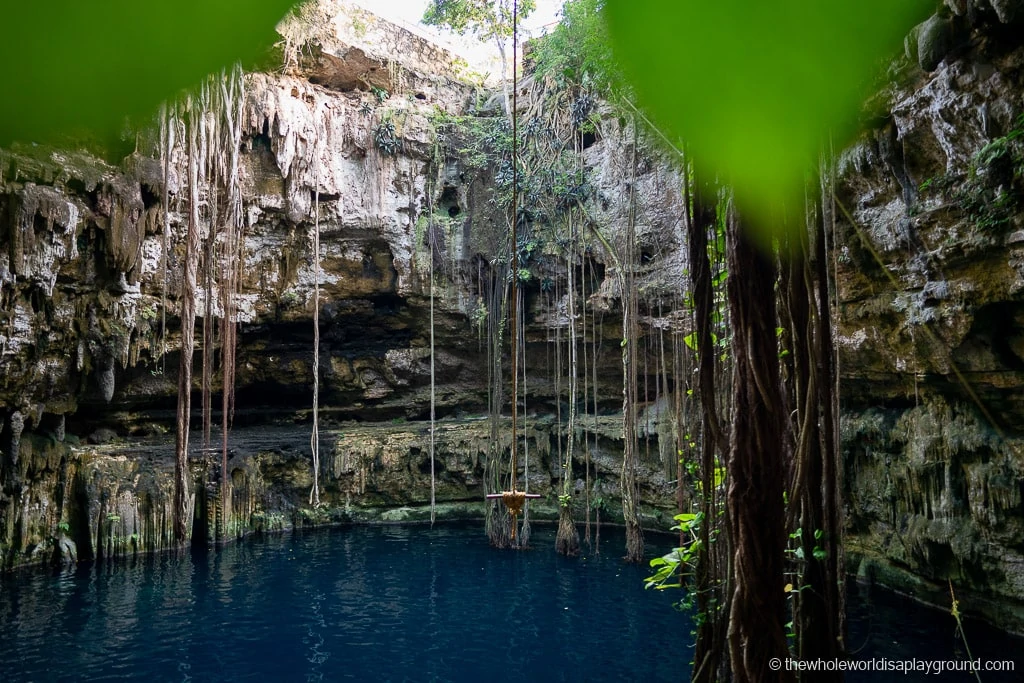 Cenote Oxman tip: the open cenotes with cascading tree roots are incredible to see. Cenote Ik Kil, beside Chichen Itza, is another incredible example of this type of cenote. It is believed that tree spirits guard each cenote entrance.
The cenote is located in the traditional Hacienda San Lorenzo and the complex encompasses the cenote, a regular swimming pool and a restaurant serving local dishes.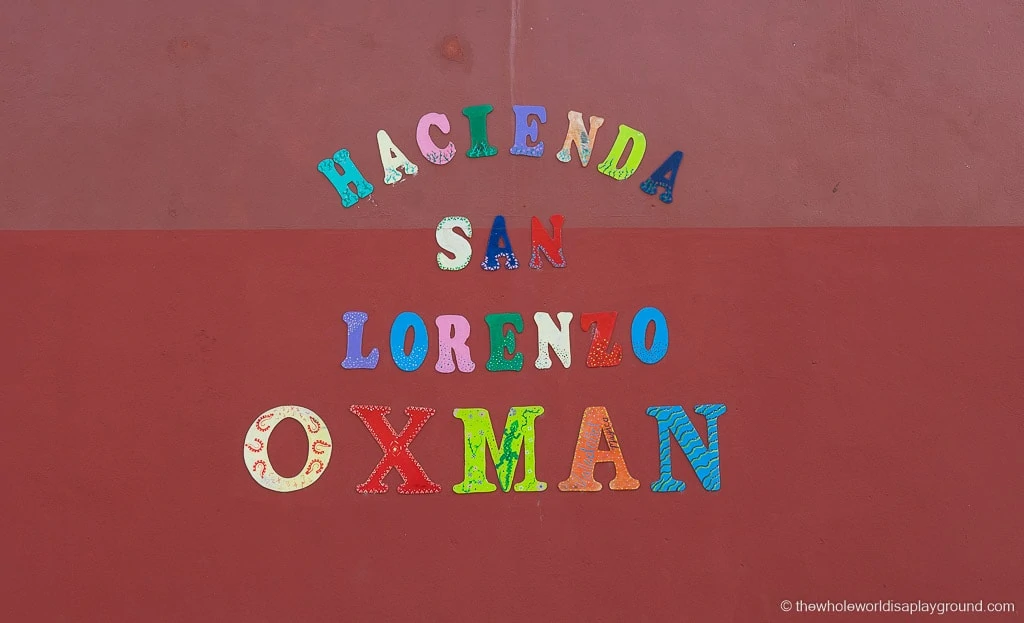 Cenote Oxman is best for: independent travelers, families and couples or small groups
What are Cenotes?
A cenote, pronounced seh-NO-tay, are water-filled sinkholes that naturally occur in limestone rock when an underground cave collapses in on itself and exposes the groundwater underneath. There are thousands of cenotes dotted around the Yucatan Peninsula and some of the more scenic ones are extremely popular with locals and tourists alike.
The water in the cenotes tends to be cool as the water comes from underground so they are great for a quick swim to cool off from the hot Mexican sunshine.
In ancient Mayan times a number of the cenotes were used for sacrificial purposes and objects such as gold, pottery and even human and animal remains have been found at the bottom of some cenotes.
The cenotes in the Yucatan Peninsula are a mix of open, semi-open or underground:
Open cenotes: These are caves which have completely collapsed in on themselves and are exposed to the sky. These are our favorite as you can swim in the open air, the water is a pleasant temperature and there are usually lots of areas to relax by the water. Some of our favorite open cenotes are Cenote Azul, Cenote Zacil-Ha and Car Wash Cenote.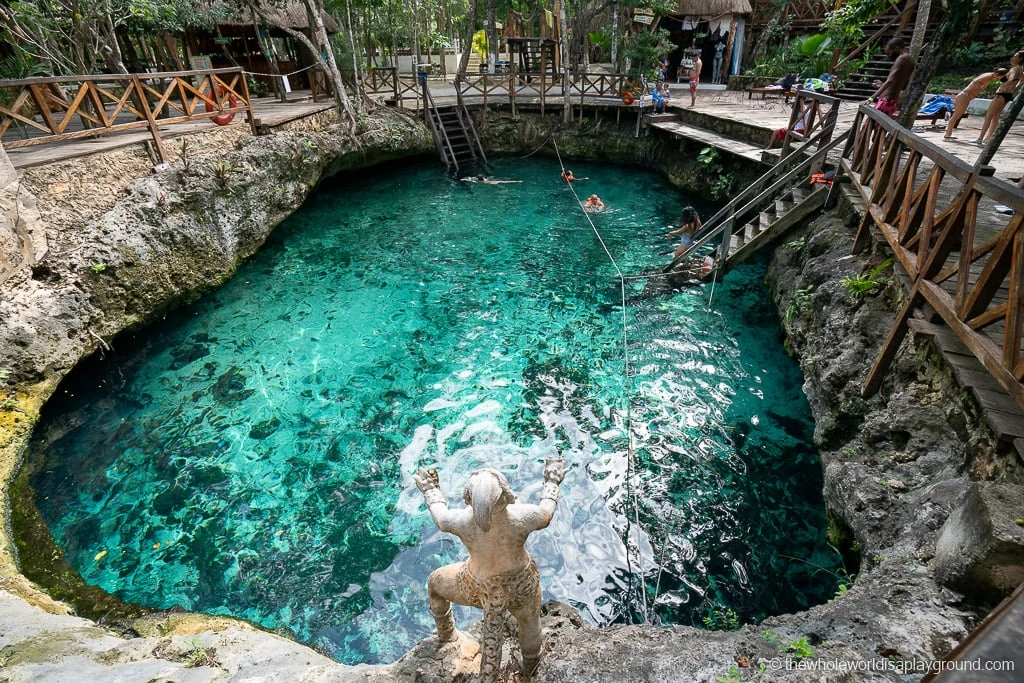 Semi-open cenotes: these cenotes are mostly underground but have small openings in the ceiling where light and fresh air come in.  These cenotes can be particularly beautiful as the light beams illuminate the crystal clear water below. Our favorite semi-open cenotes were Cenote Suytun, Cenote Ik Kil and Cenote Xkeken.
Underground cenotes: these cenotes are completely underground in a cave system and have no natural light to illuminate the cenote water. These cenotes tend to be more difficult to visit as they are deep in the limestone rock. The three cenotes near the Coba ruins (Multum-Ha, Tamchach-Ha and Choo-Ha) are amazing underground cenotes you can easily visit.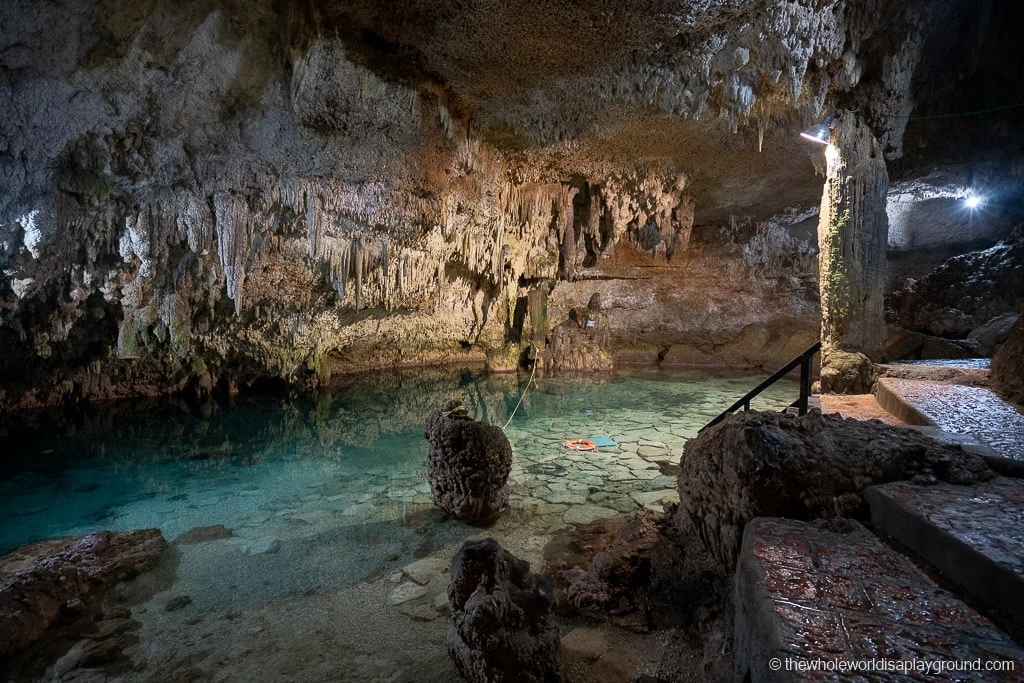 Visiting Cenote Oxman
Located just outside Valladolid, Cenote Oxman is part of Hacienda San Lorenzo, a beautiful complex which dates back to 1746 and was once an agave plantation.
The entrance to the cenote is located adjacent to a reasonably large car park in which there was plenty of space for the cars and bikes which brought visitors to Cenote Oxman. The car park is a short distance from the cenote entrance and is manned by a parking attendant.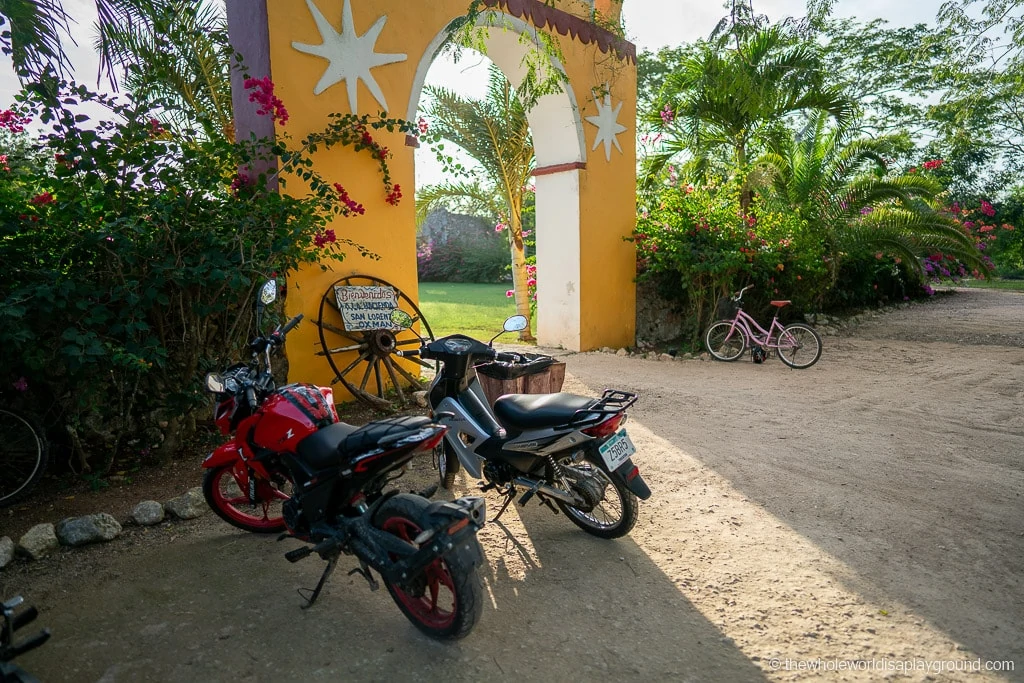 After walking through a small and beautiful walled garden and climbing up a short set of steps to the entrance you can then purchase tickets from the ticket booth. There are a variety of tickets available depending on whether you plan to eat or drink, we've included the options in the tickets section below.
After picking up our tickets, it's a nice walk through the hacienda gardens and swimming pool before you reach the cenote entrance. Changing rooms, bathrooms and outdoor showers are all available close to the entrance to the cenote. For those seeking shade, there are lots of thatched palapas around the pool and at the tables in the grounds.
Cenote Oxman tip: Make sure to check out the viewing platform above the cenote for a bird's eye view of the action below.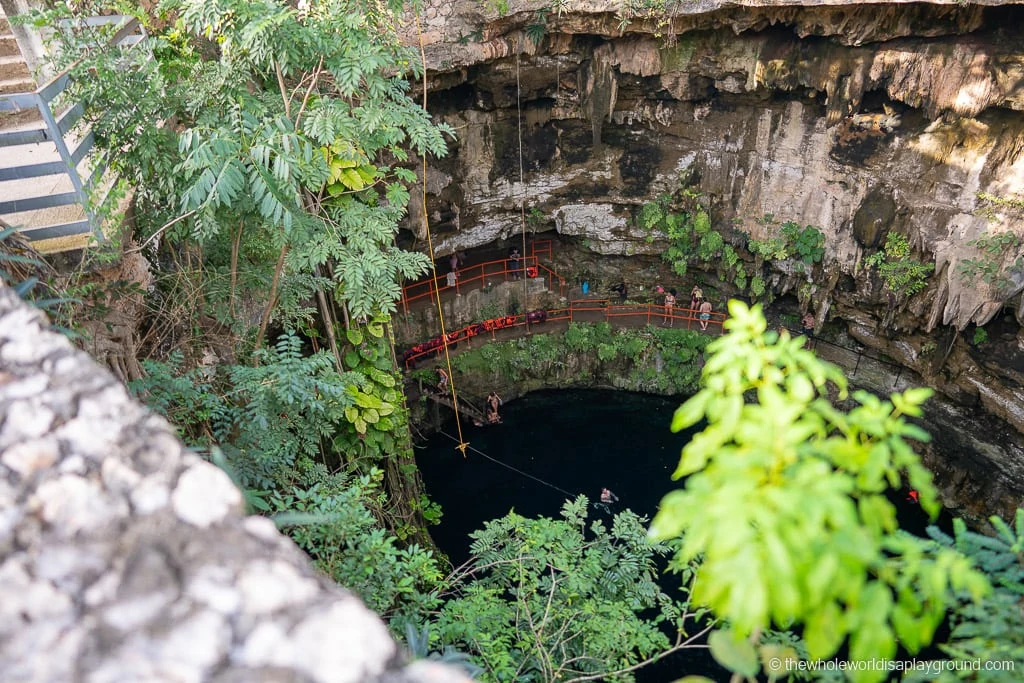 Upon entering the cave, a set of around 70 steps lead down to Cenote Oxman.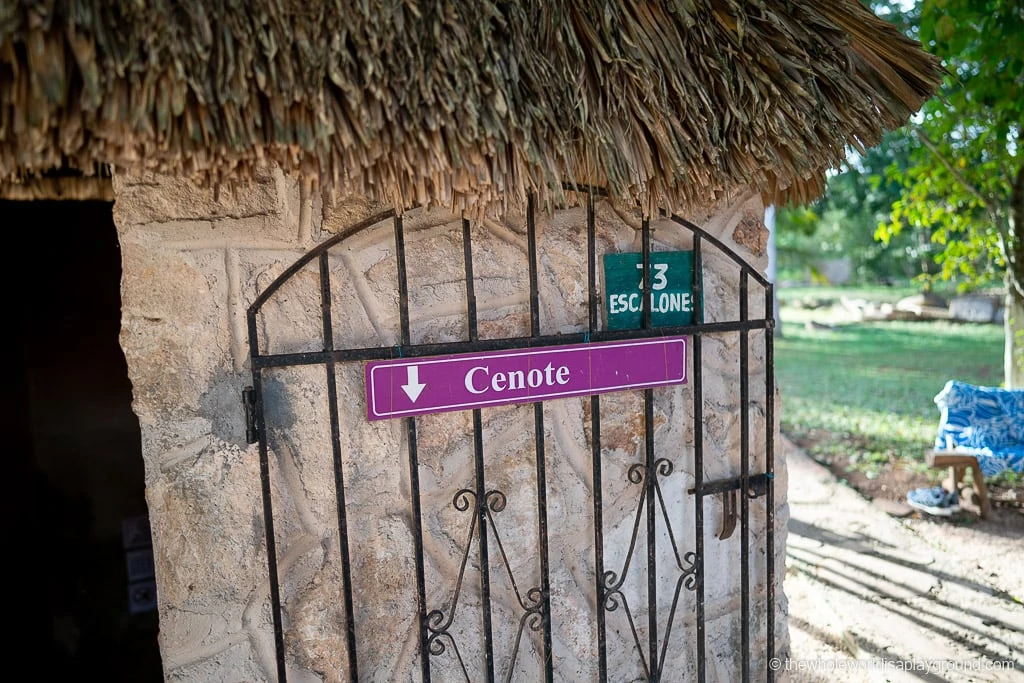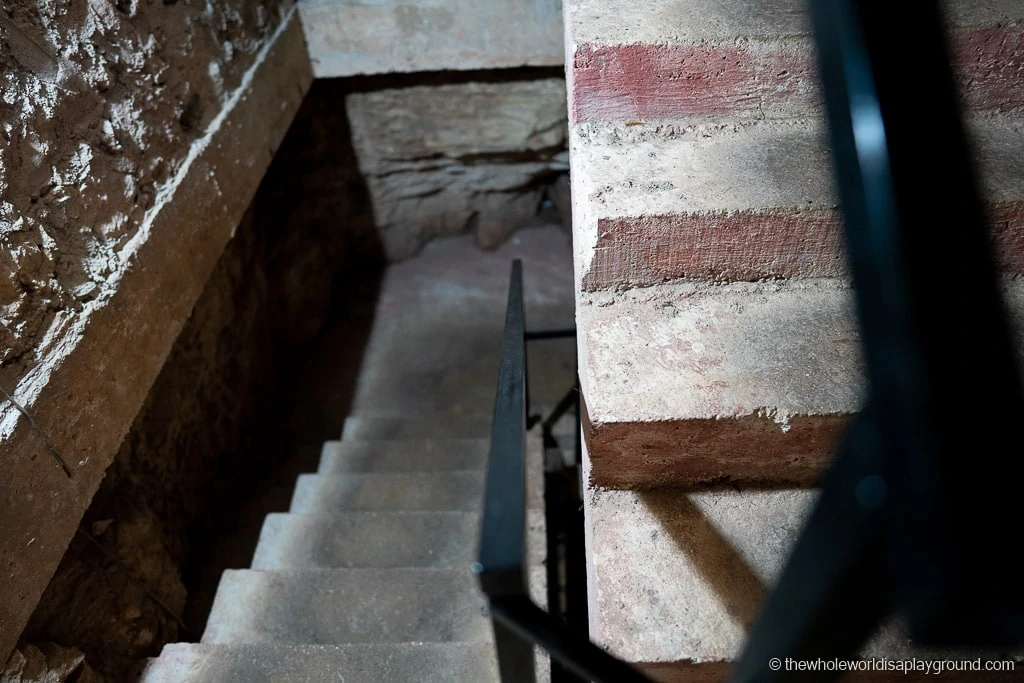 Cenote Oxman tip: Life jackets, which are included in the entry fee, can be picked up down by bottom of the cenote stairs.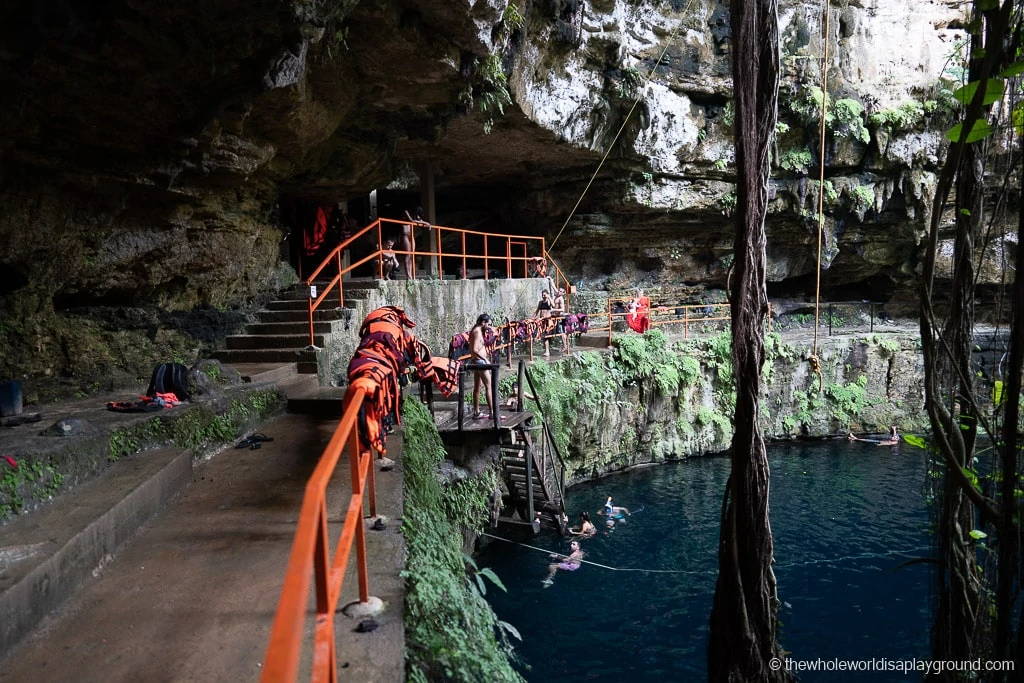 A wooden platform at the end of the first set of steps, about 3 metres above the water, provides access to the rope swing for those wishing to make the jump into the cenote waters. As Cenote Oxman doesn't tend to get too crowded, you can squeeze in as many jumps as you can handle without having to wait around too much.
Cenote Oxman tip: hang on tight to the rope swing and only jump when you are ready – we saw (and maybe, just maybe, performed!) some painful looking belly flops caused by letting go of the swing too quickly!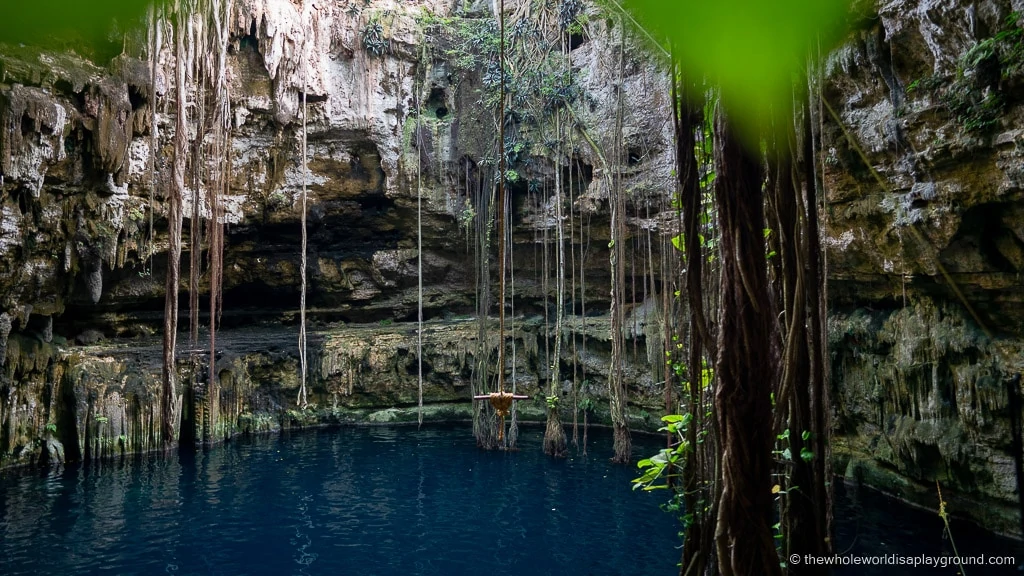 There are barriers along the cliff edges which allow visitors to mill around, watch the jumping action and check out the cenote around safely.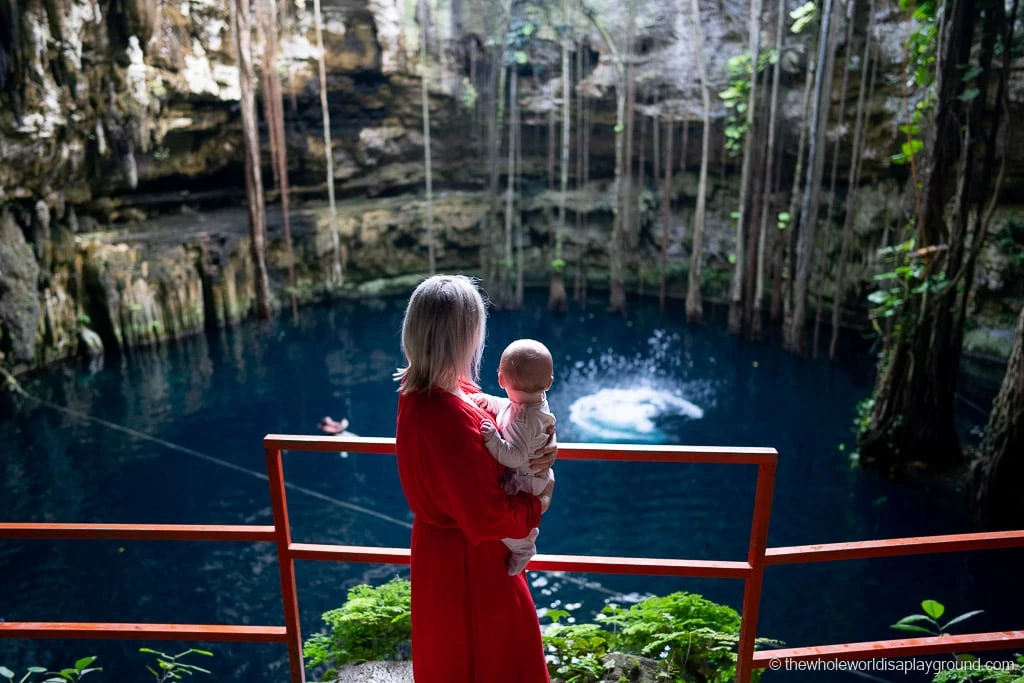 A further set of steps lead down to the water's edge for those wanting to use access the cenote at water level.
View from the water
Swimming in Cenote Oxman
The deep and waters of Cenote Oxman are the perfect temperature for a swim. One of the best parts of swimming in Cenote Oxman is the ability to swim directly under the cenote opening – it's an amazing experience to lie back and look up at the sky from the cenote waters.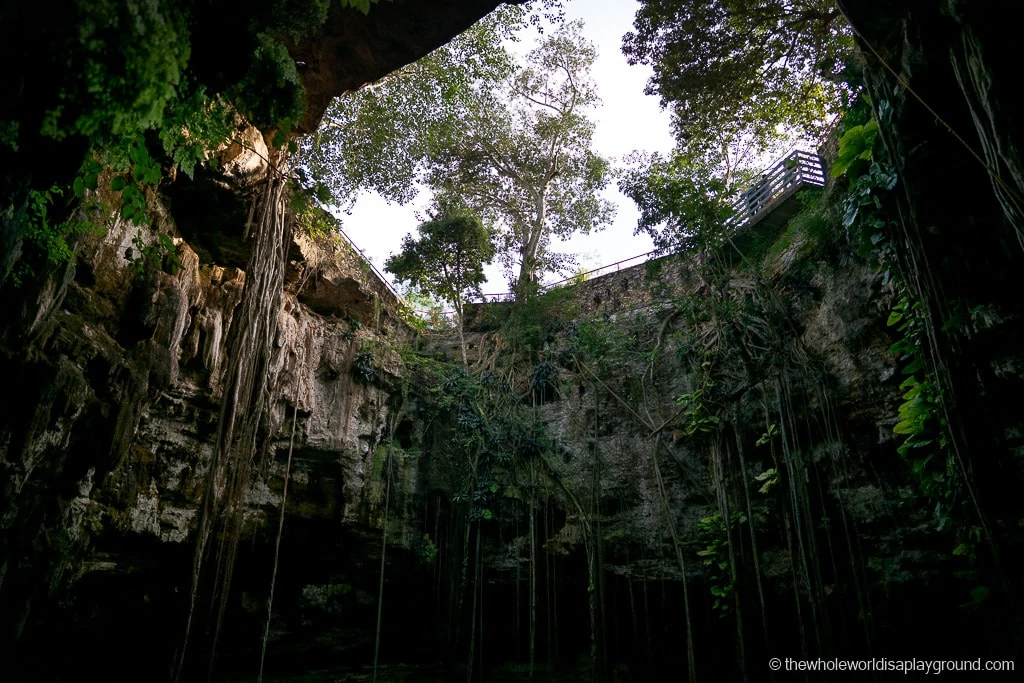 Cenote Oxman tip: Cenote Zaci, the Dztinup cenotes (Cenote Xkeken and Cenote Samula) and Cenote Hubiku are all popular swimming cenotes near Valladolid. Cenote Suytun is also very popular due to its picturesque setting and Instagram fame.
The most fun part of Cenote Oxman is jumping from the rope swing!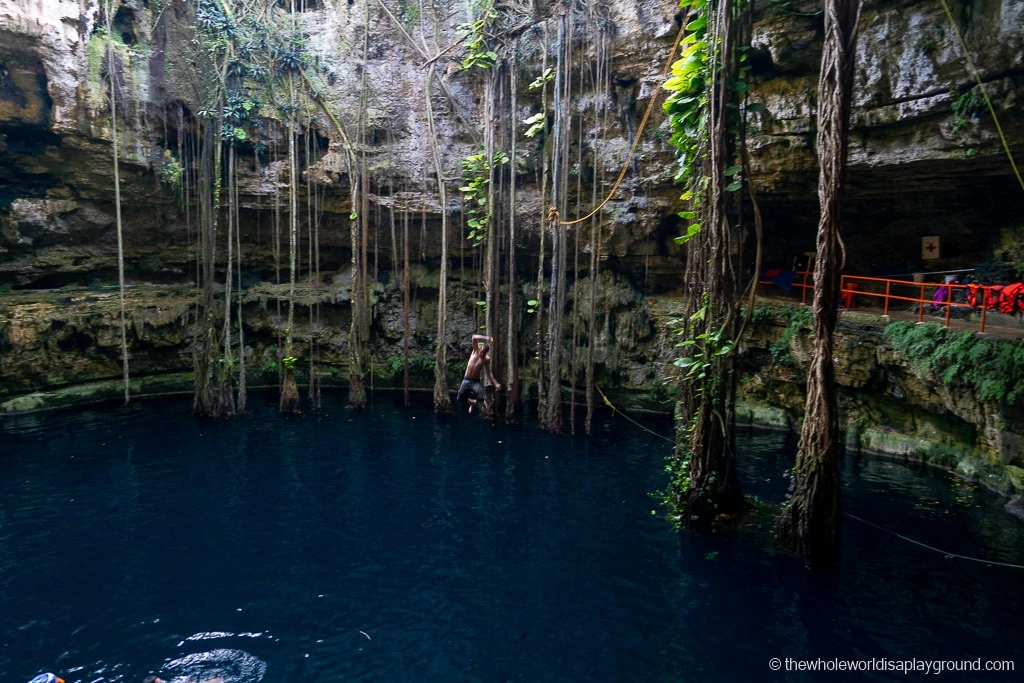 Like most cenotes, there are lots of small fish that often nibble on your legs and feet while you swim. It takes a little getting used to but we soon forgot they were there! The fish tend to lose interest as you swim so, if they bother you, just keep moving!
Cenote Oxman tip: although deep, the waters of Cenote Oxman are clear enough to see the bottom. It's fun to rent a snorkel and try and catch a glimpse of the fish which swim below the surface.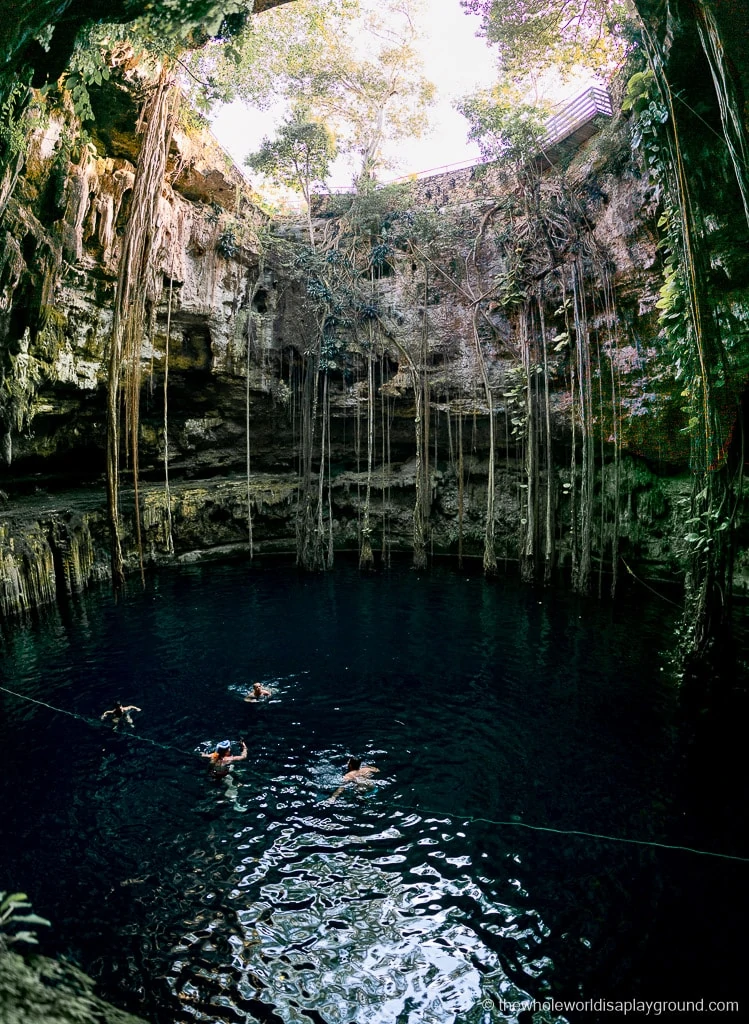 What to bring with you when visiting Cenote Oxman
Visiting a cenote is a little different to visiting a traditional swimming pool. Cenotes are one of the most fun things you can do in the Yucatan Peninsula and there some things which we highly recommend taking with you when visiting Cenote Oxman.
Cash
If you need to rent a life jacket (it's included in the entrance ticket at cenote Oxman) or buy any snacks/drinks you're likely going to need cash. Generally speaking, in Mexico cash is king and for the best value try to have Mexico pesos with you. Most venues also accept US dollars but the exchange rate is less favorable. Some of the larger cenotes may take credit card for entry, however once inside the cenote area cash is usually the only option.
Towels
Some of the larger cenotes offer towel rental however it's much easier and cheaper to simply take your own with you. We saw lots of people taking hotel towels with them but we found it easier using our large microfibre towels. Microfibre towels are fantastic as they pack small and dry super quick, making them great for the cenotes where you will be hopping back in a car after your swim. No one likes carrying a wet, heavy towel! – check prices on Amazon!
Buy now on Amazon!
Swim shoes
swim shoes are great as they give you more grip on the walk-ways around the cenotes and prevent the fish from nibbling your feet! They also help a lot for the shallower entrances at some cenotes where you have to walk on submerged rocks. They're super cheap and light so make sure to throw them in your bag before you visit the Yucatan!- check prices now!
Sunscreen
While you cannot wear sunscreen or mosquito spray in the cenotes while swimming, you'll likely spend some time chilling in the sun after your swim.
Waterproof Camera
An action camera such as a GoPro or an Osmo Action are great for snapping photos and video. We loved having our Osmo Action Waterproof camera with us when visiting the cenotes. It allowed us to take some really fun video and photos while swimming in the cenotes. The wide-angle lens was great for capturing the entire view of Cenote Oxman – check prices now!
Tips for Visiting Cenote Oxman
1 | How to get to Cenote Oxman
Rental Car
This is the easiest way to get to all of the cenotes in Mexico. There is a large car park at Cenote Oxman and there is a parking attendant there to help you park and look after your car. We rented a car for our time in the Yucatan and highly recommend it to our readers.
Visit Cenote Oxman tip: It's around a 15 minute drive from Valladolid to Cenote Oxman so it's very easy to drive. It's possible to access from the Calle 54 but it's a bumpy ride. We recommend taking route 285 South or 180 West out of Valladolid as the roads are much better. The Cenote is located down a short but bumpy road from the entrance.
Renting a car in Cancun was very straightforward and driving was easy. The roads are of good quality, the drivers are nice and the traffic is relatively light – check prices now!
Check prices now on RentalCars.com
Bike
A bicycle ride is a popular way to visit the closest cenotes to Valladolid. The trip out takes about 40 minutes by bike.
Taxi
Taxi is also an option given how close Cenote Oxman is to Valladolid. The journey out should cost around $100 pesos. Expect to pay double on the way back as you will have to call a taxi to come from Valladolid – you will have to pay the fare for both ways of the trip making it double the outward trip.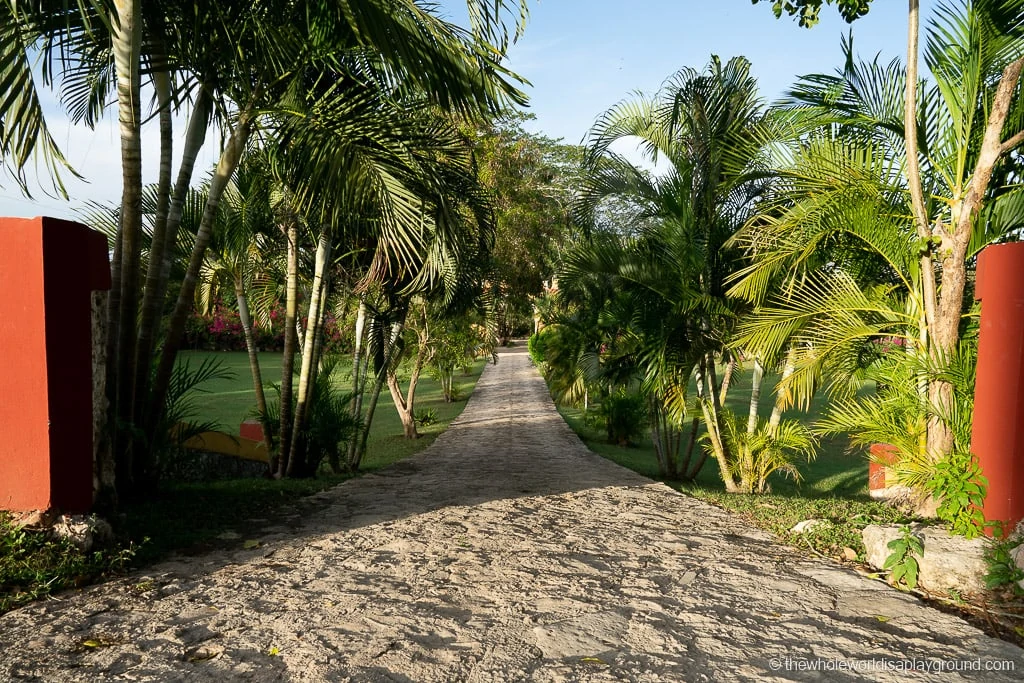 2 | Cenote Oxman Ticket Costs
There are three ticket options available at Cenote Oxman:
Option 1: Entrance to the cenote is $150 pesos
Option 2: For $300 pesos, this ticket includes $200 pesos credit for the restaurant.
Cenote Oxman tip: the food is really good at Cenote Oxman (we tried the tacos and a Margarita!) so definitely get the food and drinks credit if your planning to spend some time there.
All tickets include entrance to the cenote and use of the swimming pool. Parking is free although it's nice to tip the car park attendant.
We recommend having cash (preferably Mexican pesos) with you when visiting all the cenotes in Mexico and Cenote Oxman is no exception. We didn't notice if credit cards were accepted at the ticket booth at Cenote Oxman so make sure to bring cash as an option.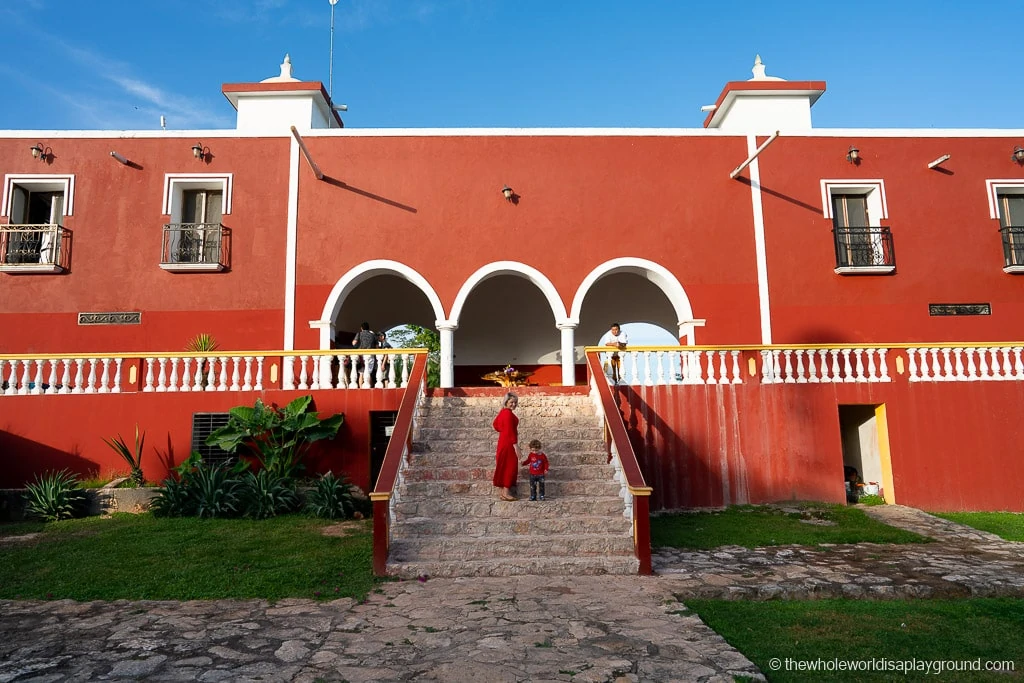 3 | Cenote Oxman Opening Hours
Opening hours: Cenote Oxman is open from 10 am to 5 pm daily.
4 | How long to spend at Cenote Oxman
With its cenote, swimming pool and great restaurant it's easy to spend an entire morning or afternoon hanging out at Cenote Oxman.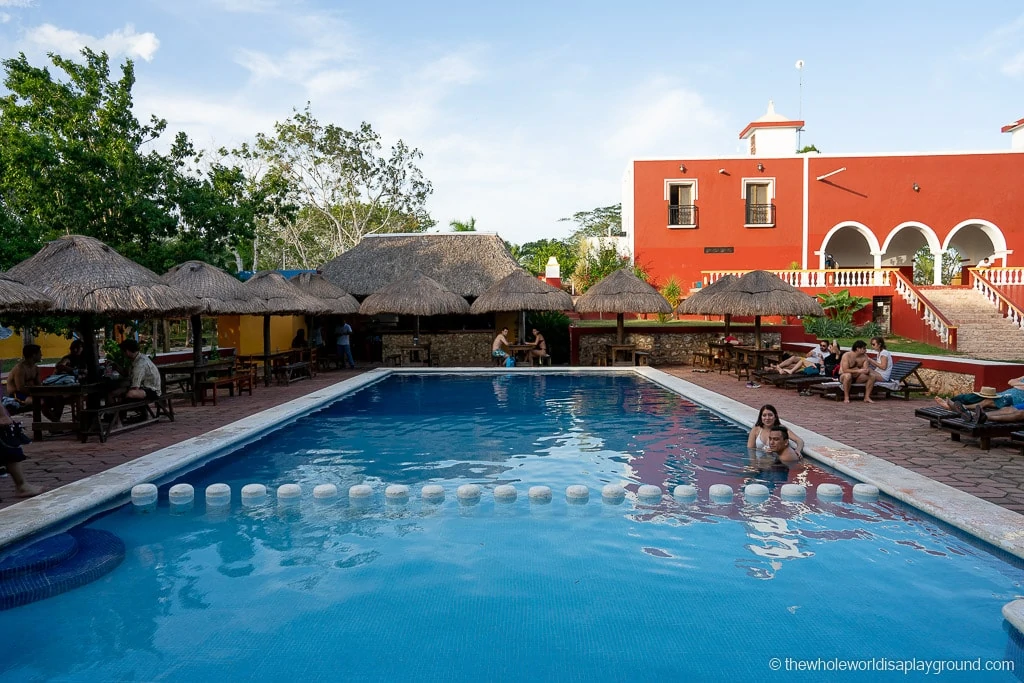 5 | Best time to visit Cenote Oxman
Like most cenotes in the Yucatan Peninsula we recommend a morning visit at opening as this is the best way to avoid the crowds.
6 | Cenote Oxman Rules
As we mentioned above, visiting the cenotes is a little different from a traditional swimming pool so there are some different rules to follow when visiting. Cenote Oxman rules were as follows:
Showers: You are required to take a shower before you swim.
Sunscreen / Mosquito repellent: You are not allowed to wear sunscreen or mosquito repellent before you enter the water at the cenote. This is to preserve the quality of the water for everyone. There are showers available which you have to use before you enter the water.
Food and Drinks: Food and drinks are not permitted past the top of the stairwell which leads down to the cenote
Diving/jumping: Jumping is allowed, and encouraged, at Cenote Oxman. Diving is not permitted.
Drones: Unlike most of the cenotes we visited, drones are allowed at Cenote San Lorenzo Oxman.  However you need to speak with management before flying. We assume there is a charge but we didn't ask as we didn't have our drone with us.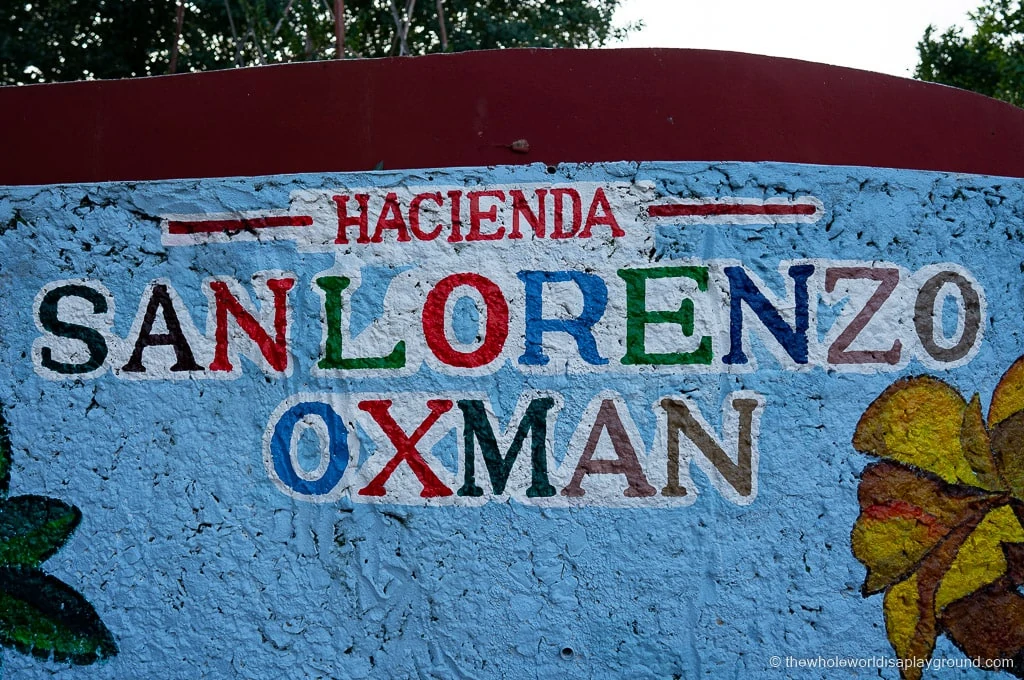 Facilities at Cenote Oxman
Cenote Oxman has everything you need for a chilled few hours.
8 | Changing rooms and lockers
There are changing rooms close to the entrance to the cenote but there are no lockers onsite – most of the swimmers left small items along the sides of the cenote cave.
9 | Life jackets
Life jackets are available in the cenote and are included in the entry cost.
10 | Parking
There is a relatively large car park located at the entrance to Cenote Oxman so parking should not be a problem, even at busy times.
11 | Food and drinks
There is a good restaurant serving local food at Cenote Oxman.