After an incredible week of sightseeing and fun in New York the Delta Sky Club Business Class Lounge in JFK was our first stop for some rest and relaxation ahead of our Delta Business Class flight to Dublin. Having made the journey to New York with KLM from Amsterdam, we were excited for our first Delta flight and to check out the flagship Delta Lounge in JFK. We made our way to the lounge and settled in for some pre flight calm!
To check out our Delta flight adventures click here!
The Lounge
After checking in at reception we entered the main lounge. The Sky Club is sectioned off into distinct areas with a variety of seating and, at a huge 24,000 square feet, it feels quite spacious and airy. The largest part is dedicated to the bar and dining area and this is surrounded by sections with armchairs, workstations and high stools.
The Sky Club in JFK is nicely decorated with some retro Delta paintings, great inspirational quotes (an easy way to my heart!) and the blue and red Delta colour pops lifting an otherwise generic airline lounge.
The main dining/bar area: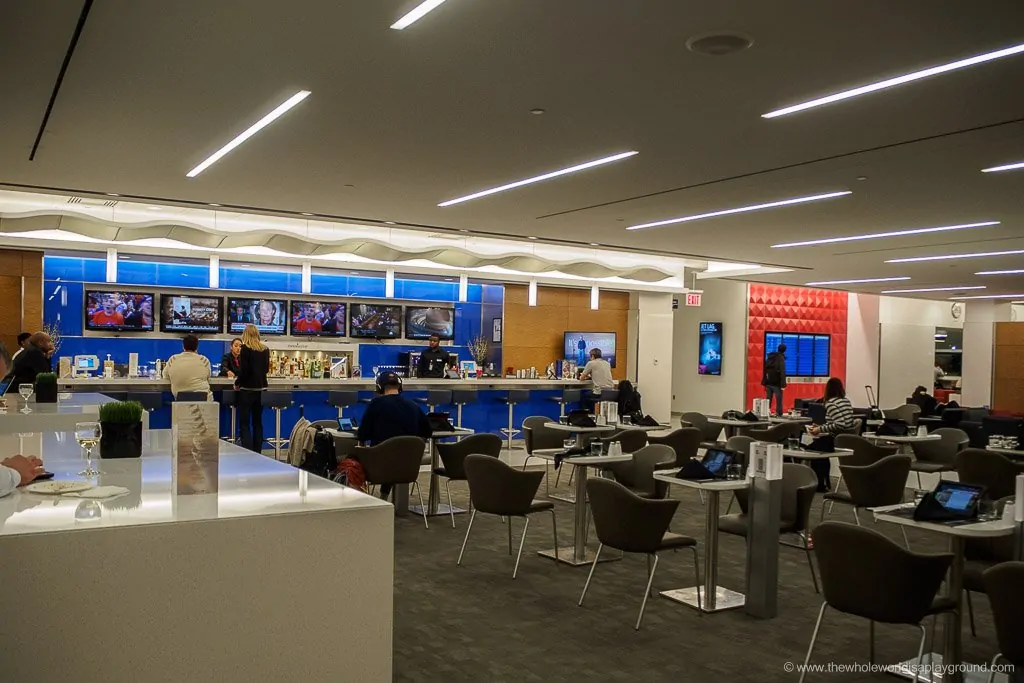 Private chill out couches: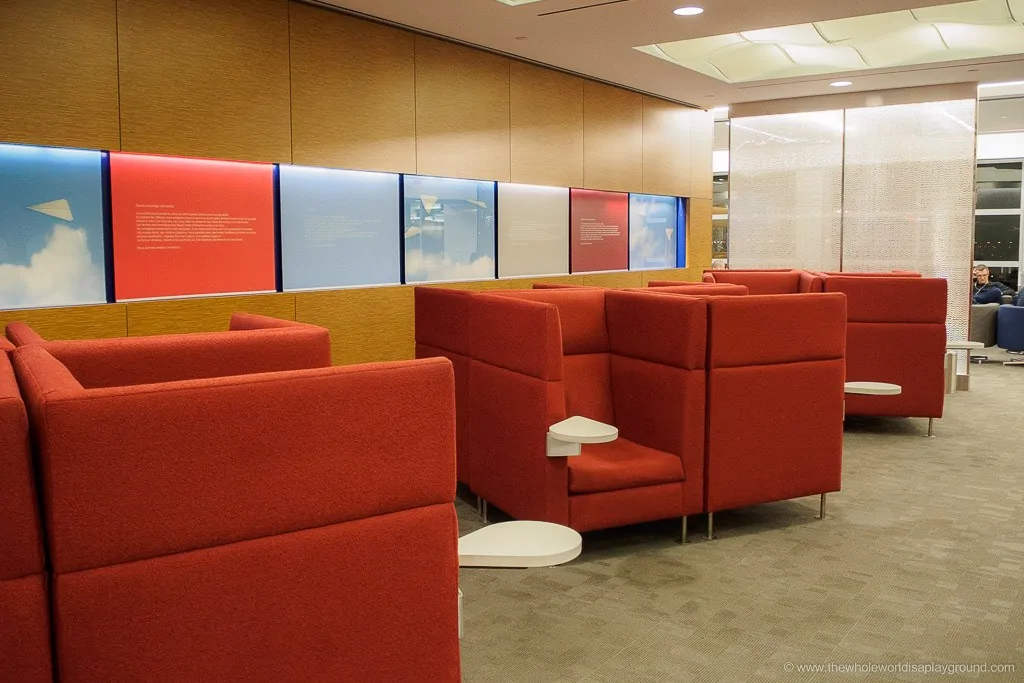 High stools and plane views: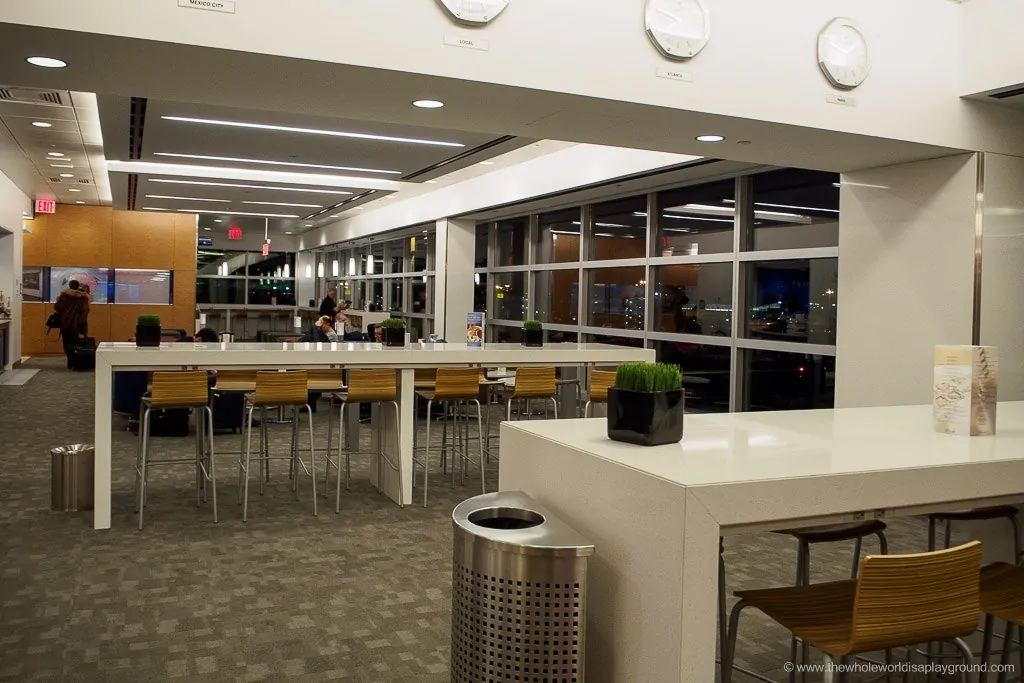 Relaxation room: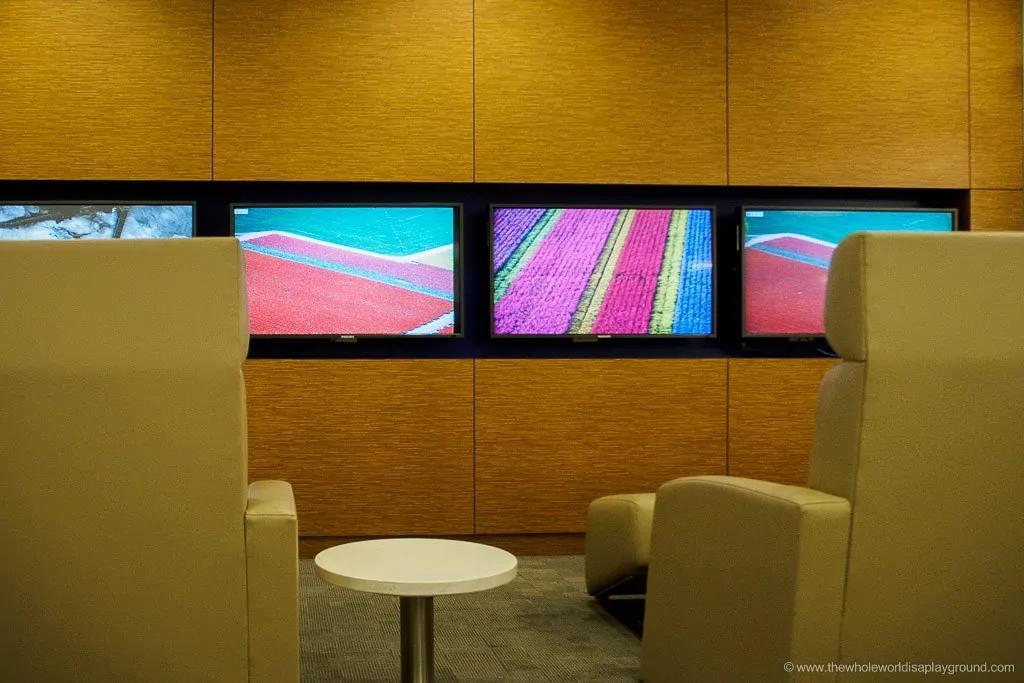 Workstations with a view: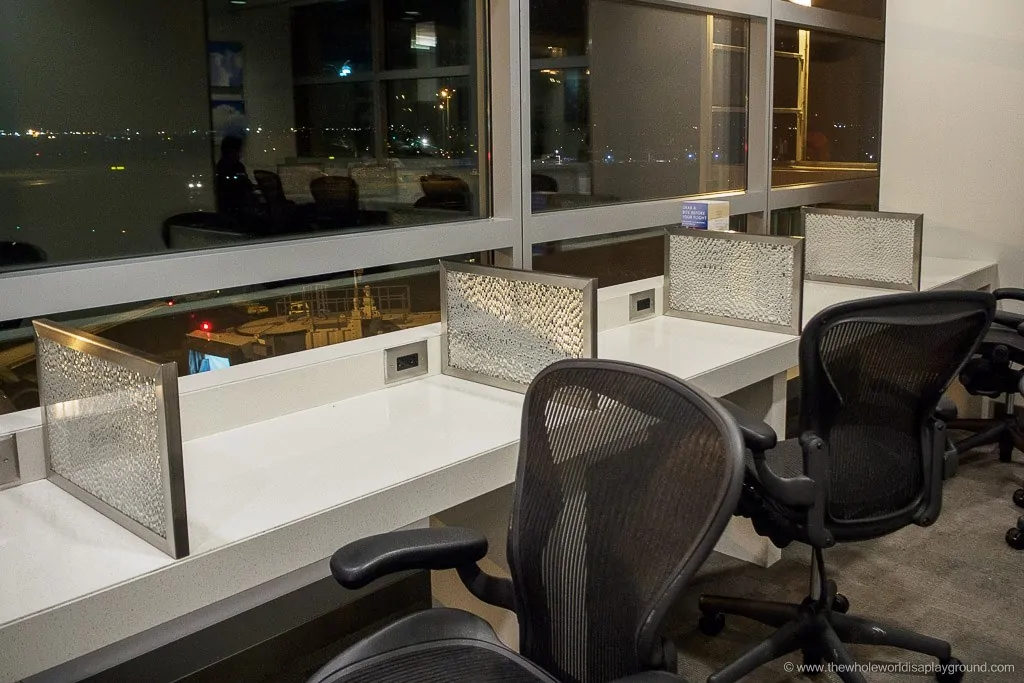 Retro Delta paintings: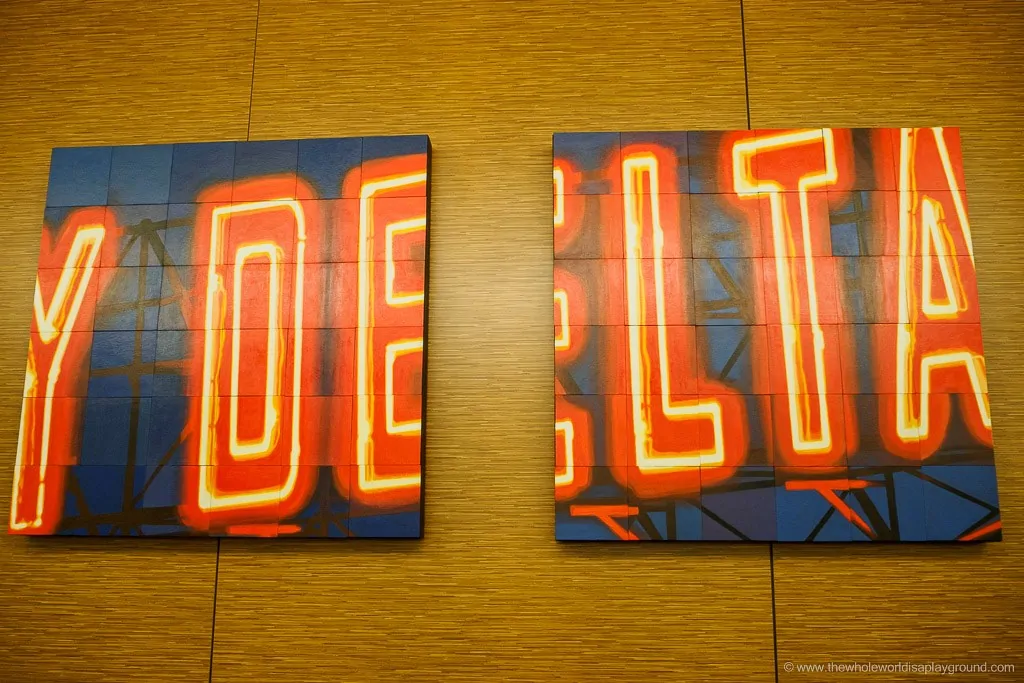 Delta colours: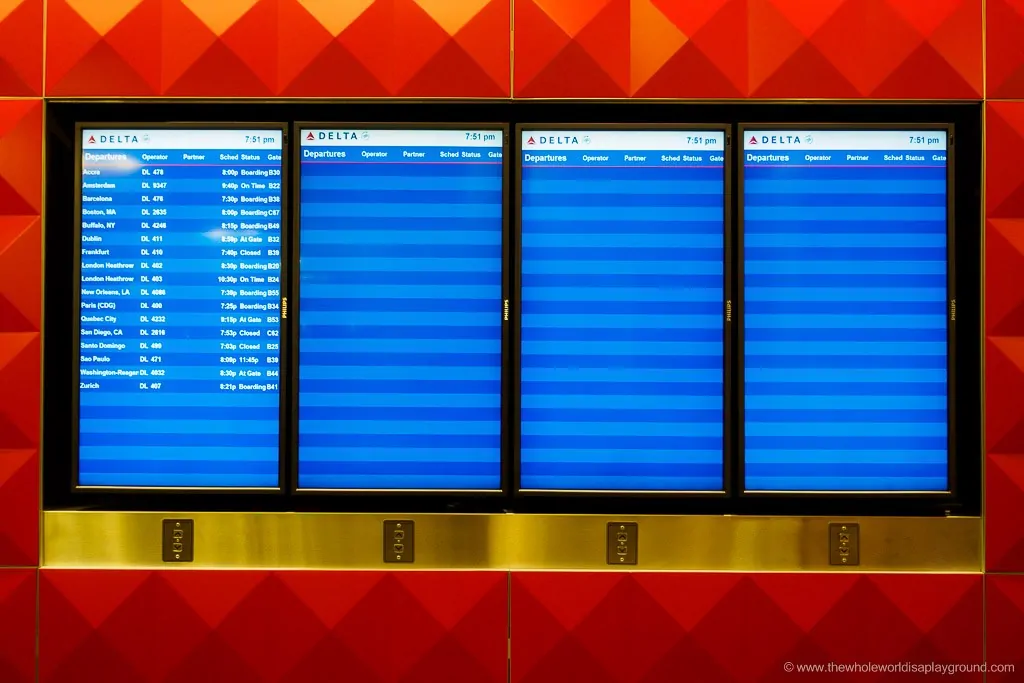 Priority Pass Lounges
A Priority Pass membership allows you to access Priority Pass lounges whoever you fly with no matter your class of travel. Anyone who flies regularly should seriously consider joining Priority Pass as their lounges significantly improve the travel experience. We love the app which allows you to check in at each lounge and overall the quality and availability of lounges around the world are very good. We've personally used Priority Pass for the past few years and highly recommend it.
There are three options available, standard, standard Plus and Prestige. We recommend the Prestige pass for frequent travellers (it's the one we use!) which offers unlimited visits throughout the year.
Click here to get your Priority Pass now!
The Sky Deck
The Sky Deck is Deltas' Sky Club open air terrace with JFK runway views. Given the fabulous freezing temperatures and lingering snow the Sky Deck was closed during our February visit but I'd imagine it would be an amazing spot to kick back with a pre flight cocktail and watch the planes go by.

Food and Drinks
Maybe we're spoiled with visits to fantastic lounges like the Etihad London Heathrow lounge and Turkish Airlines Istanbul offering but the Delta Sky Club really falls behind on its complementary food and drinks offerings.
The Food:
The complimentary snacks are limited to bar nibbles such as olives and nuts, some biscuits and sweet treats and a few healthy options of dipping vegetables and fruit. A paid 'premium menu' offers more substantial options including sandwiches, entrees and desserts.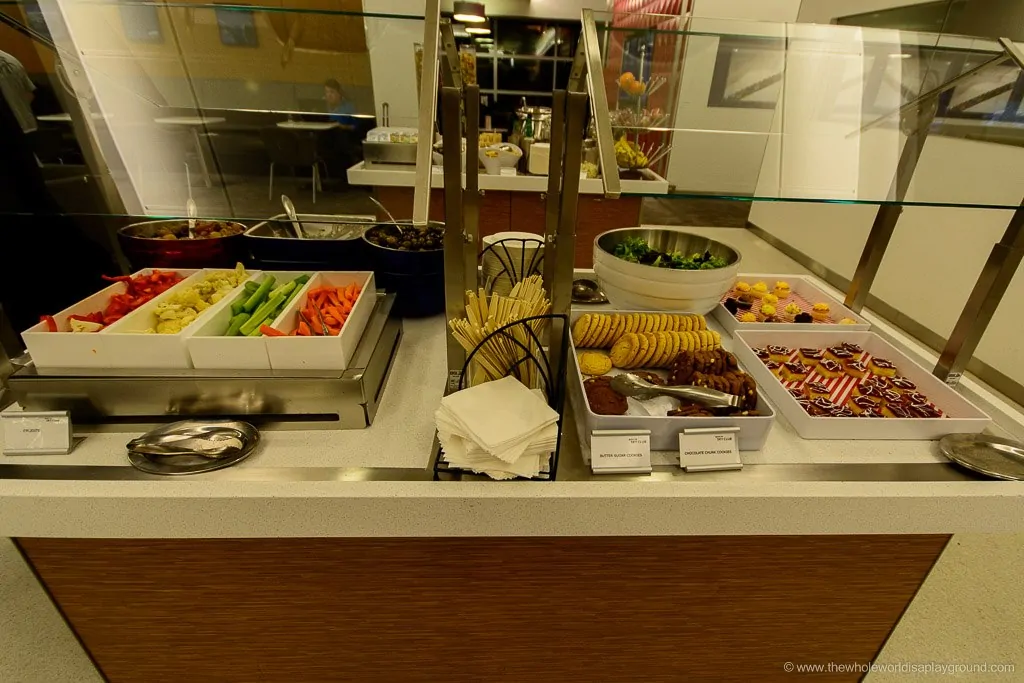 Premium food is ordered via the IPads situated throughout the lounge and the pager system means you can sit anywhere and be alerted when the food is ready.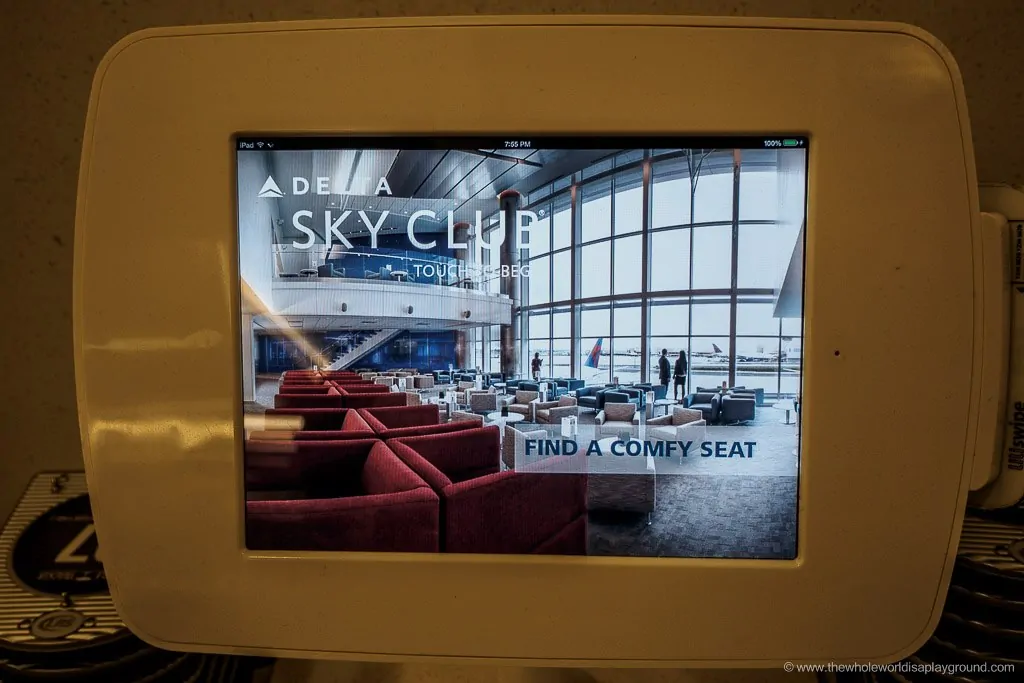 The Drinks:
There are a selection of complementary beers (Budweiser and Miller Lite), wines and spirits (Gordon's gin and vodka and Jack Daniels among others) which are accompanied by a paid, 'premium' menu. The drinks, including soft drinks, are served at the bar.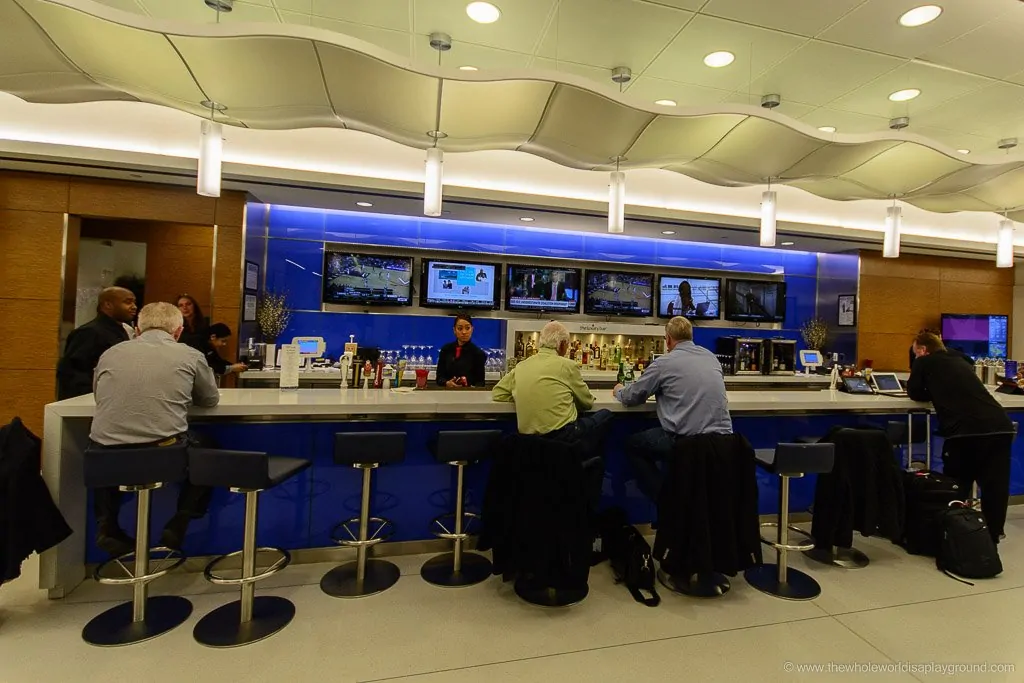 The food and drinks verdict:
On a paid business class ticket we found the premium menus an interesting concept especially as the complementary offering was so limited. Even the most basic lounges we've frequented typically have some soup and sandwiches so it was a surprise that Delta considered these a luxury. The paid wine selection was described as 'ultra premium' but with glasses priced from $7 that seemed a bit of a stretch!
Luckily, we'd arrived at the airport full to the brim of late afternoon burgers, lobster and cupcakes and didn't need to eat for at least a week so the lack of food wasn't an issue for us! If I was hungry, I'd probably pop down to the nearby Shake Shack on the principle that something more substantial should be included in a business class fare!
Another niggle was having to go to the bar for every drink whether alcoholic or not and having to spend time queuing when a fridge of soft drinks would be an easy addition.
Facilities
Wi-fi is available throughout the lounge although there are no computers. The lounge has 6 shower suites and they, together with the bathrooms, are decorated with a pretty snazzy red tile.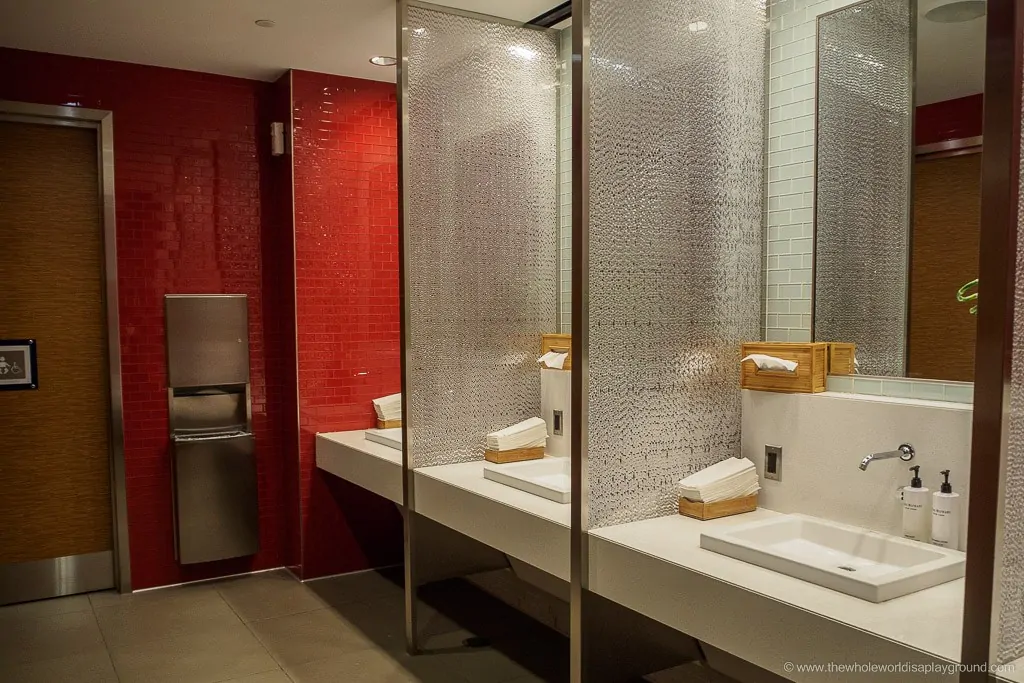 In the airport, a separate Sky Priority check in area is a fantastic bonus and the 14 check in desk meant we were checked in within seconds. It looks pretty snazzy as well!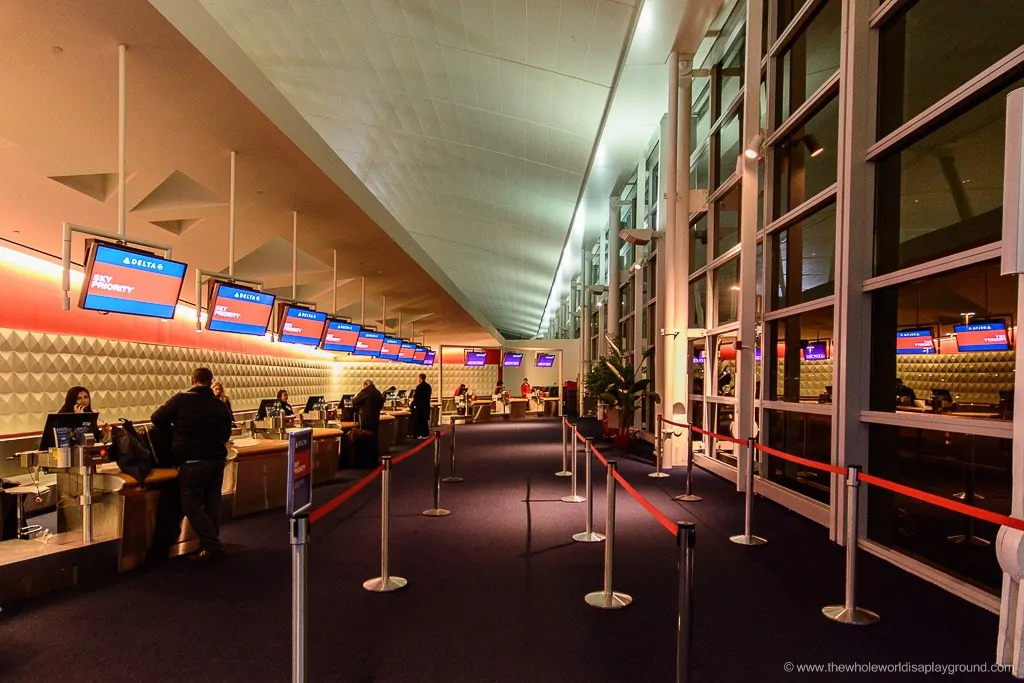 The ever coveted power outlets are readily available throughout the Sky Club and the tables in the dining section had charging stations with a variety of connection options.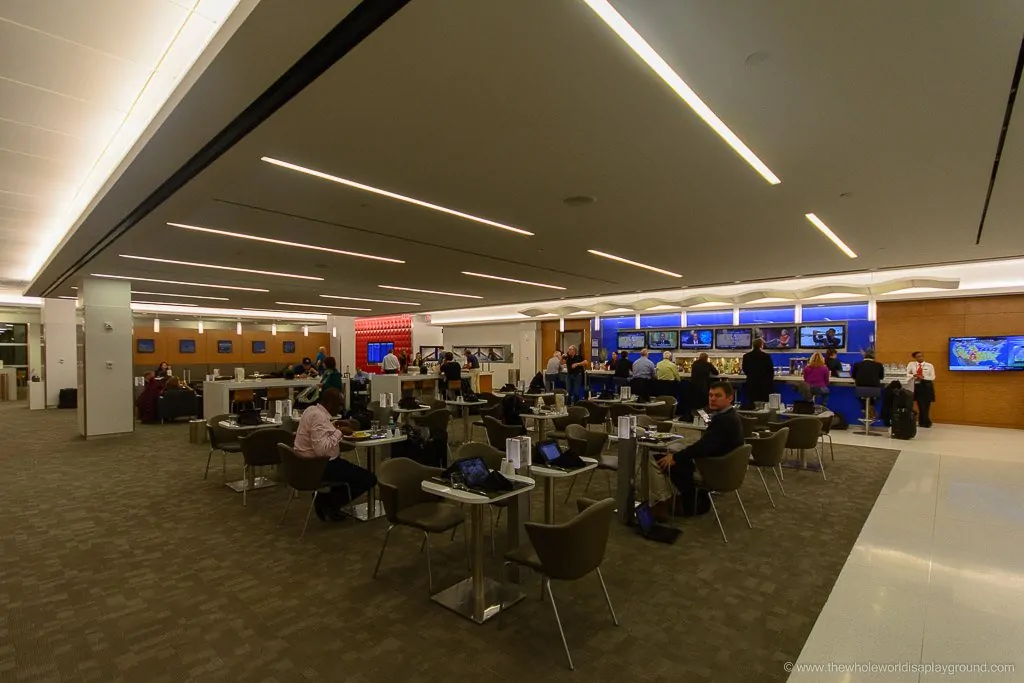 Location
The Sky Club is located above Gate 32 in Terminal 4 and was only a short walk from our Dublin departure gate. We loved the convenience of having a post-security lounge in such close proximity to the gate meaning we could relax in the lounge until boarding had commenced.
Access
We accessed the lounge with our international business class ticket to Dublin, Ireland.
Access is also possible through first/business class travel and elite status on a selection of airlines and routes, by purchasing a day pass, through certain types of AMEX cards and by Delta and Alaska Airlines lounge membership programs.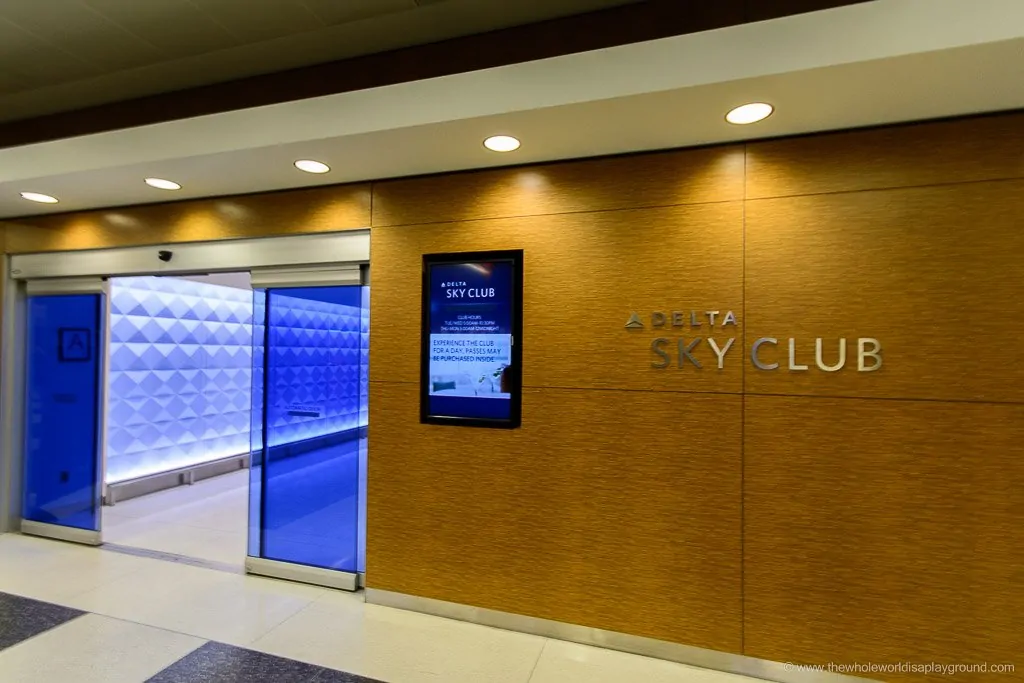 Overall
The Sky Club lounge looks good and is a nice spot to relax prior to a flight. While it does get busy, the size and layout mean it still feels relatively calm and uncrowded. We loved the colour scheme and the close proximity to the gate.
On a business class ticket the paid food and drink menus seem unnecessary and, at a minimum, I'd expect some vouchers to cover one or two plates and drinks. A fridge for water and soft drinks wouldn't go amiss either!