After an amazing flight with Emirates from Dublin to Dubai we were expecting great things from our Emirates Business Class flight from Dubai to Ho Chi Minh. After a quick stopover in Dubai and a freshen up in the Emirates Business Class lounge we made our way to the gate ready to board our flight to Vietnam. In a tale of two flights the second leg of our journey was a very different experience from the first. All aboard to join us for the journey!
Emirates Lounges
Dubai
With only a short stopover and a long transfer through the airport in Dubai we made a brief visit to the Emirates C Concourse Business Class Lounge (read our lounge report here). It was a nice spot to recharge our batteries after a very early morning arrival in Dubai and we enjoyed the bright and airy lounge and its breakfast offering.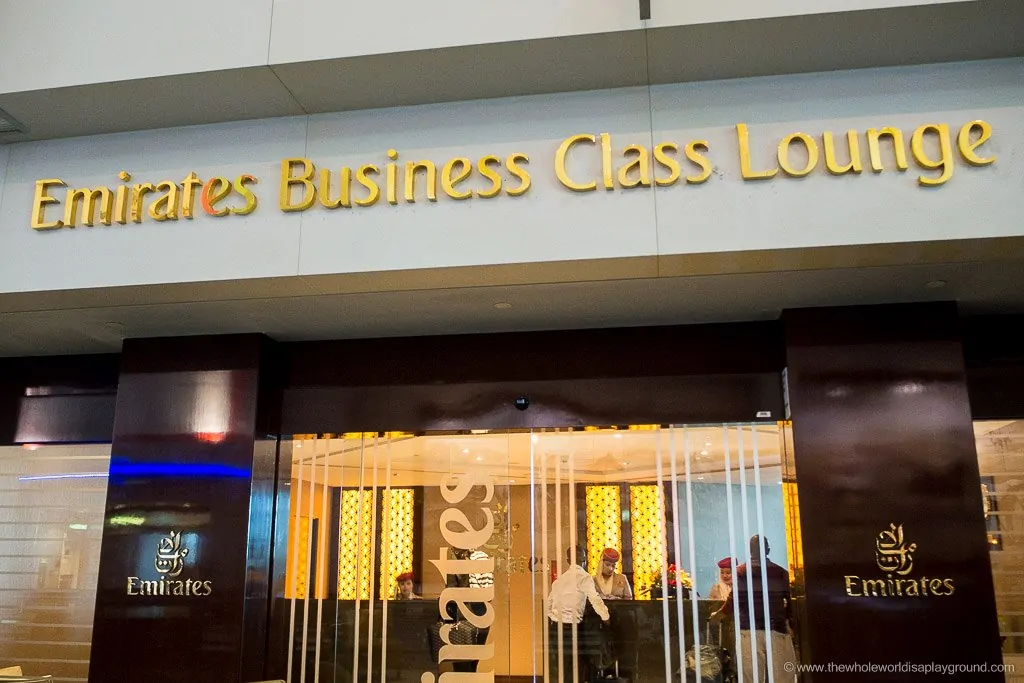 Ho Chi Minh
Emirates could really do with working on improving their service on the ground in Ho Chi Minh. Business class check in was a 60 minute extravaganza despite us being only third in line and the chauffeur service is notably absent at the Ho Chi Minh end of the route.
We were given lounge passes for the generic Bamboo lounge on the third floor and the lounge consisted of rows of cream armchairs and a very limited food and drinks offering. The lounge got crowded very quickly after our arrival and we preferred to spend most of our time in the main airport. Not a great start to the night!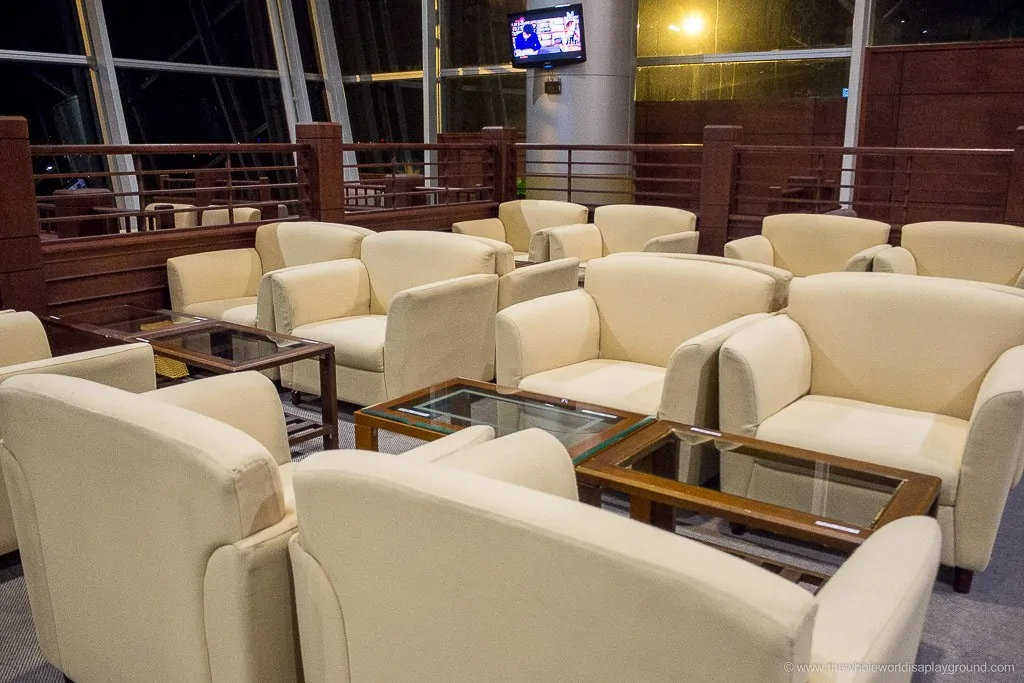 Welcome Aboard
Due to our short stopover we opted to take some extra time to stretch our legs and, as a result, we were among the last passengers to board the plane. The business class cabin was full to the brim but we settled quickly and were welcomed by the crew with a glass of chilled champagne.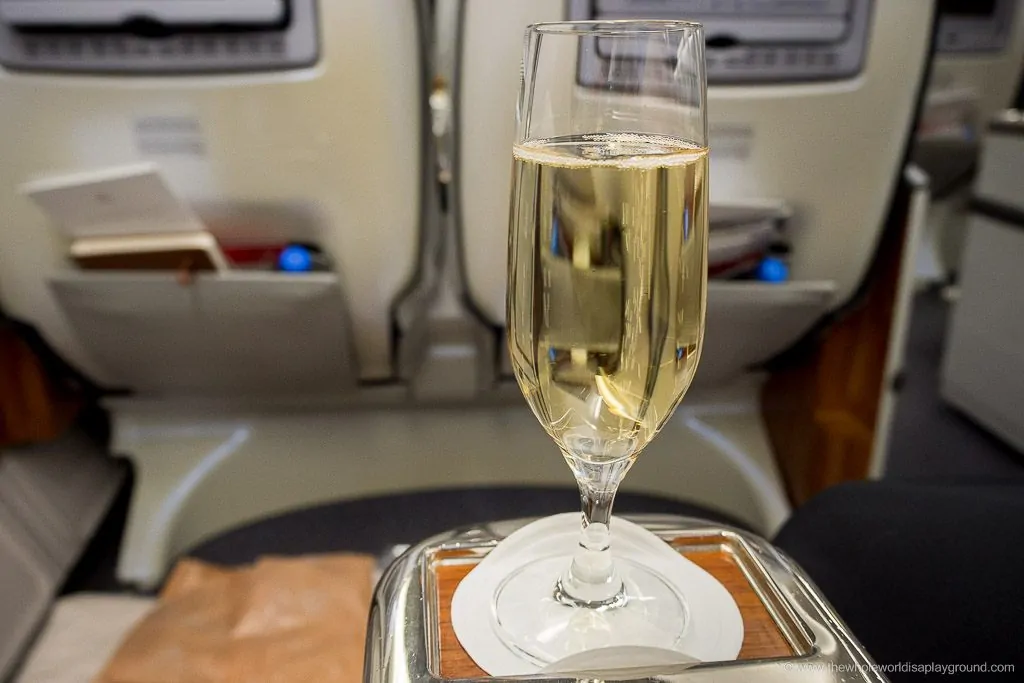 Dubai views! Taking off for Ho Chi Minh: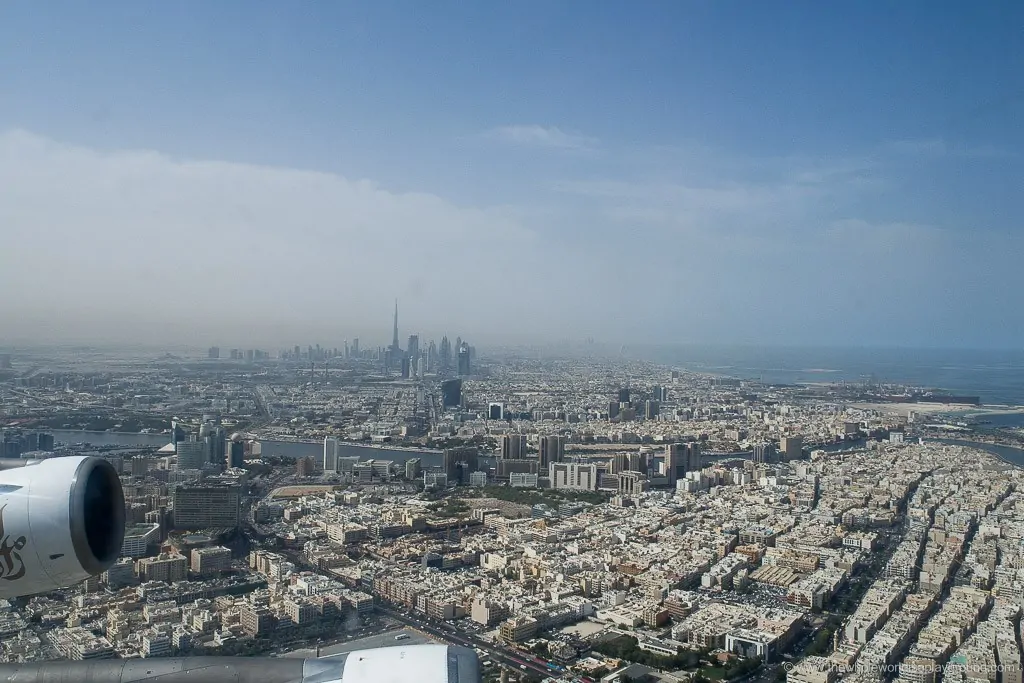 The Cabin
Emirates operate an Airbus A340-300 on the Dubai to Ho Chi Minh route but will be switching over to the Boeing 777-300ER in early October 2015 (check out our review of the business class cabin in the Boeing 777-300ER here). The business class cabin is split into two sections with the galley acting as the divider. Each business class section has 21 seats in a 2-3-2 configuration.
A last minute booking meant we were lucky to secure a 2 seater in row 11 which is the last row of business class seating. Our mini cabin, with all 21 seats occupied, felt quite cramped and the seats offered little privacy.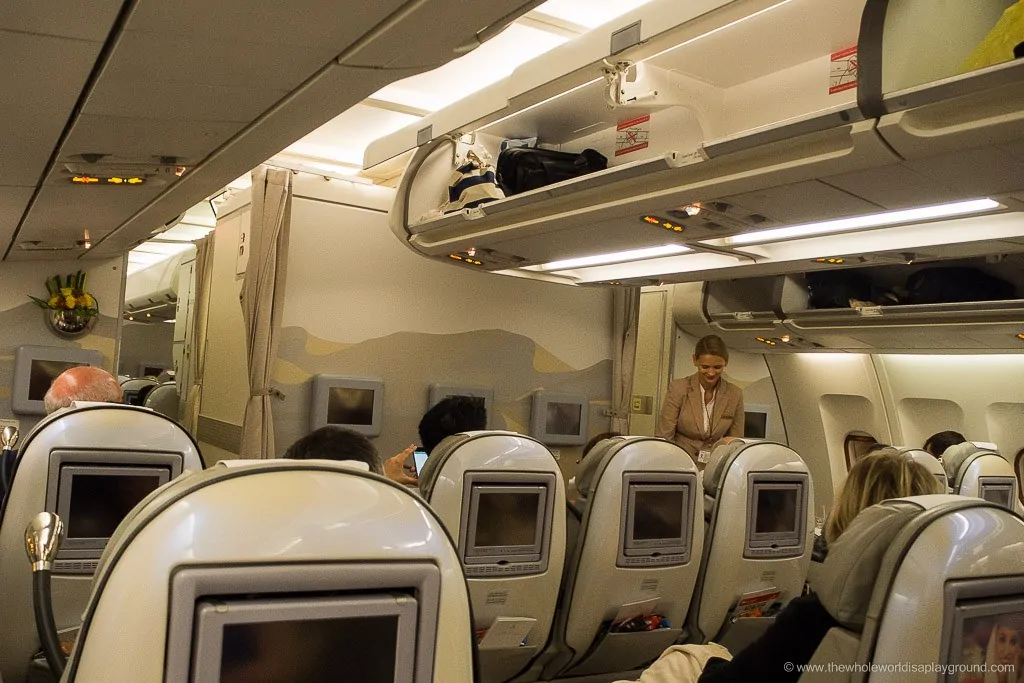 The Seat
The Emirates A340-300 cabin is equipped with 'sleeperette' style business class seats. While 'sleeperette' may sound very promising it really translates to an old style business class cabin featuring seats with very limited recline and personal space. It was a huge deviation from the luxurious trip we'd had on the first leg of our flight from Dublin to Dubai but it was our home for the next 7 hours so we settled in and hoped that the seat was more comfortable than it looked.
Our 2 seater: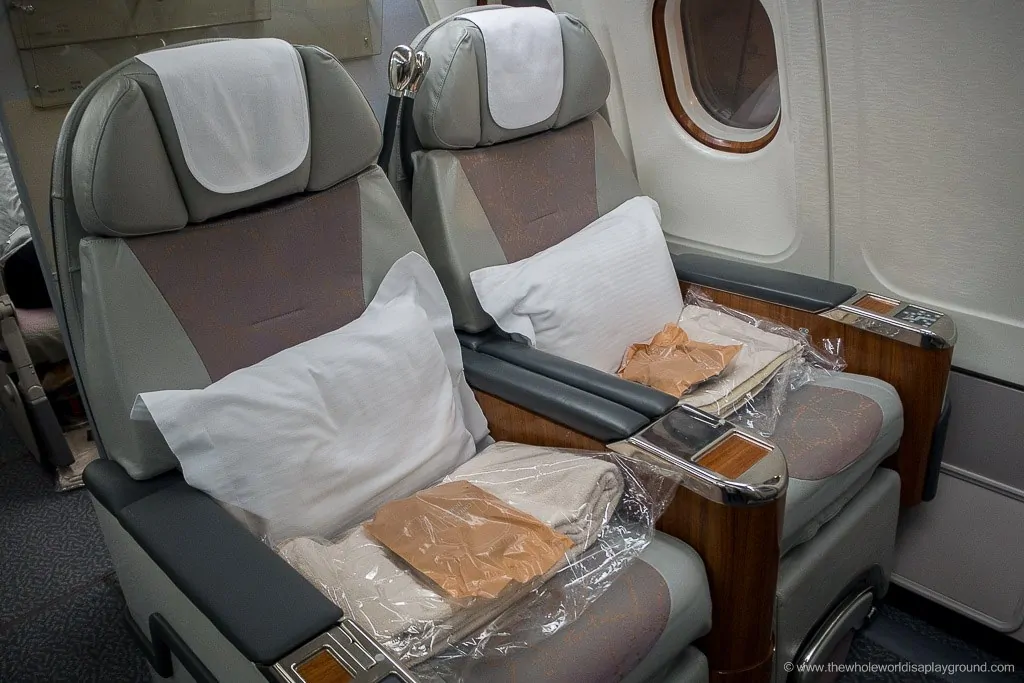 Travelling as a duo meant we were comfortable being in close proximity but it was cramped for a business class seat. We were relieved that we weren't travelling solo or allocated a 3 seater in the middle of the cabin as the lack of space and dividers between the seats results in a severe lack of personal space which is not ideal for a relatively long flight.
Hey neighbour: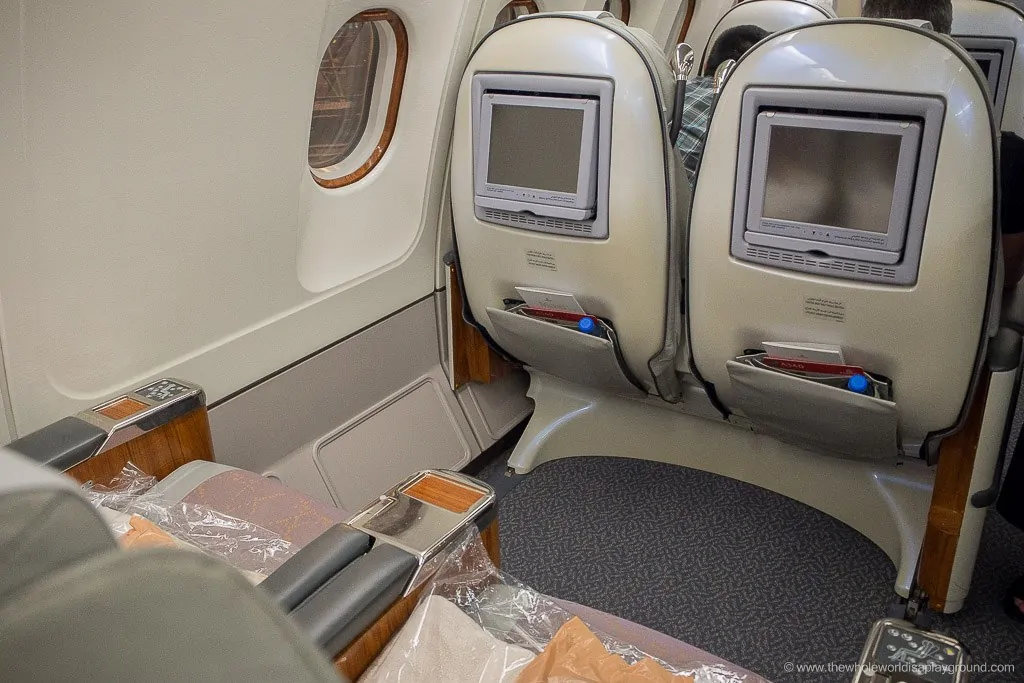 The amount of leg room was surprisingly good as we discovered when we settled into the seat and I could stretch my legs out freely. However, our leg room was significantly reduced when the passengers in the row ahead reclined for the evening. Where's a shell seat when you need one?!
Lots of leg room: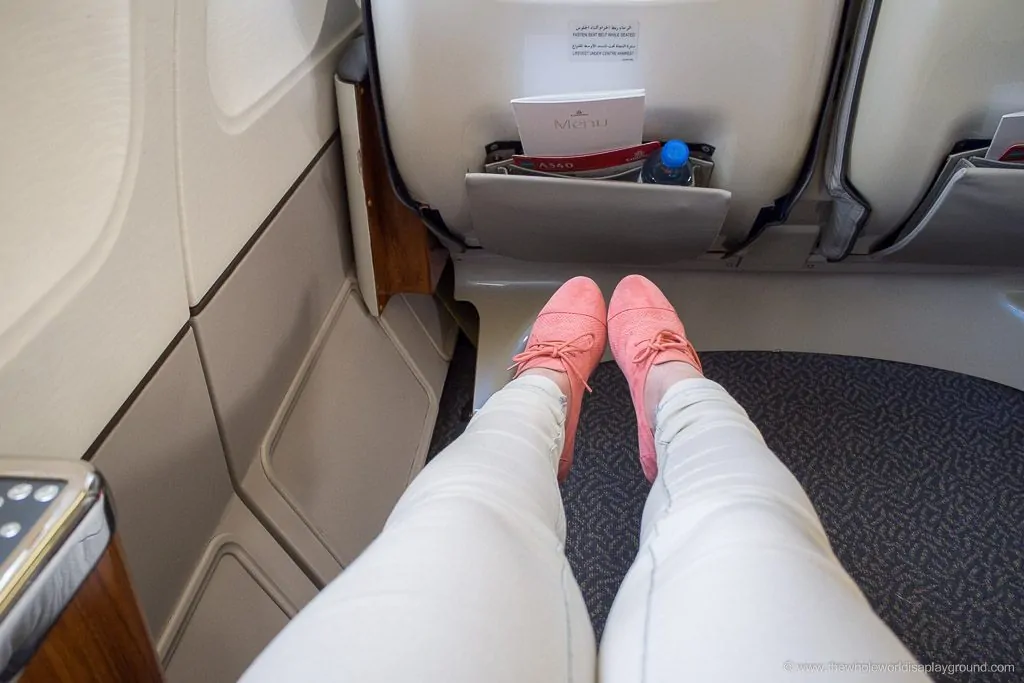 Not so much on recline!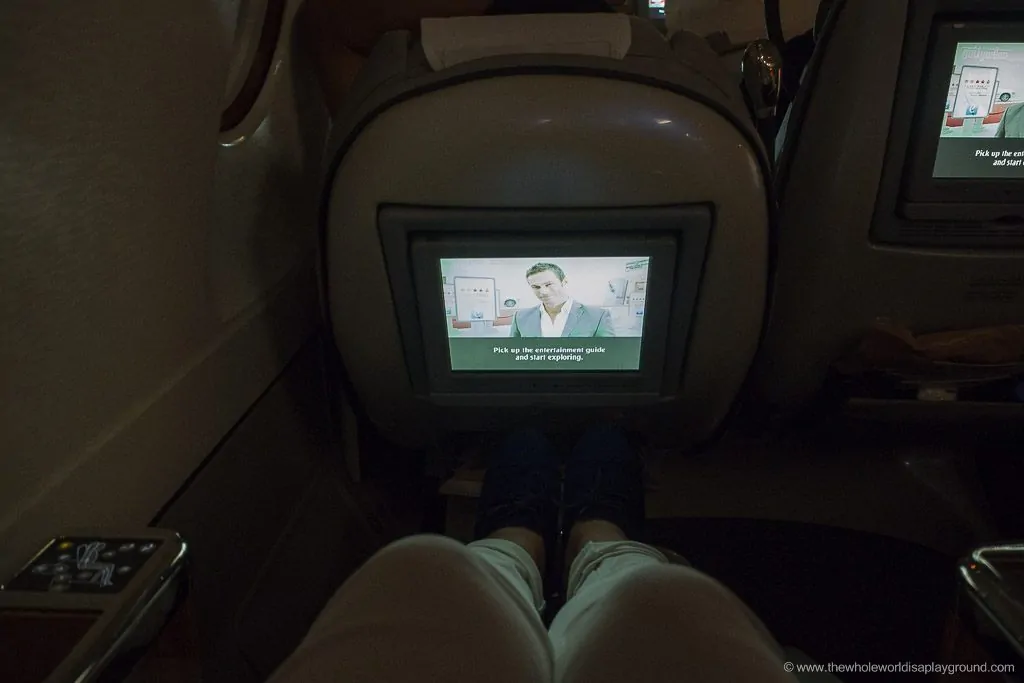 The recline is limited on the A340-300 and this was the extent of our opportunity to lie back: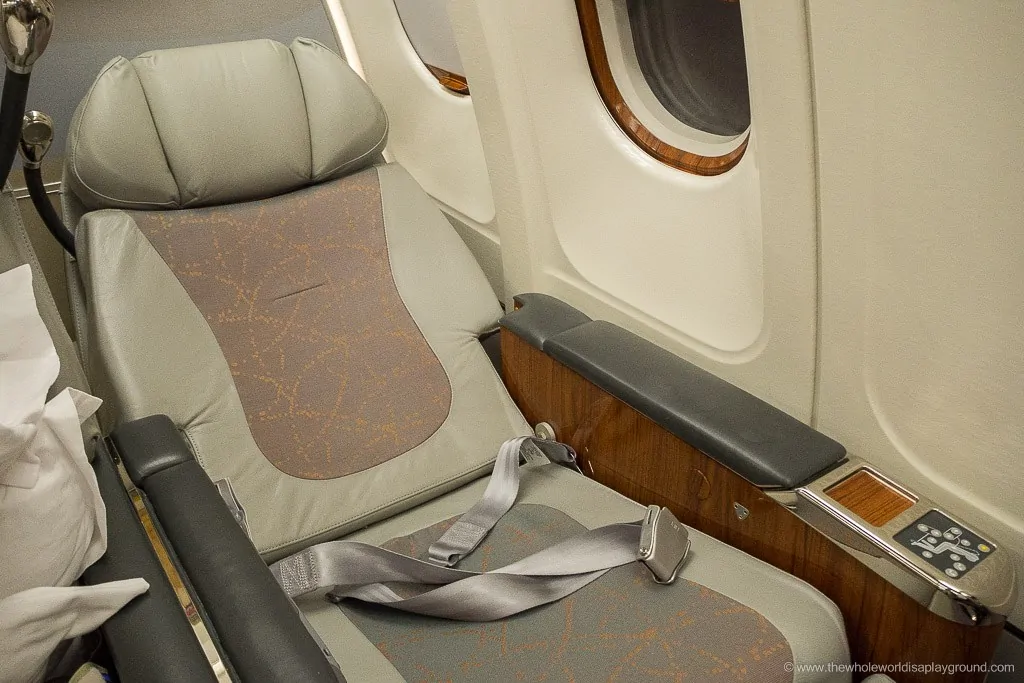 Seat back television screens: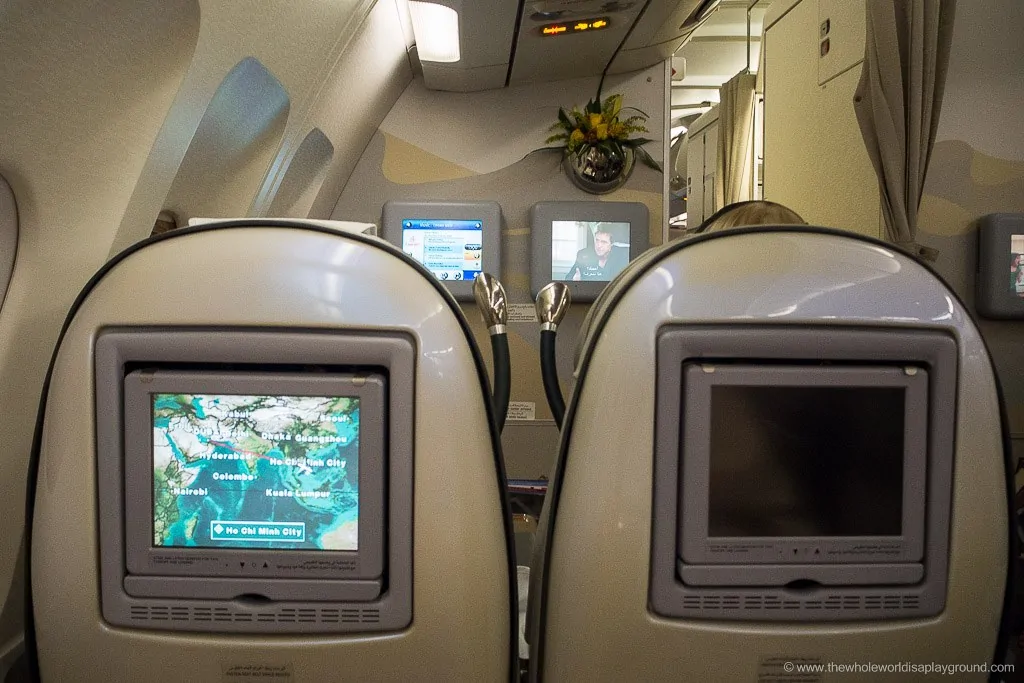 Food and Drinks
Our early morning departure from Dubai had a lunch and light bites food service while our late night departure from Ho Chi Minh saw us offered dinner and breakfast on the aircraft.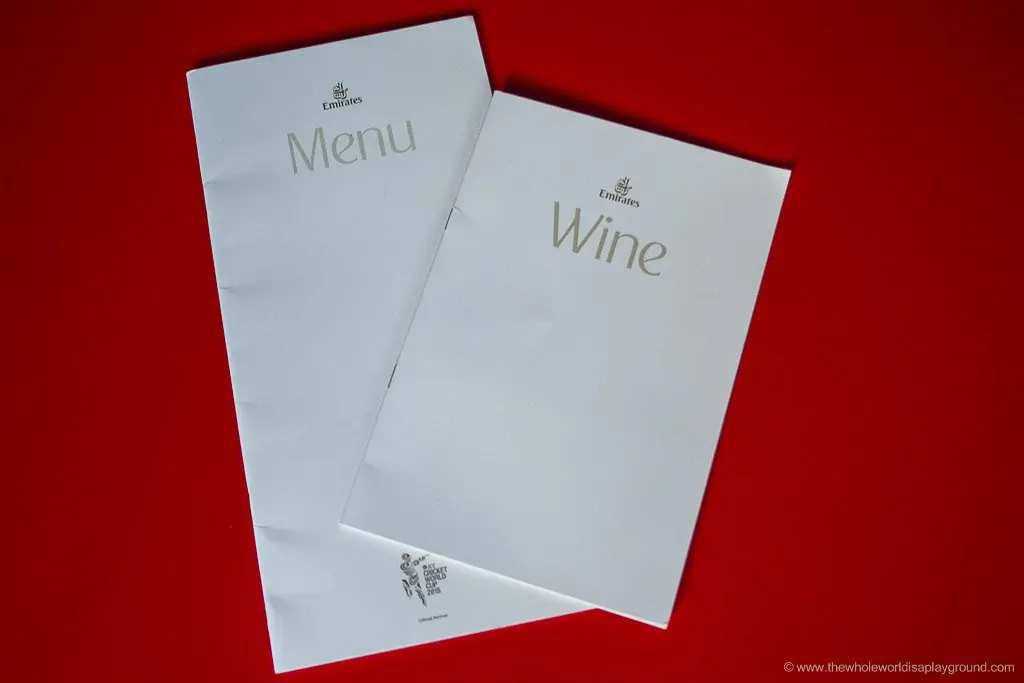 Dubai to Ho Chi Minh
The lunch menu was appetising with a choice of Arabic Mezze, chicken roulade and lentil soup for starter and roast chicken, pan fried beef or stir fried prawns for mains. The dessert selection was varied and included a chocolate tart, a blueberry tart, a cheese board and a selection of fruit.
I opted for the Arabic Mezze with its traditional selection of Arabic savoury dishes followed by stir fried prawns in a garlic and ginger sauce served with rice. My sweet tooth won out and I indulged in the chocolate tart and ice cream for dessert. I'm a big fan of the Emirates menu and the food on board was delicious.
The lunch tray: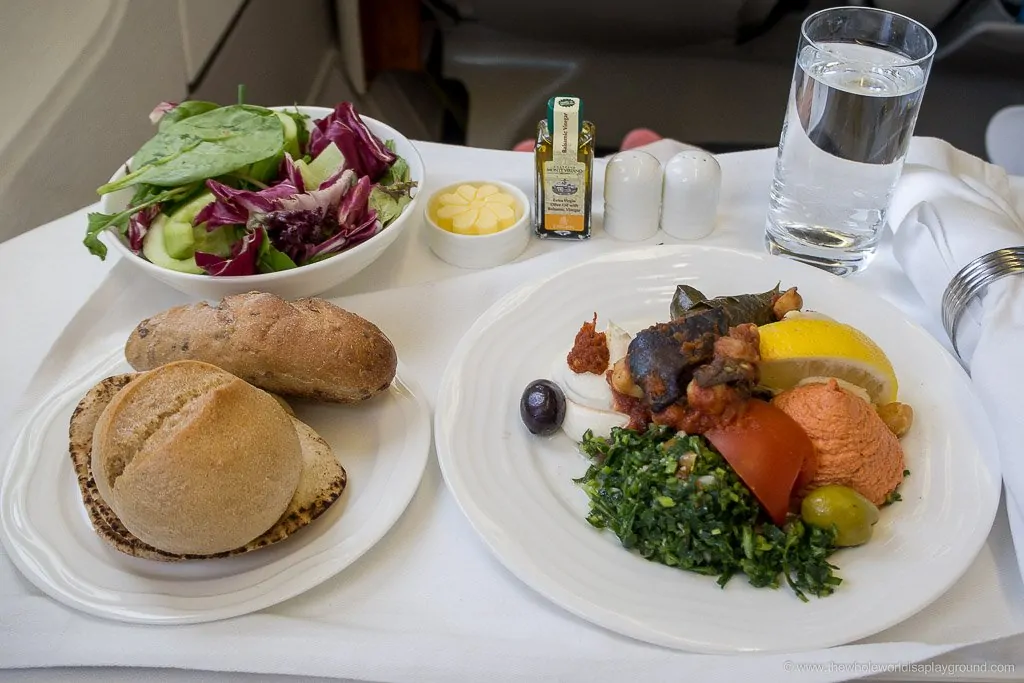 Arabic Mezze: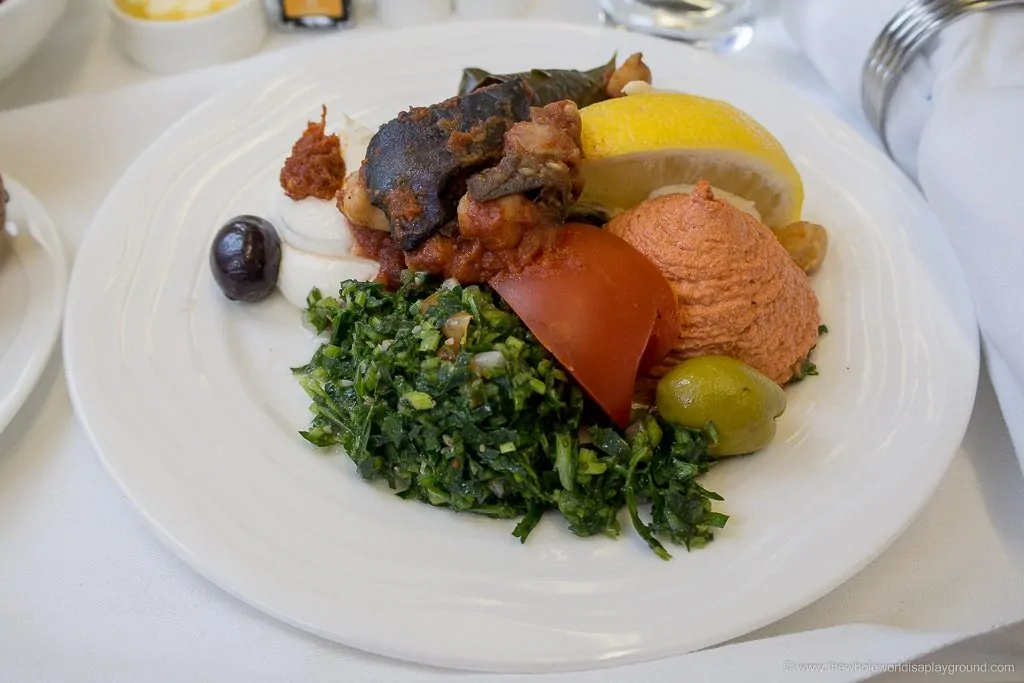 Stir fried prawns: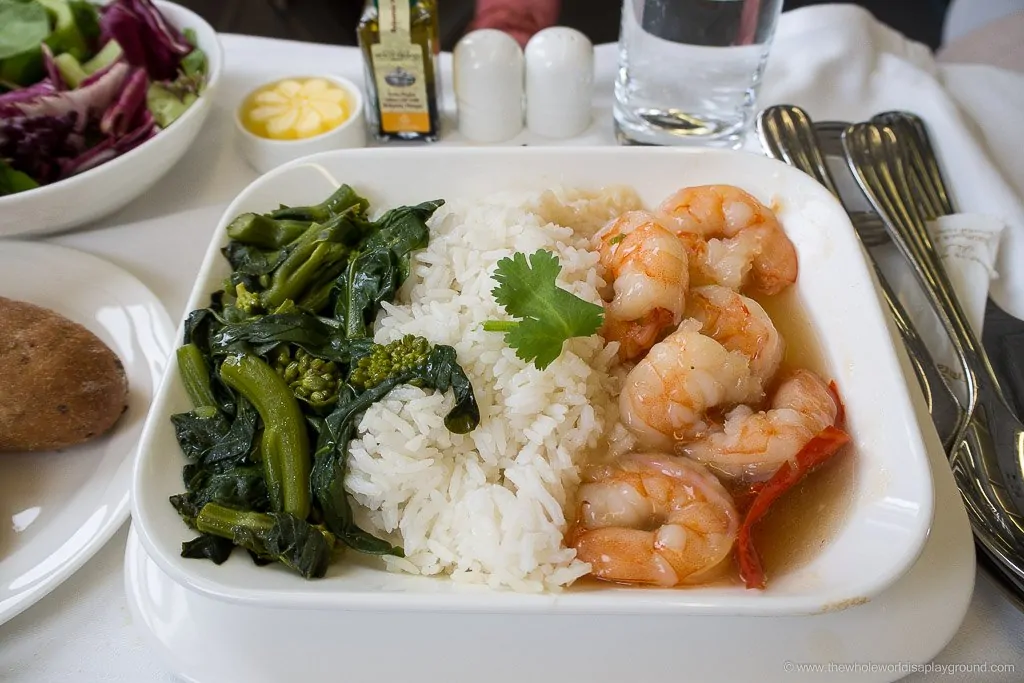 Chocolate Tart: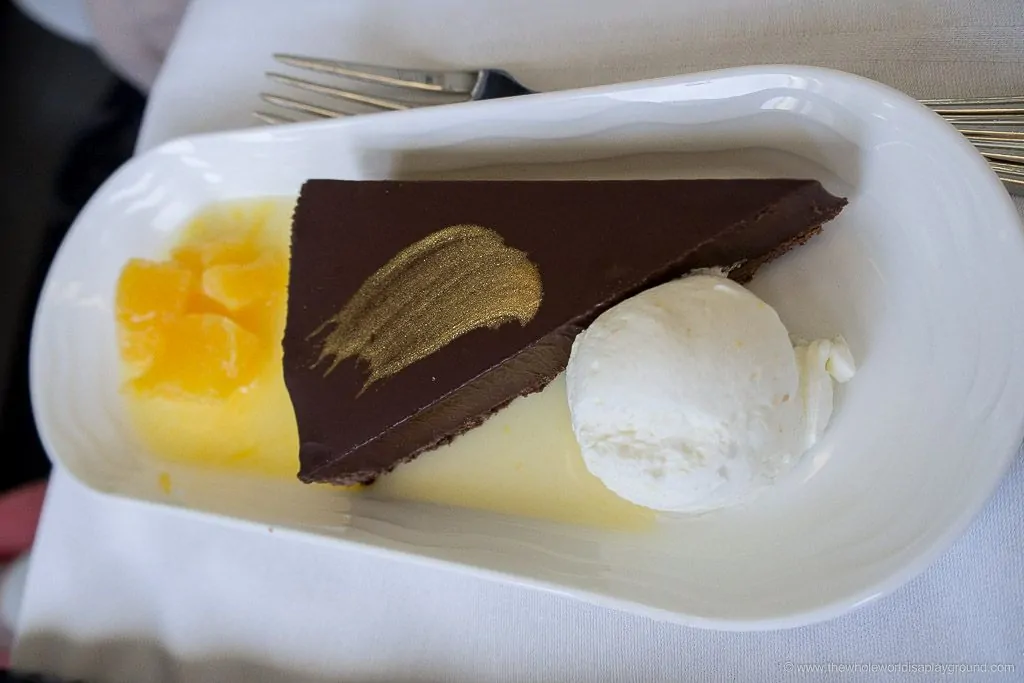 My 'light bite' vegetable pie. Excellent!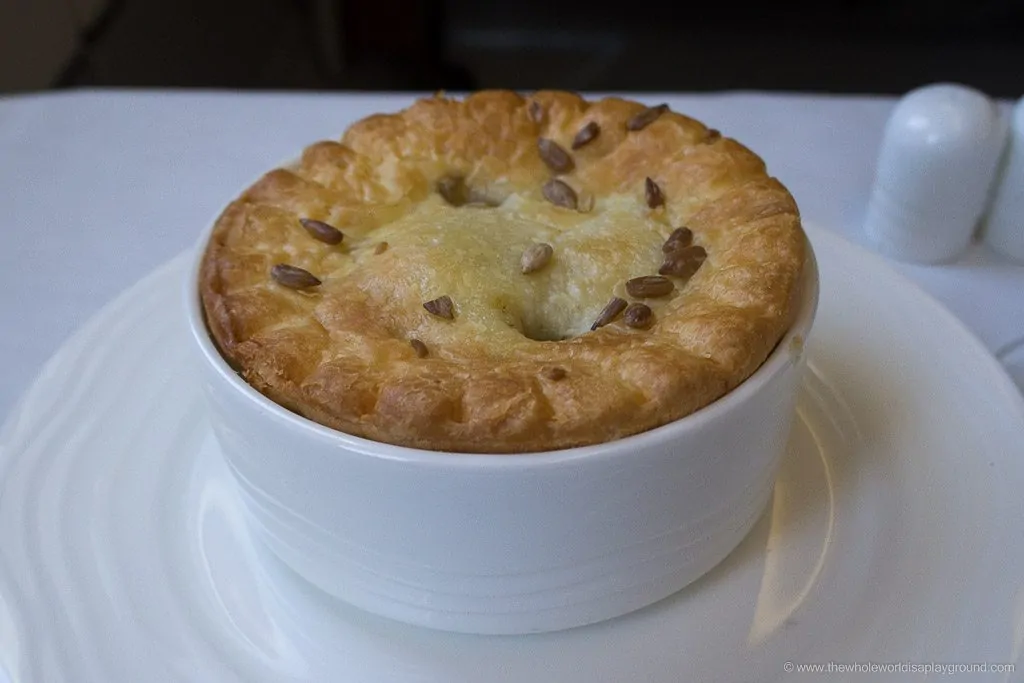 Lunch menu: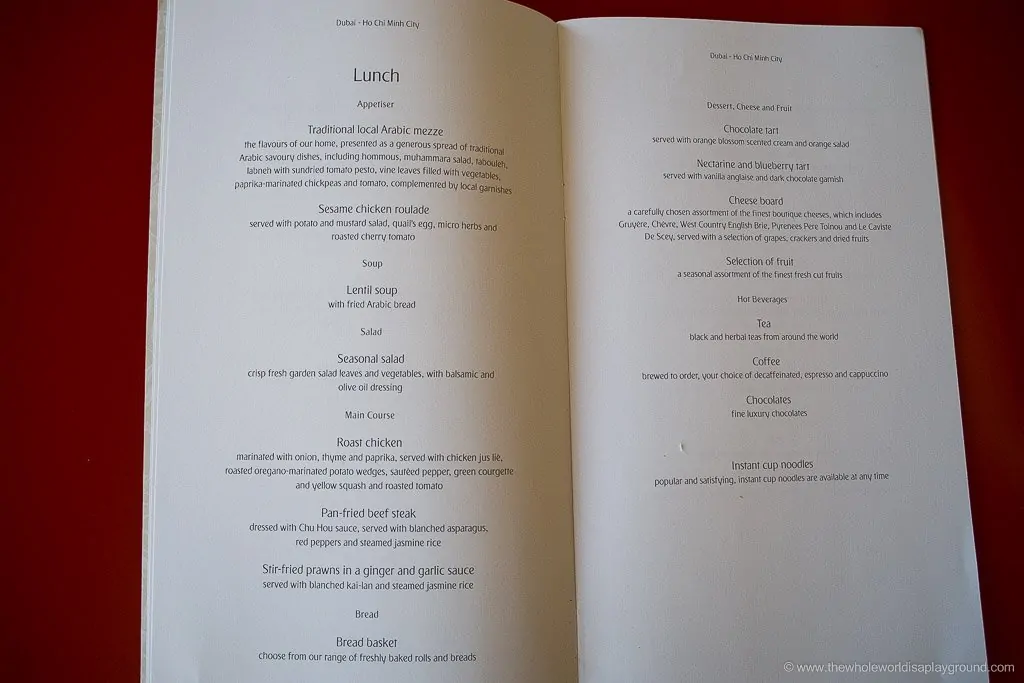 Light bites: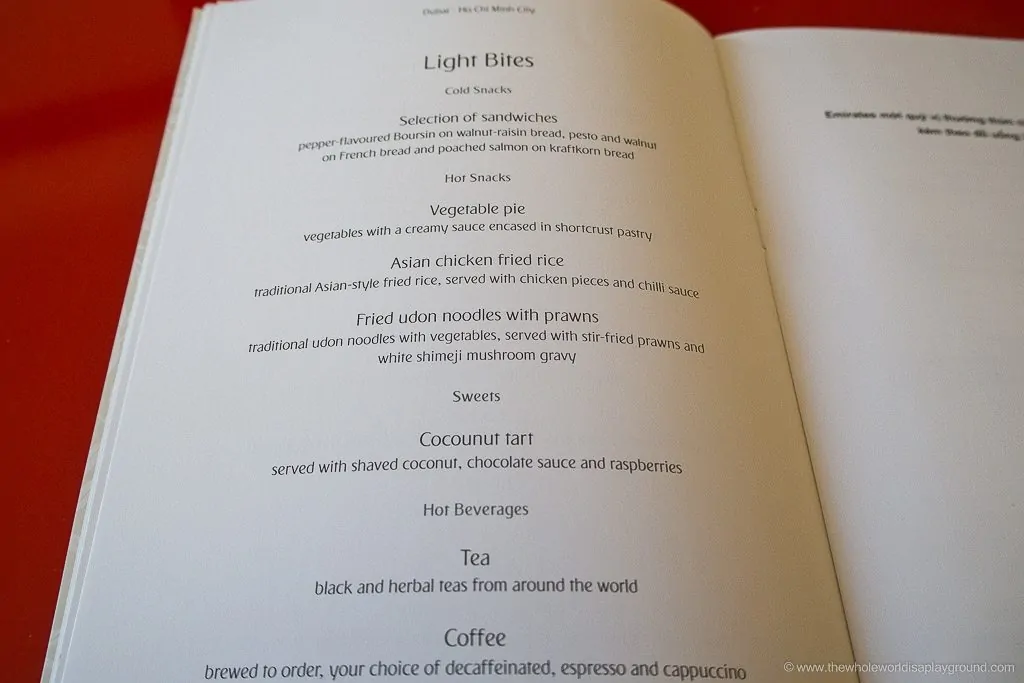 Ho Chi Minh to Dubai
Our post midnight flight departure meant we'd missed dinner on the ground and we were looking forward to our meal on the plane. The starter options included a prawn salad, smoked honey glazed duck and a coriander soup and the mains included grilled beef tenderloin, grilled chicken and a Vietnamese fish dish served in a banana leaf. Desserts were a plenty as always and the choices were a berry tartlet, chocolate panna cotta, a cheese board and fruits.
I chose the smoked honey glaze duck and noodles, the grilled chicken served with rice and an aubergine and pea curry. I finished up with the chocolate panna cotta and everything was excellent.
The dinner tray: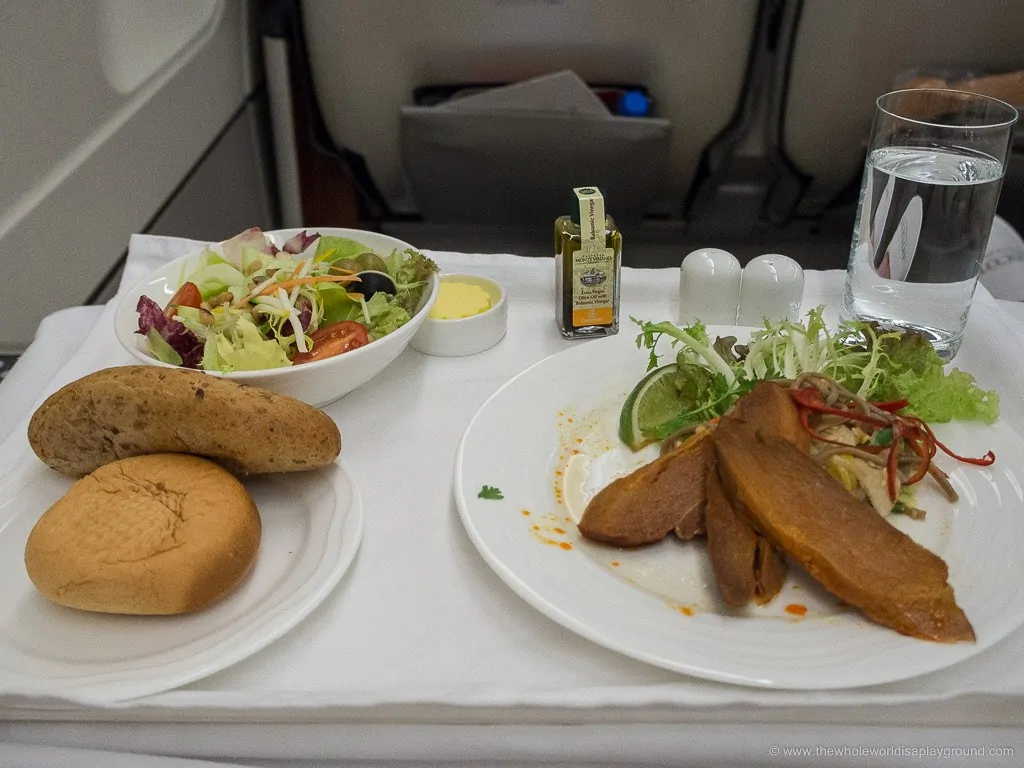 Duck starter: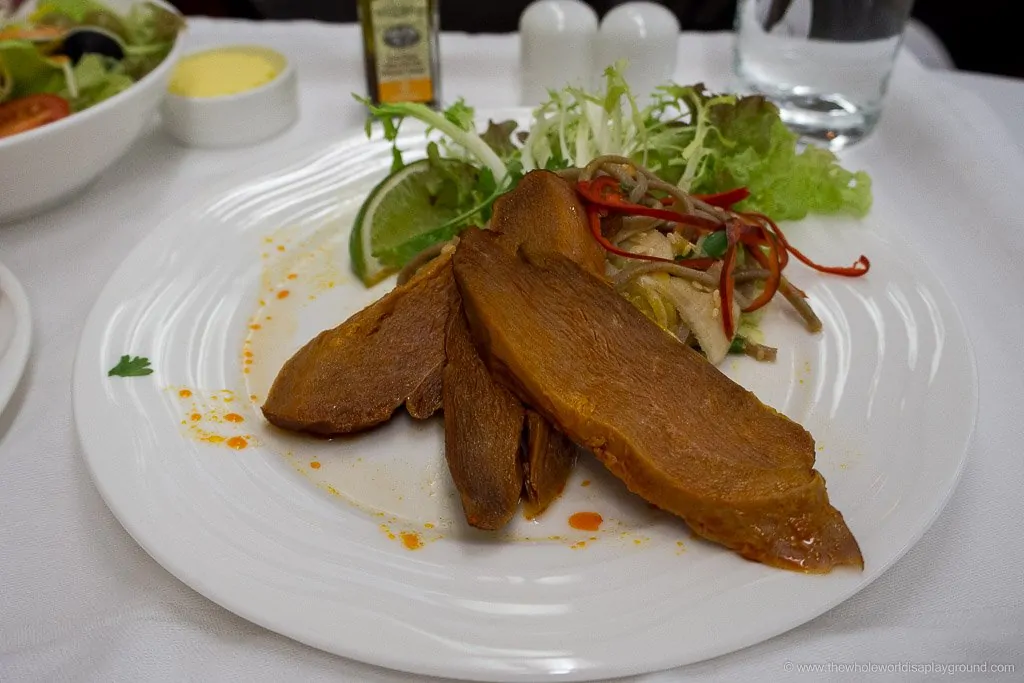 Chicken, rice and curry: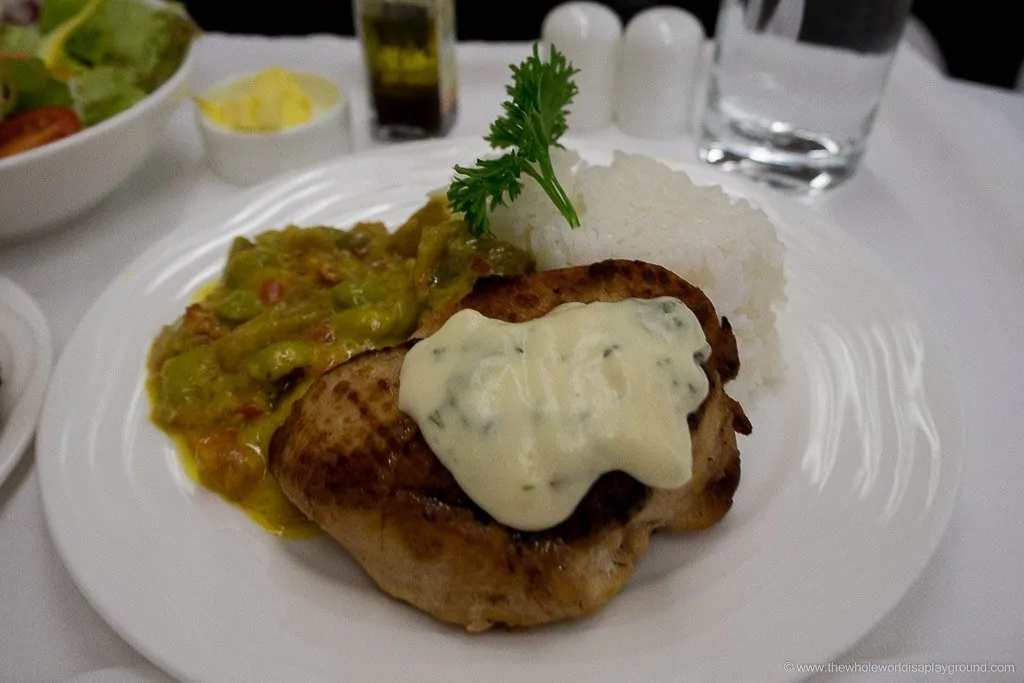 Yum! Chocolate panna cotta: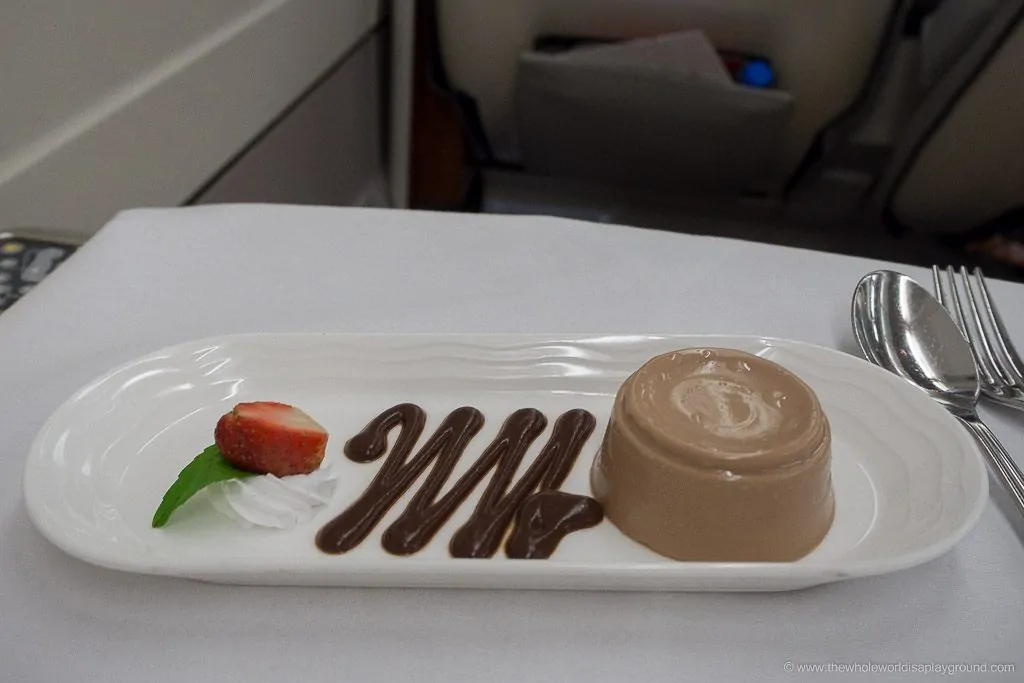 Dinner Menu: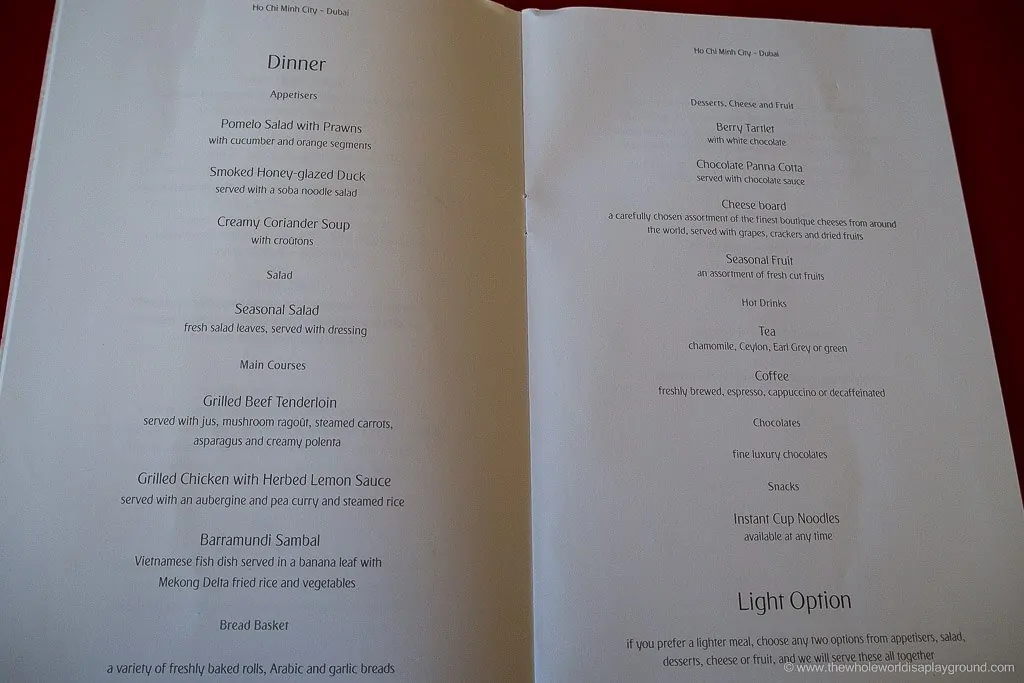 Breakfast (which I skipped!):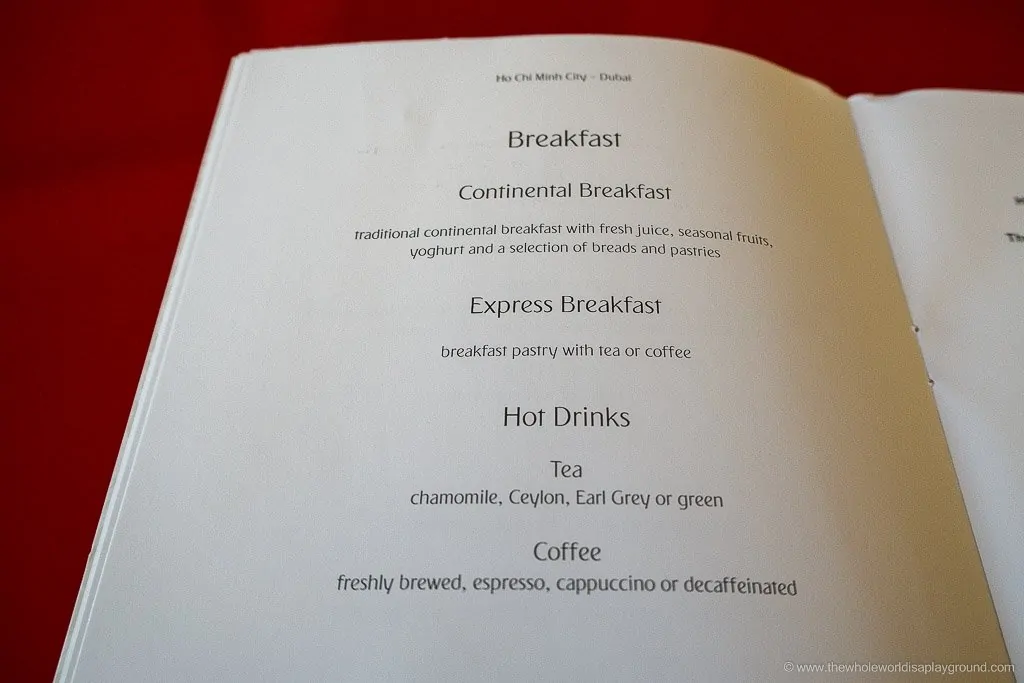 Drinks
The drinks selection was vast but we only managed to sample a little of the Veuve Clique champagne.
The bubbly: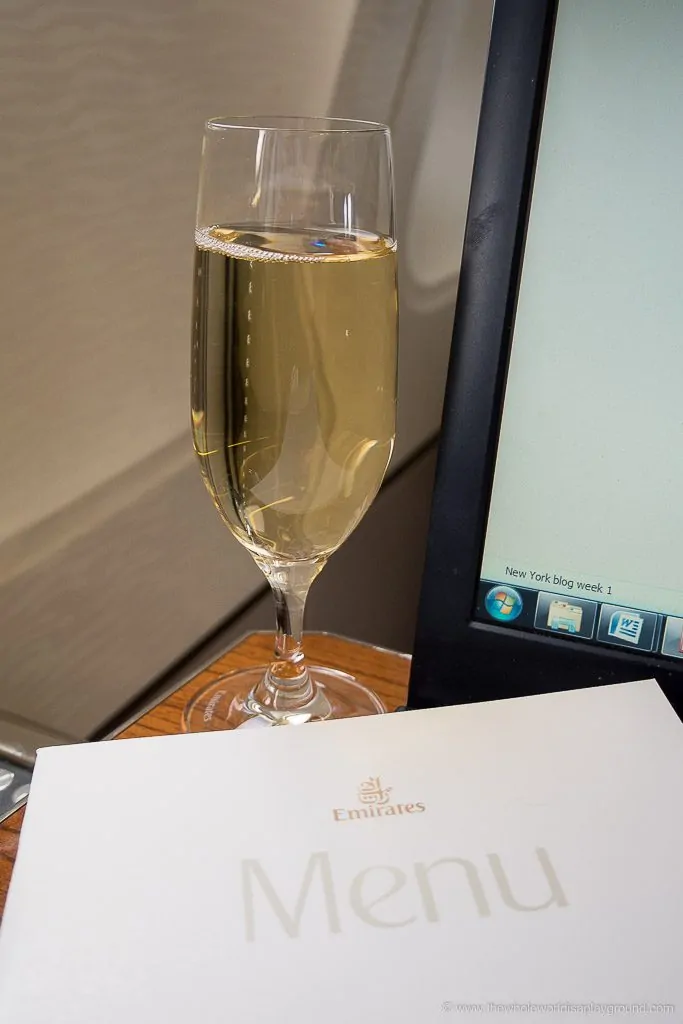 Champagne menu: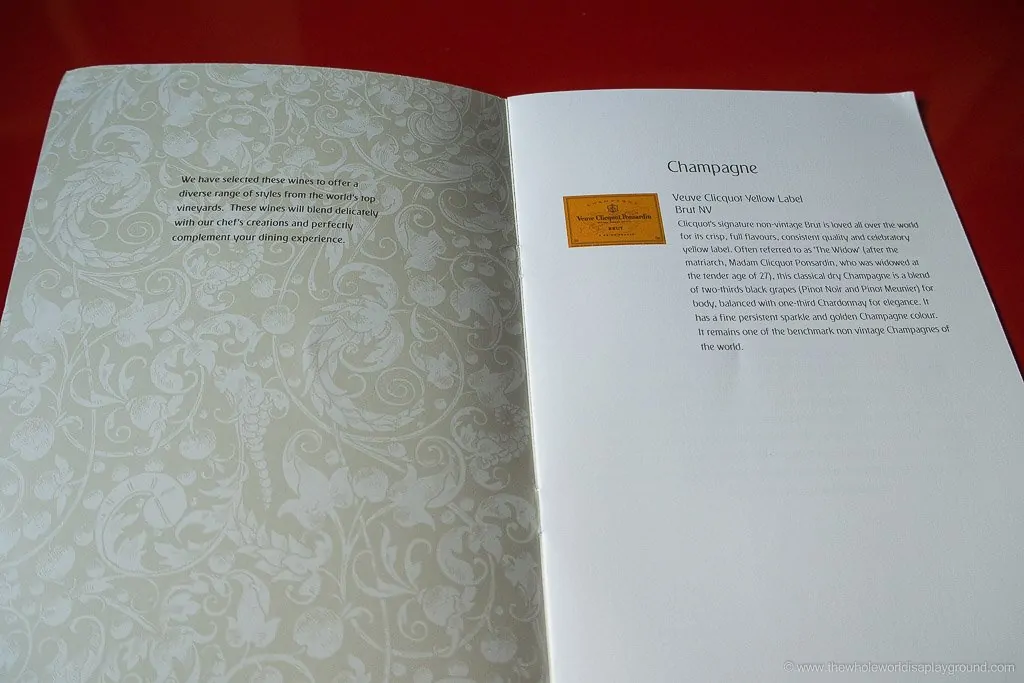 Wines: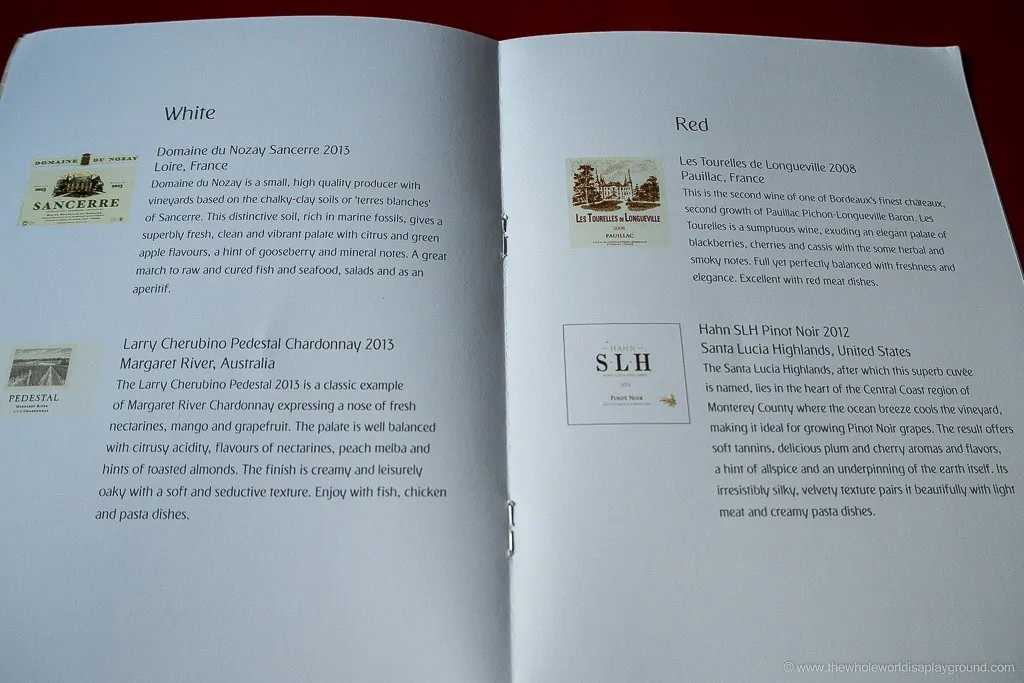 Port: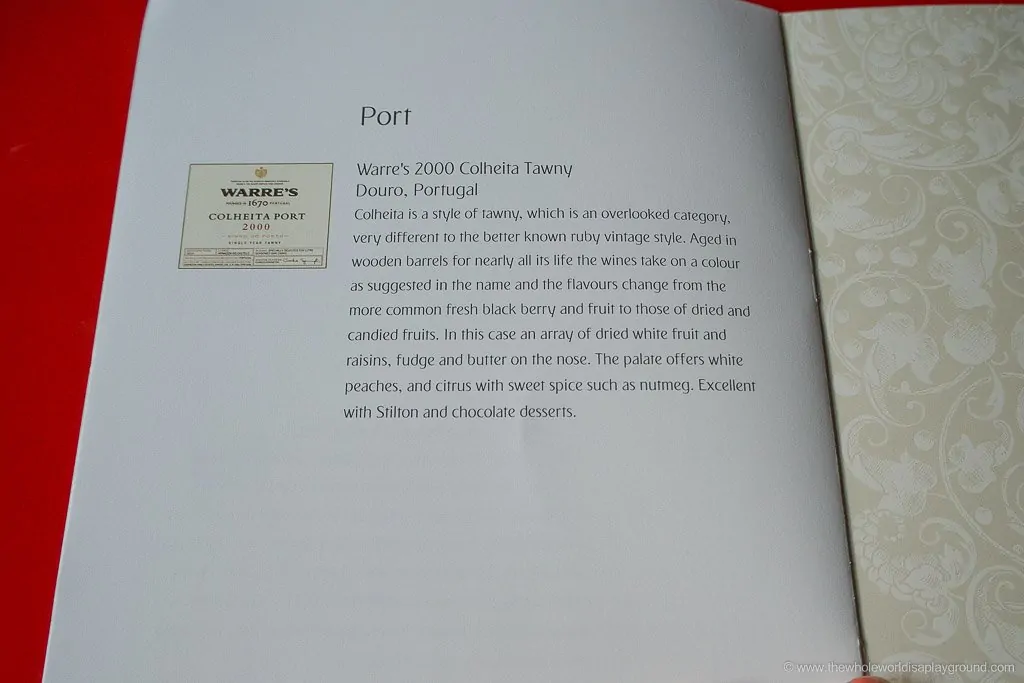 Bar menu: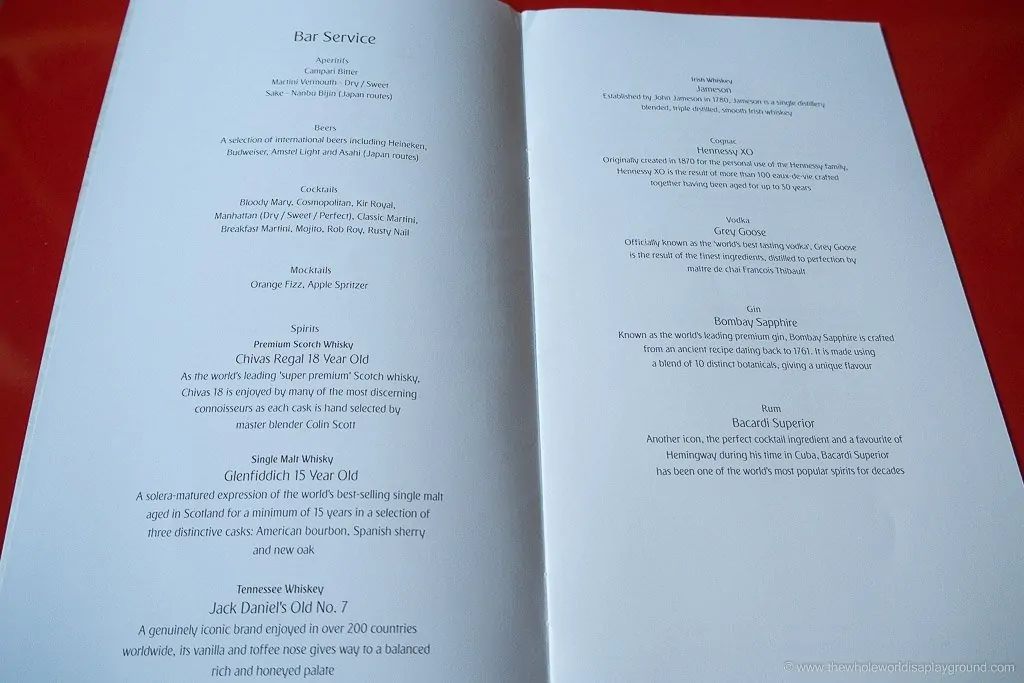 Sleep time!
The limited recline meant I didn't manage any sleep on either of the Dubai/Ho Chi Minh flights but my mum found the seat comfortable enough to catch up on a few hours sleep time each way. We were given pillows and a blanket for bedding but the use of the word sleep in the 'sleeperette' seat name was generous in my opinion!
The bed: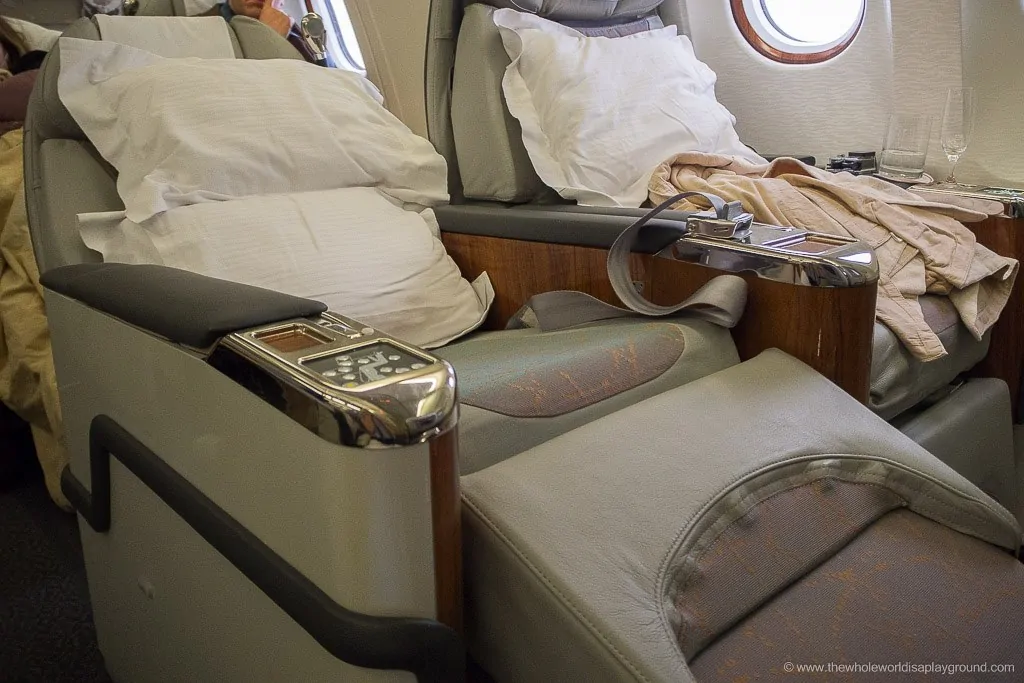 Sleeping arrangements: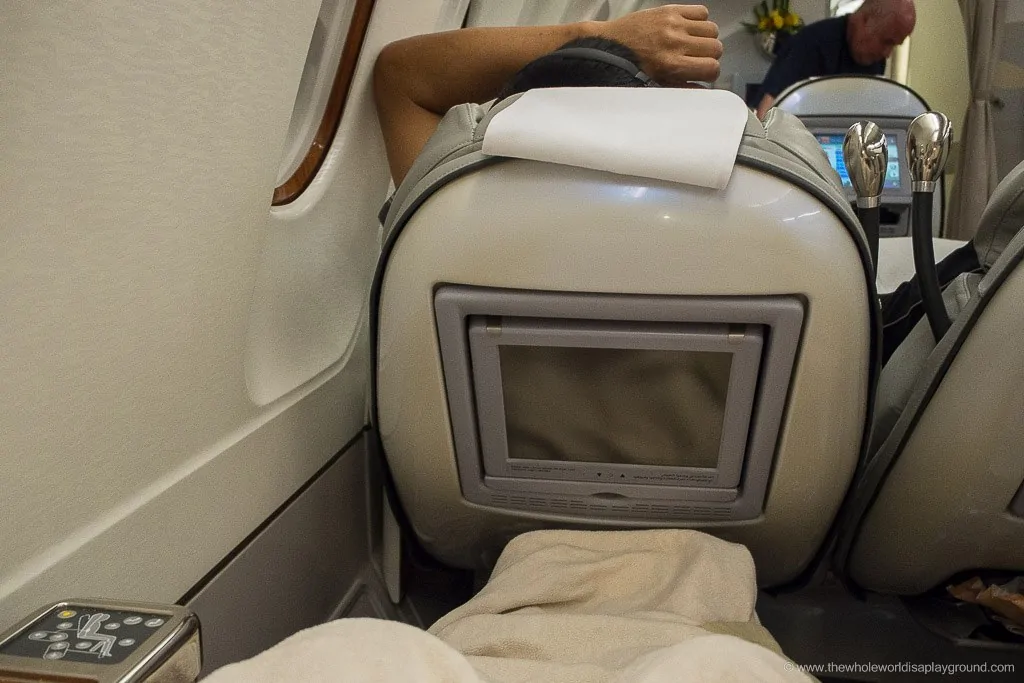 Amenity Kit
We were provided with an Emirates amenity kit on our night time flight from Ho Chi Minh to Dubai. Emirates do not distribute the kits on day time flights so none were available on our early morning Dubai to Ho Chi Minh leg. The kit was identical to the one we received on our Dublin to Dubai flight and the contents included Bvlgari toiletries, a travel hair brush and mirror, toothpaste and a refreshing towel. Eye masks and dental kits were available in baskets in the bathrooms.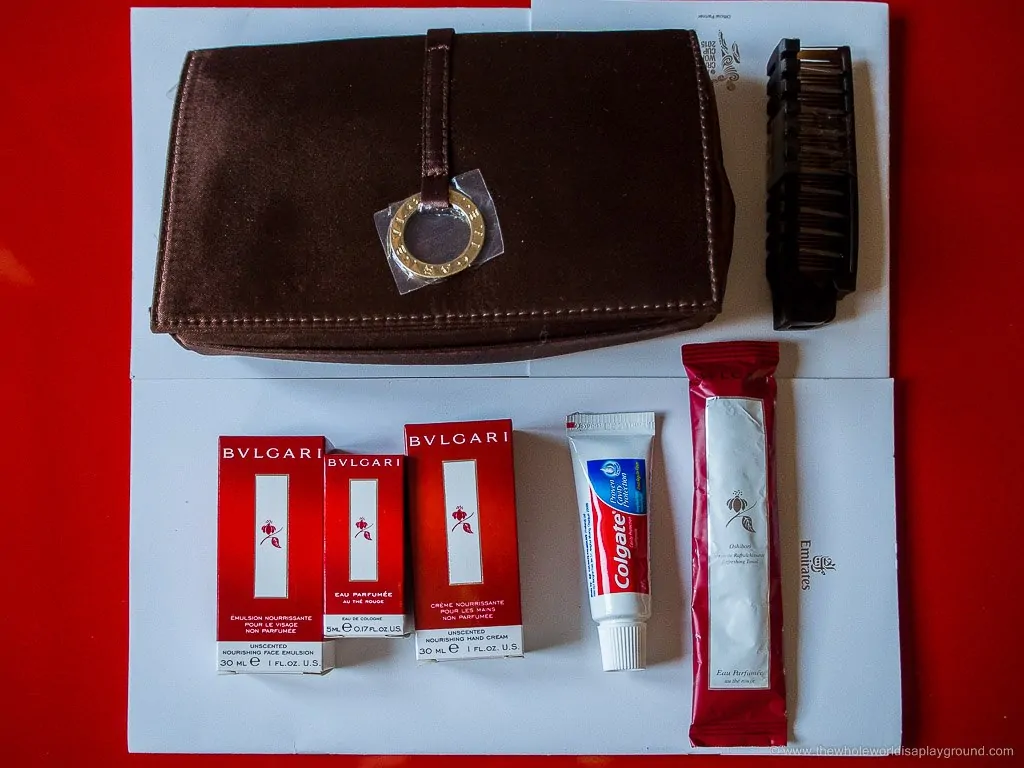 Overall
When Emirates are good they're very good but unfortunately the Airbus A340-300 placed them firmly in the not so good camp. Although the service was consistently good across both flights the aircraft and on the ground offering in Ho Chi Minh really lets down the business class product on the Dubai/Ho Chi Minh route at the moment.
Apparently the aircraft will be replaced by the Boeing 777-300ER in early October and will hopefully include the far superior product we experienced on our Dublin/Dubai flights. At the moment the business class cabin is comparable to a premium economy offering which is not what I want when I'm spending a considerable amount with Emirates. In Ho Chi Minh an improved lounge offering and the addition of the standard chauffeur service would go a long way to add to the offering.
All in all we had a mediocre experience on the Dubai to Ho Chi Minh route and would most definitely consider one of the other carriers if we were on our way to Vietnam again.