It was ladies week in Vietnam as my mum and I jetted off from Dublin for some Business Class fun with Emirates. Having flown with Emirates before on a first class A380 jaunt from Hong Kong to Bangkok we were excited to get back on board with Emirates and try out their business class cabin on the Dublin to Dubai route. All aboard!
Pre flight Treats!
'Your chauffeur has arrived madam'. Our trip got off to an excellent start with the arrival of our airport car which took us from our apartment to the airport in style. It was such a treat to sit back and relax and we were officially in holiday mode!
Our wheels!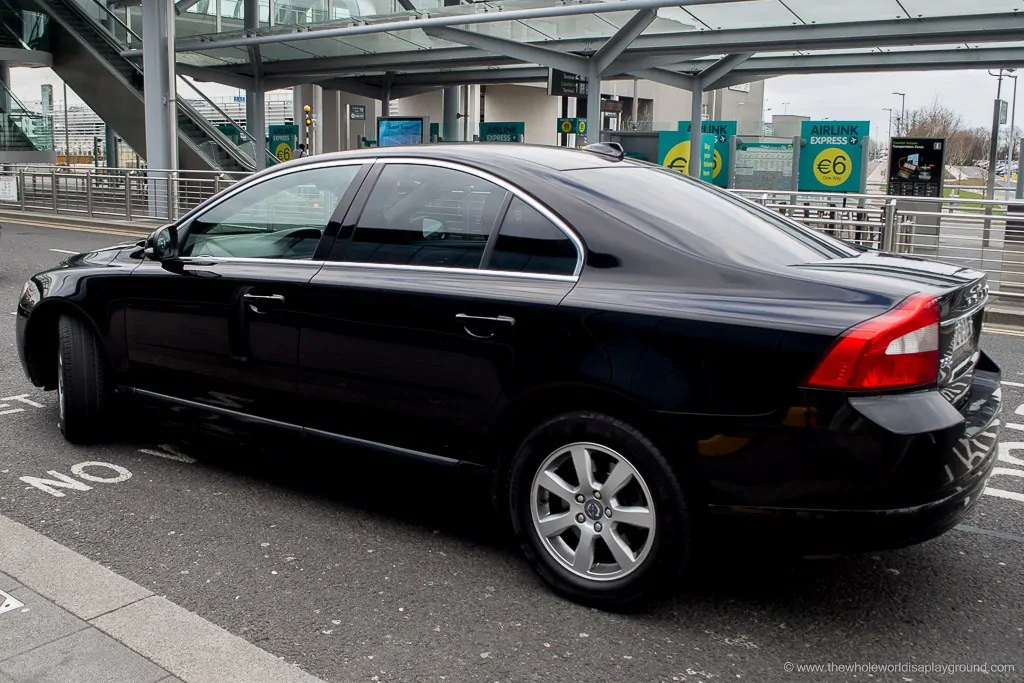 We arrived at the airport with plenty of time to spare and checked in quickly at the Business Class Desk before making our way to the lounge.
Check In: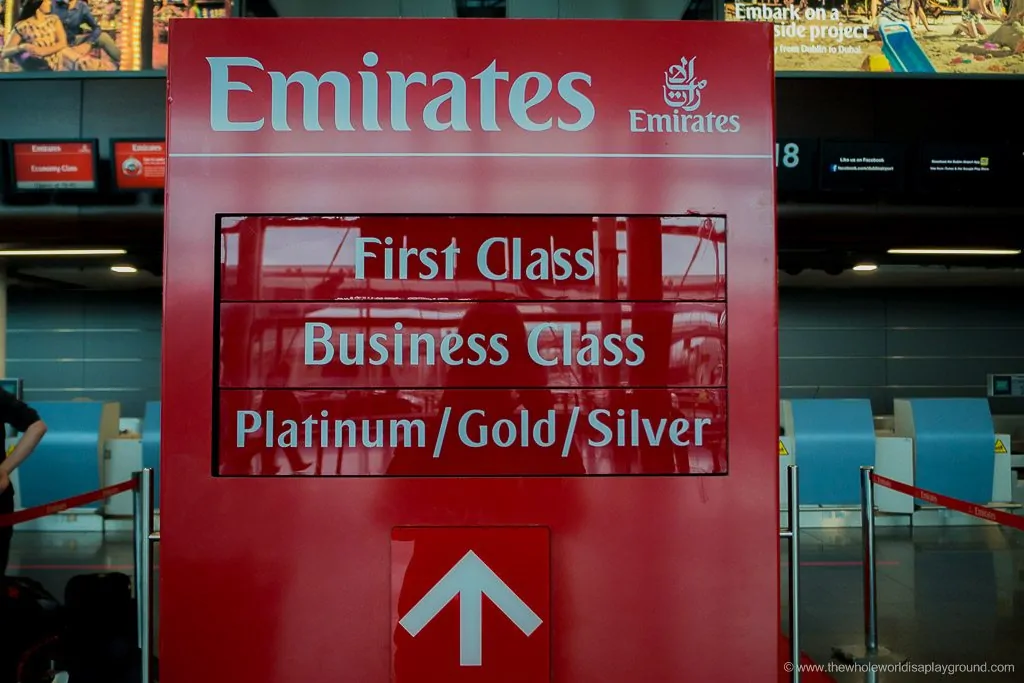 Emirates Lounges
Dublin
Emirates use the Dublin Airport Authority Executive lounge in Terminal 2 (read our report here) which is a small lounge with a basic offering covering lots of airlines and paid access options. Emirates have a lot of room to improve with this lounge choice and, similar to their Ho Chi Minh shared lounge in Vietnam, in my opinion it's misaligned with their overall business class product.
Emirates Lounge Dubai:
On our return flight we stopped by the Emirates Lounge in Dubai and had fun exploring the huge lounge in Concourse A. Their Dubai lounge was one of the nicest lounges we've visited and we even managed to squeeze in a champagne and hot dog breakfast! Read more about our visit to the Emirates Dubai lounge here.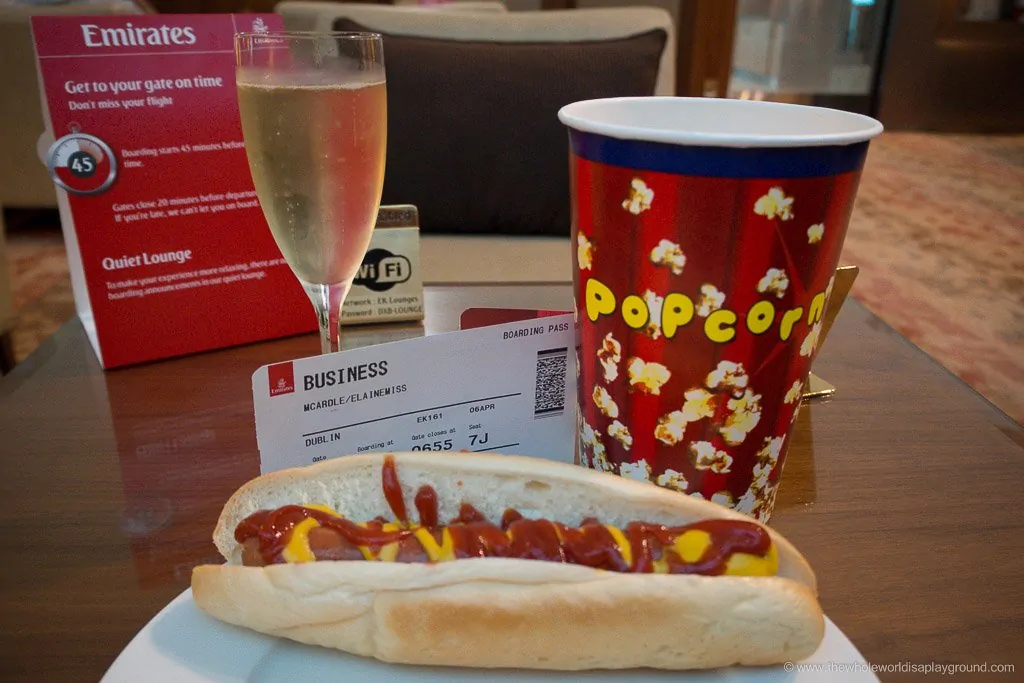 Welcome Aboard!
It was time to board our flight to Dubai and we were eager to check out our home for the next 8 hours! Boarding was quick and we were settled in our seats with a chilled glass of champagne in record time!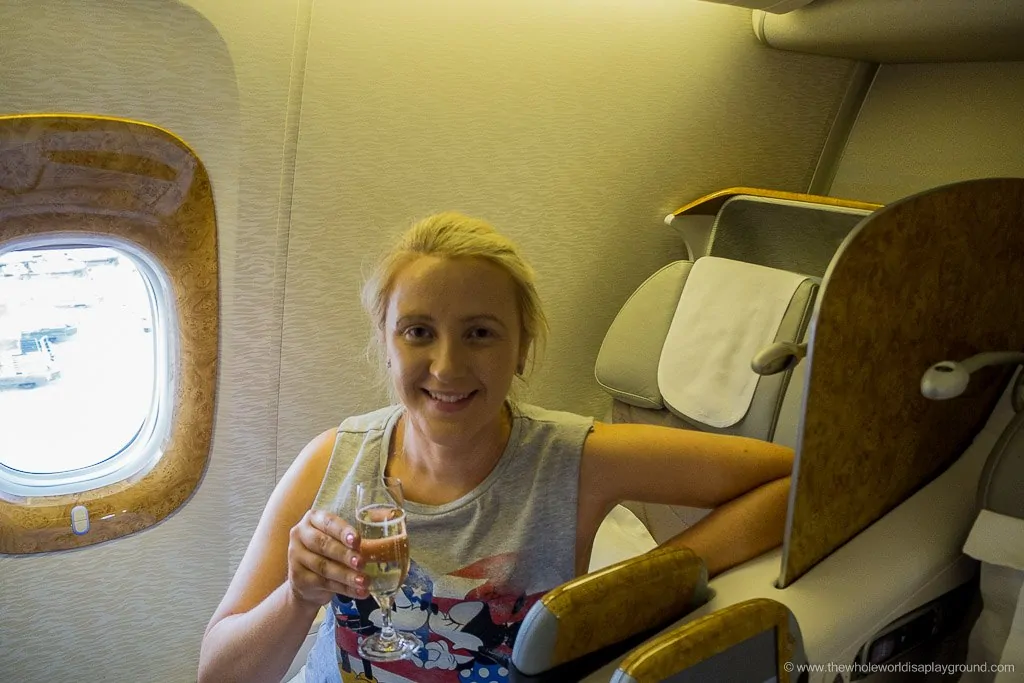 The Cabin
The Business Class section is made up of 42 seats split into two sections. The seating is in a 2-3-2 configuration and the first section consists of two rows and the second of four rows with the galley and bathrooms dividing the cabin. Business Class is bright and airy and the Emirates colour scheme gives the cabin a luxurious edge.

The Seat
We booked our tickets less than one month in advance through a combination of our trip being a relatively last minute jaunt and having destination indecision. Sri Lanka, South Korea, Tokyo, Vietnam…. we had serious trouble narrowing down the wish list! Luckily for us we grabbed the last 2 seater on the Dublin to Dubai flight and were allocated Row 11 which is the last row of the business class cabin.
The business class seats on the Boeing 777-300 are pod like with a wooden divider offering some privacy between the individual seats. The seats are equipped with power supply, a tablet which controls the seat position and entertainment system, a television screen and small storage cubes. A pillow and blanket were on the seat ready for our night time sleep.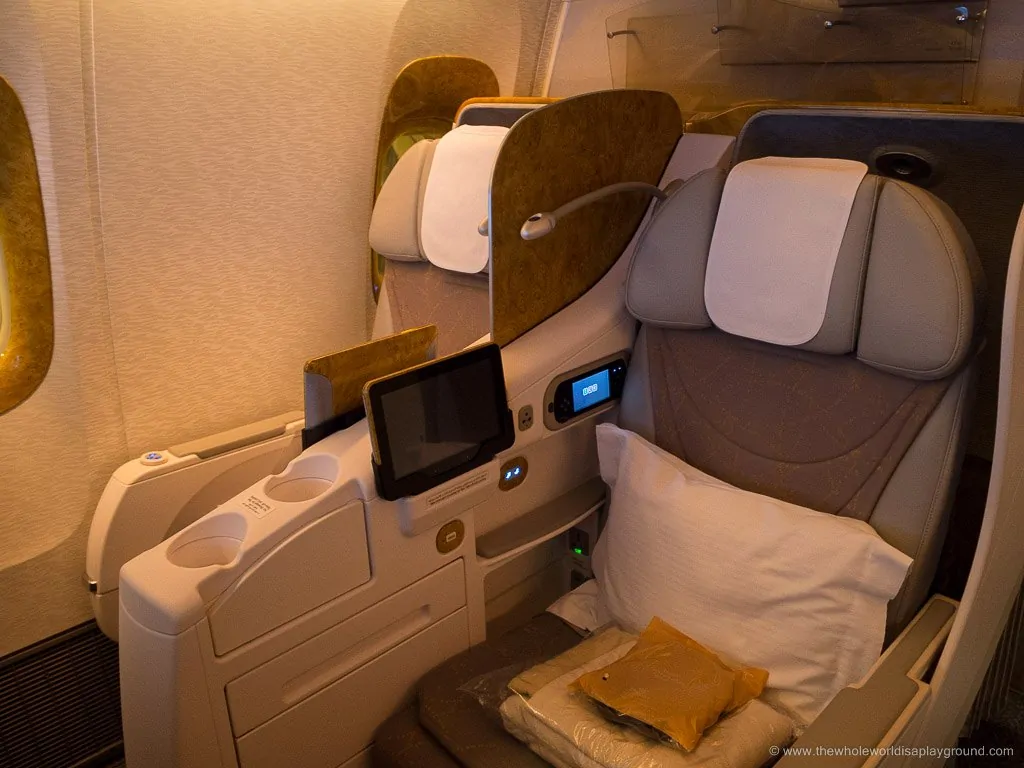 Leg room was a plenty and I had lots of room to stretch out: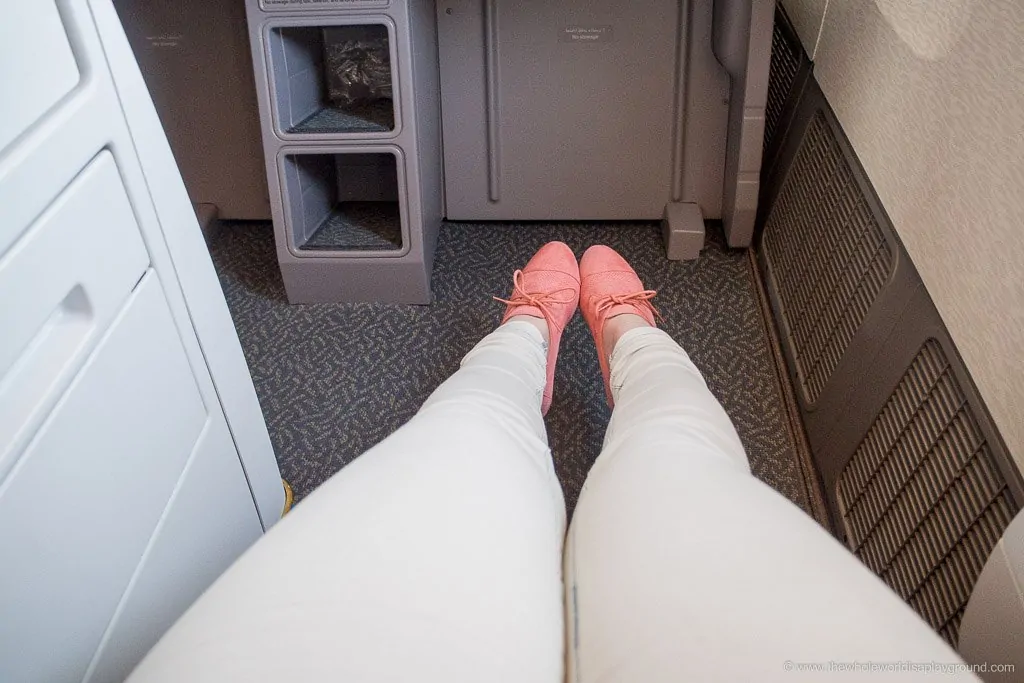 On the return flight from Dubai we were in the two row front section of the business class cabin and we much preferred these seats. The cabin felt very private and quiet in comparison to the much busier 4 row cabin we were in on the way out. It's only an extra 14 seats but the extra traffic is really noticeable especially during the boarding process.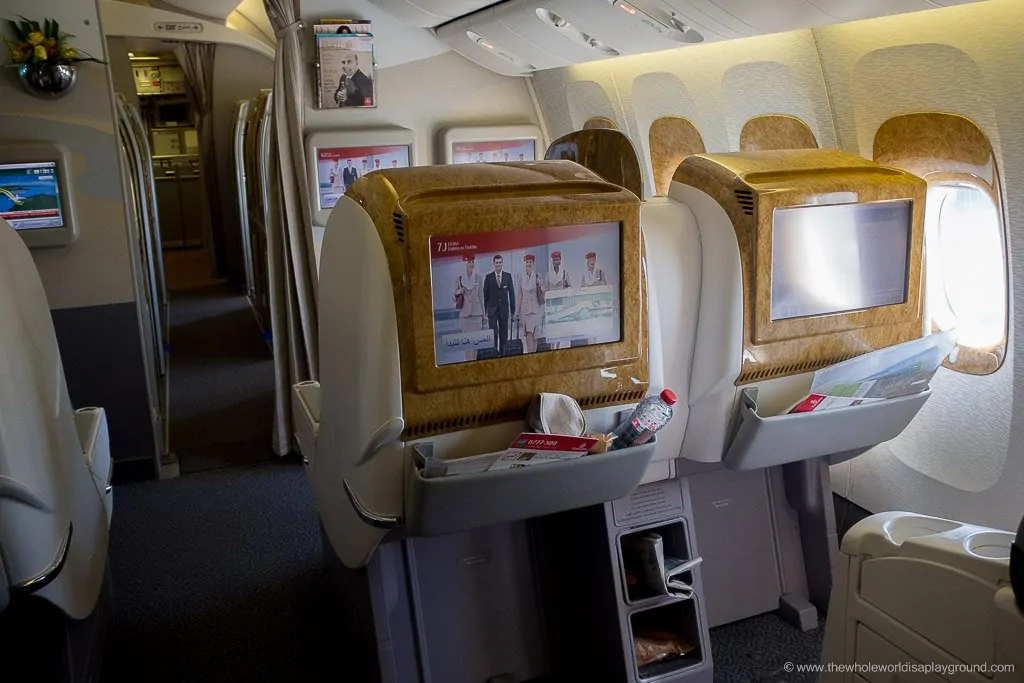 The seat back television screen:

Food and Drinks
A combination of rushing straight from work to the airport and a 10pm flight meant that we opted to skip dinner on the ground and eat on the plane. The menu sounded great and we were excited for the dinner service. Every course was excellent and the food was exceptional for an airplane offering.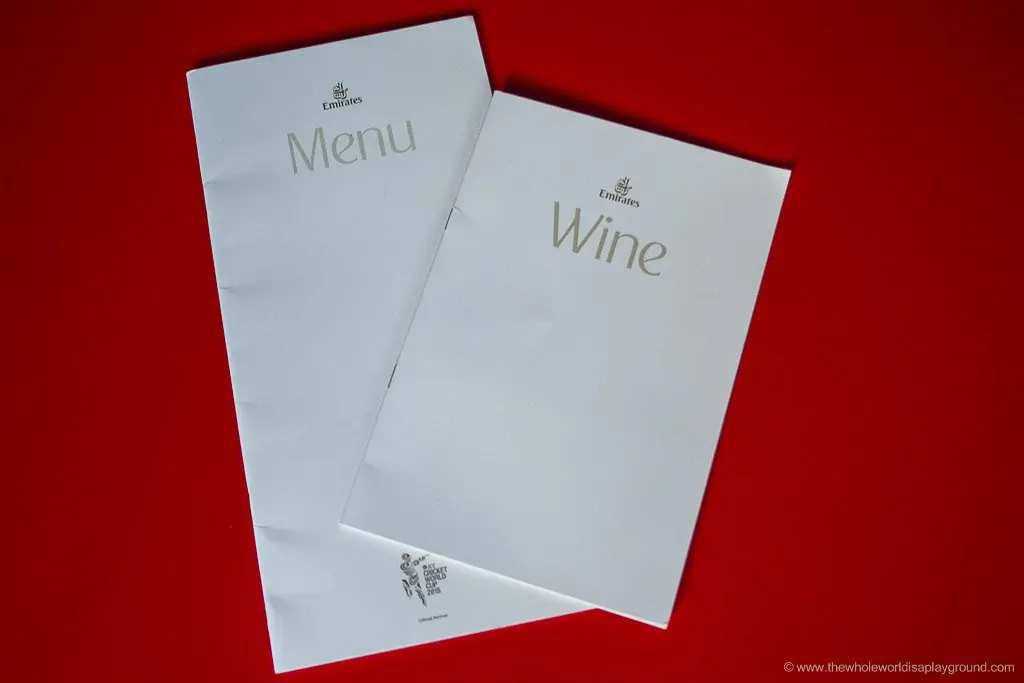 Dublin to Dubai:
Our starter choices were seared tuna, smoked chicken and tomato soup and the mains were chicken, fillet of beef and a seafood ragout. There were no less than 4 dessert choices including a cheeseboard, a fruit salad, panna cotta and a mousse.
We chose the smoked chicken and seared tuna for starter, the seafood ragout and chicken biryani for mains and a cheeseboard and fruit salad to finish up. By the time the crew took our order the only main still available was the seafood ragout and our request for a chicken biryani was met with a take it or leave it shrug of the shoulders. The decision to leave it prompted a mission to the first class cabin to see what they could rustle up and a chicken biryani materialised after some delay. All in all, it was a lot of effort for what I consider standard service in a business class cabin to have a selection of meals available to all passengers.
The seared tuna meal tray: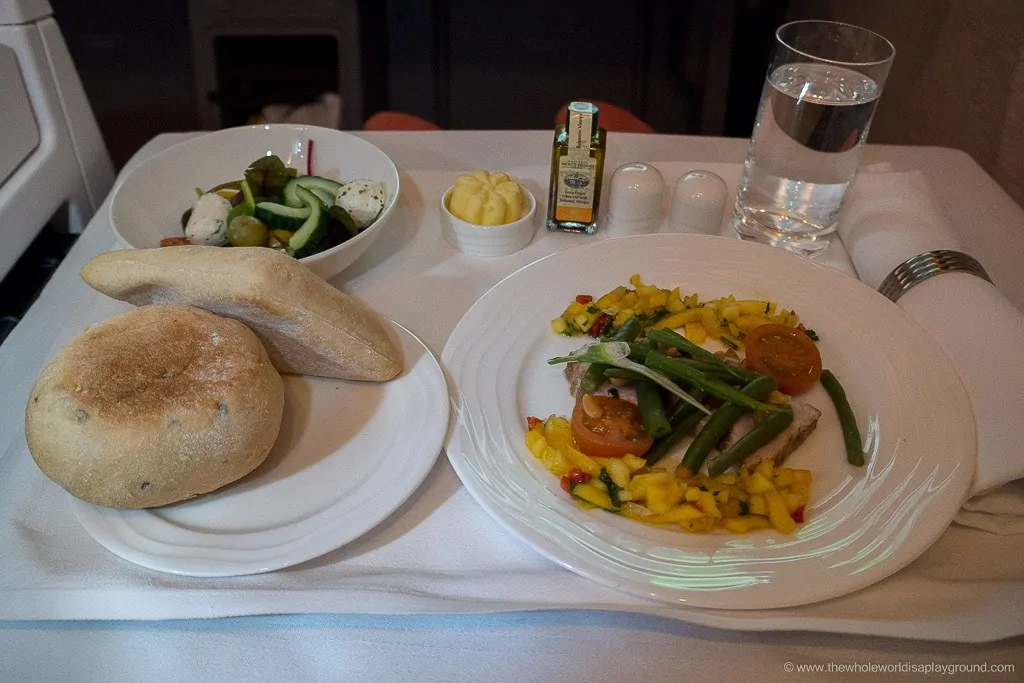 Olive and mozzarella side salad: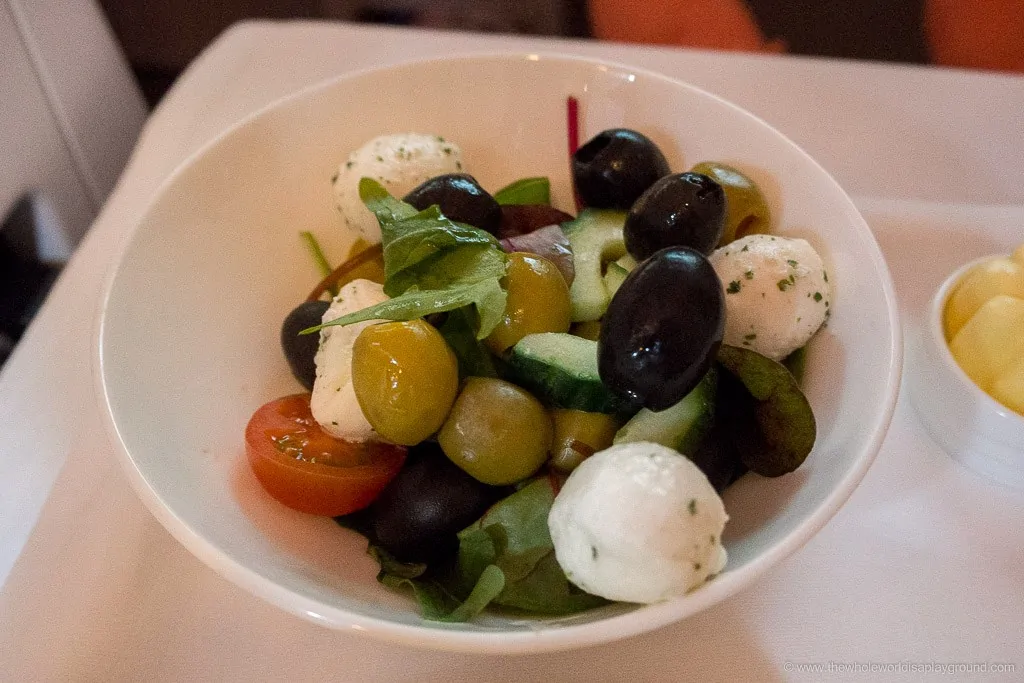 Smoked chicken: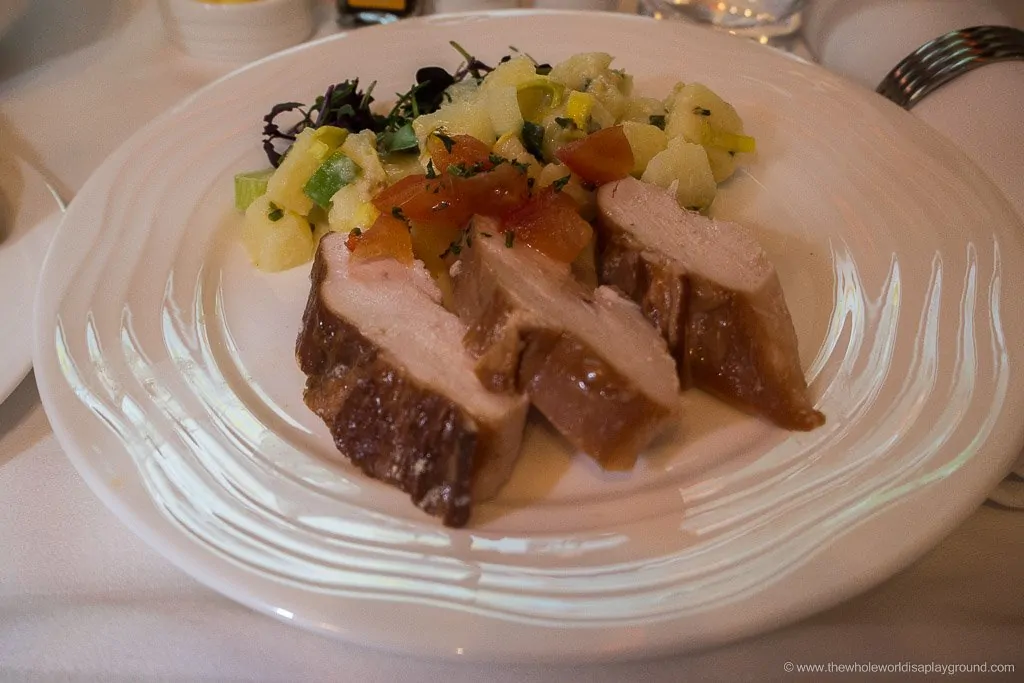 Seafood ragout main course: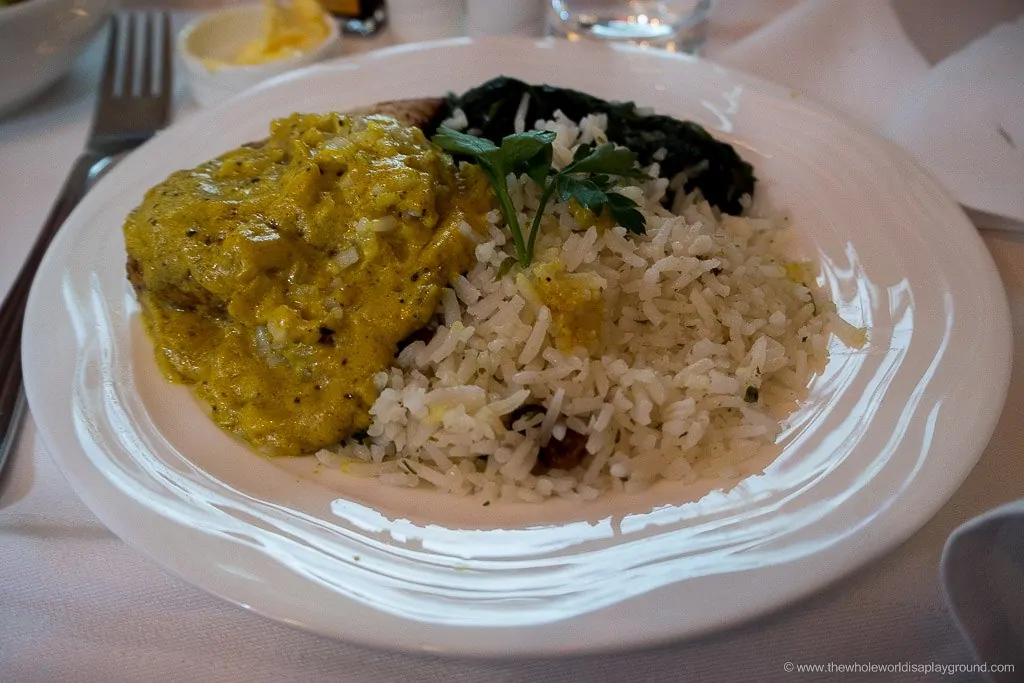 Cheese please!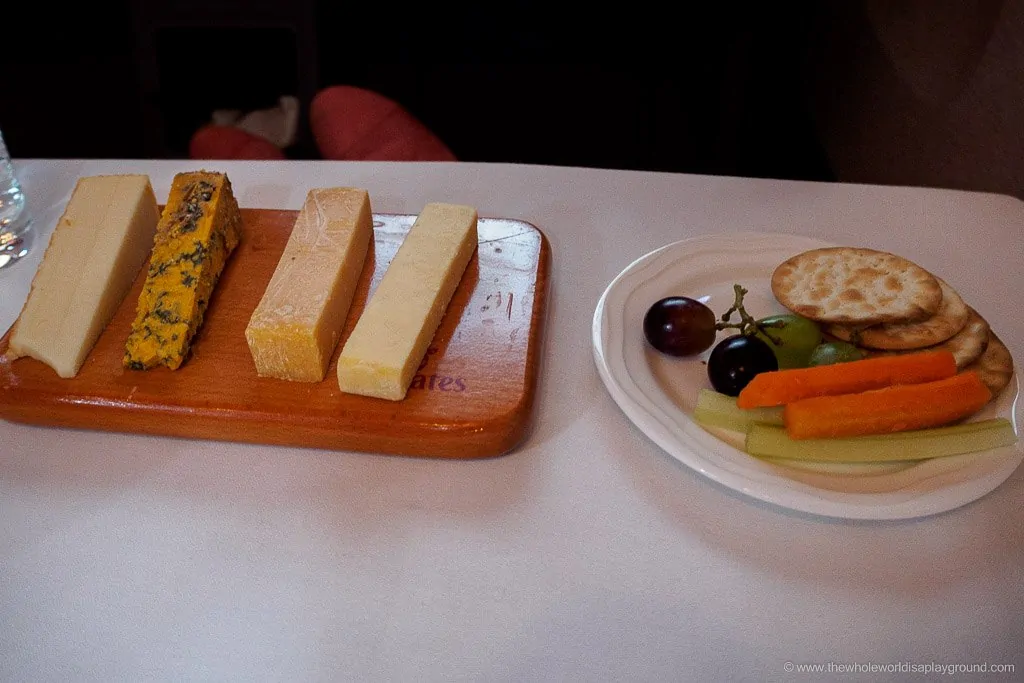 Fruit salad: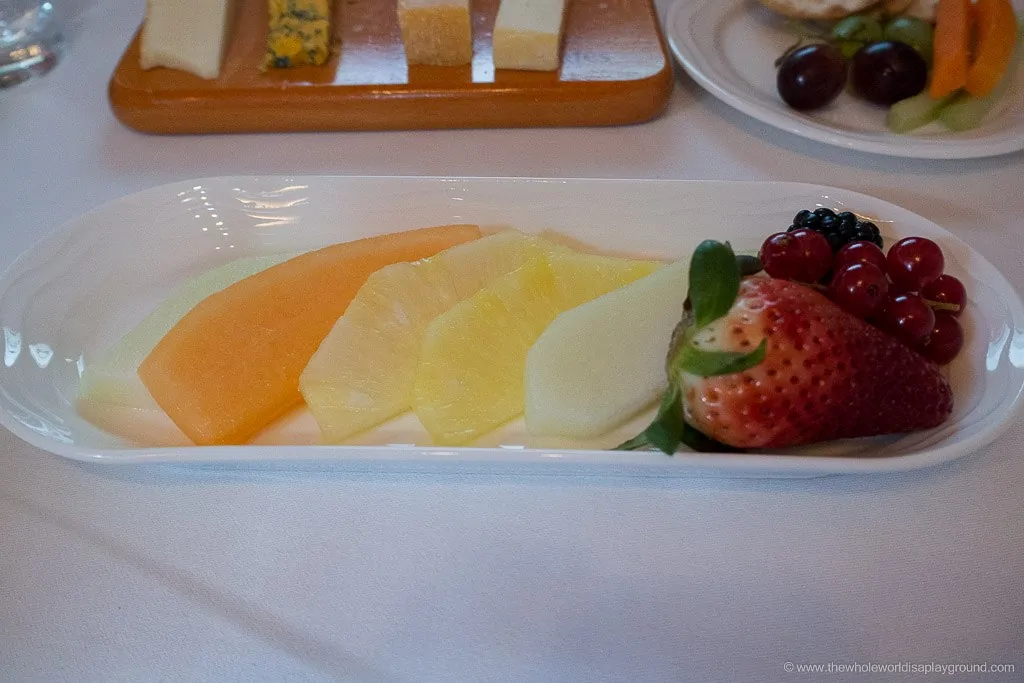 Champagne breakfast in style!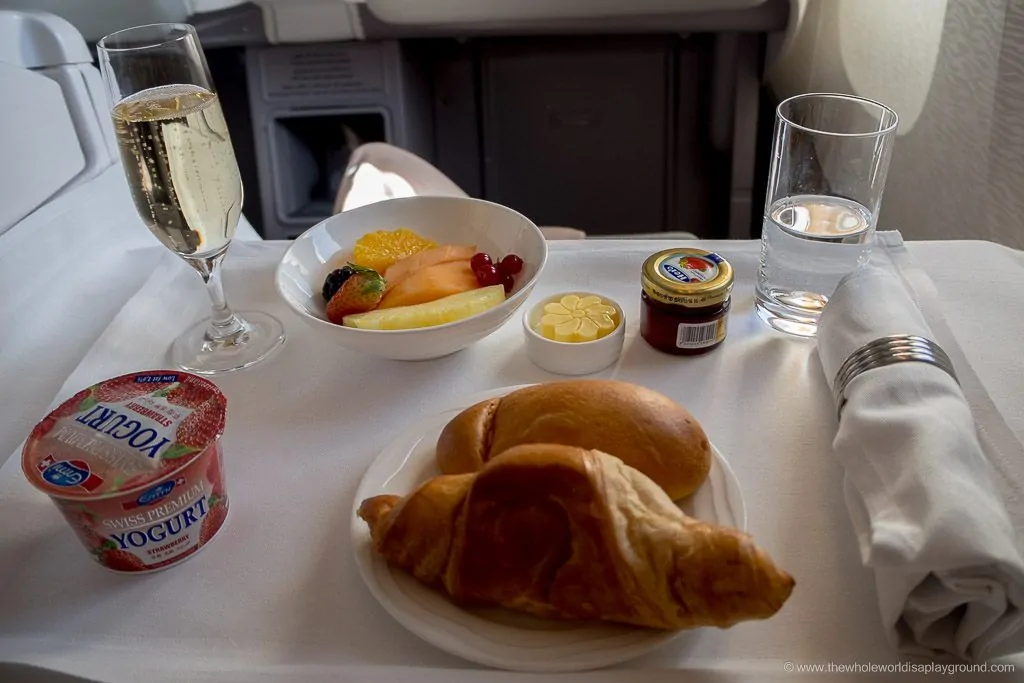 Dublin to Dubai dinner menu: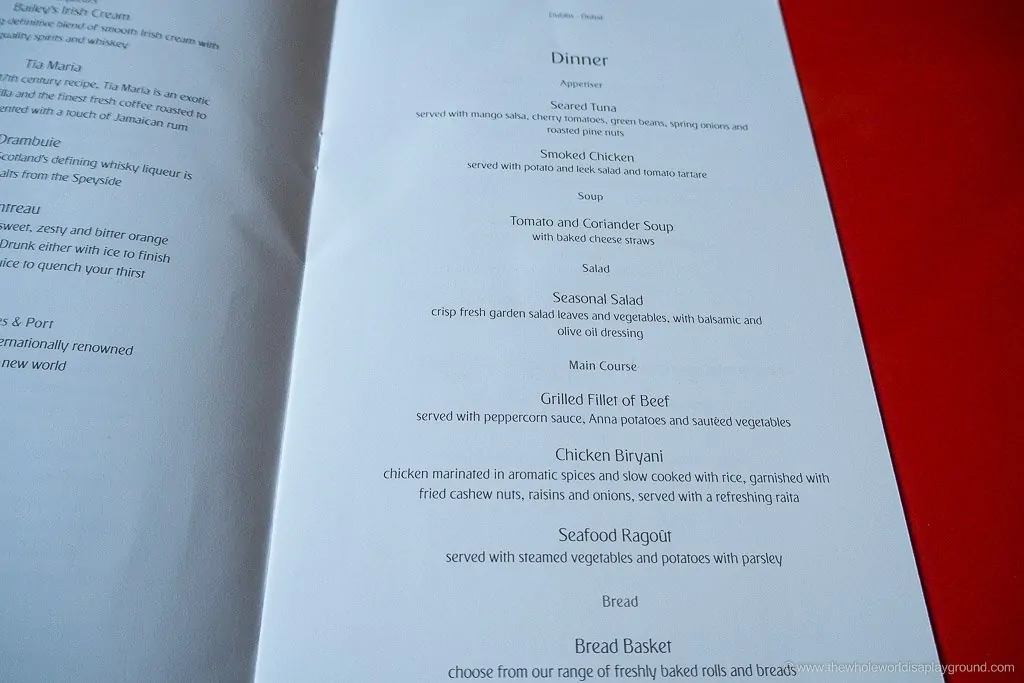 Dublin to Dubai dessert and breakfast menu: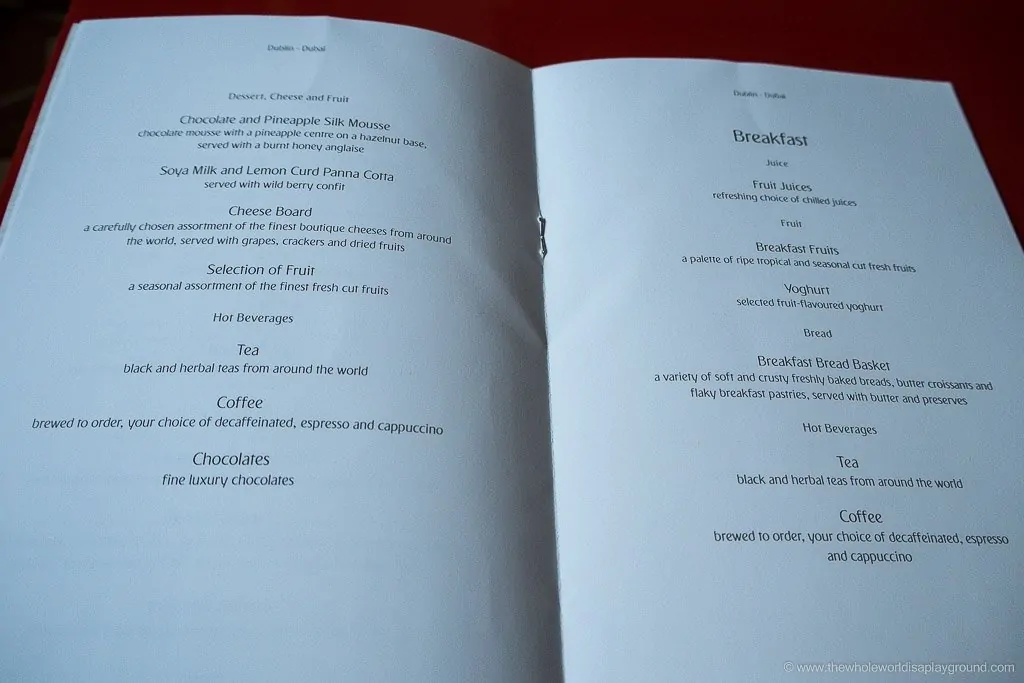 Dubai to Dublin:
Our early morning Dubai to Dublin flight followed a long night of flying from Ho Chi Minh but we had slept well and were ready to enjoy our last 8 hours of Emirates Business Class fun! We skipped breakfast having eaten on the previous flight and in the lounge and, by the time lunch came around, we were happy to indulge.
The starter choices included an Arabic Mezze, herb coated tuna and a lentil soup and the mains selection was a herb crusted lamb, marinated prawns and a chicken and mushroom stew. The desserts of banana cheesecake, a chocolatine, a cheeseboard and a fruit salad were equally appealing.
We opted for the Arabic Mezze and tuna for starters, lamb and stew for mains and a cheeseboard for dessert.
The Arabic Mezze lunch tray: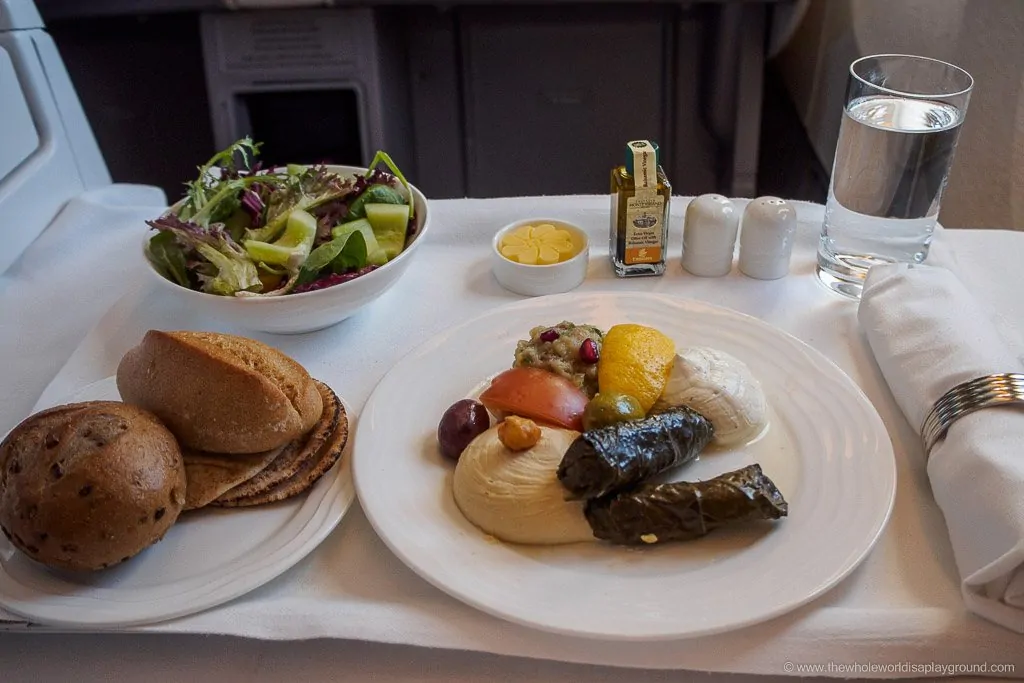 A close up of the delicious Mezze: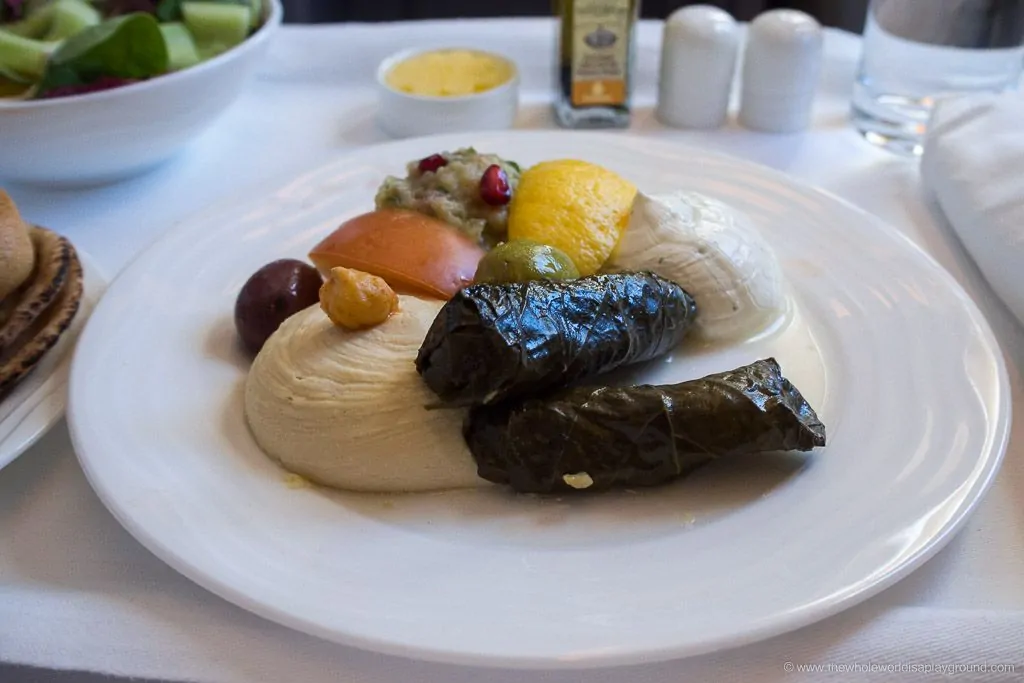 Tuna: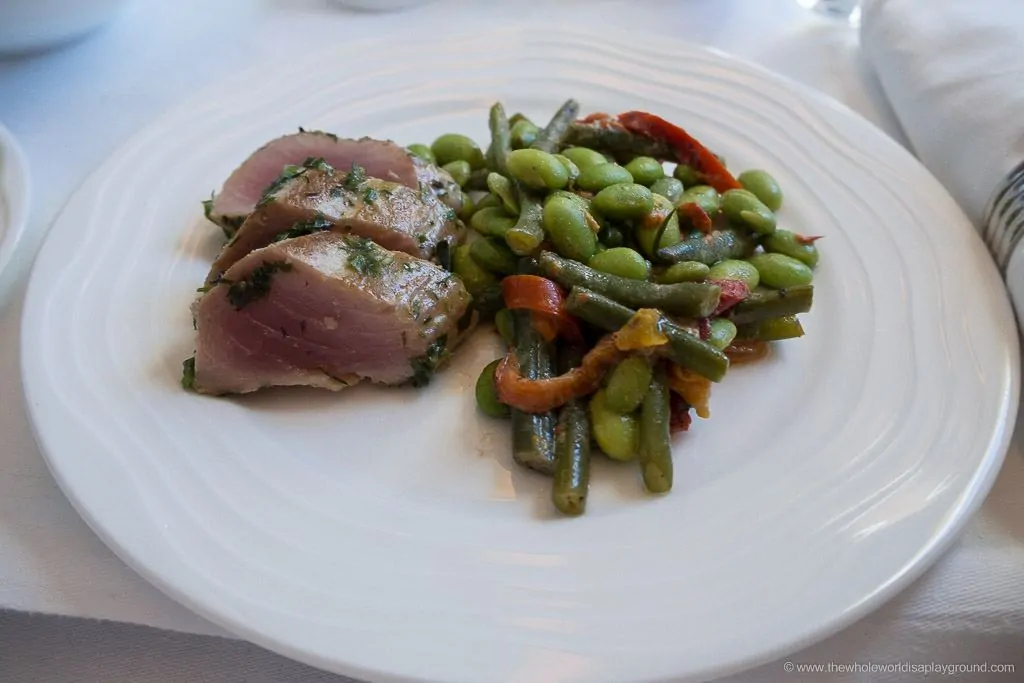 Chicken and mushroom stew: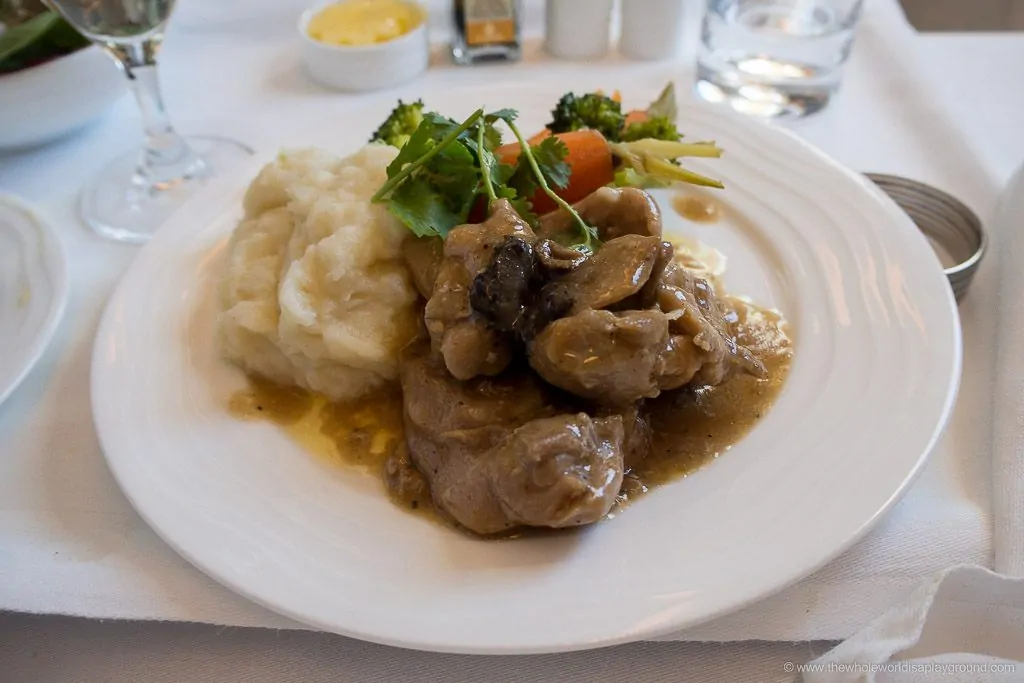 Lamb: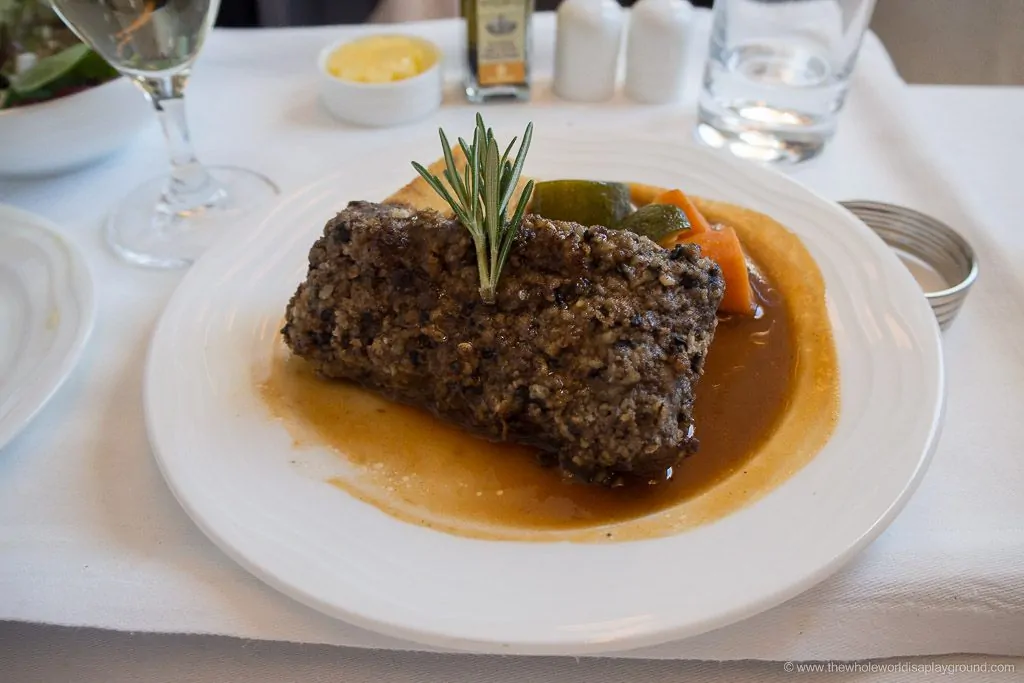 The cheeseboard: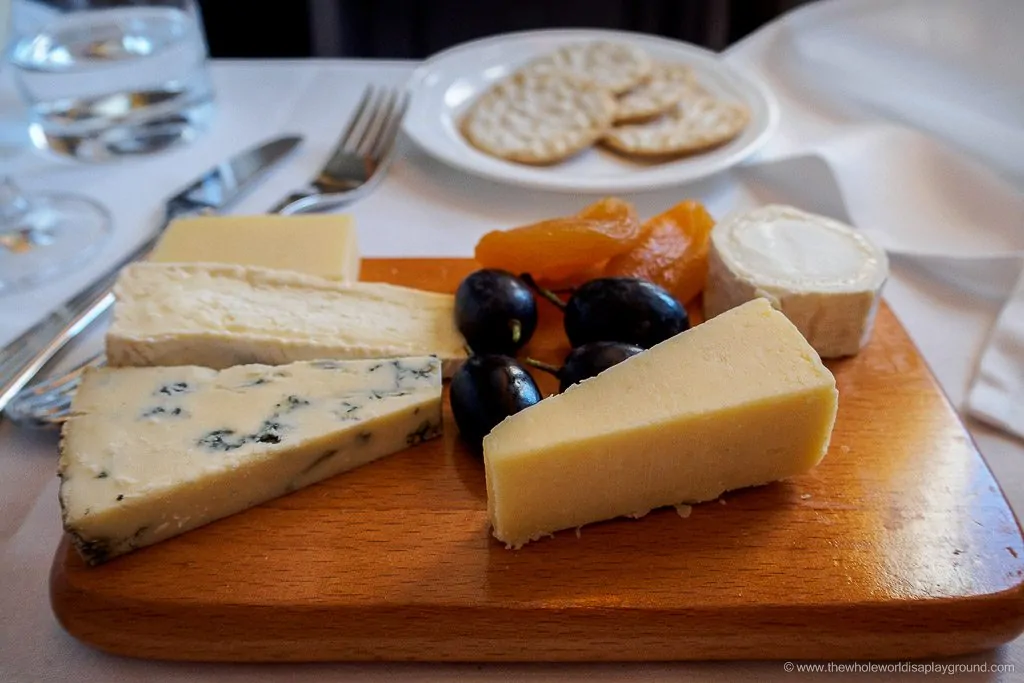 Dubai to Dublin breakfast menu: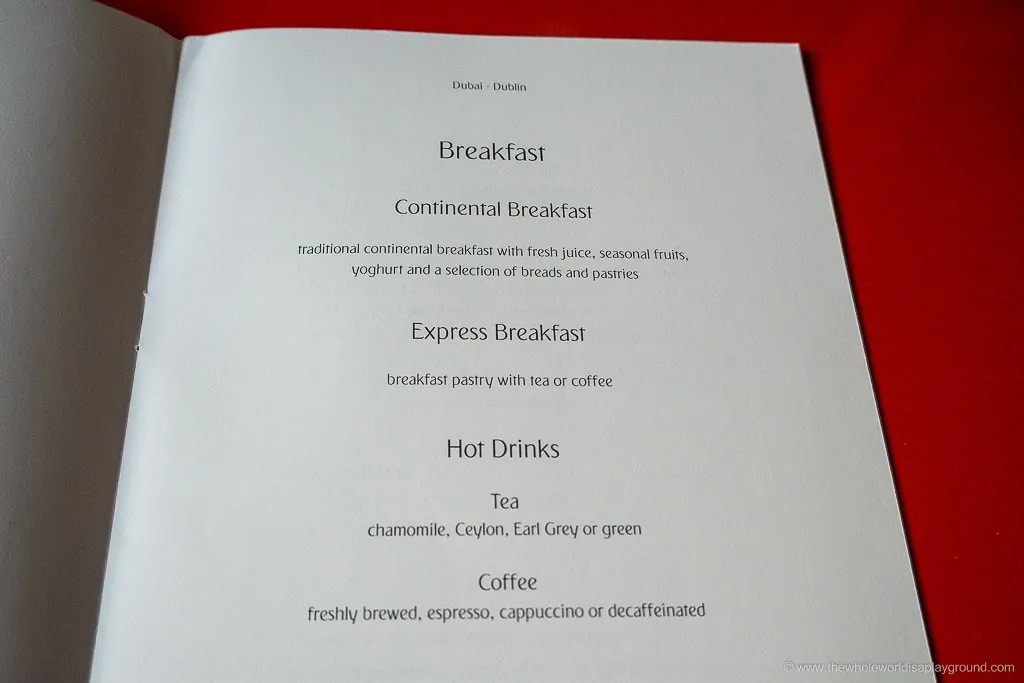 Dubai to Dublin lunch menu: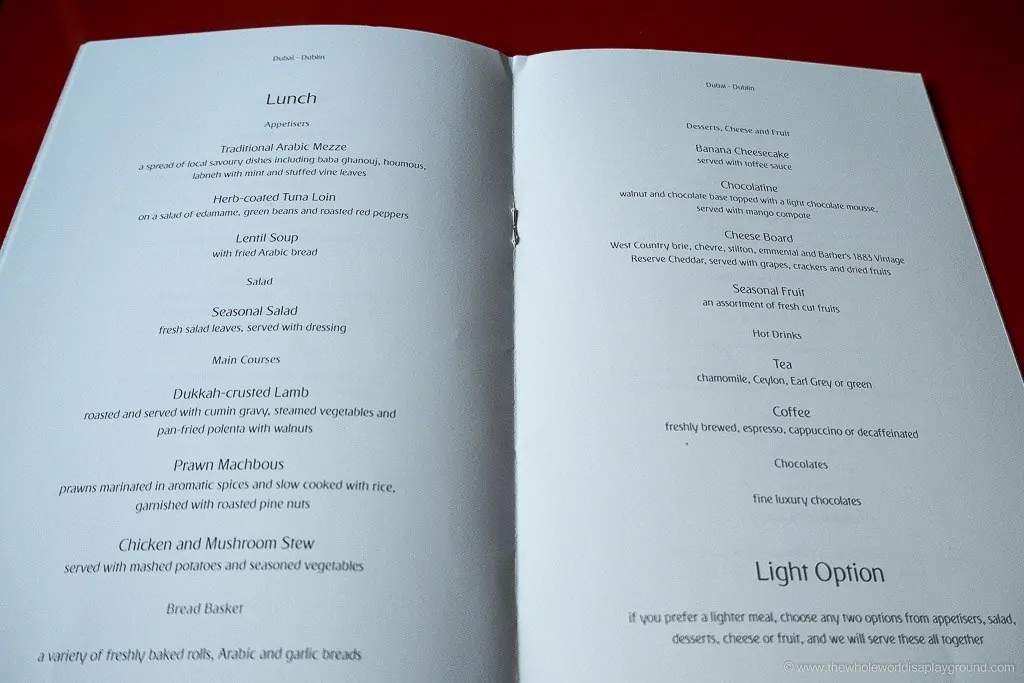 Drinks:
The drinks selection was vast and the champagne was our tipple of choice together with a pre dinner cocktail. I repeat, Emirates serve cocktails on a plane! This is totally awesome! We sampled the Veuve Clique champagne and indulged in a Mojito and an Orange Fizz mocktail on the outbound flight and a Cosmopolitan on the return.
A gorgeous red Cosmopolitan: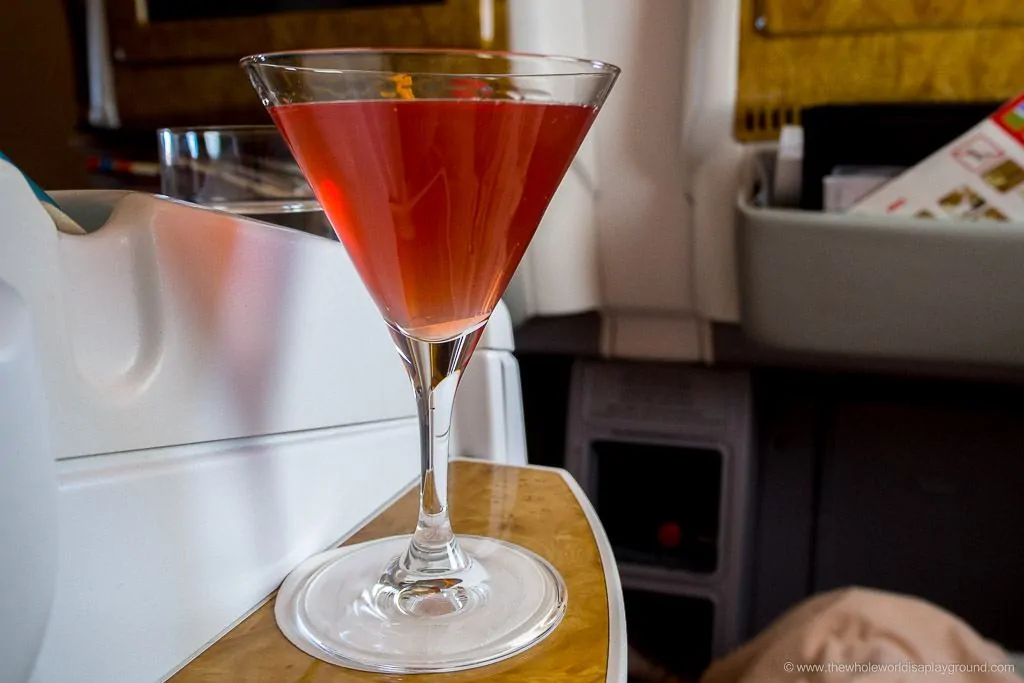 Champagne time: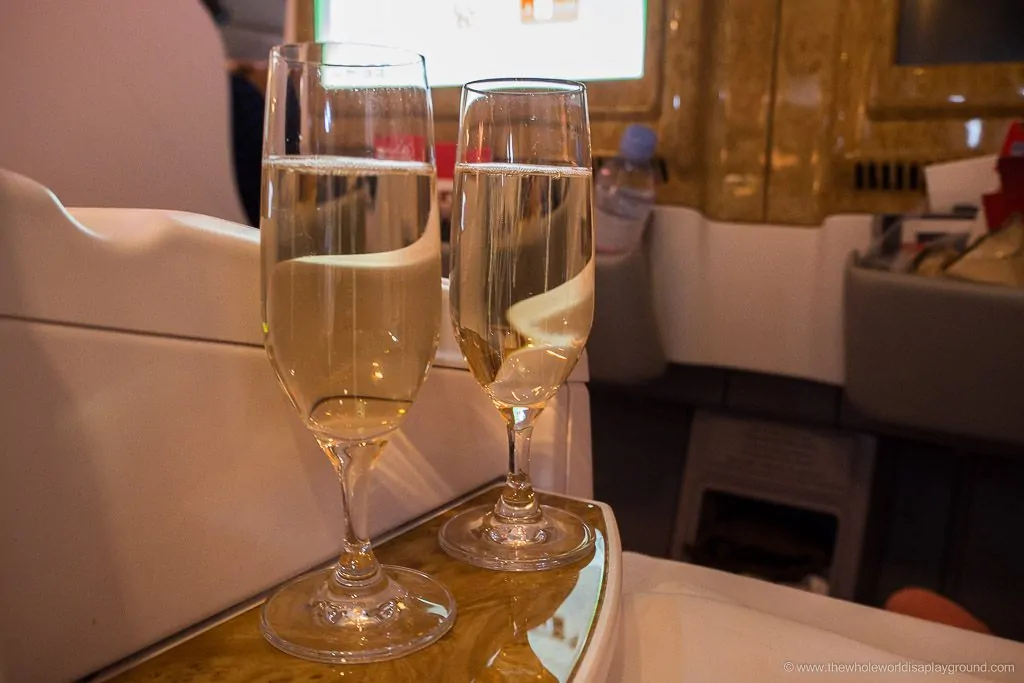 A Mojito and non alcoholic orange fizz:

The drinks menu: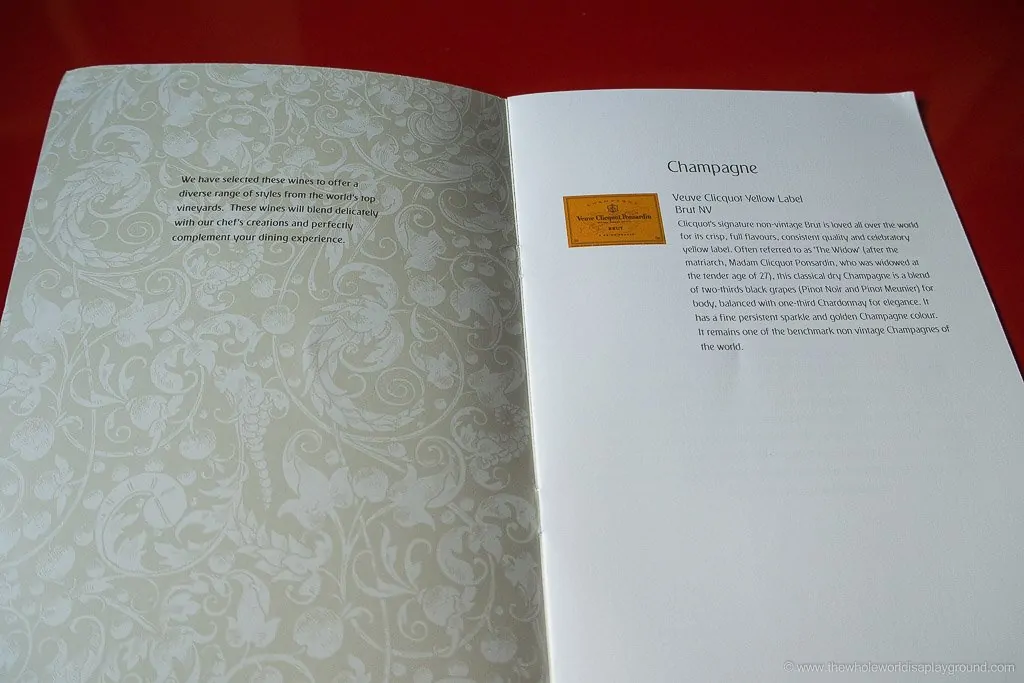 Wine options: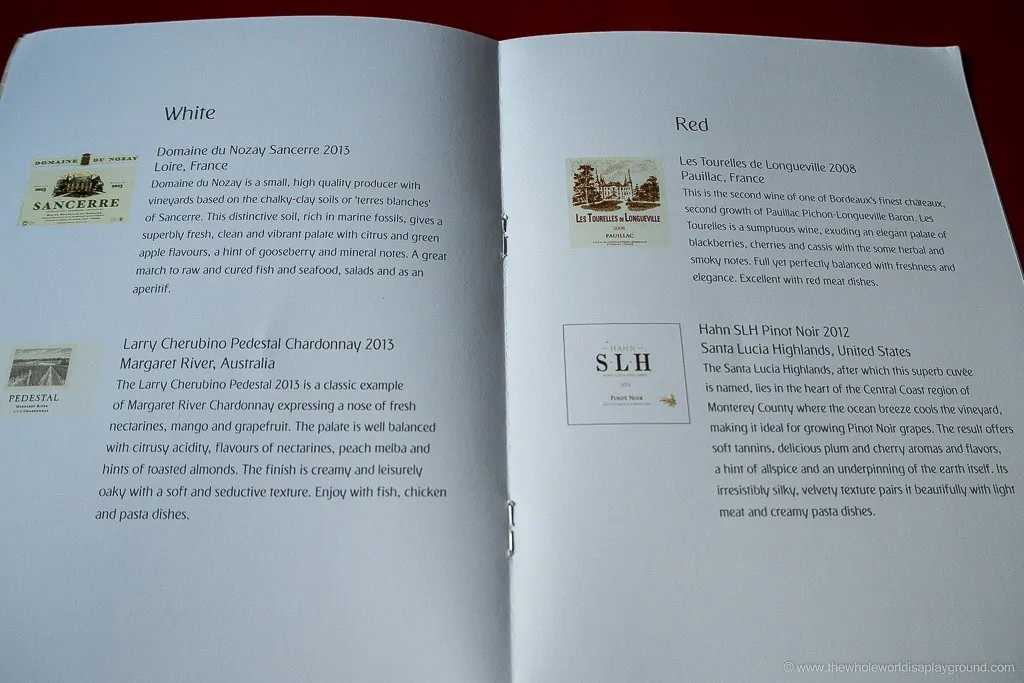 Port: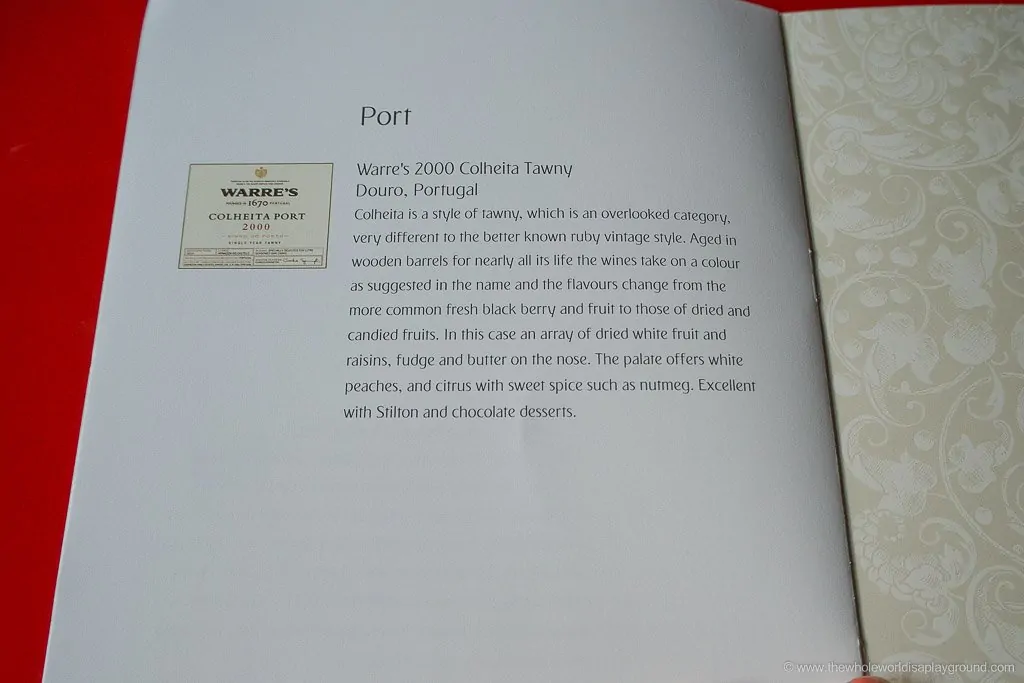 Bar Service menu: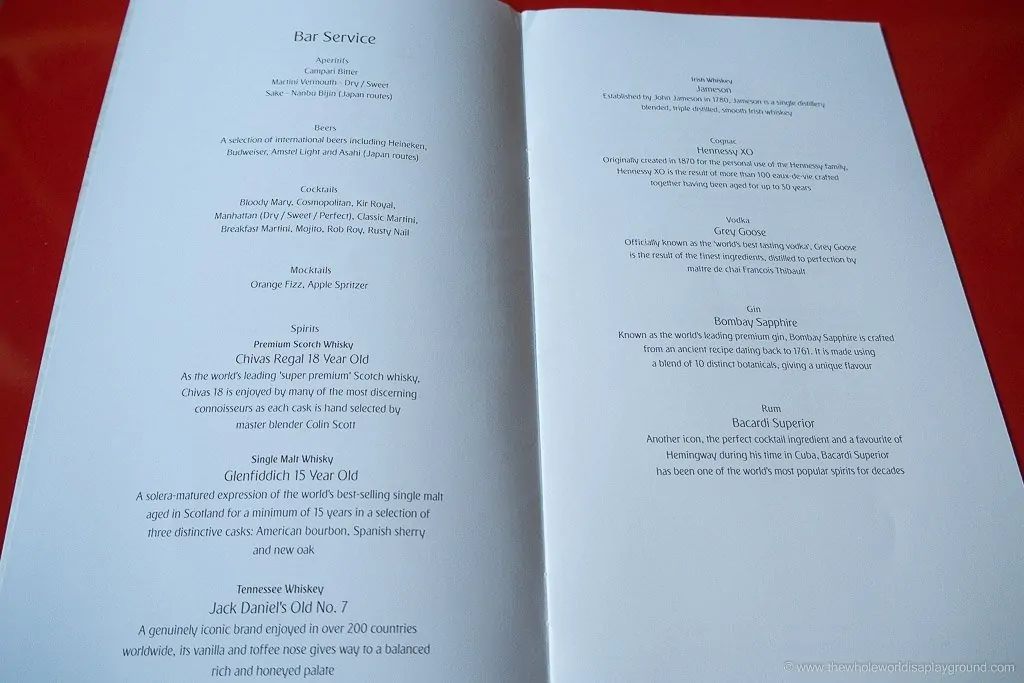 Sleep time!
Tired out after all the fun, it was time to convert the seats into beds and take a well earned nap. The seats do not convert into flat beds on the Emirates Boeing 777-300 and the angle of the bed is noticeable. The crew provided us with a pillow and mattress topper and the cabin lights were dimmed. The seat was quite comfortable  and the starry cabin ceiling was a nice touch but a flat bed is always preferable and Emirates disappointed on both our flights in this respect.
The angled bed:
Amenity Kit
Emirates distribute amenity kits on night time flights only so we received one our Dublin to Dubai flight but not on the return leg. The contents included some Bvlgari toiletries, a travel hair brush, a travel mirror, toothpaste and a refreshing towel. Eye masks and dental kits were available in baskets in the bathrooms.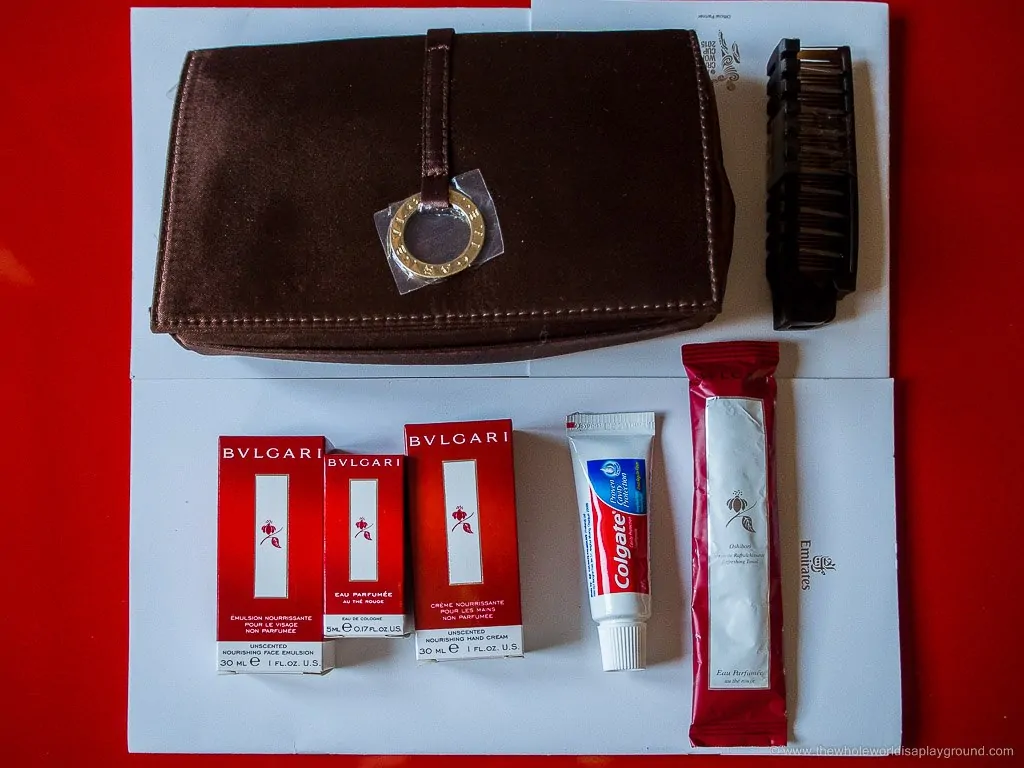 Overall
We really enjoyed our Dublin to Dubai flights in Emirates business class. The food, drinks and cabin were all excellent although the absence of a lie flat bed is disappointing. The generic Dublin lounge does little to set the tone of Emirates and is in stark contrast to the excellent Dubai lounge. One thing is for certain: the business class product on the Boeing 777-300ER is a huge step above the Dubai to Ho Chi Minh route on the A340-300 (trip report coming soon) which we connected onto!
Now that's a welcome home! Our chauffeur service at Dublin: