We stopped by the Emirates Dubai Business Class Lounge in the C Concourse during a stopover on our recent Vietnam trip where we flew from Dublin to Ho Chi Minh with Emirates. Our connection time was tight but thanks to a slightly early landing in Dubai we had some time to explore the lounge and relax before our next flight. After a long walk over from the A gates where we landed (check out the lounge in the A Concourse here) we arrived at the lounge 30 minutes later in need of some rest and relaxation before we boarded our flight to Ho Chi Minh!
The Lounge
The Emirates C gates lounge is large but not nearly as big as its A gates counterpart (check out our review of the A concourse lounge here) and is decked out in the typical Emirates neutral decor of browns and creams. The split level lounge is light and airy with views over the gates below.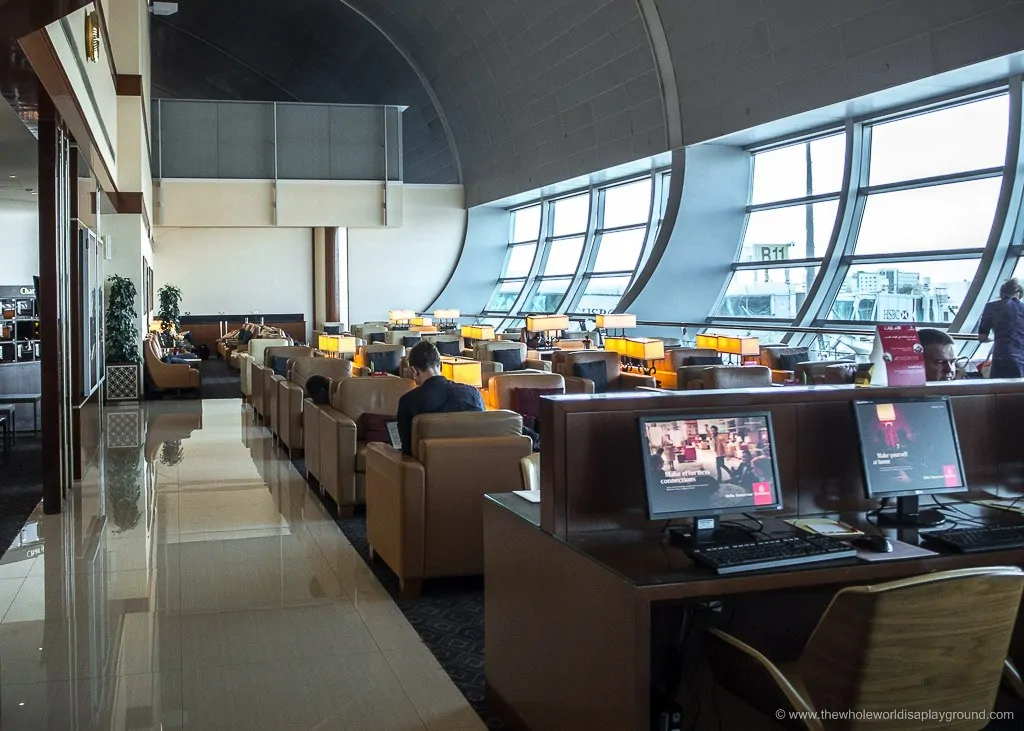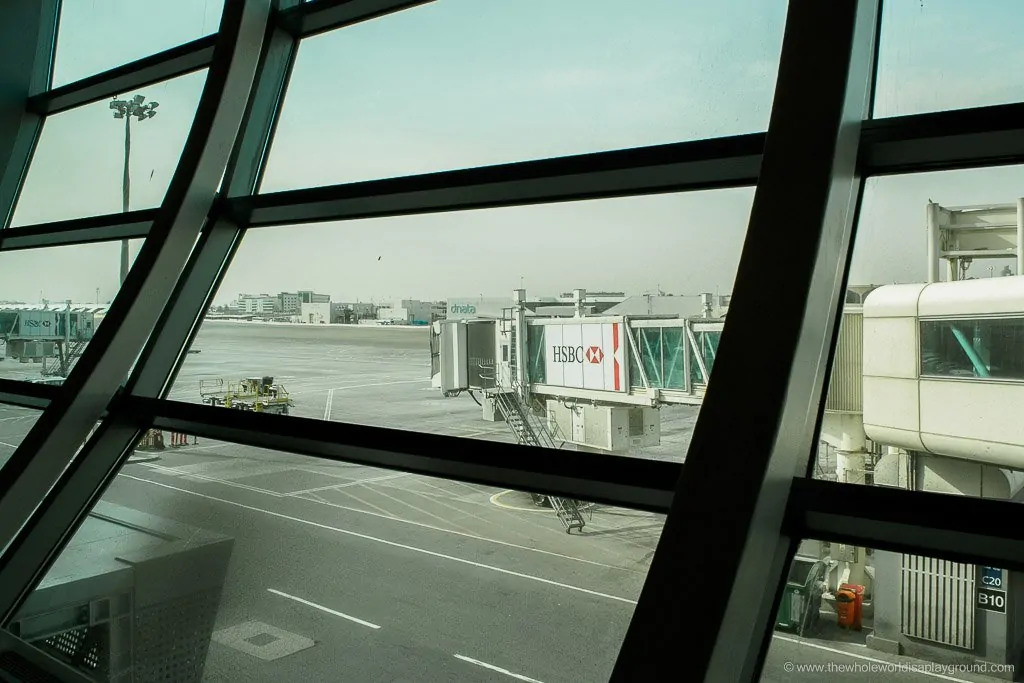 Priority Pass Lounges
A Priority Pass membership allows you to access Priority Pass lounges whoever you fly with no matter your class of travel. Anyone who flies regularly should seriously consider joining Priority Pass as their lounges significantly improve the travel experience. We love the app which allows you to check in at each lounge and overall the quality and availability of lounges around the world are very good. We've personally used Priority Pass for the past few years and highly recommend it.
There are three options available, standard, standard Plus and Prestige. We recommend the Prestige pass for frequent travellers (it's the one we use!) which offers unlimited visits throughout the year.
Click here to get your Priority Pass now!
Lounge Seating
The lounge is a mix of comfortable armchair seating areas with side tables and a separate main dining area with restaurants like tables and chairs. The mezzanine is a little more relaxed with some bed like lounges but they were in high demand!
Main lounge area downstairs: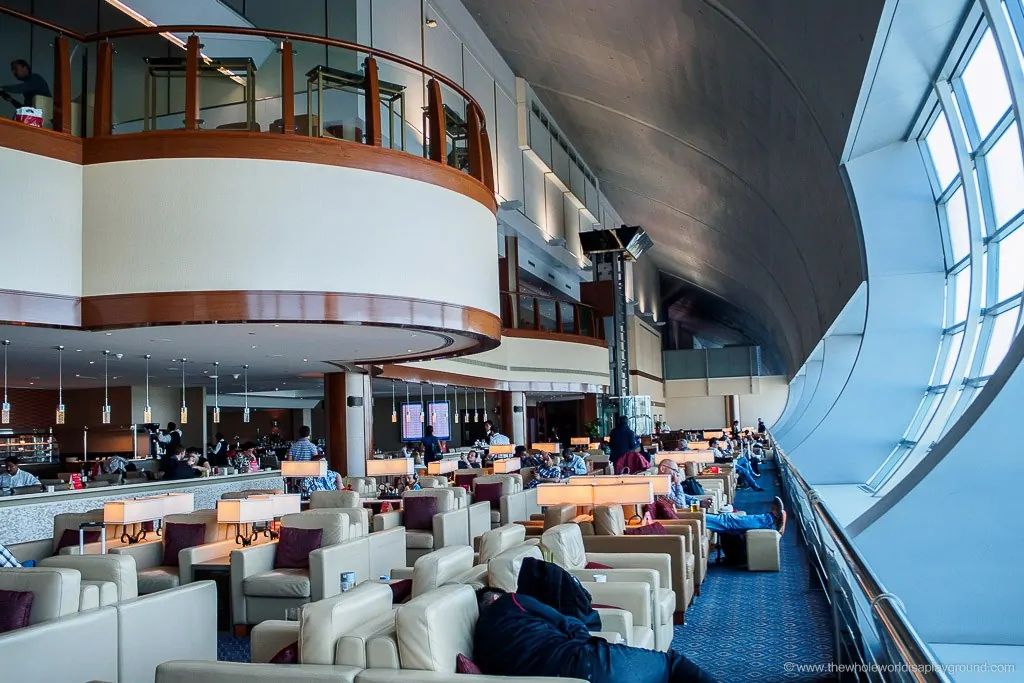 The main dining area: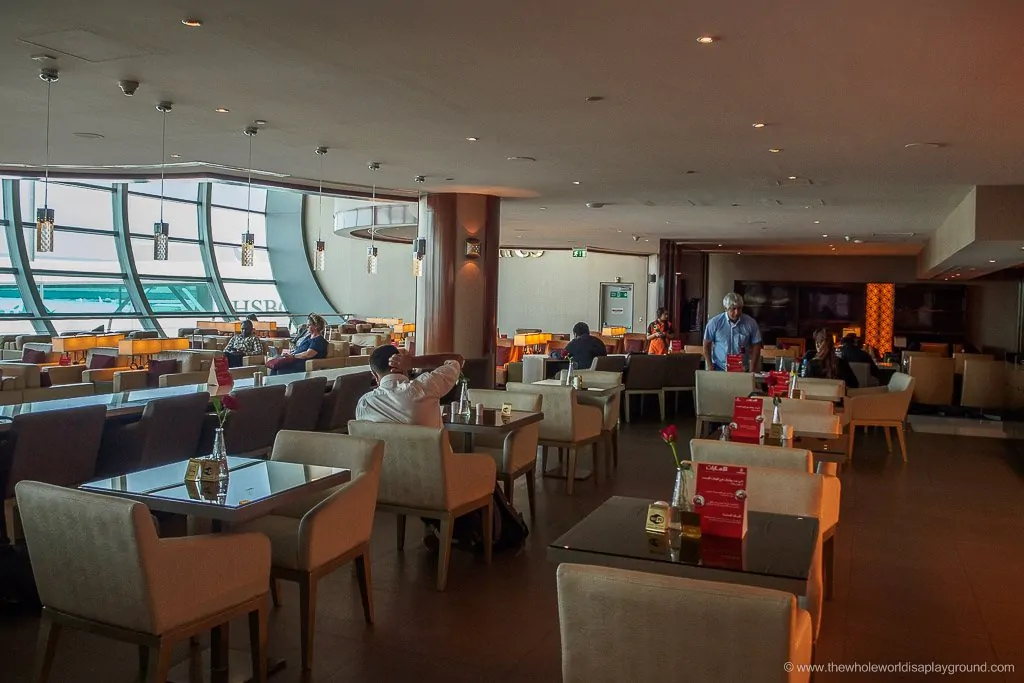 Food and Drinks
Breakfast was in full swing during our early morning visit and there was a varied selection of pastries and cold foods such as yogurt and salmon. The hot food offering included traditional breakfast foods like beans and eggs as well as some Middle Eastern dishes. The drinks selection was vast albeit unappealing at such an early hour! A separate dining area is a nice addition and we enjoyed the restaurant style seating.
Breakfast pastries: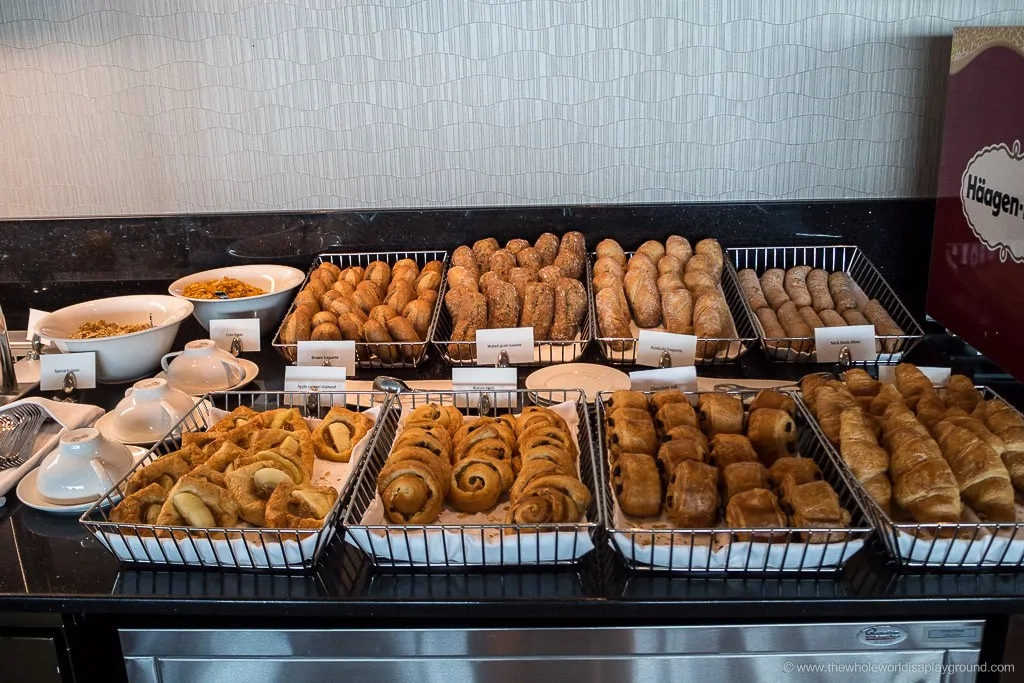 Cold foods: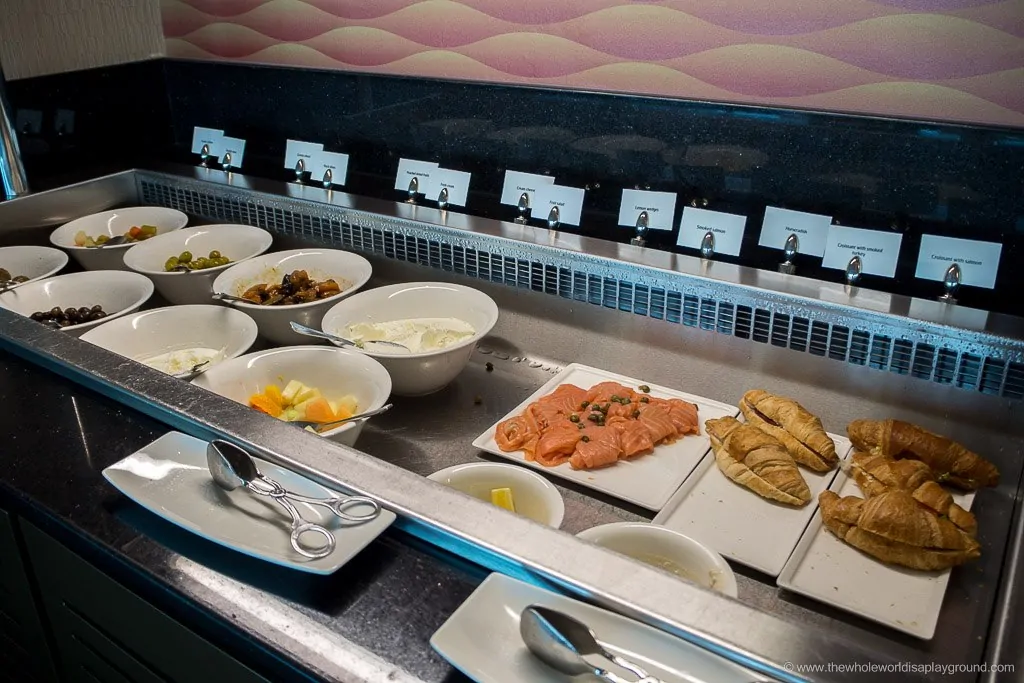 Deli delights: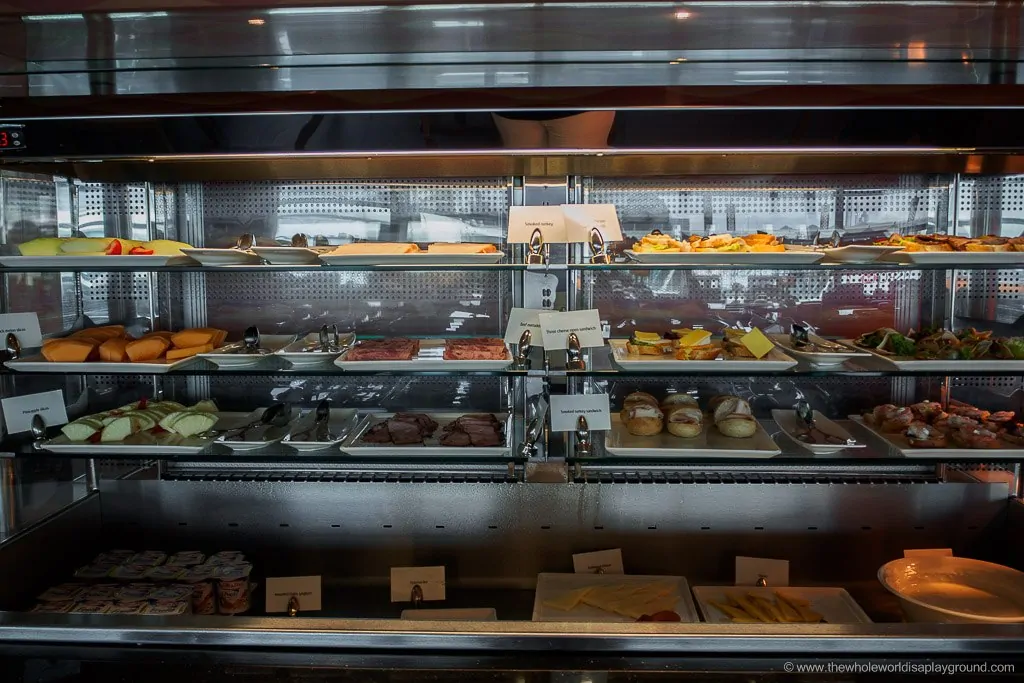 Hot food:
It's too early! The spirits on offer: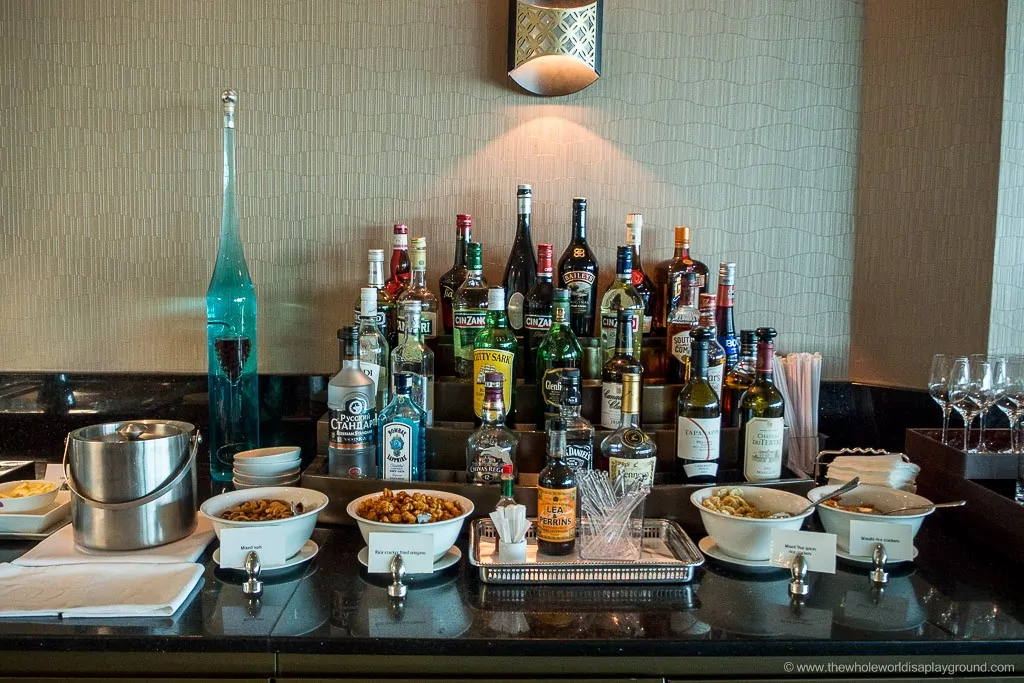 Facilities

Wi-fi was accessible throughout the lounge and computers were available. The lounge was busy and there seemed to be a considerable queue for the showers.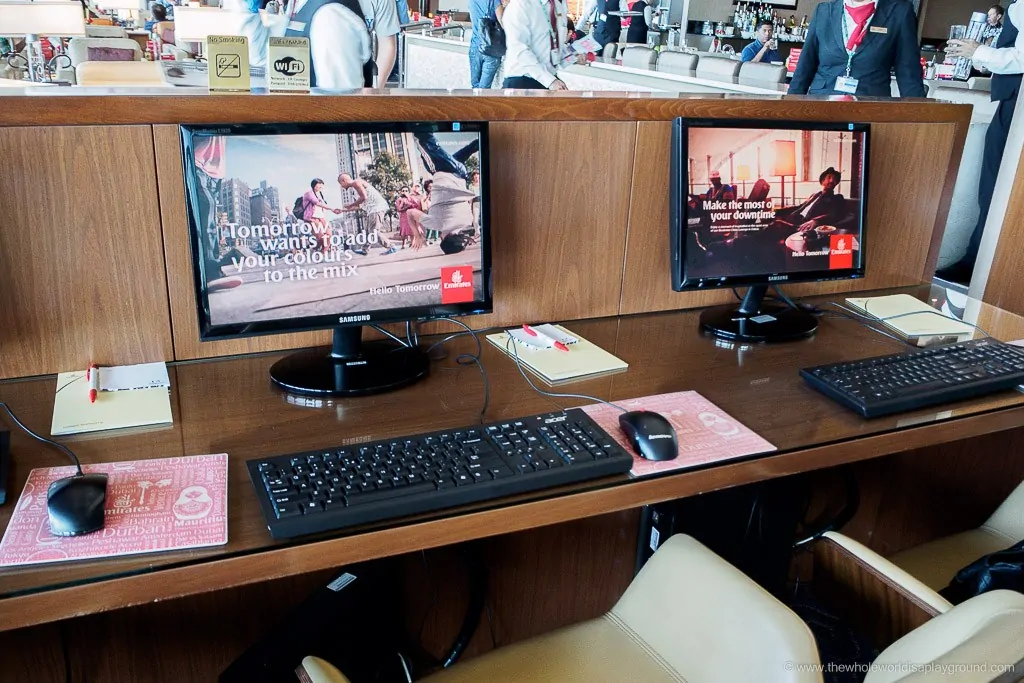 Lounge Access
We entered the lounge with our business class tickets from Dublin to Ho Chi Minh. Business and First Class passengers can avail of the lounge as well as those who are eligible under the Skywards Frequent Flyer program.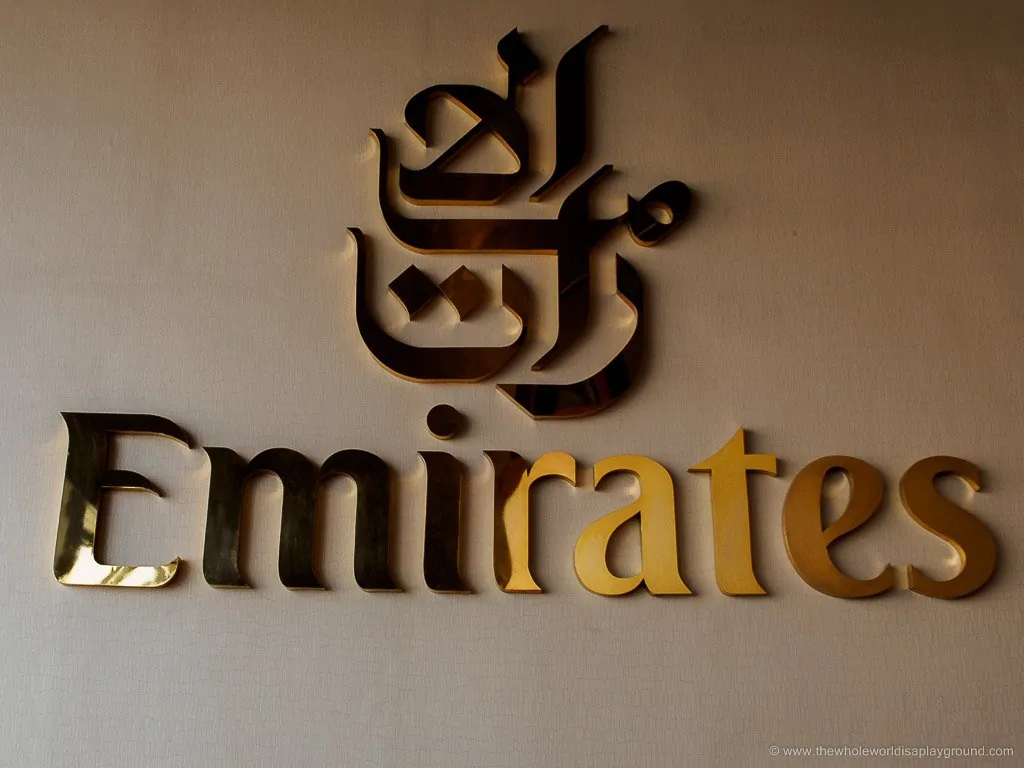 Overall
Visiting the Emirates Concourse C Business Class Lounge is an enjoyable experience and the space is airy and well maintained. It did get crowded during busy periods and comfortable seating and showers were in high demand. It's very different from the very new and very large Concourse A equivalent (read about our visit here) but we enjoyed both visits and each was a welcome retreat from the busy terminal.
Read more about our week in Vietnam here!