With our two week Myanmar adventure fast approaching we spent many hours planning our itinerary and finalising the budget for our trip. We found our perfect Myanmar route from Yangon to Lake Inle to Mount Popa to Bagan to Mandalay and spent an amazing two weeks exploring the country.
To help any of you Myanmar trip planners out there we wanted to share our itinerary: everything from our route, the transport we used, the hotels we stayed in, the sights we saw and how much we spent. Happy planning!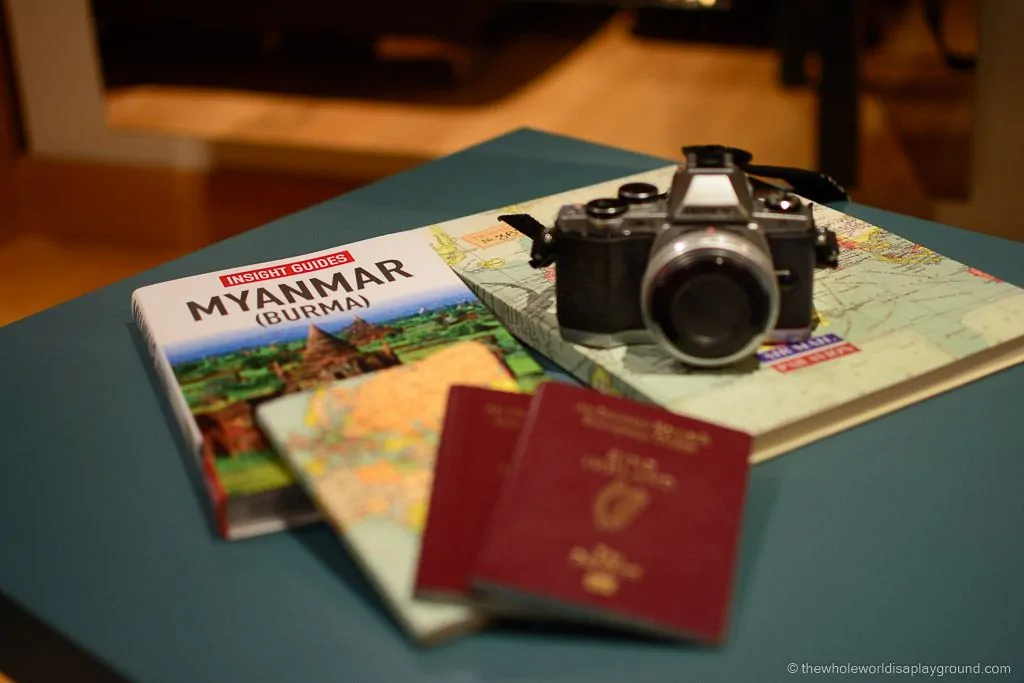 Our Myanmar Route
Our route is based around the classic tourist triangle route of Myanmar.
Bangkok –> Fly into Yangon –> Bus to Lake Inle –> Bus to Mount Popa –> Taxi to Bagan –> Express Boat to Mandalay –> fly to Bangkok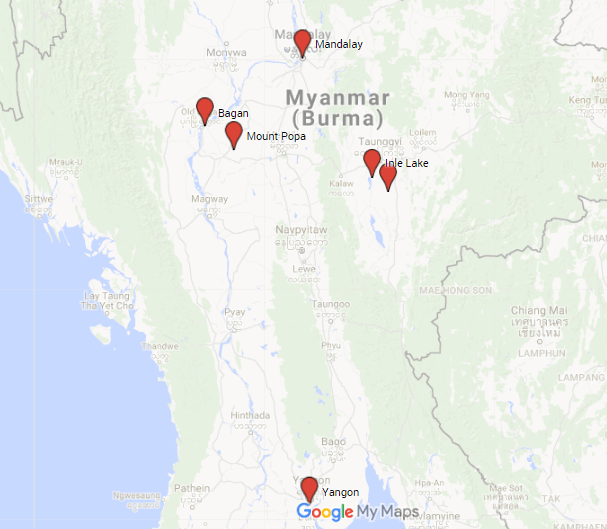 Day 1: Arrive in Yangon
Accommodation:
Chatrium Hotel Our room included an airport transfer, 2 pieces of laundry per day and snacks and drinks in the Club Lounge. we loved the location and spent lots of time in the calm oasis of the nearby Kandawgyi Park. The Shewadgon Pagoda was a relaxed 35 minute stroll although it was easy to grab a taxi. For day trips the hotel offered a driver/car for a reasonable US $70 and we loved the air conditioned jaunts between our chosen must see sights and some excellent recommendations from our driver Check out our other favourite luxury hotels in Yangon here.
The awesome view from our room: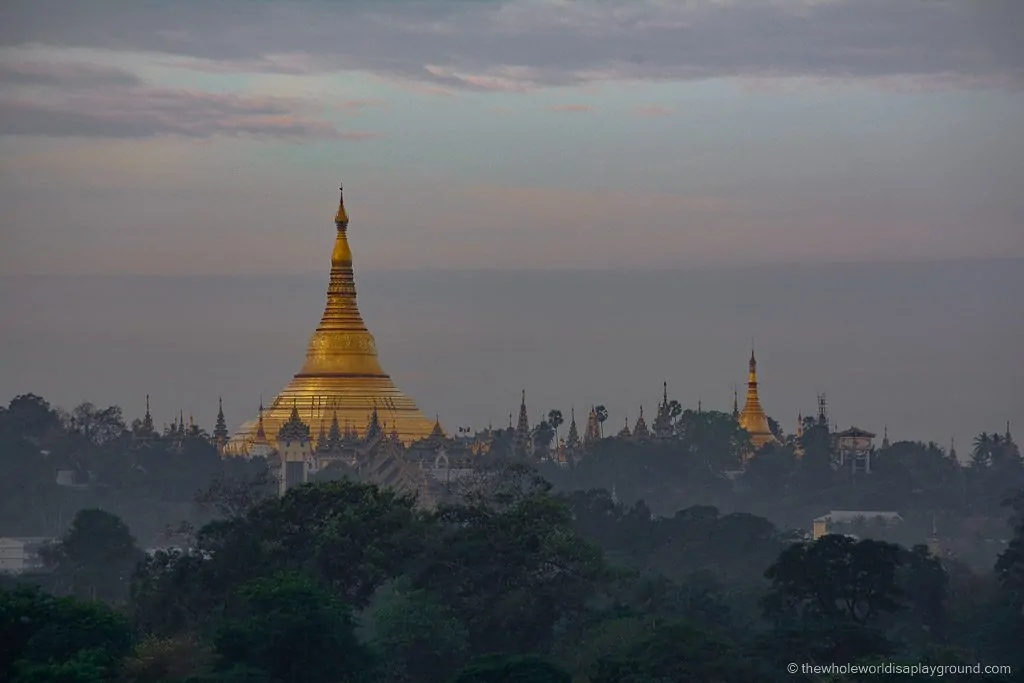 Transport:
Flight from Bangkok to Yangon with Thai Airways (cost EUR 170 per person): we arrived into Bangkok Suvarnabhumi Airport earlier in the day from Dublin and opted for a later flight from the same airport. Air Asia use Don Mueang International Airport for flights to and from Myanmar and this is likely a cheaper option.
Private car from airport to hotel: we found a good deal on a Club Room at the Chatrium Hotel and our room rate included a transfer to the hotel from the airport.
Taxi to and from Shwedagon Pagoda (2,000 kyat each way)
Sightseeing:
Shwedagon Pagoda after sunset: cost 8,000 kyat for foreigners
Day 2: Yangon
Accommodation:
Transport:
Private driver arranged through hotel (cost USD 70 for 12 hours): this was totally worth the USD 70 as we saw most of the Yangon sights in one day and it was great not having to worry about transport.
Sightseeing: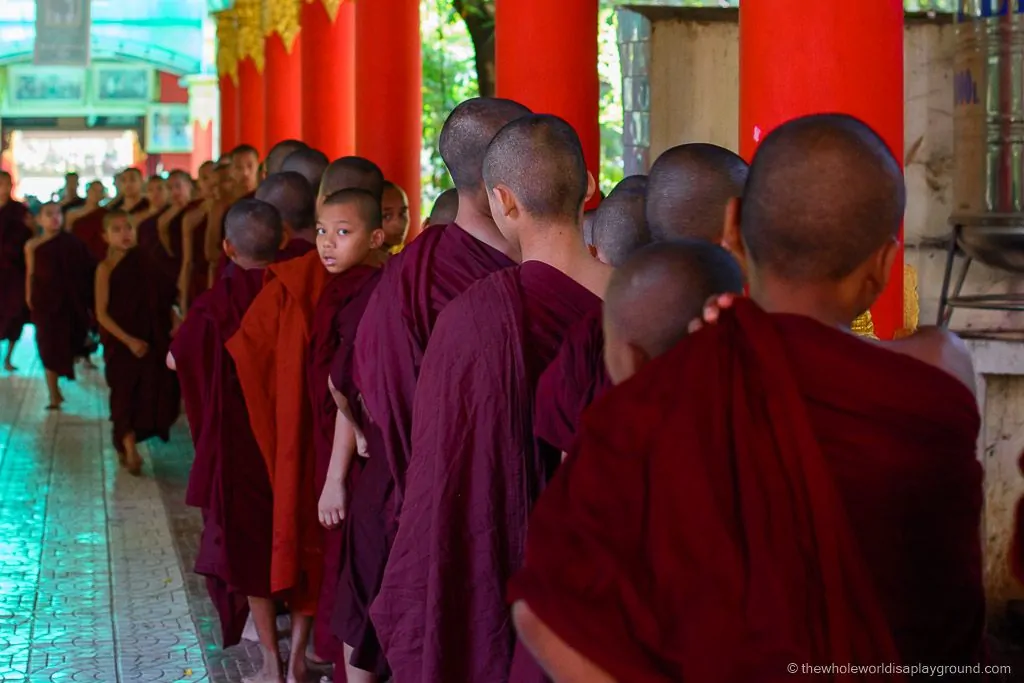 Lunch in 999 Shan Noodle: fab lunch stop. It feels local, is very cheap and the food is great!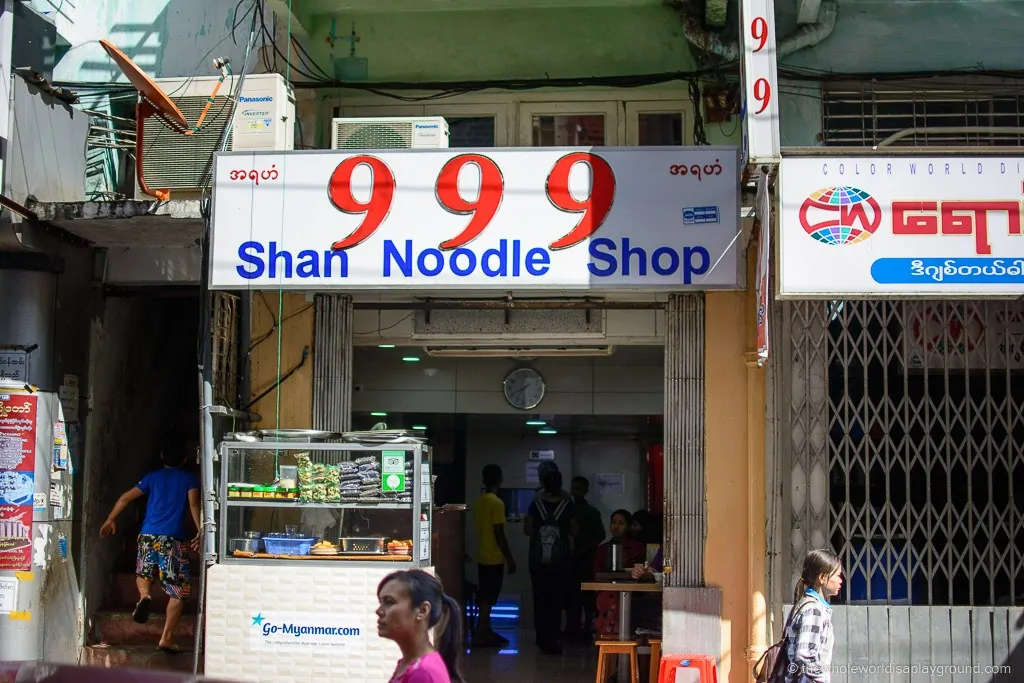 Drinks with a view in the Sakura Tower: this top floor bar has great views over Yangon and a perfect afternoon beer spot!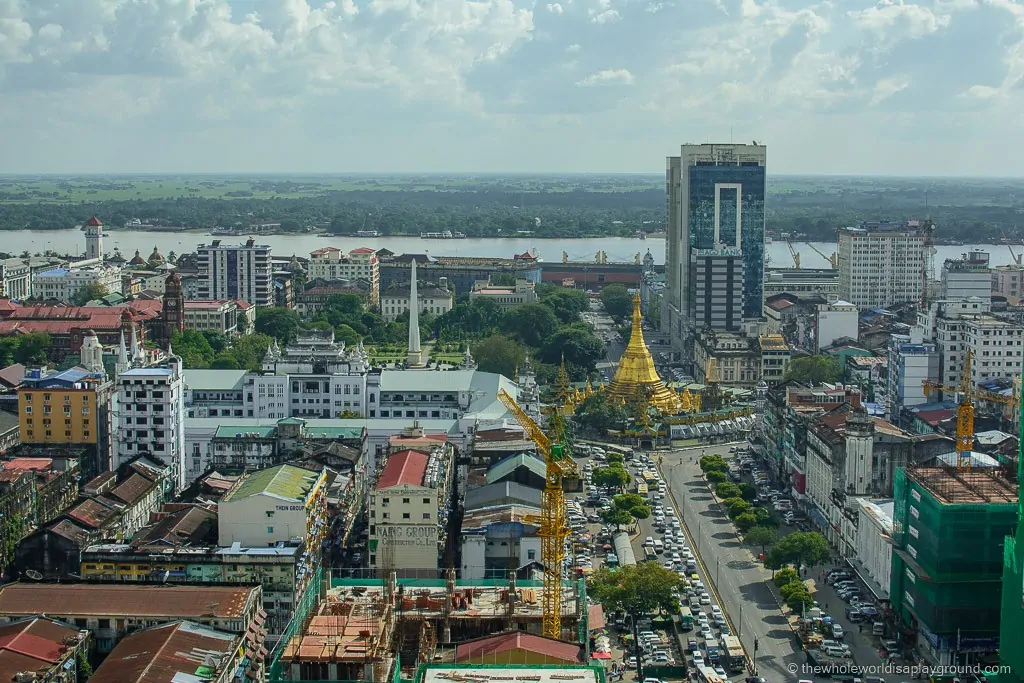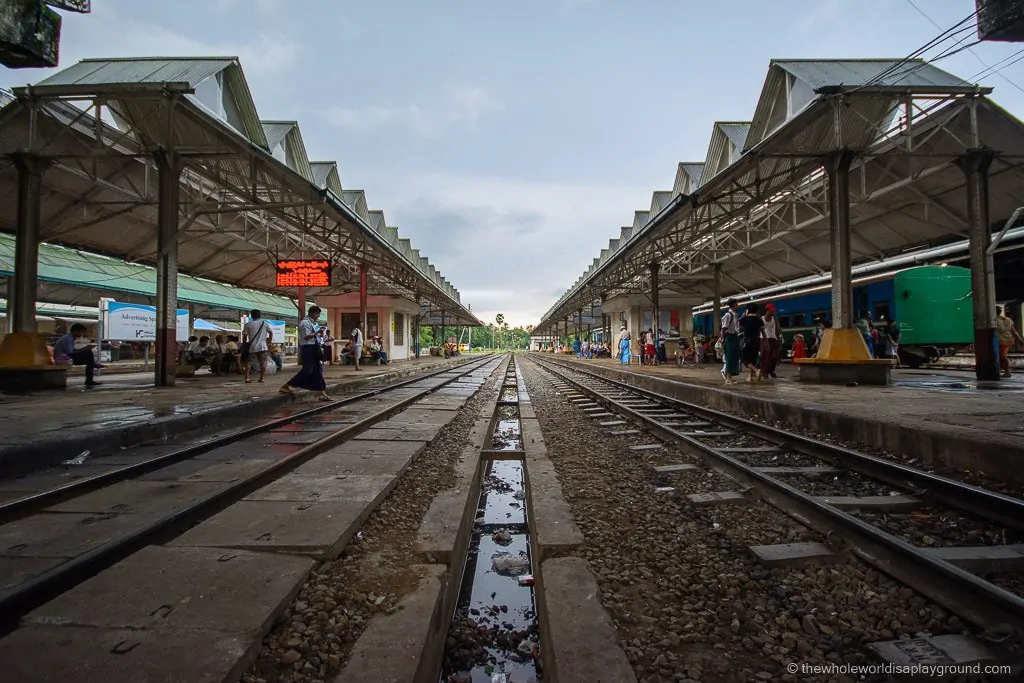 Day 3: day in Yangon, night bus to Lake Inle
Accommodation: spent night on the JJ Express VIP Night Bus to Inle Lake
Transport:
Taxi to bus station (cost USD 12): Aung Minaglar Highway Bus Station is located about one hour outside Yangon. Leave plenty of time to get out to the bus station as the traffic was crazy on our early evening ride from town and the journey took well over an hour. The bus station is more like a village so make sure to get dropped off at your bus operators office.
VIP night bus to Inle Lake with JJ Express (cost: USD 20 per person): night buses are an awesome way to get across the country cheaply, while asleep and saving a night of accommodation costs. The bus from Yangon to Inle Lake took approximately 12 hours. We had a 50% success rate with sleeping on the VIP buses – I slept quite happily while Dave was wide awake for most of the journey!
Day 4: Inle Lake
Accommodation:
We stayed in the beautiful Inle Princess Resort which is situated on the shores of Inle Lake. The villas are stunning, the food excellent and the views unbeatable. We loved being picked up for our excursions on the Lake at the hotel's private jetty! It's the perfect choice if you are looking for some luxury in Inle Lake. Check out our review of this beautiful hotel here.
Other fantastic hotels on the lake are:
Myanmar Treasure Resort: Located on the lake close to the Inle Princess Hotel this collection of stilted luxury rooms look over the lake giving perfect viewing for Inle Lake sunsets.
Villa Inle Resort & Spa: a stunning location further down Inle Lake, this resort boasts beautiful view across the Lake and the surrounding countryside from a number of large, stilted villas overlooking the water.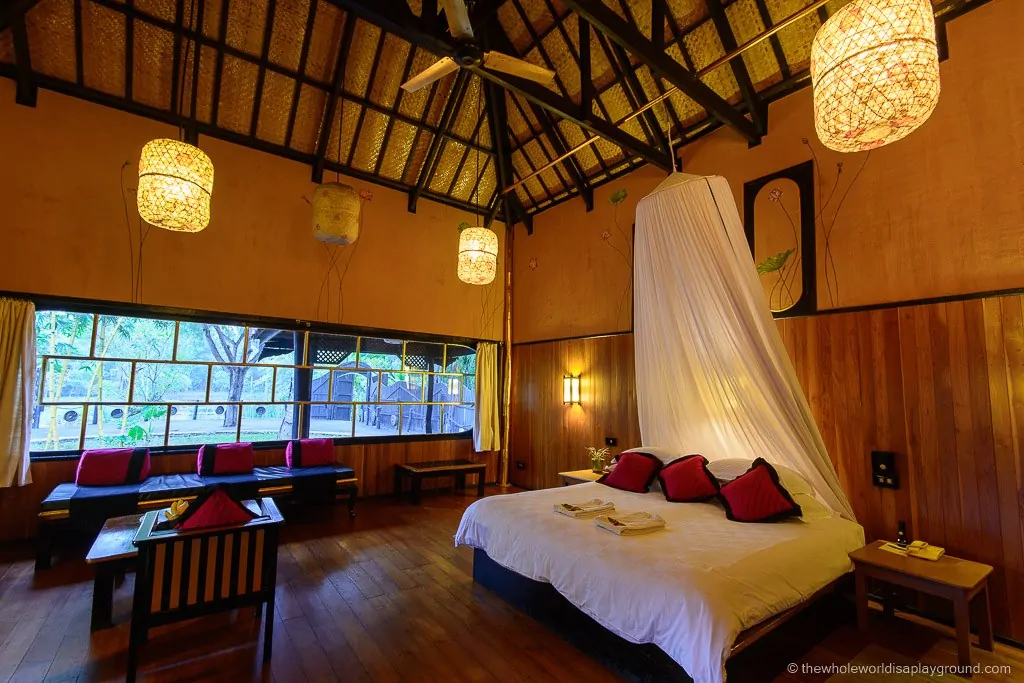 Transport:
Tuk Tuk from Inle bus stop to hotel (cost 15,000 kyat): our night bus arrived into Inle at 6am and the only transport option was some tuk tuks awaiting the arrival of the bus.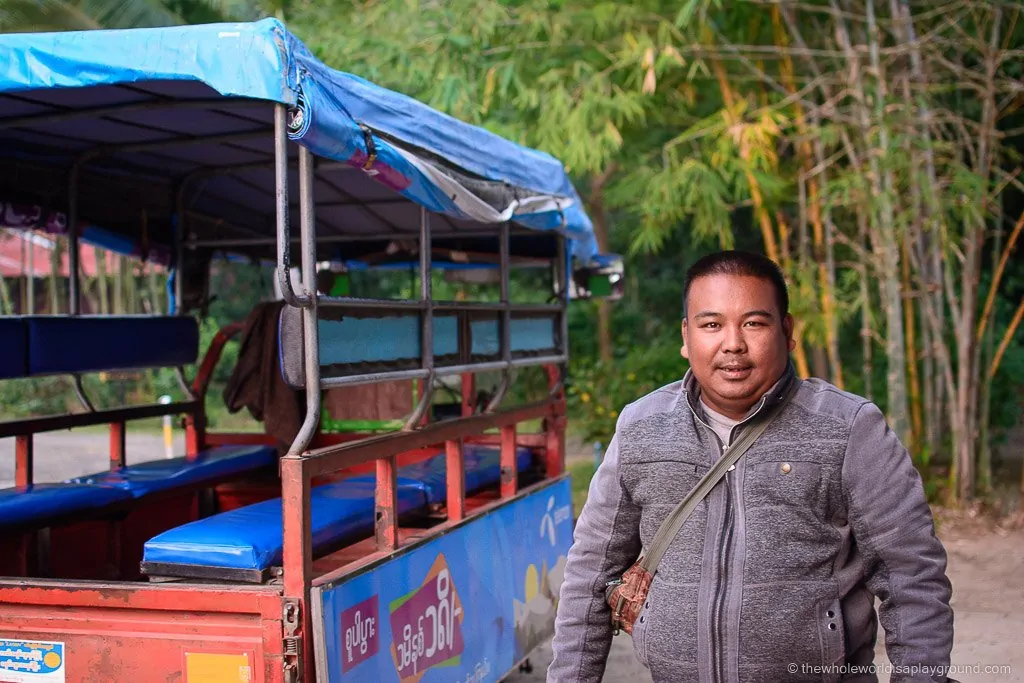 Sightseeing:
Sunrise over Inle Lake from hotel
Dinner overlooking lake in hotel
Catching up on night bus sleep!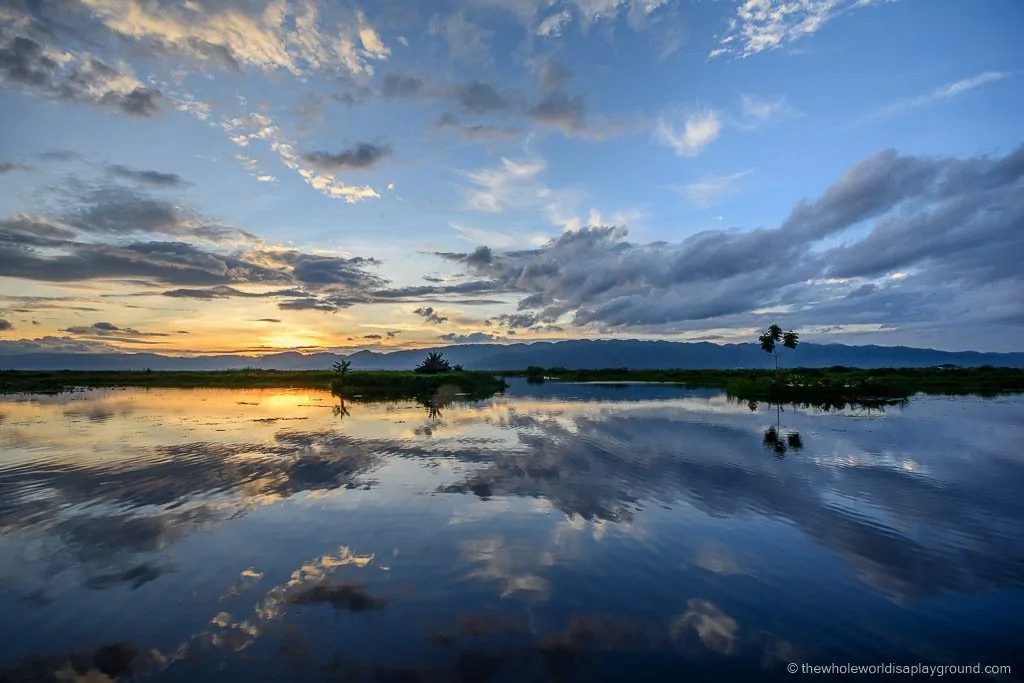 Day 5: Inle Lake
Accommodation:
Transport:
Dawn boat ride on Lake Inle (cost USD 38): we booked a half day boat trip on the lake through the hotel. The lake can be very chilly, especially early in the morning, so bring a warm jumper.
Private car to Kak Ku pagodas (cost USD 95): it's a 2.5 hour car journey to Kakku and we spent about 90 minutes on site.
Inle moments: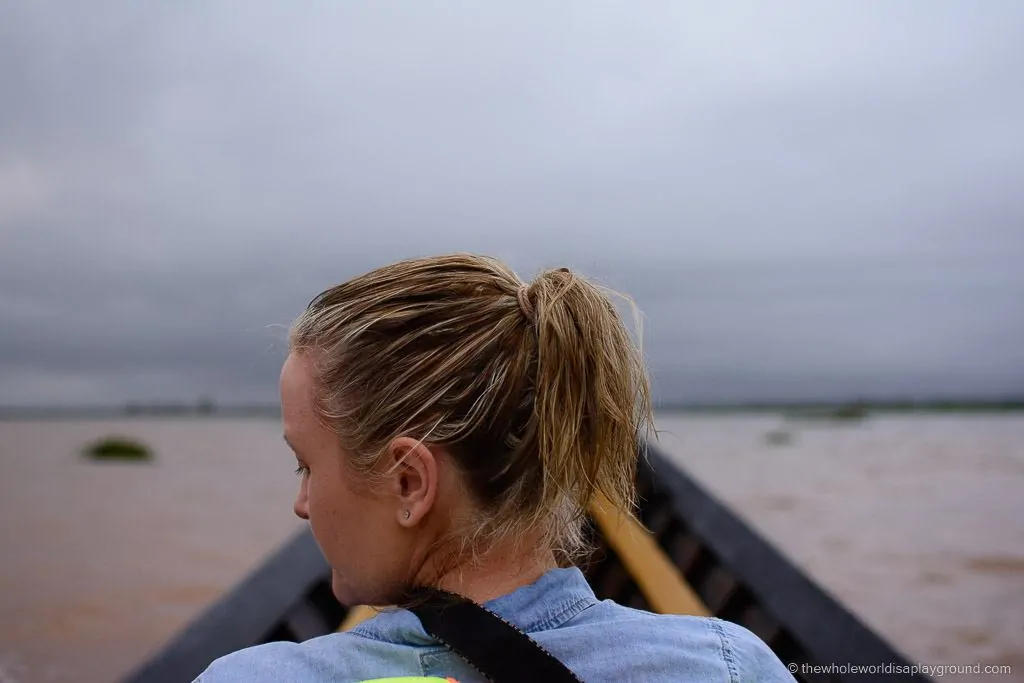 Sightseeing:
Sunrise on Lake inle
Indein temples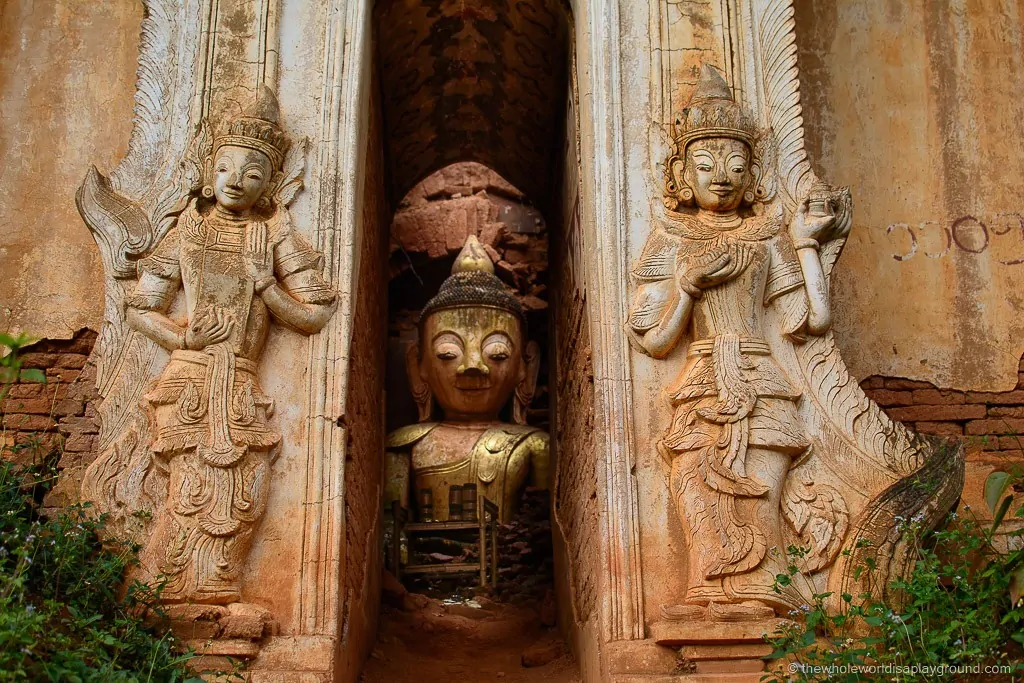 Long necked women of Inle Lake
Annual boat race
Traditional Fishermen of Inle Lake
Kakku Pagodas: (cost USD 3 per person to enter, USD 5 for mandatory guide to accompany us to site)
Kakku: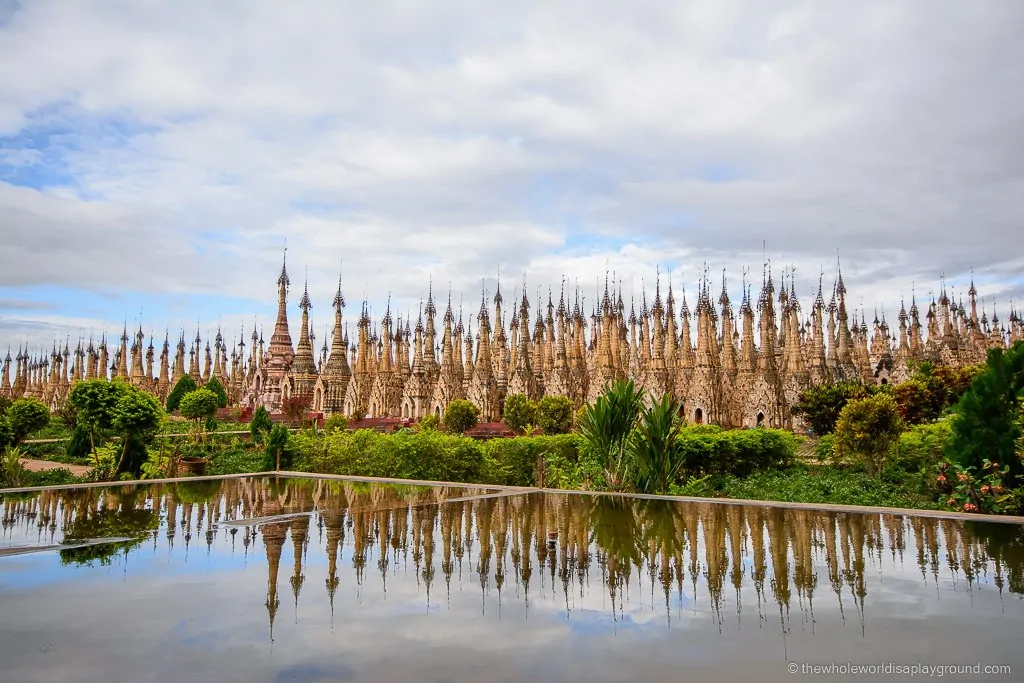 Day 6: Inle Lake to Mount Popa Resort
Accommodation: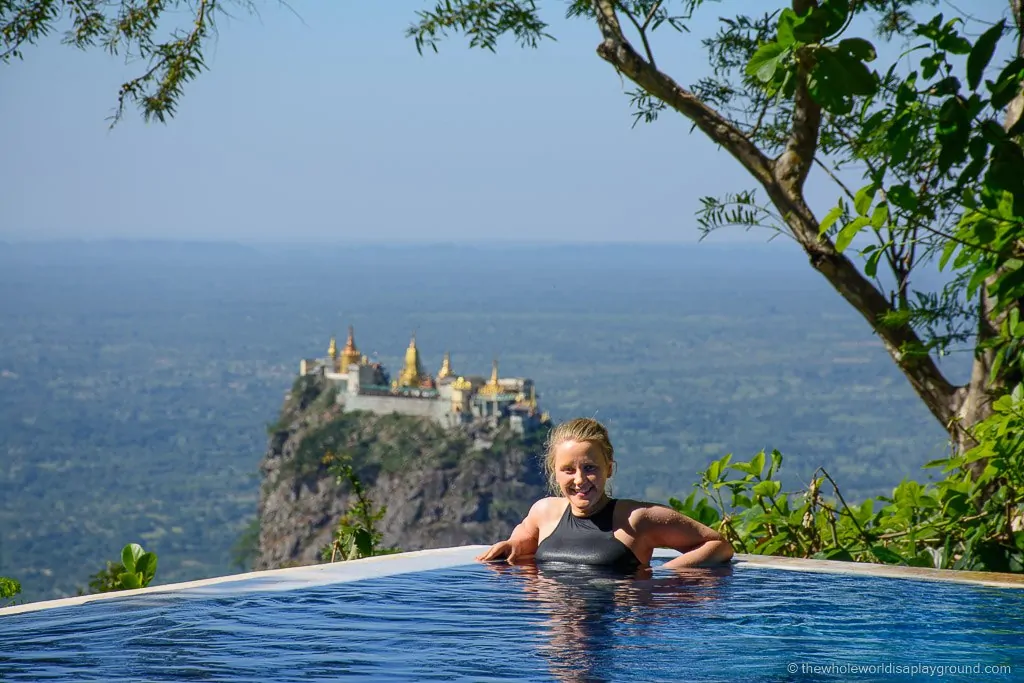 Transport:
Taxi to Nguang Schwe (USD 15): this is the main access town to Inle Lake and this is where the JJ Express bus picked us up.
VIP bus with JJ express from Inle to Bagan (USD 15): the bus left Nguang Schwe at 10am and took around 8 hours to get to Kyaukpadaung which was the closest town to Mount Popa. This was a day bus and, although we got some sleep, it was a very long journey.
Taxi from Kyaukpadaung to Mount Popa resort (15,000 kyat): we say taxi but what what we really mean is two teenagers with a car! We were thanking the stars for our sat nav to direct them to the hotel!
Sightseeing: dinner overlooking Mount Popa from Mount Popa resort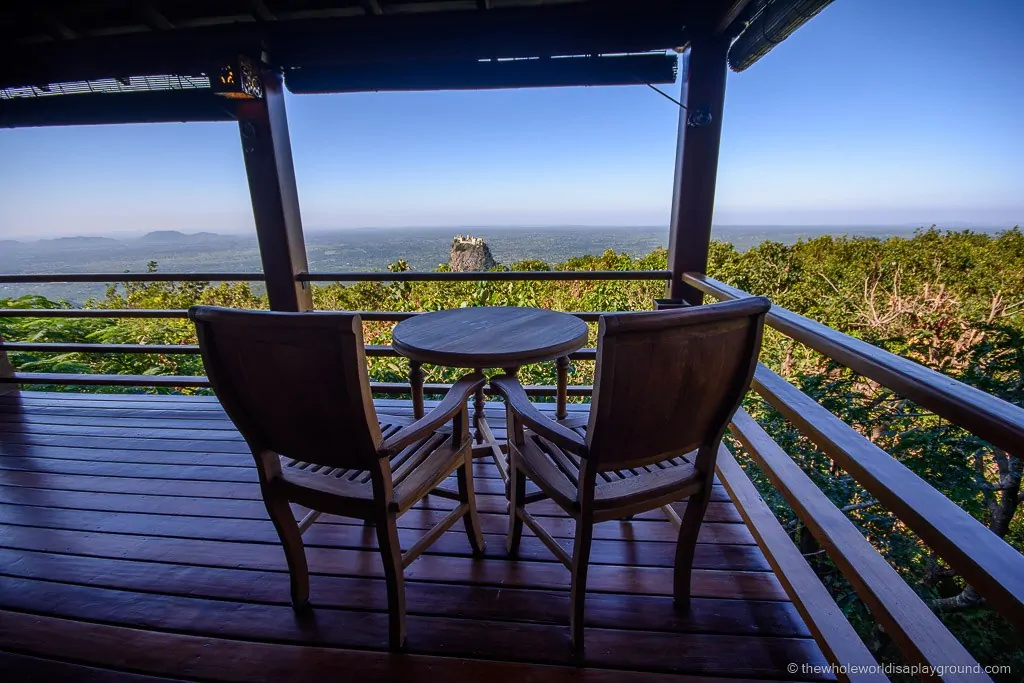 Food and Drink Costs
The only other costs we had were meals and drinks. Eating local was relatively cheap: noodles and a beer for each of us came in at less than $10. On the days when we ate at the hotel a meal with drinks was typically $30 to $40.
So there you have it: a day by day lowdown on Week 1 of our Myanmar adventures. We hope you found it useful! Click here for our week 2 itinerary!