Las Vegas is one of the most popular destinations in the USA and attracts visitors in search of nightlife, extravagant shows, casinos, and amazing sights. Like many US cities, Las Vegas is a driving city and a rental car makes it so much easier to explore.
We've driven in Las Vegas many times and found it a safe, fun, and inexpensive place to explore by rental car. Here are our tips for renting a car in Las Vegas to help you make the most of your time in this incredible city.
13 Tips for Renting a Car in Las Vegas
From cruising the famous Las Vegas Strip to visiting the incredible hotels and attractions around the city, a rental car will allow you to make the most of your time in Las Vegas and potentially save you a lot of money too. We've put together this list of our best tips for renting a car in Las Vegas to help you with any questions you may have before your trip.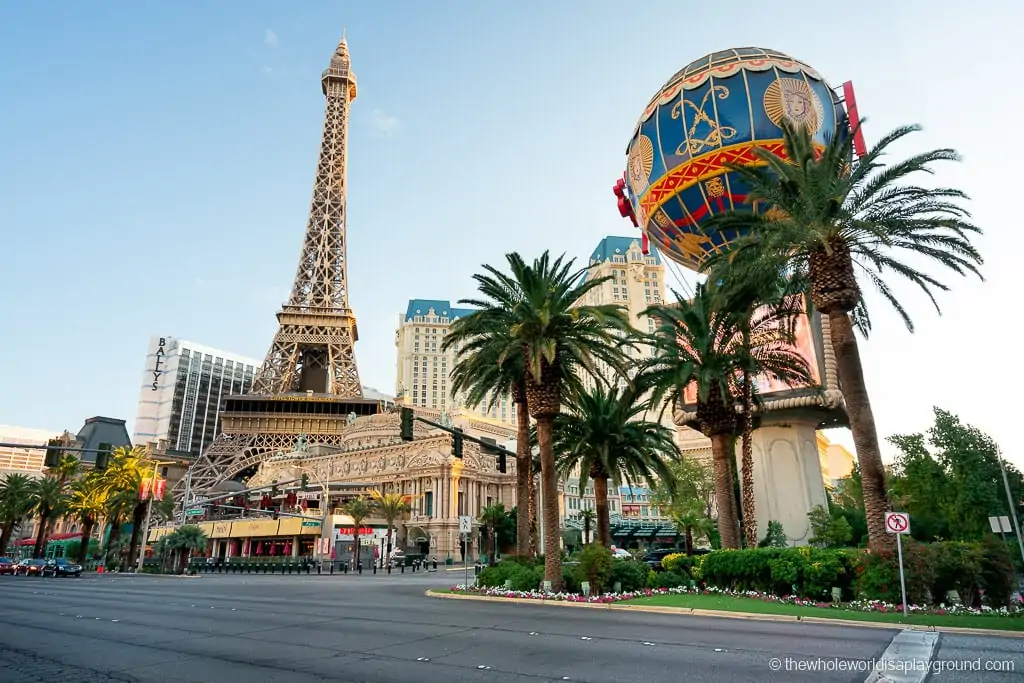 Why Rent a Car in Las Vegas?
We've visited Las Vegas numerous times over the years and, aside from our first trip (where the sole purpose was to party!), we've rented a car on each visit since!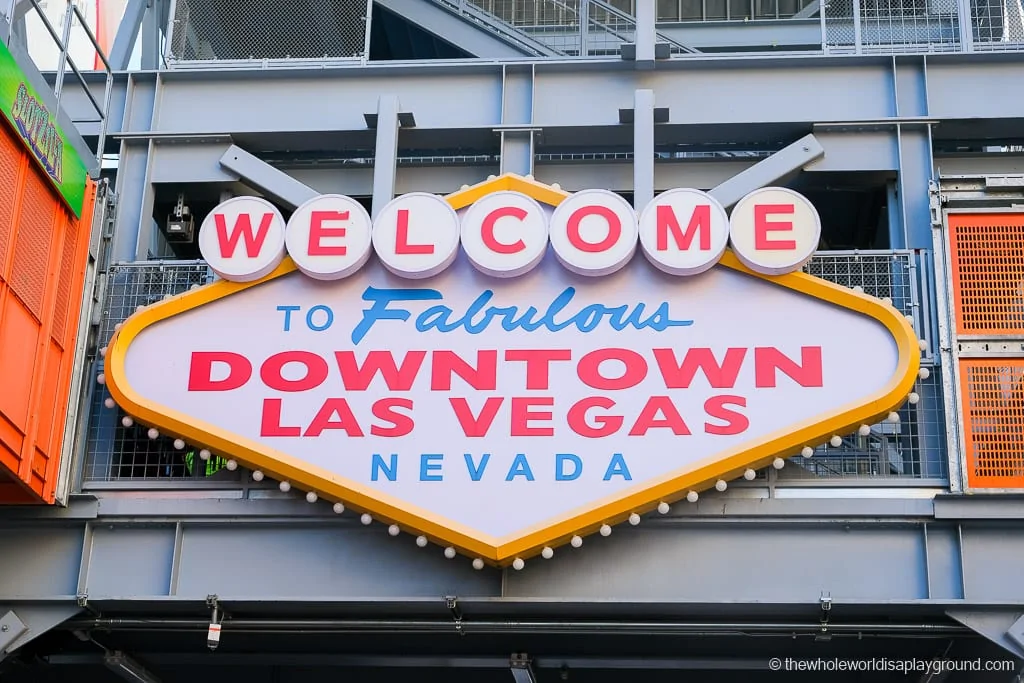 Having a rental car in Las Vegas will allow you to make the most of your time and give you the flexibility to see everything the city has to offer.
From checking out the nearby Seven Magic Mountains or exploring some of the magnificent National Parks near Las Vegas, renting a car will allow you to explore so much more of the city and its surroundings.
Renting a car will also likely save you money during your time in Las Vegas as you can switch tours and cabs for your own ride and most of the major hotels offer free parking to guests.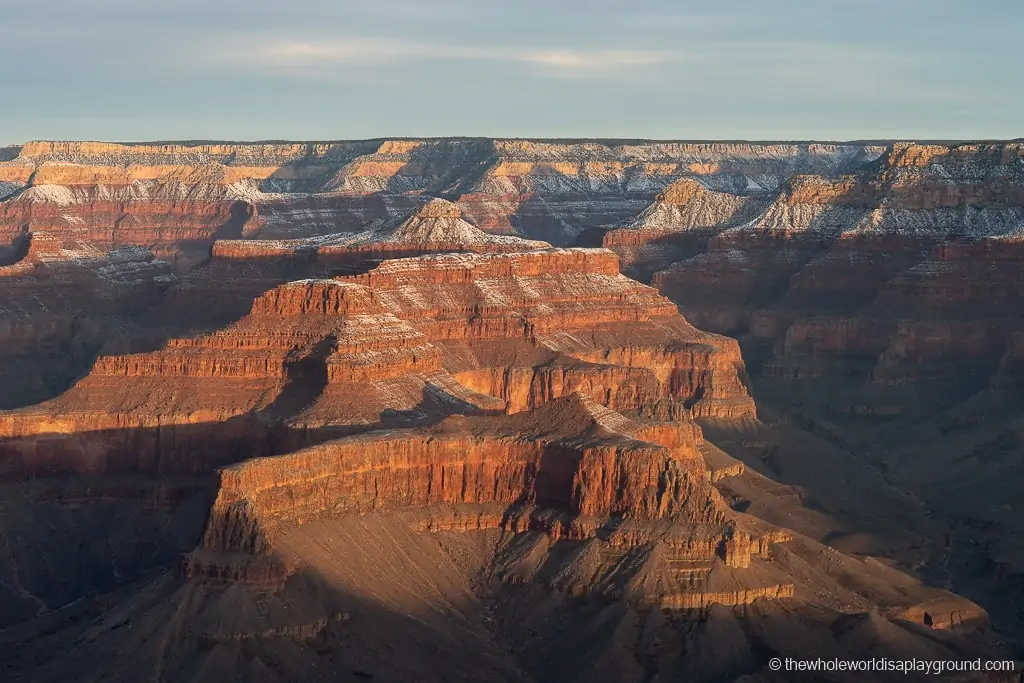 1 | Reserving your rental car
Las Vegas is a popular year-round destination in the USA so it is always worth booking your rental car as far in advance as possible. This will allow you to secure a competitive price and a good chance of a wide selection of cars to choose from.
Renting a Car in Las Vegas tip: Due to the high number of rental car agencies in Las Vegas rental car prices are very competitive. We've always found rental car rates in Las Vegas to be very reasonable.
We book our Las Vegas car rentals through RentalCars.com. We're huge fans of road trips and have driven rental cars in almost 50 countries. We've found they have a great selection of cars and offer competitive prices. Make sure to see our tip on insurance when booking! – check prices now!
Book your car now on RentalCars.com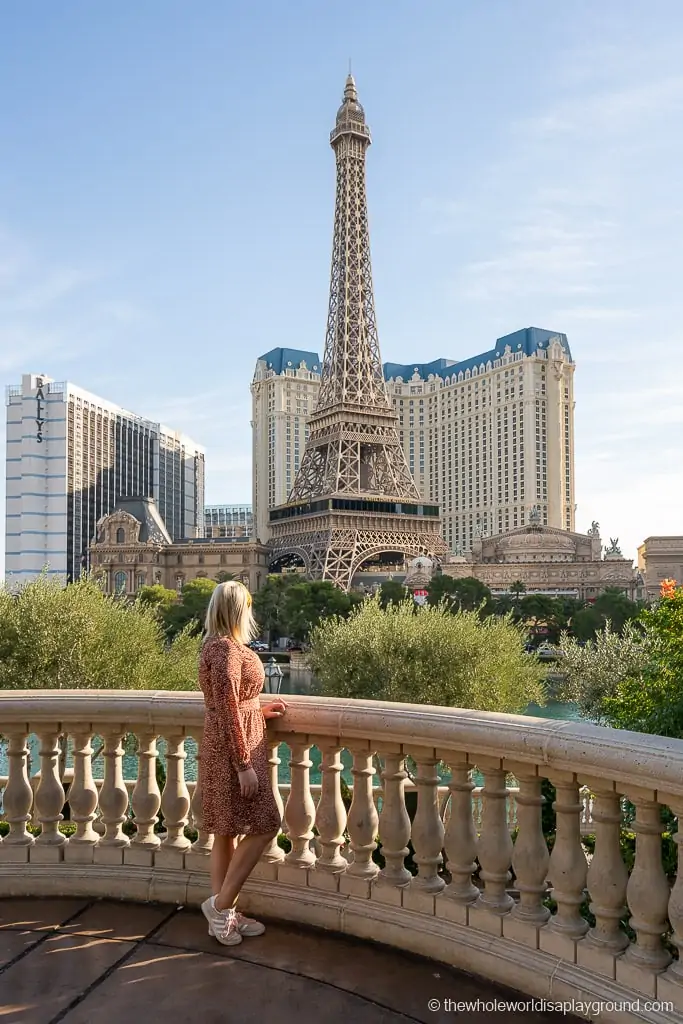 2 | Rent your Car at the Airport
In many locations, it is usually possible to save money on a rental car by renting outside of the airport (due to extra airport location fees). However, in Las Vegas, rental car rates tend to be a lot cheaper at the airport. Most visitors arriving in Las Vegas will land at McCarron International airport where there is a really good selection of rental car providers. If you prefer, you can reserve a car to your hotel – many of the hotels in Las Vegas have rental car agencies on-site.
Picking up your rental car at McCarron
McCarron International Airport has a dedicated building for rental cars, the Rent-A-Car Center. The McCarron Rent-A-Car Center is located 3 miles from the airport and has frequent free shuttles. The center is open 24-7 year-round and the shuttle only takes 10 minutes – it leaves from just outside the baggage claim area.
Renting a car in Las Vegas tip: If you are returning your car to the McCarron Rent-A-Car center ayou need to allow an additional 30 minutes to return the car and get back to the terminal with your luggage.
3 | Reserve Your Car Early in 2022
Las Vegas is a hot destination right now! Although there are a lot of car rental companies in Las Vegas, the high visitor numbers and reduced inventory mean there is always a high demand for rental cars.
Like most locations, you can secure a competitive deal on your car rental by reserving well in advance. We usually reserve our rental cars well in advance on RentalCars.com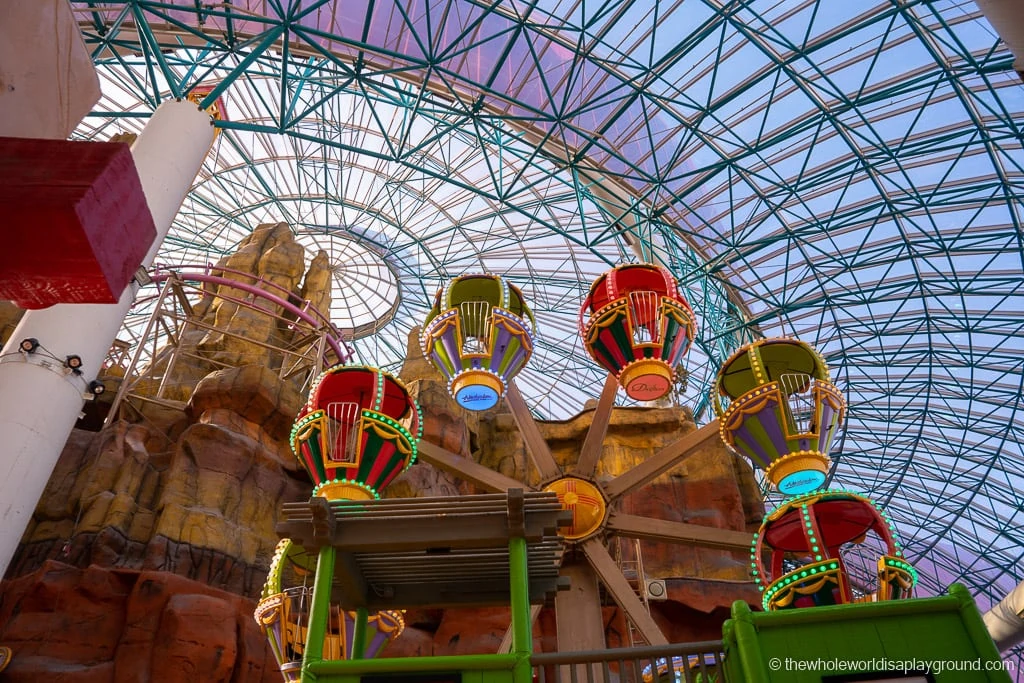 4 | Choosing your rental car
The rental car you choose will depend on the number of people your party and the amount of luggage you have. SUV's are the most popular rental car in Las Vegas so expect to pay a premium for them, while compact cars can be rented very cheaply. We usually rent a SUV or a minivan for the extra space and comfort in Las Vegas.
There's no advantage to a smaller car in Las Vegas in relation to parking or navigating the city so it's really down to personal preference.
Renting a car in Las Vegas tip: Demand for rental SUV's in Las Vegas can get really high during busy months in the city so, if you have a preference for a larger car, get your reservation in!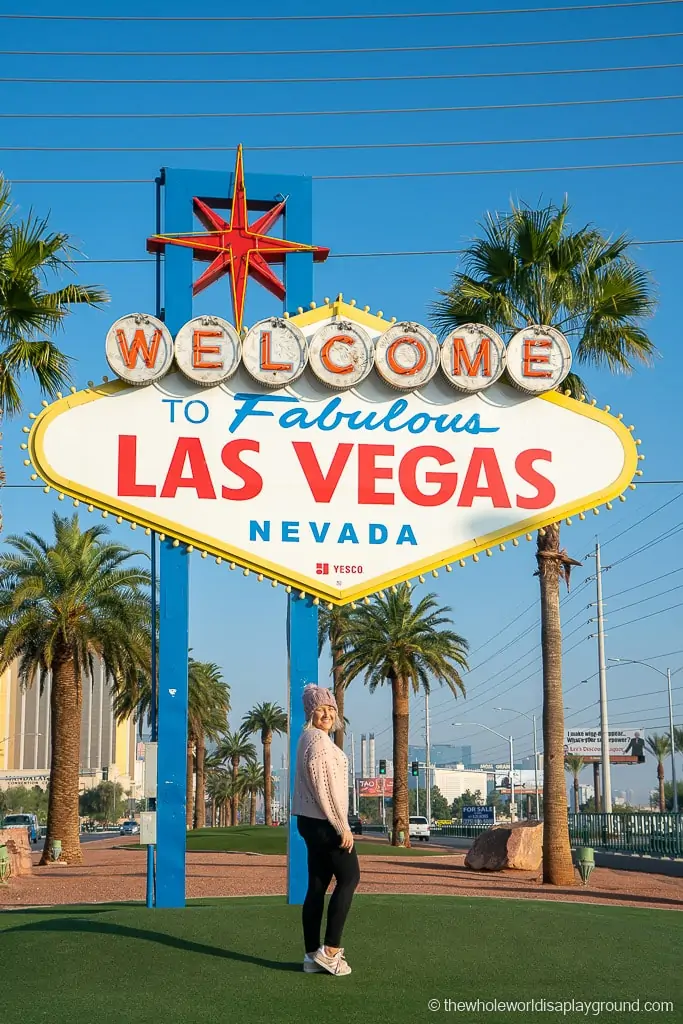 5 | Drive on the right
This one is for international visitors! Like the rest of the USA and most of Europe, drive on the right in Las Vegas.
6 | Renting Eligibility
A valid drivers licence and a credit card are required to rent a car in Las Vegas.
Drivers aged 21 and up can rent a car in Las Vegas. however, if you are aged between 21 and 24 you may be subject to an additional rental surcharge.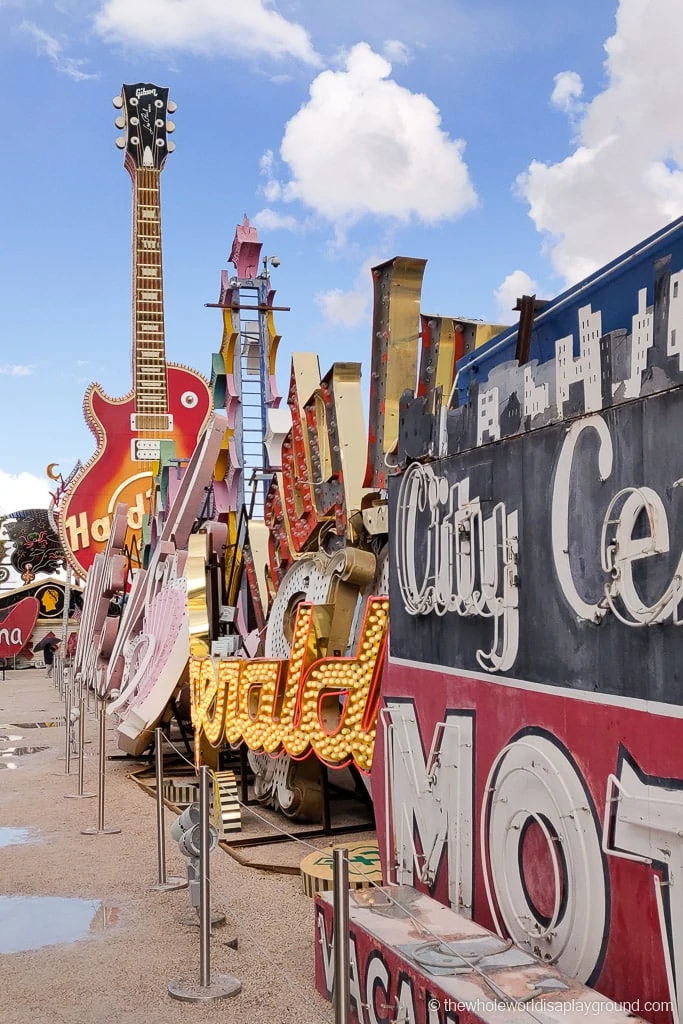 7 | Rental Car Insurance
There are a number of options for insurance on your rental car in Las Vegas. Like any destination, we recommend having full insurance cover in place for your rental car. Not only will it remove the stress of accidental damage to your vehicle but car pick-up and (more importantly) rental car return should be a lot quicker as there is less work for the staff to do. There are a number of options for rental car insurance:
Insurance cover with your credit card provider: In some cases you may actually have insurance cover with your credit card provider and it's a common benefit with a travel credit card. In this case you'll need to check what cover (if any) is included with your credit card and usually you'll need to have reserved in your name and used the credit card for the rental car reservation.
Purchase full insurance in advance: we usually purchase full insurance when we reserve our rental car. Not only can you save some money this way but it should speed up your car pickup and/or return. You can add full insurance on Rentalcars.com at time of booking so you won't have any cost surprises at pickup – check prices now!
Purchase insurance when you pick up the car: purchase insurance when you pick up the car. We generally don't recommend this option as you won't know the final price before you arrive to pick up the car.
Pay the excess in event of claim: if you choose not to purchase insurance you will pay the excess amount in the event of a claim/damage.
Renting a Car in Las Vegas tip: remember, if you use your credit card for car rental coverage then, in the case of a claim, you will need to pay for any insurance excess to your rental car provider at the end of the rental and then submit an insurance claim with your credit card company.
8 | Is driving in Las Vegas safe?
Driving in Las Vegas is very safe and similar to most other US cities. We happily drive around the city both during the day and in the evening and have found secure parking to be plentiful.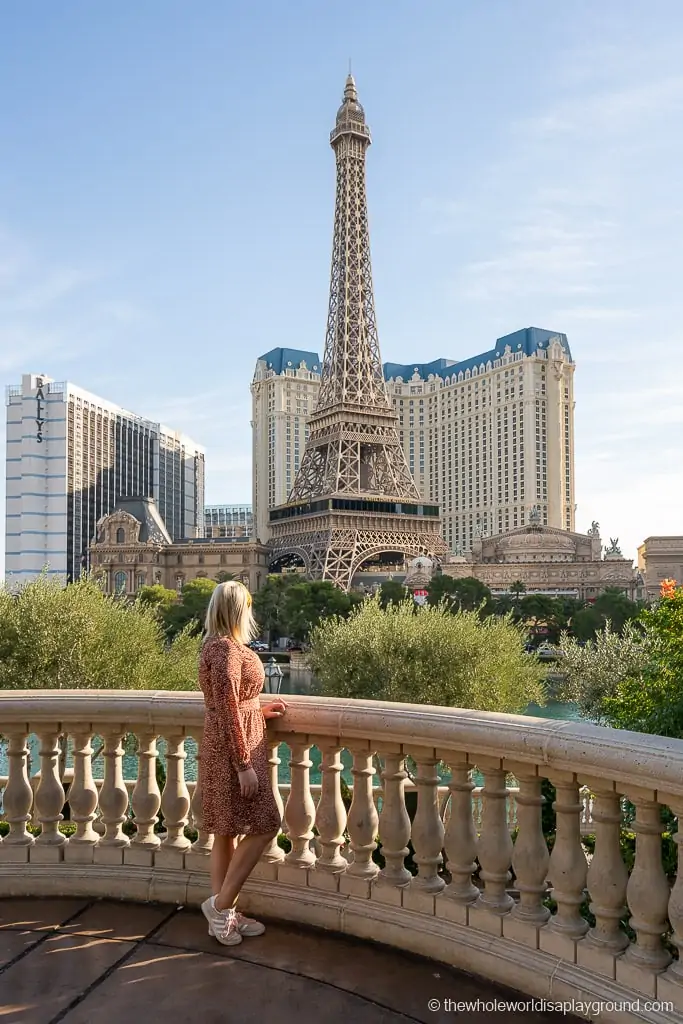 9 | Drive the Las Vegas Strip
One of the most famous parts of Las Vegas is the iconic Las Vegas strip. The strip is part of Las Vegas Boulevard that runs the entire length of the city and is lined with many of the famous Las Vegas Casinos.
Renting a car in Las Vegas tip: We highly recommend driving the strip after dark when the hotels are lit up and the drive really comes alive.
Driving the strip is one of the most fun things you can do in your rental car in Las Vegas. We drove the full length of the strip a number of times during our time in Las Vegas and seeing it after dark in an amazing experience.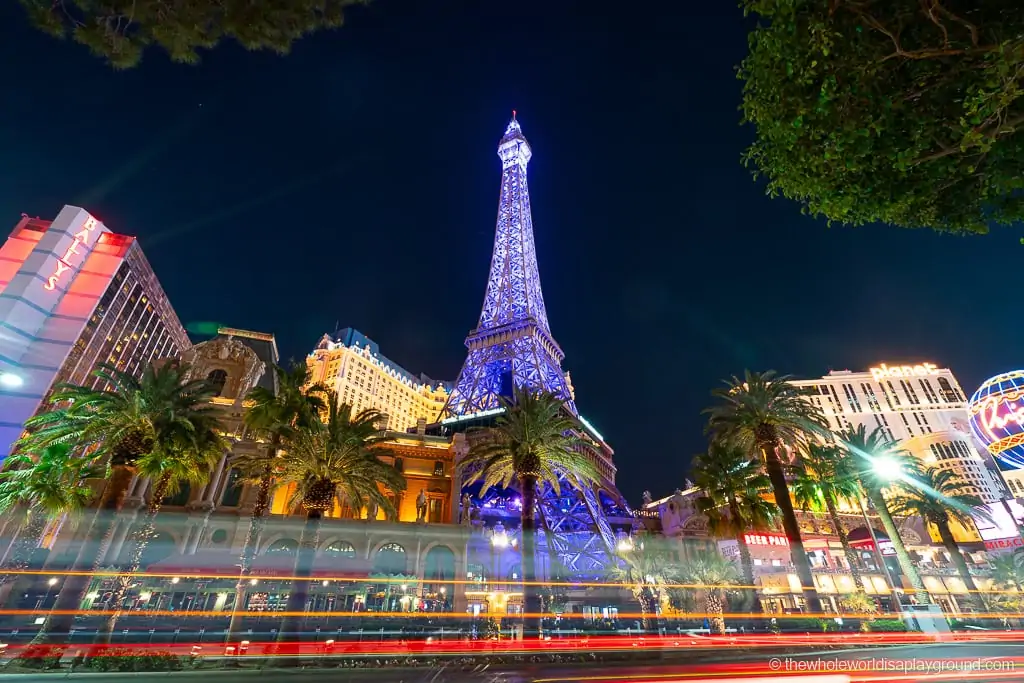 Avoid driving the Strip during peak hours
While we recommend driving the strip at least once during your time in Las Vegas, it's worth avoiding it during peak hours when traffic can get extremely heavy.
Traffic tends to be busy between 7 am and 9 am and 4 pm and 6 pm on weekdays, and at weekends after 4 pm. Of course, it's still worth driving the Strip at least once in the evening despite the traffic!
10 | Parking
One of the most common concerns visitors renting cars have is the car parking situation in Las Vegas. Most hotels and venues in Las Vegas have ample parking for cars and offer a choice of self-park or valet parking.
Generally speaking, most major hotels now offer free parking (self and valet parking) to guests staying at the hotel. However, some do charge for self-parking and valets for visitors and it can be worth taking a cab to a show or other popular event in the evening.
Renting a car in Las Vegas tip: Most hotels in Las Vegas are enormous and the parking garages are equally massive. If you choose to self-park make sure to note down your space number and the floor level in your phone. Finding your car when you get back will be so much easier.
As it varies by hotel, it's worth checking in advance before you plan to visit any of the hotels. Some of the main hotels are free for everyone. This includes Circus Circus, Wynn, Encore, Treasure Island, The Venetian and The Palazzo.
Caesars Entertainment and MGM Resort hotels have introduced charges for visitor parking (both self and valet). These include the following hotels: Bellagio, Aria, MGM Grand, Bally's, Caesars Palace, Flamingo, Paris, Planet Hollywood, Flamingo's, Rios Suites, and Nobu.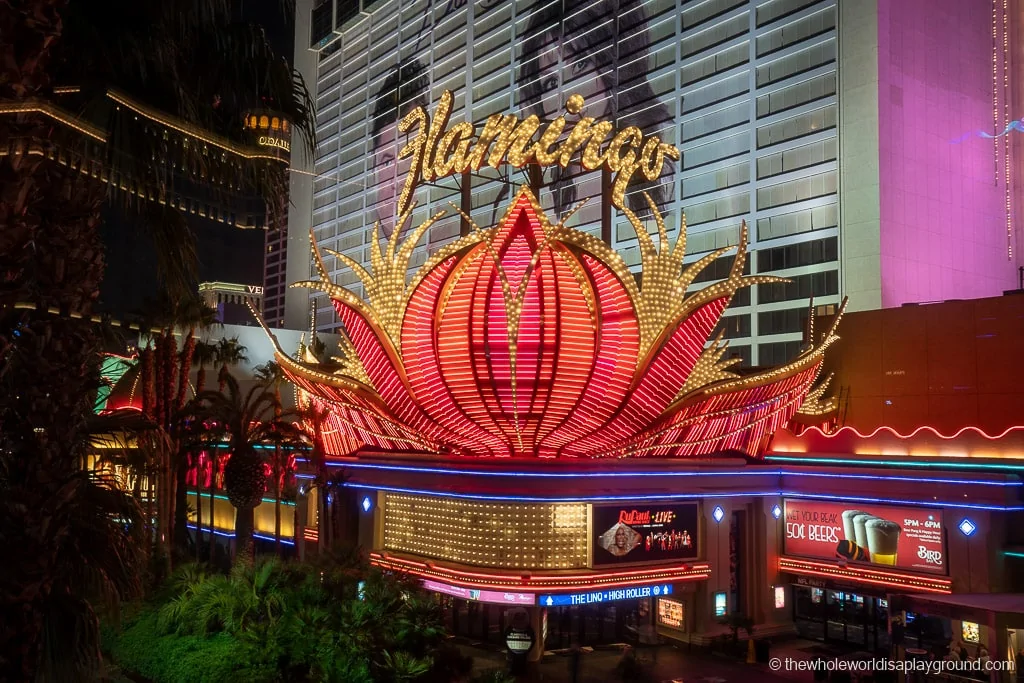 Self Park vs Valet Parking
Most hotels in Las Vegas are car-friendly. If you are not a guest at a hotel it is worth checking the parking charges before you visit.
Generally, we would say it's worth valet parking when you park in Las Vegas, especially if it's anywhere on the Strip. We found the valet parking very reasonably priced and it saves time and effort and there can be long distances from the parking garages/lots to the hotels.
It can be worth self-parking is if a hotel is very busy and there is a line for valet parking. This is usually at peak times in the evening when the Las Vegas shows are on. In these cases, you'll likely be quicker self-parking your car or grabbing a cab.
11 | Day Trip Ideas from Las Vegas
One of the best reasons to rent a car in Las Vegas is the wide range of day trip options from the city. There are so many great day trip opportunities to explore close to Las Vegas, including a number of National Parks near Las Vegas.
Some of the most popular places to visit near Las Vegas include the colorful Seven Magic Mountains, Red Rock Canyon recreation area, Valley of Fire State Park, and Death Valley National Park. All of these are easily visited from Las Vegas in a half or full-day.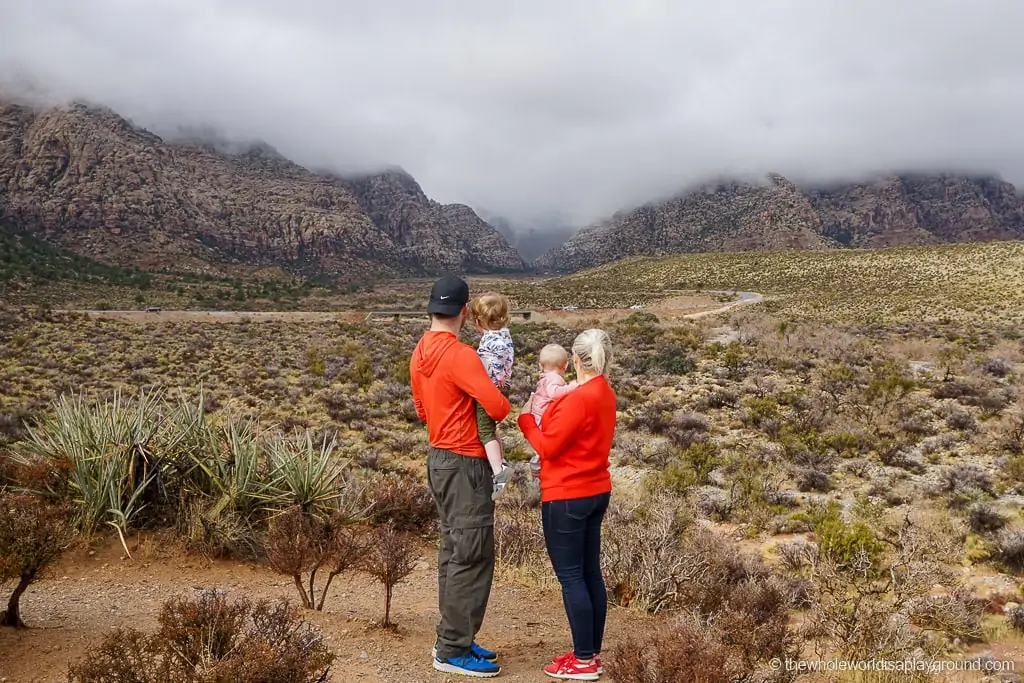 Las Vegas is a great base for some longer road trips. Some options include Lake Mead and the Hoover Dam, the Grand Canyon, Zion National Park, Bryce Canyon National Park and Joshua Tree National Park. If you're doing a Utah National Parks Road trip, Las Vegas is a popular start/end point with most visitors driving the route between Salt Lake City and Las Vegas.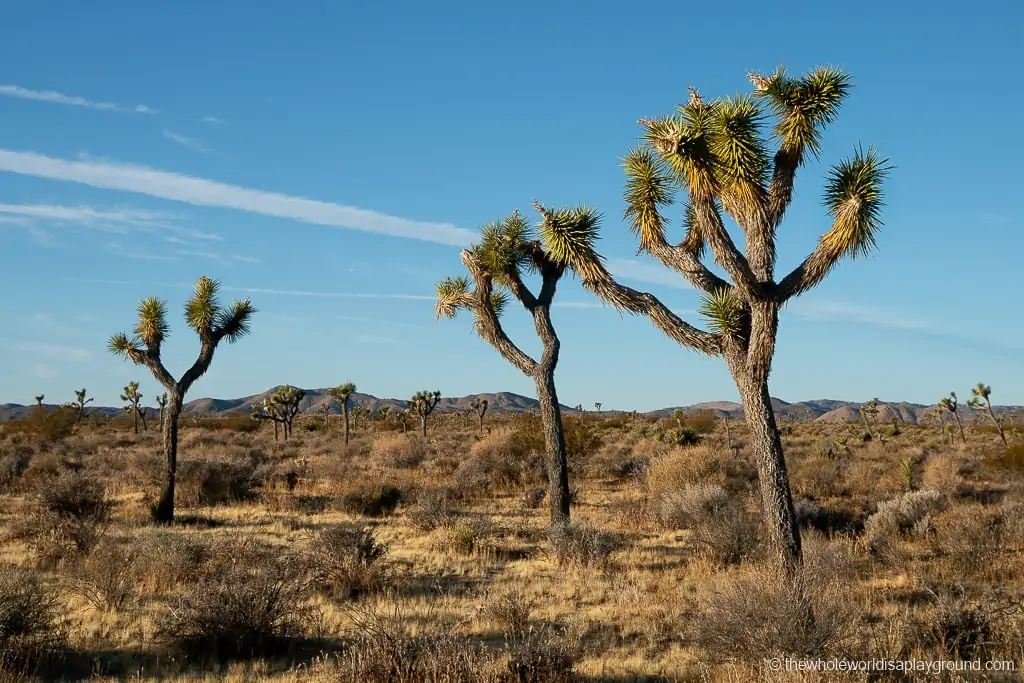 Welcome to Las Vegas Sign
One of the best Instagram spots in Las Vegas is the Welcome to Las Vegas sign and it is super easy to visit with your rental car. The sign is located at 5100 Las Vegas Boulevard South and it has a parking lot on-site.
Renting a Car in Las Vegas tip: As it's a popular spot in Las Vegas it can get busy at peak times, with long queues for photos. We recommend visiting the sign early in the morning (like we did) to avoid the crowds and have more time to enjoy the view.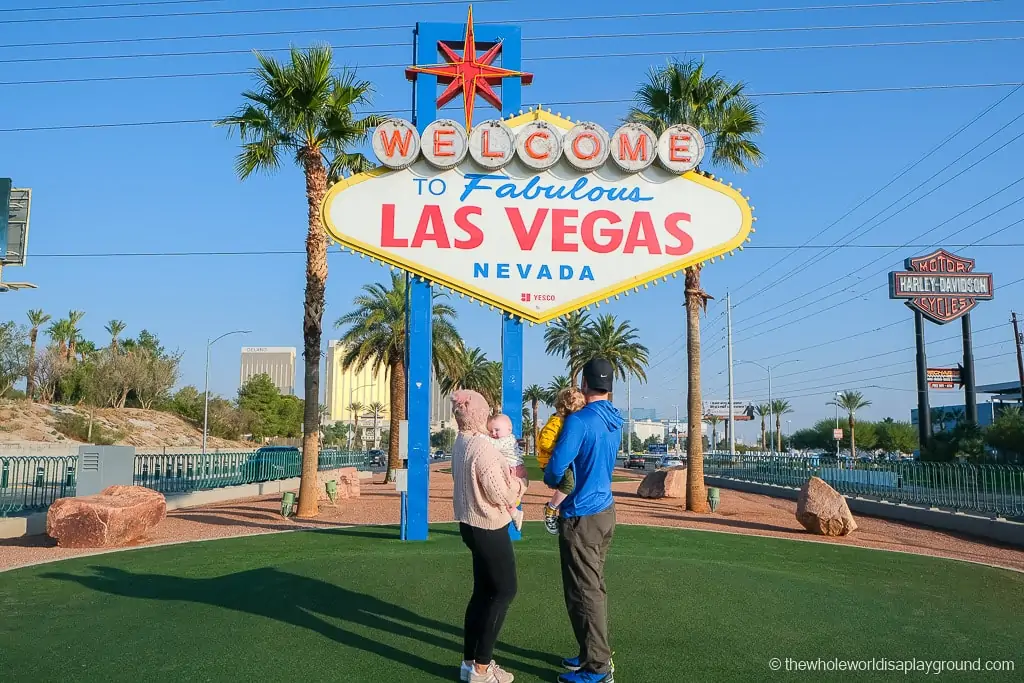 12 | Las Vegas Drink Drive Laws
As with any destination, you should not drink alcohol if you are planning to drive a car in Las Vegas. If you have been/ are planning on drinking alcohol make sure to use cabs in Las Vegas.
Given the emphasis on partying in Las Vegas, we feel it's important to mention the drink-drive laws in the city. Nevada laws are among some of the strictest in the US and it is a crime to:
have a blood alcohol concentration (BAC) of 0.08% (or 0.02% if under age 21) or more as measured within two hours of driving
drive while under the influence of drugs or alcohol
It is important to note that in Nevada a person is prohibited from being in actual physical control of a car while under the influence of drugs or alcohol.
Renting a Car in Las Vegas tip: Nevada has strict open container laws, meaning no alcoholic beverage is allowed to be open or have a broken seal while inside the driver or passenger area of the car.
13 | Children Seats
From January 2022 the rules for child car restraints in Nevada are changing.
A rear facing car seat must be used until at least 2 years of age
all children must ride in a booster seat or harnessed car seat until they are at 6 years old or 57 inches/4 feet 9 inches tall.