With its magnificent soaring red cliffs, adrenaline inducing hikes and rich variety of wildlife Zion National Park is an amazing place to visit. For those of you planning a trip to Zion we've put together our recommend Zion National Park itinerary for one, two and three day visits.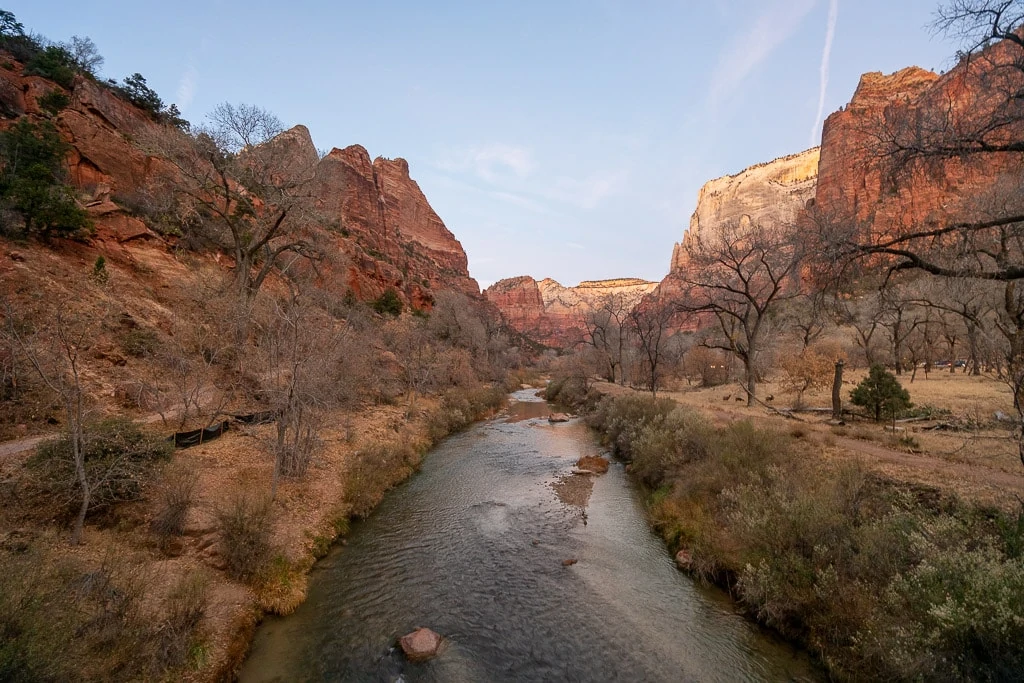 Zion National Park
Located adjacent to the town of Springdale in Utah, Zion is home to the tallest sandstone cliffs in the world. The red and white cliffs soar over the Virgin River and the Zion Canyon valley floor. The finger canyons and red Navajo sandstone cut through the north west section of the park in the more remote Kolob Canyon section of the park
With 4.5 million visitors last year, Zion is one of the most popular National Parks in the USA.
 Where to stay in Zion
Camping: There are two campsites, Watchman Campground and South Campground, within the park. Both campsites are located near the visitors center at the South entrance. At the Watchman sites are released for reservation on a 6 month rolling basis while in the South Campground it is on a 14 day rolling basis.
Zion Lodge: located deep within the park the historic lodge offers a mix of cabins and hotel rooms. We've stayed in the Lodge and it's a nice traditional option which really allows you to immerse yourself in the park. The lodge fills up well in advance so it's worth checking your dates well in advance of your trip. We highly recommend staying here as its an incredible location – check prices here!
Springdale
With limited accommodation in the park itself visitors to Zion typically stay in Springdale, a small town next to the south entrance. The Springdale Shuttle connects Springdale to the Zion Visitors Center and the Zion Shuttle so it is just as easy to stay adjacent to Zion and there are more food options in the town.
Cable Mountain Lodge: great selection of family friendly rooms, excellent food and an outdoor pool overlooked by the Zion Watchman! Its location, adjacent to the Zion Visitors Center, means you can hop on the park shuttle bus and reach any of the trails within minutes. Our Zion favorite – check prices now!
Flanigan's Inn: just 10 minutes walk from the Zion entrance and located on a Springdale Shuttle stop, Flanigan's Inn is a reasonably priced option with good sized clean rooms, a pool and a hot tub – check prices now!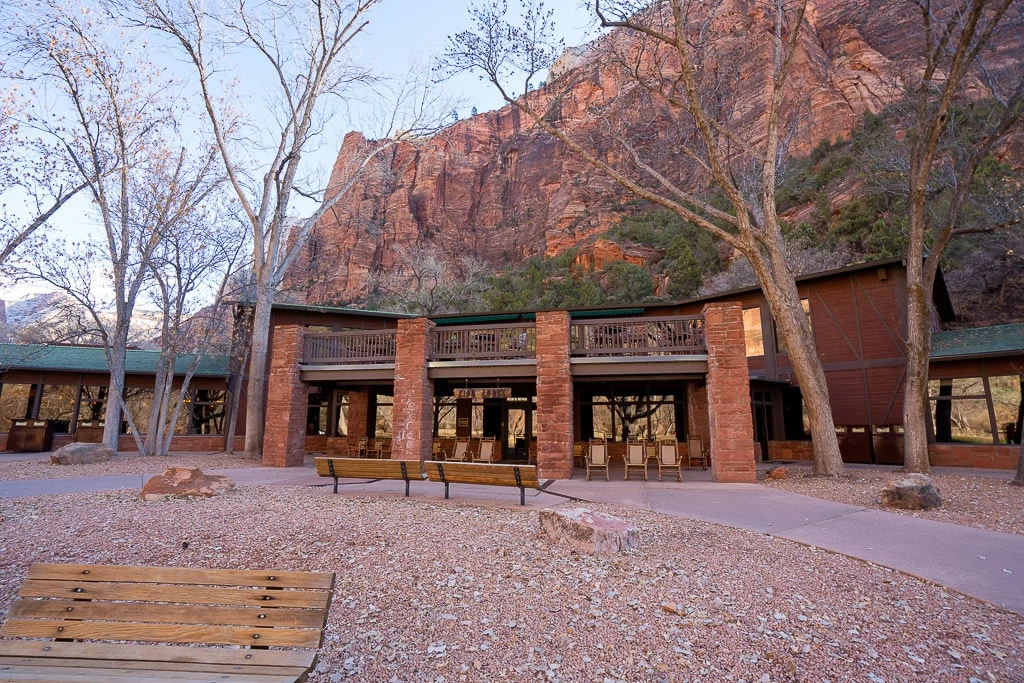 Best time to visit Zion
Zion is an excellent year-round destination with most of the trails remaining accessible throughout the winter months:
Spring: With increasing temperatures and blooming wildflowers, Spring is one of the best times to visit Zion. However, a Spring visit can be unpredictable for the Narrows – it is often closed as a result of melting snow increasing the river flow. Some high elevation parks of the park may be closed due to lingering snow.
Summer: summer is hot in Zion!temperatures often exceed 100°F and hiking can be challenging in the middle of the day. Visitor numbers peak in summer so expect crowded trails and a wait for shuttles. Flash floods are also a risk in summer.
Fall: Fall foliage and mild temperatures make this a great time of year to visit Zion.
Winter: Zion National Park in Winter is often a place of solitude and beauty with less visitors resulting in quieter trails and less expensive accommodation. Although winters tend to be relatively mild, the trade-off is cooler temperatures and the prospect of weather-related trail closures.
 Zion itinerary tip: the more moderate weather conditions make Spring and Fall the most desirable time to visit the park. We last visited Zion in Winter 2019 and loved the low crowds and peacefulness of the park.
How long to spend in Zion National Park
For first time visitors we recommend spending at least 2 full days exploring Zion National Park. This allows the time to attempt a nice variety of hikes, enjoy the scenic drive through the park and have some downtime just savoring the spectacular and dramatic surroundings.
Many visitors combine a visit to Zion with a trip to Bryce Canyon National Park which is a two hour drive from Zion.
Zion itinerary tip: if you are planning on doing a selection of the longer Zion hikes or want to include rock climbing or canyoneering in your Zion itinerary then it is easy to spend even a full week in Zion.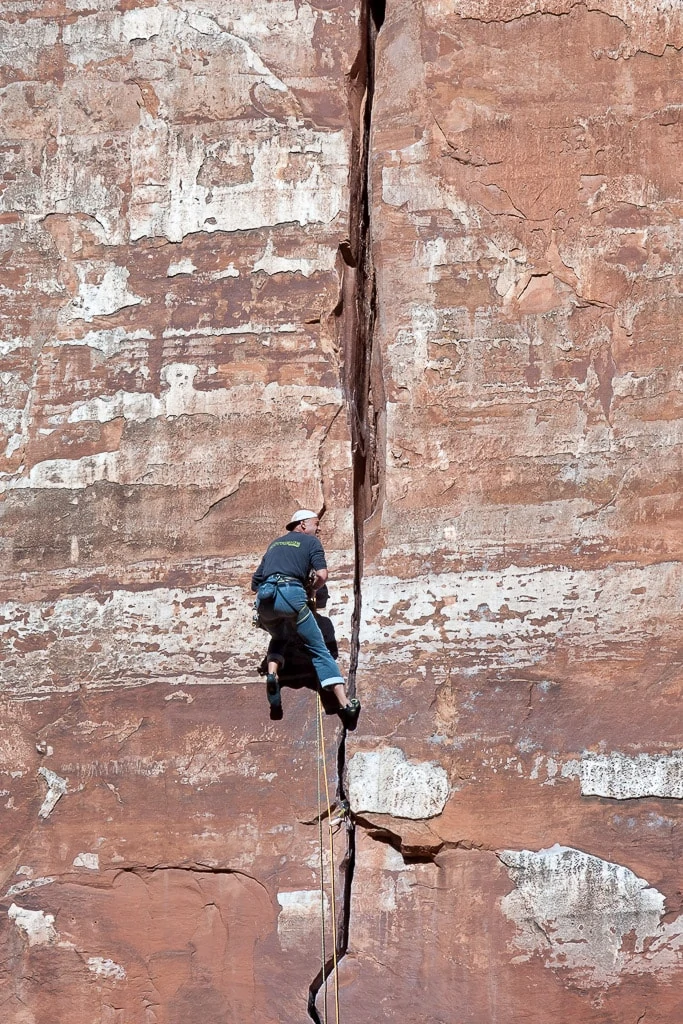 What to pack for Zion National Park
Hiking books and socks: make sure your hiking boots are worn in before hitting the Zion trails!
Water Bottle/hydration pack – Elaine uses a Nalgene Tritan water bottle and Dave a Takeya stainless steel bottle. We also have a Teton hydration pack for longer hikes.
LED headlight: if you're planning early morning or late evening walks then bring a headlamp. We used this Vont LED headlight when we set off for Angels Landing before sunset and when we ventured out late in the evening to check out the Zion night skies.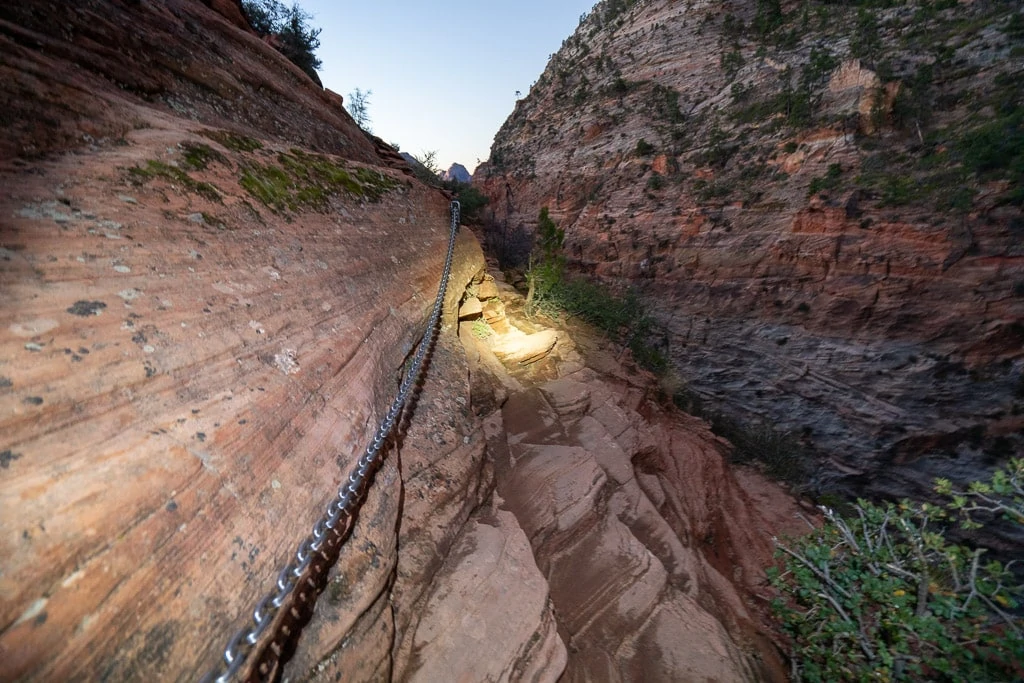 Yaktrax: if you are visiting Zion National Park in Winter Yaxtrax are amazing for navigating the icy trails. We used ours across all the Utah National Parks during our Winter 2019 trip – our favorites are these Yaktrax Walk Traction Cleats.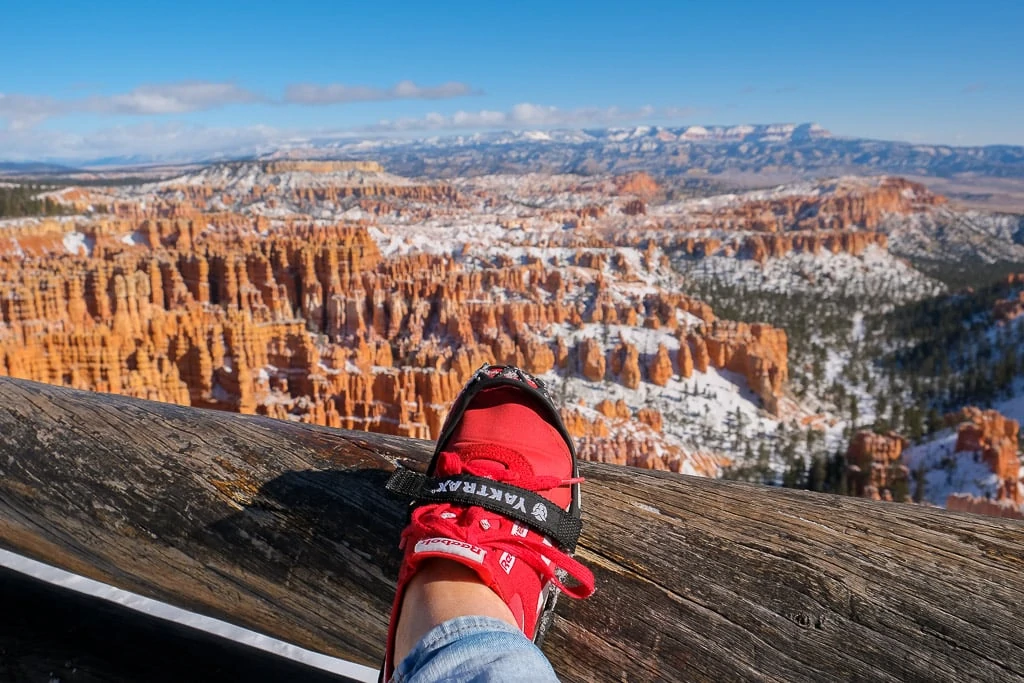 Sunscreen, sunhat, sunglasses, light rain jacket: for summer visits
Hiking jacket, hat and layers: for winter visits
Hiking Poles: we don't use hiking poles but we saw lots of hikers using them on the trails. Remember you will need to be hands free for the last section of Angels Landing when navigating the chains. Rubber tip hiking poles are best for the rocky trails in Zion – these TheFitLife Nordic Walking Trekking Poles  are a great option for Zion
Narrows gear: if you are planning to hike the Narrows in summer then it is possible to do it in any footwear you don't mind getting wet and your regular hiking clothes – do keep in mind the boulders and rocks in the water can be slippery. In winter, you will need dry gear as the water is freezing. Many hikers rent Narrows day packages from Zion Outfitters (located just outside the park) which include boots, socks and a wooden hiking stick in summer and dry pants in winter.
Zion National Park itinerary
We've included our one, two and three day Zion itineraries. These itineraries assume full days in Zion National Park – make sure to allow for travel days to and from the park when you are planning your own Zion itinerary.
Zion itinerary tips: The main Zion Canyon is only accessible via shuttle bus outside of the lowest crowd days in the park. The trail heads for many of the hikes are located along the Shuttle Bus route including Scout Lookout, Angels Landing, Riverside Walk, the Narrows and the Upper Emerald Pool. The shuttle service in Zion is usually very efficient although, on the busiest days in the park, you may need to allow additional time to queue. For a more detailed explanation on your options for navigating the park check out of guide to Zion National Park. The shuttle bus is currently (August 2020) ticket only so make sure to reserve a ticket in advance.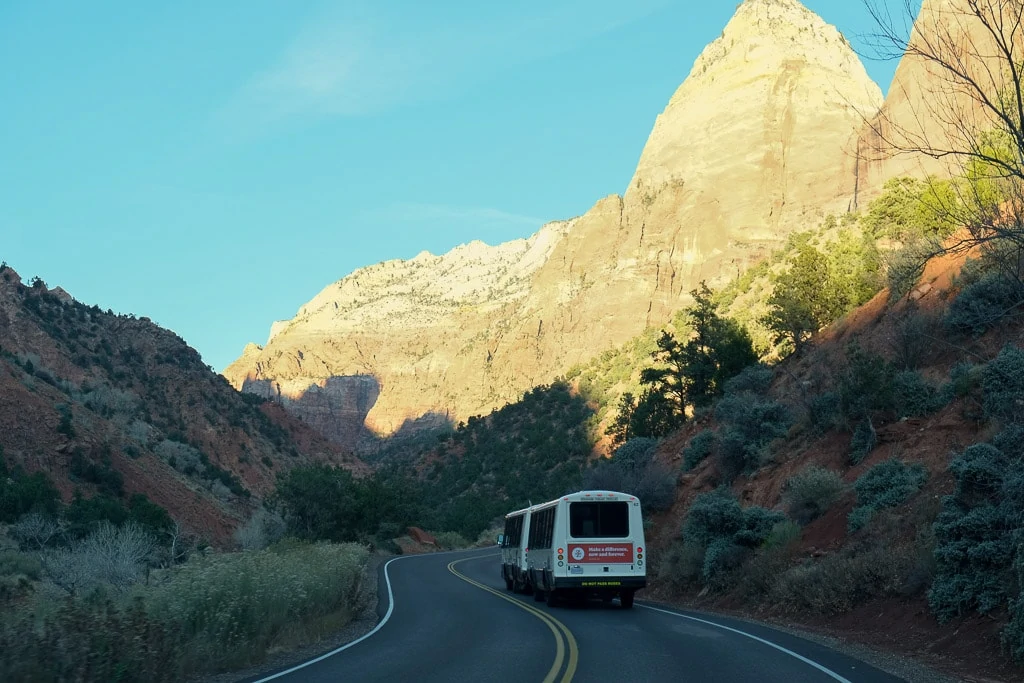 One day Zion itinerary
Our one day Zion itinerary showcases some of the best features of Zion National Park and is a great introduction to its trails:
Riverside Walk: hop on the Zion shuttle to Stop 9, the Temple of Sinawava, to start the day with a 2 mile leisurely stroll along the Virgin River. The Narrows begins at the end of Riverside Walk so it also offers a great opportunity to check out a small portion of the trail (2 hours). Read more on our Riverside Walk hike – click here to read!
Scout Lookout: take the shuttle to Stop 6, the Grotto. Follow the West Rim trail to Scout Lookout for spectacular views of Zion Canyon below and Angels Landing up ahead. With 1,000 foot of elevation gain on the way to Scout Lookout this is a strenuous hike! (2 hours). Read more on our Scout Lookout hike – click here to read!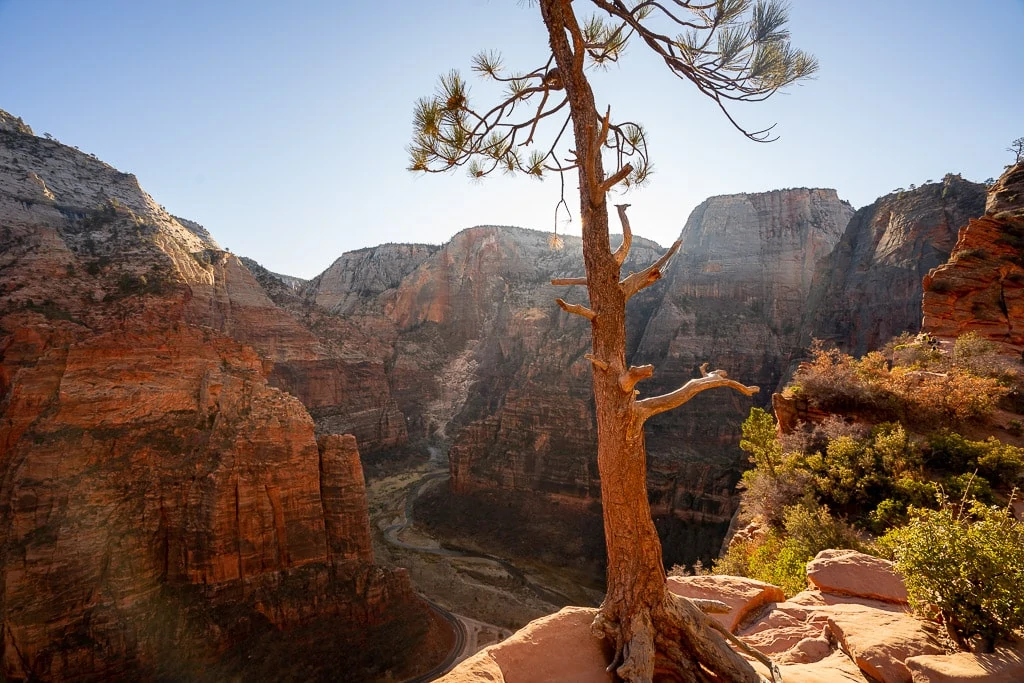 Lunch Break: a rest break is well deserved after Scout Lookout. Food options in Zion are limited so many visitors bring lunch from Springdale. Zion Lodge, stop 5 on the shuttle, serves food. When lunch is done, make your way back to you vehicle in anticipation of an afternoon exploring the east side of the park.
Canyon Overlook: the drive over to the east of the park, where the Canyon Overlook trail is located, takes about 20 minutes. It follows the Zion – Mount Carmel Highway, a stunning drive which passes through a series of switchbacks before reaching the Zion – Mt Carmel Tunnel. Continue a little further past the Canyon Overlook trail head and make a stop at Checkerboard Mesa, a rock with a unique criss cross pattern. Canyon Overlook is an easy 1 mile trail with spectacular views of the Zion Canyon (1 hour). Read more on our Canyon Overlook hike – click here to read!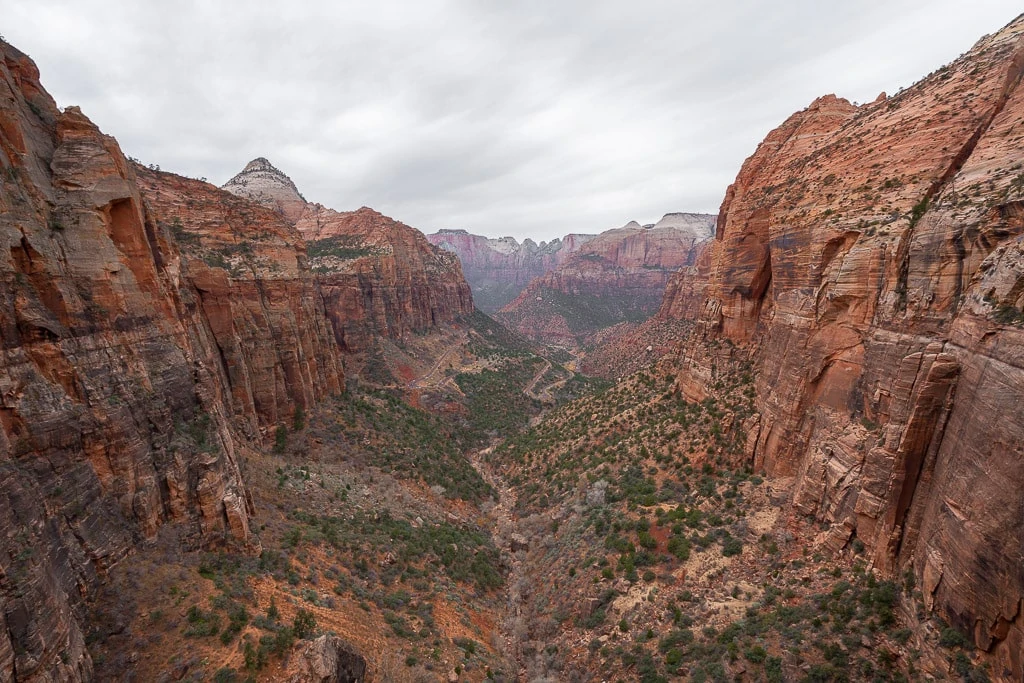 Two day Zion itinerary
Two days will allow time to include the Narrows and Angels Landing, two classic Zion trails.
Day 1:
The Narrows:hop on the Zion shuttle to Stop 9, the Temple of Sinawava, to hike the Narrows, a classic Zion water-based trail along the Virgin River and into a narrow canyon (6 hours to Wall Street and back, 11 hours return to the end of the trail at Big Spring)
Lunch Break: picnic or hop on the shuttle to Zion Lodge at stop 5
Canyon Overlook: the drive over to the east of the park, where the Canyon Overlook trail is located, takes about 20 minutes. It follows the Zion – Mount Carmel Highway, a stunning drive which passes through a series of switchbacks before reaching the Zion – Mt Carmel Tunnel. Continue a little further past the Canyon Overlook trail head and make a stop at Checkerboard. Read more on our Canyon Overlook hike – click here to read!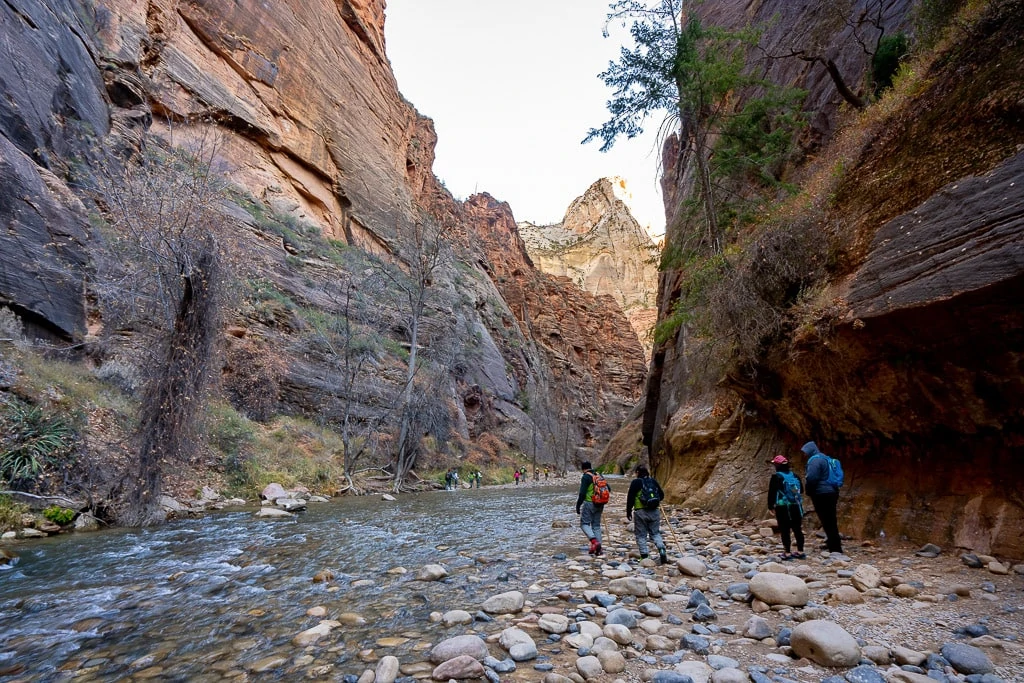 Day 2:
Angels Landing: take the first shuttle of the day to Stop 6, The Grotto, for an early morning hike to the iconic Angels Landing, one of the most challenging trails in Zion (5 hours). If you plan to hike Angels Landing then you don't need to include Scout Lookout as a separate hike on day 1 as Angels Landing follows the same trail as far as Scout Lookout before branching off to Angels Landing. Read more on our Angels Landing hike – click here to read!
Zion itinerary tip: Angels Landing is an adrenaline inducing hike which follows a narrow ridge with huge drops on either side. We find the trail much more pleasant when crowds are low and so highly recommend an early start on the hike. The Angels Landing chains section is currently closed (August 2020) but hikers can still go as far as Scout Lookout.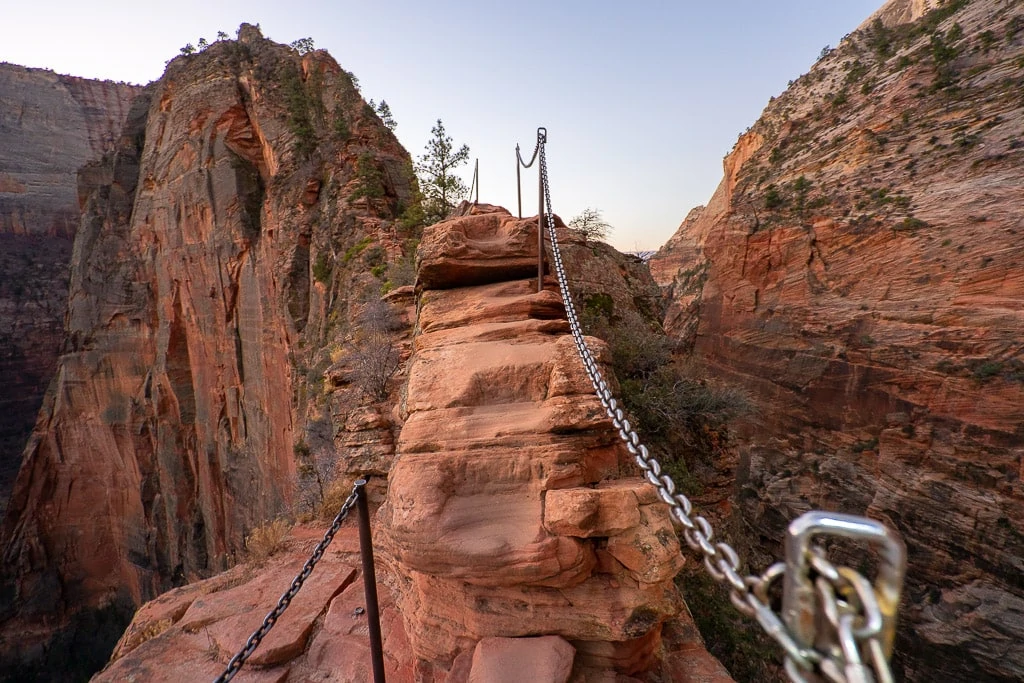 Lunch: picnic or hop on the shuttle to Zion Lodge at stop 5 or return to Springdale for a lunch break
Kolob Canyons: make the 40 minute drive over to Kolob Canyon, a separate section of Zion with its own entrance, and hike one of its Wilderness trails. Our favorite is Timber Creek Overlook, a 1 hour trail with spectacular views over the valley. It is incredible to visit a quieter park of the park and enjoy the spectacular scenery.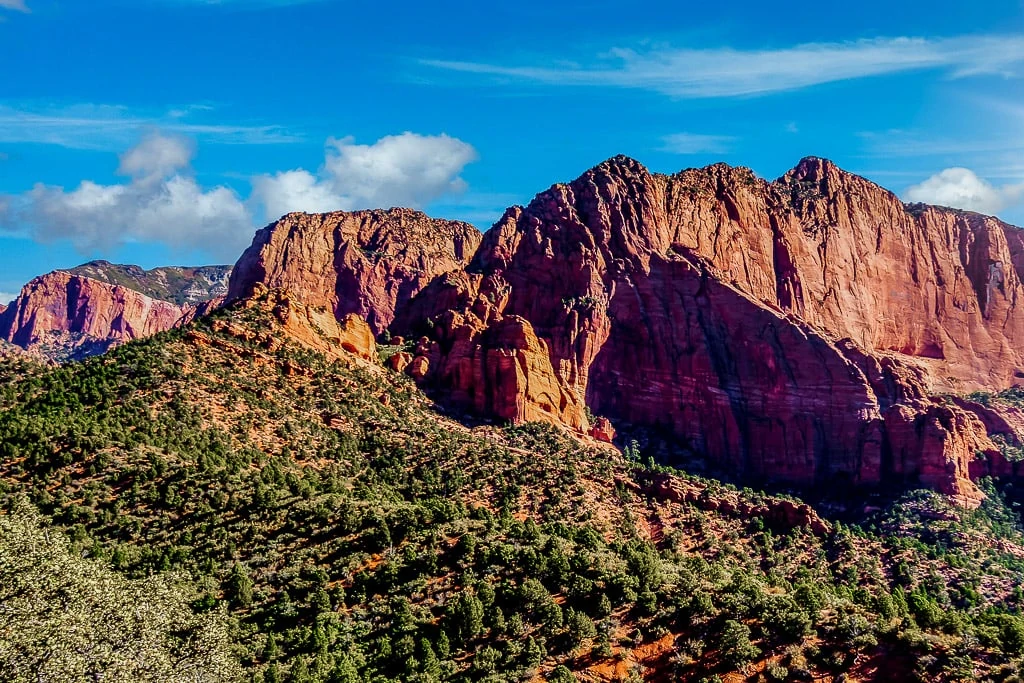 Sunset at Canyon Junction: return to the main Zion Canyon to catch sunset at Canyon Junction Bridge. The bridge spans over the Virgin River and the Watchman looms in the distance. The scene is spectacular at sunset when the Watchman basks in a soft golden glow and the contrast with the deep red canyon walls is beautiful. It is possible to drive to Canyon Junction but it is often difficult to get a space as parking is limited.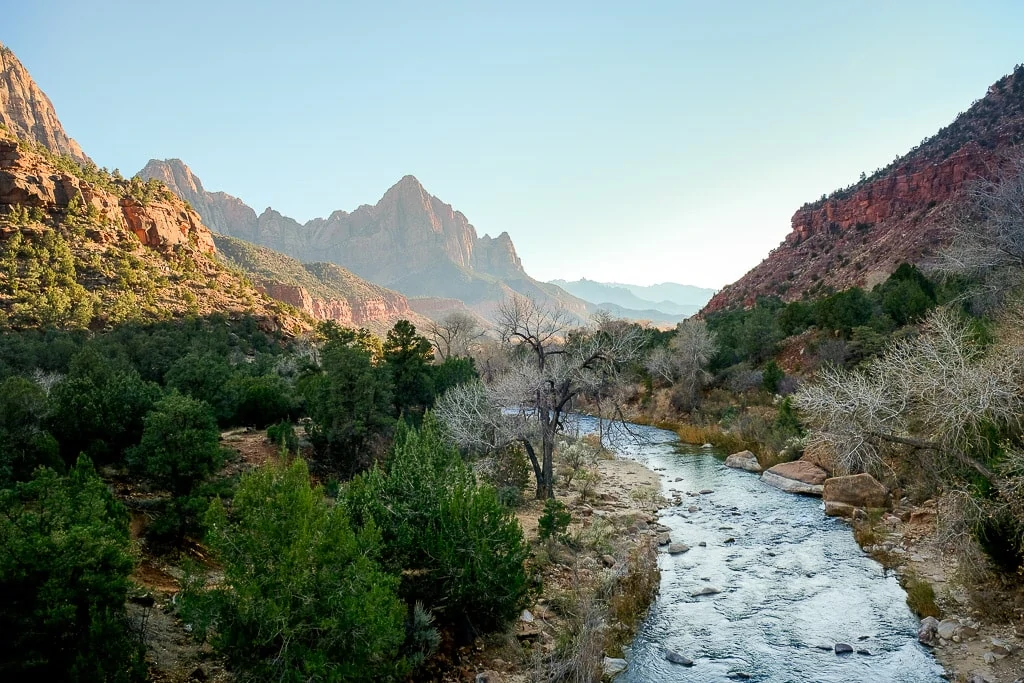 Three day Zion itinerary
Follow the two day itinerary above plus:
Observation Point: Observation Point offers one of the most magnificent views of Zion Canyon and showcases Zion's finest attractions including Angels Landing and The Court of the Patriarchs. The most common route to Observation Point is via the East Rim trail but this is currently closed due to a massive rock fall. The East Mesa trail is an alternative route to Observation Point although the trail head can be difficult to access. It is located at the park boundary on the east side of Zion and is accessible from the Zion Ponderosa Ranch Resort via dirt roads. The trail is 6.4 miles return and takes about 3 hours in total. It takes around 1 hour to reach the trail head from Springdale.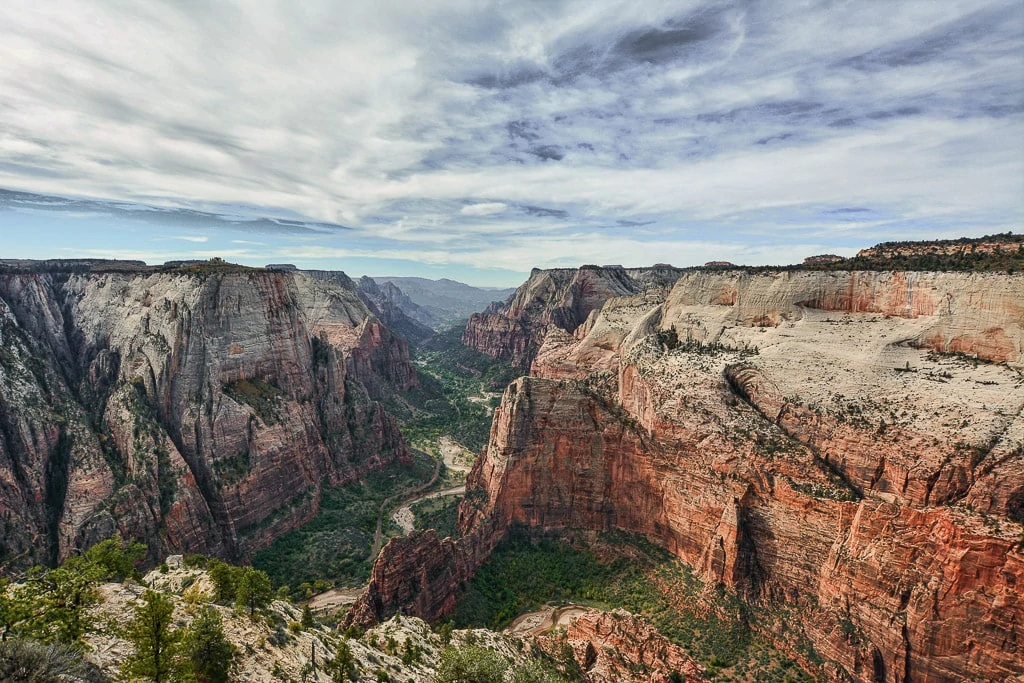 Lunch: picnic or return to Springdale for lunch
Upper Emerald Pools: The three tiered Emerald Pools are made up of the Lower, Middle and Upper Pools which are connected via a series of trails. The Upper Emerald Pools are accessible via the Kayenta Trail from the Grotto (stop 6) to the Middle Pool and hikers have the option to make side hikes to the Upper and Lower Pools (2 to 4 hours)
Alternatively, the West Rim trail is a challenging day hike which takes 9 hours on average. Depending on fitness levels it can take up to 16 hours.
West Rim Trail: A Zion classic, the West Rim trail is a long distance hike which descends from Lava Point to the Grotto showcasing some of Zion's most beautiful scenery along the way. With a distance of 16.2 miles to be covered the trail can be completed as a challenging day hike or a less strenuous 2 day hike, spending a night at a trail camp along the way. A permit is required for camping.