11 Best Things to do in Isla Mujeres Mexico
With its laid back island vibes, turquoise waters and beautiful North Beach, there are lots of fun things to do in Isla Mujeres. The small Caribbean island is just 20 minutes from Cancun and is an amazing getaway from the busy beach towns on the east coast of the Yucatan Peninsula.
Isla Mujeres is a beautiful island and both a very popular day-trip and overnight escape from Cancun.. After our latest getaway to Isla Mujeres we put together our guide with everything you need to know about visiting the island, including how to get there, where to stay, where to eat and the best things to do on Isla Mujeres.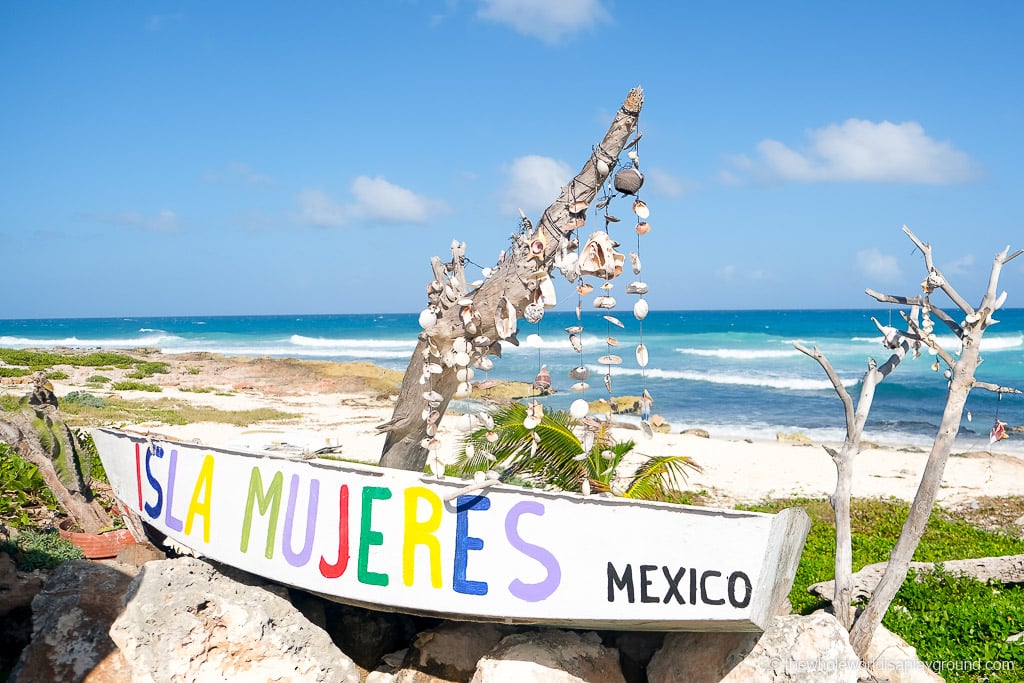 Isla Mujeres
Located just 10 kilometers of the coast of Cancun, Isla Mujeres is easily accessible from Cancun and the resort towns along the Riviera Maya. In fact, a visit to Isla Mujeres is one of our favorite things to do in the Riviera Maya.
How to get to Isla Mujeres
Isla Mujeres is easily reached by passenger ferry from Cancun. The main operator is Ultramar and runs ferry services daily from the Puerto Juarez district, a short drive from downtown Cancun and the hotel zone. Even if you are staying at the far end of the hotel zone it is less than a 20 minute drive to the ferry terminal.
If you are driving a rental car there is a secure multi-story parking lot at the terminal – our latest visit was in January 2020 and parking cost $100 MXN for the day. Visitors who arrive via taxi or shuttle service from the airport or their hotel will get dropped off beside the ticket office where porters can help with luggage.
Things to do on Isla Mujeres tip: Aim to get an early morning ferry to make the most of your time on Isla Mujeres.
Tickets cost $300/250 MXN round trips for adults/kids respectively and can be purchased at the Ultramar ticket office in the ferry terminal. The ferries are modern and comfortable and leave regularly. When we visitied in January, the ferry ran every half hour from 5 am to 9.30 pm, and hourly after that.
Once you have your ticket it's just a matter of waiting in the covered outdoor boarding area for your ferry to board. If you are travelling with luggage the porters will take your bags from you in the queue and arrange for them to be loaded onto the ferry. Don't forget to tip these guys as they do a great job and save you a lot of work hauling bags.
The ferry takes around 15 minutes to reach Isla Mujeres and is a generally a smooth crossing!
Thing to do on Isla Mujeres tip: if the sea is choppy then it's best not to sit upstairs on the deck while on the ferry. Once the ferry reaches cruising speed on the open water you're likely going to get pretty wet!
Taking a car to Isla Mujeres
While it is possible to take a car to Isla Mujeres we don't recommended. Parking is extremely limited on the island so getting around with a car would be difficult. Instead, we recommend to take the ferry on foot and rent a golf cart or using the island taxis once you get to Isla Mujeres..If you do plan to take your car then make sure that your accommodation has parking.
Things to do on Isla Mujeres tip: the Ultimar Ferry from Puerto Juarez is a passenger ferry. There is a car ferry from Punta Sam, about five minutes north of Puerto Juarez.
How long to spend in Isla Mujeres
Most visitors will spend just one day on Isla Mujeres as a day trip from Cancun. It is possible to see most of the island in one day and is one of the best things to do in Cancun.
An overnight stay is also a great option – island life is world's apart from Cancun and the resort towns along the Riviera Maya!. We'd recommend spending at least 1-2 nights on Isla Mujeres. This will allow you to see all the sights, relax a little and enjoy the turquoise waters on the island's north beach.
Where to Stay in Isla Mujeres
From all-inclusive resorts to quiet retreats, Isla Mujeres has something for everyone. We'd recommend reserving accommodation close to Playa Norte as it's our favourite spot on the island and the beach/food options are great.
Mia Reef Isla Mujeres Cancun All Inclusive Resort: one of the best rated hotels on Isla Mujeres, Mia Reef is located on a private island on the northern tip of Isla Mujeres beside Playa Norte. The resort is amazing and the location is absolutely stunning. Definitely check it out – check prices now!
Izla Beach Front Hotel: located on the west coast of Isla Mujeres on a stretch of white sandy beach is the Izla Hotel. The location and service are fantastic and it's a great option of your looking for a beach hotel experience – check prices now!
Hotel Secreto: this is one of the most unique places to stay in Isla Mujeres and is perfect for couples. With it's own private beach and stunning design this hotel is one of the best places to stay in Isla Mujeres. It's also a short stroll to Playa Norte – check prices now!
11 Best Things to do on Isla Mujeres
From golf cart jaunts to beach side yoga and Mayan Ruins, there are lots of amazing things to do on Isla Mujeres:
 1 | Rent a golf cart
One of the best things to do on Isla Mujeres is to rent a golf cart and explore the island. It's easy to hire a golf cart from one of the many rental companies located near the ferry terminal. We reserved our golf cart from the Ultramar staff at the ferry terminal in Cancun before catching the ferry so it was as simple as walking the short distance to the office and picking up our golf cart.
Prices vary of rentals but you should get a golf cart for a daily rate of around 800-900 $Mxn. You can hire the carts by the hour or by the half-day but we recommend taking it for the full day. It's not much extra and you won't have to worry about having to return early.
Things to do in Isla Mujeres tip: You need to have a valid drivers licence to take out a rental with any of the golf cart rental companies. You won't be able to rent a golf cart without a drivers license. You'll also have to leave this with the office as a deposit against the golf cart. We left our drivers licence with them and picked it up when we returned later that day.
2 |  Playa Norte
After sorting out transport  head straight for the idyllic Playa Norte. The stunning beach is located on the north-west tip of Isla Mujeres and is a beautiful stretch of white sandy beach dotted with beach bars and restaurants.
It's easy to spend the entire day at Playa Norte but, if you want to explore more of the island, we recommend starting your day in Isla Mujeres at Playa Norte. The beach tends to get very crowded later in the day, especially during peak season. We love chilling at Buhos Beach Bar, swimming in the warm turquoise waters of Playa Norte and taking in the stunning views.
If you have the time make sure to take part in a beach side yoga session at Yoga in the Treehouse on Playa Norte. Located beside Buhos Beach Bar, this small yoga studio has one of the most beautiful settings we've ever seen,  It is an amazing experience in an idyllic setting and one of our favorite things to do in Isla Mujeres.
3 | Mia Reef Isla Mujeres
If you're spending more than one day on Isla Mujeres make sure to check out Mia Reef Isla Mujeres. This all-inclusive resort is located on a private island close to Playa Norte and offers day tickets that allow visitors access to the resort from 9 am to 5 pm. Tickets cost $75 USD per person and can be purchased from the staff at the bridge to the island..Tickets include access to the beach, beach chairs and the pool area. There is an open bar included in addition to breakfast and lunch.
4 | Tortugranja Turtle Sanctuary
The Tortungranja Turtle Sanctuary is a safe haven for the endangered sea turtles.This small, unassuming sanctuary is a haven for the many eggs that they rescue from predators around the island. After hatching and initial care, the sanctuary release the turtles back into the wild. Entrance is well worth it at $3 USD and kids will love seeing all the baby turtles.
Visitors are also able to feed the turtles so don't forget to grab a bag on the way in!
5 | Garrafon Natural Reef Park
If you're in the mood for some adventure and snorkeling then definitely make some time for Garrafon Natural Reef Park while you're in Isla Mujeres. The park is packed with fun activities, ranging from zip-lining and snorkeling on the reef to relaxing in the hammock garden with a drink.
If you have time to spare it's worth allowing a half-day to enjoy the reef park as there is so much to do. Tickets start at $89USD for adults ($59 for kids) and can include transportation from Cancun directly if you're not already on Isla Mujeres.
6 | Punta Sur
Our favourite part of Isla Mujeres after Playa Norte, Punta Sur is the rocky outcrop at the southern tip of Isla Mujeres. It is home to the ruins of Ixchel Temple. Ixchel is the Mayan Goddess of the Moon and the wife of the Sun and was viewed as a fertility goddess. For years Mayan women came to the island on pilgrimage to seek her help.
The walk around Punta Sur is relaxing and the views of the ocean are incredible. You can see the hotels in Cancun just on the horizon from here.
After enjoying the walk make sure to stop for a snack or some food at either of the restaurants located at the entrance to the park. While they are a little pricey, the views while you eat are some of the best in Isla Mujeres! We like to stop here for a snack and to enjoy the stunning views.
There is a fun sculpture park located at the entrance to Punta Sur.
7 | Swim with Whale Sharks
This one is for the very adventurous. If you visit Isla Mujeres between June and mid-September it is possible to swim with whale sharks, the largest fish in the world. These peaceful giants visit the warm Caribbean waters around Isla Mujeres during the summer months. Many tour companies offer diving tours from Isla Mujeres allowing visitors to swim with these amazing fish.
One of the best diving companies that many visitors use is Isla Mujeres Whale Shark Tours who have a 99% success rate of seeing more than one shark on their one day tours.
8 | The Shell House (Casa Caracol)
This is one of the most unique houses to rent that you'll find anywhere in the world. The Shell House is, as the name suggests, shaped like a shell and has amazing views of the ocean from its outdoor pool. The interior of the house is ocean-themed, from the seashell shower to the seabed themed bathroom!
If you're planning to stay in Isla Mujeres you can rent the Shell House on Airbnb – check prices now!
9 | The Crayola House
This is one of the most fun and colorful houses in Isla Mujeres and a great spot to stop for photos. The Crayola House is a quick detour on the route back from Punta Sur in Isla Mujeres town. The house was painted to look like a box of crayons and is bright and vibrant and a fun stop on your way around Isla Mujeres.
Things to do in Isla Mujeres tip: We've included the exact location of the Crayola House on the map at the top of the page as finding the exact location can be tricky!
10 | Guadalupe Chapel
This lovely chapel has incredible ocean views and is worth a stop on the way from Punta Sur.
 11 | Musa Underwater Museum
500 sculptures line the sea bed in the waters surrounding Cancun and Isla Mujeres at the MUSA Underwater Museum. The life size sculptures are designed to counteract the impact of climate change on the oceans and reefs surrounding Isla Mujeres. The incredible sculptures, from cars to people, are accessible via a shallow dive from the waters surrounding Isla Mujeres. The sculptures around Isla Mujeres are at a depth of 8 metres so it might be possible to view them while snorkeling.
Things to do in Isla Mujeres tip: if you're not a diver t's possible to view the sculptures near Cancun by snorkeling or on a glass bottomed boat tour.
Disclaimer: As an Amazon Associate I earn from qualifying purchases.