Within easy reach of idyllic islands, beautiful cenotes and ancient Mayan ruins, there are some incredible Cancun day trip options. Cancun is the arrival point for the majority of visitors to the Yucatan Peninsula and its sprawling resorts are a great base from which to explore the sights of the Yucatan.  Having used Cancun as a base during our many Mexico adventures, we've put together this list of the best 14 day trips from Cancun.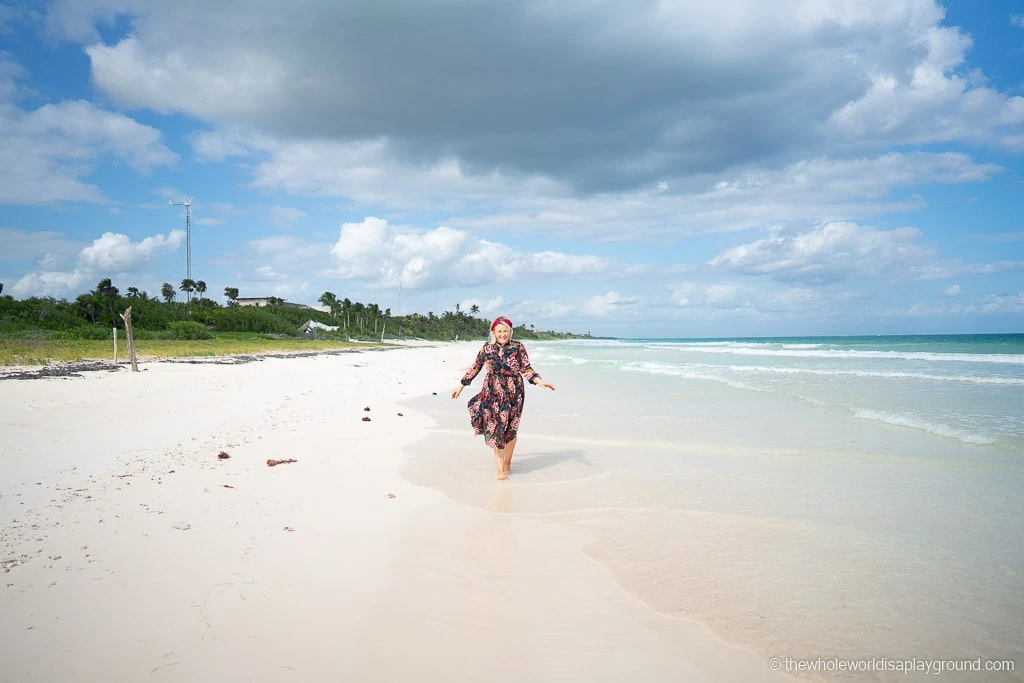 Cancun Day Trips: How to get around
It is relatively easy to plan a day trip from Cancun and transport options include renting a car, using the ADO bus system, riding one of the small local buses known as Colectivo that run across the Yucatan or by joining a tour.
We rented a car when we arrived in Cancun airport and used our rental to travel around the Yucatan. A rental car allows easy access to the sights, allows us to follow our own schedule and often works out less expensive than organised tours
Cancun Day Trip tip: Renting a car is the easiest and one of the cheapest ways to travel around and we highly recommend a rental car for day trips. There is one small thing to be aware of with Mexican rentals – TPL/PLI is a mandatory insurance required by all drivers in Mexico. You can either rent the car with TPI/PLI included in the quote or or budget in around US $20 a day to allow for it. It is not typically covered in the rental insurance included with some credit cards.
We book our rentals with RentalCars.com, as they usually have the best rental car price.
 14 Best Cancun Day Trips
From the iconic Mayan ruins of Chichén Itzá to the sparkling blue waters of a cenote and the island vibes of Isla Mujeres, there are some amazing sights within easy reach by day trips from Cancun. Here are our 14 favorite Cancun Day trips:
1 | Chichén Itzá
The most famous sight in the Yucatan, Chichén Itzá is a 2.5 hour drive from Cancun and is absolutely worth a day trip from the city.
The instantly recognizable Mayan ruins are a UNESCO World Heritage Site and one of the New 7 Wonders of the World. A city which was home to 35,000 at its peak, the magnificent El Castillo Pyramid and the imposing Temple of Warriors. Another highlight is the Great Ballcourt, where a basketball-style Mayan ball game reportedly led to the beheading of the winning captain, adorned with carvings illustrating a beheading along with the rules of the game.
Cenote Ik Kil and the Balankanché Caves, a gateway to the Mayan underworld, are both popular stops when visiting Chichen Itza from Cancun.
Cancun day trips tip: One of our all time Yucatan highlights is visiting Chichén Itzá at sunrise. We stayed at the Mayaland Hotel within the Chichén Itzá complex (check it out here!). It's also possible to make sunrise with a super early (around 2am) start from Cancun and there are a small number of tours which depart from Cancun for sunrise at Chichen Itza – check Chichen Itza sunrise tours here!
Getting to Chichén Itzá from Cancun: We travel led to Chichén Itzá by rental car: it's also possible to get there via the ADO bus from Cancun or by joining a tour: the most popular option combines Chichén Itzá, Valladolid and the incredible Cenote Ik Kil and is certain to be one of the most awesome days you have in Cancun – check Chicen Itza tour prices here!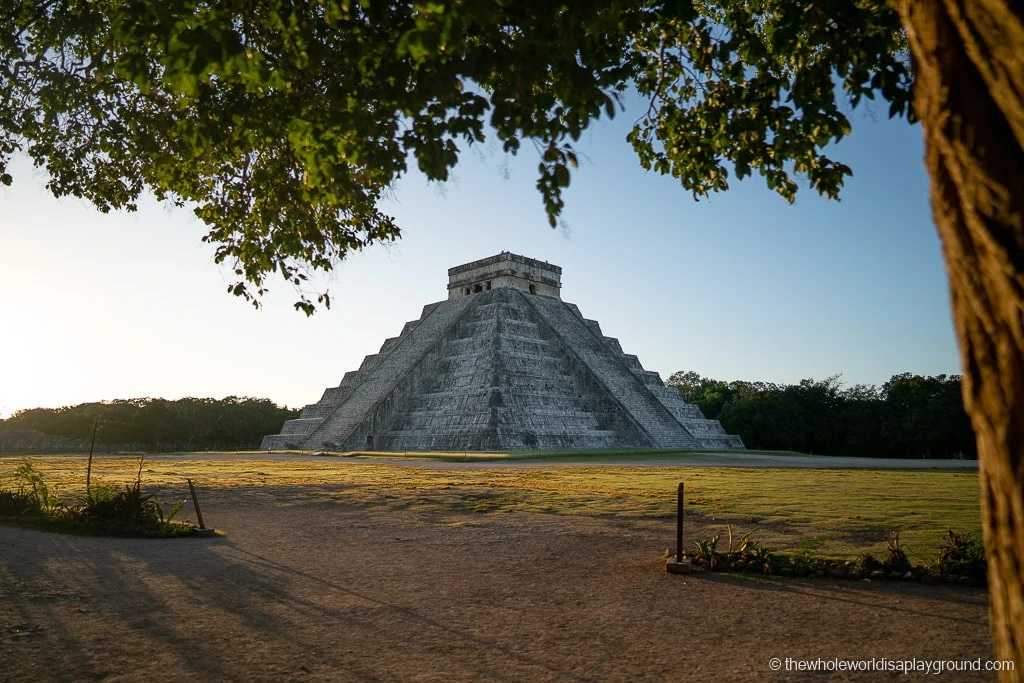 2 | Isla Mujeres
The tiny Caribbean Island then Isla Mujeres is just a 20 minute ferry ride from Cancun and is one of the most popular day trips from Cancun.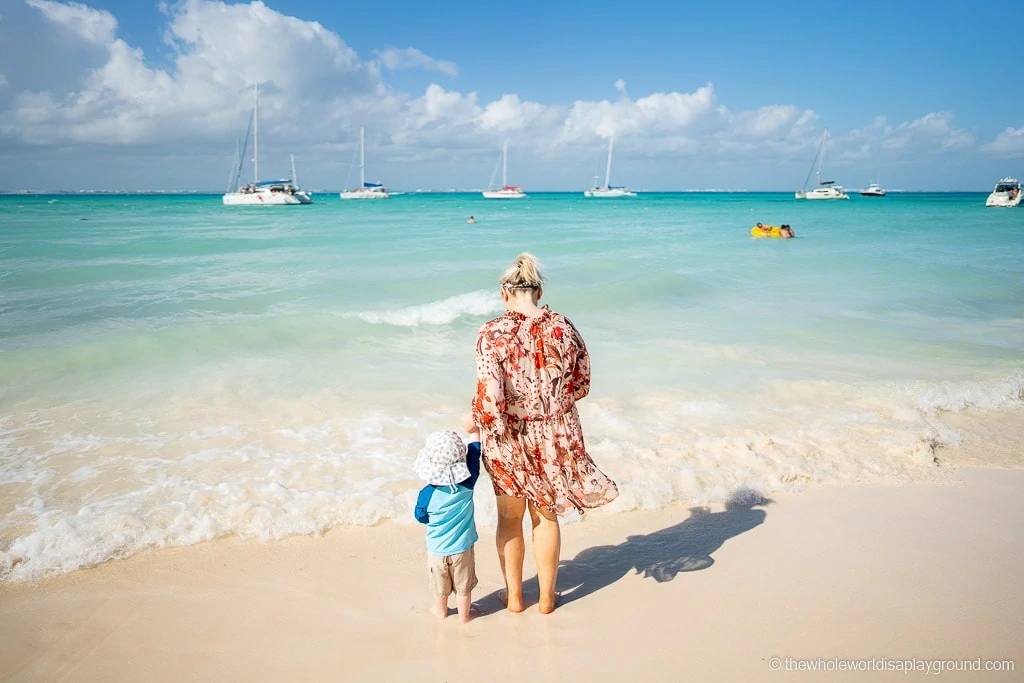 Start the day at Playa Norte, a beautiful beach on the north of the island and our favorite spot on Isla Mujeres. Afterwards, check out Punta Sur with its small Mayan ruins, quirky art sculptures and rugged coastline. The island is also home to a turtle sanctuary and, for fans of snorkeling and shallow diving, the life sized underwater world at the MUSA Underwater Museum is a must visit.
Check out our full guide on things to do in Isla Mujeres for more inspiration and read how to get to Isla Mujeres for details on how to get there.
Cancun day trips tip: we rented golf carts to get around the island. Scooter and taxi are other easy ways to get around. If you want to spend the night on Isla Mujeres there are lots of accommodation options: Hotel Secreto is amazing and just a short stroll to Playa Norte – check prices now!
Getting to Chichén Itzá from Cancun: Isla Mujeres is easily reached by passenger ferry from Cancun. The main operator is Ultramar and runs ferry services daily from the Puerto Juarez district, a short drive from downtown Cancun and the hotel zone. We drove our rental car to the ferry terminal and parked in the multi story car park. All inclusive catamaran trips are another popular way to get there and include drinks, dancing, snorkeling and time on Isla Mujeres – check tour prices here!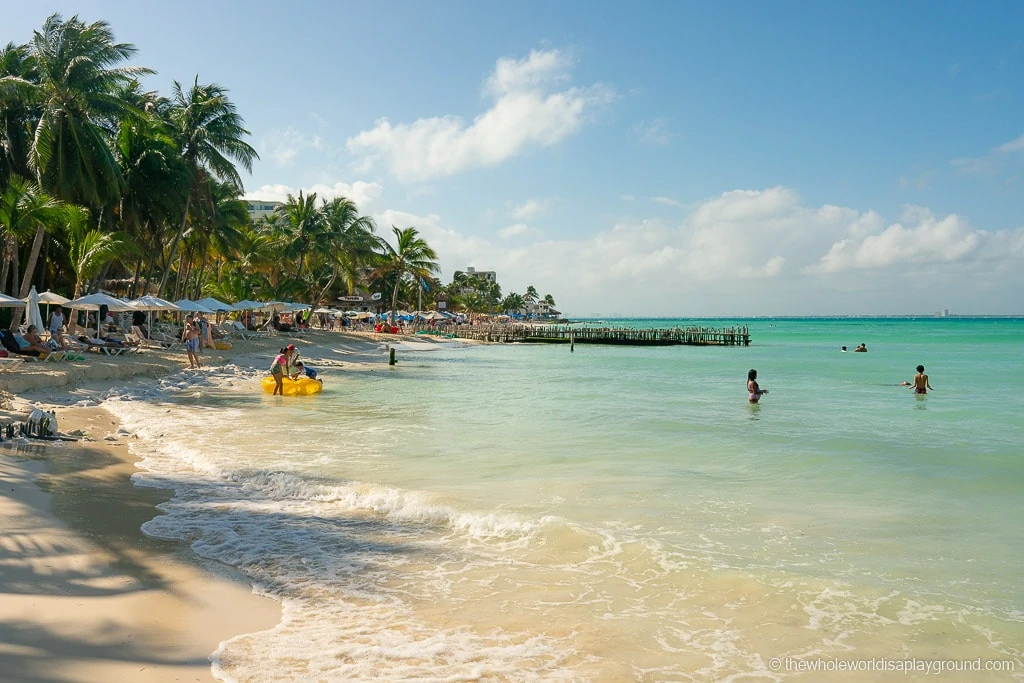 3 | Tulum
The laid back beach town of Tulum is just 1 hour 45 minutes south of Cancun but its vibe is worlds away. Tulum is a magnetic mix of ancient Mayan ruins, sparkling cenotes, white sand beaches and amazing restaurants and beach clubs.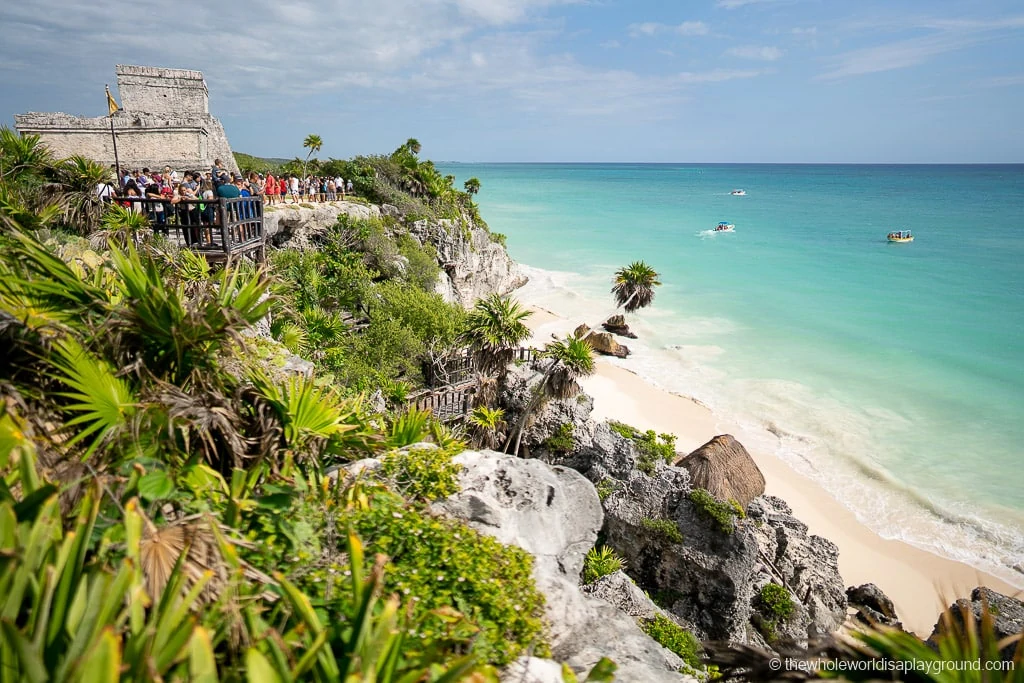 The highlights include its unique 13th Century ruins perched on the edge of a cliff overlooking the sparkling waters of the Caribbean, the beachfront resorts and clubs of the Beach Road which also boasts some of the best Instagram spots in Tulum. A swim in a cenote is another Tulum essential. Cenote Dos Ojos, Cenote Carwash and Gran Cenote are our favorites cenotes near Tulum.
Tulum is an easy day trip from Cancun and, if you're booking a tour, you can combine it with a visit to another Riviera Maya sight – this Tulum tour includes a stop at Cenote Dos Ojos, one of the most popular cenotes in Tulum – check Tulum tours here! 
Check out our full guide on things to do in Tulum for more inspiration.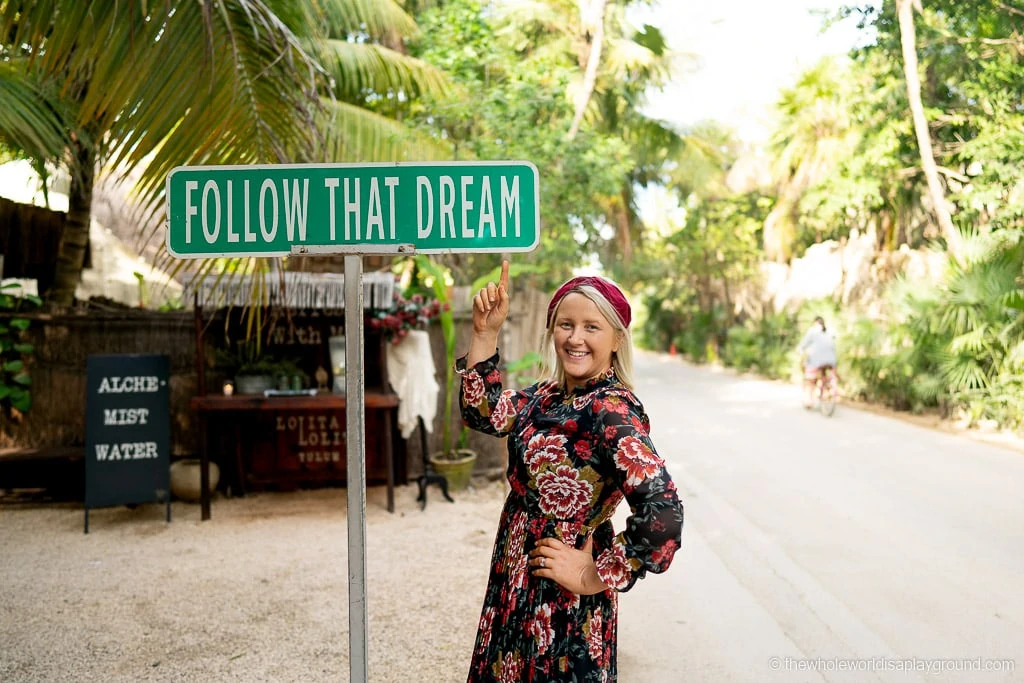 4 | Swim in a Cenote
Swimming in the crystal clear waters of a natural cenote is an unmissable experience and there are some great Cenotes near Cancun. In fact, with thousands of cenotes dotted across the Yucatan the choices are endless!
The 20km cenote road known as Ruta de Los Cenotes is the closest option to Cancun. Cenote Azul is one of the best Playa Del Carmen Cenotes while Zacil-Ha and Gran Cenote are among the best open air cenotes near Tulum.
Cenote Ik Kil is one of our favorite cenotes which is accessible in a day trip from Cancun. It is located a few minutes drive from Chichén Itzá and is one of the most stunning cenotes we visited. A visit to Cenote Ik Kil can be combined with a trip to the New Wonder of the World – check Chichen Itza, Vallodolid and Cenote Ik Kil tour price here!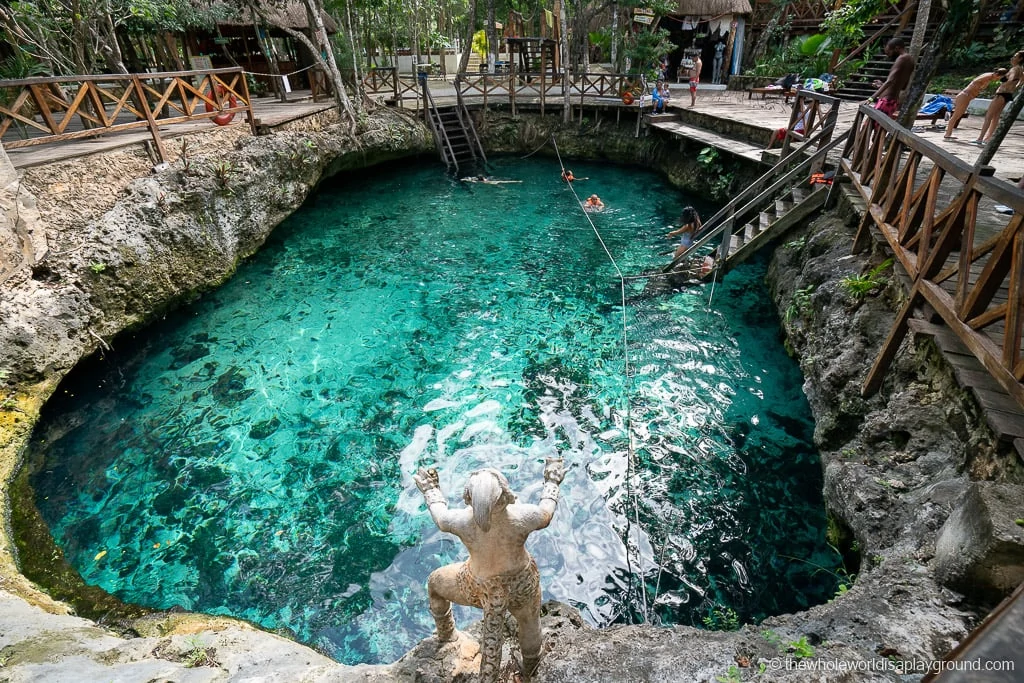 5 | Cozumel
The Caribbean island of Cozumel, renowned for its amazing beaches, snorkeling and scuba diving, is within easy reach of Cancun. The Cozumel ferry departs from Playa Del Carmen and it takes less than two hours to travel there from Cancun, including the ferry crossing, making it great for a day trip or an overnight stay.
Cozumel is best explored in the open top Jeep Wranglers which are available to rent on the island.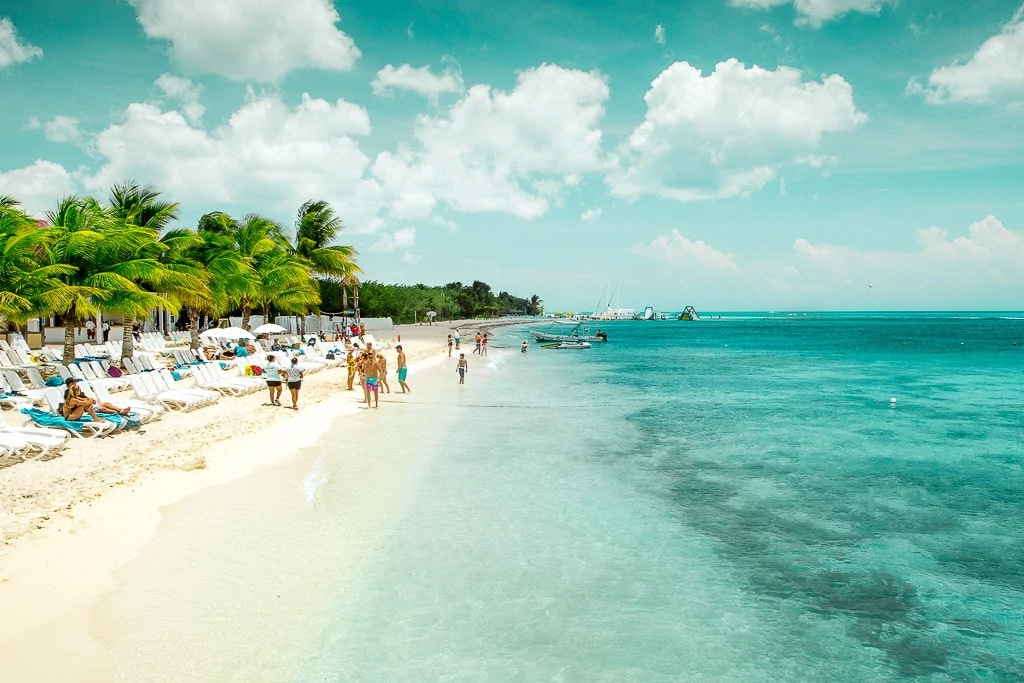 6 | Sian Ka'an
The Sian Kh'an Biosphere is one of the most unique sights within easy reach of Cancun. The biosphere is a mix of tropical jungle, hidden beaches, lush mangroves, secluded Mayan ruins and a beautiful coral reef. Sian Kh'an is on of Mexico's 35 UNESCO World Heritage sites.
Cancun day trips tip: if you love nature and UNESCO's the Sian Kh'an Biosphere is a fantastic excursion from Cancun and it is possible to join a tour – check Sian Ka'an tour prices here!
7 | Akumal
Akumal, or 'the place of the turtles' is a quiet beach town located between Tulum and Playa Del Carmen. It is 90 minutes south of Cancun. Akumal is home to white sand beaches, a coral reef with resident turtles and the turquoise waters of Yal Ku Lagoon which lead straight to the ocean.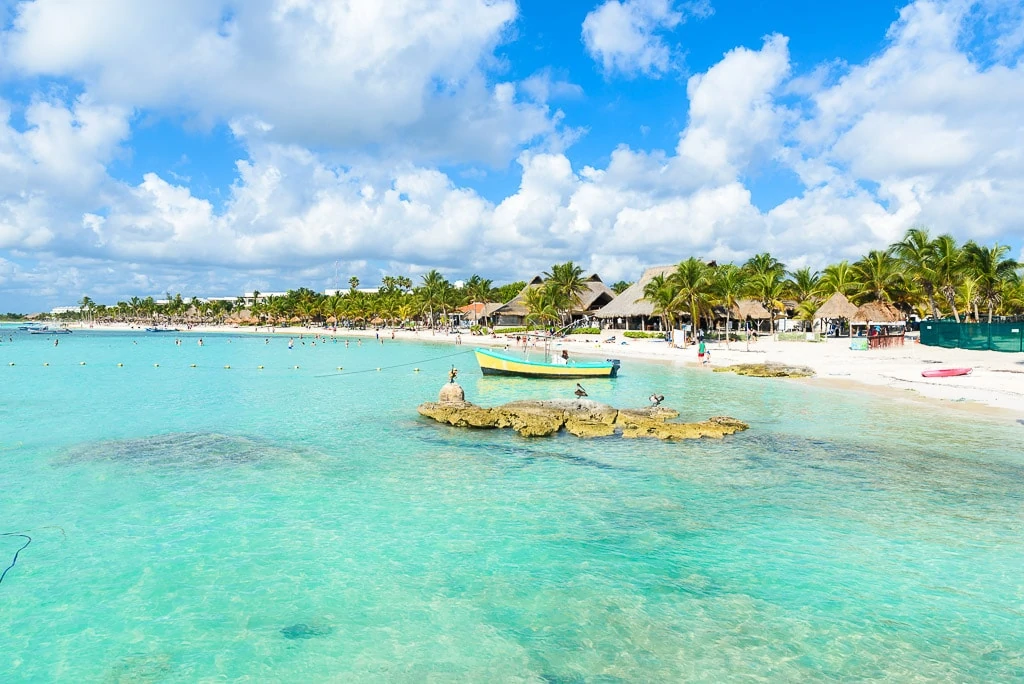 8 | Ek Balam
The ancient Mayan city of Ek Balam is located 2 hours west of Cancun. At it's peak Ek Balam is thought to have had 20,000 residents and was operational for almost 1,000 years. Climbing El Torre Pyramid, a 6 level acropolis is the highlight and the views of the surrounding ruins and jungle are magnificent.
A swim in the Ek Balam Cenote, Cenote Xcanche, is a fantastic way to cool down after exploring the ruins. The open air cenote has zip lines, swing jumps and a waterfall. It is located in the Ek Balam Archaeological Zone but requires a separate ticket.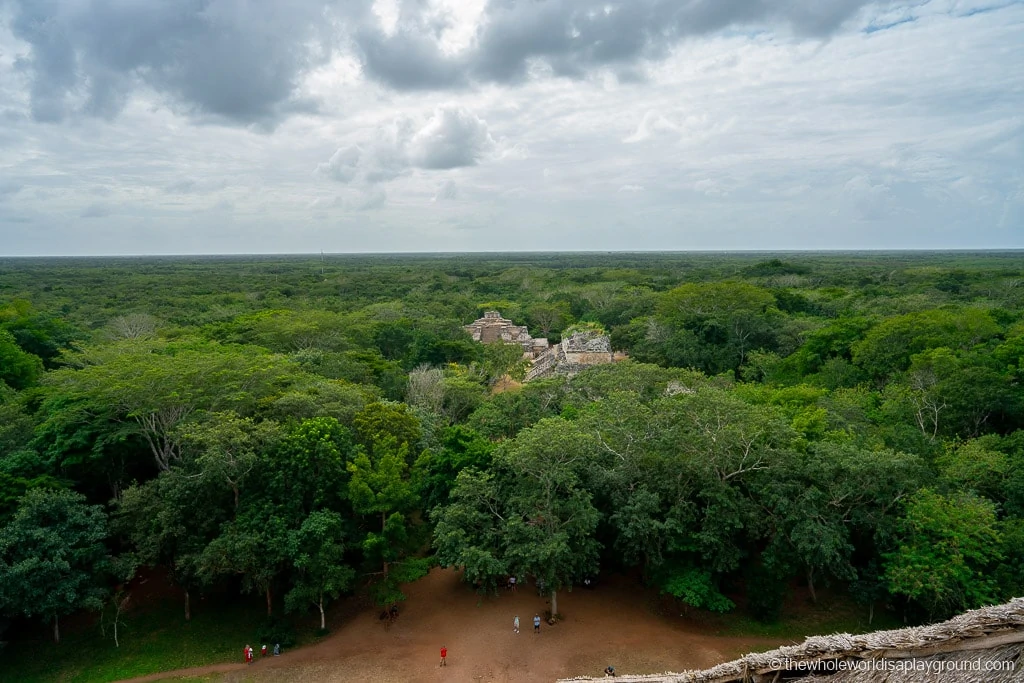 9 | Isla Contoy
The tiny Caribbean Island of Isla Contoy is a 40 minute speed boat ride from Cancun. Isla Contoy is a snorkeling paradise and most trips to the island include a snorkeling session at the tip one of the largest coral reefs in the world, the Mesoamerican Barrier Reef which stretches all the way to Honduras – it is an incredible experience. It's possible to combine a trip to Isla Contoy with Isla Mujeres – check Isla Contoy and Isla Mujeres tour prices here!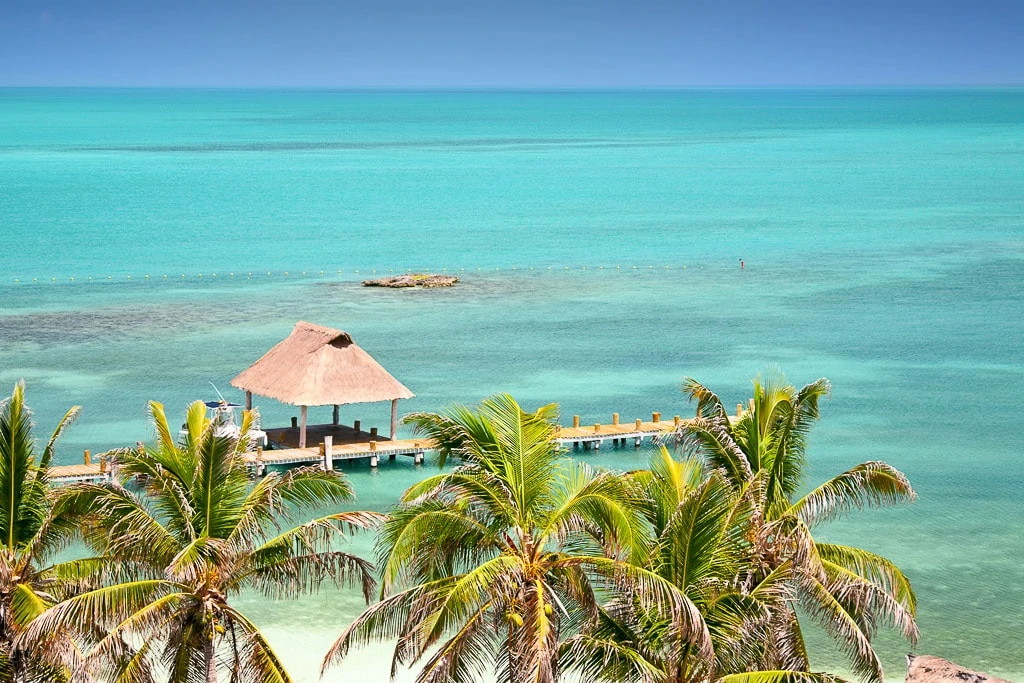 10 | Valladolid
The charming and vibrant city of Valladolid is often included in day trips from Cancun to Chichen Itza.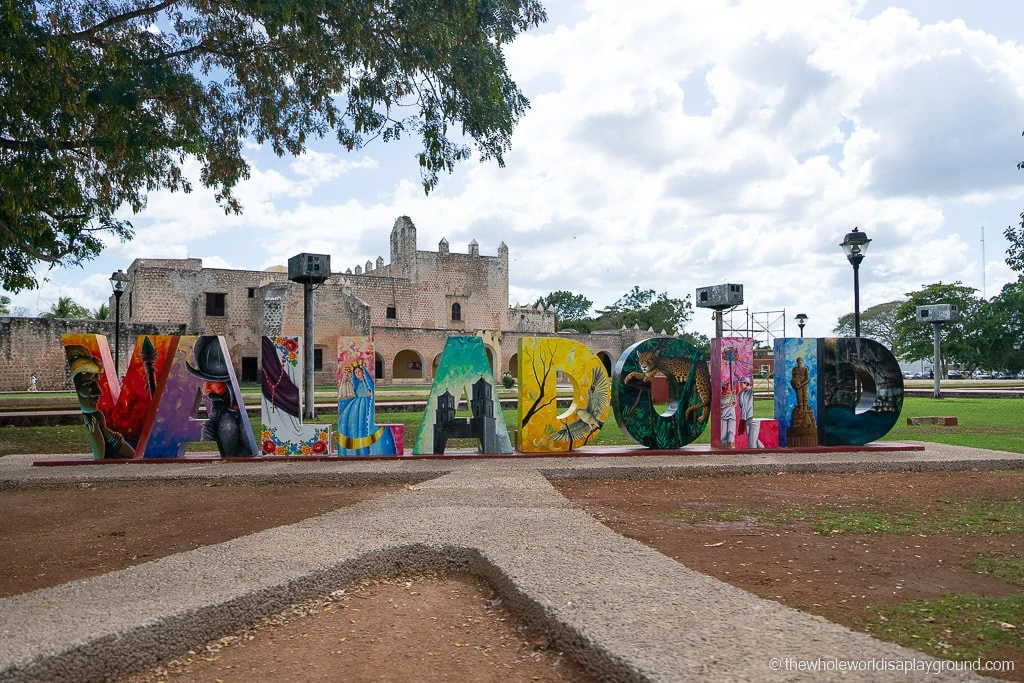 The colorful cobbled streets, Cenote Zaci Plaza e Parque Francisco Canton, Valladolid's main square and the 16th Century Convent of San Bernardino de Siena are among the best stops in Valladolid.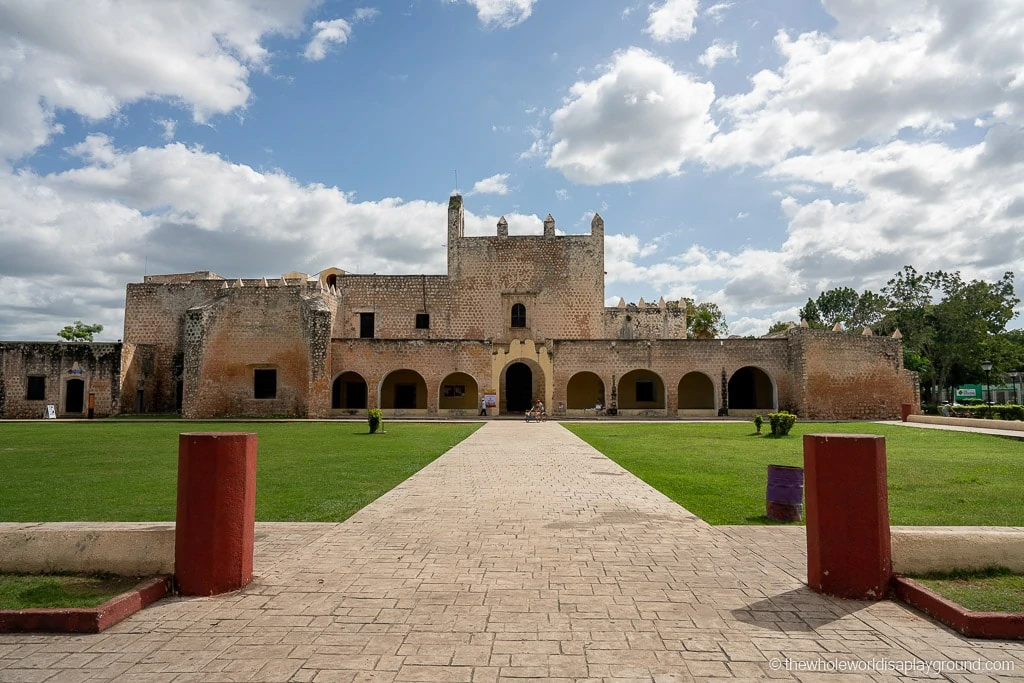 The nearby Cenote Suytun is a huge hit with Instagram fans and many make the short journey from Valladolid to check out this unique cenote.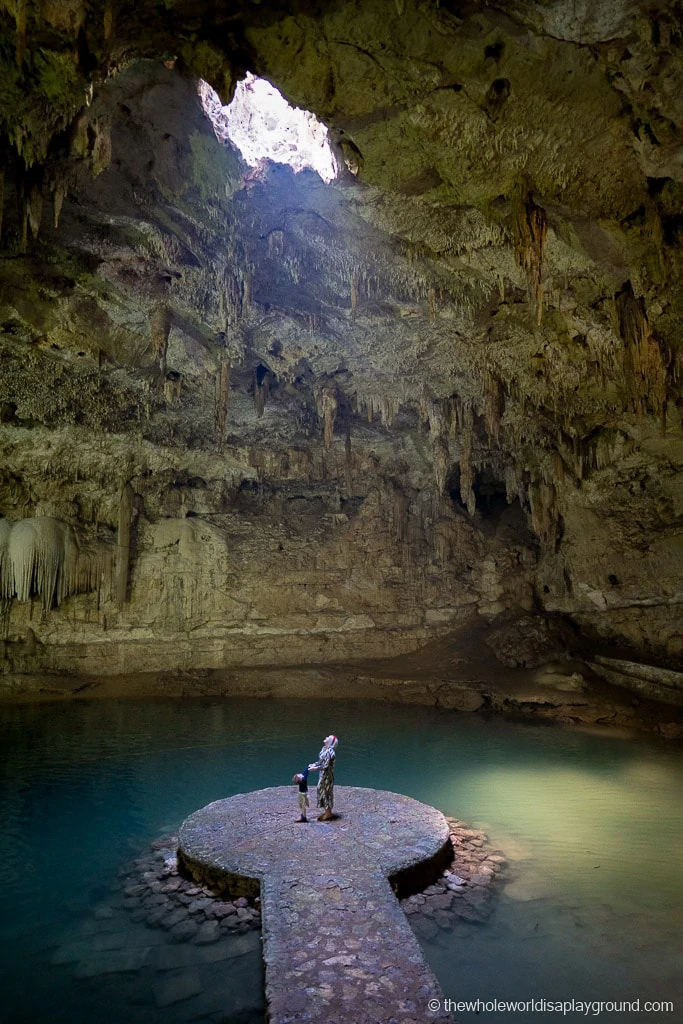 11 | Rio Secreto and Playa Del Carmen
With its idyllic white sand beaches, sprawling resorts and easy access to the incredible Mayan ruins and crystal clear cenotes of the Riviera Maya, Playa del Carmen is the most popular town on the Riviera Maya. It renowned for its nightlife, all inclusive resorts and beautiful beaches.
Rio Secreto, or the 'Secret River' is one of highlights of a day trip to Playa Del Carmen. The semi flooded limestone cave system is home to stalactites and stalagmites and there are tours from Cancun which include the rental of wet suits and gear needed to explore the caves – check tour prices here (you can add optional transport from Cancun)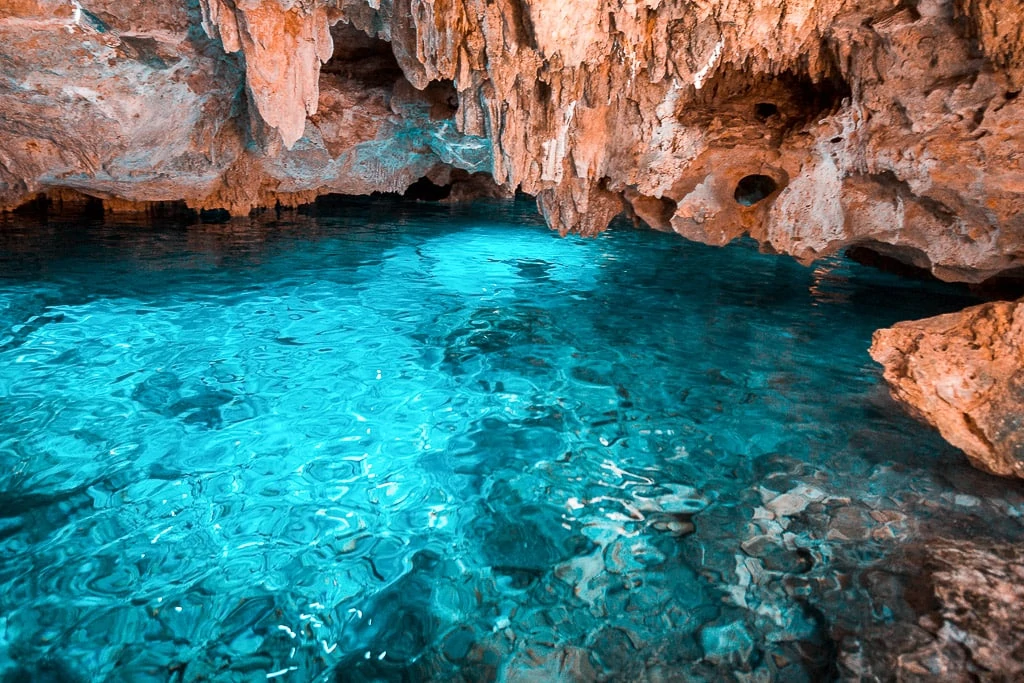 12 | Xcaret Eco Park
Just a few miles south of Playa Del Carmen, spending a day at the Xcaret Eco Park is on the best things to do in the Riviera Maya. Xcaret is an incredible mix of a water park, cultural attractions, thrill seeking adventures and amazing nature. Surrounded by lush jungle, there are lots of fun activities and places to explore: there are three underground rivers, an aquarium, a butterfly garden and boat trips along a paradise river. The cultural attractions include a spectacular evening show, a traditional Mexican cemetery, reenactments of the traditional Mayan ballgame and Mayan ruins – check out Xcaret tickets and transport prices here!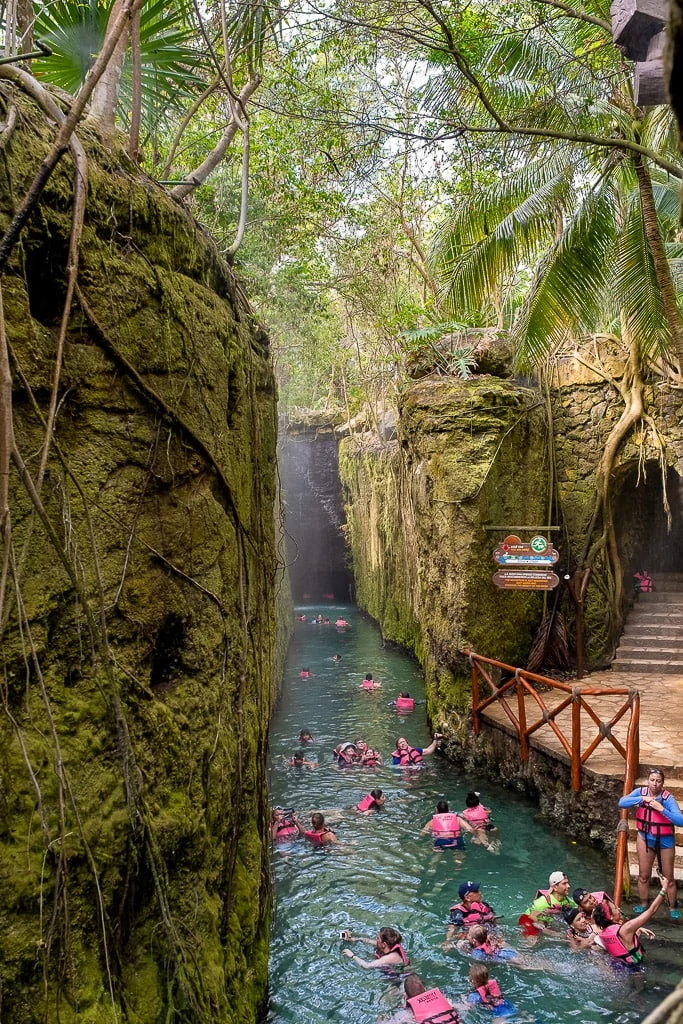 Cancun day trips tip: Xplor, a jungle activity park with ziplining, ATVs and rafting, is another great option – you can purchase tickets or transportation from Cancun
13 | Coba
Coba, one of the most important Mayan ruins on the Yucatan Peninsula, is a 2 hour drive from Cancun. The site is believed to hold over 5,000 structures but only 3 settlements are open to explore. One of the most magical experiences in Coba is climbing the 120 steps to the top of the 137 foot tall Nochoch Mul pyramid. The views over the surrounding jungle and lagoon are magnificent.
There are 3 great cenotes located close to the Coba ruins entrance: Cenote Choo-Ha, Tamcach-Ha and Multum-Ha are a series of small underground cenotes which are perfect for a refreshing swim after exploring the incredible jungle ruins.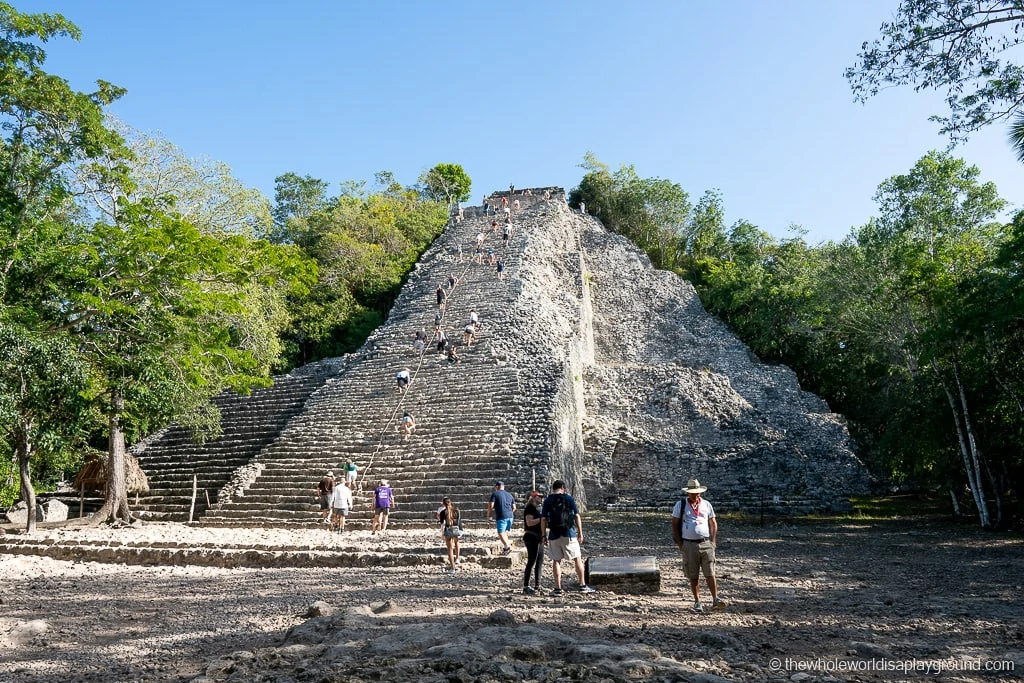 14 | Puerto Morelos
Puerto Morelos is a quaint fishing village located just south of Cancun. The world's second largest barrier reef, the Mesoamerican Barrier Reef, is visible just a few hundred metres of its coast and can be explored on a snorkeling excursrion.
There are some incredible cenotes in Puero Morelos. Ruta de Los Cenotes boasts more than 10 cenotes dotted along the 20km road close to Puerto Morales. Our favorite is Cenote Las Mojarras, an open air cenote with ziplines and a diving platform.