With its majestic Caribbean beaches, ancient Mayan ruins and lively party scene there are lots of fun things to do in Cancun. Cancun is the arrival point for the majority of visitors to the Yucatan Peninsula and its sprawling resorts are the perfect base from which to explore. Having used Cancun as a base during our many Yucatan adventures, we've put together this list of the best 20 things to do in Cancun!
20 Best Things to do in Cancun
From sailing the Caribbean waters to exploring Mayan ruins and escaping to idyllic islands, these are our 20 best things to do in Cancun.
Cancun Essentials
First up, some Cancun essentials to help with your Cancun trip planning
Sim Card and Internet
As with most countries, having mobile data during a trip is invaluable for navigation and research. There are lots of options on arrival at Cancun Airport – we found Telcel to have the best coverage as we traveled around. Save time at the airport and preorder a Telcel sim card on Amazon before you travel.
Where to Stay in Cancun
Cancun has a dizzying selection of hotels, with everything from convenient airport overnight hotels to all inclusive resorts on the beach:
Hard Rock Hotel Cancun –  it's one of the best all-inclusive hotels in Cancun for good reason – there are 5 on-site restaurants, countless amenities and stunning pools. It's a perfect choice for relaxing in for a few days while taking in the sights of Cancun – check prices now!
Renaissance Cancun Resort & Marina – an excellent non resort option, the hotel is located in the newer end of the hotel zone (Puerto Cancun) and has beautiful views across the bay and marina. There are lots of shops/restaurants in the mall adjoining the hotel– check prices now!
1 | Isla Mujeres
The tiny Caribbean island of Isla Mujeres is just a 20 minute ferry ride from Cancun and is a hugely popular day trip from the sprawling resorts of Cancun. All inclusive catamaran trips are another popular way to get there and include drinks, dancing, snorkeling and time on Isla Mujeres – check tour prices here!
Playa Norte, a stunning beach on the north west tip of the island, is one of the highlights of Isla Mujeres. Surrounded by beach bars and restaurants and even a yoga tree house, relaxing on Playa Norte is one of our favorite things to do in Isla Mujeres.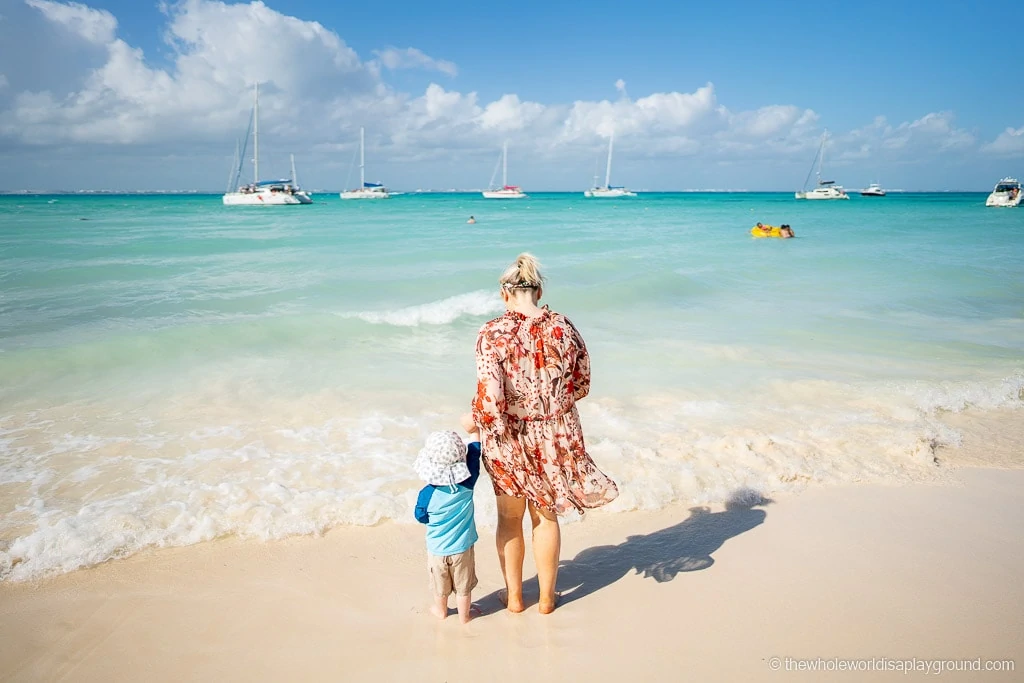 The Island is also home to a Turtle Sanctuary and some small Mayan ruins along the rugged coastline at Punta Sur. For fans of snorkeling and shallow diving, the life sized underwater world at the MUSA Underwater Museum is a must visit.
Check out our full guide on things to do in Isla Mujeres for more inspiration and how to get to Isla Mujeres for details on how to get there.
Things to do in Cancun tip: there's plenty of accommodation on Isla Mujeres if you want to stay overnight. Hotel Secreto is amazing and just a short stroll to Playa Norte – check prices now!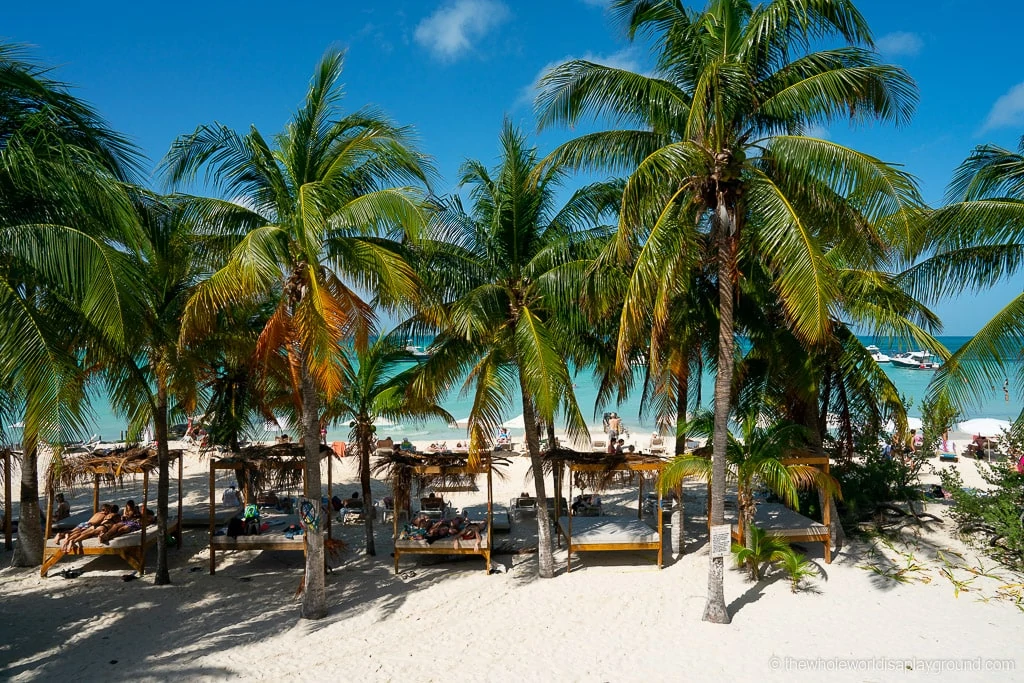 2 | Playa Delfines and the Cancun Sign Selfie
Dip your feet in the shallow turquoise waters of the Caribbean Sea at Playa Delfines, one of the best public beaches on Cancun's Hotel Zone. The unspoiled beach is an awesome alternative to the Cancun beach clubs. There are some street vendors, palapas if you need shade, a massage shack with great massages at a reasonable price and a playground for kids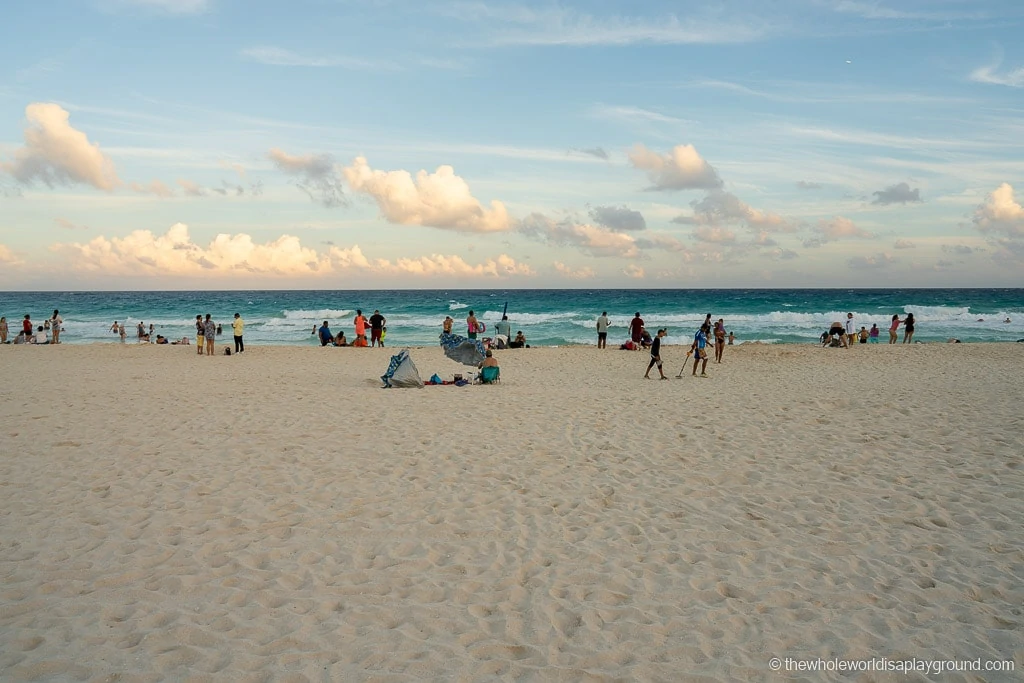 While you're there, make sure to grab a selfie at the colorful Cancun sign located adjacent to the beach.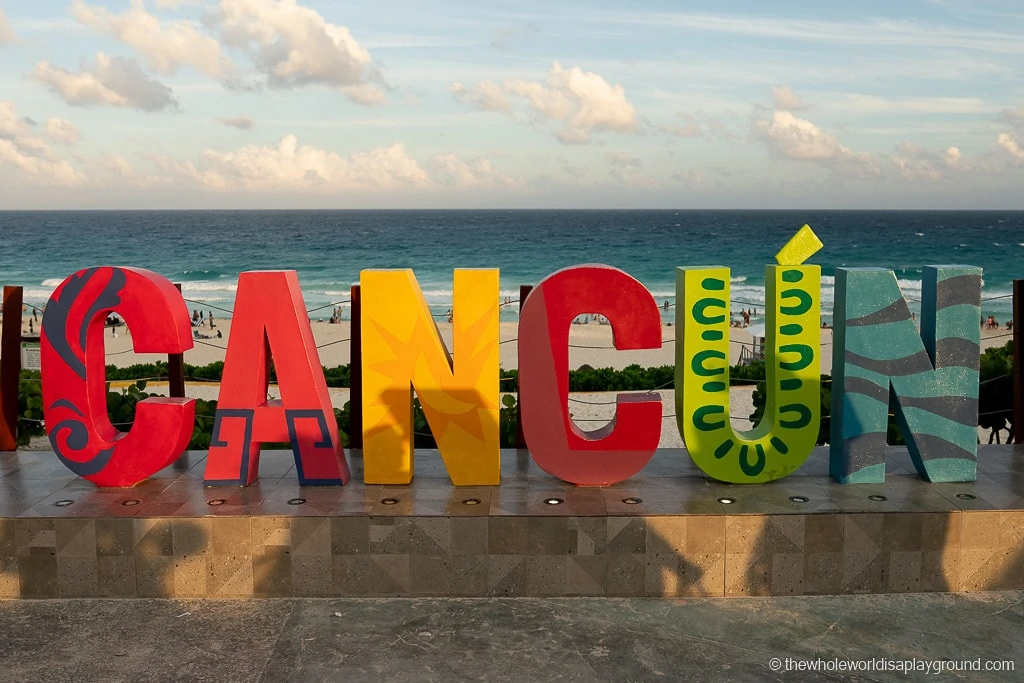 Things to do in Cancun tip: The currents are strong and there can be undertows at Playa Delfines so swimming isn't recommended.
3 | El Meco Ruins
The El Meco Ruins are located just north of downtown Cancun. The well preserved site dates back as far as 200 AD when it emerged as a small fishing village. El Meco offers a fantastic opportunity to check out Mayan ruins without leaving Cancun.
El Meco is home to a 40 foot tall pyramid, El Castillo. El Castillo is the tallest archaeological structure in Cancun and, from the top, there are incredible views of the Caribbean Sea and Isla Mujeres. As the site is a little away from the regular Cancun tourist spots it's entirely possible you will have El Mecco all to yourself. Actually, maybe not all to yourself – the resident iguanas are fun to spot among the ruins!
If you are interested in checking out more archaelogical sites then check out our guide to the best Mayan ruins near Cancun.
Things to do in Cancun tip: like many of the ancient Mayan ruins across the Yucatan, it is not possible to climb the pyramid at El Meco. Climbing is still permitted at Coba and Uxmal.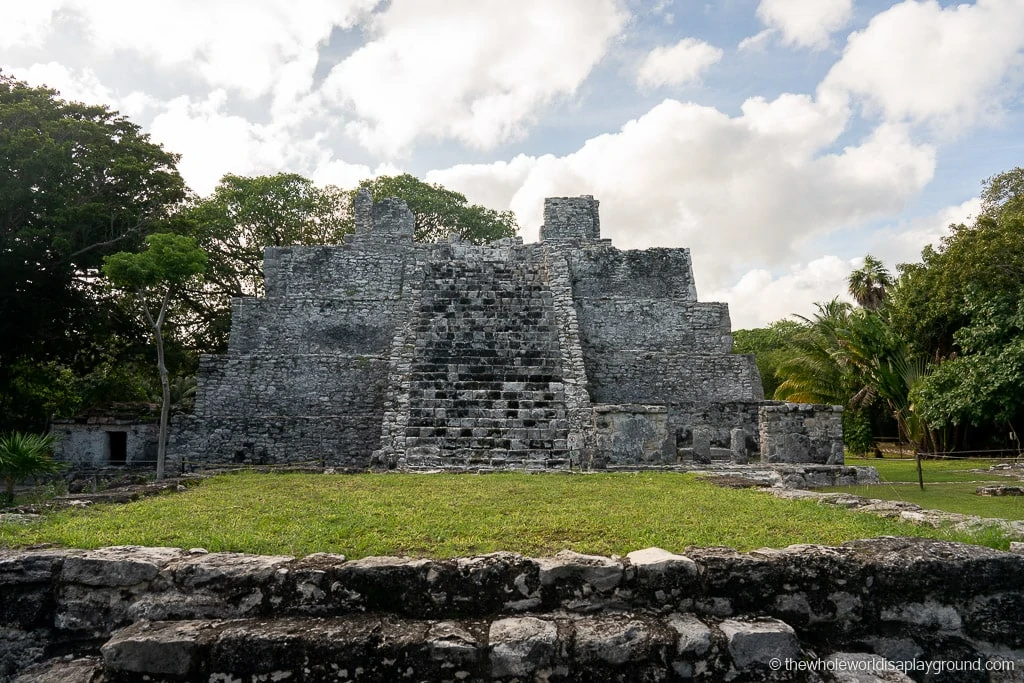 4 | Sail around Cancun
From romantic dinner cruises to all day party boats and pirate theme adventures, there are lots of fun boat trips in Cancun. Our favorites include: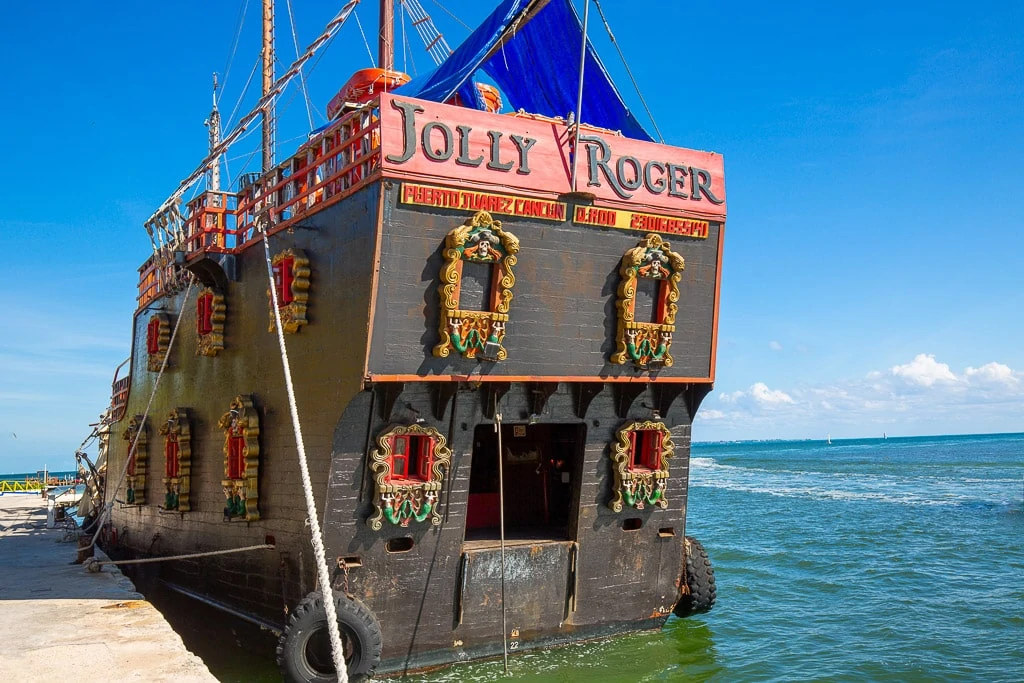 5 | Chichen Itza
The most famous sight in the Yucatan, Chichen Itza is a 2.5 hour drive from Cancun and is absolutely worth a day trip from the city.
The instantly recognizable Mayan ruins are a UNESCO World Heritage Site and one of the New 7 Wonders of the World. Chichen Itza is home to the magnificent El Castillo Pyramid and the imposing Temple of Warriors. Another highlight is the Great Ballcourt, where a basketball-style Mayan ball game reportedly led to the beheading of the winning captain, adorned with carvings illustrating a beheading along with the rules of the game.
We travelled to Chichen Itza by rental car: it's also possible to get there via the ADO bus from Cancun or by joining a tour: the most popular option combines Chichen Itza, Valladolid and the incredible Cenote Ik Kil and is certain to be one of the most awesome days you have in Cancun – check Chicen Itza tour prices here!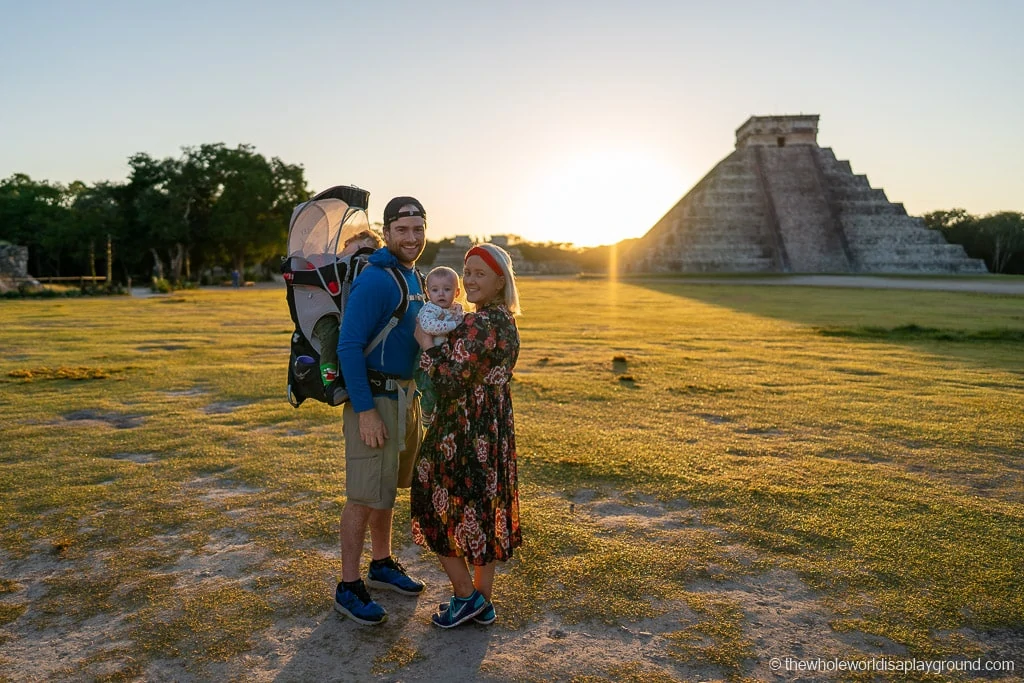 Things to do in Cancun tip: we rented a car when we arrived in Cancun airport and used our rental to travel around the Yucatan. A rental car allows easy access to the sights and often works out less expensive than organised tours
We book our rentals with RentalCars.com, as they usually have the best rental car price. Make sure that Third Party Liability (TPL)/ Public Liability Insurance (PLI), a mandatory insurance required by all drivers in Mexico, is included in your rental or budget in around US $20 a day to allow for it. It is not typically covered in the rental insurance included with some credit cards.
6 | MUSA Underwater Museum
500 sculptures line the sea bed in the waters surrounding Cancun and Isla Mujeres at the MUSA Underwater Museum. The life size sculptures are designed to counteract the impact of climate change on the oceans and reefs surrounding Cancun.
The incredible sculptures, which include a life sized Volkswagen Beetle and people, are accessible through either snorkeling or diving:
Snorkeling: the snorkeling friendly four meter deep Punta Nizuc is located at the southern tip of the Cancun Hotel Zone –  check MUSA snorkeling tours here!
Scuba Diving: the sculptures at the Manchones Gallery, located south of Isla Mujeres, are at a depth of 30 feet. Some scuba driving tours of MUSA are available to guests without a certification – check MUSA scuba diving tours here!
6 | Tulum
An eclectic mix of sleepy beach town and achingly hip party destination, Tulum is just a 2 hour drive South of Cancun. With its pristine beaches, crystal clear cenotes and Mayan ruins, exploring Tulum is one of the highlights of a Yucatan itinerary. Tulum is an easy day trip from Cancun and, if you're booking a tour, you can combine it with a visit to another Riviera Maya sight – this Tulum tour includes a stop at Cenote Dos Ojos, one of the most popular cenotes in Tulum – check Tulum tours here! 
Perched on the edge of a cliff, Tulum's 13th Century ruins are one of the most unique Mayan ruins within easy reach of Cancun.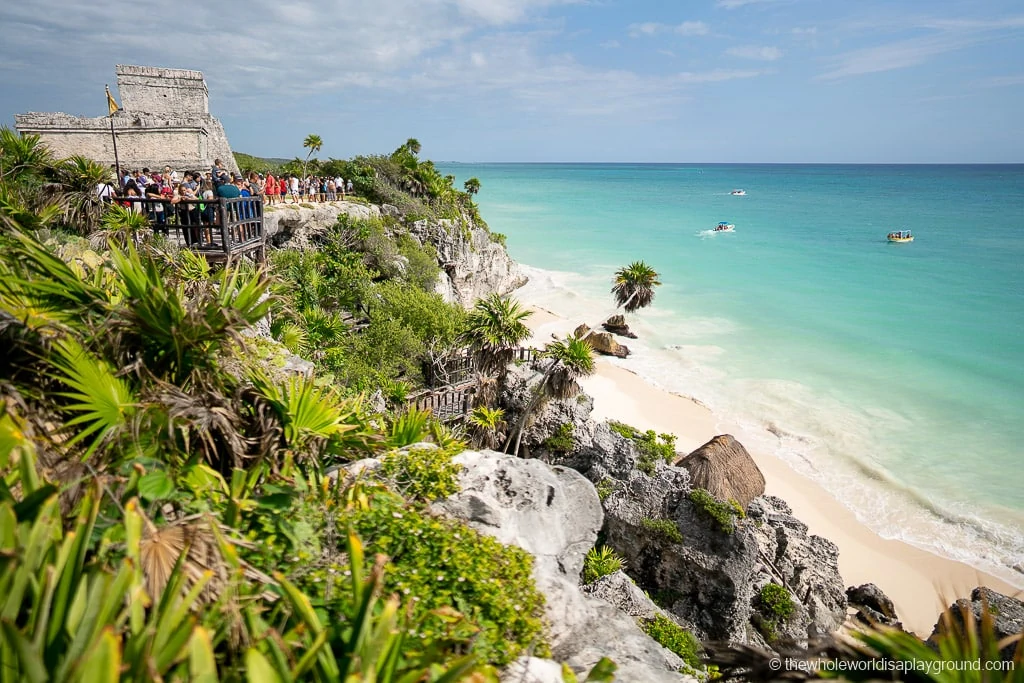 Most of Tulum's action happens along the Beach Road: the south end of the Beach Road is home to some spectacular beachfront resorts which can be accessed through their day beach clubs. The north side is more relaxed and it here that you will find Playa Paraiso, Tulum's best public beach. With Matcha Mama, a Follow that Dream road sign and extravagant resort entrances, the south beach road also boasts some of the best Instagram spots in Tulum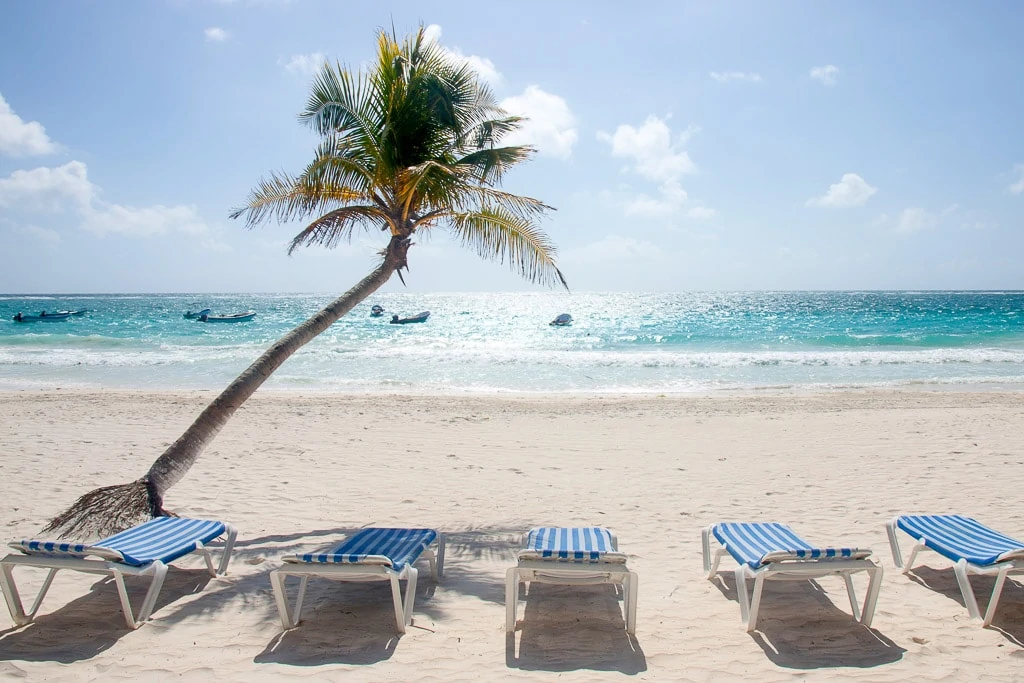 A swim in a cenote is another Tulum essential. Cenote Zacil Ha, Cenote Dos Ojos, Cenote Carwash and Casa Cenote are our favories cenotes near Tulum.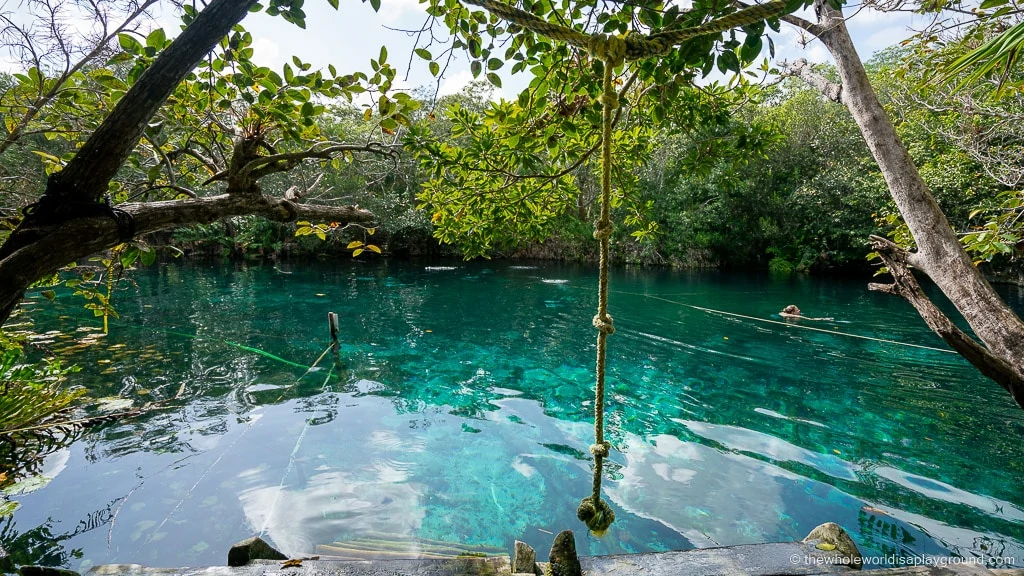 For more on Tulum, check out our guide to the best things to do in Tulum.
7 | Swim in a Cenote
There are some incredible cenotes, a swimming hole with crystal clear waters, near Cancun. Ruta de Los Cenotes, located close to Puerto Morales, is a great option that is not far Cancun. More than 10 cenotes are dotted along the 20km road close to Puerto Morales. Our favorite is Cenote Las Mojarras, an open air cenote with ziplines and a diving platform.
Cenote Azul, one of the best Playa Del Carmen Cenotes, is a great family friendly option with shallow waters and an open swimming hole. Cenote Zacil Ha, Gran Cenote, Cenote Carwash and Casa Cenote are some of the best open air cenotes near Tulum. Both Tulum and Playa del Carmen are popular day trips from Cancun and many visitors combine these with a cenote stop – – check out Tulum and Cenote Dos Ojos tours here!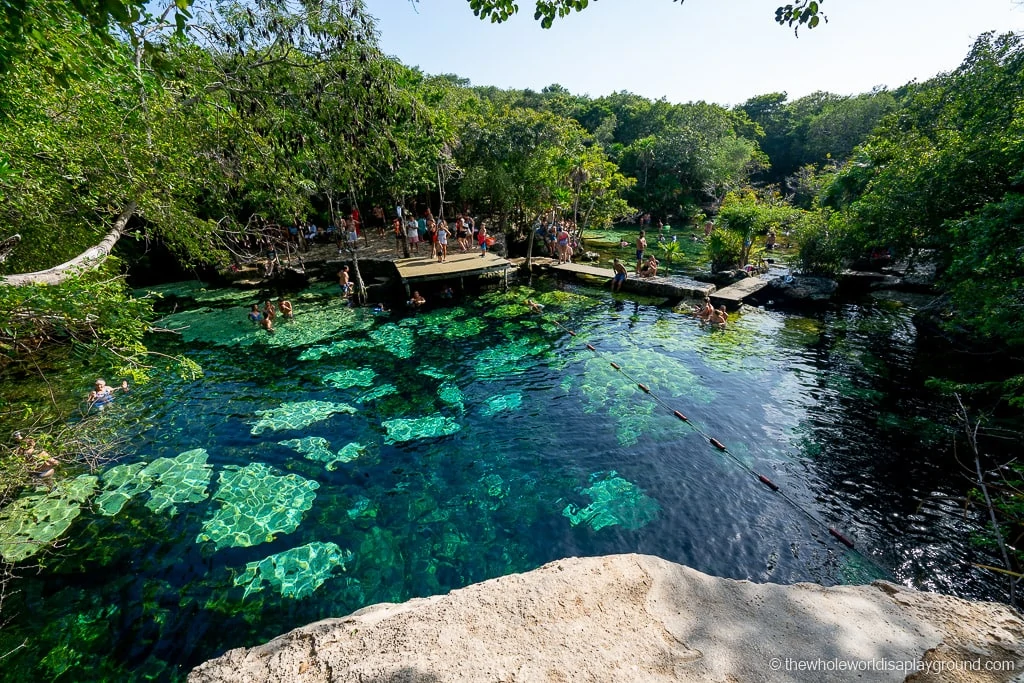 Located close to Chichen Itza Cenote Ik Kil is one of the most stunning cenotes on the Yucatan and can be combined with a trip to the New Wonder of the World – check Chichen Itza, Vallodolid and Cenote Ik Kil tour price here!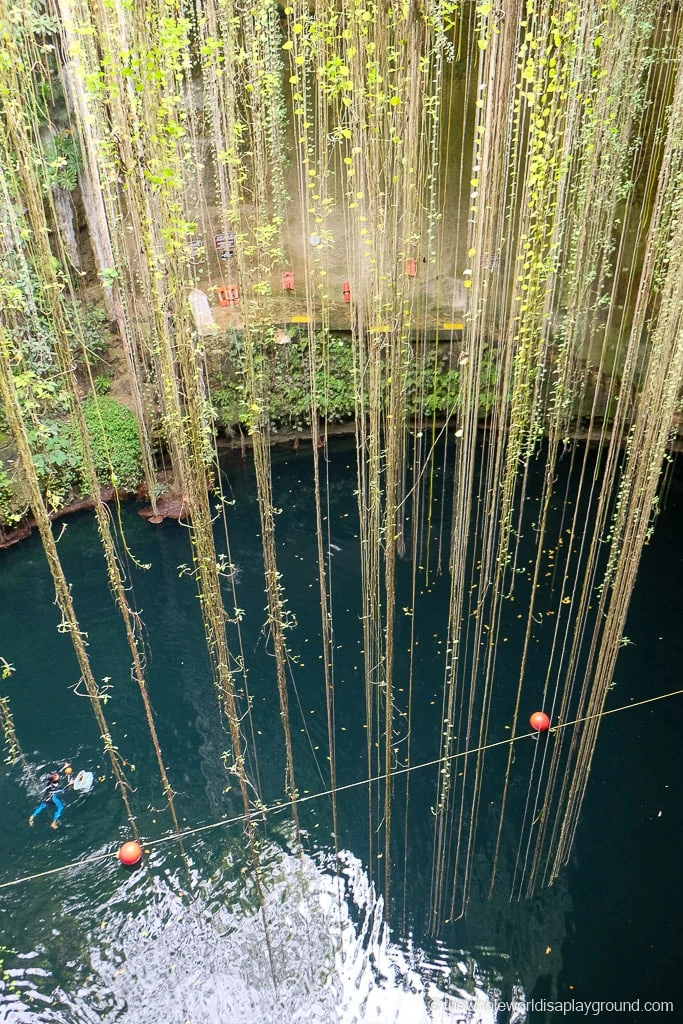 For more on Cancun Cenotes, check out our guide to the 17 best Cenotes near Cancun – click here to read!
8 | Maya Museum & San Miguelito Ruins
Located in the Hotel Zone not far from Playa Delfines, the San Miguelito Ruins and the Maya Museum share a site. San Miguelito dates back as far as the 13th Century and the museum has a wonderful archive of Mayan artifacts from various Mayan archaeological sites.
9 | Playa Tortugas
A popular swimming beach along the hotel zone with calm waters, open air restaurants and lots of water sports action.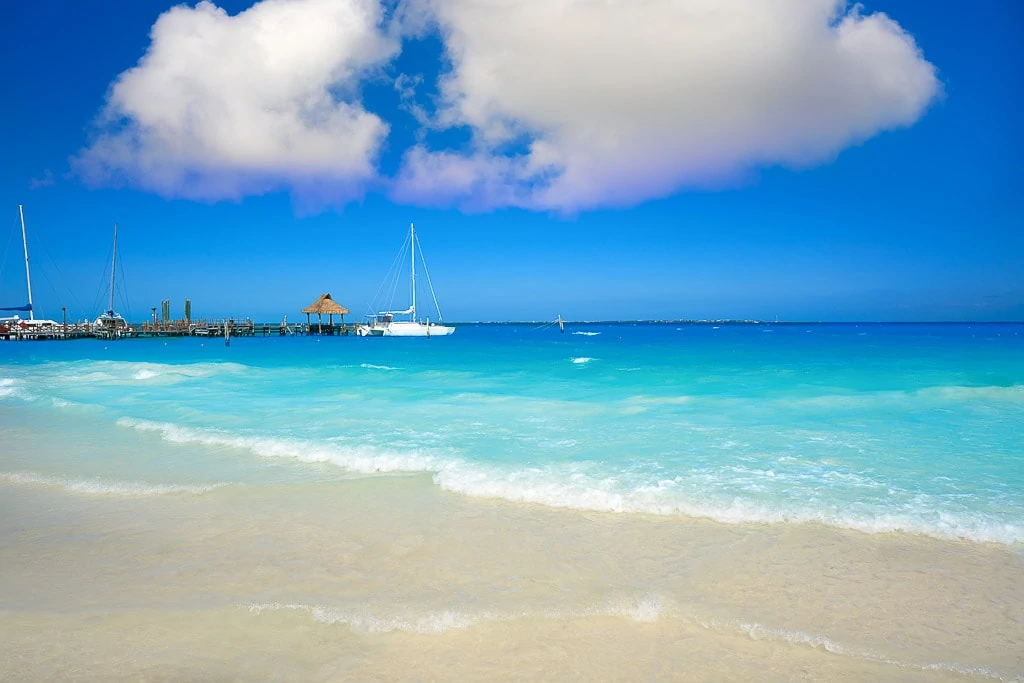 10 | Sian Ka'an
If you want to experience remote jungle and a UNESCO World Heritage site, the Sian Ka'an Biosphere is a tropical paradise located just south of Tulum. Si'an Khan boasts secluded Mayan ruins, quiet beaches, a beautiful coral reef and even crocodiles sunbathing on the banks of mangrove canals
Things to do in Cancun tip: Exploring the Sian Ka'an biosphere was one of our favorite things to do in Tulum and, if you love nature and UNESCO's it's also a fantastic excursion from Cancun. There are some great day trips from Cancun to Sian Ka'an if, like us, you love to tick a UNESCO site of the list! – check Sian Ka'an tour prices here!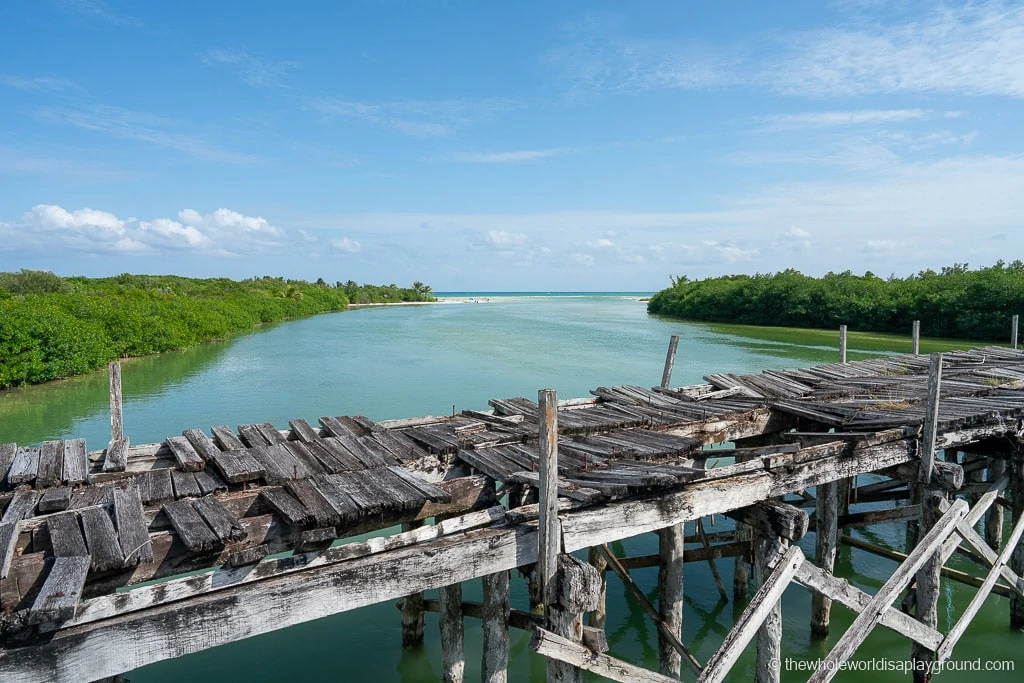 11 | Shopping
Cancun has some great shopping spots: La Isla shopping village and Mercado 28 are among our favorites. The canal lined Plaza La Isla is located in the heart of the hotel zone and has fantastic shops, dining and entertainment.
If you are in search of local goods and souvenirs, Mercado 28 is a vibrant shopping market where you can haggle until your heart's content!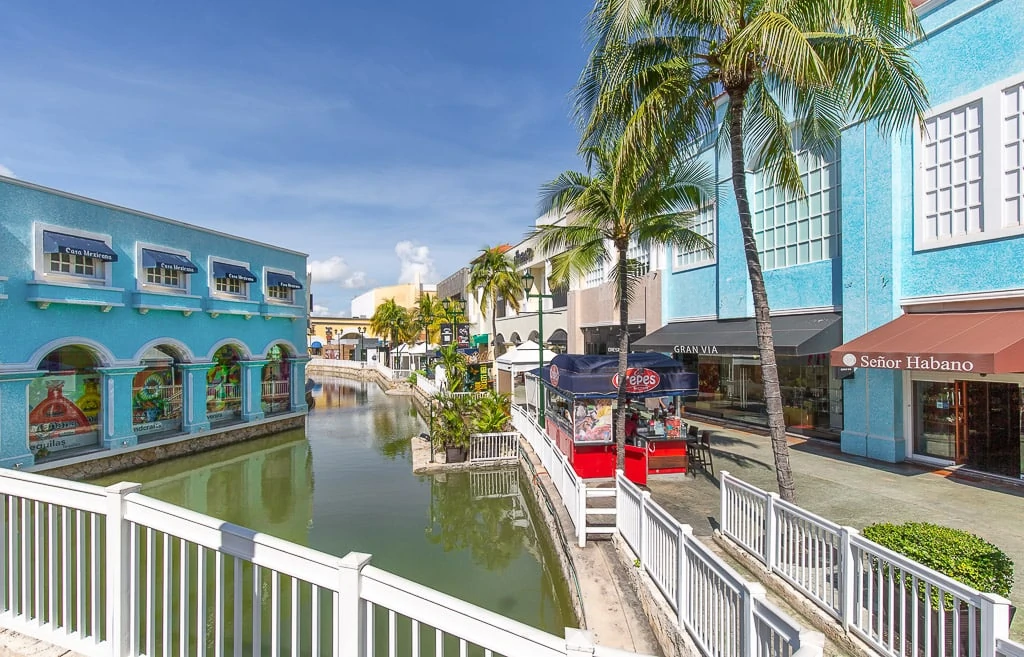 12 | Cozumel
Amazing beaches, snorkeling and scuba diving are synonymous with Cozumel, just a short ferry ride away from the nearby Playa Del Carmen. As well as exploring the turquoise waters of Cozumel, there's also the beautiful Punta Sur Ecological Park, the Playa Mia Grand Beach Park and the Mayan bee sanctuary which is home to the stingless Melipona bee. It's also fun to rent an open top Jeep Wrangler if you want to hit the road in Cozumel!
Things to do in Cancun tip: Cozumel is great for a day trip or an overnight adventure. The Cozumel ferry departs from Playa Del Carmen: it takes less than 2 hours each way, including the ferry crossing, to get there from Cancun.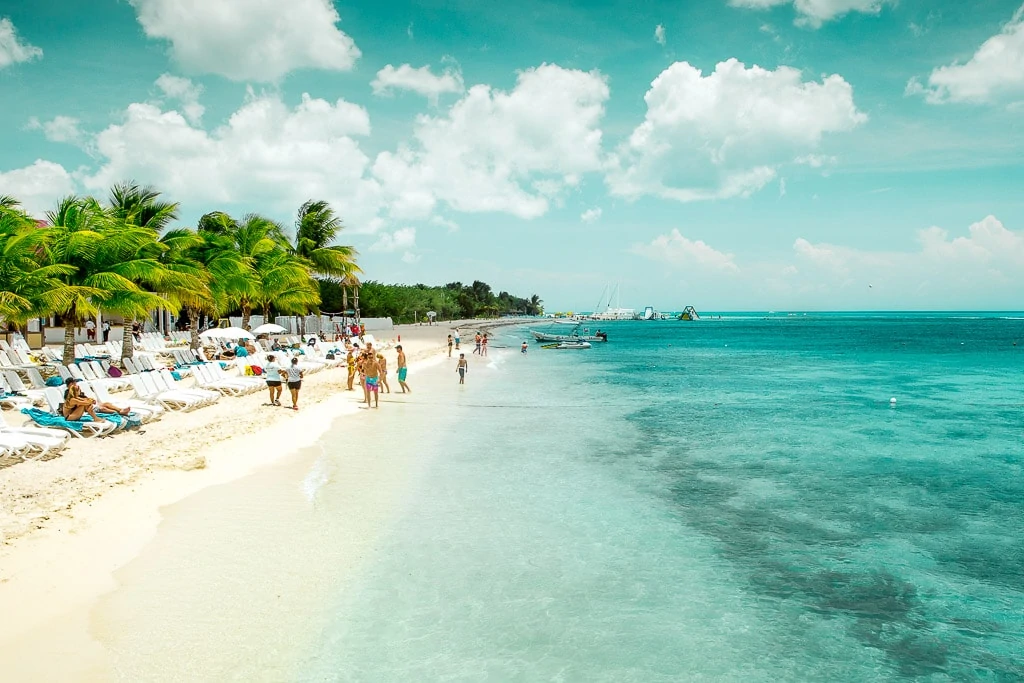 13 | Akumal
Akumal, or 'the place of the turtles' is a quite beach town located between Tulum and Playa Del Carmen. It is 90 minutes south of Cancun.
Akumal is a postcard perfect Riviera Maya destination. It has beautiful white sand beaches and warm Caribbean waters but it is the coral reef with resident turtles that attracts most day trippers from Cancun.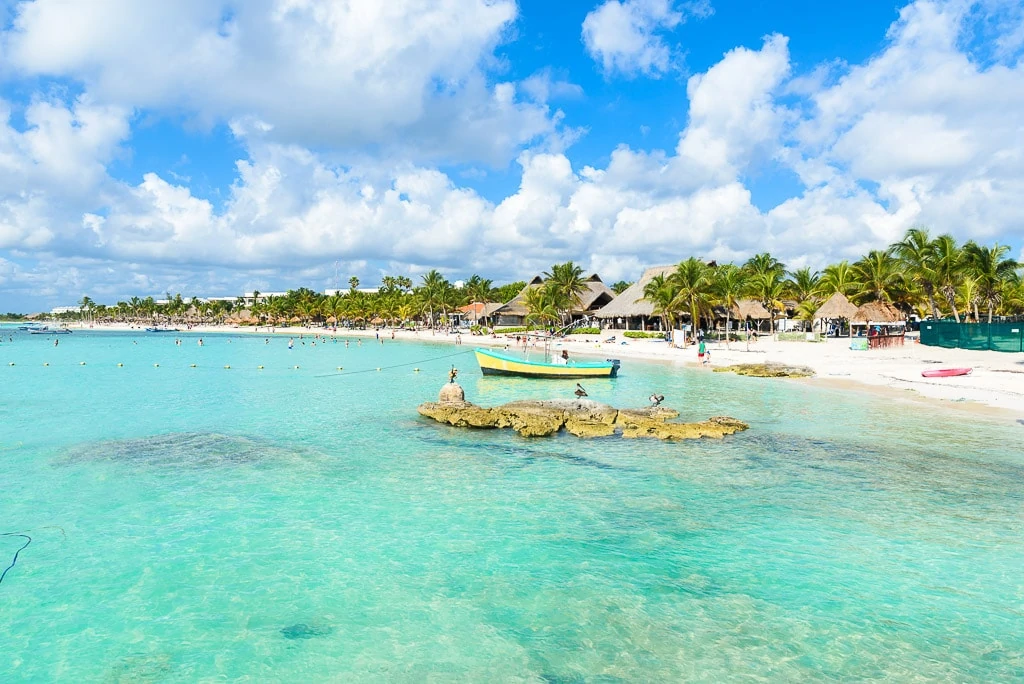 14 | Isla Contoy
The tiny Caribbean Island of Isla Contoy is a 40 minute speed boat ride from Cancun. Isla Contoy is a snorkeling paradise and most trips to the island include a snorkeling session at the tip one of the largest coral reefs in the world, the Mesoamerican Barrier Reef which stretches all the way to Honduras – it is an incredible experience. It's possible to combine a trip to Isla Contoy with Isla Mujeres – check Isla Contoy and Isla Mujeres tour prices here!
Once on Isla Contoy, make sure to climb the 65 foot watch tower for amazing views. Isla Contoy is a protected area and a designated National Park – it is home to over 170 species of bird and 70% of the island is covered in mangrove forest. Only 200 visitors are allowed to disembark on the uninhabited island on any given day.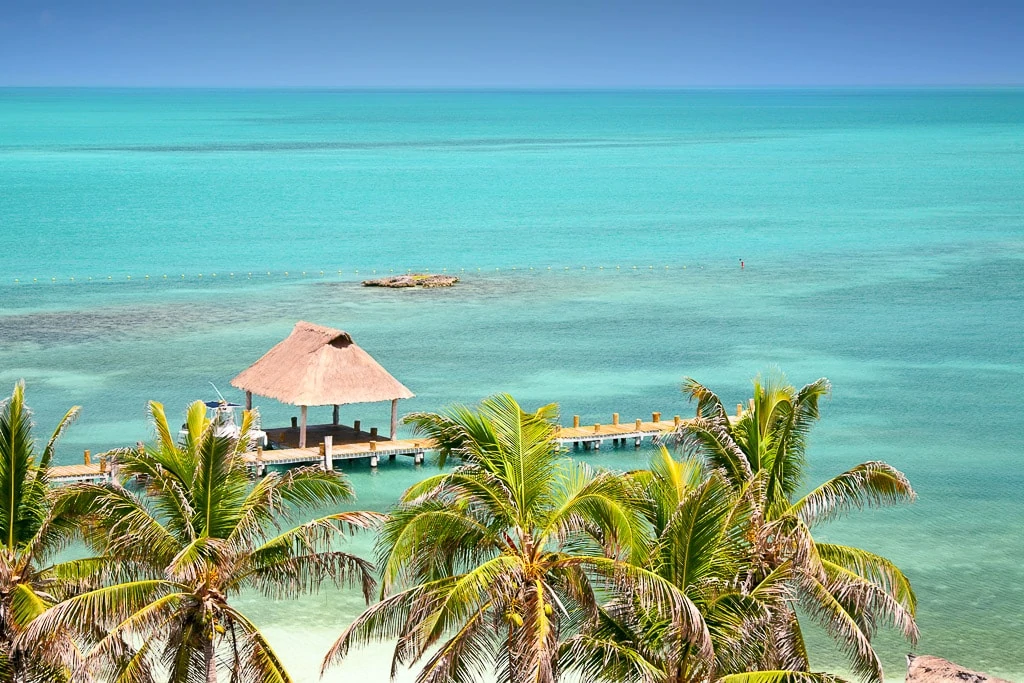 15 | Isla Holbox
If you are in search of a great destination for a overnight escape from Cancun then Holbox is the ideal choice. Holbox takes a little more effort to get to but the turquoise waters, lower crowds and laid-back island vibes are sufficient reward and it's the perfect overnight retreat from Cancun.
Isla Holbox still manages to maintain an undiscovered charm, something which is hard to find along the crowded Yucatan Peninsula. There are plenty of things to do on Holbox -the beaches at Playa Holbox and Punta Cocos are where most of the action takes place and the walk on the sand bar to Punta Mosquito is another highlight. If you feel like venturing from the pristine Holbox beaches then check out the colorful street art and the island's flamingos and catch a famous Holbox sunset from the pier.
Things to do in Cancun tip: The drive time from Cancun to Chiqula, the fishing village where the ferry to Holbox departs, is 2.5 hours. We drove from Cancun and parked our rental in Chiqula. It's also possible to take a private transfer, bus or colectivo to Chiqula. The quickest and most expensive option is to fly from Cancun – it takes 35 minutes on one of the small charters. Check out our guide on how to get to Holbox for more details.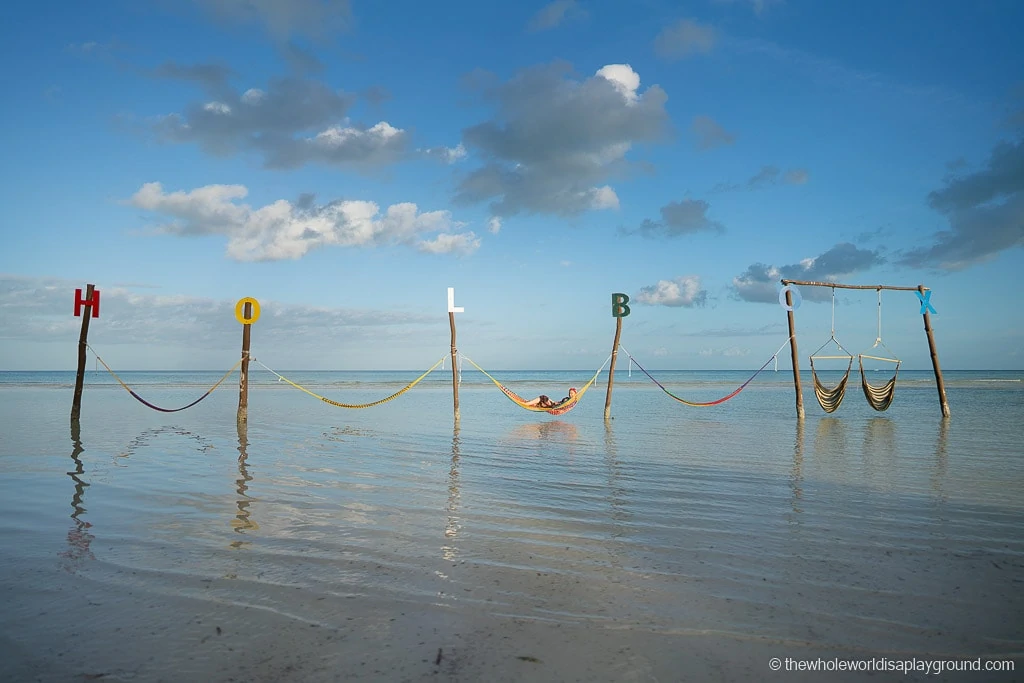 16 | Ek Balam
One of the Yucatan Peninsula's most interesting and still less visited ruins, Ek Balam is 2 hours west of Cancun. It is thought to have once had almost 20,000 residents. The magnificent 6 level Acropolis is the highlight.
The Ek Balam Cenote, Cenote Xcanche, is a stunning open cenote with swimming, zip-lining and swing jumps as well as a waterfall cascading into the cenote as you swim. It is located in the Ek Balam Archaeological Zone but requires a separate ticket.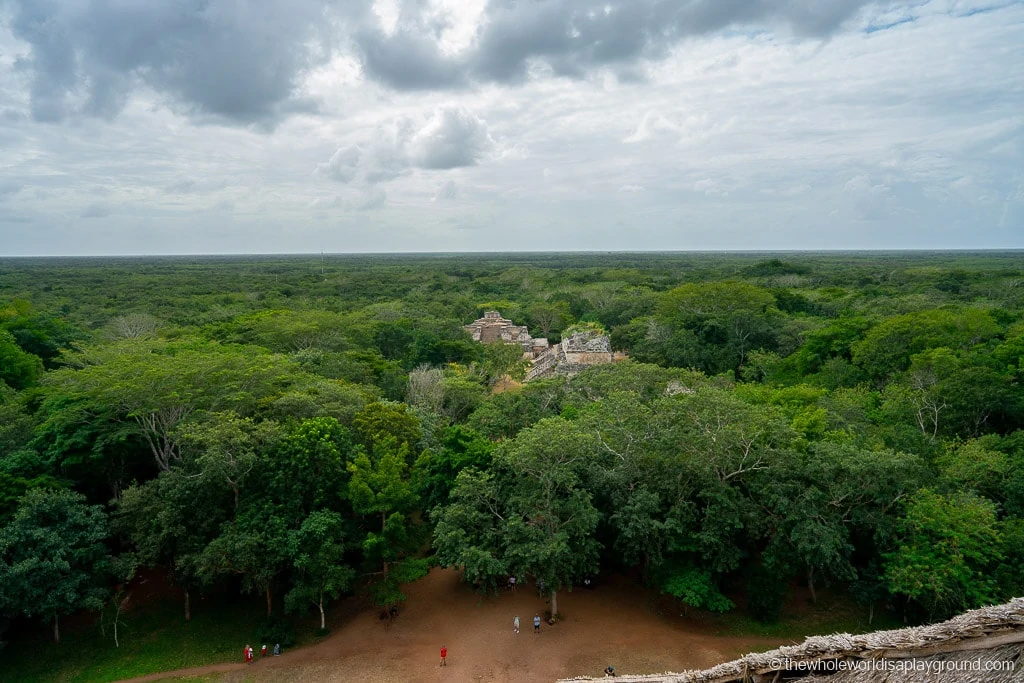 17 | Valladolid
The charming and vibrant city of Valladolid is often included in day trips from Cancun to Chichen Itza. The colorful cobbled streets, Plaza e Parque Francisco Canton, Valladolid's main square and the 16th Century Convent of San Bernardino de Siena are our favorite stops.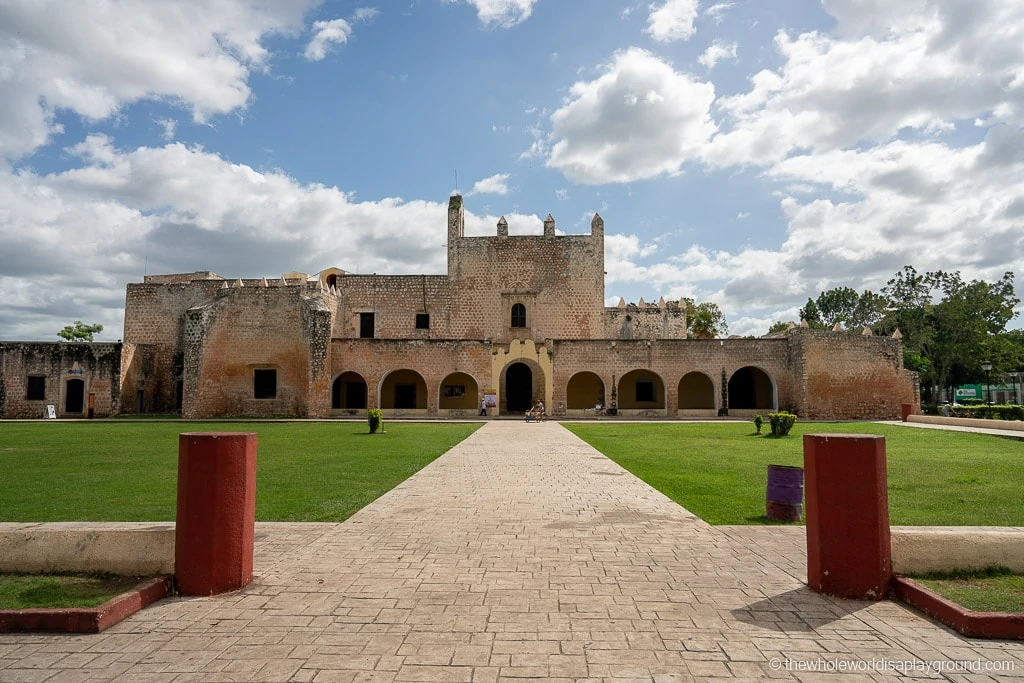 18 | Coba
Coba, one of the most important Mayan ruins on the Yucatan Peninsula, is a 2 hour drive from Cancun. The site is believed to hold over 5,000 structures but only 3 settlements are open to explore. One of the most magical experiences in Coba is climbing the 120 steps to the top of the 137 foot tall Nochoch Mul pyramid. The views over the surrounding jungle and lagoon are magnificent.
There are 3 great cenotes located close to the Coba ruins entrance: Cenote Choo-Ha, Tamcach-Ha and Multum-Ha are a series of small underground cenotes which are perfect for a refreshing swim after exploring the incredible jungle ruins.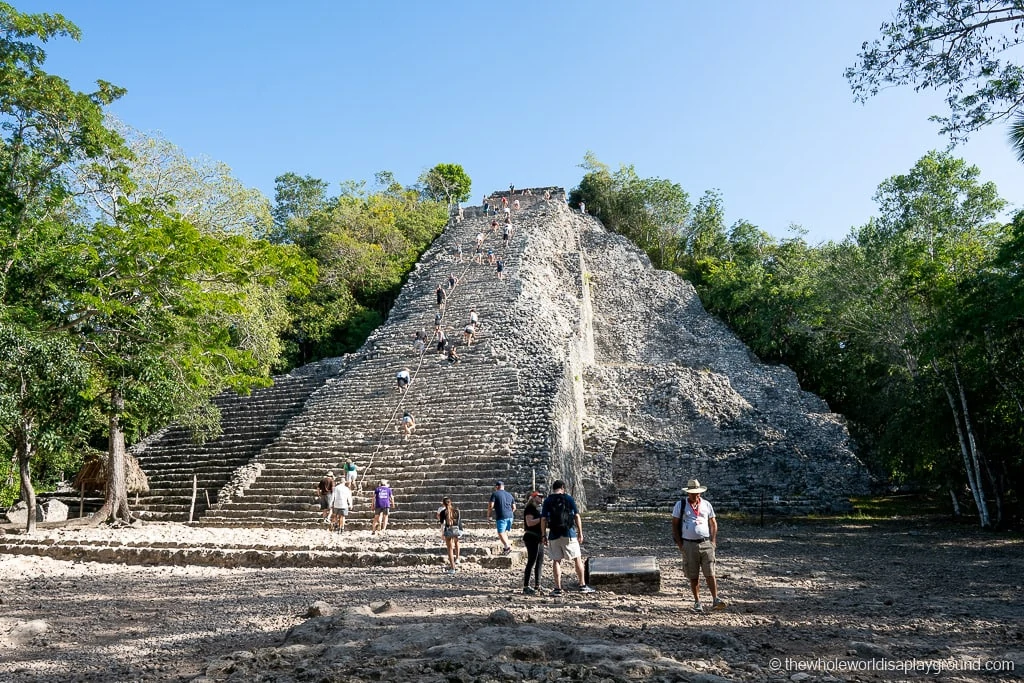 19 | Nightlife
Cancun is known for it's vibrant nightlife and there are lots of opportunities to party hard. The partying choices are endless:
The ever popular Coco Bongo has a Vegas style mix of dancers, acrobats and djs
The City is the largest nightclub in Latin America and hosts djs from around the world
Senor Frogs is a Cancun staple. The low key vibrant bar has sawdust on the floor, funny signs adorning the walls and huge yard sized cocktails that are the drink of choice. What's not to love!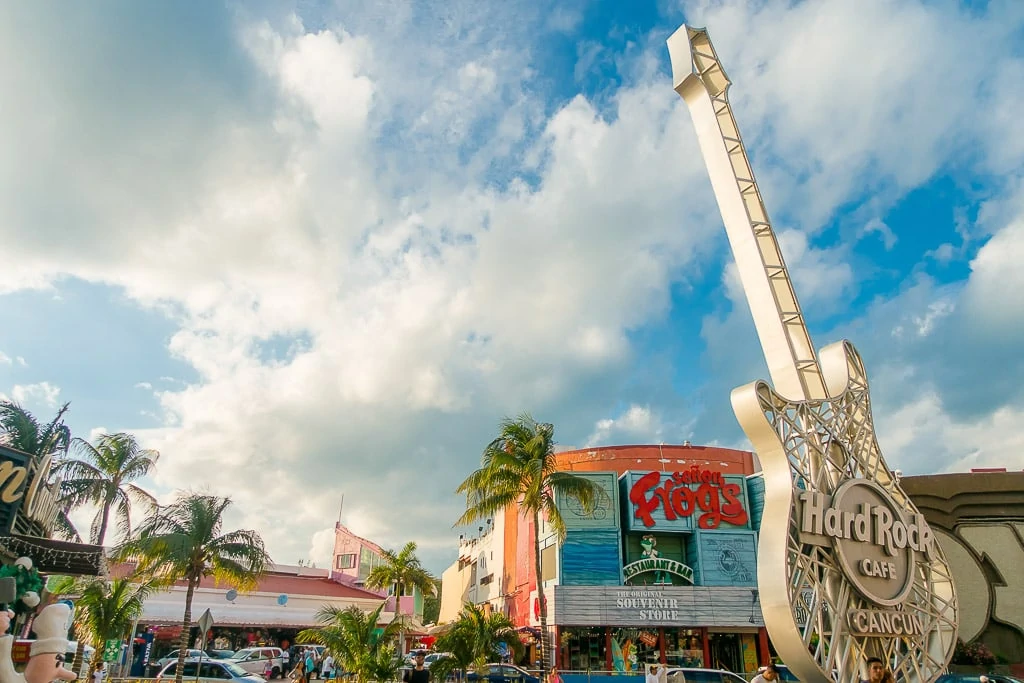 20 | Xcaret Eco Park
Just a few miles south of Playa Del Carmen, spending a day at the Xcaret Eco Park is on the best things to do in the Riviera Maya. Xcaret is an incredible mix of a water park, cultural attractions, thrill seeking adventures and amazing nature. Surrounded by lush jungle, there are lots of fun activities and places to explore: there are three underground rivers, an aquarium, a butterfly garden and boat trips along a paradise river. The cultural attractions include a spectacular evening show, a traditional Mexican cemetery, reenactments of the traditional Mayan ballgame and Mayan ruins – check out Xcaret tickets and transport prices here!