Cape Town is one of the most beautiful cities in the world. From the iconic Table Mountain and the historic Robben Island to the surrounding world-class vineyards and the stunning coastal drives, Cape Town has it all. Having spent many months exploring the Mother City we've put together our recommended Cape Town itinerary. It's our guide to Cape Town and includes things to do, where to stay and what to see along the way. It's the perfect guide for planning your Cape Town itinerary and will help you make the most out of your time in Cape Town. Enjoy!
Cape Town Itinerary
We've based our itinerary on a seven day Cape Town itinerary but it is easy to add or remove days or switch the order to suit your own schedule. Our one week Cape Town itinerary is perfect for first time visitors or for return visitors looking for ideas for some unique things to do in Cape Town.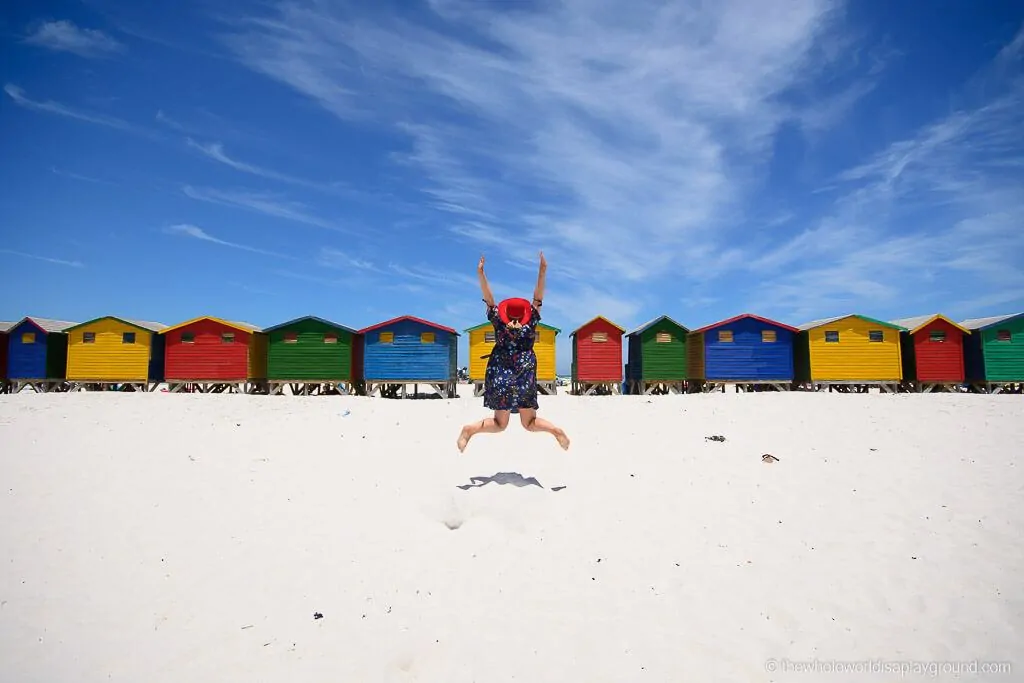 Getting around Cape Town
We usually rent a car in South Africa and use it to get around Cape Town. If you prefer not to drive, Uber is a popular choice or a multi-day hop on hop off tour is a great way to get around the sights – check prices of hop on hop off tours here!
Renting a Car in South Africa
Renting a car in South Africa is the best way to explore the country and we loved having our own wheels in Cape Town. Plus driving is relatively easy in the country (check out our tips on driving a rental car in South Africa). Having your own car gives you the flexibility to travel at your own pace a see place that are simply not possible on group tours or public transport.
We're huge fans of road trips and have driven rental cars in over 40 countries so we have a lot of experience renting cars in foreign countries. Book your car now with RentalCars.com, where you will find the best rental car prices
Click here for the best South Africa rental car prices
Where to stay in Cape Town
The Cape Town sights are spread across the city and its suburbs. Our favourite locations are the Waterfront for sightseeing, Camps Bay (swoon!) for views and Long Street when you want to be in the heart of the action. Here's our top hotel picks for a Cape Town stay:
Protea Waterfront Breakwater Lodge: this waterfront hotel is an excellent choice if you want a V&A location at a lower price. The rooms in the main hotel building were our favourites and we loved being two minutes walk from the waterfront – Check prices now!
POD Camps Bay: Camps Bay is a stunning Cape Town suburb within easy reach of the city. The rooms are compact but gorgeous and the views are incredible with miles of ocean, a mountain backdrop and magical sunsets. – Check prices now!
Long Street Boutique Hotel: if you want to be in the middle of the action then Long Street, surrounded by restaurants, shows, cafes and bars is a great option. This quirky hotel is a fab boutique choice for leisure travellers and is good value by Cape Town standards – Check prices now!
Click here for the best Cape Town hotel prices

Cape Town Itinerary: Day 1
Start the day with a tour of Robben Island. Nelson Mandela was held in the prison on the island for 18 of the 27 years he was imprisoned before the fall of apartheid and Robben Island is a huge part of both Cape Town and South Africa history and is a UNESCO World Heritage Site. Tours to the island make it possible to visit his prison cell and catch a glimpse of an era that once was. The tour to Robben Island takes around 4hours including the ferry to and from the Island.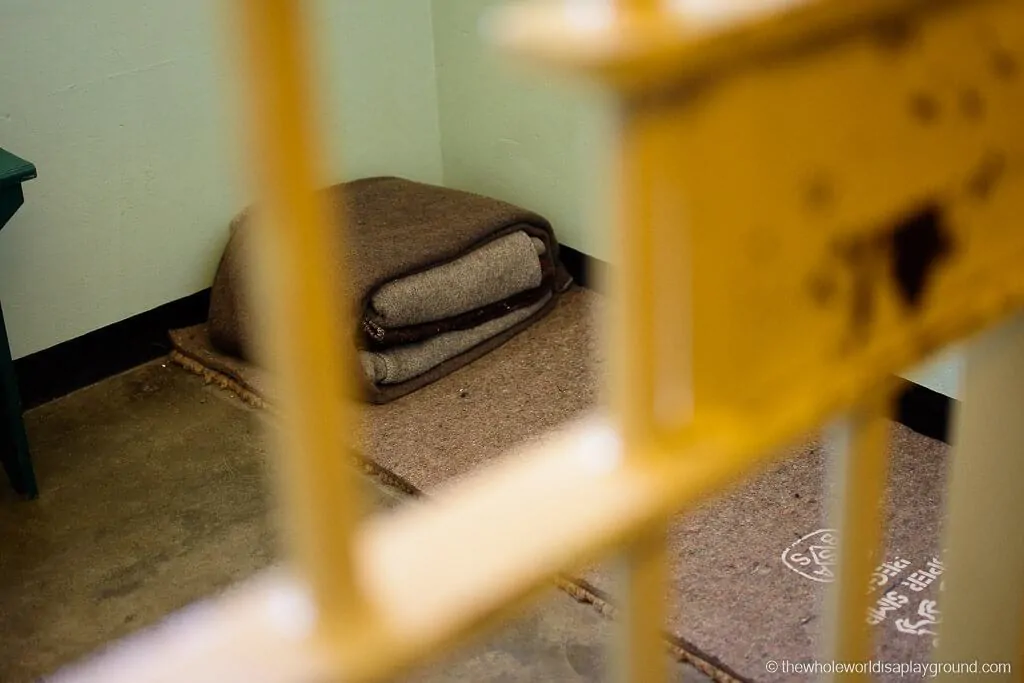 Cape Town itinerary tip: tours to Robben Island only operate when weather conditions permit – we only managed to get to the Island on our 3rd attempt due to the weather cancellations. If you're determined to visit Robben Island book a tour on your first day in Cape Town so, in the event the tour is cancelled, you might be able to secure tickets for another day. You need to book Robben Island tickets in advance on the official Robben Island website as they are the only organisation with access to the island.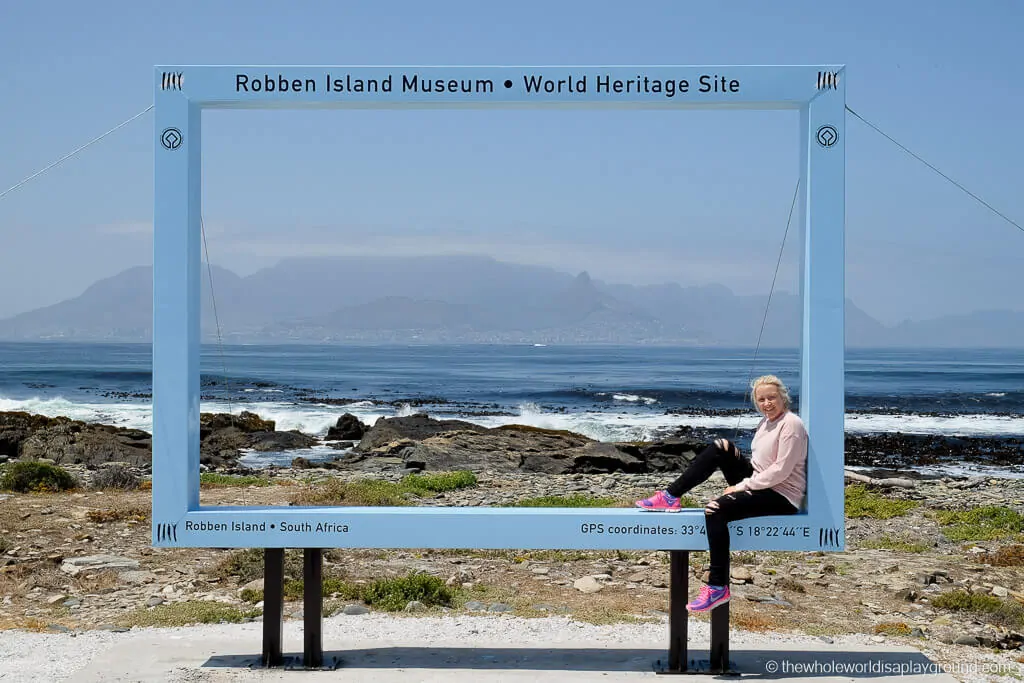 After arriving back by ferry to the V&A Waterfront it's time to explore! The Victoria and Alfred (V&A) Waterfront is a tourist dream with lots of food, shopping and souvenir options as well as being the departure point for the Robben Island cruises. The street performers, the Cape Town Wheel and the Table Mountain backdrop only add to its charm. Have lunch at the V&A Food Market where over 40 stalls serve street style food in the air-conditioned market. There's a huge variety of foods from Hawaiian style salads to sushi and biltong and lots of treats including hand made chocolates and pastries.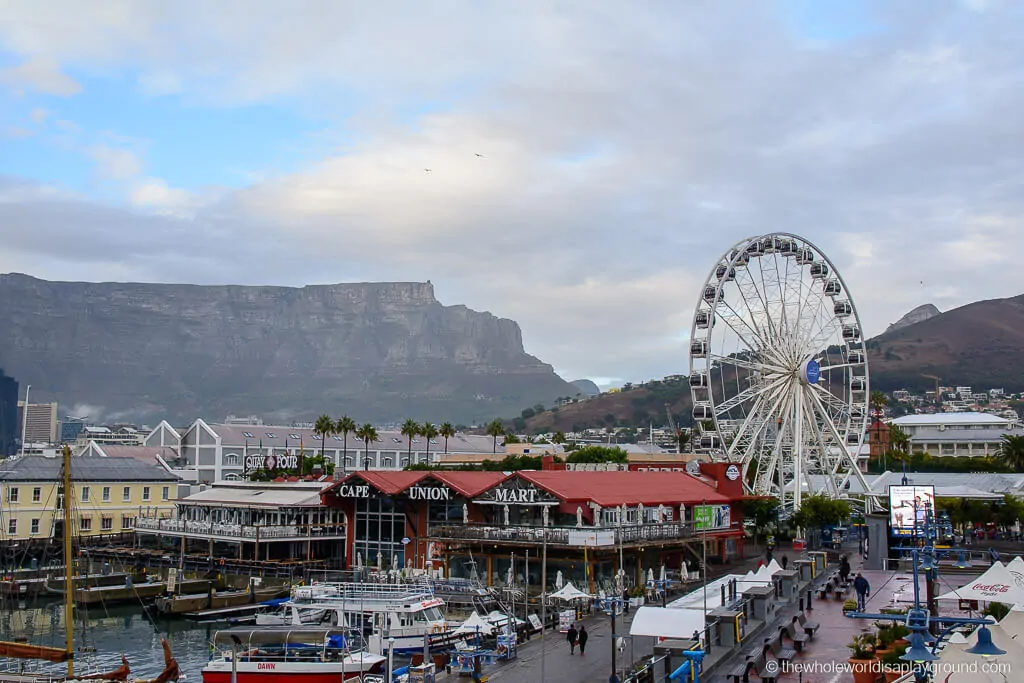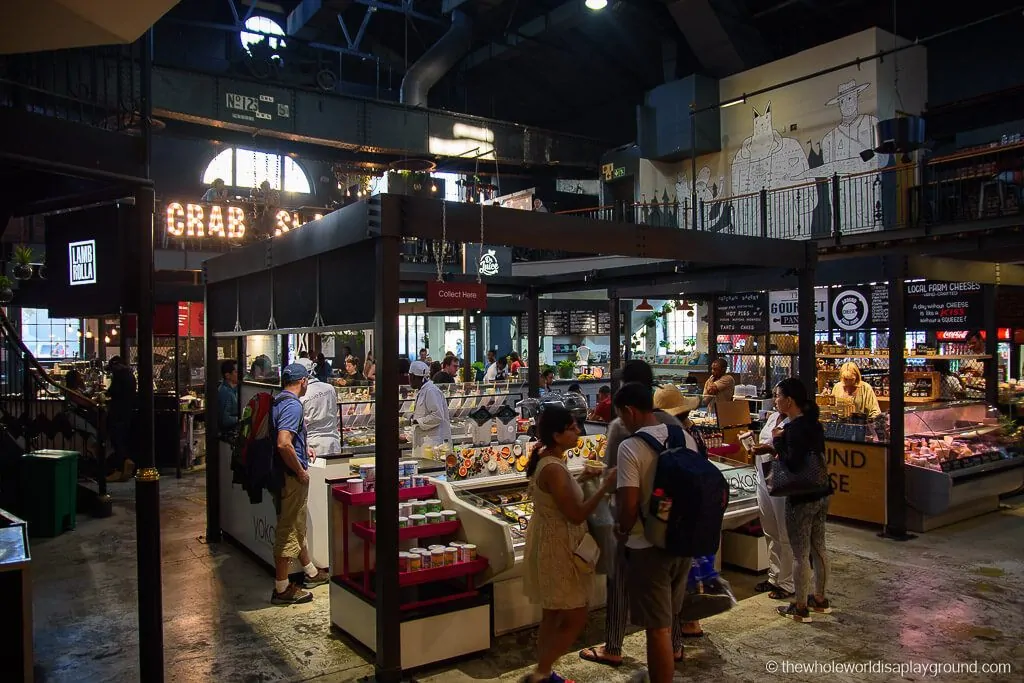 Cape Town is renowned for its breathtaking sunsets and sundowners, a breathtaking view and an epic sunset are a Cape Town ritual. Nestled next to Table Mountain and Lion's Head, Signal Hill is the ultimate Cape Town spot from which to watch the sunset. The views of Table Mountain, Robben Island, Cape Town and the ocean are epic and the hill is the perfect spot for a sundowner as the day ends.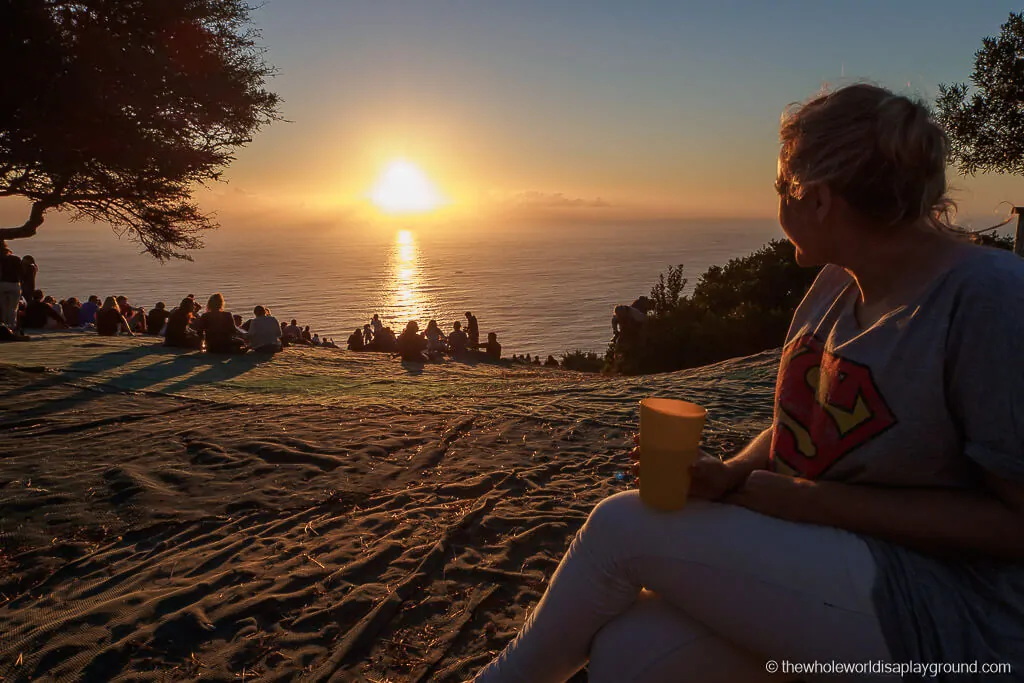 Cape Town Itinerary: Day 2
If you wake up to clear skies make a beeline for the Table Moutain Cable Car. The flat top of Table Mountain is visible from all over Cape Town and is a symbol of the city and it is an incredible feeling to stand atop the iconic landmark and see the city from above. You can also hike to the top of Table Mountain if you prefer but be aware that it is a challenging hike with highly changeable conditions and make sure you are prepared.
Cape Town itinerary tip: the queues for the Cable Car can get very long so book your tickets in advance on the official Table Mountain website to save some time. Table Mountain often shrouded in cloud and high winds result in the cancellation of the Cable Car so take the opportunity to ascend it whenever the weather allows!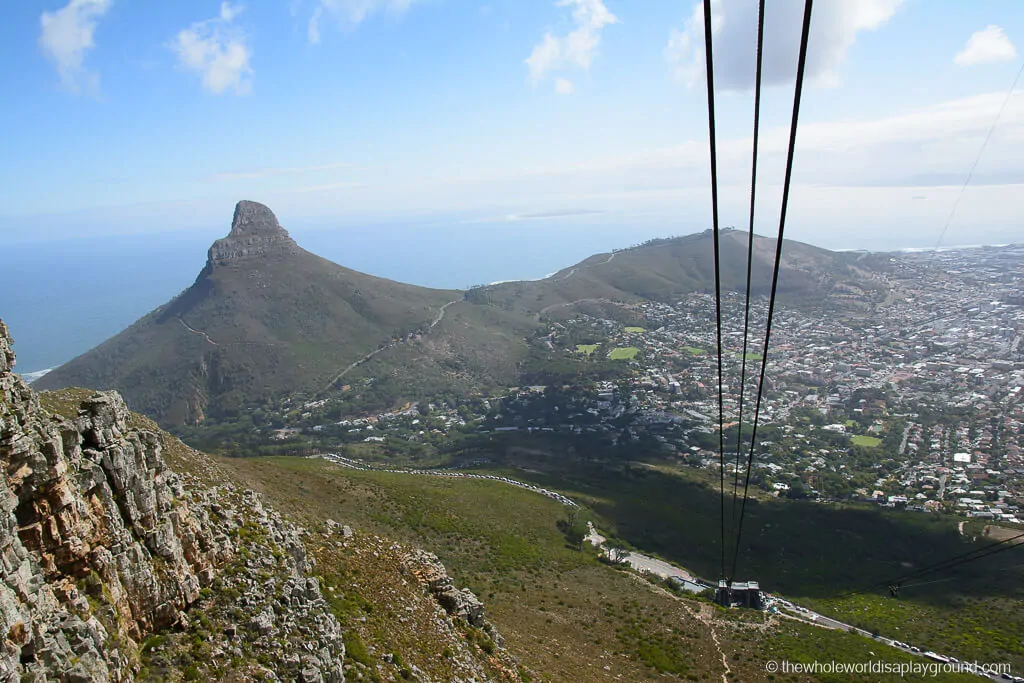 Afternoon tea is a Cape Town tradition and the Mount Nelson afternoon teas are a Cape Town institution. The setting is luxurious and the dessert table is a decadent display which will have you filling up your plate again and again! It's the perfect leisurely Cape Town afternoon.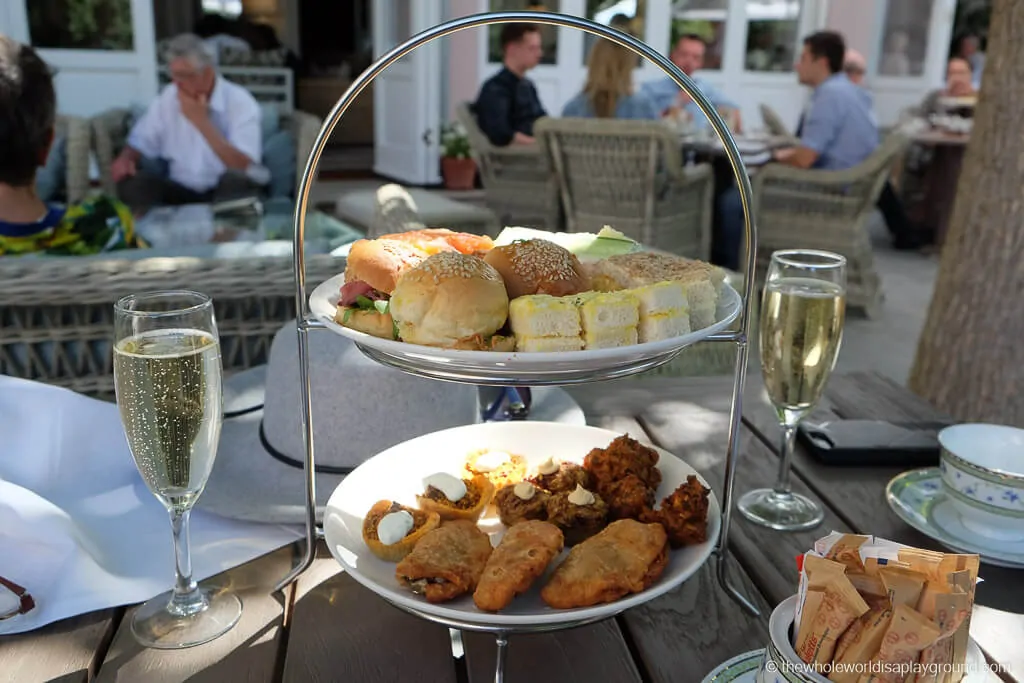 After a relaxing afternoon, it's time to explore Camps Bay, a glitzy Cape Town suburb flanked by the Twelve Apostles and the ocean. Camps Bay is a hub of restaurants, bars, coffee shops and stunning beaches. Camp Bay is home to some beautiful salt water tidal pools which are stunningly beautiful and offer protection from the ocean and its residents making them the perfect swimming spot! Admire the views of the Twelve Apostles, 12 distinct sandstone cliffs which stretch from Table Mountain, above Camps Bay, as far as Hout Bay and Llandudno. Finish up the evening with an incredible Camps Bay sunset and, if you want to enjoy it from somewhere special, the Leopard Bar at the Twelve Apostles Hotel in Camps Bay is the place to be seen in Cape Town!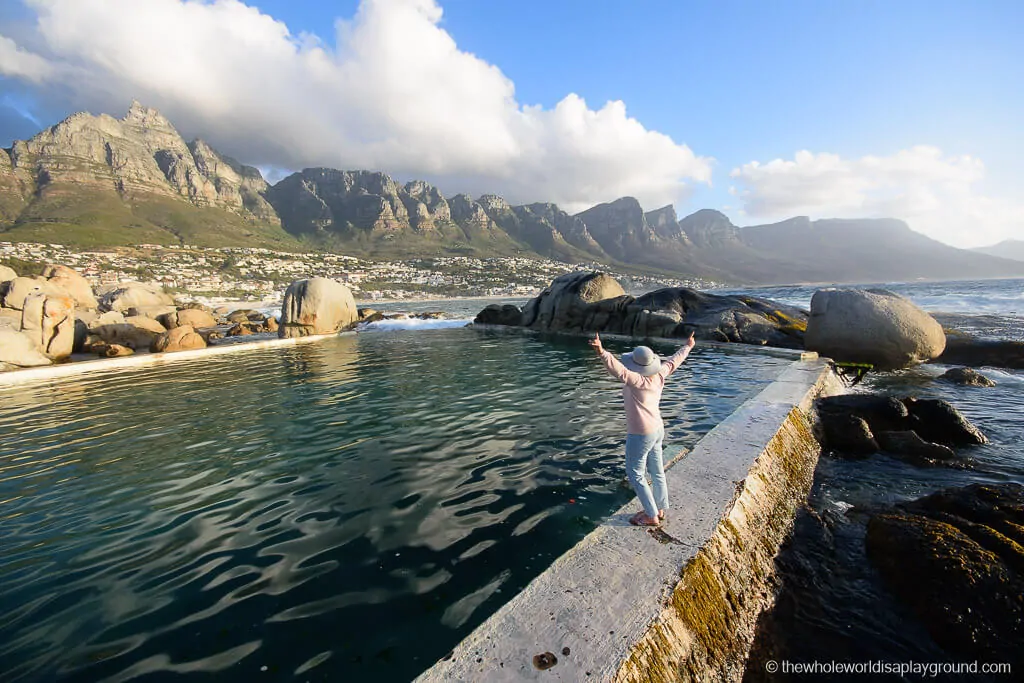 Cape Town Guidebooks
Check out our favourite Cape Town guidebooks for more trip inspiration – buy now on Amazon!
Cape Town Itinerary: Day 3
It's time to explore some more of Cape Town and enjoy some of the city favourites. Start the day with a walk through the colourful neighbourhood of Bo-Kaap in the Malay Quarter of Cape Town where the streets are lined with brightly painted houses of all colours. Absorb the culture, sample the local food or partake in a cookery class. If you prefer to join a tour check out this walking tour which includes District 6 or, if food is your thing then check out this food tasting tour.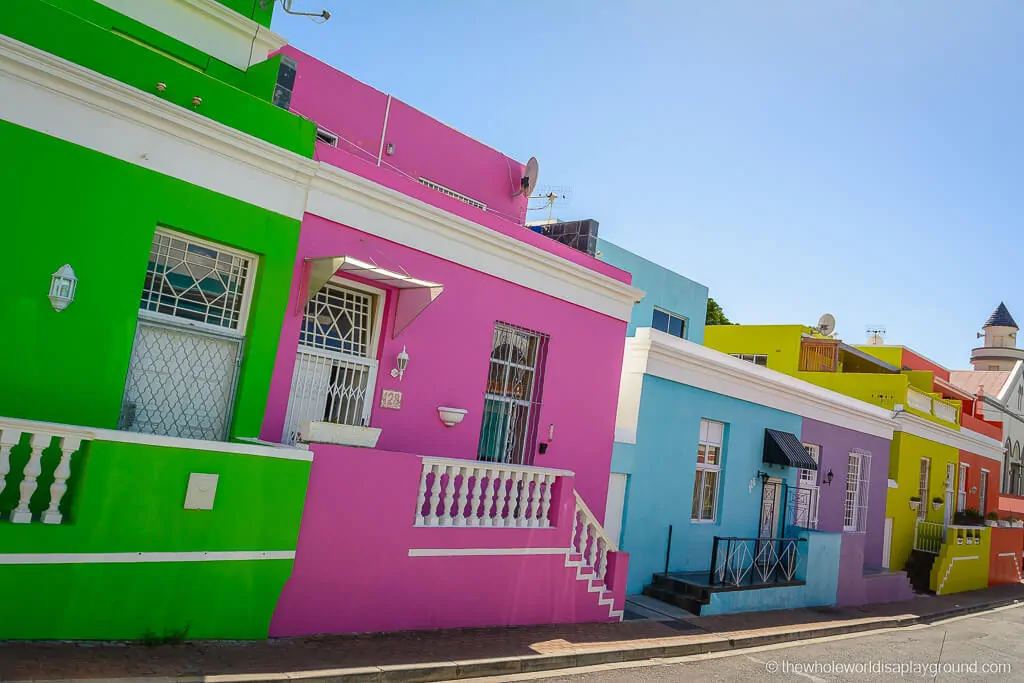 After Bo-Kaap, indulge in the quirky, fun and beautifully decorated cakes and biscuits at Charly's Bakery, another Cape Town institution frequented by locals and tourists alike.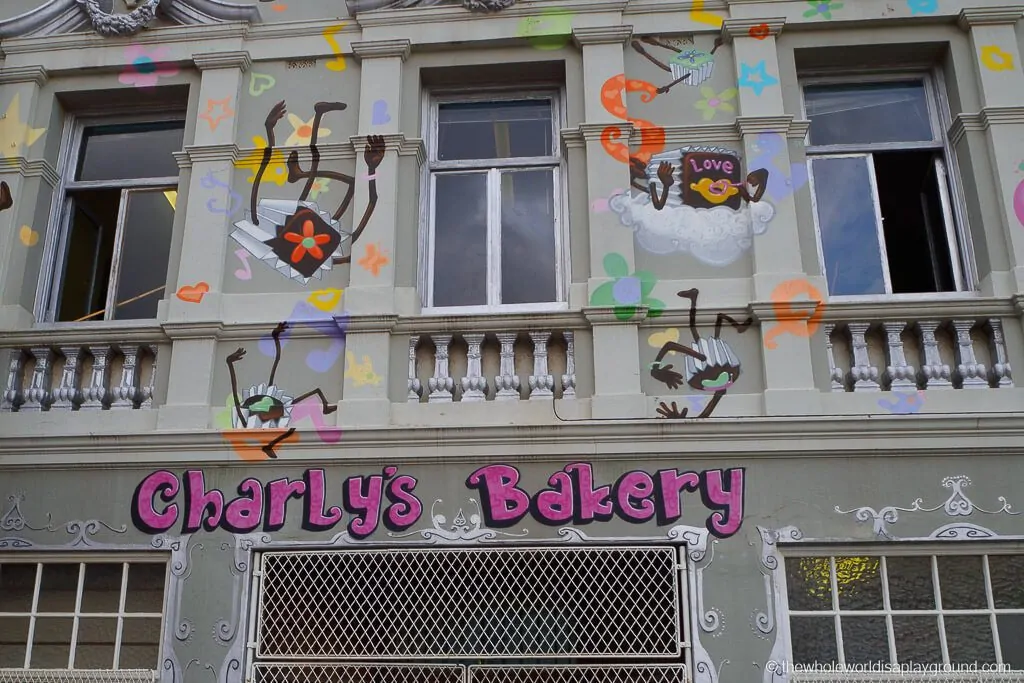 Cape Town itinerary tip: There are 6 giant yellow photo frames dotted around Cape Town which perfectly frame the spectacular Table Mountain and one is located beside Charly's Bakery. Keep an eye out for them at popular spots like Signal Hill and the V&A Waterfront.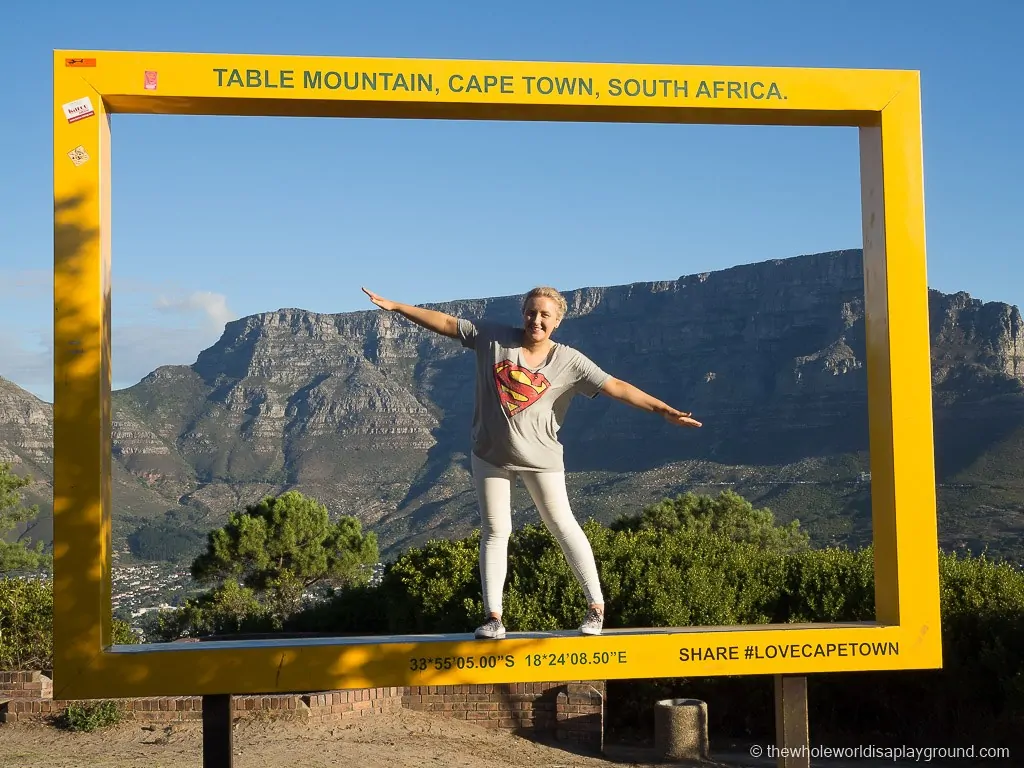 The next stop is the former District 6 area of downtown Cape Town to visit the District 6 Museum and learn about the darker side of Cape Town and South African history. More than 60,000 people were forcibly removed and relocated to derelict areas and their houses in District Six were destroyed. Lighten the mood with a coffee at Truth Coffee Roasting which is touted as one of the world's best coffee shops. The coffee is hand roasted in a vintage cast iron drum and the decor is steampunk inspired with a collection of metal piping and machinery.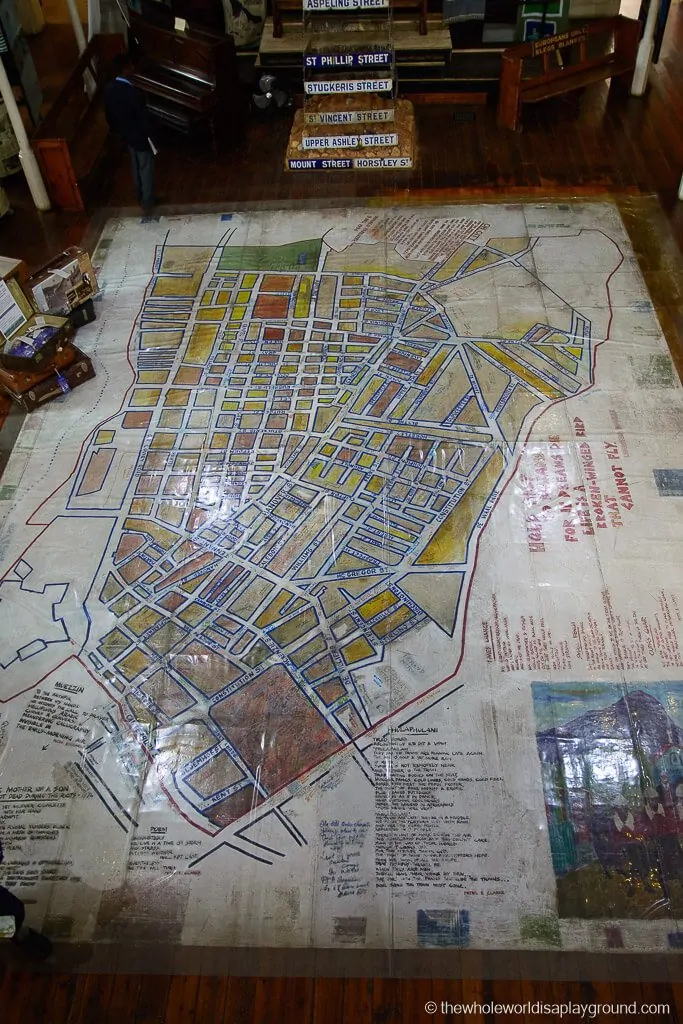 If you are feeling energetic now is the time to burn off some energy with a hike up Lion's Head, one of the most iconic Cape Town landmarks, for sunset. It's an awesome spot to enjoy a Cape Town sundowner with magnificent views of Table Mountain, Camp's Bay and the Ocean.
Cape Town itinerary tip: if you're planning on hiking Lion's Head it's important to be prepared as it is a challenging hike.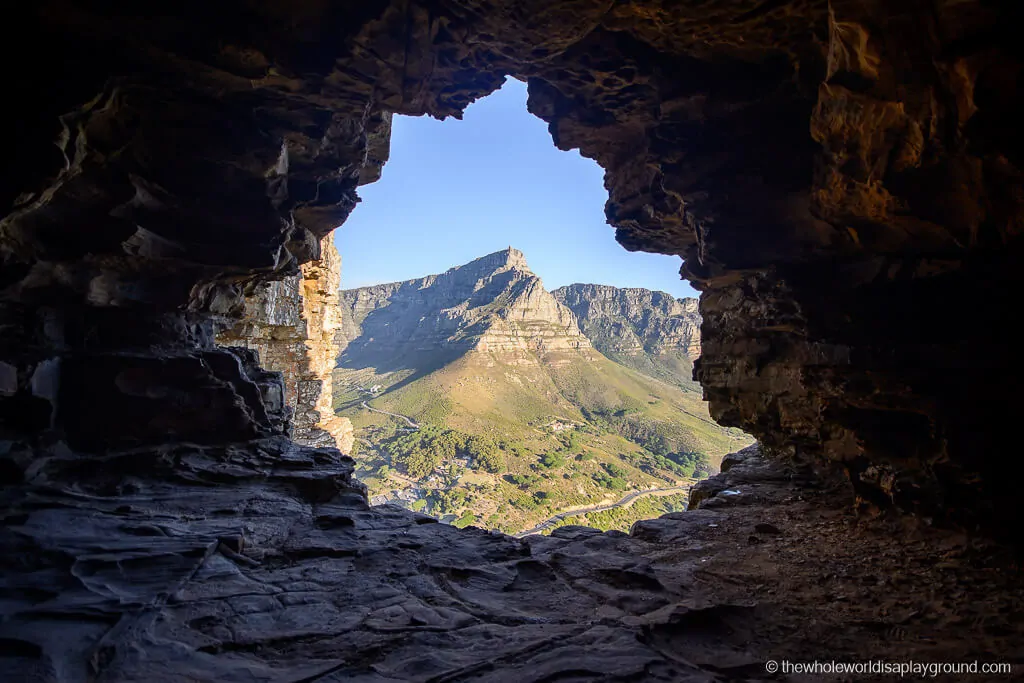 Cape Town Itinerary: Day 4
If you want to enjoy a panoramic sunrise, Kloof Corner is a super easy 30minute hike which rewards with magnificent views of Lion's Head, Camps Bay and the city and it is one of the best sunrise spots in Cape Town.
Cape Town itinerary tip: Although extreme care is needed to avoid the steep drops be sure not to confuse it with the Kloof ridge hike which is one of the most challenging hikes on Table Mountain!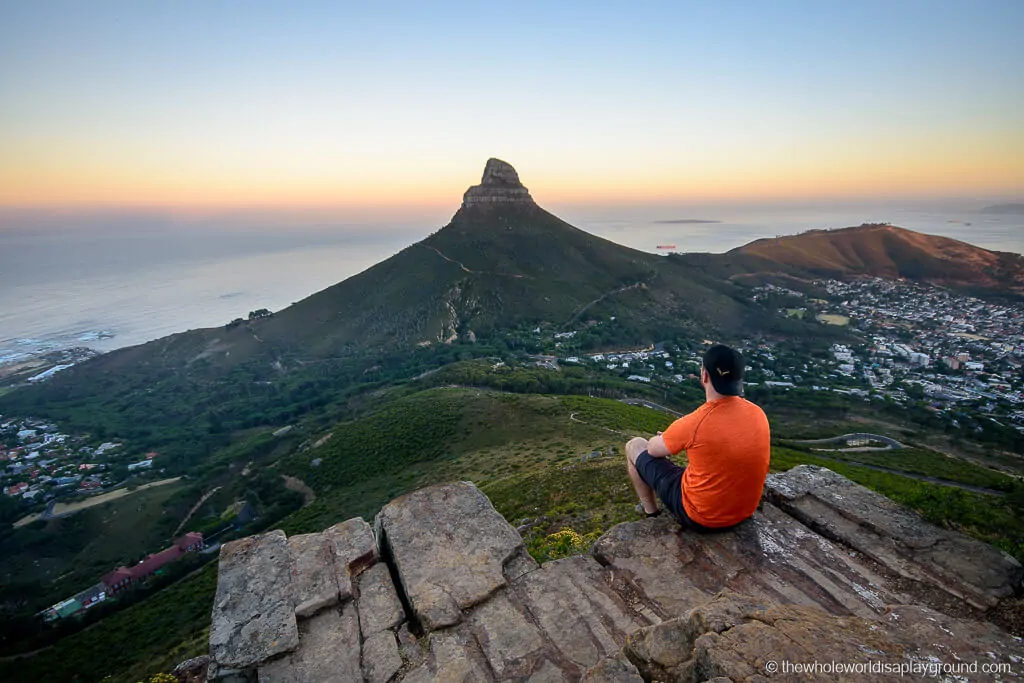 A short drive from the centre of Cape Town, the Kirstenbosch National Botanical Gardens are touted as one of the seven most magnificent botanical gardens in the world and are a beautiful escape from the city. The gardens are part of the UNESCO World Heritage Cape Floral Region and our favourite parts were the sculpture garden and the Centenary Tree Canopy Walkway. The tea rooms are the perfect spot for some lunch – the salads were some of the best we had in Cape Town. Wind down with a late afternoon visit to one of the best beaches in Cape Town.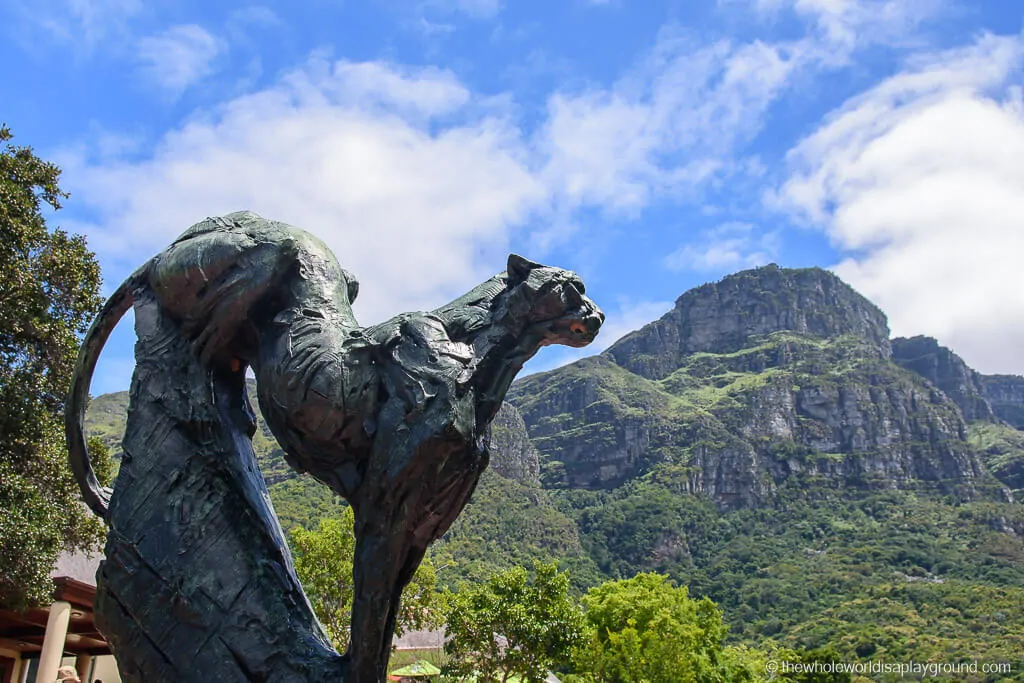 About 20 minutes from Kirstenbosch, Muizenberg Beach is best known for its white sandy beach and the very retro, brightly coloured beach huts which adorn it.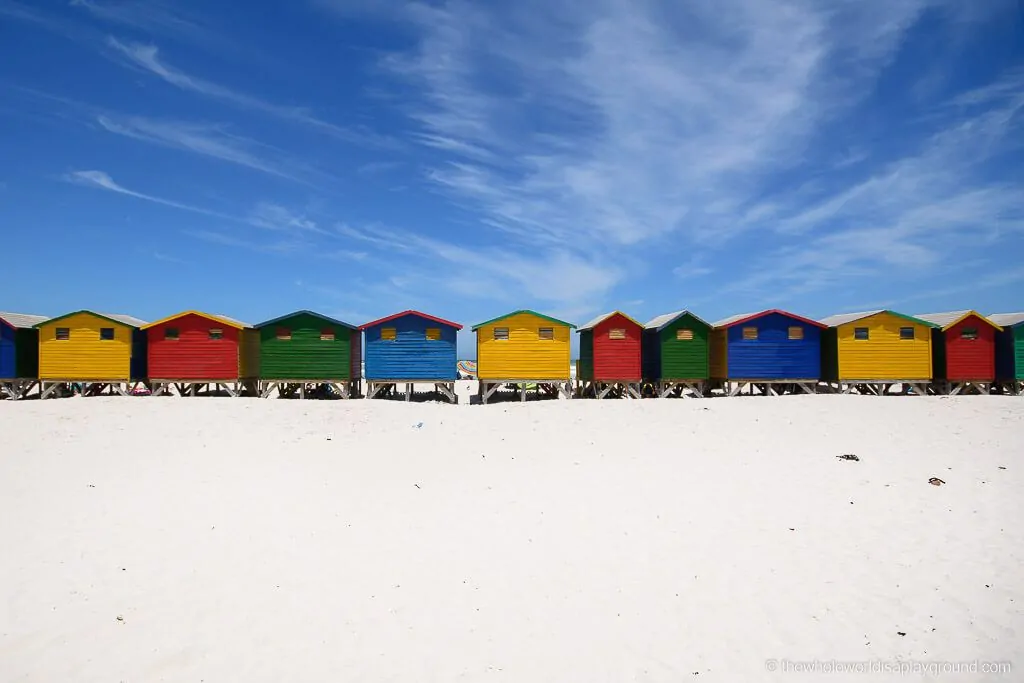 Cape Town Itinerary: Day 5
Cape Town is famous for its dramatic coastline and a drive along the Cape Peninsula to the Cape of Good Hope, a rocky headland jutting out over the Atlantic Ocean, is a popular day trip from Cape Town. The highlights are the southerly points of the Cape of Good Hope and Cape Point and the dramatic cliff faces and ocean views will make you feel like you are at the end of the earth.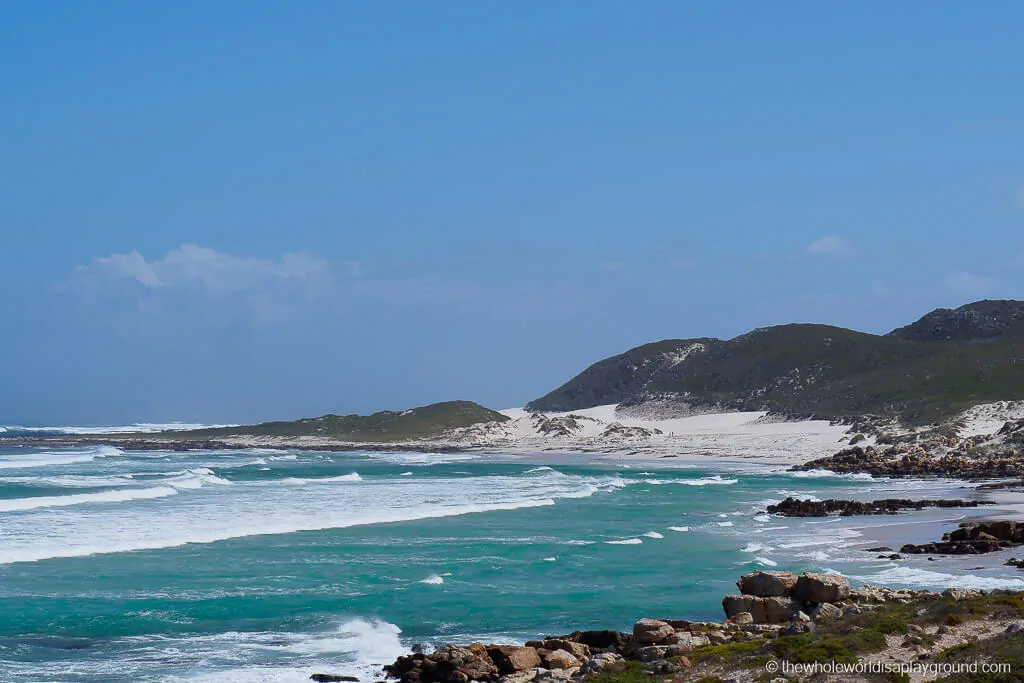 On the way to the Cape Peninsula stop at the penguin colony of Boulders Beach. The drive will also take you through the Cape Floral Region, one of the richest plant areas in the world and a UNESCO World Heritage Site.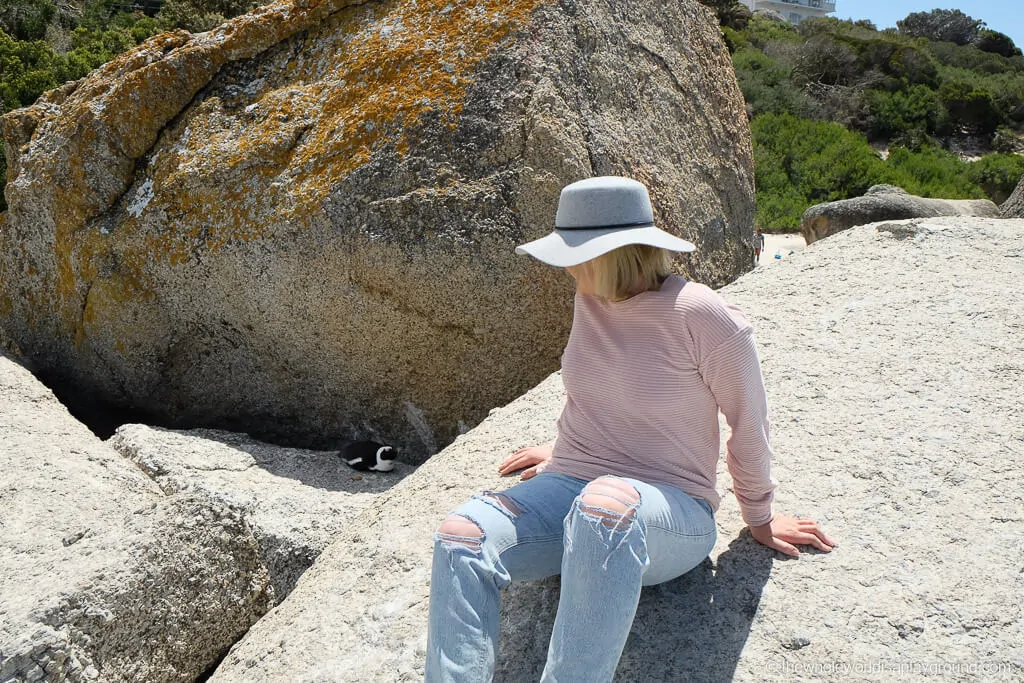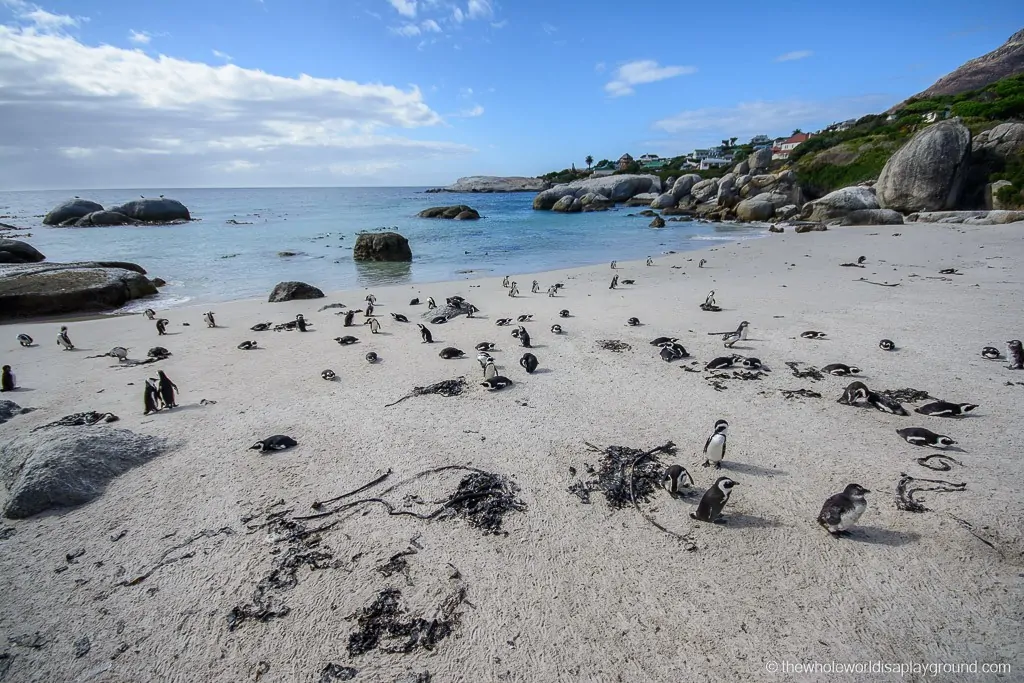 Drive back to Cape Town via the windswept Chapman's Peak Drive which captures the ocean road at its most spectacular. The road is cut out of the cliff and the drive is a hair-raising experience with near vertical cliffs and blind bends. It begins in the fishing village of Hout Bay and winds its way up to Chapman's Point before ending at Noordhoek. The ocean views are beautiful along the entire route but the best are from Chapman's Point, the highest point of the drive!
If you don't have your own wheels check out this quirky Cape Town tour which visits Chapman's Peak or combine it with a visit to the Cape of Good Hope.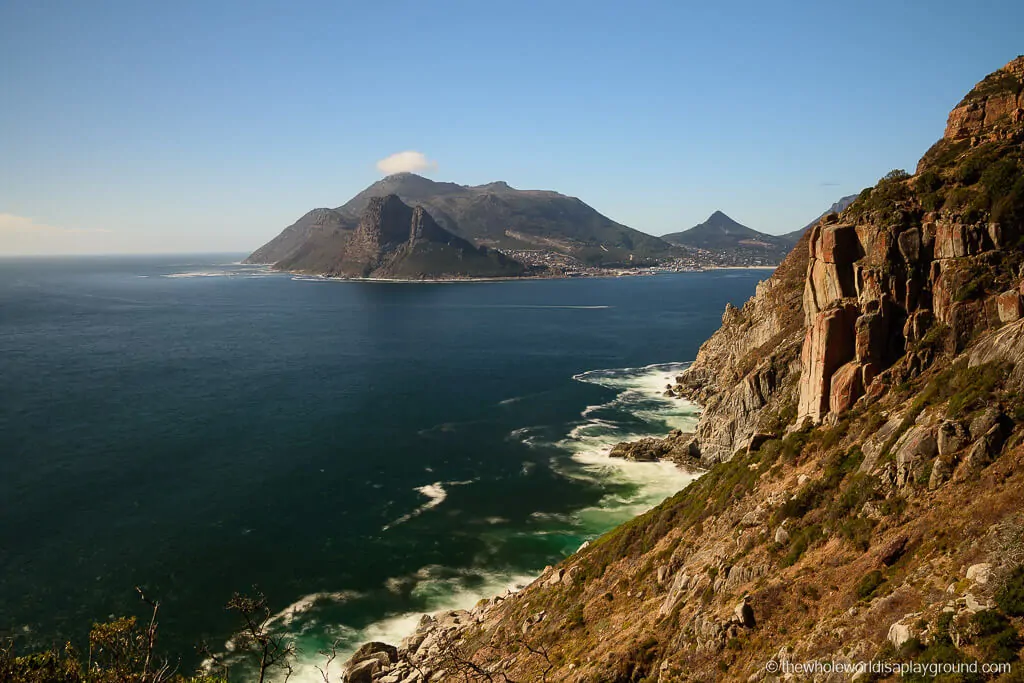 Cape Town Itinerary: Day 6
Our Day 6 itinerary is best undertaken on a Saturday so, if you happen to be in Cape Town at the weekend, try and follow this itinerary on a Saturday to enjoy the delights of the Old Biscuit Mill market. Start the day with a tour of Woodstock, a hip and gritty Cape Town neighbourhood where the tiny side streets hide colourful murals and fascinating street art on the slopes of Devi's Peak. There is everything from superheroes, political statements and some incredible wildlife depictions.
Cape Town itinerary tip: Most of the street art is contained within a rectangle of streets enclosed by Albert Road and Victoria Road. Head west from Essex Street as a good starting point! We explored Woodstock in our rental car but if you prefer a tour check out this street art and township tour which takes in the Woodstock street art.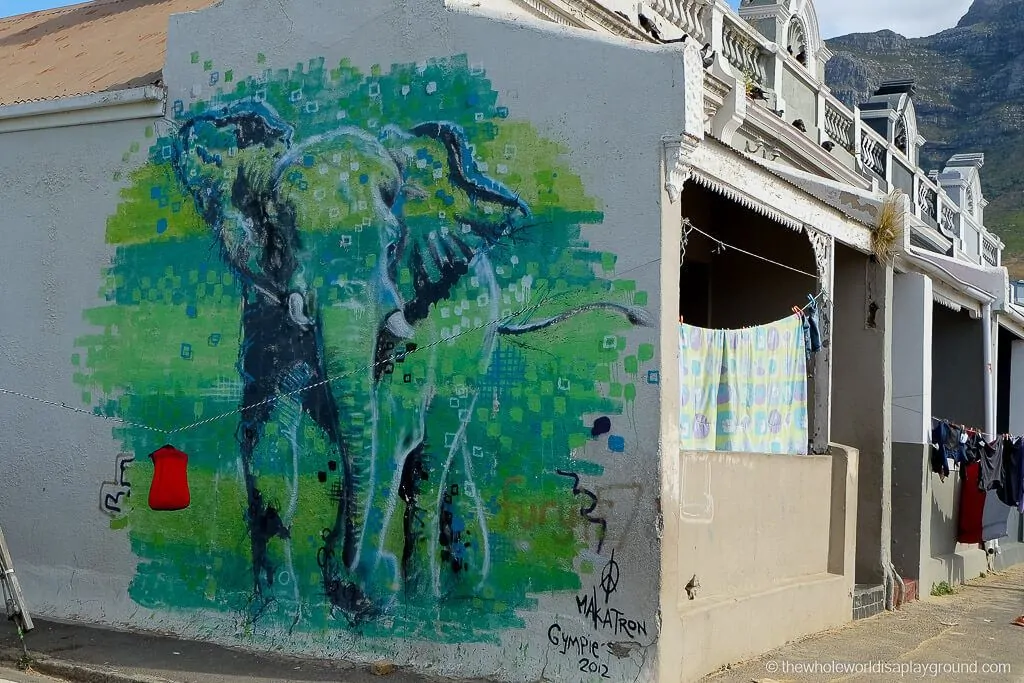 On Saturdays the Old Biscuit Mill, a courtyard of boutique shops and cafes in an old red brick factory, transforms into the Neighbourhoods Market.Locals and tourist flock for the quirky stalls and artisan food and drink offerings.
Cape Town itinerary tip: The market is open from 9am to 3pm every Saturday.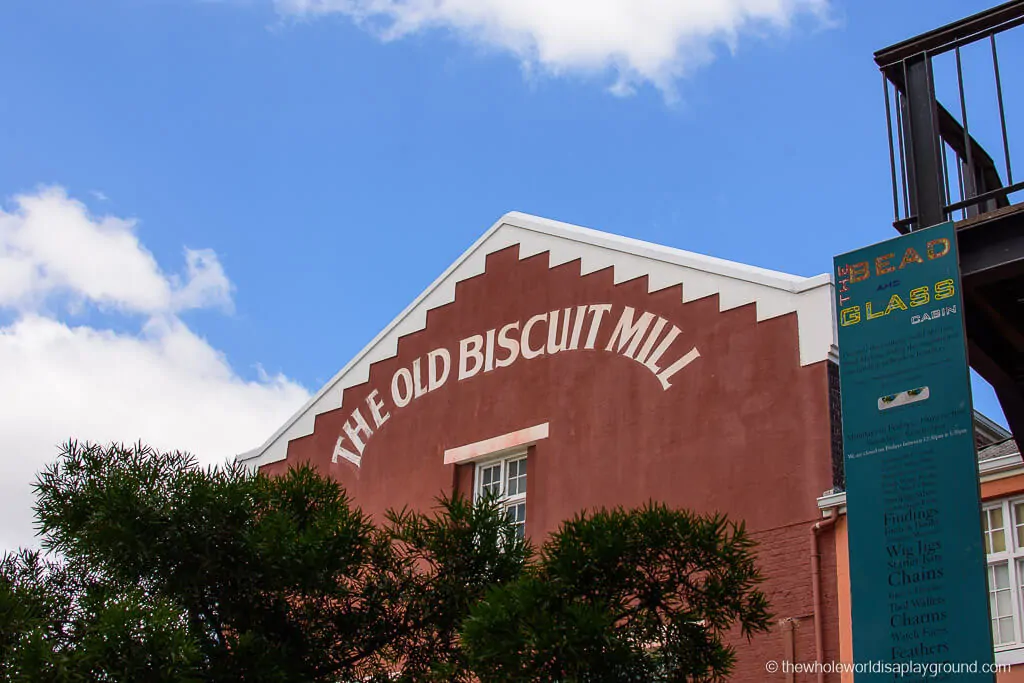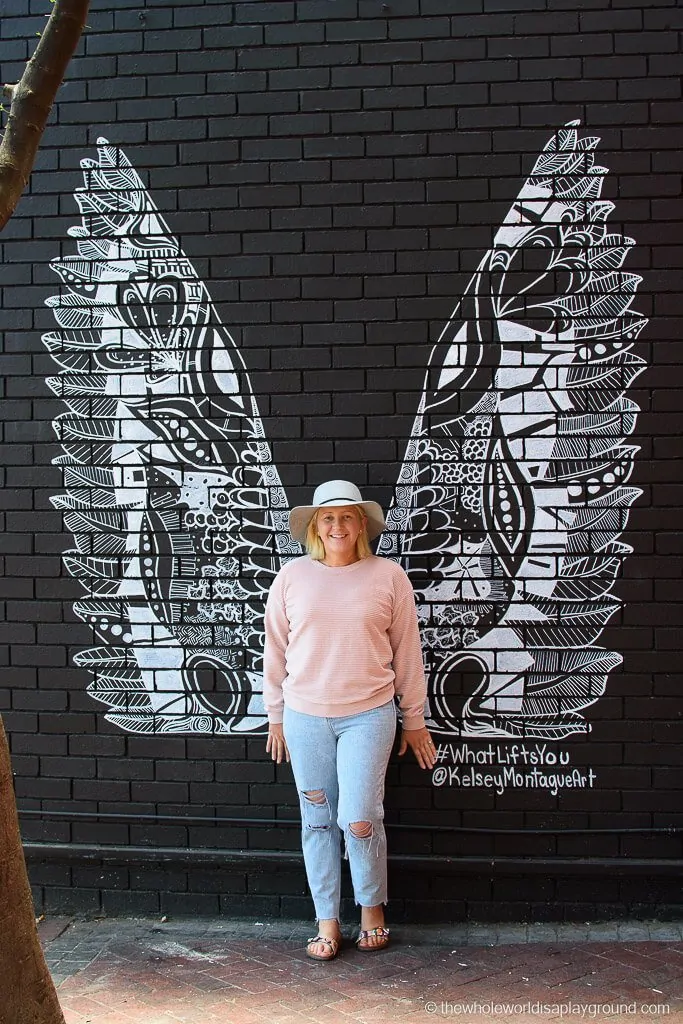 If you want to explore further, spend the evening in Seapoint, a fun suburb of Cape Town with a beachfront promenade and a plethora of restaurants and bars.
Cape Town Itinerary: Day 7
Some of the world's best wine hails from South Africa and there are some great options close to Cape Town to enjoy a day at the vineyards. Drink beautiful wine, indulge in local chocolates and nibble on delicious cheeses all while enjoying the beautiful landscape and architecture synonymous with the Cape Winelands.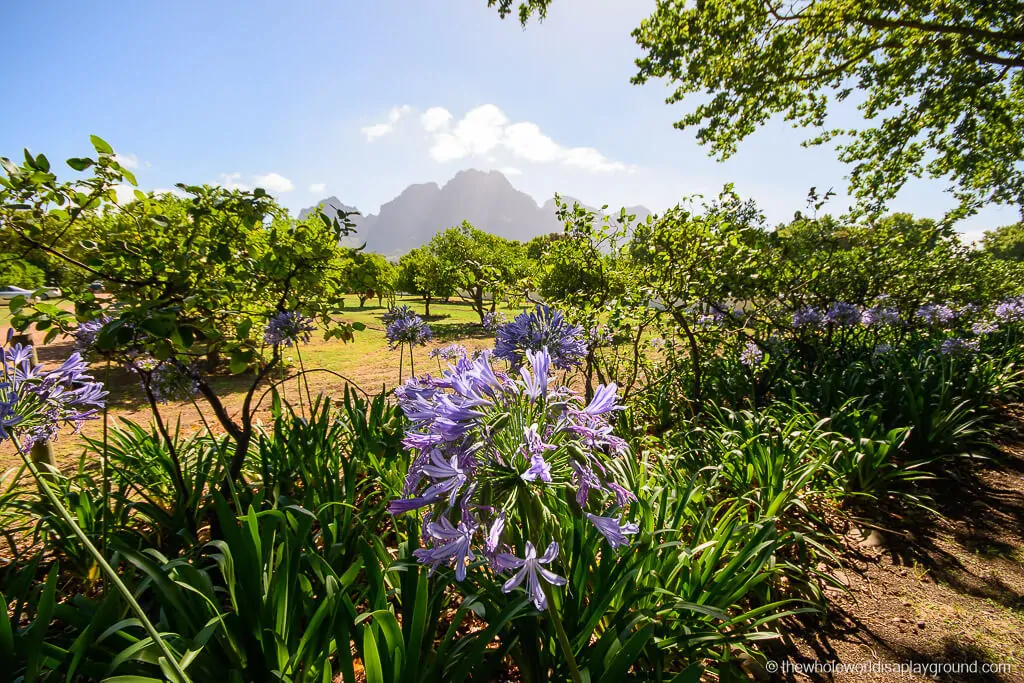 Just 45 minutes from Cape Town, Stellenbosh and Franschhoek are the Winelands two most popular stops and are the heart of South Africa's wine industry. Stellenbosh, South Africa's second oldest town, is a charming university town and Franschhoek a charming village filled with galleries, restaurants and wine shops with its very own wine tram to transport between vineyards.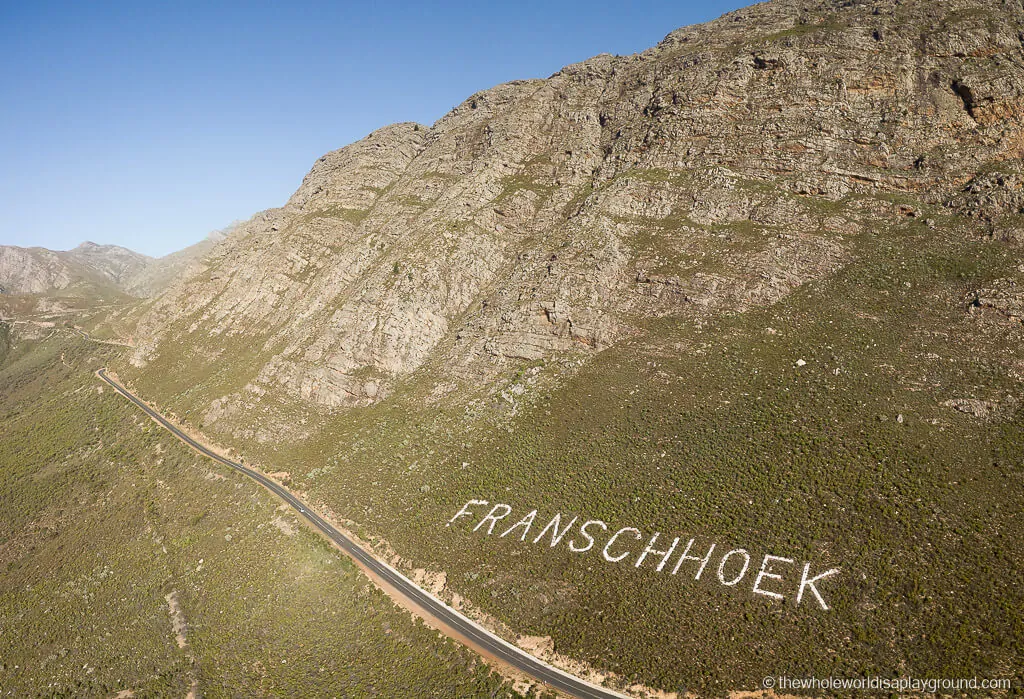 If you prefer somewhere closer, Constantia is only 15 minutes away & has some of the oldest & very best wineries in SA. If you prefer to indulge in some wine and leave the car behind there are lots of day tours from Cape Town – check out Franschhoek and Stellenbosch tours here!
Cape Town itinerary tip: our favourite was Boschendal, a 300 year old farm in the Franschhoek Valley with delicious award-winning wines, beautiful gardens and delicious restaurants. We also loved the quirky Fairview Vineyard with its resident goats and acommpanying Goat Tower!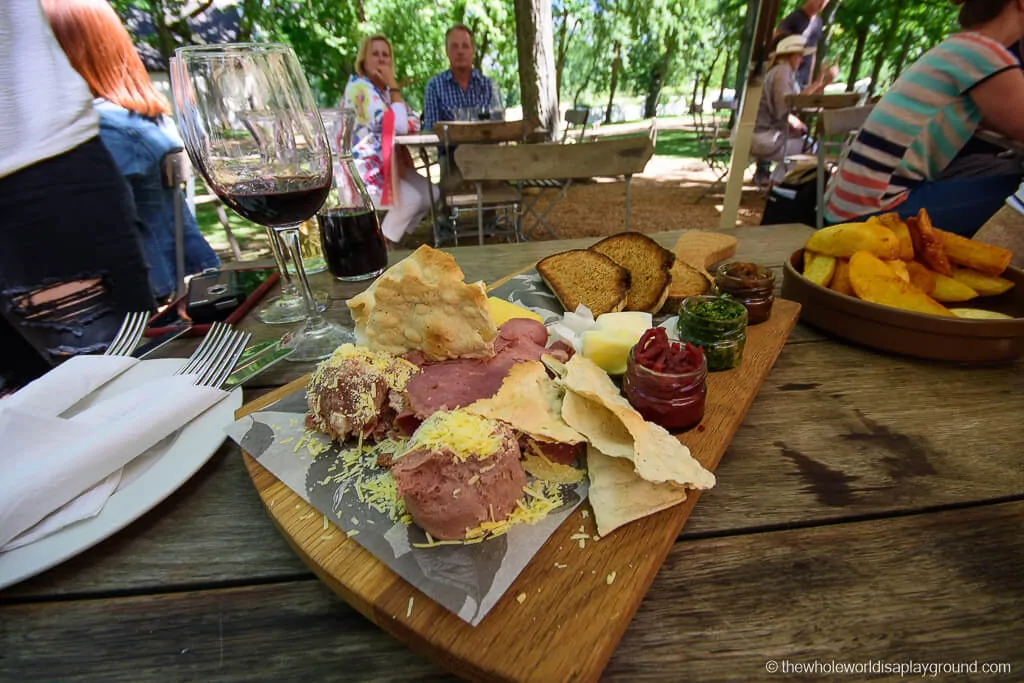 For more Cape Town inspiration check out our other articles on the city:
the best things to do in Cape Town
our guide to the best photo locations in Cape Town
hiking Lion's Head and how to find Wally's Cave
our favourite hidden gems and secret sights in Cape Town
what to see on a day trip to the Cape of Good Hope
our South Africa roadtrip itinerary
a Garden Route itinerary