Our epic South Africa road trips are some of our favourite trips ever and renting a car was an essential part of each journey. We've driven across the entire country, from Johannesburg and Kruger National Park to the Eastern Cape and along the coast to Cape Town. Our trips have taken in over 6,000km on South African roads, including the Eastern Cape, Lesotho, Eswatini (formerly Swaziland) and the Garden Route so we have a lot of experience driving a rental car in South Africa. We want to share everything we learned about driving in the country and have put together our best tips for renting a car in South Africa to help you on your trip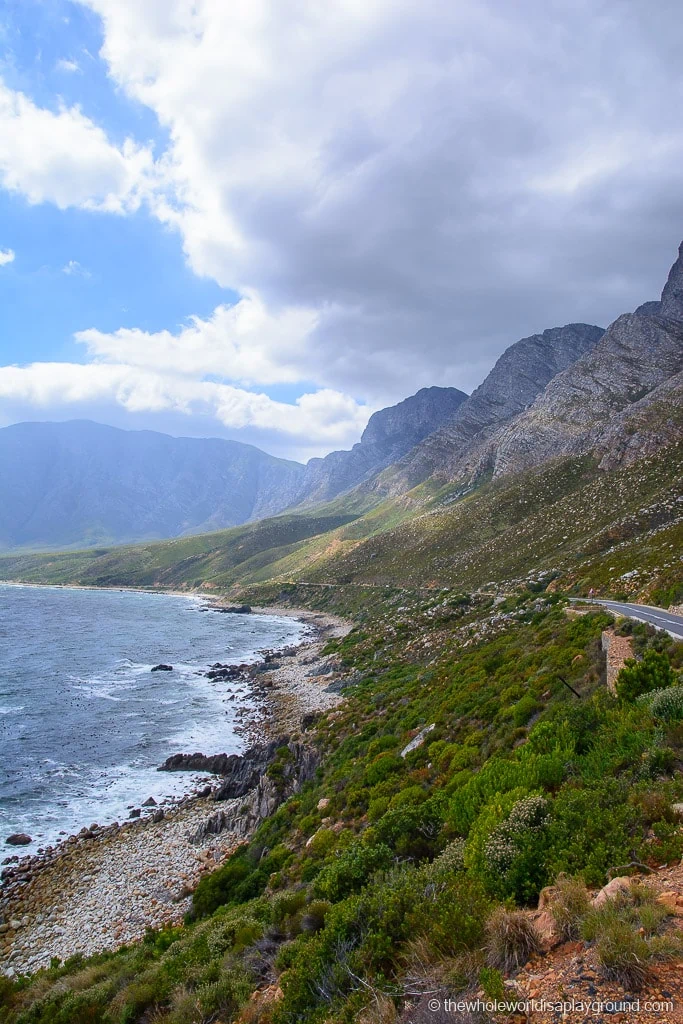 Tips for Renting a Car in South Africa
Having completed a number of epic road roads across South Africa we've been lucky enough to experience lots of driving in the country. We've picked up a lot of tips and advice that we want to share about renting a car in this beautiful country.
Why Rent a Car in South Africa?
South Africa is a beautiful country and the best way to explore it is by rental car. South Africa has a good road system and we found driving to be very safe throughout the country. Having your own car gives you the flexibility to travel at your own pace and see places that are not easily visited on group tours or public transport, like the many UNESCO World Heritage Sites in South Africa. We've explored most of South Africa by rental car and every time we've had an amazing experience.
Having a rental car allowed us to experience the epic Panorama Route, drive the stunning Garden Route, access epic safaris in Kruger and experience many of the best things to do in South Africa. If you're planning a trip to South Africa we highly recommend renting a car!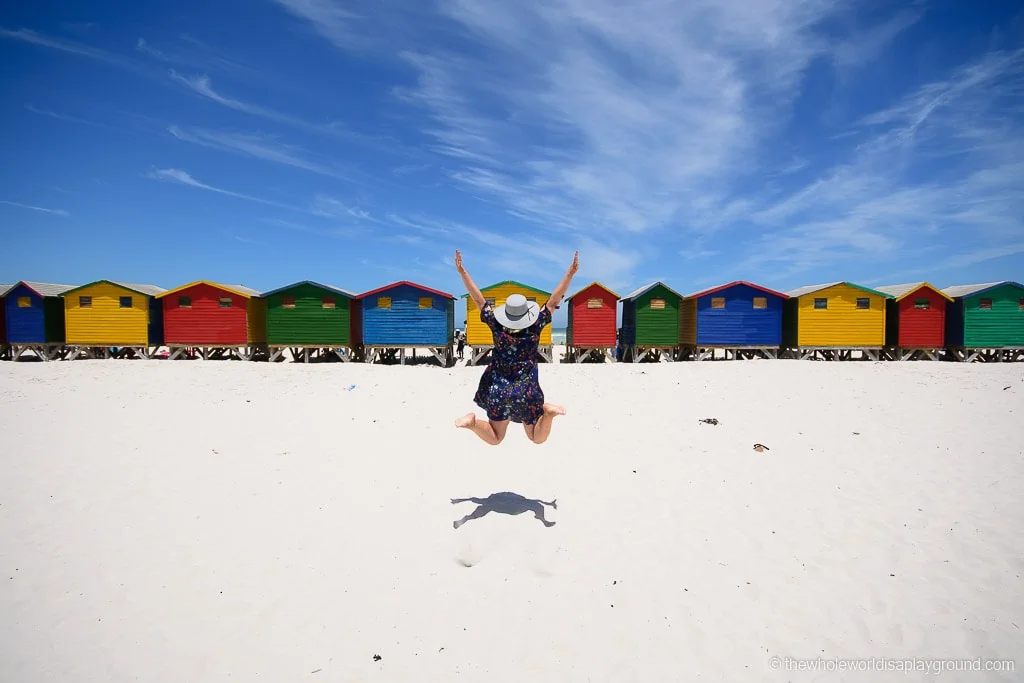 1 | Booking your rental car
We've visited South Africa a number of times for road trips and each time we've found it to be very reasonably priced for renting cars. You can rent everything from budget cars to high-quality premium SUVs and 4×4 vehicles for very competitive rates compared with other countries.
We're huge fans of road trips and have driven rental cars in almost 50 countries so we have a lot of experience renting cars in foreign countries. Book your car now with RentalCars.com, where you will find a great selection of cars at very competitive prices – check prices now!
Book your South Africa rental car now
2 | Book your rental car early
We always recommend booking your rental car as early as possible in order to have the best selectino and availability of cars. This is especially true in South Africa when demand for larger SUV's and 4×4 vehicles is very high during the peak months (October – March and during the summer) During these months demand for the larger vehicles is very high due to the increase in visitors to South Africa for vacations and safaris.
3 | Choosing a rental car
We recommend renting the biggest car you can afford if you're travelling for more than a few days. The drive times in South Africa can be long, so having a comfortable car will make the journeys a lot more enjoyable. A major plus is we've found rental car prices tend to be very reasonable in South Africa.
We usually hire a Toyota Fortuna which is perfect for a long haul trip. The tinted windows meant our luggage wasn't too visible in the trunk and we had plenty of legroom during the trip.
We find that RentalCars.com, can help you find a great selection of cars as they check multiple rental car suppliers so you can quickly compare prices and choose the car that's best for you.
Book your South Africa rental car now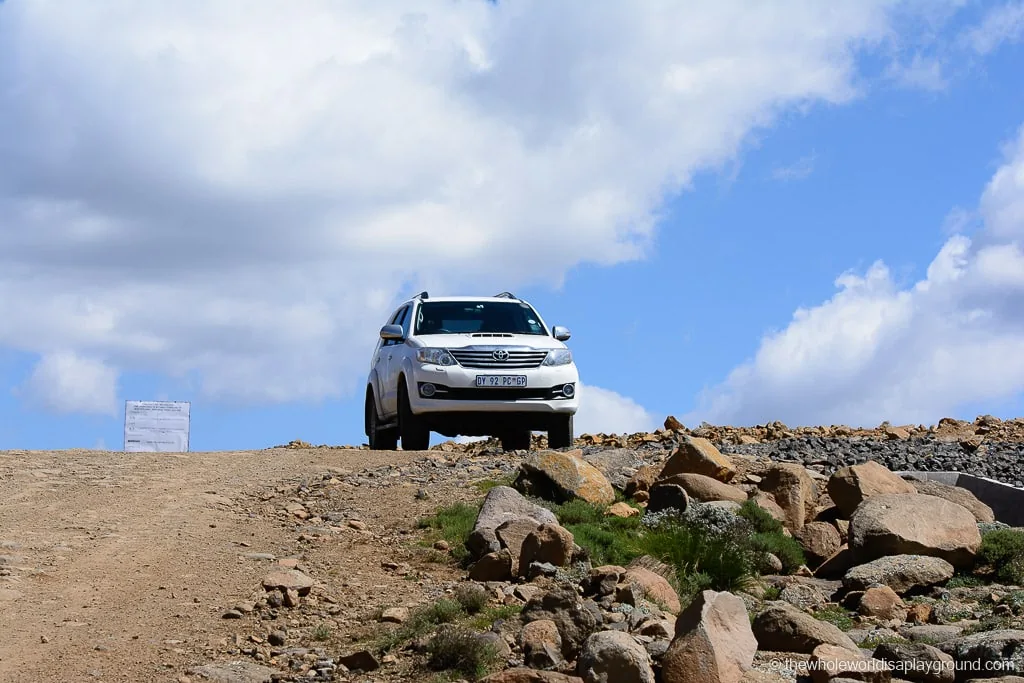 4 | Do you need a 4×4 in South Africa?
The roads are generally very good quality in South Africa and you can definitely get away without a 4×4 for your trip. However, if you want a little more comfort on your journey and the option to explore some of the more rugged parts of the country then we highly recommend renting a 4×4.
Having a 4×4 gave us the option to drive the Sani Pass into Lesotho. We also encountered a number of roads that would likely be uncomfortable in a regular car due to their very poor condition.
One of the most common 4×4 rentals is the Toyota Fortuner, which most companies stock. It's an automatic 4×4 and perfect for a South Africa road trip.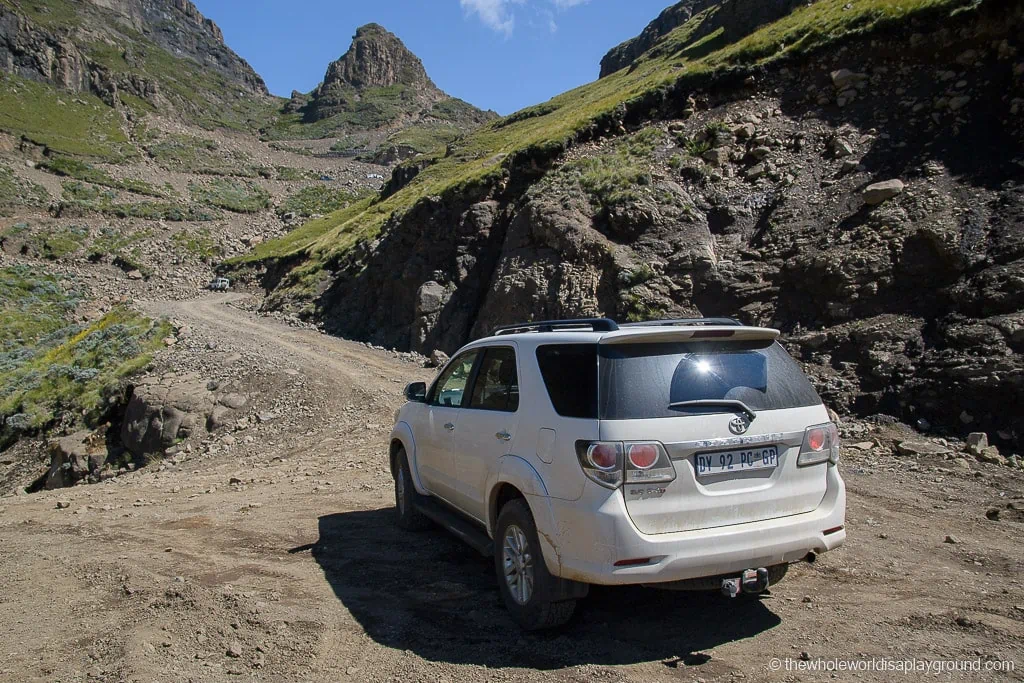 5 | Documentation
As with any car rental you'll need the basics: a valid driver's licence, a credit card and your passport. In addition, you'll need an International Drivers Permit (IDP) to rent a car in South Africa.
6 | Drivers Licence and International Drivers Permit
Most (if not all) South African rental car companies will require renters to have a valid International Drivers Permit with them at pickup. An IDP is a separate document to your standard driving licence and is simply a translation of your licence into a number of other languages
IDP's are not expensive and we highly recommend having one when renting a car, even if it's not a legal requirement to have it in a country. You must purchase your IDP in your original driving licence country before you travel
Renting a Car in South Africa tip: You cannot obtain an IDP after you leave your home country (i.e. where you hold your valid driving licence for).
7 | Drive on the left side of the road
Vehicles drive on the left-hand side of the road in South Africa.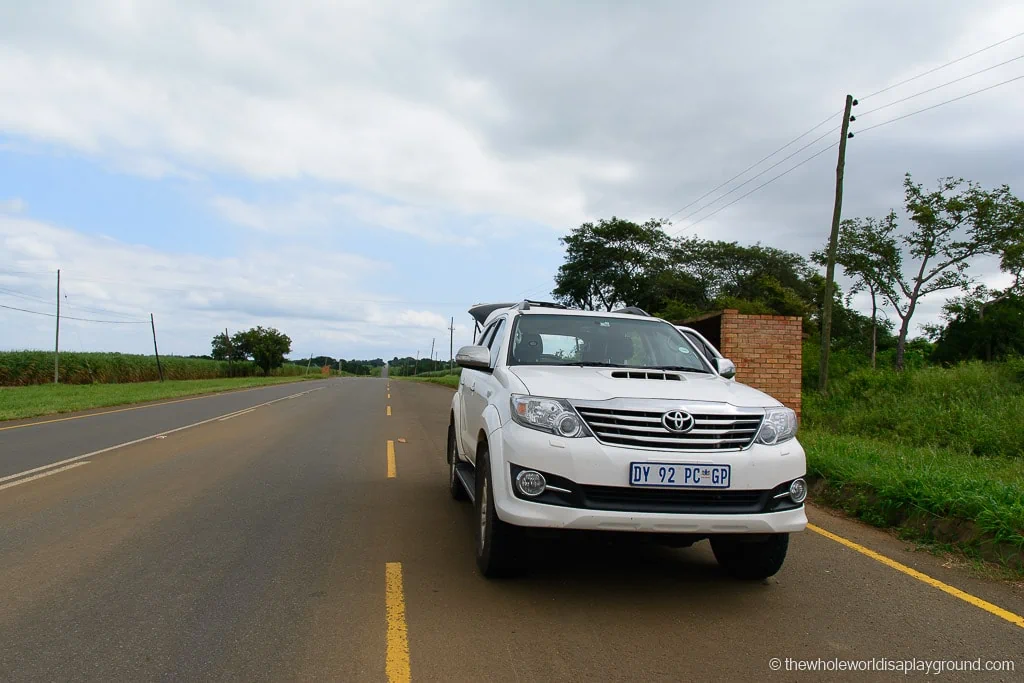 8 | Speed Limits
Speed limits vary frequently in South Africa and it was common to go through zones of 60, 80 and 100 km/h interchangeably. This is especially true when entering or leaving any of the major towns or townships along the Garden Route
We noticed that the South Africa drivers rarely, if ever, broke the speed limit. There is generally a heavy police presence in most areas, particularly on the Garden Route portion of the drive. This means there will be an increased number of mobile speed cameras on the roads. Fixed speed cameras were prevalent in Cape Town and we saw a number of them during our time there.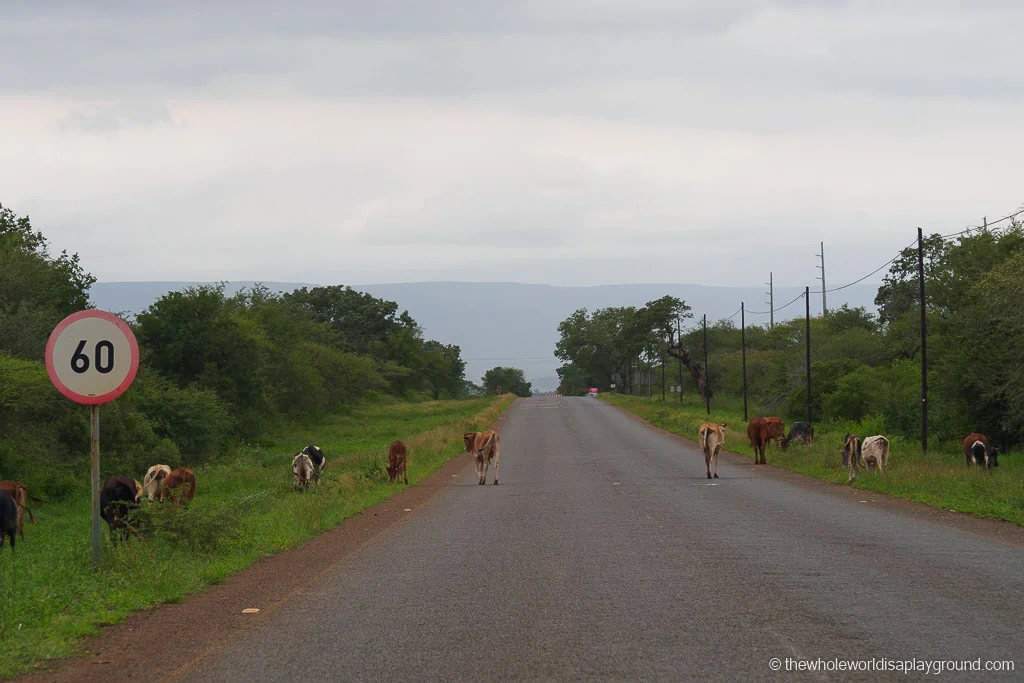 9 | Road Quality in South Africa
We found the road quality in South Africa to be very good, especially in the Western Cape from Cape Town to the Garden Route. Some of the non-primary roads, especially in the Eastern Cape tended to have potholes so care was needed on the longer drives. In general though the roads are good and your drive times will be broadly in line with your sat sav predictions.
The roads in Lesotho from the Sani Pass to Maseru were, somewhat surprisingly, excellent due to the recent road upgrade. The Eswatini roads were fine but we did encounter some patches of poorly maintained roads.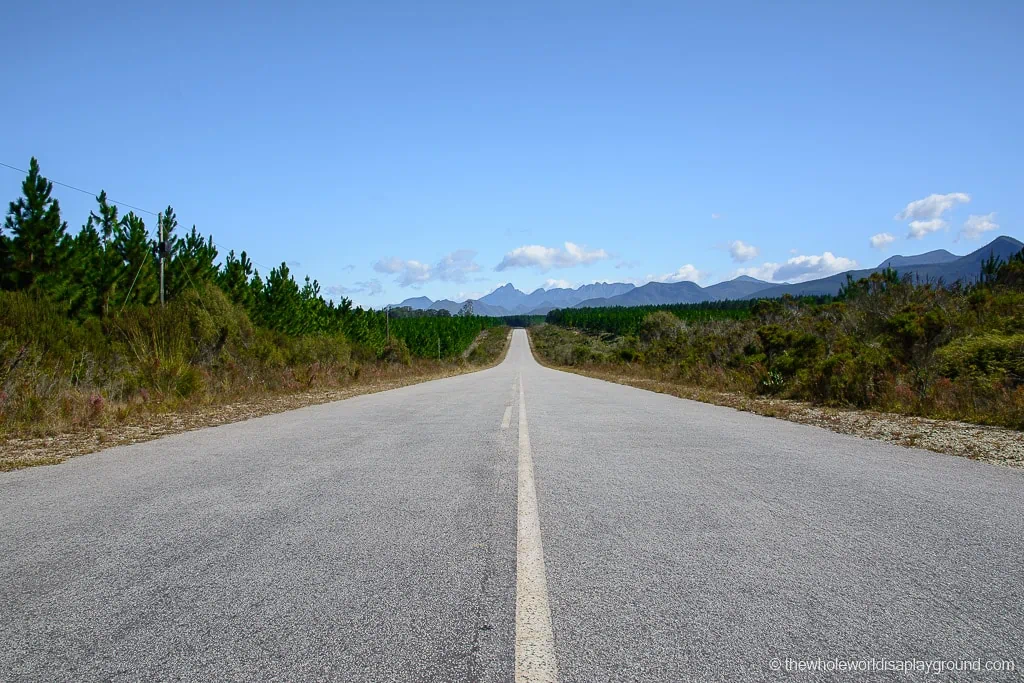 10 | Navigation
A good GPS is essential if you are driving in South Africa. We've used a combination of Google Maps and an offline GPS app (Osm And navigation) on our cellphones which work very well. The offline maps are very important if you plan to drive outside of the Cape Town region where phone coverage can be patchy.
We highly recommend checking your planned route before you set out each day. This is especially important in the eastern parts of South Africa. Sometimes the GPS suggested off-road routes because the distance was shorter, however, these roads tend to be very poor quality and don't be quicker. So if you turn off the main road onto a bumpy backroad, check your directions!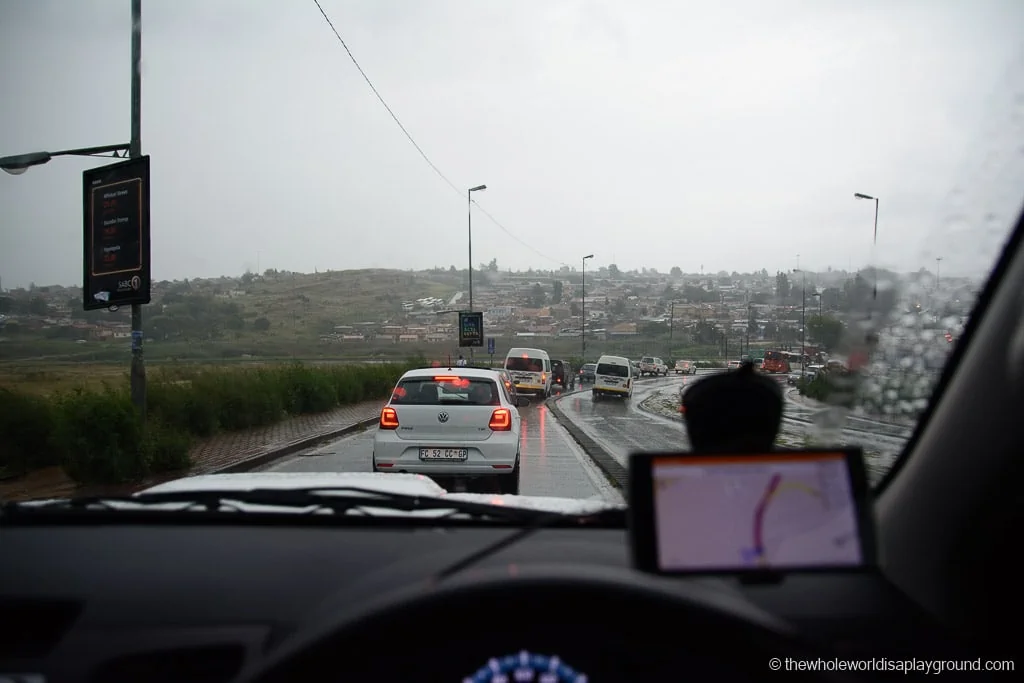 11 | Driving in the National Parks and Game Reserves
There are a number of national parks or game reserves in South Africa that you may plan on visiting to see the wildlife. We visited a number of these including the popular Addo Elephant National Park, Kruger National Park and Sabi Sands Game Reserve. Driving in these parks is very straightforward and once you follow the park rules (you'll be informed of these upon entering) you'll have a great time.
If you are planning to go on safari and enter the game reserves we recommend checking with your lodge about car access. We stayed at Inyati Lodge in Sabi Sans for a safari and access to the lodge would prove trick if we didn't have a 4×4 car.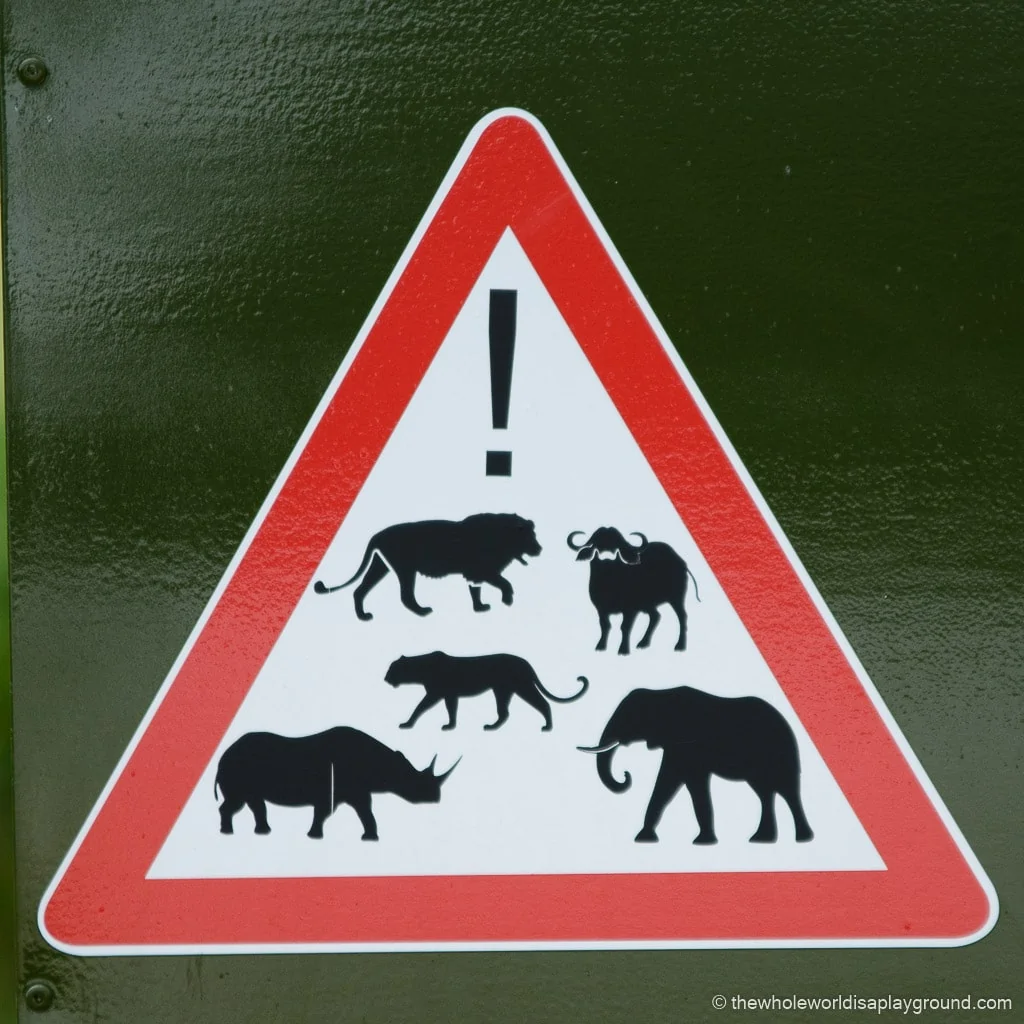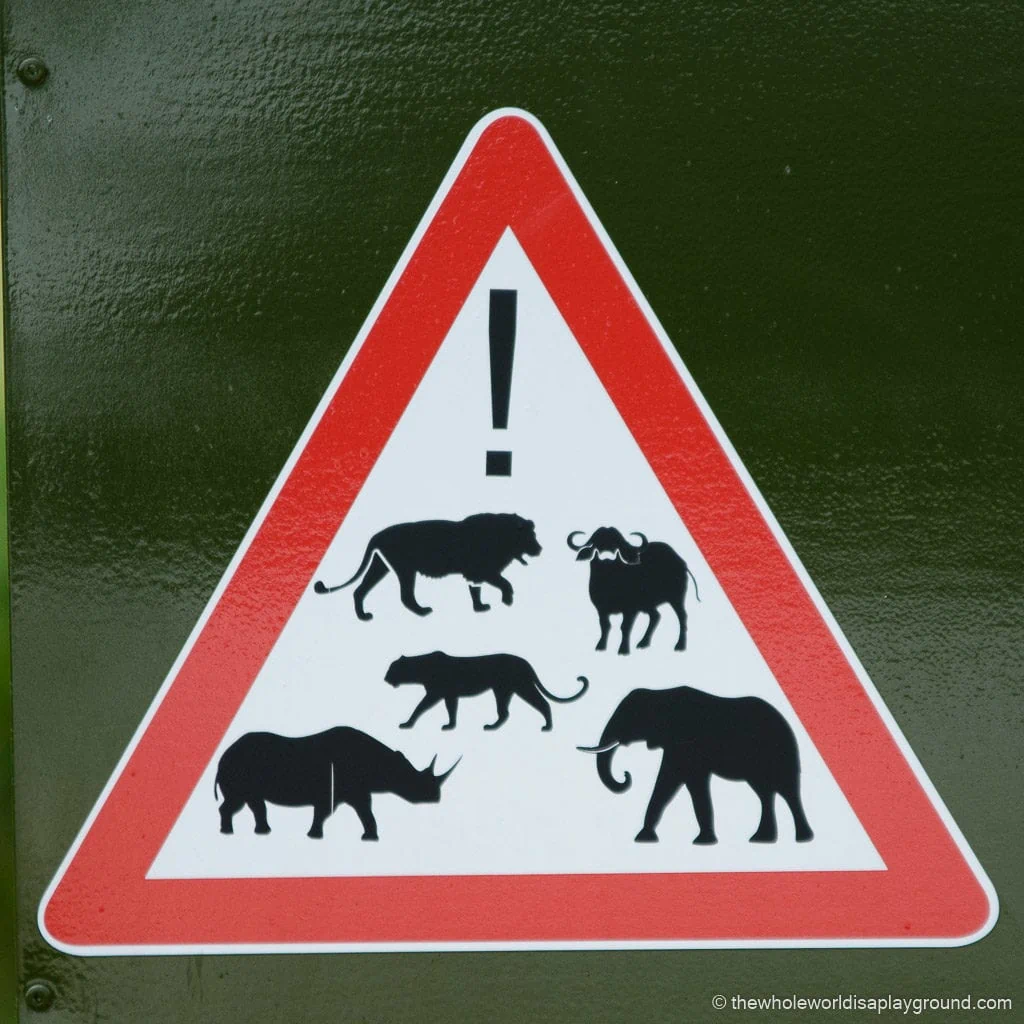 One of the most accessible parks is Addo, where you won't need 4×4 to explore the roads of the park.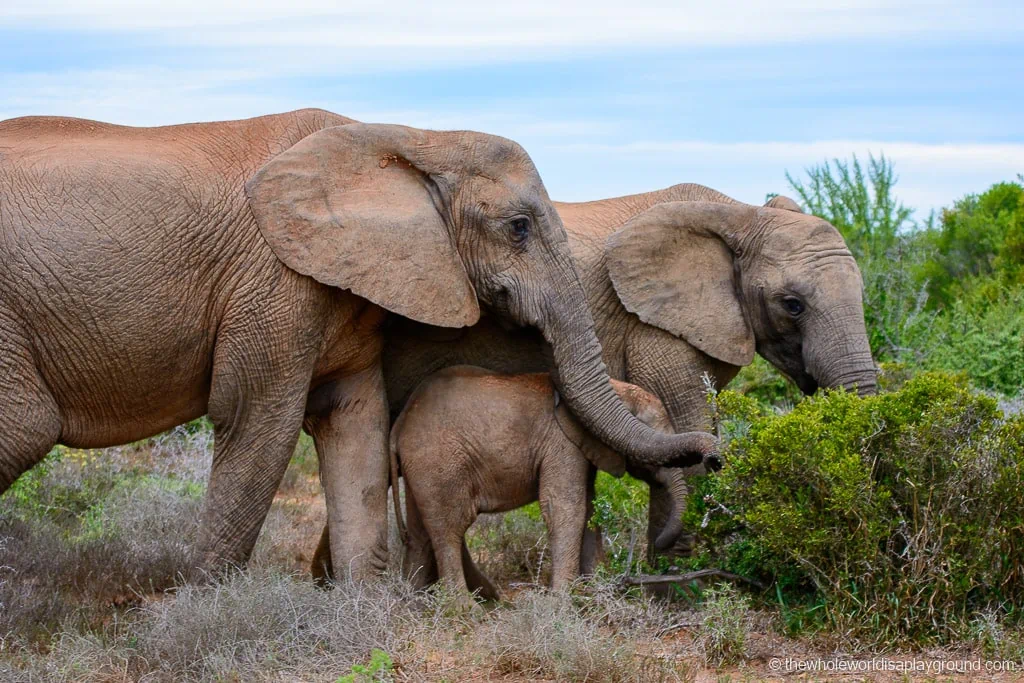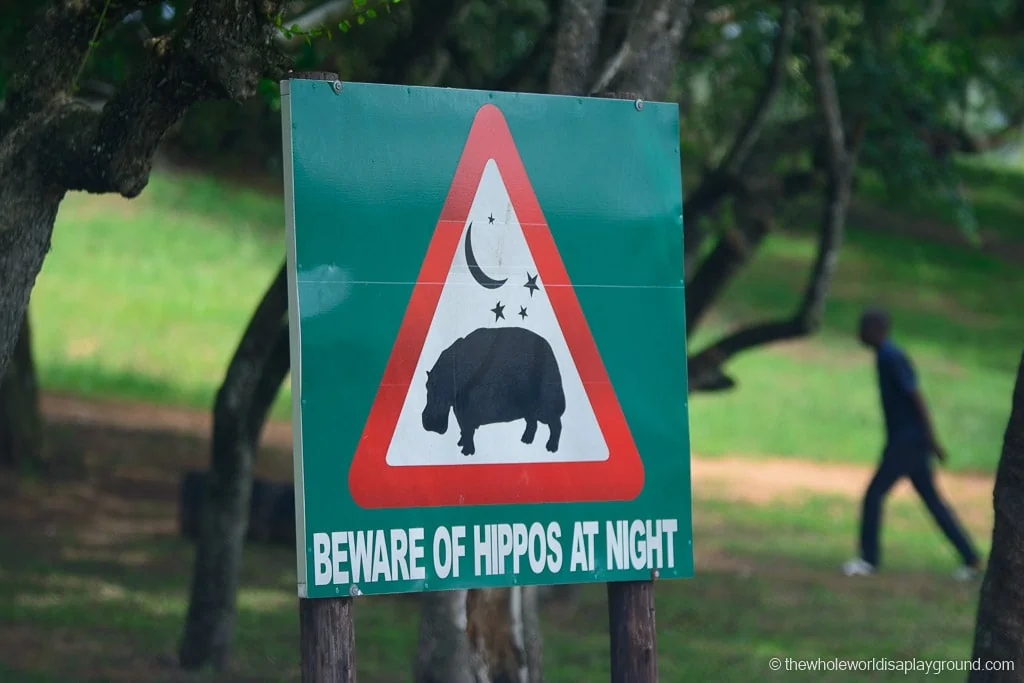 12 | Parking
Generally there is ample parking in South Africa, even in the towns and cities like Cape Town. Most car parks generally have parking attendants who were present in the car parks at all the popular spots. A small tip e.g. 20 rand was sufficient and we felt very secure leaving our car. In Cape Town there were official parking attendants on most streets, charging a standard price for parking and monitoring.
Use common sense when a parking attendant isn't around. Do not leave anything visible in the car. We were warned on multiple occasions by locals about this. We didn't have any bad experiences, however, they warned that even leaving a charging cable visible was enough to increase the risk of a break-in.
13 | Taking a Rental Car into Other Countries
Most of the major rental companies allow their cars to be driven into Botswana, Lesotho, Mozambique, Namibia, Eswatini (formerly known as Swaziland) and Zimbabwe. We've personally taken South Africa rental cars into Namibia, Botswana, Lesotho and Eswatini.
This can be very useful as car rentals tend to be cheaper in South Africa. We've rented cars in Cape Town in order to travel to Namibia, and from Johannesburg to travel to Botswana to save on rental costs.
If you plan to drive outside of South Africa be sure to mention it to your rental company when you pick up your car. We rented from Avis and received a letter (free of charge) which gave us permission to enter Namibia, Botswana, Lesotho and Eswatini with the rental car. These letters were required at the borders (you won't be allowed to cross otherwise). We were still liable for the vehicle border-crossing fees.
Renting a Car in South Africa tip: SOme rental car companies will charge an additional fee if you take your car out of South Africa. This fee covers the additional insurance required if you take the car into another country, say Namibia.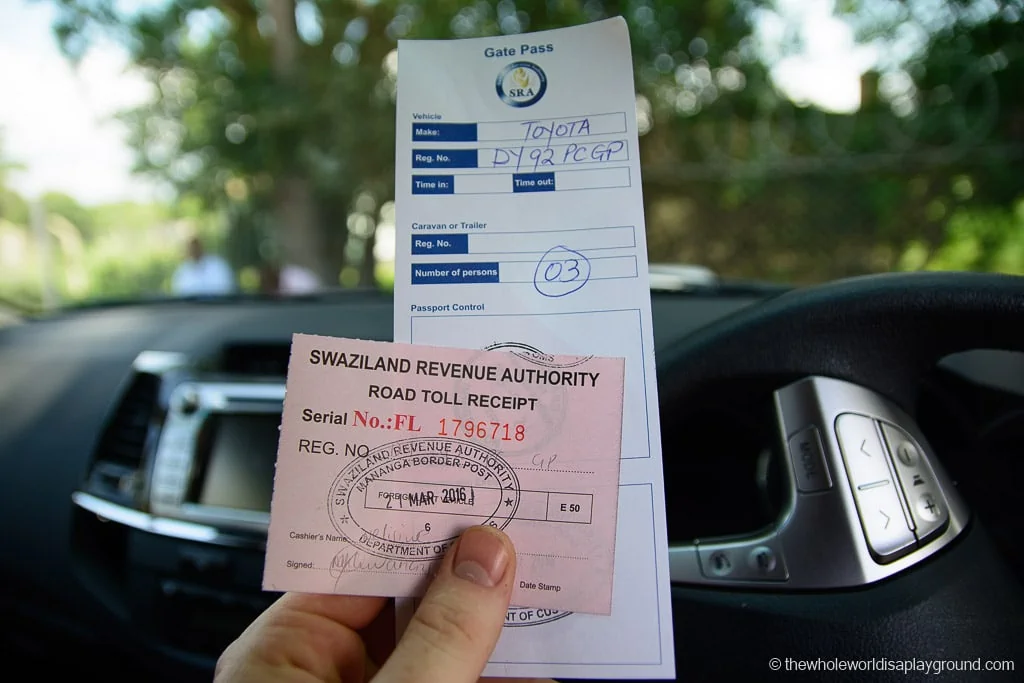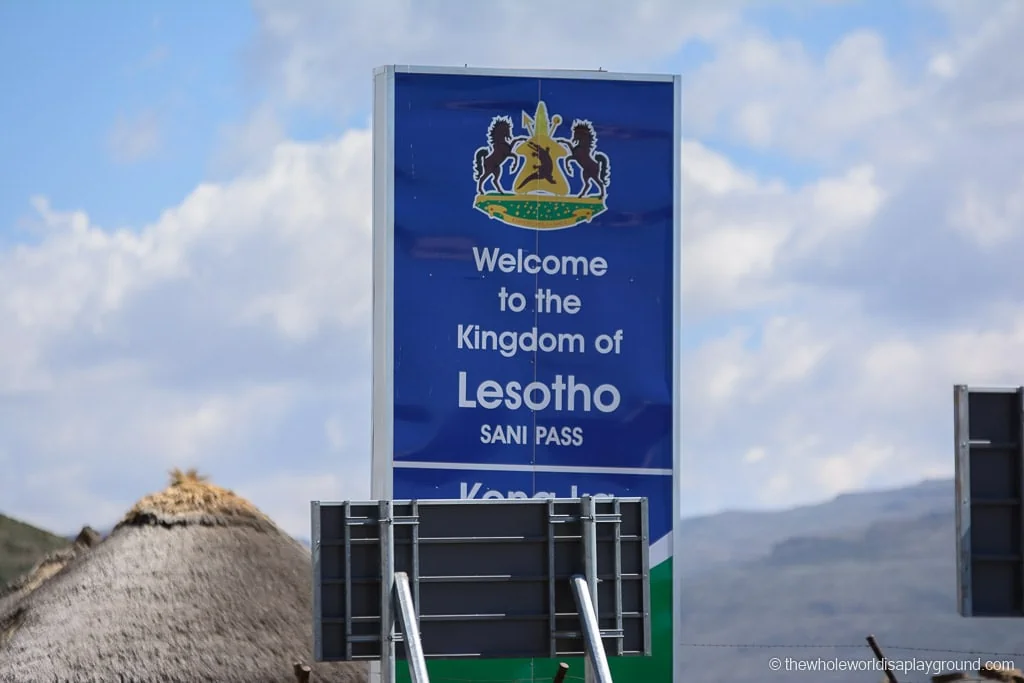 14 | Avoid Driving at Night
The number one rule is to avoid driving after dark in South Africa whenever possible! Our car rental company advised us of this a number of times when we picked up our car. There are a number of reasons for this:
Outside of Cape Town there were lots of people walking and running on the hard shoulder after dark and it was almost impossible to see them with the headlamps as they didn't typically wear any reflective gear. It is especially common to see walkers in and around the townships.
Many of the roads, including the main highways, did not have fluorescent line-markings or cats-eyes. This makes driving after dark particularly difficult as it can be difficult to see the road!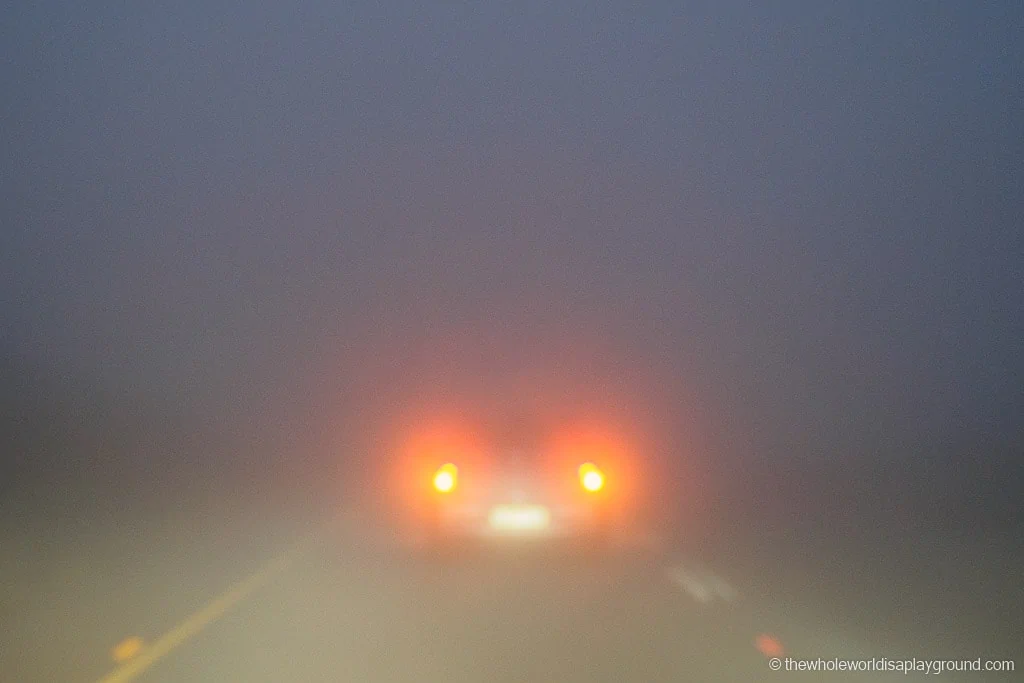 15 | Animals on the road
We came across lots of animals on the roads during our trips to South Africa. This is especially true at night when poses a significant risk and is a big driving hazard. We came across so many herds of goats and cows wandering on the road and it would not have been pleasant to hit them!
Renting a Car in South Africa tip: Based on our experience, the chances of animals on the road increases the further east you travel in South Africa. It's unlikely you'll encounter any on the Garden Route, however it was a common occurrence on the Eastern Cape region.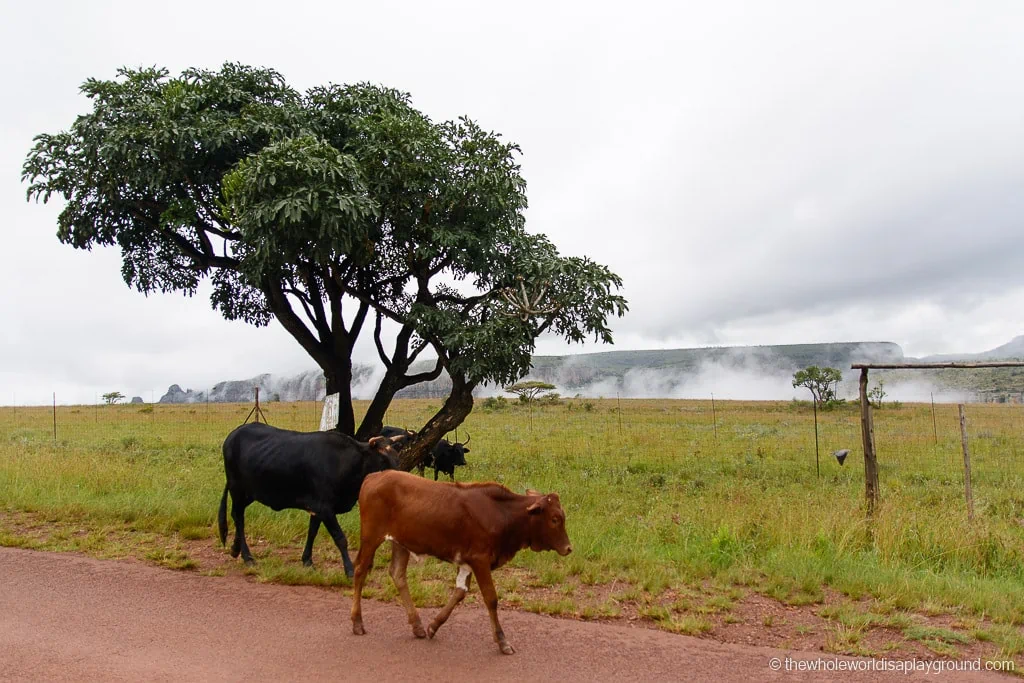 16 | Gas Stations and Fuel
The vast majority of cars in South Africa run on petrol so it's likely your car will take petrol. Fuel stations were available frequently during our drives throughout the country. The only exception to this was Lesotho where we didn't pass a single major petrol station on our drive. We had read this before we travelled and planned accordingly. The stations were less frequent on the Eastern side of South Africa but were not sparse enough for us to be concerned about the distances.
There are petrol attendants at all the fuel stops who will fill you up, bring the credit card machine and wash your windows as you wait. If you need it, they can check your oil, water and tyre pressure. As a tourist, it's customary to tip a small amount such as 20 Rand for the service.
17 | Driving Etiquette in South Africa
We generally found South African drivers to be very courteous and everyone we met on the road was very considerate when overtaking and changing lanes. There are a few extra tips to know before driving in South Africa
Honking the horn is a definite no-no except in an emergency. We only heard a horn twice and on both occasions the drivers were almost in an accident situation.
Once you pass another driver a flash of the hazard lights suffices as a thank you. You'll usually be greeted by a friendly flash of their headlights. It's a friendly gesture so don't be alarmed when it first happens!
When driving on a single lane road move to the left into the hard shoulder to let cars past. This can be quite counter-intuitive as a European driver but it was a common occurrence and caused us to sweat profusely when it happened on the brow of a hill!
If you wish to pass a slower moving vehicle indicate to the right and the car in front will typically move in when possible.
Climbing lanes are often available as the South African roads are quite hilly and there are lots of large trucks and lorries. Use them to pass trucks and slow-moving vehicles when going uphill. If you are moving more slowly than the traffic move into the left lane to let traffic overtake.
Once you pass another driver a flash of the hazard lights suffices as a thank you. You'll usually be greeted by a friendly flash of their headlights. It's a friendly gesture so don't be alarmed when it first happens!
Conclusion
So there you have it, our top tips for renting a car in South Africa. South Africa is one of the best countries to explore by car and we hope you have as much fun driving in South Africa as we did.