The Ek Balam Cenote, officially known as Cenote Xcanche, is a stunning open-air cenote with swimming, rope swing jumps and a waterfall. The Ek Balam Cenote is the perfect spot to relax and enjoy a refreshing swim after exploring the incredible Mayan ruins.
Having visited the Ek Balam Cenote, these are our tips and guide to visiting Cenote Xcanache to help you plan your visit.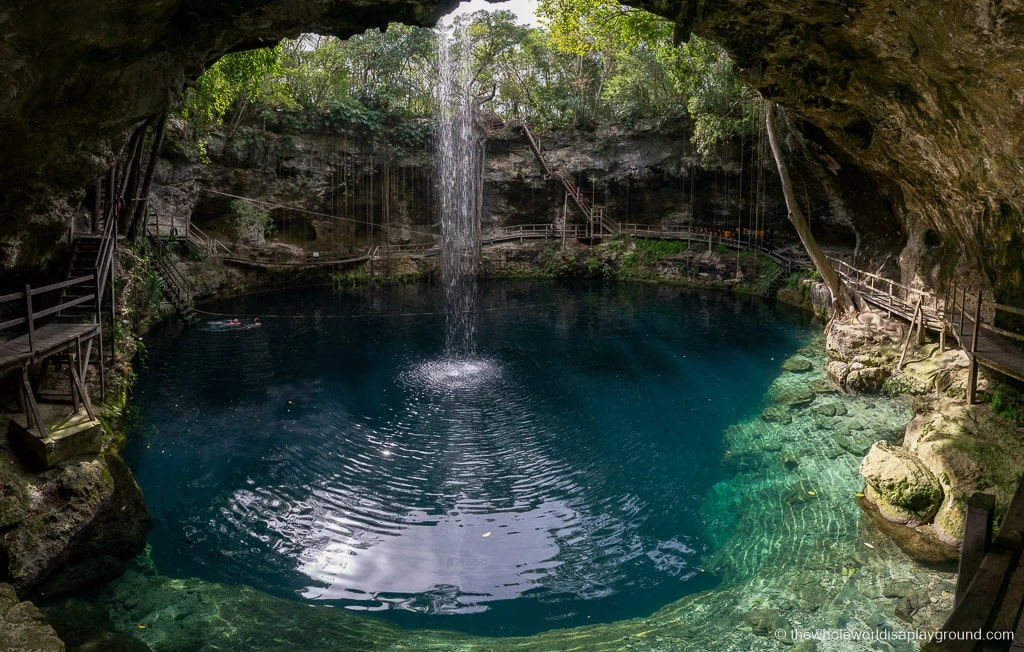 Ek Balam Cenote Xcanche
Ek Balam Cenote Xcanache is best for: a refreshing swim after exploring the ruins, having fun with jumping into the cenote and the zip line
One of the Yucatan Peninsula's most interesting and still less visited ruins, Ek Balam is a popular excursion from Valladolid. Many visitors are unaware that the archaeological site is also home to a beautiful cenote, Cenote Xcanche.
Cenote Xcanche is a stunning open cenote with swimming, zip-lining and swing jumps as well as a waterfall cascading into the cenote as you swim. The best part is that it is also relatively quiet – in fact, at times you may be the only swimmer in the cenote. The Ek Balam Cenote is community-owned: there is a huge focus on sustainable ecotourism and any profits benefit the local community.
Xcanche is the perfect place to relax and cool off after a busy morning exploring Ek Balam ruins and we highly recommend taking the time to visit both Ek Balam and Cenote Xcanche.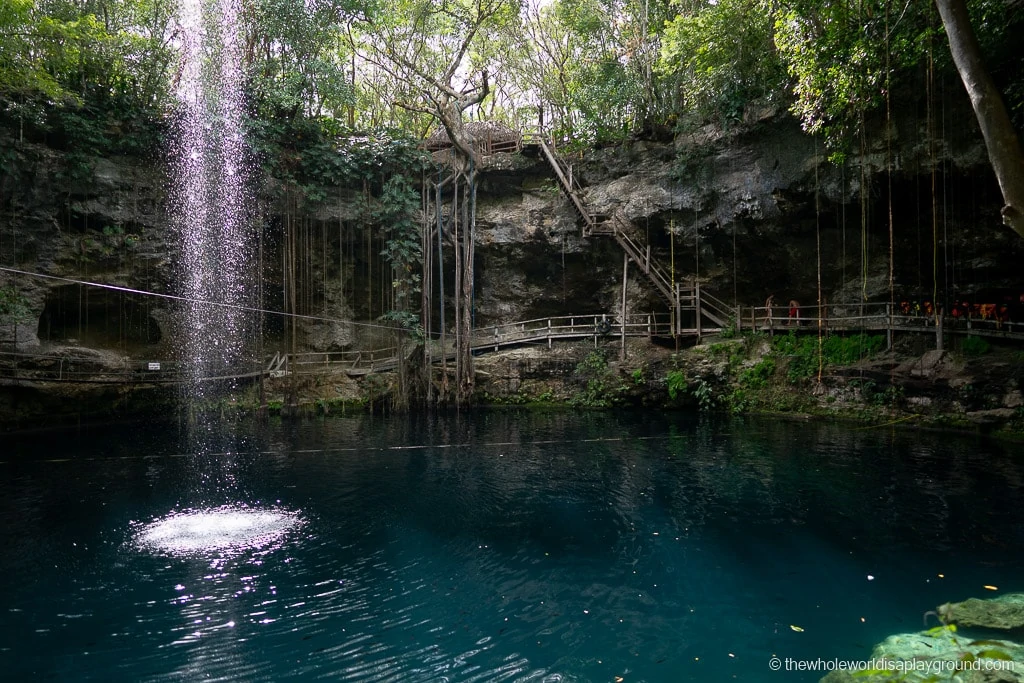 What are Cenotes?
A cenote, pronounced seh-NO-tay, are water-filled sinkholes that naturally occur in limestone rock when an underground cave collapses in on itself and exposes the groundwater underneath. There are thousands of cenotes dotted around the Yucatan Peninsula and many of the cenotes are extremely popular with locals and tourists alike.
The water in the cenotes tends to be cool as the water comes from underground so they are great for a refreshing swim to cool off from the hot Mexican sunshine.
In Mayan times a number of the cenotes were used for sacrificial purposes and objects such as gold, pottery and even human and animal remains have been found at the bottom of some cenotes.
The cenotes on the Yucatan Peninsula are a mix of open, semi-open or underground:
Open cenotes: these are caves which have completely collapsed in on themselves and are exposed to the sky. These are our favourite as you can swim under the blue skies, the water is a pleasant temperature and there are usually lots of areas to relax by the water. The Ek Balam Cenote Xcanche is open air. Our other favorite open cenotes are Cenote Azul, one of the best Playa Del Carmen cenotes, Cenote Zacil-Ha and Cenote Carwash in nearby Tulum and Cenote Oxman near Valladolid.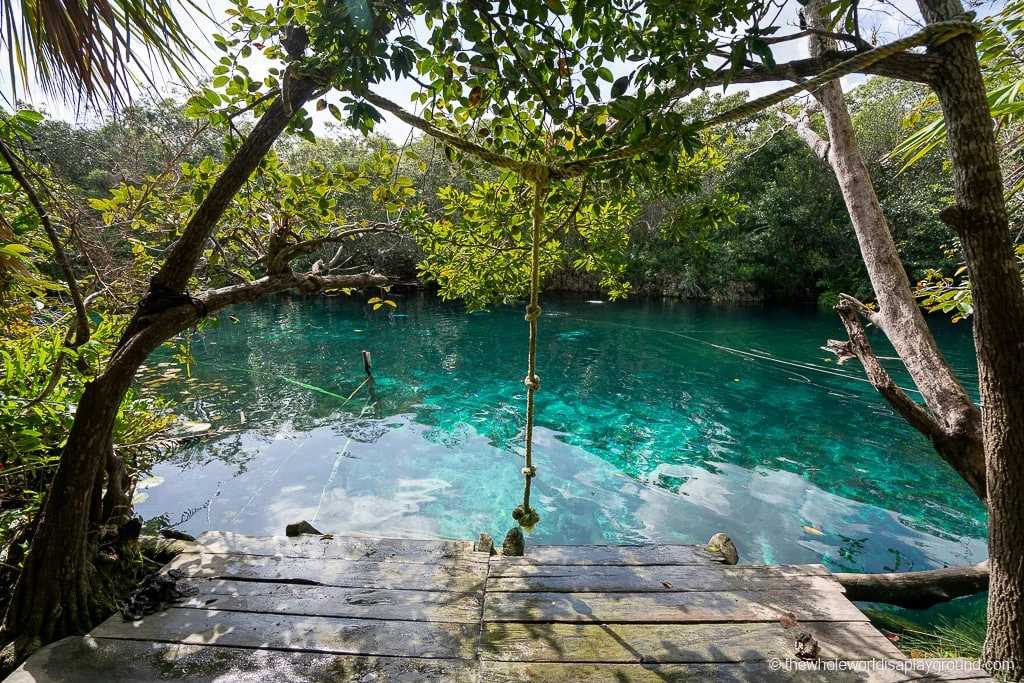 Semi-open cenotes: these cenotes are mostly underground but have small openings in the ceiling where light and fresh air come in.  These cenotes can be particularly beautiful as the light beams illuminate the crystal clear water below. Our favorite semi-open cenote is Cenote Ik Kil which can be visited as part of a day trip to Chichen Itza and Cenote Samula, a cenote near Valladolid.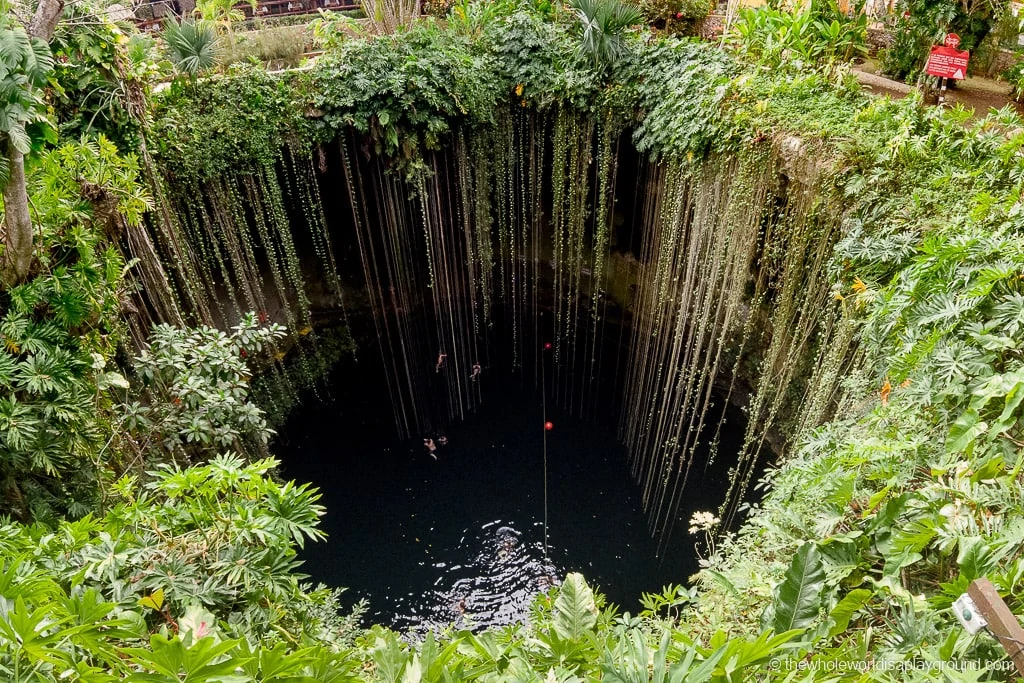 Underground cenotes: these cenotes are completely underground in a cave system and have no natural light to illuminate the cenote water. The three cenotes near the Coba ruins (Multum-Ha, Tamchach-Ha and Choo-Ha) are amazing underground cenotes you can easily visit from Playa Del Carmen on a longer stay.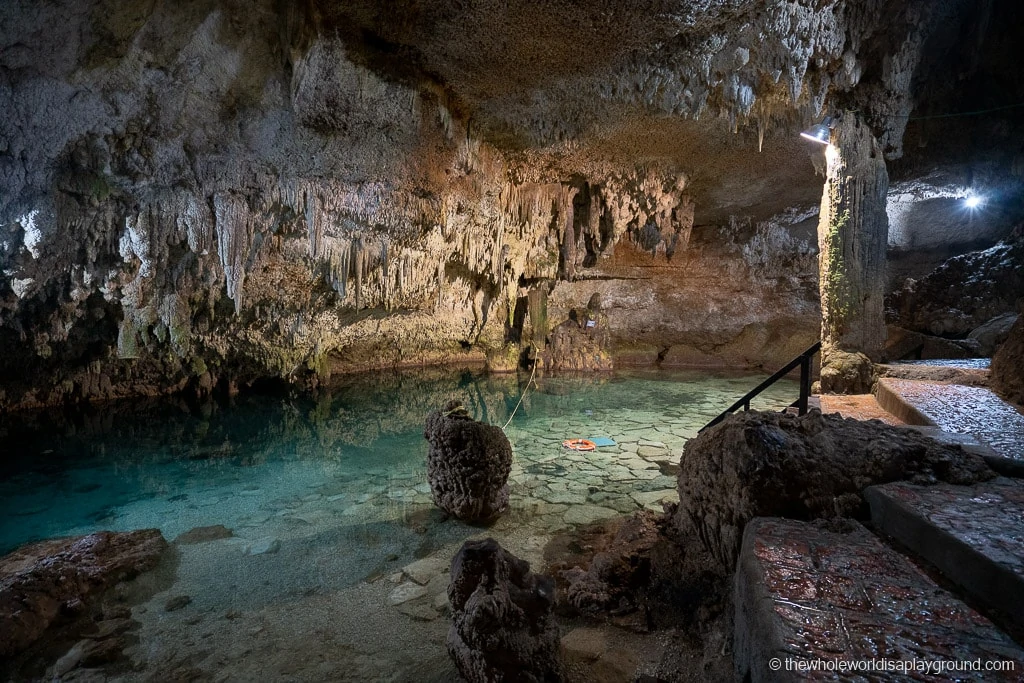 Visiting Cenote Xcanche
The Ek Balam Cenote shares an entrance with the Ek Balam archaeological zone. After passing through the visitors center for the Ek Balam ruins (this is where you purchase tickets for the ruins) the entrance to Cenote Xcanche is located a short distance down the path which leads to the ruins.
Ek Balam Cenote Xcanche tip: the cenote entrance is located before the ticket checkpoint for Ek Balam so you can visit the ruins and the cenote independently. The Ek Balam ruins are one of the most expensive we visited so if you only want to visit the cenote you don't need to worry about an Ek Balam ticket.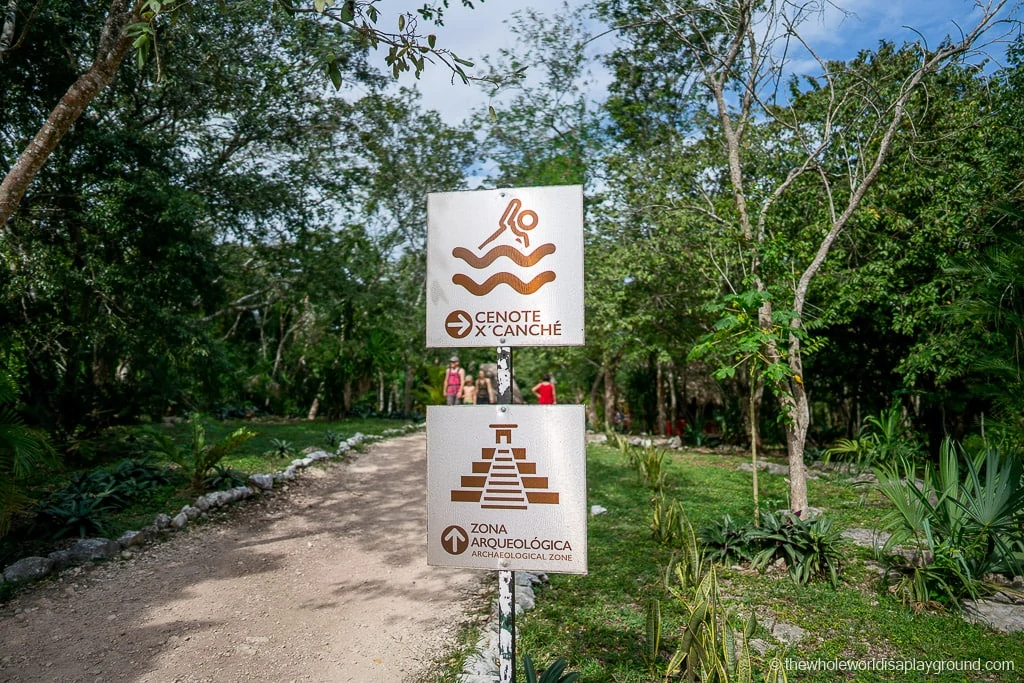 The Ek Balam Cenote is located a further 2km from the entrance but you need to purchase your tickets for the cenote before making the journey. The ticket prices vary depending on how you want to get to the cenote (walk, rent a bike or take a taxi bike) and what you want to do there: in addition to swimming at Cenote Xcanche visitors can also zip line and rappel in the cenote.
Note: Recent visitors have reported that there were no bike taxis or rentals available at the entrance and they walked to the cenote (around 1 mile).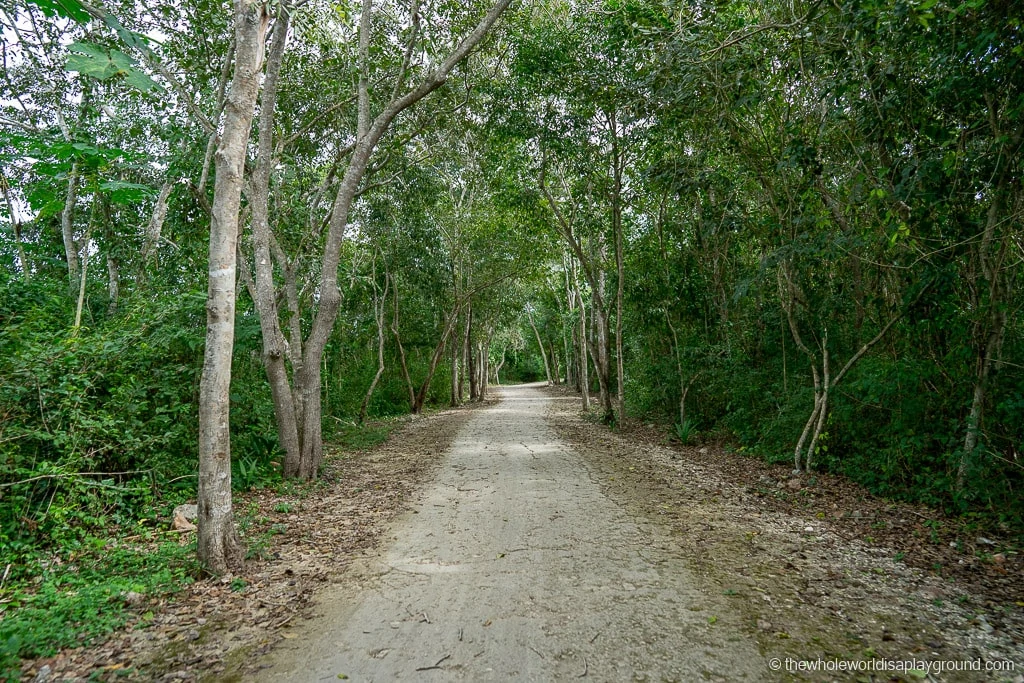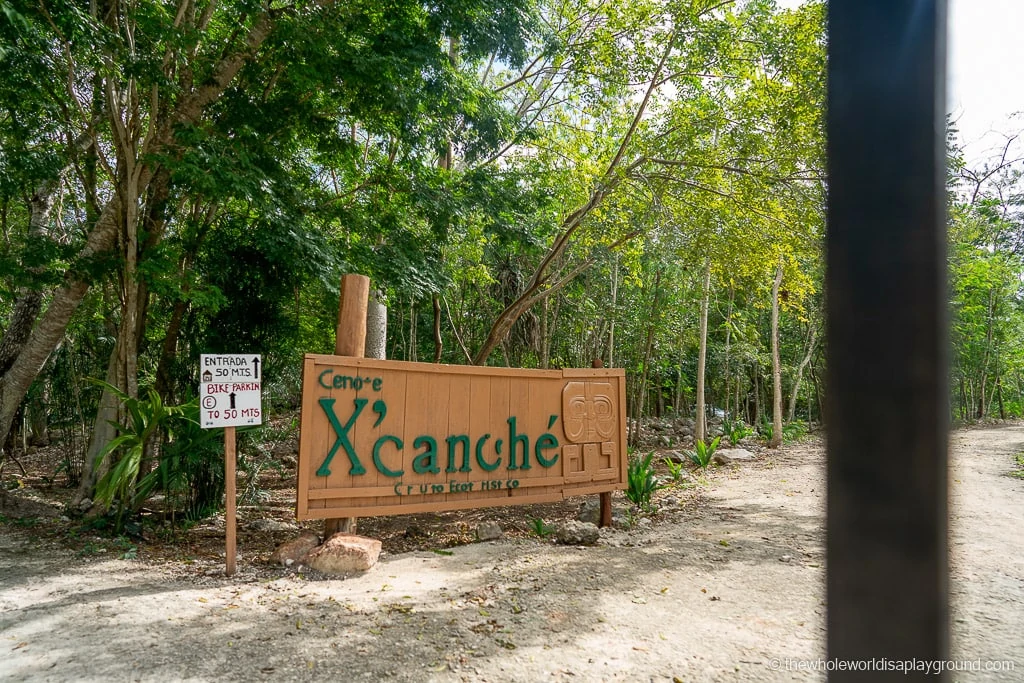 Ek Balam Cenote Xcanche tip: Tickets range from a basic ticket which which just covers entrance to the cenote at $170 pesos and increasing for bike rental, rappel and ziplining. We just wanted to swim and didn't fancy walking or cycling so we got a  ticket which included a return bike-taxi to the cenote.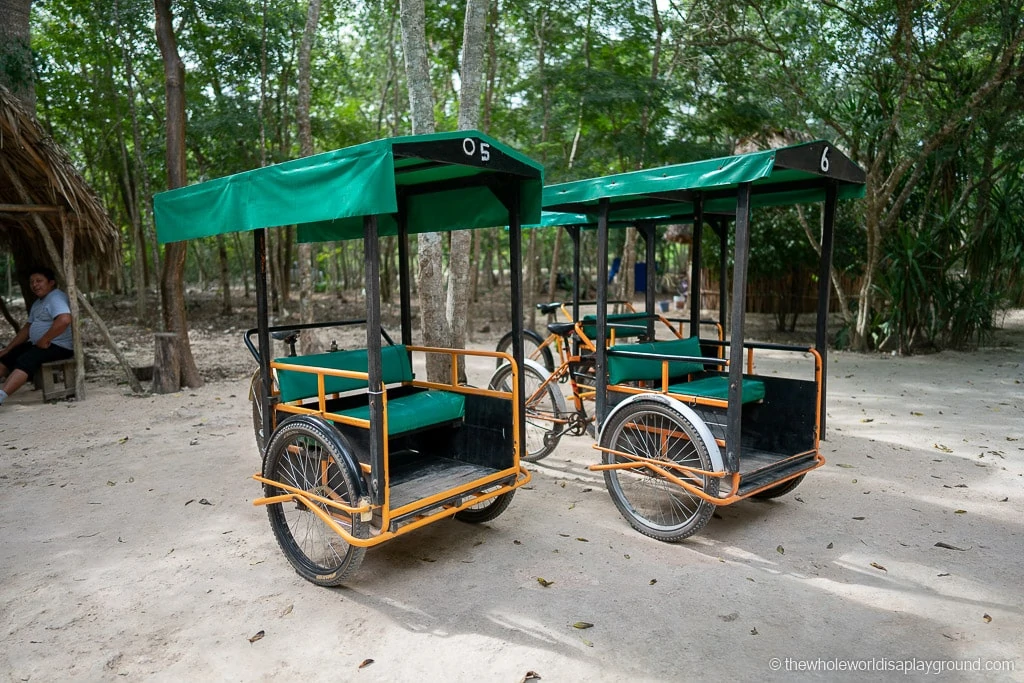 After making the 2km journey to the cenote there's a ticket inspection desk beside the bike parking/drop off area. There are several facilities including showers, changing rooms, lockers and toilets close to here.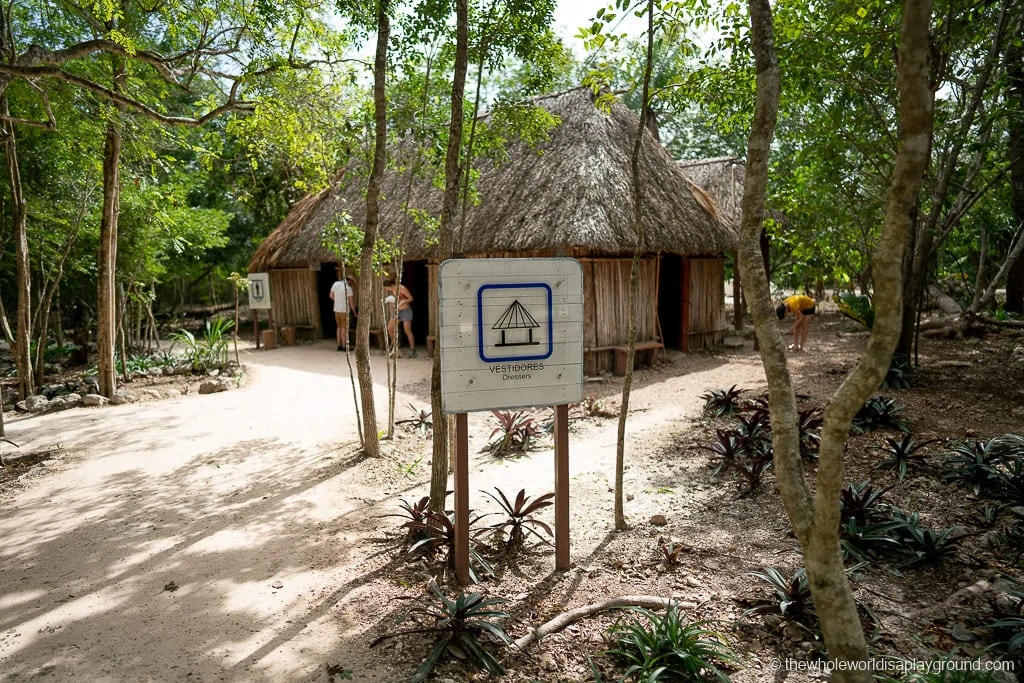 The Ek Balam Cenote is an open style cenote with the swimming area located below ground level. This means you'll need to descend the stairs which lead down to the cenote waters. There are two sets of steps down into the cenote, one beside the ticket office and changing rooms and a second set further away which will take you down to the far side of the cenote.
Cenote Xcanche tip: The steps are quite steep so make sure to take your time going down to the cenote. As everyone is required to shower before swimming in the cenote, they can also be quite slippery.  Watch your head as you descend the steps, there are some parts with a rock jutting out!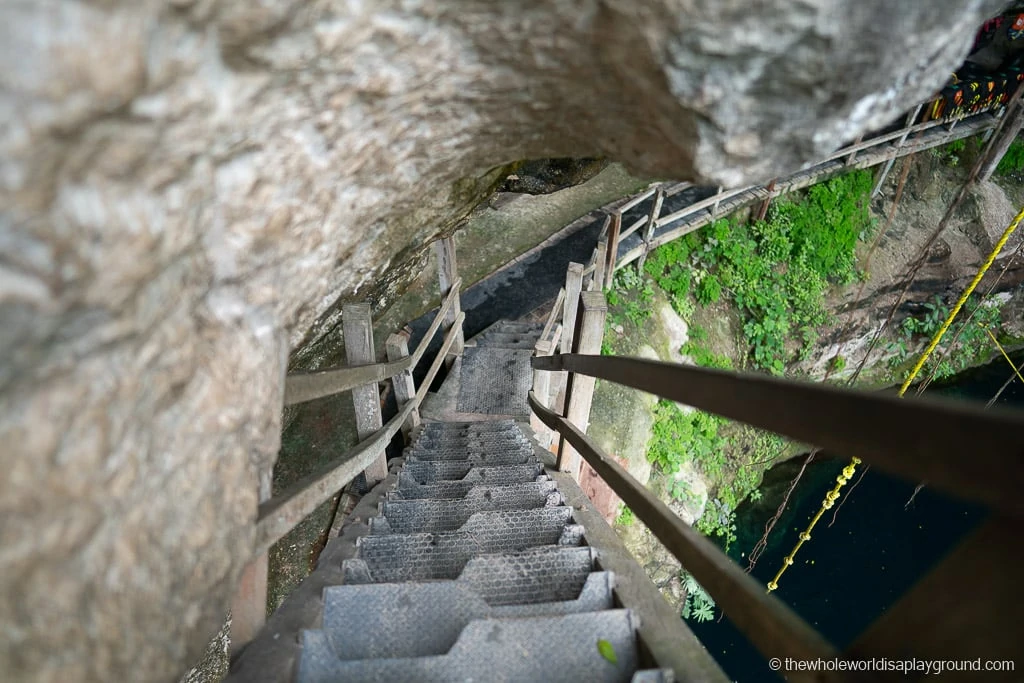 If you are feeling adventurous you can abseil down into the cenote! There are abseiling ropes and equipment for rent. We didn't see anyone doing it while we were there so you'd need to speak to the staff about trying it!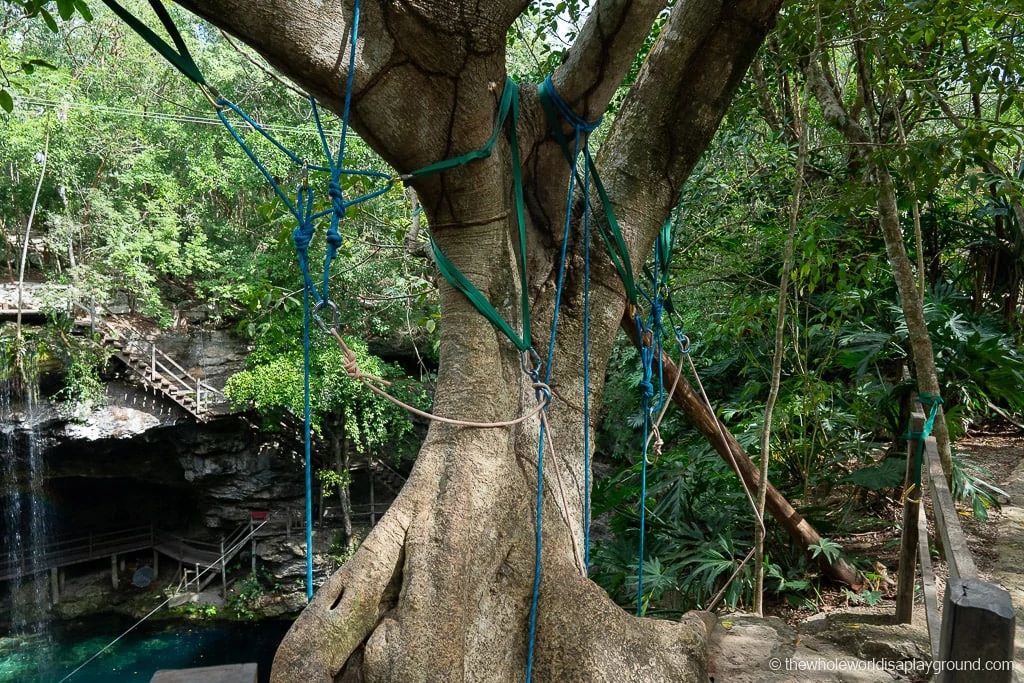 At the bottom of the steps, a wooden boardwalk sits above the cenote waters. The walkway is one of the best things about the cenote as it allows you to see the cenote from every angle. You can pick up life jackets at this level.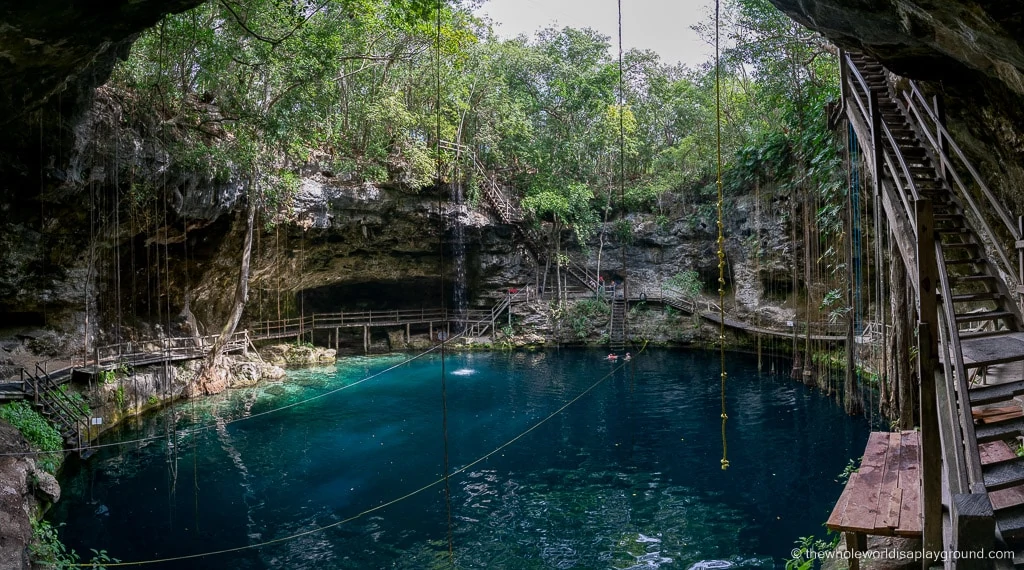 Swimming in the Ek Balam Cenote
Swimming in the Ek Balam Cenote is an incredible experience. The Ek Balam Cenote is one of the most beautiful we visited during our Yucatan Peninsula itinerary.  A waterfall cascades down into the cenote waters and tree roots hang over the edge of the cliff sides almost touching the cenote waters below.  After a hot and humid morning exploring the Ek Balam ruins it is so refreshing to plunge into the cool and clear cenote waters.
Ek Balam Cenote Xcanche tip: Although you can swim around them, visitors are not allowed to touch or interfere the tree roots. This is to avoid damaging the delicate ecosystem of the cenote.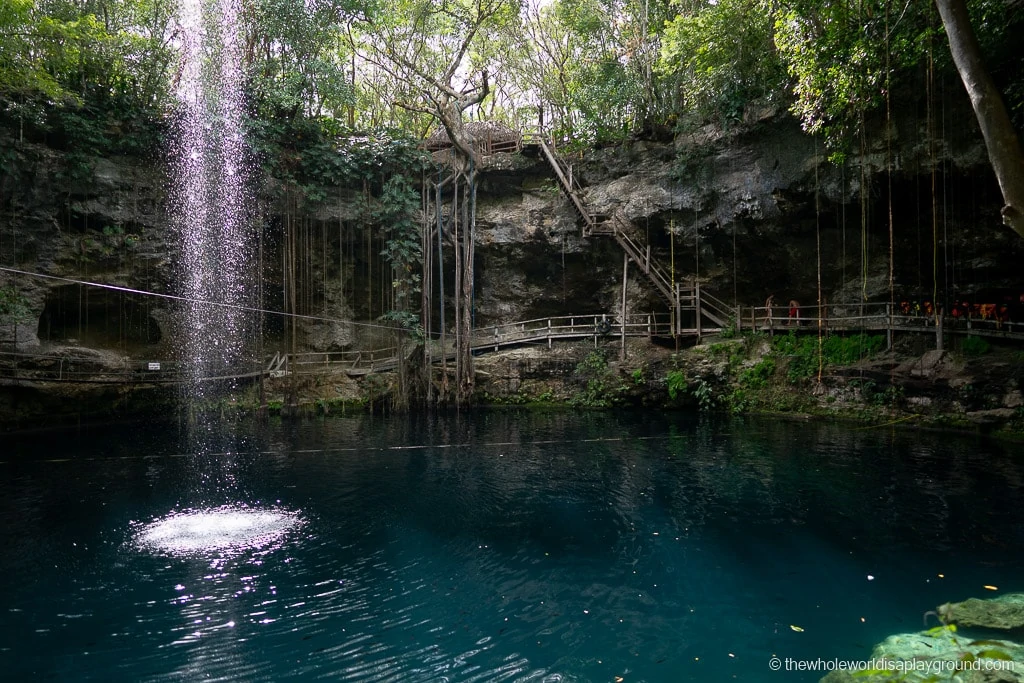 There are a few options for getting into the waters of Cenote Xcanche: there are a short step of steps that lead down into the water from each side of the cenote or, if you are feeling brave, you can enter via a rope swing or by jumping in from the cliffside!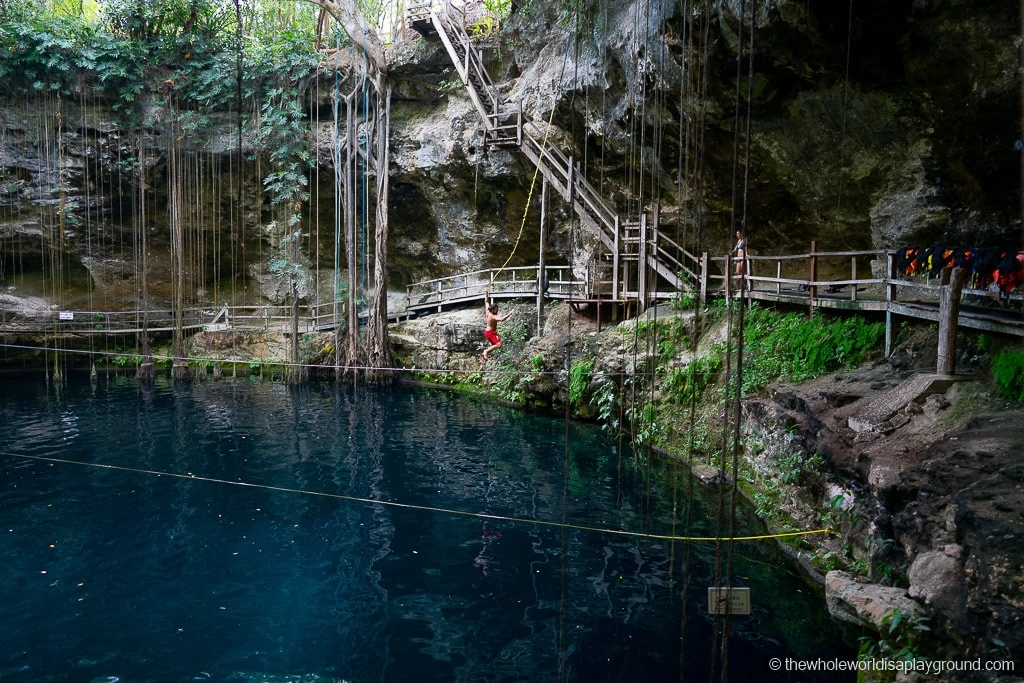 Ziplines at Cenote Xcanche
THere are two ziplines at cenote Xcanche – one high above the water that runs over the cenote and a second whichruns close to the water, allowing you to drop into the cenote. We highly recommend the lower zip line as dropping into the water is a lot of fun.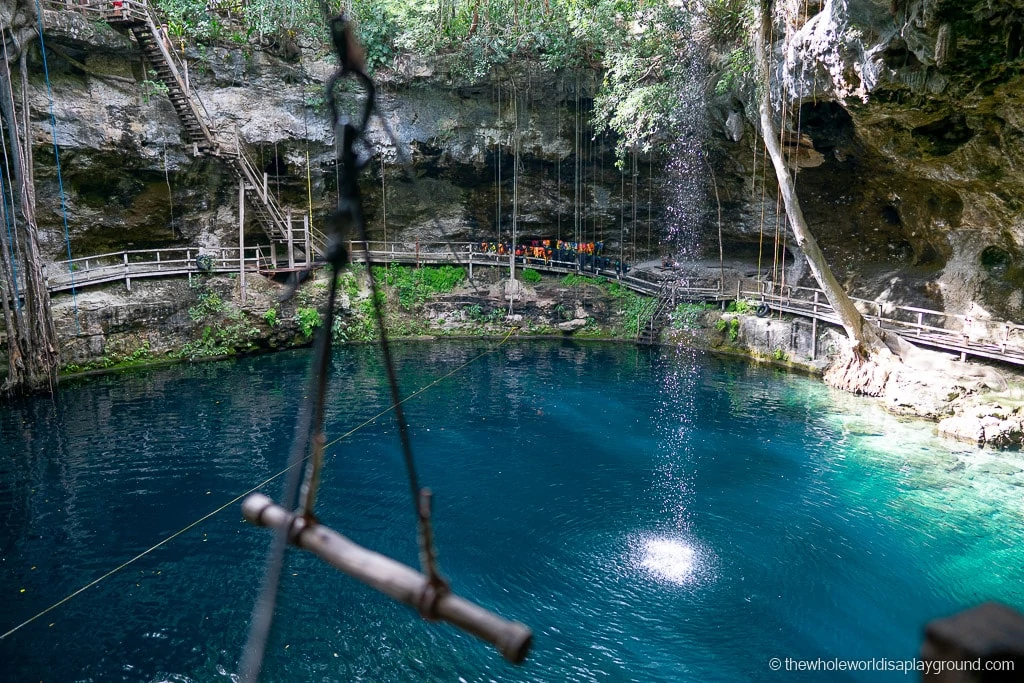 The second zipline runs high above the cenote. We didn't buy a ticket for this but it looks like fun!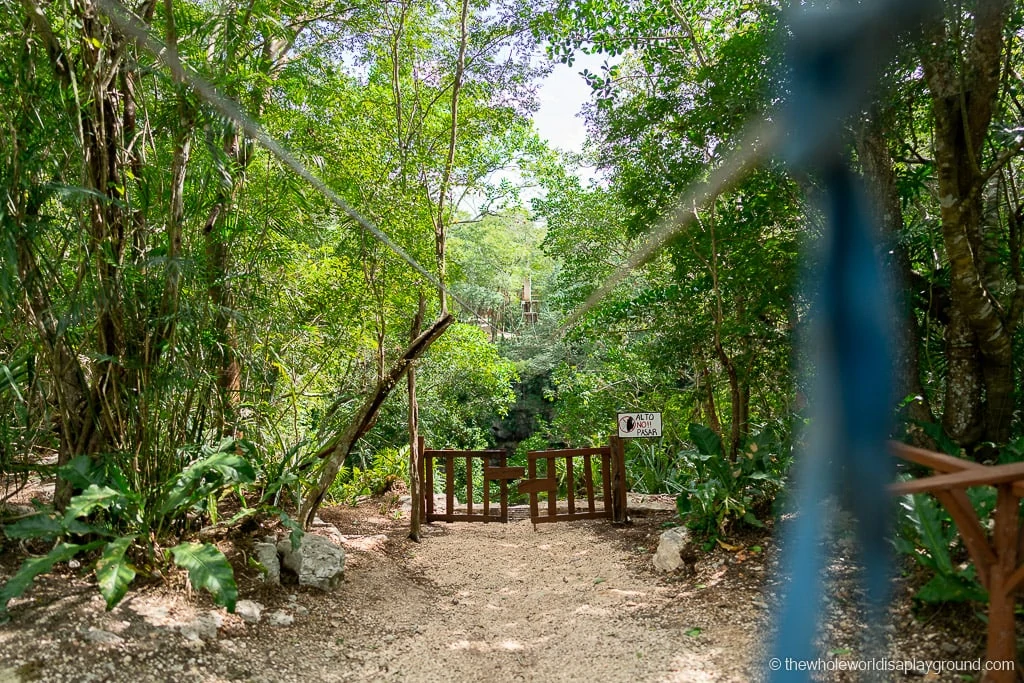 What to bring when visiting Cenote Xcanche
Visiting a cenote is a little different from visiting a regular swimming pool and these are some things which we highly recommend taking with you when visiting Cenote Xcanache.
Cash
Many cenotes, especially the smaller cenotes like Car Wash, don't accept credit cards. If you need to rent a life jacket or buy any snacks or drinks you're likely going to need cash. Generally speaking, we found it easier to have pesos with us.
Some of the larger cenotes may take credit card for entry, however once inside the cenote area cash is usually the only option.
Towels
Some of the larger cenotes offer towel rental however it's much easier and cheaper to pack your own. A hotel towel might be an option but we found it easier using our large microfiber towels. Microfiber towels are fantastic as they pack small and dry super quick, making them great for the cenotes where you will be hopping back in a car after your swim. We take ours one every trip and we always end up using them – check prices on Amazon!
Buy now on Amazon!
Snorkle/goggles
You can snorkel in most of the cenotes in the Yucatan peninsula and, while you can rent them in some cenotes, having your own is invaluable. It's also a much cheaper option if you visiting a few cenotes. The crystal clear waters of the cenotes make for incredible snorkelling – check prices now!
Buy now on Amazon!
Swim shoes
Swim shoes are great as they give you more grip on the wooden walk-ways around the cenotes. This was especially true at cenote Xcanche They also help a lot for the shallower entrances at some cenotes where you have to walk on submerged rocks. Make sure to throw them in your bag before you visit the Yucatan! – check prices now!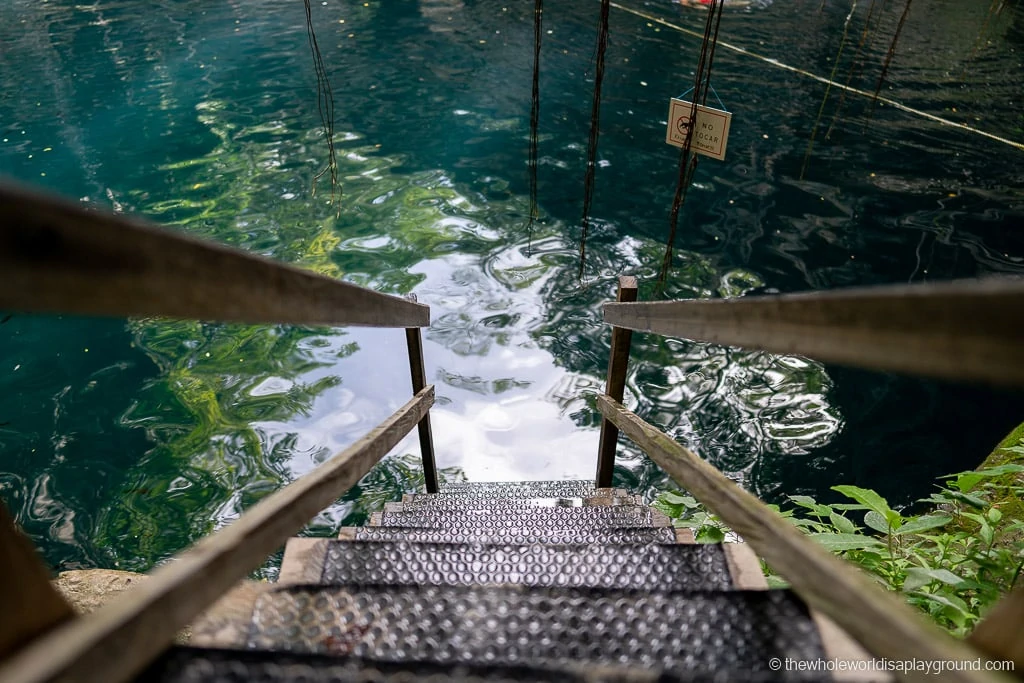 Sunscreen
While you cannot wear sunscreen or mosquito spray in the cenotes while swimming, you'll likely spend some time chilling in the sun after your swim
Waterproof Camera
An action camera such as a GoPro or an Osmo Action is great for snapping photos and video. We loved having our Osmo Action Waterproof camera with us when visiting the cenotes. It allowed us to take some really fun video and photos while swimming in the cenotes – check prices now!
Tips for Visiting Ek Balam Cenote Xcanche
Below are our tips to help you make the most of your time at the Ek Balam Cenote Xcanche:
1 | How to get to Cenote Xcanche
Cenote Xcanche is located around 2 km from the entrance to Ek Balam ruins. From Valladolid, Ek Balam is easily accessed by rental car (check prices now!) or Colectivo.
Rental Car
A rental car is the easiest way to get to all of the cenotes in Mexico. Cenote Xcanche shares parking with Ek Balam and there is a large car park on-site. It is generally easy to find parking and the parking lot is attended. We rented a car for our time in the Yucatan and highly recommend it to our readers. Renting a car in Cancun, Mexico was very straightforward and driving was easy. The roads are of good quality, the drivers are nice and the traffic is relatively light – check prices now!
Check prices now on RentalCars.com
Colectivo (local taxi-buses)
You can catch one of the colectivo's from Valladolid that are going towards Ek Balam. There are lots of minibuses each day and it's the cheapest option to get from Valladolid to Ek Balam. Just tell the driver you're looking for Ek Balam.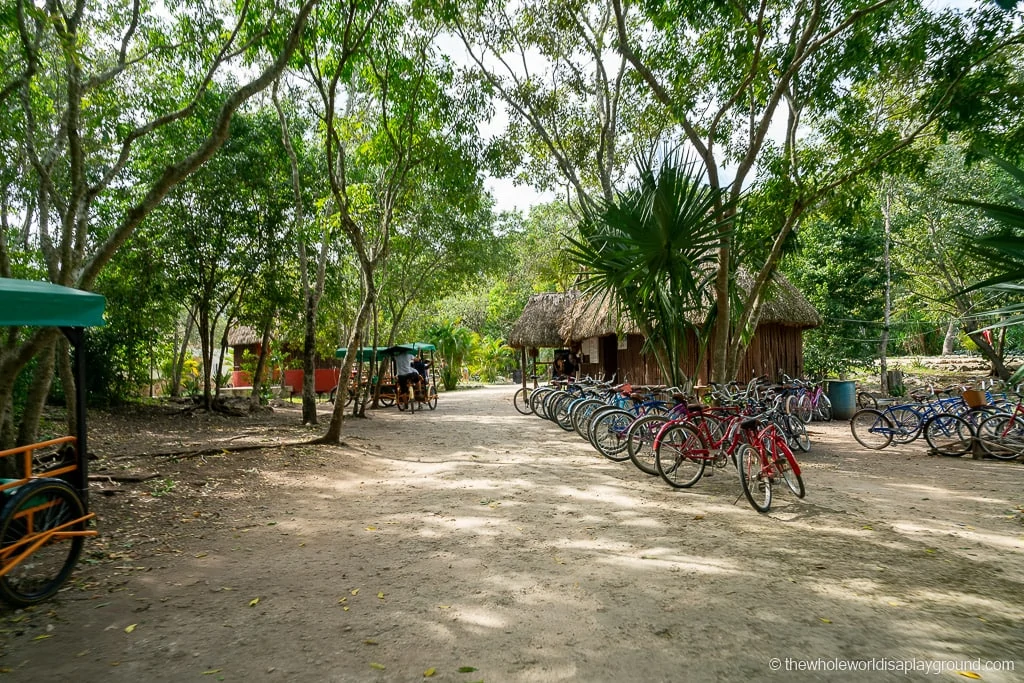 2 | Cenote Xcanche Cost
There are a variety of ticket options available for Cenote Xcanche:
Entrance to the cenote is $170 pesos
An entrance ticket and a return trip on a taxi bike is available for an additional charge.
There are more expensive tickets which include bike rental, rappelling and zip-lining.
We recommend having cash (preferably Mexican pesos) with you when visiting all the cenotes in Mexico and Xcanche is no exception.
3 | Cenote Xcanche Opening Hours
Opening hours: the Ek Balam cenote is open from 8 am. Last entry is at 3:30 pm for the cenote closing at 4 pm.
4 | How long to spend at Cenote Xcanche
We spent around 2 hours at Cenote Xcanche, including the bike ride over to the cenote. This was after we'd spent a few hours exploring the Ek Balam ruins. In total, we spent 4 to 5 hours at the site visiting both the ruins and the cenote.
5 | Best time to visit Cenote Xcanche
The majority of visitors to the Ek Balam cenote are independent travellers and we didn't come across any tours which included the cenote. As a result, the cenote is relatively quiet and is great fun throughout the day. It's incredible to experience such a beautiful cenote that has few crowds.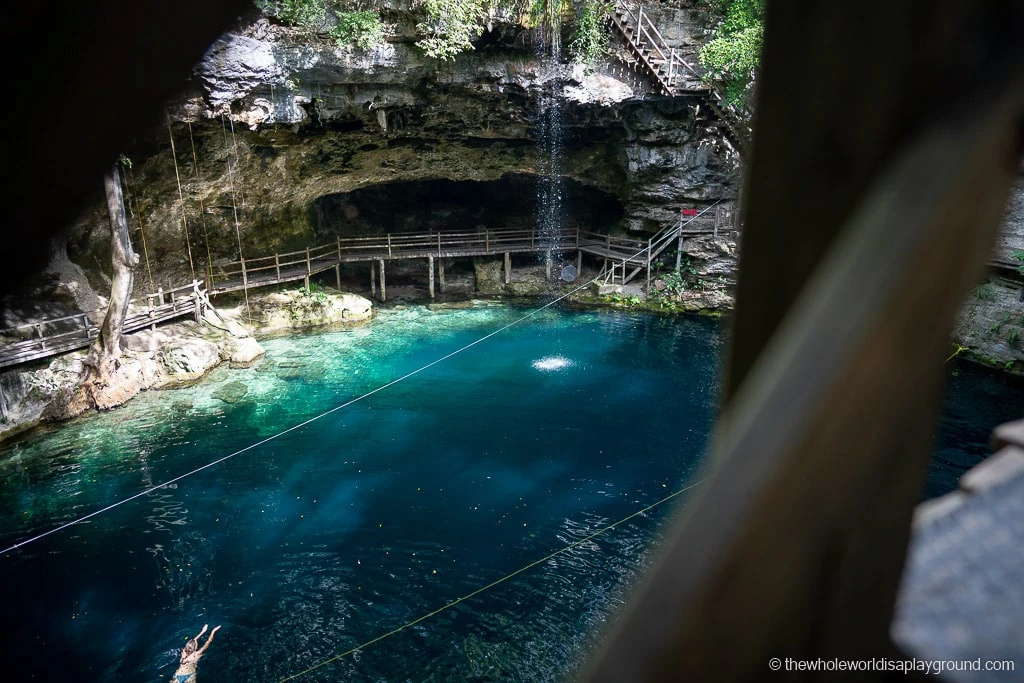 6 | What's not allowed in the Ek Balam Cenote
As we mentioned above, visiting the cenotes is a little different from a traditional swimming pool so there are some different rules to follow when visiting. Cenote Xcanche rules were as follows:
Showers – You are required to take a shower before you swim
Sunscreen / Mosquito repellent: You are not allowed to wear sunscreen or mosquito repellent before you enter the water at the cenote. This is to preserve the quality of the water for everyone.
7 | Cabanas and Camping
There are cabanas on site, Cabanas Najil Ek Balam, which are part of the community initiative. There's a small campsite with basic facilities located next to the Ek Balam Ruins and Cenote Xcanche which costs around $100 peso per night.
8 | Jumping and Diving
There is a jumping platform, a rope swing and a zip line, all of which jumping from are encouraged. The rules around jumping from the cliffs are relatively relaxed as well – we only noticed the rope bridge above the cenote as being off-limits for jumping.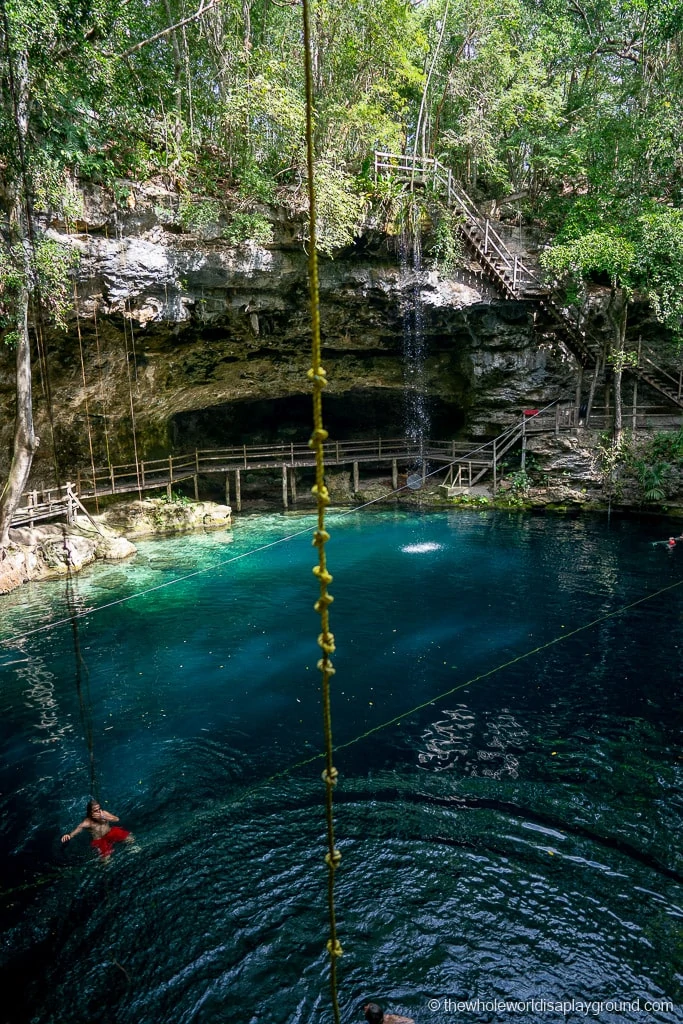 Facilities at the Ek Balam Cenote
Cenote Xcanche has pretty good facilities
8 | Changing rooms and lockers
There are bathrooms, lockers and changing rooms available. Lockers cost $30 pesos to rent. At less busy times you can bring some things down to the cenote.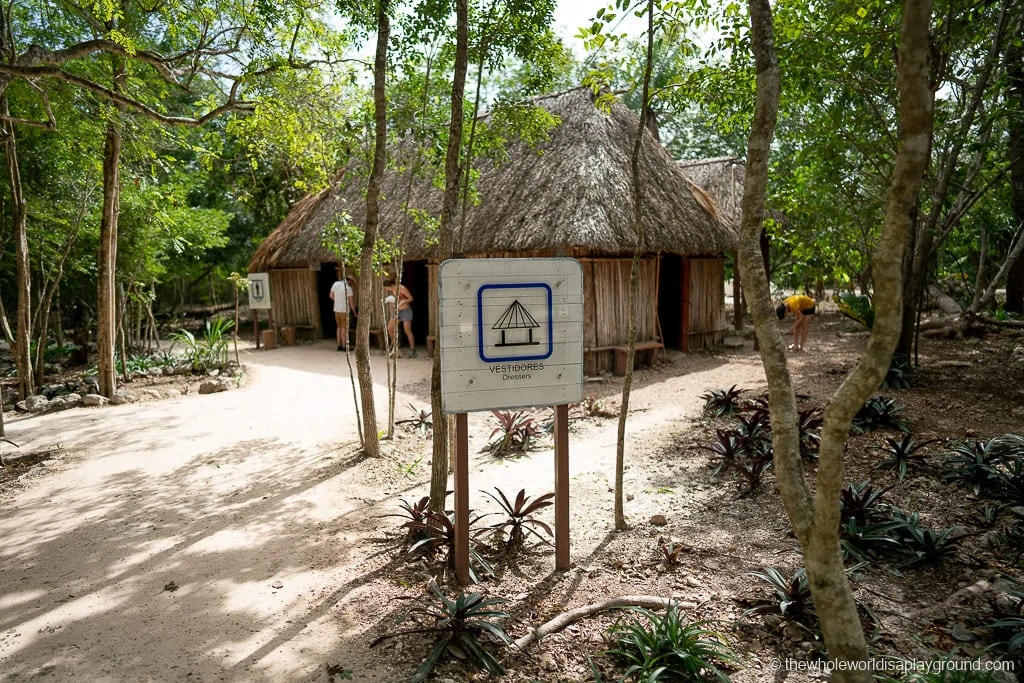 9 | Life Jackets
Lifejackets are available to down at the cenote's wooden boardwalk and are including in the entrance fee.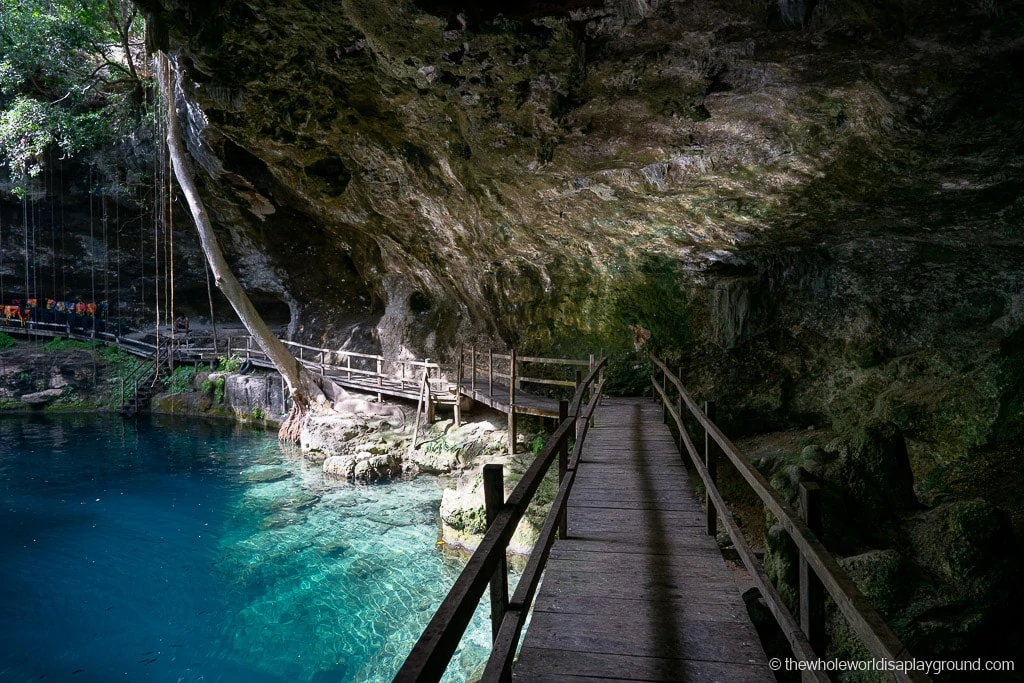 10 | Parking
Cenote Xcanche shares parking with Ek Balam and there is a large car park on-site. It is generally easy to find parking and the parking lot is attended.
11 | Food and Drinks
There is a Mayan kitchen on site that serves drinks (beer included) and traditional Mexican snacks. We found the prices quite reasonable when compared to other cenotes that we visited