Our amazing week in Vietnam had come to an end and we stopped off in the Bamboo Lounge, Emirates First and Business Class lounge in Ho Chi Minh airport, as we prepared for our departure to Dubai. After a long wait to check in for our flight we were in search of some dinner and a place to relax before it was time to board. Here's how we fared in the Bamboo Lounge!
To read about our Emirates flight from Ho Chi Minh to Dubai click here!
The Lounge
The lounge was a welcome retreat from a very busy Tan Son Nhat International Airport. Although it was almost full when we first entered, we were able to grab some seats and a table. The open plan lounge is relatively large and consists of a food and drinks area and beige armchair style seating. One side of the lounge overlooks the apron allowing us to indulge in one of my favourite activities: a spot of plane watching!
The Lounge: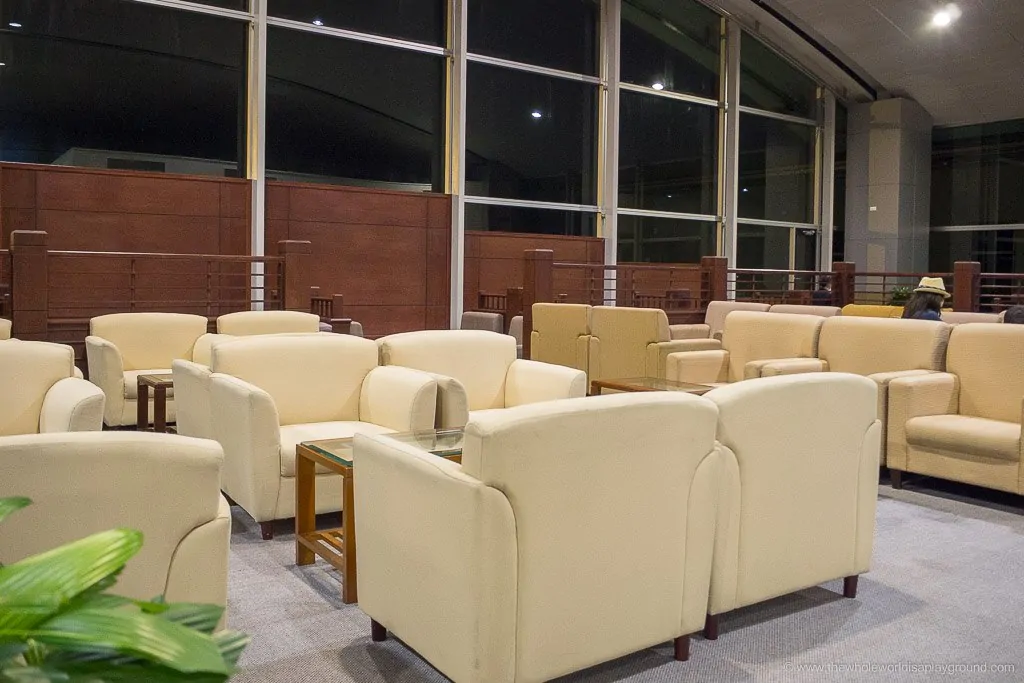 The view: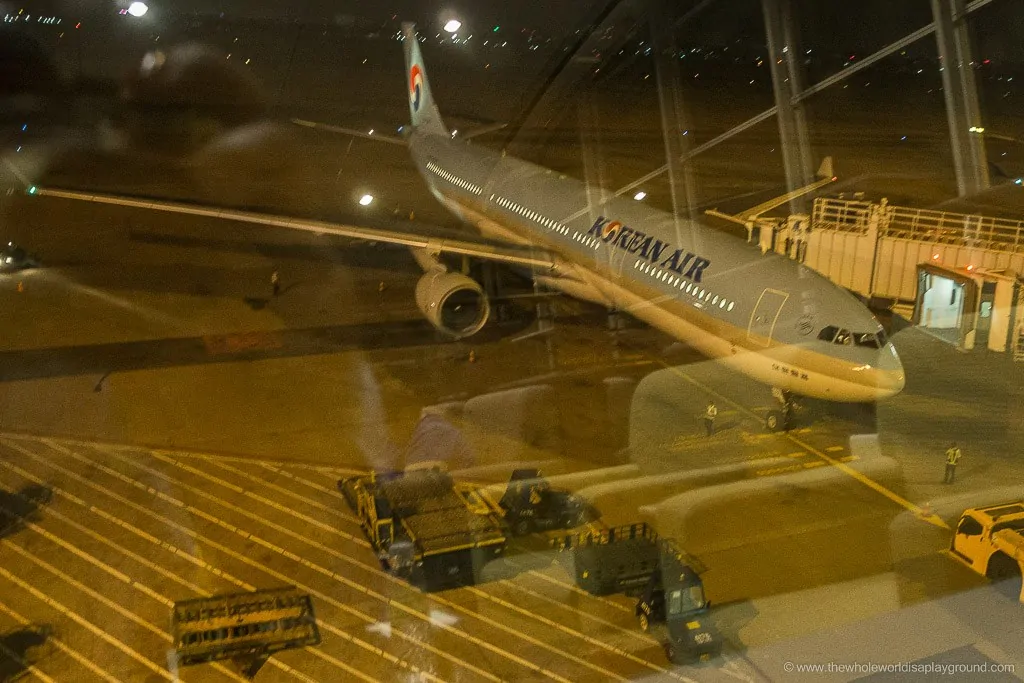 Priority Pass Lounges
A Priority Pass membership allows you to access Priority Pass lounges whoever you fly with no matter your class of travel. Anyone who flies regularly should seriously consider joining Priority Pass as their lounges significantly improve the travel experience. We love the app which allows you to check in at each lounge and overall the quality and availability of lounges around the world are very good. We've personally used Priority Pass for the past few years and highly recommend it.
There are three options available, standard, standard Plus and Prestige. We recommend the Prestige pass for frequent travellers (it's the one we use!) which offers unlimited visits throughout the year.
Click here to get your Priority Pass now!
Lounge Seating
Beige armchairs are abundant in the Bamboo lounge and most of the floor space is filled with groups of 2 and 4 armchairs accompanied by a coffee table.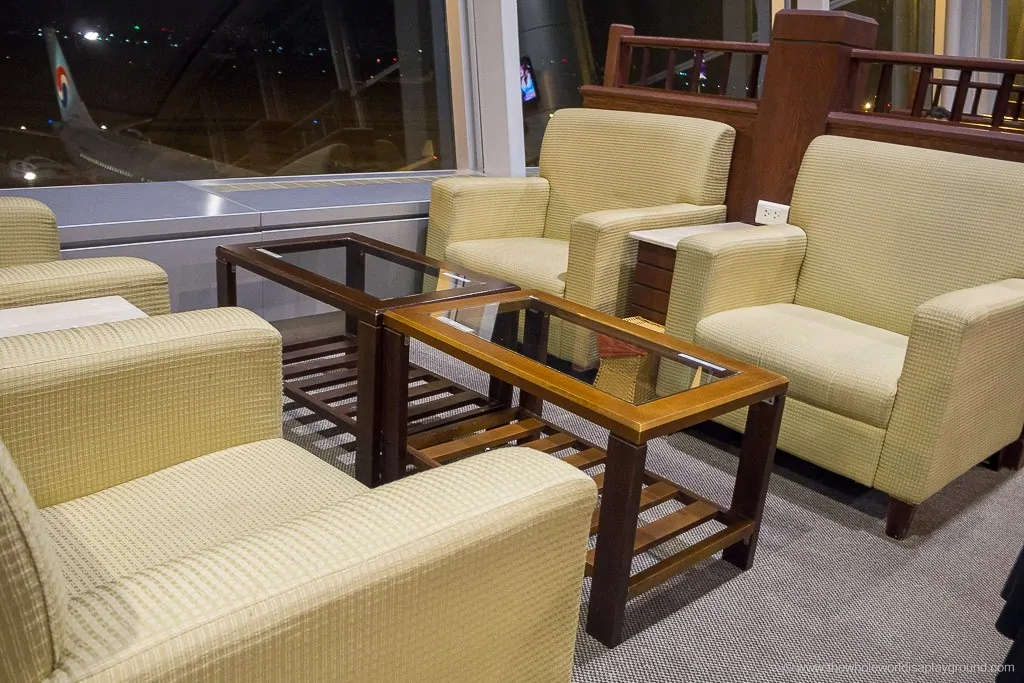 The view from our seat. Lovely!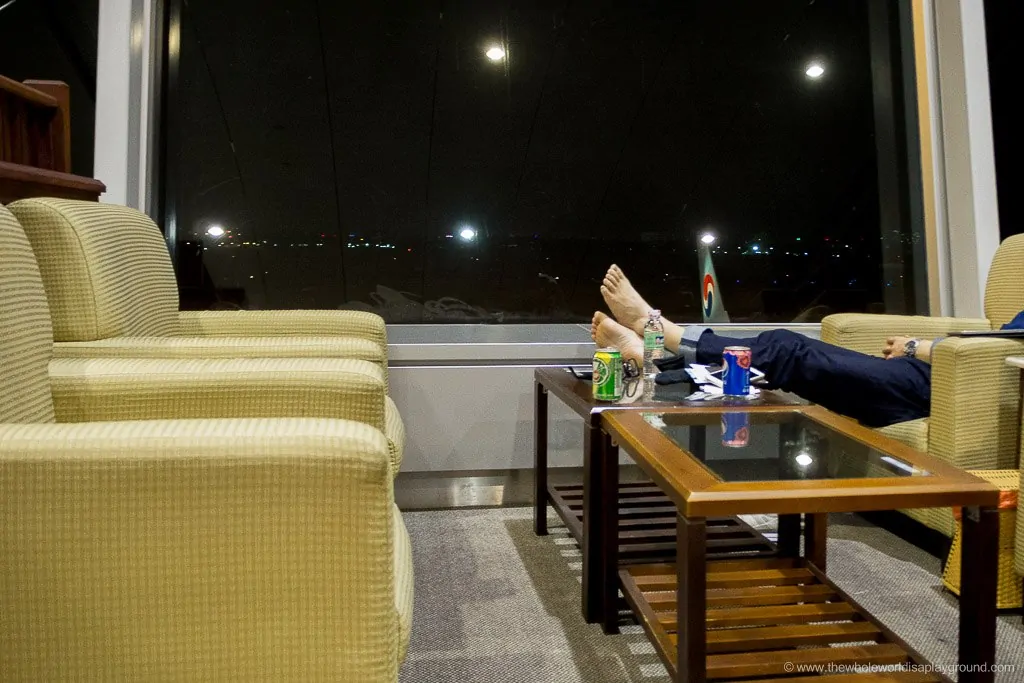 Food and Drinks
Food
A selection of hot Asian food and cold snacks were available throughout the evening. The hot food offering included spring rolls and a noodle dish with a selection of ingredients to choose from. The cold options included fruits, bread and savoury snacks.
Hot food: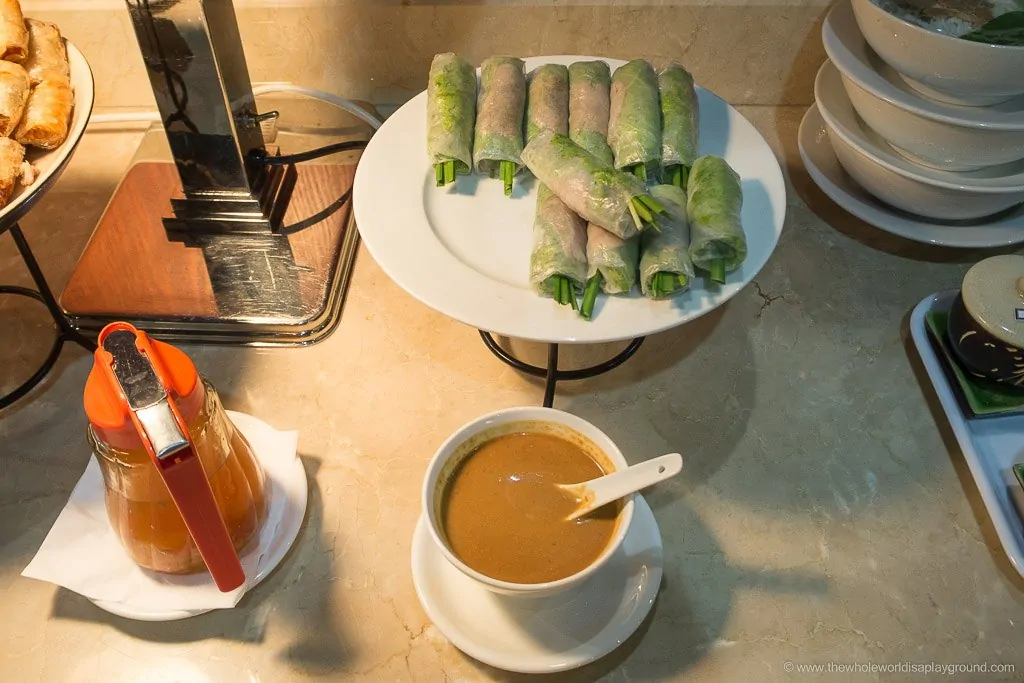 Noodle options: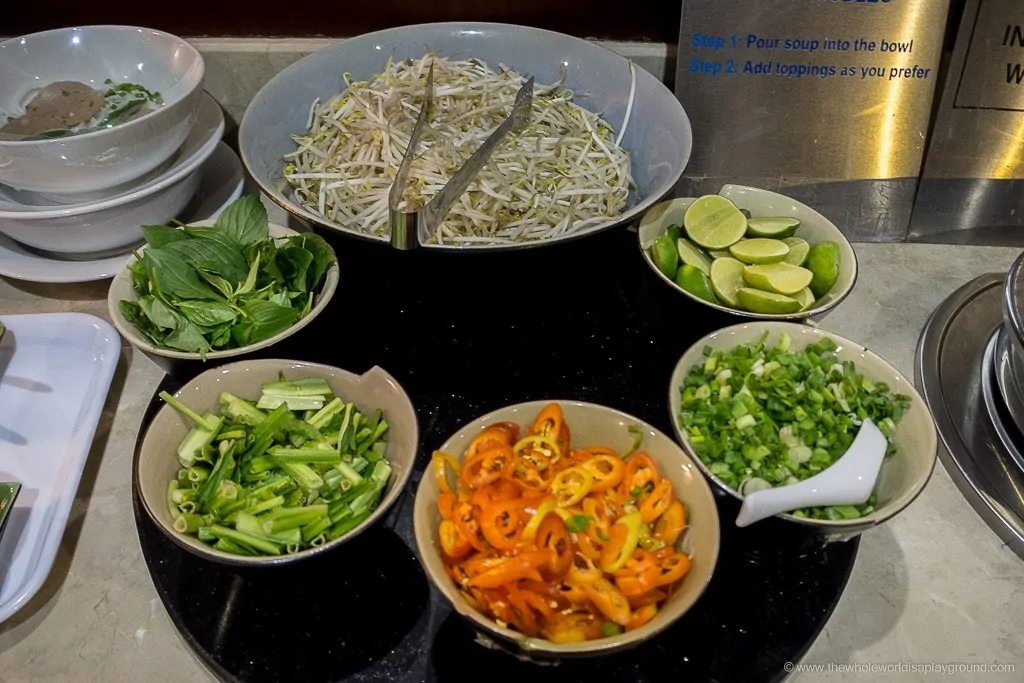 Spring Rolls: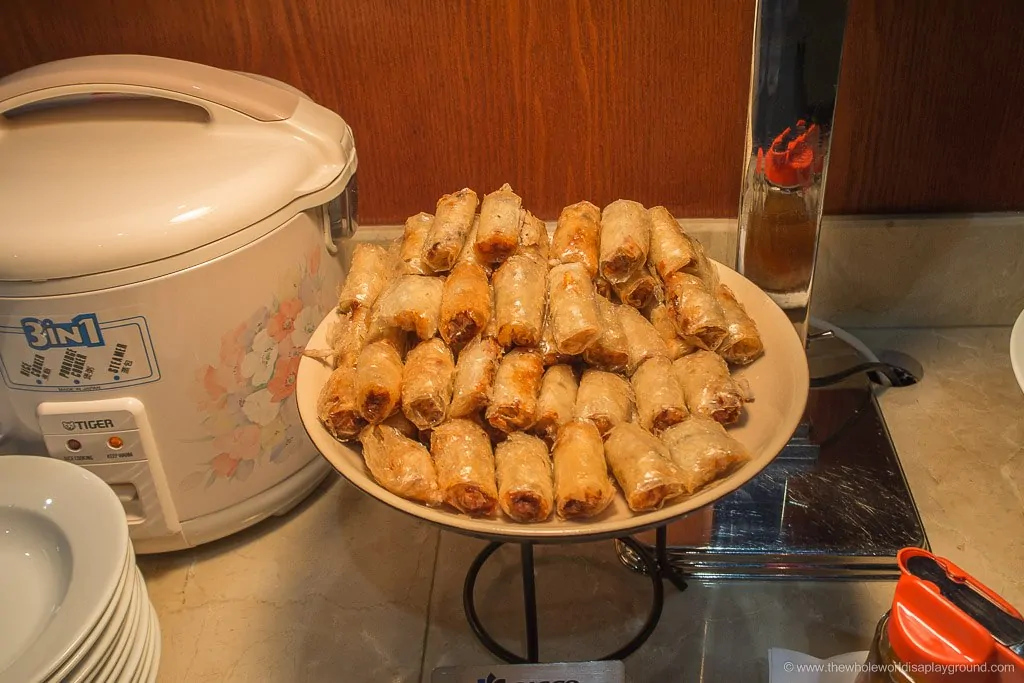 Fruit selection: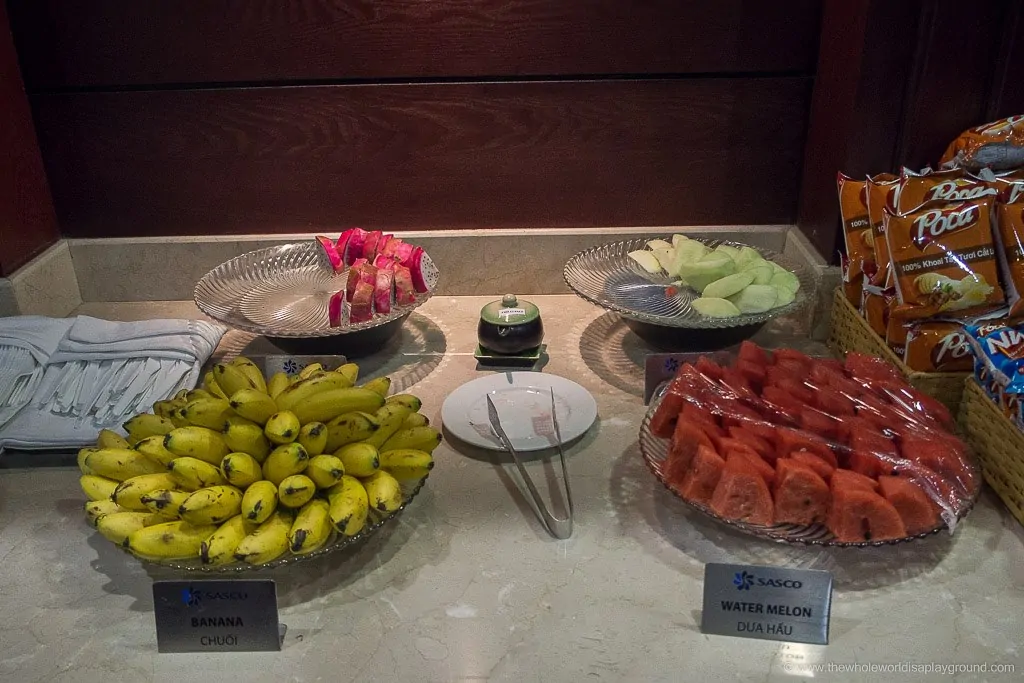 Savoury snacks: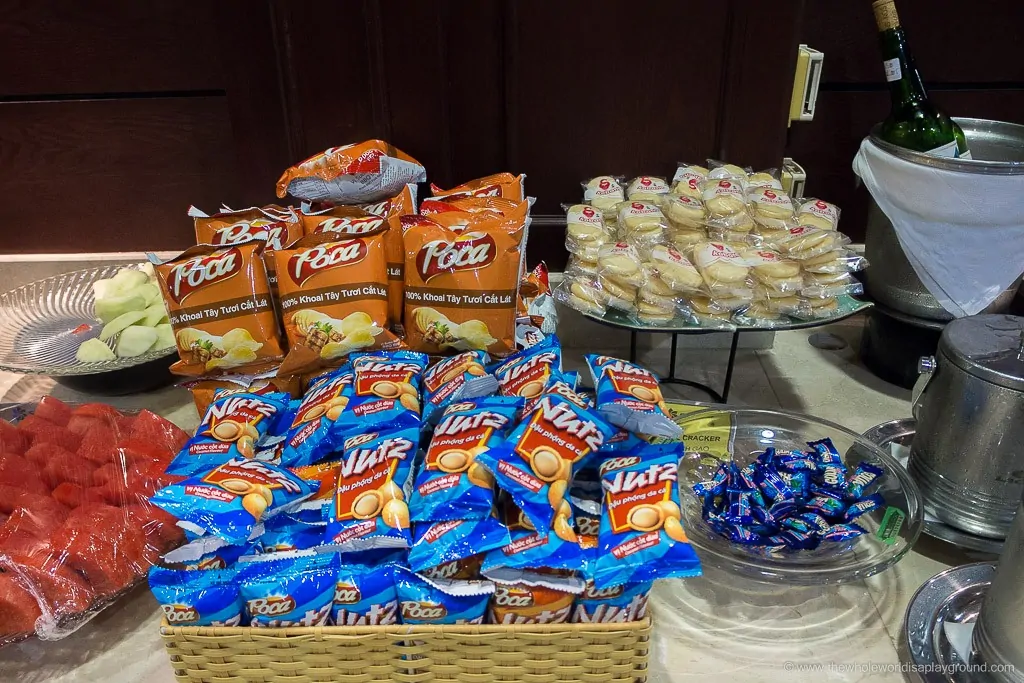 Bread, eggs and salad: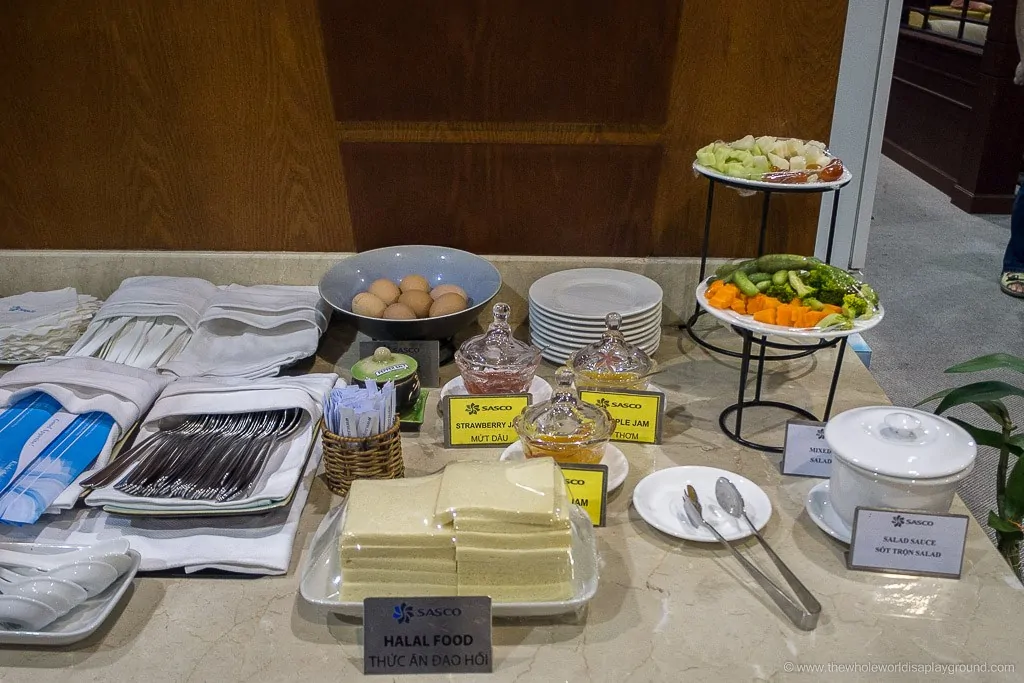 Drinks
The drinks selection consisted of water and soft drinks in the fridge and a red and a white wine option together with some beers. It was late and we had a long night ahead so no alcoholic drinks were consumed during our stay in the lounge!
Wine:
Water, soft drinks and beer: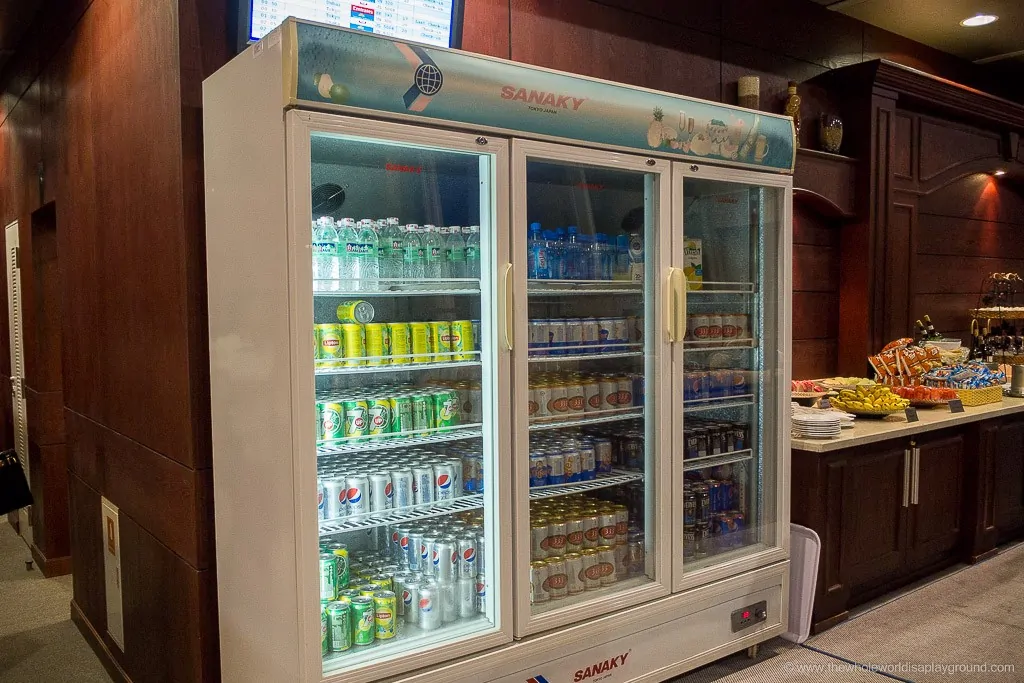 Facilities
Wi-fi was available throughout the lounge. I didn't notice any other facilities such as business services or showers available.
Overall
The Bamboo lounge is of a similar standard to many paid airport lounges albeit a slightly tired and worn version. As part of an Emirates first and business class product, however, I'd consider it to be a very weak offering. In comparison with the Emirates Dubai business class lounge we visited later that night the two lounges are worlds apart.
In my opinion Emirates really needs to work on its Ho Chi Minh on the ground offering: the lack of chauffeur service, a very slow business class check in and its choice of lounge are all out of sync with what I'd expect from the airline and for flight price we paid. I'm generally a big fan of Emirates but I feel there is significant room for improvement on the Ho Chi Minh route.
To read about our Emirates flight from Ho Chi Minh to Dubai click here or click on the picture below!