If you're spending time in Kyoto or Osaka then a day trip to the city of Hiroshima and the small island of Miyajima is an essential part of any Japan itinerary. We spent a fascinating day exploring the sights of both Miyajima and Hiroshima and have put together our ideal itinerary for a day trip from Kyoto or Osaka. For any of you planning a day trip to Hiroshima and Miyajima here is our itinerary, sightseeing tips and details of how to get there and where to stay: happy planning!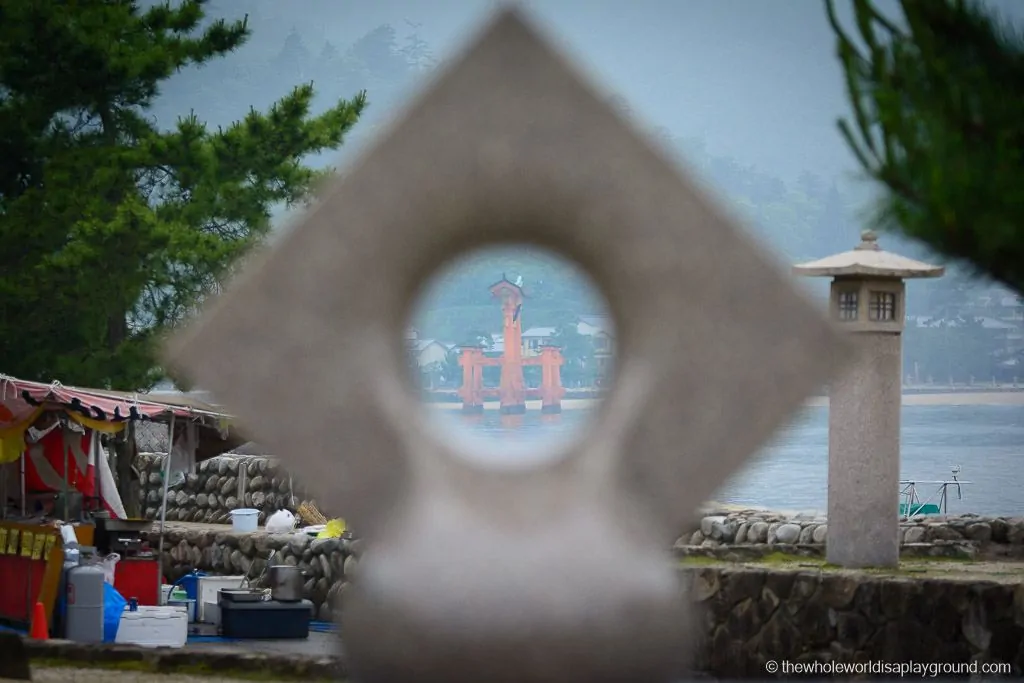 How to get from Kyoto and Osaka to Hiroshima and Miyajima
There are a few train options depending on whether or not you hold a JR Pass. JR Pass holders should take a train to Shin Osaka and, from there, switch to the Shinkansen to Hiroshima. The journey takes around 90 minutes in total from Osaka and just under two hours from Kyoto.
The JR Sanyo Line takes 30 minutes between Hiroshima and Miryajimaguchi followed by a 10 minute ferry ride on the JR Miyajima Ferry to the island. It's also possible to take a boat from Hiroshima but it's not covered under the JR Pass – for more detailed instructions on getting to Hiroshima and Miyajima with or without a JR Pass check out our dedicated post on How to get to Hiroshima and Miyajima: day trip from Kyoto and Osaka.
Visit Hiroshima Visitors Pass
If you are planning to visit Hiroshima and Miyajima Island we recommend purchasing a visito Hiroshima visitors Pass. The pass gives you unlimited rides on all street cars, buses and the Miyajima ferry for one, two or three days. You can purchase them in advance and it will save you time and money during your time in Hiroshima – check prices now!
Buy your Hiroshima Visitors Pass now
Where to stay in Osaka and Kyoto
Most visitors to Hiroshima and Miyajima take day trips from the cities of Osaka and Kyoto which are a train ride away – we took our day trip when we were based in Kyoto.
Where to stay in Kyoto:
Ibis Kyoto Station: The Ibis is a great value option and, it's so close to Kyoto station, you can catch a glimpse of the hotel from the Shinkansen platform – Check latest prices here
Ohanabo Ryokan: Kyoto is the perfect place to experience traditional Japanese hospitality by spending a night in a ryokan. Japanese Ryokan's have traditional futon bedding on a woven-straw floor and Yukata robes are the clothing of choice for dining and onsen visits. Ohanbo is located close to Kyoto station – Check latest prices here
Click here for Kyoto Hotel prices
Where to stay in Osaka:
Swissotel Nankai Osaka:

located on top of Namba's Nankai station with easy access to airport train and comfortable rooms –

check prices here!

Mitsui Garden Hotel Osaka Premier:

one of the more reasonably priced Osaka options with good rooms and a convienent shuttle bus from Osaka station –

check prices here!

Click here for Osaka hotel prices

Morning Itinerary: Miyajima Itinerary

Miyajima is a small island off the coast of Hiroshima and is regarded as the Island of the Gods. It is an eclectic mix of Buddhist temples and Shinto shrines and wild deer roam the streets. Miyajima is home to the revered Itsukushima Shrine and its iconic floating tori gate.

Miyajima/Hiroshima itinerary tip: we recommend starting the day in Miyajima as a visit to the island is more pleasant earlier in the day before the crowds arrive. If you prefer to start with Hiroshima then hop of the train there and start with our Hiroshima itinerary guide below.

As soon as you arrive in Miyajima make your way to the UNESCO World Heritage Itsukushima Shrine. It is the main attraction on Miyajima and its floating tori gate has graced a million pictures. The iconic tori gate stands separately from the island and is beautiful at both high tide when it appears to float on the water and at low tide when it is reachable by foot so you may want to keep an eye on the tides!

As you walk towards Miyajima keep an eye out for the wild deer which wander freely through the island. Legend has it that the deer were sacred messengers from the gods and the antics of the cute four legged creatures bring a smile to everyone's face!

Miyajima/Hiroshima itinerary tip: the deer love being fed by the tourists so pick up some of the deer cookie which are sold throughout Miyajima.

The five story Goju-no-to Pagoda, the 1,000 Mat Pavillion and the Toyokuni Shrine are a few minutes walk from the Itsukushima Shrine. This tree lined complex is a popular spot in cherry blossom season.

After all the exploring it's time to hit the streets of the old town, a treasure trove of traditional architecture and quirky restaurants and bars. Be sure to indulge in some Momiji Manju, a steamed bun filled with a bean jam filling which is abundant in Miyajima.

If you're feeling adventurous check out Mount Misen, Miyajima's highest mountain and a perfect hiking spot which rewars with spectacular views on a clear day. The Daisho-in Temple is nestled at the base of Mount Misen and, upon entering the temple, one can turn the inscriptions on the metal wheel to benefit from the blessings of the reading of sutra.

Afternoon Itinerary: Hiroshima Itinerary

Hiroshima will likely forever be known as the first city in history to have suffered the dropping of an atomic bomb, an event which occurred on August 6 1945 during World War II and resulted in the loss of life of over 140,000 people. A visit to Hiroshima offers an incredible insight into the absolute devastation of 1945 and the subsequent rebirth of the city.

At the centre of the city is the Hiroshima Peace Memorial Park and, rather than redevelop, it was decided to dedicate this area to the legacy of Hiroshima. The park contains a number of memorials to the atomic bomb.

The Atomic Bomb Dome is a key landmark in the city and sat just 160 metres from the centre of the bomb. The metal framework of the building remained intact when the bomb exploded directly overhead and the building, a designated UNESCO World Heritage Site. stands almost exactly as it did after the bomb. It remains as both a memorial and a symbol of peace.

Other memorials in the park include the Centopath with its cement chest containing a list of names of everyone known to have passed from the bombing and The Peace Flame which will burn until all nuclear weapons have been eradicated from the planet. The Children's Peace Memorial is one of the most heartbreaking features of the park and commemorates the thousands of innocent children who perished in the bomb.

Be sure to make a stop at the Peace Memorial Museum which details the events leading to the dropping of the bomb and the devastating aftermath. It's one of the most heart-wrenching places we've ever visited.

As you make your way back towards the train station check out downtown Hiroshima, a vibrant and bustling city centre filled to the brim with shops and restaurants. Indulge in the extremely tasty Hiroshima style Okonmiyaki, a fried batter and cabbage dish.

Evening Itinerary: Himjei

We made a special stop in Himjei, a Unesco World Heritage site, to visit to the city's magnificent castle. Himjei Castle, one of only 12 original surviving castle's in the country, is one of Japan's most magnificent historic sites and is a designated UNESCO World Heritage Site If you prefer you can travel straight back to Kyoto or Osaka and rest up after a long day of sightseeing.

Check out our other Japan articles to help with your trip planning: