It's a question that arises frequently in relation to Japan travels: how to get to Hiroshima and Miyajima from Osaka and Kyoto. This is followed closely by inquiries as to the possibility of using a JR Pass to travel there. It's possible to make the whole trip using a JR Pass and we've laid out the different options below.
Day trip to Hiroshima and Miyajima
A visit to Hiroshima offers an incredible insight into the historic sites of a city devastated by an atomic bomb while Miyajima is home to the revered Itsukushima Shrine and its iconic floating tori gate. Osaka and Kyoto are the most popular departure points for a day trip to Hiroshima and Miyajima and, if maximizing use of the JR Pass, the two take a similar Shin Osaka based route.
We travelled with a green JR Pass which we purchased prior to travelling to Japan – you can check out the latest prices for green and ordinary passes on Japan Rail Pass where we purchased our JR passes

Click here for the best JR Pass prices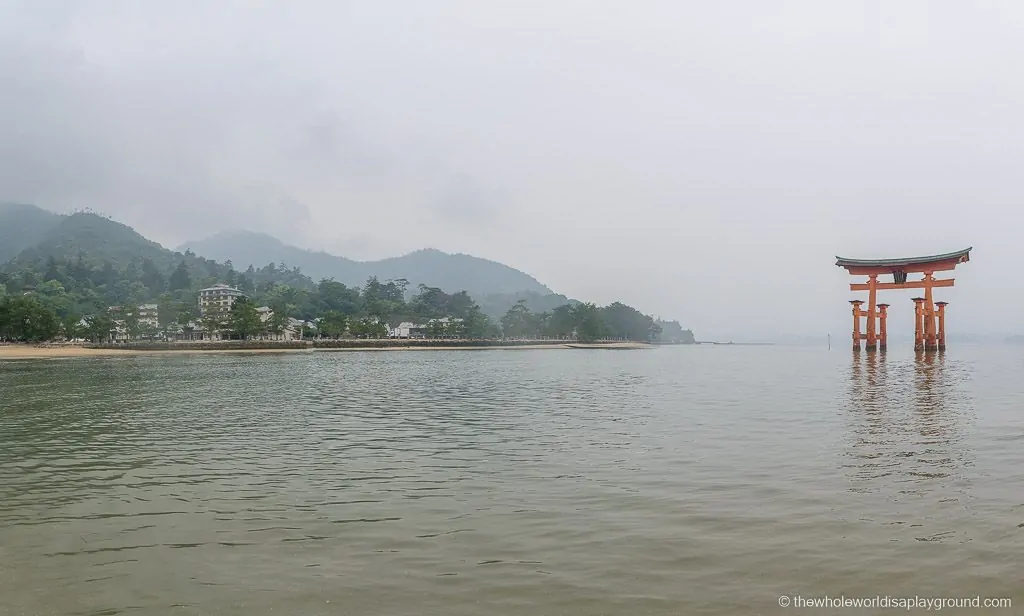 Where to stay in Osaka and Kyoto
Most visitors to Hiroshima and Miyajima take day trips from the cities of Osaka and Kyoto which are a train ride away – we took our day trip when we were based in Kyoto.
Where to stay in Kyoto
Like most Japanese cities we highly recommend staying as close to the main JR train station. This makes getting around much easier. However the best hotels close to the train stations fill up weeks ahead of time (in some cases months) so you'll save yourself a lot of extra walking or expensive taxis by booking your accommodation well in advance.
Hotel Granvia Kyoto: this hotel could not have a better location – it's in the actual Kyoto JR station with super quick access to the trains and the rest of the city. A modern hotel with comfortable western style rooms, a fitness centre and swimming pool, there are lots of food options in and around the station. This is our number one pick for where to stay in Kyoto – check latest prices here!
Hotel Kintetsu Kyoto Station: Another great hotel located within Kyoto JR station too. Hotel Kintetsu is slight cheaper than Hotel Granvia, however it is still a great choice with decently sized western style rooms and beds – check latest prices here!
Ibis Kyoto Station: The Ibis is a great value option and, it's so close to Kyoto station, you can catch a glimpse of the hotel from the Shinkansen platform! – check latest prices here!
Click here for the best Kyoto hotel prices
Where to stay in Osaka
As with all Japanese cities we recommend staying as close to the main JR station as possible. It avoids the need for expensive taxis and will save a lot of time walking!
Swissotel Nankai Osaka: located on top of Namba's Nankai station with easy access to airport train and comfortable rooms – check prices here!
Mitsui Garden Hotel Osaka Premier: one of the more reasonably priced Osaka options with good rooms and a convienent shuttle bus from Osaka station – check prices here!
Click here for the best Osaka hotel prices
How to get from Kyoto to Hiroshima
JR Pass: Take the Shinkansen Hikari to Shin Osaka and, at Shin Osaka, switch to the Shinkansen Sakura for the remainder of the journey to Hiroshima. The trip takes around 1 hour 50 minutes.
Non JR Pass: The Shinkasen Nozomi goes directly from Kyoto to Hiroshima and takes approximately 1 hour and 40 minutes. Nozomi trains are not covered under the JR Pass.
How to get from Osaka to Hiroshima
JR Pass: Take either the JR Kyoto Local Line towards Takatsuki or the JR Special Rapid Service for Tsuruga to get to Shin Osaka. This will take less than 5 minutes. At Shin Osaka switch to the Shinkansen Sakura to travel the 1 hours 25 minutes to Hiroshima.
Non JR Pass: From Shin Osaka you also have the option of taking the Shinkansen Nozomi or the Mizuho to Hiroshima and the trip takes 1 hour 25 minutes. Neither Nozomi or Mizuho are eligible for JR Pass travel.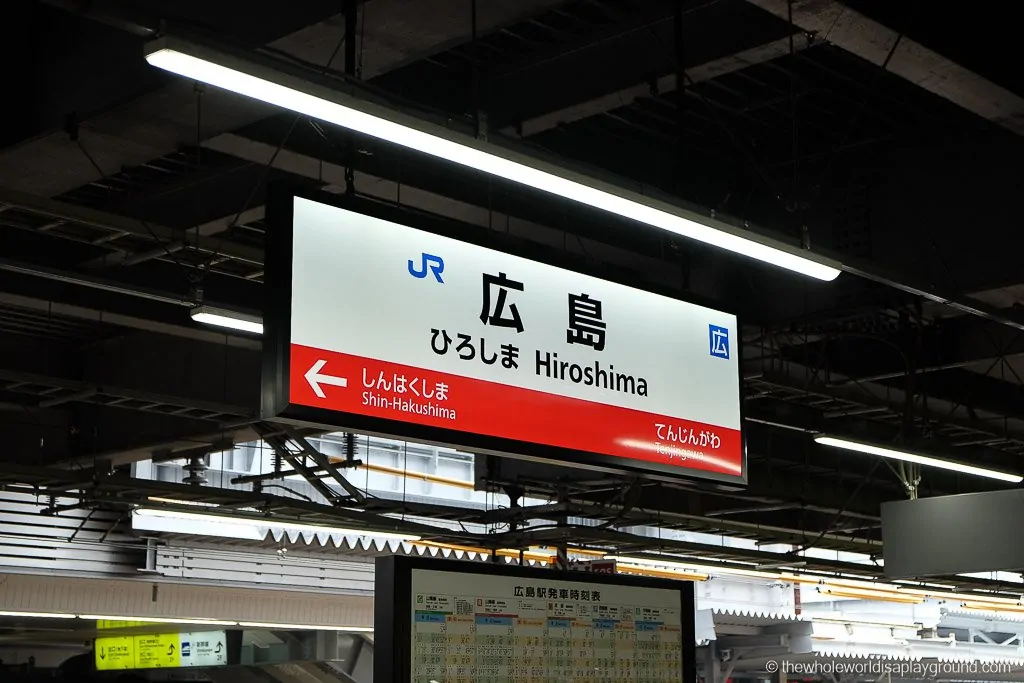 How to get from Hiroshima to Miyajima
To get to Miyajima from Kyoto or Osaka you will pass through Hiroshima so follow the same route as above. We opted to visit Miyajima first and then stop at Hiroshima but you do it in whichever order you prefer.
JR Pass: Take the JR Sanyo Line for Iwankuni to travel to Miyajimaguchi. The journey time is just under 30 minutes. At Miyajimaguchi take the 10 minute JR Miyajima Ferry to the island. The walk from the station to the ferry pier is well signposted for visitors.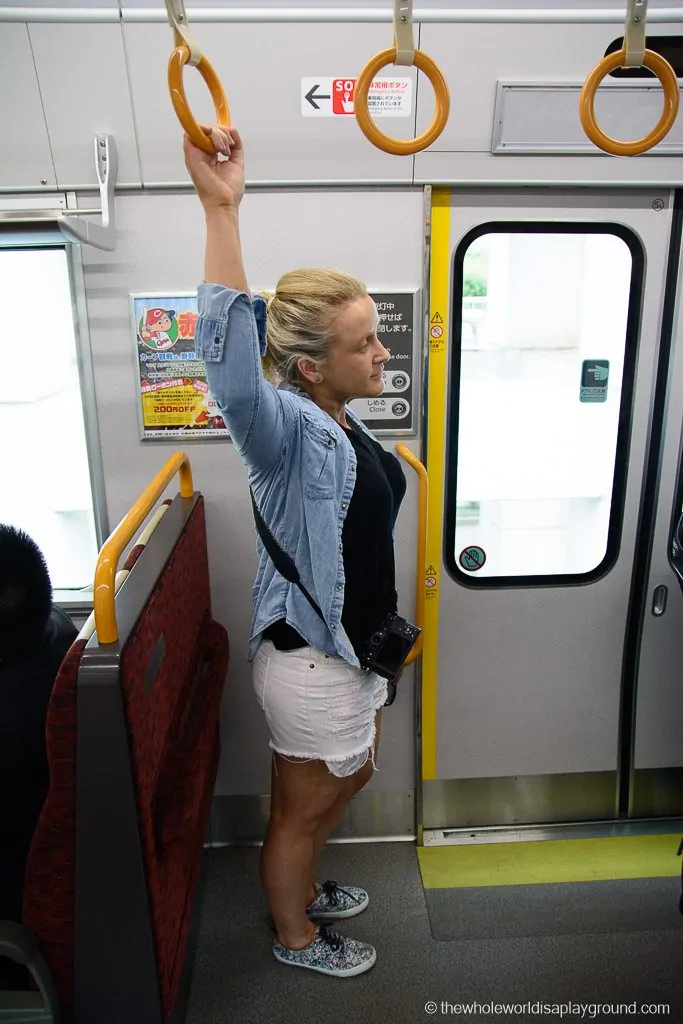 Non JR Pass: if you are not using a JR Pass you can use the slightly slower Tram (line 2) to get from Hiroshima to Miyajimaguchi. The tram takes longer than the JR Sanyo Line but a ticket is less expensive. From Miyajimaguchi there is the choice of two ferries: the JR and the Matsudai. Both take 10 minutes and both cost the same but the JR Pass is not valid on the Matsudai ferry.
Hiroshima/Miyajima Boat: it's possible to take a boat directly from Hiroshima to Miyajima and the journey takes about one hour. Boats leave from Hiroshima Peace Park which will likely be on your Hiroshima sightseeing itinerary, or from the Hiroshima Port where tickets are slightly cheaper. The Japan Rail Pass is not valid on these boats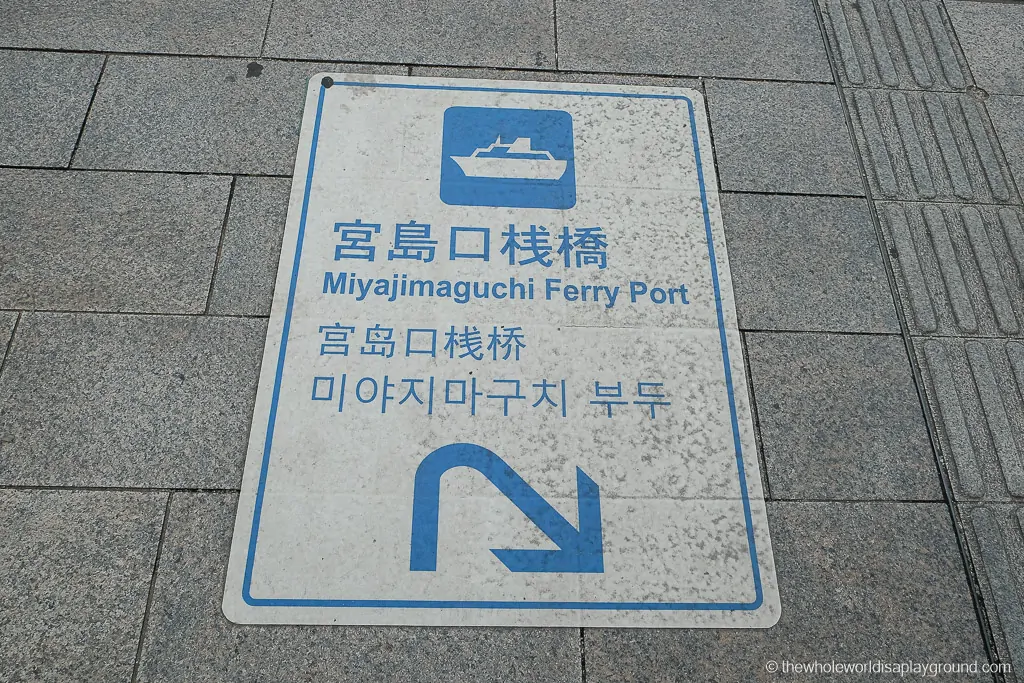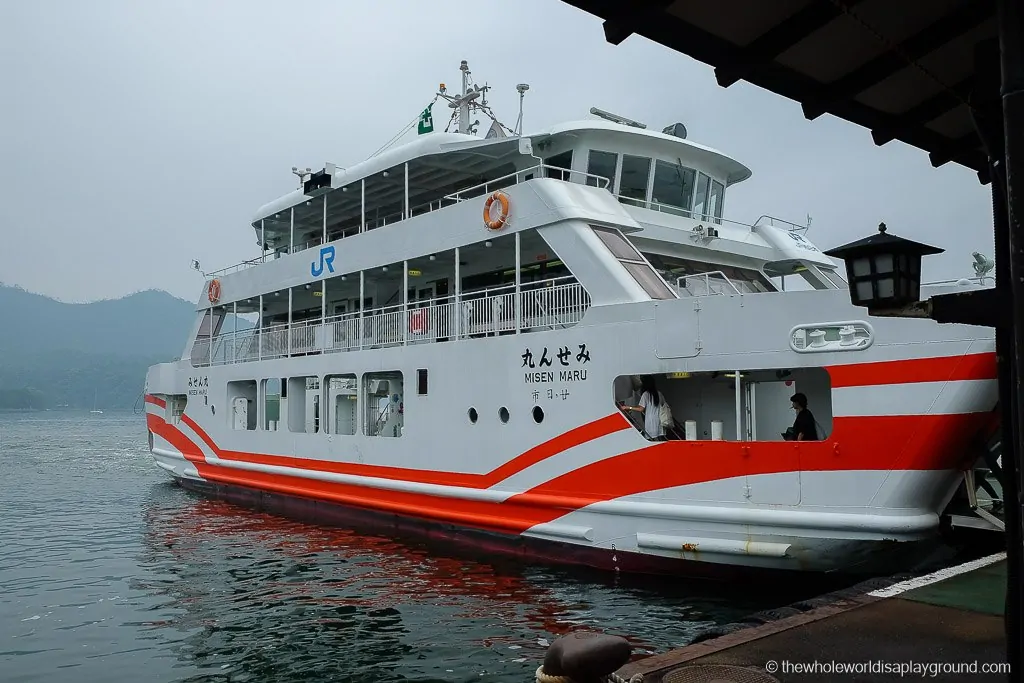 Other useful Japan planning articles
Some other Japan articles which will be useful for your planning, click on the description:
Travel Guides
Here are some of the best travel guides for planning your Japan trip. We personally used the Lonely Planet Japan series for our trip planning. Click on the images below to buy yours now!