With our Japan trip fast approaching we set to work to plan a perfect two week itinerary which would give us the opportunity to see as much of the incredible country as possible. Trains were our transport of choice and, with our Japan rail passes in hand, we had a bucket list of destinations we were determined to visit: Kyoto, Hiroshima, Miyajima, Koyasan, Nara, Takayama, Shiirakawa-go, Tokyo, Nikko and Hakone. Our itinerary worked out perfectly over the two weeks and we loved every second of our time in the country. For all you Japan trip planners: here's our ultimate 14 day itinerary to get you on your way!
Our Ultimate Two Week Japan Itinerary
With our flights arriving into Tokyo Narita Airport we opted to travel in a loop through Japan squeezing in as many must see sights as possible. Our two weeks saw us stay in 5 Japanese cities, visit 9 UNESCOs and make countless journeys in trains, buses, funiculars, rental cards, taxis, boats and cable cars! Here's our two week Japan route:
TOKYO NARITA AIRPORT –>
KYOTO –> DAY TRIP TO HIROSHIMA, MIYAJIMA AND HIMEJI CASTLE –> MOUNT KOYA –> NARA –> TAKAYAMA –> SHIIRAKAWA-GO –> TOKYO –> DAY TRIP TO NIKKO AND HAKONE
–> TOKYO NARITA AIRPORT
Transport
JR (Japan Rail) Passes
During our first week in Japan, which was when we did most of our travelling, we used a 7 day JR Pass. The pass allows travel on trains run by the Japan Rail Group. A JR Pass must be purchased prior to departing for Japan and the voucher is then exchanged for the pass at the airport or train station JR ticket office. Based on our route, the pass worked out significantly cheaper than individual journey fares. Check out our article comparing the different JR Passes to see which one suits you.
Japan Rail passes are the most cost effective way to travel through Japan and we saved a lot of money on our trip using them. Make sure to purchase them before you travel as they are more expensive after arrive in Japan! – Check prices here
Click here for the best JR Pass prices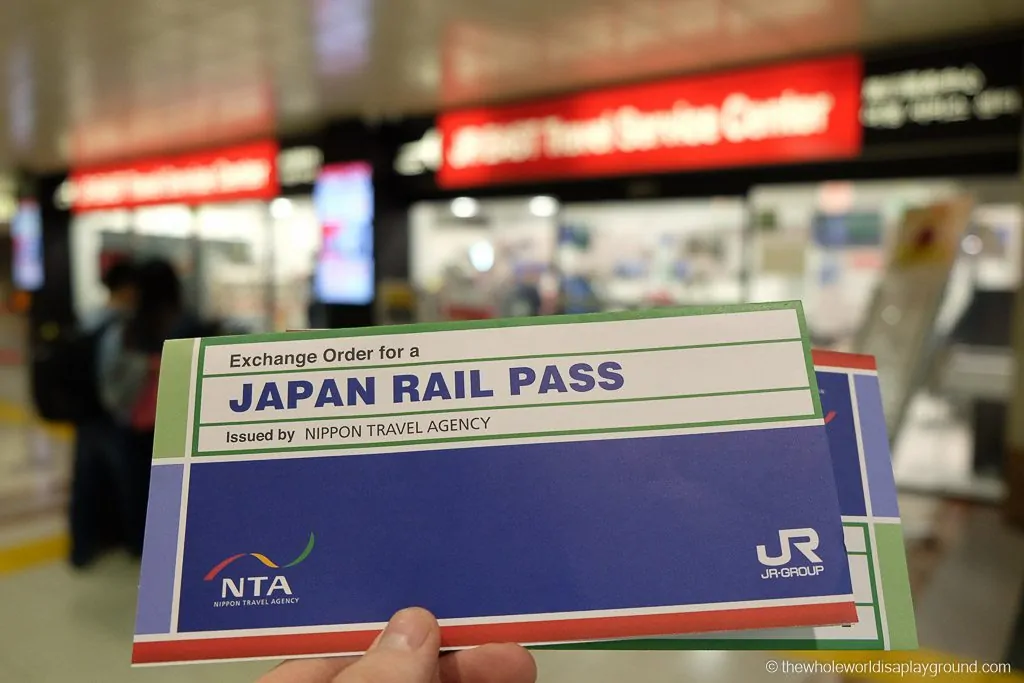 Our Detailed Japan Itinerary
Day 1: Arrive in Japan
On arrival in Japan, pick up your JR Pass and hop on the next train to the first stop on the itinerary, Kyoto. Kyoto is home to a stunning array of ancient temples and unique shrines as well as some of the most iconic sights in Japan. Check out our guide to Kyoto's must see sights here and our recommended Kyoto itinerary here.
Where to stay in Kyoto
Like most Japanese cities we highly recommend staying as close to the main train station as this makes getting around much easier. However the best hotels close to the train stations fill up weeks ahead of time (in some cases months) so you'll save yourself a lot of extra walking or expensive taxis by booking your accommodation well in advance!
Hotel Granvia Kyoto: A modern hotel with comfortable western style rooms, a fitness centre and swimming pool plus the location is amazing – the hotel is in the train station meaning super quick access to the trains and the rest of the city. This is our number one pick for where to stay in Kyoto – check latest prices here!
Hotel Kintetsu Kyoto Station: Another great hotel located within train station too. Hotel Kintetsu is slightly cheaper than Hotel Granvia, however it is still a great choice with decently sized western style rooms and beds – check latest prices here!
Ibis Kyoto Station: The Ibis is a great value option and, it's so close to Kyoto station, you can catch a glimpse of the hotel from the Shinkansen platform! – check latest prices here!
Click here for the best Kyoto hotel prices
Sightseeing
Fushimi Inari Shrine – read more about our visit to Fushimi Inari here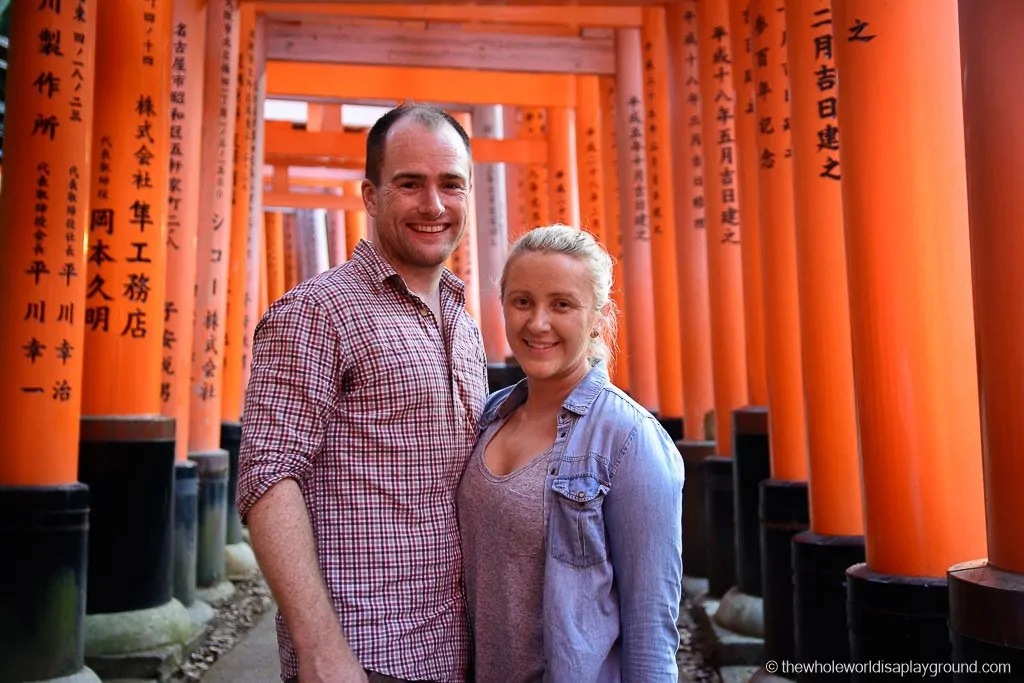 Transport:
Train from Tokyo Narita Airport to Kyoto Station: we swapped our Japan Rail Pass vouchers for the actual JR pass in the ticket office at Narita and hopped on the train from Narita to Kyoto station switching at Shinagawa.
Train from Kyoto Station to Inari Station to see the Fushimi Inari Shrine
Day 2: Day trip to Hiroshima, Miyajima and Himeji
We decided to take a day trip to Miyajima and Hiroshima with a stop off at Himeji Castle to indulge our UNESCO love! Check out our more detailed posts on Hiroshima and Miyajima:
Miajima

Hiroshima:
Hiroshima Peace Memorial Museum
Genbaku Dome-mae, the Atomic Bomb Dome: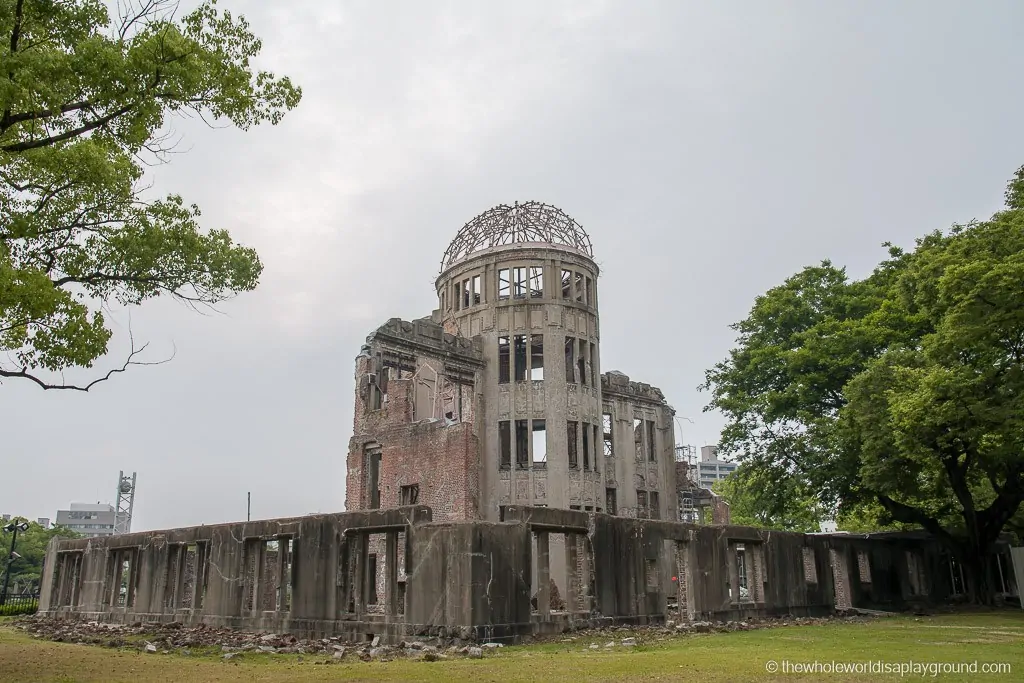 Himeji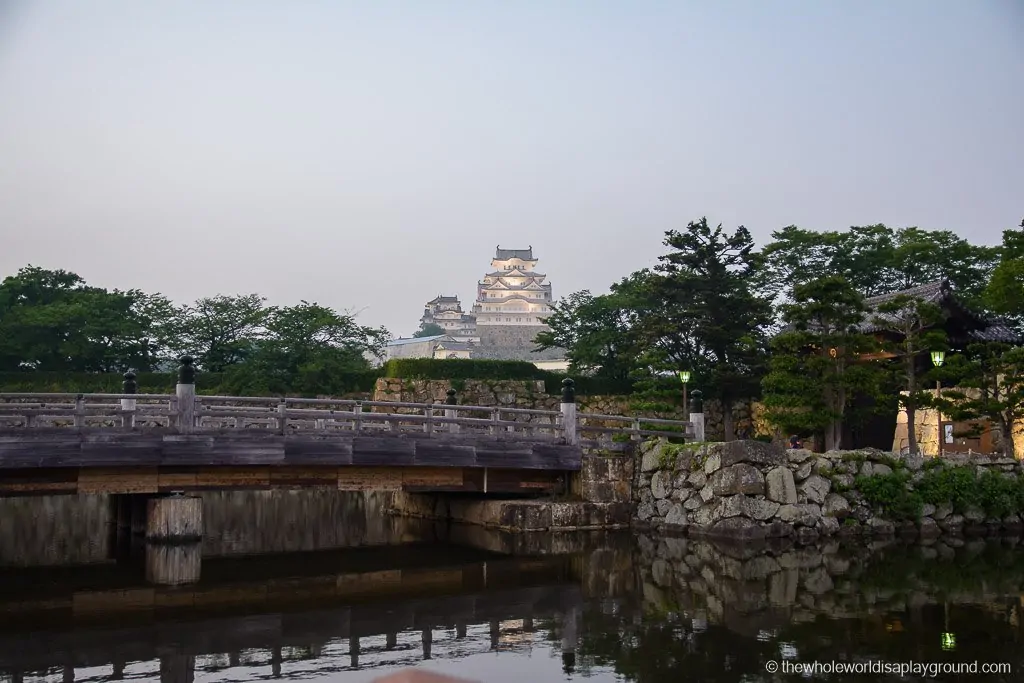 Transport:
Train from Kyoto Station to Miyajimaguchi and a ferry from Miyajimaguchi to Miajima to see the Itsukushima Shrine
Train from Miyajimaguchi to Hiroshima, where we stopped off to see the Peace Memorial Museum and the Atomic Bomb Dome
Train from Hiroshima to Himeji where we hopped out to see Himeji Castle and then a second train from Himeji to Kyoto
Day 3: Kyoto
Sightseeing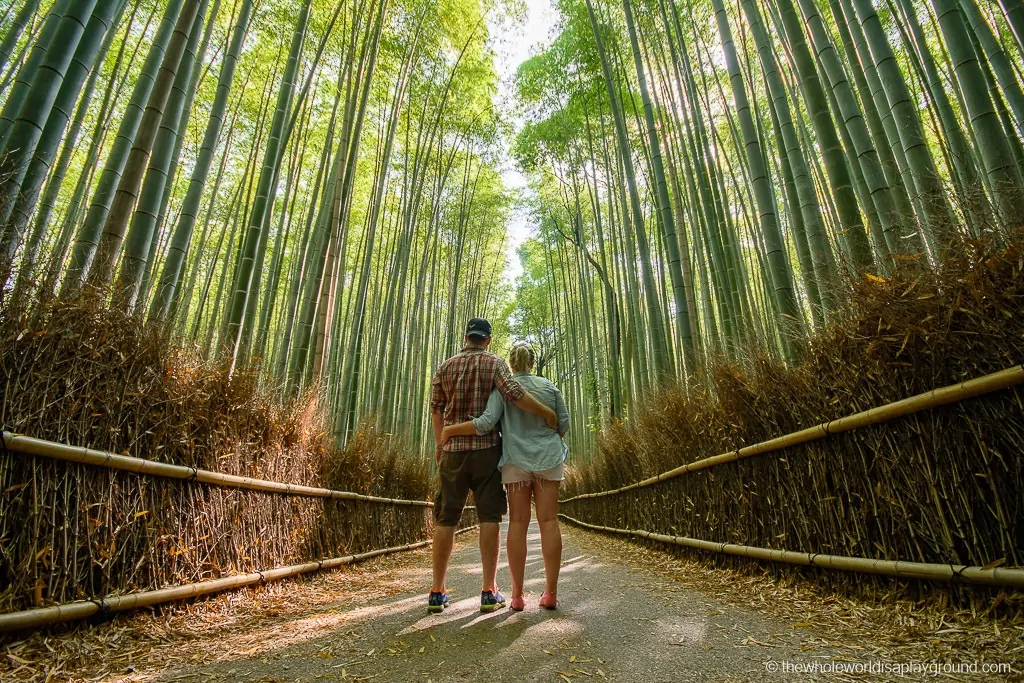 Kinkaku-ji, The Golden Pavillion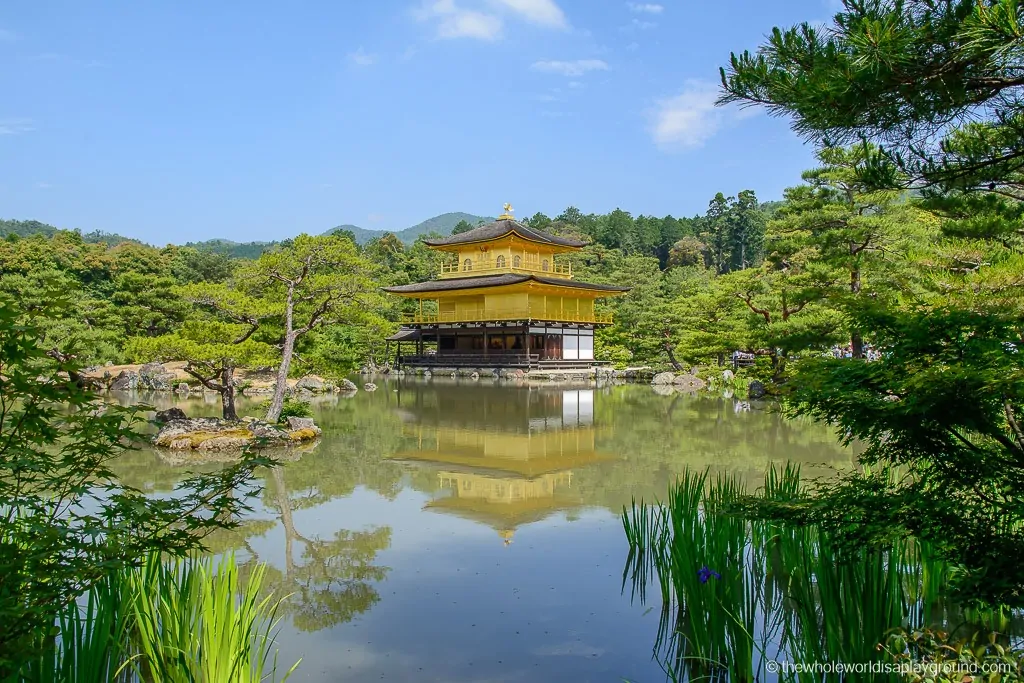 Transport:
Train from Kyoto to Arashiyama to see the Bamboo Forest and Tenryu-ji temple
Taxi from Tenryu-ji temple to the Golden Pavilion as taking public transport required a few changes
Taxi from Golden Pavillion to Nishiki Market as it was the middle of the day and we really wanted to get out of the sun!
Day 4: Kyoto
Sights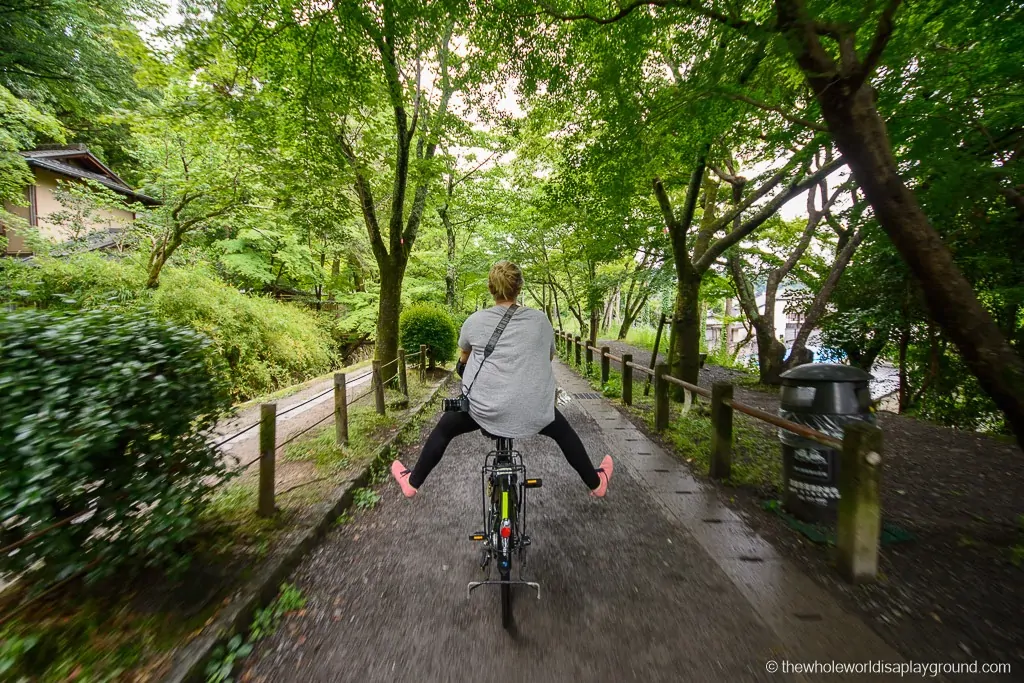 Sanjūsangen-dō or Rengeō-in (Hall of the Lotus King): pics are not allowed but, trust us, the 1,001 carved Kannon statues are an incredible sight.
Higashiyama Jisho-Ji
Nanzen-Ji
Transport:
Electric bikes: the sights of Kyoto are situated all across the city so we opted to rent electric bikes for the day. It was great to zip around the temples and our feet were grateful for the rest!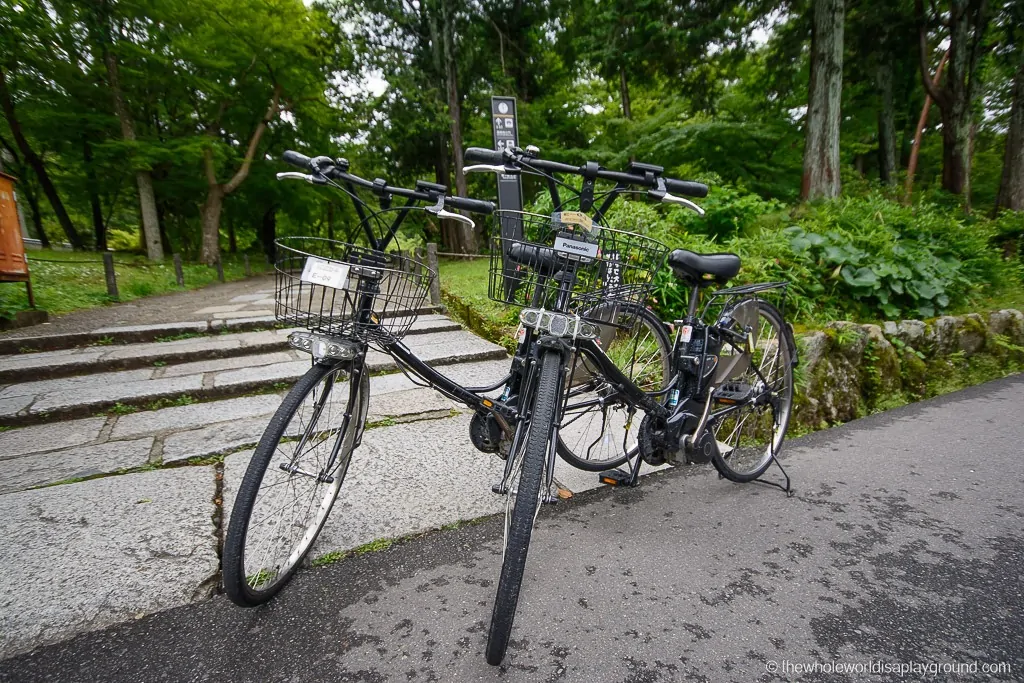 Day 5: Mount Koya
Mount Koya is a remote sacred mountain and temple complex located high in the mountains of the Wakayama Prefecture south of Osaka in Japan. It's an intensely spiritual and peaceful place.
Where to stay in Mount Koya
If you've visiting Mount Koya we cannot recommend highly enough staying at one of the Buddhist monasteries. A night in a traditional Buddhist Temple, eating Buddhist vegetarian meals and watching the dawn prayer service was an intimate and unforgettable experience. We recommend staying close to Okunoin Cemetery which will allow easy access late at night and early in the morning.
Yochi-in: All rooms in Yochi-in are Japanese style with traditional futon bedding and is perfectly located for exploring the historic town of Koyasan. For the location, quality of accomodation and on-site onsen Yochi-in is very good value in Mount Koya – Check prices now!
Shukubo Koya-san Eko-in Temple: this is the perfect temple for group meditation, delicious meals and moving morning prayers. It is located by the entrance to Okunoin Cemetary – Check prices here
Kumagaiji: A recently renovated 9th century monastery that has a more modern feel than other temples, due to additions such as Wi-Fi and comfy chairs on the balcony's of each room. The monks are happy for people with tattoos to use the onsen, something which is not usually common in Japan – Check prices here
Click here for the latest Mount Koya hotel prices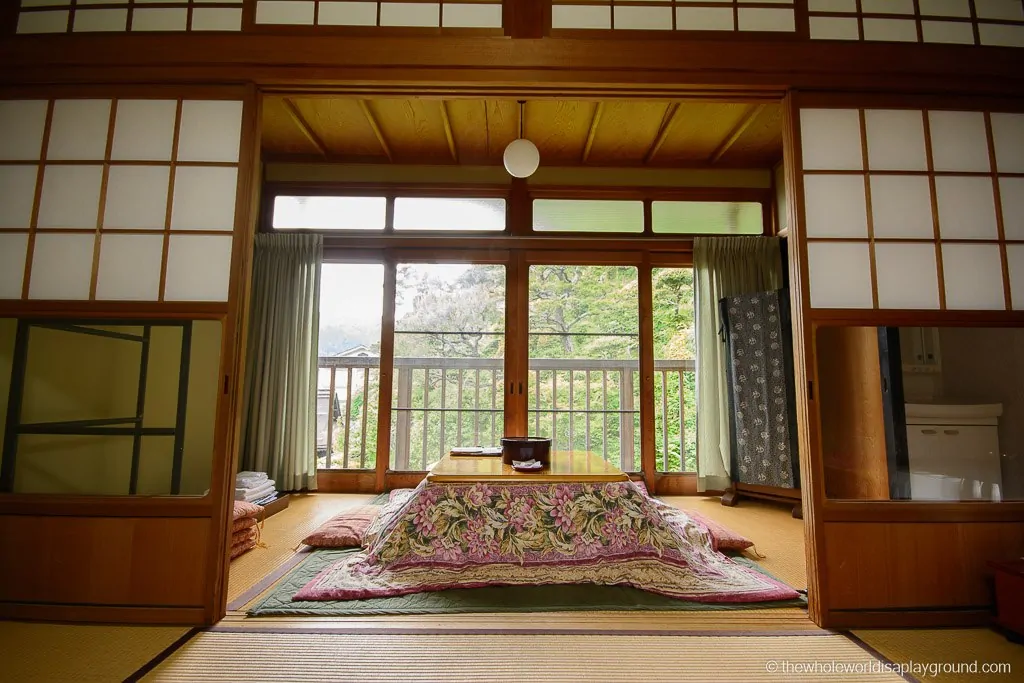 Sightseeing:
Torodo Hall, Hall of the Lanterns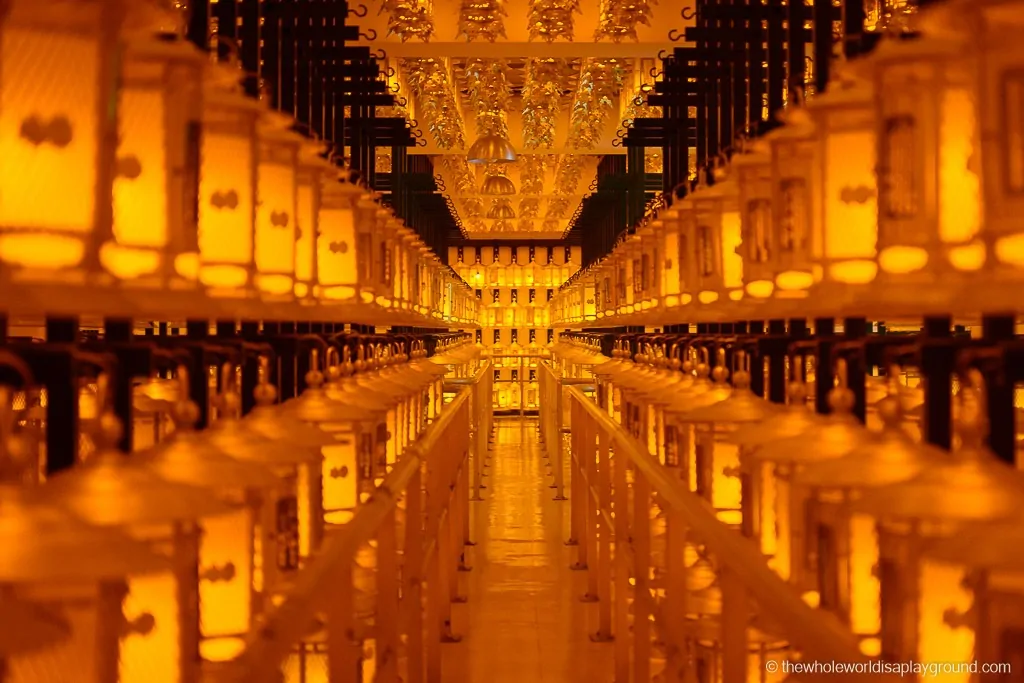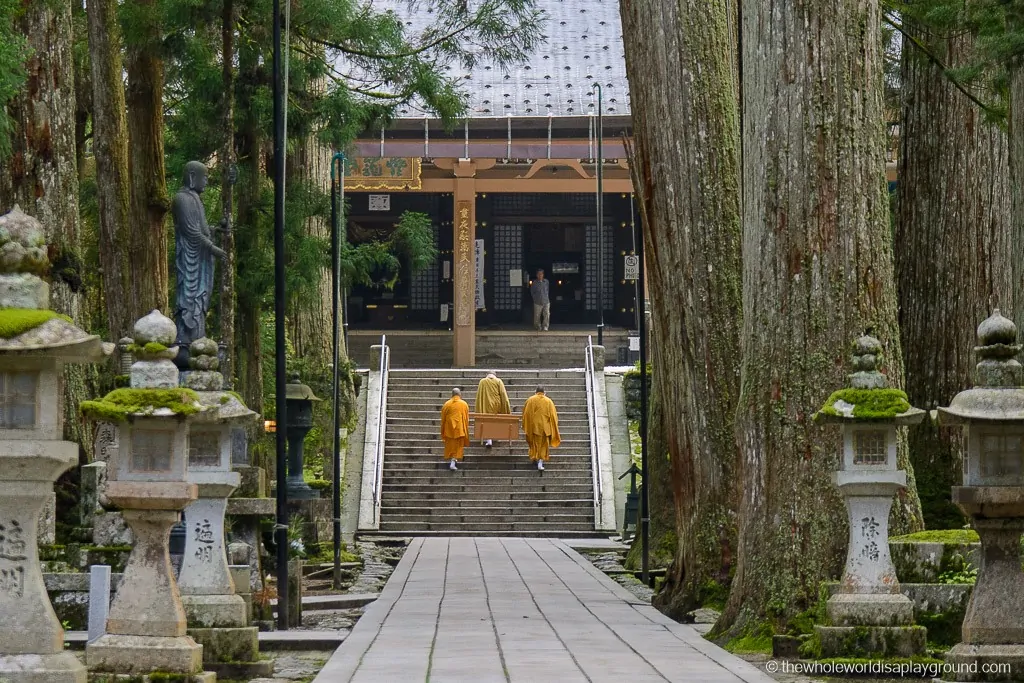 Check out our round up of Koya's must see sights here and our detailed guide on how to get there here
Transport:
Train from Kyoto to Osaka to start the journey to Koyasan. This is the only part of the trip from Koyoto to Koyasan which was covered under our JR Pass – Check prices here
Subway from Osaka to Namba
Train from Namba to Gokurakubashi. At Namba station we purchased a Limited Express train ticket and a Koya World Heritage Pass which covered our trains and cable cars to and from Koyasan and bus travel for 48 hours while we were there. The pass also gave us discounted admission to some of the temples and stupas in Koya. The ticket cost ¥3,400.
Cable Car from Gokurakubashi up to Koyasan
Bus from cable car station to Shojoshin-in Temple
Day 6: Mount Koya and Nara
The next stop on the itinerary is Nara, a historic town with an abundance of temples and tame deer which roam freely through its parks.
Where to stay in Nara
After exploring Mount Koya we took the train to Nara and spent the night, As we were only spending one night in Nara we wanted a convenient and reasonably priced hotel beside the train station and Hotel Nikko ticked all the boxes.
Hotel Nikko: Where we stayed and a perfect hotel for exploring Nara from. It's located right beside the JR train station and close to lots of food options – so it tick's all the boxes. We also rented electric bicycles from the hotel reception which were brilliant for getting around Nara quickly and safely – Check prices now!
Hotel New Wakasa: if you want a traditional Japanese hotel close to the train station in Nara the Hotel New Wakasa is the best option – Check prices now!
Nara Hotel: A fantastic alternative to Hotel Nikko if it's not available is The Nara Hotel – Check prices now!
Click here for the best Nara Hotel Prices
Sightseeing:
Mount Koya:
Pre dawn walk in Okunoin Cemetery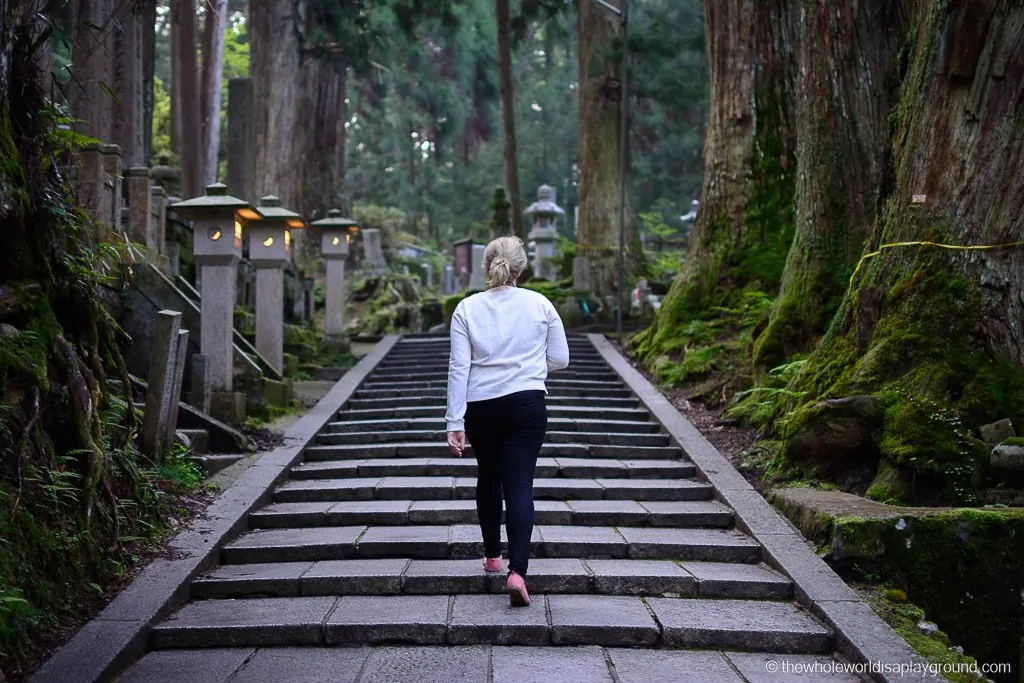 Dawn prayer service in Buddist Temple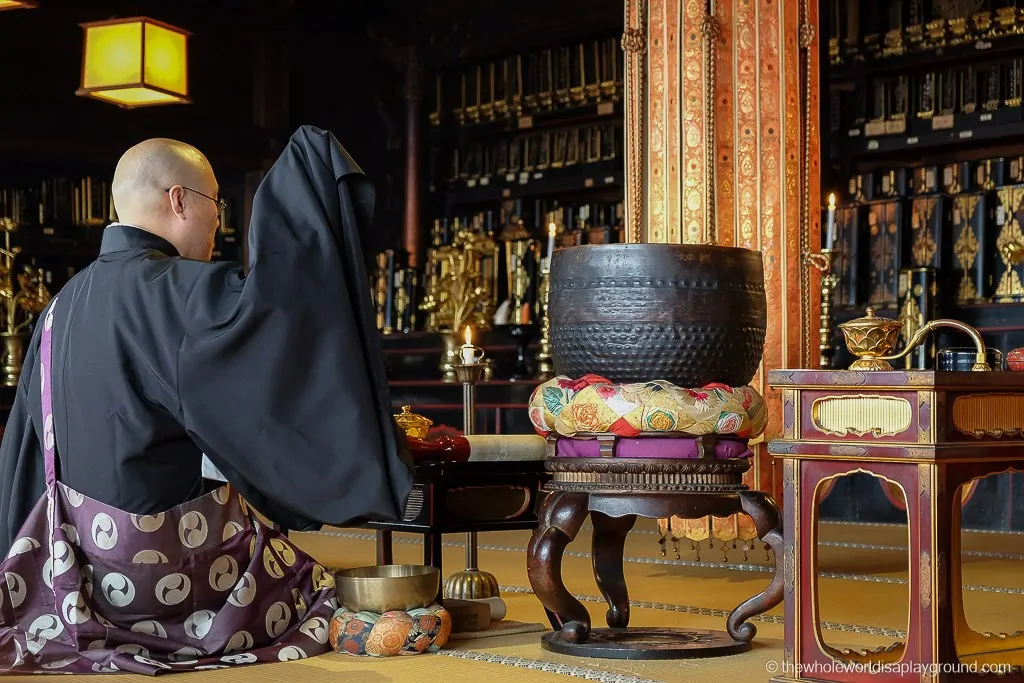 Todaji-ji Temple
Nara park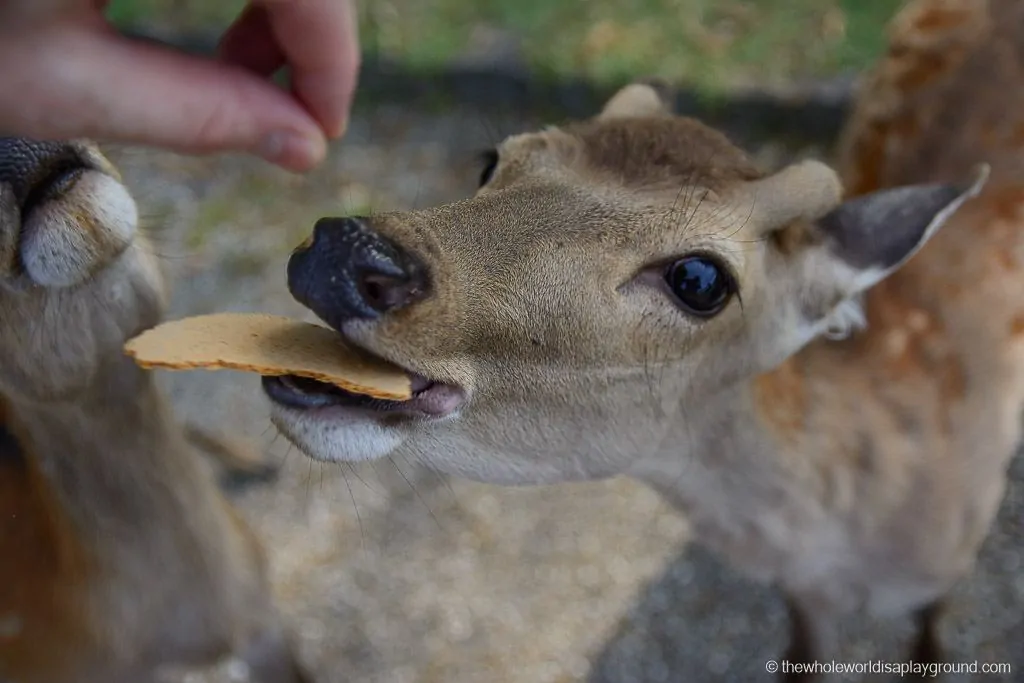 Hanging with the Nara deer: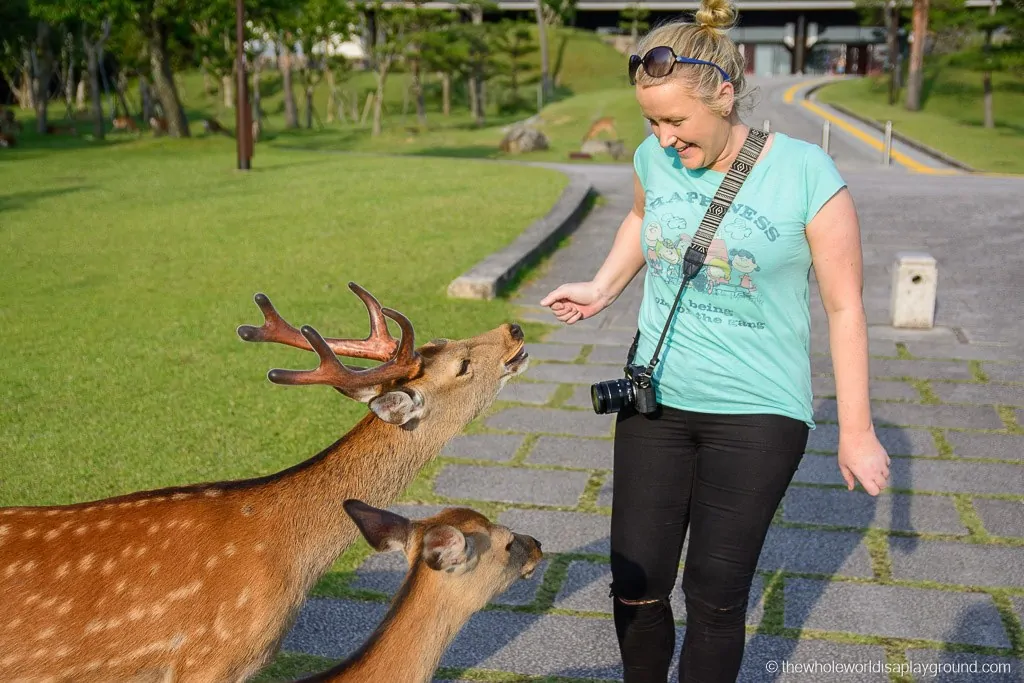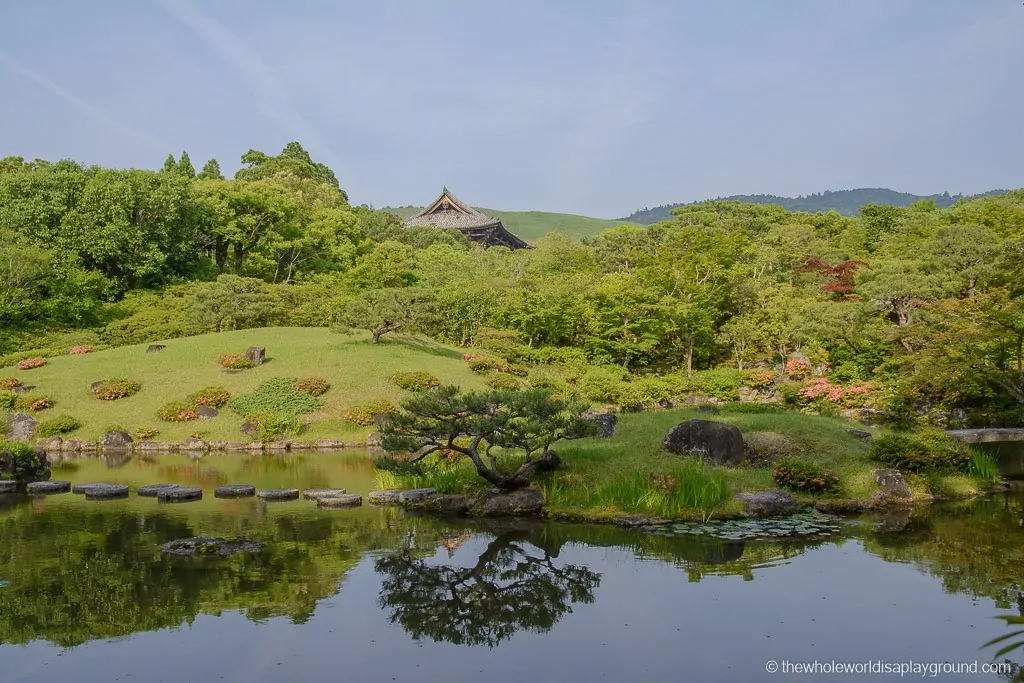 Transport:
Train from Koyasan to Hashimoto Station and from Hashimoto to Nara
Electric bikes in Nara: similar to Kyoto, the sights of Nara were zigzagged across the city and electric bikes were an excellent choice to get around!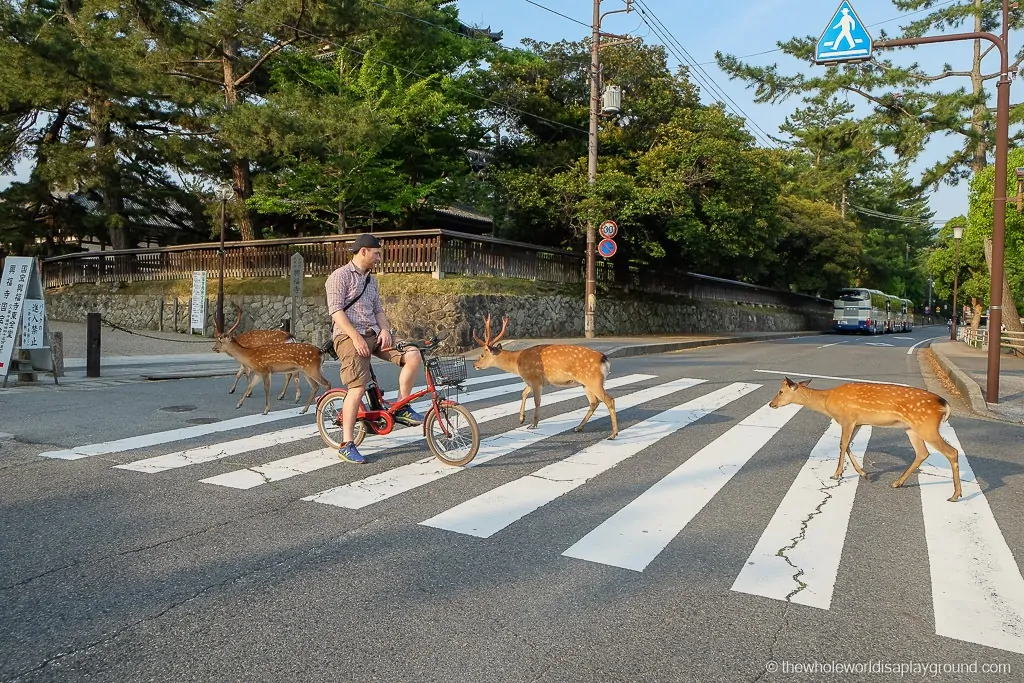 Day 7: Takayama
Takayama is the gateway to the Japanese Alps and the historic mountain village of Shirakawa-go.
Where to stay in Takayama
We wanted to spend the night in traditional Japanese accommodation and chose Takayama and the Ryokan Tanabe.
Ryokan Tanabe: The Japanese style rooms were such a treat with their woven-straw flooring and surprisingly comfortable futon bedding! The onsen at Ryokan Tanabe was a real treat although, with nakedness compulsory, it took us a little while to work up the courage to make our first trip! We were served a delicious breakfast in our room before we departed and had a fab evening – Check prices now!
Best Western Hotel Takayama: is a great option if you prefer something more like a western hotel – Check prices now!
Click here for the best Takayama Hotel Prices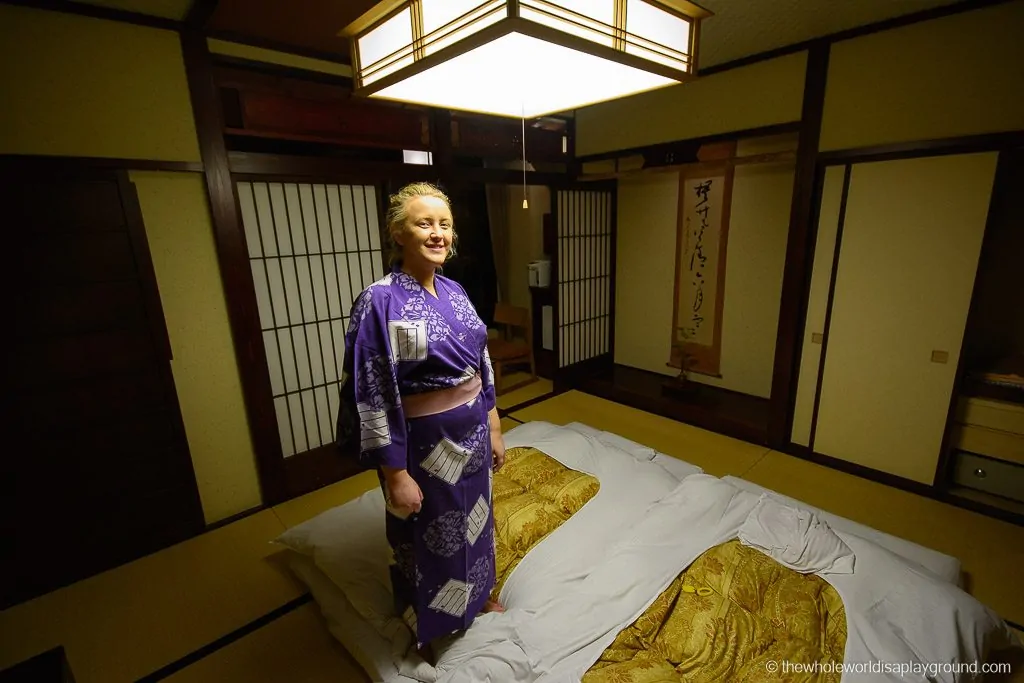 Traditional breakfast served in our room: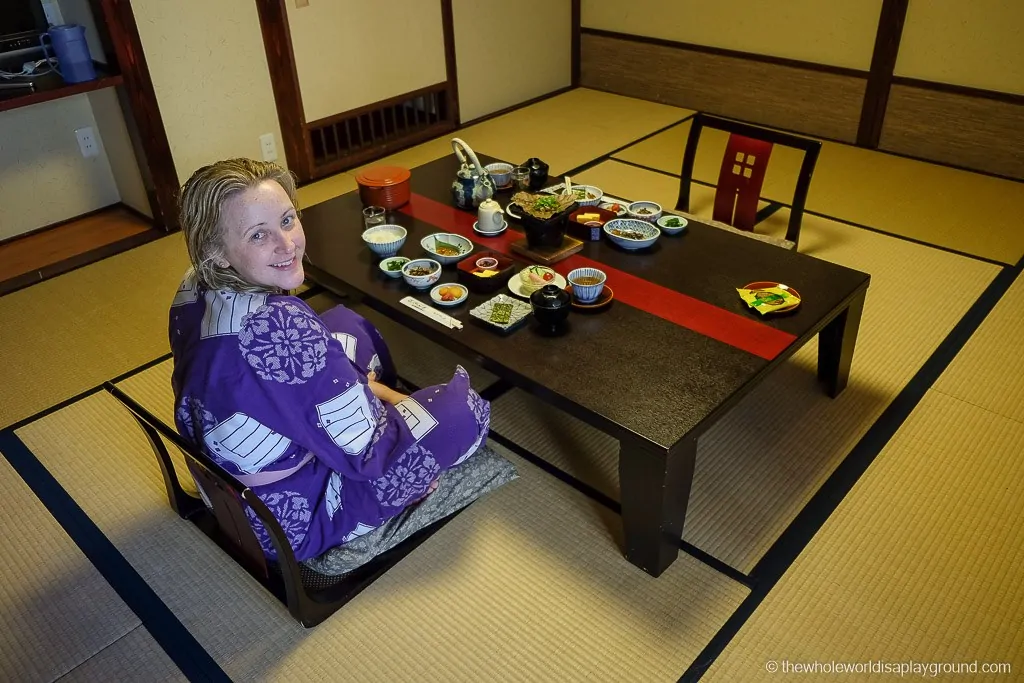 Sightseeing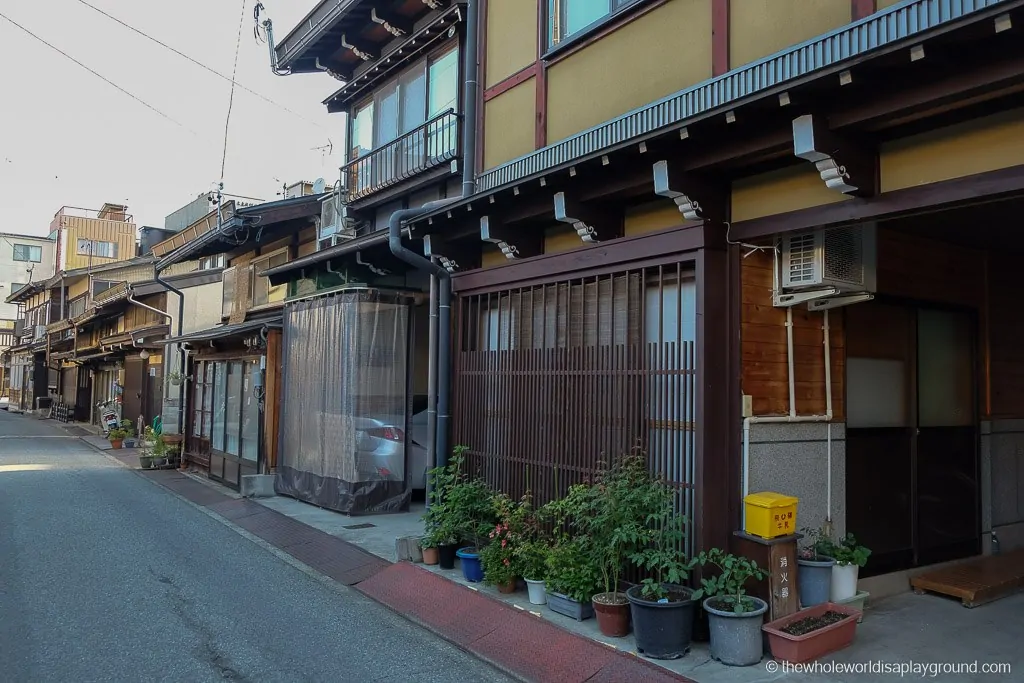 The river and morning market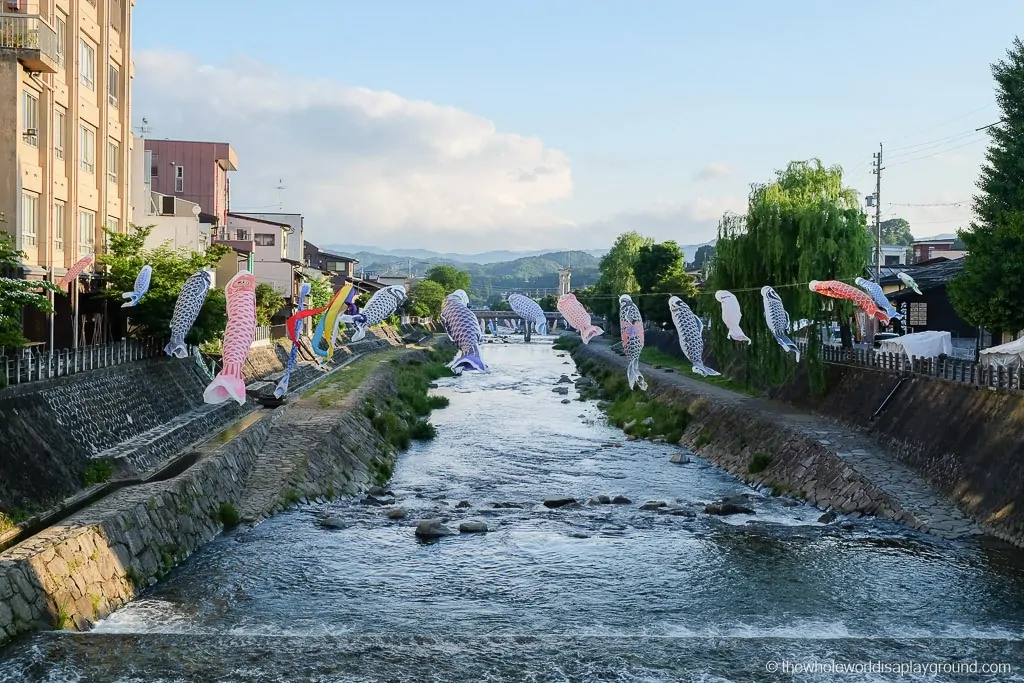 Hida beef dinner: Hida is a rival of Kobe and a specialty of the region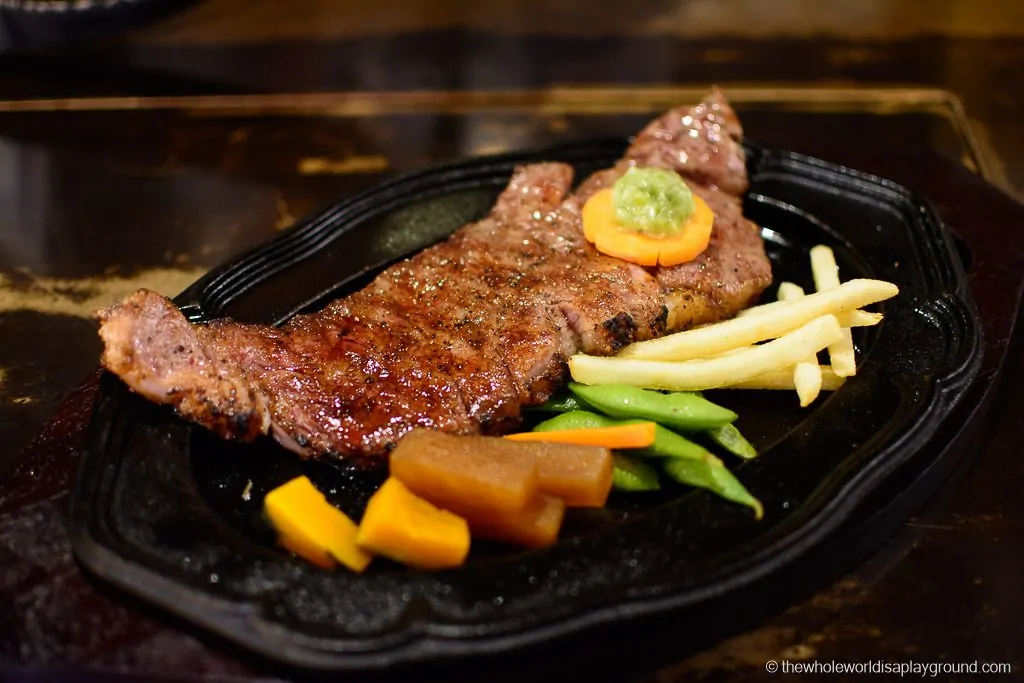 Shinhotaka Ropeway and Japanese Alps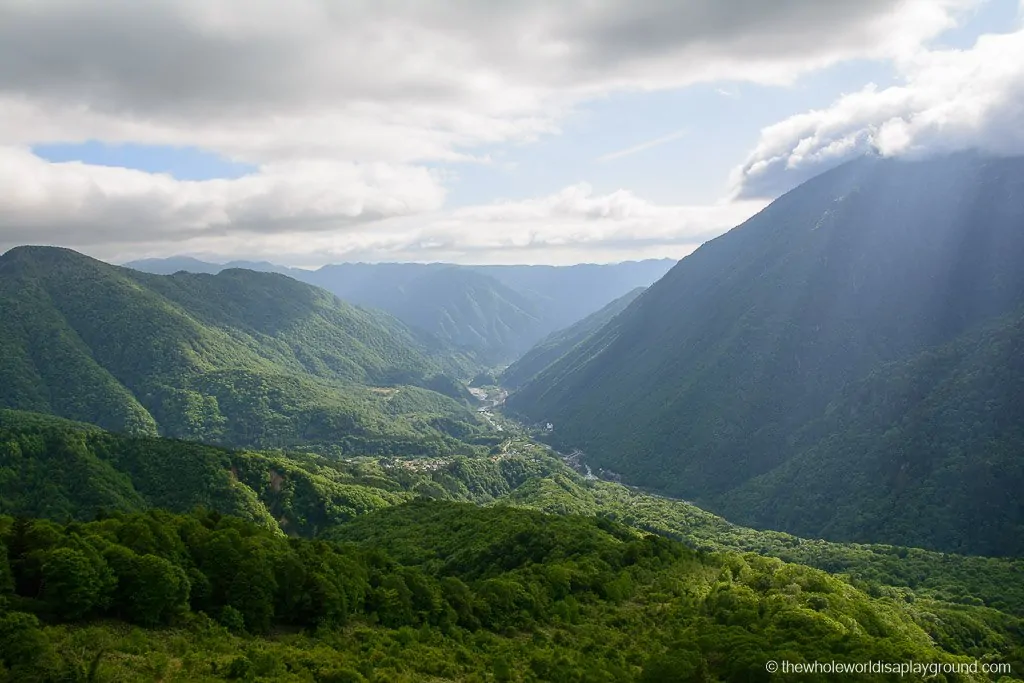 Transport:
Train from Nara to Takayama
Bus from Takayama to Shinhotaka where we switched over to the Shinhotaka Ropeway for our trip to the Japanese Alps
Other Essentials
Flights
We flew with KLM from Manchester to Tokyo connecting through Amsterdam. Check out the prices here or check Skyscanner here for a comparison of flight prices across all the airlines.
Internet
It's not very common to have free wi-fi options outside of accommodation in Japan so lots of visitors pick up mobile wi-fi at the airport. eConnect provided us with portable wi-fi for the duration of our trip and, as we were travelling around, we used it to plan our trip on the road, check train timetables and for entertainment on the long train journeys. A 4g device costs around $90 for two weeks and we had a fantastic experience from pick up to return.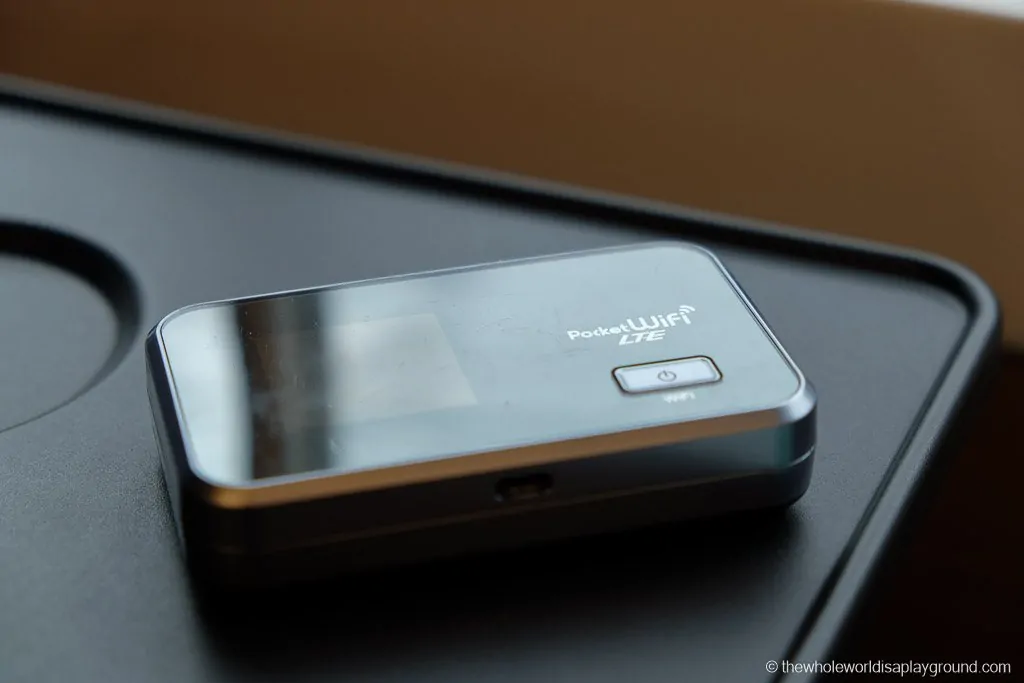 Car Rental
We rented our own wheels for a Tokyo day trip to Nikko, Hakone and to check out Mount Fuji as we wanted the freedom of our own schedule. Our car cost around $75 USD for 24 hours and we spent the same on tolls in and out of Tokyo.
So there you have it, our first seven days in Japan. Check out our week 2 detailed itinerary here! For more Japan articles click here or visit Japan in our destinations page!
Any questions on our Japan itinerary? Ask us in the comments below!
Travel Guides
Here are some of the best travel guides for planning your Japan trip. We personally used the Lonely Planet Japan series for our trip planning. Click on the images below to buy yours now!
Pin this article for later!