The combination of cooler temperatures and clear skies make for perfect conditions during a visit to Joshua Tree National Park in Winter and it is one of the most popular times in the park.
Having recently visited Joshua Tree National Park in Winter we wanted to share our experience and our tips for visiting Joshua Tree in Winter.
Joshua Tree in Winter
In our opinion, winter is the best time to visit Joshua Tree National Park. Due to its climate the daytime temperatures rarely drop below 55-60°F and lower crowds mean you'll have a much nicer experience of the park compared with visiting in the summer months.
We spent a week exploring Joshua Tree in late November and loved our time in the park. The weather was perfect for exploring and hiking and not too hot.
Joshua Tree National Park Winter Weather
Winters tend to be cool and pleasant in Joshua Tree National Park. Many choose to visit the park during these months to avoid the stifling summer temperatures – during July and August temperatures in Joshua Tree can reach 100°F.
Temperatures: On average, daytime temperatures tend to reach between 60°F and 70°F from December through February. Winter temperatures drop significantly at night, with an average low temperature of around 37°F during the same period.
Rain: rain is relatively infrequent during the winter months with one or two days of rainfall.
Snow: although rare, snow is not unheard of in the winter months.
Joshua Tree National Park Winter tip: having spent most of our winters between Ireland and New York, we loved the winter weather in Joshua Tree. Our days were warm and sunny but it was cool, even cold, in the mornings and evenings. Make sure to bring layers to wrap up when the temperature drops.
Getting to Joshua Tree in Winter
Joshua Tree is one of the best National Parks near Las Vegas to visit in winter and it is a 3 hour drive from the city. Many visitors also arrive from LA (3 hour drive), Palm Springs (45 minute drive) or the town of Joshua Tree (10 minute drive).
We've always rent our cars through Rentalcars.com. We've driven through over 50 countries and find they have a great selection and competitive prices. Their site makes it easy to find and compare competitive rates among all the major car providers. – check prices now!
National Parks Pass – American The Beautiful
If you're planning to visit a couple of the US National Parks we highly recommend purchasing an America The Beautiful pass. The pass grants you access to over 2,000 federal recreation sites across the US, including all the National Parks. We purchased a pass before we began our trip across the US and it's one of the best value tickets out there! – check prices now
Where to Stay in Joshua Tree in Winter
The North Entrance (Twentynine Palms) and the West Entrance (Joshua Tree town) are the most convenient for visiting many of the Joshua Tree National Park highlights. We have a full guide on where to stay in Joshua Tree, but these are our top 3 places to stay in Joshua Tree and are perfect for couples, small groups and families:
M&L Desert Cottage: this beautiful 2 bedroom cottage is just 6 minutes drive from the north entrance to Joshua Tree. The cottage has been completely remodeled and is the definition of desert chic. The interior is gorgeous and there is a fire pit, BBQ and hammocks on the patio for stargazing and al fresco dining. – check prices now!
Location: North Entrance/Twentynine Palms. We love this entrance as it's both close to many highlights of Joshua Tree National Park and is also a much quieter gate to enter the park by. M&L Desert Cottage is a 20 minute drive from Joshua Tree Town.
Castle House Estate: with the accommodation options including guard towers, yurt tents, a tiny container house (the perfect chance to experience tiny home living!) and a vintage RV, Castle House Estate perfectly encompasses the unique Joshua Tree vibe. It's the perfect mix of indoor and outdoor living and the accommodation is beautifully presented and incredibly unique. The hardest part is choosing which accommodation to reserve – check prices now!
Location: West Entrance/Joshua Tree. Castle House Estate is a 10 minute drive from Joshua Tree Town and is 20 minutes north of the park entrance.
Fairfield Inn & Suites by Marriott Twentynine Palms – clean and well equipped, the Fairfield Inn is one of our go to hotels when we're exploring the park and want somewhere clean and quiet to rest up. The hotel has a small pool out back, free breakfast, laundry facilities and there's a grocery store just across the road for supplies – check prices now!
Location: North Entrance/Twentynine Palms. We opt for the convenience of the Fairfield Inn when we have early starts and late evenings in the park.
Joshua Tree National Park Trails in Winter
Due to the moderate weather conditions it is rare to have seasonal trail closures in Joshua Tree. Our favorite things to do in Joshua Tree National Park in Winter include: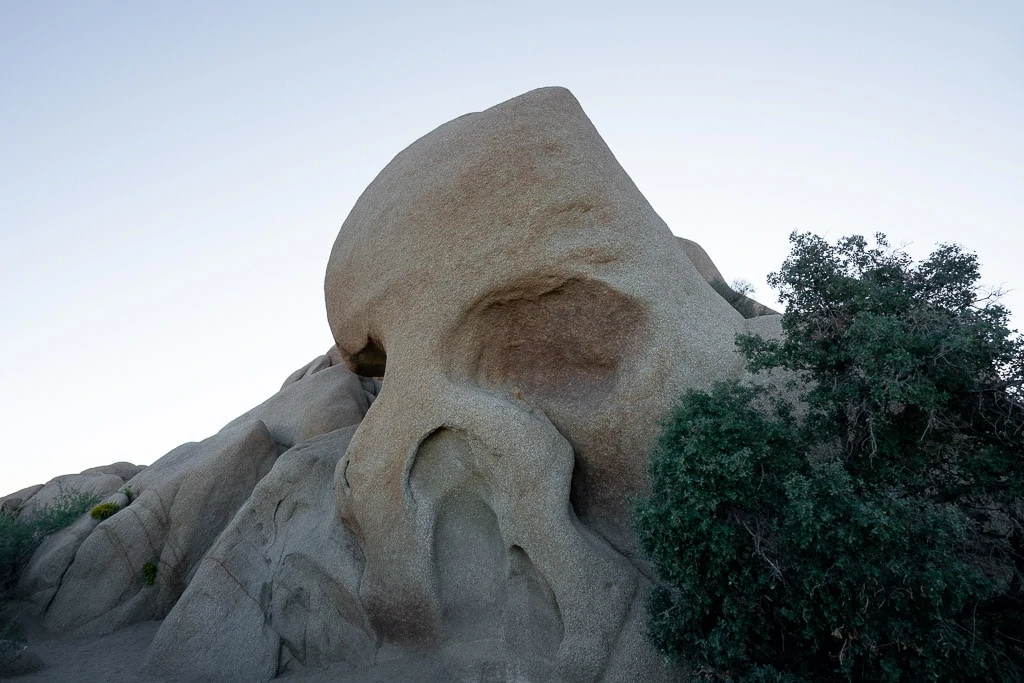 Explore the Old Mining trails: Desert Queen Mine, Wall Street Mill and Lost Horse Mine
Visit Cholla Cactus Garden
Hike: Barker Dam, Ryan Mountain
Joshua Tree National Park in Winter: one of the great things about visiting Joshua Tree is the amazing variety of things to do near Joshua Tree National Park. In the towns surrounding Joshua Tree there are quirky and kitsch art installations, a crochet museum and an old Wild West Town.
Joshua Tree in Winter tip: there is no/extremely limited cell phone service in Joshua Tree National Park so make sure to plan your hikes before arriving in the park.
Visiting Joshua Tree National Park in Winter
Some things to consider for visiting Joshua Tree National Park in Winter:
Crowds remain high during the winter months
The winter months are among the most popular to visit Joshua Tree and the trails and sights remain busy. Joshua Tree is also popular bouldering and rock climbing spot and, with winter closures in other national parks, becomes even more so in winter.
Joshua Tree National Park in Winter: Joshua Tree was the opposite experience of our winter Utah National Parks road trip where the parks had lower crowds and quiet trails. Joshua Tree is actually at its quietest from June to September when the extreme summer temperatures make the park a challenging place to explore.
Winter clothing and gear
Despite the moderate temperatures in Joshua Tree you are still going to need to pack some additional gear to stay warm in winter. Pack lots of layered clothing for early morning and late afternoon adventures.
Despite the cooler temperatures, make sure to always carry water when exploring Joshua Tree.
Joshua Tree National Park in winter: we spent long days in the park, arriving before sunset and leaving well after the sun had set. The early mornings were cold, even freezing at times and the temperature dropped noticeably as the evening progressed. On our most recent December visit we found that it only really started to warm up by 10am.
Shorter days
With 10 hours of sunlight there is still time to squeeze plenty of Joshua Tree adventures into a winter day. Joshua Tree is a designated International Dark Sky Park so, even after the sun goes down, it's worth hanging around to check out the twinkling skies.
Make the most of the shorter days and grab the best parking spots by getting out on the trails as early as possible.
Photography
Winter is a lovely time of the year for photography in Joshua Tree National Park. The soft morning and evening light is spectacular and we've caught some amazing sunrises and sunsets during our winter visits.
Joshua Tree National Park: Keys View is one of our favorite spots for both sunrise and sunset.
Wildlife
Like most national parks there's lots of wildlife in Joshua Tree and the park is home to some venomous animals, namely rattlesnakes, scorpions, and black widow spiders. Apparently, they make less frequent appearances in winter but we still wouldn't stick our hand under a boulder without checking first!
While driving take care for the desert tortoise which can cross the roads occasionally and many are killed by speeding cars.
What to Pack for Joshua Tree National Park in Winter
Hiking Boots: If you're planning to hike in Joshua, then we highly recommend a good quality pair of hiking boots. The trails can be rugged in place and with all the rocks it's worth having a quality pair of boots to avoid any slips or falls. We purchased ours in REI
Water: No matter what length of hike you're planning in Joshua Tree National Park make to take enough water. The exposed nature of the park and the temperatures (even in winter) means it is very easy to get dehydrated. We use our Camelbak for all our longer hikes and it works great – check prices now!
Hiking poles: If you're planning longer hikes (especially with gear) you should consider hiking poles
Sunscreen and sunglasses: The sun is still strong in winter so sunscreen and sunglasses are recommended
Sun protection: you will still need sunscreen, water and sunhats for when the temperatures start to rise later in the morning.