The combination of cooler temperatures and clear skies make for perfect conditions during a visit to Joshua Tree National Park in Winter and it is one of the most popular times in the park. Having recently visited Joshua Tree National Park in Winter we wanted to share our experience and our tips for visiting Joshua Tree in Winter.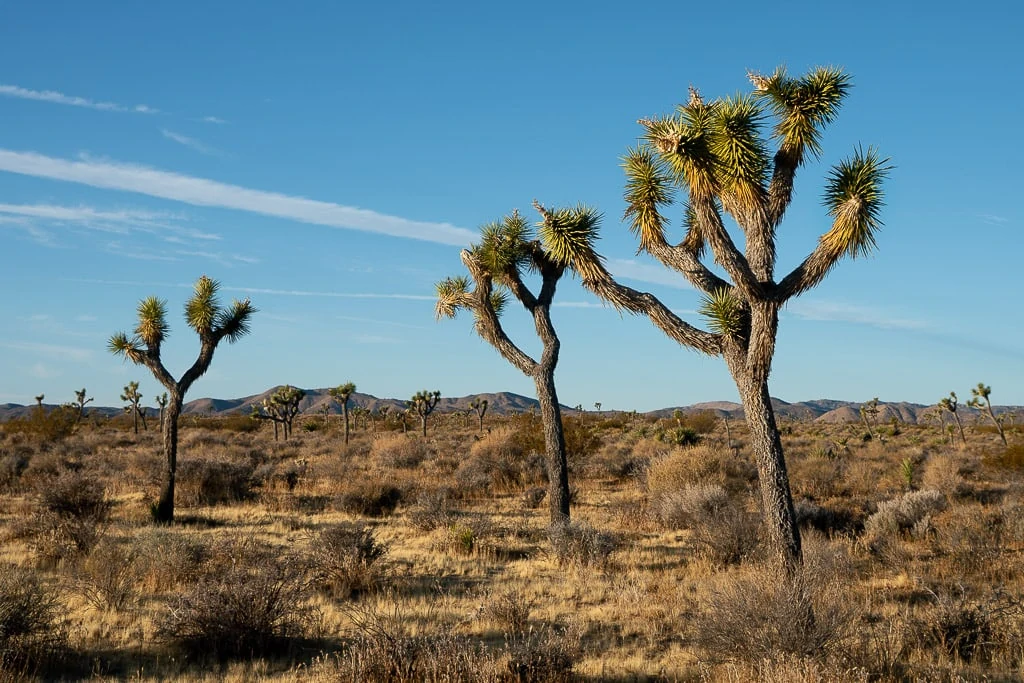 Where to Stay in Joshua Tree in Winter
The North Entrance (Twentynine Palms) and the West Entrance (Joshua Tree town) are the most convenient for visiting many of the Joshua Tree National Park highlights. These are our top 3 places to stay in Joshua Tree and are perfect for couples, small groups and families:
M&L Desert Cottage: this beautiful 2 bedroom cottage is just 6 minutes drive from the north entrance to Joshua Tree. The cottage has been completely remodeled and is the definition of desert chic. The interior is gorgeous and there is a fire pit, BBQ and hammocks on the patio for stargazing and al fresco dining. – check prices now!
Location:
North Entrance/Twentynine Palms. We love this entrance as it's both close to many highlights of Joshua Tree National Park and is also a much quieter gate to enter the park by. M&L Desert Cottage is a 20 minute drive from Joshua Tree Town.
Castle House Estate: with the accommodation options including guard towers, yurt tents, a tiny container house (the perfect chance to experience tiny home living!) and a vintage RV, Castle House Estate perfectly encompasses the unique Joshua Tree vibe. It's the perfect mix of indoor and outdoor living and the accommodation is beautifully presented and incredibly unique. The hardest part is choosing which accommodation to reserve – check prices now!
Location:
West Entrance/Joshua Tree. Castle House Estate is a 10 minute drive from Joshua Tree Town and is 20 minutes north of the park entrance.
Fairfield Inn & Suites by Marriott Twentynine Palms – clean and well equipped, the Fairfield Inn is one of our go to hotels when we're exploring the park and want somewhere clean and quiet to rest up. The hotel has a small pool out back, free breakfast, laundry facilities and there's a grocery store just across the road for supplies – check prices now!
Location:
North Entrance/Twentynine Palms. We opt for the convenience of the Fairfield Inn when we have early starts and late evenings in the park.
Click here for the best Joshua Tree accommodation prices!
Joshua Tree National Park Winter Weather
Winters tend to be cool and pleasant in Joshua Tree National Park. Many choose to visit the park during these months to avoid the stifling summer temperatures – during July and August temperatures in Joshua Tree can reach 100°F.
Temperatures: On average, daytime temperatures tend to reach between 60°F and 70°F from December through February. Winter temperatures drop significantly at night, with an average low temperature of around 37°F during the same period.
Rain: rain is relatively infrequent during the winter months with one or two days of rainfall.
Snow: although rare, snow is not unheard of in the winter months.
Joshua Tree National Park Winter tip: having spent most of our winters between Ireland and New York, we loved the winter weather in Joshua Tree. Our days were warm and sunny but it was cool, even cold, in the mornings and evenings. Make sure to bring layers to wrap up when the temperature drops.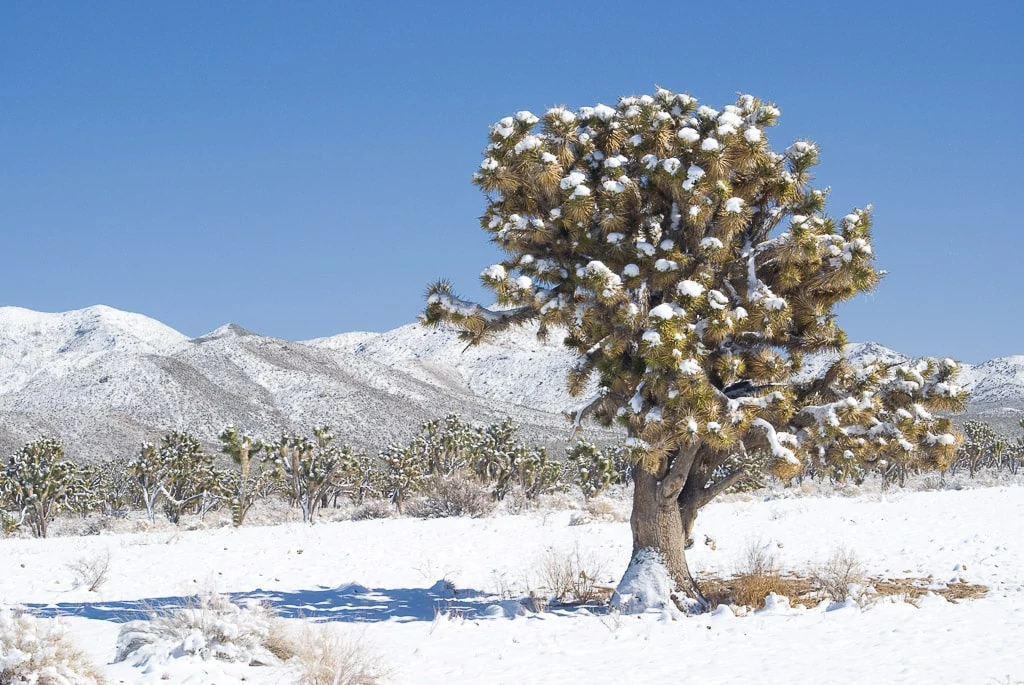 Getting to Joshua Tree in Winter
Joshua Tree is one of the best
National Parks near Las Vegas
to visit in winter and it is a 3 hour drive from the city. Many visitors also arrive from LA (3 hour drive), Palm Springs (45 minute drive) or the town of Joshua Tree (10 minute drive).